Not the same boring winter no-news filler like the other websites. We've got the real news to warm up the winter break!
Hot Bikes &
Beautiful Topless Babes!
Our Annual Motorcycle Pinup Calendar Review
for 2003 . . .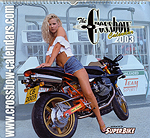 Click to see our Review...

Sports Illustrated Swimsuit Cover model Yamilo Diaz-Rahl says "no" to Enrico Lo Verso, but her eyes say "Yes, yes yes."

The Revealing
Pirelli Tire Calendar
A few years back photographer Herb Ritts got Cindy Crawford and Laetitia Casta totally naked on the beach for the Pirelli Calendar. It gave him a heart attack and he died.

For 2003 its fashion photographer Bruce Weber who gets famous boy / girl supermodels topless including Yamilo Diaz-Rahl (who also happens to be on the cover of the 2003 Sports Illustarated Swimsuit Calendar), plus Victoria's Secret models Heidi Klum and Karolina Kurkova, all together in a rural Italian village. The candid editorial style shots are pretty boring, there's no concept or tie-in to Pirelli tires, but hell, Bruce only had a $500,000 shooting budget to work with....
(Our budget is about 1/20th that to produce 5 calendars).

Yamilo Diaz-Rahl covered up, but still worth it. Click for a date.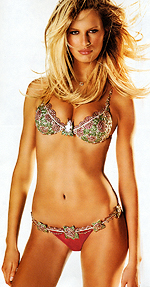 Karolina Kurkova in the money. Click to check out her karots.
Gee, Karolina,
you look like...
10 million bucks in that Victoria's Secret diamond studded lingerie! Could we borrow a little change, please?
---
ORDER NOW!


SBK Fast Dates 2003
-Click to order Online -
Ripped Pavement 2003


USA order: Calendars.com
In England phone or click on
Crossbow (44) 181-669-6400,
GP Legends at 870-040-1234
The Bentley Twins
Playboy cover girls exclusively featured in our 2003 Garage Girls and Berm Busters Calendars, and below in their own calendar. Visit Member's Corner for even more revealing photos of the Twins.
---
Meet the Beu Sisters
Danielle, Candice, Christie and Jilaine, four sisters harmonizing with the best melodies and great original songs. Hot! Check out their website and the feature video for their song "I was only Seventeen" at BeuSisters.com
Click the CD cover above to sample their songs and order online at Amazon.com.
And while your there be sure to pick up one of our 2003
Fast Dates Calendars before they are all gone!
tire chatter.....
Neil Hodgsen
undergoes wrist surgery
SBK Valencia Test - Jan 17-18:
Ducati Corse Press
Two days of testing today at Valencia for the Ducati Corse Superbike team, which resumes track activity after the winter break in view of the 2003 season, which gets underway on March 2 at the Spanish circuit.
Only Ruben Xaus is present for the Italian squad in the two-day test.

The other Team Ducati Fila rider, Neil Hodgson, underwent delicate surgery on a left wrist bone before Christmas, and is still in the middle of a 6-8 week recovery period. Nevertheless, the British rider will be
back on the track at Valencia for official WSBK testing, scheduled for 21-23 February.
Motorcycle Land Speed Record Holder Don Vesco Dies
San Diego, CA, Dec 16th, 2002- Don Vesco, 63, passed away in Scripps Mercy hospital in San Diego, CA. He had been battling prostrate cancer for about a year. The world of racing has lost a great competitor, a true champion and a friend.
Vesco holds 18 motorcycle and 6 automotiverecords and held the Motorcycle LSR record for
19 years at 318.598 MPH.
He turned the fastest time in history in a motorcycle at 333.117 and the fastest time in
a wheel-driven vehicle at 459.021.
---
The Jaime Pressly
Movie Library!


Poison Ivy III
Jaime's been a very bad girl! R!

Poor White Trash
Just like we like her...


Tom Cats
Jamie & Elizabeth Shannon!
The babe and the bitch...