Kurtis Roberts on the Erin Racing Honda SP-2 is one of the favorites for a Daytona win.
2003 AMA Superbike Championship Preview
62nd ANNUAL DAYTONA 200 BY Arai Opens a New Era in
The AMA Chevy Trucks U.S. Superbike Championship
The 62nd running of the Daytona 200 by Arai on Sunday, March 9, at Daytona International Speedway will serve as a milestone in the evolution of the AMA Chevy Trucks U.S. Superbike Championship. The 2003 edition of the race will feature a broad mix of motorcycles, including 1000cc four-cylinder machines, 1000cc V-Twins and traditional 750cc four-cylinder superbikes. All of this a result of new rules put in place by AMA Pro Racing reflecting the changing marketplace and to more closely align the race bikes with the respective street bike versions. The rules should help more teams field competitive superbikes. The impressive entry list for this year's Daytona 200 is a positive sign that the changes brought about by the new rules will produce a more exciting race. This year marks the first major change in the bikes that race in the Daytona 200 since AMA Superbikes replaced the old AMA Formula One bikes in 1985. Additionally, an international field of riders representing nine countries will be present.

Based on pre-season testing, this year's 200 could be one of the most competitive in years. One of the leading candidates to win this year's race is Yoshimura Suzuki's Mat Mladin. The three-time AMA Superbike Champion was forced to miss last year's race when he crashed and injured his elbow during a pre-Daytona 200 practice session. Prior to last year's race, Mladin was the hottest rider on the high banks since Mr. Daytona himself, five-time winner Scott Russell. The Aussie Mladin won the celebrated race in 2000 and again in 2001. This year, he will ride Yoshimura's new Suzuki GSXR1000-based superbike.

"The bike's working good," a confident Mladin told Roadracing World after testing in California last month. "Suzuki's done a great job with the new frame and chassis. It steers better than the old 750 and everything. It feels like my 1999-2000 750 more than the (bike) we raced in 2002."

It was Honda rider Nicky Hayden who won both the Daytona 200 and the AMA Superbike title last year. Honda moved Hayden up to contest the World Championship MotoGP circuit. While American Honda lost a great rider in Hayden, it comes to the table this season with former AMA Superbike champions Miguel Duhamel and Ben Bostrom, along with Kurtis Roberts, son of the legendary three-time Daytona 200 winner Kenny Roberts.

Veteran Miguel Duhamel is seeking his fourth victory in the 200. The Montreal native, who now lives in
Las Vegas, won his first Daytona 12 years ago, yet feels he has a great shot at winning again in 2003. "I have a proven bike in the Honda RC51 and I have the best crew behind me," said Duhamel, the all-time winningest rider in AMA Superbike history. "The competition for this year's race is shaping up to be the best in years and I'm hoping I can rise to the occasion to keep the Daytona 200 title with Honda."

1998 AMA Superbike champ Ben Bostrom is back racing in America after a successful three-year run in World Superbike. Bostrom was very fast in Daytona tire testing and is a good bet to improve on his previous best Daytona 200 finish of fourth in 1999.

Kurtis Roberts is coming into the prime of his racing career and is poised to become only the second rider to win the Daytona 200 after his father. Don Emde accomplished the feat in 1972, following in the footsteps of his father Floyd who won 24 years earlier. It's been 19 years since Kurtis' renowned dad, Kenny, won the 200.

Another pre-race favorite to win is Kawasaki's Eric Bostrom, younger brother of Ben. Eric has finished second in the AMA Superbike Championship the last two seasons and is more than ready to discard the title of bridesmaid. Bostrom is hoping to bring back the glory days of Kawasaki at Daytona, when the company won three times with Scott Russell in the early-to-mid 1990s. This will be Bostrom's fourth appearance in the Daytona 200, and he'll be riding one of the old school 750cc-based superbikes, a Kawasaki ZX-7RR. His previous best result was – as you might have guessed – second in 2001.

Ducati is easily the longest-suffering manufacturer in the history of the Daytona 200, only because they have never put together a serious factory effort comparable to their winning effort in World Superbike. Ducatis have raced in the event since 1966, but have never managed to come out on top. The Italian brand came agonizingly close in 1992, when Ducati-mounted Doug Polen was nipped at the finish line by Scott Russell in one of the closest races in the history of the 200. Ducati factory riders Troy Corser (1994) and Carl Fogarty (1995) were both forced to finish second because of mechanical problems, each to Russell, albeit not as close as Polen. Ducati USA has no factory team again this year, but 2 privateer teams with 2002 WSB season works bikes hope to be competitive.
The best chance is with Anthony Gobert on the dealership sponsored Blue Bayou Team Ducati. This will be Gobert's seventh start in the 200. He finished a career-best third last year. The other all privateer team is a new effort called The Dream Team featuring Larry Pegram. For Pegram it will be his 10th Daytona, with his top result of sixth coming in 2001. And it should proove easily how to spend a $1,000,000 race budget in

If Ducati is the hard-luck manufacturer, then Doug Chandler claims that title among riders. Chandler
first raced the classic in 1988. He's finished on the podium four times, including runner-up twice. Now
at 37, Chandler realizes his chances of ever winning the biggest motorcycle race in America are quickly fading. He returns for yet another try this year, riding a No Limit Motorsports Honda CBR954RR, one of the new breed of superbikes.

Others to watch in this year's 200 include Yoshimura Suzuki youngster Ben Spies and his veteran teammate Aaron Yates. Suzuki will also have strong entries from the Valvoline EMGO Suzuki squad with Chris Ulrich and Steve Rapp, and Attack Suzuki's Jason Pridmore. The race will be broadcast live on Speed Channel. The pre-race show begins at 12:30 p.m. Eastern and live flag-to-flag coverage of the Daytona 200 starts 1:00 pm.
---

Nothing new under the sun? Yamah's new twin shock rear end reminds us of a mid '70s Maico motocrosser.
YZR-M1 prototype makes IRTA test debut
Jerez, Spain, 21/2/2003: Yamaha's increased commitment to the MotoGP World Championship was revealed at the 2003 Jerez IRTA test, held on February 21, when the factory's new MotoGP test and development team made a public debut with its YZR-M1 prototype. Visually different to the 2003 spec YZR-M1s used by the Factory Fortuna Yamaha Team and the Gauloises Yamaha Team; this Research and Development prototype features a unique Öhlins twin shock rear suspension system, a four-into-one under seat exhaust system, an inverted rear swingarm and an experimental Deltabox chassis.
Technical Test Team Manager Shuji Sakurada feels that the addition of a dedicated full time test team will form the perfect platform to evaluate the potential of new ideas, and doing so alongside the Factory teams provides the ideal environment to compare data. This is why the testing team is also based in Italy, at the Factory Team's main workshop, and why Yamaha has employed the services of top rider and former MotoGP Championship challenger Norick Abe.

"We are always evaluating new concepts in an effort to ensure the YZR-M1's continues to be competitive. Our main focus, at the moment with the test team, is chassis development," explains Sakurada. "The twin shock rear suspension system is just one example of a fresh approach. The belief is that it could improve traction and tyre life, something we can evaluate accurately thanks to the support we have from Michelin."

Although the under seat exhaust offers little benefit in outright power the main advantage of the reshaped system allows the chassis engineers more room to develop the rear swingarm unit, in turn complimenting the modifications made to the YZR-M1's chassis. Featuring two main damping units across the top of the main chassis this concept explores the flex characteristics of the alloy frame and is targeted at improving rider feel.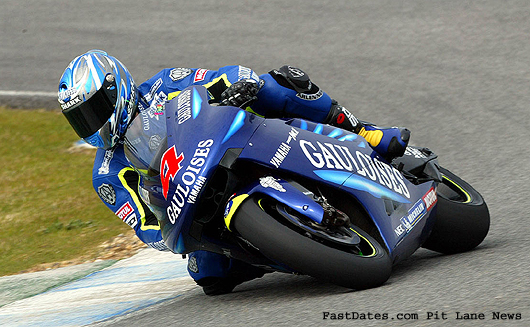 Alex Barros was quickest with the old style Gauloises Yamaha YZR-M1 MotoGP bike on day one at Jarez.
The Rain in Spain hampers 3-day MotoGp
and SBK testing, but lap records still shattered
MotoGP pre-season IRTA Tests

Alex Barros quickest in MotoGP, Checa sorts new M1 Prototype
Friday Day One
Jerez de la Frontera, Spain, February 21-23, 2003 Fortuna Yamaha Team duo Carlos Checa and Marco Melandri made steady progress during the first day of the official MotoGP group tests today. With Checa riding the latest evolution of the Yamaha YZR-M1 and Melandri having his first experiment with Yamaha's new fuel-injection system, the pair recorded the second and fifth fastest time of the fifteen MotoGP riders present.
Checa rode a total of 61 laps and recorded a best time of 1'43.2 - three-tenths slower than his 2002 qualifying time. "We've been working mostly on the engine side today and did a little bit of tyre work later on," explained Checa. "Tomorrow we'll be able to concentrate more on the chassis settings which is where I believe we'll make the biggest improvement. We just need to find a better balance. It's quite cool here in the morning and
later afternoon, but at least conditions are better than on our last visit."
Gauloise yamaha teamamteMarco Melandri completed 75 laps with a best time of 1'43.8, equal to the best of his previous test at Jerez."I'm really happy," exclaimed the 20-year-old 2002 250cc World Champion. "I began this morning with the bike I have been using until now which has carburettors, but we had a few problems with the rear suspension. We tried a few things but I didn't get a good feeling. My crew chief Fiorenzo (Fanali) and I decided to try the fuel injection bike as our plan was always to race with this one. I immediately found a better feeling. The engine feels smoother and it feels even more powerful. The bike also has a different chassis that I found a lot better. For me this is the biggest improvement I' ve had. I'm really happy and looking forward to more time to set up the bike."
Friday Lap Times
1. Alex Barros, Gauloises Yamaha Team 1'42.588; 2. Carlos Checa, Fortuna Yamaha Team 1'43.277; 3. Colin Edwards, Alice Aprilia Racing 1'43.699; 4. Shinya Nakano, D'Antin Yamaha 1'43.794; 5. Marco Melandri, Fortuna Yamaha Team 1'43.810; 6. Loris Capirossi, Ducati Marlboro Team 1'43.943; 7. Troy Bayliss, Ducati Marlboro Team 1'44.125; 8. Noriyuki Haga, Alice Aprilia Racing 1'44.242; 9. Kenny Roberts, Suzuki Grand Prix 1'44.558; 10. John Hopkins, Suzuki Grand Prix 1'44.652; 11. Olivier Jacque, Gauloises Yamaha Team 1'44.783
Saturday Day 2
Poor weather conditions affected the second day of the Jerez IRTA tests in Spain today, soaking the track in the morning so much that it didn't fully dry by the end of the day. Thirteen of the fifteen MotoGP riders present ventured out. Fortuna Yamaha Team rider Marco Melandri completed a total of just thirteen laps in the wet conditions while team-mate Carlos Checa chose to wait until the weather improves to ride his latest evolution of the Yamaha YZR-M1.
Shinya Nakano made the most of a wet, then patchy, Jerez circuit during day two of the season opening IRTA test, held at the Spanish Jerez circuit on February 22. The Japanese lapped the 4423m circuit in a 1'45.214 aboard his 2003 spec d'Antin Yamaha Team YZR-M1 after only 38 laps – a majority of which were completed during the afternoon when a dryer line began to form. Troy Bayliss (Ducati) was nearly half a second behind in second place with a 1'45.640, while American Colin Edwards (Aprilia, 1'47.982) rounded out the top three.
"We tried a few things with the fuel-injection to see how it worked in these conditions, but that was about all we could test," said Nakano. "When the track is half dry it's very difficult to do consistent laps because the track conditions are changing all the time, which means it difficult to give accurate feedback on chassis set-up."

Yamaha Factory test rider Norick Abe completed 36 laps aboard the twin-shock prototype YZR-M1 to set the 11th fastest time, a 1'50.255. The Japanese hopeful that tomorrow will provide better conditions to finally explore the potential of the machine. Meanwhile the fastest man from day one, Alex Barros (Gauloises Yamaha Team), opted to call it a day after only 11 laps – finishing with a 1'56.132. The Brazilian felt there was little for him to gain in such tricky conditions, as did is teammate Olivier Jacque – the latter never even venturing out on the circuit.
Times Day Two:
1. Shinya Nakano (d'Antin Yamaha Team, 1'45.214) – 38 laps; 2.Troy Bayliss (Marlboro Ducati 1'45.640); 3.Colin Edwards (Aprilia, 1'47.982); 4. Norick Abe (Yamaha Factory Test Team, 1'50.255) – 36 laps; 5. Alex Barros (Gauloises Yamaha Team, 1'56.132) – 11 laps; 6. Marco Melandri (Fortuna Yamaha Team, 1'56.688) – 13 laps.
Sunday Day 3 - Barros concludes IRTA test with another fastest lap,
Colin Edwards 2nd on Aprilia
23/2/2003 Alex Barros (Gauloises Yamaha Team) showed the consistency his is becoming renowned for by setting the fastest lap, yet again, on the third and final day of the Jerez IRTA test, held February 23. The Brazilian regularly topped the time sheets throughout the day to end proceedings with a 1'42.640. Although the time was nearly a tenth of a second shy of his opening day performance – a 1'42.588 – the 32-year-old still lapped comfortably under the circuit record in what were considerably windy conditions. Although the weather was not ideal Barros still used the opportunity for evaluate a range of chassis and suspension settings along with the parameters of the fuel injection.
World Superbike Champion Colin Edwards put in a strong challenge aboard the Aprilia four-stroke to eventually finish his day second fastest, with a 1'42.818, the American only just holding out Fortuna Yamaha Team rider Carlos Checa (1'42.861). The Spaniard continued to test the 2003 YZR-M1 offering, evaluating chassis set-up and a range of Michelin tyres to round out the top three. Australian Troy Bayliss (Ducati, 1'42.890), fourth fastest on the day, held out young Marco Melandri (Fortuna Yamaha Team, 1'43.236) by less than half a second. The youngest ever GP250 World Champion spent the session exploring the limits of his new fuel injected machine, progressively increasing his overall speed before a tumble in the closing stages of the test. The Italian walked away unharmed.

Misfortune struck Gauloises Yamaha Team rider Olivier Jacque midway through the day when he lost the front of the YZR-M1. The Frenchman, who landed heavily, chipped his left shoulder blade but should still ride at the Estoril IRTA test, on February 26-27.
Gauloises Yamaha Team

Alex Barros 1st, 1'42.640: "A big day today; I rode 94 laps in total to try and make up for the time we lost yesterday. We started off on the injection bike and worked on its set up for almost 4 hours. We are getting there but still don't have all the answers yet. It's nothing to do with the injection itself, but rather a problem with the chassis set-up. Then I switch to the 'carb bike', tried a new seat and quite a few different tyres and made good progress despite the strong wind. Then right at the end Yamaha asked me to go out again and try one more change. Straight away I felt an improvement, and without pushing any harder, went quicker and posted the fastest time in the process." END.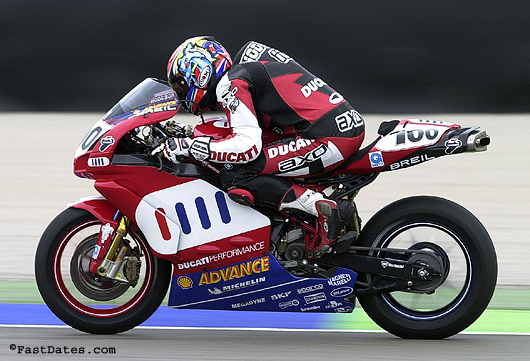 Neil Hongson on the new Ducati 999F 03 in full 2003 Team Corse colors for the first time this season. Does anyone really recognise the Fila sponsorship logo graphic on the fairing? Looks like a big hose clamp to us....
World Superbike pre-season SBK Tests
Ducks Love it as Rain hinders SBK Tests at Valencia, still...
Neil Hodgson on the new Fila Ducati 999 Shatters Track Record
Friday Day One
Valencia, Spain, Saturday Feb.21-23: All the top SBK World Superbike teams were on hand at Valencia this past week for offical SBK 3-day testing prior to the start of the 2003 race season in just 2 weeks. New Foggy PETRONAS Racing riders Troy Corser and James Haydon continued their pre-season progress during the opening day of the three-day official World Superbike championship winter test. Both riders improved lap times from their previous visit to the circuit as they were pitched against the forthcoming season's opposition for the first time at the Ricardo Tormo circuit in Valencia. A test by the Formula One McLaren team over the previous three days had resulted in a dirty track that, when combined with low temperatures at the start and end of a chilly day, reduced meaningful track time. But, with scope for improvement in the provision of Michelin race tyres, Carl Fogarty's new team were confident that the Foggy FP1 was capable of progressing towards the front of the field.C orser finished the day 1.5 seconds behind the quickest time, set by factory Fila Ducati rider Neil Hodgson, while Haydon made significant in-roads into his previous best at the circuit.

Troy Corser said: "It has been a little bit like starting again because the engines we have now have more power and torque than when we were here before Christmas, and than we had at our last test in Malaysia, so a lot of the set-up and mapping work has to be done again. I'm quite happy with the times, although it was difficult to concentrate on them with the limited time on track."

James Haydon said: "This is not a track that I know well because we have been unlucky with the bikes
and the weather on previous occasions here. So I was pleased to knock so much off my previous best
time. It's obvious that the torque and pick-up of the engine has improved in the lower mid-range, where it
was needed."
Saturday Day 2
Ruben Xaus (Team Ducati Fila) headed the timesheets today on the second day of official SBK pre-season testing at Valencia. In the afternoon the two Ducati Fila riders, Neil Hodgson and Ruben Xaus did not go out onto the track after rain started to fall and two of the scheduled four sessions were not completed.
Spain's Xaus completed a total of 55 laps on the Ducati 999, the Italian manufacturer's new Superbike model, recording a time of 1'34.75, one-tenth of a second slower than the circuit record set by Ben Bostrom (Ducati L&M) and six tenths of a second quicker than his time recorded one month ago at the same track. Ruben tested new rear tyres made available by Michelin, and constantly lapped at this pace during his mini race simulation in the morning.

"Everything is going really well," declared Ruben at the end of the day. "We tried some new race tyres, even though we couldn't complete the entire programme due to the rain. The team is working well, and I'm
getting a better felling with the 999 all the time. I made a good step forward with the bike here at Valencia because my time of 1'34.75 is the best I've ever recorded around here."
Foggy PETRONAS Racing's Troy Corser and James Haydon improved their times on day two and posted more competitive times compared to the other top WSB contenders. Given the greasy nature of the track, and with more rain forecast for tomorrow, it was decided not to risk any wet weather testing today. But, in the cool conditions of the morning, James moved to within 0.7 seconds of Troy, who climbed up the standings with a lap time of 1:36.4.
Corser said: "It was obviously disappointing to lose a couple of hours track time, when I wanted to do more work on the gearing, but it was pleasing to go faster today and I know that there is more to come."

Sunday Day 3
Neil Hodgson and Ruben Xaus (Team Ducati Fila) wrapped up proceedings on the final day of official SBK Winter testing with the quickest times at Valencia's Ricardo Tormo circuit in Spain. Hodgson in particular was in superb form, smashing the lap record which belonged to Bostrom (Ducati L&M), and leaving the mark at 1'34.01. Team-mate Xaus was eight-tenths of a second slower around the 4.005 km circuit, while the new Ducati 999 is already proving to be competitive in race trim.

"That was really good today" declared Neil. "I managed to find an excellent set-up on the bike and Michelin is providing me with some great tyres. I feel at one with the 999, it's the way I like it. I really needed this test to get back in action after two months away from the track. I thought it would take longer to get to this point but it didn't and now I'm feeling really confident for the start of the season."

"I waited until the end of the day to try and attack Neil's time, but there was a lot of humidity on the track and I slid off at turn 4" commented Ruben. "I'm pleased with the way the bike is working, the
rear tyre is excellent, but I didn't have enough time to choose the front for the race. I'm pretty sure conditions will be exactly the same when we come here for the first round next weekend."

Team Ducati Fila will be officially launched on Monday 24th February at the Gilli Cube in Milan and the Ducati 999 together with riders Hodgson and Xaus will be seen in their new livery for the first time at the
opening round of the 2003 World Superbike Championship, which kicks off next weekend at Valencia.

Final Official Times: 1. Hodgson (Ducati Fila) 1'34.01; 2. Xaus (Ducati Fila) 1'34.80; 3. Laconi (Ducati NCR) 1'35.59; 4. Walker (HM Plant Ducati) 1'35.46; 5. Toseland (HM Plant Ducati) 1'35.66; 6. Martin (Ducati DFX) 1'35.87; 7. Chili (Ducati) 1'35.91; 8. Corser (Foggy Petronas) 1'36.14; 9. Borja (Ducati DFX) 1'36.23; 10. Haydon (Foggy Petronas) 1'36.64.