FastDates.com February 2003
Page 3 • Racing & Calendar News
Superbike, MotoGP, Calendar Girls
Official Calendar of the SBK World Superbike Championship
Sponsor of AMA 750cc Supersport Champs EBSCO Corona Extra Suzuki

This Week's Starting Grid: 2003 Pinup Calendar Review &
WORLD EXCLUSIVE FIRST TEST - DUCATI 999S!

• Supermodel Meets Superbike Janelle tests the new Ducati 999S!
• MotoGP - The Gang of Fours - 2002 Season Review / 2003 Preview
• Our 2003 Annual Motorcyle Pinup Calendar Review Caution Nudity!
• Los Angeles Premier! Our 2003 FastDates.com Corona Extra Suzuki
AMA Superbike Team, plus 2003 Los Angeles Super Moto National Race
• SBK 2002 Superbike Championship Final at Imola
The most exciting Championship final ever, Edwards retakes title.
• MotoGP 2002 Valentino Rossi takes first MotoGP Championship title in Brazil HERE. Alex Barros wins Valencia season final HERE.
• AMA 2002 National Season Finals Nicky Hayden on top.
FastDates.com Corona Suzuki wins its 2nd 750cc SuperSport title!
• British Superbike 2002 Final Steve Hislop wins title then dumped!
• The Pit Board Editorial, Race Schedules, Mail, Index, Features
• Valentino Rossi Biography of a World Champion


World Exclusive First Test!
Our Valentine Janelle
does the new Ducati 999S
We beat the print magazines...
Official SBK World Superbike FastDates.com Calendar Angel Janelle Perzina tests the 999S

A record pace on and off the track! Carlos and friends at the British NEC Bike Show in November.
Yamaha's Barros & Checa set new MotoGP
track records at Valencia pre-season test

Valencia, Spain, 28/1/2003: After completing its second pre-season test, held in Valencia January 25-27, the factory Yamaha MotoGP contingent departs the Spanish venue satisfied with its progress and is now looking forward to continuing the development of the latest spec YZR-M1. Alex Barros followed on from his impressive end of season form to set the pace on the Gauloises Yamaha Team YZR-M1, yet again. The 32-year-old posted a 1'32.8, circulating one full second under his own 2002 official circuit lap record, set during the final MotoGP, and half a second faster than the circuits best ever lap – a 1'33.211 set by Max Biaggi.
With weather conditions proving to be much more agreeable than the recent three-day Jerez test Barros was able to concentrate his efforts on tyre and chassis development. Meanwhile his Gauloises Yamaha teammate Olivier Jacque was absent from the Valencia programme in an effort to allow his right wrist, which recently saw the removal of several pins, to heal sufficiently for the February IRTA test.

"After the Jerez test we were somewhat disappointed but this Valencia test was a completely different story," said Gauloises Yamaha Team Manager Hervé Poncharal. "We were very happy with the impressive times that Barros achieved, but more importantly he did them consistently. It's also very positive that Barros is adapting to the M1 so quickly and the team too. We spent most of our time testing tyres because we feel this is the key to a successful year, and judging from the results Michelin is as driven as we are to succeed."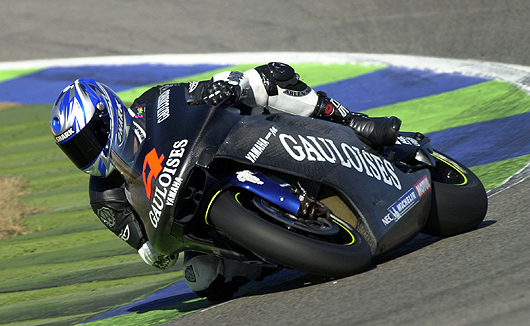 Alex Barros looked impressive on the Yamaha M1 breaking the lap record at Valencia by half a second..

The potential of the 2003 YZR-M1 was underlined by the performance of Spaniard Carlos Checa (Fortuna Yamaha Team, 1'32.9), who lapped the 4005m circuit only one tenth slower than the Brazilian, despite a tumble. Checa focussed his efforts on developing the latest fuel-injection offering. "Our target for this test was to improve many things including chassis set-up and continuing development of the fuel-injection system," said Checa. "There is still progress to be made in these areas. However I am very pleased because today I set a time almost one second faster than my qualifying time from my last race here. For me the most important thing now is to ensure that Yamaha and myself head in the right direction leading up to the first race."
Checa's Fortuna Yamaha teammate Marco Melandri (1'34.7) was disappointed with his performance after a number of minor tumbles, but is looking forward to the next tests. "Today has not been great as I've have had some engine troubles. Although I completed many laps and achieved a great deal it was frustrating because I had to come in and out of the pits many times," explained the young Italian.

Shinya Nakano (d'Antin Yamaha, 1'33.7) also spent the majority of the three-days testing tyres and his race distance endurance. "I'm very happy because I've been able to try many things," said Nakano. "We tested different chassis' and we have found a good set-up for the future IRT test."

Lap times (best of 3 days) Alex Barros, Gauloises Yamaha Team 1'32.8, Carlos Checa, Fortuna Yamaha Team 1'32.9, Shinya Nakano, d'Antin Yamaha 1'33.7, Marco Melandri, Fortuna Yamaha Team 1'34.7.
---
Our FastDates.com Calendar Angel Jannelle Perzina, when she's not testing high horsepower Superbikes, will be flagging off the races at our 1st annual FastDates.com Los Angeles Super Moto Nationall round in July 2003.
FastDates.com and The Los Angeles Calendar Motorcycle Show Weekend presents the
Los Angeles Super Moto National
July 19th & 20th Weekend 2003
The Queen Mary Event Park, Long Beach CA
As you know the Los Angles Calendar Motorcycle Show weekend is the biggest Custom and Performance Streetbike Show in America, drawing major national media attention, some 20,000 spectators and over 150 major manufacturers from across America. It is the highest quality motorcycle event of its type, situated at the beautiful Queen Mary Event Park in downtown Long Beach right on the edge of the Pacific Ocean. You can find out more about our Bike Show HERE.

Beginning this year, 2003, The Los Angeles Calendar Motorcycle Show will feature a National caliber Super Moto race weekend produced by Moto Master on an exciting stadium style course at our Queen Mary facility. And despite this being our first year for a national caliber Super Moto event, we've already got a venue that is guaranteed to draw more spectators and media exposure than most rounds of the AMA Chevy Trucks National Superbike Championship.

FastDates.com producer Gianatsis Design has been contacted by AMA Pro Racing with an invitation to make our national caliber Super Moto event weekend the premier showcase round of their newly proposed AMA Super Moto National Championship (see details below). Details with the AMA are still in the formulative stage at this time, but either way, Gianatsis Design will be hosting the only Los Angeles round fo a Super Moto race weekend, located in the heart of America's motorcycle community. Title and Associate sponsor opportunities for the race are avaialble and interested companies, as well as riders and race teams, are invited to find our more by contacting Gianatsis Design.

New Yamaha R6 gets Pan-Euro race training treatment
Yamaha's European racing head office (Yamaha Motor Racing) has reintroduced the Yamaha Race Training (YRT) programme in a step designed to provide national and international supersport race teams, running the latest 2003 YZF-R6, with the best possible chance of track success in 2003. Distributors and teams from all over Europe have been invited to attend the three-day event in March at Almeria Circuit, Spain, to gain as much technical understanding of the new bike and its race potential as possible.

The R6 is the most successful machine ever to compete in the Supersport World Championship, having won three manufacturer world titles in the last four years. Yamaha is expecting the latest version, complete with a new Deltabox III frame and R1-style suction-piston electronic fuel injection, to maintain this achievement.
The first day's technical theory will focus on the optimum usage of racing kit parts supplied by Yamaha Engineering Corporation (YEC). This will be followed by two days on track to test new kit parts and refine engine and chassis settings, with the assistance of Yamaha factory engineers and representatives of the major suspension and tyre brands.

The event will run in overlapping groups from 16th through 21st March and Yamaha supersport teams wishing to attend are able to register via their national distributor. World Championship riders from the Yamaha Motor Germany, Yamaha Motor France and Yamaha Belgarda factory supported teams have also been invited to lend their support to the occasion.

The YRT programme is an invaluable source of information sharing for race entries and was last run in the mid nineties to assist teams racing Yamaha's TZ machinery, the YZF600 Thundercat and the YZF750SP superbike. For latest Yamaha R6 and R1 Racing parts, bike setup and links to Yamaha Racing information visit The Paddock Garage.
---
Camel and Honda Pons form new MotoGP partnership
Max Biaggi and Tohru Ukawa get big bucks backing

Geneva, January 28 2003 - JT International and the Grand Prix team Honda Pons are proud to announce the birth of a new partnership that will see the tobacco giant's Camel brand holding the Title Sponsorship of the MotoGP World Championship team for the next three years. The new partnership between one of the most famous cigarette brands worldwide and a team with the pedigree of Honda Pons, with its 20 years of experience in World Championships, is a perfect match.

The team, expertly managed by two-time World Champion and IRTA President Sito Pons, and headed by technical genius Antonio Cobas is one of the most successful teams in MotoGP, finishing as one of the top three teams in the last three Championship seasons. With the incorporation of 2002 Championship
runner-up Max Biaggi and third-placed Tohru Ukawa, both riding the supremely dominant Honda RC211V, the prospects for success for the Camel Pramac Pons team are extremely high.

Following its acquisition of the international operations and brands of R.J. Reynolds in 1999, JT has become one of the top three global tobacco companies with tobacco sales of 453.5 billion cigarettes and 31.4 billion USD in fiscal year ended March 31, 2002. JT owns three of the top five tobacco brands worldwide, including not only Camel, but also Mild Seven, sponsor of the Renault Formula One team. While this is the Camel's first participation in International Motorcycle Road Racing Championships, the brand has had a long time association with Motor Sports, most notably with its involvement in Formula 1 in the late 80's and early 90's, with the Jordan, Lotus, Benetton and Williams teams. Celebrating its 90th anniversary this year, Camel is one of the world's leading brands, sold in nearly 100 countries. Leveraging its rich heritage as one of
the most renowned consumer brands worldwide and its reputation for innovation, Camel introduced its latest generation product range in 2002, supported with a new brand logo and advertising campaign. The MotoGP sponsorship is another move by Camel to enhance its international premium image, in an effort to increase
market share globally.

The official presentation of the Camel Pramac Pons team will take place on the evening of March 14th 2003 in Barcelona, at a venue to be confirmed. Patrick Enright (Camel Commercial Vice-President, JTI):
"We are extremely excited about the new partnership with Honda Pons. To enter into the MotoGP arena, as Title Sponsor of a team is a significant milestone for Camel and we are delighted that the Camel brand will be represented around the world by such a prestigious and successful team. We are convinced that the
technical expertise and experience of the Camel Pramac Pons team, coupled with the brilliance of born-winners Max Biaggi and Tohru Ukawa, will bring much success both on and off the track to everyone involved in the project."

Sito Pons (General Manager, Camel Pramac Pons): "We are delighted to be able to welcome Camel into the world of MotoGP and particularly honoured that they have chosen to work with our team for the next
three years. Right from the beginning Camel have demonstrated a whole-hearted commitment to the new MotoGP project and the passion, enthusiasm and experience they bring is a great plus not only for our team, but also for the Championship as a whole. Our aim, as always, is to win and now, with Camel's support, we
have added the final piece to the jigsaw of what we hope will be a championship-winning combination of riders, team, bike and sponsor. And in Max Biaggi and Tohru Ukawa, we certainly have the riders with the ability to claim the much-coveted World Title for the Camel Pramac Pons Team."
ORDER NOW!

Our 2003 SBK World Superbike Fast Dates Calendar model and Penthouse Pet of the Year Zdenka fully revealed in this sexy video...
-Click to order Online -

Ripped Pavement 2003

USA order: Calendars.com
In England phone or click on
Crossbow (44) 181-669-6400,
GP Legends at 870-040-1234
Garage Girls 2003

HOMOLOGATION MILESTONE FOR PATRONAS SUPERBIKE London, January 30th, 2003 – The Federation Internationale de Motocyclisme (FIM) today announced that the FP1 – the first Malaysian superbike – has passed homologation for competition in the 2003 World Superbike Championship.The inspection saw the first 75 units of the road version of the FP1 examined for compliance with the FIM regulations governing the eligibility for competition in the Championship, the highest echelon of superbike racing.
With this latest development, PETRONAS has also now been granted a manufacturers' license, automatically confirming the addition on February 14th of the FP1 – anticipated to be the most eagerly awaited within the racing circle and among fans worldwide – to the entry list for the 2003
Championship.Production of the FP1 road bike will continue at a new PETRONAS facility in Malaysia. In keeping with the unique race-to-road nature of this project, further development of the road-going FP1 will be in
tandem with that of the race machine, which will make its debut along with Foggy PETRONAS Racing at Valencia, Spain on March 2.
AMA Pro Racing Announces New U.S. Super Moto Championship
Will our LA Calendar Motorcycle Show to be the premier event of the Series?

PICKERINGTON, Ohio -- AMA Pro Racing will debut an all new motorcycle racing championship in 2003 based on the popular supermoto format. The series is
scheduled to begin in late Spring and AMA Pro Racing plans a complete press conference and introduction during Daytona Bike Week in March.

According to Scott Hollingsworth, CEO of AMA Pro Racing, the new series already has the support of the major OEMs as well as a number of national sponsors. "It's apparent that the marketplace is ready for this championship and AMA Pro
Racing is pleased to take the leadership role in its development," said
Hollingsworth.
"Supermoto, with its combination of road racing, motocross and
flat track elements, is a fantastic platform for manufacturers to showcase new product and expand their marketing opportunities. Plus, there's no better way to demonstrate rider versatility. To succeed in this series competitors will have
to master several racing disciplines."
A cross section of national caliber riders has expressed interest in competingin the series including reigning AMA Progressive Insurance U.S. Flat Track Champion Chris Carr, two-time X-Games gold medalist /freestyle motocross star
Mike Metzger, five-time Daytona 200 winner Scott Russell and former World GP Champion, Kevin Schwantz. Bringing riders together from differing racing
backgrounds will ensure not only a good show but broad fan appeal as well.

Races will run in conjunction with already-established AMA professional races or
as stand-alone events in a number of major markets nationwide. One of the goals
of the series is to offer as many riders as possible the opportunity to compete. Complete series details, including class structure and rules will be announced
in March.
Meanwhile our own National caliber FastDates.com SuperMotard Race Weekend is taking place at our huge Los Angeles Calendar Motorcyle Show Weekend July 19-20th at the Queen Mary Event Park in Long Beach. With over 20,000 spectators and 150 industry manufacturers and companies in attendance in the heart of America's motorcycle community, this will no doubt be the premier Supermotard event in America.
Our Motard event is being produced by Paul Brent and Glen Curtis of MotoMaster. The AMA is presently in negotiations with us to secure our race as the showcase event in their proposed National Championship Series. Title sponsorships opportunities for our Los Angles round are available by contacting Gianatsis Design at ph: 818-223-8550.

American Suzuki Announces 40th Anniversary Models
BREA, Calif. (Jan. 24, 2003) - American Suzuki Motor
Corporation (ASMC) today announced three special
edition anniversary model motorcycles to commemorate
American Suzuki Motor Corporation's 40th year of
business in the United States.Beginning this spring,

Suzuki dealers will begin
retailing a limited number of 40th Anniversary versions of the top-selling GSX-R600, Hayabusa
(GSX1300R), and Intruder Volusia (VL800). Each model
will have a special American Suzuki 40th Anniversary
emblem mounted on the upper triple clamps, plus the
following features unique to each model:
GSX-R600Z, MSRP: $8,249.00*
- Team Suzuki Alstare World SuperSport color scheme
with gold-colored wheels
- Available beginning March/April, 2003
Hayabusa 1300 (GSX1300RZ), MSRP: $10,999.00*
- Striking orange color scheme with black-painted frame and black swingarm
- Available beginning May,
2003Intruder Volusia (VL800Z), MSRP: $6,799.00*
- Beautiful pearl white color scheme with gold pin-striping
- White speedometer face with orange backlighting
- Rider and passenger seats trimmed with bright chrome studs
- Special ignition key fob and key chain
- Available beginning March/April, 2003
"We are really proud of how far we've come over the past four decades, and we feel these special models are a great way to recognize our accomplishments," states Mel Harris, executive vice president of ASMC's motorcycle/ATV and marine divisions. "By continually
introducing innovative, high quality products we've been able to grow our business over the years and become an industry leader in a number of market
segments."
American Suzuki Motor Corporation was chartered in the
state of California in 1963. The Company's Motorcycle Division was established one year later to oversee the importation and distribution of Suzuki motorcycles in the United States. In a short period of time, Suzuki established itself as one of the major brands in the rapidly expanding motorcycle marketplace, due to Suzuki's new model innovations, its response to customer needs and the reliability of its products.
American Suzuki Motor Corporation markets and
distributes Suzuki, motorcycles, ATVs, outboard motors, and automobiles through its network of over 1,800 dealers across the United States. American
Suzuki Motor Corporation is a wholly owned subsidiary of Suzuki Motor Corporation of Japan.


Sexiest Magazines!
Maxim, FHM, Stuff,
Sport Rider, Playboy, Superbike
Easy Riders, Cycle World, more!