The Primedia / MotoMaster
USA SuperMotard National Championship Series featuring the
Los Angeles Calendar Motorcycle Show's FastDates.com National by Russ Brown

Los Angeles, CA, March 10th: SuperBikers2 and Moto-Master USA have teamed up produce the 2003 Primedia US SuperMotard National Championship Series. SuperBikers2 and Moto-Master USAhave announced this new 8 round series with the Primedia Action Sports Group and its magazines Sport Rider and Dirt Rider as its title sponsor with the Los Angeles Calendar Motorcycle Show hosting the Championship's showcase round in conjunction with the Calendar Motorcycle Show taking place at at the Queen Mary Event Park in Long Beach, CA, the weekend of July 19-20th, 2003.

The SuperMotard series will kick off in March and crown champions in 2 different classes in October. Headlining the series will be the Open Supermoto Extreme class featuring the open displacement, big bore thumpers that have made this sport what it is known for today. The equally impressive 450X class will feature a 450cc displacement limit that will showcase the latest machines from many manufacturers. SuperMotard USA, SuperMoto USA, Mile High Motard, and SuperBikers2, LLC will hold regional races to run as support classes in conjunction with national event for their host weekend.

The SuperMotard racer is one who has talents in various types of racing environments: motocross racing, dirt-track racing, and roadracing are all key ingredients to a successful SuperMotard racer. With strong rider base is key to making this series grow. By joining with the many regional groups, we have the critical ingredient for great racing action for our spectators to see. Add in some top level racing facilities and everyone is assured guaranteed a great time, for both spectator and racer.

Major National Championship rounds will be showcased at major events including the Phoenix Bike Fest on March 28-30th and the Los Angeles Calendar Motorcycle Show weekend on July 19-20 to bring supermoto racing to the racing public.

"We are really excited to have the Primedia US SuperMotard National Championship Series join us this year as just one more exciting feature at The Los Angeles Calendar Motorcycle Show. Other exciting new attractions and additions this year include The Iron Works magazine Readers Ride-In on Saturday to benefit The Olive Crest Home for Abused Children, the largest shelter system in Southern California. Plus we will have The Beu Sisters, the hottest new singing group in America, making their first West Coast appearance to perform from songs their hot new album "Decisions"

"No other streetbike motorcycle show in America offers motorcycle enthusiasts such an extensive and exciting weekend of entertainment for one low admission cost. While for major manufacturers, bike builders and venders this is the biggest and best event on the West Coast to showcase your products to the largest group of upscale streetbike enthusiasts at a very low cost for Exhibitor space. "

Complete details, Including Spectator and Exhibitor Information on The Primedia US SuperMotard National Round at the July 19-29th Los Angeles Calendar Motorcycle Show are available HERE.
---
Loris Capirossi burns rubber in a full power drift out of a right hand sweeper on the way to shattering the lap record at the top speed runs at Catalunya.
MotoGP - IRTA Tests at Catalunya
Will the Japanese have to go back to World Superbike to hide?
Millions of TV fans watch as the factory Hondas get trounced!
Loris Capirosi shatters MotoGP world speed record at 202.5 mph and turns fastest lap times on Ducati Desmosedici V-4 Grand Prix Bike

DAY 1
Barcelona, Spain, March 15th Ducati MotoGP Team riders Loris Capirossi and Troy Bayliss commenced this weekend's first all-team MotoGP tests at Catalunya in fine form today, Capirossi's Desmosedici V4 clocking the fastest top speed ever recorded by a GP bike.The Italian rocketed through the Catalunya speed trap at a phenomenal 325.9kmh (202.5mph), proving that Ducati's engine and aerodynamics engineers have already done some great work with the Desmosedici. The previous best was 324.5kmh (201.6mph), recorded on Mugello's faster straight during last year's Italian GP. And yet Ducati MotoGP Team technical director Corrado Cecchinelli was quick to play down the remarkable performance.

"We're very pleased," he said. "But I'd like to say that whenever you have the best top speed but not the best lap time, it means that there are other bikes going around the corners faster, which means we still have some thinking to do!

"We've had a good day today. Troy is continuing to learn the track, because this is his first visit here, while Loris did some set-up tests and tried Michelin's 2003 tyres."

This week's tests, the team's penultimate session before the season kicks off at Suzuka on April 6, are particularly significant because they mark the first appearance of the definitive Ducati MotoGP factory
machines, as opposed to the pre-prototype bikes that have been used at all previous tests. The differences are in fact minimal – just detail changes to bodywork and a neater finish to some parts – but the bikes have performed well. Capirossi ended the day second fastest.

"I'm very happy with what we've achieved so far," said the former 125 and 250 champ. "It's great to be fastest on the straight, though top speed isn't so important. What I'm really happy about is the overall performance of the bike – it's very, very good – and it's getting better every day. I'm using the new bike for the first time here, so we're just working at fine-tuning now."

Bayliss, who clocked an amazing 90 laps during private tests here on Thursday, is steadily getting to grips with this complex circuit. "There's some places that are easy first time out, while other places take longer
to get to grips with," said the Australian. "We've been working on a lot of things here – mainly grip and handling – and I felt like I'd run into a bit of a wall this morning. We finally started to make some progress this afternoon, just as it started raining! Overall I'm pretty happy, but after going to so many new tracks, it'd just be nice to go to a track that I know, somewhere I'd know the limit."
At day's end it was the Yamaha YZR-M1 of new Gauloises Yamaha Team signing Alex Barros that topped the official time sheets with a 1'44.112. Although the time fell slightly shy of the Brazilian's personal best, set only days before, it was still well under the official circuit best ever lap – a 1'44.523 set during the 2002 MotoGP – despite the cold conditions.
Honda teams were at full strength at Montmelo. The four squads, led by the Repsol Honda factory team of Valentino Rossi and Nicky Hayden, will race, RC211V 990cc five-cylinder four-strokes in 2003. The Barcelona based Honda Pons squad race in Camel Pramac Honda colours this season, with Max Biaggi and
Tohru Ukawa as team riders.

Fausto Gresini, a former double 125cc Kingpin, paraded his Telefonica MoviStar Honda team of Daijiro Kato and Sete Gibernau at Montmelo. While Pramac Honda enter their second grand prix season with, new to MotoGP, Makoto Tamada aboard their RC211V.

The RC211Vs have undergone eight months of intensive development since the grand prix at Montmelo, in June of last year. The RCVs are now producing in excess of 200PS, and running at over 320km/h in a straight line, and consequently the Honda riders spent the early part of the day finding chassis and engine settings to suit the new RCV at the 4.727km circuit.

Fastest Honda rider on the day was local man Sete Gibernau, who lives in Barcelona. Gibernau used his circuit knowledge to good advantage to end the day in third place on the time sheet. Had it not rained Gibernau would
certainly have been faster today. As it was he set a time three-tenths of a second faster than reigning MotoGP World Champion Valentino Rossi in fourth place. Daijiro Kato was sixth fastest, followed by Tohru Ukawa. That was before a light rain shower and falling temperatures called a halt to serious action for the day.The Repsol Honda team treated the first day, as they would have race practice. Rossi and Hayden chasing chassis and suspension settings and testing a variety of Michelin tyres. Hayden is paying his first visit to Montmelo and was beginning to lower his times when the rain fell. With sunshine forecast for tomorrow the young American is confident of further improvement.

Team d'Antin's Shinya Nakano, the former 250cc GP Champ was the fastest Yamaha rider in 5th, withFortuna Yamaha Team duo Marco Melandri and Carlos Checa recorded the eighth and ninth fastest times respectively today.

Rain fell at Catalunya in the afternoon and the day ended with a dummy wet-weather restart, organised to allow riders to familiarise themselves with the new wet-weather restart procedure introduced for the 2003.

Lap Times Day One:
1. Alex Barros, Gauloises Yamaha Team 1'44.112;
2. Loris Capirossi, Ducati Marlboro Team 1'44.370;
3. Sete Gibernau, Telefonica Movistar Honda 1'44.793
4. Valentino Rossi, Repsol Honda 1'45.167;
5. Shinya Nakano, Yamaha Team d'Antin 1'45.328
6. Daijiro Kato, Telefonica Movistar Honda 1'45.476
7. Tohru Ukawa, Camel Pramac Pons 1'45.581
8. MARCO MELANDRI, FORTUNA YAMAHA TEAM 1'45.684
9. CARLOS CHECA, FORTUNA YAMAHA TEAM 1'45.733
10. John Hopkins, Suzuki Grand Prix Team 1'45.826

Everyone was elated over Capirossi's top of the charts performance on the new Desmosedici.
DAY 2
March 16th: Ducati MotoGP Team rider Loris Capirossi topped this afternoon's official preseason test session at Catalunya in sensational style, outpacing his nearest rival by almost a quarter of a second aboard the
Italian factory's all-new Desmosedici. Team-mate Troy Bayliss was also in brilliant form, bettering yesterday's times by 1.81 seconds in his first visit to this complex Spanish track. Capirossi's astonishing pace – 1.96 seconds inside the track record – underlined the remarkable progress made by Ducati since the start of the Desmosedici MotoGP project. The bike has yet to turn a wheel in anger but has already shown that it should be a real force once the 2003 MotoGP season starts in Japan on April 6. Today the machine also broke its own record for the fastest-ever top-speed figure in GP racing, tripping the Catalunya speed trap at 328.2kmh / 203.9mph.
Reigning MotoGP World Champion Valentino Rossi (Repsol Honda) started off as the fastest Honda rider in the afternoon timed session, the 'MotoGP best Qualifier' run live on television. Rossi topped the times as the session entered its final minute but his fellow countryman Loris Capirossi (Marlboro Ducati) and Brazilian Alex Barros (Gauloises Yamaha) upstaged the Italian in the dying seconds of the televised session. Capirossi and Barros were still out on track as Rossi entered the pits and both men promptly dipped under his fastest lap time of 1m 44.324s, Capirossi by a massive 0.690s, Barros by 0.446s.

"We weren't really expecting this so soon!" smiled Ducati Corse managing director Claudio Domenicali. "And while we don't anticipate being so competitive, so soon at every circuit, this does prove that Ducati has the capability to start a new project from scratch and reach a high level very quickly – all our engineers should be very proud. Of course, Loris also made a big difference today, and we found a perfect set-up for the bike, which really suits the high-speed nature of this track."

Capirossi, whose spectacular best lap was watched on live TV by millions of bike-race fans around the world, was ecstatic with his performance. "I'm so happy, I really wanted that, so I rode 110 per cent!" beamed the Italian who had earlier suffered a minor fall, when an oil pipe split and leaked oil onto the rear tyre. "My fastest lap was hot – I went into a few corners a bit too fast but the bike still turned, no problem."

Generous Capirossi immediately donated his BMW sports car – the prize for today's fastest rider – to his mechanics, who will sell the vehicle and split the proceeds amongst themselves. "My mechanics have worked so hard for this, so they deserve it," he added. "But we have a long season ahead of us, and a lot more work to do."

MotoGP newcomer Bayliss ended the time one-hour session tenth and satisfied with progress. "This is my first time here so I just eased myself into it, did a lot of laps and things came good, so I'm happy, and I'm happy for Loris too!" said the Aussie. "We've been working on the same thing as always – making the bike go faster around the racetrack! And hopefully we can keep making progress in the run-up to Suzuka."

Despite the mood of euphoria in the Ducati MotoGP Team pit, technical director Corrado Cecchinelli was keen to focus on the task ahead. "Now we have the highest top speed and the best lap time," he said.
"But you have to remember – you only get points for races! That was an incredible lap from Loris – with the bike in race set-up with an average fuel load and the same tyres as all the other Michelin riders. We let him focus on riding today, rather than set-up, so he could get comfortable for the timed session."
The top three men looked comfortably the fastest riders present when the session ended but in the free practice session that followed several riders put them under serious pressure. Tohru Ukawa (Camel Pramac Honda) had changed engine in his RC211V, made changes to front and rear suspension settings, then went out and put in a series of fast laps that culminated in him circulating the 4.727km circuit at 1m 43.832s, faster than all but Capirossi!

Local man Sete Gibernau (Telefonica MoviStar Honda) had been in sparkling form over the two days and, despite a crash that left him with an injured right hand, quickly emulated Ukawa's performance. The Spaniard setting fourth fastest time of the day, 0.193s behind Barros, who held on to third. Gibernau's performance pushed Rossi back to fifth place, while Daijiro Kato, Gibernau's teammate, dropped to sixth. Max Biaggi (Camel Pramac Honda) was fourth fastest in the televised session, having overcome chassis setting problems that slowed him on Saturday, but dropped too seventh after the final free practice.

The fastest seven riders at Montmelo this weekend were all under the pole position time of 1m 44523s, set by Biaggi for the 2002 grand prix. American Superbike Champion Nicky Hayden (Repsol Honda) was the RC211V rider who made the most progress. Hayden, just 21, makes his MotoGP debut this season and is paying his first visit to the Montmelo circuit. He is beginning to find his feet at the top level, clearly illustrated by his time of 1m 45.626s, almost 1.3s faster than on the first day!

The Ducati MotoGP Team now returns to Italy to prepare for the big trip to Suzuka, where Capirossi and Bayliss will test alongside their rivals on March 30 and 31.

MOTOGP - SUNDAY RESULTS
Top-ten fastest through the radar-trap and the results of the official timed session from Day 2 of the IRTA Test in Barcelona.
SUNDAY - TOP TEN HIGHEST SPEEDS: Rider, Bike, km/h / mph
1). Loris Capirossi, Ducati 328.2 / 203.9
2). Troy Bayliss, Ducati 322.8/ 200.6
3). Valentino Rossi, Honda, 320.9 / 199.4
4). Daijiro Kato, Honda, 320.7 / 199.3
5). Tohru Ukawa, Honda, 320.5 / 199.1
6). Shinya Nakano, Yamaha, 319.8 / 198.7
7). Nicky Hayden, Honda, 317.6 / 197.3
8). Max Biaggi, Honda. 316.5 / 196.7
90. Carlos Checa, Yamaha. 316.2 / 196.5
10). Norick Abe, Yamaha, 315.2 / 195.
---
When she's not stuffing the net on a girls' collegiate basketball court, you'll find Ashley stuffing a wild bikini in the 2004 Fast Dates Calendar premiering in July.
Our own Los Angeles Calendar Motorcycle Show model pageant winner and hostess Ashley Esqueda, Miss Los Angeles, makes the finalists on ABC TV's ALL AMERICAN GIRL

March 18th, 2003: Hosting the 2003 Los Angels Calendar Motorcycle Show Weekend on July 19-20th will be beautiful Ashley Esqueda, a 20 year old university student, 6 foot tall school basketball star, and Miss Los Angeles 2002. Ashely entered and won the Calendar Girl pageant at the 2002 Show, and was awarded a paid photo shoot for the 2004 FastDates.com Calendars which will premier at this year's event. Ashley is presently appearing in ABC television's new reality show All American Girl where she made the cut into the top 15 finalists.
"If you weren't watching last night, I performed on All American Girl...it was stellar! I can't tell you how
excited I am to be doing this, even though my dancing looked (and was) about as graceful as a bull in a
china shop! Please show your support by watching the show!"
Follow Ashley's exploits on ABC TV each Wednesday 10-11pm as she advances towards the finals. And you can keep tabs on Ashley on her website at http://www.ashleye.us
---
. . . Going Fast!
Here's your last chance to order a piece of sportbike history. Our 2003 Calendars are sold out in stores worldwide. Only a few copies remain left at Calendars.com.
Click to order now online!

Ripped Pavement 2003

USA order Online Now: Calendars.com



Garage Girls 2003

Superbike Gets Naked ! ! ! Another World's First -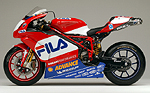 Bend over & quack like a duck
A Revealing look at the all new Ducati 999F 03 SBK
Fortuna Yamaha Preview of MotoGP World Championship 2003 Season Kickoff in Japan
April 4/5/6 2003: The 2003 MotoGP World Championship will commence this weekend at Suzuka in Japan. No less than eight manufacturers and 24 MotoGP riders will take their places on the starting grid on Sunday 6th April to start the championship that will span eight months and visit 13 countries.

Fortuna Yamaha Team riders Carlos Checa and Marco Melandri are looking forward to the challenge that faces them on their Yamaha YZR-M1s. It willbe Spaniard Checa's second year riding the Yamaha four-stroke in the premier
motorcycle racing class in the world. For Italian teammate and 250cc World Champion Melandri, this is the moment he has always dreamed of as he contests his first race on a MotoGP bike. Both riders have been working hard through the winter to develop the M1 at a host of private European tests. The testing programme concluded in a series of group IRTA tests, the last of which took place last weekend in Suzuka.

The MotoGP championship will reach a dizzy height of competition this
weekend. The mix of Yamaha, Honda, Suzuki, Kawasaki, Aprilia, Ducati and Proton machinery will make this race the fastest and no doubt most entertaining Grand Prix the sport has ever seen. The Japanese race is the first of sixteen races in total; after this weekend the MotoGP circus moves to the Welkom circuit in South Africa before the European rounds commence in
Jerez, Spain on 11th May.
DUHAMEL LEADS HIGHLY COMPETITIVE AMA CHEVY TRUCKS U.S. SUPERBIKE CHAMPIONSHIP COMING INTO FONTANA DOUBLEHEADER
PICKERINGTON, Ohio – Miguel Duhamel is in his 15th season of AMA professional racing, but the 34-year-old native of Montreal shows signs of being in the racing form that enabled him to win the 1995 AMA Superbike title. Duhamel, the all-time AMA Superbike wins leader, is coming off his 26th-career victory in the season opener, the Daytona 200, at Daytona International Speedway on March 10. Duhamel and the rest of the AMA Chevy Trucks U.S. Superbike competitors are heading to California Speedway, in Fontana, Calif., on April 4-6, for the Yamaha Superbike Challenge, rounds two and three of the 18-race championship.

This is the first time in four years that Duhamel has been atop the AMA Superbike standings. The veteran factory Honda rider is hoping to keep his momentum going as the series comes to Southern California.

"I'm feeling as strong as ever and my team has my Honda RC51 dialed in so well," Duhamel said. "It's going to be tough because of the great competition in the series, but I think I have a real shot at winning the championship this year. It's been eight years, so I think it is about time I win it back."

If Daytona was any indication, this year's series could be the most competitive in years. In the series opener, six riders led the race on three different brands. One of those riders who led at Daytona was Anthony Gobert. Gobert won the Saturday Superbike race last year in Fontana and is looking to get his season back on track after engine problems forced him to retire at Daytona.

"I'm looking forward to Fontana," said Gobert, a former Australian Superbike champ who rides for Ducati Austin. "We've got some points to make up after Daytona, but with 18 rounds this year, we have plenty of races to catch up. My goal is to go out and start winning races. If I do that then everything should fall into place for us."

Duhamel's Honda teammate Ben Bostrom is back in the AMA Series after three years in World Superbike. "I can't wait for a race where we have to hang it out the entire way," said Bostrom, referring to the normal 62-mile length of AMA Superbike races, versus the 200 miler at Daytona. "I haven't raced at Fontana, but we have tested there. I came out of Daytona second in the points, so I feel good about where I am heading into the rest of the season."

Kurtis Roberts has been close many times, but has yet to win his first AMA Superbike race. The 24-year-old son of legendary multi-time world champion Kenny Roberts, finished a very close third at Daytona and he is more than ready to get his first win in the books. He rides a Honda RC51 factory Superbike for Erion Racing.

While the factory Honda riders and Gobert are good bets at Fontana, the wildcards are factory Suzuki riders Mat Mladin and Aaron Yates, and Kawasaki's Eric Bostrom. Mladin and Yates are riding the new Suzuki GSX-R1000 Superbikes. The new Suzukis were mega-fast at Daytona, but with so much power on tap, the challenge was to manage tire wear. Yates had the equation figured out at Daytona and was running in the lead group before an attempted pass on a lapped rider went awry forcing Yates to run off the track. He recovered and was charging towards the leaders and finished fourth at the drop of the checkered flag. Mladin and Yates each earned podium finishes at Fontana last year, so they know what it takes to do well there. Look for the Yoshimura Suzukis to be up front.

Eric Bostrom is riding one of the established Kawasaki ZX-7-based Superbikes. Bostrom's bike is a nimble handling machine and both rider and bike are proven winners. Eric, the younger brother of Ben, comes to Fontana ranked fifth in the standings. He thinks he'll be able to improve on that after the California Speedway doubleheader. Plus, Eric's coming off an extremely successful session at Infineon Raceway where top riders tested several track changes. That momentum should bode well for Eric at Fontana.

Another rider to watch at Fontana is Larry Pegram, who won an AMA Superbike race in Southern California in 1999. Pegram is on the Dream Team Racing Ducati.

Suzuki's GSX-R1000 has proven to be the Superbike choice of top privateers. Formula Xtreme champ Jason Pridmore could easily get up amongst the factory machines at Fontana on his Attack Suzuki GSX-R1000.

The first California Speedway Superbike doubleheader will run on Saturday, April 5 and the second race on Sunday, the 6th. Both rounds will be televised Live on Speed Channel (5 p.m. April 5 and 6 p.m., April 6 EST).
CHICKS RULE!
At the LA Calendar Motorcycle Show and SuperMoto Nationals July 19-20th!
2 Days of exciting Live Music featuring America's hottest new girl group, plus the beautiful FastDates.com
Calendar Angels!

Click to visit their website and see their music video!
Both Days!
The Beu Sisters
Our Featured Show Band The hottest sounding, most beautiful new girl group in the World in their first West Coast appearance, premiering their new album "DECISIONS."
Meet the Beu Sisters HERE
The Beu Sisters on MTV
website & video interview HERE
The Beu Sisters CD Ablum
Click below to buy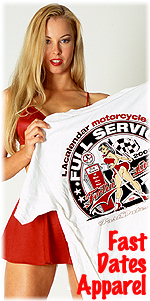 Ben Bostrom after Daytona and Comments on
Sear Point Track Changes
"Since Daytona, I have been replaying that last lap in my head about a hundred times. I wish I had had eyes in the back of my head, because I would have done the chicane a lot differently. Miguel wouldn't have gotten by me. It's a bummer."
"After Daytona, I flew to Charlotte to do the Speed Channel show with Greg White. I took some big hits off a RedBull during the whole show. It's funny, because people were asking me about it afterwards, even wondering if it was a prop or a fake can! It was real, man, and I drank it! I only had three hours of sleep, I needed it. After the show I flew home and got even less sleep the next night. I was just running it."
"After things settled down a bit, we went climbing and surfing, and we also went dirt tracking. We did the Danny Walker school too, which was fun. Everyone was really cool at the school and riding really well, actually. And I was impressed with how Danny taught the school. He knows those 100's so well. He really knows those bikes. And Danny doesn't care if you crash, he just wants to help you ride those bikes and to learn. I learned quite a bit myself, actually. It's amazing, you always learn. Every time you get on a bike, you learn."
"We headed up to Sears Point (Infineon) afterwards for a quick test. I hadn't been to the track in about four years and it is quite a bit different from when I was there last. They actually made the track much safer and it even has two more passing areas now. And they are right at the end of the racetrack, where you can set someone up for a finish line pass. Some thought the new design hurt the flow of the track, but I thought it was really fun and even provided a few more technical corners than before. It was just as much fun to ride as before, just safer"
"Overall, I'm feeling good about my decision to come home. The two best series in the world right now are AMA Superbike and motoGP. All the factories are putting all their support into these two. They both have the majority of the best riders and bikes. It all leads to the best racing. You're always going to have more than several guys up front, going really fast. So I'm really excited and happy with my choice. My bikes are fantastic, and I find myself on another good team."
Honda Team
Comments from Catalunya
Max Biaggi, ITA Camel Pramac Honda, 4th - 1m 44.326s: "Today e took a big step forward, we were able to set up the bike quite the way we want it, it had a good balance today. I also had a very good set of tyres. We had them yesterday but I did not try them at theme! Going into the corners I still have some problems and I understand we can only cure the clutch problem with new parts. We have to be patient and wait, doing our best with what we have. I know solving the clutch problem I have we can make a very big step forward."

Biaggi went on to say. "The new safety car regulation is quite complicatedand in racing we need as few complications as possible. I'm not sure how it will work in a race situation, rain, cold tyres, riders all together in a group? But it's a regulation now, so we will see how it works out!"

Valentino Rossi, ITA Repsol Honda, 5th - 1m 44.111s: "This is not a test;
it was really the 17th GP. We really didn't test anything - the temperature
was too cold but also we start like a MotoGP and we have one hour of
practice - it's not like a real test. However the bike felt good and all
the testing we have done over the winter has shown good benefit. I'm
looking forward to going to Suzuka and racing!"

Nicky Hayden, USA Repsol Honda, 13th - 1m 45.533s: "The weekend was good but like any other racer you always want a little more and I'd like to be in front of a few more guys. The 'qualifying' session was fun - something a little different for me. I got on with the track real well. Tady (Okada) was helpful, as were the split times - I've never had that before in
MotoGP. I could see where I was fast and slow. The atmosphere was great.
Never heard air horns at a test!"

Sete Gibernau, SPA Telefonica MoviStar Honda, 4th -1m 44.071s: "We can leave here very satisfied with the work we did. This weekend I was the fastest Honda, until the last minutes of testing. I had a good pace and was consistent all through the test. I want to thank the team for the work they did this weekend. Now we have to keep our heads down and keep working. It's a pity I crashed today, I have a little injury to my right wrist which troubled me and I could only do a few laps at a time."