Kurtis Robets, Miguel DuHamel and Ben Bostrom on top.
2003 AMA Chevy Trucks US Superbike Championship: Round One
A Great Race That No One Saw after Rain Disrupts Qualifying and Postpones Racing
Wily Veteran Miguel DuHamel
Leads a Honda Sweep of Daytona 200
Opening Qualifying Session Report
Ben Bostrom on the Pole as Honda V-Twins and
Suzuki 4-Cylinder GSXR1000's take the Front Row at Daytona

Daytona Beach, Florida, USA (Thursday, March 6): Pole position for this weekend's season opening round of the AMA Chevy Trucks US Superbike Championship went to former World Superbike rider Ben Bostrom. The American Honda rider posted a time of 1:48.376, to edge out Kurtis Roberts (Erion Honda, 1:48.554) and Mladin (1:48.555). Mladin's teammate Aaron Yates will complete the front row of the grid after setting a best time of 1:48.659. Less than one second covered the top nine riders during qualifying, with fellow Australian Anthony Gobert (Ducati Austin) seventh fastest.
Australia's three times American Superbike champion Mat Mladin, will start from the front row of the grid for this weekend's 62nd Daytona 200 classic after posting the third fastest time in today's qualifying session that determined pole position and the remainder of the front row of the grid.

Mladin's run at gaining pole was disrupted in the closing minutes as he fell from his Team Yoshimura Suzuki GSX-R1000 at the chicane. At that stage, Mladin had set the fastest time of his session at that point and was preparing to go quicker, but was robbed of the opportunity due to the crash.

"Having the crash with about 15 minutes came at the time when we were starting to put some new tyres on the bike and make a run at a pole position time," said Mladin, who took pole for the 200 in 2001. "I had a different tyre on the front that I hadn't had much time on and just lost it on the entry into the chicane. I got back to the pits and on to my spare bike as soon as I could, so that I could make sure that all of my parts were still working at least, but was only able to get a couple of laps in before the session closed."

Mladin ran a number of solid lap times during the morning's free practice session as he and his team continued to develop the all-new Suzuki GSX-R1000 that they will be campaigning in this years championship.

"The morning session went well for us today. We know what the bike is capable of doing at the moment, but we're not happy with that, as I want it to do more. We made more improvements on the bike today from yesterday, but basically we just need to have more track time and get the bike sorted since it is still so new."

For Mladin and his fellow front row starters, their place on the grid has already been confirmed which means that they will be able to turn their focus on race set up for Sunday's 57-lap feature. Final Qualifying on Friday the 9th would be rained out, and all riders' grid positions would be determined by their times from Thursday.
Also rained out on Friday were the 600cc Supersport and 750cc Superstock races. The 600cc Supersport was rescheduled and run on Sunday morning before rained postponed the Superbike 200 race and 750cc SuperStock to Monday the 10th.

Daytona 200 – Combined practice times, Thursday, March 6
1. Ben Bostrom (American Honda) 1:48.376 mins; 2. Kurtis Roberts (Erion Honda) 1:48.554; 3. Mat Mladin (Team Yoshimura Suzuki) 1:48.555; 4. Aaron Yates (Team Yoshimura Suzuki) 1:48.659; 5. Eric Bostrom (Team Kawasaki) 1:48.695; 6. Ben Spies (Team Yoshimura Suzuki) 1:48.825; 7 Anthony Gobert (Ducati Austin) 1:48.935; 8. Larry Pegram (Dream Team Ducati) 1:49.087; 9. Miguel DuHamel (American Honda) 1:49.280; 10. Jason Pridmore (Attack Suzuki) 1:50.343.

Ben Bostrom back in the saddle on the RC51 saddle with the pole at Daytona. Photo curtesy American Honda.
Miguel DuHamel leads a Honda a 1-2-3 sweep
of the rain delayed Daytona 200 Superbike Race on Monday
Daytona Beach, FL, Monday March 10th, 2003:
Weather, hot and sunny; temperature, 30'; track conditions, dry; crowd 10,000 (estimated).

The wily veteran Miguel DuHamel led a Honda 1-2-3 clean sweep of the rain postponed Daytona 200, America's most prestigious motorcycle race, with a classic slingshot draft pass on the high banks of Daytona International Speedway, on a sunny afternoon in Florida. Former World Superbike star Ben Bostrom finished second, after starting from the pole position, a scant 0.069 seconds back, with Erion Honda's Kurtis Roberts a shadow third, 0.155 seconds behind DuHamel, all thre mounted on Honda SP-2 / RC51 1000cc V-twin Superbikes.
The race had to be rescheduled from Sunday after a second rain strorm blew through Daytona on Sunday around noon time, just minutes before the start of the race, forcing it to be postponed until Monday. Rain had also postponed the running of both the 600 and 750cc Supersport and Superstock races on Friday, with the 600cc race being run Sunday morning before the rain, and the 750cc race on Monday afternoon after the Superbike race. Spectator turnout for Monday's race was less than 10,000 people, about 1/4th of what Sunday's race might have brought in. The rescheduled live broadcast of the races on Speed Channel were also missed my most fans who were at work on Monday and had no way of knowing when the racse would be run. In World Championship motoryclele racing the races do take place rain or shine. But at AMA Nationals the added expense of rain tires for non factory teamg, and the danger of many tracks which have concrete walls without safe runoff areas like Daytona Speedway, make racing in the rain not an option.

"This is so sweet," the 34-year-old French Canadian said after winning his fourth Daytona 200, and Honda's second in a row. "I was thinking the whole race, 'Just stay in the race, stay focused, stay out there.' This has got to be one of my sweetest wins because there were three guys on the end. There was nothing decided. There was not just one guy against one guy."

The win was Honda's ninth in the Daytona 200 and also the second time the company has swept the Superbike podium. The last time was in 1985 when Freddie Spencer won the race. In addition to winning the 200, Honda riders topped the Pro Honda Oils U.S. Supersport race (Kurtis Roberts) and the Daytona Supercross by Honda (Ricky Carmichael). DuHamel's victory, and the Honda podium, was a testament to teamwork. The Daytona 200 is the only race in America which features pit stops. DuHamel's crew, led by Al Luddington, worked flawlessly, twice filling his gas tank and changing two tires in less than nine seconds.
The race started from Pit Lane and saw Larry Pegram on The Dream Team Ducati and Yoshimura Suzuki's Mat Maladin taking the lead and hold it for a lap, but both quickly faded backwards after lap 2. The race quickly turned into a 6 rider battle for first place between Aaron Yates on the other Yoshimura GSXR1000 Suzuki, Roberts, Ben Bostrom and Duhamel on the Hondas, brother Eric Bostrom on the factory Kawasaki, and Anthony Gobert on the Blue Bayou Team Ducati.
On Lap 15 Gobert had his Ducati 998F 02, a former factory Superbike, out front and in the lead. He was doing a terrific job, particularly since he was on his backup bike, his primary bike having lost its front brake pressure as it was rolled up to the start. Tony led the race for 3 laps until everyone starting pulling in for the first round of pit stops. Emerging back out onto the track after his pit stop, Tony's Ducati quickly began loosing power and started blowing smoke. His race was soon over. "The bike was running great before it went.Maybe it was because the bike wasn't warmed up when we switched over to it on the start." (Editors note: It World Superbike the factory Ducati Corse team always has the team's spare bikes warmed up and running in the pits as the riders go round the track for the sighting lap on their primary bikes).
Another rider deserving much credit for being able to run with the lead pack for much of the race was Eric Bostrom on the factory Kawasaki ZX7RR. The team had been testing all winter with their 750cc Superbike overbored to 805cc as the new AMA Superbike rules allowed, but this seemingly simple modification was adversely affecting the engine's reliability where it couldn't last a race. Eric was forced to run the same stock displacement 750cc Superbike motor from previous years against the other 1000cc factory bikes. Eric was quicker than most of the lead pack in the Daytona infield, and then on the banking he had to exploit catching the draft off the other leader to stay in the hunt and not loose too much of what he had picked up in the infield cours. But Eric never had the necessary power to lead the race on the banking. The same situation would apply to Eric later in the day during the 750cc Superstock race where he was having to run the Kawasaki 636cc ZX6 (which is too big to race in 600cc Supersport with the other manufacturers bikes).
When the second round of pit stops ended, after the 40th of 57 laps, the three Hondas were together at the front, along with the GSXR1000 Yoshimura Suzuki of Aaron Yates. It was a four rider battle for the lead with one four cylinder and three V-Twins. Then Yates blew it. He was in the lead and ran wide in the first turn with 8 laps to go, missing the the corner completely and loosing some 10 seconds before rejoining the race

That left the the three Hondas at the front with Roberts and Bostrom trading the lead back and forth as Duhamel hung back and watched. In the Horseshoe corner Roberts swung our wide on purpose to let the other two pass so he could follow them on the last lap. Bostrom took the bait, but not DuHamel who throttle back a few corners later and let Roberts slip back up to 2nd. Going into the back straignt chicane on the last lap Bostrom had the lead and he knew he was in trouble, shifting down a gear lower to first to try and black his persuers, hoping to get a better jump out onto the banking before the others could recover. It didn't work.

It was down to experience and DuHamel has the most. Already the winningest rider in AMA Superbike and Supersport history, the cagey veteran set up his teammates perfectly. On the run from the chicane to the checkered flag, DuHamel passed Roberts right away then used the unique Daytona draft-pass-slingshot technique to pass Bostrom and secure his fourth win in record time. DuHamel completed the 57 lap, 200 mile race in one hour, 46 minutes, 57.051 seconds, averaging 113.8 mph. The speed was a new record, breaking the
113.631 mph average set by Nicky Hayden in winning last year's Daytona 200.

Two laps from the finish Kurtis (80) holds the lead over Ben (155) and Miguel (17) as spectators (?) jam the fences.

Miguel DuHamel, First Place
"I knew I could draft past one guy, but I didn't want to be behind two. So I thought, 'OK, I've got to do this right.' Kurtis (Roberts) came by me and he was giving himself a little too much of a run. Obviously he was trying to do it for his own win. But I thought he was a little too far, so I used him, got a draft, got by with Ben. Ben got a draft around a lapped rider. Just when I split, Ben came back on me and it was really jarring me. I moved over and I thought, 'Oh no, Kurtis is getting the double draft, watch that guy go around us.' But it heldoff. I was really saving my tires and I think that's what made a difference in the end. I was really saving my tires and I think that's what made a difference at the end."

Ben Bostrom, Second Place
"I tried going into the chicane, I thought they were right behind me, so I downshifted into first to try and throw them off a little bit. Then I really tried to accelerate and get a good drive on the exit there. We didn't have much tire left. It just didn't pan out. The guys rode really well and set me up perfectly. If I had to take it over, I'd just try and get through it the best it could and get a little more engine speed and hope that would give us a couple thousands to win this thing. Miguel has a lot of tenacity and put it up front. You learn a lot from these kind of things. Basically it came down to the third tire with the rest of these guys. That was the deal. These guys let me lead on the last lap. I just put my head down and tried as hard as I could. I tried to backshift down into first in the chicane and throw these guys off. They just hooked me up and went by."

Kurtis Roberts, Third Place
"Miguel did a great job. So did Ben and so did my team and myself. We put our head down there in the middle stint and really rode as hard as we could I was really surprised I was leading there right before I pulled back in and we just didn't have it today for whatever reason. My team did a hell of a job. I take my hat off to them. The bike was perfect all weekend. Who knows what I could have done there on the last lap. But it doesn't matter know. It's a good day for Honda. I thought we would have had it there with a few laps to go. I was kind of surprised with how close they were to me. I wanted to get in here and get a podium for the championship run and I think we can do it now."

Chuck Miller, American Honda Team Manager
"It was a great weekend for Honda, the number one sponsor of the event and to pull off the supercross and supersport and 1-2-3 in superbike. We couldn't' ask for any more. It was incredible. Incredible teamwork too. I was very nervous when they were all battling. Aaron (Yates) was right in the midst of everything and when he ran off in turn one, I figured OK, I felt more confident we were going to pick up the win. But those last five laps when we were watching the boys play, didn't know how nice they were going to be to each other. I'll tell you one thing, these three guys have great respect for each other and they all knew what they had to do and it came down to those last two laps putting themselves in the right spot at the right time. Miguel's the cagey veteran and he knows where to be, when to be there. In the superbike race here, he was sizing everything up. Kurtis rode so strong so well, all weekend. Completely new Kurtis Roberts. The way he rides, his
attitude, his demeanor. And we knew when we got Ben back, Ben's a strong rider. He's hungry to be back here in the United States. What's great about is that all these riders have something to be proud of this weekend.
Results Dayrona 200 Superbike:
1. Miguel Duhamel, Honda, 57 laps. 1h 46m 57.051s = 183.201km/h; 2. Ben Bostrom, Honda, 5.; 3. Kurtis Roberts, Honda, 57; 4. Aaron Yates, Suzuki GSXR1000, 5.; 5. Eric Bostrom, Kawasaki ZX7R, 57; 6. Mat Mladin, Suzuki GSXR1000, 57; 7. Ben Spies, Suzuki GSXR1000, 57; 8. Michael Barnes, Suzuki GSXR1000, 56.; 9. Jason Pridmore, Suzuki GSXR1000, 56; 10. Shawn Higbee, Suzuki GSXR1000, 5.; 11. Andrew Deatherage, Suzuki GSXR1000, 55; 12. Larry Pegram, Ducati 998, 55; 13. Jack Pfeifer, Suzuki GSXR1000, 55; 14. Sandor Bitter, Suzuki GSXR1000, 54; 15. Ricky Orlando, Suzuki GSXR750, 54.
AMA Championship Points:
Miguel Duhamel 37, Ben Bostrom 33, Kurtis Roberts 29, Aaron Yates 27, Eric Bostrom 26, Mat Mladin 25, Ben Spies 24, Michael Barnes 23, Jason Pridmore 22, Shawn Higbee 21, Andrew Deatherage 20, Larry Pegram 19, Jack Pfeifer 18, Sandor Bitter 17, Ricky Orlando 16.
More Daytona Speedweek Roadracing Coverage in Pit Lane News Next Page
---
We Want This One... Introducing the Aprilia Tuono RSV Racing

The RSV 1000 Aprilia Tuono was the first bike to offer current Superbike technoloy in a naked sports package for the street. Now Aprilia has gone one step further with the new RSV Tuono Racing, the world's first competion naked bike! The Aprilia Tuono Racing is a track-ready factory racer, a road bike with a lust for the bends and curbing of the race track, the most sporting street fighter on the market. Aprilia's policy of producing machines with an unbeatable quality/price ratio has already made the RSV Mille R superbike replica a number one hit with the motorcycling press and sports riders the world over. This latest version of Aprilia's acclaimed street fighter is the logical continuation of this same policy. The Tuono Racing is more than just the latest addition to the Aprilia range of prestige racers. The Tuono Racing is the world's first real naked superbike - and more.

The Tuono Racing is homologated for road use but comes with a competition performance kit included in the price. Because the Tuono has always had the soul of a racer. This Racing configuration just brings out the already awesome potential of the chassis and engine of this incredible machine. You simply must ride the new Tuono Racing to appreciate the sort power and handling that this bike delivers under even the most extreme conditions.
The Tuono Racing is aggressive, modern, sporting, and exclusive, with extremely effective sports and track ergonomics too. The bike's inimitable design starts right from the front, with a carbon headlight cover and a cockpit fairing that gives the bike better aerodynamics than any other sports naked. So many details set the Tuono Racing aside from the rest, like the nylon slide buffers, white wheels, drilled bolts, reverse gearshift, and carbon passenger seat cover; components that most track and road riders can only dream of.

ENGINE
What more needs be said about this engine? Its uniqueness, reliability and performance have made it a reference for every other motorcycle in the class. We are talking of course, about the same one thousand cc 60 degree V twin that powers all Aprilia's 1000 cc machines. The injection mapping is basically the same as on the RSV 1000 R 2003, with a couple of modifications to make it even more suitable for the Tuono Racing. But then, 130 horsepower at 9,500 RPM and a maximum torque of 101 Nm at 7,250 RPM speak clearly enough. These figures translate into tremendous flexibility, instant response, and incredible riding sensations. On the track you really can see 245 kilometres an hour appearing on the speedometer; a result achievable only with an impeccable engine and chassis.
SUPERBIKE EQUIPMENT IS FITTED AS STANDARD:
• New RADIAL caliper front disks • New Öhlins upside down fork • New front mudguard • Close ratio gearbox • All bodywork in carbon, expect for the fuel tank • Permanently on lights • Carbon fork guards
• Burnished steel silencer from the RSV 2003 • Nylon slide buffers

THE RACING KIT INCLUDES:
• Enclosed cockpit fairing (race regulation headlight cover) • TITANIUM EVO exhaust system with dedicated EPROM (2.7 kg in weight instead of 9.9 kg) • Silencer bracket without passenger footrest • 16" sprocket
• Enclosed belly pan (with track-homologated oil sump) • Drilled bolts for lubrication and braking systems (race homologated) • Reverse pattern gearshift • Black mesh cover for the hole left when the rear light cluster is removed • Carbon passenger seat cover
. . . Going Fast!
Here's your last chance to order a piece of sportbike history. Our 2003 Calendars are sold out in stores worldwide. Only a few copies remain left at Calendars.com.
Click to order now online!

Ripped Pavement 2003

USA order Online Now: Calendars.com



Garage Girls 2003

Road Racing Legend Barry Sheene dies at 52
Monday 10 March 2003: Carl Fogarty and his Foggy PETRONAS Racing team today paid tribute to British racing icon Barry Sheene, who died today in Australia aged 52 after a seven-month battle against cancer.

Carl said: "It's a sad day for British motorcycle racing. He was the biggest household name that the sport has created here in Britain. Even though there had been other British world champions before him, he was the first person to make that cross-over from racer to celebrity.

"Barry lived life to the absolute full and he did more in his 52 years than most people would in a 100 years. But, as well as the lifestyle, he was also a great racer, as his two world titles prove.

"He did a lot to bring the sport to the attention of the British public, especially with those two big crashes
at Daytona and Silverstone, which were shown on the News at Ten. People still come up to me and think
that I used to race against Barry, even though he retired so long ago, which is a measure of how well-
known he still is even to a new generation of fans.

"We always got on fine and had a laugh whenever we met up, even if we might have done a bit of verbal
sparring in public! My sympathies go out to his wife and children."

FPR rider Troy Corser added: "He'll be sadly missed by many fans and friends, including Sam and I.
Barry introduced the two of us in 1994 whilst I was testing and Sam worked for Sky TV, and we've been
together ever since, so I owe him a great deal for his involvement in my early career and my future with
Sam.

"He was a big inspiration on my career and he found me the chance to come to Europe, start my career
and be successful at what I'd always wanted to do as a youngster.

"Whilst it's great to be going back to Australia to race later this month, I don't think this year will now have
quite the same upbeat feel as in the past due to Barry's loss. He didn't come to England often so it was
always good to catch up with him once a year in Oz. Our thoughts and love are with his family and
friends."
Eric Bostom
Kawasaki Underdog
In the 1000cc Superbike race at Daytona, Eric Bostom was forced to run the same stock displacement ZX7RR 750cc Superbike motor from previous seasons against all the other 1000cc factory bikes. Eric was quicker than most of the lead pack in the Daytona infield, and then on the banking he had to exploit catching the draft off the other leader to stay in the hunt and not loose too much of what he had picked up in the infield cours. But Eric never had the necessary power to lead the race on the banking.
The same situation would apply to Eric later in the day during the 750cc SuperStock race where he was having to run the Kawasaki 636cc ZX6 (which is too big to race in 600cc SuperSport with the other manufacturers bikes). With Kawasaki's ZX7R so out dated that it is no longer competitive in 750cc Superstock, and unable to run their oversize ZX6 in SuperSport, Eric Bostrom will be the underdog in both classes all season.
"I'm looking forward to getting on the road courses at the next races where the handling of my bikes will help to make up for the difference in power with the other guys."
The Sun Shone at Daytona on Monday, but it still rained on our Parade for the FastDates.com sponsored Corona Extra Suzuki Team!
Our Fastdates,cim sponsored team Corona Extra Suzuki suffered bad luck in both our featured races on Monday at Daytona.

In the main event, the Daytona 200 by Arai, rider Jordan Szoke started well in his first running of this prestigious race, getting as high as ninth before a bolt from another machine punctured the Suzuki GSXR1000 oil cooler covering the bike and tires with oil. Jordan was skilled in being able to stop without mishap.

In the Genuine Suzuki Accessories Superstock event, defending champion Jimmy Moore hit a false neutral as he tipped into turn one on the start, causing him to run straight, stop and run across a big expanse of grass covered in two inches of water. Moore left Turn One dead last. He rode like the same wind Daytona Speedway experienced over the event weekend, working his way past 16 riders but using up his tires in the process. Moore finished in 15th position by race end.

Teammate Adam Fergusson, in this his first ever event at the imposing Speedway, rode very well getting as high as second during the race. Always in the lead pack of 7 bikes, Adam's inexperience in drafting and gearing selection for his Suzuki GSXR 750, so critical at Daytona, held him back at the finish, completing the race in the lead pack and netting 7th, only 1.4 seconds behind the winner. A great first Daytona result. Jordan Szoke was never able to break from the second pack of 6-8 riders and ended the race in 14th position.

Corona Extra Suzuki is proud to be partnering with Corona Extra, Suzuki, EBSCO Media, MTS, Parts Unlimited, Dunlop, Yoshimura R&D, Joe Rocket, Sidi Boots, MotionPro, Braking, Silkolene Lubricants, Suzuki Genuine Accessories, STR Motorsports, Lindeman Engineering, Bickle, FastDates.com, Yoyodyne, Hotbodies Racing, Zero Gravity, Regina Chain, Race Girl, GP Tech, RB Components, Spiegler, Box R, Stahlwille Tools.
Next race: Fontana, CA, March 6th - 9th.
---
The Pirelli 2003 Calendar
When you're the world's biggest tire company with a One Million dollar budget to photograph your calendar, you hire the world's top supermodels right?
The Pirelli 2003 calendar features some of the most celebrated top models from throughout the world: Sophie Dahl, Yamila Diaz-Rahi, Isabeli Fontana, Bridget Hall, Heidi Klum, Karolina Kurkova, Natalia Vodianova, Sienna Rose Miller, Lisa Seiffert. And, as is now traditional, there are also some up-and-coming faces, such as Filippa Hamilton, Jessica Miller and Rania Raslan. Likewise.
Pirelli's 2002 Calendar featured Hollywoods hottest young actresses including Julia Styles, Mena Suvari (American Beauty) , Rachel Lee Cook (Josie & the Pussycats) , Lauren Bush (neice of the President), Erika Christensen (Traffic), Bridget Moyanhan (Coyote Ugly, Sum of all Fears), James King (Blow, Pearl Harbor, Lonestar State of Mind).
You can see detailed information on the Pirelli website at Pirelli.com
And vist our 2003 Sportbike Calendar review in The Pit Board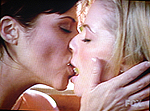 Life in the Fast Lane -
Exclusive! Calendar Girl Jaime Pressly's TV kiss with Tiffany Amber Theisen! Click the picture for all the big juicy details.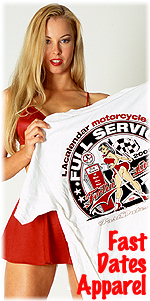 HRC WinterMotoGP test at Phillip Island, Rossi Fastest
The Repsol Honda team continue their preparations for the 2003 MotoGPseason with a three-day test at the Phillip Island circuit, Victoria.
Reigning MotoGP World Champion and teammate, American Superbike ChampionNicky Hayden, put in a good days work on the opening day, once the earlymorning mist had cleared.

Rossi was in particularly good form on the spectacular seaside track, the
circuit on which he clinched his 500cc Word Championship title in 2001, and
recorded his 50th GP victory in 2002.
The Italian Superstar gave ample indication that HRC have not been resting on their laurels over the winter. The RC211V five-cylinder four-stroke MotoGP contender scorched around the 4.448km circuit. Rossi took 0.7 seconds off his qualifying time for the 2002 GP held at the track!

Valentino Rossi: "It's one of my best circuits and it is always a great
pleasure to ride here. My motorcycle is going well. Already today we went
faster than my best lap in qualifying for the GP in 2002. (1m32.849s) Today we try different solutions to find the best settings for the tyres,
suspension and the transmission. The team is working very well and they seem relaxed - Australia is home for many of them! I'm hoping over the next two days to find even better solutions to make the bike better for the championship. The weather here is great - it will be difficult to come backto the cold of Europe!"

For Hayden the Phillip Island circuit is an all-new experience, as all test
tracks have been for the 21-year-old American from Owensboro, Kentucky.
Hayden needs as much track time aboard the RCV as possible before the 2003 season opens on April 6, at Suzuka, Japan.

Nicky Hayden: "This circuit I enjoy very much - I'm havin' a good time
ridin' here, learnin' the layout. I guess it was gettin' kinda' boring going round and round Sepang. It's always nice going to new tracks and this
one here for sure is good fun. We were a little late gettin' on the track
this morning, as there was a real fine mist. Things progressed pretty
quickly to a certain point then around lunch I just kinda got in a rut and
I didn't really go much better this afternoon. I didn't keep movin' forward as much as I'd have liked to but you know - I've got two more days here and am looking forward to gettin' some more laps here and keep on learnin'."

The Pramac Honda Team is also testing at Phillip Island with team rider
Makoto Tamada testing the new RC211V, and a large selection of Bridgestone tyres. Tamada, like Nicky Hayden - a new man to MotoGP, has a lot too learn before the opening grand prix of the season, and like Hayden he has a huge capacity for hard work. Tamada put in 88 laps of the track on day one.
HRC test rider Shinichi Itoh again assisted Tamada, in evaluating the range of new tyres. Itoh's input was particularly useful as raced at Phillip
Island on Bridgestone tyres in the 2002 GP, racing a Kanemoto NSR500 two-stroke. Near veteran Itoh has a wealth of experience testing all types of Honda machinery and his ability to supply precise feedback is invaluable to the HRC and Bridgestone technicians.

Shinichi Itoh: "This is my first time at Phillip Island on the RCV
four-stroke, I raced Erv's NSR500 here at the GP last October. Of course the two bikes are completely different but I found it easy to ride the RCV fast round here. Today I worked on the front and rear suspension to find the best setting for the circuit, and the tyres. Even if it was not perfect at the end of the day I could run my time easily. I must say that considering they have not raced here with a four-stroke the performance of the Bridgestone's has been very impressive."

Makoto Tamada: "This is my first time at Phillip Island and I'm very impressed! The circuit has both uphill and downhill sections and it was a
little difficult to find the best line at first. I know I can go much faster at this track but it's not so easy for me to set fast lap times until I have found the best machine settings. Tomorrow will be better with the settings we will run."
Fastest lap times.
Valentino Rossi, ITA Repsol Honda 1m 32.1s (92 laps)
Nicky Hayden, USA Repsol Honda 1m 34.5s (85 laps)
Shinichi Itoh, JPN Pramac Honda 1m 33.0s (78 laps)
Makoto Tamada, JPN Pramac Honda 1m 34.3s (88 laps))