Superbike Gets Naked ! ! ! Another World's First -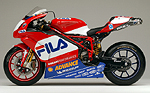 Bend over & quack like a duck
A Revealing look at the all new Ducati 999F 03 SBK
Almost gone . . .
Here's your last chance to order a piece of sportbike history. Our 2003 Calendars are sold out in stores worldwide. Only a few copies remain left at Calendars.com.
Click to order now online!

Ripped Pavement 2003

USA order Online Now: Calendars.com



Garage Girls 2003

FastDates.com's
CORONA EXTRA SUZUKI ANNOUNCES ENTRY INTO SUPERBIKE CLASS
Los Angeles, CA. Feb 27th: 2003Corona Extra Suzuki is very pleased to announce it will be entering the Superbike class for the 2003 AMA Superbike Season with support from American Suzuki Motor Corporation and Suzuki Japan. Jordan Szoke will be handling the riding duties aboard the all-new 2003 GSXR1000.

Commenting on the announcement, Jordan said; "I'm really excited to get back into the Superbike class. It was great racing the class on the Harley but obviously we struggled. Now to get back in on the Suzuki with factory support should mean a really competitive package. I can't wait for the green flag to drop!"

Corona Extra Suzuki principal Landers Sevier said; "This is going to be a terrific opportunity for the Team and Jordan. We are very honored to have been chosen by Suzuki for this important project. This will be the first time in a long while that Suzuki Factory support has been provided to a Team in the US other than Yoshimura. However it is important to note that we will be working closely with Yoshimura in the program."

Corona Extra Suzuki is proud to be partnering with Corona Extra, Suzuki, EBSCO Media, MTS, Parts Unlimited, Dunlop, Yoshimura R&D, Joe Rocket, Sidi Boots, MotionPro, Braking, Silkolene Lubricants, Suzuki Genuine Accessories, STR Motorsports, Lindeman Engineering, Bickle, FastDates.com, Yoyodyne, Hotbodies Racing, Zero Gravity, Regina Chain, Race Girl, GP Tech, RB Components, Spiegler, Box R, Stahlwille Tools.
First race: Daytona, Florida March 6th - 9th.
For more information please visit www.corona-suzuki.com .
FastDates.com's
Corona Extra Suzuki Announces Partnership with Parts Unlimited
March 1st: The FastDates.com sponsored Corona Extra Suzuki AMA National roadrace team is very pleased to announce it will also be partnering with Parts Unlimited for the 2003 and 2004 AMA Superbike Seasons. Parts Unlimited and its divisions Drag Specialities and LeMans Corporation are major distributors in America of our FastDates.com Calendars.
Corona Extra Suzuki will work closely with Parts Unlimited to promote the Parts Unlimited brand at the racetrack and in the nationwide retail promotions being undertaken by the Team in conjunction with Corona Extra. In addition, Corona Extra Suzuki will be expanding its Superbike Series leading Corona Extra
Solar Winds hospitality program to include Parts Unlimited dealers and trading partners.

Parts Unlimited Sales and Marketing Vice President Gregg Blackwell said, "Parts Unlimited
is looking forward to working closely with Corona Extra Suzuki and Corona Extra to expand
visibility and promotion of our brand both at the race track with the Team and to the general
population with Corona Extra. Working with a major brand like Corona Extra offers us all
many benefits. It should be an exciting and rewarding relationship".

Corona Extra Suzuki principal Tim Saunders adding to Gregg's comments said; "Parts
Unlimited will be a tremendous partner for the Team to work with over the coming years.
They are completely dedicated to the sport and having their support will allow us to take our
program up to the next level. Additionally, we look forward to hosting their dealer VIP's and
making their time at the Superbike events special".

Parts Unlimited is one of the nation's largest independent distributors of Powersports related products with warehouse facilities in seven locations across the US. Parts Unlimited is well recognized in the AMA Superbike scene having frequently supported events and venues. It has been closely associated with Honda factory supported teams for many years. The partnership with Corona Extra Suzuki will be the first time Parts Unlimited has been closely
involved with a Suzuki Factory supported roadrace team.
---
The Pirelli 2003 Calendar
When you're the world's biggest tire company with a One Million dollar budget to photograph your calendar, you hire the world's top supermodels right?
The Pirelli 2003 calendar features some of the most celebrated top models from throughout the world: Sophie Dahl, Yamila Diaz-Rahi, Isabeli Fontana, Bridget Hall, Heidi Klum, Karolina Kurkova, Natalia Vodianova, Sienna Rose Miller, Lisa Seiffert. And, as is now traditional, there are also some up-and-coming faces, such as Filippa Hamilton, Jessica Miller and Rania Raslan. Likewise.
Pirelli's 2002 Calendar featured Hollywoods hottest young actresses including Julia Styles, Mena Suvari (American Beauty) , Rachel Lee Cook (Josie & the Pussycats) , Lauren Bush (neice of the President), Erika Christensen (Traffic), Bridget Moyanhan (Coyote Ugly, Sum of all Fears), James King (Blow, Pearl Harbor, Lonestar State of Mind).
You can see detailed information on the Pirelli website at Pirelli.com
And vist our 2003 Sportbike Calendar review in The Pit Board
Hot New MotoWheels
Sportbike Parts
All the hard to find race parts for your sportble now available from our new Fast Dates Calendar sponsor Moto Wheels including parts for the Ducati 748 / 999 Superbikes impossible to find elsewhere. Goodies like a carbon front and rear swingarm mounted fenders, and a beautiful front nose piece without the ugly stock air slots
Click on photos to see bigger pictures and to read our exclusive test of the new 999S. Click on the Moto Wheels banner ad at the bottom of this page to go shop. Or call 916-369-2509
---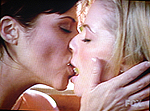 Life in the Fast Lane -
Exclusive! Calendar Girl Jaime Pressly's TV kiss with Tiffany Amber Theisen! Click the picture for all the big juicy details.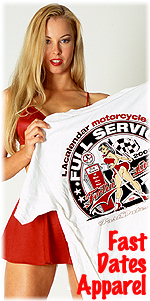 Primedia/MotoMaster USA
Supermotard Nationals
1/28/03: Championship Series
SuperBikers2, LLC and Moto-Master USA have teamed up produce the 2003 Primedia Motorcycle Group US Supermotard National Championship Series. SuperBikers2,LLC is proud to announce this new 8 round
series with Primedia Motorcycle Group as its title sponsor.
The series will kick off in March and crown champions in 2 different classes in October.
Headlining the series will be the Open Supermoto Extreme class featuring the open displacement, big bore thumpers that have made this sport what it is known for today. The equally impressive 450X class will feature a
450cc displacement limit that will showcase the latest machines from many manufacturers.

Supermotard USA, SuperMoto USA, Mile High Motard, and SuperBikers2,LLC will hold regional races to run as support classes in conjunction with national event for their host weekend.
The supermotard racer is one who has talents in various types of racing environments: motocross racing, dirt-track racing, and roadracing are all key ingredients to a successful supermotard racer. With
over 600 members within the regional organizations and many riding backgrounds, the action should be intense. Having a strong rider base is key to making this series grow. By joining with the many regional groups, we have the critical ingredient for great racing action for our spectators to see. Add in some top level racing facilities and averyone is assured guaranteed a great time, for both spectator and racer.

Major National Championship rounds will be showcased at major events including the Phoenix Bike Fest on March 28-30th and the Los Angels Calendar Motorcycle Show weekend July 19-20 to bring supermoto racing to the racing public. You can find more information on the rules, schedule, sponsors and more at www.superbikers2.com.
You can also call Glenn Curtiss at (920) 912-3009 or Paul Brent at (760) 757-3524.