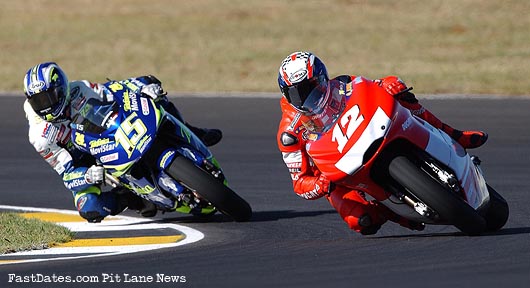 Sete Gibernau (15) on the Honda caught Troy Bayliss' leading (12) Ducati 8 laps into the race. They traded the lead in a heated fight for 2 laps before Sete was finally able to pull away. Troy then battle Valentino Rossi for a few laps over 2nd place before Troy eventually dropped back to 4th behind Max Biaggi. The new Desmodici was more than a match for the works RC211 V Hondas.
Moto GP World Championship Round 2, Grand Prix of South Africa at Phakisa Freeway
Sete Gibernau Wins An Emotional,
Exciting MotoGP in South Africia
Welkom, South Africia, Sunday April 27: It was an incredible and a highly emotion charged weekend as Sete Gibernau on the Telefonica Movistar Honda RC211V payed hommage to his fallen team mate Daijiro Kato who died 5 days earlier from his crash injury sustained 2 weeks earlier at the Suzuka MotoGP season opener, with Sete qualifing on the pole at the South African MotoGP and then going on today to win the race. Sete's win came after an early race battle with former World Superbike Champion Troy Bayliss on the Ducati Desmodici, with Troy leading the early laps of the race in what was his 2nd ever MotoGP race before a wrong tire choice cause Bayliss to drop back to 4th as reigning MotoGP Champ Valentino Rossi on the Repsol Honda closed up on Giberarnau for 3nd at the finish line
Under a typical burning South African sun in a cloudless sky, 44,000 race fans prepared for the Africa's Grand Prix in the aftermath of Daijiro Kato's death. An extra emotional content that was palpable even before the pitlane observed a heart-rending minute's silence for the hugely missed Japanese star. The drama unfolded even before the race began when the Suzuki of Kenny Roberts laid a trail of oil around the first third of the track when an oil line fractured and sprayed the racing line with the treacherous fluid. The start was delayed for 50 minutes while the marshals cleaned up the mess and rendered the 4.242km track race-ready again.
Then the delayed start itself was a chaotic affair with Colin Edwards (Aprilia) clipping another machine after losing traction on a dirty part of the track. His bike collected his team-mate Noriyuki Haga, while Edwards
himself mercifully slid through the field unscathed largely thanks to the efforts of Jeremy McWilliams (Proton) who took to the grass to avoid the Texan. While all this unfolded Troy Bayliss (Ducati) took the opportunity to make headway at the front of the pack with Sete Gibernau (Telefonica Movistar Honda
RC211V) behind him and Max Biaggi (Camel Pramac Pons RC211V) and Valentino Rossi (Repsol Honda RC211V) in unfamiliarly distant pursuit.
Bayliss was making the most of his chance at the front but Gibernau was relentlessly pegging the Aussie back and by lap 11 he scythed past him and prepared to put more daylight between his RC211V and his pursuers. His biggest threat would prove to be Rossi who hunted him down in the closing stages of the race, but could not catch the scintillating Spaniard.
Gibernau won by 0.363 seconds from Rossi with Max Biaggi in third just over five seconds adrift of the winner. Gibernau's win was one of the most warmly received victories MotoGP has seen and his dignified determination under dreadful circumstances will be long remembered. "There are no words that can
say how I really feel," he explained. "I felt Daijiro with me in qualifying and in the race and I'd like to thank everyone in the sport for giving me the courage to do this for someone we will hold in our hearts for the rest of our lives."
Ducati Marlboro Team rider Troy Bayliss rode a storming race – snatching the holeshot from the third row of the grid and leading the race until after one-third distance. And the hard-charging Aussie had never even ridden Welkom before Friday! After loosing the lead to Gibernau on lap 8, Bayliss enjoyed a frantic mid-race battle with World Champion Valentino Rossi (Honda), then eased his pace in the late stages as he found himself all alone in fourth place.
"My start wasn't so bad, but I only missed Nakano by millimetres after he seemed to stall!" said Bayliss who amazed with his awesome getaway. "I was thinking: 'I shouldn't be out front just yet, maybe not for another couple of races!'. I took it a little steady, checking the mess from the oil, then it was just nice to be part of the action, because that's what it's all about. I had a good go with Valentino, it was good to be in the race, it's been a while. The bike was working really well, the only problem was that we'd lifted the footpegs a little, and that was really uncomfortable for my knees. I kind of cruised the last ten laps because I knew then that I couldn't do any better than fourth. The team's done a great job here, we've still got some things to learn, but we're all looking forward to Jerez."
Valentino Rossi (Repsol Honda RC211V) who had been suffering form flu all weekend recovered sufficiently to feel reasonably satisfied with second. "That was a very fun race and I am very happy with the result," he said. "Really this is the best second place I've ever had. I am so happy for Sete, he rode very well and really had the feeling he was riding with a little help from Daijiro. I had a good battle first with Bayliss, then Biaggi and in the end Sete. Who knows what would have happened if there were a few more laps."
Max Biaggi (Camel Pramac Pons RC211V) suffered a slight drop in power that was enough to prevent him making as strong a challenge as he would have liked. "On the warm-up lap I'd already noticed that the engine had lost about 10% of its power," he said. "It was a shame because I think that we could have done even better in this race. But in any case I'm happy that Sete won, which was the best way to remember Kato."
Loris Capirossi, 3rd place on the podium just 2 weeks earlie at Suzuka, had high expectations for today's race but his hopes were dashed on the very first lap when he ran off the track at turn two. The Ducati Marlboro Team man rejoined the race, ending the first lap down in 13th, then found it very difficult to make up places because the oil mess prevented him from taking the lines he needed to make a pass. After moving into 11th he ran off the track again on lap eight, ending up at the back of the pack. After that he decided to retire.
"Not such a great day," said a disappointed Capirossi. "The start was hectic, Biaggi and I collided on the way to turn one, which lost me some places, but the bike was running perfect, so I was confident. But then I ran onto the grass at turn two because of the oil mess, which was a real problem for me after that. When I ran off again and had no chance of making the points, I thought it sensible to stop. It's a shame because I had hopes of a good race, the bike has once again shown that it's very strong."
Capirossi's Desmosedici headed the top-speed charts at Welkom, just as he did at Suzuka three weeks ago, with a best speed of 170mph on the tight and twisty course which had no really high speed straights. Alex Barros was the top placing Yamaha rider in 5th place.
For a man who won here last year, Tohru Ukawa (Camel Pramac Pons RC211V) had every right to feel slightly deflated with sixth. "I hoped for more from this weekend," he said. "We picked a tyre that was too hard and the grip was not great in the first few laps. Despite that I pushed hard but it was really impossible to go any quicker. I wasn't physically perfect after my Friday crash and set-up wasn't perfect either."
The MotoGP World Championship points table now shows a Honda top three with Rossi leading with 45 points, Gibernau second with 38 and Biaggi in close touch with 36.
MotoGP: Race Classification MotoGP (28 laps = 118.776 km)
1/Sete GIBERNAU /SPA /Telefónica Movistar Honda /HONDA/44'10.398/161.331
2/Valentino ROSSI /ITA /Repsol Honda /HONDA/44'10.761/161.309
3/Max BIAGGI /ITA /Camel Pramac Pons /HONDA/44'15.471/161.023
4/Troy BAYLISS /AUS /Ducati Marlboro Team /DUCATI/44'23.004/160.568
5/Alex BARROS /BRA /Gauloises Yamaha Team /YAMAHA/44'29.328/160.187
6/Tohru UKAWA /JPN /Camel Pramac Pons /HONDA/44'29.511/160.176
7/Nicky HAYDEN /USA /Repsol Honda /HONDA/44'30.554/160.114
8/Norick ABE /JPN /Fortuna Yamaha Team /YAMAHA/44'31.268/160.071
9/Carlos CHECA /SPA /Fortuna Yamaha Team /YAMAHA/44'32.523/159.996
10/Olivier JACQUE /FRA /Gauloises Yamaha Team /YAMAHA/44'35.616/159.811
11/Shinya NAKANO /JPN /d'Antín Yamaha Team /YAMAHA/44'46.301/159.175
12/Nobuatsu AOKI /JPN /Proton Team KR /PROTON KR/44'49.656/158.977
13/John HOPKINS /USA /Suzuki Grand Prix Team /SUZUKI/45'00.628/158.331
14/Makoto TAMADA /JPN /Pramac Honda /HONDA/45'11.839/157.676
15/Kenny ROBERTS /USA /Suzuki Grand Prix Team /SUZUKI/45'14.540/157.519
Fastest Lap : Valentino ROSSI – 1m33.851 - 162.717 Km/h
World Championship Positions:
1 ROSSI 45, 2 GIBERNAU 38, 3 BIAGGI 36, 4 BAYLISS 24, 5 BARROS 19, 6 HAYDEN 18
7 CAPIROSSI 16, 8 ABE 13, 9 CHECA 13, 10 NAKANO 12, 11 EDWARDS 10,
12 UKAWA 10, 13 JACQUE 7, 14 HOPKINS 6, 15 HAGA 4.
250 GP Race to Aprilia's Poggiali
Manuel Poggiali (Aprilia) won the 250cc race from Randy de Puniet (Aprilia) after making up for a poor start with a steady progress into the lead by lap six. The pair exchanged fastest laps throughout their battle but Poggiali never relinquished his lead despite the best efforts of de Puniet on the final lap. Franco Battaini (Aprilia) was third. Sebastian Porto (Telefonica Movistar Junior Team RS250RW) made the utmost of a finely-tuned chassis set-up to compensate for a lack of power that plagued himall weekend. He finished fourth after dicing with Roberto Rolfo (Fortuna Honda RS250RW) for the final third of the race.
250cc: Race Classification 250cc (26 laps = 110.292 km)
Pos/Rider/Nation/Team/Motorcycle/Time/Km/h
1/Manuel POGGIALI /RSM /MS Aprilia Team /APRILIA/42'14.305/156.670
2/Randy De Punet /FRA /Safilo Oxydo-LCR /APRILIA/42'14.920/156.632
3/Franco BATTAINI /ITA /Campetella Racing /APRILIA/42'19.946/156.322
4/Sebastian PORTO /ARG /Telefonica Movistar jnr Team /HONDA/42'26.452/155.923
5/Roberto ROLFO /ITA /Fortuna Honda /HONDA/42'27.272/155.873
6/Anthony WEST /AUS /Team Zoppini Abruzzo /APRILIA/42'33.874/155.470
7/Fonsi NIETO /SPA /Team Repsol Telefonica Movist /APRILIA/42'37.385/155.256
8/Toni ELIAS /SPA /Team Repsol Telefonica Movist /APRILIA/42'41.601/155.001
9/Sylvain GUINTOLI /FRA /Campetella Racing /APRILIA/42'44.492/154.826
10/Naoki MATSUDO /JPN /Yamaha Kurz /YAMAHA/42'45.752/154.750
11/Hector FAUBEL /SPA /Aspar Junior Team /APRILIA/42'45.816/154.746
12/Alex BALDOLINI /ITA /Matteoni Racing /APRILIA/42'53.616/154.277
13/Eric BATAILLE /FRA /Troll Honda BQR /HONDA/42'54.514/154.223
14/Johan STIGEFELT /SWE /Team Zoppini Abruzzo /APRILIA/43'01.061/153.832
15/Chaz DAVIES /GBR /Aprilia Germany /APRILIA/43'09.138/153.352
Fastest Lap: Manuel POGGIALI - 1m36.649 - 158.006 Km/h
World Championship Positions:
1 POGGIALI 50, 2 BATTAINI 27, 3 PORTO 26, 4 AOYAMA 20, 5 DE PUNIET 20,
6 ROLFO 20, 7 NIETO 19, 8 TAKAHASHI 16, 9 MATSUDO 14, 10 GUINTOLI 13,
11 WEST 10, 12 ELIAS 8 13 KAYO 7, 14 DEBON 5, 15 FAUBEL 5.
---
SBK World Superbike Championship Sugo Round 3
Hodgsen Scores Another SBK Double in Japan
Sugo, Japan, April 27, 2003: Britain's Neil Hodgson scored Ducati's first victory in Japan since 1995 as he powered to his fifth and sixth wins of the season at the Sugo Sportsland circuit. Fellow Brit Carl Fogarty was the last rider to take the honours for the Italian manufacturer when he won race 2 in his 1995 championship-winning year. Neil's third successive double win of the year also took Ducati's total race win haul to 199 in 16 years of World Superbike.
Hodgson's superb start from the outside of row 2 helped him avoid the first corner pile-up that eliminated three top riders, Corser (Foggy Petronas), Walker (HM Plant Ducati) and Chili (PSG-1 Ducati). Hodgson then passed Laconi for the lead on lap 4 and took the chequered flag a comfortable 7 seconds ahead of the Frenchman. "If I hadn't got such a good start, I might have been involved in the crash" declared Neil, "so I was really pleased with my start. Because of the limited practice time in the dry, I'd only tried my race tyre once so I took things easy on the first lap and then in the middle I eased off a bit as well. We are on a brand-new bike and when you come to a new circuit, you've got no baseline settings so we had to work that bit harder than usual".
Hodgson was made to work much harder for his win in race 2. After swerving at the start to avoid Laconi (NCR Ducati) on the front row, he then took the lead on lap 5 from Lavilla. The Suzuki rider pressured him until lap 20 before Hodgson broke away to take his sixth successive win. "It was pretty scary at the start because Laconi almost stopped in front of me and I had to shut the throttle" declared Neil. "Gregorio gave me a hard time today, he kept the pressure on and his Suzuki and my Ducati were pretty evenly matched. Five laps to go I picked up the pace deliberately and that was enough. The old Neil Hodgson wouldn't have done that but I'm starting to use my head a bit now and administer the races better!".
Ruben Xaus came away from Sugo with two fourth places, which keep him in second place in the table. The Spanish rider was lucky not to get caught out in the first corner incident in race 1 and lost a lot of time. Then in race 2 he had a good start and moved into fourth on lap 9, a position he held to the flag after a great scrap with Toseland. "I started 12th and finished 4th twice today so that's quite good" declared Ruben. "I was really slow in the first split and it was here that I lost the race and the whole weekend. That was the only reason – between the second corner entry and third corner exit, everyone was faster than me. The bike felt mine today, and only today. In the warm-up we improved a lot and I had a better feeling with the bike in both races today. I think if I hadn't lost all that time in the first split, I could have been fighting with Lavilla and Chili for sure".
RACE 1: 1. Hodgson (Ducati Fila); 2. Laconi (NCR Ducati); 3. Toseland (HM Plant Ducati); 4. Xaus (Ducati Fila); 5. Lavilla (Suzuki); 6. Izutsu (Honda); etc.
RACE 2: 1. Hodgson; 2. Lavilla; 3. Chili (PSG-1 Ducati); 4. Xaus; 5. Toseland; 6. Isutsu.
POINTS (after 3 of 12 rounds): Riders – 1. Hodgson 150; 2. Xaus 106; 3. Lavilla 75; 4. Toseland 67; 5. Laconi 63; 6. Walker 48; etc. Manufacturers – 1. Ducati 150; 2. Suzuki 75; 3. Foggy Petronas 43; 4. Kawasaki 31; 5. Honda 20; 6. Yamaha 16.