FastDates.com April 2003
Page 4 • Racing & Calendar News
Superbike, MotoGP, Calendar Girls
Official Calendar of the SBK World Superbike Championship
Sponsor of AMA 750cc Supersport Champs EBSCO Corona Extra Suzuki

This Week's Starting Grid: AMA Superbike from California
FastDates.com World Exclusive FIRST TEST - DUCATI 999S!

• AMA Daytona 2003 season opener with Hondas on top
• SBK World Superbike Round Two from Phillip Island
• AMA 2003 Superbike Season Preview
• Supermodel Meets Superbike Janelle tests the Ducati 999S!
• MotoGP - The Gang of Fours - 2003 Season Preview
• Our 2003 Annual Motorcyle Pinup Calendar Review Nudity!
• Los Angeles Premier! FastDates.com LA Super Moto National
• The Pit Board Editorial, Race Schedules, Mail, Index, Features

Meet beautiful Chandi Mason,
our official SBK World Superbike Fast Dates Calendar girl for Laguna Seca in July, and this weekend at the Yamaha AMA California Speedway Nationals
"So Many Twins, so little time!"
Here's a photo we shamelessly ripped off from the Ducati.com website where it was featured in their monthly photo caption contest. World Superbike Championship Troy Bayliss and FastDates.com Calendar publisher Jim Gianatsis discuss the attritubes of twins as the SBK Fast Dates Calendar girls make tire warmers a needless necessity. Plugged in at 120 volts are (l to r) Miss Great Britain Nicki Lane, Lauren Zuckerman and Shannon Gonzales.
---
AMA Superbike Yamaha National Championship, Rounds 2 & 3, Formula Extreame Round 1
Maladin and Yates Suzuki GSXR1000s decimate
the Honda V-twins at California Speedway
Fontana, California, USA, April 4/5/6 2003: Mat Mladin celebrated a return to race winning form, but taking his second race win of the weekend at the Double Header round of the 2003 AMA Chevy Trucks US Superbike Championship being held at the California Speedway in Fontana, California.

Mladin and his Yoshimura Suzuki GSX-R1000 were the dominant force throughout the weekend, with the Australian claiming the additional championship point for setting the fastest time in qualifying, before taking the opening 28-lap Superbike race on Saturday afternoon, followed by today's victory.

With three rounds of the championship now completed, Mladin has moved to the top of the points table with a total of 99, seven clear of American Honda's Miguel DuHamel who finished today's race in third place. "Since I've ever had a points lead I've never given it up. I've won three championships with a points lead, so that's what I expect to do this time."
American Honda's Ben Bostrom and Miguel DuHamel were able to score a pair of third-place finishes during the doubleheader weekend of AMA Superbike racing at California Speedway in Fontana, California, but they were no match for Yoshimura Suzuki's Mat Mladin, the Australian winning both events to take over the points lead in the AMA/Chevy Trucks U.S. Superbike Championship after three rounds.
Superbike Race One
Australian Mat Mladin has won the first of two American AMA Superbike Championship races scheduled for this weekend at the California Speedway in Fontana, on the outskirts of Los Angeles. Mladin was dominant throughout the 28-lap race, taking the race lead on lap two of the event before stretching his lead to a considerable 14.965-second advantage over his Yoshimura Suzuki teammate Aaron Yates by the completion of the race. The race win gave Mladin a career total of 15 AMA Superbike race wins, placing him fifth overall on the all time race winners listing for the championship.

"It was nice to get another race win," said Mladin. "I pushed hard for most of the race to build the gap and with five laps to go I eased the pace to ensure the win."

"The Yoshimura Suzuki team has worked extremely hard over the off-season with the new Suzuki GSX-R1000 that we are using this year, so it was great to have scored the win so early in the season. It's nice to know that all of our work is paying off. The Showa suspension technicians have worked equally as hard to get the suspension right with the new bike and that is an area in particular that we have made some very good progress with. The whole package with the bike is looking very good at the moment, but we still have a lot of work to do this year."

Earlier in the day, Mladin secured pole position for the round, eclipsing the existing Superbike lap record for the 3.70km / 2.30 mile, Californian circuit. His record breaking time of 1:25.123 set during Friday afternoon's opening session was good enough to keep him at the top of the time sheets, edging out teammate Yates (1:25.556), fellow Australian Anthony Gobert (1:25.970) and Kurtis Roberts (1:26.045) who completed the front row of the grid.

"Qualifying went well for us, as I was able to set my best time on a race tyre that had already done eight laps", added Mladin. "That time allowed us to concentrate on getting a good race set up during the second qualifying session, which paid off for us in the race."
Inn Saturday's race Ben Bostrom finished third behind the two Yoshimura Suzukis, ridden by Mladin and his teammate Aaron Yates, after inheriting the spot when his younger brother, Eric, was penalized 10 seconds for cutting the track in the turn one-two chicane. The two brothers had raged a bitter battle that went the duration, though Ben was given the spot when the AMA handed down the penalty to Eric and his factory Kawasaki.The story, however, was Mladin. The Australian dominated the entire race, beating Yates by over 14 seconds after 28 laps of the 21-turn, 2.3-mile racetrack.
DuHamel – the winner of the Daytona 2000, the opening round of the series - ended up fifth, six seconds ahead of Erion Honda's Kurtis Roberts. Roberts would have fared better, but his rear tire had spun on its rim during the race, causing a bad vibration that he thought was a chunking rear tire. Seventh place went to the Dream Team Racing Ducati of Larry Pegram, the Ohioan comfortably ahead of Attack Suzuki's Jason Pridmore. Multi-time Canadian Superbike Champion Steve Crevier was ninth and privateer Suzuki rider Shawn Higbee rounded out the top 10. Austin Ducati's Anthony Gobert pulled out of the race early after bending his rear wheel.
Mladin's win was his first of the year and it put him in a tie atop the championship point standings withDuHamel, both holding the top spot with 63 points.
Ben Bostrom, third for American Honda, spoke about his Saturday race: "There was a lot of struggling," Bostrom said. "The boys were setting a real fast pace and Mat [Mladin] just kind of took off, so I waved goodbye to him and just set out after Kurtis [Roberts]. My brother and I had a real good race and Aaron [Yates] was always just sitting out there five seconds in front of us. At least we had a rabbit to go out there and chase. In the end it was a pretty fun race. Eric [Bostrom] got by me towards the end there and he should probably be up here in third because I don't think he made any time through that cone. We'll take third, but it's not quite the right way. The racetrack was a lot more fun during the race than I thought it would be. In practice, I was having some trouble getting the flow and I wasn't really enjoying the racetrack. Then we got out there in the race and it ended up being quite fun. I found a few new spots to pass lappers and stuff like that and I had a pretty good time."

Sunday's second Superbike race ended with Mladin (66) on the GSXR1000 in 1st again, ahead of Ben Bostrom (155) and younger brother Eric (32) on the Kawasaki ZX7RR.
Superbike Race Two
Mladin's run to victory in the second of the two Superbike races was a bit more hectic and a red flag aided him in scoring the victory. The man who suffered the most from the race stoppage was Roberts, who was leading Eric Bostrom at the time and seemed to be in a good position to score the first AMA Superbike victory of his career - especially since Mladin trailed by nearly eight seconds after undergoing a stop-and-go penalty for jumping the start.But it wasn't to be.
Mladin's victory today was made all the more sweeter as he was forced to come from behind after being judged to have jumped the race start by race officials. The penalty saw him 11.5 seconds adrift of race leader, teammate Aaron Yates when the penalty was imposed on lap five. His charge to the front saw him lapping at a second a lap faster than the leaders, but his momentum was stopped on lap 12 when the race was red flagged due to oil on the circuit as a result of a crash by Yates.

From the restart Mladin was again on the charge with his blistering pace being highlighted with a sensational lap of 1:25.400 on lap fifteen, well over half a second faster than the next fastest time of the race. At the end of 28-laps Mladin crossed the line 6.373 seconds clear of Kawasaki's Eric Bostrom. Erion Honda rider Kurtis Roberts was third on the track, but was penalised 10 seconds for missing a chicane which dropped him back to fifth behind DuHamel and Yates.
Pegram crashed his Ducati and the race was stopped, giving everyone the opportunity to restart on equal footing. The AMA doesn't score races on aggregate time, so the bikes were gridded in the running order and restarted, with Roberts losing all his advantage on Mladin. On the restart, it was Eric Bostrom rocketing into the lead with Roberts second. The son of three-time World Champion Kenny Roberts' problems began almost immediately when a vicious tank-slapper knocked his brake pads loose and he couldn't stop for the corner at the end of the backstraight. He ran straight, rejoined the race and held on to finish third on the track. He would later be docked 10 seconds for missing the corner, and that would drop him from third to fifth.
"The tank-slapper pushed the pads back and when I went to get on the brakes there was nothing there," Roberts said. "Mat [Mladin] was on the outside of me and I was just bowling balling those guys. I just pumped the brakes and moved to the far outside trying to get it stopped. I knew I was going to, so I just tried my best to slow it down. I saw the opening there and I made sure I slowed down. I let Aaron [Yates] by and pulled out just in front of Miguel [DuHamel]. I didn't want to gain any positions or again any ground, but they still felt it was viable to dock me. I didn't pass anybody – I let them go. If that's what they want to do, then that's what they want to do. If that's the rules, then we'll play by them and move on."
Mladin, meanwhile, closed in on Eric Bostrom, passed him five laps into the restarted race and pulled away to a 6.373-second victory. DuHamel moved around Yates on the run to the checkered flag to finish third, despite almost crashing with just two laps to go. Yates would finish fourth, clear of the penalized Roberts with Ben Bostrom struggling to sixth place with a motorcycle that wasn't setup up correctly. Bostrom and his crew had gambled on bettering his setup from Saturday, and it backfired. Austin Ducati's Anthony Gobert, Corona Extra Suzuki's Jordan Szoke, privateer Shawn Higbee and Varsity Racing's Andy Deatherage rounded out the top 10 finishers.
"In the end I think it made it a bit easier having the red flag, but I was catching them fairly quickly before that anyway," said Mladin after celebrating his 16th career AMA Superbike win. "The second half of the race went well. I was edging away from Eric (Bostrom) by 0.3 and 0.4 of a second and put my head down to try and break him and that's when I reeled off the 25.4 and really got going."

"We've got some more testing coming up and there are areas for improvement that we want to look at after this weekend. If we can make those improvements, it's just going to make the bike better again."
DuHamel talked about his race on Sunday: "It really went well for us," DuHamel said. "We qualified so-so and fell down and in 600 we had a qualifying mishap and fell down... the asphalt is nice and smooth here so that was nice. It didn't hurt to bad. I'm happy about everything, considering we hit the ground. My guys put the bike back together and they did a really good job. I'm happy with third. I kinda got it because Kurtis [Roberts] was penalized 10 seconds. We were having a good race. I was putting in a good charge out there, cutting some good laps and I thought I could catch Kurtis. Then I had a really big scare, actually, I'm still scared... the front end slid really bad and then I backed it off and fight off [Aaron] Yates. I've had two podiums in three starts, so I'm happy for my team. The Honda RC51 is working really great and I've liked that bike from the first day I tested it. And there are better things to come, for sure."
"I thought the tire was coming part, like fifth or sixth lap," Kurtis Roberts said. "It just started vibrating so bad and moving around a bit. I've had enough bad problems here, especially with tire things. I just put it on cruise control and I was just waiting to figure out when I was going to have to pull into the pits. It was vibrating so bad. It just kept getting worse and worse and worse, but it never got bad enough to pull into the pits. That's about it."
The victory was the 16th of Mladin's AMA Superbike career, a mark that moves him into a tie for fourth on the all-time win list with three-time World Champion Wayne Rainey. The win also gives Mladin the lead in the championship after three rounds. He leads DuHamel, 100-92. Ben Bostrom is third with 87 points.
Superbike Race One: (Laps 28 = 100 km)
1 Mat Mladin, AUS (Yoshimura Suzuki), 40'28.318; 2 Aaron Yates, USA (Yoshimura Suzuki), -14.965 sec.; 3 Ben Bostrom, USA (American Honda); 4 Eric Bostrom, USA (Kawasaki); 5 Miguel DuHamel, CAN (American Honda); 6 Kurtis Roberts, USA (Erion Honda); 7 Larry Pegram, USA (Dream Team Ducati); 8 Jason Pridmore, USA (Suzuki); 9 Steve Crevier, CAN (Suzuki); 10 Shawn Higbee, USA (Suzuki); 11 Vincent Haskovec, USA (Suzuki); 12 Andy Deatherage, USA (Suzuki); 13 Michael Barnes, USA (Suzuki); 14 Michael Barnes, USA (Suzuki); 15 John Dugan, USA (Suzuki)
Superbike Race Two: (Laps 28 = 100 km)
1Mat Mladin, AUS (Suzuki), 1 hour, 1'8.928; 2 Eric Bostrom, USA (Kawasaki) –6.373 sec.; 3 Miguel DuHamel, CAN (Honda); 4 Aaron Yates, USA (Suzuki); 5 Kurtis Roberts, USA (Honda); 6 Ben Bostrom, USA (Honda); 7 Anthony Gobert, AUS (Ducati); 8 Jordan Szoke, CAN (Suzuki); 9 Shawn Higbee, USA (Suzuki); 10 Andy Deatherage, USA (Suzuki); 11 Vincent Haskovec, USA (Suzuki); 12 Steve Crevier, CAN (Suzuki); 13 Geoff May, USA (Suzuki); 14 Scott Jensen, USA (Suzuki); 15 Chris Caylor, USA (Suzuki)
AMA Superbike championship points:
1 Mladin 100, 2 DuHamel 92, 3 Ben Bostrom 87, 4 Aaron Yates 86, 5 Eric Bostrom 85, 6 Roberts 80, 7 Higbee 64, 8 Deatherage 60, 9 Haskovec 55, 10 Pegram 51, 11 Jason Pridmore 45, 12 Jack Pfiefer 42, 13 Crevier 41, 14 Mike Barnes 40, 15 Jensen 31/John Dugan 31
600cc SuperSport
In 600cc Supersport action from California Speedway, Yamaha's Jamie Hacking was in a class of his own, beating his teammate Aaron Gobert by 2.61 seconds in the 17-lap race. Third place went to Kawasaki's Tommy Hayden, some two seconds behind Gobert and just .123 of a second ahead of Yamaha's Damon Buckmaster. Yoshimura Suzuki's Ben Spies finished fifth.
The first of the Honda CBR600RRs finished sixth in the capable hands ofveteran Doug Chandler. The former three-time AMA Superbike National Champion pulled clear from the second pursuing pack to top American Honda's Miguel DuHamel by 3.419 seconds. Erion Honda's Roger Lee Hayden, Jake Zemke and Alex Gobert rode their CBR600RRs to ninth, 10th and 11th, respectively. After two rounds of the Pro Honda Oils 600cc Supersport Series, Hacking leads the championship by 14 points over Aaron Gobert and by 15 points over DuHamel.
Formula Extreame
Youngster Ben Spies on his Yoshimura Suzuki won the first round of the AMA Formula Xtreme Series at California Speedway over the Erion Honda of Jake Zemke. Australian Marty Craggill finished third on his Bruce Transportation Group Honda CBR954RR.
600cc Supersport race result:
1 Jamie Hacking, USA (Yamaha), 25'08.900; 2 Aaron Gobert, AUS (Yamaha), -2.621 sec; 3 Tommy Hayden, USA (Kawasaki); 4 Damon Buckmaster, AUS (Yamaha); 5 Ben Spies, USA (Yoshimura Suzuki); 6 Doug Chandler, USA (No Limits Honda); 7 Miguel DuHamel, CAN (American Honda); 8 Jason DiSalvo, USA (Yamaha); 9 Roger Lee Hayden, USA (Erion Honda); 10 Jake Zemke, USA (Erion Honda); 11 Alex Gobert, AUS (Erion Honda); 12 Marty Craggill, USA (Bruce Transportation Group Honda); 13 Tony Meiring, USA (Kawasaki); 14 Chris Peris, USA (Honda); 15 Steve Crevier, CAN (Diablo Suzuki)
600cc Supersport championship points:
1 Hacking 69, 2 Aaron Gobert 55, 3 DuHamel 54, 4 Buckmaster 53, 5 DiSalvo 49, 6 Zemke 48, 7 Spies 48, 8 Tommy Hayden 47, 9 Roger Lee Hayden 42, 10 Kurtis Roberts 37, 11 Chandler 37, 12 Alex Gobert 36, 13 Meiring 33, 14 Peris 26, 15 Jamie Stauffer 24.
Next round: Sonoma, California, 05-04-2003
---
Ashley into the Finals on All American Girl!
Wed April 3nd: 2004 Fast Dates Calendar model Ashley Esqueda, winner of our Los Angeles Calendar Motorcycle Show Calendar Girl Model Search Pageant last July, has advanced into the top 10 finalists on the new ABC reality TV show on Wednesday nights, All American Girl. Ashely is one of 3 girls left remaining on a team of girls coached by former football star John Salley. Another team of girls is coached by The Spice Girls Geri Halloway. The purpose of the Show is to find a girl that exemplifies a well-rounded young lady, the best America has to offer as far as intelligence, talent, beauty and personality. And that's certainly why we have confirmed Ashley to be our Master of Ceremonies on stage at this year's Los Angeles Calendar Motorcycle Show.
All American Girl is produced by Simon Cowell of American Idol and England's Pop Idol fame. You can wish Ashley the Best of Luck in the contest by stopping by her website at www.Ashleye.us
---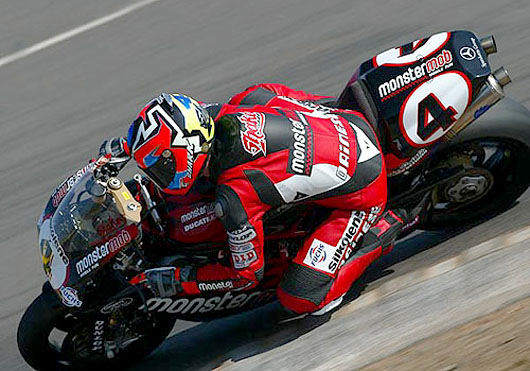 Shane "Shakey" Byrne lead the MonsterMob Ducati team to a 1-2 puch in the opening British Superbike round.


British Superbike Championship, Round 1

Rutter and Byrne kick off the British Superbike Season
Silverstone, England, Mar 31st: Monster Mob Ducati riders Michael Rutter and Shane Byrne provided most of the entertainment at the First round of the British Superbikes Championship, with both riders taking a race win each. Race one saw Byrne pull away on his Monstermob Ducati only to be caught again as his tyres began to lose grip. But the threat of Rizla Suzuki rider Yukio Kagayama and Hawk Kawasaki rider Glen Richards in hot pursuit forced Shakey to find that little bit extra and he managed to pull away again beating second place Kagayama by just over a second.

Glen Richards claimed his first ever BSB podium after hanging on to third in both races despite the fact that he is on a 750cc machine. He said: " That's not a bad weekend! We're still getting to grips with this bike and after the first race I really thought I might be in with a chance of winning the second one. But I went for a different front tyre and it created a bit of chatter."

Despite giving Byrne a run for his money Michael Rutter spent most of race one trying to deal with problems thrown up by brake and gear leavers, holding him back to a fourth place finish. Race two saw the problems fixed, allowing the Renegade Ducati rider to challenge Byrne for the lead, eventually winning by 1.1 seconds.
Yukio Kagayama gave away a second podium finish after a failed overtaking manoeuvre on Byrne let Glen Richards slip past. He said: " I'm happy with results, but I want to win. I made mistakes in race two. In the fastest corner I tried to pass Byrne, but I was too close. I could not see track layout and missed braking point.

POINTS STANDINGS AFTER THIS ROUND 1 S. BYRNE 45 45; 2 M. RUTTER 38 38; 3 Y. KAGAYAMA 33 33; 4 G RICHARDS 32 32; 5 G MASON 19 19; 6 S. HISLOP 19 19; 7 S. SMART 19 19; 8 D THOMAS 13 13; 9 L. JACKSON 12 12; 10 J. CRAWFORD 10 10; 11 D. ELLISON 9 9; 12 P. JONES 9 9; 13 S. PLATER 6 6; 14 J KIRKHAM - -; 15 S. EMMETT - -




Daijiro Kato
in critical condition after
Suzuki MotoGP Crash
Japanese Grand Prix, Suzuka. April 6: Japanese rider Daijiro Kato crashed heavily on lap three of the Japanese Grand Prix, at Suzuka, today. Kato was treated at trackside and at the circuit medical center before being airlifted to hospital at Yokkaichi. He underwent a CAT scan that revealed he has sustained serious head, neck and chest
injuries in the crash. Kato is in a coma, his condition is critical, and he is fighting for his life. Our thoughts are now with Kato's family, his friends and his team, at this moment. Should the hospital staff issue further medical bulletins on Daijiro's
condition in the near future we will communicate this to all our colleagues.
Abe Replaces Injured Melandri for Japanese Grand Prix
Sat April 4th: The Fortuna Yamaha Team has announced that Yamaha factory test rider Norick Abe will replace Marco Melandri for tomorrow's Japanese Grand Prix. Melandri sustained a double fracture of his right ankle and chipped his femur in a high-speed fall yesterday during the first practice session at Suzuka. He is currently under observation at the Mie General Medical Centre near Yokkaichi, a thirty-minute drive from the circuit.
Norick Abe was already competing in this weekend's event riding the Yamaha test team YZR-M1 as a wildcard. Under rules introduced last year to the MotoGP World Championship, the team is permitted to nominate a replacement rider before noon on Saturday and Yamaha can withdraw the wildcard entry. A former two-time Japanese GP winner, Abe was fourteenth fastest in yesterday's damp qualifying session.
The latest prototype version of the M1 features a different chassis, engine position and the twin-shock suspension first seen at February's IRTA test at Jerez. Since Abe is accustomed to riding this machine and has already completed the two days of testing on Sunday and Monday and yesterday's first day of MotoGP practice at Suzuka, he will continue with this bike today and Sunday.
The Russians are Coming!
Meet our newest Fast Dates Calendar model find Natalie Abramov, who joined famed editor and photographer Jim Gianatsis this weekend at California Speedway, together with favorite Calendar Angel Chandi Mason,as they begin shooting the next Fast Dates calendar.
A sexy Hollywood actress with such films as Zoolander with Ben Stiller and Heartbreakers with Sigourney Weaver to her credit, for our very shallow purposes Natalie's more important credits include her beautiful 5'8" 35C-24-35 body and the titles Miss Swimsuit International 2001, and Miss Hawaiian Tropic International Russia. The cold war never stood a chance when this hot bodied Russian princess invaded America! Now, about improving our international relationships....
You can visit Natalie at her website at
NatalieAbramov.com

Phoenix Super Moto -
Warming Up for our LA Calendar Bike Show Super Moto National
March 30, 2003: Our Fastdates.com sponsored CORONA EXTRA SUZUKI team brought out the Super Moto machines for the first time in anger at the inaugural round of the SB2 National Super Moto Series held in Phoenix this weekend. Under blazing sun - the complete opposite of Daytona - two current National Champions took to the track on the Corona Extra Suzuki DRZ 450 Super Moto machines, current AMA Superstock Champion Jimmy Moore and, in a special appearance, Formula Extreme Champion Jason Pridmore mixed it up with a full field including two time world Superbike Champion Scott Russell and World X-games Champion Mike Metzger. Corona Extra Super Moto rider Jean-Michel Bayle elected to stay in Europe over travel concerns with the ongoing war in Iraq.
For both Jimmy and Jason this was the first time ever on a Super Moto bike so getting the hang of the bikes and the technical track was the order of the weekend. However both did really well, qualifying for the main event Superpole - Jason netting 13th and Jimmy right behind in 14th, even after a minor mishap losing the front end! Afterwards both riders were grinning from ear to ear and really excited at doing well in the race.
In the main event - The unlimited Super Moto Extreme class, Jason and Jimmy got solid starts and rode consistent races to finish 9th and 16th respectively.
After the race a jubilant Jason said; "That was great. I need to get more practice but started getting the hang of it towards the end!" Jimmy also excited said; "I made a few mistakes and lost some places but could really get into this!"
In the 450 X class Jason netted 11th but for Jimmy some gremlins struck and a motor mechanical put him down and out for the rest of the day. With this coming weekends Fontana AMA National Superbike event, a tired Jason elected to sit out the second Super Moto Extreme race. Jimmy and Jason both rated the weekend a success and are looking to enter more events, the feature race of the year being our round at the Los Angeles Calendar Motorcycle Show Weekend on July 19-20th.
Open Extreme Race One
1. 875 Mike Metzger Hon450
2. 4 Scott Russell KTM660
3. 43 Matt Pursely Yam 450
4. 357 Gary Trachy Hon450
5. 23 Eric Pinson Hus650
6. 22 Al Salverria KTM525
7. 320 Nick Daniels Hon450
8. 5 Richard Alexander Suz400
9. 143 Jason Pridmore Suz400
10. 3 Casey Yarrow Hon450
11. 59 Paul Orlandi Hon450
12. 16 Phil Gee Vert570
13. 41 Mike Foster Vert570
DNF 24 Mark Miller Yam450
DNF 46 Jeff Harrington Vert570
DNF 86 Jimmy Moore Suz400
DNF 141 Tom Hickmann Hon450
DNF 13 Aaron Howe Hon450

Open Extreame Race Two
1. 875 Mike Metzger Hon450
2. 13 Aaron Howe Hon450
3. 43 Matt Pursely Yam 450
4. 320 Nick Daniels Hon450
5. 357 Gary Trachy Hon450
6. 22 Al Salverria KTM525
7. 5 Richard Alexander Suz400
8. 41 Mike Foster Vert570
9. 16 Phil Gee Vert570
10. 46 Jeff Harrington Vert570
11. 9 Brok McAllister Hon450
12. 18 Corey Neuer Hon450
13. 24 Mark Miller Yam450
14. 3 Casey Yarrow Hon450
15. 21 Scott Fisher Hon450
DNF 4 Scott Russell KTM660
DNF 23 Eric Pinson Hus650

Open Extreme Points Standings
1. 875 Mike Metzger 50
2. 43 Matt Pursely 40
3. 357 Gary Trachy 34
4. 320 Nick Daniels 32
5. 22 Al Salverria 30
6. 5 Richard Alexander 27
7. 13 Aaron Howe 25
8. 4 Scott Russell 22
9. 16 Phil Gee 21
10. 41 Mike Foster 21
11. 3 Casey Yarrow 18
12. 23 Eric Pinson 16
13. 143 Jason Pridmore 12
14. 46 Jeff Harrington 11
15. 9 Brok McAllister 10
16. 59 Paul Orlandi 10
17. 24 Mark Miller 8
18. 86 Jimmy Moore 0
19. 141 Tom Hickmann 0
---
. . . Going Fast!
Here's your last chance to order a piece of sportbike history. Our 2003 Calendars are sold out in stores worldwide. Only a few copies remain left at Calendars.com.
Click to order now online!

If sold out online at Calendars.com some copies may still be available from our Collerctors Corner

Ripped Pavement 2003

USA order Online Now: Calendars.com



Garage Girls 2003
CHICKS RULE!
At the LA Calendar Motorcycle Show and SuperMoto Nationals July 19-20th!
2 Days of exciting Live Music featuring America's hottest new girl group, plus the beautiful FastDates.com
Calendar Angels!

Click to visit their website and see their music video!
Both Days!
The Beu Sisters
Our Featured Show Band The hottest sounding, most beautiful new girl group in the World in their first West Coast appearance, premiering their new album "DECISIONS."
Meet the Beu Sisters HERE
The Beu Sisters on MTV
website & video interview HERE
The Beu Sisters CD Ablum
Click below to buy
---
Rossi/Hon, Barros/Yam
Quickest at MotoGP IRTA Final Pre Season Tests at Suzuka
Sunday 30 March 2003 (day 1 of 2)
Suzuka, Japan

In unexpectedly sunny conditions all the top factory MotoGP teams met together at the Suzuki Grand pric track in Jan for a final 2-day testing session before the 2003 race season kicks off at Suzuki in just one more week.
The Japanese track has changed slightly since last year, with a new chicane at the last section of the track causing the riders to slow down and use their lowest gears before entering the start/finish straight. Another modification for the riders to get to grips with is the now faster R130 corner before the new chicane.
Right out of the gate on day one it was Repsol Honda's Valentino Rossi who was turning the quickest times on the RC2111V, with team Gauloises Yamaha;s Alex Barros just 2/10th of a second off his pace. The dominate Ducati team, quickest in official tests just 2 weeks previous at Catalunya, were not in attendance at this weekend's test, which might mot bode well when they come up against the fapanese teams on their home track next weekend.
LAP TIMES Day One:
1. Valentino Rossi (ITA) Repsol Honda 2'05.060
2. Alex Barros (BRA) Gauloises Yamaha Team 2'05.250
3. Max Biaggi (ITA) Camel Pramac Pons 2'05.293
4. Daijiro Kato (JPN) Telefonica Movistar Honda 2'05.397
5. Loris Capirossi (ITA) Ducati Marlboro Team 2'05.529
6. Sete Gibernau (SPA) Telefonica Movistar Honda 2'05.847
7. Tohru Ukawa (JPN) Camel Pramac Pons 2'06.363
8. Nicky Hayden (USA) Repsol Honda 2'06.704
9. Kenny Roberts (USA) Suzuki Grand Prix Team 2'06.764
10. Norick Abe (JPN) Yamaha Racing Team 2'06.810
17. MARCO MELANDRI (ITA) FORTUNA YAMAHA TEAM 2'07.404
19. CARLOS CHECA (SPA) FORTUNA YAMAHA TEAM 2'07.583
Suzuka Day 2 Test
World Champion Valentino Rossi led the way in the final test session of the season before the Japanese Grand Prix at Suzuka on Sunday. The Italian, riding the RC 211V Repsol Honda, fought off the challenge of the new Camel
Pramac Honda Pons pairing of Tohru Ukawa and Max Biaggi in the two day test which ended at the Suzuka circuit today, (Monday). Ukawa crashed late in the session but will be fit to compete in the first practice session on Friday morning. Just over one second separated the first ten riders with less than two tenths of one second between Rossi and
Ukawa.

Spaniard Sete Gibernau was fifth fastest, one place in front of his
Telefonica Movistar Honda team-mate Daijiro Kato who has won four 250cc Japanese Grands Prix. Rossi's team-mate Nicky Hayden put in two days of good testing to finally finish 12th fastest, one place behind the Pramac RC211V Honda of Makoto Tamada.

Valentino Rossi:
"I'm happy after the two days of test here. We've been concentrating on a
good race set-up and I'm satisfied with the results. This will be a very hard year for everybody because there are so many riders who will want to fight for the win. I think it will be a great season for everyone who loves racing. Every race will be a battle. We have a couple of days rest here in Japan and after that we go – we are ready for the season"!

Nicky Hayden:
"I've had an enjoyable couple of days here. If I think back to my first
experience on the 5-cylinder RC211V here at Suzuka at the back end of last year I'm happy because I've knocked a load of time off the laps and I'm feeling so much more comfortable and confident on the bike. The team's working well and I'm feeling really positive about my first MotoGP race."
Suzuka LapTimes

Valentino Rossi Sunday time 2m 05.080s 63 laps Monday time 2m 04.170s 66 laps
Nicky Hayden Sunday time 2m 06.704 76 laps Monday time 2m 05.393 76 laps
Tohru Ukawa Sunday time 2m 06.383s Monday time 2:04.359
Max Biaggi Sunday time 2m 05.293s Monday time 2m 04.567
Daijiro Kato Sunday time 2m 05.397s Monday time 2m 04.629
Sete Gibernau Sunday time 2m 05.397s Monday time 2m 04.616
Makoto Tamada Monday time 2m 05.309
CAPIROSSI SCORES STORMING THIRD
Loris Capirossi rode a brilliant Japanese GP this afternoon: second into the first turn after starting from the fourth row, leading the first four laps and finishing a strong third behind Honda riders Valentino Rossi and Max Biaggi. It was all the hard-riding Ducati Marlboro Team man could have expected, and more.
"For sure I didn't expect such a result in my first race with Ducati, especially with my fourth-row start," beamed the Italian who headed the Suzuka top-speed chart at 316.5kmh. "The Ducati people have worked very hard, the bike improves day by day and for sure there are better days to come. My start was unbelievable! After that I pushed so hard and to get third place is very good. I have to say thanks again to Ducati - we are still in the early stages with this bike but already we have shown that our potential is very high."
Sadly, Capirossi derived little pleasure from the result after hearing the news that Daijiro Kato was seriously injured when he crashed during the race. "With Kato getting hurt, this doesn't feel like a great day to me," he added.
BAYLISS TAKES GREAT FIFTH IN MotoGP DEBUT
Ducati Marlboro Team rider Troy Bayliss astounded the MotoGP regulars with a fighting ride to fifth in his first MotoGP race. The former World Superbike champion was the only rider in today's GP who had never raced at this ultra-complex track, but he used the speed of his Desmosedici to devastating effect, coming through from the fourth row to end the first lap in sixth place.
Typically humble in his assessment of the race, Bayliss said: "It wasn't a win but we got a race under our belt and we're happy. We've shown that the Ducati is competitive and that's what it's all about. I couldn't do any more, I was pretty consistent the whole race but we're still missing a couple of things, I still don't feel myself on the bike. When we find what we're looking for, the bike will be really nice. I'm looking forward to all the other races, I'll be doing my best everywhere we go."
Bayliss, who has raced World Superbikes for the past few years, and is thus more used to a two-race format, joked to Domenicali after today's race: "Hey Claudio, what time's the second race? I think we can make some changes to the bike!" Like the rest of the Ducati Marlboro Team, Bayliss is totally serious about racing but that doesn't stop him having fun.