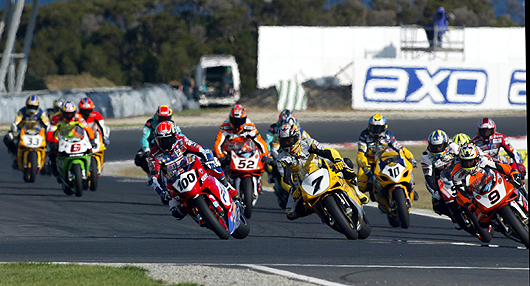 Neil Hodgson (100) and Steve Martin (7) lead the field into turn one at Phillip Island.
SBK 2003 World Superbike / Supersport Championship, Phillip Island AU Round 2
Weather: Sunny. Air Temp: 20°C. Track Conditions: Dry, 37°C, Crowd: Estimate 45,000 all weekend
Hodgson and Xaus Duplicate Ducati
Winning Streak with Double Win in Austratia
Neil Hodgson and Ruben Xaus kept up Ducati Fila's winning streak with a 1-2 triumph in both Australian rounds of the World Superbike Championship at Phillip Island.
Phillip Island, Australia, March 28-30th: Hodgson battled with Chili (PSG-1 Ducati) in the early laps of race 1, but when the Italian dropped out with engine problems on lap 5, he maintained a healthy cushion to the chequered flag. "I really wanted to win this race as a tribute to Barry Sheene, who passed away recently", declared Neil. "I just wanted to fly, lead and not let anyone attack, so I was surprised when Chili came underneath me at the hairpin. I was pleased that he was there, no one wants to be on their own in a race, and when Chili dropped out I was disappointed, but I wasn't going to roll back the throttle to make a show. I continued at the same pace and went for it."

In race 2, Hodgson was unable to pull out much of a lead from a group of six riders and then had an exciting scrap for the win with team-mate Xaus over the last eight laps. "I tried to break everyone early on, got a bit of a lead, stayed consistent with a fast pace but then Ruben started chipping away" he added. "When he got close I decided to have a bit of a rest, that was my cunning plan. I knew from all the other races today that everyone who led out of the last corner won so that was in my mind at the end. My bike was so fast today so I thought that if I could do that, then I would win."

Hodgson's victory today took on special importance for Ducati as it came on the 50th anniversary of the Italian manufacturer's first ever victory in a competitive race. On 30 March 1953 in fact Silvio Malaguti won the first leg of the 1st Moto Giro d'Italia 1953 from Bologna to Rome (443 kms) in the 50cc category of the up to 75cc class. The racing debut in the Moto Giro that year saw Ducati finish an overall second and third.
Xaus was involved in a superb scrap with Lavilla until lap 20 of race 1, when the Suzuki rider was forced to slow the pace due to tyre problems, leaving Ruben in a comfortable second. "I did a really bad start but took things calm during the race" said Ruben. "I was having a good battle with Gregorio and this was good for me and for the championship."
Troy Corser clinched a dramatic fifth place on the Foggy Petronas FP in the first race. His team mate James Haydon completed the 22 laps of the Australian coastal circuit in 15th place to seal a double points-scoring first for Foggy PETRONAS Racing. Troy, who started from sixth in the grid, out-braked four other riders to move from seventh to fourth going into the first corner of the final lap, before being edged into fifth place by fellow Aussie Steve Martin. Troy also recorded the top speed of the race when the FP1 clocked 293.8kph.

Troy said: "I was just starting to catch the group in front of me when they caught Chris Walker, who held
them up. I was actually hoping they would catch them there and I managed to get a draught and beat
them on the brakes. Martin sneaked inside me at MG and, if I had known it was the last lap, I would have
blocked him off. Fifth is not too bad as I just struggled a little with acceleration but my set-up was good
and the Michelin tyre worked well."

In hopes of giving the other teams a chance, organizer SBK decreed that the Fila Ducati team riders Xaus and Hodgson had to race with a handicap using just one hand each. While entertaining, the controversial rule decision failed to achieve its desired effect.

SUPERBIKE RACE TWO
The second race saw Ruben work his way up the field again to catch leader Neil on lap 14 but he was unable to overhaul his team-mate as they flashed across the line separated by 70/100ths of a second. "That race was really good. I saw that Neil wasn't going so fast because its difficult to set a pace when you're on your own. When I passed him I tried to go but he broke my rhythm with different lines in some corners and then it was impossible to pass him at the end of the race. At the last lap I tried at Honda corner but Neil braked really hard and closed the door and that was it. My bike was perfect today, a big thanks for my mechanics who have worked enough this weekend for the rest of the year."
After a promising two days of qualifying, an expectant home crowd were willing local favourite Troy Corser to challenge the Ducati domination at the front of the field. And, with a daring braking manoeuvre that took him from seventh to fourth going into turn one for the final time, a top four finish looked on the cards before fellow Aussie Steve Martin was able to nudge Troy down into a creditable fifth, with series leader Neil Hodgson again taking both wins.

Troy quickly lost tow from the leading bunch in race two as he experienced over-heating problems from
the FP1 engine throughout the race and he was content to guide the bike home in eighth place. He said: "I was happy with the first race and I guess that if someone had said six months ago that we would be finishing fifth two races into the season, we would not have taken them seriously. The bike was running well for half a dozen laps of the second race but then the engine started to drop off and over- heat. I had lost the front group and no-one was challenging from behind so I made sure I finished the race in eighth. But we have scored points in both races and have learnt a lot more about the engine here."

It was a weekend of frustration for team-mate James Haydon. After running wide at turn one on the second lap of race one, he was only able to claw his way back into 15th. Then a problem with the clutch on the first lap meant that he dropped from 10th to 19th. He was then unable to use first gear at the slow Honda corner and endured a lonely race in 16th.

James said: "I take full responsibility for the bad luck of the first race but I couldn't do anything about the second race. I changed down into first at Honda and had no slip from the clutch. It was like standing on
the back brake and I had to pick the bike up, losing a lot of ground. From then on I was unable to use first
so I haven't had two races, just two lots of 22 laps of practice. I am really disappointed but, when we have
the bike more like I need it, I know that as a world class rider I shouldn't ever be outside the top ten."

RACE 1 (22 laps): 1. Hodgson (Ducati Fila); 2. Xaus (Ducati Fila); 3. Lavilla (Suzuki); 4. Martin (DFX Ducati); 5 Corser (Foggy PETRONAS Racing) +18.353; 6 Laconi (NCR) +18.647; 7 Walker (HM Plant Ducati) +20.317; 8 D Garcia (NCR) +29.731; 9 Borciani (DFX) +30.113; 10 Pedercini (Team Pedercini) +30.226; 15 Haydon (Foggy PETRONAS Racing) +1:05.711
RACE 2 (22 laps): 1. Hodgson (Ducati Fila); 2. Xaus (Ducati Fila); 3. Chili (PSG-1 Ducati); 4. Laconi; 5. Toseland (HM Plant Ducati); 6. Walker (HM Plant Ducati).POINTS (after 2 of 12 rounds): Riders - 1. Hodgson 100; 2. Xaus 80; 3. Walker 48; 4. Lavilla 44; 5. Martin 41; 6. Toseland 40; etc. Manufacturers - 1. Ducati 100; 2. Suzuki 44; 3. Petronas 32; 4. Kawasaki 18; 5. Yamaha 7.
Vermeulen Scores First SuperSport Win On CBR600RR
After Chris Vermeulen's domination of qualifying, setting a new World Supersport circuit record of 1:35.291 in the final timed session, the 20-year-old Australian took his Ten Kate Honda CBR600RR to its maiden victory at his local Phillip Island track. Vermeulen's win was also his first in world championship racing, with the Queenslander in the lead from first lap to last, outpacing his nearest rival Katsuaki Fujiwara by 9.299 seconds. Vermeulen now shares the championship lead with the Japanese rider, each having taken a first and second finish this season.
Karl Muggeridge (Ten Kate Honda CBR600RR) was the next best Honda rider in seventh place, having formed part of the ten-rider battle for the final podium place at one stage, a battle which featured frequent changes of running order. Vermeulen was understandably delighted to have taken his first win in front of his home crowd.

"I've been hanging out for a win and I'm really, really happy," he affirmed at the post race press conference. "I rolled the throttle off with four or five laps to go and I kept it calm - but gee, it seemed to take a long time to the finish! There is still a lot of work to do but I'm looking forward to Sugo and I think the Honda CBR600RR can get better and better."
For Muggeridge, another local hero, his early lap competitiveness did not deliver his much-desired podium finish on home soil - but not for the want of trying in the first half of the race. "I struggled with the front suspension, running wide then having to roll off the throttle. In the end I thought it was better to bring it home in the race than on the back of a trailer!"

Robert Ulm (Klaffi Honda CBR600RR) was the final top ten finisher, after a race spent fighting front-end chatter in the early stages: "I had too much chatter in the first few laps but I think it was just the full fuel load.
Apart from that the bike ran perfectly."
Three times a crasher in practice Christophe Cogan (BKM Honda CBR600RR) hung onto the tail end of the second group for a 13th place finish in this particularly tough race: "I've had a poor weekend here and I was expecting better after having finished fourth at Valencia. I rode as hard as I could." Werner Daemen (van Zon Honda CBR600RR) slotted in behind Cogan in 14th, the last factory Honda rider to finish the 21-lap race: "The race seemed to last for a long time but it was probably due to having front end problems, in the early part of the race and then rear trouble at he end. We probably could have done better with the suspension settings."
Broc Parkes (BKM Honda CBR600RR) retired with mechanical problems on lap six, ending a strong run and challenge for the podium places in only his second World Supersport race. "I was running with the top group of riders and feeling confident. We're not sure what he problem was but it just started losing water."

The third round of the World Championship takes place at Sugo, Japan on April27.

600cc Supersport Race Results (Laps 21 = 93,345 Km) Pos/Rider/Team/Gap
1/C. VERMEULEN/Ten Kate Honda/Honda/34m 03.675s; 2/K. FUJIWARA/Alstare Suzuki/Suzuki/9.299; 3/J. VD GOORBERGH/Yamaha Belgarda/Yamaha/14.762; 4/S. CHAMBON/Alstare Suzuki/Suzuki/16.008; 5/K. CURTAIN /Nikon Yamaha Racing/Yamaha/16.106; 6/J. TEUCHERT/Yamaha Deutschland/Yamaha/18.686
7/K. MUGGERIDGE /Ten Kate Honda/Honda/18.834; 8/P. RIBA/Kawasaki R.T. KRT/Kawasaki/22.666; 9/A. CORRADI/Italia Spadaro F.R./Yamaha/22.685; 10/R.ULM/Team Klaffi Honda/Honda/22.791

Fastest Lap : 2° Katsuaki Fujiwara 1'36.642 165,580 Km/h
World Supersport championship points after two of 11 rounds: 1 Vermeulen and Fujiwara 45, 3 Van den Goorbergh and Corradi 23, 5 Teuchert 21, 6 Muggeridge 19, 7 Cogan 16, 8 Chambon and Riba 13, 10 Christian Kellner, Germany (Yamaha) 12. 12 Parkes 9. 13 Daemen 8. 15 Ulm 6.
Manufacturers points: 1 Honda and Suzuki 45, 3 Yamaha 32, 4 Kawasaki 13.
---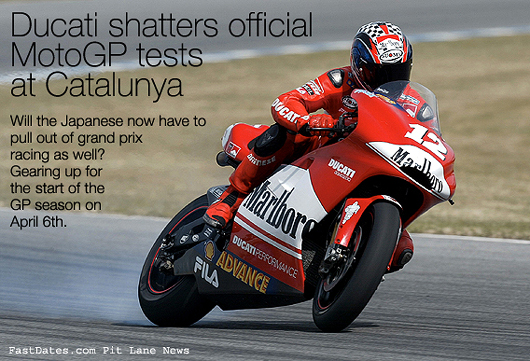 2003 MotoGP World Championship Preview

Ducati Marlboro Team Set To Open a New Era
In Moto GP this coming weekend at at Suzuka Japan
March 28 2003: The Ducati Marlboro Team opens a new chapter in Grand Prix history at Suzuka this weekend. The legendary Italian marque, which has dominated World Superbike for the past decade or so, now embarks on its first attempt at conquering GP racing's premier championship. The 2003 MotoGP season will be a period of development for the brand-new Desmosedici, even if the machine has already showed stunning speed in preseason testing and looks like being a real force when the racing starts on Sunday. Last month, Ducati Marlboro Team rider Loris Capirossi topped the official MotoGP prologue test session at Catalunya in Spain (time 1.44"634; all-time record at 328.2kmh/203.9mph), with team-mate and MotoGP newcomer Troy Bayliss also showing impressive speed (time 1.44" 893, 322.8 kmh/200.6 mph).

But, as team personnel are keen to point out, testing is not racing, which is why the sense of anticipation around this year's season-opening Grand Prix is arguably greater than any other. Everyone is waiting to see how the Desmosedici performs in anger for the first time, an extra gravity attached to the event because the race will unfold on Japanese tarmac.

While Ducati's involvement has sparked new interest in MotoGP, there's also unprecedented interest in Japan, with more top-grade riders contesting the championship than ever before. This year there are ten world champions fighting for MotoGP glory – current MotoGP king Valentino Rossi, former 500 champ Kenny Roberts Junior, World Superbike winners Colin Edwards and Troy Bayliss, 250 champs Max Biaggi, Loris Capirossi, Marco Melandri, Daijiro Kato and Olivier Jacque and World Supersport winner Andrew Pitt.
Sunday's Japanese GP is the first of 16 that constitute the first all-four-stroke MotoGP World Championship. The fixtures continue with the South African GP on April 27 and then the Spanish GP, which starts the European season on May 11.

DOMENICALI'S EARLY SEASON PREDICTIONS
Months of anticipation end when the Ducati Marlboro Team lines up for its MotoGP debut this weekend at Suzuka, one of the fastest tracks on the GP calendar. The squad's Desmosedici bike has already proved that it lacks nothing in the way of speed – at Catalunya last month, Capirossi and Bayliss headed the top-speed charts, the Italian establishing an all-time record at 328.2kmh/203.9mph, Bayliss not far behind at 322.8 kmh/200.6 mph.

The bike's 220-plus horsepower output will be vital on Suzuka's two long straights, but Ducati Corse managing director Claudio Domenicali isn't making any great predictions for Sunday's race, because he knows his crew is only just embarking on its long journey down the MotoGP road.

"All I can say is that we are reasonably happy and that our engineers have good reason to be very proud of what they've done so far," says Domenicali. "We are only at the start of this project and we are already at a reasonable level of performance. We've done some good development work and we know that the bike has a very high potential, but we need more time to fully understand it and to extract its full potential. At the moment I'd say that the engine is only at 80 per cent of its capability."

The Ducati Marlboro Team have been helped in their successful search for speed by fuel and lubricants partner Shell, who have worked closely with Ducati Corse since 1999. "The Desmosedici's incredible speed at Catalunya was helped by Shell," reveals Domenicali. "We used a new fuel called V-Power RD 0502, which had already showed promising results on the dyno, with an increase in peak power of almost one per cent.

"Every month we should be able to make the bike faster, but others are also getting faster. Our results will also depend upon how much room our rivals have for improvement, so it's very difficult to predict results for the first few races.

"At the moment there's no clear area in which the bike is lacking, it's just a case of achieving a good overall balance, which will only come with time. The bike is still very young, we still need to achieve the best-possible balance and then learn how to achieve that balance at every track. We are on a steep learning curve, we still have a lot of small steps to take before we are really good!"

And yet the pre-season mood in the Ducati Marlboro Team is high expectation tinged with optimism. Most of all though, the mood is happy, as team director Livio Suppo points out: "It's a happy team and that's important to us. We have a tough season ahead, so we need to enjoy ourselves, we like to have a good feeling about the way we go racing."
CAPIROSSI'S FIRST FOUR-STROKE RACE
Three-time World Champion Loris Capirossi hits the big 'Three Oh' at Suzuka on Friday – the day he officially commences his first-ever four-stroke GP season. The Italian's 30th birthday provides an excellent opportunity to reflect on his career so far, as well as taking a peak into his future. One of only a handful of riders to have won GPs in three classes – 125, 250 and 500s – Capirossi has been a major-league star since 1990 when he won the 125 world title at his first attempt, aged just 17. Over the past two seasons he has fought bravely on now uncompetitive 500cc machinery – in 2002 he was one of only two riders capable of running with the four-strokes on his 'old' 500 two-stroke. This year he is finally back where he deserves to be.
Some people wondered whether Capirossi would be able to adapt to the four-stroke Ducati Marlboro Desmosedici after a career spent exclusively on two-strokes, but he soon dispelled those doubts, breaking lap records within weeks of his first ride on the Italian V4.

"The four-stroke is great – much more comfortable than the two-stroke, so you can have a lot of fun spinning the rear tyre!" smiles Capirossi, who's never ridden anything as powerful as the 220-plus horsepower Ducati. "The bike is already at a very good level, our lap times from winter testing tell us that, but we have a lot more work to do before we can properly claim to have the best bike. Anyway, it's coming better step by step, and I'm really excited because I think we can fight for some good results from the very first race."

Suzuka is a particularly special event for Capirossi for two reasons: firstly because it's always a privilege to race an Italian bike in Japan, and secondly because he adores the high-speed circuit with its unique figure-of-eight layout. Capirossi started the 2001 Japanese GP from pole and was second quickest in qualifying last year, even though his 500 had 30 less horsepower than the fastest four-strokes.

"Suzuka is a lovely track, one of the best in the world," he affirms. "And, of course, it's a very important race for Ducati, like Ferrari in the Suzuka F1 car GP! I think it could be good for our bike because it's not the kind of circuit where you get a lot of wheelspin. Everyone can see that we've got a lot of horsepower, so we are working to reduce wheelspin, and we're making good progress with different solutions, both on engine and chassis set-up.

"I don't have any big expectations for the first race. Much will depend on how the pre-race tests go. They will be especially important for us, because unlike the other factories, we haven't been to Suzuka before. If we can fix the set-up during the tests, I think we can have a good race."TROY'S BIG NEW CHALLENGE
The Ducati Marlboro Team isn't alone in opening a new chapter in racing history at Suzuka this weekend – rider Troy Bayliss is also embarking on a new adventure. After five years on Superbikes the easygoing Aussie is making the move to MotoGP, and he's not underestimating the magnitude of the challenge.
Winner of the World Superbike crown in 2001 and a nail-bitingly close runner-up last year, Bayliss may have shown great promise during winter testing with the Desmosedici, but he's got plenty to learn once the racing gets underway. Not only has he got to learn a whole new class of racing and get to know a grid-full of new rivals, but he's also got to compete on 13 tracks where he's never raced before, starting on Sunday.

"There's no way I'm going to go to Suzuka and win," says Bayliss with refreshing frankness and honesty. "Then we go to Welkom, which is another racetrack I haven't seen, so I just want to get a couple of half-decent races under my belt, see what I can do, then hopefully my real season will start when we get back to Jerez, where I've tested a bit and where I feel pretty comfortable. The bike's starting to come good, it's just a matter of taking it step by step."

Bayliss had never even see Suzuka before he rolled up for the all-team test session on March 30 (when he celebrates his 34th birthday), at least not in reality, but he had ridden a few laps on his PlayStation, racing against his seven-year-old son Mitchell. "Anything we do that's not to do with racing he beats me!" smiles Bayliss. "I usually do a few laps on the PlayStation before I go somewhere new, it just shows you which way the track goes."

Renowned for his awesome on-track aggression and radically spectacular riding style, Bayliss can't wait for the racing to get under way for real. "I'm excited, after all, I'm a racer!" he adds. "I think a lot of riders feel the same way after a long winter of testing. But I know the first few races won't be easy because it's hard to find the limit at any track you don't know. At tracks you do know it's easier to find little things with the bike, so you can improve its performance. The Desmosedici is already not too bad, we're pretty much where we expected to be at this stage. Early on, we know we'll have some good days and some bad days, but we're making progress and that's what we want to do."

Sunday's Japanese Grand Prix will be the second GP of Bayliss' career – he made his GP debut with a one-off ride in the 1997 Australian 250 GP.
THE TRACK
Suzuka was constructed by Honda in 1962 as Japan's first international-standard racetrack and still rates as one of the world's best motorsport venues. The circuit staged its first World Championship rounds in '63, '64 and '65 but those events only catered for the smaller-capacity classes and it wasn't until 1987 that Suzuka hosted a premier-class GP.

Since then the fast, varied and supremely challenging track has gained a reputation for serving up some of the closest, most thrilling GP encounters. Suzuka is the longest circuit on the GP calendar and unique for its figure-of-eight layout which gives a good mix of left and right-handers, varying from fast sweepers to the dead-stop chicane and hairpin. It is also one of the few current GP tracks where MotoGP riders can give full rein to their 200-plus horsepower machines.

TROY BAYLISS Age: 34 (date of birth March 30 1969) Lives: Monaco Bike: Ducati Marlboro Team Desmosedici First GP: Australia, 1997 (250) World Superbike victories: 22 World Championships: 1 (Superbike: 2001) Suzuka 2002 results: DNS
LORIS CAPIROSSI Age: 30 (date of birth April 4 1973) Lives: Monaco Bike: Ducati Marlboro Team Desmosedici
GP victories: 22 (2x500, 12x250, 8x125) First GP victory: Britain, 1990 (125) First GP: Japan, 1990 (125) GP starts: 184 (14xMotoGP, 59x500, 84x250, 27x125) Pole positions: 33 (5x500, 23x250, 5x125) First pole: Australia, 1991 (125) World Championships: 3 (125: 1990, 1991, 250: 1998) Suzuka 2002 results. Grid: 2nd Race: 9th
---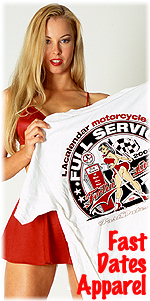 Foggy PETRONAS Racing
made further steps forward in round two of the World Superbike championship at Phillip Island, Australia, with Troy Corser finishing fifth and eighth in the two races.
Team-mate James Haydon also completed both races on the FP1, in 15th and 16th places respectively, as
the team built on their recent debut performance at Valencia.

And team owner Carl Fogarty, who had stayed at home in England to honour family commitments, was
quick to pinpoint the positives from the weekend. He said: "We have moved forward again as we finished
all four races and Troy improved on his previous best of seventh. As long as things are progressing, and
carry on that way, then we are happy. The next race in Japan will be a real test for us, though, we haven't
tested at Sugo and there are always a lot of fast wild card local riders."

After a promising two days of qualifying, an expectant home crowd were willing local favourite Troy Corser to challenge the Ducati domination at the front of the field. And, with a daring braking manoeuver that took him from seventh to fourth going into turn one for the final time, a top four finish looked on the cards before fellow Aussie Steve Martin was able to nudge Troy down into a creditable fifth, with series leader Neil Hodgson again taking both wins.
DUHAMEL LEADS HIGHLY COMPETITIVE AMA CHEVY TRUCKS U.S. SUPERBIKE CHAMPIONSHIP COMING INTO FONTANA DOUBLEHEADER
Miguel Duhamel is in his 15th season of AMA professional racing, but the 34-year-old native of Montreal shows signs of being in the racing form that enabled him to win the 1995 AMA Superbike title. Duhamel, the all-time AMA Superbike wins leader, is coming off his 26th-career victory in the season opener, the Daytona 200, at Daytona International Speedway on March 10. Duhamel and the rest of the AMA Chevy Trucks U.S. Superbike competitors are heading to California Speedway, in Fontana, Calif., on April 4-6, for the Yamaha Superbike Challenge, rounds two and three of the 18-race championship.

This is the first time in four years that Duhamel has been atop the AMA Superbike standings. The veteran factory Honda rider is hoping to keep his momentum going as the series comes to Southern California.

"I'm feeling as strong as ever and my team has my Honda RC51 dialed in so well," Duhamel said. "It's going to be tough because of the great competition in the series, but I think I have a real shot at winning the championship this year. It's been eight years, so I think it is about time I win it back."

If Daytona was any indication, this year's series could be the most competitive in years. In the series opener, six riders led the race on three different brands. One of those riders who led at Daytona was Anthony Gobert. Gobert won the Saturday Superbike race last year in Fontana and is looking to get his season back on track after engine problems forced him to retire at Daytona.

"I'm looking forward to Fontana," said Gobert, a former Australian Superbike champ who rides for Ducati Austin. "We've got some points to make up after Daytona, but with 18 rounds this year, we have plenty of races to catch up. My goal is to go out and start winning races. If I do that then everything should fall into place for us."

Duhamel's Honda teammate Ben Bostrom is back in the AMA Series after three years in World Superbike. "I can't wait for a race where we have to hang it out the entire way," said Bostrom, referring to the normal 62-mile length of AMA Superbike races, versus the 200 miler at Daytona. "I haven't raced at Fontana, but we have tested there. I came out of Daytona second in the points, so I feel good about where I am heading into the rest of the season."

Kurtis Roberts has been close many times, but has yet to win his first AMA Superbike race. The 24-year-old son of legendary multi-time world champion Kenny Roberts, finished a very close third at Daytona and he is more than ready to get his first win in the books. He rides a Honda RC51 factory Superbike for Erion Racing.

While the factory Honda riders and Gobert are good bets at Fontana, the wildcards are factory Suzuki riders Mat Mladin and Aaron Yates, and Kawasaki's Eric Bostrom. Mladin and Yates are riding the new Suzuki GSX-R1000 Superbikes. The new Suzukis were mega-fast at Daytona, but with so much power on tap, the challenge was to manage tire wear. Yates had the equation figured out at Daytona and was running in the lead group before an attempted pass on a lapped rider went awry forcing Yates to run off the track.

Eric Bostrom is riding one of the established Kawasaki ZX-7-based Superbikes. Bostrom's bike is a nimble handling machine and both rider and bike are proven winners. Eric, the younger brother of Ben, comes to Fontana ranked fifth in the standings. He thinks he'll be able to improve on that after the California Speedway doubleheader. Plus, Eric's coming off an extremely successful session at Infineon Raceway where top riders tested several track changes. That momentum should bode well for Eric at Fontana.

Another rider to watch at Fontana is Larry Pegram, who won an AMA Superbike race in Southern California in 1999. Pegram is on the Dream Team Racing Ducati.

Suzuki's GSX-R1000 has proven to be the Superbike choice of top privateers. Formula Xtreme champ Jason Pridmore could easily get up amongst the factory machines at Fontana on his Attack Suzuki GSX-R1000.

The first California Speedway Superbike doubleheader will run on Saturday, April 5 and the second race on Sunday, the 6th. Both rounds will be televised Live on Speed Channel (5 p.m. April 5 and 6 p.m., April 6 EST).
---
. . . Going Fast!
Here's your last chance to order a piece of sportbike history. Our 2003 Calendars are sold out in stores worldwide. Only a few copies remain left at Calendars.com.
Click to order now online!

Ripped Pavement 2003

USA order Online Now: Calendars.com



Garage Girls 2003
Fortuna Yamaha Preview of MotoGP World Championship 2003 Season Kickoff in Japan
April 4/5/6 2003: The 2003 MotoGP World Championship will commence this weekend at Suzuka in Japan. No less than eight manufacturers and 24 MotoGP riders will take their places on the starting grid on Sunday 6th April to start the championship that will span eight months and visit 13 countries.

Fortuna Yamaha Team riders Carlos Checa and Marco Melandri are looking forward to the challenge that faces them on their Yamaha YZR-M1s. It willbe Spaniard Checa's second year riding the Yamaha four-stroke in the premier
motorcycle racing class in the world. For Italian teammate and 250cc World Champion Melandri, this is the moment he has always dreamed of as he contests his first race on a MotoGP bike. Both riders have been working hard through the winter to develop the M1 at a host of private European tests. The testing programme concluded in a series of group IRTA tests, the last of which took place last weekend in Suzuka.

The MotoGP championship will reach a dizzy height of competition this
weekend. The mix of Yamaha, Honda, Suzuki, Kawasaki, Aprilia, Ducati and Proton machinery will make this race the fastest and no doubt most entertaining Grand Prix the sport has ever seen. The Japanese race is the first of sixteen races in total; after this weekend the MotoGP circus moves to the Welkom circuit in South Africa before the European rounds commence in
Jerez, Spain on 11th May.
CHICKS RULE!
At the LA Calendar Motorcycle Show and SuperMoto Nationals July 19-20th!
2 Days of exciting Live Music featuring America's hottest new girl group, plus the beautiful FastDates.com
Calendar Angels!

Click to visit their website and see their music video!
Both Days!
The Beu Sisters
Our Featured Show Band The hottest sounding, most beautiful new girl group in the World in their first West Coast appearance, premiering their new album "DECISIONS."
Meet the Beu Sisters HERE
The Beu Sisters on MTV
website & video interview HERE
The Beu Sisters CD Ablum
Click below to buy
---
Rossi/Hon, Barros/Yam
Quickest at MotoGP IRTA Final Pre Season Tests at Suzuka
Sunday 30 March 2003 (day 1 of 2)
Suzuka, Japan

In unexpectedly sunny conditions the Fortuna Yamaha Team completed its first day of a two day test at the Suzuka circuit in Japan today. Riders Marco Melandri and Carlos Checa familiarised themselves with the track for the first time since they raced here last year amongst the other 22 MotoGP riders and other wildcards. A crowd of local spectators also took advantage of the weather to get a sneak preview of what to expect at the first Grand Prix of the year, which will take place at the circuit one week from today.
The Japanese track has changed slightly since last year, with a new chicane at the last section of the track causing the riders to slow down and use their lowest gears before entering the start/finish straight. Another modification for the riders to get to grips with is the now faster R130 corner before the new chicane.

Fortuna Yamaha rider Marco Melandri was not daunted by the changes and rode at a fairly consistent pace in his debut aboard the YZR-M1 at this circuit. The Italian concentrated on finding a good setting rather than lap times. Team-mate Carlos Checa tested new electronic components which caused him to stop at one point, losing him some valuable track time and the chance to tryfor a top lap time.

The Suzuka IRTA test continues tomorrow, followed by a three day gap before the action recommences on Friday 4th April for Grand Prix first qualifying.
LAP TIMES:
1. Valentino Rossi (ITA) Repsol Honda 2'05.060
2. Alex Barros (BRA) Gauloises Yamaha Team 2'05.250
3. Max Biaggi (ITA) Camel Pramac Pons 2'05.293
4. Daijiro Kato (JPN) Telefonica Movistar Honda 2'05.397
5. Loris Capirossi (ITA) Ducati Marlboro Team 2'05.529
6. Sete Gibernau (SPA) Telefonica Movistar Honda 2'05.847
7. Tohru Ukawa (JPN) Camel Pramac Pons 2'06.363
8. Nicky Hayden (USA) Repsol Honda 2'06.704
9. Kenny Roberts (USA) Suzuki Grand Prix Team 2'06.764
10. Norick Abe (JPN) Yamaha Racing Team 2'06.810
17. MARCO MELANDRI (ITA) FORTUNA YAMAHA TEAM 2'07.404
19. CARLOS CHECA (SPA) FORTUNA YAMAHA TEAM 2'07.583
Barros bounces back at Suzuka IRTA test
Suzuka, Japan 30/3/2003 Although misfortune stuck Yamaha riders Alex Barros (Gauloises Yamaha Team) and Carlos Checa (Fortuna Yamaha Team) during the early stages of the Suzuka IRTA test – held March 30 – the former bounced back to produce the second fastest time of the day. Soon after the session began Barros found himself in the gravel trap after fellow competitor Andrew Pitt (Kawasaki) collected the rear end of the #4 M1 as the pair entered the circuit's new chicane. Although both riders recovered from the incident unhurt, Barros was forced out of action for a portion of the morning session as preparations were made to his number two machine. Barros' determination shone through, however, when the Brazilian ended the day with a 2'05.250 – produced on his final lap, while sampling the new 'R series shaped' M1 fairing for the first time. Barros completed only a handful of laps with the new bodywork but was full of praise for Yamaha's efforts, especially as he was only 0.045 seconds behind Valentino Rossi (Honda, 2'05.060) after a less than perfect day.
For Checa it was an intermittent electrical gremlin that hindered his progress, although the cause is still to be confirmed. As a result Checa was also forced out of action for most of the morning session while preparations were made to his second bike. He concluded the day with a 2'07.583 (19th). His Fortuna Yamaha Teammate Marco Melandri went slightly faster with a 2'07.404 to be 17th quickest. Gauloises Yamaha Team
Alex Barros 2nd, 2'05.250: "I very happy with the new fairing, the feeling is much better because of the improved aerodynamics. It was a big effort for Yamaha to produce this in time for this test, because its not a simple case of just putting a new fairing on, you need to change many small things so that it fits well. But it was well worth the effort because now it looks much faster – and as you can see looks count for a great deal.