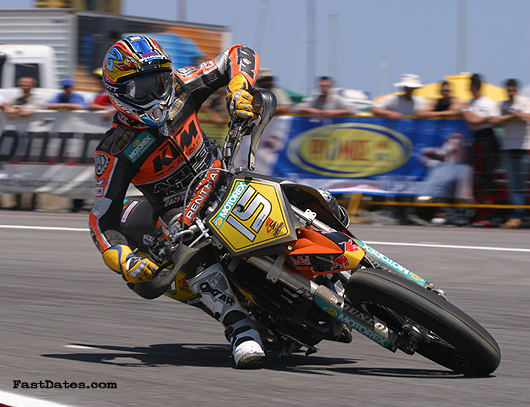 The Los Angeles Calendar SuperMoto National will features motocross bikes roadracing on a tight motocross style race course with world champion riders. Above: World SuperMoto star Stefan Chambon.
Our Incredible LA Calendar Motorcycle Show
gets even hotter for the July 19-20th weekend!
SuperMoto Nationals, West Coast Horsepower Dyno Shootout, Burn Out Contest
Calendar Girl Beauty Pageant, Olive Crest Charity Ride, LA Times sponsorship!

Los Angeles, California, USA (Monday , May 12th) – Now in its 12 year, our Performance Machine sponsored Los Angeles Calendar Motorcyle Show produced by FastDates.com publisher Gianatsis Design Associates has grown to become the biggest and best Custom and HiPerformance Streetbike Show in America. Held on the 3rd weekend of July at the Queen Mary Event Park on the edge of the Pacific Ocean in exciting downtown Long Beach, we weren't content to sit on our hands when we could make the best Bike Show in America even better. Joining our associate sponsors Corona Beer, Recycler.com / Cycle Buys, Trader Publications / Cycle Trader, Iron Works magazine for Harley enthusiasts and BikerNet.com will be The Los Angeles Times, one of America's leading and largrest newspapers assisting with pre event publicity and post event coverage. The Speed Chanel's premier American motorcycle series American Thunder will also be dedicating an entire program to the Calendar Bike Show as they do every year.
Exciting new activities added to this year's streetbike extravaganza include the RussBrown.com sponsored MotoMaster SuperMotard National, assured to be the biggest SuperMoto event ever held in America with participation by major factory race teams and world famous riders. Riders expect to appear include World and National roadrace and motocross stars like Jeremy McGrath, Kevin Schwantz, Scott Russell, Jeff Ward, Michell Bayle and others. The tight stadium style track at the Queen Mary is guaranteed to challenge the riders and assures spectators close and exciting handlebar clashing action. The MotoMaster National Championship Series is sponsored by Primedia's Sport Rider and Dirt Rider magazine who will also be covering the weekend's racing action.
A favorite attraction at past Calendar Bike Shows, our West Coast Horsepower Dyno Shootout by Jardine Headers returns this year sponsored and produced by America's premier performance exhaust system manufactuer for sportbikes and V-twin motorcycles. Bike builders and owners will be able to roll their 2-wheeled rockets up on the Jardine dyno in front of hundreds of spectators and prove just how much horsepower their bikes really produce.
Another new attraction this year will be the Jim's Machine Burnout Contest. Taking place on the front straight of the SuperMoto track each afternoon during race intermission, this is the chance for exhibitionists to show how much smoke they can make in destroying a rear tire to the cheers of admiring fans. The folks at Jim's Machine promise to award trophys for this eye watering / ear shattering mayhem that are as unique as the Burnout Contest participants themselves.
On Saturday we will be hosting the Iron Works magazine Olive Crest Charity Ride to the LA Calendar Motorccyle Show. Endorsed and funded in part buy the state, Olive Crest is the biggest orpanange and shelter sytem forabused children and families in Southern California. It provides long term housing, care, education and adoption services for hundreds of kids every year. The Ride will start with signup up on Saturday morning 10:30 am at Olive Crest's main headquarters in Santa Ana. Participants will be treated to lunch before the start of the ride to the Show where they will receive reserved front space parking at the Queen Mary and over $120 in admission and parking values for the LA Calendar Bike Show weekend for a low $35 per person tax deductable charity donation to Olive Crest.
Additional Information: Los Angeles Calendar Motorcycle Show, July 18 & 20th
---
Chicks who Rock, and Roll
Danica Patrick

One of the fastest women in racing ever, right up there with former World Rally champion Michelle Mouton and our own SBK World Supersport and now 250 MotoGP star Katja Poensgen, is 21-year old Danica Patrick featured this month in a sexy
4-page interview and pictorial in FHM magazine.

This petite 100 lb brunette bombshell is kicking ass in CART racing Indy cars this season, after signing a 3 year contract with Team Rahal last season to race in 400 hp Toyota Atlantic cars. Butformer 3-time National Go Cart Champ Danica was so quick, team owner Bobby Rahal has moved her up to the premier American single seater series where last month at the Mexico City round of the series she turned the quickest race times and moving up to 3rd place to challenge the leaders before the race ended.

What's just as exciting as her driving skills and the ability to wrestle an 800hp race car that leaves most men twice her size weak in the knees, is the fact this sexy brunette has no problem stripping down to sexy bikinis for her fans to admire her even more.
Check out Daniella in ther April issue of FHM.


Click for a bigger piece of Danica. Photo curtesy FHM / photograqphed by George Holz
---

It was just Ducati's 3rd MotoGP but Loris Capirossi (center) and Troy Bayliss (left) put their Desmosedici's 1-2 on the pole. It had to be an embarassment for veteran the GP teams of Yamaha, Suzuki, Kawasaki and Proton.
MotoGP World Championship, Spanish Grand Prix Round 3
Ducati's brilliant Capirossi and Bayliss dominate Qualifying taking 1-2 on the Pole!
But Doctor Rossi Turns Up the Heat
on his rivals with a win in Spain
Jerez, Spain, Sunday May 11th: A partisan crowd of 130,000 had to be disappointed with the early departures of their Spanish heroes Sete Gibernau (Telefonica Movistar Honda RC211V) and Carlos Checa (Yamaha) in the first half of the race. But no one could begrudge Valentino Rossi (Repsol Honda RC211V) his second win of the season in the searing conditions that saw the track temperature at 41 degrees. Rossi won in style with a stand-up wheelie across the line while second-placed Max Biaggi (Camel Pramac Pons RC211V) and Troy Bayliss (Ducati) celebrated their second and third places respectively.
Final Qualifying Saturday May 10th
Ducati Marlboro Team riders Loris Capirossi and Troy Bayliss continue to astound the world with the performance of the Desmosedici, the pair taking first and second in this afternoon's sun-baked final qualifier at Jerez. The pair dominated the final five minutes of the session, Bayliss moving into pole position first, Capirossi just 0.131 seconds behind, but the Italian went even better on his final run, lapping 0.01 seconds faster than his team-mate to score Ducati's first-ever pole position in GP racing's premier class. Capirossi's final lap time of 1:.41.983 shatterd by nearly a second Honda World Champion Valentino Rossi's 2002 season lap record at Jerez of 1:42.920
This phenomenal performance continues the Ducati team's remarkable run of results during the earliest stages of its MotoGP adventure – the Desmosedici scored its first podium at the season-opening Japanese GP, its first front-row start in South Africa and also led both races. And today was the first ime since 1975 with Franco Inarella on an MV Agusta that an Italian Bike and Rider have been on the pole of a open class GP.
"It's difficult to find the proper words for this," said Ducati Corse CEO Claudio Domenicali. "This is our first race in Europe, and getting first and second on the grid is a result for the whole team, for everyone at Ducati. Everyone from the riders to the mechanics to the engineers at the factory has done something very special today. For sure the race is a different story, I think we still need more practice and more knowledge with this bike, we're still on the learning curve."

Bayliss (12) leads teamate Capirossi on the opening lap followed by Biaggi and Giberneau.
Doctor Valentino Proves Invincible in the Race
The 27-lap MotoGP race began with a mad rush into the uphill right-hand turn one and it was Troy Bayliss (Ducati) who rocketed into the lead as the pack bumped and bored its way around the first circuit of the 4.423km track. His team-mate Loris Capirossi collided with him on the back straight and came off better in the altercation. He grabbed the lead.
But Rossi was already sizing up his Italian rival Capirossi having hoisted himself from seventh to second by the end of the first lap. Rossi's ability to carve his way through the chaos of the opening lap gave him the impetus he needed to stalk Capirossi and then dive inside him at the final left-hand hairpin on lap four. And then he was gone.
Lap after lap he piled on the agony for his pursuers putting anything between two and four tenths of a second into the gap between his number 46 machine and the RC211V of his erstwhile antagonist Max Biaggi. Biaggi could easily maintain the second place he grabbed on lap six but he could make no impression on the rampaging Rossi.

The Doctor performed open heart surgery on his rivals once things sorted out after the start.
With Biaggi out of Bayliss' range in second and Bayliss similarly clear of the rest of the field, the action was concentrated on fourth place and beyond. It eventually went to Tohru Ukawa (Camel Pramac Pons RC211)
from Alex Barros (Yamaha) but not without a huge fight from the inspired rookie Makoto Tamada (Pramac Honda RC211V) along the way. Rossi, who set a newrace lap record of 1m 42.788s on lap five on his way to GP win number 52, now has a tally of five wins at this happy Spanish hunting ground.
"I'm happy," he said. "The biggest problem everyone had was traction and we knew we had to work on making the bike controllable even with large amounts of wheelspin. I had a bad start but I didn't want anyone to get away and so I had to make a lot of places up before I got behind Capirossi. I had a bit more speed than him and that was it."
Max Biaggi (Camel Pramac Pons RC211V) was more relieved than happy at securing a solid points haul when he was in danger of coming away with little or nothing in the early qualifying stages.
"I'm happy with this after the qualifying troubles," he said. "On Friday I was down in 12th, then I was on the front row on Saturday and now today a podium. Everyone dreams of winning and riding with the number one plate but in these conditions you take what you can get. I had a lot of fun overtaking other riders in the early laps but it was quite lonely towards the end."
Things got better as the race wore on for Tohru Ukawa (Camel Pramac Pons RC211) who wasted a front row grid slot with a sluggish start and then couldn't push through the field until after mid-race distance.
"The bike was not giving me enough confidence to push at the start," said the Japanese star. "Then as the race went on things actually got better and I could make up places, but it was too late to make decent progress. Maybe there's a small problem with me too, I seem to take too long to get into a
rhythm at the moment."
For Sete Gibernau (Telefonica Movistar Honda RC211V) it was all a case of what might have been. "It was a real shame," said the Spaniard. "When I was chasing Valentino the front end let go. I didn't want to settle for second in front of this great crowd but I still have to adapt to this bike. We're staying to test tomorrow and hopefully I'll arrive at Le Mans with another chance of winning."
Makoto Tamada (Pramac Honda RC211V) made his rookie tag look faintly ridiculous as he stormed to sixth in only his third MotoGP race and his first visit to Jerez. "I'm very satisfied," he said. "A day like this really pumps up the motivation. This is what we need to move forward and I'm really looking to the Le Mans race although we need to remember not to get carried away with this result."
Nicky Hayden (Respsol Honda RC211V) went out on lap nine. "My start wasn't great," he said. "Then I caught a good group and got into a rhythm before the engine felt a little slower. Then I fell off and I'm disappointed because I knew I was going to finish higher. I'm aching a bit now as it was a pretty
fast fall."
Rossi leads the points standings after three races with 70, Biaggi is second on 56 points with Bayliss on 40 and Gibernau with 38.
Race Classification
MotoGP 990cc: (27laps=119.421)
Pos/Rider/Nation/Team/Motorcycle/Time/Km/h
1/Valentino ROSSI /ITA /Repsol Honda /HONDA/46m50.345/152.976
2/Max BIAGGI /ITA /Camel Pramac Pons /HONDA/46m56.678/152.632
3/Troy BAYLISS /AUS /Ducati Marlboro Team /DUCATI/47m02.422/152.321
4/Tohru UKAWA /JPN /Camel Pramac Pons /HONDA/47m06.531/152.100
5/Alex BARROS /BRA /Gauloises Yamaha Team /YAMAHA/47m08.975/151.968
6/Makoto TAMADA /JPN /Pramac Honda /HONDA/47m14.498/151.672
7/John HOPKINS /USA /Suzuki Grand Prix Team /SUZUKI/47m21.304/151.309
8/Shinya NAKANO /JPN /d'Antín Yamaha Team /YAMAHA/47m21.563/151.295
9/Nobuatsu AOKI /JPN /Proton Team KR /PROTON KR/47m26.347/151.041
10/Olivier JACQUE /FRA /Gauloises Yamaha Team /YAMAHA/47m27.911/150.958
11/Noriyuki HAGA /JPN /Alice Aprilia Racing /APRILIA/47m34.098/150.630
12/Jeremy McWILLIAMS /GBR /Proton Team KR /PROTON KR/47m34.239/150.623
13/Kenny ROBERTS /USA /Suzuki Grand Prix Team /SUZUKI/47m39.236/150.360
14/Colin EDWARDS /USA /Alice Aprilia Racing /APRILIA/47m42.473/150.190
15/Andrew PITT /AUS /Kawasaki Racing Team /Kawasaki/47m58.524/149.352
Fastest Lap: Valentino ROSSI /1m42.788 /154.909 km/h
World Championship Positions:
1 ROSSI 70, 2 BIAGGI 56, 3 BAYLISS 40, 4 GIBERNAU 38, 5 BARROS 30, 6 UKAWA 23, 7 NAKANO 20, 8 HAYDEN 18, 9 CAPIROSSI 16, 10 HOPKINS 15, 11 ABE 13, 12 CHECA 13, 13 JACQUE 13, 14 EDWARDS 12, 15 TAMADA 12.250cc
A scintillating 250 race was won by home-ground hotshot Tony Elias (Aprilia) who came out on top of a four-way last lap fight for the second 250 race win of his career. Roberto Rolfo (Fortuna Honda RS250RW) grabbed second with Randy De Puniet third.
MotoGP 250cc: (26 laps = 114.998 km)
Pos/Rider/Nation/Team/Motorcycle/Time/Km/h
1/Toni ELIAS /SPA /Team Repsol Telefonica Movistar /APRILIA/46m10.793/149.413
2/Roberto ROLFO /ITA /Fortuna Honda /HONDA/46m11.314/149.385
3/Randy De Punet /FRA /Safilo Oxydo-LCR /APRILIA/46m11.332/149.384
4/Manuel POGGIALI /RSM /MS Aprilia Team /APRILIA/46m11.400/149.380
5/Anthony WEST /AUS /Team Zoppini Abruzzo /APRILIA/46m22.841/148.766
6/Sebastian PORTO /ARG /Telefonica Movistar jnr Team /HONDA/46m24.997/148.651
7/Fonsi NIETO /SPA /Team Repsol Telefonica Movist /APRILIA/46m33.256/148.211
8/Naoki MATSUDO /JPN /Yamaha Kurz /YAMAHA/46m48.633/147.400
9/Alex DEBON /SPA /Troll Honda BQR /HONDA/46m53.613/147.139
10/Joan OLIVE /SPA /Aspar Junior Team /APRILIA/46m59.614/146.826
11/Franco BATTAINI /ITA /Campetella Racing /APRILIA/47m02.978/146.651
12/Alex BALDOLINI /ITA /Matteoni Racing /APRILIA/47m05.497/146.520
13/Eric BATAILLE /FRA /Troll Honda BQR /HONDA/47m06.882/146.448
14/Christian GEMMEL /GER /Kiefer Castrol-Honda Racing /HONDA/47m08.501/146.364
15/Dirk HEIDORF /GER /Aprilia Germany / APRILIA/47m14.226/146.069
Fastest Lap: Manual POGGIALI / 1m45.350s / Lap2
World Championship Positions:
1 POGGIALI 63, 2 ROLFO 40, 3 DE PUNIET 36, 4 PORTO 36, 5 ELIAS 33, 6 BATTAINI 32, 7 NIETO 28, 8 MATSUDO 22, 9 WEST 21, 10 AOYAMA 20, 11 TAKAHASHU 16, 12 GUINTOLI 13, 13 DEBON 12, 14 OLIVE 9, 15 BALDOLINI 8.