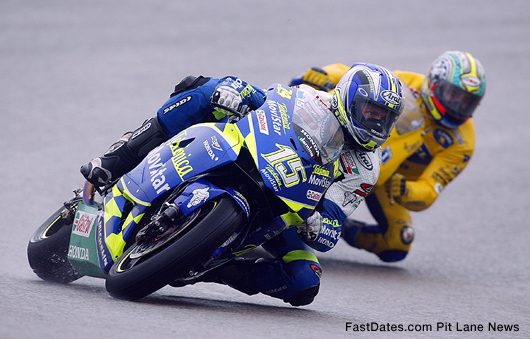 Sete Gibernau and Max Biaggi battle it out in the pouring rain at Assen at full lean angles, just 10 secounds of the the dry track pace. Don't try this at home with 220 horsepower.
2003 MotoGP World Championship, Dutch Grad Prix, Assen Round 7
Gibernau Masters Rain-Lashed Assen
for his Third Honda Win of the Year
Assen, The Netherlands, Raceday Saturday June 27th: Conditions were truly appalling at Assen today, but that didn't deter a 90,000 raceday crowd from enjoying spectacular, if mildly processional racing, for the podium places in the later stages of the seventh MotoGP round of the 2003 season. Spanish title challenger Sete Gibernau (Telefonica Movistar Honda RC211V) won with Max Biaggi (Camel Pramac Pons RC211V) second and reigning World Champion Valentino Rossi (Repsol Honda RC211V) third.
The seventh round of the 2003 MotoGP World Championship got underway late after a rain storm hit Assen halfway through the warm-up lap. The race was 'neutralised' and started 20 minutes behind schedule after riders had completed two further warm-up laps on rain tyres.
Gibernau stormed away from the line and made the rush to turn one just in front of Biaggi and Rossi. He emerged from the chaos in front at the exit and Biaggi began to pressure the Spaniard heavily as he tried everything to get out of Gibernau's wheeltracks and the drenching, blinding spray that came with them.
By lap two Max had made his move but Sete was having none of it and re-passed Biaggi on the next lap. The pair locked horns for three consecutive turns and Gibernau eventually came out on top, never to be headed for the rest of the race. Max opted for discretion too at that stage and played a waiting game behind the Spaniard.
But when it came to passing backmarkers, as early as the tenth lap – such was the discrepancy in speeds here – Max lost out badly. As Gibernau slipped past Garry McCoy's Kawasaki, Max was badly baulked and the time he lost was enough for him to lose touch with Gibernau. The gap had been down to a manageable 0.9 seconds and by the next lap, after the incident, it was up to 2.8 seconds.
Mindful perhaps of his crash two weeks ago in Catalunya when he fell while disputing third place with Gibernau, the Roman preferred the points haul for third to a wet trudge back to the garage if he did the same thing here. And by the time Max had settled for a finish, Rossi was making the same plan for a solid third instead of a fretful attempt at making ground, never mind making a pass.
"The weekend started badly and ended well," said Gibernau. "The team did a great job. We won again in the wet but the bike was going equally well in the morning warm-up. I stepped up the pace in the race because I didn't want Max to be too close at the finish. Now we got to Donington to try and be equally competitive in the dry too."
Max was happy enough with second. "The conditions were very difficult," he said. "The start was especially hard with the rain, the tyre changes, the re-start… And all that with the adrenaline running really high. After the lights I was able to make a fast rhythm, but lapping behind Sete meant it was almost impossible to see the track with all the spray. But in the end it was okay as I lapped fast enough to keep Rossi behind me and I earned 20 very important points."
Ducati MotoGP Team riders Loris Capirossi and Troy Bayliss finished today's rain-lashed Dutch TT in sixth and ninth positions, a meagre reward for a hard afternoon's work in appalling conditions. Capirossi had qualified on pole but suffered wheelspin woes in the early stages, while Bayliss rocketed into third place from a fourth-row start, only to crash due to a minor technical glitch. He bravely remounted to complete the race.
"In the end, and considering the conditions, that wasn't too bad," said Ducati MotoGP Team technical director Corrado Cecchinelli. "Both our riders finished, and both had a very good pace through most of the race. If Loris hadn't had some trouble in the first laps, and if Troy hadn't slid off, maybe both could have made the podium, but that's racing… Apart from tyres, we made only a few changes for the rain – just a few clicks of damping and a little spring preload to soften things up. It's been a hard weekend, and as always I'd like to thank all our technical partners, especially Shell Advance and Michelin."
Ducati MotoGP Team rider Troy Bayliss was looking good for a second podium finish on his Desmosedici until he slid off at turn one on lap six. The Australian had overtaken Valentino Rossi the previous lap despite having problems with his quickshifter, a glitch that he was trying to fix when he ran off the track at speed and fell. Typically determined, Bayliss dug his bike out of the gravel with some help from the marshals and regained the track in 16th place, a minute down on the leader. From there he gradually picked his way past rivals for a well-deserved top-ten finish.
"I was trying to fix the quickshifter on the dash, switching it on and off, got into turn one too deep and ran off the track," explained Bayliss, who now lies seventh on points. "The problem was there from the start, so I ended up shifting gears manually, which is the first time I've had to do that for years. The crash was a real shame because everything else was going pretty good with the bike in the wet."
Rossi was realistic about his points haul and surprised at the amount of grip he had in the conditions. "That was strange," he said. "Because the grip was incredible. The lap times are only ten seconds slower than in the dry and we were on our knee-sliders in nearly every corner. I got behind Sete and Max but I could hardly see a thing. The end result is that I didn't lose too many points in the Championship and now we wait for Donington and some dry weather."
America's reigning World Superbike Champion Colin was able to use the wet weather to his advantage to bring the somewhat underpowered Aprilia Cube home in 8th position, Colin's highest finish of the season so far, just behind Yamaha'ss Carlos Checa and Olivier Jacques, and Ducati's Capirossi..
Nicky Hayden (Repsol Honda RC211V) finsished just outside the top ten in 11th and was happy to finish a race where visibility was a real problem for the riders. "That was real tough," said the American rookie. "I made a good start like I knew I had to, but I've never raced anywhere where it's been that hard to see. I had a few good battles in the race and managed to get past Ukawa. I had a good feeling about this weekend and it's a pity about the conditions."
Results MotoGP Race Classification MotoGP : (19 laps = 114.513 km)
Pos/Rider /Nat /Team /Motorcycle /Time/KM/H
1/Sete GIBERNAU /SPA /Telefónica Movistar Honda /HONDA/42'39.006/161.096
2/Max BIAGGI /ITA /Camel Pramac Pons /HONDA/42'49.117/160.462
3/Valentino ROSSI /ITA /Repsol Honda /HONDA/42'52.881/160.227
4/Carlos CHECA /SPA /Fortuna Yamaha Team /YAMAHA/43'15.984/158.801
5/Olivier JACQUE /FRA /Gauloises Yamaha Team /YAMAHA/43'19.351/158.596
6/Loris CAPIROSSI /ITA /Ducati Marlboro Team /DUCATI/43'21.183/158.484
7/Colin EDWARDS /USA /Alice Aprilia Racing /APRILIA/43'29.524/157.977
8/Alex BARROS /BRA /Gauloises Yamaha Team /YAMAHA/43'38.029/157.464
9/Troy BAYLISS /AUS /Ducati Marlboro Team /DUCATI/44'12.542/155.415
10/Alex HOFMANN /GER /Kawasaki Racing Team /Kawasaki/44'15.409/155.247
11/Nicky HAYDEN /USA /Repsol Honda /HONDA/44'18.039/155.094
12/Tohru UKAWA /JPN /Camel Pramac Pons /HONDA/44'21.404/154.898
13/Shinya NAKANO /JPN /d'Antín Yamaha Team /YAMAHA/44'22.696/154.823
14/Andrew PITT /AUS /Kawasaki Racing Team /Kawasaki/43'44.761/148.794
15/John HOPKINS /USA /Suzuki Grand Prix Team /SUZUKI/43'48.247/148.596
Fastest Lap: Sete GIBERNAU 2'11.805 164.615 Km/h Lap 15
World Championship Positions:
1 ROSSI 151, 2 GIBERNAU 113, 3 BIAGGI 105, 4 CAPIROSSI 71, 5 BARROS 62, 6 UKAWA 56,
7 BAYLISS 53, 8 CHECA 47, 9 NAKANO 47, 10 JACQUE 43, 11 HAYDEN 38, 12 TAMADA 34,
13 EDWARDS 34, 14 HAGA 21, 15 ABE 18.
Anthony West wins 250 GP again for Aprilia
Anthony West (Aprilia) won a wet 250 race from Franco Battaini (Aprilia) and Sylvain Guintoli (Aprilia) was third. West is the first Australian to win a 250 Grand Prix since Gregg Hansford won the Yugoslavian 250 Grand Prix at Rijeka on a Kawasaki in 1978.
The young Australian West rode a smart race in the conditions, taking the lead on the second lap after early leader Tony Elias faded, eventually finishing 13th. Manuel Poggiali (Aprilia) who finished fourth got the jump off the start and led into turn one, but Elias took him on the exit and West was already up to third from a third row start on the grid.
The only man who could stay with the rampaging Aussie was Battaini, but no matter how hard the Italian piled on the pressure, West was equal to it, keeping a close eye on his pit board and responding immediately whenever Battaini mounted an attack. The gap was as high as 6 seconds and never lower than three until the last lap when West could afford to ease off.
Sebastian Porto (Telefonica Movistar Junior Team RS250RW) finished a fighting fifth. "My reflection of the weekend is positive," said the Argentine. "We set some fast times in the dry and we also did that today in the wet. Today was a complete lottery for everyone and it wasn't so good when the track began to dry towards the end of the race. But this is a good result and again we are the first Honda finisher."
Roberto Rolfo (Fortuna Honda RS250RW) finished sixth but more importantly the Italian regained second place in the Championship points standings. "We suffered today," he said. "I had visor misting problems at the start but the bike worked well in difficult conditions and we have to keep this progress going when we get to England."
Christian Gemmel (Keifer Castrol Honda Racing RS250RW) finished in the top ten with a strong ride.
The World Championship points table now looks like this after seven races: Poggiali leads with 101 points, Rolfo is second on 86, and Tony Elias third with 84.
Jerkner and Aprilia dominate 125cc GP
Steve Jenkner (Aprilia) won a somewhat processional race, by 125 standards at least, from Pablo Nieto (Aprilia) with Hector Barbera (Aprilia) third. The German ace is the country's first 125 Grand Prix winner since Drik Raudies won here on a Honda in 1995.
Jenkner, who started from the front row for the first time this year, got a good start and led into and out of the first turn – and he was never headed all race. Casey Stoner (Aprilia) was the only man to get close to him on lap one, but Stoner fell on the second lap and left Jenkner alone in the lead.
Nieto, who inherited second after Stoner's demise, managed to close the 15 second gap to ten seconds by lap nine, but by the flag it was a comfortable 11 second cushion for Jenkner. Thomas Luthi (Elit Grand Prix Honda RS125R) finished seventh and Championship leader Daniel Pedrosa (Telefonica Movistar Junior Team RS125R) eighth. "Perfect," said Luthi. "I saw Pedrosa and I overtook with one lap to go, but I couldn't get quite get de Angelis on the last lap."
The World Championship points standings now reveal Pedrosa at the top of the table by 26 points from Jenkner now on 98. Lucio Cecchinello (Aprilia), who finished 16th here, lies third with 91 points.
---
How would you like your version of the new Ducati Multistrada, Mild, SuperSport Wild or Touring?

Team Ducati Corse and SBK Fast dates calendar girl Chandi Mason gets ready to desmo down and Termignoni-on with the new Multisrtada Competitizone.

Note the carbon fiber Dymag wheels with Pirelli Pilot Sports, carbon fiber engine fairing and cam belt covers, and the Termignoni Race Silencer Kit.

Meet Chandi and the other FastDates.com Calendar Angeles in person July 19-20th at the LA Calendar Motorcyle Show.
Exclusive -World's First Look, Feel and Test!
Our SBK Fast Dates Superbike Girl Chandi Mason gets
revealing with the new Ducat Multistrada Competitizone model
Beautiful FastDates.com Calendar Angel Chandi Mason has been practicing her knee dragging on the new Ducati Multistrada Competitizone in anticipation of being one of our official SBK Fast Dates Calendar Girls at Laguna Seca World Superbike on the July 9-12th weekend in Monterey, CA as she shoots throughout the weekend with famed photographer Jim Gianatsis for the next Fast Dates Racebike Pinup Calendar.
Chandi will also serve as an official Team Ducati Corse umbrella girl on Sunday for Ruben Xaus.
Read our exclusive FastDates.com first USA test with Chandi of the new Multistrada Competitizone
including Giant Screen Savers of this sexy bike and babe for your computer HERE.
Joining Chandi as our official Team Ducati Corse umbrella girls on Sunday at Laguna is Miss Great Britain 2003 Nicki Lane will be handling the umbrella chores for England's potential next World Champion Neil Hodgsen. You can see more of Chandi, Nicki and the other Calendar Angels right now in Members Corner.
If you miss your chance to say "Hi!" to Chandi and our other beautiful FastDates.com Calendar Angels in the paddock at Laguna, don't worry. All our girls will be in attendance to meet fans the following July 19-20th weekend at our big Los Angeles Calendar Motorcycle Show where we will be premiering the new 2004 Fast Dates.com Calendars in which the girls appear. You can meet each girl and get her to personally autograph her pictures for you in the new calendars. BIKE SHOW

Covergirls Janelle, Chandi and Joanna Krupa get down to work
in the 2004 Garage Girls calendar availableright here in July.
---
Miguel Duhamel chased team mate Kurtis Roberts all race, stuffing Kurtis for 2nd the last lap.
AMA/Chevy Trucks U.S. Superbike Championship: Round 11
Dunlops disinigrate at Brainard as Aaron Yates holds on to put his GSXR in winner's circle
Brainard, MN, June 28th: Team Yoshimura Suzuki's Aaron Yates rode a smarter race than his team mate Matt Maladin, staying just behind early race leader Matt and conserving the tire shreading monster power of his GSXR1000 just enough to make it to the finish line for the win at at Brainerd International Raceway, round 11 of the AMA/Chevy Trucks U.S. Superbike Championship. Early race leader Mladin was forced into the pits for a quick 6 second tire change just midway through the 21 lap race when his rear Dunlap destroyed itself. American Honda's Miguel DuHamel and Erion Honda's Kurtis Roberts fought to the final corner, earning the 2-3 spot on the podium.
It was DuHamel's second podium of the day, the winningest rider in AMA Superbike and Supersport history adding to his legend by winning a hard fought Pro Honda Oils 600cc Supersport race on the ultra high speed three-mile circuit.
Boss Man still leading Superbike points
A consistent ride in Minnesota on the smaller displacement 800cc Kawasaki ZX7RR saw Eric Bostrom conserve his Dunlops tires while the other 1000cc factory riders experienced problems with theirs, and the "Boss" finds himself still leading the Chevy Trucks AMA Superbike Championship.
"That's just luck, huh? Because in all honesty, we really struggled at Brainerd. I tried hard all weekend, the bike ran well, but we just couldn't come to a compromise with the setup. I was just really slow. I got a good start and really tried to put my head down, but I was just a roadblock. It sucks because we tried so hard but we just kept going backwards. Ultimately I just tried to conserve my tires and get as many points as I could comfortably earn."
When asked how it felt to be leading the Superbike championship after a second consecutive weekend, Eric's reply was clearly that of a racer. "To be honest, it's a little bit hollow. If we were winning races it would feel a lot better. I'm not happy. I'd much rather win most of the races and not win the championship than drone along like this."
Superbike
Team Yoshimura Suzuki's Matt Mladin placed his GSXR on the pole in Qualifying on Saturday which earned Matt 1 series point to tie him with championship leader Eric Bostom going into Sunday's Superbike race. Duhamel qualified his Honda in 2nd, with Eric doing a very creditable job of qualifying the little Kawasaki in 3rd on the high speed horsepower track.
Despite the fairly cool weather at Brainard, practice showed the high speed track was playing havoc with the Dunlop rear tires used by all the top factory teams in AMA Superbike, and it became obvious none of the front line high horsepower factory Suzuki GSXR1000 and Honda SP2 bikes could expect to finish the 21 lap race on the 3.2 mile track unless they made a pit stop to change the rear tire, or their riders backed off to a more conservative pace.
Telemetry recordings on the factory bikes showed rear wheelspin was causing the rear tire to travel 20% further distance per lap then the front tire. In an effort to reduce heat buildup on the rear tires Dunlop shaved 1mm from the center treads. Still, Yoshimura was prepared for a mid-race pit stop to change rear tires if needed and had all their Daytona quick-change wheel fittings in place for a 6-second tire change. Team Honda, however, hadn't brought its quick change setups to Brainard, forcing their riders to ride at a more conservative race pace or suffer an unacceptable 30-second wheel change.
The race start saw the ultra powerful GSXRs of Mladin and Yates bolt into the lead ahead of Eric Bostom, folowed by the the Hondas of Duhamel, Kurtis Roberts and Ben Bostrom. Eric's 800cc Kawasaki just didn't have the motor to run with the leaders and he soon slipped back to 5th position to battle with his brother Ben.
Mladin and Yates ran ae 2-rider lead group, followed by Roberts and Duhamel a few seconds back fighting over 3rd. On lap 5 Yates turned the quickest lap of the race and passed his team mate Mladin for the lead, kicking off a heated pass and repass battle that would extend their lead over the persuing Hondas to 4 seconds.
Then on lap 12 Matt Mladin's rear tire nearly exploded, chucking its tread on the back section of the track, forcing Matt to slow dramatically in order to make it back to the pits for a new rear. Yates could feel his rear wheel starting to vibrate as well, but he chose trying to back off just enough to try and maintain the tire without loosing his lead. The strategy worked as Aaron nursed the Suzuki the remaining 10 laps to take the win. Mat Mladin pitted, re-joining the race to finish seventh.
Crafty old Duhamel put the pressure on youngster Kurtis Roberts in the closing laps, and even felt obliged to apologize to Roberts about the pass he made on the final lap. Close as it was, it secured Miguel second place, with Roberts finishing third. Ducati Austin newcomer Giovanni Bussei, replacing the fired Anthony Gobert, took a creditable 5th in his first career US Superbike event.
Honda's Ben Bostrom had just passed brother Eric at mid race as well to secure fourth place and was moving up to challenge his teammates when he had a frightening rear tire failure in the fastest part of the course, just as he was bending it into the full throttle first turn. The former dirt tracker made a spectacular save, then quickly returned to the pits where his crew, led by crew chief Merlyn Plumlee, changed tires and sent him back out. The tire change was was so slow Ben had time to get off the bike and take a drink, before remounting to finish 12th. The Honda trio remains together in the championship point standings, Roberts fourth, Bostrom fifth, and DuHamel sixth after 11 of 18 races.

"I tried to get (Roberts) in turn one, but can't do it. Got a run on him coming out of two and we were side by side and I braked pretty deep and he went deeper. He went a little wide and I was trying to keep it in tight. I figured he was going to go a little wide. I tried to squeeze in underneath him. I thought I left him enough room. We talked a little bit afterward and he said I really pinched him off on the track. I was sliding coming out of there and I might have miscalculated it. I really thought I had a clean pass. I thought I left him enough room.
Kurtis Roberts, Third Place- "I was driving out of turn three. Unfortunately I was a little wide and Miguel was underneath. I was probably a foot or so ahead of him. He slid into me. I had to get out of the throttle. It's racing. One thing about racing is that there's a race in a couple of weeks and you know who your teammates are. We'll get through these and go on to Laguna Seca and hopefully pull out one because this second and third is getting old.
Ben Bostrom, 12th Place- "It was the scariest thing. Coming out of turn one full stick, right as you throw it down a gear and lean it in. It was like jumping off the ground. I fully started dirt tracking off the corner waiting for that thing to explode. I nearly high sided myself out of two. That was a moment! I don't think I ever had a tire do that before. Putting 26 laps on one of those tires, 20 plus on the next tire and it was fine. The tire guys said they were shaving some tires to reduce heat in the center of the tire. So we said, let's play it safe. I think it's pick of the litter." (Huh? Translate please. We think he means 'Luck of the Draw' -Ed.)
It might be noted the factory bikes in World Superbikes are running Michelins tires on even higher speed tracks like Misano in higher temperatures without experiencing any tire failures. That includes the Alstare Corona Suzuki GSXR1000s, last season's World Championship winning Honda SP2 of Colin Edwards which is probably the bike American Honda is running this season, and the all poweful factory Ducati 999F 03 machines. Dunlop has a lot of catching up to do in American superbike racing.
600cc SuperSport to Veteran DuHamel, Zmeke on top in Xtreame
"My Honda CBR-600RR is working as good almost as good, I think as (Valentino) Rossi's bike in GP," DuHamel said after winning his class leading 41st Supersport race, then added, "but maybe not as fast."
On Saturday, Erion Honda's Jake Zemke used the top speed advantage of his Honda CBR-954RR to race to a thrilling Formula Xtreme win in record time."Going down the front straightaway the thing was just a bullet," Zemke said after breaking Kurtis Roberts' race record and winning his first race in nearly a year. "It was the fastest thing I've been on by far."

Superbike:
1. Aaron Yates (Suzuki)
2. Miguel DuHamel (Honda)
3. Kurtis Roberts (Honda)
4. Eric Bostrom (Kawasaki)
5. Giovanni Bussei (Ducati)
6. Jason Pridmore (Suzuki)
7. Mat Mladin (Suzuki)
8. Jordan Szoke (Suzuki)
9. Shawn Higbee (Suzuki)
10. Vincent Haskovec (Suzuki)
11. Michael Barnes (Suzuki)
12. Ben Bostrom (Honda)

Championship Standings:
1. Eric Bostrom (321)
2. Mat Mladin (318)
3. Aaron Yates (313)
4. Kurtis Roberts (301)
5. Ben Bostrom (293)
6. Miguel DuHamel 9278)
7. Shawn Higbee (229)
8. Jason Pridmore (225)
9. Larry Pegram (211)
10. Vincent Haskovec (180)
---

Now you can have this 999R that looks just like Neil and Ruben's factory 999F 03's.

Celebrating 200 victories in World Superbike
Ducati Releases 200 999R FILA Limited Editon Bikes:
June 20th: Ducati introduces today at the Santamonica racetrack the limited-edition Ducati 999R FILA to celebrate 200 wins in the World Superbike Championship. Only 200 units of the new bike in the official livery of Team Ducati Fila 2003 will be available. Top level components, sophisticated aerodynamics and a winning tradition, the 999R FILA offers all "ducatisti" the chance to experience the same emotions as the Ducati factory riders on the track.
The F03 racing Superbike was in fact designed simultaneously with the 999R road version, thus guaranteeing the right characteristics to turn a high-performance machine into a race bike. Complete Specifications Here