Chandi gets ready to desmo down and Termignoni-on with the new Multisrtada Competitizone. Note the carbon fiber Dymag wheels with Pirelli Pilot Sports, carbon fiber engine fairing and cam belt covers, and the Termignoni Race Silencer Kit.
Exclusive -World's First Look, Feel and Test!
Our SBK Fast Dates Superbike Girl Chandi Mason gets
revealing with the new Ducat Multistrada Competitizone model
Beautiful FastDates.com Calendar Angel Chandi Mason has been practicing her knee dragging on the new Ducati Multistrada Competitizone in anticipation of being one of our official SBK Fast Dates Calendar Girls at Laguna Seca World Superbike on the July 9-12th weekend in Monterey, CA as she shoots throughout the weekend with famed photographer Jim Gianatsis for the next Fast Dates Racebike Pinup Calendar.
Chandi will also serve as an official Team Ducati Corse umbrella girl on Sunday for Ruben Xaus.
Read our exclusive FastDates.com first USA test with Chandi of the new Multistrada Competitizone
including Giant Screen Savers of this sexy bike and babe for your computer HERE.
Joing Chandi as our official Team Ducati Corse umbrella girls on Sunday at Laguna, we've got two of our other very sexy FastDates.com Calendar Angels. Actress Janelle Perzina and Miss Great Britain 2003 Nicki Lane will be handling the umbrella chores for England's potential next World Champion Neil Hodgsen.
You can see more of Chandi and the other Calendar Angels right now in Members Corner.
If you miss your chance to say "Hi!" to Chandi and our other beautiful FastDates.com Calendar Angels in the paddock at Laguna, don't worry. All our girls will be in attendance to meet fans the following July 19-20th weekend at our big Los Angeles Calendar Motorcycle Show where we will be premiering the new 2004 Fast Dates.com Calendars in which the girls appear. You can meet each girl and get her to personally autograph her pictures for you in the new calendars. BIKE SHOW

Covergirls Janelle, Chandi and Joanna Krupa get down to work
in the 2004 Garage Girls calendar availableright here in July.
---
Eric Bostrom and Matt Mladin -
battling for supremacy coming into Brainard this weekend
Duhamel try to become first four-time AMA Superbike winner at BIR
On June 27-29 the AMA Chevy Trucks U.S. Superbike Championship presented by Parts Unlimited comes to Brainerd, Minn., for round 11 of the 18-race series. A single point separates series leader Eric Bostrom from three-time AMA Superbike champion Mat Mladin in one of the tightest battles in the history of the series. Mladin's Suzuki teammate Aaron Yates, who led the series earlier in the season, is solidly in the championship hunt as is Honda's Ben Bostrom and Kurtis Roberts. Any one of the top five riders could conceivably leave Brainerd with the series points lead.
Miguel Duhamel, also on team Honda , will attempt to become the first four-time winner of the race. Duhamel heads up a trio of former Brainerd Superbike winners taking to the track this weekend that also includes the brothers Eric and Ben Bostrom.
This year will mark the 20th anniversary of AMA Superbike racing at Brainerd. Motorcycle Hall of Famer Wayne Rainey won the very first race held there in 1983. Rainey's win came on a factory Kawasaki, but since that time the race has been practically owned by Honda. Fred Merkel and Rainey combined to give Honda four-straight Superbike wins at the track in the 1980s. Coming into this year Honda is running a three-race winning streak at BIR. Even more impressive is the fact that Honda made a rare sweep of the Superbike podium at Brainerd in 2001.
All three factory Hondas have good reason to believe they can win at Brainerd this year. Duhamel has won three times before at the track and always goes well there.
"A lot of drafting comes into play at Brainerd," said Duhamel, the all-time AMA Superbike wins leader. "Horsepower helps, but the draft can keep you in there even if you lack a little power." Duhamel should know; he memorably led Brainerd on the Harley-Davidson VR1000 Superbike in the 1994 race.
Duhamel's teammate Ben Bostrom should feel right at home at Brainerd even though this will be his first visit to the track since 1999. Bostrom won his only AMA Superbike race at BIR that year and is hoping to earn his second-career victory this weekend.
The third factory Honda rider Kurtis Roberts, of the Erion Honda Racing squad, feels he should have earned his first AMA Superbike win at Brainerd two years ago. That year Roberts made a spectacular pass on fellow Honda rider Nicky Hayden coming into the final corner. He led coming out of the turn and heading to the checkered flag, but he grabbed just a tad too much throttle. That sent his bike sideways and gave Hayden the opportunity to pass him by mere inches at the line. It proved to be one of the most dramatic and closest finishes in AMA Superbike history with Duhamel and Jamie Hacking taking a very close third and fourth -- the top four covered by .500 of a second at the stripe. Roberts hopes to erase the memory of the race that could have been with a victory on Sunday.
As good as Honda's luck has been at Brainerd over the years, it's been almost equally as rotten for both Suzuki and Kawasaki. Suzuki has never won an AMA Superbike race at Brainerd and Kawasaki's one and only victory came 20 years ago. Ironically, all that could change this weekend since the top two riders in the series are Kawasaki- and Suzuki-mounted.
Kawasaki's Eric Bostrom comes into Brainerd leading the series. He won his very first AMA Superbike race at Brainerd in a shocker back in 1998 as a replacement rider for the injured Duhamel. It would be fitting for Bostrom to give Kawasaki its second AMA Superbike win 20 years after Rainey gave the company its first and only win at the circuit.
Mladin would love to break through to win his first at Brainerd. It's one of the few tracks on the circuit where he hasn't won. He's been runner-up three times at BIR, but his luck took a turn for the worse here in the last few years. In 2001 he suffered a rare crash on the first lap of the race and last year his Suzuki had mechanical problems and he was forced to retire. Mladin would love to finally give Suzuki a win at Brainerd.
Mladin's teammate Aaron Yates is third in the standings coming into this race. For some reason, Brainerd has never been kind to Yates. His best finish at the track was a seventh in both 1996 and 2000. He, like Mladin, will be shooting to give Suzuki a victory at BIR.
Austin Ducati split with rider Anthony Gobert and will bring in Italian racer Giovanni Bussei. The last time Ducati brought over a rider from Italy mid-season it resulted in a Brainerd win for the Italian maker when Alessandro Gramigni took the unexpected victory in 1996. Of the privateers Jason Pridmore has the most history at BIR. Pridmore had one of his best AMA Superbike races ever at Brainerd in 1998 when he finished fourth on a Ducati.
The Brainerd Superbike race will be shown live on Speed Channel at 4 p.m. EST Sunday, June 29.
For additional information on the race contact BIR at (218) 824-7220 or visit www.brainerdraceway.com.
---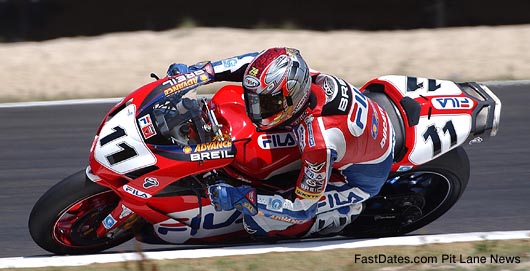 Ruben celebrate his first victory in World Superbike in over a year with double race wins at Misano
2003 SBK Wpr;d Superbike, San Marino Round 7
Ruben Xaus doubles down at Misano
San Marino, Italy , June 22nd: It was magnificent double win from Ruben Xaus on the factory Ducati Fila 999F 03 to put his winless season firmly back on the rails. The Spanish star overcame some set-up issues in qualifying, ending a run of results which did not accurately reflect his full talents. Starting from the third row in each race, Xaus proved to be a guided red white and blue missile on raceday, capitalising on a mistake from his team-mate and Championship points leader Neil Hodgsonwho crashed out in Race One, and coming back in Race Two to pass Hodgsen and head him off by 0.244 seconds in a tight battle that went right to the finish.
Hodgson, still a clear leader on points even after his Misano mishaps, went out of the opening race after crashing on lap two. In second place James Toseland (HM Plant Ducati) rode hard to secure second, with Pierfrancesco Chili (PSG-1) falling on the very last lap, just in front of the Englishman. French ace Regis Laconi (NCR Ducati 998RS) was the first privateer rider home in third place.
In the second 25-lap outing, Xaus and Hodgson shook off the attentions of Chili on the final few laps, and enjoyed a dogfight to the line. Making a pass at the favoured overtaking spot of Tramonto corner, on the final lap, Xaus made himself fast and wide enough for Hodgson to be just unable to pass, and thus Xaus doubled up his tally of 2003 race wins in one day.
The intense 31-degree C heat and relatively high humidity on raceday was a factory for most riders, the two-race format of SBK proving to be particularly demanding. Many thought that Toseland's retirement from race two was down to tiredness and pain after his big crash in free qualifying on Saturday but unspecified mechanical problems which caused a misfire in his HM Plant Ducati 998F02 was the real cause.

Frankie Chile (7) and James Toseland (52) dog Rubento the finish in race one.
Regis Laconi followed up his race one win with a fourth place, mainly due to lowering tyre pressures between races, to try and improve traction, only to find it counter-productive.
Gregorio Lavilla (Alstare Suzuki GSX-R1000) was fourth and then fifth, after a tough day in the Suzuki office, thanks to a practice crash.
Chris Walker recovered well from a bad start in race one to finish sixth, and followed it up with a fatigue affected ninth in race two, losing grip from his front tyre on right hand corners, having changed rubber on the startline.
Lucio Pedercini scored an eighth and a sixth on races one and two respectively, but the ëalternativeí Italian star of race two was undoubtedly Vittorio Iannuzzo, running a kitted Alstare Suzuki GSX-R1000 to seventh, ahead of some big names ñ a pleasing recovery from a crash in race one.
Steve Martin rode almost as well in race conditions as he did in the majority of the qualifying sessions, and finished his day with a sixth and a ninth, on both occasions just place ahead of one of his own countrymen.
Troy Corser put in an excellent display on the Foggy Petronas FP-1, taking seventh place despite the intense heat, and even tenth in race two was a degree of success in a race with far fewer top name retirees than the opener, Toseland excepted. The top ten in race one was completed by Mauro Sanchini (Kawasaki Bertocchi), just ahead of his team-mate Ivan Clementi.
In the championship table overall, Hodgson is still handsomely ahead of all his rivals, with his total of 315 points fully 107 points more than new second place rider Xausí 208. Toseland slips to third overall, with 185, Laconi is on 174 and Lavilla has secured a grand total of 155.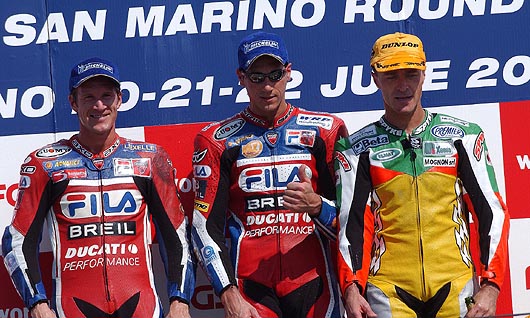 The victory podium for Race Two featured a Ruben sandwiched between Hodgsen and Chili who both crashed out in Race One.
SUPERBIKE RESULTS
Race 1: (Laps 25 = 101,500 Km)
Pos /Rider /Nat. /Team /Gap
1/R. XAUS/ESP/Ducati Fila/40m22.423s
2/J. TOSELAND/GBR/HM Plant Ducati/0.760
3/R. LACONI/FRA/Caracchi NCR Nortel Net./1.711
4/G.LAVILLA/ESP/Alstare Suzuki/10.933
5/C.WALKER/GBR/HM Plant Ducati/20.487
6/S. MARTIN/AUS/D.F.X. Racing Team/23.234
7/T. CORSER/AUS/Foggy PETRONAS Racing/27.083
8/L. PEDERCINI/ITA/Team Pedercini/32.026
9/M.SANCHINI/ITA/Kawasaki Bertocchi/36.701
10/I. CLEMENTI/ITA/Kawasaki Bertocchi/48.537
11/M.BORCIANI/ITA/D.F.X. Racing Team/54.636
12/A. GRAMIGNI/ITA/Nuvolari 391/57.320
13/P. BLORA/ITA/Lucido Corse/1'01.084
14/S. FOTI/ITA/Team Pedercini/1'10.003
15/S. FUERTES/ESP/MIR Racing/1'24.423
Fastest Lap =7° Ruben Xaus 1'36.158 152,000 Km/h

Riders Championship Standings:
1 HODGSON 295, 2 TOSELAND 185, 3 XAUS 183, 4 LACONI 161, 5 LAVILLA 144, 6 WALKER 121, 7 CHILI 102, 8 MARTIN 88, 9 BORCIANI 78, 10 PEDERCINI 75, 11 CORSER 50, 12 SANCHINI 48, 13 BORJA 37, 14 CLEMENTI 36, 15 BUSSEI 33..



Race 2 : (Laps 25 = 101,500 Km)
Pos /Rider /Nat. /Team /Gap
1/R. XAUS/ESP/Ducati Fila/40'17.321
2/N.HODGSON/GBR/Ducati Fila/0.244
3/P. CHILI/ITA/Team PSG-1/6.896
4/R. LACONI/FRA/Caracchi NCR Nortel Net./13.814
5/G.LAVILLA/ESP/Alstare Suzuki/17.399
6/L. PEDERCINI/ITA/Team Pedercini/19.345
7/V. IANNUZZO/ITA/Alstare Suzuki/24.651
8/C.WALKER/GBR/HM Plant Ducati/29.164
9/S. MARTIN/AUS/D.F.X. Racing Team/32.310
10/T. CORSER/AUS/Foggy PETRONAS Racing/33.516
11/M.SANCHINI/ITA/Kawasaki Bertocchi/44.197
12/J. BORJA/ESP/D.F.X. Racing Team/52.247
13/I. CLEMENTI/ITA/Kawasaki Bertocchi/52.628
14/M.BORCIANI/ITA/D.F.X. Racing Team/1'01.445
15/A. GRAMIGNI/ITA/Nuvolari 391/1'02.445
Fastest Lap =6° Ruben Xaus 1'35.629 152,841 Km/h

Manufacturers Standings:
1 DUCATI 325, 2 SUZUKI 171, 3 PETRONAS 61, 4 KAWASAKI 58, 5 YAMAHA 44,
6 HONDA 21
600cc World SuperSport to Fabien Foret on Kawasaki ZX6RR
In the World Supersport Championship Kawasaki Racing Team rider Fabien Foret made up for a bad start from the front row to scorch to a hugely impressive win, passing other top class riders with comparative ease and winning by a margin of 1.661 seconds, albeit slowing up at the flag. It was the first win for the Kawasaki ZX-6RR, on a day that favoured Dunlop supplied teams more than any single other brand.
Chris Vermeulen (Ten Kate Honda CBR600RR), the runaway championship leader, fell on lap nine and could not restart his machine, leaving the field open for his main championship rivals Katsuaki Fujiwara (Alstare Suzuki GSX-R600) and Jurgen van den Goorbergh (Yamaha Belgarda R6) to fight for the win ñ until the Foret Express came roaring past in the later stages. Van den Goorbergh failed to finish, however, after suffering a technical problem before Foret showed up, and thus Fujiwara scored second place, with the fast charging and fully competitive Broc Parkes (BKM Honda) third.Vermeulenís lead was little affected by his crash, with the Aussie rider still on 131 points, 35 points clear of Fujiwaraís total of 96 in second, with van den Goorbergh third on 84.
With the Supersport machines not making the annual SBK pilgrimage to Laguna Seca in the USA (July 13) the next round for the 600cc fours is at Brands Hatch, Great Britain, on July 27.
SUPERSPORT RESULTS: RACE : (Laps 23 = 93,380 Km)
Pos /Rider /Nat. /Team /Gap
1/F. FORET/FRA/Kawasaki R.T. KRT/37m 55.497s; 2/K. FUJIWARA/JPN/Alstare Suzuki/1.661
3/B. PARKES/AUS/Dark Dog Honda BKM/3.953;
4/S. CHAMBON/FRA/Alstare Suzuki/8.067
5/J. TEUCHERT/GER/Yamaha Deutschland/10.940;
6/C. KELLNER/GER/Yamaha Deutschland/11.271
7/A. CORRADI/ITA/Italia Spadaro F.R./12.391;
8/S. SANNA/ITA/Yamaha Belgarda/17.319
9/C.COGAN/FRA/Dark Dog Honda BKM/24.652; 10/S. CRUCIANI/ITA/Kawasaki Bertocchi/26.136
11/M.LAGRIVE/FRA/Yamaha France - Ipone/28.189; 12/S. CHARPENTIER/FRA/Team Klaffi Honda/31.567
13/A. POLITA/ITA/Team Trasimeno/33.532
14/I. MACPHERSON/GBR/Van Zon Honda T.K.R./42.474
15/I. GOI/ITA/Team Tienne/47.125

Fastest Lap= 4° Katsuaki Fujiwara 1'37.924 149,259 Km/h
Riders Championship Standings:
1 VERMEULEN 131, 2 FUJIWARA 96, 3 VD GOORBERGH 84, 4 CHAMBON 75,
5 KELLNER 69, 6 CORRADI 57, 7 PARKES 46, 8 MUGGERIDGE 46, 9 RIBA 46,
10 FORET 43, 11 COGAN 42, 12 TEUCHERT 41, 13 ULM 22, 14 CHARPENTIER 21,
15 KIYONARI 20.
Manufacturers Standings:
1 HONDA 156, 2 SUZUKI 122, 3 YAMAHA 121, 4 KAWASAKI 75.
---
Now you can have this 999R that looks just like Neil and Ruben's factory 999F 03's.
Celebrating 200 victories in World Superbike
Ducati Releases 200 999R FILA Limited Editon Bikes:
June 20th: Ducati introduces today at the Santamonica racetrack the limited-edition Ducati 999R FILA to celebrate 200 wins in the World Superbike Championship. Only 200 units of the new bike in the official livery of Team Ducati Fila 2003 will be available. Top level components, sophisticated aerodynamics and a winning tradition, the 999R FILA offers all "ducatisti" the chance to experience the same emotions as the Ducati factory riders on the track.
The F03 racing Superbike was in fact designed simultaneously with the 999R road version, thus guaranteeing the right characteristics to turn a high-performance machine into a race bike.
200 Ducati wins have been reached in 16 years of racing in the World Superbike Championship, and the current leader of the series Neil Hodgson is one of 18 riders to have won riding a twin-cylinder from Borgo Panigale. The 200th win for Ducati was achieved by the British rider on May 18, 2003 on the Monza circuit with the Ducati 999F03, while the 100th Ducati victory went to Carl Fogarty in Austria in 1995. After achieving this prestigious goal there were even more wins to come: the Ducati 999 won again at Oschersleben in Germany two weeks later, allowing Hodgson to equal the record of 9 World Superbike wins in a row.
The 999R FILA, available in exactly the same colours as the Ducati 999F03 that races in the World Superbike Championship, and the Fila-Ducati clothing collections reflect the great sporting tradition and "made in Italy" spirit shared by the two companies.
Specifications:
Sporting the same graphics as the Team Ducati-Fila 999 F03 bikes, the new Ducati 999R FILA becomes even more stylish and aggressive. The 999R FILA powered by the 139 HP 999cc Testastretta (with 104 mm bore instead of the 100 mm bore of the 999 and 999S models) features:
- Forged racing wheels: straight from Ducati Corse, they have a much better stiffness/weight ratio
- Radial brake pump and callipers for higher rigidity between the calliper and its mounting point. This improves the general efficiency of the braking system.
- Fully adjustable Titanium nitride coated (Tin) upside-down Ohlins fork with radial calliper mounting. Allows the rider to adjust the suspension to suit individual riding styles or road conditions. The titanium-nitride stanchion treatment (as used in racing forks) minimises friction and improves overall suspension efficiency. Truly the best for racing performances.
- Headlight assembly in magnesium alloy, a racing material used to make the overall bike lighter
- Fairing entirely made from carbon fiber, a light, strong material which reduces the overall weight and gives the bike a unique racing look..
- Red frame - Black rear frame - Personalised graphics
- Two-colour wheels (front: red, rear: blue).
The bike comes with a Racing Kit including:
- a cat-free race exhaust system, using a special 102 Db no-cat exhaust mono-silencer and a front cylinder no-cat exhaust middle section. The overall exhaust is 3 kg lighter than the standard system. With a specially remapped CPU (included) the bike will achieve a higher power output.
- rear stand - bike cover
All the bikes built for the European and world markets, complete with numbered plates and authenticity certificates, can be booked at your local Ducati Store or Ducati Dealer.