The Brits dominated at Brands Hatch with World Superbike series points leader Neil Hodgson (Left to right) sharing the podium with Shane "Shakey" Byrne and Chris "The Stalker" Walker.
FIM Superbike World Championship Brands Hatch, Round 9
Locals Kick Butt at the European Superbike Round in front of 120,000 fans!
John Reynolds dominates Superpole on Suzuki GSXR1000
Shakey Burns runs away with both races on Monster Mob Ducati at Brands Hatch
REYNOLDS WINS WET SUPERPOLE COMPETITION
Brands Hatch, 25-27 July 2003: The wild card riders were the leading lights at a damp and gloomy Brands Hatch, with British Superbike regular John Reynolds (Rizla Suzuki GSX-R1000) taking the Superpole win on what was a largely wet track surface. Superpole had been declared wet by the race organisers even before the first significant rains fell and thus each of the top 16 qualifiers was given 50 minutes of track time in which to complete a maximum of 12 laps - with the fastest lap of each rider counting as his lap time for overall grid classification.
Those riders who exited pitlane early generally had the best of the weather, with the rainfall steadily increasing in intensity until the final few minutes of the session. Reynolds, a previous Brands Hatch World Superbike race winner, was one of those who set his best time relatively early, but regulars and wild cards put in some outstanding displays of riding on a fully wet track. Second place man Chris Walker (HM Plant Ducati) slid and weaved all the way around the 4.197km track; British Championship leader Shane Byrne (Monstermob Ducati) was third, his time coming towards the end of proceedings.
Quick starter Regis Laconi's early best looked to have scored Superpole as the rains built in intensity but Reynolds was first to overhaul him, followed by three other British attackers.
Michael Rutter (Renegade Ducati) made it three wild cards in the top five at the end of the session but a series of dramatic laps from Ruben Xaus (Ducati Fila 999F03) on a sodden track, promoted him to sixth on the grid.
Sean Emmett (ETI Ducati) and James Toseland (HM Plant Ducati) finished of the second row.
Imperfect timing of his quick laps and some seeming problems with corner exit traction prevented Neil Hodgson (Ducati Fila 999 F02) from anything higher than 11th, but the youngest and oldest riders in the field - wild card Leon Haslam (Renegade Ducati) and veteran Pierfrancesco Chili (PSG-1 Ducati) - had better fortune, setting ninth and tenth best times respectively. Troy Corser qualified the Petronas FP-1 in 12th.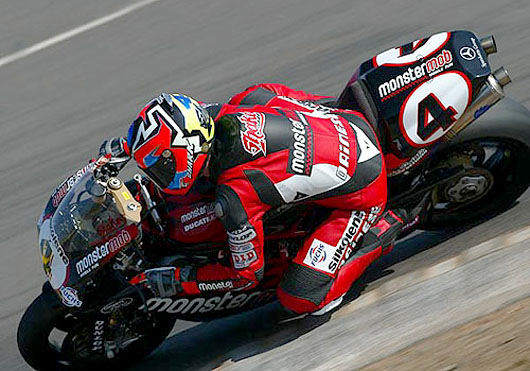 Shane was nearly untouchable aboard the MonsterMob Ducati 998F 02 machine.

Byrne Takes The Brands Double
The sun kissed hordes of British fans at Brands Hatch, numbering close to 120,000 for the weekend -a great turnout considering the frequently wet conditions in practice on Friday and then Saturday morning, were treated to a double delight when wild card rider Shane Byrne (Monstermob Ducati) scored both race wins as a wild card. Neil Hodgson edged closer to the 2003 World Superbike title with a second and a fifth place in the two races at Brands. It was a triumphant day for Ducati however as they won the World Superbike Manufacturers' title for the twelfth time.

In race one Superpole winner and early leader John Reynolds (Rizla Suzuki) was in contention for second place when his bike developed a fault, forcing his retirement. After Byrne had hit the leading spot, however, there was no stopping the Monstermob rider, enjoying a margin of victory of over five seconds. Byrne's wins were hailed by all, especially as the race one podium also featured Brits Neil Hodgson (Ducati Fila) and Chris Walker (HM Plant Ducati).
Ruben Xaus retired from race 1 with an oil leak but then battled for a hard-fought fourth place in the second race."I was going to be second for sure," he commented after race 1, "because Walker was slower than me in some parts of the circuit. It's a real pity because I was feeling good and the bike was going really well. Race 2 was not bad even though I didn't get as good a start. The only problem was that the tyres started losing grip six laps before the end when I was close to the lead and after that I was sideways all the time."
In race two Byrne was pressurised by Reynolds all the way, winning by 0.5 seconds after 25-laps of hard action in warm conditions. Swapping results with his team-mate Walker, James Toseland scored third place in the second outing. Just off the podium Frenchman Regis Laconi was fourth in race one, escaping a suspected jump start unscathed, and Sean Emmett, who had worked himself into contention for a podium, was ultimately just ahead of James Toseland (HM Plant Ducati); Emmett fifth and Toseland sixth. Gregorio Lavilla (Alstare Suzuki) was the first four-cylinder rider on display, ahead of Michael Rutter's wild card Renegade Ducati. Laguna race winner Pierfrancesco Chili could only manage to finish ninth at one of his best tracks, while the scent of competition was enough to take Yukio Kagayama (Rizla Suzuki) to tenth.
In the second race the action behind the leading trio was tight, with Xaus racing against tyre woes and brakes which had not quite bedded in properly. He still held off his team-mate Hodgson, to keep his title dreams alive. Lavilla scored sixth place in an ultimately lonely race, with Chili seventh, 16 seconds behind Byrne.
Laconi, Yukio Kagayama and Leon Haslam scored the last places in the top ten. In the World Championship standings, Hodgson leads by 386 points to Xaus' 246. That equates to a gap of 140 points with a possible 150 up for grabs in the remaining three rounds/six races. Toseland is third with 227, Laconi fourth on 208 and Lavilla – upholding four-cylinder honour – in fifth with 185.
World Supersport 600cc
In the World Supersport Championship a virtually dry track saw the qualifying order from the first day of action change dramatically with Stephane Chambon (Alstare Suzuki) snatching pole with a time of 1:28.468. Misano race winner and current number one plate holder Fabien Foret (Kawasaki Racing Team) roared to second, with the Ten Kate Honda of Karl Muggeridge in third place.
World Championship leader Chris Vermeulen (Ten Kate Honda) took the fourth and last place on the front row, edging out top Yamaha rider Jurgen van den Goorbergh to fifth place. Sebastien Charpentier (Team Klaffi Honda) was sixth, Katsuaki Fujiwara (Alstare Suzuki) seventh. Christian Kellner (Yamaha Motor Germany) went eighth fastest, the last man to start from the second row. The top wild card rider proved to be Tom Sykes (Northpoint Yamaha).
In the World Supersport feature race Stephane Chambon ripped his way to an excellent win, easing up in the last laps to finish seven se conds ahead of Yamaha Belgarda rider Jurgen van den Goorbergh. The scheduled 23-lap race was cut to 21 when Stefano Cruciani crashed and went under the protective airfence with his motorcycle. Cruciani was unhurt, in spite breaking his back protector in half. Sebastien Charpentier took his Klaffi Honda to his first podium of the year, and Karl Muggeridge survived fading tyres to score fourth on his Ten Kate Honda.
Fabien Foret (Kawasaki Racing Team ZX-6RR) followed up his Misano win with fifth place, World Championship leader Chris Vermeulen (Ten Kate Honda CBR600RR) taking sixth. With Katsuaki Fujiwara (Alstare Suzuki GSX-R600) only ninth, Vermeulen's championship lead is still impressive, and van den Goorbergh moved into second place in the title race. Vermeulen has a total of 141, van den Goorbergh 104 and Fujiwara 103. Chambon sits fourth on exactly 100.

The next rounds of the championships take place at Assen on September 7.
---

Matt Mladin faught off a lucklessKurtis Roberts both days to advance his points lead over team mate Aaron Yates.

AMA/Chevy Trucks U.S. Superbike Championship, Rounds 13 &14

Mladin Doubles Superbike at Mid-Ohio
Lexington, Mid-Ohio, July 26 & 27th: Matt Mladin (Team Yoshimura Suzuki GSXR1000) battled fiercely with Kurtis Roberts (Erion Racing Honda RC51) in both races of the AMA/Chevy Trucks U.S. Superbike Championship double header at the Mid-Ohio Sports Car Course, with Matt eventually come out on top as Kurtis suffered transmission problems in both races. Attack Suzuki's Jason Pridmore scored in his best Superbike rides ever as he took advantage of Kurtis's misfortunes to place 2nd both races. American Honda's Miguel Duhamel and Ben Bostrom each ascended the podium for 3rd place.
Saturday Race One
In Saturday's race, run in hot, humid weather, Matt Mladin fought hard with Honda's Kurtis Roberts in a race that was red flaged just past the midway point and then restarted, with Roberts sliding out on the last lap to turn 2nd place over to Jason Pridmore on the Attack Suzuki. Duhamel finished on the podium in third, one spot in front of Bostrom. The race had been red-flagged on the 19th of 26 laps, with the grid set from the order at the end of the 18th lap. As in MotoGP, AMA races aren't scored on aggregate time, so the first Superbike race would be an eight lap sprint to the finish.
In the final eight laps, it was Roberts who turned in the most inspired ride of the day. Pressuring race leader Mat Mladin (Suzuki) the whole way, Roberts took the lead on the final lap, losing it, and taking it back-the lead changed hands five times-only to slip off a few turns from his first Superbike win. Mladin went on to win from Jason Pridmore (Suzuki) and Duhamel.
Kurtis Roberts describe his problems on Saturday. "The race was good. Mat (Mladin) and I just pulled away. Mat is so strong - always. I had a little bit left, but I was saving it for the end. Then we got the red flag. After the red flag, the transmission was just... every lap I was missing a gear, except for the lap I drafted him - I don't know how I got it to go through. Even in the Thunder Valley over here it did it three or four times. It did on the last lap and he got me and I got him back on the brakes. I just screwed up after I passed him back. I went in there to protect the line a little bit, but I still went in there with corner speed - and bottomed the front and tucked the front.
You've got to fight for every position," saif Miguel. "It might turn out to be a podium position. Like we all said before, you never want to get a position by somebody else crashing, especially one of my teammates like Kurtis (Roberts), but I felt that (crew chief) Al (Ludington) gave me a better bike for the restart. We talked about it, we looked at the data. I was all over Ben (Bostrom) trying to get by. We're a team, but we're racing for position. I felt I had a strong enough bike to be on the podium and it just happened the way it happened, unfortunately. But I'm pretty pumped about tomorrow, for sure."
Sunday Race Two
Roberts was back out front in Sunday's race, leading as late as the 12th of 26 laps through sheer determination, because on the third lap, the transmission on his Honda RC-51 had begun to falter, forcing him to adjust his racing lines throughout the 15-turn course. The transmission stopped working completely two laps from the end, with Roberts a certain second.
Kurtis described his second transmission failure of the weekend. "Early on, when I was in the lead in the beginning, it started to skip gears again. I thought Mat (Mladin) was going to run into me a few times and it finally just disintegrated. It was doing the same thing yesterday. Not quite as bad, but today it just came completely apart at the end. It would miss gears on the upshift and it would skip too. It was doing all kinds of weird stuff."
Robert's place on the podium was taken by Jason Pridmore, behind the winner Mladin, with Ben Bostrom third. The third place vaulted Ben Bostrom into third in the Superbike championship, leapfrogging his younger brother, Eric, who was forced out of the Mid-Ohio race by the injuries suffered at the World Superbike race at Laguna Seca two weeks ago.
That's not the way I want to finish third, obviously, " said Ben. "I would have liked to have been up there racing with Mat [Mladin] and Kurtis [Roberts] who were getting away and did a great job both days. I've got some time to make up and just get better at the next one. We'll try again at the next one in Virginia. It was warm out there today. It was a marathon. My left hand was falling asleep and I was getting that weird flushed sensation in your face and you don't realize how much water you're actually losing out there."
Miguel Duhamel found himself spit of his bike unexpectedly. I don't know what happened there. I got on the throttle. The bike was working good. It's not like it's the first left hander, it's the third left hander I believe. The tire had heat in it and it was gripping great. (Crew chief) Al (Luddington) said he thinks I hit the seam. The thing was hooking up. I was on the throttle and that thing just snapped sideways completely and I just got thrown off the bike. I think it's kind of BS that that happens on a racetrack. Why do we have seams on the racetracks? Why do we have cement patches everywhere? Shouldn't it just be one surface. It's not Supermotard. I got to believe if it's one surface I would have been fine.
With two rounds-four races-remaining, Mladin leads the points from teammate Aaron Yates, with Ben Bostrom third. Kurtis Roberts is fifth, and certain to move up, with Duhamel sure to move up from sixth.
Zemke takes 600cc SuperSport
Erion Honda's Jake Zemke made two podium appearances on Sunday, the first a win in the hypercompetitive Pro Honda Oils Supersport race. Zemke took the lead just past the halfway mark in the 16-lap race and held off the furious charge of three others, all of whom finished with 0.770 of the winners.
"It just seems like we're always running into a little bit of bad luck," Zemke said after his second career Supersport win, and Honda's third of the year for the Honda CBR-600RR. "The last two weeks really made up for it.
Ben Spies in Formula Extreame
Later Sunday afternoon, Zemke re-visited the podium after finishing second in the Formula Xtreme race on the Erion Honda CBR-954RR. Having qualified 10th, Zemke wasn't expecting to be in the thick of the fray, but a good start, and some judicious passes, put him into the lead group by the fourth lap, with a move into second on lap nine. There was little comfort in it with the third placed rider applying the pressure until Zemke eased away in the final laps to a secure second behind race winner Ben Spies (Suzuki).
Ben Bostrom, Saturday, Fourth Place
It's fun racing Miguel (Duhamel), But it's more fun racing for the win and this obviously wasn't Daytona (where Honda finished 1-2-3) today. In the first race, nothing was keeping us from the front but myself. I was just getting faster as the race was going, but I started off really slow. In the second race, I was pretty fired up and I got a great start, but I was spinning the thing all the way around the track. It tried to spit me off a few times on the first lap. I thought maybe the tire was on the warmer too long, or I was too amped up and hard on the throttle, I don't know. I'm really looking forward to tomorrow, really looking forward to tomorrow to try and redeem ourselves."
Saturday Superbike:
1. Mat Mladin (Suzuki)
2. Jason Pridmore (Suzuki)
3. Miguel Duhamel (Suzuki)
4. Ben Bostrom (Honda)
5. Aaron Yates (Suzuki)
6. Giovanni Bussei (Ducati)
7. Kurtis Roberts (Honda)
8. Shawn Higbee (Suzuki)
9. Geoff May (Suzuki)
10. Mike Ciccotto (Suzuki)
Sunday Superbike:
1. Mat Mladin (Suzuki)
2. Jason Pridmore (Suzuki)
3. Ben Bostrom (Honda)
4. Aaron Yates (Suzuki)
5. Jordan Szoke (Suzuki)
6. Giovanni Bussei (Ducati)
7. Shawn Higbee (Suzuki)
8. Geoff May (Suzuki)
9. Vincent Haskovec (Suzuki)
10. Mike Ciccotto (Suzuki)
Superbike Championship:
1. Mat Mladin (Suzuki) 431
2. Aaron Yates (Suzuki) 398
3. Ben Bostrom (Honda) 376
4. Eric Bostrom (Kawasaki) 350
5. Kurtis Roberts (Honda) 340
6. Miguel Duhamel (Honda) 332
7. Jason Pridmore (Suzuki) 315
8. Shawn Higbee (Suzuki) 299
9. Vincent Haskovec (Suzuki) 221
10. Jordan Szoke (Suzuki) 212