Jeremy McGrath to race at Los Angeles Calendar Motorcycle Show SB2 Supermoto National!
July 1st: Troy Lee Designs is going supermoto racing with its newly announced rider team comprised of former AMA National Motocross Champions Jeremy McGrath and Jeff Ward. One of the winningest, and argueably the most well known and popular rider in American motorcycle racing ever, Jeremy has been confirmed by Troy Lee, and Jeremy will be racing with team mate Jeff Ward at our action packed LA Calendar Motorcycle Show Weekend on July 19-20th. Also expected to race is Team SoBe Suzuki's Travas Pastrana, the most radical extreme jumper in the sport, plus many World and National Championship roadracing stars.
| | |
| --- | --- |
| Join us at the LA Calendar Motorcycle Show for the first ever Supermoto National race in Los Angeles featuring AMA National Motocross and Supercross Champion Jeremy McGrath. Plus our FastDates.com Model Search Pageant with dozens of beautiful girls like Michelle McCann (right) | |
The team will race Honda CRF450Rs supported by American Honda. The team will also race the new AMA Supermoto Series, and together with team owner Troy Lee, will race our RussBrown.com sponsored FastDates.com Los Angeles Calendar Motorcycle Show round of the SB2 Supermoto Nationals taking place in Long Beach (Los Angeles) CA, July 19-20th.
---
Just 3 American Wild Cards for Laguna Seca
Suzuki's Mladin and Yates, Kawasaki's Eric Bostrom to uphold American honor
Monterey, California, USA (Tuesday, 8 July)
– It will be a busy weekend for the 3-times American AMA Superbike champion Matt Mladin and 2 of his fiercest competitors in this year's series as they juggle competing in the two-race World Championship event on Sunday the 13th while also racing in the AMA Chevy Trucks US Superbike Championship which is held in conjunction with the international event.
Mladin will be one of three AMA Superbike riders who will compete in both championship events over the weekend, joining Yoshimura Suzuki teammate Aaron Yates and current AMA Championship points leader Team Kawasaki's Eric Bostrom. The three are currently locked in battle at the top of the AMA Championship where Bostrom holds a slender three-point lead in the 18-race series over Mladin, with Yates a further five points in arrears.
Noteably absent from the American SBK round this year is the entire American Honda team of Miguel Duhamel, Kurtis Roberts and Ben Bostrom as team strategy is obviously attempting to play catch-up in the more important (for them) AMA Superbike Series.
The number of Australian's competing in this weekend's eighth round of the Superbike World Championship at California's Laguna Seca Raceway increases to three as Mat Mladin has been granted a 'wild card' entry that will see him line up alongside SWC regulars Steve Martin and Troy Corser.

The weekend will present itself with a number of challenges for AMA riders Bostrom, Mladin and Yates. While trying to enjoy the opportunity to compete against the world's best Superbike riders, they will be concentrating their attentions on the AMA Superbike race which will take place on Saturday afternoon.

The Yoshimura team will also be busy as their Suzuki GSX-R1000's come under different rules for each championship. The rule differences are minor, but do affect the performance of the bike which in turn affects the final set of each machine. Tyres have also been a key point for Mladin this season. He has suffered a number of tyre failures this season and is confident that Dunlop, the team's tyre supplier, can respond to the demands of the rider and machine to produce a tyre combination that can tolerate a full race distance.

"I do look forward to the opportunity of racing in the World Superbike round here at Laguna, but it is always hard as the AMA race is the one that we really need to focus on, especially this year," said Mladin. "It would be nice to go to a SWC round and just have that race to concentrate on. This weekend though, things are different and as we are close in the championship and it will be important for us to aim for a win in the AMA on Saturday. Other things also come into it. We have to prepare two different motorcycles, with different tyres and settings and then there's the swapping and changing of practice and qualifying sessions. There is a lot to one of these weekend's and sometimes you can do without having that much of a distraction."

"For the SWC race it is encouraging to have seen a number of other Suzuki GSX-R1000 riders being in a position to challenge for the win. It is a good sign that the bike is close to what it needs to be. For sure it would be nice to be on the podium, or even take a race win, but I would still trade two SWC race wins for a win in the AMA on Saturday, that's how important it is."

"As for tyres, yes we've had more than our fair share of problems. The team have been working closely with Dunlop in recent weeks and they are trying to find a tyre that suits my style. They flew in some tyres for the last round at Brainerd, but they still weren't quite right. I guess we'll know when we've got a good tyre when I can go a race distance without have to ease off to preserve the tyre. I'm confident we'll get to that position."

Mladin's hectic schedule commences on Thursday with qualifying for the AMA Superbike race which in turn takes place on Saturday afternoon with a 28-lap journey of the Monterey layout. World Superbike qualifying commences on Friday, followed by Superpole on Saturday afternoon and then the two 28-lap races on Sunday.
---
Spicey
but nice . . .

How would you like your version of the new Ducati Multistrada -
Mild, Super Sport Wild or Touring?

Team Ducati Corse and official SBK Fast Dates calendar girl Chandi Mason gets ready to desmo down and Termignoni - on with the new Multisrtada Competitizone.

Note the carbon fiber Dymag wheels with Pirelli Pilot Sports, carbon fiber engine fairing and cam belt covers, and the Termignoni Race Silencer Kit.

Oooh Baby!

Meet Chandi and the other FastDates.com Calendar Angels live, breathing and in person July 19-20th at our big LA Calendar Motorcyle Show.
Exclusive -First USA Test! -Ducati Multistrada Competitizone'
Our SBK Fast Dates Superbike Girl Chandi Mason gets
revealing with the new Ducat Multistrada Competitizone model
Beautiful FastDates.com Calendar Angel Chandi Mason has been practicing her knee dragging on the new Ducati Multistrada Competitizone in anticipation of being one of our official SBK Fast Dates Calendar Girls at Laguna Seca World Superbike on the July 9-12th weekend in Monterey, CA as she shoots throughout the weekend with famed photographer Jim Gianatsis for the next Fast Dates Racebike Pinup Calendar.
Chandi will also serve as an official Team Ducati Corse umbrella girl on Sunday for Ruben Xaus.
Read our exclusive FastDates.com first USA test with Chandi of the new Multistrada Competitizone
including Giant Screen Savers of this sexy bike and babe for your computer HERE.
Joining Chandi as our official Team Ducati Corse umbrella girls on Sunday at Laguna is Miss Great Britain 2003 Nicki Lane will be handling the umbrella chores for England's potential next World Champion Neil Hodgsen. You can see more of Chandi, Nicki and the other Calendar Angels right now in Members Corner.
If you miss your chance to say "Hi!" to Chandi and our other beautiful FastDates.com Calendar Angels in the paddock at Laguna, don't worry. All our girls will be in attendance to meet fans the following July 19-20th weekend at our big Los Angeles Calendar Motorcycle Show where we will be premiering the new 2004 Fast Dates.com Calendars in which the girls appear. You can meet each girl and get her to personally autograph her pictures for you in the new calendars. BIKE SHOW

Covergirls Janelle, Chandi and Joanna Krupa get down to work
in the 2004 Garage Girls calendar available right here in July.
---
Suzuki Announces GSXR World Cup Races
BREA, Calif., June 30, 2003 - American Suzuki Motor Corporation (ASMC) is gearing up for the first of three World GSX-R Cup Qualifiers. Each of the three qualifiers will feature the top Suzuki GSX-R750 riders in the United States battling for the chance to represent their country at the second annual World GSX-R Cup Final to be held on October 19th during the final round of the World Superbike Series in Magny-Cours, France.
The World GSX-R Cup brings together the best privateer Suzuki racers in the world to compete on equally prepared GSX-R750s. Participating countries include Canada, Australia, Germany, France, Italy, United Kingdom, Austria, Belgium, Hungary, Switzerland, New Zealand, Spain, Greece, South Africa, Japan and the U.S.A. Each team consists of up to three riders and their mechanics. The 2002 U.S. team consisted of Jason
DiSalvo, John Dugan and Brian Livengood, who finished in third, fifth and 11th place overall respectively.
The three U.S. qualifying rounds will be held on July 19-20 at Grattan Raceway in Michigan; Aug. 16-17 at Thunder Hill in California; and on Sept. 13-14th at Barber Motorsports Park in Alabama. WERA will host
rounds one and three, while CCS will host round two. Each round will feature practice, a 20-minute timed qualifying session, a dedicated race with a $2,500 purse paying back to 10th place and Suzuki Cup points. A
Dynojet Dyno and scales will be on hand to enforce the 135 h.p. and 375 lb limits. Qualifiers are open to any rider aboard a 2001-2003 Suzuki GSX-R750 with at least one 750cc Suzuki Cup point. Entry fee is set at $65.
"We're excited to again be a part of the World GSX-R Cup Final," said Suzuki's Morgan Broadhead. "With the Suzuki Cup Contingency Program, the Suzuki Cup Final in Atlanta, trackside support at AMA and WERA
events, and now the World GSX-R Cup, Suzuki continues to offer our riders the best support in the industry."
The three Suzuki team members will also receive a Team Suzuki Sport support ride in 2004 consisting of the use of a 2004 GSX-R750 and a parts budget to keep them at the front of the pack. More information, rules and regulations can be found at www.suzukicycles.com.
---

JIMMY MOORE ON THE ROAD TO RECOVERY
Our FastDates.com sponsored Corona Extra Suzuki rider Jimmy Moore had surgery on Saturday, July 5th to plate the broken left arm that he sustained in a fall at Brainerd International Raceway on Thursday, June 26th during practice for round seven of the AMA Chevy Trucks U.S. Superbike Championship. In addition to the broken arm, Jimmy suffered several broken ribs, a fractured hip socket and a ruptured spleen in the accident.

Moore crashed his Suzuki GSX-R750 at an estimated 160+ mph when a very strong gust of wind blew the entire bike out from underneath him in Brainerd's daunting turn one. "It was really windy," said Moore. "It was a tailwind going down the front straight, but it came from the right side as you went around one. It wasn't like I lowsided or tucked the front, it was like the whole bike, both ends, left the ground. I never had a chance to save it, it was just gone. I slid and slid and slid. It was like I wasn't slowing down at all. I saw the woods coming, and I even tried to dig in my heels to slow myself down." Crew Chief Sean Storment measured the distance and reported that Jimmy slid over 230 yards on the wet grass, eventually hitting a four inch diameter tree.

Following the accident, Moore was transported to the local hospital in Brainerd, then flown by helicopter to the trauma center at North Memorial Hospital in Minneapolis. Contrary to early reports, doctors did not perform surgery to remove the spleen, opting to monitor its progress and let it heal naturally. After three days in ICU, Moore was moved to his own room for three more days, then released on Wednesday afternoon, July 2nd to fly home to Eugene, Oregon. The trip proved to be difficult considering the injuries, and upon arrival in Eugene, Jimmy's wife Kara checked him into Sacred Heart Medical Center, Eugene, Oregon. After two more days of monitoring the spleen and general recuperation, Moore had surgery on the broken arm.

The two-hour surgery was performed by Dr. Brian Jewett, a noted orthopedic surgeon, who attached a plate and screws in Jimmy's left humerus (upper arm bone), which was broken in two pieces with 10mm of displacement, and several loose chips near the break. Jimmy will wear a soft cast/splint cast for up to six weeks to limit movement of the bones and muscles. After the cast is removed, Jimmy will be able to begin physiotherapy on the arm to regain strength and mobility.

Moore is expected to be released from the hospital on Tuesday, July 8th, and plans to return to racing for the Corona Extra Suzuki team at Round 10 of the AMA Superbike Series at Virginia International Raceway, August 29th through 31st.

Cards and messages can be sent to: Jimmy Moore, E-Mail - jmoore@corona-suzuki.com
c/o Morgan Broadhead, American Suzuki Motor Corp., PO Box 1100 Brea, CA 92822-1100
---

Now you can have this 999R that looks just like Neil and Ruben's factory 999F 03's.

Celebrating 200 victories in World Superbike
Ducati Releases 200 999R FILA Limited Editon Bikes:
June 20th: Ducati introduces today at the Santamonica racetrack the limited-edition Ducati 999R FILA to celebrate 200 wins in the World Superbike Championship. Only 200 units of the new bike in the official livery of Team Ducati Fila 2003 will be available. Top level components, sophisticated aerodynamics and a winning tradition, the 999R FILA offers all "ducatisti" the chance to experience the same emotions as the Ducati factory riders on the track.
The F03 racing Superbike was in fact designed simultaneously with the 999R road version, thus guaranteeing the right characteristics to turn a high-performance machine into a race bike. Complete Specifications Here
The Incredible LA Calendar Motorcycle Show
gets even hotter for the July 19-20th weekend!
• SuperMoto Nationals.
• Jardine West CoastHorsepower Dyno Shootout.
• Jim's Machine Burn Out Contest.
• Calendar Girl Pageant,
• Iron Works magazine Olive Crest Charity Ride.
• TV coverage by Speed TV's American Thunder!
Los Angeles, California, USA- Now in its 12 year, the Performance Machine sponsored Los Angeles Calendar Motorcycle Show produced by FastDates.com publisher Gianatsis Design Associates has grown to become the biggest and best Custom and HiPerformance Street bike Show in America.
Exciting new activities added to this year's street bike extravaganza include the RussBrown.com sponsored SB2 Supermoto National, assured to be the biggest SuperMoto event ever held in America with participation by major factory race teams and world famous riders. Riders expect to appear include World and National roadrace and motocross stars like Jeremy McGrath, Kevin Schwantz, Scott Russell, Jeff Ward, John Michell Bayle and others. The tight stadium style track at the Queen Mary is guaranteed to challenge the riders and assures spectators close and exciting handlebar clashing action. The MotoMaster National Championship Series is sponsored by Primedia's Sport Rider and Dirt Rider magazines who will also be covering the weekend's racing action.
A favorite attraction at past Calendar Bike Shows, our West Coast Horsepower Dyno Shootout returns this year sponsored and produced by Jardine Headers, America's premier performance exhaust system manufacturer for sportbikes and V-Twin motorcycles. Bike builders and enthusiasts will be able to roll their 2-wheeled rockets up on the Jardine dyno in front of hundreds of spectators and prove just how much horsepower their bikes really produce.
Another new attraction this year will be the Jim's Machine Burnout Contest produced by one of America's leading engine component manufacturers in the American V-Twin market. Taking place on the front straight of the SuperMoto track each afternoon during race intermission, this is the chance for performance bike exhibitionists to show how much smoke they can make in destroying a rear tire to the cheers of thousands of admiring fans. The folks at Jim's Machine promise to award trophies for this eye watering / ear shattering mayhem that are as unique as the Burnout Contest participants themselves.
And what would the Los Angeles Calendar Motorcycle Show be without its beautiful girls!
There will be 2 days of excitement featuring America's hottest new female vocal group The Beu Sisters who are featured in the sound track of the new Disney movie Lizzie McGuire, and an upcoming Coca-Cola advertising campaign. Plus spectators will get to meet the beautiful FastDates.com Calendar Angels who are also our 2003 SBK World Superbike girls for Laguna Seca, Miss Minnesota Janelle Perzina, Miss Great Britain Nicki Lane, Star Search Spokesmodel winner and The Man Show Juggy Joanna Krupa with The Man Show's Chandi Mason.
MORE SHOW DETAILS

Click to visit the Beu Sister's website and see their music video!
Both Days!
The Beu SistersOur Featured Show Band The hottest sounding, most beautiful new girl group in the World in their first West Coast appearance, premiering their new album "DECISIONS.
and sing in perfect English despite having just started 4 years earlier.
THE BIG PICTURE
Vist our Hot Babe Music Store
New Troy Lee Designs
Supermoto Team features McGrath & Ward
to race LA Supermoto Nationals
July 1st: Troy Lee Designs is going supermoto racing with a newly announced rider team comprised of former AMA National Motocross Champions Jeremy McGrath and Jeff Ward. The team is managed by Bob Weber, formerly of the Emap Motorcycle Publications, and now the marketing director for Troy Lee. The team will race Honda CRF450Rs supported by American Honda. The team, will race the new AMA Supermoto Series, and together with team owner Troy Lee, will race ourRussBrown.com sponsored FastDates.com Los Angeles Calendar Motorcycle Show round of the SB2 Supermoto Nationals taking place in Long Beach (Los Angeles) CA, July 19-20th.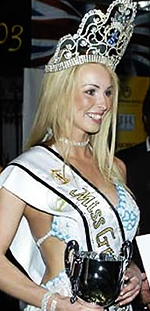 Meet beautiful Miss Great Britain Nicki Lane 2004
Fast Dates Calendar cover model and official Ducati Corse umbrella girl for World Championship points leader Neil Hodgsen at Laguna Seca World Superbike. Nicki is also featured on the cover and inside the new 2004 Fast Dates racebike Pinup Calendar now available.

New KTM Supermoto Team to be run by Mitch Hansen, may put unemployed AMA riders Gobert, Chandler and Pegram back to work.
July 1st: Former HMC Superbike team owner Mitch Hansen is back on the racing scene, this time contracted to run the new KTM factory Supermoto Team to compete in the newly formed AMA Red Bull Supermoto Championship. Riders being considered and presently testing with the team are 3 of the top AMA roadracing stars who parted company from their AMA Superbike teams this past week - Anthony Gobert, Larry Pegram and Doug Chandler.
Also testing and being considered for the team are teenage dirt trackers Ben Carlson and Chris Filmore. KTM of europe's' Kurt Nicoll is assisting with the setup of the bikes and the evaluation of the riders, with final selection of the team riders expected to be made in time for the AMA Series' opening round this coming Julu 13th weekend at Laguna Seca.
Fast Dates Calendar girl and World Champion
Troy Corser have baby boy
Former AMA and World Superbike Champion Troy Corser and his long time girlfriend Sam a former Fast Dates Racebike Pinup Calendar model, have just announced the bith of the first baby, a boy named Kalanie, at their home in Monaco on June 24th. Our congradulations go out to Toy and Sam, and their future World Champ Kalanie, which means "chief" in Hawaiian.