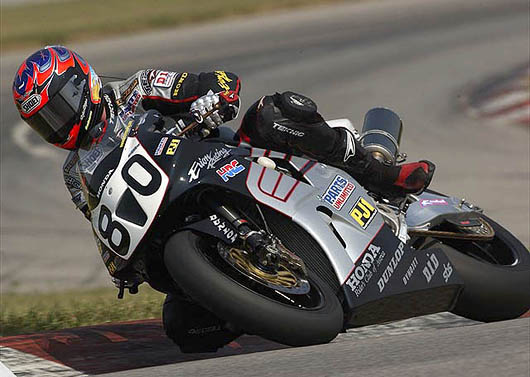 Kurtis Roberts clinched his fist ever Superbike win this Labor Day weekend at VIR in the postponed 2nd race.
2003 AMA Chevy Trucks US Superbike Championship, Rounds 15 & 16
Virginia International Raceway, Alton, Virginia, USA

Matt Extends Championship Lead with
10th Superbike race win of Season at VIR,
Kurtis Roberts claims his first ever win

Alton, Virginia, Saturday, Aug 30th: Mat Mladin's victory in today's fifteenth round of the AMA Chevy Trucks US Superbike Championship gave the Australian a total of ten race wins for the year, equalling a long standing record of race wins in a single season of the American championship held by former World and American Superbike champion Fred Merkel.

More importantly for the Yoshimura Suzuki rider, his race win has seen him further increase his points advantage at the top of the championship table to 43 over teammate Aaron Yates who finished sixth in today's 28-lap race held at Virginia International Raceway.

In contrast to many of his race wins this season, Mladin made a steady start to the race and was placed sixth in the early stages before making his way forward at the latter end of the race. He took the race lead on lap 25, passing lead pair Miguel DuHamel (American Honda) and Italian Giovanni Bussei (Ducati Austin) at Turn One before easing away to win by 2.093 seconds from DuHamel. Bussei made a mistake on the final lap and was passed by Ben Bostrom (American Honda) for third.

"It was definitely an important win for us," said Mladin, who now has a career total of 24 American Superbike race wins. "I started the race off with a plan of watching where Aaron (Yates) was in the race and my plan was to finish ahead of him. That situation changed shortly after the start of the race when we realised that Aaron had a problem. As the race progressed, the gap between the lead group and myself began to come down and that's when I started to push a lot harder and make a move for the front. It all worked out well, we've got a few extra points lead in the championship, but there is still another race to go tomorrow that we need to do well in."

Earlier in the day Mladin appeared to have secured yet another pole position for the weekend's double-header round, but his chance of further adding to that tally failed as teammate Aaron Yates snatched pole position with a final lap burst. Yates posted a best of 1-min 25.071-secs to edge out Mladin's 1:25.304, with the Honda's of Kurtis Roberts (1:25.702) and DuHamel (1:25.925) completing the front row of the grid.

"Qualifying went well for us this morning and we've found a good balance with the bike. Aaron set a fast lap at the end to get pole, but we're not too concerned over that as it is just as important to be on the front row of the grid."
COMBINED QUALIFYING, Saturday - Top 10
1. Aaron Yates (Yoshimura Suzuki) 1:25.071 mins
2. Mat Mladin (Yoshimura Suzuki) 1:25.304
3. Kurtis Roberts (Erion Honda) 1:25.702
4. Miguel DuHamel (American Honda) 1:25.925
5. Giovanni Bussei (Ducati Austin) 1:26.644
6. Jason Pridmore (Attack Suzuki) 1:26.650
7. Ben Bostrom (American Honda) 1:26.758
8. Jordan Szoke (Corona Extra Suzuki) 1:27.836
9. Shawn Higbee (KWS Suzuki) 1:27.945
10. Geoff May (Suzuki) 1:27.992
Saturday Superbike Race 1, 28 Laps - Top 10
1. Mat Mladin (Yoshimura Suzuki) 41:06.519 mins
2. Miguel DuHamel (American Honda) +2.093 seconds
3. Ben Bostrom (American Honda) +12.342
4. Giovanni Bussei (Ducati Austin) +16.132
5. Jordan Szoke (Corona Extra Suzuki) +54.955
6. Aaron Yates (Yoshimura Suzuki) +60.904
7. Shawn Higbee (KWS Suzuki) +66.818
8. Geoff May (Team Embry Suzuki) +71.207
9. Jacob Holden (Suzuki) +72.469
10. Mike Ciccotto (Suzuki) +89.664
Kurtis Roberts Earns First Superbike Win
Alton, VA, Monday Sept 1st: Erion Honda's Kurtis Roberts fulfilled a lifelong dream by winning his first ever AMA Superbike race in the rain-delayed Monday final at Virginia International Raceway, round 16 of the AMA/Chevy Trucks U.S. Superbike Championship.
"Coming across the stripe I was tucked in like you'd be at Daytona," Roberts, the youngest son of three-time 500cc World Champion Kenny Roberts, said. "I didn't know where he'd be coming from or how close they were at the time and kind of just held them off today."
The win capped an impressive weekend for Roberts. He was clearly the class of the field on Saturday, jetting into the lead from the start and never to be headed. Teammates Bostrom and Duhamel had gone out with him, only to lose touch near the halfway point when Roberts turned up the pace.
"Just put my head down got past the lappers right," Roberts said. "I just didn't think they could keep up to that point. I just kept going, wouldn't stop."
He was holding a nearly 10 second lead, with the checkered flag less than five laps away, when his rear tire overheated. After a quick pit stop, he re-joined the track to finish 13th.
Teammate Miguel Duhamel took over the lead when Roberts went out, then was passed by Mat Mladin (Suzuki). Soon Duhamel got stuck behind former World Superbike rider Giovanni Bussei late in the race. It was only after Bussei misread the flagman that the Duhamel and Bostrom were able to move up to second and third. In American Superbike racing, the flagger waves a white flag to signal the final lap. Bussei thought it was the checkered flag, and slowed down, allowing both Duhamel and Bostrom past.

Sunday's Race 2 of the two round weekend was delayed for several hours after a rider in an earlier race dropped oil over a large section of pavement. Race officials spent hours cleaning it and one race was run. Torrential rains hit soon after and the residue from the oil slick made the track unsafe and the decision was made to come back on Monday morning. Monday's race was green-lighted at 9:20 a.m., Roberts speeding to the front and leading most of the laps, only giving way mid-race to Suzuki's Aaron Yates. Then Roberts took it back on lap 12 and fought Yates to the end, holding him off by 0.772 seconds. Third went to American Honda's Miguel Duhamel with Ben Bostrom fourth, for the second day in a row slowed by a loss of feeling in his hands.
In his attempt to become the first rider in the American AMA series to have won four national Superbike titles, Matt Mladin heads to the final double-header round of the season at Barber Motorsports Park in Alabama (September 21 & 21) holding a 38-point lead over Yoshimura Suzuki teammate Aaron Yates (493 - 455), after finishing fifth in today's race.

Today's rain delayed and shortened Superbike national (reduced from the original 28 laps to 20) saw Mladin adopt the same tactics as he did on Saturday for the first of the weekend's Superbike races where he sat patiently behind the lead group and waited for an opportunity to present itself. It did on Saturday as he was able to make his way forward and claim his tenth race win of the series.

Today Mladin again dropped to the rear of the lead group of riders in the opening laps of the race with Honda's of Kurtis Roberts, Miguel DuHamel and Ben Bostrom battling close with championship contender Yates. Rather than risk being involved in any unnecessary incidents, Mladin elected to play it safe and by race end had increased his overall point's margin at the top of the table by an additional five points over the course of the weekend.

"The boys were really going at it out front, so I was quite happy to sit in behind them and wait and see what would happen," said Mladin. "They were really chopping each other up and having a big go at it and I didn't want to be part of it, so I decided to sit there and wait to see if they came back to me like they did on Saturday that would be good, but if they didn't it wasn't that bad either."

"It's not the time of the year when I need to push hard and risk crashing or breaking things on the bike to win races when all we have to do is bring it home. For the first ten laps I was right with them, but then just slipped off the pace a little and at the end I just brought it home."

"We came into the weekend holding a 33-point lead in the championship and left with a 38-point margin, so it's good. We're not the ones chasing, so that's the position that we want to be in heading to the final at Alabama."
Monday Superbike / Race 2:
1. Kurtis Roberts (Honda)
2. Aaron Yates (Suzuki)
3. Miguel Duhamel (Honda)
4. Ben Bostrom (Honda)
5. Mat Mladin (Suzuki)
6. Giovanni Bussei (Ducati)
7. Jason Pridmore (Suzuki)
8. Shawn Higbee (Suzuki)
9. Jordan Szoke (Suzuki)
10. Steve Rapp
Point Standings:
1. Mat Mladin (493)
2. Aaron Yates (455)
3. Ben Bostrom (432)
4. Kurtis Roberts (405)
5. Miguel Duhamel (393)
6. Eric Bostrom (350)
7. Shawn Higbee (346)
8. Jason Pridmore (339)
9. Jordan Szoke (260)
10. Vincent Haskovec (241)
---
Better Piston Control = More Power
The Constant Volume Combustion Engine
Just when we thought there was no development potential left for the reciprocating internal combustion engine, those pesky Italians who keep reinventing the wheel and winning world championships against the technological might of the rest of the world, seem to have done it again! Motor Union Italia has devised and designed a revolutionary engine featuring conventional drivetrain components, cost effective production using exhisting tooling, while overall dimensions and recipricating weight are lower than a traditional four stroke engine's.
The correct technical definition of this new type of engine is: 6-stroke isovolumetric engine with revolving con-rod and half-floating piston.

By replacing the heavy crankshaft and piston rods employed in conventional engines which operate on a less than ideal symmetrical movement, and now employing what is essentially a large camshaft profie to more accurately control the piston's positioning in the cylinder during the combustion process, the volumetric effenfiency of the engine can be improved even further. A simple discussion of this new engine design can be found on the Ducati.com website HERE.
---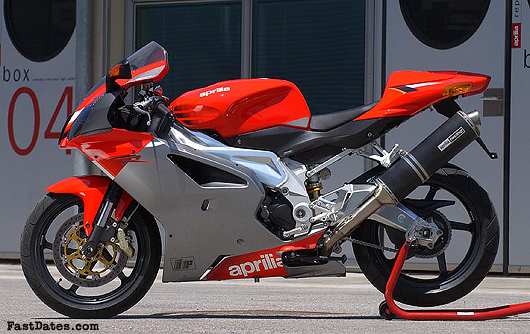 The bike Aprilia should, but won't be returning to race in World Superbike with in 2004. The new generation Aprilia RSV Mille R hits US showrooms in September. Complete details
HERE
.
The Demise of World Superbike?
Manufacturers Let the Sport and the Fans, Down.
Laguna Seca, CA (July. 12, 2003)
-- World Superbike and its controling brothers, Paulo and Maurizio Flammini, were hit with some bad news at Laguna Seca World Superbike weekend, which for some reason did not hit the headlines in the "other" motorcycle media. A press release issued by the MSMA (the manufacturers representatives) stated that Honda, Yamaha, Kawasaki and Aprilia would not return to World Superbike in 2004 as previously planned.
This news release came as FGS (the controling body of SBK) announced that they would unify rules along the lines of the AMA and BSB National Championship rules and other championships around the world and not run air restrictors as the factories had previously said they wanted. These new SBK rules would closely resemble the new 1000cc rules for the American and British Championships and would essentially open the doors for numerous wild card riders and teams at every country's SBK venue.
Word has it that the above mentioned factorys were just looking for an excuse not to return to World Superbike so they could continue with their more costly investments in the new MotoGP four stroke World Championships. And then with the FIM announcing that Pirelli would be the spec tire supplier for the SBK Championship in 2004, leaving Dunlop and Michelin out in the cold, that was the nail in the coffin the manufacturers needed.
So where will it all go? With the resurgance of MotoGP as the premier 4-stoke series in motorcycle racing, SBK realizes their series needs to be more production based. But their numerous rules changes over the years and the perceived past imbalances between twins and fours, 750cc and 1000cc, whether real or imagined (because some factories s obvioulys tried harder than others to win -is Kawasaki, Yamaha, Aprilia doing any better in MotoGP? No) obviously pissed off the Japanese.
Were SBK is mistified is that all the major Japanese factories will have all-new 1000cc in-line four cyclinder superbikes for 2004 that are perfectly tailored to the new SBK rules, but with the exception of Suzuki, they won't be coming out and play. Instead, they will leave it up to their Distributors in various countries to choose if they want to race the new 1000cc fours in their own national superbike series. And at this point in time many distributors like Yamaha, Kawasaki, Honda, Aprilia in counties like America and Great Britain may not go Superbike racing in their own national series. It is certainly a sad prospect for Superbike fans, and the sport in general that so many manufacturers are no logner supporting what once was the best motorcycle racing in the world for a 10 year period.
---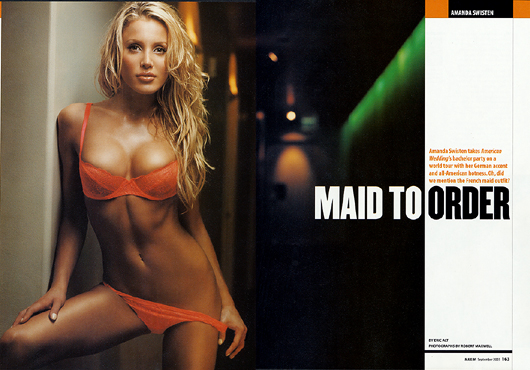 Maxim does our calendar girl Amanda
Beautiful California model and actress Amanda Swisten (above) was featured in our 2002 Iron & Lace and 2003 Garage Girls Calendars. With Amanda's Iron & Lace photo shoot with photographer Jim Gianatsis filmed and featured on a segment of Speed TV's American Thunder.

Now Maxim magazine has discovered beautiful Amanda with a very sexy 5-page pictorial of our girl shot by photographer Robert Maxwell in their September 2003 issue on newstands now. You can see a lot more of Amanda in the new movie American Wedding (the third helping of American Pie) in theatres now, and in our very own Members Corner.

Click on Mariah to take it to the MAX to subscribe.
---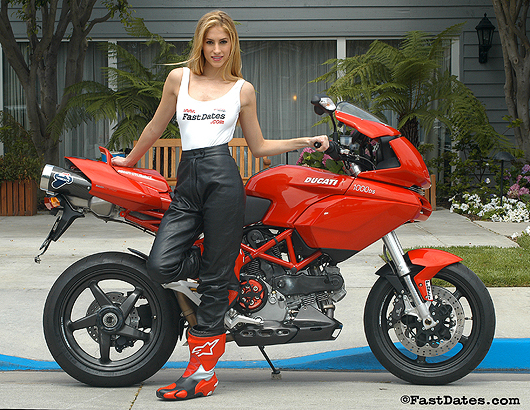 Multistrada is New Stablemate at FastDates.com
The latest addition to our FastDates.com garage is the new Multistrada 1000DS, Ducati's long awaited and finally finally released dual purpose streetbike. Superbike girl Chandi Mason first tested it for us at the US press into back in June, and came back ranting and raving about it, so we just had to get one for our very own. This past Friday things were a little slow around the office here, so we took our new bright red Multistrada on an afternoon blast along Angeles Crest Highway (north of Los Angeles) to Wrightwood for lunch, and then back. About a 140 mile round trip which we accomplished in about 2 hours on the smooth flowing 7,000 foot high mountain twisties running between 60-80 mph the entire way in pure comfort. Great bike!
A weekday is the time to ride the Crest as there was absolutely no traffic or CHP, except for a group 5 of factory BMW test cars blasting past us coming the other way, a having to stop a few minutes whicle the Sheriff's rescue hilicopter had to land in the middle of the road to medivac out a hapless Honda RC51 rider who wadded up his bike in a corner.
You can read Chandi's test of the Ducati Multistrada HERE.
And for your very own full size screen saver of Chandi and the Multistrada click HERE
---
Go to Pit Lane News Next Page
Hot Calendar Girl News! Go to: Fast Dates • Berm Busters • Iron & Lace
The New 2004 FastDates.com Calendars now available!

Covergirls Janelle, Chandi and Joanna Krupa get down to work
in the 2004 Garage Girls calendar available right here.
---
CHAMPIONSHIP POINTS LEADER MLADIN
FOCUSES ON FINAL U.S. SUPERBIKE ROUNDS
The AMA Chevy Trucks US Superbike Championship heads to Virginia International Raceway this weekend (August 30 - 31) with Australian Mat Mladin holding a 33-point lead in the title chase with two rounds (four races) remaining in this year's championship.

As is always the case for Mladin when he is preparing for any race meeting, he will calculate what needs to be achieved at the meeting to satisfy his and his team's goals for the weekend as well as the overall championship placing.

VIR is a venue that the three times American Superbike champion has never won at, but while he will be looking to break his win drought there, he will also be riding with a championship win in mind.

"It does present a bit of a challenge for us not having won a race there before," said Mladin "it's at the time of the season where I still want to win races, but it's getting to the point where we are starting to think about the championship a little bit. We have to take things how they come and see what happens when it's race time. For sure I would still like to win there, but on the other hand, I will not be putting myself into any unnecessary situations either."

Two weeks ago, Mladin and his Yoshimura Suzuki GSX-R1000 were the fastest combination in a three-day test conducted at VIR leaving the championship point's leader in a positive frame of mind for this weekend's upcoming double-header round.

"The five-week break in the championship before Virginia gave us a little bit of time to get some things sorted and also allowed us time to do a bit of testing which has proven to be very valuable for us. We had a three-day test at VIR, along with other tests at Barber Motorsports Park and Daytona, each of which, were good. Not only have we learned more about the bike for the remaining races, we are already planning for next year. It's a fairly important time for us."

Following on from the VIR test in early August, Mladin headed to Daytona last week to take part in a Dunlop tyre test. The timing of the test proved valuable, with favourable weather conditions allowing Mladin to turn a number of laps in the low 1:48 bracket.

"We went there to test tyres for Dunlop and now they've gone away to get something better for the December test. It was a good test definitely. If we didn't make that trip last week, I think we would have been in a lot of trouble come the December test. If the tyres can last in the hotter conditions that we had, then they should last a bit longer in what are normally cooler conditions come race time at Daytona in March, whereas the December test is generally cooler than the conditions that we would expect in March. So this is probably the best test for them."

With this year's championship winding down with just Virginia and Barber Motorsports Park, Alabama (September 21) remaining, Mladin finds himself in a position where he can further add to his record-breaking career in the AMA Superbike Championship. Already the all-time AMA Superbike pole position record holder with 30 (with six poles in 2003), he has an opportunity to surpass a number of other win records, such as the all-time career win record which stands at 26 (he currently has 23), the most number of race wins in one season which stands at 10 (he currently has 9) and most importantly he is aiming to become the first rider to have won four AMA Superbike Championships.

"A lot of people have asked me about the records that are able to be broken this year, but for me personally and for Suzuki, our most important goal is to win the Superbike Championship. That is what I am here to do and that is by far the most important. If we are in a position to take another race win or so in the remaining rounds that will be great as well, but we have to achieve our main goal first."

Rider Comments from VIR
Miguel Duhamel,
Second Place, Saturday
When Kurtis (Roberts) had his problem, that was unfortunate for him. But I'm like hey, we're racing for a win. And I couldn't get by Giovanni Bussei and I kind of said, well, you know I can draft by him. I was able to get more speed to the start-finish line that he was on is Ducati,. My Honda was faster. So I said you know, worst case scenario, I'm just going to pass him at the line and everything was beautiful until Mat (Mladin) came around and passed us both. And I was like, 'Oh god.' That's just unfortunate. But yeah, I had a plan for Bussei, didn't have a plan for Mat (Mladin). I just needed to get by him. If I got by him then it's a different story, but I couldn't and Mat (Mladin) could.

Ben Bostrom,
Third Place, Saturday
Not much to tell. It wasn't too good. the first half of the race was quite fun. I haven't really run up front the whole season. So it felt good to be up there. My hands actually went to sleep. I was still giving it all I got. When you can't feel the handlebars it's a bit scary. I was still pushing hard and trying and these guys just outrode us today and had things working, so it was pretty cool for them and a bummer for Giovanni (Bussei). These boys (Mladin and Duhamel) were coming up behind us pretty quick and the door was right there, so just kept my head down. And this track's great when it's hot. It's like riding on grease full time. You're sliding around. It's fantastic.

Kurtis Roberts,
13th Place, Saturday
I picked a tire out of all of them that I thought was going to be the best of that. I didn't override it. I just keep chunking them. It gave no warning. When I went to brake I felt it really start to vibrate and all of sudden and it was so bad I couldn't even lean it over. I knew straight away what happened. It wasn't blistering at all. I was pulling away easily, even slowing down I was still pulling away quite a bit.
Beautiful pop rockers M2M come from Norway and sould like they're from heaven.
Kurtis Roberts,
1st Place, Monday
After this year, it's kind of like 'What's next? You're going the last three laps, who knows what's going to happen. I wanted to win one real bad all year. We've been so close so many times the last few for reasons keeping us away from it. Especially Saturday, 10 seconds with four to go. I was thinking 'Don't crash, don't crash,' the next thing you know the thing feels like it's got a speed bump in the tire. I was pretty motivated. I just didn't want to lose at all.
Miguel Duhamel,
3rd Place, Monday
It was just a hell of a race. It was a sprint, 20 laps. I got dropped with about four or five laps to go a little bit. I kept believing I could get back up there but then I hit some traffic again. The whole race actually I was really comfortable, I was saving my tires. I was hoping they'd get too excited and use too much of their tires and I'd have something for them at the end. I was really banking on that. But like I said I got caught back a little bit. A couple of times I bridged it back to them, but that last time, the last five laps just couldn't' do it.
Ben Bostrom, Fourth Place, Monday
The bike and tires were perfect. I had the same tire I had yesterday. My hands fell asleep. Fortunately they shortened the race because I was about to get a hell of a lot slower. Obviously I don't know what it is. I've got to fly back to Dr. Ting to find out what. I talked to (Repsol Honda's) Nicky Hayden and he said he had the problem when he rode the Superbike.
Boss hitting the radio waves in NYC
09/01/03: Eric Bostrom fans in the New York City area will want to tune into 92.7 WLIR on their FM dial tomorrow at 4:15pm (EST) to catch up with the Kawasaki Superbike rider, who is quickly healing after his shoulder surgery and hopes to be back on his Kawasaki in a few weeks. Radio sensation and personality, Orli (aka 'The English Muffin') will be interviewing Eric for her popular afternoon radio show (which runs weekdays from 3pm-7pm).
Eric took the time out of his rehabilitation schedule to give the interview. "It'ss great to be able to reach out to race fans in New York City who don't get the chance to catch our racing live without trekking long distances. I really wish we had a race up there. But it¡|s great what ¡¥muffin¡| does for our sport by promoting it like she does to the mainstream."
A big race fan, "The English Muffin" often promotes motorcycle racing on her show by broadcasting race results and discussing road racing with her listeners. ¡§It¡|s been great watching both Bostroms race, but I first contacted Eric¡|s manager because there is nothing like watching the underdog ride the *&$!* out of one of the oldest bikes on the track. I had him pegged to win the title this year till Yates took him out. Not to mention the fact that he rides that thing like he¡|s being chased by a herd of horny rhinos, but then you hear him speak and he¡|s a sweetheart ¡V how can you not love him?¡¨
When asked why she promotes motorcycle roadracing to her sizeable audience of mainstream listeners, she answered in this way: ¡§It makes every other sport look like waltz dancing. It¡|s sex on wheels. Really seems like a no brainer to me!"
You can visit the station's website at www.wlir.com and view the English Muffin's profile under "JOCKS". The rock station will also be providing a link on their website for fans to listen to the interview if they are unable to catch the interview by radio.