The most colorful Grand Prix rider ever, particularly now with his new red hair, Rossi clowns on the podium at Bruno wearing a prisoner's cap and ball & chain, together with Gibernau and Bayliss.
Czech MotoGP at Bruno, Round 10

War of the Titans at Bruno
Superbike World Champions Bayliss / Ducati fights Grand Prix champs Rossi / Honda amid a classic 4-way race-long battle in the Czech Republic

Bruno, CZ, Raceday Sunday August 17th: Valentino Rossi (Repsol Honda RC211V) had to ride at lap record pace to secure the win in a breathtaking Brno GP, and kept his absolute fastest lap for the very last. His new record of 1:59.966 even involved passing another rider, his race long companion and rival Sete Gibernau (Telefonica Movistar Honda RC211V). Troy Bayliss (Ducati) was third after leading for the first ten laps, ending his race only 0.668 seconds behind Rossi.
It was a race that will go down in MotoGP history as one of the most exciting and competitive ever in a season that itself has been more than extrodinary. The entire 23 lap race was a 4-way battle for the lead between the 2 factory Ducatis of Troy Bayliss and Loris Capirossi, and the works Hondas of Rossi and Gibernau. Bayliss exploded from his second row start and the former World Superbike Champion lead the first 10 laps of the race, his first time in the lead of a MotoGP, until his persuers finally reeled him in and an epic 4-way battle ensued for the lead. At one point they were actually 4 abreast going into one corner, and more times than could be counted the four riders traded 1st for 4th in the space of a corner.
The race came down to 2 laps from the end when Rossi recovered his Repsol Honda from 4th position, Capirossi's Desmosedici expired at the wayside with a dead electrical system, and Rossi retook the lead from Bayliss and Giberneau on the final lap, holding off the Frenchman by half a bike length - just 0.041 seconds as they crossed the finish line.
For Rossi himself the race was a vindication of his self-belief after some relatively lowly results of late. "That was one of the best races of the year," said the Italian. "For the first time we fought without tactics. Sometimes this year we have thought too much about the moves. Today there were four or five really fast guys who all wanted to be at the front. We pushed the bikes very hard and I made some mistakes. Sete made some and I crossed the line first. It was very special."

Worlds collided and sparks were flying as Troy Bayliss on the Ducati battled Valentino Rossi on the Honda for the lead, certainly the first of many epic battles to follow in the future between the two different World Champions.
Gibernau was full of praise for his rival, even in defeat. "Every race we have this year seems to be better than the other ones," smiled Gibernau. "We are battling very hard and we tried 100% from the start. Congratulations to Valentino, he deserves it. Today he was the best - I tried my best to win, but he won. I heard that Valentino was in a crisis – I hoped he was in a crisis. If this is his crisis I do not want to know about it when he is not having a crisis!"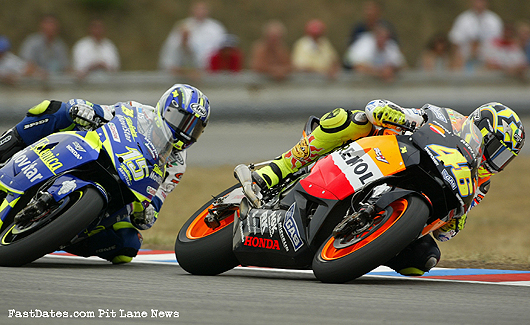 Gibernau (15) was just this close behind Rossi (46) as they crossed the finish line.
Having run with the leading bunch in the early laps, Brno specialist Max Biaggi (Camel Pramac Pons RC211V) slid down the order to finish fifth after experiencing turn in problems, running wide and almost losing the front. Biaggi was one place behind the Yamaha of Carlos Checa.
"This is certainly not a good result," said Biaggi. "I did not enjoy riding and this has been a terrible race because I know I can go much faster at this track. At one stage I nearly fell but I jolted the handlebar with my left hand and that miraculously redressed the balance – but by that time Checa had overtaken me. I think the three hours we had in practice were not enough to set-up the bike correctly."
The unhappy Biaggi was three seconds ahead of the quick learning Nicky Hayden (Repsol Honda RC211V) who held off the unwanted attentions of Alex Barros (Yamaha).
Another weekend of progress for Nicky Hayden was not enough to satisfy the young American's hunger for success. "Generally a positive weekend," he acknowledged. "It was good being up the front in qualifying but this weekend I wanted a little more. I just seemed to be missing a little bit – me and the bike. I got on the back of Checa for a long time but just couldn't get past. I'm happy I finished so close to the leaders, that gap was pretty close and it's good to have moved up in the points as well."
Eighth place was a disappointment for the hard work put in by Tohru Ukawa and his Camel Pramac Pons team. " The result is no good, eighth position," said Ukawa. "In the middle of the race my pace was not so bad but at the beginning it was so difficult to be in the lap time. There was too much gap to make up to the top group. We have seen this many times this year. At the end there was much more spinning from the rear than earlier so the gap to Barros grew. Tomorrow I am testing here so we will try to find a solution."
Makoto Tamada (Pramac Honda) rode with his by now customary mix of aggression and security to finish ninth, struggling to overcome a bad start.

Rossi's win, his fourth of the year, puts him on a total of 212 points while Gibernau lost some ground to his main championship rival and now sits on a total of 178. Biaggi is in third with 141 points.
Results MotoGP Race Classification MotoGP : (22 laps = 118.866 km)
Pos/Rider /Nat /Team /Motorcycle /Time/KM/H
1/Valentino ROSSI /ITA /Repsol Honda /HONDA/44'18.907/160.937
2/Sete GIBERNAU /SPA /Telefónica Movistar Honda /HONDA/44'18.949/160.934
3/Troy BAYLISS /AUS /Ducati Marlboro Team /DUCATI/44'19.575/160.896
4/Carlos CHECA /SPA /Fortuna Yamaha Team /YAMAHA/44'24.297/160.611
5/Max BIAGGI /ITA /Camel Pramac Pons /HONDA/44'27.636/160.410
6/Nicky HAYDEN /USA /Repsol Honda /HONDA/44'29.950/160.271
7/Alex BARROS /BRA /Gauloises Yamaha Team /YAMAHA/44'30.346/160.247
8/Tohru UKAWA /JPN /Camel Pramac Pons /HONDA/44'32.481/160.119
9/Makoto TAMADA /JPN /Pramac Honda /HONDA/44'42.180/159.540
10/Marco MELANDRI /ITA /Fortuna Yamaha Team /YAMAHA/44'45.311/159.354
11/Olivier JACQUE /FRA /Gauloises Yamaha Team /YAMAHA/44'45.592/159.338
12/Colin EDWARDS /USA /Alice Aprilia Racing /APRILIA/44'49.635/159.098
13/Noriyuki HAGA /JPN /Alice Aprilia Racing /APRILIA/44'58.438/158.579
14/Shinya NAKANO /JPN /d'Antín Yamaha Team /YAMAHA/45'00.147/158.479
15/Ryuichi KIYONARI /JPN /Telefonica Movistar Honda /HONDA/45'03.530/158.281
Fastest Lap: Valentino ROSSI 1'59.966 162.135 Km/h Lap 22
World Championship Positions:
1 ROSSI 212, 2 GIBERNAU 178, 3 BIAGGI 141, 4 CAPIROSSI 97, 5 BAYLISS 96, 6 CHECA 78,
7 UKAWA 74, 8 BARROS 71, 9 HAYDEN 67, 10 NAKANO 65, 11 JACQUE 55, 12 TAMADA 47,
13 EDWARDS 46, 14 HAGA 33, 15 ABE 24.
Randy de Puniet and Aprilias continue 250cc Domination
Roberto Rolfo (Fortuna Honda RS250RW) had to watch a leading trio of Aprilia riders make the front running for almost the entire 20-lap 250cc event, the Italian star finally finishing fourth after a consistent display of fast lapping. Randy de Puniet (Aprilia) held off his race long partners Toni Elias and Manuel Poggiali to win his second race of the year.
Rolfo was frustrated to take fourth. "I didn't make the best of starts and I had to recover quickly," said the Italian, who still enjoys a genuine chance of the championship win itself. "After I had dropped back to fourth it was impossible to close the gap again and I did not have the acceleration I needed off the corners. It was like an elastic effect, close going into the corner, slower coming out."
Sebastian Porto (Telefonica Movistar Junior Team RS250RW) was on the tail of the leading group after overcoming a third row start and he was to end his race five seconds down on Rolfo, in a fine fifth place.
After experiencing many problems finding a good set-up in practice, Porto nonetheless had to settle for fifth. "I could not get the best suspension settings and that affected my ability to ride my fastest," said the Argentine. "When the machine is not set up 100% it is impossible to push hard enough to make up time to the leading group."
The only girl in the MotoGP World Championship, Katja Poensgen (Dark Dog Molenaar Honda RS250RW finished was 20th. The former SBK and German National SuperStock star has yet to break into the top half of the standings this season.
The World Championship points standings show Poggiali in the lead with 145 points, Nieto second on 136 and Rolfo third, a single point down on Nieto and only ten behind Poggiali. De Puniet is on a total of 130 and Elias sits fifth on 126. Porto is eighth, with 98 points.
250cc:Results: (20 laps = 108.06 km).
Pos/Rider /Nat /Team /Motorcycle /Time/KM/H
1/Randy De Punet /FRA /Safilo Oxydo-LCR /APRILIA/41'45.354/155.273
2/Toni ELIAS /SPA /Team Repsol Telefonica Movistar /APRILIA/41'45.881/155.241
3/Manuel POGGIALI /RSM /MS Aprilia Team /APRILIA/41'46.305/155.214
4/Roberto ROLFO /ITA /Fortuna Honda /HONDA/41'50.846/154.934
5/Sebastian PORTO /ARG /Telefonica Movistar jnr Team /HONDA/41'55.761/154.631
6/Fonsi NIETO /SPA /Team Repsol Telefonica Movistar /APRILIA/41'56.229/154.602
7/Franco BATTAINI /ITA /Campetella Racing /APRILIA/42'00.632/154.332
8/Sylvain GUINTOLI /FRA /Campetella Racing /APRILIA/42'00.919/154.315
9/Naoki MATSUDO /JPN /Yamaha Kurz /YAMAHA/42'18.106/153.270
10/Hector FAUBEL /SPA /Aspar Junior Team /APRILIA/42'21.521/153.064
Fastest Lap: Toni ELIAS 2'03.969 156.900 Km/h Lap 11
---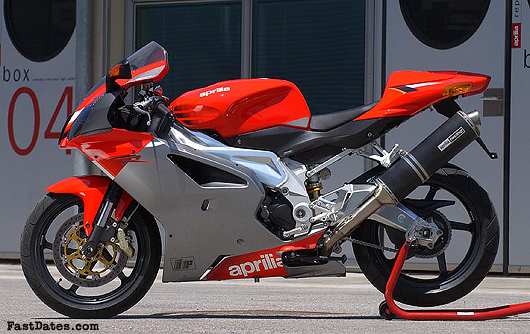 The new generation Aprilia RSV Mille R hits US showrooms in September. Complete details
HERE
.
---
2004 AMA SUPERBIKE RULES FINALIZED
Preliminary Support Class Rules Also Announced
PICKERINGTON, Ohio (Aug. 18, 2003)
-- The AMA Pro Racing Board of Directors has ratified technical rules for the 2004 AMA Superbike Championship season and have approved, but not released a preliminary set of rules for support classes including Supersport, Superstock and Formula Xtreme. A refinement to the 2004 class structure has also been approved but not releases as of yet..
Here are the principal tecnnical regulations for AMA Superbike:
Fuel injection throttle bodies:
Multi-cylinders – Restricted to stock throttle bodies and air intake boxes.
Twin-cylinders – In addition to the stock throttle bodies, one alternate, AMA-approved throttle body type/set is permitted as well as aftermarket air intake boxes.
Engine modifications:
Multi-cylinders – Limited modifications are permitted but such items as stock camshaft lift, stock valve sizes and lightly-modified stock crankshafts are required.
Twin-cylinders – The same limited modifications as multi-cylinders are permitted except for the following items:
o Valve sizes and material are unrestricted.
o Camshafts are unrestricted.
Gearboxes:
Multi-cylinders – In addition to the stock set of gear ratios, one alternate, AMA-approved set of ratios is permitted. Primary drive ratios must remain stock.
Twin-cylinders – The same rules as multi cylinders apply.
Frame:
Multi-cylinders – Limited modifications to the stock frame are permitted such as gusseting for additional strength.
Twin-cylinders – The same rules as multi-cylinders apply.
Minimum weight:
Multi-cylinders – The minimum total motorcycle weight (less fuel) is 370 lbs.
Twin-cylinders – The same 370 lbs. minimum weight applies.
Scott Hollingsworth, AMA Pro Racing CEO is confident the new technical rules will help achieve the objectives of continuing to deliver close competition and quality entertainment, maintaining adequate control of costs, and encouraging increased participation from major motorcycle manufacturers. "With the input of all major stakeholders, we have created a set of rules that will provide the ideal marketing platform for continued growth," said Hollingsworth. "The United States represents the world's most important motorcycle market and we've opened up the door for more companies to use motorcycle racing as a means to promote their products."
Development of the final AMA Superbike rules included measures taken to improve parity among the two primary engine configurations. "Keeping the twins competitive and opening the door for increased manufacturer participation was a primary goal for 2004," said Hollingsworth. "We expect performance of the next generation multi-cylinder models to advance even further and it's imperative that we adjust the rules structure to account for this ongoing development. We have created an environment that provides opportunity for all manufacturers to showcase their products and remain legitimately competitive."
In addition to finalizing the 2004 AMA Superbike rules, the AMA Pro Racing Board of Directors has approved a preliminary set of rules for support classes. AMA Pro Racing licensed riders and credential holders may comment on proposed support class rule changes during a 30-day comment period beginning Monday, Aug. 18 through Tuesday, Sept. 16. Comments can be made on AMA Pro Racing's RIDERS ONLY website at www.amaproracing.com/ridersonly. After the 30-day comment period concludes, AMA Pro Racing will review suggestions before sending the package to the AMA Pro Racing Board of Directors for final ratification.
Hollingsworth confirmed that the 30-day comment period, specifically for support classes, will yield final technical rules for AMA-sanctioned road racing in the United States. "With AMA Superbike complete, we can now turn our attention to the support classes," concluded Hollingsworth. "At the end of the process, we'll have created a class structure and set of technical rules that best serves the needs of the entire racing community, including our fans, and allows for continued growth and commercial development of our series."