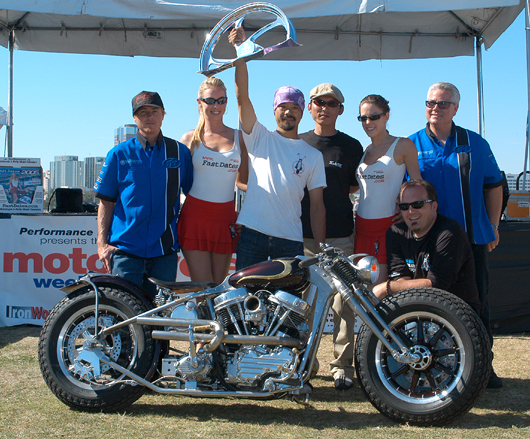 Shinya Kimura from Zero Engineering, Japan, flew in just for the Show and took the coveted Performance Machine Best of Show Trophy. Customer orders for his bikes are back ordered 4 years! He's flanked by Roland and Ted Sands from PM, plus SBK World Superbike and Ducati Corse FastDates.com Calendar Cover Angels, Miss Great Britain Nicki Lane and Laura Niles.
Huge Turnout of Exhibitors and Spectators!
2004 LA Calendar Bike Show the Best Ever!
545hp! Motorcycle Horsepower World Record is Shattered
Long Beach, CA, July 17-18th, 2004 -The Los Angeles Calendar Motorcycle Show Weekend presented by Performance Machine and the FastDates.com Calendars and Website at the Queen Mary Event Park in Long Beach, CA, continued to grow as the most popular consumer street bike show in America catering to custom, cruiser, classic and sportbike enthusiasts. Always the 3rd weekend of July, this year's show featured a incredible weekend of activities and our first ever sold out participation by 165 major motorcycle and product manufacturers, exhibitors and venders, leading custom bike builders from across the world, together with a 2-day jam-packed crowd of motorcycle enthusiasts. Spectator attendance was estimated to be larger than this year's Laguna Seca World Superbike and AMA California Speedway race weekends combined, confirming the LA Calendar Bike Show as the biggest streetbike event weekend in America.
For the complete story go to 2004 LA Calendar Motorcycle Show.
---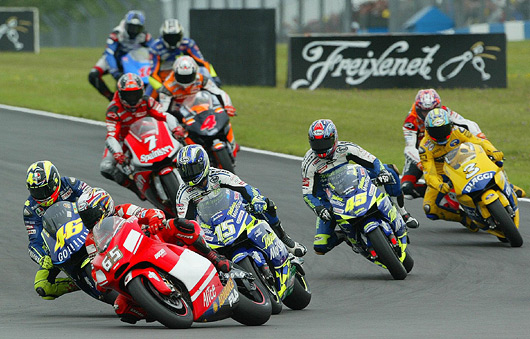 Loris Capirossi (65) stuffs the Twin Pulse Desmosedici into the lead ahead of Rossi (46) and Edwards (15).
MotoGP World Championship , British Grand Prix, Sachsenring, Round 9

Gibernau, Rossi and Capirossi on Front Row for
Honda, Yamaha, Ducati as Title Race Tightens
British Grand Prix, Donington Park, July 24-25th, 2004 A crowd of 82,000 watched a strangely sterile race here at Donington Park. Valentino Rossi (Yamaha) won from Colin Edwards (Telefonica MoviStar Honda RC211V), with Sete Gibernau (Telefonica MovisStar Honda RC211V) third. Race day dawned windy and cold in the low 60's as Rossi stole an advantage in this season's tight title race. American Colin Edwards turned in his best ever MotoGP performance after a troubled first half of the season, showing he could well prove a man to be reckoned with as the season resumes on August 22 after the summer break.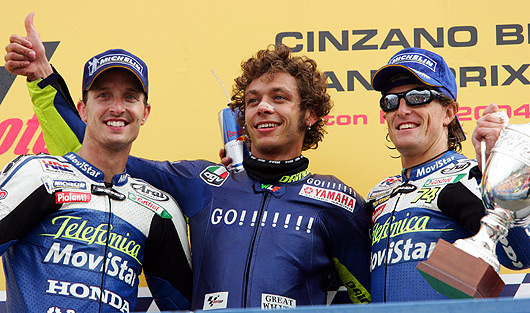 Left to right: Colin Edwards shares his first ever MotoPG podium with regulars Rossi and Gibernau.

Final Qualifying
July 24th - This Donington Park race marks a key moment in the MotoGP title struggle and Sete Gibernau (Telefonica Movistar Honda RC211V) qualified second for a front row start. Valentino Rossi (Yamaha) is on pole and Loris Capirossi (Ducati) is the third front row starter for tomorrow's 30-lap race.
The MotoGP circus takes a three-weekend break before the Grand Prix of the Czech Republic on August 22. And with a title chase as closely fought as this one none of the three protagonists; Rossi, Max Biaggi (Camel Honda RC211V) and Gibernau, can afford to hand each other any psychological advantage to take on holiday.
Nicky Hayden (Repsol Honda RC211V) looked strong in yesterday's timed session and was the overnight provisional pole-man but his challenge in the final hour-long session today failed to gather momentum and he will start from the second row of the grid in sixth place tomorrow.
The new surface here at Donington has proved to be a great improvement. Grip was previously an issue here and the re-layed tarmac now offers more consistency, and perhaps even more importantly, a smoother surface. Bumps into McLeans and Goddards had long been a source of irritation to riders and these have now largely been eradicated.
As per usual, the first three-quarters of the hour were devoted to race distance tyre endurance tests on what is proving to be an abrasive (if grippier) surface. But when the final ten minutes arrived, the action started.
Carlos Checa (Yamaha) hoisted himself to third before Rossi scorched round in 1m 28.987 seconds to post the first sub-1m 29 second lap of this tortuous track. With five minutes to go Hayden was still sitting on his Friday time and was expected to make his move.
But it was Gibernau who made things happen. The Spanish man had been relatively quiet so far this weekend, lurking in fifth place overnight. But he stormed into second with a 1m 29.152 second lap that kept him there in second place on the front row despite the best efforts of the field.
Capirossi tried but ended up 0.057 seconds adrift. But Rossi went at the track again to record first a 1m 28.879 second time and then a 1m 28.720 second effort that proved beyond beating.
Alex Barros (Repsol Honda RC211V) fell at Schwantz Curve mid-session and recovered to qualify ninth. "We had a big wheelie problem yesterday," he said. "And we found a much better balance on the machine today. On my first lap on a new set of tyres I improved my time and on the second I crashed in fifth gear. If I'd had a bit more time I could have improved, but this isn't a disaster."
Nicky Hayden explained his situation. "On my first qualifying tyre I practically matched my time from yesterday and on my second I pushed the front really badly through Hollywood – and messed up the first section. That's the thing with these qualifiers, they're so good on the back they push the front."
"Not easy," said Gibernau. "But I think I know where we're struggling – the first part of the lap. It's a tricky track but we're still up there, still fighting, especially after two no-scoring races. We'll be giving it our best shot and see what else we've got in warm-up tomorrow."
The new revised Twin Pulse Ducatis of Capirossi and Bayliss had them back in the hunt at Donnington.

Valentino Runs Away With the Race
Sunday 25th - The race began under clouds and remained a predominantly grey affair. Rossi got to Redgate first from the lights, but Loris Capirossi (Ducati) scythed inside him down the super-fast Craner Curves to lead the first lap. Gibernau also made a move on Rossi at McLeans for second place on the opening lap, but the reigning World Champion retook second on the brakes at the Melbourne Loop. Capirossi then began to lose ground and on lap two, eventually fading back to 7th at the end, as Rossi took the lead from Sete at the Esses and held it to the checkered flag.
Rossi slipped around Capirissi and into the lead on the second lap, when he managed to pull out a short gap of 0.7 seconds. The distance between Rossi and the rest of the pack increased until half race distance, and his cushion of time had grown to over two seconds. Rossi continued his race domination to build a four second gap which he guarded throughout the final laps, winning by a margin of 2.945 seconds having eased off to enjoy a victory celebration over the line.

In the early stages of the race it looked as if Sete had the means to mount a challenge and when Edwards began to gain ground on the leaders to lie third on lap three from a second row start from fifth, it seemed a battle royal was shaping up.
Just as Edwards and Gibernau looked to be closing in to dispute the lead by lap nine, specks of rain appeared at Goddards corner, just before the start/finish straight. This unsettled the leaders and Edwards admitted he backed off just enough to let Rossi, who had also slowed slightly, to steal an advantage.Rossi then worked his lead hard enough to hold a 2.2 second gap by two-thirds race distance. And by the closing stages he held a three second advantage over his pursuers.
Carlos Checa's race start pushed him inside the group of top ten riders, and several aggressive moves during the 30-lap contest helped him to a final sixth place. This enabled him to hold on to valuable championship points and the Catalan rider now lies seventh overall in the standings with 72 points. Rossi leads the championship by 164 points, 22 clear of his closest rivals Gibernau and Biaggi, who are tied on 142. After a charged performance to a second place finish, Colin Edwards (Honda) is fourth overall with 95 points.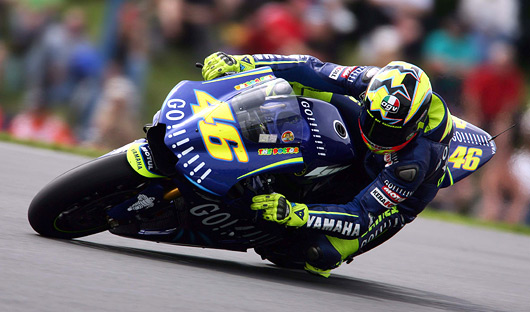 VALENTINO ROSSI (1st, 45'30.473)
"This was a great victory at an important race, and the bike was good to ride. I was a little worried about the tyres. I know it was possible to have a good rhythm through the race but at the start I did not have so much feeling with the rear end because it was colder than yesterday. Slowly, slowly the gap came for me at the front. I had a little problem with the gentle rain that started falling, but everybody slowed down and then the weather got better and it was possible to win. This win was very important because today the bike worked very well. I have to say thank you to the team who worked very well all weekend and to Michelin because the tyres worked right to the end. I am happy because I have taken a small advantage in the championship and at some tracks we will not have the advantage in race conditions so it is good to have these extra points. I will sleep much better in the summer break. We have had problems with the rear at the last few races and we hope to be able to fix those on Tuesday when we test here."
"A lot of people were putting pressure on me this season, people who thought I should be doing better. Well here's to the nay-sayers I'm back. I made some good passes in the early stages and then I did a stupid thing by backing off when there was a little bit of rain. But my team was awesome this weekend. The front end now does what I want it to do," said a happy Edwards at the end of the race.

Sete was relieved to finish third after two DNFs. "This podium almost feels like a win after the last two races. This was a hard weekend and we ended up changing the set-up almost 100% today. The rain was a worry, but the bike felt good and I could push hard to fight with Colin. This podium is very important."

Nicky Hayden (Repsol Honda RC211V) finished a discontented fourth." I'm not happy, he said. Not happy at all with the way I rode. My bike was good but I didn't really put the race together. I put my best laps in at the end of the race but I was too far back to fight near the front. It was all pretty frustrating. If the season was going better I could relax a bit, but I just want to train more and come back stronger."

Ninth was the best Alex Barros (Repsol Honda RC211V) could do. The machine didn't want to turn and there was very little feel, he said. The first half of the race was hard to ride properly and after that the rear became a big problem. Every lap was slower and slower and in the end it was almost dangerous. We test here on Tuesday and we cant afford many more races like this.

Max Biaggi (Camel Honda RC211V) had a torrid time and finished 12th. I felt there was something wrong with gear selection on the sighting lap, he said. I felt the problem in warm-up and thought we had it fixed but we obviously didn't. I thought about pitting and changing bikes but that might have made things worse in terms of time lost. I got four points and I'm still second in the Championship. Now I'm just looking forward to Brno.

There was trouble too for Makoto Tamada (Camel Honda RC211V), the winer of last weekend's German MotoGP riding on Bridgestone tyres." The track temperature was much lower today," said the Japanese. "And the rear of the bike didn't feel right. The situation got worse as the race went on and I couldn't make any places up at all. Today was just not our day and perhaps we didn't make the right tyre choice."
MotoGP Race: (30 laps = 120.69 km)
Pos/ Rider / Nat / Team / Motorcycle / Time/ KM/H
1 / Valentino ROSSI / ITA / Gauloises Fortuna Yamaha / YAMAHA / 45'30.473 / 159.124
2 / Colin EDWARDS / USA / Telefonica Movistar Honda Mot / HONDA / 45'33.418 / 158.952
3 / Sete GIBERNAU / SPA / Telefonica Movistar Honda Mot / HONDA / 45'34.899 / 158.866
4 / Nicky HAYDEN / USA / Repsol Honda Team / HONDA / 45'36.569 / 158.769
5 / Troy BAYLISS / AUS / Ducati Marlboro Team / DUCATI / 45'45.184 / 158.271
6 / Carlos CHECA / SPA / Gauloises Fortuna Yamaha / YAMAHA / 45'47.583 / 158.133
7 / Loris CAPIROSSI / ITA / Ducati Marlboro Team / DUCATI / 45'53.786 / 157.776
8 / John HOPKINS / USA / Team Suzuki MotoGP / SUZUKI / 45'58.594 / 157.501
9 / Alex BARROS / BRA / Repsol Honda Team / HONDA / 46'05.853 / 157.088
10 / Neil HODGSON / GBR / D'Antin MotoGP / DUCATI / 46'14.941 / 156.574
11 / Ruben XAUS / SPA / D'Antin MotoGP / DUCATI / 46'17.963 / 156.403
12 / Max BIAGGI / ITA / Camel Honda / HONDA / 46'24.477 / 156.037
13 / Shane BYRNE / GBR / MS Aprilia Racing / APRILIA / 46'27.851 / 155.849
14 / Makoto TAMADA / JPN / Camel Honda / HONDA / 46'37.631 / 155.304
15 / Shinya NAKANO / JPN / Kawasaki Racing Team / KAWASAKI / 46'46.268 / 154.826
Fastest Lap: Colin EDWARDS 1'29.973 160.968 Km/h Lap 8
World Championship Positions:
1 ROSSI 164, 2 GIBERNAU 142, 3 BIAGGI 142, 4 EDWARDS 95, 5 BARROS 86,
6 HAYDEN 83, 7 CHECA 72, 8 CAPIROSSI 64, 9 MELANDRI 57, 10 TAMADA 56,
11 XAUS 46, 12 ABE 41, 13 NAKANO 37, 14 BAYLISS 34, 15 ROBERTS 29.250cc
250cc Race: (27 laps = 108.621 km)
Pos / Rider / Nat / Team / Motorcycle / Time / KM / H
1 / Daniel PEDROSA / SPA / Telefonica Movistar Honda 250 / HONDA / 42'17.705 / 154.090
2 / Sebastian PORTO / ARG / Repsol - Aspar Team 250cc / APRILIA / 42'23.708 / 153.726
3 / Randy DE PUNIET / FRA / Safilo Carrera - LCR / APRILIA / 42'29.168 / 153.397
4 / Alex DE ANGELIS / RSM / Aprilia Racing / APRILIA / 42'30.427 / 153.321
5 / Fonsi NIETO / SPA / Repsol - Aspar Team 250cc / APRILIA / 42'48.135 / 152.264
6 / Anthony WEST / AUS / Freesoul Abruzzo Racing Team / APRILIA / 42'50.712 / 152.111
7 / Franco BATTAINI / ITA / Campetella Racing / APRILIA / 43'09.636 / 151.000
8 / Naoki MATSUDO / JPN / Team UGT Kurz / YAMAHA / 43'12.760 / 150.818
9 / Hiroshi AOYAMA / JPN / Telefonica Movistar Honda 250 / HONDA / 43'15.127 / 150.680
10 / Sylvain GUINTOLI / FRA / Campetella Racing / APRILIA / 43'17.161 / 150.562
11 / Joan OLIVE / SPA / Campetella Racing / APRILIA / 43'23.975 / 150.168
12 / Alex BALDOLINI / ITA / Matteoni Racing / APRILIA / 43'24.271 / 150.151
13 / Hugo MARCHAND / FRA / Freesoul Abruzzo Racing Team / APRILIA / 43'38.730 / 149.322
14 / Johan STIGEFELT / SWE / Aprilia Germany / APRILIA / 43'39.505 / 149.278
15 / Jakub SMRZ / CZE / Molenaar Racing / HONDA / 43'46.825 / 148.862
Fastest Lap: Daniel PEDROSA 1'33.217 155.366 Km/h Lap 11
Championship Positions:
1 PEDROSA 180, 2 DE PUNIET 146, 3 PORTO 128, 4 NIETO 94, 5 DE ANGELIS 93,
6 ELIAS 86, 7 AOYAMA 71, 8 ROLFO 67, 9 WEST 65, 10 POGGIALI 63, 11 DEBON 53,
12 BATTAINI 46, 13 GUINTOLI 29, 14 MATSUDO 23, 15 OLIVE 19.
---
Holly Valance Rocks!
We had to go to Italy for World Ducati Week to discover sexy Aussie/Brit pop vocal & TV soap star Holy Valance and her newest CD "State of Mind" in the music store next to our Grand Hotel in the seaside town of Rimini. This beautiful babe really rocks with her smooth disco pop vocals similar to fellow Aussie Kyle Minogue!!

We have Holly spotlighted in the CD player of our BMW M3 where she kept us and the SBK FastDates.com Calendar Angels / Ducati Corse girls Nicki, Andra and Robin rockin' out on our 110mph run from Los Angeles up to Laguna Seca and back for World Superbike Weekend. Her import CD is a little pricy from Amazon.com, but will worth it. Click to Order.
---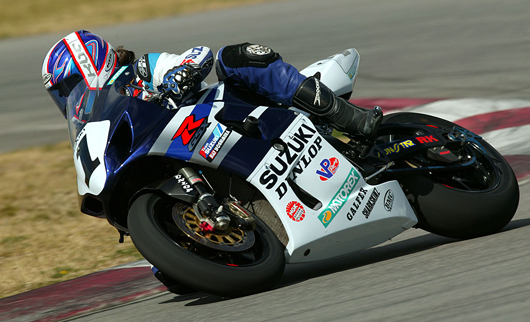 AMA Chevrolet Superbike Championship Round 9, Mid-Ohio

Maladin and Zemke Share Mid-Ohio Double Header Weekend
Lexington, Ohio, July 25, 2004 - Team Yoshimura Suzuki's Matt Mladin maintained his lead in this year's AMA Superbike title chase with a win in Saturday's 1st race round of the Honda Super Cycle Weekend at the Mid-Ohio Sports Car Course in Lexington, Ohio. Erion Honda's Jake Zemke won his second Superbike race of the year, this win coming on the second day, Sunday The win vaulted Zemke into second in the championship point standings behind Mat Mladin (Suzuki), third today, and in front of American Honda's Miguel Duhamel who crashed out of Sunday's race while running in 2nd place.
Duhamel began the weekend with a strong victory in the Formula Xtreme race, the French-Canadian solidifying his championship lead with two races to go. He and Zemke went head to head in the early going until Zemke fell on a strip of slick pavement that claimed a number of top riders over the course of the weekend. Duhamel cruised home with 12.387 seconds in hand. Erion Honda's Al
ex Gobert was seventh. Duhamel's lead over Zemke is 45 points with two rounds remaining.
In Saturday's Superbike race, Duhamel was a fighting second, crossing the stripe just 0.337 seconds behind race winner Mladin after running him down with time running out. Bostrom was second until lapped riders blunted his charge. Soon after he let teammate Duhamel past to collect maximum championship points. Bostrom finished fourth. Zemke finished fifth after choosing the wrong front tire.
In Sunday's Superbike race,Jetting away from the pole position, Zemke quickly built up a lead that would grow to 12.723 seconds at the end of the 26-lap race. American Honda's Ben Bostrom slotted into a safe second, pulling quickly away from third place Mladin. The gap at the end would be nearly 10 seconds. Teammate Miguel Duhamel crashed at the end of the back straight on the 11th lap while closing the gap on two riders in front, a potential podium in the making. Knowing that points are only paid for riders who complete 50% of the race, Duhamel soldiered for two more laps to gain a handful of points.
With two rounds-four races-remaining, and 176 points up for grabs, Zemke holds 436 points to Mladin's 457. Duhamel has 413.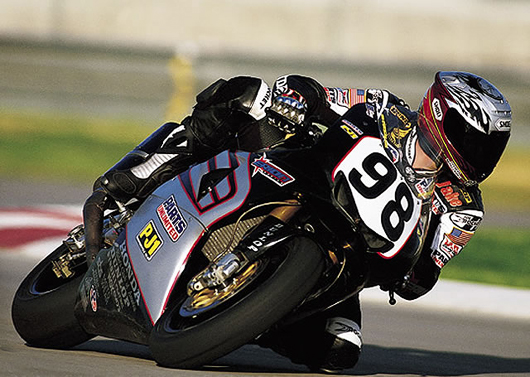 Jake Zemke, 1st Place, Sunday:Worked out pretty good. I got a really good start today and that was definitely an improvement over yesterday and the bike was working really, really well today. Yesterday I chose the wrong front tire and the thing just shredded to pieces. We had no hope but to just bring the thing home. Today, the guys actually gave me a better bike today than I had than yesterday. Hats off to my crew. They've been working hard. All weekend long even though I did get on pole, I haven't been real happy with the set-up. Kind of been struggling to get around the racetrack. It would be OK for a couple of laps but the long distance wasn't possible. Today the bike was really good all the way through, so hats off to the guys.
Ben Bostrom, 2nd Place, Sunday: I was riding, Jake (Zemke) was flying, and he gapped us out. I knew Mat (Mladin) was trailing me there. I didn't know where Miguel (Duhamel) was, but I knew Mat was smart was going to play it safe for the championship. So I just continued my pace to haul down Jake, but he was going too fast. My bike was awesome all day long. I thought we could go quicker and I kept pushing. We couldn't go any quicker. So then I had to settle for that lap time and keep going. The lappers weren't so bad today. Yesterday they were awful. So we just cruised around we ended up second. It's nice to be on the podium again.
Miguel Duhamel, DNF, Sunday: It was going real good. I was being really cautious those first four five laps. I was over a second slower than what I set in the morning. After what six laps or something. Seven, I said, let's pick up the pace. Then I started getting into 27.9's and that felt real comfortable and right away I could see the gap shrinking to Mat (Mladin) and Aaron (Yates). I was very confident I was going to catch them before the end of the race and dice with him and pass him. Pass him is one thing. I knew I was going to catch up because my bike was running really good. It's just unfortunate. We've got four races to go and we'll go tackle those like we've got nothing to lose.

Miguel Duhamel, 2nd Place, Saturday: The bike was working really good, and I put my head down, and to me it seemed I was the fastest guy out there. I was able to reel in Mat (Mladin), and on a few occasions through even lapped riders, even though he would break away, I'd run back in. So things are looking good for tomorrow. It was a fun race. It was definitely greasy. I was spinning up everywhere and sliding. Hopefully we got some good camera shots of that. Putting on a pretty good show trying to get up there. Didn't have any options besides going out there and putting the power down and trying to reel in Mat (Mladin).
Ben Bostrom, 4th Place, Saturday
We came up on five guys coming into turn two and I thought, 'Well maybe I can swoop them on the inside and cut them off on the little left before the Keyhole.' But instead those guys…a blue flag doesn't mean nothing to them. They just stay right on their line and pushed me to the curb. So (Mladin) Mat goes around me on the outside and got a couple of lappers in the process. That's what gapped us out initially. I lost the front in the Keyhole trying to catch up a little bit. We should have made it back. I know Miguel and I would have caught up instantly if there weren't lappers. In this case it was probably his race to win, but you can't. I'm not racing for the championship, so I let him by. I knew I'd be able to stick with him. I knew we'd finish second or third. That would be great.
Jake Zemke, 5th Place, Saturday: There was a lot of traffic for sure, but we were having some difficulty with our tires. The front tire was just completely shredded. I had no grip from the get-go. I even felt it on the warm-up lap a little bit, but first couple laps of the race it was definitely not going to get the job done. We were actually OK there in the early part of the race. We started making ground back up on Ben (Bostrom) and Mat (Mladin), but I was having rear grip problems as well. And then the only place I could make ground was on the brakes and I did that as long as I could and pretty soon the brakes didn't work so well. Then I just thought about bringing it home it one piece.
Saturday Superbike:
1. Mat Mladin (Suzuki)
2. Miguel Duhamel (Honda)
3. Aaron Yates (Suzuki)
4. Ben Bostrom (Honda)
5. Jake Zemke (Honda)
6. Josh Hayes (Kawasaki)
7. Eric Bostrom (Ducati)
8. Jacob Holden (Suzuki)
9. John Haner (Suzuki)
10. Larry Pegram (Yamaha)
Sunday Superbike:
1. Jake Zemke (Honda)
2. Ben Bostrom (Honda)
3. Mat Mladin (Suzuki)
4. Aaron Yates (Suzuki)
5. Josh Hayes (Kawasaki)
6. Jacob Holden (Suzuki)
7. Eric Bostrom (Ducati)
8. Larry Pegram (Yamaha)
9. Eric Wood (Suzuki)
10. John Haner (Suzuki)

Superbike Standings
(After 14 of 18 rounds):
1. Mat Mladin (457)
2. Jake Zemke (436)
3. Miguel Duhamel (413)
4. Eric Bostrom (336)
5. Ben Bostrom (306)
6. Geoff May (299)
7. Aaron Yates (272)
8. John Haner (262)
9. Eric Wood (239)
10. Josh Hayes (237)

Formula Xtreme:
1. Miguel Duhamel (Honda)
2. Jason Pridmore (Suzuki)
3. Vincent Haskovec (Suzuki)
4. Larry Pegram (Yamaha)
5. Heath Small (Yamaha)
6. Ty Howard (Yamaha)
7. Alex Gobert (Honda)
8. Giovanni Rojas (Yamaha)
9. Opie Caylor (Suzuki)
10. Jason Farrell (Kawasaki)