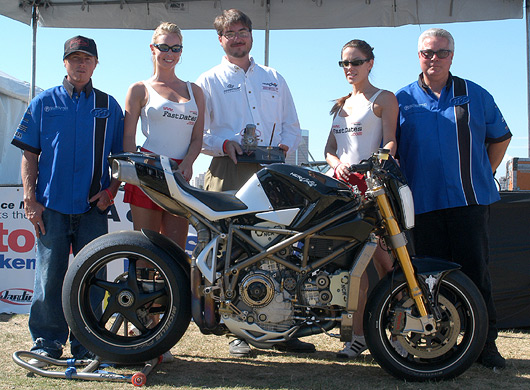 World Class! Scuderia NCR / Poggipolini flew in from Italy with their $164,000 magnesium and titanium 180hp / 297lb. naked Ducati Superbike powered Macchia Nera to win Best Sportbike at this year's Show, elevating our Los Angeles Calendar Motorcycle Show to World caliber status. Poggipolini's distributor John Murray of RaceMetal.com accepts the Show's coveted Desk Set Trophy utilizing a real Mikuni Carburetor. He's joined by Roland and Ted Sands from Performance Machine, plus SBK World Superbike and Ducati Corse FastDates.com Calendar Cover Angels, Miss Great Britain Nicki Lane and Laura Niles.
Huge Turnout of Exhibitors and Spectators!
2004 LA Calendar Bike Show the Best Ever!
545hp! Motorcycle Horsepower World Record is Shattered
Long Beach, CA, July 17-18th, 2004 -The Los Angeles Calendar Motorcycle Show Weekend presented by Performance Machine and the FastDates.com Calendars and Website at the Queen Mary Event Park in Long Beach, CA, continued to grow as the most popular consumer street bike show in America catering to custom, cruiser, classic and sportbike enthusiasts. Always the 3rd weekend of July, this year's show featured a incredible weekend of activities and our first ever sold out participation by 165 major motorcycle and product manufacturers, exhibitors and venders, leading custom bike builders from across the world, together with a 2-day jam-packed crowd of motorcycle enthusiasts. Spectator attendance was estimated to be larger than this year's Laguna Seca World Superbike and AMA California Speedway race weekends combined, confirming the LA Calendar Bike Show as the biggest streetbike event weekend in America.
For the complete story go to 2004 LA Calendar Motorcycle Show.
---
Proposed 2005 AMA Superbike Rule Changes Miss the Big Picture
Duplicate, Confusing Classes has Destroyed Pro Roadracing in America
A July 25th press release from AMA Pro Racing has announced "new" rule change proposals for the 2005 season. The only item of note in just a few minor changes to the ruels is to allow any rider to race in any class. Effectively the AMA is trying to fill out its less than full starting grids in a confusing mirid of pro classes which have less than full support from all the factory teams, and which has effectively destroyed professional motorcycle roadracing in America.
When AMA Nationals like those at California Speedway, Barber Motorsports, Colorado and Virgina International are pulling less than 2,000 spectators per race weekend, the current state of AMA Pro Racing in America is a disaster. The published attendance figures of 93,000 spectators for this pastJuly's Laguna Seca World and AMA SuperbikeWeekend were an outright lie (we only counted 4,000 spectators trackside on Sunday - add in generously another 1,000 milling around in the Paddock and Midway during the race, and another 1,000 for riders and their teams and venders, and Laguna WSB Weekend more realisticly had 6,000 people total. Maybe.
Daytona Superbike back in March wasn't much better. There are some 200,000 bikers in town for Daytona Bike Week, yet almost no one goes to the track to watch the racing. Plus the Superbike National at the out dated and dangerous Daytona Speedway had to be moved to Saturday so TV and spectators wouldn't miss the race if it got rained out to Monday like happened in 2002. Meanwhile, we're still waiting for the press release to follow up on the results of AMA Pro Racing's big meeting back in May with the Speedway to improve race safety. The reality is the income from motorcycle racing at the Speedway can not justify modifying the track to any sort of FIM safety standards.
Unbelievably, AMA Pro Racing is doing nothing to address the major problems it created this year in the structure of the mirid of different and confusing classes themselves. The 600cc Formula Extreme class will remain a useless and boring romp for Team Honda and should be eliminated altogether, or revert back to the once popular 600cc Supersport class which was always hotly contested, along with the inclussion of Ducati's 750cc twin. Meanwhile, Suzuki still has no class to race its hugely popular GSXR750.
The 1000cc Supersport class remains a useless duplication of 1000cc Superbike and should be eliminated altogether so all the factory and support teams will return to Superbike where they belong.
Also in the Pro Racing 2005 rules proposal is a request for a new "Spec Bike ' class. Remember the last spec bike class the AMA tried was in the early '90s for Harley-Havidson Sportsters and it was a disaster, as the stock bikes were ill handling and not cabale of being raced without blowing up. Plus, factory riders from teams weren't allowed to race a competing brand, so effectivlely we were left with amateur riders racing junk bikes on a national pro racing weekend.
Perhaps this new "Spec Class" class might be a reprive for Suzuki's GSXR750 if Suzuki foots the class sponsorship bill? But why do we need another boring one brand class in a weekend of 1 and 2 brand dominated racing? A one-brand Spec Bike Class without factory riders? No thank you. The old 600cc Supersport class fit the bill just perfect.
So why doesn't AMA Pro Racing get it right? With AMA employees on a fixed salary, and a board of directors made up of motorcycle racers, team, owners and manufacturers you'ld think they could. But in reality at AMA Pro Racing there's just too many special interests involved and team managers wanting different classes they can easily win to advertise their wins and maintain their sponsorship money from the factories. Successful racing series such as NASCAR, CART, Supercross, Superbike and MotoGP are owned and operated by a private owners who have the success and profitabilty of their race series as their biggest concern. AMA needs to get out of race management and stick with just rules enforcement.
Over the past 20 years despite a 20% growth in the population in America, coverage of AMA roadracing g on national Speed TV and national sponsorship by Chevy trucks, spectator attendance at AMA professional roadracing in America has declined. There needs to be just one feature class, that being Superbike, and no others. We feel AMA is missing the big picture and just making their problem worse. - Jim Gianatsis, Editor
See the minor new AMA Rule Changes for 2005 in Tire Chatter at right:
---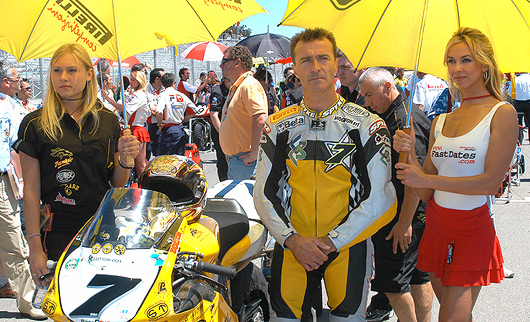 Our hero! 40-year old Frankie Chili on the starting grid with our own SBK World Superbike FasDates.com Calendar Angel Andra Cobb.
Quickest in both races , Frankie had to settle for 2nd in Race 2 based on agregate times des despite his win of the second leg.
SBK World Superbike Championship Round 9, Brands Hatch, European Round

Faster Frankie Looked Ready to Conquer Brands Hatch -
but it's Noriyuki Haga who Doubles for the Win
Brands Hatch England, July 30-Aug 1st, 2004 - Frankie Goes To Paddock Wood: Pierfrancesco Chili (PSG-1 Ducati 998) slotted his 998RS/999 hybrid machine into the provisional pole position spot with a best first day lap of the 4.197km Brands Hatch circuit. The 40-year-old Italian's prowess was closely contested by a whole field full of competitive runners, but his experience as a former Brands Hatch winner proved to be the difference on day one as he set a best of 1:27.990. And he would follow that up with the Fast Lap Times recorded in both races on Sunday, but to the quickest would not go the spoils....
The ever popular Noriyuki Haga aboard his Renegade Ducati 999RS took both wins in the hot crucible of Brands Hatch before a huge crowd, winning a straight fight in Race One and an aggregate event in Race Two where he shared heat wins with Frankie. The net result of an incredible weekend of close, crowd-pleasing action was to bring the main contenders for championship glory impossible close to each other, with the top four riders all within eight points of each other.

Fastest Privateer teams: Frankie (7) and Nori (41) fought and scrapped hard for both race wins.
Privateers Pace Practice
Sloted in behind Frankie Chili as one of the quickest in Friday Practice was Gianluca Nannelli (Pedercini Ducati), a surprise second fastest on day one, his performance particularly impressive as he is running a 998RS Ducati, not one of the more powerful 999R engined Ducati machines which now pack the SBK grid. The 30-year-old Italian has had some impressive rides in his rookie season in SBK, after and up and down career in Supersport. A good day for the Pedercini team saw team principle Lucio Pedercini qualify fifth, ahead of both factory Ducati machines.
Borciani Boost: With only ten minutes of qualifying left the name of Marco Borciani stood proudly at the top of the time sheets, the DFX Ducati 999RS rider proving to be a potent threat once more after only one day of track time. His fourth overall is still a more than creditable position, with his double Superpole winning team-mate Steve Martin down in 12th.
Noriyuki Now: Noriyuki Haga (Renegade Ducati 999RS) slipped himself into the top three places after a late charge through the order on his locally entered Ducati. His team, sporting a new pit backdrop from sponsors Koji, also had Leon Haslam in the upper echelons, seventh overall with a time of 1:18.734, 0.744 seconds from provisional pole.
Ducatis Duke It Out: Regis Laconi (Ducati Fila 999F04) was the best of the works Ducati riders, but he struggled to cope with the privateer onslaught on day one, riding his fast but fickle Ducati Fila machine into sixth place on the time sheets. James Toseland (Ducati Fila 999F04) his team-mate, suffered more set-up woes as he qualified only 15th, 1.440 seconds from Chili and in 15th place.
Three Over Four: Troy Corser (Petronas FP-1) used a revamped engine and mapping specification to take the last spot on the overnight second row, his eighth place fully six places ahead of his team-mate Chris Walker. Brands was always going to be a challenge for the riders of the 900cc Petronas triple, but Corser at least was in less trouble than double SBK race winner from the previous round, Chris Vermeulen, who spend most of his two hours of practice trying to find a workable set-up for his Ten Kate Honda CBR1000RR. Nonetheless, Vermeulen was the fastest of the four-cylinder riders, on a track that clearly favoured the booming twins in the early stages. Top Yamaha R1 rider proved to be wild card entrant Sebastien Gimbert (Yamaha France), in 11th place.
Time Warp: Garry McCoy (Xerox Ducati 999RS) had a tough introduction to Brands Hatch, completing day one in 18th place on his Ducati 999RS, with a total of 25 riders taking part in the first day of action.
Supersport: An exciting first qualifying session, held on idyllic conditions, delivered Ten Kate Honda rider and championship leader Karl Muggeridge to the top of the provisional qualifying order. His best time of 1:29.200 was 0.354 seconds ahead of second quickest rider Fabien Foret (Yamaha Belgarda, and 0.425 better than third place man Kevin Curtain (Yamaha Motor Deutschland). The Yamaha/Honda wars in the early stages were added to by fourth and fifth place men Sebastien Charpentier (Klaffi Honda) and Muggeridge's team-mate Broc Parkes.
Super Pole Saturday/ A Classic Ducati 998 Weekend
Local Star Steve Martin on top with DFX Ducati
Pole Dancer: DFX Ducati rider Steve Martin, only ninth fastest in regulation qualifying, trimmed almost a whole second off his previous best to take the Superpole win at Brands Hatch. One of the most experienced riders in the series, Martin was a smooth operator while several others slid and slithered their way home after experienced traction issues on the unexpectedly slick Brands Hatch tarmac. Martin's time of 1:27.213, was the best of the timed sessions over the weekend.
Chili Wows Fans: Other than the local riders the most popular man on show at Brands Hatch was series veteran Pierfrancesco Chili. Cheered throughout his 4.197km Superpole lap Chili went second quickest, 0.12 seconds from Martin. Chili was as usual using his 998 Chassis and 999cc engine throughout the Brands Hatch weekend.
Regis Redeems: Regis Laconi and James Toseland (Ducati Fila) experienced differing fortunes in Superpole; Laconi the fastest man in regulation qualifying now starting from the front row, in third place, after some fraught moments and a morning session crash. His team-mate Toseland almost high-sided on his Superpole lap, his 'moment' dropping him to 12th overall and a third row starting position.
Renegade Rebels: For the Renegade Ducati team Brands has been a tough test, the injured Leon Haslam and his team-mate Noriyuki Haga not matching the times set during a race meeting at Brands in June, due largely to the prevailing track conditions. Nonetheless Haga will start the race from the front row after setting the fourth best time in Superpole, while the brave Haslam fought his left hand injury to finish tenth overall.
Corser Forward: Troy Corser (Petronas FP-1), jumped from seventh in qualifying to fifth after Superpole, and will thus head up the second row for the races. The former champion's team-mate Chris Walker had a rapturous welcome from his legions of British fans, but 13th and a fourth row start were his lowly reward for his usual high level of effort.
Borciani Moves On Up: After heading the early qualifying for a time Steve Martin's team-mate Marco Borciani ended his weekend's qualifying in a well placed sixth in Superpole. He also improved on his best previous lap, as did the majority of the field.
Honda Home Boys: Chris Vermeulen's one man Honda assault on World Superbike this season has netted him and his Ten Kate Honda team the last three race victories but after a tough weekend of handling problems and a Superpole lap in which he experienced front end slides, Vermeulen now starts a disappointed seventh.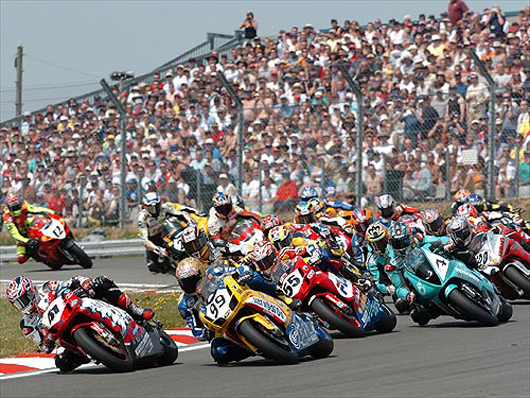 An exciting start to Race One with Steve Martin (99) along side Nori haga (41) with Laconi (55) and Corser (4) hot on their Pirellis. For a country just the size of California, the Brands Hatch World Superbike race weekend may have drawn more spectators than all the AMA Superbike nationals this year combined.
Sunday / Race Day: Chili is Fastest and First at the Finish in Race Two,
but "Nitro" Nori Haga Scores both Wins for Renegade Koji
Brands Hatch (UK), 1 August 2004: Ducati clinched their thirteenth World Superbike Manufacturersí title at Brands Hatch in a dramatic day of racing in front of a massive crowd, which saw alternating fortunes for Ducati Fila riders Regis Laconi and James Toseland and a double win for Renegade Ducati's Japanese rider Noriyuki Haga. The Frenchman battled hard with Haga to finish second in Race One, but then ruined another positive result when he lost the front and crashed out at Graham Hill Bend on lap 19 of race 2.
The ever popular Noriyuki Haga aboard the newly repained Renegade Koji Ducati 999RS took both wins in the hot crucible of Brands Hatch before a huge crowd, winning a straight fight in race one and an aggregate event in race two. The net result of an incredible weekend of close, crowd-pleasing action was to bring the main contenders for championship glory impossible close to each other, with the top four riders all within eight points of each other.
Ducatiís thirteenth win in the Manufacturersí championship comes in seventeen years of top-class World Superbike racing with production-based machinery against constructors from Italy, Japan, and now Malaysia. The Ridersí title is now hotting up to be a four-way battle between Laconi, Toseland (Ducati Fila), Vermeulen (Honda) and Haga, with all four riders separated by just eight points with three rounds left to go.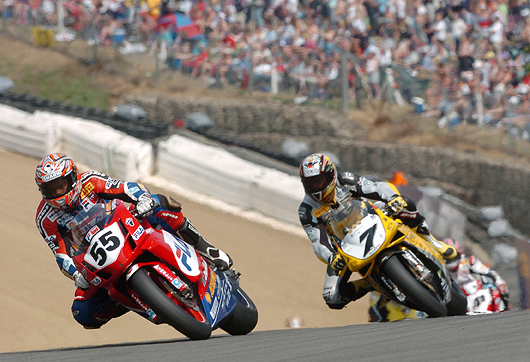 Laconi (55), Chile (7) and Haga (41) dice for the lead in Race One.

RACE ONE: Close competition throughout the entire 25 laps of Race One delivered the first race win toNoriyuki Haga. But if wasn' t easy for Nitro Nori who had to contend with a terrific 3-way rider fight for the win. The first half of the race was a three man affair until race leader Pierfrancesco Chili (Ducati) crashed spectacularly on the exit of Surtees, highsiding himself out of contention.the Japanese rider holding off a race long challenge of second placed Ducati Corse rider Regis Laconi. Regis and Norri continued thire heated fight right into the final lap where they traded the lead 4-5 times with Nori lucky enought to hold the advantage as they crossed the finish. Superpole winner Steve Martin (Ducati) benefited from Chili's fall to take third, with Ten Kate Honda rider Chris Vermeulen fourth. Troy Corser took a close5th place with the 900cc Foggy Petronas, doing a highly creditable job matching the leaders pace the entire race.
Laconi (55) has the 999F04 drifting under power as he fights with Haga (41) in race Two before going down.

RACE TWO: The same top three protagonists from Race One would again battle it out for the right to win, in what to be an aggregate race run in two parts. Frankie Chili arrived at the starting line late after the warm-up lap, having just had his 998 Ducati fully rebuilt from his first race crash, but he pulled directly onto the front row for the start without any opposition.
The race quickly turned into another exciting exciting 3-way battle for the lead between Haga, Laconi and Chilie with Toseland in close persuit. Around lap 3 Toseland found his factory Ducati 99F04 getting sideways on him as suffered an oil cooler leak and began spewing oil and smoke, oiling down his rear tire and the track. He pulled off the track once he realized the problem, but not before oiling down a few corders. Italian rider Gianfranco De Matteis (Ducati) went down in the oil trail and broke his collarbone and thus the race was red flagged, with the resulting restart comprising three lap and 22 lap legs.For the restart Toseland was allowed to return to the pits and pickup up a new bike, but it would all be for nothing. Diving into turn one at the green light, Toseland was pushed from the inside by Foggy Petronas rider Chris Walker, knocking down Toseland who slid into Walker's team mate Troy Corser and both Toseland and Corser were down and out to the race.
For Toseland it was the end to a terrible weekend in front of his home crowd. Never quite happy with his set-up, he could only manage seventh in the first encounter of the day.Then it race two it was the stoped race due to the incedent cause by his oil leak, and then the crash into Corser. "I've got a stiff neck from the crash, I'íve dropped from first to fourth in the championship, Iíve disappointed myself and my home crowd, is there anything else?" commented Toseland. "Thereís still only eight points in it though, unlucky for Regis but I've had bad luck as well with Corser taking me out. I'íve had a disappointing weekend at Silverstone and a disappointing one at Brands Hatch. I can only apologise and say I've given 110% all weekend. Sorry to everyone who came to see a British winner, that was down to me. Let's get it over with and move on to the next round."
Up front the exciting 3-way lead battle continued between Haga, Laconi and Chile for much of the race until Laconi crashed out the points leading Ducati. Frankie Chili moved in and passed Haga for thee lead and the win of the second leg, but Frankie's tough luck continued as his agregate time for the two legs was not enough to win the race overall. The eventual winner proved to be Noriyuki Haga, by 0.960 seconds over Chili. Chris Vermeulen finished in third position, with Chris Walker (Petronas) fourth.
What can I say?î declared Laconi. "The big problem is that if I am not in front of Noriyuki, he was slow, and I tried to go faster than him and I felt I was over the limit. Thatís why I crashed. I tried to go away but I entered too wide pushing hard and lost the front. I am not happy because I am unable to get away from him. I tried my best with the team and the engineers to get the best out of this bike, and we did, so if I crashed it means that I was at the limit. I really want to win this championship and I hope that we will have something new for the last three rounds."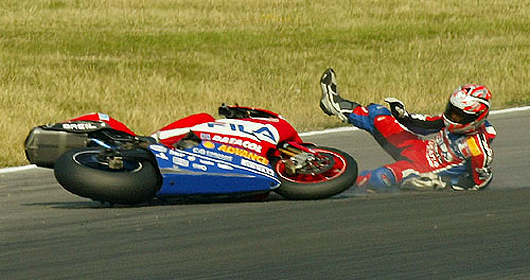 Another Ducati Corse rider bites the pavement in Race Two. This time its Laconi.

The Riders Championship points battle sees Laconi with 218 points, Vermeulen promoted to second at 216, with Haga on 212 and Toseland 210, effectively a close 4-way battle for the Championship with just 3 rounds remaining. Its the closest title chase in World Superbike in years. The next round of the championship takes place at Assen on September 5, for all classes.
Sunday Race One (Laps 25 = 104,925 Km)
Pos /Rider /Nat. /Team / Time /Gap
1 / Haga Noriyuki / JPN / Renegade Ducati Koji /37'08.172 /
2 / Laconi Régis / FRA / Ducati Fila /37'08.306 / 0.134
3 / Martin Steve / AUS / D.F.Xtreme Sterilgarda /37'10.445 / 2.273
4 / Vermeulen Chris / AUS / Ten Kate Honda / 37'12.923 / 4.751
5 / Corser Troy / AUS / Foggy PETRONAS Racing / 37'16.218 / 8.046
6 / Ellison James / GBR / Jentin Racing / 37'18.081 / 9.909
7 / Toseland James / GBR / Ducati Fila / 37'18.197 / 10.025
8 / Coxhell Craig / AUS/ Vitrans Honda / 37'29.969 / 21.797
9 / Walker Chris / GBR/ Foggy PETRONAS Racing/ 37'34.309 / 26.137
10 / Nannelli Gianluca/ ITA/ Pedercini / 37'37.303 / 29.131
11 / Borciani Marco/ ITA / D.F.Xtreme Sterilgarda / 37'37.941 / 29.769
12 / Bussei Giovanni/ ITA / DeCecco Racing / 37'41.958 / 33.786
13 / Pedercini Lucio/ ITA / Pedercini / 37'43.238 / 35.066
14 / Clementi Ivan / ITA / Kawasaki Bertocchi / 37'44.591 / 36.419
15 / Bontempi Piergiorgio / ITA / Zongshen / 37'49.071 / 40.899
16 AUS Nowland Warwick Zongshen Suzuki Suzuki GSX-R 1000 25 38'02.029
17 ITA Velini Alessio UnionBike GiMotorsport Yamaha Yamaha YZF R1 25 38'16.230
RT ESP Fuertes Sergio MIR Racing Suzuki Suzuki GSX-R 1000 24 36'40.048
RT GBR Haslam Leon Renegade Ducati Koji Ducati Ducati 999 RS 23 34'20.284
RT ITA Chili Pierfrancesco PSG - 1 Corse Ducati Ducati 998 RS 18 26'43.610
RT FRA Gimbert Sebastien Yamaha France Yamaha Yamaha YZF R1 18 27'10.550
RT AUS McCoy Garry XEROX - Ducati Nortel Net. Ducati Ducati 999 RS 11 16'35.023
RT ITA De Matteis Giancarlo PSG - 1 Corse Ducati Ducati 999 RS 11 16'51.646
RT ITA Sanchini Mauro Kawasaki Bertocchi Kawasaki Kawasaki ZX 10 7 10'35.830
RT CZE Mrkyvka Jiri JM SBK Ducati Ducati 998 RS 7 10'47.953
RT POR Praia Miguel XEROX - Ducati Nortel Net. Ducati Ducati 999 RS 7 11'19.681
Fastest Lap: ITA Chili Pierfrancesco 1'28.094
Sunday Race Two (Laps 25 = 104,925 Km)
Pos /Rider /Nat. /Team / Time /Gap
1 / N.HAGA / JPN / Renegade Ducati Koji / 37'05.030 /
2 / P. CHILI / ITA / PSG - 1 Corse / 37'05.990 / 0.960
3 / C. VERMEULEN / AUS / Ten Kate Honda / 37'15.669 / 10.639
4 / C.WALKER / GBR / Foggy PETRONAS Racing / 37'28.694 / 23.664
5 / J. ELLISON / GBR / Jentin Racing / 37'29.142 / 24.112
6 / G.BUSSEI / ITA / DeCecco Racing / 37'31.463 / 26.433
7 / G.MCCOY / AUS / XEROX - Ducati Nortel Net. / 37'31.882 / 26.852
8 / C. COXHELL / AUS / Vitrans Honda / 37'36.113 / 31.083
9 / S. GIMBERT / FRA / Yamaha France / 37'36.251 / 31.221
10 / M.SANCHINI / ITA / Kawasaki Bertocchi / 37'36.924 / 31.894
11 / I. CLEMENTI / ITA / Kawasaki Bertocchi / 37'41.316 / 36.286
12 / P. BONTEMPI / ITA / Zongshen / 37'59.478 / 54.448
13 / S. FUERTES / ESP / MIR Racing / 38'06.454 / 1'01.424
14 / A. VELINI / ITA / UnionBike GiMotorsport / 38'25.080 / 1'20.050
15 / M.PRAIA / POR / XEROX - Ducati Nortel Net. / 38'10.685 / 2 Laps
Fastest Lap 13° Pierfrancesco Chili 1'28.201 171,304 Km/h
Championship Standings:
RIDERS: 1 LACONI 218, 2 VERMEULEN 216, 3 HAGA 212, 4 TOSELAND 210, 5 CHILI 180,
6 MCCOY 155, 7 MARTIN 135, 8 HASLAM 120, 9 CORSER 112, 10 WALKER 102,
11 BORCIANI 99, 12 SANCHINI 79, 13 CLEMENTI 66, 14 BONTEMPI 53, 15 NANNELLI 47.
Manufacturers Standings: 1 DUCATI 385, 2 HONDA 223, 3 PETRONAS 185, 4 KAWASAKI 99, 5 SUZUKI 77,
6 YAMAHA 60.
---
Holly Valance Rocks!
We had to go to Italy for World Ducati Week to discover sexy Aussie/Brit pop vocal & TV soap star Holy Valance and her newest CD "State of Mind" in the music store next to our Grand Hotel in the seaside town of Rimini. This beautiful babe really rocks with her smooth disco pop vocals similar to fellow Aussie Kyle Minogue!!

We have Holly spotlighted in the CD player of our BMW M3 where she kept us and the SBK FastDates.com Calendar Angels / Ducati Corse girls Nicki, Andra and Robin rockin' out on our 110mph run from Los Angeles up to Laguna Seca and back for World Superbike Weekend. Her import CD is a little pricy from Amazon.com, but will worth it. Click to Order.