FastDates.com November 2004
Superbike, MotoGP Racing & Calendar Girl News
Official Calendar of the SBK World Superbike Championship
Home of the official SBK Fast Dates & Team Ducati Corse Umbrella Girls




Supermodel Adriana Lima gets all wet shooting the 2005 Pirelli Calendar at home in Brazil!
Supermodels get naked in Brazil!
The 2005 Pirelli Calendar
. Images for editorial review use use curtesy Pirelli
On November 18th 2004, at the Copacabana Fort in Rio de Janeiro, was the world premiere of the Pirelli 2005 Calendar, the most exclusive world event for beauty lovers, fashion followers and photography connoisseurs.

Shot by world-renowned French photographer Patrick Demarchelier, the 2005 Pirelli Calendar chose the spectacular setting of Rio de Janeiro, the metropolis that, as Naomi Campbell says (appearing for the third time in the "The Cal") "reflects the Brazilian people's energetic and positive spirit"

Demarchelier has grasped and assimilated the spirit of Brazil: 'O espirito do Brazil' is in fact the title chosen for the backstage film and of Rio de Janeiro, a city dominated by strong contrasts, required a masterly use of light to express strong contrasts and obtain striking portraits, black and white only.


17 year old supermodels get loose in Rio de Jenerio for Pirelli.
The result is a truly unique version of the Pirelli Calendar, made up for the first time of 22 pages. The Calendar closes with a lively collage of shots "stolen" by the great photographer in a famous Rio discotheque, during the party that concluded the shooting.
The black and white photographs investigate the most mysterious aspects of the models seeking out the invisible source of their allure: alongside the already mentioned Naomi Campbell (Victoria's Secret, America's Next Top Model) are Filippa Hamilton and Isabeli Fontana (already chosen by Bruce Weber for the 2003 edition), Adriana Lima (the current featured model for Victoria's Secret and Maybeline cosmetics), Diana Dondoe, Erin Wasson, Euguenia Volodina, Julia Stegner, Liliane Ferrarezi, Marija Vujovic, Michelle Buswell, "Valentina" and Valeria Bohm.
A truly an international cast with three Brazilians, two Americans, one Russian, one Montenegrin, one Romanian, one Swede and one German, ranging in age from a just turned 17 to the legerndary naomi Campbell in her mid 30's. For the inside story on the very sexy, and very nude calendar go to Pirelli 2005.
---
SBK World Superbike Winter Tests –Valencia, Spain

Former Champ Quickest Despite Fall, Calendar Supermodels stuck in Rio
Corser on Suzuki Fastest at Pirelli SBK Winter Team Tests
Valencia, ES, 16-18 Nov, 2004: After three days of glorious winter sunshine at the official Pirelli tests at Valencia in Spain, Troy Corser (Alstare Suzuki Corona Extra), proved to be the fastest rider overall, taking his 2003-spec Suzuki to a time of 1'36.0s. He experienced a fall on his final outing on the big Suzuki, when an inconsistent throttle response saw him lose the front on the entrance to the first uphill, infield left-hand corner. Uninjured, he nonetheless retired from track action, as most of the field continued to set fast laps for the final two hours, only being forced to quit by dazzle from the low sun and rapidly dropping temperatures.
TROY CORSER HAPPY about his three days tests on Ianuzzo' GSX-R 1000 bike 2003. ( the winning bike of the AMA SBK and British SBK 2004 )

Although Troy tried his best, he was unable to get into the 1:35 second bracket in the third and final day of testing at Valencia today. The team had decided to run until 1530 today, but Troy's second crash called a halt to their plans fifteen minutes or so before time. Troy was desperately close to his target and ended with a lap of 1:36.00 - the fastest time of the day and the tests. Troy's pair of crashes were slow speed tip-offs and he was unhurt both times. In the morning, he slid off in the middle of the second turn and in the afternoon he fell in the left-hander going on to the back straight.

Troy:"I am very happy with this first test, because I feel that we have all gelled together really well and already I feel we are a team.

We spent a lot of time today testing tyres and working on the engine's mapping to try and cure a bit of an over-run in the turns. We tries some different ideas, but I guess we didn't fix it, because I crashed twice! Both were low speed affairs and I wasn't injured at all, but it gave the mechanics some work to do!

Considering this is my first time on a four cylinder bike since '97, the tests have gone really well because already I feel part of the bike. Now I'm looking forward to the next test and staying ahead of the opposition.



Troy bested Team Ducati Corse riders at the Valencia test who were on their new 999F 2005 spec bikes. While Troy was on the old spec 2004 Suzuki GSXR1000. All the Suzuki teams including Alstare Suzuki will be switching to the all new and even fsster 2005 model GSXR1000. It's looking like 2005 will be another a great season of SBK racing. More

Overall fastest times (3-day)
1 Troy Corser (Aus-Alstare Suzuki Corona Extra) 1:36.00
2 Laconi (F-Ducati) 1:36.10;
3 Toseland (GB-Ducati) 1:36.9
4 Muggeridge (Aus-Honda) 1:37.2;
5 Gimbert (F-Yamaha) 1:37.2;
6 Lanzi (I-Ducati) 1:37.3;
7 Martin (Aus-Petronas) 1:37.3
8 Pitt (Aus-Yamaha) 1:37.5;
9 Walker (GB-Kawasaki) 1:39.00
10 Sanchini (I-Kawasaki) 1:39.30;
11 McCoy (Aus-Petronas) 1:39.60
Ducati Corse Team Tests Revised 2005 Bike
Ducati Fila rider and 2004 World Champion James Toseland suffered the pain of his recently dislocated thumb for two and a half days, cutting short his participation in the final session to allow him time to get back for an important meeting in London with Ducati Motor Holdings president and CEO Federico Minoli. Regis Laconi, Toseland's team-mate in 2004, as he will be again in 2005, shared the testing duties on the sole 2005 spec 999F05, the rest of the pairing's time being spent working on their existing 2004 machines. The primary difference in the 2005 model is the new electronic components, including a Marelli EFI engine management system, together with new Öhlins front forks, and the retention of the electric starter, as fitted on the original streetbike.
Toseland, who was lapping in some difficulty due to a dislocated right thumb following a recent accident on an enduro bike, was third quickest behind pace-setter Troy Corser (Suzuki) and Laconi. "It feels good to be back on the bike again," declared Toseland, "and Valencia is a good place to go testing. I cracked a bone in my right thumb last week so I've been in a bit of discomfort these days, but these things happen and it won't be an issue in the future. Even though I only had one full day on the 2005-spec bike, the changes make it feel quite different. The front forks are one of the biggest improvements and the electronics are also a step in the right direction so now I'm looking forward to a full test at Jerez."
After getting to within one-tenth of a second of Corser's best time this afternoon, Laconi also expressed his satisfaction with the progress that had been made by Ducati during the tests. "I gave my best these three days and we really did a lot of work," commented Regis. "We're already faster with this bike than the 2004 version and everybody is working hard to make it even faster. With the new Öhlins front forks the feeling is already very good, and Pirelli brought along a new front tyre for everyone, which was a big help as it was exactly what I wanted. I wasn't surprised to see Corser up at the front but I wanted to get as close as possible to him by the end of the tests."
Ducati Corse's next World Superbike testing session will be at Jerez de la Frontera, Spain on December 16-17.
Injuries Slow Ten Kate Honda
Ten Kate Honda, down to one man after the withdrawal of Chris Vermeulen on day one, due to the power-sapping effects of recent wrist surgery, saw Karl Muggeridge complete his three-day stint on the CBR1000RR. A new inductee into World Superbike, after winning the World Supersport crown in 2004, Muggeridge himself suffered a huge crash on the second day, but soldiered on despite right wrist ligament damage, securing his quickest time of 1:37.2 on the final day.

For Members Only - a full size 1224 Screensaver of the new 2005 Yamaha R1 Superbike in Paddock Garage!
Yamaha R1 Meets Andrew Pitt and Its 2005 Peers
The Yamaha Motor Italia world superbike team completed three days and 865km of testing at the Valencia circuit with Australian rider Andrew Pitt declaring himself satisfied with the YZF-R1's debut outing. Pitt was another rideer flying solo for the time being, and was testing a hastily assembled R1 racebike with Nissin brakes for a period, and getting used to his new for 2005 machine.
The 2001 Supersport champion made improvements every day. Pitt completed a total of 215 laps on the YZF-R1 in the team's shakedown test ahead of next season's Superbike World Championship campaign. Despite running a hybrid machine with many stock parts, the team recorded competitive lap times and gained a great deal of data as they prepare to return to Italy for further development work.
For Pitt the test was a chance to familiarize himself with the R1 and the Pirelli tyres used in the championship. His best lap of the test was a 1'36.9, which compared favourably to the fastest time of the test – a 1'36.0 recorded by Suzuki's Troy Corser.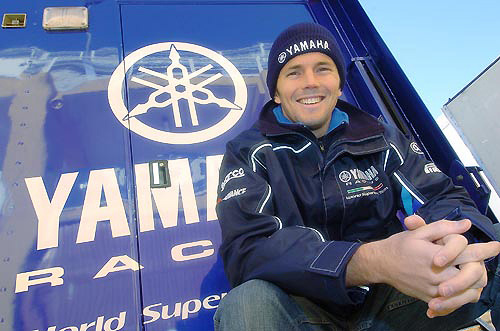 Andrew Pitt - "This has been a really productive test and a good first outing. We've barely stopped over the last three days but the team is very motivated and very professional. I'm feeling good because we've been able to get through so much work. Considering the bike is only in its early stages of development, it shows great potential and today we were able to drop from a best lap of 1'38.5 on Wednesday to a 1'36.9."
The Yamaha Motor France team, testing race kit parts for the 2005 Yamaha customers, saw Sebastien Gimbert post a pleasing 1:37.2.
Kawasaki Keen To Continue
Chris Walker and Mauro Sanchini (Kawasaki PSG-1) tested Bitubo suspension on theirall new for 2005 Corona Suzuki GSXR1000 machines at one stage, with Walker returning to Öhlins units on the final day. He set a personal best of 1:39.0 with Sanchini in the 1:39.3 range.
Three Day Labour for Petronas
New 2005 signings Garry McCoy and Steve Martin worked hard to get used to their new and unique Petronas FP-1 machines, with McCoy crashing on both day one and day three. His latest tumble left him with a suspected broken ankle, but as yet tests have been inconclusive. Martin's usual measured approach delivered him a best time of 1:37.3, McCoy's lack of laps limiting him to a 1:39.6.
Caracchi Duo Prove to be Dynamic
Lorenzo Lanzi had a satisfying three days on the Scuderia Ducati 2004 spec 999RS setting a best of 1:37.3, while new WSS signing Gianluca Nannelli secured a 1:39.9 on the 749R.
Supersport Speed
Other teams in attendance included the new Ten Kate Supersport pairing of Sebastien Charpentier and Katsuaki Fujiwara, who went close to the best ever times at Valencia, despite a track which appeared to get more slippery as the day went on. Each rider set a fastest lap of 1:38.0.
Notes from Pirelli, SBK Championship SpecTire Supplier
The Pirelli Winter Test, carried out in Valencia from the 16th up to the 18th November, has finished this evening. The developing work made on the basis of the 2004 Championship experience has leaded to new solutions which have well performed during these test days and which have met a positive feed back from the Teams.
Giorgio Barbier (Pirelli Racing Manager):"In Superbike, the work on the new solutions has brought to the convergence of several Teams to specifics recently developed with innovative structural concepts.
It is interesting to highlight the Suzuki debut: Troy Corser has registered in each of the three testing days the best results. It has shown how easily the bike, for the first time with Pirelli, has adapted itself to the tyres. Concerning the Ducati 2004 version, the riders have found important improvements, mostly on the front tyres.
The most part of the other bikes, 2005 prototypes, was at their first laps on the track or, for instance talking about Petronas, there has been a riders' exchange. Therefore the Teams have preferred to concentrate more in getting the first feedback related to bikes set up"."We're satisfied of the results achieved In Supersport with the new Ten Kate Honda pilots, Fujiwara and Charpentier. In general the riders have experienced a good feeling and got improving result using the new material, thanks to the innovations in terms of compounds"Given the evident confluence on some new solutions, the next develop step is to try this material during the incoming month: on different racetrack, with different Teams and in different testing and temperature conditions.
Genre(s): Sports, Idol Worship,
Future Supermodel

Chicks That Kick Ass
Maria Sharapova

Supergirl of Tennis
We were on hand at the WTA World Championship Final to see beautiful 17-year old 6-foot tall sensation Maria Sharapova collect a $1 Million Dollar check and a brand new Porche SUV for her win over Serena Willams in the tournament finale.

Maria follows in the footsteps of previous women's tennis superstars Martina Hingis and Anna Kourkonova in returning a beautiful woman to the fore front in world sports. And she has done them one better by proving her ability as a top athlete by winning the 2 most prestegious events of the 2004 season, the WTA Final, and Wimbledon earlier this year.

This year with her tournamet wins and placing, along with product endorsements for major companies incluiding Nike and Motorola, Maria has probably earned somewhere between 5 and 10 million dollars. Equivalent to the top men of motorsports, inlcluding Valentino Rossi in MotoGP.
More SHARAPOVA
Mamba Mia! World Superbike girl and FastDates.com Calendar Angel "Rockin' Robin" Cunningham gets down on her knees (sliders that is) to give us a blow by blow impression of the hot new Italian Superbike and leaves us beggin' for more! Sneak
preview
More Robin
---
New 2005 Ducari Multastrada 1000S
When it came time to battle Friday afternoon rush hour traffic in Los Angles to make it downtown to Staples Center to see beautiful Maria Sharapova (above) kick ass at the WTA Season Finale, our Ducati Multastrada was our weapon of choice. Whether its heavy traffic, around town errands, our kicking ass on 1000cc Superbikes in the Santa Monica Mountains, the Multastrada has no all-around equal.

We gave you another exclusive FastDates.com World Premier (at left) back in May from World Ducati We ek 2004 of the new 2005 Multastrada 1000S model (below) which comes upgraded with Ohlins suspension. Does it need it? Not really. But then, why not make our favorite bike even better!
Ducati 2004 World Championship Winner
Commerative 999R FILA Edition
November 15th:
Ducati is celebrating their win of the 2004 World Superbike Championship with the release of this special edition 999R painted in Team Ducati Corse FILA livery. The bike is an interisting mix of the now discontinued 2004 season 999R limited production model on which the winning 999F04 factory superbikes were based, using the short stroke 144hp 999R04 engine, and the old style vented front fairing to retain the Champiuonship bikes' look. But it also gets the new the new 999R05 chassis with the new style sheet aluminum swingarm and Ohlins suspension, including the radial front brakes and forged lightweight marchessini wheels. The mainfront fairing assembly is also the R spec fiberglass
Suggest retail price for the 999R FILA edition is $24,995 which is a great price in Ducati's world, considering the previous edition 999R03 cost $32,000, although it did come with a $3,200 Termignoni race pike and match CPU module. While the new 999R05 with the updrated new 150hp engine sells for $29.995 without a race pipe. And the new 999S05 with 140hp does come with a slip-on race silencer and CPU for $23.995. See your Ducati dealer now for a piece of WSB history. Ducati 999R04 FILA Screensaver


New 2005 Fast Dates
Garage Girls, Iron & Lace
Below: Superbike girl Nicki Lane goes Hog Wild in Iron & Lace!
Nicki, Valerie, Jamie?
Win A Free Calendar
Contest for November!
The first reader who can tell us the name of which Calendar Angel has been featured on more FastDates.com Calendar covers than any other model, gets a free 2005 calendar of your choise. HINT. Email your entry, with yur name, address and calendar selection to Web@FastDates.com

---

-

Massimo Meregalli (Yamaha Motor Italia team coordinator)
"Everything has gone surprisingly well today. We started at 10 o'clock this morning because always on the first day you expect little things to be not working properly, but we had no problems at all. We expected to come here with a new bike and start very slowly, but actually our speed has been ok, although the point of this test is to work on making Andrew comfortable on the bike and to gain as much data as possible to help us with our development work. This bike is nothing like the one we expect to use next season. Most of the engine parts we are using are 2004 Yamaha kit parts and a lot of the parts are still standard, like the pistons and swingarm, which is only slightly modified version of the stock one."

DUCATI MOTOGP TEAM TO RACE WITH BRIDGESTONE
The Ducati MotoGP Team has agreed with Bridgestone, one of the world's largest tyre-producing companies, to take part in the 2005 MotoGP World Championship.
The excellent results obtained by the Japanese tyre manufacturer in just three years of participation in MotoGP, culminating in two race wins during the 2004 championship, and the opportunity to differentiate from Ducati's chief rivals in such an fundamental component as tyre supply were the underlying reasons behind this choice.

"We are very satisfied to have reached an agreement with Bridgestone," declared Claudio Domenicali , Ducati Corse CEO. "Like us, the Japanese company has been present in MotoGP for not many seasons, but it has already proved that it is capable of producing successful tyres, while simultaneously demonstrating a notable capacity for development. For our part, we ended the 2004 season on an upward trend and we are convinced that the collaboration with Bridgestone will represent a further step forward in our attempt to gain a competitive advantage in a championship that is becoming increasingly demanding and exciting."

The Ducati MotoGP Team will appear with Bridgestone in the next tests at Jerez de la Frontera, Spain, from 23-25 November, and will continue development work with the new tyres the following week, November 29-30, at Valencia.
"I would like to offer my sincerest gratitude to Michelin, and in particular Pierre Dupasquier and Nicolas Goubert, for the support they have given us in many years of collaboration," concluded Domenicali.

"Together with Michelin, we won 8 World Superbike Riders' titles and made our debut in MotoGP last year, winning our first race and finishing on the podium ten times. The relationship has been excellent both on a technical and personal level. A big thanks also for allowing us to start to work with our new partner from the next test onwards. This is a truly sporting gesture that is much appreciated and it shows that the rapport between our two companies continues to be excellent."

British Champs
Monster Mob Closes
4 Year Winning Relationship With Ducati
MonsterMob Ducati team owner Paul Bird wishes to announce that his highly successful four-year partnership with Ducati Corse will come to an end with the Cumbrian-based team's participation in the 38th running of the Macau Motorcycle Grand Prix race on November 20th.
MonsterMob will enter two Ducati 999 superbikes in the classic Far East race for riders John McGuinness and Stuart Easton , after which the team will take another direction for the 2005 season.
Paul Bird Motorsport has had a truly successful relationship with the Italian manufacturer over the last four years, during which time it consolidated its position as Ducati's satellite team in the competitive British Superbike championship, which it won twice in successive years. It also won a total of 34 BSB races, in addition to two World Superbike races at Brands Hatch in 2003.
After the late Steve Hislop's title success (together with Stuart Easton taking the British Supersport crown) in 2002, followed by Shane 'Shakey' Byrne lifting the crown again in 2003 before moving onto MotoGP, the MonsterMob Ducati squad finished fifth overall in this year's British Superbike championship with the experienced Sean Emmett aboard the factory-supported Ducati 999RS04, winning two races and finishing on the podium a further six times.
"It was an extremely difficult decision to take to leave Ducati," declared Paul Bird , "and it really left a lump in my throat when I thought of what we have accomplished over the last four years. However we realised that the time had come to do something different. Quite simply we needed a new challenge for 2005, when we aim to extend our team to run three Superbikes in BSB and that is going to be one really big task."
He continued, "I would like to thank Ducati Corse, and in particular Paolo Ciabatti, for everything they have done for us since the start of our relationship, because without their contribution none of this success would have been possible and a big thanks also to Ducati UK, who have given us their help and support over the past four years."
Paolo Ciabatti , Ducati Corse Superbike Program Director, added: "We are really sorry that our collaboration with Paul Bird Motorsport has come to an end. In winning two BSB titles with Steve Hislop and Shane Byrne, they have given us a lot of success in the UK and proved to be a very capable and professional team. But above all we would like to thank them for bringing honour and credit to Ducati in BSB over the past four years. We wish Paul, Phil, Stuart and everybody in the team all the best for the future."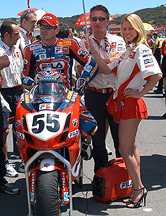 Robin grids Regis Laconi.
Robin Cunningham was our offical SBK World Superbike Fast Dates calendar Angel and Team Ducati Corse umbrella girl for World Championship points leader Regis Laconi at Laguna Seca. All the the sexy details are in Fast Dates News.
2005 AMA Superbike Championship Schedule Announced
Laguna Seca AMA Superbikes combined with MotoGP Weekend
PICKERINGTON, Ohio (Oct. 22, 2004) -- AMA Pro Racing has released its schedule for the 2005 AMA Superbike Championship. Highlights include a round at Mazda Raceway Laguna Seca in conjunction with the MotoGP World Championship event and the debut of a new track configuration for the Daytona 200.
"2005 is going to be an exciting year for fans of AMA road racing," said Scott Hollingsworth, AMA Pro Racing CEO. "We're looking forward to showcasing AMA Superbikes alongside the exotic MotoGP bikes at Mazda Raceway Laguna Seca as well as returning to all the other great tracks that make up our championship. Plus, with five different riders, on three brands of motorcycles winning AMA Superbike races in 2004, the stage is set to see another closely contested series next year."
The 2005 AMA Superbike Championship Schedule:
Date Location
March 10-12 Daytona International Speedway, Daytona Beach, Fla.
April 22-24 Barber Motorsports Park, Birmingham, Ala. (Superbike Doubleheader)
April 29-May 1 California Speedway, Fontana, Calif. (Superbike Doubleheader)
May 13-15 Infineon Raceway, Sonoma, Calif. (Superbike Doubleheader)
May 21-22 Pikes Peak International Raceway, Fountain, Colo.
June 3-5 Road America, Elkhart Lake, Wisc. (Superbike Doubleheader)
June 25-26 Brainerd International Raceway, Brainerd, Minn.*
July 8-10 Mazda Raceway Laguna Seca, Monterey, Calif. (Superbike Doubleheader)
July 22-24 Mid-Ohio Sports Car Course, Lexington, Ohio (Superbike Doubleheader)
Sept. 2-4 Road Atlanta, Braselton, Ga. (Superbike Doubleheader)
Sept. 17-18 Virginia International Raceway, Alton, Va.*
* Tentative. To be confirmed.

Calendar Girl Jamie Pressly gets Torqued off.
Kerry Bryant Leaves Jardine
to Open His Own
Exhaust Design Company
Nov 1st - A legend in the motorcycle exhaust industry, Kerry Bryant has left Jardine / Doug Thorley Headers after a 3 year position there as Vice President of Marketing / Sales / Engineering Director, to open his own Exhausr system design and production company called Area No Limits with his wife Jennu and sons Kenny and Kelly.
"After 25 years of helping bring success to companies like SuperTrapp/Kerker, White Brothers, and Jardine, it's time for me to move on to my own venture, with my family. Many of you know that I am very close to my wife Jenny (who many you have worked with), and sons Kenny (24) and Kelly (19).
We've opened a facility called "AREA P". Obviously most of you know what I've specialized in through-out my career. Area P continues and expands upon that specialty. You can reach us at areapnolimits@sbcglobal.net
Or visit the website we recently began creating/building at www.areapnolimits.com for more info.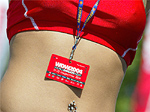 Complete Event Coverage Here.
Plus join us for an exclusive visit to the Ducati Corse Race Shop!