FastDates.com January 2005
Superbike, MotoGP Racing & Calendar Girl News
Official Calendar of the SBK World Superbike Championship
Home of the official SBK Fast Dates & Team Ducati Corse Umbrella Girls

World Superbike Girl Chandi Mason is back to heat things up in the 2005 Fast Dates Calendar & Members Corner!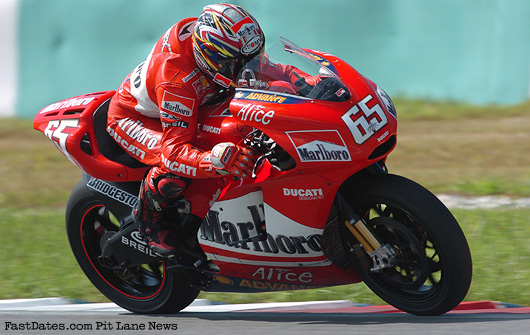 Loris in action on the new GP5 Desmosedici at Sepang.
MotoGP Official Tests, Sepang Malayasia, January 23-25th

DESMOSEDICI GP5 DEBUT ENDS SEPANG MOTO GP TESTING WITH RECORD TIME
From the snows of Madonna di Campiglio to the sweltering heat of Malaysia, Loris Capirossi sets Record Times for the Ducati Desmosedici as the 2005 MotoGP Season Fires Up at Sepang
Sepang (Malaysia) 25 January 2005: Team Ducati's Loris Capirossi sets quickest time at 2m00.54s during the official MotoGP team three-day tests at the Sepang track in Malaysia, the Italian devistating the Malaysian circuit's official pole record by 1.3 seconds. Capirossi set the unofficial fastest time each day of the tests for three consecutive days. His unofficial fastest time for the third consecutive day was followed by Honda rider and last year's championship runner-up Sete Gibernau with a time of 2'01.21.
The Ducati Marlboro Team ended the three-day test session at the Malaysian circuit with smiles all around from the results of the development work on the new Desmosedici GP5. The team leave Sepang with the knowledge that they are heading in the right direction, even though there is still a lot of work to be done in view of the difficult championship that lies ahead. The only regret was the forced absence of Carlos Checa, who had to remain in bed all day with a high temperature and a massive headache.
| | |
| --- | --- |
| "These were three positive days, especially because we were able to get down to some real testing" declared Loris Capirossi. "We worked methodically on the suspension settings and tyres and managed to find the right balance. I'm very satisfied with the latest technical innovations: the chassis, the swing-arm and the ECU have all made improvements to the Desmosedici. Bridgestone tyre development is continuing non-stop and in the next test session at Sepang we will be concentrating on the rear tyre to further improve duration over a race distance, which is already quite good. | |
In any case, irrespective of the times we set, we have to continue along this path without getting all carried away. But I have to admit that it's great to be competitive!"
Team maye carlos Checa had to stay back at the hotel with a head cold on the final day of testing, "I had intended to get back out on the track again, but my headache was still giving me problems and sadly I had to stay in the hotel.""Loris did a great job and I can't wait to return to Sepang in a couple of weeks to finally get a chance to ride my Ducati."
"This was a positive test", declared Livio Suppo, MotoGP project manager. "The GP5 seems to have started off well and the Bridgestone tyres have already proved themselves to be at an excellent level both in race and qualifying set-up. It was a real pleasure to see a smile back on Loris's face again and watch him ride in the way only he knows how! It was a pity about Carlos, but I am sure that he will be OK for the next tests and will return to Sepang with even more determination. A big thanks to all of our partners, and in particular to Shell Advance, who are allowing us to obtain these results".
Loris Capirossi 2m00.54s
YAMAHA MEN COMPLETE SUCCESSFUL SEPANG TEST
The Gauloises Yamaha Team rounded off the final day with another set of good lap-times from factory team riders Valentino Rossi and Colin Edwards. The two team-mates and their crews were satisfied with the work completed over the three days and will now head home for a short rest beforethey also return to Sepang in just over two weeks to continue the busy winter testing schedule.
World Champion Rossi and Yamaha new-recruit Edwards both completed long runs on their 2005-specification YZR-M1s this afternoon and also spent time testing different tyres for Michelin. Rossi completed 45 laps and improved from yesterday with the third fastest lap of the day in a time of 2'01.36. He was followed by Honda team-mates Nicky Hayden (2'01.68) and Max Biaggi (2'01.91) with Edwards sixth fastest after 43 laps and a best time of 2'01.93.
Valentino Rossi, (2'01.36, 45 laps)
"I am very happy with this test, especially today. It's been a very important test with the new bike, and we've done some good work. We did quite a few laps together today and the bike felt really good, as did the tyres. We've improved from the race last year and from the last test in November, which is encouraging. We still have a lot of things to test with the new bike and a lot of work to do, but we are looking forward to another good test next month."
Colin Edwards (2'01'93, 43 laps)
"Today was good. I did a long run of laps in the hottest part of the day, and the wind had changed so all the brake markers were different! It took me a couple of laps to readjust and I made a few mistakes, but once I got settled I kept a good pace and it all felt okay. I'm leaving here on a positive note and I'm pleased with what we've achieved. I can't wait to come back and hopefully carry on the good work!"
The three-day MotoGP test ended on a high note for HRC and the Honda RC211V riders. HRC staff engineers achieved all he objectives set for the test asthey prepare to build the 205 versions of he V5 990cc grand prix machine. "The data we have gathered from this test will be used to finalise the2005 specifications of the RC211V." Said the content HRC Managing Director Satoru Horiike.
SETE GIBERNAU IS QUICKEST IN THE HONDA CAMP
The Repsol Honda team spent their day confirming all they had learned from the technical aspect of the test, and competing extensive Michelin tyre testing. Nicky Hayden put in a grueling 99-laps during the day testing a range of new tyres running both short stints and endurance tests.
Hayden's teammate, Italian Max Biaggi confirmed the variety of engine and chassis improvements HRC have made before concentrating on testing tyres. Biaggi was pleased with the results and is looking forward to returning to Sepang with the 2005 RC211V.
Sete Gibernau (Telefonica MoviStar Honda) finished testing all the new components HRC had brought to Sepang and left for home very satisfied with the test: 2m 01.325s- 61 laps: "We have done a good job evaluating the parts HRC brought here for us to test. HRC needed to evaluate the parts before building the 2005 RC211V. I was able to do many laps at 2m02s and a few inside 2m01s.this test also helped us understand why we had such a bad race at this track last year."
Teammate Marco Melandri ended the test in buoyant mood. The young Italian tested different geometry on his RCV with both 2004 Michelin tyres and the latest rubber from the French manufacturer. He finished the test happier with his performance at Sepang than ever before.
Camel Honda riders Alex Barros and Troy Bayliss worked in harmony during the morning with Barros sharing his vast experience of the Honda RC211V with his new to Honda teammate Bayliss. Despite incurring severe neck cramp early in the day Barros was satisfied with his test results. Bayliss ended the session a much happier man than he was on the first two days of the test. The Australian slashed 1.3s off his best time of yesterday and is now looking forward to returning to Sepang for the next HRC test in two weeks time.
Konica Minolta rider Makoto Tamada was the happiest of the RCV riders. The Japanese rider gets more comfortable on the machine fitted with Michelin tyres each time he takes the bike out onto the track.
Testing times - Day 3
Loris Capirossi (Ducati): 2'00.54
Sete Gibernau (Honda): 2'01.325
Valentino Rossi (Gauloises Yamaha Team): 2'01.36
Nicky Hayden (Honda): 2'01.68
Max Biaggi (Honda): 2'01.91
Alex Barros (Honda): 2'01.90
Colin Edwards (Gauloises Yamaha Team): 2'01.93
Marco Melandri (Honda): 2'02.10
Troy Bayliss (Honda): 2'02.69
Toni Elías (Fortuna Yamaha Tech3); 2'02.80
Makoto Tamada (Honda): 2'02.80
Rubén Xaus (Fortuna Yamaha Tech3): 2'04.00
Team Ducati's Desmosedici Kicks off
MotoGP 3-Day Sepang Tests with Record Times
Sepang, Jan 23rd: The MotoGP winter testing programme resumed at the 5.548km Sepang circuit in Malaysia with the majority of world championship teams taking part in three-day test. In the sweltering Malaysian heat (temperatures of up to 35°C but with bearable humidity levels of 38%), the factory teams from Honda, Yamaha, Ducati and Suzuki all began setting up their new 2005 bikes for the track.
Ducati Marlboro Team engineers were setting up the new Desmosedici GP5 machine for its first track appearance of 2005, while Loris Capirossi and Carlos Checa were able to get back into the swing of testing after the winter break. Loris and Carlos began the Desmosedici GP5 three-day test schedule, completing 46 and 39 laps respectively. At the end of the day Capirossi had notched up an extraordinary time of 2m02.18s while Checa, despite still suffering from the injury he picked up at Madonna di Campiglio, set an encouraging time of 2m03.57s.
"We spent the first part of the day checking on the reliability of the bike to get it ready for the rest of the test" declared Ducati Marlboro Team Technical Director Corrado Cecchinelli. "This was the first chance for us to see that the new design philosophy behind the Desmosedici GP5, 'evolution not revolution', works. The fact that an electrical component for example, can be interchanged with another meant that today we could temporarily go back to something we had used before. This enabled us to finish the day without any problems and allow Loris to set an excellent time."
"It felt great to get back on the bike again after more than a month's inactivity" declared Loris Capirossi. "At the end of this first day of testing I'm really satisfied and convinced that we are going in the right direction with the GP5. In addition I have to admit that the Bridgestone tyres have also given me positive indications here at Sepang, especially the front tyre. At the end of the day I even set a great time, but we have to keep our feet firmly on the ground and continue to work with passion and enthusiasm."
"I couldn't wait to get back on the track again", declared Carlos Checa, "but I was still in a bit of difficulty after the banal incident at Madonna di Campiglio. Yesterday the circuit doctor removed the stitches in my left hand, but unfortunately the wound has not completely healed. I was able to lap anyway with help from the special glove brought here by Alpinestars and I could see that we were working well."
Loris Capirossi 2m02.18s
Carlos Checa 2m03.57s
Rossi and the Gauloises Yamaha Team Start with a Busy Schedule at Sepang
Reigning World Champion Valentino Rossi and his new Yamaha team-mate Colin Edwards began their 2005 MotoGP campaign today with day one of a three-day test in Sepang, Malaysia. The two riders climbed on board their new 2005 specification YZR-M1s this morning for the first time this year, having enjoyed a seven-week winter holiday since the last test in November.
Sharing the track with the Fortuna Yamaha Team as well as teams from Honda, Ducati, Kawasaki and Suzuki, the Gauloises Yamaha Team quickly got back into the swing of things and spent the day working on setting-up the new bikes. Rossi completed a total of 47 laps and recorded a fastest time of 2'02.30, the second quickest lap of the day behind Ducati man Loris Capirossi (2'02.18). His Texan team-mate Edwards, who has already tested twice with the team despite not becoming an official Yamaha rider until 1st January this year, completed 55 laps with a best time of 2'03.08, fifth fastest overall of the 17 MotoGP riders testing in Sepang.
Valentino Rossi, (2'02.30) "Today was not too bad, for the first day back! We spent the day working on settings, and for sure we know that this new bike is a good bike. There is some improvement to the engine and now the aim is to make some more changes and to try to get the same feeling as we had with last year's bike, so I can ride it in the same way. This bike is almost completely new, plus I haven't ridden for two months, so there is a lot of work to do and we will continue tomorrow."
Colin Edwards (2'03.08) "I'm pretty happy after this first day and it's awesome to be back. We spent all day changing settings and just working on various small things to try to improve the set-up. The Japanese need quite a lot of information to build their database, so we spent some time doing things for them, too. We didn't test any tyres, as we wanted to just concentrate on set-up, but tomorrow we might spend some more time with different Michelin tyres. We've got a new engine, a new chassis and there's a lot to work on; some areas have improved for me and some haven't, but we just need to find the balance and we'll be okay."
Davide Brivio, Gauloises Yamaha Team Director, "In November we tested a prototype bike and we've come here today with the final 2005 machine. The work we did today was just normal work to fine-tune the settings. We've got 18 full days of testing planned before the start of the season, so we have plenty of time to work on all the issues and hopefully find a good solution for any difficulties. Today we have only just started.
Honda MotoGP Riders Back in Action at Sepang
Seven Honda riders, racing for four different teams took the opportunity to test the latest developments made to the five-cylinder 990cc RC211V. For both the established Honda riders and the new to Honda for the 2005 season, Troy Bayliss (Camel Honda) and Marco Melandri the morning session was spent finding the best machine settings for fast circuit before getting down to serious work after lunch.
First Honda riders to take to the track Repsol Honda teammates Max Biaggi and Nicky Hayden, the two riders working under the supervision of legendary American race engineer Erv Kanemoto. For Biaggi the day began cautiously as the Italian has still not regained 100% movement in the right ankle he broke in a Supermotard accident in November. However, as the dare wore on Biaggi began to lower his lap time as he found his rhythm, eventually circulating just under the existing lap record.
Max concentrated his efforts on testing engine-braking systems and clutch parts while team- mate Hayden worked on refining suspension linkages and the steering of his RCV. The young American worked hard all day putting in an amazing 90 laps of the sun drenched circuit where temperatures rose to 35' with a track top temperature of 50'.
Fastest Honda rider on the track was Brazilian Alex Barros who returns to the Camel Honda team from the Repsol Honda squad. Barros quickly assessed the changes made to the RCV the changes made to the RCV since the last test session, in November then put in a series of fast laps to end the session with a time of 2m 02.71s.
New boy to the Camel Honda team Troy Bayliss understandably took time to adjust to the Honda at Sepang but towards the end of the day the Australia former World Superbike Champion was lapping two seconds off lap record time.
Japanese star Makoto Tamada paraded his new Konica Minolta Honda. Tamada in now in his third year of GP racing his first with Michelin tyres. The ever-smiling Tamada has to rethink machine set up at each circuit having spent his career riding on Bridgestone rubber. Despite a slow crash Tamada was very happy with his days work.
Telefonica MoviStar teamsters Sete Gibernau, second in the 2004 MotoGP Championship, and Marco Melandri had very different experiences on the opening day. Melandri continued his adaptation to the characteristics of the RCV setting respectable lap times in the afternoon session. In contrast Gibernau suffered from a niggling electrical problem that held him back. The Spaniard managed just 37 laps over the day.

Quickest lap Times on Day One:
1. Loris Capirossi (Ducati) 2'02.18
2. Valentino Rossi (Yamaha) 2'02.30
3. Alex Barros (Honda) 2'02.71
4. Kenny Roberts (Suzuki) 2'03.00
5. Colin Edwards (Yamaha) 2'03.08
Capirossi Again Quickest on Day Two
Sepang, Jan 24th: Day Two was another day of testing at a hot and humid Sepang circuit, and another positive day of non-stop testing for Loris Capirossi, while Carlos Checa was unable to test the Desmosedici GP5 due to the condition of his injured hand. The Italian rider, who continued the development work on the new bike, completed 60 laps of the Sepang circuit in sweltering conditions (track temperature 56°).

"Today was another excellent day for Loris, confirming that the GP5 has already reached a good level, and so is Loris's confidence with the new Bridgestone tyres", declared Livio Suppo, Ducati MotoGP project manager. "Unfortunately Carlos wasn't feeling well this morning, he had a big headache and we preferred to let him rest for the whole day. It's nothing serious, just a severe bout of flu, probably due to his overall condition following his hand injury, which however is improving, and tomorrow we hope he will join Loris on the track".
"It's a real pleasure to be able to work in this way, a great satisfaction and an important boost", declared Loris Capirossi. "We got though a lot of work and tested several different set-ups, and were able to confirm that the chassis is performing well. We also made another step forward with the Bridgestone tyres, in particular with the front which is perfect. Now we have to concentrate on the rear tyre, in order to be competitive over race distance. Tomorrow will be another day of hard work but for the moment I'm really satisfied with everything: A big thanks to everyone in Ducati Corse, they've done an excellent job."
"I was a bit disappointed to see everyone else out on the track but today I was unable to test because I had a massive headache", declared Carlos Checa. "Hopefully tomorrow I'll be better and I can go out again. In any case, seeing Loris's superb performance makes me feel a lot better and it confirms that we are going to go a long way with the new GP5 project."
The Gauloises Yamaha Team completed a second day of testing at a hot and humid Sepang circuit, Testing their new 2005-specification YZR-M1s, both Rossi and Edwards improved on the times they set yesterday. It was hard work for the entire team, as temperatures reached a maximum of 40 degrees, but both riders finished the day satisfied with the job they had done and now look forward to tomorrow's final day of testing.
Rossi and Edwards continued refining settings on their M1s as well as testing a variety of Michelin tyres. Ducati rider Loris Capirossi was again the fastest man on the track for the second day running, setting a time of 2'01.99, whilst Rossi was second fastest once again, completing 55 laps with a best time of 2'02.16. He was followed by Alex Barros (Honda, 2'02.30), Max Biaggi (Honda, 2'02.35) - seemingly well recovered from a broken leg sustained in November - and Kenny Roberts (Suzuki, 2'02.38). Rossi's Yamaha team-mate Edwards completed 62 laps and was sixth fastest with a time of 2'02.48.
Fortuna Yamaha Tech3 riders Toni Elías and Rubén Xaus also continued their testing program at the Sepang circuit. Elías clocked a 2'03.2 after 51 laps, despite the injury to his right hand which he suffered yesterday. His Spanish team-mate Xaus set a best time of 2'03.40 after 62 laps, having crashed early in the session without injury.
---
Click for more Jenna and the other SI Swimsuit Models and to vote for your favorite!
Our FastDates.com Favorite!
Jenna Advances into Top 4 on Sports Illustrated Model Search
Jan 19th
- Our favorite Angel in the Sports Illustrated Swimsuit Model Search on NBC TV is 19 year old cutie Jenna from Dallas Texas. On the 3rd week of the Show, Jenna has made the 3rd cut into the top four girls, down from the 12 contestants that began. Her extreamely sexy 120 lbs. in a fantasticaly proportioned 5'9" package is a cross between the beautiful baby girl face of tennis star Anna Kournikova with the rockin' body of a Brooke Burns. Jenna must be what Texas hosiptality is all about.
Don't forget to watch the Show on NBC Wednesdays 8/7pm. And you can vote online now for your favorite model. Just click on Jenna's picture above and we will take you to heaven to visit the NBC website and vote for Jenna, or your other favorite girl now!
---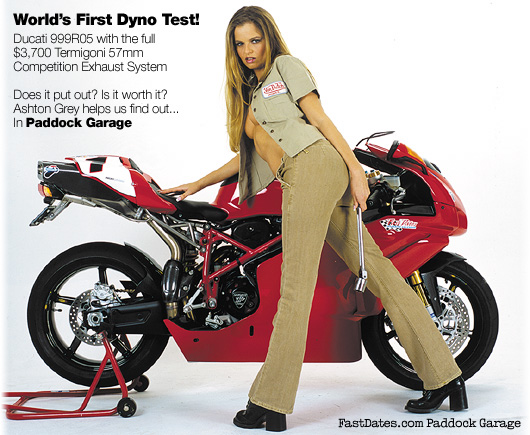 Another FastDates.com World exclusive!
First Dyno Test of the hot new Ducati 999R05 Superbike
with the $3,700.00 Termignoni Full Race Exhaust System
Is this now the world's fasterst, most powerful production Superbike? For all that money she cost, she better put out! We spend our hard earned bucks before you have to. Find out 4 months before the print rags kiss butt to score a free system from Ducati and then still won't tell you the truth if it doesn't put out.
We strap the 999R05 to the Evoluzione Cyclesport Factory Pro Tuning dyno a make it scream for more! Includes sexy screensavers of Penthouse centerfold Ashton Grey tightening the screws on Bologna's hottest number.
Now in FastDates.com Paddock Garage
---
Noriyuki Haga tests the factory Yamaha R1 Superbike at Phillip Island in his first ride back on a Yamaha Superbike since the ill-fated 2001 season when he almost clinched the Championship. Can he do it this time?
SBK World Superbike Championship, Phillip Island Winter Tests
Corser again quick on Suzuki GSXR1000 at Phillip Island
Phillip Island, Australia, Jan 20-22nd - The Alstare Corona Extra Suzuki team, comprising of 1996 World Champion Troy Corser and Japanese star Yukio Kagayama, gave the 2005 GSX-R1000 an excellent debut during a three-day test at Phillip Island. In the favourable weather conditions of an Australian summer Corser and Kagayama pushed to the limit at the awesome seaside circuit, Corser setting a best of 1' 34"2s; Kagayama 1' 34"8s. This combined pace, after just one test, compares favourably with the best lap time of the 2004 race weekend, set by Garry McCoy (Ducati), at 1' 34"514s.
Corser had a particularly eventful three days, as his GSX-R twice collided with seagulls, while Kagayama escaped a crash unscathed.
The 2005 season championship will feature high calibre World Superbike entries from six manufacturers, and even after one test Suzuki has already proved that it will play a part in what will be a particularly fascinating year of global competition.
At least ten riders will have a chance of winning in 2005, thanks to confirmed entries from closely matched teams and riders on Ducati, Honda, Kawasaki, Yamaha, Petronas and Suzuki equipment. The single make tyre rules, with all riders on equal Pirelli racing products, has already proved to be a great success in 2004 and is another factor which promises close and exciting racing.
Haga Debuts on the Yamaha R1 at Phillip Island Tests
Jan 23rd: Yamaha's 2005 Superbike and Supersport World Championship campaigns got into full swing at Phillip Island today, as the officially supported Yamaha Motor Italia and Yamaha Motor Germany teams completed the first day of their test at the picturesque Australian circuit.The test marked Noriyuki Haga's return to the manufacturer with whom he made his name in the mid-Nineties and the Japanese star completed shakedown laps aboard the Yamaha Motor Italia YZF-R1 which he will campaign in the superbike series.
Day one of the test was a familiarisation session for Haga, as he worked with his mechanics to find a comfortable seating position and a basic understanding of the YZF-R1. The Japanese ace suffered some minor fuelling problems but completed a total of 50 laps with a best time of 1'36.3.
While Haga acquainted himself with his new machine, team-mate Andrew Pitt concentrated on the fuel mapping on his YZF-R1. The Australian rider started the day on the bike with which he completed two tests at the Valencia circuit in Spain, but switched to a new machine with a slightly higher specification in the afternoon. In total Pitt ran 84 laps, with a best of 1'36.8.
Yamaha Motor Germany's Australian duo Kevin Curtain and Broc Parkes took to the circuit on the 2005-spec YZF-R6s they hope will take them to success in the Supersport World Championship. Both riders had ridden the machine at a wet test at Valencia in December, but today's outing was the first time the riders were able to fully evaluate the improvements made to the 2005 machine in dry conditions.
New signing Broc Parkes had an eventful morning, hampered by several brushes with the Phillip Island wildlife. On three occasions the Australian's machine was hit at high speed by seagulls, destroying the radiator, windscreen and instrument panel of his YZF-R6.
Curtain meanwhile had no such problems and was able to evaluate a number of new parts for his Yamaha. The experienced Aussie has a huge knowledge of the R6, having campaigned the previous model in 2003 and 2004, and was able spend the whole day working on suspension settings.
The teams will remain at Phillip Island on Monday and Tuesday, when weather conditions are forecast to be even warmer than today's 25-degree temperatures. Tomorrow Haga is due to work on the evaluation of new Pirelli tyres, while Pitt will focus on development parts for the R1. Parkes and Curtain will continue to focus on front suspension and tyre longevity.
Noriyuki Haga (Yamaha Motor Italia World Superbike Team YZF-R1)
"Today we concentrated on making the bike how I like it. At the start of the day I found the rear end was too high, so we have been making changes to make the bike lower and more comfortable for me. We still have a few small changes to make tomorrow but otherwise my first impression is good. This is only my first test on the bike so we are still a little bit behind where we would like to be, but I love a challenge!"
Andrew Pitt (Yamaha Motor Italia World Superbike Team YZF-R1)
"We've had a few little problems with the mapping, the injection and the balance today, but we have found a direction in which to go in tomorrow. At the end of the day, that's what testing's all about - finding problems and solving them - so it's not a problem."
Massimo Meregalli (Team Coordinator - Yamaha Motor Italia World Superbike Team)
"I was waiting for this day for some time and in the end it was very exciting. Ideally it would have been best to have had this test one or two months ago but it has not been possible. The whole team has really enjoyed working with Nori. Having him in the team adds some pressure for us, but this makes it very exciting."
Below: Yamaha World Superbike team mates Andrew Pitt (right) and Noriyuki Haga (left).

Jan 25th: Yamaha's officially supported Superbike and Supersport World Championship teams completed their three-day test at the Phillip Island circuit in Australia today, with good weather conditions combining with two days of development work to allow the riders to push their machines to the limit and chase ultimate lap times.
Yamaha Motor Italia's superbike riders Noriyuki Haga and Andrew Pitt spent the day fine tuning their YZF-R1. Both saw their times drop from the previous two days testing, but more importantly both were able to complete their scheduled programmes of parts evaluation that will be used to build the final specification machines in time for next month's opening race in Qatar.
Scorching air temperatures of around 30 degrees and a track temperature in excess of 50 caused the tyre technicians some problems during the day, but with the riders dialed into their machines after two previous days' testing lap times were still able to drop for Haga and Pitt.
Pitt ended the test as the fastest of Yamaha Motor Italia's superbike riders, setting an ultimate best lap time of 1'33.9. More significantly he was able to lap consistently in the 1'35 bracket despite the extreme weather conditions.
Andrew Pitt (Yamaha Motor Italia World Superbike Team YZF-R1)
"From the first day to the last we've made a lot of progress here at Phillip Island. Based on how well we went in Valencia, I think that we came here believing that we were a little bit further ahead than we actually were, although in the end everything has worked out fine. Sure we can go a little bit faster through improvements to the front end but even in these hot conditions I was able to consistently keep it in the low 35s on a race tyre."
Haga left the test a little slower than his colleague, but had a greater understanding of the YZF-R1 after his first three days on the bike. Haga's best time of the test, also set today, was a 1'35.0. The Yamaha Motor Italia team is now heading back to Europe with a huge database of information about their new machines. Within the next few days they will decide whether to spend the three weeks leading up to the official pre-season tests in Qatar developing the machines at their Milan headquarters or to carry out further track testing at the Valencia circuit in Spain.
Noriyuki Haga (Yamaha Motor Italia World Superbike Team YZF-R1)
"Again we learned more about the bike today. The 1000cc four-cylinder is very fast of course, but we have also just started working with the bike so there is a lot of learning to do. For sure this is the challenge for us. The bike has a lot of potential but we must still make some small changes to get it just right. We need more testing and development before we are able to win, but I am sure we can do it!"
---
Pit Gear
How to really go
Faster
without falling off...

Faster
The best feature documentary movie about motorcycle racing.




Great Tool Sets
Even Greater low prices!

The Beu Sisters
Our Calendar Bike Show Group

This spectactular shot of the new Desmosedici GP05 on top of the Dolemites is available as a giant 1224 Sreeensaver in the Paddock Garage Works Bikes Gallery.
High Altitude Start for Ducati Desmosedici 2005 MotoGP Season
Wrooom 2005, Madonna di Campiglio (Italy), 20 January - Ducati's MotoGP season got off to a flying start today on the Grostè glacier (at an altitude of 2470 metres) as the Desmosedici GP5 appeared in its 2005 livery for the first time amidst the spectacular Dolomite mountains in northern Italy.
"The bike that Loris Capirossi and Carlos Checa will race this season is the result of an evolution, not a revolution of the GP4" explained Ducati Corse CEO Claudio Domenicali yesterday during the press conference. "We learnt from the mistakes we made last year, when we arrived at the first Sepang tests with a completely different bike from the previous version and with no chance of turning back.
"The Desmosedici GP5 is the result of the work we did last season when, despite the difficulties, we didn't lose heart and we found the equilibrium we were looking for, as was demonstrated by our improving performance over the last few races and the two podiums at the end of the season. The studies that led to the creation of this bike follow a principle of reversibility, which allows us to retrace our steps at any time and make comparisons with previous solutions".
The bike actually differs very little from the one that was seen in the final GP of the year at Valencia except for the chassis, swing-arm and ECU innovations that will be fitted to the Desmosedici GP5.
The chassis is now also attached to the swing-arm pivot, unlike the GP4. This has already been tested at Phillip Island but it will be tested again by Carlos and Loris in Malaysia to see how it works with the new Bridgestone tyres.
Instead it has already been decided to use the new swing-arm in testing and the races. This is lighter than the previous version, albeit somewhat stiffer.
Finally the ECU engine control system is new and gives greater calculation power for more sophisticated race strategies. The ECU has a number of different levels of use, but is in line with the decision to continue development one step at a time, leaving open the possibility of being able to change components at any moment. The software currently being deliberated is not radically different to the one used on the GP4, but more complex, evo-spec versions are also being developed.
Other innovations currently being developed by Ducati are a new 'step' engine, which is already running on the dyno, and which may be used in the second half of the season.
The GP5's aerodynamic package has also undergone modifications: after tests carried out in the wind-tunnel, a new fairing aimed at improving the bike's handling will appear for the first time at the forthcoming IRTA tests at Barcellona (March 18-20).
The Ducati Marlboro Team's pre-season testing schedule is the following:
Sepang (Malaysia): January 23-25
Sepang (Malaysia): February 11-13
Phillip Island (Australia): February 17-19
Losail (Qatar): March 1-3
DUCATI MARLBORO TEAM MEETS THE PRESS
ON THE SNOWS OF MADONNA DI CAMPIGLIO
Wrooom 2005, Madonna di Campiglio (Italy), 19 January: Skiing and snowboarding gave way to a more formal moment for the MotoGP riders and journalists today at the Wrooom 2005 international media event. Ducati Corse CEO Claudio Domenicali and Ducati Marlboro Team riders Loris Capirossi and Carlos Checa met the press for the first time to chat about the start of the 2005 season, the team's programmes and illustrate the technical details of the Desmosedici GP5.
"We were guided by a new philosophy during the design and the construction of the bike that we will be racing this year: in comparison to the GP4, the GP5 is an evolution not a revolution" declared Claudio Domenicali. "For example, the latest technical solutions we tested at Valencia last November, which are still being developed, do not completely change the handling of the bike, in particular in view of the most important change that has been made: the tyres. Bridgestone for us will be an important partner, one with whom we have immediately established an excellent rapport".
The meeting also offered Domenicali the opportunity to announce an important project, details of which for the moment are still being defined: the Tyre Test Team, which will be set up in collaboration with the Japanese tyre manufacturer. This project, which has come about due to the two companies' joint commitment to specifically develop tyres, will see Japanese rider Shinichi Itoh become official test-rider and will involve a group of dedicated technicians, including a Ducati Corse engineer.
Loris Capirossi is ready to tackle his third season with the Borgo Panigale team with renewed enthusiasm, as emerged clearly from his declarations.
"Moving to Ducati in 2003 was very important for me: I am proud to form a part of this family, in which I have found a group of competent and passionate people" said Loris. "The first year was fantastic, but the following year, on the other hand, saw us in a bit of difficulty at the start. The company reacted well, remained united and we worked hard until we found the equilibrium we were looking for. I am pleased with the Bridgestone tyres and in particular with the front, which adapts well to my riding style. It's too early to make any forecasts, but for the moment I can say that I am happy and sure that we will soon be competitive".
Carlos Checa admitted that he had a 'soft spot' for the Borgo Panigale manufacturer. After a first approach between the two parties two years ago, the Spanish rider can now finally wear the colours of the Ducati Marlboro Team. Immediately right on the pace with the Desmosedici, Carlos has established a good rapport with his new team and is ready to develop the new GP5 machine.
"I have always been attracted by Ducati and I am delighted to be a part of them now" declared a smiling Checa. "I already found a good feeling with the team and the new bike during the first tests we made in Spain. Of course, it's far too early to say what will happen: for the moment there is a lot of work to do, but I am very motivated and ready for the challenge".
After the press conference, the riders and journalists present at Wrooom were able to have an afternoon's relaxation on the snows of Madonna di Campiglio. Tomorrow the Desmosedici GP5 will be presented directly on the ski slopes surrounded by the breath-taking scenario of the Dolomites providing the backdrop for this early glimpse of Ducati's new 2005 MotoGP challenger.