FastDates.com November 2005
Superbike, MotoGP Racing & Calendar Girl News
Official Calendar of the SBK World Superbike Championship
Home of the official SBK Fast Dates & Team Ducati Corse Umbrella Girls

Page 3 - Valencia MotoGP Season Finale to Marco Melandri
Calendar Girls to the MAXIM • Giberneau to Ducati

* Turkish MotoGP - 250cc champ Marco Melandri wins his first MotoGP
• Magney Cours SBK World Superbike finale to Vermeulen, Lanzi,
Troy Corser and Alstare Corona Suzuki are 2005 World Superbike Champs
* AMA Season Final Mladin Takes 6th Superbike Title at Road Atlanta
• Fast Dates News Calendar Angels Go Wild at Brands Hatch Superbike
• AMA Pro Racing Continues Disastrous Bike Class Structure for 2006
• Dream FastDates.com Streetbike Edelweiss Vacation to France
• Joanna Krupa FastDates Calendar Angels scores Playboy cover pictorial
• Pirelli Calendar 2005 Supermodels get naked in Rio de Janero
• New Bikes! • Triumph 675 Daytona & Scrambler • KTM 990/950 Supers
• Ducati Multistrada S - Fast Dates Bike of the Year 2005!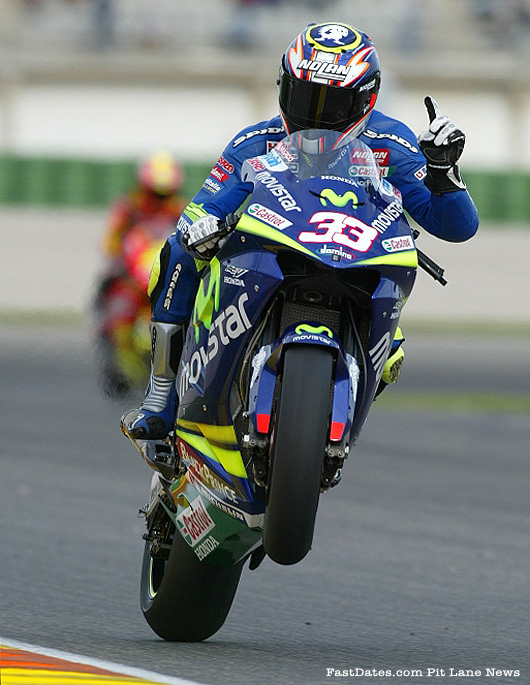 Marco Melandi showed at Valencia that he will be good friend Valentino's Rossi's biggest rival for the MotoGP World Championship in 2006.

2005 MotoGP World Championship Final Valencia, Round 17 of 17
Melandri Scores his 2nd Straight Win
as the 2005 MotoGP Season Ends at Valencia
Valencia Spain, Nov 4-6th - Marco Melandri followed up his debut MotoGP success at Istanbul two weeks ago with a second successive victory in the final round of the 2005 season at Valencia on Sunday. The Italian youngster led from the opening corner of a thrilling 30-lap race, chased all the way to the line by his factory colleague Nicky Hayden. With the Honda pair battling it out at the front, Valentino Rossi provided an interesting sub-plot to the race as he surged from fifteenth on the grid, his lowest ever MotoGP qualifying position, to claim third place for Yamaha. Hayden piled on the pressure in the closing stages but Melandri held firm to take the win by 0.097 seconds and secure the coveted runner-up spot in the championship by fourteen points.

Honda's Nicky Hayden and Marco Melandi congradulate each other on the top of the podium at Valencia.
"This is an unbelievable situation for me, I can't find the words to describe how I feel," said Melandri after the race. "I started the race thinking about the championship but I took the lead into turn one and realised I could win it. When I saw Nicky was behind I tried to escape but he was too strong. I thought about letting him pass but I know how hard it is to overtake at this circuit so in the end I stayed in front and held on."
Hayden (69) ran this close to Melandi (3) for much of the race, but could never get past. Rossi finished 3 seconds back in 3rd place after working up from a 15th place start.

MELANDRI SHOWS 2006 INTENT WITH HARD-FOUGHT WIN
LUTHI TAKES 125cc WORLD TITLE
Sunday Nov 6th - Marco Melandri (Team Movistar Honda RC211V) capped a fine season in style here in front of 124,000 race fans when he won his second consecutive race from Nicky Hayden (Repsol Honda RC211V), with Valentino Rossi (Yamaha) in third.
The Italian Honda man now secures runner-up position in the final World Championship standings after this, the final race, of a 17-round series. Hayden finished third overall. But if the result of the last race has any bearing on events in 2006, this was a strong finish to a gruelling year by Melandri and Hayden and promises much for next season.
Melandri got the holeshot into turn one and never looked back, despite the closest intentions of Hayden, who tried everything to squeeze past him on a track where overtaking is notoriously tricky.The 30-laps of this claustrophobic track are hard work. Riders hardly get a chance to 'relax' at any point on the 4.005km course. And it was Melandri who showed a super-strong will to win by denying victory to Hayden – another Honda man hungry for a second win of the season.
Melandri, Hayden and Sete Gibernau (Team Movistar Honda RC211V) made the early running with Sete setting an early fastest lap of the race at 1m 33.476 seconds. But on lap four the Spaniard was forced out of contention with machine trouble, ending a miserable year without the win he yearned for. This has been a barren year for Gibernau.
Rossi's charge up from 15th place at the start was impressive, but a mid lap surge by Melandri and Hayden, kept the champ from making any gains again until the closing laps, when it was then too late to close the remaining distance.

For the World Champion Rossi it was his sixteenth podium from seventeen races in the final round of the 2005 MotoGP World Championship to put the shine on Yamaha's 50th Anniversary celebrations at Valencia. The Italian started from his lowest grid position of the season in 15th place and produced a dramatic ride to end the race in third place, lapping quicker than eventual winner Marco Melandri (Honda). A crowd of 124,520 watched Rossi make up seven positions with an incredible surge on the first lap, although the early pace of Melandri and Nicky Hayden (Honda) provided them with an advantage that proved impossible to breach in the second half of the race. Melandri and Hayden were long gone and although Rossi reduced a six second gap to just under three seconds by the flag, he was never on terms with the leading pair.
Valentino Rossi (Yamaha Factory Team), 3rd, "The second part of the race was very positive because my pace was fast and I rode well but if you want to win a race then you can't start from fifteenth on the grid. I made a mistake yesterday with the crash but the truth is that we were struggling all weekend with the setting and we didn't understand until this morning what the problem was. We worked it out and in the race I was able to ride how I wanted to, but it was too late. It was good fun, I pushed hard but it wasn't enough. In the future we have to make sure we work better in practice. It's been a fantastic season and everyone has worked hard to achieve all our targets. Now we look forward to some holidays and some hard work during winter testing!"
Rossi's Yamaha Factory team-mate Colin Edwards suffered a disappointing end to his first season with the team, losing three positions on the first lap after starting from sixth and only managing to recover one place by the end of the race. Nevertheless, the American has made significant progress with a new riding style over the course of the weekend and he is now looking forward to winter testing as he prepares for his second season as a Yamaha rider. In the meantime, Yamaha is left to reflect on a stunning Anniversary season, in which it has swept the board, taking the riders', teams' and constructors' World Championship titles.
It was a good and bad day for Carlos Checa (Ducati) who ran in fourth for much of the race. The Spanish rider finished in that position more than 18 seconds down on the leaders. Melandri and Hayden were in total charge of events to the extent that Marco could afford to drop the pace mid-race to encourage Hayden to spend some time at the front. And while Carlos finsished 3 places in front of Ducati team mate Loris Capirosi, this would be his last races after 2 seasons on the Italian marque, with the announcement by the team after the race that his place on the team was going to Sete Giberneau in 2006.
But when Hayden couldn't make it past the Italian, Melandri worked out that if Hayden couldn't pass him, then he was unlikely to be able to re-pass the American for the win. His tactic was then to ride hard to the flag and hang on to a valuable win.
Alex Barros (Camel Honda RC211V) rode a spirited race to finish fifth ahead of Max Biaggi (Repsol Honda RC211V) in fifth. Those two had a race-long battle with Loris Capirossi (Ducati) with Capirossi crossing the line in seventh. Makoto Tamada (Konica Minolta Honda RC211V) was ninth and Ryuichi Kiyonari, standing in for the injured Troy Bayliss (Camel Honda RC211V), finished 12th.
Marco, who crashed at low speed on the slowing-down lap while pulling a stunt (rolling burnout), said, "This is a great moment for me. I got into turn one and got into a rhythm, but I knew Nicky was always behind. I tried to break him, but he was too strong, so then I tried to force him past me. But when he couldn't do that I just went from there to win."
Hayden said, "It was always going to be tight here. Once I loosened up I felt confident. I was always looking to stick the nose of the bike ahead, but Marco always had things covered up. My win at Laguna was huge, and it would have been nice to have made it two wins, but we're ready for next year right now."
A crestfallen Sete said, "I think it's fair to say that it is difficult to take when you work more and work harder but get less reward. We had another perfect weekend, setting the fastest time in free practice, qualifying and warm-up but this morning HRC detected a small oil leak in the engine and decided to change it just to be safe. I realised on the sighting lap that the bike was vibrating and I told the boys, but we thought that because it was a new engine everything would be fine. In the race the vibrations got worse with every lap until it broke. It's a shame to finish the year like this but it is not a disaster for me. We have been competitive at every Grand Prix, I have never let my head drop despite the circumstances and I am sure this will make me stronger for the future."
Alex Baros in fifth said, "I'm really happy. But this wasn't an exceptional result because I've won two difficult battles with Loris and Max. With Capirossi it was particularly tough because his bike is so powerful and there was only one point where I could pass him. For two laps, he came back past me but in the end I managed to close the door. I think we both had good fun. My rhythm was quite good but not as good as the front three. Maybe I could have fought with Checa but when I got past Max it was too late."
"I'm very sad at ending the season in this way," said Max Biaggi who will probably be left without a factory rider next year. "It looked like we were in a better shape yesterday when we ran with the race tyres. In the race we were so slow into the corners. The front goes – jump – jump – jump. I go as always at 100% and last year I finished second, just 0.4s behind the leader. Today I am 21s down on the winner. This is hard for me to accept."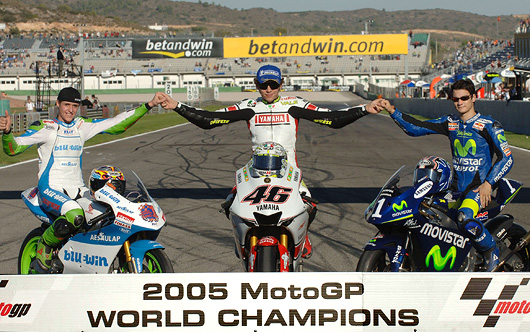 Dani Pedrosa celebrated his final appearance in the 250cc World Championship with the eighth victory of his second successive title-winning season. The Spaniard started from pole position and, after conceding the lead for several laps to Jorge Lorenzo, re-asserted his dominance in the category with a series of lap records that saw him clear and unchallenged in the final stages of the race. Casey Stoner picked up third place to consolidate the runner-up spot in the championship ahead of Andrea Dovizioso, who finished ninth today with a remarkable charge through the pack after running into the gravel on the first lap.
Thomas Lüthi clinched the 125cc World Championship title with a steady ninth place in today's opening race despite seeing his only remaining rival, Mika Kallio, take the victory. Lüthi only needed three points to secure the crown and become the first Swiss rider to win the series since Luigi Taveri in 1966. Gabor Talmacsi and Mattia Pasini completed the podium after home favourite Sergio Gadea crashed out of the lead.
Results Valencia MotoGP
Race Classification MotoGP : (30 laps = 120.15 km)
Pos/ Rider / Nat / Team / Motorcycle / Time/ KM/H
1 / Marco MELANDRI / ITA / Movistar Honda MotoGP / HONDA / 46'58.152 / 153.483
2 / Nicky HAYDEN / USA / Repsol Honda Team / HONDA / 46'58.249 / 153.478
3 / Valentino ROSSI / ITA / Gauloises Yamaha Team / YAMAHA / 47'01.111 / 153.322
4 / Carlos CHECA / SPA / Ducati Marlboro Team / DUCATI / 47'16.870 / 152.47
5 / Alex BARROS / BRA / Camel Honda / HONDA / 47'18.858 / 152.364
6 / Max BIAGGI / ITA / Repsol Honda Team / HONDA / 47'19.406 / 152.334
7 / Loris CAPIROSSI / ITA / Ducati Marlboro Team / DUCATI / 47'21.294 / 152.233
8 / Colin EDWARDS / USA / Gauloises Yamaha Team / YAMAHA / 47'23.830 / 152.097
9 / Makoto TAMADA / JPN / Konica Minolta Honda / HONDA / 47'34.862 / 151.509
10 / Toni ELIAS / SPA / Fortuna Yamaha Team / YAMAHA / 47'37.268 / 151.382
11 / Shinya NAKANO / JPN / Kawasaki Racing Team / KAWASAKI / 47'39.288 / 151.275
12 / Ryuichi KIYONARI / JPN / Camel Honda / HONDA / 47'43.843 / 151.034
13 / John HOPKINS / USA / Team Suzuki MotoGP / SUZUKI / 47'44.659 / 150.991
14 / Alex HOFMANN / GER / Kawasaki Racing Team / KAWASAKI / 47'48.008 / 150.815
15 / Ruben XAUS / SPA / Fortuna Yamaha Team / YAMAHA / 48'17.595 / 149.275
Fastest Lap (New record): Marco MELANDRI 1'33.043 154.960 Km/h Lap 4
Circuit Record Lap: Valentino ROSSI 1'33.317 154.505 Km/h 2003
Final World Championship Positions 2005:
1 ROSSI 367, 2 MELANDRI 220, 3 HAYDEN 206, 4 EDWARDS 179, 5 BIAGGI 173,
6 CAPIROSSI 157, 7 GIBERNAU 150, 8 BARROS 147, 9 CHECA 138, 10 NAKANO 98,
11 TAMADA 91, 12 ELIAS 74, 13 ROBERTS 63, 14 HOPKINS 63, 15 BAYLISS 54.
Valencia 250cc Results
Race Classification 250cc: (27 laps = 108.135 km)
Pos / Rider / Nat / Team / Motorcycle / Time / KM/H
1 / Daniel PEDROSA / SPA / Telefonica Movistar Honda 250 / HONDA / 43'33.395 / 148.957
2 / Jorge LORENZO / SPA / Fortuna Honda / HONDA / 43'36.843 / 148.761
3 / Casey STONER / AUS / Carrera Sunglasses - LCR / APRILIA / 43'47.767 / 148.143
4 / Alex DE ANGELIS / RSM / MS Aprilia Italia Corse / APRILIA / 43'51.166 / 147.951
5 / Hector BARBERA / SPA / Fortuna Honda / HONDA / 43'59.628 / 147.477
6 / Hiroshi AOYAMA / JPN / Telefonica Movistar Honda 250 / HONDA / 44'04.639 / 147.198
7 / Yuki TAKAHASHI / JPN / Team Scot / HONDA / 44'08.913 / 146.96
8 / Randy DE PUNIET / FRA / Aprilia Aspar 250cc / APRILIA / 44'09.883 / 146.906
9 / Andrea DOVIZIOSO / ITA / Team Scot / HONDA / 44'16.524 / 146.539
10 / Roberto LOCATELLI / ITA / Carrera Sunglasses - LCR / APRILIA / 44'17.355 / 146.493
11 / Alex DEBON / SPA / Wurth Honda BQR / HONDA / 44'28.889 / 145.86
12 / Jakub SMRZ / CZE / Arie Molenaar Racing / HONDA / 44'30.660 / 145.763
13 / Martin CARDENAS / COL / Aprilia Germany / APRILIA / 44'31.580 / 145.713
14 / Sylvain GUINTOLI / FRA / Equipe GP de France - Scrab / APRILIA / 44'31.940 / 145.694
15 / Taro SEKIGUCHI / JPN / Campetella Racing / APRILIA / 44'34.880 / 145.534
Fastest Lap (New record): Daniel PEDROSA 1'35.792 150.513 Km/h Lap 17
Circuit Record Lap: Shinya NAKANO 1'36.398 149.567 Km/h 2000
Final World Championship Positions 2005:
1 PEDROSA 309, 2 STONER 254, 3 DOVIZIOSO 189, 4 AOYAMA 180, 5 LORENZO 167,
6 PORTO 152, 7 DE ANGELIS 151, 8 DE PUNIET 138, 9 BARBERA 120, 10 GUINTOLI 84,
11 TAKAHASHI 77, 12 DEBON 67, 13 LOCATELLI 61, 14 CORSI 59, 15 GIANSANTI 36.
Valencia 125cc Results:
Race Classification 125cc (24 laps = 96.12 km)
Pos / Rider / Nat / Team / Motorcycle / Time / KM/H
1 / Mika KALLIO / FIN / Red Bull KTM GP125 / KTM / 40'26.640 / 142.597
2 / Gabor TALMACSI / HUN / Red Bull KTM GP125 / KTM / 40'26.877 / 142.583
3 / Mattia PASINI / ITA / Totti Top Sport - NGS / APRILIA / 40'27.007 / 142.575
4 / Hector FAUBEL / SPA / Master Aspar / APRILIA / 40'39.041 / 141.872
5 / Marco SIMONCELLI / ITA / Nocable.it Race / APRILIA / 40'43.649 / 141.604
6 / Tomoyoshi KOYAMA / JPN / Ajo Motorsport / HONDA / 40'47.275 / 141.394
7 / Fabrizio LAI / ITA / Kopron Racing World / HONDA / 40'47.310 / 141.392
8 / Julian SIMON / SPA / Red Bull KTM GP125 / KTM / 40'47.449 / 141.384
9 / Thomas LUTHI / SWI / Elit Grand Prix / HONDA / 40'50.157 / 141.228
10 / Pablo NIETO / SPA / Caja Madrid - Derbi Racing / DERBI / 40'59.445 / 140.695
11 / Aleix ESPARGARO / SPA / Seedorf RC3 - Tiempo Holidays / HONDA / 41'02.570 / 140.516
12 / Alvaro BAUTISTA / SPA / Seedorf RC3 - Tiempo Holidays / HONDA / 41'02.655 / 140.511
13 / Raffaele DE ROSA / ITA / Matteoni Racing / APRILIA / 41'10.076 / 140.089
14 / Joan OLIVE / SPA / Nocable.it Race / APRILIA / 41'14.291 / 139.85
15 / Andrea IANNONE / ITA / Abruzzo Racing Team / APRILIA / 41'16.027 / 139.752
Fastest Lap: Sergio GADEA 1'40.286 143.768 Km/h Lap 14
Circuit Record Lap: Steve JENKNER 1'40.252 143.817 Km/h 2002
Final World Championship Positions 2005:
1 LUTHI 242, 2 KALLIO 237, 3 TALMACSI 198, 4 PASINI 183, 5 SIMONCELLI 177, 6 LAI 141,
7 SIMON 123, 8 KOYAMA 119, 9 FAUBEL 113, 10 POGGIALI 107, 11 DI MEGLIO 104,
12 GADEA 68, 13 NIETO 64, 14 OLIVE 60, 15 BAUTISTA 47.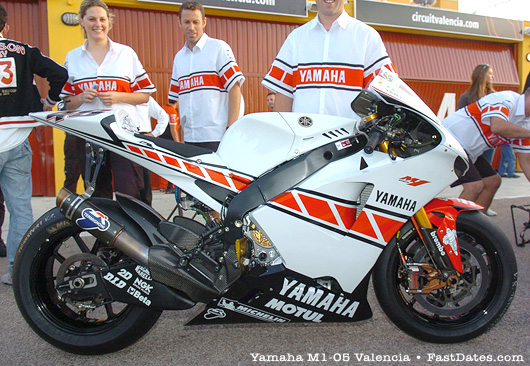 For the final MotoGP round at Valencia, Yamaha painted the factory team M1s of Rossi and Edwards (shown above) in the historical White/Red/Black livery used on their GP bikes in the 1960s and '70s as on the 1975 model YZR500 raced by Giacomo Agostini below.
It certainly looks great, and perhaps will also see FZR production mides with the same color design in the near future. Needless to say, the factory's latest 50th anniversy color scheme, following on the heels of the American Yamaha Yellow/Black team colors run at Laguna Seca in July, did not endear them to team sponsors Gauloises cigarettes. Expect Gauloises to withdraw their sponsorship of the team for 2006 as tobacco marketing laws tighten worldwide, and the Yamaha MotoGP will run without sponsorship beginning next year.
---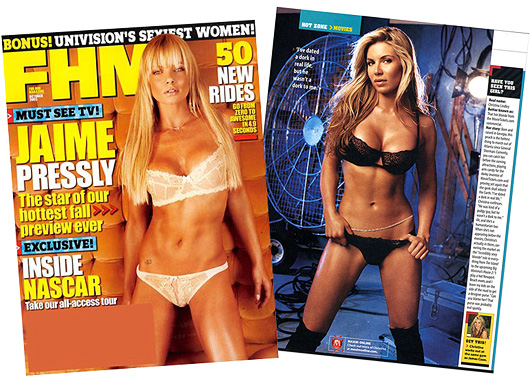 Click to take FHM to the MAXIM





FastDates.com Calendar Angels in Print


One of the most important (and thankless parts of our job) is helping those brain surgeons over at MAXIM and FHM magazines figure out who the world's hottest girls are. The FastDates.com Calendars have always been the stepping stone and showcase for their world's most beautiful models before they get seen anywhere else. Our spies have told us the editors of those slick guys's rags use our Calendars and Website to find beautiful candidates for their hot girls editorial features. Cases in point: 1998 Berm Busters and Iron & Lace Calendar (Collectors Editions) cover model Jamie Pressly above left is featured on the cover of October 2005's FHM, and our lovely 2005 LA Calendar Motorcycle Show Calendar Angel Christina Lindley above right is the featured Hot Zone Hottie in MAXIM November 2005. You can click on the above picture to order yourself a subscription of heaven. And join our Members Corner for lots of sexy Jamie Pressly sexy pictorials. And remember, we brought them to you first in the pages of the FastDates.com Calendars and Website.

That's Chistina Lindley in the 3-girl Calendar Angel sandwich at the left between Andra Cobb and Dominique Lafayette. They're next to with 2Wheel Tuner Magazine Sportbike Class winner Mike Witte and his Special Construction Aprilia RS250 with Suzuki RG500 engine at this year's LA Calendar Motorcycle Show. If you've got a hot sportbike wouldn't you like to be in Mike's place at Next Year's Show? The relish on Mike's 4-girl sandwich is our Fast Dates World superbike girl Robin Cunningham in the cowboy hat), alsonext to Performance Machine's Ted Sands and Keith Ball.
Charley Morley's Legends of
American Motocross Calendar 2006
Charlie Morey and our own Jim Gianatsis grew up as best friends, editors and photographers at Cycle News during the 1970's covering motocross' most exciting and legendary years. It was a time when riders like Hannah, Distefano, Weinert, Smith, Tripes, Mosier, Howerton, Ellis and DeCoster were gods and every race was an epic battle. Now you can relive those exciting years with just some of Charlie's incredible photography in his
2006 Motocross Legends Calendar available online at: http://www.lulu.com/content/179057

And if you'ld like to order frameable or poster size prints of both Charlie's and Jim's exciting motocross photography from that period go to VintageArte.com
Fast Dates Calendar Motorcycle Roadracing News. Complete coverage of the SBK World Superbike, AMA National Superbike and MotoGP World Championship. Superbike, sportbike, grand prix, MotoGP, race, racing, news, coverage, photos, pictures, Fast Dates Calendar and Umbrella Girls. Racing, road race, track, motorcycle, news, results, girls, models, Mat Aladdin, Max Biaggi, Valentino Rossi, Ben and Eric Bostrom, James Toseland, Regis Laconi, Loris Capirossi, Troy Bayliss, Troy Corser, Noriyuki Haga. Ducati 999 Monster Multistrada, Yamaha R6 R1, Honda CBR600RR CBR1000RR, Kawasaki ZX6 ZX6RR ZX10, Suzuki GSXR600 GSXR750 GSXR1000, Aprilia Mille, MZ Agusta F4 Brutale. Los Angeles Calendar Motorcycle Show.



Click to Order Now!
Fast Dates Racebike Pinup
No other sportbike calendar gives you the world's top factory Superbikes!
Take Chis Vermeulen's Ten Kate Honda CBR1000RR cover bike and al the other top factory World Superbikefor a spin!
14 Month 2006 Calendars
start November 1st 2005
Iron & Lace Custom Bike Pinup
Featuring the beautiful
Fast Dates World Superbike Girls
Chandi, Andra and Taylor in
Iron & Lace, Garage Girls



2006 FastDates.com Calendars World Premier
at Brands Hatch
World Superbike England
Complete Coverage Here
Sete Giberneau Joins The Ducati MotoGP Marlboro Team Alongside Loris Capirossi for 2006
Valencia Grand Prix, Valencia
Sunday Nov 6th - The Ducati Marlboro Team has reached agreement with Sete Gibernau to contest the 2006 MotoGP World Championship. The Spanish rider will join Loris Capirossi, who renewed his contract with the squad before September's Japanese GP.
"I'm delighted to welcome Sete," said Federico Minoli, president of Ducati Motor Holding. "We think Sete is one of the strongest guys in MotoGP. He's a talented, gritty and courageous rider. Sete has had a difficult season this year but he has shown throughout that he never gives up, in the best Ducati spirit. For this reason we're very proud to have him in our 2006 line-up alongside Loris. They are both very strong riders and we'll do everything we can to give them what they need to obtain the best possible results."
Gibernau replaces Carlos Checa, who completed his time with the Ducati Marlboro Team in today's Valencia GP.
"It's always difficult to welcome someone while saying goodbye to someone else," continued Minoli. "I want to sincerely thank Carlos for the commitment and professionalism he's shown us. For sure he's a great rider and also a nice guy; working with him has been a great pleasure."
Gibernau is optimistic about his future, trusting in the Ducati/Bridgestone partnership that has already given great joy to Ducati fans with some amazing results, including Capirossi's fantastic victories at the recent Japanese and Malaysian GPs.
"After achieving some great results and much satisfaction during the last few years, and after a season at the highest level but with some difficulties, I decided to make a change in my career," said Gibernau. "First of all I want to thank the people who helped me achieve so many good results. But now it's time to find some new motivation. The professionalism and enthusiasm I've found at Ducati are what made me decide to join forces with the factory. I face this new challenge with real determination, convinced that together we can achieve great success. In recent years Ducati has shown that it has big ambitions and huge potential. I trust that, with my experience, I can make a real contribution to turn our shared dreams into reality."

Hamagouchi Full Titanium Race Exhaust Systerms
Your best / most cost effective performance and handling upgradeNow Just $1395 from Sudco


The Pirelli Calendar Book
The Complete Work

FastDates.com Calendar Angel
Jamie Pressly
featured in FHM
Big Discount Magazine Savings
to FastDates.com Readers



2006 Playboy 15-inch Wall
Anna Nalick
Best New Singer and
Album of the Year!

Yamaha competes in corporate racing colors in Valencia
Valencia, Spain
3/11/200 - To commemorate Yamaha's 50th Anniversary and its extraordinarily successful year in racing this season, Yamaha has decided to race the last round of the 2005 MotoGP World Championship in the company's traditional red, white and black racing color scheme. This follows the Yamaha Factory Team's earlier showing of the yellow and black traditional US racing colors in the US MotoGP round at Laguna Seca.
As a result the YZR-M1 machines of Yamaha Factory Team riders Valentino Rossi and Colin Edwards will sport the red, white and black colors as seen on many of Yamaha's past factory racing bikes.
In fact in 1975, exactly 30 years ago, Yamaha won its first GP500 world championship with Giacomo Agostini riding the then revolutionary two-stoke OW23 YZR500, also painted in Yamaha's corporate racing colors.
Yamaha has enjoyed probably the most successful year in racing ever, winning no less the seven world titles across the MotoGP, MX1 and MX2 World Championships in truly dominant style. By racing in the traditional corporate racing colors Yamaha endeavors once more to exceed expectations and touch people's hearts, making sure the 2005 racing season will be remembered for a long time to come as Yamaha enters "the next 50".
2006 range of Yamaha's Racing Kit Parts now available
27/10/2005 - Yamaha Engineering Corporation (YEC) is again producing a full range of racing parts for the YZF-R1 and YZF-R6 machines, designed in accordance with FIM superbike and supersport regulations. YEC is a Yamaha subsidiary company based in Japan. One of its activities is the production of high performance racing parts, which provide that vital edge for Yamaha riders to compete successfully on race tracks the world over. Among the successful riders that used YEC kitparts in 2005 were Noriyuki Haga, winning two races in the Superbike World Championship, and the Yamaha GMT94 team, winning the Le Mans 24-hour race.
For 2006, YEC has developed a range of parts to turn the all-new YZF-R6 into a world and national level supersport racer. Next to that, new YZF-R1 parts are also available to order now. As an additional service, European YEC customers competing at national, European or world championship level will be invited at the end of December to sign up, free-of-charge, for the Yamaha Race Training (YRT). YRT is a three-day course where teams receive invaluable technical training from Yamaha's Japanese and European race engineers, with ample track time available for pre-season testing. This special training will be held at the Valencia circuit in Spain between 22-24 March 2006 (limited places available).
Motocross riders are catered for too with their own range of racing parts developed by Yamaha Rinaldi Research and Development (YRRD), the company that is also responsible for preparing the factory Yamaha YZ450FM machines of MX1 world champion Stefan Everts. YRRD parts are available for the YZ450F, YZ250F and YZ125 models.
Further information on YEC, including recommended retail prices, YRRD parts and more YRT information, is available by visiting www.yamaha-racingparts.com. The order deadline for the first delivery of 2006 is November 14. To order, customers are requested to contact their national Yamaha distributor.
Haga and Pitt continue with Yamaha Motor Italia in 2006
7/11/05 - Noriyuki Haga and Andrew Pitt will race for the Yamaha Motor Italia squad in
the 2006 Superbike World Championship, fulfilling the team's desire to retain the services of both its riders from the 2005 campaign.
Both men played an important role in developing Yamaha's YZF-R1 in its first year of world superbike competition with Japanese ace Haga recording 10
podium finishes, including two wins, on his way to third place in the championship. Australian Pitt ended the year eighth in the standings with a best result of fourth in the opening race of the season in Qatar.
The Yamaha Motor Italia squad will again benefit from the official backing of Yamaha Motor Europe and for 2006 will use the updated YZF-R1 as the base for their world superbike contender. Preparations for the new season have already begun, with the first test of the 2006 season due to take place in Valencia on 14-15 November.
Noriyuki Haga
"I wanted to stay with Yamaha as we ended the year very strongly and I am very pleased that we have been able to agree terms. We had a good first year
together and it would have been a shame not to take advantage of all the development work we carried out. Yamaha knows what it has to do to make the bike into a championship winner and it was important for me to know that I
have the support needed for 2006. We came close to winning the title in 2000 and my motivation to become champion is still as strong as it ever was.
Becoming world superbike champion is the goal I still have to achieve and I believe that Yamaha can give me what it takes to turn this dream into reality."
Andrew Pitt
"When I signed for last year we always knew that it would be 2006 before we could really see the benefits of our work, therefore I'm delighted to continue with the team and hopefully take advantage of the hard work we put in last year. I enjoy working with this team and we've seen that the bike can be a winner. We know what we have to do to take it to the next level and with a year's experience of the class, the bike and the Pirelli tyres I feel
that I can show my true ability next year."
Laurens Klein Koerkamp - Racing Manager, Yamaha Motor Europe "We were quite late in starting this project last year and I said that our objective would be to develop the bike and put ourselves in a situation where we were winning races by the end of the year. By the middle of the season we were
well on track, and we have shown that we can compete with the best in the class. For 2006 we can take advantage of our year's knowledge. We now have
base settings for each circuit we race on, a year's development work behind us and some chassis improvements from the new YZF R1. The team will again be
run by Massimo Meregalli and working with Andrew and Noriyuki gives us great stability. Our learning year is over and we now know exactly what is required to challenge for the title. It will not be easy, but ultimately it is our goal for 2006."
MotoGP Winter Testing Begins with
The Rain in Spain
Vermeulen gets Suzuki career underway at Valencia MotoGP Tests
Nov 9th -Team SUZUKI MotoGP new signing Chris Vermeulen has completed his first tests on the Suzuki GSV-R at Valencia in Spain.
Vermeulen has joined the Suzuki team following a successful season in World Superbikes – where he finished runner-up in the Championship. The immensely talented 23-year-old Australian first took to the track on Monday afternoon to get himself acquainted with his new bike and crew. He immediately developed a rapport with his Crew Chief Tom O'Kane and the pair quickly made some adjustments to the bike to enable Vermeulen to clock some very impressive times during the 90 minute session.
The test was scheduled to continue for the whole of today but a lengthy break due to a rain shower and colder track temperatures brought the test to a premature end.
John Hopkins and Nobuatsu Aoki also stayed at Valencia to test the latest development parts for the Suzuki prototype MotoGP machine. Hopkins was impressed with the newest generation Ohlins forks and reported that they were a significant improvement on anything he had used before, as they gave him far more feel and controllability.
Team SUZUKI MotoGP has one more day at Valencia where all three riders will continue to put themselves and the bikes through yet more laps of testing.
Chris Vermeulen: "I really enjoyed my first go on the bike. It made a lot of difference getting on the bike on Monday - with the bad weather conditions as they are today. My first impressions are that the bike is very easy to ride and very comfortable. I really enjoyed working with the mechanics, they all have a lot of experience and they're very methodical and really know what they are doing. We have a lot of work still to do but I am sure we can move in the right direction. I'm having fun, despite the weather!"
Sete Giberneau Fires up Ducati Desmosedici for first winter tests at Valendca
Nov 9-10th - Sete Gibernau gets first taste of the Ducati Desmosedici and Bridgestone tyres in poor weather conditions - Loris Capirossi tests latest version of the engine-braking system used at the start of the year.
Valencia (Spain), Wednesday 9 November 2005 - The Ducati Desmosedici took to the track today for its first winter test, just three days after Sunday's final round of the MotoGP championship.
Unfortunately the mild sunny weather that characterized the last race of the 2005 season gave way to cold conditions with several drops of rain that prevented the Ducati Marlboro Team and the other riders on the track from getting close to the times recorded over the weekend.
As a result Sete Gibernau's awaited debut on the Italian bike was conditioned by the weather. The rain that fell late in the morning forced everyone to stop for a break, then after returning to the track in the afternoon Sete completed a total of 32 laps on the 'standard' version of the Desmosedici.
Gibernau managed to get his first run with the Italian V4 bike as well as with Bridgestone tyres, and despite the poor conditions the Spanish rider was impressed.
"Every minute that passes I am more convinced that I made the right decision" declared Sete. "I know that it was a difficult choice to make but this is a great source of motivation for me. The team is fired up and really wants to do well. The first time is always a step into the unknown but I got on well with all the guys. I knew everything was going to be different - the engine, the tubular steel frame instead of aluminium, Bridgestone tyres and Ohlins suspension, and so the feeling on the bike is completely different. I will have to change my style a bit and also the character of the bike to feel entirely at ease with it, but there is a lot of good potential here."
It was also back to work today for Loris Capirossi, whose fitness is slowly but constantly improving. The Italian was scheduled to test with the engine-braking system that had been tried at Jerez during the GP in April and which has been developed throughout the year by official test-rider Vittoriano Guareschi. As the system is still in an experimental phase, Loris, who completed 19 laps, concentrated on providing feedback for future development rather than the search for outright performance. Unfortunately today's conditions prevented the team from getting the most out of the test, which will continue tomorrow, weather permitting.
"My physical condition and the poor weather certainly didn't help me in this test today" declared Loris. "The system has for sure been improved since the first version we used at the start of the year, but the track wasn't in an ideal condition to help us understand exactly the development level of the system. Let's hope the weather improves for tomorrow so we can continue working."
Times:
Sete Gibernau: 1m35.2s
Loris Capirossi: 1m36.8s
Dreadful weather conditions forced the Ducati Marlboro Team to abandon the second and final day of testing scheduled at the Spanish circuit.
Temperatures hovering around 10°C and intermittent rain meant that the track was totally unsuitable for normal testing.
Loris Capirossi and his new team-mate Sete Gibernau therefore wrapped up their first winter testing session early.
The Ducati Marlboro Team riders will next be seen on the track at the end of the month (November 28-30) at the Jerez circuit, where they will debut the Ducati Desmosedici GP6.
Wet day at Valencia for Hayden HRC and Michelin
Nov 10th - Repsol Honda rider Nicky Hayden spent a cold wet second, and final day of the HRC test at Valencia evaluating Michelin tyres for the Honda RC211V. American Hayden covered a total of 42 laps at the 4.005 km Spanish circuit trying a variety of full wet an intermediate tyres for the French manufacturer.
Weather conditions ranged from a few brief showers to one hard downpour allowing the young American to gauge the performance of full wet rubber and a range of intermediate tyres under development at Michelin. The wet track temperature never rose above 14 degrees restricting the lap time to 1m 45.74s.
With two successful and productive days of testing completed the team return to Japan to prepare the RCVs for the final MotoGP test of the year at Sepang, Malaysia, on November 28, 29, 30 next.
The Fortuna Honda team of Marco Melandri and Toni Elias attended the opening day of the test only while the younger inexperienced RCV riders elected not to test in the harzardous half wet – half dry track conditions.
Nicky Hayden: 1m 45.74s – 42 laps. "The weather is what it is, not ideal but we gained a little experience with the Michelin wet tyres and a couple of intermediates. It would have been nice to have hard rain today because I definitely didn't set the world on fire in wet races this year. We tried a couple of suspension changes for damp conditions and a little different geometry on the bike. It feels fast when you are out there on your own but you don't really have anybody to compare it with. We go to Malaysia next where the weather will be a bit warmer than its been here, that's for sure."