Polaris Industries' Victory Motorcycles revealed this interesting Vision 800 Concept Bike at Longbeach featuring a parallel twin engine with a CVC automatic transmission.
2005/2006 Cycle World International Motorcycle Shows USA

Cycle World IMS Tour stops in Longbeach, CA
Longbeach, Ca, Dec 9-11th 2005 - The Advanstar produced and Cycle World magazine sponsored 2005/2006 season International Motorcycle Shows made its 5th and most important stop in Los Angeles this weekend to celebrate its 25th anniversary as part of its annual 13 weekend tour to major cities across America. This weekend being most important in that Southern California is the home of the Big Four Japanese motorcycle distributors, much of the motorcycle media, and has the biggest concentration of street and dirtbike motorcycle enthusiasts in America. For more information on the 2005/2006 IMS Tour Schedule
The IMS tour belies its name in that it isn't international in scope, but only comprises the motorcycle brands and models that are sold in America together with local retailers. Nor is the IMS tour embraced by the much larger American V-Twin market and its enthusiasts who beat to a different drummer with their own events, including a few cross over events like our own LA Calendar Motorcycle Show. What the IMS tour does provide is an opportunity for mainline motorcycle enthusiasts across America to see all the new production bikes for the coming 2006 season, bounce on the seats and twist throttles, and make their buying decisions for the new year.

Yamaha's American MotoGP rider Colin Edwards was in the Yamaha display signing posters. Note the new/old team colors for 2006

What we saw at Longbeach was the next new motorcycle craze in California, if not the world: the supermoto street bike! On the tight and twisty canyon and mountain roads which abound in California, the lightweight supermoto bikes with their racing slicks and motocross handlebars kick superbike ass and are much more fun to stuff through a tight corner than a heavier sportbike with clip-ons.
The Ducati Hypermoto prototype made its only US appeance at Longbeach. Look for the production model normally in 18-24 months, but hopefully sooner to bolster the company's sales.

Ducati stole the weekend by flying in from Italy their new Pierre Treblance designed Hypermoto bike which won Best New Design at last month's Intermot Show in Milan. The hypermoto looks even better in person than in phortos, and is the hot rod, hard core version of the Multistrada which we've been wanting, and the Multistrada S which won FastDates.com's 2005 Bike of the Year.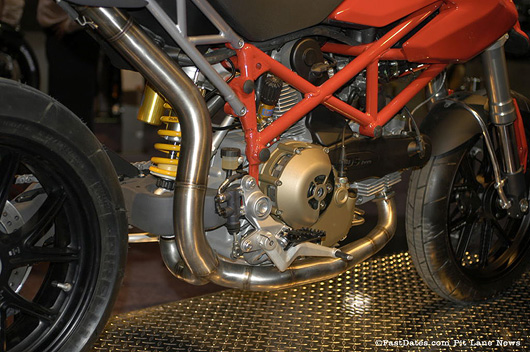 The Hypermoto features an uprated 100hp DS1000 aircooled 2-valve engine in the traditional Ducai trellis chassis with superbike suspension, wheels and brakes in a 385 pound package. Priced may be around $12,000. Sweet! But even better, our desire to have an even hotter Hypermoto R-version with dual front Brembo radial brake sets and Ohlins suspenion at both ends could happen as well. What isn't certain is what engine changes the R model might have, if any at all. We say "Damn the torpedos!" and stuff in the 999 Testastretta Supertbike motor and hang the radiators somewhere. How about dual side radiators behind those front wings on the gas tank? I can already imagine a powersliding wheelie up my favorite Stunt road....
The only difficult thing is we'll have to wait 18-24 months to see the Ducati Hypermoto in production which is assured.
We will refrain from making stupid comments about the twin jugs on the new Aprilia SVX450 Supermoto which goes on sale in the USA next month. If you want even bigger jugs you'll just have to wait until July, or visit your local Hooters. Opps....

The next best news at Longbeach was to see Aprilia's 2005 World Supermoto Championship winning SXV 450cc V-twin in their display, together with a RXV 450 dirt bike version, and learn these will be available for sale in America beginning next month, January 2006. The first month will see dealers getting just one bike each, but in the following months there will be more as production picks up. These first SXV and RXV 450's will come without lights for off road racing, but the Aprilia rep told us the bikes will have registration legal serial numbers and they can be converted to street use with the additiona of an optional Aprilia lighting kit.
Then in the 3rd Quarter of 2005 there will be an SXV 550cc Supermoto avaialble in America with street lighting installed as standard and fully street legal. Zounds! But for those of you who can't wait the pricing for the World Champ SXV450 Supermoto is $8395, and the RXV450 off roader is $8195. The later 550cc models will be $300 more for each version.

Husqvarna SM450/510 fully street legal to tear up a canyon road near you.
Husquvarna motorcycles was also at Longbeach to show off their new street legal SM510 and SM450 Supermoto bikes These beautiful single cylinder thumpers feature electric starting, digital ignitions and a dry weight of just 240 pounds. Awsome! Retail price is $7,699 / $7,299 respectively, More details at Husky USA.
Victory Motorcycles, America's other major bike manufacturer, showed at Longbeach it is ready to step up from the traditional V-Twin mold and expand its market into other segments. They premiered their new Victory Vision 800 Concept bike which is a sport tourer featuring an 800cc 4-stroke liquid-cooled parallel twin with an automatic CVT transmission. The chassis features a cast aluminum alloy frame, bladder fuel tank behind the front wheel, a fully adjustable single rear gas shock and current 43mm inverted front fork sportbike front suspension. Very Katana looking, the bulbous bodywork in front of the handlebars is a big storage bin that holds 2 helmets. We say, ditch the storage bin and shorten the too long 61-inch wheelbase and Victory could have a winner on their hands.
---
Tiny Outfits and Big Grins for Victoria's Secret Fashion Show
November 9th - Gisele Bundchen set the tone at Victoria's Secret fashion show Wednesday when she stepped onto the runway in a bejeweled $12.5 Million Dollar "Sexy Splendor Fantasy bra," teeny-tiny red Santa skirt with feather trim, above-the-knee red boots and a huge grin that said: This is going to be fun, this is going to be fantasy, this is going to be fabulous.
| | |
| --- | --- |
| Unlike designer fashion shows, where models are anonymous hangers for clothes, the lingerie giant encourages models to smile and show a hint of personality. Some, especially Tyra Banks, Naomi Campbell, Heidi Klum and Victoria's Secret's newest "angel" Karolina Kurkova, downright vamped it up for the cameras. Their smiles usually were bigger than their outfits. | |
"It's the Super Bowl for supermodels," said Ed Razek, chief marketing officer of Victoria's Secret. "The first year, there was some difficulty getting models. They had no point of reference. Since then, I can't think of a single model in the world that hasn't been in the show that we've wanted to have in the show."
Backstage before the first of two back-to-back shows being filmed for a TV special, there seemed to be more camaraderie that catfighting as most of the models walked around in short robes made of red satin and flip-flops as they ate -- believe it or not -- baked ziti, deli sandwiches and bagels, washed down with water, Gatorade and champagne.
"This is much more fun than doing a designer show. It's more dreamy, it's more relaxed," said model Isabeli Fontana.

The lingerie truly is secondary here, and that's OK with Victoria's Secret."We're trying to make an interesting television entertainment show, not an infomercial. It has to be an entertaining hour. We'll sacrifice messages the brand might have wanted to put on a show people want to see," said Razek. "We're not selling anything anyone needs, so it has to be something someone wants. It's all about creating desire, creating new `wants' on a continuing basis."
That's hard to argue, with Banks in a black satin corset with satin lace, crystal beads and sequins, and a velvet lace string bikini. Most people probably could do without huge feather wings, but they go a long way in making a memorable image. A few pieces of lingerie were quite pretty and potentially wearable by the masses, including a hand-beaded lace princess gown with sequin and crystal "snowflake" trim and a light blue strapless bra with organza ruffles and matching panties.
Seal took the stage and sang as his wife, new mother Klum, appeared on the runway in light-up bra and thong with Swarovski beading. They blew each other a kiss in one of the show's sweetest moments. Ricky Martin also performed.
Since the showwas being televised Dec. 6 on CBS, it's likely certain concessions were made to keep the garments from being too revealing. When ABC aired it in 2001 several groups complained to the Federal Communications Commission that it was indecent, though the FCC ultimately ruled it didn't break any rules. Nonetheless, none of this year's outfits were sheer and the bottoms only seemed ridiculously small from the rear view.
This marks the 10th Victoria's Secret runway extravaganza. The company sat out last year after the marketplace seemed particularly sensitive after the Super Bowl flap involving Janet Jackson's bare breast during the halftime show. In 1999 the Victoria's Secret show was broadcast online and when 1.5 million visitors tried to log on at once, the Web site crashed.
"I think on the whole what they've done is one of the better stories in apparel marketing. Over the long run, there is a very consistent and totally identifiable look," said Andrew Sacks, president of AgencySacks, a Manhattan-based advertising agency with no affiliation to the lingerie company.
"The imagery when you look at it is upbeat. There are a lot of smiles, even a little innocence. They've made lingerie very acceptable for the entirety of the market."
---

Bayliss was quickets at Qatar winter testing with Pirelli

SBK World Superbike Championship Pirelli Winter Tests

Reborn Ducati Champ Troy Bayliss is Quickest at Qatar Pirelli Tire Tests
Dohar, Qatar, Tuesday 6th December 2005 - Troy Bayliss (Ducati Xerox) continued his red hot re-entry into the SBK™ class with the best times in both race and qualifying trim, after three days of testing at Qatar.
He set a best time of the test, 1'58.66, on Pirelli qualifying tyres, and a hugely impressive 1'59.13 in full race format. The pace at Qatar was much improved, as a new generation of tyres and an improved track surface took the best riders to new heights. In comparison to Bayliss' 1'58.66 the best race qualifying time was 2'01.24, set by Troy Corser (Alstare Corona Extra Suzuki) back in February. Bayliss also did a full race simulation, despite any lingering effects of his comparatively recent forearm operation, and improved on the best 2005 Ducati race time (set by outgoing Ducati rider Regis Laconi) by fully 46 seconds. All Bayliss's laps during this simulation were in the 1'59 bracket.
Three hard days, on the hottest track of the Championship that last season offered great excitement but also a big challenge for Pirelli technicians called to face for the first time the track of Doha, in the middle of the desert thus dirt of sand and difficult. The characteristics of this track make it really unique but so demanding to be considered relevant and representative.
This is the mood driving Pirelli to face this appointment, focusing the job mainly on the race tyres instead of the qualifying and working with scientific method. The job was planned on three days activity in order to test the solutions emerged from the job done with the riders during the season – that actually proved that the end season solutions are working better than the previous ones – and the new solutions – both front and rear – here presented for the first time. For this reason it was important to have the same conditions on the three days, in order to compare times and riders' feelings.
The best news concerns the new stuff: today Troy Bayliss has realized a long run of 18 laps and he improved Laconi's race time (with the same bike) of 46 seconds. Compliments to the new tyres but also to the Australian rider, who offered a strong proof with 40 degrees…
This are obviously solutions that the whole grid will have at disposal for the race, the first of next season, but these are not the only specs that proved to be competitive and liked to riders and technicians.
New compounds and structures showed to be effective and allowed a general improvement, so that 50% of the tested material received a positive feedback.
Corser was a close 2nd to Bayliss while just riding one day. The 2006 season is setting up to be a batlle between the two supreme Superbike Champions.

The chronos don't consider many things, like the fact that Corser didn't lap all the day today, that Toseland is still looking for the best feeling on his brand new Honda, that Haga and Pitt have worked mainly on their bike setup, but looking at the lap times we can see a general improvement and Bayliss' time preannounces a very interesting 2006 and shows the strong improvement made by Pirelli tyres, that with the race tyres have reached the qualifying times.
New World Champion Corser showed that his best time on race rubber was only a fraction from Bayliss' best with a similar set up, despite Corser having to sit out day three due to illness. He set a 1'59.17, before missing out on the final chance to go faster still.
LANZI THIRD, HONDA MAN TOSELAND FOURTH Lorenzo Lanzi (Ducati Xerox) survived two crashes on the opening day to take third fastest time overall, with a 1'59.4, all despite pain and relative lack of mobility after his second high-speed off on Sunday. He was the last of the top riders to set a time inside the magic two minute mark, as Winston Ten Kate Honda rider James Toseland scored a 2'00.2, not resorting to qualifiers even on the last day. Toseland's team-mate Karl Muggeridge set a 2'00.09, after achieving a best of 2'00.81 on race tyres.
YAMAHA RIDER HAGA FIFTH In race trim, Noriyuki Haga (Yamaha Motor Italia) scored a best lap of 2'00.46, making him top Yamaha rider on show. His compatriot Yukio Kagayama (Alstare Corona Extra Suzuki) went faster, once he had resorted to qualifying rubber, improving from 2'00.62 in race mode to 2'00.38. Haga's team-mate Andrew Pitt set a 2'01 flat on race rubber, and gained almost half a second with qualifiers, thanks to a 2'00.56.
PETRONAS PAIRING EASING IN Recuperating after a recent kidney operation, Steve Martin (Petronas FP-1) nonetheless set a 2.01.80 on his three-cylinder Petronas machine, while his new team-mate Craig Jones suffered from fever and stomach cramps, reducing his available track time and making his best lap a 2'02.5.
NEXT STAGE The next Pirelli test for the top teams will be at Phillip Island, Australia, between 17 and 20 January. The 2006 SBK season kick off at Qatar, 23 to 25 February.
Times with Race Tyres:
| | | | | |
| --- | --- | --- | --- | --- |
| 1 | Bayliss | Ducati 999 | Ducati Xerox | 1'59.13 |
| 2 | Corser | Suzuki GSXR | Alstare Suzuki | 1'59.17 |
| 3 | Lanzi | Ducati 999 | Ducati Xerox | 1'59.04 |
| 4 | Toseland | Honda CBR 1000 RR | Winston Ten Kate | 2'0.01 |
| 5 | Haga | Yamaha YZF R1 | Yamaha Motor Italia | 2'0.046 |
| 6 | Kagayama | Suzuki GSXR | Alstare Suzuki | 2'0.062 |
| 7 | Muggeridge | Honda CBR 1000 RR | Winston Ten Kate | 2'0.081 |
| 8 | Pitt | Yamaha YZF R1 | Yamaha Motor Italia | 2'01.00 |
| 9 | Martin | Petronas | Foggy Petronas | 2'01.80 |
| 10 | Jones | Petronas | Foggy Petronas | 2'02.50 |
Times with Qualifying tyres:
| | | | | |
| --- | --- | --- | --- | --- |
| 1 | Bayliss | Ducati 999 | Ducati Xerox | 1'58.66 |
| 2 | Lanzi | Ducati 999 | Ducati Xerox | 1'59.4 |
| 3 | Muggeridge | Honda CBR 1000 RR | Winston Ten Kate | 2'00.09 |
| 4 | Kagayama | Suzuki GSXR | Alstare Suzuki | 2'00.38 |
| 5 | Pitt | Yamaha YZF R1 | Yamaha Motor Italia | 2'00.46 |
---

2006 SI Swimsuit 15-inch Wall Calendar w/poster

2006 Sports Illustrated Swimsuit & Playboy Calendars available here!
Click the Covers to Order
Fast Dates Calendar Motorcycle Roadracing News. Complete coverage of the SBK World Superbike, AMA National Superbike and MotoGP World Championship. Superbike, sportbike, grand prix, MotoGP, race, racing, news, coverage, photos, pictures, Fast Dates Calendar and Umbrella Girls. Racing, road race, track, motorcycle, news, results, girls, models, Mat Aladdin, Max Biaggi, Valentino Rossi, Ben and Eric Bostrom, James Toseland, Regis Laconi, Loris Capirossi, Troy Bayliss, Troy Corser, Noriyuki Haga. Ducati 999 Monster Multistrada, Yamaha R6 R1, Honda CBR600RR CBR1000RR, Kawasaki ZX6 ZX6RR ZX10, Suzuki GSXR600 GSXR750 GSXR1000, Aprilia Mille, MZ Agusta F4 Brutale. Los Angeles Calendar Motorcycle Show.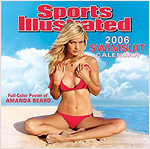 Click to Order Now!
Fast Dates Racebike Pinup
No other sportbike calendar gives you the world's top factory Superbikes!
Take Chis Vermeulen's Ten Kate Honda CBR1000RR cover bike and all the top factory World Superbike and our beautiful
Fast Dates Angels on a date!
14 Month 2006 Calendars
start November 1st 2005
Iron & Lace Custom Bike Pinup
Featuring the beautiful
Fast Dates World Superbike Girls
Chandi, Andra and Taylor in
Iron & Lace, Garage Girls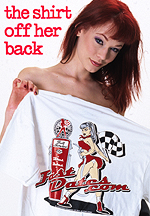 Christmas Wrapping
wear protection all year 'round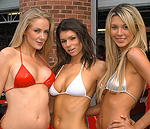 2006 FastDates.com Calendars World Premier
at Brands Hatch
World Superbike England
Complete Coverage Here
PRELIMINARY AGREEMENT SIGNED TO TRANSFER THE TPG CONTROLLING STAKE IN DUCATI TO INVESTINDUSTRIAL.
DUCATI MOTOR SATISFIED WITH THE ANNOUNCEMENT.
Bologna, 3 December 2005 – Satisfaction at Ducati Motor Holding S.p.A (NYSE: DMH, Borsa Italiana S.p.A: DMH), with the announcement of the preliminary agreement to transfer the American based Texas Pacific Group (majority shareholder of the Bologna motorcycle manufacturer) controlling stake in Ducati to Investindustrial Holdings.

"We had always hoped to have Investindustrial as our partner for the re-launch of the company" commented Federico Minoli, President and CEO of Ducati Motor Holding. "the transfer of shares provides the guarantees that Ducati needs in order to continue its growth and reach the goals it has been working towards. The agreement is subject to the approval of Ducati's banks. We will be working with all of our main banks, with the assistance of Unicredito Banca Mobiliare – UBM – to finalize the agreement as efficiently and quickly as possible. We expect to operate in a calm and harmonious way, combining forces and sharing results with those partners who have our same passion and pride for the worldwide success of Italian bikes".
Specific details on who Investindustrial Holdings is has been difficult to find. It is thought they are an Italian based investment company.


Hamagouchi Full Titanium Race Exhaust Systerms
Your best / most cost effective performance and handling upgradeNow Just $1395 from Sudco

FastDates.com Calendar Angel
Jamie Pressly
featured in FHM
Big Discount Magazine Savings
to FastDates.com Readers
DUCATI ANNOUNCES $1,000,000 RACING CONTINGENCY PROGRAM FOR 2006
Expanded Ducati Racing Contingency Program increases funds and event support for regional club races in 2006
Cupertino, CA – December 10th, 2005 – Ducati North America officially announces that the popular racing contingency program that debuted in 2005 will return in 2006, better than ever! The 2006 program will have boosted payouts and more coverage for regional club races.

"After a very successful first year, I am pleased to announce that we have raised the bar and are now offering bonus payouts at even more race events in 2006 with the addition of WERA to our roster of racing organizations," said Michael Lock, CEO of Ducati North America. "Racing is an exciting but very expensive sport, and this is our way of supporting the efforts of dedicated Ducati racers throughout the country. Racing is in our blood and Ducati is an important presence at the grass roots as well as the attention-grabbing international level."

For 2006 Ducati will again offer two contingency programs, one for the professional AMA race series and the other for many regional club race series. A significant addition to the program is the WERA series, which is one of the country's premier club racing organizations and boasts over 3000 competitive members.

Specific dates, classes and rules will be announced in early January and will be modeled on the 2005 program.
Troy Corser 2nd Quickest Despit Missing Final Day of SBK Tests at Qatar
Dohar, Qatar Dece 5-6th - World Superbike Champion Troy Corser was hoping to smash the 1:59 lap mark on the final day of the three-day test at Qatar but a stomach virus ruled him out of contention today. He came to the track hoping to ride in the afternoon, but was in obvious discomfort and so he and the team decided it would be safer not to ride.
Troy had been the fastest rider over the first two days of the test, but his fellow countryman Troy Bayliss (Ducati) managed to post a time of 1:59.13 today - albeit on qualifying rubber.
Third quickest overall was Lorenzo Lanzi (Ducati), ahead of Karl Muggeridge (Honda), James Toseland (Honda), Yukio Kagayama (Suzuki) and Noriyuki Haga (Yamaha).
TROY - "Well it was disappointing not to ride today, because I felt sure I could break the 1:59 barrier. But the tests went very well and we learnt a lot of positive things. We had some new Pirellis to try and they made a big difference to me. They are a significant improvement and they allowed me to lay the bike down in the turns instead of just putting it in there. Now I can feel what the bike is going to do and really use the tyre more. Also the bike felt more stable and I knew it was better all round because I was working harder! During the two days, I tried some new front forks, rear suspension and small bits and bobs - nothing dramatic - just little steps forward.
I think I must have got the stomach virus from some water or food. Last night I felt really crook and had to call the doctor out because I was aching and paining and feeling sick. He gave me some different medicines and I certainly felt better today, but not really up to riding fast. So we called it a day. Troy (Bayliss) did go quicker in the end today, but he was on a qualifier, whereas all my times were done on race rubber, so I don't feel too bad.
Now there's a bit of a gap before our next test in January and I'm looking forward to the break, spending time with my family and friends and being fully refreshed for next years' attack.
Mixed Fortunes for FPR on Day Two at Qatar
FPR's second day of testing alongside other factory World Superbike teams at the desert circuit in Doha, Qatar, saw its riders Steve Martin and Craig Jones have a day of mixed fortunes.
Craig was unable to ride for the first half of the day due to illness with a fever and stomach bug, although following a trip to the medical centre for treatment and a good sleep in the morning, was able to return to the FP1 seat for the afternoon's running and completed over thirty laps.
Steve was also feeling a little weak after his first day back on a bike following surgery just six weeks ago. He completed almost forty laps but had a steady day of running for development purposes rather than pushing himself to his full potential.
Despite both Steve's and Craig's day being slightly hampered by ailments, they were both able to progress positively with testing of development parts and also, both improved on their lap times from yesterday, with times of 2:03.10 and 2:02.84 respectively.
Steve commented, "I've felt pretty weak today so have just concentrated on steadily evaluating the development parts. Despite not pushing to anywhere close to my limit I was still able to improve my lap time and so I'm looking forward to more of the same progress all round, on day three."
Craig said, "It's annoying I was ill this morning as I wanted to have another good and full day, but I felt much better after lunch and I'm pleased to be continuing to make good progress. I was able to further evaluate tyres and found a good combination to help me put in the quickest lap of the test so far. I'm really enjoying this test and can't wait to get back out there tomorrow to hopefully put in even more laps, test more development elements and also try for an even quicker lap time."
FPR Wraps Up 'Excellent' Qatar Test on Day 3
Another day of perfect testing conditions in Doha, Qatar, enabled FPR's Steve Martin and Craig Jones to complete a comprehensive and excellent three day test at the Losail desert circuit.
Foggy PETRONAS Racing used the Pirelli organised test - attended by a number of the factory World Superbike teams - to work through its comprehensive testing and development schedule for the PETRONAS FP1, to include tyre evaluation, braking systems, temperature management packages, suspension, wheels and electrical system modifications, alongside continued engine development.
Steve Martin only ran during the morning session, due to weakness and fitness limitations following surgery to his kidney just six weeks ago, but commented to be extremely happy with what had been achieved over the last few days. And again without pushing himself, Steve posted a best lap time of 2:01.80 - almost 1.5 seconds quicker than his fastest lap at Losail during the World Superbike race event there earlier in the year, when he was fully fit and riding to his potential.
Craig made even further progress with his bike set up and was able to achieve over fifty laps and a slightly improved lap time of 2:02.50. The young Brit also comes away from the test with a chassis package and tyre combination he is very confident with, is happy with his development work and has also gained a good deal of further experience of riding the FP1.
Steve Martin said, "I'm really happy with the test, including the lap time I got down to. I'm exceptionally happy that we got through all the things we had to test, as this has given the team a really good direction to improve from yet again, in time for our test at Philip Island in January when I will be 100% recovered and fit."
Craig Jones commented, "I am really pleased with what we've achieved at this test overall, in terms of evaluating development parts and also with how I've progressed and the experience I've gained in riding the FP1, especially with this being my first visit to the Losail circuit as well. I'm a little bit disappointed with today though, as I started off right on the pace where I left off yesterday, but then could not really improve and my concentration was not fully there. I don't feel tired or 'pumped up' or even 'sweaty', but just run down. It's probably a combination of being ill yesterday and also experiencing for the first time how much effort is involved in riding a superbike for three days – and my blistered hands will remind me of that!

Team Manager, Jack Valentine, commented, "This has been an extremely positive and excellent test. Both Steve and Craig have done a great job these last few days, despite some fitness and illness issues which they worked through, to get through a tremendous amount of development work. They've also achieved good race set ups and tyre combinations for the first race of the season here in Qatar, next February. The team is now looking forward to a busy few weeks in the workshop before the first test of 2006 at Phillip Island in January."
OVERALL UNOFFICIAL TIMES
1. Bayliss (Ducati) 1:58.60; 2. Corser (Suzuki) 1:59.17; 3. Lanzi (Ducati) 1:59.40; 4. Toseland (Honda) 2:00.10; 5. Haga (Yamaha) 2:00.46; 6. Kagayama (Suzuki) 2:00.62; 7. Muggeridge (Honda) 2:00.68; 8. Pitt (Yamaha) 2:00.81; 9. Martin (PETRONAS) 2:01.80; 10. Jones (PETRONAS) 2:02.50
Yamaha Motor Italia ends 2005 with Qatar test
7/12/2005 - Yamaha Motor Italia completed their first year in the Superbike World Championship yesterday, taking part in a three-day test session at the Losail circuit in the Gulf state of Qatar.
The test, organised by championship tyre suppliers Pirelli, was attended by all but one of the series' designated development teams and gave riders Noriyuki Haga and Andrew Pitt an opportunity to test some new Ohlins suspension parts on their YZF-R1 machines, as well as a host of new tyre options.
In contrast to the rain which affected last February's race at the long Losail circuit, the riders were welcomed by surfaces temperatures approaching 40 degrees Celsius. Typically, Haga chose not to run a qualifying set-up - recording a best of 2:00.46 on race settings. Pitt did run the soft qualifying rubber on the third day to set a best lap of 2:00.56. Both riders were over two seconds faster than in their last visit to the desert circuit, almost 10 months ago, an indication of the development of both the machine and tyres. Ducati rider Troy Bayliss topped the timesheets after three days of running, with a 1:58.66 lap on qualifying tyres.
The next official superbike test takes place at Phillip Island in Australia, between 17 and 20 January. Round one of the series takes place at Losail on 25 February.
Noriyuki Haga
"The new suspension is very good. The front worked straight away without any changes! The rear is also good and with some changes we should find some further improvement. Now I am happy to go on holiday. We have hardly stopped since the end of the season and even as early as January we are back testing."
Andrew Pitt
"It's been a satisfying test and I was pleased to find that on the few times I was lapping with Bayliss my R1 was a little faster than his Ducati. Certainly the engine upgrades are working good, as is the new suspension. We also fitted a new shock at the end of the test and this will be one of the key development areas at our next test."
Massimo Meregalli (Team Coordinator)
"We have improved massively since the first race of last season, especially with the chassis, and we suffered none of the front tyre wear problems we had when we raced here. We still have to work on the settings of the new shock absorber, but this looks like a step forward. We also tested engine durability here and completed almost 1,600 kilometres without any problems whatsoever. Also at this test we tried various different injection mappings to give a sweeter power delivery and better drive. Over the next few weeks we will build our 2006-specification engines and at the next test we expect to have several new developments, especially with the engine."