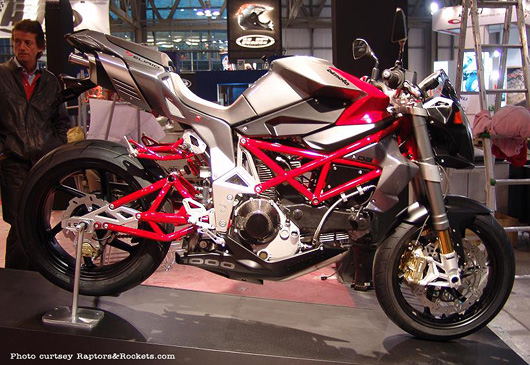 Bimota premiered its new Delirio naked streetfigher using the popular Ducati DS1000 engine. Ducati uses the same engine in their new prototype Hypermoto which we revealed 2 weeks ago. Delirio Specs.
2005 International Motorcycle Show from Milan

Intermot Motorcycle Show in Milan Draws a Record Crowd
Milan, Italy , Nov 11-20th 2005 - Launched by Italian Prime Minister Silvio Berlusconi at the official inaugeration and favoured by perfect weather conditions, the 63rd edition of the International Motorcycle Exhibition (Intermot) closed with yet another record of public visitors, beating the expected figure of 500,000.
The number would have been even high except forthe transfer of the show to the new Milan Exhibition centre on the outskirts of the city, but this was the only problem, while a positive aspect was the realisation of the extra Vodafone Motolive event in the special outdoor arena.

The new Milan Exhibition Centre : high functionality and impressive, built in record time, strategically positioned, nearby Milan, at the confluence of the main highways, few kilometres from Malpensa International Airport, and easily reached by the underground (red line n°1) which provides a direct link to the city centre.

The records set by the 2005 show were 64,000 sq.m of show space, 300,000 of total show area, 1560 exhibitors and 2150 journalists accredited for the show. Such numbers have never been reached by any two-wheel show. The constant flow of the public in the brand new halls was amazing and the strong presence of the Italian and International trade visitors was the highlight for the organisers. More 60,000 international visitors attended from around the world.
Other good news concerns concerns the date: for the last 15 years, the Motorcycle Exhibition was held in September whereas it will now be in November because many exhibitors had problems to organise a fair during the peak selling season in September. Furthermore in November the international racing season ends which ensures a large number of well known protagonists from both the Mondial and the MotoGP can participate.
The third is that the International Motorcycle Show in Milan will from now on be an annual event. Historically the International Motorcycle Exhibition in Milan was held every 2nd year alternating with the German Motorcycle Show in Cologne, Munich, but as nearly half of the visitors to the German Motorcycle Show were from Italy, it has been decided, without any presumption, to make Milan "the" annual reference for the global motorcycle industry.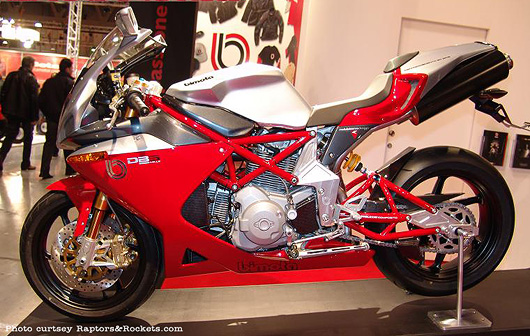 The Bimota DB05 Mille also using the popular Ducati DS1000 engine, but it really needs the more potent Ducati 4-valve Testastretta engine for such a high priced Superbike offering.
"We're going to celebrate the success of the show on Saunday but on Monday we'll quickly begin working on the 2006 show," the Director General of ANCMA and EICMA Costantino Ruggiero said. The dates for the 2006 show have already been decided. The 2006 International Motorcycle Exhibition will be held between November 14 and 19.
One of the dozens of motorcycles you'll never see in America, The Derbi BulHacen street scrambler. Dig the big bazooka SuperTrapp style muffler.
America has nothing to really compare with Intermot. Our own national Cycle World Intertational Motorcyle Shows produced by Advanstar visit 13 major cities across America during the 5 month winter months from November to March and are a bland presentation of the new production bikes available from the 8 major motorcycle distributors here in America. It is taboo and outside their budgets for any of the American bike distributors to hire spokesmodels for their booths, and Advanstar is too greedy to spend a penny to entertain paying visitors.
For comparison above: A picture from Advanstar Cycle World IMS Show in Houston this past month: no name builder bland customs, no spokesmodels, no music or entertainment, no spectatars. Yawn! Advanstar's Big Twin West show for the American V-Twin market last month in Vegas was also a poor draw for spectators.

Intermot offers updozens of exciting prototype and concept bikes from both the major manufacturers and all the smaller speciality manufactuers worldwide, together with top factory racers and designers, and beautiful spokesmodels on every stand. The scope of Intermot is beyond imagine if you've never been there, and it takes a a full 2 days just to walk all the halls and take it all in. On the days when the European shows are open to the general public it's so crowded you can hadly see the bikes. If you ever can, you need to visit a European Bike Show to see what we are missing in America. Also, Check out our trip to the Paris Bike Show.
More 2005 Intermot, Paris, and British Bike Show picture links:
Milan photo gallery • Intermot Girls
Raptors & Rockets Milan 2005 • Paris 2005 • Birmingham 2005 • Bike Show Girls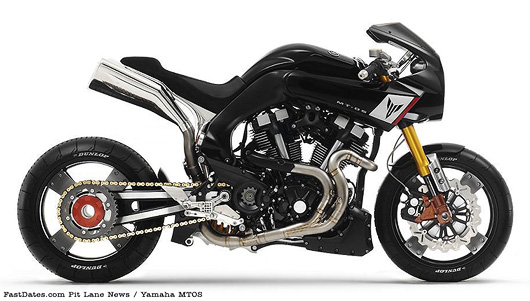 Yamaha USA doesn't trust us to offer the 1800cc T-Twin MT0S V-twin sport bike to the American market, but Yamaha of Japan was happy to show off this exciting naked streetfighter version of the MTOS to the rest of the world.
---
They're back!
After a year's hiatis to let the censorship dogs in the US Congress and at the FCC cool down after Janet Jackson's infamous Superbowl "wardrobe malfunchion", the Victoria;s Secret Supermodels will be back to strut, pout and jiggle down the catwalk in next to nothing to help spread a little Christmas cheer this season. Hopefully it will be better produced TV production this year, unlike 2 years ago when much of it was filmed out of focus by a bunch of one handed camera men. What could they have been doing with their other hand?
---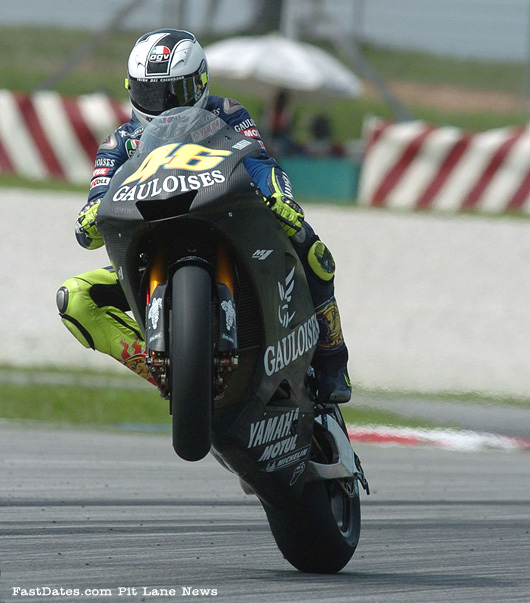 No hope for the competition in 2006? Valentino and the unsorted new 2006 spec M1 Yamaha were quickest at Sepang.

MotoGP World Championship WinterTests

Rossi is Top Dog at final 2005 MotoGP Winter Tests
Honda's new MotoGP star Pedrosa heads the chase for next year
Sepang, Malaysia, 28- 30th November 2005– Three days of tests for a host of MotoGP World Championship teams concluded on opposite sides of the globe today, bringing to an end all track action for 2005 ahead of the traditional winter testing ban, which runs from December 1st to January 20th 2006 inclusive. Representatives from Honda, Yamaha, Suzuki and Kawasaki were at the Sepang circuit in Malaysia whilst back in Europe the factory Ducati outfit were put through their paces at the Jerez circuit in Spain.
MotoGP World Champion Valentino Rossi was the fastest rider over the three days at Sepang as Yamaha rolled out their 2006 version YZR-M1 machine for the first time. The Italian clocked an unofficial best time of 2'02.61 on the second day of the test, some three tenths of a second inside the current official lap record of 2'02.993 held by Nicky Hayden, before a spell of morning rain prevented any hope of improvements on the final day.
"The test was not so bad, especially yesterday we did a good job," commented Rossi. "We worked a lot on the new M1 and the first impression is not bad. The bike is already fast, I was able to do some good lap times but it is the first prototype so we need to work to improve it. Already it is a little more powerful, a little more stable and we hope it will be more easy to set up."
A handful of new challengers to Rossi's MotoGP dominance got their first true taste of life alongside the Italian in Malaysia, with 250cc World Champion Dani Pedrosa and his former quarter-litre rival Casey Stoner racking up the laps aboard Honda RC211V machines and ex-World Superbike star Chris Vermeulen getting to grips with his new Suzuki GSV-R. Frenchman Randy de Puniet, another rider to have taken part in 250 this year, also completed his first full test on board the Kawasaki Ninja ZX-RR, whilst Briton James Ellison took hold of the Tech3 team's Yamaha M1 in a test on Dunlop tyres.
"We've made big steps forward in terms of getting to know the bike," said Pedrosa, who set the quickest time on the final day with 2'02.77 despite the damp track conditions in the morning. "It has basically been a tough three days for me because I've never done three days of continuous testing before and never on such a demanding bike! I'm physically drained but we've found a few positive things out about the machine, especially today, and the important thing is we keep making positive steps forward."
Pedrosa's compatriot Sete Gibernau knows precisely what is required to beat Rossi and the experienced Spaniard worked with that goal in mind as he completed his second test with Ducati at Jerez. Gibernau switched from Honda at the end of the 2005 season and is already feeling at home with the Italian team, despite also having switched from Michelin to Bridgestone tyres.
"It was useful to get to know exactly what I need to find the right feeling with the new bike," said Gibernau. "We made progress and managed to find a path that seemed right. We are making small steps forward to avoid going in the wrong direction. I also tested the new tyres and started to give a few indications to the Bridgestone guys."
RAIN AFFECTS THIRD DAY OF TESTING IN MALAYSIA
Wednesday 30th - The final day of the three-day Sepang Test was interrupted today, when rain throughout the morning meant that Valentino Rossi and Colin Edwards were not able to get out on track until mid-afternoon. Despite the delay, Edwards had his first ride on the prototype 2006-spec YZR-M1 and both riders completed some important tyre testing for Michelin.
Temperatures were much lower after the rain and the character and conditions of the track were quite different to the past two days, causing a shake-up in the unofficial times. Fastest man on the track today was MotoGP rookie Dani Pedrosa (Honda), who set a best lap of 2'02.77. This was still short of the 2'02.61 set by Rossi yesterday, which remains the fastest time over the three days of the test. The Yamaha riders were further down the order in seventh and ninth places today; Edwards completing 43 laps with a best time of 2'03.61, whilst Rossi set a fastest lap of 2'03.85 after just 22 laps.
Both riders now fly to Japan for a short promotional visit, before heading back to their respective homes in the UK and America for the holiday season. The Team will reconvene in Sepang on 23rd January for the first test of the 2006 MotoGP season.
COLIN EDWARDS – 7th, 2'03.61, 43 LAPS "After it had finally dried up I did one run on the old bike to check a few things and then I got onto the new bike pretty quickly. It took a bit of time to work things out and find my settings, but once I got going it felt great. The track conditions had really altered after the rain; it wasn't as easy out there as it has been and we encountered a few problems, but we managed to find the right tyres and iron things out. At the end of the day I feel really positive and quite excited about the new bike, especially considering that it's such early days. The stability is definitely improved and the overall feedback is really good. With a new bike, it's always a case of sacrificing some things to improve in other areas, but everything combined together on this bike feels great. Anyway, it's been a pretty good test all round and it's a good feeling to sign off the year on a high note."
VALENTINO ROSSI – 9th, 2'03.85, 22 LAPS "We had planned to do a longer run on the new bike this morning but unfortunately the weather didn't allow it and we had to wait to get started. We only had time to do a few things before we changed back onto the old bike. After that we tested some more tyres and still managed to complete some good work, even though we didn't do so many laps. I am happy about this test because overall it's been positive. We made some good improvements with the old bike, made a strong start with the new one and gathered some important data. Now Yamaha have some feedback about the new prototype and they can work on it over the winter, before we come back here in January after the winter break to continue our development."
DAVIDE BRIVIO – GAULOISES YAMAHA TEAM DIRECTOR "This has been an important test for us. Yamaha had the new bike ready for us early and we have been able to give them some information about it. Now they can begin to fine-tune it. It's shown a good level of performance from the start and both riders are positive about it, but we know that there is a lot of work to do yet. Anyway, the information from this test will be very useful for Yamaha over the winter. Now we wait to come back here in January with a more final version of the bike. The rain made the conditions of the track quite difficult today and it was harder for Colin to feel the benefits of the new bike, but despite this he was quite happy. Anyway, it's good to experience this, as we could find ourselves with these conditions at a race and so the information from Colin is very useful for our engineers. It's been a good test and now we're all glad to have a rest before the hard work starts again!"
A handful of 250cc riders also lapped at Jerez, most notably with Sebastián Porto making his return to Honda where he tested along with factory colleague Andrea Dovizioso.
Preseason testing for the 2006 MotoGP World Championship will continue for the majority of teams at Sepang on January 23rd.
---
Chicks that Kick Ass!
Charlize Theron stars in Aeon Flux
in Theatres December 2nd
In this futuristic Si-Fi thriller set 400 years in the future, Charlie Theron stars as Aeon Flux, the top undergoround operative in awar with the totalitarian regime governing what sppears to be a perfect society. Aeon is on the front lines of a rebellion that will reveal a world of secrets. It's a startling vision of a future in flux from Karyn Kusama, director of the aclaimed Girlfight, Aeon Flux is based on the characters created by Peter Chung in the pioneering MTV Animated series.
Since her film debute 10 years ago, Charlize has started in some 25 major films including the box office hits Cider House Rules, Sweet Novemeber, The Italian Job, and most recently North Country.
In every role she shines as a stong, beautiful, take charge kind of girl that we love to feature in our FastDates.com profiles of "Beautiful Chicks that Kick Ass!"
More Beautiful Chicks That Kick Ass HERE • Visit the Aeon Flux Website at www.aeonflux.com
---

2006 SI Swimsuit 15-inch Wall Calendar w/poster

2006 Sports Illustrated Swimsuit Calendars available here!
Click the Covers to Order


2006 SI Swimsuit 12-inch Wall
Fast Dates Calendar Motorcycle Roadracing News. Complete coverage of the SBK World Superbike, AMA National Superbike and MotoGP World Championship. Superbike, sportbike, grand prix, MotoGP, race, racing, news, coverage, photos, pictures, Fast Dates Calendar and Umbrella Girls. Racing, road race, track, motorcycle, news, results, girls, models, Mat Aladdin, Max Biaggi, Valentino Rossi, Ben and Eric Bostrom, James Toseland, Regis Laconi, Loris Capirossi, Troy Bayliss, Troy Corser, Noriyuki Haga. Ducati 999 Monster Multistrada, Yamaha R6 R1, Honda CBR600RR CBR1000RR, Kawasaki ZX6 ZX6RR ZX10, Suzuki GSXR600 GSXR750 GSXR1000, Aprilia Mille, MZ Agusta F4 Brutale. Los Angeles Calendar Motorcycle Show.



Click to Order Now!
Fast Dates Racebike Pinup
No other sportbike calendar gives you the world's top factory Superbikes!
Take Chis Vermeulen's Ten Kate Honda CBR1000RR cover bike and all the top factory World Superbike and our beautiful
Fast Dates Angels on a date!
14 Month 2006 Calendars
start November 1st 2005
Iron & Lace Custom Bike Pinup
Featuring the beautiful
Fast Dates World Superbike Girls
Chandi, Andra and Taylor in
Iron & Lace, Garage Girls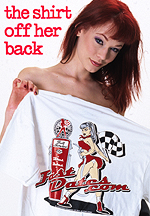 Christmas Wrapping
wear protection all year 'round
2006 FastDates.com Calendars World Premier
at Brands Hatch
World Superbike England
Complete Coverage Here
DUCATI HYPERMOTARD MAKES ONLY NORTH AMERICAN APPEARANCE IN LONG BEACH
EICMA "Best of Show" winning concept bike on display December 9th – 11th at Long Beach Cycle World IMS Show
Cupertino, CA – December 2, 2005 – Just a few hours from its unveiling, the new concept bike, the Ducati Hypermotard, had already won its first prestigious and important recognition. The prototype designed by Pierre Terblanche was awarded "Best of Show" at the "Designers Night" held by the Motorcycle Design Association. The new Ducati "jewel" was chosen from the many new motorcycles proposed at EICMA, the 63rd International Motorcycle Exhibition.
Now US enthusiasts have a rare chance to see this bike at the Long Beach Cycle World International Motorcycle Show on December 9th through December 11th, 2005.
"This is an exciting time to be involved with Ducati. The Hypermotard coming to California is the only one in existence and we are delighted to show it in North America, which is poised to become Ducati's number one market next year. This concept bike takes us to a new market completely," commented Michael Lock, Ducati North America CEO.
The Ducati Hypermotard is a radical concept bike that takes power, aggressiveness, versatility and sport performance to a new extreme.
Supermotard styling makes the blood boil. However, this bike offers what no Supermotard can: speeds exceeding 135 MPH on the race track, fuel injection and 100 horsepower and only 385 lbs of dry weight.
New 2006 World Superbike Rules and Technical Regulations Released
by FIM
On the official FIM web site www.fim.ch you can find the General Undertakings and Conditions and Sporting Regulations togheter with the Technical Regulations regarding Superbike & Supersport World Championship and Superstock Cup for the season 2006.
This is the rule book the AMA needs to adopt in total to reduce its plethora of duplicate classes, and to allow AMA teams to compete in World Superbike if and when it might return to America for the benefit of the sport and fans.


Hamagouchi Full Titanium Race Exhaust Systerms
Your best / most cost effective performance and handling upgradeNow Just $1395 from Sudco

FastDates.com Calendar Angel
Jamie Pressly
featured in FHM
Big Discount Magazine Savings
to FastDates.com Readers
Positive first test for new-look Team SUZUKI MotoGP
Nov 30th - Team SUZUKI MotoGP has completed its first test in preparation for the 2006 season at Sepang in Malaysia, with promising results to take into the winter.
John Hopkins used the three day test to evaluate the prototype version of Suzuki's 2006 GSV-R race bike and both he, and his crew, believes that the new machine has good potential to take them forward. Hopkins was also able to undertake a major evaluation of Bridgestone's latest developments and completely new Ohlins suspension. The Anglo-American star revelled in his new role of determining the team's direction for 2006, managing to complete over 150 laps and recording a fastest time of 2'03.0
Chris Vermeulen was at Sepang for the first time in his career and quickly got to terms with the technical Malaysian track, getting more than 170 laps under his belt. His times dropped steadily throughout the three days and he was in a more competitive position at the end of the test, with a quickest time of 2'04.5. He too was able to test new development parts and put in exhaustive runs for Suzuki's tyre partner Bridgestone.
The hot and humid conditions at Sepang were ideal for the team to put the GSV-R through a series of demanding tests. All aspects of the new prototype bike and the riders' feedback will now be scrutinised at Japan during the seven-week test ban that comes into operation on December 1st.
Team SUZUKI MotoGP and its two young racers will next be in action at Sepang during late January for the start of an intensive testing programme. The new MotoGP World Championship season is provisionally scheduled to begin at Jerez in Spain on Sunday 26th March.
John Hopkins: "Everything went pretty well really, we got through a lot of stuff – probably the most I have ever got through in a test with Suzuki. The initial feeling towards the new bike was somewhat different but we did some laps on it and got a better feeling quite quickly. The lap-times dropped fairly well and we got the times back to what the old bike was doing. We also got through a lot of tyre testing throughout the week and it looks like Bridgestone have got some good plans for next year. We are now looking forward to the new motor coming in January and if it as good as the factory hopes it is then we can expect good things from me and Suzuki in 2006."
Chris Vermeulen: "I am really happy with the test. I spent the first day learning the track and getting to know the bike as it was my first real test on the GSV-R and the Bridgestone tyres. I tried out a lot of different things, especially on the second day where I spent most of the time making long tyre runs for Bridgestone – which in these conditions was very tiring. I had hoped to go a bit quicker today but the track was a bit greasy so that wasn't possible. John's comments on the new bike seem very promising and we should have the new engine and chassis together in a package for the next test so I'm really looking forward to that."
Ducat MotoGP Test
Results from Jerez
Nov 30th -Today's third and final day of testing for the Ducati MotoGP Team at Jerez de la Frontera was marked by clear skies and sunny conditions, but a cold wind meant that Loris Capirossi and Sete Gibernau could only take to the track at around noon.
Following Monday's convincing debut and yesterday's confirmation in the improved track conditions, for the final day of testing both riders preferred to concentrate almost exclusively on the Desmosedici GP6, lapping in similar times. Only Capirossi went out for a few laps with the GP5 towards the end of the day, which was useful to confirm a series of development indications.
Loris and Sete also tried out several qualifying tyres to give indications to the Bridgestone technicians.
At the end of the day Loris Capirossi had completed 64 laps, setting a best time of 1'40.947 on qualifying tyres and 1'41.394 on race tyres.
"Today the wind was really cold," declared Loris. "We did a lot of work with tyres of the same compound but with different structures and I think that our Bridgestone friends picked up some interesting data. At the end of the day I did several laps with the GP5, which was useful to understand the differences after three days of testing with the new bike. I am pleased with the work we have done over the last three days but now I just can't wait to go on holiday!"
Sete Gibernau continued to make progress, remaining out on the track right until the final minute of the session to familiarise himself as much as possible with the Bridgestone-shod Desmosedici as well as with the working methods of his new team.
The Spanish rider completed a total of 60 laps, recording a quickest time of 1m41.024s on qualifying tyres and 1m41.609s on race tyres.
"In these three days me and my team got to know each other a lot better" said Sete. "We did a good job and although we know there is a lot of work still to be done, this for sure is a great stimulus for me. Today for the first time I tried the Bridgestone qualifying tyres and they felt pretty good. It was important for me also to give my feelings to the Japanese technicians with these tyres. Now we're going to have a bit of a holiday break, but I can't wait to get back to testing at Sepang in January".
Now that the Ducati MotoGP Team's 2006 Desmosedici has completed a successful three-day shakedown test, the two riders can take a well-earned rest because tomorrow will see the start of the compulsory MotoGP testing ban which will remain in force until January 20, 2006.
The Ducati MotoGP Team will resume its testing programme once again at Sepang on January 23, this time together with all the other top MotoGP teams in view of the opening round of the 2006 championship which gets underway on March 26 at Jerez de la Frontera.
2006 Ducati MotoGP Team testing calendar:
January 23/24/25 - Sepang (Malaysia)
January 30, February 1/2 - Phillip Island (Australia)
February 14/15/16 - Sepang (Malaysia)
Pedrosa fastest Honda on final day of Sepang Tests
HRC MotoGP test Sepang, Malaysia November 30, 2005
Final day of the three-day test.
Rapidly changing weather conditions hindered the Honda MotoGP riders on the final day of the three-day MotoGP test held at Sepang, Malaysia. The morning session was virtually abandoned by most riders due to the half wet - half dry track conditions but a heavy down pour at lunchtime saw several
riders take to the track testing Michelin wet weather tyres.
Repsol Honda Nicky Hayden was quick to take advantage of the conditions and ran over 20 laps of the wet track testing the latest RC211V chassis in combination with full wet tyres. When the track dried out Hayden began testing a range of slick tyres for Michelin.
Dani Pedrosa, on the second Repsol Honda, ran his first ever wet weather test aboard an RCV. The 20-year old Spaniard was surprised by how easy the
RCV was to handle in the wet in comparison to the RS250R-W he raced to his second 250cc World Championship.
Pedrosa set the fastest time of the day at 2m 02.770s with Hayden a whisker behind just two/tenths of a second slower.
The weather forced Fortuna Honda rider Marco Melandri to abandon his planned race simulation test Michelin had planned for the day but the young Italian was satisfied with the work he managed to do. Teammate Toni Elias went out in both wet and dry conditions and found a good direction to work
in at the next HRC MotoGP test, here at Sepang in late January.
The Honda Pons riders were not as active as their fellow Honda riders in the wet conditions. Carlos Checa decided to sit out the wet session but put in 45 dry laps after lunch. Casey Stoner did some wet laps but rested his
cramped arms on a few occasions eventually covering 48 laps of the 5.548km grand prix circuit.
Honda rider lap times and quotes.
Nicky Hayden, Repsol Honda: 2m 02.790s - 89 laps. "You know the weather wasn't the best today but I needed to get in a lot of laps in the wet. We focused on my old bike and put in some decent laps with the wets on. We also tried an intermediate tyre that I really liked. When it dried out we
tried out some rear tyres that were a little different from the ones we
used at GP here and they were a little better, which was really good. The three-day's were really useful for the team and I set my best time of the week today but you always want to be faster. I will leave here with a positive spirit. Go home regroup and wait for the New Year. All the guys on
the tam have worked so hard, nobody was afraid to get their hands dirty, mechanics, HRC and the Michelin guys. Sure we want more but we will go awayfrom here positive. Not on top of the world but not at the bottom either."
Dani Pedrosa, Repsol Honda: 2m 02.770s - 57 laps. "I surprised myself this week I was riding this track sliding with the tyre they gave me. I tried three different tyres today and at the end I began to feel the difference
with each tyre. I could understand where the limit of the slide was. Also how the tyres work when they are new and when they have done many laps. It was much different riding this bike on wet tyres. I was surprised by how
much grip they have in the corners but I was sliding on the straights when accelerating. Even under braking the rear end of the bike weaves from side
to side and you feel it in the handlebars. But I didn't do too many laps but I was really happy with the feeling in the wet. It was a very positive experience but I'm tired, very, very tired. I think I will have to rest for five days when I get home to get over it."
Marco Melandri, Fortuna Honda: 2m 02.80s - 56 laps "Not so bad, even if we could not test much in the wet, or dry conditions either. I was supposed to run a race simulation and try four different tyres but the rain prevented
that. It was the same with the wet tyres. I had two tyres to test but only managed to test one because the track dried out too quickly. I didn't really like this track before but I found a good rhythm all week and I improved my performance over that in the race here. The test was very positive for me and the tam and I will now wait for the new bike to arrive
in January.