Valentino Rossi Records Top 10 time in Formula One Testing
Valencia, Spain Feb 1st - The top teams competing in the Formula One World Automobile Championship held their first test of the season at the Valencia GP Track. An unexpected guest at the race car test was MotoGP World Motorcycle Champion Valentino Rossi, who was spending the week in Europe rather than attending the unofficial MotoGP tests at Phillip Island (see below). Driving in his first ever public appearance with other racing teams outside of the private Ferrari test track where he had only driven in the past, Valentino posted a very impressive 9th quickest time in a power restricted factory Ferrari ahead of other F1 regulars including David Coultard.
Despite his minimal experience in a F1 race cars, his quick times in this test indicate Rossi could become a front runner very quickly should he move to F1 in 2007 on his retirement from motorcycle racing. Ferarri's main man Michael Schumacher is expected to retire in 2007 as well, and Ferrari's is hot to have a top name celebrity and potential race winner to step in a fill Schumacher's shoes.
Right: Valentino Rossi and Ferrari's
7-time Formula One World Champion Michael Schumacher with Ferrari boss

1. F. Alonso Renault 1m11.291s
2. J. Button Honda 1m11.327s
3. M. Schumacher Ferrari 1m11.831s
4. J.P. Montoya McLaren 1m11.978s
5. R. Barrichello Honda 1m12.062s
6. H. Kovalainen Renault 1m12.113s
7. J. Villeneuve BMW 1m12.619s
8. R. Zonta Toyota 1m12.660s
9. V. Rossi Ferrari 1m12.856s
10. D. Coulthard Red Bull 1m12.883s
11. A. Wurz Williams 1m12.925s
12. G. Paffett McLaren 1m12.937s
13. M. Webber Williams 1m13.050s
14. J. Trulli Toyota 1m13.078s
15. R. Kubica BMW 1m13.332s
Feb 3rd - Following a productive three-day test at Valencia, both Ferrari and Valentino Rossi have confirmed that the MotoGP sensation will take part in further tests over the coming months, prompting further speculation that the two-wheel star is heading for four
"It has been a very interesting test, considering how it was the first time I lapped in a Formula One car along with other drivers," Rossi told the Ferrari website. "I have to say I felt at ease and had no particular problems. Maybe I need a little more experience of driving on a wet track."
Rossi's running was severely restricted on the first day of testing as a result of continuous rain, indeed the Italian failed to complete a single lap, having spun off after just a handful of turns - much to the delight of sections of the media."Things improved over the next couple of days with Rossi completing a further 106 laps and outpacing a number of established F1 stars - albeit posted in a (restricted) V10 powered F2004.
"I did not come here to show anything to anybody but simply to broaden my understanding of a Formula One car and I thank Ferrari for continuing to give me this opportunity," added the Italian."In the next few months there will be more tests but now I go back to motorcycling, which is foremost in my thoughts.
"I, like Ferrari, have a task to face," he continued. We both have championships to compete in and, possibly, to win." Ferrari has confirmed that Rossi will take part in further tests, though no dates have been decided.
Meanwhile, seven-time world Champion, Michael Schumacher, believes that Rossi can make a smooth transition to four-wheels."Absolutely, it's completely possible for him," he told L'Equipe on Thursday. "He has enough talent to get there. I would even say that it is easier to go from bikes to cars than the other way round. And when, like him, you have this special feeling on two wheels, you can use it perfectly on four wheels."

Marco Melandri on the Fortuna (cigarette censored in Australia to "Spain's No 1 brand) Honda.

2006 MotoGP World Championship - Testing Phillip Island

Marco Melandri Tops the Time Sheets at Phillip Island
in 2nd Round of motoGP Winter Tests
Sete Gibernau and Loris Capirossi confirm Desmosedici GP6's potential on both qualifying and race tyres.
Phillip Island (Australia), Jan 31 - Feb 2nd,2006 - The third and final day of Phillip Island testing was characterized by fine weather, enabling the MotoGP teams to complete their Australian preparations in view of the new season. Track conditions were not optimal following the heavy rain the day before and the riders were confronted by slippery conditions but luckily the strong wind of yesterday had subsided. The conditions improved as the day went on with the riders laying more rubber on the racing line of the 4.448 km grand prix track.
Marco Melandri again fastest Honda on final hard day of Phillip Island MotoGP test. The final day of the three-day MotoGP pre-season test at Phillip Island was run at a frantic pace with the Honda RC211V riders present all putting in marathon sessions in a bid to make up the time lost to rain on the second day.
Day 1: Melandri Leads the Charge
January 31st - MotoGP 2006 pre-season testing moved to phase two with the majority of teams continuing their race preparations in Australia. On a blustery day with a strong wind blowing up the main straight at the 4.448 km circuit the Honda 'Young Guns' were the men to beat with there RC211V riders topping the time sheets.
Fortuna Honda rider Marco Melandri was the fastest Honda RCV man on the opening day of the three-day test. Italian Melandri set a lap time of 1m 30.72s, just four/tenths of a second outside his own lap record.
Melandri's team mate, Spaniard Toni Elias has been working to a carefully prepared pre-season test schedule designed to give him a complete overview of precisely what he can expect from his RC211V during his debut season aboard a Honda. Marco Melandri worked to the same schedule in his RCV debut season and was richly rewarded with second place in the 2005 championship.
The Repsol Honda team were on the pace almost immediately. With rain forecast for tomorrow team riders Nicky Hayden, pole sitter at the Australian GP in 2005, and reigning 250cc World Champion Dani Pedrosa put in a staggering number of laps during the day.
Hayden tested a range of chassis settings in combination with various front forks setting his fastest lap on lap 92 of his 114-lap day aboard the 990cc five-cylinder four-stroke Honda. Pedrosa, making his MotoGP class debut at the circuit, set his best time on lap 97 of his 111-lap marathon. He worked on improving his feeling for the RCV while front tyre testing for Michelin.
Young Australian Casey Stoner was in fine form on home ground and, despite feeling sick during the morning Stoner got his head down and put in a solid performance that delivered third fastest time of the day behind Melandri and Hayden. The LCR Honda rider made his best showing on the RCV since he made the switch to MotoGP following his second place in last season's 250cc world championship. His best was a fastest lap at 1m 30.00s flat.
For the Ducati Marlboro Team, Sete Gibernau completed his first laps at the Australian circuit with the new Desmosedici, while Loris Capirossi returned to the track for the first time since last October, when his spectacular crash in Australian GP free practice forced him to miss the next two races. The weather was cloudy in the morning but the skies cleared up in the afternoon and the entire day was characterized by the typical blustery conditions of the island circuit.

Gibernau focussed mainly on chassis and tyre set-up for his Desmosedici and after reaching a satisfactory feeling the Spanish rider is now searching for the right set-up to enable him to lap constantly at a quick pace.Sete Gibernau (71 laps), best time 1m31.27s - "Today was dedicated mainly to tyre and chassis settings. On this track the engine braking is very important and it has to have different characteristics for the long fast curves and the Honda hairpin. We must make the most of the remaining two days to find a good compromise that will allow us to put in a continuous sequence of quick laps. Bridgestone also has a full programme of work that includes testing new tyres tomorrow".
Loris Capirossi also put in a lot of laps on a circuit that he particularly likes, despite the memories of his crash last October. Loris Capirossi (74 laps), best time 1m31.60s - "Today we did a lot of work on the set-up of my Desmosedici GP6 and with the new tyres that Bridgestone brought along: things are going quite well, but we're still missing something that prevents me from going as quick as I would like. For sure, this circuit has completely different characteristics to Sepang, where we were last week and where we have always been at the top of the timesheets. However we still have two more days work ahead of us, and we'll use them to find the best possible set-up".
Kenny Roberts Jnr continued to unravel the mysteries of his all-new Honda powered KR211V Team Roberts machine. Roberts Jnr continued working with the first prototype chassis produced by the team the new, stiffer chassis brought to Phillip Island will be tested on the final day of the test. With only one machine available to him Roberts Jnr completed just 41 laps but his lap time at Phillip Island was more than impressive for a prototype machine.
For Konica Minolta Honda rider Makoto Tamada it was his first day back at work in 2006. The popular Japanese rider missed the Sepang test session of last week but was quickly up to speed setting a respectable lap time of 1m 31.88s in a late flourish of fast laps. Tamada completed 55 laps on his initial shake down session of the new season and announced himself to be 'Pleasantly surprised' with the performance of the latest version of the RC211V.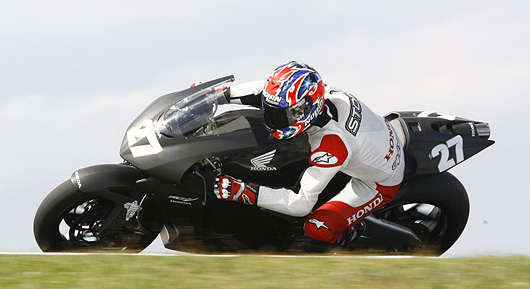 New MotoGP youngster and reigning 250cc World Champ Casey Stoner was second quickest the first day.

Day 2: Rainy day at Phillip Island MotoGP test
February 1st. The second day of the MotoGP test at Phillip Island, Australia hampered the progress made by the MotoGP teams on the opening day of the three-day test at the 4.448 km GP circuit. The Ducati Marlboro Team riders spent most of the day in the pit garage due to heavy rain at the Australian circuit.
Marco Melandri (Fortuna Honda) and Nicky Hayden (Repsol Honda) both found the 2006 version superior to its predecessor on a wet track. Hayden will be partnered by MotoGP debutant Dani Pedrosa for the 2006 season and as the more experienced of the two he will take the lead in pre-season testing. He was first to take to the wet track and was pleased with the performance of the new RC211V in the fast corners.
Melandri believes the feed-back he gets from the new chassis in wet conditions is better and he has a much better feeling with the machine than he did with the 2005 version.
The real beneficiaries of the wet conditions were two of the Honda 'Young Guns' Pedrosa and LCR Honda rider Casey Stoner. The two 20 year olds have come to grips with the 250 PS plus 990cc four-stroke RCV on a dry track.However, the RCV is a completely different animal in wet conditions.
The smooth linear power delivery of the user-friendly engine is a bonus but on a wet track 250 PS can be more of a liability than an asset. Racing a MotoGP machine on a wet track is a wheel spinning sideways on flag to flag experience. Wet weather riding skills are vital for any rider dreaming of winning world titles and the young riders need all the wet track time they can get in before the season begins on March 26.
Despite a brief wet session at Sepang last week Pedrosa and Stoner both fell at Phillip Island today. Spaniard Pedrosa lasting 11 laps before crashing exiting turn one Stoner a few laps later at Lucky Heights. Both riders escaped unscathed and both continued testing.
Konica Minolta Honda rider Makoto Tamada was quite satisfied with his day, despite the ever-changing track conditions. The popular Japanese rider retained the good feeling he had with his RCV on the opening day of the
test, his first of the new season.
Kenny Roberts Jnr did not test the prototype KR211V on the wet track top. Team Roberts preferring to prepare the machine for the final day of testing when they will use an updated chassis.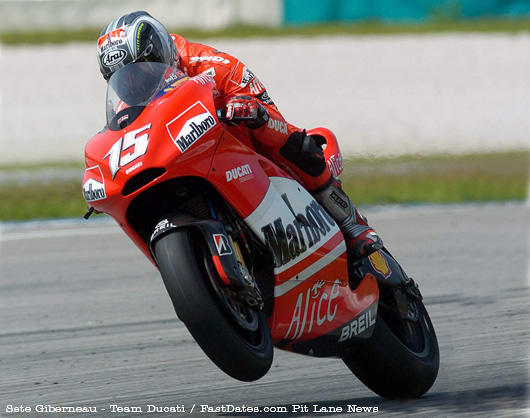 Sete Giberneau has made the transition quickly from Honda to the new Ducati Desmosedici GP6.
Day 3: Melandri Leads the Charge
February 1st. Fortuna Honda rider Marco Melandri left no stone unturned in his quest for data on the new RC211V. The young Italian covered 133 laps on the day not even stopping for lunch. Melandri is chasing a base setting for the RCV that he can work with at any circuit, tactics that served him well in 2005 on his way to runner up position in the world championship.
On a dry but not particularly quick track (as demonstrated by the times recorded today and those in last October's race), the two Ducati Marlboro Team riders notched up just over 885 kilometres to successfully complete the scheduled testing work.
With new Bridgestone qualifying tyres, Sete Gibernau set the quickest time of the day in 1m30.06s and Loris Capirossi the second quickest time in 1m30.25s, while on race tyres the Spanish rider was second on the unofficial timesheets, and his team-mate fourth.

Gibernau put in an enormous amount of laps today, 102 in total; he was satisfied with the progress made in the electronics area and with the rapport established with the Bridgestone technicians, and is now looking forward to the future with confidence.
Sete Gibernau (102 laps) - best times 1m30.92 (race), 1m30.06s (qualifying)
"Today was a positive day, the team is working hard and so are the guys back in the factory. We made a small step forward with the engine braking software. With Bridgestone we're still trying to find what we need to improve and make the bike's handling more predictable. There is still a lot of room for improvement and we will have to work hard in the next tests. I'd just like to thank everyone for the commitment and passion with which they have followed me so far: it's a real pleasure to work in this way".
Loris Capirossi completed 97 laps of the track which included a 13-lap mini-long run. The Italian was confident that he would soon be able to count on tyres that will allow him to be even more competitive.
Loris Capirossi (97 laps) - best times 1m31.07s (race), 1m30.25 (qualifying)
"Today, thanks also to the favourable weather conditions, we were able to get through a lot of work and do a lot of laps. Every day that goes by I am more and more convinced of the potential of the GP6, even at this track, which is very fast and technical. I tested two chassis, one of which was stiffer than the other, and at the next tests in Sepang we will decide which one to use throughout the season. They both have pros and cons, but for the moment I prefer the less stiffer one. We have a big margin for improvement with the tyres. Bridgestone have got a lot of data to work with to make improvements in the next tests and, knowing them, I'm sure they will".
After travelling around the world and testing for the last fortnight, the entire Ducati Marlboro Team can now fly back home. The break will last just one week however as they will then return to the Far East for the final winter testing session outside of Europe at the Sepang circuit again from February 14-16.
Unofficial times: 1. Marco Melandri (Honda), 1m30.60s; 2. Sete Gibernau (Ducati), 1m30.92s; 3. Nicky Hayden (Honda), 1m30.99s; 4. Loris Capirossi (Ducati), 1m31.07s; 5. Dani Pedrosa (Honda), 1m31.10s; 6. Casey Stoner (Honda), 1m31.13s; 7. Kenny Roberts Jr. (KR), 1m31.68s; 8. Randy De Puniet (Kawasaki), 1m31. 70s; 8. Shinya Nakano (Kawasaki), 1m31.72s; 9. Makoto Tamada (Honda), 1m31.81s; 10. Toni Elias (Honda), 1m32.14s; 11. Alex Hoffman (Ducati), 1m32.40s; 12. Jose Luis Cardoso (Ducati), 1m32.52s.
---


Joanna Gets Stuffed! - But Who Let the Dogs Out?
We've got a reputation for bring you the world's hottestest, sexiest, most beautiful models in the FastDates.com Calendars. Case in point: our beautiful Calendar Kitten Joanna Krupa has been featured in the past 6 months on the cover and inside every major guy's magazine in the English speaking world including Playboy, Maxim's American and British Editions and 2005 Maxim Calendar, and now (shown above) in a 9-page cover pictorial in the February 2006 issue of Stuff. But we brought her to you first when he discoved Joanna here in Los Angeles back in 2003 and photographed her for the 2004 FastDates.com Calendars Garage Girls and Iron & Lace.

You'll notice that Stuff actually printed 2 different covers with sweet Joanna, one with her holding back on leashes two barking Dobermans like the domimatrix of our fantasies, and the other a more up close and personal shot of Joanna ready to loose her panties. We couldn't figure out any reason for the two different covers (everything between the sheets is the same), other than to get us to buy the same issue twice - which we did (are those Stuff guys smart or what?).
The high point of Joanna's brief interview in Stuff, adding some fluff to her sexy pictorial, was the fact she doesn't spend much money on lingerie, and she's looking for a new boyfriend at the moment. She's also very athletic when in comes to parlor games, evidenced by the fact our makeup artist had to cover up a few rug burns on her before one of our Calendar shoots. If you'ld like to see a lot more of Joanna, we suggest you visit our FastDates.com Memebers Corner.
---
Ducati Announces Over $1 Million in 2006 USA Racing Contingency
Popular program returns for 2006 with increased payouts and more than 180 races throughout the nation.
Cupertino, CA, February 3, 2006 - Building on the racing legacy and passion that has created one of the most successful motorcycle brands in the world, Ducati North America proudly posts the 2006 Racing Contingency Program. The comprehensive program applies to both regional sportsman and professional racers, and is significantly improved and strengthened over the inaugural 2005 season.
The total program applies to over 180 races and the overall fund has been increased to more than $1,125,000. Changes for the 2006 racing season include the addition of significant funds posted for WERA events and other class and rule changes.

"Racing is what we are all about, I am happy to have the chance to give back to the racers who work year round to race our motorcycles and enjoy them in the purest form of what they were intended to do" says Michael Lock, CEO of Ducati North America. "Racing, even on the club level is a serious and expensive commitment, and we salute and support those that put in the effort".

In addition to the Racing Contingency Program, Ducati North America offers further club racing support with "racer only" pricing on selected new 2006 models, as well as a limited production "Race only" SS1000 model. Please speak with your local dealer for more information on these programs (special terms and conditions apply).
Founded in 1926, Ducati builds racing-inspired motorcycles characterized by unique engine features, innovative design, advanced engineering and overall technical excellence. The Company produces motorcycles in six market segments which vary in their technical and design features and intended customers: Superbike, Supersport, Monster, Sport Touring, Multistrada and the new SportClassic. The Company's motorcycles are sold in more than 60 countries worldwide, with a primary focus in the Western European, Japan and North American markets. Ducati has won thirteen of the last fifteen World Superbike Championship titles and more individual victories than the competition put together. For more information about the Company, please visit our web site at www.ducatiusa.com
Please read carefully the details of this program and send any questions to: contingency@ducatiusa.com.
Professional Racer Program: - $487,500 Posted Series
AMA Formula Extreme AMA SUPERBIKE
Bike: 749 and 999 Superbikes
Number of Events: 11 11
Total Posted: $ 190,000 $ 297,500
Overall Championship: $ 25,000 $ 50,000
1st: $ 7,500 $ 10,000
2nd: $ 5,000 $ 7,500
3rd: $ 2,500 $ 5,000
(Factory team excluded)

Club Racer Program: Ducati Dealer Racing Rewards - $637,600 Posted
CCS - Race of Champions $23,500
Champion Cup Series - Regional Races $196,000
WERA – Regional Races $183,600
WERA – Grand National Finals $23,500
Loudon Road Race Series Championship (Sanctioned by CCS) $42,000
American Federation of Motorcyclists (AFM) $41,000
Oregon Motorcycle Road Racing Association (OMRRA) $27,000
Washington Motorcycle Road Racing Association (WMRRA) $30,000
Willow Springs Motorcycle Club (WSMC) $34,000
Central Motorcycle Racing Association (CMRA) $15,000
Motorcycle Racing Association (MRA) Colorado $22,000
TOTAL $637,600
---
The World's Fastest Indian
In Theatres February 3rd

"You live more in five minutes on a bike… than some people live in their lifetime," says the plucky, gravel-voiced Burt Munro (Anthony Hopkins), early on in writer-director Roger Donaldson's The World's Fastest Indian. That line and the scene containing it eloquently sum up Munro's fearless devotion to his lifelong love: speed racing, specifically on his re-conditioned 1920s-era Indian motorcycle. World's Fastest is part biopic, part road movie, part triumph of the sprit moviemaking, but, underneath all that, it's a tribute to the aging Munro, whose grit and tenacity elevated him for small-time obscurity to the status of motorcycling legend--the holder of several land speed records.

Donaldson's movie focuses on Munro's 1967 odyssey from his remote New Zealand town to his record-setting speed trials in Utah's Bonneville Salt Flats. Though plagued by a heart ailment, Munro soldiers on, modifying his ancient Indian motorcycle using nothing more than junkyard parts and his try-anything chutzpah. Backed by the goodwill of his townsfolk, Munro ships off to Los Angeles where he commences his cross-country trek towards Utah and the record books.

World's Fastest is, in many ways, thoroughly conventional, but it's executed with such conviction and love for its subject matter that it disarms the viewer completely. Most contemporary movies are so dramatically overreaching, their appeal to our sympathies so strained, that they end up putting us in a defensive posture; we find ourselves continually on guard against their assaults on our intelligence. Donaldson's movie puts no such artificial pressures on its drama and, in effect, makes no undue demands of the viewer. His script never overplays the conflicts in Munro's life: His heart condition, for instance, or the resistance he meets in Bonneville, or his scant resources never inundate the narrative the way they might in a standard-issue Hollywood screenplay. These conflicts do have a place in Munro's life, but Donaldson, to his credit, keeps them at a low simmer.

The World's Fastest Indian websites to check out:
www.WorldsFastestIndian.com
Burt Munro Story and photos
www.IndianMotorbikes.com

Below: The real Bert Munro at home in New Zealand with his beloved Indians. In February 1957 he set a NZ Open Beach record of 131.38 mph, raising this in 1975 to 136 mph at Oreti Beach. In April 1957 he set a 750cc Road Record at Christchurch at 143.59 mph. In March 1962 he covered the standing 1/4 mile at Invercargill in 12.31 seconds.

Burt, then a grandfather, visited the Bonneville salt flats several times from 1962 onwards. In that year he set a then world record of 178.971 mph with his engine out to 51 cu.in. (85Occ). The movie shows him posting an unofficial 1-way speed of just over 200mph. In 1963 a con-rod broke while he was traveling at an estimated 195mph. In 1966 it was displacing 920cc, when Burt, unhappy with some loss in top speed, completely rebuilt it again.

In 1967, with his engine punched out to 58 cu.in. (950cc) he set a class record of 183.586 mph. To qualify he made a one-way run of 190.07 mph, the fastest ever officially recorded speed on an Indian.



Fast Dates Calendar Motorcycle Roadracing News. Complete coverage of the SBK World Superbike, AMA National Superbike and MotoGP World Championship. Superbike, sportbike, grand prix, MotoGP, race, racing, news, coverage, photos, pictures, Fast Dates Calendar and Umbrella Girls. Racing, road race, track, motorcycle, news, results, girls, models, Mat Aladdin, Max Biaggi, Valentino Rossi, Ben and Eric Bostrom, James Toseland, Regis Laconi, Loris Capirossi, Troy Bayliss, Troy Corser, Noriyuki Haga. Ducati 999 Monster Multistrada, Yamaha R6 R1, Honda CBR600RR CBR1000RR, Kawasaki ZX6 ZX6RR ZX10, Suzuki GSXR600 GSXR750 GSXR1000, Aprilia Mille, MZ Agusta F4 Brutale. Los Angeles Calendar Motorcycle Show.
Scott Hollingsworth Let Go from AMA Pro Racing!
Friday February 3rd - In a prsss release issued today the American Motorcyclist Association (AMA) announced that a three-person team has been named to manage the day-to-day operations of AMA Pro Racing on an interim basis following the January 24 departure of AMA Pro Racing CEO Scott Hollingsworth.
The management team, which will report to AMA Chief Executive Officer Patricia DiPietro, is AMA Pro Racing Vice President and Director of Communications Kerry Graeber, AMA Pro Racing Director of Finance and Administration Michele Rossi, and AMA Pro Racing Motocross and Supercross Series Manager Steve Whitelock.
All other AMA Pro Racing management and staff will continue in their current roles, with AMA Pro Racing senior staff reporting to AMA CEO DiPietro.
AMA Pro Racing, a subsidiary of the AMA, is the leading sanctioning body for motorcycle sport in the United States. Its properties include the Amp'd Mobile AMA Supercross Series, the AMA Toyota Motocross Championship presented by FMF, the AMA Superbike Championship presented by Parts Unlimited, the AMA Ford Quality Checked Flat Track Championship and the AMA Supermoto Championship.
Editors Note: Since the preceeding press release was issued by the AMA without thanking or complimenting Hollingswoth for his past years of service, nor did Hollingswoth offer to stay in his position until a suitable replacment could be found, we must assume Hollingsworth was fired from his position as CEO of AMA Pro racing.
Certainly a good thing, since under Hollingsworth's tenure the last 5 years, AMA Pro Racing has declined to its lowest point in 25 years. For example:
Chevy Trucks pulled out as sponsor of the AMA National Roadracing Championship 2 years ago, leaving America's premier roadracing series without a title sponsor which has yet to be replaced.
The plethoria of national racing classes, instituted by AMA Pro Racing in part to make more income off back gate fees, while allowing the factory teams to compete in four different classes to advertsie their Championship wins and not compete together in the featured Superbike Class with all the top riders for the best possible racing.
Another low point was replacing the AMA Superbike class in the Daytona 200with the 600cc Formula Extreame only contest by Team Honda. America's most prestegious and legendary motorcycle race was turned into a non event. For safety reasons Daytona International Speedway should be removed from the race calendar, but the lack of good quality race facilities for motorcycles in America, and the back gate fees collected by AMA Racing during Motorcycle Speedweek will assure that Daytona remains on the AMA roadracing schedule.
With the decline of the quality of racing and the confusing classes, spectaor attendance at AMA Nationals has dropped to its lowest point since the 1970s. Many races had a difficult time pulling 1,000 spectators.
AMA Pro Rracing actually issued a farsical press release at the end of the 2005 race season stating the popularity of AMA National Roadracing Championship was on the rise with an increase in total spectaor numbers. When in fact, attendance continued its dismal decline last year, but AMA Pro Racing was overly inflating its attendance numbers by counting the 40,000 spectators who came to the combined AMA Superbike and MotoGP weekend at Laguna Seca in July. The year before, 2004 the combiked SBK World Superbike and AMA National weekend only pulled 4,000 paying spectators, prompting Laguna Seca to drop World superbike for MotoGP.
The other divisions of AMA Pro Racing have also suffered under Hollingsworth's watch. The National Dirt Track Championship is also at its lowest point ever, without a major title sponsor or factory team involvement. An the AMA Supermoto Championship has yet to get off the ground past being a side show at other events, and it has lost the national television coverage it had back in 2004 due to poor viewer and sponsorship support.
Unfortunately, without a strong promoter and business director who has a vested interest in making AMA pro Racing successful, we shouldn't get our hopes up that AMA Pro Racing is now going to turn things around. But getting rid of Hollingsworth was certainly the most important first step. We wish them and the sport the best of luck!

Click to Order Now!
Fast Dates Racebike Pinup
& Garage Girls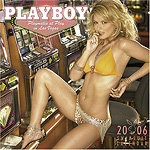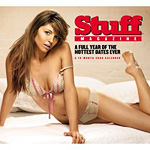 ---
The 2006 Pirelli Calendar Revealed!
the world's most exclusive and expensively produced pinup calendar from the word's biggest tire manufacturer.
More Pirelli 2006 CalendarCaution Nudity!


Hire a FastDates.com
Calendar Angel
Now available for your special event and booking needs direct from CaliforniaHostess.com!
Ask for a FastDates.com Calendar Kitten when you call
Dominique at 1-310-430-4301
WomenRidersNow.com Launches on the Internet
Feb 3rd - A new online magazine capitalizing on the growth and interest in the women's motorcycling market was recently launched.
WomenRidersNow.com is updated on a regular basis and includes the latest industry news and information, motorcycle road tests, product reviews, touring articles, information useful to passengers, info on how to get into racing, profiles of female leaders and historical figures, and motorcycle lifestyle articles. In addition, readers are invited to submit stories and photos about their motorcycling experiences to share with others. The site also includes a comprehensive Beginner's Guide for Women.
"It's not just a site for women riders, it's a site about women riders so anyone interested in learning more about the growth, power and influence of women motorcyclists will want to spend time on WomenRidersNow.com," said Genevieve Schmitt, founder and editor of WomenRidersNow.com.
Schmitt is the owner of Women Riders Now, a marketing and consulting company. She is perhaps best known as the founding editor of Woman Rider magazine, a national all-brands quarterly publication that lasted for four years. "When Woman Rider ceased publishing, there was such an outcry from riders, both women and men, over the loss of their favorite magazine," Schmitt said. "I felt compelled to continue providing that same type of information, but on a more frequent basis. An online magazine is the best way to do that.
"My mission with WomenRidersNow.com is to educate and inform the motorcycle industry and the general public on the growth and impact of the female riding population. In doing so, my goal is to raise awareness of motorcycling and attract new riders to the sport."
Kawasaki returns to AMA Superbike Racing in 2006 Tommy and Roger Lee Hayden will race the premier class for the factory team in 2006.
Kawasaki's homecoming is a welcome addition to the class. The ZX-10R has done well in the meantime in the hands of Attack Kawasaki's Josh Hayes (even earning a podium in 2005 in the wet at Elkhart) but there's just something about having an official factory effort leading the way.
There is a rich AMA Superbike tradition at Kawasaki, from the days of Eddie Lawson fighting a 1025cc KZ in the early '80s. Some of Freddie Spencer's first Superbike rides were on a Kawasaki, too. Doug Chandler was a three-time AMA champion for the brand. Scott Russell won the title as well and the pinnacle of "The Chief's" career was when he wore green. Eric Bostrom carried the flag in the early part of this decade, winning races and finishing second in the title hunt.
In 2003, Kawasaki stuck with the overbored version on their ZX-7R machine as the Superbike rules changed, but after the season dropped out of Superbike. Tommy Hayden winning the last two Supersport titles lessened the blow, but the class has missed having competitive Kawasakis since then. Many fans and observers thought Kawa's true place was in Superbike, too. The riders and mechanics wanted to be back as well.
Their1000cc model has won races in the two seasons of Repsol Superstock action. Tommy Hayden was a 'Stock title contender both years, including this season until an injury after a Laguna Seca crash derailed him. Some insiders feel the ZX-10R will be even better in Superbike form, which allows more braking, suspension, and engine modification options than Superstock. These rules allow the teams to overcome some of the compromises built into the street bikes.
The ZX-10R has always been a powerful bike. In 2004, the team was actually taking power away to improve grip coming out of the corners. The svelte bike is also a tidy package.
The increased competition will be the biggest issue for Kawaski. Superbike Kingfish Mat Mladin rules the class for Suzuki and the three other factory team in the class (Honda, Ducati, and Suzuki) all field formidable challenges with riders like former World Superbike champ Neil Hodgson and 1995 AMA Superbike champion Miguel DuHamel lining up the 1000cc beasts.
The next biggest challenge will be fielding competitive bikes. Insiders say Kawasaki's Superbike group in Japan was absorbed back into the production side of things after the factory quit World Superbike racing. But with Kawasaki putting together some bikes for WSBK again this year, it made since to put the Hayden on them, too. Both riders desperately wanted to get into the class for 2006.
Tommy has had two stints in Superbike, one in his first pro roadracing gig with Muzzy Kawasaki and again later with Yamaha. Neither went as planned, but in the meantime Tommy has upped his game to a much higher level. Rog is a talented young rider and has done enough to warrant a Superbike ride.
Despite their similar Kentucky accents, the two Haydens are polar opposites on the bike. Tommy is ice, consistent and relentless. Roger is fire, emotion and energy. It will be interesting to see which takes to the Superbike more quickly.
Tech 3 Yamaha MotoGP Team Signs Checa and Ellison
Italy 2/01 - The Tech 3 Team will compete in the 2006 MotoGP World Championship with two riders, Spaniard Carlos Checa and Briton James Ellison, both on Yamaha M1s fitted with Dunlop tyres.
"Thanks to the combined efforts of Dunlop, Yamaha Motor and Tech 3, we have been able to finalize this project", explains Herve Poncharal, Team Manager of the French team. "After a difficult winter during which we developed our project with Dunlop, Yamaha and the young rider James Ellison, we are now really excited to see Carlos Checa joining the team.
"Carlos is the most experienced rider on this year's MotoGP grid. During his ten-year career as one of the top riders in the sport's premier category, he has ridden different bikes on different tyre brands and, based on this experience, his input to our development will be of great value, especially for Dunlop.
"With Carlos partnering James Ellison, one of the emerging talents and who raced on Dunlop tyres last year, we complete the ideal line-up of our team, a blend of youth and experience, in which we have strong hopes."
Carlos Checa will get his first experience of his new Yamaha M1 on Dunlop tyres during the team's next tests in Qatar on 5th, 6th and 7th February.
Lin Jarvis, Managing Director of Yamaha Motor Racing, adds: "Yamaha is very pleased to be able to finally complete its two team, four rider line-up for the 2006 season. It was always our desire to try to have four riders on the grid, both to continue Yamaha's MotoGP participation at the optimum level and also to support the MotoGP sport which is very important for our business and provides us with great exposure and promotion for motorcycling worldwide. Yamaha would like to thank all the parties that contributed to the completion of this project and we wish the Tech 3 Yamaha Team every success in 2006."
Contest to join Rizla Suzuki free at Brands Hatch
Race One BSB 2006
YOU could win two VIP passes worth £600 to join Rizla Suzuki at the opening round of the 2006 British Superbike Championship at Brands Hatch on Sunday, March 26th, in this free to enter competition in conjunction with Express Insurance.
Brands Hatch Indy circuit hosts the opening round of the 2006 British Superbike Championship and promises to be an exciting day as the title fight starts in earnest.
James Haydon is hoping to start the new season as he finished the last – with a pole position at Brands Hatch and strong podium contending results.
For Shane 'Shakey' Byrne, the talking and the testing will be finished and he will be staking his claim to the title he last won in 2003 as he makes his debut on the Rizla Suzuki GSX-R1000 at his home circuit.
The prize includes entrance to Brands Hatch on Sunday, March 26th and access to the Rizla Suzuki VIP area. Once inside the VIP unit, you will be treated to fresh coffee and pastries, a relaxed seating area with plasma screens bringing you all the track action and a chef prepared buffet lunch from noon onwards.
On top of that, you'll get a chance to meet James, Shakey, fans favourite and triple Superbike legend John Reynolds and Niall Mackenzie for autographs and pictures. There will be posters to collect, advice on the best places to watch the Superbike races and your VIP pass will allow you 10 per cent discount from the team merchandise unit if you want to buy replica clothing.
This competition is supported by Express Insurance, a leading intermediary offering competitive insurance and tailor-made policies to meet your every need. Call Express Insurance on 0800 197 5807 to get a fantastic quote for your bike, car or van. Alternatively, log on to www.expressinsurance.co.uk for more details.
To be in with a chance of winning this competition, you need to log in as a Fan Club member (free to join. You can also upgrade to Fan Club + for additional benefits at a later date, see Fan Club section for further details). To enter the competition, simply log on to www.rizla-suzuki.co.uk and go to the Express Insurance Competition Corner and answer the simple question. The competition ends on Monday March 13th at 4pm.
For more details and the latest news, visit www.rizla-suzuki.co.uk now!