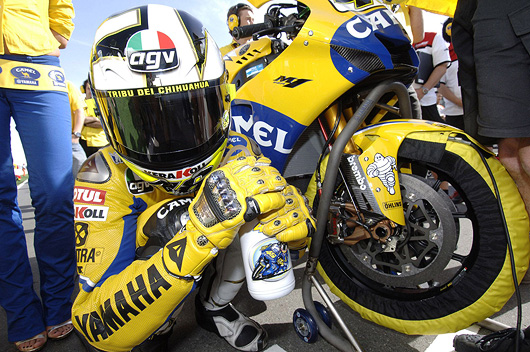 2006 MotoGP World Champioship, Round 2 of 17, Qatar Grand Prix at Losail
Rossi Bounces Back with Victory at Qatar
Losail Circuit, Dohar Qatar, April 6-8th - Camel Yamaha Team rider Valentino Rossi returned to the top step of the podium after a stunning ride in today's Grand Prix of Qatar. Rossi's 54th career MotoGP victory was sealed with a perfectly timed run in the second half of the race, passing early leader Casey Stoner (Honda) on lap 10 of 22 and holding off a late attack from Nicky Hayden (Honda) and Loris Capirossi (Ducati), who completed the podium. The win brings Rossi's premier-class tally level with that of Mick Doohan, with only the legendary Giacomo Agostini now ahead of him on 68 victories. Rossi's victory moves him up to fourth in the championship, fourteen points behind early leader Capirossi after two rounds of seventeen.
Valentino Rossi - 1st; 43'22.229
"That was a great race - it was hard but that is what made it such fun. My M1 worked really well today - as the race went on the grip went down and the vibration completely disappeared, so I was able to go fast at the end. Also I set the fastest lap of the race on lap three, so this shows how well my M1 was working. This win is important for the championship but even more so from a mental point of view for me and the team. It was windy but the grip was good and I was able to chase Stoner, who was very fast at the start. When his tyres went down I was able to pass him and I thought I could escape but Nicky stayed with me. Then I looked back and saw Loris was coming too so I began to get worried about the last few laps. Anyway, I pushed hard and managed to hold on. It is great to be level with Mick Doohan, now only Giacomo Agostini is ahead of me. Records are not the most important thing but they are always nice! This feels like the start of the championship for me. Jerez was a nightmare but here we woke up! Big thanks to Jeremy and all the guys because they stayed focused during a difficult time and this is their reward."
Rookie Privateer Casey Stoner Takes Stunning Losail MotoGP Pole
Qatar - Friday 7th April 2006 - With the return of intense heat to the Losail Circuit, it was left to Casey Stoner to provide the novelty factor in Qatar. The Honda rookie took pole for the Commercialbank Grand Prix of Qatar, becoming the second youngest pole-setter in MotoGP since records began, just days older than when MotoGP Legend Freddie Spencer did so in 1982. Stoner clocked a time of 1'55.683, having already topped both yesterday and today's morning sessions.
Casey Stoner gets ready to Qualify.

Last year's pole man and current series leader Loris Capirossi was close behind the young Australian, as he looks to repeat his Jerez win tomorrow in the desert. A late surge from Toni Elias put the Spaniard on the front row, as he continues a run of fine form. The official Honda riders will be one row back from Elias, Nicky Hayden fourth and Dani Pedrosa, who suffered a crash at the end of free practice, coming in fifth.
World Champion Valentino Rossi will be off the front row for the second successive Grand Prix, having qualified in sixth. The Yamahas looked to have made steps forward in the battle with the chattering problem they encountered in Jerez, but with both he and Colin Edwards not in the top three again, separated by Sete Gibernau on the grid, tomorrow's race will show if all has been resolved or not.
Another rider battling with chatter in Losail was Shinya Nakano, who nonetheless managed to ride his Kawasaki inside the top ten qualifiers, who are completed by yesterday's fastest rider Kenny Roberts Jr.
Yesterday night also saw three MotoGP stars taking to the track under the cover of darkness. Loris Capirossi, Valentino Rossi and Kenny Roberts Jr. all undertook laps of the circuit at 6.30pm local time, on behalf of the riders' safety commission in order to assess the possibility of a cooler night race in Losail.
Round: 2 - 2006 MotoGP Qatar Circuit: Losail Circuit, Circuit Length: 5380
Lap Record: 1' 57.903 (Nicky Hayden, 2005), Fastest Lap Ever: 1' 55.683 (Casey Stoner, 2006)
Date: 7 April 2006 Temp: 32ºC
Qualifying :
Pos. Rider Manufacturer Nat. 1st Qualifying
1 C. Stoner Honda AUS 1' 55.638
2 L. Capirossi Ducati ITA 1' 55.721
3 T. Elias Honda ESP 1' 55.735
4 N. Hayden Honda USA 1' 55.793
5 D. Pedrosa Honda ESP 1' 56.008
6 V. Rossi Yamaha ITA 1' 56.076
7 S. Gibernau Ducati ESP 1' 56.177
8 C. Edwards Yamaha USA 1' 56.230

9 S. Nakano Kawasaki JPN 1' 56.237
10 K. Roberts Team Roberts KR USA 1' 56.272
11 C. Vermeulen Suzuki AUS 1' 56.356
12 M. Melandri Honda ITA 1' 56.822
13 J. Hopkins Suzuki USA 1' 56.981
14 C. Checa Yamaha ESP 1' 57.299
15 R. De Puniet Kawasaki FRA 1' 57.822
16 M. Tamada Honda JPN 1' 57.891
17 J. Ellison Yamaha GBR 1' 58.674

Rossi gets ready on the starting grid.

Rossi Returns to the Top as Capirossi and Hayden share the Podium Again
Race Day Saturday April 8, 2006 -Valentino Rossi was the delighted victor of the 2006 Commercialbank Grand Prix of Qatar today, amidst strong winds and high temperatures at the Losail Circuit. The win is his second at the track, putting him on level terms with MotoGP legend Mick Doohan on 54 premier class victories.
Starting from sixth, the reigning World Champion got off well and worked his way through the field. He finally made his move on pole-man Casey Stoner on lap ten, passing the young Australian for first place whilst coming into the first corner. Nicky Hayden (Repsol Honda RC211V) came a narrow second to Valentino Rossi (Yamaha) in a tense MotoGP race here in Qatar today. Loris Capirossi (Ducati) was third. This is Hayden's sixth consecutive rostrum finish as he bids for his first win of the 2006 season.
With a 33km/h wind, erratic in direction, blowing throughout the day, turns two and nine seemed to be the worst affected. There was also a 44 degree track temperature to contend with, although the elevated ambient temperature that is so often a debilitating factor here was 'only' 25-degrees now that this is an April race instead of an October fixture.
Pole man Casey Stoner (LCR Honda RC211V) simply stormed away from the line as the lights went out and he looked strong as the field struggled to establish an order and make chase. Capirossi was nearest to the young Aussie, but the Italian couldn't stay with him as the first lap unfolded. At the start of lap two the order was Stoner, Hayden, Rossi, Capirossi, Shinya Nakano (Kawasaki), Sete Gibernau (Ducati), then Marco Melandri (Fortuna Honda RC211V). Hayden put in an early fastest lap as he went all out to hound Stoner in those early stages. Dani Pedrosa (Repsol Honda RC211V) was down in 11th place following a slow get away from the starting light.
Then it was Rossi piling on the pressure as he chased Hayden, a fastest lap belonging to the Italian rider on lap three. On lap six Rossi and Hayden swapped places twice in both final loops as they fought for dominance in the struggle to reel in runaway Stoner. Rossi eventually got the upper hand and had a 0.77 second gap to close on the swift Australian.
On lap ten Rossi nipped past Stoner into turn one, then it was Hayden's turn to demote Stoner to third on the next lap. Rossi now held a 0.6 second advantage over Hayden and it was only another two laps before Capirossi squeezed past the Aussie to put the 'old firm' in charge at the front.
As lap fifteen ran its course Rossi and Hayden had an advantage of more than a second over Capirossi and Stoner, with Gibernau losing ground in fifth. Hayden now knew he had to size up Rossi to see what his plan should be in the closing laps. He moved past Rossi at turn one on lap 19.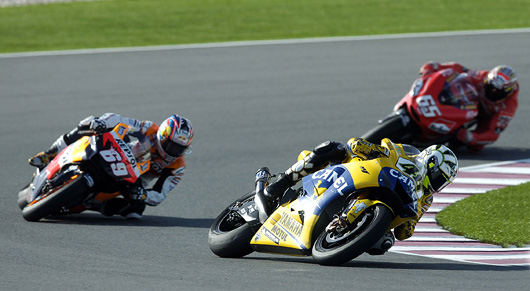 Rossi into the lead ahead of Hayden and Capirossi.

Rossi repaid the compliment on lap 20 at the same place and Hayden could not respond and Rossi won by 0.9 seconds at the flag with closer to Hayden than the American was to Rossi. But Hayden rode a mature race and it can't be long until the Kentucky Kid notches up a second career win in MotoGP.
"We gambled overnight on some changes," said Hayden. "The team got it right but I didn't quite do it right today. I had fun though. The six podiums in a row are OK but we need to take another step up. We've got two weeks to put some hard work in to find the extra second a lap we need."
Loris Capirossi continued his great early season form to take third place at Losail, keeping his name at the top of the championship table after a strong ride in high winds. Sete Gibernau overcame his third row start to take an assured fourth place, and earn his first points of the year; his first score as a Ducati Marlboro rider.
Capirossi was part of the leading group throughout the 22-laps, conserving his tyres for a late push to ensure third, and finished only 1.494 seconds from the winner, Valentino Rossi. For Gibernau, one particular section of the circuit proved difficult in race conditions, but still he improved his qualifying result by three places.
Capirossi, the race victor in the opening race of the season at Jerez, now sits on 41 points, in a five-point lead over Nicky Hayden, second in the race as well as second overall. Ducati also continues to lead the Constructors' Championship, by a single point.
LORIS CAPIROSSI, third, 41 points - "I am very happy and this is a great weekend for the team, because for sure this circuit was not one of the best for us. Bridgestone made a good job during the winter tests and we have made great improvements. For us, this was a difficult track and last year we had big problems. But this year we managed to fight for the victory right to the end, and took a very good result. The first part of the race was difficult because of the wind, but I adapted my style and made a good rhythm. Big thanks to everyone in the team and Ducati Corse. This is going to be a very interesting championship and if we can keep on like this we will be there for the whole season. I think we are in good shape, and have great confidence in the bike and the tyres."
SETE GIBERNAU, fourth, 13 points - "I think we did a good job. We only lost time in the race at the slow hairpin. Right there I was getting a lot of chatter at the front of my Desmosedici, and in this one corner I lost half a second. In all the rest we were OK. Also, on the main straight, I was moving from side to side in the wind too much, which made it very physical. But we needed to finish this race and I look forward to the next one."

Rossi and Capirossi congradulate each other after dropping their bikes off in Impound.
Stoner in fifth said, "The start was really good and I felt really good out in front. But as the fuel load went down and the pace went up I lost a bit of rear wheel grip. Physically I wasn't 100% so today wasn't a bad result. After 10 laps I had leg cramps."
Dani Pedrosa (Repsol Honda RC211V) finished a tight sixth after an intense battle with Melandri and said, "When I caught Melandri we had a big battle. My bike was really fast and I could overtake him, but he was braking so late! I'm not angry, but I'm upset because today I lost a good opportunity to be battling at the front. In the race I learned a lot of things and I know I performed as well as I could have. Although I'm frustrated today, the two races so far have been really positive."
Melandri was seventh after the epic duel with Dani and said, "It was a really difficult race. I got a good start and tried to make up some positions but I made a mistake towards the end of the race that cost me a position. I had a really good battle with Dani Pedrosa, he was passing me on the straight but I was able to get him back on the brakes. I'm still not riding as I'd like, but tomorrow we stay for a day of tests and hopefully it can help us take another step forward."
Toni Elias (Fortuna Honda RC211V), despite being ill with a stomach bug, finished eighth. He said, "We've done a great job over the two days of practice and I was hoping for more than this today. I didn't get a good start and I paid the price for that. Then Hopkins' engine began to drop oil and I had to get off the throttle, sending me even further back. My visor was covered in oil and after losing contact with the lead group it became a really hard race for me. I'm disappointed because I know I could have had a nice race today."
"The bike and tyres were great today," said Kenny Roberts (Roberts KR211V) in tenth. "But I could have been better if I had got clear of the group quicker – but with the oil incident you had to be careful. I have to thank the team for all they did this weekend, a great job. Still, if you had said in November that we would have finished the first two races in the top 10 we might not have agreed with you."
Makoto Tamada (Konica Minolta Honda RC211V) finished 14th and said, "I didn't expect to have such a difficult start to the season. I'm not able to ride my RC211V properly yet. It is hard to be fast in the corner without having the right feel from the bike. I'm sorry about this."
Rizla Suzuki MotoGP suffered a double setback at the Commercialbank Grand Prix of Qatar as both John Hopkins and Chris Vermeulen were forced to retire early in the race. Hopkins had made his intentions known in the morning warm-up as he stormed to the fourth quickest time in near gale-force winds. In the 22-lap race he got off to a great start and was soon up to eighth place from his 13th position on the grid. But, as he was rapidly catching the riders in front of him, disaster struck and the 22-year old Anglo American was forced to retire from the race with a cooling system fault. Vermeulen also made a good start and was starting to close on others riders when he too had to retire from the race with a similar fault to his team-mate.
The World Championship points standings look like this after two of 17 rounds: Capirossi 41, Hayden 36, Rossi 30.
Results Round: 2 -
2006 MotoGP Qatar Race: 22 Laps
Circuit: Losail Circuit, Circuit Length: 5380
Lap Record: 1' 57.305 (Valentino Rossi, 2006)
Fastest Lap Ever: 1' 57.305 (Valentino Rossi, 2006)

Pos. Rider Manufacturer Nat. Total Time
1 V. Rossi Yamaha ITA 43' 22.229
2 N. Hayden Honda USA +0.900
3 L. Capirossi Ducati ITA +1.494
4 S. Gibernau Ducati ESP +4.638
5 C. Stoner Honda AUS +7.575
6 D. Pedrosa Honda ESP +10.820
7 M. Melandri Honda ITA +11.784
8 T. Elias Honda ESP +19.481
9 C. Edwards Yamaha USA +22.920
10 K. Roberts Team Roberts KR USA +34.286
11 S. Nakano Kawasaki JPN +35.316
12 C. Checa Yamaha ESP +49.245
13 J. Ellison Yamaha GBR +1' 1.469
14 M. Tamada Honda JPN +1' 10.778
15 A. Hofmann Ducati GER +1' 22.051
16 J. Cardoso Ducati ESP +1' 33.818

Fastest Race Lap:
Pos. Rider Manufacturer Nat. Total Time
1 V. Rossi Yamaha ITA 1' 57.305

Championship standings MotoGP

Pos. Rider Manufacturer Nat. Points
1 Loris Capirossi Ducati ITA 41
2 Nicky Hayden Honda USA 36
3 Daniel Pedrosa Honda ESP 30
4 Valentino Rossi Yamaha ITA 27
5 Casey Stoner Honda AUS 21
6 Toni Elias Honda ESP 21
7 Marco Melandri Honda ITA 20
8 Shinya Nakano Kawasaki JPN 14
9 Kenny Roberts Team Roberts KR USA 14
10 Sete Gibernau Ducati ESP 13
11 Colin Edwards Yamaha USA 12
12 Makato Tamada Honda JPN 8
13 Carlos Checa Yamaha ESP 7
14 John Hopkins Suzuki USA 7
15 Chris Vermeulen Suzuki AUS 4
16 James Ellison Yamaha GBR 3

Manufacturers standings MotoGP
Pos. Manufacturer Points
1 Ducati 41
2 Honda 40
3 Yamaha 30
4 Team Roberts KR 14
4 Kawasaki 14
5 Suzuki 7
250cc GP to Aprilia's Jorge Lorenzo
The lower cylinder classes were something of a repeat from the season curtain-raiser in Jerez, both having the same winners in Qatar. Jorge Lorenzo took victory ahead of a determined challenge from Andrea Dovizioso, in a near repeat of the tightest ever Grand Prix finish in 2004's 125 race at this track which featured the same two riders.
Roberto Locatelli had a phenomenal race, during which he took the holeshot, crashed his bike and then came back to earn third. He moved through the 250cc pack like a man possessed, and stepped onto the podium for the first time this season.
Hector Barbera came home fourth ahead of Hiroshi Aoyama, Sylvain Guintoli and Sebas Porto, whilst Marco Simoncelli and Yuki Takahashi snatched eighth and ninth spot on the last lap from Jakub Smrz, who was perhaps unlucky not to maintain the positions so close to the line after a steady ride.
2006 Qatar GP250 Race: 20 Laps
Circuit: Losail Circuit, Circuit Length: 5380
Lap Record: 2' 3.015 (Alex de Angelis, 2004)
Fastest Lap Ever: 2' 2.154 (Jorge Lorenzo, 2005)

Pos. Rider Manufacturer Nat. Total Time
1 J. Lorenzo Aprilia ESP 41' 29.946
2 A. Dovizioso Honda ITA +0.077
3 R. Locatelli Aprilia ITA +19.364
4 H. Barbera Aprilia ESP +19.398
5 H. Aoyama KTM JPN +24.051
6 S. Guintoli Aprilia FRA +28.695
7 S. Porto Honda ARG +33.255
8 M. Simoncelli Gilera ITA +34.214
9 Y. Takahashi Honda JPN +34.406
10 J. Smrz Aprilia CZE +34.419
11 M. Cardenas Honda COL +49.121
12 A. Ballerini Aprilia ITA +1' 0.069
13 S. Aoyama Honda JPN +1' 0.633
14 M. Poggiali KTM SMR +1' 4.619
15 D. Heidolf Aprilia GER +1' 12.332
16 A. Vincent Honda FRA +1' 13.128
17 C. Davies Aprilia GBR +1' 44.684
18 L. Morelli Aprilia ITA +1' 59.950
19 M. Danese Aprilia ITA +1 lap(s)
20 A. Palumbo Aprilia ITA +1 lap(s)

Fastest Race Lap:
Pos. Rider Manufacturer Nat. Total Time
1 A. Dovizioso Honda ITA 2' 3.246

Championship standings GP250
Pos. Rider Manufacturer Nat. Points
1 Jorge Lorenzo Aprilia ESP 50
2 Andrea Dovizioso Honda ITA 36
3 Roberto Locatelli Aprilia ITA 25
4 Hector Barbera Aprilia ESP 24
5 Hiroshi Aoyama KTM JPN 21
6 Alex de Angelis Aprilia SMR 20
7 Yuki Takahashi Honda JPN 20
8 Sylvain Guintoli Aprilia FRA 17
9 Martin Cardenas Honda COL 13
10 Sebastian Porto Honda ARG 9
11 Marco Simoncelli Gilera ITA 8
12 Manuel Poggiali KTM SMR 7
13 Jakub Smrz Aprilia CZE 6
14 Arnaud Vincent Honda FRA 6
15 Arturo Tizon Honda ESP 4


Manufacturers standings GP250
Pos. Manufacturer Points
1 Aprilia 50
2 Honda 36
3 KTM 21
---
British Superbike Championship Round 2 of 12, Donnington Park

Lavilla and Smart Trade Wins at BSB Donnington
Donnington Park, GB, April 6th - RIZLA SUZUKI racers Shane 'Shakey' Byrne and James Haydon crashed out of both races at the second round of the Bennetts British Superbike Championship at Donington Park.
In the first race Shakey was in fourth place and James in ninth when rain and hail started to fall. On slick tyres James crashed at the Old Hairpin and a minute later Shakey high-sided at Schwantz at 140mph as the rain robbed the track surface of grip. The race was red flagged and taken back a lap with Shakey eventually being awarded fifth place behind winner Gregorio Lavilla on a Ducati.
In the second event Shakey crashed out on the warm-up lap on a track covered in standing water. James made a brilliant start from eighth to second but then went grass tracking before rejoining well down the field. He crashed on lap two at Goddards and showed his determination when he rejoined the race before crashing again and retiring on lap nine at McCleans as he struggled to find grip in the wet conditions. Vivaldi Suzuki's Scott Smart won the race.
Both Rizla Suzuki racers are battered and bruised after their crashes but have no serious injuries and are already looking forward to the third round of the Championship at Thruxton next weekend.
Shakey: "In the first race I suffered one of the biggest crashes of my career flat out in fifth gear going through the Schwantz curve. It had started to rain and the back end of the bike just came round and I went flying. It was a big crash and I am well bruised after that. The only consolation is the race was declared from a lap earlier and I was awarded fifth place.
"In the second race I went into Coppice on a closed throttle nice and steady on my out lap. The back end came round in slow motion and I couldn't do anything about it and crashed out. I didn't have a spare bike for race two after my first race crash and that was unfortunately the end of the day for me."
James: "In the opening race the rain started to pour down and going into the Old Hairpin the back end slid away. I held it for what seemed like forever before it high-sided and I crashed out. It was a real shame because I was enjoying the race and the bike was handling better than ever.
"In the next race the wet and slippery conditions caught me out twice. The first time I remounted and was cutting back through the field towards the front when I crashed again and this time I couldn't get restarted. It's been a tough weekend and I hope the next round at Thruxton is dry."
Robert Wicks, Team Manager: "It's been a hard day at the races for Rizla Suzuki with five crashes in four race starts. The conditions were awful and played their part in causing those accidents and we will count our good fortune that both riders can walk away from Donington with minor bruising injuries and nothing more serious.
"This weekend we proved in the dry we have front running pace. That's a step forward for us and we will take the positives from that to the next round at the team's home circuit at Thruxton.
"Well done to Vivaldi Suzuki's Scott Smart on taking victory in a dramatic and wet second race. Seeing a GSX-R1000 win is encouraging for all of us."
Race One Result: 1: Gregorio Lavilla (Ducati) 20:53.166, 2: Ryuichi Kiyonari (Honda) +0.134, 3: Leon Haslam (Ducati) +5.246, 4: Michael Laverty (Honda) +9.361, 5: SHANE BYRNE (RIZLA SUZUKI) +9.591, 6: Karl Harris (Honda) +10.540, 7: Michael Rutter (Honda) +11.533, 8: Jonathan Rea (Honda) +20.235, 9: Dean Thomas (Kawasaki) +22.451, 10: Scott Smart (Suzuki) +23.216, JAMES HAYDON (RIZLA SUZUKI) DNF.
Race Two Result:1: Smart 27:37.071, 2: Haslam +0.576, 3: Lavilla +2.297, 4: Gary Mason (Honda) +5.943, 5: Rea +30.768, 6: Tommy Hill (Yamaha) +33.586, 7: Laverty +36.829, 8: Ollie Bridewell (Suzuki) +59.273, 9: Chris Martin (Honda) +59.297, 10: Malcolm Ashley (Kawasaki) +1:04.142, JAMES HAYDON (RIZLA SUZUKI) DNF, SHANE BYRNE (RIZLA SUZUKI) DNS.
Championship Standings after two of 13 rounds: 1: Lavilla 82, 2: Kiyonari 58, 3: Haslam 56, 4: Harris 41, 5: Smart 33, 6: Laverty 31, 7: Rea 30, 8: SHANE BYRNE (RIZLA SUZUKI) 26, 9: Rutter 25, 10: Thomas 23, 16: JAMES HAYDON (RIZLA SUZUKI) 15.
Fast Dates Calendar Motorcycle Roadracing News. Complete coverage of the SBK World Superbike, AMA National Superbike and MotoGP World Championship. Superbike, SBK, FIM, AMA, American Superbike, superbike planet, American Roadracing, sportbike, grand prix, MotoGP, race, racing, news, superbike news, sport bike, motoGP news, photography coverage, photos, pictures, Fast Dates Calendar and Umbrella Girls. Racing, road race, track, motorcycle, news, results, girls, models, Mat Aladdin, Max Biaggi, Valentino Rossi, Troy Baylis, Ben and Eric Bostrom, James Toseland, Chris Vermeulen, Maria Sharapova, Kristen Bell, Regis Laconi, Loris Capirossi, Troy Bayliss, Troy Corser, Noriyuki Haga. Ducati 999 Monster Multistrada, Yamaha R6 R1, Honda CBR600RR CBR1000RR, Kawasaki ZX6 ZX6RR ZX10, Suzuki GSXR600 GSXR750 GSXR1000, Aprilia Mille, MZ Agusta F4 Brutale. Los Angeles Calendar Motorcycle Show.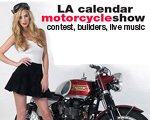 World's Richest Bike Contest features Sportbikes and a
$70,000 Purse!



Fast Dates Racebike Pinup
& Garage Girls Calendars
Click to Order Now!



---
Yamaha Extends Backing of Laguna Seca
Monterey, CA – 4/12/2006 - The Sports Car Racing Association of the Monterey Peninsula (SCRAMP) announced today that Yamaha Motor Corporation has extended its partnership with Mazda Raceway Laguna Seca that will ensure its support of the facility through 2010.
A "Proud Sponsor of the Red Bull U.S. Grand Prix", Yamaha has contributed a significant portion of the $7 million in safety modifications and improvements this year at Mazda Raceway Laguna Seca. This falls on the heels of the $2 million in changes contributed by Yamaha that allowed the MotoGP World Championship to return to the United States and Mazda Raceway Laguna Seca in 2005. The 2005 Red Bull U.S. Grand Prix was the largest event in the 50-year history of Mazda Raceway Laguna Seca, with a weekend attendance of 153,563.
"After the success of last year's event, we all jumped at the opportunity to continue our relationship with SCRAMP," said Bob Starr, Corporate Communications Manager of Yamaha Motor Corporation. "The funds will ultimately be used to improve rider safety and ensure everyone will enjoy MotoGP racing here in the U.S. for years to come."
The Yamaha Marketplace, the well-known and highly attended vendor area located in the lakebed area of Mazda Raceway Laguna Seca, will also continue through 2010. The Yamaha Marketplace contains vendors representing all areas of motorsports, motor sport memorabilia, motorcycling and motorcycling accessories. The Yamaha Marketplace also received significant expansion in 2006 allowing more area for fans and will also include an 8,000 square foot official Mazda Raceway Laguna Seca souvenir superstore during the Red Bull U.S. Grand Prix.
"Without Yamaha's initial involvement with SCRAMP, there would not have been a Red Bull U.S. Grand Prix at Mazda Raceway Laguna Seca," said Gill Campbell, CEO/General Manager of Mazda Raceway Laguna Seca. "To know that Yamaha was willing to step to the plate and continue that support through 2010 allows us to continue to host the MotoGP World Championship for the foreseeable future and keep Mazda Raceway Laguna Seca among the world's premier racing facilities."
Tickets for Mazda Raceway Laguna Seca's 50th Season of Racing, including the U.S. Sports Car Invitational featuring the Grand American Rolex Sports Car Series May 5-7, the Red Bull U.S. Grand Prix July 21-23, the 33rd Rolex Monterey Historic Automobile Races August 18-20 and the Monterey Sports Car Championships featuring the American Le Mans Series October 20-22, are on-sale now.
Tickets and more information are available by calling (800) 327-SECA or on-line at www.laguna-seca.com.
Non-Stop Work for the MotoGP Teams as many stay to test at Losail on Sunday
Losail (Qatar), Sunday April 9, 2006, Test - Following Valentino Rossi's hard-fought victory in yesterday's Grand Prix of Qatar, the Italian was back out on track today alongside the other MotoGP riders for a one-day test today. Despite Rossi's win, the Yamaha team still saw remnants of their vibration problem arise during the weekend and today's test was aimed once again at working to understand and finally eliminate this problem from the 2006 YZR-M1.
As at the last one-day test in Jerez, Valentino Rossi completed a few laps on the 2005 M1 in order to compare its performance with the current bike and gather more information. Besides this Rossi and Edwards, who completed 58 and 66 laps respectively, spent the day trying out various different settings and both riders made some encouraging improvements with some consistently fast lap times. Just a small group of MotoGP riders stayed on to test alongside the Yamaha riders and the fastest unofficial lap was set by Marco Melandri (Honda) in a time of 1'55.95. Rossi was second quickest with a lap of 1'56.25 and Edwards third in a time of 1'56.
Davide Brivio - Camel Yamaha Team Director
"It's always quite hard to get up early and go testing the morning after a victory, but today was really important for us and the riders; the whole team has worked hard all day and made the most of the time we had available. In truth we still haven't completely solved our problem, but we've been able to gather a lot more important information and now we have to use this in the best possible way between now and Istanbul. We've definitely made some big improvements today, for both riders. We've tried many different settings which have made the problem much less critical, allowing the riders to ride the bike at a better level. Valentino was obviously able to win yesterday and in the race the problems virtually disappeared, but we knew that they were still there and today we managed to make some good steps forward. Colin had a difficult race and this test has been really important for him; he's finished the day in a much better situation.
"Valentino once again tested the 2005 bike so we could make some comparisons. We know that with this bike the situation is different and we don't have vibration, but we also know that the 2006 bike is better in most other ways and has more potential. We also tested a qualifying tyre today as this was when the problem was at its worst during the race weekend, so this was interesting also. Overall it's been a good day for us and hopefully Yamaha can use all this information to our advantage so that we are ready to fight with both riders at the front in Turkey."
Motivated by the extremely positive result in the Qatar GP, a circuit considered to be the most difficult in the MotoGP World Championship (3rd place for Loris Capirossi and 4th place for Sete Gibernau), the Ducati Marlboro Team men today continued their unrelenting development work on the Ducati Desmosedici GP6 and Bridgestone tyres.
With less wind than yesterday's race day, a very determined Loris Capirossi, the current Championship leader, started to test the engine, chassis set-up and tyres to prepare his Desmosedici for the Turkish GP.
Sete Gibernau (Laps: 64 - Best lap time: 1'56.616)
"It was a highly positive day. We worked to solve the front end chattering problem that I suffered with yesterday and to improve stability on the straights. The bike has improved and we have learnt one or two things which will be useful on those circuits where we have to race without having tested, like Turkey. We also continued our brilliant work with Bridgestone and today, my pace was better than yesterday. My feeling with my bike improves each time and I'm very happy."
Loris Capirossi (Laps: 40 - Best lap time: 1'56.770)
"Another good day. We did several tests on the engine mapping and chassis, introducing small improvements which will be useful in the coming races. With the Bridgestone engineers, we also carried out some tyre tests and collected useful data to improve on similar tracks that lack grip. Yesterday my tyres were working well but we never stop trying to improve! This is a really positive time and we'll do whatever it takes to continue being strong and competitive!"
The Ducati Marlboro Team men are flying home feeling extremely positive about the opening two races of the season, looking forward to the next 15 races and determined to work hard to maintain the high level of competitiveness and equally high position in the World Championship standings.
Temperatures: air: 32 ° - track: 35°/47 °
Today's unofficial lap times:
1) Marco Melandri (Honda)1'55.95
2) Valentino Rossi (yamaha) 1'56.22
3) Colin Edwards (Yamaha)1'56.35
4) Nicky Hayden (Honda) 1'56.36
5) Sete Gibernau (Ducati) 1'56.61
6) Loris Capirossi (Ducati) 1'56.77
7) Toni Elias (Honda) 1'56.86
8) James Elison (Yamaha)1'58.18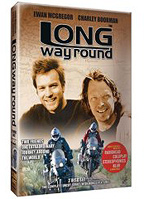 Long Way Round
Actor Ewan McGregor & friend Charlie Boorman's incrdible trip around the world on bikes! A must have, it's the best motorcycle movie/story in 30 years! - Since On Any Sunday and Easy Rider
---
Livio Suppo, Ducati MotoGP project manager comments on Losail Results
"I am very happy for the team and for Bridgestone. We were last here for the race in October, just a few months ago, and compared with then they have made an unbelievable step forward. So we must really thank them. Loris rode perfectly so thanks to him as well. When he is in a good mood he is incredible! I am very happy for Sete too. After the delusion of Jerez he kept his nerves under control and made a very good race. Tomorrow we stay here to test, because we never stop development. To start the season in such a good way, and when we see the potential we have, we must work hard to keep the potential at a high level.
I want to thank our technical partner Shell Advance, for their big support":
NAKANO SCORES POINTS IN HARD FOUGHT QATAR Kawasaki's Shinya Nakano rode a determined race at the Losail International circuit today, overcoming the traction problems that have plagued him all weekend to take a hard fought eleventh place in the Grand Prix of Qatar.
A fast start from ninth place on the grid saw Nakano lying fourth into the first corner, but the Kawasaki rider was quickly swallowed up by the chasing pack as he struggled to get his Ninja ZX-RR to hook up out of the turns.
By the halfway point Nakano looked set to secure a top ten finish, but was unable to hold off a determined attack by Kenny Roberts, who drafted past the Kawasaki rider on the short straight at the back of the circuit.
Nakano immediately fought back, but was unable to close the gap sufficiently to mount a challenge on Roberts to retake tenth place.
The 28-year-old Japanese rider tried one last charge towards the end of the race, but was eventually forced to settle for eleventh place, and five championship points, at the chequered flag.
Randy de Puniet's run of bad luck continued today, with the Kawasaki rider again failing to notch up his first MotoGP race finish, after crashing out of the Grand Prix of Qatar on the opening lap.
The MotoGP rookie was forced to retire through injury from the opening race of the season in Jerez two weeks ago, but arrived in Qatar determined to make amends with a points scoring finish in today's race.
But, after a lightning fast start, that saw him make up three places in the run to the first corner, the 25-year-old Frenchman race ended prematurely when he lost the rear of his Kawasaki Ninja ZX-RR on the entry to the relatively slow, left-hand turn six.
Although small consolation after such a bitter disappointment, de Puniet was uninjured in the crash, and will be fighting fit for the Turkish Grand Prix in Istanbul on 30th April.
Shinya Nakano: 11th
"We just ran out of time to fix the problems that we have been experiencing all weekend, so all I could do this afternoon was go as hard as possible and try and salvage some championship points. Our main problem seems to be a lack of traction out of the turns, mainly because the power delivery off the bottom is just too aggressive and this is causing the rear tyre to break contact and spin up. So, it was difficult to accelerate hard out of the turns, which reduced my speed along the straights. Even on the short straight between turns three and four, people were just riding past me on the throttle, while I was struggling to get the bike to hook up through the gears. It must be something about this circuit, because the bike has worked well throughout winter testing and at the first race in Jerez. After a difficult weekend I'm just happy we ended today with a points scoring finish."
Randy de Puniet: DNF
"I got a good start and I felt comfortable on the bike, but after overtaking Alex Hofmann going into the slow left hander the rear just came round on me. I don't know why yet; hopefully the telemetry will tell us something when we get the bike back to the pit box. This is the worst possible end to a difficult weekend for me. My hand injury was a problem on Thursday, but this improved throughout the weekend and I was looking for a good result today. Obviously I am disappointed to have crashed out on the first lap, but the only thing I can do is look at why it happened, learn from it, and then put it behind me so that I can concentrate on preparing for the next race in Istanbul."