Beautiful SBK Fast Dates Calendar Kitten Andra Cobb in a shot from the 2006 Fast Dates Calendar

New FastDates.com Calendar Monthly Screensavers!
Millions of you have been writing in and asking us why we haven't done this sooner....
Well, to be honest, we were just too friggin' cheap and wanted you to buy are great calendars instead. Meanwhile, you've been left clueless as to what day it is and what a really hot chick looks like. Or worse yet, you've resorted to downloading a calendar screensaver from a copycat website that featured a shot of an ugly wantabe model or riders' wife or girlfriend posing with a boring stock production street bike. Well, we now feel sorry for you and are ready to make our ammends!
Every month you'll now be able to download from FastDates.com the world's hottest, sexiest swimsuit supermodels and Playboy Playmates posing with the world's top factory MotoGP, World Superbikes and custom V-Twins. Are we the good guys now, or what?
The only catch is you'll need to join our Members Corner to help us pay for these incredible shots were giving you each month. And with your Members Corner membership you'll also receive access to The Paddock Garage Sportbike Tuning, Iron & Lace Garage Custom Bike Pictorials, Works Bikes Screensavers, plus the very sexy and very revealing Members Corner with pictorials of our FastDates.com Calendar Kittens withut much more than the fur that god gave them. Now if nudity offends you, if you're gay, Muslim or Alquida, you can enter the Screensaver and Bike Only areas from their respective Entry Pages. But we sincerely hope your momma raised you to be a man.
Get This Month's First Ever FastDates.com Scrensaver Here
---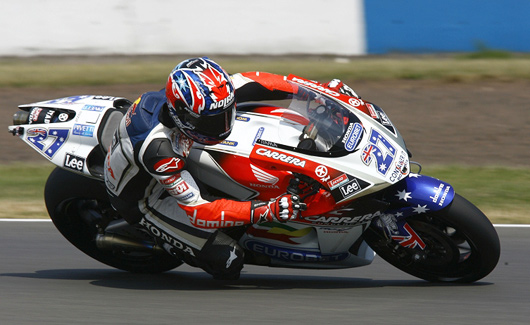 Rookie Casey Stoner continues the MotoGP rookie onslaught.
2006 MotoGP World Champioship, Round 2 of 17, Qatar Grand Prix at Losail
Rookie Privateer Casey Stoner
Takes Stunning Losail MotoGP Pole
Commercialbank Grand Prix of Qatar - Friday 7th April 2006 - With the return of intense heat to the Losail Circuit, it was left to Casey Stoner to provide the novelty factor in Qatar. The Honda rookie took pole for the Commercialbank Grand Prix of Qatar, becoming the second youngest pole-setter in MotoGP since records began, just days older than when MotoGP Legend Freddie Spencer did so in 1982. Stoner clocked a time of 1'55.683, having already topped both yesterday and today's morning sessions.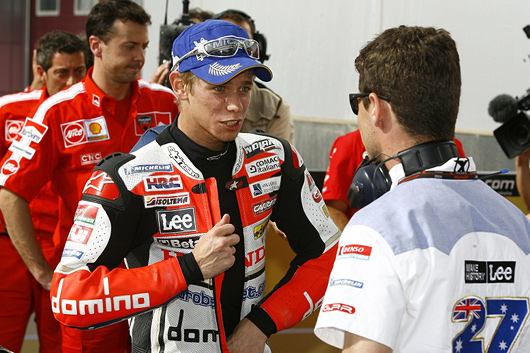 Last year's pole man and current series leader Loris Capirossi was close behind the young Australian, as he looks to repeat his Jerez win tomorrow in the desert. A late surge from Toni Elias put the Spaniard on the front row, as he continues a run of fine form. The official Honda riders will be one row back from Elias, Nicky Hayden fourth and Dani Pedrosa, who suffered a crash at the end of free practice, coming in fifth.
World Champion Valentino Rossi will be off the front row for the second successive Grand Prix, having qualified in sixth. The Yamahas looked to have made steps forward in the battle with the chattering problem they encountered in Jerez, but with both he and Colin Edwards not in the top three again, separated by Sete Gibernau on the grid, tomorrow's race will show if all has been resolved or not.
Another rider battling with chatter in Losail was Shinya Nakano, who nonetheless managed to ride his Kawasaki inside the top ten qualifiers, who are completed by yesterday's fastest rider Kenny Roberts Jr.
Yesterday night also saw three MotoGP stars taking to the track under the cover of darkness. Loris Capirossi, Valentino Rossi and Kenny Roberts Jr. all undertook laps of the circuit at 6.30pm local time, on behalf of the riders' safety commission in order to assess the possibility of a cooler night race in Losail.
Round: 2 - 2006 MotoGP Qatar Circuit: Losail Circuit, Circuit Length: 5380
Lap Record: 1' 57.903 (Nicky Hayden, 2005), Fastest Lap Ever: 1' 55.683 (Casey Stoner, 2006)
Date: 7 April 2006 Temp: 32ºC
Qualifying :
Pos. Rider Manufacturer Nat. 1st Qualifying
1 C. Stoner Honda AUS 1' 55.638
2 L. Capirossi Ducati ITA 1' 55.721
3 T. Elias Honda ESP 1' 55.735
4 N. Hayden Honda USA 1' 55.793
5 D. Pedrosa Honda ESP 1' 56.008
6 V. Rossi Yamaha ITA 1' 56.076
7 S. Gibernau Ducati ESP 1' 56.177
8 C. Edwards Yamaha USA 1' 56.230
9 S. Nakano Kawasaki JPN 1' 56.237
10 K. Roberts Team Roberts KR USA 1' 56.272
11 C. Vermeulen Suzuki AUS 1' 56.356
12 M. Melandri Honda ITA 1' 56.822
13 J. Hopkins Suzuki USA 1' 56.981
14 C. Checa Yamaha ESP 1' 57.299
15 R. De Puniet Kawasaki FRA 1' 57.822
16 M. Tamada Honda JPN 1' 57.891
17 J. Ellison Yamaha GBR 1' 58.674

Rookie Dani Pedrosa took 2nd at the opening round 2 weeks ago.
Losail MotoGP Preview
Losail Circuit, Qatar Dohar, April 6-8 - Will Team Ducati Marlboro continue its utter domination of winter testing and the opening round at Jarez, Spain 2 weeks ago where Loris Capirossi ran away from the field on the v-twin 4-cylinder Desmocedici? And new Ducati team mate Sete Giberneau might have joined him on the podiium if not for the Rossi curse which continues to plague the luckless Frenchman, an electrical sensor problem sending him back to the pits right off the start. And reigning World Champion Valentino Rossi was rear ended in the first corner, but was able to remount and finish a distant 12th. It has all the makings for a very exciting 2006 MotoGP Championship battle right down to the last race, in this final year for the 990cc bikes.

Next year the premier GP class drops to 800cc engines with the possible loss of another factory team or two, in a Championship which is now struggling to field 10 competive bike/rider combinations in a slim 20 entry field. Strange how just 2 years ago MotoGP was at its height with a packed starting grid and many topfactory and satelight teams, while World Superbike was struggling to survive with just 2 factory teams. Now the roles are reversed, again. And with 5-time World Champion Valentino's expected move to Formula One car racing next season with Ferrari, it is exciting to see that this year's 990cc MotoGP Championship will go out with a bang and not a whimper.
Left: Dani Pedrosa almost stole the show at Jerez in his first ever MotoGP race. Can he do even better this week inat Losail?

It's now just less than two weeks after Dani Pedrosa's amazing debut in MotoGP, the 20-year-old Spanish sensation will seek to build a title challenge with another solid result here after his second-place finish at Jerez.
The youngster and reigning 250cc World Champfinished ahead of his veteran Repsol Honda team mate Nicky Hayden. But Losail is a tough racing environment where temperatures can test the fittest riders.

This middle-eastern showdown appears early in the race calendar this season and any rider wishing to push for honours in 2006 cannot afford to fail to get to grips with this benign yet challenging circuit. Benign because there is no shortage of run-off in the turns. Challenging because of the heat.
The Losail International circuit lies ten kilometres from Qatar's capital of Doha. The 5.4km track is now a known quantity for most riders across the classes, but not for all. Built in 2004, it features more turns than any other track on the calendar, six lefts and ten right-handers in all. Nor is there a chicane of any description. This puts a high premium on machine agility and it also brings tyre wear issues into sharp focus.
But the artificial grass placed along the track to allay riders' fears of sand being blown onto the surface is only partially successful. Sand tends to collect on anywhere other than the racing line, making overtaking tricky. The same trouble is likely this year.
The heat will be relentless with track temperatures of up to 45 degrees expected. Ambient temperatures will be equally elevated and any rider not at absolute peak fitness will suffer in these oppressive conditions. Set-up will be directed at making the machines manageable with a minimum of physical input from the pilots.
There is also the matter of a 1068m straight, 20m longer even than that of Catalunya. This puts power and top speed among the primary requirements – and also braking at the end of a 320km/h blast flat out in top gear.
Dani Pedrosa (Repsol Honda RC211V), who sits just five points behind current MotoGP series leader Loris Capirossi (Ducati) said, "It will be tough. This season we're going to Qatar much earlier in the year and we'll see how it is because last year was very, very hot. It will be more difficult for me because I have to learn the track with this machine and find the set-up in a much shorter time than in Jerez where we had a three-day test two weeks before the race."
His team-mate Nicky Hayden (Repsol Honda RC211V) who finished third here in 2005 said, "I can't wait to see what's going to happen here. With pre-season testing followed by the first race, we were at Jerez for quite a while, so I'm really looking forward to getting out on a new track. Hopefully we've got a good package for the circuit. I quite like the layout here – it's got some fun stuff. There are a couple of banked corners that are fun and some long, long right-handers which are pretty cool."
---
Western Bikers vs. Eastern Bikers - the naked truth
Finally photo evidence proves it! There is no disputing when it comes to taking a girlfriend for a ride, Western bikers know how to do it right with a beautiful girl, some cool tricks and the proper protection.
However, the Easterners do have us beat when it comes to fuel economy....
No word if he was taking the sheep in for a bikini waxing.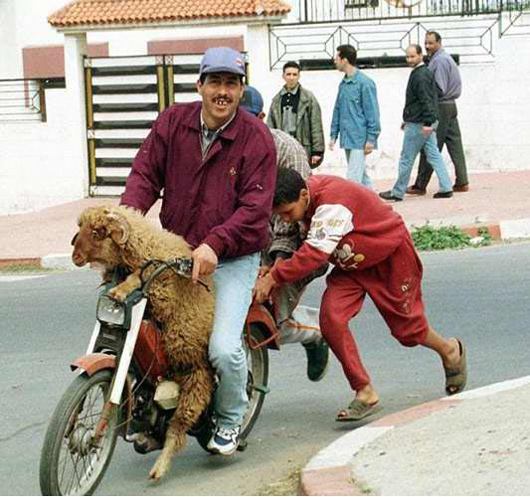 ---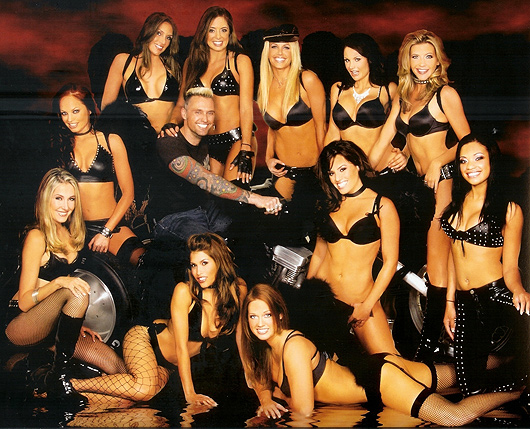 Weapons of Mass Seduction!
Purrfect Angelz Decimate the LA Calendar Motorcycle Show July 15-16th
Stage attacks on CMT TV Awards, Exile Open House this month!

Purrfect Angelz on Country Music Television Awards Show April 10th
Our very hot and sexy LA Calendar Motorcycle Show group The Purrfect Angelz have been asked to perform LIVE at the CMT Awards this coming Monday, April 10th, at 7pm central time so 5pm if you live in LA.

" Be sure to watch it from the beginning because they are the opening of the whole show with Trace Adkins himself. We will be performing "Honky Tonk Ba Donka Donk" with the Angelz in the video which is up for "Video of the year" and Hottest Video". You can check it out on CMT.com and even vote for it if you really want to help. Thanks for all your support and I hope you enjoy the CMT performance, and we llok forward to performing again and meeting you in person at the LA Calendar motorcycle show in July!" XOXO, Lisa Ligon, Purfect Angelz producer
Party Alert! Saturday April 22rd 2006 - Exile Cycles10th Anniversary Open House
It's their birthday, famed Iron & Lace Calendar builder and TV star Russell Mitchell is holding a party and we are all invited! Russell is holding an Open House at Exile Cycles on April 22nd 2006. Come and join us for some sex and drugs and rock and roll. O.K. so we lied about one, but there will be bands playing, beer flowing, and the lovely Purrfect Angelz dancing up a storm. The event takes place noon to 6pm at their new shop in North Hollywood. Exile Cycles, 13209 Saticoy St., North Hollywood, CA 91605 • Phone: 818 255 3330 • exilecycles.com
Down & Dirty at LA Calendar Motorcycle Show July 15-16th
Los Angeles, July 15-16th, 2006 - So why does Russell Mitchell (pictured above), star on Speed TV's Build or Bust and featured custom bike builder in the world famous Iron & Lace Custom Motorcycle Pinup Calendar, have such a big smile on his face? It's because we just told him all those beautiful girls he's posing with of the famed Purrfect Angelz show group will be performing all weekend long in expanded performances guaranteed to decimate attendees at this year's big Los Angeles Calendar Motorcycles Show on July 15-16th, 2006, America's premier custom and performance streetbike event!
The Purrfect Angelz have performed the last 3 years at the Calendar Show as their original 5-girl group, performing two 20 minute sets on stage each day to the screaming admiration of jammed pack crowds. But we can never have too much of a good thing, particularly where there's beautiful singing, lap dancing, fire twirling, burlesque shaking, cart wheeling, lingerie and bikini clad girls involved. The fame and the size of the group has been grown these few years, and this year Purrfect Angelz show director Lisa Ligon asked if she could bring the newer, bigger, better, tighter, bouncier, curves, more perfectly endowed 9-girl Purrfect Angelz Show to blitzkrieg the Calendar Show from this year on. Who were we to tell her "No"? But only if Lisa agreed to help serve as on-stage cohost and MC throughout the weekend, which she did. Have we got clout or what?
The biggest performance schedule for the Angelz at this year's Show will take place on Saturday the 15th, where the previous two 20-minute show sets will serve as warm up for 3, yes that's THREE different 1-Hour Stage Shows! from their 3 different world and cross country tours. The stage shows will kick off at 12 noon with the Angelz's first one hour one feature show called "Honky Tonk Ba Donka Donk" which they perform at major country and western music venues including the CMT Awards -cowboy chaps with just a tiny a bikini never looked this good in Broke Back Mountain. Later at 2:30pm will be their "Salute the Troops" a patriotic medley from the Angelz's USO Tour which they performed for our troops in Afghanistan -with Weapons of Mass Seduction so obvious we don't need George Bush to help find where they're hiding (but you can mount your own invasion at the Angelz's picture autograph table afterwards). The Angelz will wrap up the day at 6pm with the "Biker Babe Banging Bash" which they perform at major biker events across America including Sturgis and Daytona - guaranteed to get the fans up, and bring the house down, and help close just the first incredible day at the world's hottest bike Show!
MEOW! Oh my god, how Purrfect is this? But are you man enough to survive it for 4 hours on Saturday with even more beautiful girls, and then again on Sunday! Oh yah, there'll be some cool bikes there, too...
---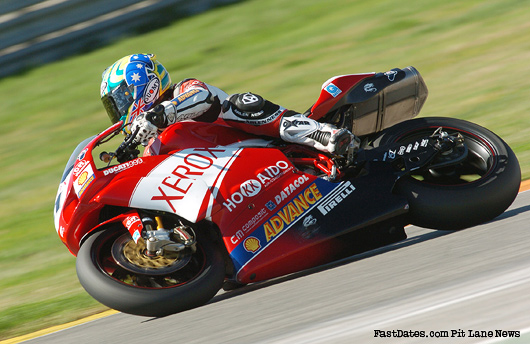 2006 SBK CORONA EXTRA SUPERBIKE WORLD CHAMPIONSHIP 3-Day Test
Bayliss Blisters to New Valencia Track Record on 3rd day of SBK Testing
BAYLISS BREAKS NEW GROUND WITH A 1'33.758 LAP

Valencia, Spain March 27-29th 2006The current championship leader Troy Bayliss (Ducati Xerox) once more proved his unadulterated pace against the entire World Superbike field, setting a new all time Superbike best at the 4.005km Valencia circuit. He is the first rider to official break into the 1'33s, and he simply smashed his way to an eventual 1'33.758. On a superb final day for Ducati 999 riders, Ruben Xaus (Sterilgarda Berik Ducati) was second fastest, with a 1'434.659, which, like most of his peers, he set in the cooler morning session. Xaus's impressive return to action in SBK is made all the more noteworthy as the tough Spaniard is still relying on crutches to get around off the bike, after an of-season training accident. In third place overall, Lorenzo Lanzi (Ducati Xerox) made it a top three sweep for the big desmo twins, outpacing reigning World Champion Troy Corser (Alstare Suzuki Corona Extra) who was over a second from his Aussie rival Bayliss.
MARTIN DAZZLES US WITH PACE THEN FALLS IN FINAL SESSION
Aussie rider Steve Martin (Petronas Racing) ignored the handicap of having 100cc less engine displacement at his disposal than most of his competitors to put the unique Petronas FP-1 fifth - out of 28 competitors. His brilliant display in the morning continued in the afternoon, and even a late fall failed to dampen his team's ebullient spirits. His team-mate Craig Jones made great improvements across the three sessions, despite finishing 28th overall. Unlike almost every other rider, Noriyuki Haga (Yamaha Motor Italia) beat his previous personal best in the final afternoon session, despite the track grip degrading as the day went on. He was sixth overall.

NIETO THE TOP KAWASAKI RUNNER Fonsi Nieto (PSG-1 Kawasaki Corse) scored seventh in the overall classification, with his team-mate's Chris Walker and Regis Laconi 12th and 17th respectively. The entire Kawasaki crew tested a significant amount of new materials and components, and early season struggler Laconi declared himself particularly pleased with progress in his side of the garage at this particular test. Andrew Pitt, Haga's team-mate, secured eighth fastest time overall, but spent most of his time working to ensure that he will have a fast and consistent set-up for the Valencia race itself. Top Honda rider on show was a pleasant surprise to some, as young Italian Michel Fabrizio (DFX Honda) overturned Klaffi Honda rider Alex Barros's good first day start, to take a top nine classification. Barros was to finish 11th, and the top ten was rounded out by Corser's team-mate, Yukio Kagayama.

MUGGERIDGE INJURED AS TOSELAND STRUGGLES Winston Ten Kate Honda rider Karl Muggeridge suffered a fracture of his fifth vertebrae in a crash during a slow-down lap in the morning session, and was immediately taken to hospital. Preliminary checks showed that he is in no danger of further injury, but he is expected to spend two months immobile while the bone heals. James Toseland (Winston Ten Kate Honda) expected a tougher then normal test at Valencia, to some degree, and he had to battle to set a 1'35.879, good enough for 16th place. A very positive testing outcome for SBK rookie and former World Supersport champion Fabien Foret (Alstare Corona Engineering Corona Extra) saw him 13th out of 28, one place ahead of the experienced Marco Borciani (Sterilgarda Berik Ducati) and two ahead of former Superstock king Vittorio Iannuzzo (Celani Suzuki). Despite a strong start to his rookie SBK season thus far, Roberto Rolfo (Ducati SC Caracchi) scored only 21st on the Valencia testing timesheets.

MISANO TEST NEXT APPOINTMENT FOR SBK After the Valencia tests, Misano is the next testing venue, on 12 and 13 April, before the series returns to Valencia on 23rd April for Round One of Superstock, and round three of World Superbike and World Supersport.
Fast Dates Calendar Motorcycle Roadracing News. Complete coverage of the SBK World Superbike, AMA National Superbike and MotoGP World Championship. Superbike, SBK, FIM, AMA, American Superbike, superbike planet, American Roadracing, sportbike, grand prix, MotoGP, race, racing, news, superbike news, sport bike, motoGP news, photography coverage, photos, pictures, Fast Dates Calendar and Umbrella Girls. Racing, road race, track, motorcycle, news, results, girls, models, Mat Aladdin, Max Biaggi, Valentino Rossi, Troy Baylis, Ben and Eric Bostrom, James Toseland, Chris Vermeulen, Maria Sharapova, Kristen Bell, Regis Laconi, Loris Capirossi, Troy Bayliss, Troy Corser, Noriyuki Haga. Ducati 999 Monster Multistrada, Yamaha R6 R1, Honda CBR600RR CBR1000RR, Kawasaki ZX6 ZX6RR ZX10, Suzuki GSXR600 GSXR750 GSXR1000, Aprilia Mille, MZ Agusta F4 Brutale. Los Angeles Calendar Motorcycle Show.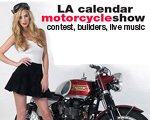 World's Richest Bike Contest features Sportbikes and a
$70,000 Purse!



Fast Dates Racebike Pinup
& Garage Girls Calendars
Click to Order Now!



---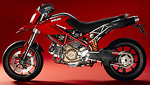 Ducati Gears Up for Production of Hypermoto
Award winning concept bike will be in showrooms Spring 2007
Bologna, 31 March 2006: After the success of the "concept" presentation in Milan and following the great response from fans, Ducati has decided to begin producing the Ducati Hypermotard. From its first moment in the public eye, last November at the EICMA trade show in Milan, the Ducati Hypermotard has had incredible success. The Ducati Hypermotard received worldwide recognition and was awarded "Best of Show" during its debut at EICMA and "Best Bike for 2005" by the Motorcycle Design Association.

The announcement was made by Federico Minoli, President and CEO of Ducati Motor Holding, on the Desmoblog, "With the enthusiasm shown by Ducatisti and the work done in research and development, we have decided to add the Ducati Hypermotard to our production schedule, without giving anything else up. We are also going to reduce the development time thanks to the work done while the bike was still a concept. I am therefore proud to announce that the Hypermotard will be available in a dealership near you in the Spring of 2007."

The Ducati Hypermotard incarnates the strength, the fun and the high performance of an extreme supermotard – re-thought in pure Ducati style: 100 hp weighing just 175 Kg (385 lbs); an idea, a dream for every biker that today will become a reality and will be added to the amazing Ducati line-up. The Ducati Hypermotard will be in dealer showrooms in Spring 2007.
Factory Teams Test at Jerez on Monday after MotoGP
Jerez de la Frontera, Monday 27 One-Day Test - Just 24 hours after the celebrations over the victory of Loris Capirossi in the opening round of the 2006 MotoGP season, all the MotoGP teams team was back at work at Jerez for a one-day scheduled test on the Andalusian circuit.
Repsol Honda's Nicky Hayen, who finished 3rd in Sunday's race, set the quickest time of the test day with a 1'39.910, about .9 seconds off Capirossi'r record time from practive the week before of 1'39.064
Sunday's race winning Ducati team focussed mainly on testing new Bridgestone tyres and continuing the Ducati Desmosedici GP6's development schedule. Loris lapped consistently around the 1m41s mark, ending the day with a best time of 1m40.798s.
Sete Gibernau put aside his Jerez race disappointment to immediately set the quickest time of 1m40.504s on the fourth lap of his opening run of the day. A harmless slide interrupted the Spanish rider's session for a few minutes but the Spanish rider was able to successfully conclude the test in preparation for the next round of the championship in Qatar.
1) Nicky Hayden (Honda) 1m39. 910s
2) Sete Gibernau (Ducati) 1m40.504s
3) Loris Capirossi (Ducati) 1m40.798s
4) Casey Stoner (Honda) 1m40. 821s
5) Daniel Pedrosa (Honda) 1m40. 845s
6) Carlos Checa (Yamaha) 1m40. 932s
7) Valentino Rossi (Yamaha) 1m40. 966s
8) John Hopkins (Suzuki) 1m41.096s
9) Shynja Nakano (Kawasaki) 1m41.178s
10) Toni Elias (Honda) 1m41.193s
11) Makoto Tamada (Honda) 1m41. 234s
12) Marco Melandri (Honda) 1m41. 400s
13) Colin Edwards (Yamaha) 1m41. 442s
14) Cris Vermullen (Suzuki) 1m41. 554s
15) Kenny Roberts (KRHonda) 1m41.861s
16) James Ellison (Yamaha) 1m42.924s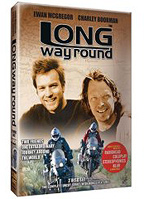 Long Way Round
Actor Ewan McGregor & friend Charlie Boorman's incrdible trip around the world on bikes! A must have, it's the best motorcycle movie/story in 30 years! - Since On Any Sunday and Easy Rider
---


Hire a FastDates.com
Calendar Angel
Now available for your special event and booking needs direct from CaliforniaHostess.com!
Ask for a FastDates.com Calendar Kitten when you call
Dominique at 1-310-430-4301
Testing progress for Rizla Suzuki on run up to Donington BSA
Spain, April 3rd - British Superbike cjampionship team RIZLA SUZUKI'S Shane 'Shakey' Byrne and James Haydon completed nearly 400-laps during the last two days during a private test at the Guadix circuit in southern Spain.
James completed 209 laps and helped to push the development of the GSX-R1000 another step forward. Shakey clocked 181 laps of the 3km long track that boasts fast and slow corners as well as a 750m long straight. He ran through a multitude of tests and is happy to have made significant progress to the base set-up on his GSX-R1000.
Both riders recorded low 1minute 16second lap times, on par with the unofficial Superbike lap record for the track.
After a wet and cold pre-season test programme, the outing to Guadix was the first time both riders had the opportunity to push their 2006 specification race bikes to their limits in dry and warm conditions.
After the first round of the series Shakey and James lie equal seventh in the Championship as the action moves to the fast flowing 2.5-mile long Donington Park circuit in Derbyshire. They plan to put the information they learned at Guadix to good use when the second round of Superbike racing starts at 11:55 on Sunday, April 9th. You can watch all of the action from 14:05 on ITV1 or at 20:00 on Sky Sports 2 on the same day.
Shakey:
"The test at Guadix was exactly what we needed after poor weather blighted our pre-season test programme in the UK.
"I now feel comfortable on the bike and can give good direction and feedback on any changes we make to it. All has gone well and I'm looking forward to Donington to see what we can achieve."
James:
"The weather couldn't have been any better for us and I've managed to record a lot of laps. From a riding point of view that is invaluable; the more riding you do the sharper you are.
"We tested several new parts and various geometry settings in the last two days and feel we have made good progress. Donington Park is a different track to Guadix but we have gained some very good information that will help our competitiveness over the course of the season."
Simon Green, Team Co-ordinator:
"This was a vital test for the team given how little opportunity we have had to test in warm, dry conditions. The entire team has worked flat-out to prepare for this test and it will hopefully prove very beneficial as we move towards the second round of the season. Our thanks also to Clive Greenhalgh, the Guadix circuit owner, for his help in making this test happen."
For more news, visit www.rizla-suzuki.co.uk now!
Bayliss Smashes unofficial Valencia Track Record,
Lanzi into 3rd Behind Xaus for a Ducati 1-2-3 at SBK Valencia Tests
Testing - Valencia - Wed Mar 29
Troy Bayliss (Ducati Xerox Team) smashed the unofficial Superbike lap record at Valencia today to complete his total domination of the three-day FGSport official test. The Australian's time of 1m33.758s, set on qualifying tyres in the morning, was almost one second quicker than the rest of the 28-strong field of riders and was six-tenths of a second under the time he set during February testing at the same circuit. Troy's performance on race tyres was also impressive, his time of 1m34.60s a fraction under 2003 Ducati champion Neil Hodgson's mark.
"When I woke up this morning and saw that the conditions were good, I knew I could do some quick times" declared Bayliss, "and I immediately did a 34.7 on my first exit on race tyres. We tried a few more things this morning and then I put on a Q-tyre to set the time. My first long-run in the afternoon was not as good as we expected, but we made a few changes to the front and rear and did a great full-race simulation. My last lap was one-tenth of a second slower than my best lap so we did everything we set out to do. I've been wanting to do a lap in the 33s here for some time and I'm feeling great about it. Ruben also looked good today, it feels really strange to have my former team-mate and my current team-mate behind me!".
Ducati Xerox team-mate Lorenzo Lanzi made a further step forward today, the Italian recording third-quickest time behind Ruben Xaus on the F05 version of the Ducati 999.
"We have improved a lot over the last three days and the results are clear to see because I set third quickest time so I am pleased with my performance" commented Lanzi. "This afternoon in the long-run I wanted to lap in the same times as the front-runners but I struggled a bit, maybe because it was so warm out there. We have changed my 999 a lot in these tests, but now I believe we are going in the right direction. It's always a pleasure to be ahead of guys like Corser and Haga in the standings, but I can't say the same about Ruben who is using my bike from last year!"
World Superbike now heads to the Santamonica circuit in Misano Adriatico, Italy for a further two days of testing on April 12-13 before the championship resumes on April 23 with the Spanish Round at Valencia.
OVERALL TIMES:
1. Bayliss (Ducati Xerox) 1m33.758s
2. Xaus (Ducati) 1m34.659s
3. Lanzi (Ducati Xerox) 1m34.848s
4. Corser (Suzuki) 1m34.933s
5. Martin (Petronas) 1m35.178s
6. Haga (Yamaha) 1m35.295s
7. Nieto (Kawasaki) 1m35.377s
8. Pitt (Yamaha) 1m35.423s
9. Fabrizio (Honda) 1m35.437s
10. Kagayama (Suzuki) 1m35.538s
Image