Marco Melandri was awarded the LeMans vistory when Rossi's engine broke.

2006 MotoGP World Championship, Round 5 LeMans France

French MotoGP to Melandri
after defending champ Rossi breaks while leading
May 19-21th, Alice Grand Prix de France. Lemans, France - Honda riders won all three classes here in France today with Marco Melandri (Fortuna Honda RC211V) winning his second MotoGP race of the season ahead of Loris Capirossi (Ducati) with Dani Pedrosa (Repsol Honda RC211V) third. Yukio Takahashi (Humangest Racing Honda RS250RW) won a spectacular 250cc GP from team-mate Andrea Dovizioso while in the 125cc race reigning 125cc World Champion Thomas Luthi (Elit Honda) won his first race of the season.
Today's race was held in dry but overcast conditions with a constant threat of rain in the air. Over 76,000 spectators witnessed Marco Melandri win his second MotoGP of the season. American Nicky Hayden still leads the Championship.
Left: French MotoGP Sponsor Alice.
Those Frogs do it right!

Camel Yamaha Team rider Valentino Rossi's unfortunate start to his MotoGP World Championship defence continued today as the Italian rider was hit by another bout of bad luck at Le Mans, where he was forced to retire from the lead with an engine problem. This time his team-mate Colin Edwards was also hit by the jinx, the American being pushed wide in the second corner of the race and running into the gravel traps. The silver lining to the day for the team on a cloudy day in France was that Edwards did manage to get back on track and charge through from last place to finish in sixth - arguably the individual rider performance of the race.

Rossi started the fifth round of the season in confident mood after finding a good set-up for his YZR-M1 machine during the dry practice sessions and he quickly translated that pace to the race, moving from seventh on the grid up to second place by lap three. After two laps behind early leader John Hopkins (Suzuki) the World Champion took control and opened out a comfortable advantage over Dani Pedrosa (Honda), who also got past Hopkins. With eight laps remaining Rossi looked on course to become the first rider this season to win two races but to his despair disaster struck, leaving Pedrosa to fight it out with Marco Melandri (Honda) for the win. Melandri made the decisive move for victory with five laps remaining before Pedrosa was also passed for second place by Loris Capirossi (Ducati).
Yamaha Team Solves Chatter Problem to Post Quickest Practive Times
Camel Yamaha Team riders Valentino Rossi and Colin Edwards were the fastest two riders in each of the first free practice sessions on the opening day of action at the Grand Prix of France today. Rossi lapped the Le Mans circuit in a time of 1'35.288 during the morning, when Edwards was just behind him with the second fastest time, whilst in the afternoon the roles were reversed as the American set the pace with a lap of 1'35.170, followed closely by his Italian team-mate.
The factory team have arrived in France in determined mood as they look to turn around their early season misfortunes, aided by the latest improvements to the YZR-M1 machine brought to this circuit by Yamaha. Rossi today ran back to back tests with a brand new chassis, designed to eliminate vibration problems suffered with the bike during the opening four rounds, and reported positive results. He will therefore incorporate the update into both of his machines tomorrow, when Rossi and Edwards try to repeat today's success in the official Qualifying session.

Rossi and Edwards topped practive with the quickest times.

Colin Edwards (1st; 1'35.170, 52 laps) "It wasn't a bad day. We came here off the back of a good result in China, just brought the bike off truck this morning and everything seemed to work pretty well. Valentino is trying to fix a few things with the new chassis so we're able to focus on working hard towards a race setting and seeing what we can get. I said yesterday that I'd know after four laps what my objective can be for the weekend and now I can say it's to win. Why not? Since the test in Turkey we've hardly touched the bike and I've got a level of confidence and feeling that I know what the bike will do. This morning it worked really well and although the chatter started to come this afternoon when we got more grip, we were still able to push so that's encouraging. We know this chassis has its limit but we can get it there pretty easily and at this track, where the Yamaha goes well, at least it should allow us to push as hard as anyone else."
Valentino Rossi (2nd; 1'35.282, 36 laps) "I'm happy because both Colin and I are fast from the start and it seems the M1 machine is working very well at this circuit. Now we are in the first and second places so this is a very good result for our team and it gives us some confidence. I was very fast in the morning and in the afternoon we spent the time making some tests for the setting with the new chassis for tomorrow. This job is very important because they say it might rain tomorrow, but we have already found a good base, so I'm very happy about that. I like the new chassis and I think it will help us to go faster. It is much better for the vibration and even at this early stage we can see it has a lot of potential. Yamaha have always gone well at Le Mans so now we wait for tomorrow and see if we can keep it going."
Davide Brivio - Camel Yamaha Team Director
"We've made a good start today with both Colin and Valentino. Both specs of the bike are working well so this is a very positive thing for us. Today was a good chance for us to gather some data in the dry because it looks as though it will rain tomorrow and we at least know we have a good base setting if it is dry again for the race on Sunday. Tomorrow Valentino will have the new chassis on both bikes and Colin will remain on the standard version but it seems both are working well so we look forward to seeing what happens tomorrow."
Pole man Pendrosa

Pedrosa Back on Pole at LeMans
Dani Pedrosa will start a MotoGP race from pole for the second time in his career at tomorrow's Alice Grand Prix of France. The Spaniard put in a storming last lap of 1'33.990 to snatch the spot at the head of the grid from an impressive Shinya Nakano by three tenths of a second.
Dani Pedrosa, Repsol Honda, 1st: "Of course I am happy to be on pole again, but the important day is tomorrow! Today the practice was difficult because it was very windy, but it was dry, so that was good. At the beginning of the session I didn't make the most of the practice time - I made some mistakes and I had some traffic. I was not riding so well on race tyres and at the start of the session I didn't really do a good job. But then, at the end, I focused on the job and I got in to a better rhythm. We found a good race tyre so I'm happy about that and the set-up for the bike tomorrow for the race, if it's dry, can be good. I'll be hoping to make a great start and have a good race - we'll have to wait to see what the weather does."
Pole-man and winner last weekend at the Shanghai Circuit, Pedrosa will be looking to continue his run of form into Sunday's race at the famous Le Mans Bugatti Circuit. Nakano looked set to give Kawasaki the top spot for the first time this season, but instead had to settle for his highest qualifying position of 2006.Rizla Suzuki's John Hopkins repeated his top three qualification from China, and following on from his fourth place finish in the race he will be out for a podium place tomorrow afternoon.
Local rider Randy de Puniet completed a memorable day for Kawasaki, delighting the large number of fans present at the Le Mans track by slotting into fourth place. The Frenchman stood on the pit wall to acknowledge the crowd following the session.
Marco Melandri and Loris Capirossi completed the second row, both trying to get back on track after disappointing results in China. World Champion Valentino Rossi and team-mate Colin Edwards were unable to keep their free practice positions at the top of the leaderboard, separated on the third row in seventh and ninth by Sete Gibernau's Ducati. Nicky Hayden completed the top ten just under a second slower than his pole-setting Repsol Honda colleague.
Valentino Rossi (7th; 1'34.840, 28 laps) "Today I am happy because we worked in the right way and found a good race setting for the bike. When we used the very soft tyre at the end of the session we again found some vibration problems caused by the extra grip but it's not such a problem on the race tyres. Anyway, looking at the qualifying results from the last few rounds the third row is an improvement and I think there is the possibility of a good result tomorrow. Myself and Colin have been at the top through all the practice on race tyres so we know we have a good chance."
Casey Stoner (27) leads winner Melandri (just behind), Nicky Hayden (69), John Hopkins, and Rossi (7) in the opensing laps.
Rossi Breaks while leading, Melandri Wins His Second MotoGP of the Season
Marco Melandri took victory at a packed Le Mans circuit in a thrilling Alice Grand Prix of France, becoming the first rider to win two races this season.
The weather ahead of the race left all riders and teams gambling, and the race itself was equally as unpredictable. The first lap was littered with notable incidents, as Melandri took the holeshot before being overtaken by Suzuki's John Hopkins and a collision between Randy de Puniet, Valentino Rossi and Dani Pedrosa left Kawasaki's hometown rider out of the race and pushed Colin Edwards and Sete Gibernau off the track.
On lap five Rossi relieved Hopkins of the lead and three laps later the American Suzuki rider fell while trying to stay in touch. He remounted to finish 15th. Dani was now in second place and right up with Rossi, as the stage was set for the season's long awaited battle between the reigning MotoGP and 250cc World Champions. Melandri was 2.37 seconds behind the leaders in third.
Rossi began to work his lead over Pedrosa harder and by mid-race distance he held 3.2 second advantage over the Spanish rookie. Dani could not make an impression on Rossi, until Rossi slowed with a broken down Yamaha. Rossi proved he had the upper hand over young pretender Pedrosa, extending his lead with assertion over the second half of the race. However, in the key moment of the day, the charismatic Italian pulled over on lap 21, clearly distraught after suffering an unknown mechanical failure.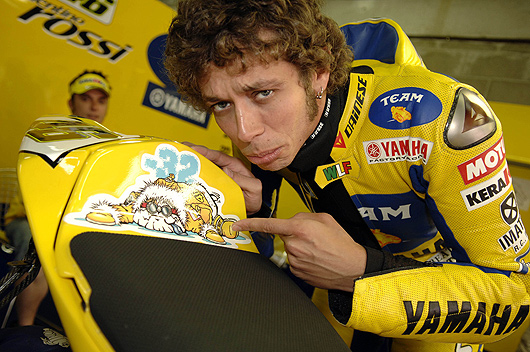 The champ's luck this season with bike problems hasn't been good.

Valentino Rossi (DNF) - "The team did a great job with the new chassis this weekend and I really enjoyed being able to ride so fast during the race, so it is a real shame that it ended like that and of course I am very disappointed. Everything was working really well, the bike and tyres felt perfect but then the engine went. A bike stopping on me like this has only happened to me a couple of times in my career, and never with a four-stroke, so for it to happen today is typical of our luck at the moment. Something seems to have gone wrong for us at each of the first few races of the season, apart from Qatar, and it has put us in a difficult situation with regards to the championship. We know that championship is a big challenge now but the last word has not been spoken yet. Now we need to look at it race by race, maybe not think about the championship for a while and concentrate on trying to win as many races as possible from the remaining 12."
Davide Brivio - Camel Yamaha Team Director - "We are trying to smile but obviously we are all very disappointed - especially Valentino. Our engineers did a great job to get the bikes prepared for this race and both Valentino and Colin were ready to fight for a top result. It was great watching Valentino in harmony with the bike and it looked as though it was going to be a classic Valentino Rossi race, making his way to the front and then controlling his advantage over second place. Unfortunately the engine broke and we are analysing it now to find out why. I have to say Colin rode a great race after being forced wide in the first corner and in general we will take a lot of positives from this weekend, even if we don't feel too great right now. Today we should have had two riders on the podium, but we have 12 more chances to try!"
Pedrosa then took over the lead with eight laps to go, but Melandri was gaining on him lap by lap and Capirossi in third was closing too. This now turned into a lap time against laps remaining equation that would not run in Pedrosa's favour.
Melandri had the speed and took Pedrosa at the turn one chicane on lap 24. Capirossi was 2.5 seconds behind Dani and gaining by 0.44 seconds a lap. Loris Capirossi behind meanwhile pulled out one of the best outbraking moves of the season on Pedrosa to snatch second place from under the Spaniard's nose. at the Musée turn on the final lap and the young Spaniard decided to collect the points for third rather than risk a fall retaliating.
Nicky Hayden (Repsol Honda RC211V) and Casey Stoner (LCR Honda RC211V) had a tough fight for fourth with the verdict going to Stoner as the pair crossed the line. Makoto Tamada (Konica Minolta Honda RC211V) was seventh, Toni Elias (Fortuna Honda RC211V) ninth, while Kenny Roberts (Roberts KR211V) retired early with so far undiagnosed problems.
Melandri was delighted with another victory in his 50th MotoGP start. He said, "I'm happy and I want to thank Michelin because it was the perfect tyre choice. I got away well and that allowed me to lead on the first lap. Hopkins then overtook me as my bike was suffering a bit in the first laps, but after a few laps when the tyre temperature increased, the bike began to work better and better and I was able to lap near the front. As the laps went by I started to think about winning and I overtook Loris and then, when the time was right, Pedrosa as well."
Loris Capirossi , finished second, third overall (79 points) "When I was riding with Marco I saw that Valentino was out, so I thought that I would be on the podium right then. Then I saw Marco catching Dani, so on the last few laps I tried to keep with him and see if it was possible to overtake Dani on the last lap. I did it and kept him behind me, so this second position is very good for me. I used the tyre we tested yesterday and I knew I could keep a pace in the high 1'35s, and I maintained this pace all through the race, and never gave up. This track is not one of the best for us, in the rain it seems to be better, but we finished on the podium in second, and got really good championship points. Thanks to the whole Ducati team and the Bridgestone guys."
Third-placed Pedrosa said, "When I took the lead I knew they were catching me and I knew I would only lead for two or three laps. On one lap I made two mistakes and I realised I was going slowly whilst on the limit. So I decided I didn't want to crash like in the race in Turkey and I closed the throttle and focused on finishing the race. But the result is good and we must stay consistent and learn from this."
Casey Stoner continued his run of good form, having not finished outside the top six in his first MotoGP season. One rider who did see an end to his personal record was Nicky Hayden. The flu-stricken 'Kentucky Kid' was off the podium for the first time for the first time in nine races.
After dropping down the order in the first turn, Colin Edwards clawed his way back through the field, ahead of Makoto Tamada and fellow first corner incident sufferer Sete Gibernau. Toni Elias and Chris Vermeulen finished ninth and tenth respectively.
Nicky Hayden still leads the standings on 83 points, ahead of Melandri and Capirossi who are both breathing down his neck on 79. The 2006 MotoGP World Championship now moves to the picturesque Tuscan surroundings of Mugello in Italy for round six on Sunday 4th June.
Results MotoGP
Race Classification MotoGP : (28 laps = 117.04 km)
Pos/ Rider / Nat / Team / Motorcycle / Time/ KM/H / Gap
1 / Marco MELANDRI / ITA / Fortuna Honda / HONDA / 44'57.369 / 156.205 /
2 / Loris CAPIROSSI / ITA / Ducati Marlboro Team / DUCATI / 44'59.298 / 156.093 / 1.929
3 / Dani PEDROSA / SPA / Repsol Honda Team / HONDA / 44'59.638 / 156.074 / 2.269
4 / Casey STONER / AUS / Honda LCR / HONDA / 45'02.863 / 155.888 / 5.494
5 / Nicky HAYDEN / USA / Repsol Honda Team / HONDA / 45'03.078 / 155.875 / 5.709
6 / Colin EDWARDS / USA / Camel Yamaha Team / YAMAHA / 45'08.888 / 155.541 / 11.519
7 / Makoto TAMADA / JPN / Konica Minolta Honda / HONDA / 45'14.061 / 155.244 / 16.692
8 / Sete GIBERNAU / SPA / Ducati Marlboro Team / DUCATI / 45'15.511 / 155.161 / 18.142
9 / Toni ELIAS / SPA / Fortuna Honda / HONDA / 45'21.014 / 154.848 / 23.645
10 / Chris VERMEULEN / AUS / Rizla Suzuki MotoGP / SUZUKI / 45'36.731 / 153.958 / 39.362
11 / Carlos CHECA / SPA / Tech 3 Yamaha / YAMAHA / 45'45.099 / 153.489 / 47.73
12 / Shinya NAKANO / JPN / Kawasaki Racing Team / KAWASAKI / 45'45.151 / 153.486 / 47.782
13 / Alex HOFMANN / GER / Pramac d'Antín MotoGP / DUCATI / 46'06.461 / 152.304 / 1'09.092
14 / James ELLISON / GBR / Tech 3 Yamaha / YAMAHA / 46'13.541 / 151.915 / 1'16.172
15 / John HOPKINS / USA / Rizla Suzuki MotoGP / SUZUKI / 45'17.059 / 143.996 / 2 laps
Pole Position: Dani PEDROSA 1'33.990 160.102 Km/h
Fastest Lap (New Record):Lap 5 Valentino ROSSI 1'35.087 158.255 Km/h
Circuit Record Lap:
Circuit Best Lap: 2006 - Dani PEDROSA 1'33.990 160.102 Km/h
World Championship Positions:
1 HAYDEN 83, 2 MELANDRI 79, 3 CAPIROSSI 79, 4 PEDROSA 73, 5 STONER 65,
6 EDWARDS 45, 7 ELIAS 44, 8 ROSSI 40, 9 GIBERNAU 33, 10 TAMADA 33,
11 NAKANO 32, 12 HOPKINS 21, 13 ROBERTS 20, 14 VERMEULEN 19, 15 CHECA 15.
Takahashi Leads Honda Sweep in 250cc GP
Honda riders dominated the 250cc race as rookie Yuki Takahashi (Humangest Racing Honda RS250RW) won a tight tussle from his team-mate and series points leader Andrea Dovizioso (Humangest Racing Honda RS250RW) with another Honda rookie, Shuhei Aoyama (Repsol Honda RS250RW), completing the rostrum in third.
Takahashi and Dovi scorched into turn one from second and pole on the grid and set about ratcheting up an unassailable advantage over the field. They held a 3.2 second advantage over Roberto Locatelli (Aprilia) who was running third by lap four of this 26-lap race.
As Takahashi and Dovi settled down to wait for what was always going to be last lap battle, the chasing field spread out with Aoyama and his brother Hiro (KTM) left to dispute third place between themselves on the final lap.
Dovi led the last lap until the final turn where Takahashi slid up the inside on the brakes. The Italian knew the Japanese man would run wider mid-corner and he took the inside but his momentum carried him wide and Taka could get the power on earlier on the inside to broach the line first. "I'm so happy with this result," said a delighted Takahashi. "My bike set-up was really good and even though we were all sliding from mid-race distance my bike was very controllable and I knew I would do well at the end."
Dovi, who is still searching for that elusive first win in the 250cc class, said, "Yuki was faster than me and it was difficult. I tried to keep him out on the last lap because I knew he'd have a go at me. I tried to get him back at the last turn but it wasn't possible. But I'm happy to take the points."
Aoyama was happy with his maiden podium. He said, "It was difficult to up the pace but I got faster from the middle of the race. I kept my brother at bay by really attacking the final lap and I'm really happy to be on the podium. Now I want to continue this success."
The World Championship standings now show Dovi leading on 92 points from Hector Barbera (Aprilia), who finished 7th today, on 78 points with Hiro Aoyama on 75 in fourth. Yuki Takahashi is now fourth on 67.
250cc Grand Prix Class
Race Classification 250cc: (26 laps = 108.68 km)
Pos / Rider / Nat / Team / Motorcycle / Time / KM/H / Gap
1 / Yuki TAKAHASHI / JPN / Humangest Racing Team / HONDA / 43'42.773 / 149.173 /
2 / Andrea DOVIZIOSO / ITA / Humangest Racing Team / HONDA / 43'42.871 / 149.167 / 0.098
3 / Shuhei AOYAMA / JPN / Repsol Honda / HONDA / 43'44.988 / 149.047 / 2.215
4 / Hiroshi AOYAMA / JPN / Red Bull KTM GP 250 / KTM / 43'45.257 / 149.032 / 2.484
5 / Alex DE ANGELIS / RSM / Master - MVA Aspar Team / APRILIA / 43'54.043 / 148.535 / 11.27
6 / Roberto LOCATELLI / ITA / Team Toth / APRILIA / 43'57.370 / 148.347 / 14.597
7 / Hector BARBERA / SPA / Fortuna Aprilia / APRILIA / 43'59.602 / 148.222 / 16.829
8 / Marco SIMONCELLI / ITA / Squadra Corse Metis Gilera / GILERA / 43'59.814 / 148.21 / 17.041
9 / Sylvain GUINTOLI / FRA / Equipe GP De France - Scrab / APRILIA / 44'00.362 / 148.179 / 17.589
10 / Jakub SMRZ / CZE / Cardion AB Motoracing / APRILIA / 44'00.578 / 148.167 / 17.805
11 / Anthony WEST / AUS / Kiefer - Bos - Racing / APRILIA / 44'21.805 / 146.985 / 39.032
12 / Andrea BALLERINI / ITA / Campetella Racing / APRILIA / 44'24.501 / 146.837 / 41.728
13 / Martin CARDENAS / COL / Wurth Honda BQR / HONDA / 44'27.923 / 146.648 / 45.15
14 / Sebastian PORTO / ARG / Repsol Honda / HONDA / 44'29.318 / 146.572 / 46.545
15 / Arnaud VINCENT / FRA / Arie Molenaar Racing / HONDA / 44'38.520 / 146.068 / 55.747
Pole Position: Andrea DOVIZIOSO 1'39.733 150.882 Km/h
Fastest Lap (New record): Lap 19 Hiroshi AOYAMA 1'39.964 150.534 Km/h
Circuit Record Lap:
Circuit Best Lap: 2006 Andrea DOVIZIOSO 1'39.733 150.882 Km/
World Championship Positions:
1 DOVIZIOSO 92, 2 BARBERA 78, 3 AOYAMA 75, 4 TAKAHASHI 67, 5 LORENZO 63,
6 LOCATELLI 57, 7 GUINTOLI 38, 8 DE ANGELIS 35, 9 SIMONCELLI 31, 10 AOYAMA 27,
11 SMRZ 27, 12 CARDENAS 22, 13 WEST 19, 14 PORTO 17, 15 POGGIALI 13.
---

Can you beat this? Mike Witte from Minnesotta won the Sportbike Class at the 2005 Show and got to hang with our beautiful Calendar Kittens thanks to his Aprilia RS250 chassis powered by a Suzuki RG500 Gamma.

Preview: 2006 LA Calendar Motorcycle Show Weekend July 15-16th

$70,000 Purse at America's Premier Street Bike Weekend
Road Bike Metric Midway Features Sportbikes and Metric Cruisers
The 15th annual Los Angeles Calendar Motorcycle Show Weekend July 15-16th 2006 at the Queen Mary Event Park in Long Beach / Los Angeles, continues its extraordinary growth and success having become the biggest Custom and Performance Streetbike Show in America and possibly the World focused on the custom, cruiser and high performance sport / streetbike markets. The Calendar Bike Show Weekend features one of the world's top bike show contests with one of the biggest purses ever.
Many of the world's top Pro and Amateur Builder street bike builders will be on hand to compete in the Performance Machine Calendar Show Bike Building Championship with a record breaking purse of our $70,000 in cash and awards. This year's Show Contest features 3 new classes including Street Chopper, Bar Hopper, plus the new RoadBike Magazine Metric Class located in the exciting new Roadbike Metric Midway featuring Japanese Cruisers along with classes for European and Japanese Sportbikes. There will be a total of 10 Calendar Bike Building Championship Classes including the premier Radical Pro Builder Class sponsored by American Iron magazine with a $5,000 cash purse up for grabs, plus the coveted Performance Machine Best of Show Trophy.
Other Championship Classes feature contingency sponsorships by Jardine, Vance & Hines, Havoc Industries, American Iron and Iron Works magazines with winners receiving complete exhaust systems of their choice, magazine subscriptions, and other many other awards totaling $70,000. Not the least of which is the $5,000 product award for Best Performance Machine Equipped Bike at the show from the title sponsor. Many of the class sponsors will be constructing unique one off trophies for 1st place, and in most other classes the Iron & Lace Calendar sponsor's famous Mikuni Carburetor Desk Set awards will go out for 1st in each class, with 2nd and 3rd receiving the Show's Engraved Liquor Flasks for the most unique and coveted awards from America's premier Bike show.
And perhaps most exciting of all, selected bikes form the Calendar Bike Building Championship will be invited by producer Jim Gianatsis to have their motorcycles photographed and featured in the next FastDates.com's Iron & Lace Custom Bikes & Centerfold Models, and SBK Fast Dates Racebike Pinup and Swimsuit Model Calendars sponsored by Mikuni, Performance Machine and Jardine Performance. Many of the world's premier custom bike builders including Jesse Rooke, Harold Pontarelli, Russell Mitchell and Dreamcraft Studios scored their first Bike Show wins and won international media recognition in the Calendars and at the Calendar Motorcycle show as their springboard to fame and fortune.
Spectator attendance reaches close to 20,000 hard core motorcycle enthusiasts at the exciting 2-day weekend. Exhibitors include 195 major motorcycle and parts manufacturers, with selected product and apparel venders added into the mix to keep it fun for the entire family. Spectators have a chance to meet top celebrity custom bike builders and attend free Iron & Lace Calendar Bike Builder Seminars with America's top celebrity Iron & Lace Calendar builders including stars of the Build or Bust and Biker Buildoff TV shows Russell Mitchell of Exile, Jesse Rooke, Roland Sands, Mike Stafford of MGS Customs, Harold Pontarelli and Joe Takai of Mercury Customs. All weekend long you can watch or enter your own bike in the exciting Jardine World Record Horsepower Dyno Shoot Out.
A new feature at the Show this year will be the Calendar Motorcycle Show Auction which will take place late on Saturday afternoon. Top builders will have a chance to put their latest creations on the block with a Reseve Price, or move out an older custom or show bike to the best availble bid. With Los Angeles being home to the most affluent bike owners in America, the Calendar Motorcycle Show Auction is certain to pull some incredible bikes and bidders and will continue to grow in years to come.
All weekend long entertainment includes 2-Day Musical Festival showcasing top sexy rockin' girl bands and singers including the Lead Zeppelin tribute band Zeparella, beautiful blues rocker Jesse Payo. The exciting Purrfect Angelz will be performing their exciting stage shows both days, including three different 1-hour Shows on Saturday featuring their USO performance for our troops in the Middle East.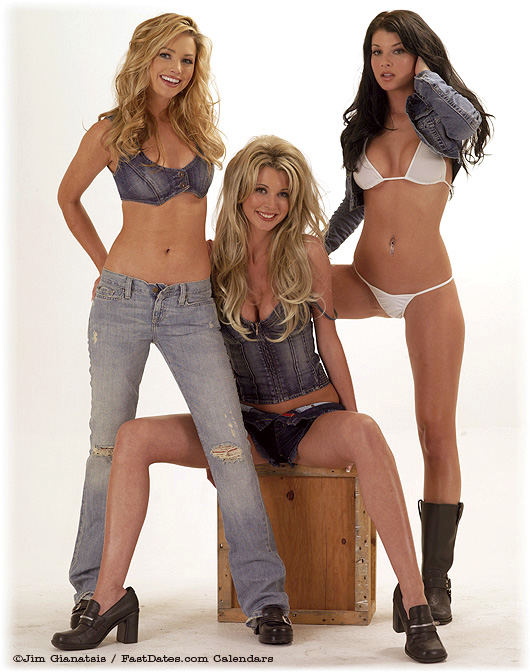 Meet the new new 2007 FastDates.com Calendar Kittens including Playboy Playamte Tamara Witmer, Irish Supermodel / SBK Fast Dates umbrella girl Gemma Gleeson and Cora Skinner
And don't forget the world premier of the new 2007 FastDates.com Motorcycle Pinup Calendars with the beautiful Calendar Kittens in attendance including Playboy Playamte Tamara Witmer, Irish Supermodel / SBK Fast Dates umbrella girl Gemma Gleeson and Cora Skinner. There will also be a Calendar Girl Model Search Pageant with cash prizes both days. Bike Show admission includes complimentary admission to the historic Queen Mary ocean liner, and the Saturday Night Calendar Bike Builder's Party featuring the rock band Reckless Driver with Mary Falls. For additional information visit the Calendar Bike Show website at http://www.FastDates.com
The LA Calendar Motorcycle Show is Sponsored by Performance Machine, Jardine Performance, American Iron American V-Twin and RoadBike Metric Cruiser magazine, The Los Angeles Times / ReCycler.com / Cycle Buys, Speed TV's American Thunder, Trader Publications / Cycle Trader, BikerNet.com, Quick Throttle and Connection magazines, the FastDates.com Calendars.
---

Not since the days of Wes Cooley and Kevin Schwantz - a likeable rider at Yoshimura Suzuki kicks ass!


AMA Superbike Championship, Infinion Raceway, Round 4 of 11

Ben Spies Doubles at Sears Again over Mladin and DuHamel
Sears Point, CA May 19-21 - Yoshimura Suzuki's youngest team rider Ben Spies continued his double round sweep of the AMA Superbike Championship this weekend at Infionion Raceway ahead of his reigning champ team mate mat Mladin. American Honda's Miguel Duhamel captured a pair of 3rd place podiums and was honored as one of the first motorcycle racers to be inducted into the Infineon Raceway Wall of Fame.
The very popular veteran rider followed his Saturday induction with a third in the Superbike race, held under cloudy skies on the undulating 12-turn race track in the heart of Sonoma's wine country, north of San Francisco. Duhamel battled Suzuki's Aaron Yates for the second half of the race before making the final pass on the 26th of 28 laps. Duhamel backed up that finish with a much more competitive run aboard his American Honda CBR1000RR on Sunday, this time taking third on the 13th lap and chasing the second place rider to the end.
"Yeah, it was a bit of a surprise," Duhamel said about the distinction. "It's just - I'm very honored, obviously. I'm very pleased and honored." The prolific Duhamel has nine wins at Infineon; five in Superbike, three in Supersport, and one in Formula Xtreme. In addition to his proficiency on the track, he was chosen for the selfless work he's provided to the track on behalf of the safety of his fellow riders.
"There's nobody who has been more open, more helpful, more available…than Miguel Duhamel," track president Steve Page said in the winner's circle. "For all the memories and all the involvement he's had at this track, we are very proud to have Miguel Duhamel inducted into the Infineon Raceway Wall of Fame."

Hodgson fights to hold off Honda team mates Zemke and Duhamel.
Parts Unlimited Ducati's Neil Hodgson improved to fourth place in Sunday's AMA Superbike race at Infineon Raceway, applying pressure on third place in the final laps in the second contest of the weekend. Teammate Ben Bostrom finished seventh on his Ducati 999 Superbike in a race meeting with limited track time due to weather issues.
Hodgson was 9.137 seconds behind the winner at the flag, less than half of Saturday's gap. In the race, Neil made a pass of Tommy Hayden on lap 22 to take fourth place. "It was good to see the leaders," said Hodgson, who qualified on the front row on Saturday. "We were much more competitive today. I had a good battle with Tommy Hayden and Aaron Yates out there. Tommy was braking very late into the corners and I managed to squeeze underneath him for the pass and went off to chase Miguel Duhamel. The bike felt good on the light fuel load at the end of the race. We were able to close some on Miguel but ran out of laps."
Hodgson maintains fourth place in AMA Superbike points after extending his perfect finishing record for 2006. "We have a test scheduled for this week in Utah, so it will be good to go into it having made some improvements," said Hodgson.

Ben Bostrom ahead of Zemke and Hayden.

Bostrom was seventh on the day. "In some ways, this race was a test for us," said Bostrom. "We have struggled some this season and needed track time. At the end of today's race, we were able to do low 1:37s after we improved the bike from what we learned on Saturday. We were about a second a lap quicker today, though, which is promising."
Honda's Jake Zemke found brake problems prevented him from finishing higher up than eighth on Saturday. On Sunday, he discovered a lack of drive grip on the warm-up lap that stymied his best efforts to ride around the problem.
"We'll just come back for the next one, definitely have to do a lot better than we did today," he said.
The podium order was identical both days, Suzuki's Ben Spies in front of teammate Mat Mladin and Duhamel.
Miguel Duhamel, 3rd Saturday, 3rd Sunday
I thought about sticking it in (on Aaron Yates) a few times, but I was saving that for a little later (in Saturday's race). But then he went extra wide. So I went inside, and I figured he'd try and come down on me anyway, but I had the right of way, basically. I don't know where he went and I didn't really care. I just wanted to make that pass, because I knew I was faster than him through some of the sections, and I was just holding it back a bit. When he did come by we did pick up the pace a bit, and it actually made me discover a few things for tomorrow's race.
I felt yesterday I could have been a little closer to the guys in front. And the key to that is to be closer. Tommy (Hayden) was actually doing a good job of keeping Mat (Mladin) honest and even Ben (Spies) for a while there. I was like, this is good, this is real good. Usually when you're in third place, you only just see open track. And I was like, whoa, look at that. I was in fourth place at that moment. And (Hayden) was riding really good and then I had to ride really hard and got by him. I was really good on the brakes. Got by Tommy. He was braking good too, but not good enough. He went into the dirt, through the chicane, twice I think. That time actually I got by. Once I did that I think it looks like he couldn't keep up the pace. By then Mat already did a little gap and I was trying to keep that gap honest and try and get a little closer and it was fluctuating depending on the lap and lapped riders. Of course I wanted to get up for the championship and get in front of Mat, but he didn't want me to.
Jake Zemke, 8th Saturday, 8th Sunday - Early on we had the pace to run with the guys for third. I would like to think we would have been at least a challenge for those guys up there and would have a four-rider race for third instead of three, but that's the way it goes. It just seems like the brakes glazed over a bit and I just didn't have the stopping power I needed getting in the corners and couldn't get in there like I was earlier in the race, and just kind of faded back from there. I just felt like I could get through the corners OK once I got in there, it was just I couldn't get into the corners. I just kind of just ended up going backwards there.
First lap out, warm-up lap I could tell it wasn't quite the grip I had yesterday. Sometimes it takes a lap or two to get the tires where they're gripping to their full potential. It just never, ever came in. It was kind of bad right from the get-go. I think it was more our setting that was bad, because we had the same tire we had yesterday and, shoot, I drove right by a couple of guys early in the race, where today that wasn't going to happen. they were driving by me instead. We thought we had something that might be a little bit better, but ultimately it just didn't have the grip I had yesterday. So I couldn't get off the corners and we had changed the shock and it also affected going into the corners as well. I just couldn't get much of anything done today. We'll come back.
Saturday Superbike:
1. Ben Spies (Suzuki)
2. Mat Mladin (Suzuki)
3. Miguel Duhamel (Honda)
4. Aaron Yates (Suzuki)
5. Neil Hodgson (Ducati)
6. Ben Bostrom (Ducati)
7. Tommy Hayden (Kawasaki)
8. Jake Zemke (Honda)
9. Steve Rapp (Suzuki)
10. Larry Pegram (Honda)
Sunday Superbike:
1. Ben Spies (Suzuki)
2. Mat Mladin (Suzuki)
3. Miguel Duhamel (Honda)
4. Neil Hodgson (Ducati)
5. Aaron Yates (Suzuki)
6. Tommy Hayden (Kawasaki)
7. Ben Bostrom (Ducati)
8. Jake Zemke (Honda)
9. Steve Rapp (Suzuki)
10. Jacob Holden (Suzuki)
Superbike Championship:
1. Ben Spies (Suzuki) 257
2. Mat Mladin (Suzuki) 227
3. Miguel Duhamel (Honda) 198
4. Neil Hodgson (Ducati) 183
5. Aaron Yates (Suzuki) 179
6. Tommy Hayden (Kawasaki) 173
7. Ben Bostrom (Ducati) 168
8. Jake Zemke (Honda) 156
9. Jason Pridmore (Suzuki) 148
10. Larry Pegram (Honda) 133
---
Rossi Awarded Prestegious "Spirit of Sport"

Barcelona, Spain, May 23rd - At the prestigious Laureus Sports Awards which took place in Barcelona last night, reigning MotoGP World Champion Valentino Rossi was awarded with the coveted 'Spirit of Sport' prize, given to the individual that has raised the profile of his or her chosen field.

The ceremony was a star-studded affair, with Spain's King Juan Carlos present, and Hollywood actors Cuba Gooding Jr. and Teri Hatcher presenting. A who's who of sporting legends were also in attendance, but it was once again Valentino Rossi who stole the show, bringing proceedings to a close by riding onto stage on a Yamaha R1 before collecting his award from MotoGP Legend Giacomo Agostini and Formula 1 supremo Bernie Ecclestone.
Rossi had earlier also been a nomination for World Sportsman of the Year for the third consecutive time, however that accolade fell to Swiss tennis sensation Roger Federer. Nevertheless when he finally made his entrance with trademark flamboyance the five-time MotoGP World Champion received a rapturous applause from the gathered luminaries.
Once the ceremony was finished, Rossi remarked, "I am very happy to have received this award tonight, and very proud to be considered such an important ambassador for our sport. It's also a big honour for me to be nominated once again for the main award alongside other such great sportsmen."
The Laureus Sports Awards are voted for by the Laureus Academy's 42 members, which includes Agostini and other sporting legends such as Bobby Charlton, Seve Ballesteros, Ed Moses and Boris Becker.
Rossi flew to the event especially, after having completed a day's testing at the Le Mans circuit where he was forced to retire during Sunday's race . The award was given to him for his part in raising MotoGP's profile around the world and for his continued high level of performance after five consecutive MotoGP titles.
Fast Dates Calendar Motorcycle Roadracing News. Complete coverage of the SBK World Superbike, AMA National Superbike and MotoGP World Championship. Superbike, SBK, FIM, AMA, American Superbike, superbike planet, American Roadracing, sportbike, grand prix, MotoGP, race, racing, news, superbike news, sport bike, motoGP news, photography coverage, photos, pictures, Fast Dates Calendar and Umbrella Girls. Racing, road race, track, motorcycle, news, results, girls, models, Mat Aladdin, Max Biaggi, Valentino Rossi, Troy Baylis, Ben and Eric Bostrom, James Toseland, Chris Vermeulen, Maria Sharapova, Kristen Bell, Regis Laconi, Loris Capirossi, Troy Bayliss, Troy Corser, Noriyuki Haga. Ducati 999 Monster Multistrada, Yamaha R6 R1, Honda CBR600RR CBR1000RR, Kawasaki ZX6 ZX6RR ZX10, Suzuki GSXR600 GSXR750 GSXR1000, Aprilia Mille, MZ Agusta F4 Brutale. Los Angeles Calendar Motorcycle Show.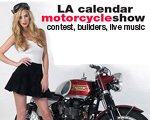 World's Richest Bike Contest includes Sportbikes and a
$70,000 Purse! Win Exhaust Systems from Vance & Hines, compete in the Jardine World record Horsepower Dyno Shootout



Fast Dates Racebike
& Garage Girls Calendars
Click to Order Now!



2006 Superbike World Championship
Preview: Round 5, Silverstone, GB, 28th May
The fifth round of this year's Superbike World Championship takes place at Silverstone - a former RAF airstrip in Northamptonshire, UK. Silverstone is a fairly flat circuit, with a few different layouts and last season Team Alstare Suzuki Corona Extra rider Troy Corser took a pair of runner-up spots in the two 28-lap races. His team mate Yukio Kagayama had won a brilliant Superpole on the Saturday but a crash in the first race put him out of contention - though he did remount and finished eleventh. In the second race, he fared little better - finishing seventh. Team Alstare Engineering Corona Extra rider Fabien Foret didn't race in the Superbike class last season, but is looking forward to riding his GSX-R1000 this year and will be searching for a pair of solid top ten places."

TROY - "I almost won a race at Silverstone last time and it would be good to get a win or two under my belt this year and put pressure on Bayliss. Depending on which layout they use, Silverstone could be a good track for our bike, so I am hoping that they chose a good one! It has been a tough season so far - but we all knew it was going to be like that. The racing has been very good for the fans I'm sure, but it's about time we (or somebody) else got the better of the Ducati. We have been losing out to them, exiting the turns, so we have to find a way round that problem if we are to beat them. We'll try a few ideas in practice and see if we can solve our problem.

YUKIO - "I do not have good memories of Silverstone last year - except my Superpole victory. This year has not been so good and I have had too many crashes so far. I have been trying very hard - my usual style - and maybe I have been trying too hard. It is difficult for me to change my style, but I have to do something to get back on the podium, because I miss it!"

Rain Stops British Superbike
May 21st - Round 5 of the British Superbike Championship was cancelled due to appalling weather conditions at Mondello Park today.
Rain fell all day and after a number of delays the riders went out for a 15 minute warm up in very wet conditions at 11:30 am. During the warm-up a number of riders succumbed to the wet track and crashed, including Airwaves Ducati rider Leon Haslam who fell on lap 4, however he was unhurt. Gregorio Lavilla appeared unaffected by the conditions and set the quickest lap time of the session, 2:01.403, 0.9 seconds faster than any other rider.
The rain continued to fall heavily and at 1.00pm the event organisers delayed proceedings for an hour to review the situation then at 2.00pm they decided to cancel the event.
After the announcement the Airwaves Ducati riders were both disappointed. Leon Haslam was the first to comment saying, "Obviously it's hugely disappointing the race was cancelled today. I like rain and so far this season we have had two wet races which have gone well for me and the team so who knows how it would have worked out if we had have raced. Mondello is good for racing and I would have gone out if we could have, but it was a good call as the track was flooded and the conditions were just horrible. We have changed the bike a lot and we have found a setting I really like, so roll on Mallory Park."
Gregorio Lavilla was also disappointed but agreed that the right call had been made. "Warm up was unbelievable but considering the rain, and the fact this is one of my worse tracks, I was riding fast. We have done some really good work on the bike and I felt good as I was going faster and faster with each lap in the warm up, but I respect the decision as it was treacherous out there. Everything is working really well at the moment and this weekend gave us the opportunity to test it out so I am very confident for Mallory Park in 2 weeks time."
Team manager Colin Wright said, "It was a shame the event had to be cancelled. The superbike races were shaping up to be the best this season, wet or dry, so I feel sorry for all concerned. The race directors had a tough decision to make and whilst we are disappointed not have raced we whole heartedly support their decision.
Round 6 of the British Superbike Championship is on 4th June at Mallory Park in Leicestershire.
More from
LeMans MotoGP
Third-placed Pedrosa said, "When I took the lead I knew they were catching me and I knew I would only lead for two or three laps. On one lap I made two mistakes and I realised I
was going slowly whilst on the limit. So I decided I didn't want to crash like in the race in Turkey and I closed the throttle and focused on finishing the race. But the result is good and we must stay consistent and learn from this."
"Fourth place feels pretty damn good," said Stoner. "And again I've answered the people who said I couldn't race on worn tyres. The battle with Nicky was great, it was a clean fight, but unfortunately I nearly took him out at the start of race – I'm sorry for that, I just missed my braking a little. By mid-race the bike started to feel more comfortable so I pushed and started to catch the leaders."
Hayden, fifth, said, "It's been a tough weekend, all weekend! Since we got off the plane from China it hasn't come real smooth – it's been bad with the weather, bad with the flu we've had a few things go against us today. Yesterday we went backwards with the set-up so me and the team put our heads together after the wet warm-up this morning and made some changes. The Repsol Honda boys did a good job giving me a lot better bike that I felt good on so we just fought as hard as we could today and ended up fifth."
Tamada in seventh place said. "I am only partially satisfied of today's result as after the second free practice session of Friday the feeling with my Honda RC211V had reached a definitely better level than the one of today. I had to struggle all race long with a strong under steering problem, which did not allow me to be sufficiently fast when riding the first corners of the track. Anyway, the condition is absolutely better in comparison to the beginning of the season and this makes me hope for the best for the coming GPs.
Colin Edwards (6th; + 11.519 seconds) "To be honest I don't quite know what happened at the start. I had my plan which was to run it around the outside like I did last year but things just went haywire from the start and riders were coming at me from everywhere. I got baulked by somebody - it might have been Dani Pedrosa but I'm not sure - and I couldn't get to the outside so I had to move where the space was and go tight. Everybody was wide through the right and came across me as we went left into the chicane so I had nowhere to go but the gravel. Last year it would have probably been okay but the changes they made to the track played against me. I lost four or five seconds there and probably lost another four or five trying to get past people during the first six laps. I wanted to overtake on the exits but they all had so much grip at that stage of the race that it was impossible and I just had to wait for opportunities on the brakes. The setting of the bike was good - the only thing I was missing was a bit of rear grip at the end but with the pace I had we should have been on the podium today."
Nakano Salvaves Points for Kawasaki
Kawasaki's Randy de Puniet and Shinya Nakano were both left frustrated by this afternoon's Grand Prix de France at Le Mans, after de Puniet crashed out of his home race on the opening lap and Nakano was forced to fight back to finish a disappointing twelfth following a ride through penalty imposed for jumping the start.
Starting from fourth place on the grid, de Puniet got away with the leading group at the start, but was forced to take avoiding action as Valentino Rossi dived underneath him at the entry to the first chicane. Forced to pick up his bike to avoid Rossi's Yamaha, de Puniet collided with the rider on his outside and ended his race in the gravel trap.
The 25-year-old Frenchman was examined in the circuit medical centre, where he was diagnosed as having suffered a concussion in the crash. As a result, de Puniet can remember nothing of the events leading up to his premature exit from this afternoon's race.
A mistake launching his Ninja ZX-RR off the line meant that Nakano was unable to capitalise on his front row grid position, but the Japanese rider made up places into the first chicane and was lying sixth at the end of the first lap. The 28-year-old Japanese rider was still in touch with the leading group of riders when the Kawasaki Racing Team were informed by race control that Nakano had jumped the start and would be subject to a ride through penalty.
Nakano pulled into pit lane from sixth position, and rejoined the race at the first corner dead last.
Determined to salvage as many points as possible, Nakano was soon lapping at the same pace as the front-runners, eventually fighting his way through to twelfth place by the end of the 28-lap race.
Luckless Hopkins crashes out of Le Mans podium fight
Rizla Suzuki MotoGP racer John Hopkins crashed out of today's Alice Grand Prix de France, when he looked odds on to collect his first ever podium, but the gutsy Anglo-American remounted and still managed to claim a point.
Hopkins made a superb start to the race and led for the first four laps, after which he was passed by Valentino Rossi – who was forced to retire later on – and Dani Pedrosa. He stayed in a comfortable third place close behind the two leaders, but crashed into the gravel trap unhurt on lap 10. He showed his determination by remounting and getting his Rizla Suzuki GSV-R back to the pits for some running repairs, before re-joining the race and finishing in 15th position.
Chris Vermeulen had a less eventful and somewhat lonely race, having improved on his 12th place start early on. He settled into a consistent rhythm and secured a top-10 finish from his first ever race at Le Mans. His lack of dry track time over the weekend counted against him during the latter part of the race, as he had been unable to collect enough important tyre data over the previous two days and tyre durability became an issue.
John Hopkins: "I had a slight problem with the clutch. It was not right from the start of the race and if we had ridden at a slower pace then I think it would have been ok. I had to brake too hard to make up for a bit of time lost in acceleration, and the rear stepped out - once that had gone it just sent the front out and I crashed. But we have shown that the Rizla Suzuki has improved and so has Bridgestone and we have made it known that we can run at the front - it's just a matter of time before that first podium comes. If anything it just makes me more motivated to do well on the next circuit, that's for sure!"
Chris Vermeulen: "We finished in the top 10 which is really what we were aiming for, but I wasn't so happy with my pace over race distance. We didn't get as much dry time as we wanted, and had hoped to try a few more things in this morning's warm-up but it was wet so we were unable to. I went with the setting from yesterday and I was able to run a good pace early on but we didn't have enough tyre data for durability and it faded a bit towards the end. I am happy enough with 10th place from my first French GP and hopefully we can improve on that position in Mugello."
Paul Denning – Team Manager:
"A disappointing end to what looked to be a very promising race, but ultimately we have to take the positives out of the weekend. Despite Chris' tyre choice not giving him the performance he needed for the second half of the race he kept the bike upright and brought it home in the top 10. He will also have learnt a lot about getting around the Le Mans circuit at race pace.
"I have to feel for John, but as I say we have to look at the positives. He made a fantastic start and showed a lot of confidence early on. He displayed a lot of composure when dicing with Rossi and Pedrosa and I'm sure his plan was to tag along with them and aim for that first podium. After the crash most riders would have left the bike there but it is very much in Rizla Suzuki's character not to give up, and for John to come back into the pits, get the bike fixed and circulate for the rest of the race with a damaged machine to score a single point says a lot about his character.
"If points were given for effort I'm sure we would have got a lot more than we did at Le Mans today!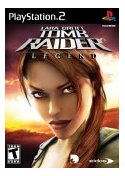 New! Tomb Raider Legend
Click to Order Any
Tom Raider
computer game now
available in all platforms!
Long Way Round
Actor Ewan McGregor & friend Charlie Boorman's incrdible trip around the world on bikes! A must have, it's the best motorcycle movie/story in 30 years! - Since On Any Sunday and Easy Rider
Order our favorite
FastDates.com babe music at low discount prices!
(just click on the CD covers to find out more and to order online)

---
Yamaha Puts Sunday's Disapointment behind them with positive Testing at LeMans on Monday
Camel Yamaha Team Test Le Mans, France, Monday 22nd May 2006 - Camel Yamaha Team riders Valentino Rossi and Colin Edwards were back on board at Le Mans today, with riders and team alike eager to forget the disappointment of yesterday's race and start looking forward to the next challenge. Rossi and Edwards were confined to the garage this morning by rain, but the afternoon brought better weather and they were able to start testing after lunch and carry on until six o'clock.
As well as testing new electrical mapping, trying some new Michelin tyres and generally refining set-up, Edwards had his first chance to try out the new chassis, which Rossi used throughout last weekend. Edwards completed 30 of his 38 laps using the new chassis and, like his team-mate, the Texan was impressed with the improvements it brings to the performance of his YZR-M1 and will now use it on one of his bikes in Mugello.
Edwards now heads to the Clermont-Ferrand track to take part in a day of dedicated tyre testing for Michelin tomorrow, whilst Rossi has flown to Spain to attend the Laureus World Sports Awards, where he is nominated for Sportsman of the Year.
DAVIDE BRIVIO – CAMEL YAMAHA TEAM DIRECTOR
"Unfortunately the weather was bad here this morning, so we couldn't get started until the afternoon, but we've used the time well and managed to get a lot of important work done. We tested some new electronic mapping for both bikes and also some new tyres for Michelin. We've generally just worked on fine-tuning the set-up for both riders and we've made some good progress, with good lap times. Colin used the new chassis today for the first time and he really liked it and felt a great improvement, as Valentino did last week, so now in Mugello he will have one bike with the new chassis and one with the old chassis. Valentino of course continued to use both his bikes with the new chassis and today has helped us to confirm the impressions that we gained at the weekend; that this new chassis works very well and our bike is now ready to win races.
"With regards to the problem of yesterday, now our Japanese engineers are making all the necessary checks to find out what went wrong and understand the situation, and we hope that's the end of our bad luck! It was good to have the chance to get back to work today after the disappointment of yesterday, it has been a positive day and it's reminded us all that we've got a competitive package now for the next set of races."
Camel Yamaha Team Times:
1. COLIN EDWARDS, 1'36.49 (38 Laps2. VALENTINO ROSSI, 1'36.84 (26 Laps)
PREVIEW
Superbike World Championship: round five - Silverstone 23/5/2006
Circuit: Silverstone
Country: United Kingdom
Track length: 3619m
Opened: 1948
Fastest lap ever: 1:26.679 (Yukio Kagayama, 2005)
Lap record: 1:27.130 (Regis Laconi, 2005)
Last year's winners: Troy Corser (Suzuki) and James Toseland (Ducati)
Britain's Silverstone circuit is the venue for this weekend's fifth round of the 2006 Superbike World Championship.
So far the season has been a case of so near but so far for the Yamaha Motor Italia squad. In the eight races run so far this year, Noriyuki Haga has twice finished on the third step of the podium and never finished lower than fifth place. One DNF (crashing on the final lap while contesting the lead at the first race in Qatar) puts Haga fifth in the championship, although the Japanese star knows he now needs to start winning races if he is to stop the so far dominant Troy Bayliss (Ducati) from running away with the championship.
Silverstone has proved a successful track for Haga in the past. He took a first and second position there in 2004 and gave the still-developing Yamaha YZF-R1 its first ever world superbike podium finish at last year's race. With the R1 now developed into a consistent front runner, the Yamaha Motor Italia squad sees Silverstone as a great opportunity to make their presence felt in the championship.
"I have done well at Silverstone in the past so I am looking forward to racing there again this weekend," says Haga. "The last round at Monza was not so bad. I don't normally get on the podium there so to finish third in race two was a good result for me and the team. Silverstone is a track that we know suits me and the R1. We got our first podium there last year and we should be able to fight with the fastest riders again this year."
Team-mate Andrew Pitt lies one place behind Haga in the championship standings. The Australian has also been very consistent this season and is looking to forget a nightmare outing at the British track last year. Pitt struggled to come to terms with the shorter International layout used for the first time last year and picked up a nasty leg injury during practice.
Despite this, Pitt insists a top three finish is not out of the question this year, commenting: "I was a little disappointed not to be on the podium at Monza, because the improvements we've made to the bike means that this is a realistic target for us at every circuit. Silverstone wasn't the happiest of races for me last year and I'm not a big fan of the shorter circuit we use now. But at the end of the day it's just another race and you go there with the same target as always, which means getting on the podium."
Yamaha Motor France rider Norick Abe arrives in Silverstone in the championship's top ten, despite failing to score in Monza. The Japanese star had a tough weekend in Italy, missing Saturday's practice session and bravely riding but failing to score in the races. Rapidly improving team-mate Shinichi Nakatomi had his best result in Monza with a tenth in race one and will be looking to continue his superbike education at the short and technical British circuit.
In the Supersport World Championship Yamaha Motor Germany's Kevin Curtain will look to get his season back on track after the heartache of retiring through mechanical problems in Monza. The Australian remains second overall in the championship, 31 points behind defending world champion Sebastien Charpentier (Honda).