The Official Calendar of SBK World Superbike
Introducing the 2007 Fast Dates Racebike Pinup Calendar
Photographed on location at Brands Hatch World Superbiike, Great Britain by Jim Gianatsis
July 1st, 2006 marks the exciting annual release of the world renown new 2007 FastDates.com Motorsports Pinup Calendars, marking the 18th year since their inception by motorsports and fashion photographer Jim Gianatsis of the motorsports advertising agency Gianatsis Design Associates, Los Angeles, California. No other calendar line has matched the exotic custom and racing bikes from the world's top custom builders and factory racing teams, together with the world's most beautiful beautiful centerfold models, aspiring young actresses and super models.
The FastDates.com Calendars in turn have fostered the world's premier motorcycle pinup model web site offering the latest racing news, sportbike tuning information, and photo galleries of the Calendar bikes and models. In addition, the annual Los Angeles Calendar Motorcycle Show held each 3rd weekend of July as a celebration to premier the new Calendars has itself grown in 15 years to become the premier custom and high performance streetbike event in America.
With the introduction of the new 2007 FastDates.com Calendars comes the announcement of many new marketing partnerships to help promote the incredible bikes, models and photography featured. Those partnerships include the SBK World Superbike Championship which has endorsed the Fast Dates Race Bike Swimsuit Model Calendar for the last 10 years and has now made it the Official Licensed Calendars of the SBK Corona Extra World Superbike Championship.
And then SpeedTV.com, America's premier motorsports and enthusiast network will be marketing both the Calendars and selected FastDates branded images to their fans mobile phone use. And in a world-wide marketing agreement with the agency Wireless Developer, the FastDates branded images will be market by major wireless cell carriers around the world, including in America by the largest cell phone carrier Cingular Wireless.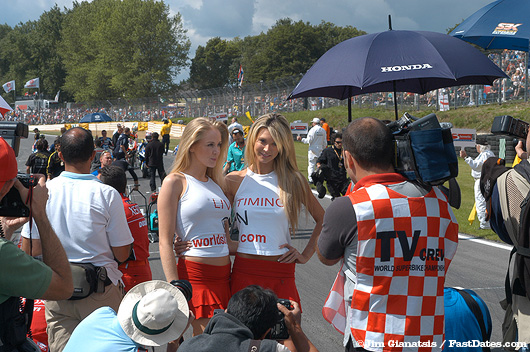 Monica and Gemma on the starting line at Brands Hatch WSB in front of the world TV broadcast!
The Fast Dates 2007 Race Bike Swimsuit Pinup Calendar is the official Calendar of SBK World Superbike and is sponsored by Performance Machine and Jardine Performance. This new calendar marks the first year ever we have shot outside the USA as we traveled to beautiful Brands Hatch Raceway in Great Britain for one ot the biggest and most exciting rounds on the SBK schedule. Featured in this year's calendar is Troy Corser's SBK World Superbike Championship winning Alstare Corona Suzuki GSXR100 and World MotoGP Champion Valentino Rossi's title winning Yamaha M1. This is not the first time we've been able to feature both current premier class disipline World Championshiip winning bikes in Fast Dates, a special honor afforded only to legerndary motorsports photographer Gianatsis.
Along with the worl'd top roadracing bikes, we are privileged to bring you some of the world's most beautiful models The 2007 SBK Fast Dates Calendar Kittens we sourced from a top agency in London included Irish Supermodel and cover girl Gemma Gleeson, Aalayah (Susanna Groves) , and Monica McDermot who also served as the offical Ducati Corse and SBK grid girls on race day. Some of the calendar pictures were also taken back in America were excited to work with Miss Texas Robin Cunningham, plus Playboy Playmates Tamara Witmer and Heather Carolin.
Rockin' Robin gasses up Valentino Rossi's World Championship winner at the Rock Store in Southern California.

This also marks the first year the photographer Jim Gianatsis has shot the calendar in digital format instead of film. To assure that picture quality remained on par to the quality of our legendary Hasslebald 2.25in. ( the Rolls Royce of professional cameras and lenses), we waited until Hasslebald introduced its own digital camera using Hassleblad's high quality lenses. Our new $25,000 Hasslebald HP2 Digital is tethered to a portable hard drive and shoots huge high resolution 80MB image files.
With the world's top roadracing bikes and with some of the world's most beautiful models, the 2007 Fast Dates Calendar is guaranted to be an instant collector's item and we expect an eary sellout. If you are a fan you need to buy your copy early. We hope you enjoy having it hang on your wall as much as we enjoyed a great race weeked at Brands Hatch to shoot. We enjoyed it so much, infact, we'll be backat Brands Hatch this August 2006 to shoot again for next year's calendar. Enjoy!
See the Fast Dates Calendar Shoot at Brands Hatch • Order 2007 Fast Dates Calendar HERE.
---

Playboy Playmate and Calendar Kitten Tamara Witmer adds some support as Jesse Rooke checks the alignment of his unique KTM powered retro board tracker that will premier at this year's 2006 LA Calendar Motorcycle Show.
PREVIEW: July 15-16th 2006 Los Angeles Calendar Motorcycle Show
FastDates.com Calendar builders Jesse Rooke, Roland Sands and
Playboy Playmate Tamara Witmer Ready for July 15-16th Calendar Show

Los Angeles CA, June 26th - Famed FastDates.com Calendar Builders Jesse Rooke and Roland Sands are just two among dozens of America's premier custom motorcycle builders, along with Playboy Playmate (August 2005) Tamara Witmer who will in attendance at the July 15-16th LA Calendar Motorcycle Show at the Queen Mary Event Park in Long Beach. Both Jesse (Jesse Rooke Customs, Huntington Beach, CA) and Roland (Roland Sands Designs / Performance Machine) will use the Calendar Show as the first public showing of their radical new sport V-twin bikes built in a special challenge for the TV program Biker Build Off. For beautiful Tamara the Calendar Show will mark her first appearance as a 2007 FastDates.cm Calendar Kitten with her pictures featured in the new 2007 Calendars which will also premier at the Calendar Show.
Just this past week Jesse, Roland and Tamara joined FastDates.com Calendar photographer Jim Gianatsis at a top secret government facility in Southern California to shoot their new bikes for the next editions of the Fast Dates Race Bike and Iron & Lace Custom Bike Pinup Calendars. Both Jesse and Roland proved to be exceeding helpful throughout the shoot in assisting Tamara with her intricate costume changes, difficult posing positions on the bikes, and in remembering phone numbers.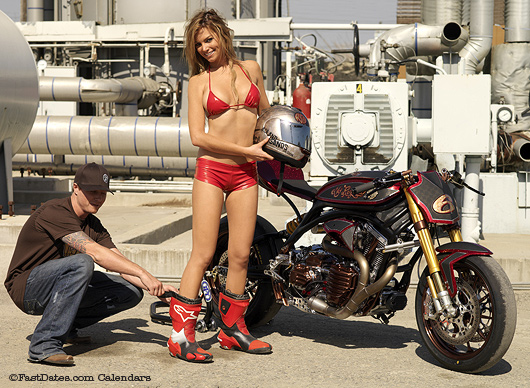 Roland Sands helps Playboy Playmate and Calendar Kitten Tamara Witmer lace up her boots as we shoot Roland's Biker Build Off winning V-twin powered sportbike. Tamara's hair looks like she's been ridden hard in this photo, but at least she never rides without protection.

Former AMA 250cc GP Class Champion-Turned Master Builder Roland Sands was currently in England as this release was being issued, running this Sportster V-twin powered naked sportbike at the legendary Goodwood Festival of Speed. The fully Ohlins race suspended and Performance Machine wheels and racing brake equipped bike won the Biker Build Off competition which was decided on the track at Willow Springs Raceway, with the TV program scheduled for broadcast this coming August. Roland plans to put this chassis kit into production so anyone can have a Fast Date.
Roland's next project bike is rumored to be powered by a Kenny Roberts KR MotoGP engine, and without too many more distractions, he hopes to have it completed in time to premier at the Calendar Show or the US MotoGP the following weekend at Laguna Seca.
Meanwhile, Jesse isn't sitting idle, either, with this very sexy KTM 950cc V-Twin retro board tracer road racer. The 3-time LA Calendar Motorcycle Show winner is hard at work on another potential winner to be unveiled at this year's Calendar Show. All that Jesse will tell us is that it's really different (like all his bikes) and it has a single cylinder engine (Possibly on the heels of Roger Goldammer's AMD World Championship winning retro single cylinder supercharged board track racer?).
Either way, we can't wait to see, and you don't want to miss either what Jesse, Roland and other past LA Calendar Show winners like Shinya Kimura, Dreamcraft Studios, Wicked Brothers and other top name builders who will be unveiling their unveil their latest wheeled masterpieces at this year's Show. Nor do you want to miss meeting Calendar Kittens and Playboy Playmates Tamara Witmer, Athena, and Cora Skinner and the world premier of the new 2007 FastDates.com Calendars.
---
World Superbike Moves Closer to 1200cc Limit for Twins in 2008
Rome, Italy, June 5th - At a meeting in Rome between all the concerned parties involved in FIM sanctioned and FGSport owned World Superbike and the varous National Superbike Championships from the major countires including AMA and BSB, together with the major sportbike manufacturers, it was decided in princiapal that the engine capacity for 2-cylinder bikes should be raised to a 1200cc maximum capacity beginning in 2008, while 4-cylinder bikes would stay at the current 1000cc limit.
This is rule change is to stay in line with World Superbike being a production based racing class, and because major manufacturers like Ducati, KTM, Aprilia and others plan to increase the capacity of their V-Twin production superikes near the 120cc mark beginnin in 2008.
All the national federations at the meeting (from the UK, Germany, Italy, USA, Japan and Australia) will now come up with their own proposals on how the various class choixes and rules can be unified from the global championship to each country's national series.
What remains in deliberation at this point is what type of restrictions will be implemented to keep the 1200cc twins eaqual in performance to the 1000cc fours. The Japanese factorys represented by the MSMA have proposed taht all machines, regardless of type, should be run air restrictors. While the FIM and FGSport folks, share a joint position that there should not be any air restrictors, but the twins should be reigned in by restrictions in tuning, plus weight and fuel limits.
Neither of the groups are in a standstill at the moment, and 2 independent companies have been hired to analize how restrictors sizes might be determined for the different engine types and implemented.
Not many of the national federations were keen on restrictors either, because restrictors would give the advantage to factory teams with more highly tuned and fragile engines that privateers could not match. Instead, the use of midly tuned superstock engines in full Superbike chassis regualtions would be more affordable for everyone.
A freelance artist's rendering of waht a new 1200cc Ducati Superbike might look like. We hope it looks closer to the DS16 MotoGP bike with a returned to the single side swingarm.

Ducati pland to take on the Japanese horsepower race and maintain its WSB winning tradition with a new 1200cc engine that has been under development for several months now. One of the Ducati satellite teams is reported to have tested a prototype of a new big-bore V-twin late last year under the fairing of a innocent looking 999 race bike.
The proposition of owning a 999R is not as tempting anymore as all the four Japanese make big road 1000's that produce massive horsepower in comparison at a third the cost. Ducati keeps their WSB race 999F's competitive by employing MotoGP level tuning. This is very expensive for racing, and and the current 999 model is not a big seller. The next Ducati superbike has to be a stunner with at least the same amount of horsepower as the in-line fours. To achieve that Ducati will most likely launch a 119), 1116 or 1188cc R version initially to replace the 999R. Then the bigger engine would be used in an S and a standard version. As Ducati use their engines in several platforms we can then expect the range topping Monster model to receive a 1200cc engine too. Image by Hugo van Waaijen.
---

Dani garners all the media attention with his place on pole.

MotoGP World Championship, GAS British Grand Prix, Round 9 0f 17

250cc Champ Pedrosa Teaches Class at Donington Park
GAS British Grand Prix - Sunday 2nd July 2006 - Dani Pedrosa put on a dominant performance this afternoon to win the GAS British Grand Prix at Donington Park. The Spanish rookie started from pole position, but after losing the holeshot he had to wait 11 laps before finally passing Marco Melandri. Pedrosa had run wide whilst attempting to pass the Italian on lap 4, but it was the only moment of worry for the talented Repsol Honda rider.
The podium spots were decided after a last lap dice between Valentino Rossi and Marco Melandri. Rossi had ridden a superb race from twelfth on the grid, clawing his way through the field. The reigning World Champion was up to fifth by the halfway point of the race, and continued his ascension through the top six before the epic final lap battle with Melandri, in which he came out on top after Melandri ran wide on the Melbourne Loop hairpin.

Dani Pedrosa was untouchable at Donnington.

Dani Pedrosa Storms to pole at Donington Park
Saturday 1st- The British weather welcomed a large turnout for an all-important day of qualifying at the Donington Park circuit today, as the teams and riders prepared for tomorrow's race.

Dani Pedrosa took his third pole position of the season at the Donington Park circuit, and will line up for the GAS British Grand Prix with a great chance of taking a second premier class win. The young Spaniard had topped the timesheets in all but one of the free practice sessions at the Leicestershire track, where he has never raced before in MotoGP.
Chris Vermeulen will start behind Pedrosa at tomorrow's race, nearly half a second off his Spanish rival's time of 1'27.676. Third in a tightly-packed top ten was Marco Melandri, qualifying in a position nothing short of outstanding considering his condition after a crash two weeks ago in Catalunya.
John Hopkins completed an excellent day for Rizla Suzuki in fourth, continuing the team's run of strong qualifying positions. Loris Capirossi, who sat out yesterday's final practice session in order to recuperate from his ongoing abdominal injury, bravely battled against the pain barrier to earn himself fifth on the grid.
Randy de Puniet completed the top six, ahead of team-mate Shinya Nakano and Casey Stoner, who struggled with his qualifying tyres having performed well in previous practices. Kenny Roberts Jr. and Colin Edwards completed the top ten. Championship leader Nicky Hayden heads off row four in eleventh spot as he holds a 42-point lead.
Ducati Marlboro Team rider Loris Capirossi put in a storming qualifying performance at Donington Park today, going fifth quickest despite suffering from the chest injuries he sustained in the turn-one crash at Catalunya two weeks ago. Alex Hofmann, substituting for Sete Gibernau who broke a collarbone in the same accident, was 15th fastest in this afternoon's warm, muggy conditions.
Courageous Capirossi ended the session just 0.718 seconds off pole position and is particularly happy with his pace on race tyres. Practice and qualifying for tomorrow's race, which will be the 20th Donington Park motorcycle Grand Prix, underlined the immense progress made by Bridgestone tyres during the past year. Last July Bridgestone struggled in dry conditions at Donington; today the Japanese manufacturer had five riders in the top seven.
Loris Capirossi (5th - 1m 28.394s) "It was a very good idea to miss yesterday's second free practice session because when I am rested and relaxed I can ride much better. I rode both sessions today because Alex uses different tyres, so the work he does with tyres isn't so useful to me. As usual, my chest started to hurt after about 30 minutes of riding. I did do a 14-lap run but the race is 30 laps, so I've decided to miss morning warm-up to save myself for the race. I won't use pain-killers and I think I will be able to run a good race pace. If I was 100 per cent fit I would have done better today but considering my condition fifth place is not so bad. I'm happy with Bridgestone because last year we had some problems here but they've made good progress since then. I only did a half race-distance run but I'm happy with our race tyres. I'm quite confident for tomorrow, I'll just try and relax as much as I can before the race."
Camel Yamaha team-mates Valentino Rossi and Colin Edwards will both start from the fourth row of the grid in tomorrow's British Grand Prix, after running into set-up problems during the second day of practice at Donington Park. Whilst Rossi continued to ride through the pain from the ankle and wrist injuries he sustained at Assen nine days ago, he also struggled to adapt his machine to the demands of the British track, where he has taken victory for five of the last six seasons.
Edwards was equally baffled by the lack of progress he made today after making positive initial steps yesterday. The base setting of the YZR-M1 machine has adapted swiftly to the fast and flowing nature of recent circuits such as Assen and Catalunya, but with only the morning warm-up remaining before tomorrow's 30-lap race the team still have plenty of room for improvement. A small consolation for Rossi was that Nicky Hayden (Honda), the current series leader, was also unable to challenge for a top grid position and will start in between the Yamaha pair on the fourth row in 11th spot.
Colin Edwards (10th - 1'28.481; 30 laps) "The bike is really not working as well as we would like and to be perfectly honest we're not sure why. The things that worked so well last weekend don't seem to be having the same effect here and we're struggling to come up with an alternative at the moment. It's not for a lack of trying because my crew have worked really hard all day - we played about with the springs and the ride height but kept running down a blind alley. This is one of my favourite tracks and I'm used to turning up here and being in the top three from the first session - like I have for the past two years. In theory it should have been the same today but it's just not happening. Now we have to hope we can find something good in the morning, make a great start and just fight our way through!"
Valentino Rossi (12th - 1'28.808; 28 laps) "We didn't expect to have so many problems here in Donington because last year our bike worked really well. It's a track where I've always been able to be really fast and go very well from the start, so it's quite disappointing. The situation with the wrist isn't so bad, but I've got some problems in the hard braking areas. For sure I can't ride how I would like to; we're not at the maximum.

We've been quite confident because, since the new chassis in Le Mans, the bike has worked very well and been fast from the start, but here we can't find a good setting for some reason. Tomorrow we will try to find a way to make the situation a little better. Today with Dr Costa I decided to try with some painkillers, to understand better what we need to do for the race tomorrow. With these painkillers it seems I can ride more or less normally. Tomorrow me and my team will try to find the best possible setting to enable me to ride a good race and I will also do some more work with Dr Costa after warm-up in order to be in the best possible shape to ride."
Michel Fabrizio will not participate in tomorrow's GAS British Grand Prix after fracturing his right collarbone. The Fortuna Honda rider, himself standing in for the injured Toni Elias, suffered a huge highside this morning and was unable to continue.
Dani Pedrosa Claims a Dominant Victory at Donnington
Sunday June 2nd - Dani Pedrosa (Repsol Honda RC211V) scored a convincing win here at Donington Park to notch his second victory in his rookie year and put himself firmly in the hunt for the World Championship. Valentino Rossi (Yamaha) was second and Marco Melandri (Fortuna Honda RC211V) third.
In bright sunshine, despite a vicious rain shower on the morning of the race at 7:00am, riders lined up for 30-laps of this sweeping 4.023km track. And it was Melandri from third on the grid who led into Redgate on lap one with Pedrosa on his tail and Casey Stoner (LCR Honda RC211V) up with them in third.
As the field negotiated that crucial first lap, John Hopkins (Suzuki) relieved Stoner of third place down through the spectacular Craner Curves with his team-mate Chris Vermeulen now in fourth with Stoner fifth. Kenny Roberts (Roberts KR211V) was demonstrating the progress made with the Honda-powered KR bike holding sixth on lap one.
Melandri held his lead as lap two began with Pedrosa hard on his tail and Stoner working on getting past Hopkins. But Melandri and Dani showed they had the pace to leave the field as Hopkins gradually but visibly lost ground as the early order settled.
Rossi slices his way up through the pack past team mate Edwards.

Meanwhile the injured World Champions Valentino Rossi was playing things safe on the opening laps, holding his 12th place start on the grid to a 12th place running position on the opening laps as he gathered his composure, faught through the pain o f his injured hand and foot, and looked to see it the last minute setup changes the team had made to his ill handling Yamaha that morning had gone in the right direction. As the race settled in Rossi found his pain went away as his adrenalin started flowing in the heat of battle, and they M1 was handling much better. Soon he was picking off the riders in front of him at a rate of one per lap.
Pedrosa was anxious to pass Marco by lap four, but his eagerness nearly got the better of him on the next lap as he lined up a pass at the Melbourne hairpin and then and wobbled wide. Dani was lucky to stay on the machine, but incredibly he was still third as lap six began. Dani then set a fastest lap of 1m 29.465s as he retrieved the ground he had lost. At this stage World Championship series leader Nicky Hayden (Repsol Honda RC211V), who was circulating in seventh after a compromised qualifying performance, made an error at Foggy's Esses in his bid to claw his way up the order and rejoined the race in 11th.
Kenny then set a fastest lap of 1m 29.351s on lap eight as Dani blasted past Hopkins to begin working on Marco for the lead. By lap ten Kenny had disposed of Hopkins for third place and two laps later Dani had taken the lead he was never to relinquish. In the space of just one lap Dani, with a clear track, extended his advantage over Marco from 0.6 seconds to 1.5 seconds, setting a fastest lap of 1m 28.7s in the process. There was now only a battle for second place – Dani was long gone.
Camel Yamaha Team rider Valentino Rossi produced one of the performances of his life today as he rode through the pain of hand and ankle injuries to take a simply sensational second place in the British Grand Prix. Roared on by a partisan local crowd, who have taken the Italian to their hearts after a string of victories at this circuit, Rossi started steadily from twelfth on the grid but soon got into his rhythm and began passing riders with the flamboyance and determination that has already taken him to five consecutive MotoGP World Championship titles.
In the closing laps Dani eased back to secure his win, but from laps 17 to 23 Dani was circulating almost a quarter of a second faster than anyone else on track. But the three rider group of Melandri, Roberts and Stoner fighting for second were holding each other up allowing Rossi, who had gained on them, to catch them and enter the fray.
Melandri had a huge moment at McLeans when he hit the kerb with his knee, but miraculously the Italian stayed on to stay in the running. As Rossi and Melandri slugged it out for second, Stoner and Roberts lost ground and it was left to the last lap for this dispute to be concluded. The reigning World Champion was up to fifth by the halfway point of the race, and continued his ascension through the top six before the epic final lap battle with Melandri, in which he came out on top after Melandri ran wide on the Melbourne Loop hairpin.
Marco dived past Rossi at the Foggy Esses and looked to be able to hold the advantage until he went wide at the Melbourne Hairpin allowing Rossi past again to hold second at the flag. Dani would have been blissfully unaware of all this as he took the flag 3.86 seconds ahead of Rossi, having eased off the gas in the final laps.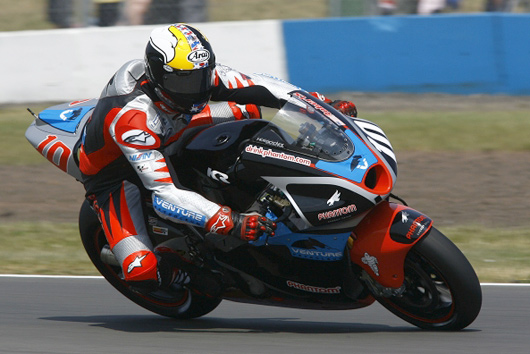 KR, Junior is happy to be running up front again, now beating his old Suauki team with the Honda powered KR.

Casey Stoner and Kenny Roberts Jr had also tussled for podium positions after starting well, eventually finishing fourth and fifth respectively. Colin Edwards finished ahead of Nicky Hayden in sixth, revenge of sorts for last weekend's final lap at Assen. John Hopkins started the race well once again, but faded in the second half to come home eighth. The injured Loris Capirossi and Carlos Checa completed the top ten. Rossi's team-mate Colin Edwards also produced a determined ride as he made up four places from his qualifying position to take sixth despite also struggling to find the correct set-up for his machine during practice.
Dani said, "I'm happy because this was almost the perfect weekend the team did a great job in every session. When I tried to overtake Marco I braked but I couldn't stop the machine so I was getting closer and closer to him and he was about to turn in. I was saying, 'please leave room!' and luckily he did. Then I was able to get back in front. I didn't know at that point if I could open up a gap because this class is really close, but at the end I slowed down a little bit to be careful. I think the English crowd enjoyed the race, and this British weather is really good!"
Valentino Rossi (2nd; + 3.864), "That was an amazing race and a very important result for me. I am in a better position as far as the points are concerned and that is more important than winning the race. To be honest after Assen I wasn't sure if it would be possible to fight for a top result here but I wanted it so much because Donington is a very special place to me and the fans give me such incredible support every year. We were really surprised that the bike didn't work on Friday but the whole team worked really hard to find the right setting and the right tyre.

After qualifying we decided we would try some new things this morning but the wet warm-up meant we had no chance to do that so we just took a gamble with the setting and it worked. It took me eight laps to understand just how good my pace could be and from that point I realised that my goal had to be the podium. I had some hard battles along the way but when I got up to Melandri it got even harder! We had real fun and neither of us wanted to back down. He was faster than me in some places and I was faster than him in others.
In the end it came down to the last hairpin and we both braked around 20 or 30 metres deeper than normal. We both ran wide but luckily Marco went even wider than me and I was able to get in from of him. I finished second but today it felt like a win."
Marco said, "That was so hard at every single point of the track. I was tired but I just told myself I had to keep going. I wasn't happy about the first part of the race because I got a good start and then started sliding around a lot with a full tank of fuel. But in the last six laps the rear tyre got better and allowed me to get into a better rhythm. I fought hard for second, but just missed out."
Results MotoGP: (30 laps = 120.69 km)
Pos/ Rider / Nat / Team / Motorcycle / Time/ KM/H / Gap
1 / Dani PEDROSA / SPA / Repsol Honda Team / HONDA / 44'54.878 / 161.225 /
2 / Valentino ROSSI / ITA / Camel Yamaha Team / YAMAHA / 44'58.742 / 160.995 / 3.864
3 / Marco MELANDRI / ITA / Fortuna Honda / HONDA / 44'58.894 / 160.985 / 4.016
4 / Casey STONER / AUS / Honda LCR / HONDA / 45'00.654 / 160.881 / 5.776
5 / Kenny ROBERTS JR / USA / Team Roberts / KR211V / 45'04.474 / 160.653 / 9.596
6 / Colin EDWARDS / USA / Camel Yamaha Team / YAMAHA / 45'16.588 / 159.937 / 21.71
7 / Nicky HAYDEN / USA / Repsol Honda Team / HONDA / 45'20.642 / 159.699 / 25.764
8 / John HOPKINS / USA / Rizla Suzuki MotoGP / SUZUKI / 45'23.912 / 159.507 / 29.034
9 / Loris CAPIROSSI / ITA / Ducati Marlboro Team / DUCATI / 45'30.484 / 159.123 / 35.606
10 / Carlos CHECA / SPA / Tech 3 Yamaha / YAMAHA / 45'35.320 / 158.842 / 40.442
11 / Makoto TAMADA / JPN / Konica Minolta Honda / HONDA / 45'35.940 / 158.806 / 41.062
12 / Randy DE PUNIET / FRA / Kawasaki Racing Team / KAWASAKI / 45'37.075 / 158.74 / 42.197
13 / Alex HOFMANN / GER / Ducati Marlboro Team / DUCATI / 45'46.332 / 158.205 / 51.454
14 / James ELLISON / GBR / Tech 3 Yamaha / YAMAHA / 46'12.682 / 156.701 / 1'17.804
15 / Jose Luis CARDOSO / SPA / Pramac d'Antín MotoGP / DUCATI / 45'13.279 / 154.794 / 1 lap

Pole Position: Dani PEDROSA 1'27.676 165.185 Km/h
Fastest Lap(New record): Dani PEDROSA 1'28.714 163.252 Km/h Lap 13
Circuit Record Lap: 2004 - Colin EDWARDS 1'29.973 160.968 Km/h
Circuit Best Lap: 2006 - Dani PEDROSA 1'27.676 165.185 Km/h
World Championship Positions:
1 HAYDEN 153, 2 PEDROSA 127, 3 ROSSI 118, 4 MELANDRI 114, 5 CAPIROSSI 107,
6 STONER 91, 7 EDWARDS 73, 8 ROBERTS 66, 9 TAMADA 59, 10 HOPKINS 58,
11 NAKANO 57, 12 ELIAS 53, 13 GIBERNAU 44, 14 VERMEULEN 37, 15 CHECA 37.

Lorenzo Wins Again in 250 GP
Jorge Lorenzo took a second uncontested victory in the 250cc GAS British Grand Prix, taking victory by more than six seconds to repeat his runaway Assen performance. The Spaniard led from pole position, with main title rival Andrea Dovizioso doing a remarkable job of sticking with the Fortuna Aprilia rider. However, a crash from the Italian whilst in hot pursuit left Lorenzo to complete the race in relative isolation.
Alex de Angelis put in a superb pass on Hiroshi Aoyama on the final lap, forcing the Japanese rider wide as he attempted to take back the position. Roberto Locatelli had yet another noteworthy performance, and took fourth ahead of the returning Hector Barbera and the luckless Dovizioso who had picked his bike up after his slide. His team-mate Yuki Takahashi, Sylvain Guintoli and Anthony West were eighth and ninth respectively, whilst Marco Simoncelli rounded off the top ten despite suffering a crash on the closing laps.
The British victory puts Lorenzo just one point behind Dovizioso in the classification.
250cc GP Race Classification: (27 laps = 108.621 km)
Pos / Rider / Nat / Team / Motorcycle / Time / KM/H / Gap
1 / Jorge LORENZO / SPA / Fortuna Aprilia / APRILIA / 42'16.321 / 154.174 /
2 / Alex DE ANGELIS / RSM / Master - MVA Aspar Team / APRILIA / 42'22.578 / 153.794 / 6.257
3 / Hiroshi AOYAMA / JPN / Red Bull KTM GP 250 / KTM / 42'23.687 / 153.727 / 7.366
4 / Roberto LOCATELLI / ITA / Team Toth / APRILIA / 42'31.109 / 153.28 / 14.788
5 / Hector BARBERA / SPA / Fortuna Aprilia / APRILIA / 42'36.662 / 152.947 / 20.341
6 / Andrea DOVIZIOSO / ITA / Humangest Racing Team / HONDA / 42'39.331 / 152.788 / 23.01
7 / Yuki TAKAHASHI / JPN / Humangest Racing Team / HONDA / 42'39.965 / 152.75 / 23.644
8 / Sylvain GUINTOLI / FRA / Equipe GP De France - Scrab / APRILIA / 42'42.391 / 152.605 / 26.07
9 / Anthony WEST / AUS / Kiefer - Bos - Racing / APRILIA / 42'47.896 / 152.278 / 31.575
10 / Marco SIMONCELLI / ITA / Squadra Corse Metis Gilera / GILERA / 42'57.619 / 151.704 / 41.298
11 / Jakub SMRZ / CZE / Cardion AB Motoracing / APRILIA / 43'04.761 / 151.285 / 48.44
12 / Aleix ESPARGARO / SPA / Wurth Honda BQR / HONDA / 43'19.064 / 150.452 / 1'02.743
13 / Shuhei AOYAMA / JPN / Repsol Honda / HONDA / 43'19.885 / 150.404 / 1'03.564
14 / Jules CLUZEL / FRA / Equipe GP De France - Scrab / APRILIA / 43'22.486 / 150.254 / 1'06.165
15 / Andrea BALLERINI / ITA / Campetella Racing / APRILIA / 43'22.782 / 150.237 / 1'06.461
Pole Position: Jorge LORENZO 1'31.659 158.007 Km/h
Fastest Lap: (New Record) Andrea DOVIZIOSO 1'33.029 155.680 Km/h Lap 16
Circuit Record Lap: 2004 - Dani PEDROSA 1'33.217 155.366 Km/h
Circuit Best Lap: 2006 - Jorge LORENZO 1'31.659 158.007 Km/h
World Championship Positions:
1 DOVIZIOSO 159, 2 LORENZO 158, 3 DE ANGELIS 111, 4 AOYAMA 108, 5 TAKAHASHI 108,
6 LOCATELLI 104, 7 BARBERA 89, 8 GUINTOLI 59, 9 SIMONCELLI 55, 10 WEST 49,
11 AOYAMA 41, 12 DEBON 35, 13 SMRZ 32, 14 CARDENAS 28, 15 POGGIALI 28.
Fast Dates Calendar Motorcycle Roadracing News. Complete coverage of the SBK World Superbike, AMA National Superbike and MotoGP World Championship. Superbike, SBK, FIM, AMA, American Superbike, superbike planet, American Roadracing, sportbike, grand prix, MotoGP, race, racing, news, superbike news, sport bike, motoGP news, photography coverage, photos, pictures, Fast Dates Calendar and Umbrella Girls. Racing, road race, track, motorcycle, news, results, girls, models, Mat Aladdin, Max Biaggi, Valentino Rossi, Troy Baylis, Ben and Eric Bostrom, James Toseland, Chris Vermeulen, Maria Sharapova, Kristen Bell, Regis Laconi, Loris Capirossi, Troy Bayliss, Troy Corser, Noriyuki Haga. Ducati 999 Monster Multistrada, Yamaha R6 R1, Honda CBR600RR CBR1000RR, Kawasaki ZX6 ZX6RR ZX10, Suzuki GSXR600 GSXR750 GSXR1000, Aprilia Mille, MZ Agusta F4 Brutale. Los Angeles Calendar Motorcycle Show.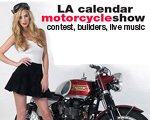 July 15-16th in Long Beach
World's Richest Bike Contest includes Sportbikes and a
$70,000 Purse! Win Exhaust Systems from Jardine, Vance & Hines, compete in the Jardine World Record Horsepower Dyno Shootout and our new Burnout Contest!
New 2007
Fast Dates Racebike,
Iron & Lace Custom
& Garage Girls Calendars
Click to Order Now!


Celebrities Heat Up LA Calendar Show's 2007 Calendar World Premier on July 15-16th
It is going to be the ultimate gathering of beautiful bikes and people at this year's LA Calendar Motorccyle Show in Long Beach, CA, at the Queen Mary Event Park.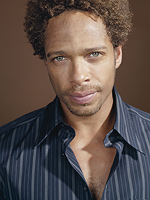 Actor Gary Dourdan of the hit TV series CSI Las Vegas will be attending the Calendar Show on Saturday to pick up a brand new V-Twin custom built specially for for him by Lynn Ashcroft of
Ashroft Motorcycles from Salem Oregon who will also be attending the Show weeeknd with a big custom and classic bike display.
Gary should feel right at home in Long Beach and at the Queen Mary, as many of the outside location filming for CSI Las Vegas and CSI Miami takes place right in Long Beach and on board the Queen Mary.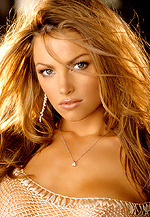 And speaking of the historic Queen Mary, did you know that beautiful new FastDates.com Calendar Kitten and Playboy Plamate Tamara Witmer shot her Playmate pictorial in a stateroom on board the Queen Mary? We'll be staying on board the sold out Queen Mary as we always do for the Bike Show weekend, and if we're lucky, will get the same stateroom and hopefully the sheets haven't been changed.
Joining Tamara at this year's Show to help us premier thsir Calendars is another sexy Playboy Playmate, Athena Lundburg, 2006 Lingerie Bowl finalist Cora Skinner, and last year's Calendar Model Search Pageant winner Candice Curtis who tells us she's been working out hard to retain her crown. For her win last year Candice won cash, fame, and a paid photo shoot in the 2007 Iron & Lace calendar with a custom bike owned by none other than movie star Brad Pitt.

Will Misses Pitt might let her hubby have the day off from changing diapers?
We know Brad and Angelina are back in town with their new baby, and to avoid the paparazzi in Malibu, Brad just might ride down to the Show on his radical new custom bike featured in the new 2007 Iron & Lace Calendar premiering at the Show and built by Bob Phillip of Wizzard Cycle Creations. Bob will be conducting Calendar Bike Builder Seminars both days at the Show with the help of Scott Tutterdy from Flathead Power.
And then on the other end of the entertainment spectrum, our vender Scott from Social Outcast clothing will have porn star Chrissy Cage in attendance in his booth to personally autograph your new Outcast T-shirt, or any exposed body part, for that matter.
Team Alstare with Troy Corser, Roland Sands from Performance Machine at Goodwood
July 7-9th - Team Alstare Suzuki Corona Extra and reigning Superbike World Champion Troy Corser will be at the famous Goodwood festival of Speed this weekend - 7th, 8th and 9th July. The team will be bringing the fantastic 2006 GSX-R1000 K6 Suzuki that Troy rides in this year's Superbike World Championship for a series of runs up the famous Goodwood hill course.
Iron & Lace Calendar builder Roland Sands will be at Goodwood running his Build or Bust winning V-Twin sportbike up the hill, which we photographed just a few weeks ago for the next Calendar.
Roland and his bike will then fly back to the California to be at the Performance Machine sponsored LA Calendar Motorcycle Show the weekend of July 15-16th.
The Goodwood Festival of Speed is the UK's best attended motorsport event, with approximately a quarter of a million spectators over the three days, and takes place thanks to the superb organisation of the Goodwood motorsports facility and the enthusiastic backing of the Earl of March. Troy, Roland and Team Alstare will be joined at Goodwood by a galaxy of motorsports stars and teams from F1, SBK, MotoGp and the World Rally Championship in arguably the world's biggest motorsports festival. This is Team Alstare's first visit to this prestigious event due to the fact that every year so far it has clashed with a World Superbike race.
For info on this fabulous event go to:
http://www.goodwood.co.uk/fos
Ducati Corse MotoGP and Superbike Teams to Appear at Goodwood
The 2006 Goodwood Festival of Speed will see Ducati represented by two fabulous machines with world famous riders on board.
The Ducati Corse Moto GP Team will be bringing their two-seater MotoGP bike based on the Desmosedici GP6. It will be ridden 'up the hill' by GP legend Randy Mamola. The bike is very similar to those ridden by Loris Capirossi and Sete Gibernau, but with two seats offering VIPs at selected events a unique, once in a lifetime experience of riding pillion with GP winner Randy Mamola as their pilot.
Famous guests who have ridden pillion on the Ducati Desmosedici include Formula One boss Bernie Ecclestone, ex-Formula One drivers Gerhard Berger and Johnny Herbert, Olympic Gold medallist Sir Matthew Pinsent, DJ and musician Goldie, Richard Jones, bassist with the Stereophonics and most recently Michael Schumacher.
Randy Mamola has now taken over 200 passengers on the Desmosedici who have experienced the 230 plus horsepower of the Ducati two-seater.
The Ducati Xerox World Superbike team are bringing along their awesome 999F06 machine with current runaway points leader, Australian Troy Bayliss as rider. The 2001 Superbike champion will make a number of exhibition runs at the famous Goodwood hill.
Ducati legend Troy Bayliss has made a welcome return to World Superbikes this year after three years racing in MotoGP. World Superbikes is where the hard-charging Australian really made his name and after finishing 6th in his first season in 2000, he became World Champion in 2001 before finishing runner up in an epic battle with Colin Edwards in 2002. Troy also won the British Superbike Championship for Ducati in 1999.
So far this year Troy has been almost unbeatable, and at the time of writing has won eight races in a row aboard his 194hp 999F06.
The Goodwood Festival of Speed takes place on the 7th, 8th and 9th July and entrance is by advance ticket only (www.goodwood.co.uk).
Capirossi's MotoGP Winniing Desmosedici to be Auction US MotoGP Weekend
The GP5 with which Loris won last year's GP of Malaysia will go to auction in Monterey during the weekend of the US GP at Laguna Seca.
The feeling of elation amongst all of the Ducati team and fans when Loris Capirossi won the race at the Sepang circuit last September will likely be experienced by the winning bidder for the same Desmosedici GP5 that the Italian rode to victory in that race, when it is auctioned off at the 2nd Monterey Classic Bike Auction (www.montereyclassicbikeauction.com).
After noting the success and professionalism of last year's auction, Ducati, which has never before made a MotoGP machine available for this kind of activity, welcomed with enthusiasm the request made by the organizers to have a Desmosedici machine as pride of place in the auction.
Knowing that one of Borgo Panigale's most prized 'jewels' will be the subject of bidding amongst Ducati's numerous aficionados is a source of pride for the Italian manufacturer, which has always made passion, tenacity and competence the hallmarks of everyone that contributes to the brand's position in the world.
The auction will be held at the Portola Plaza Hotel in Monterey during the weekend of the US GP at Laguna Seca, California (July 21-23).
Bidders do not have to be onsite to participate, because an online simulcast bidding programme enables prospective buyers to bid in real time at their computer screens from anywhere in the world.
2007 MotoCzysz C1 Unveiling Planned For
Red Bull USGP
Portland, Oregon June 23, 2006: MotoCzysz, America's newest motorcycle manufacturer has chosen the 2006 Red Bull USGP, July 21-23, for the official unveiling of their next generation C1 factory road race bikes. The new MotoCzysz C1 race bikes that will see competition in 2006, will be displayed at the MotoCzysz GP paddock inspired exhibit located in the manufacturers' area of Mazda Laguna Seca Raceway in beautiful Monterey, California.
"There is little time to appreciate what you have designed, once a design is complete you immediately start work on how to make it better. It is a relentless but seductive process." Says Michael Czysz, Chief Designer/ CEO "MotoCzysz has now realized a significant part of our dream, it will be my honor to present our first official race bike at the USGP, this motorcycle will be the most advanced and
capable motorcycle ever made in America."
Based on the successful proof of concept prototype, the next
generation C1 is a no holds barred American bred contender. The world class team of designers and engineers has evolved the proprietary and
radical new technologies from the original prototype to make the C1 a true, competitive race bike. The stunning new C1 will be proudly displayed, in full race trim, to feed the eyes and ears of the thousands of fans in attendance.
The MotoCzysz GP paddock inspire exhibit will also offer a new line of official MotoCzysz men's and women's apparel available for purchase. Fans are invited to stop by to see the new MotoCzysz C1, pick up a limited edition poster and experience the MotoCzysz
lifestyle. Michael Czysz and Engineers will be on hand for scheduled Q&A sessions.
MotoCzysz, an American motorcycle company producing the most advanced, high performance motorcycles made in the U.S.A. The world
class team of designers and engineers has produced innovative solutions that have been awarded US and world wide patents, including a patent for a high performance counter rotating, twin crank combustion engine. For more information, visit motoczysz.com. For investment opportunities please write info@motoczysz.com.
Donington MotoGP Side Notes
Davide Brivio - Camel Yamaha Team Director
"This was a very important race because despite Valentino's injury we have been able to close the gap to Nicky Hayden in the championship. Valentino said it was more like a victory and the feeling in the team is the same because of the physical condition he was in and the fact he started from so far back on the grid. There was never any doubt about Valentino's qualities but he has performed like a true World Champion over a difficult few weeks and he deserves a rest now.
Our engineers also did a great job to put everything together in time, they have also been working hard and will enjoy a couple of days off before the next race. Now we have eight races left and 35 points to make up before Valencia."
Colin Edwards (6th; + 21.710)
"It just hasn't clicked for us this weekend and I'm really disappointed, even though sixth place brings in a few decent points. Last year everything came easily here but from the first practice it was clear that it wasn't going to be the case this time around and we never really found our way, it was as simple as that. The bike wasn't too bad for the race and I could catch other riders easily but we didn't have the set-up to get past people on the brakes. That made life really difficult and the race was a struggle from start to finish. It's been a hard few weeks but now I have a bit of a change of scenery as I will head out to Japan to prepare for the 8 hour. I hope we'll be in better position to fight at Sachsenring in a couple of week's time."
The rumor mill has Colin Edwards not keeping his seat on the Yamaha MotoGP next year, seeing as he was never been able to become a winner in the prototype as he proved to be in World Superbike when he won that title on a Honda back in 2001. Word is Colin is ready to return to the Superbike class, but where would he find a home? One possibiliry might be as team mate to James Toseland on the Ten Kate Honda team in WSB, or perhaps a return to America and with Yamaha's new AMA Superbike team?
DUCATI MARLBORO MEN ENDURE TOUGH BRITISH GP
Ducati Marlboro Team riders Loris Capirossi and Alex Hofmann rode to dogged ninth- and 13th-place finishes at warm and muggy Donington Park this afternoon.
Capirossi finished the race exhausted and in pain, due to the chest injuries he sustained at Catalunya two weeks ago. After struggling to 15th at Assen last weekend, the Italian missed one practice session here (Friday afternoon) in a bid to rest himself for today's race but the 30-lap outing was still an endurance test for him. Hofmann, riding his second race with the team as substitute to Sete Gibernau, who broke a collarbone at Catalunya, never quite found the pace he was aiming for.
Capirossi now has almost two weeks in which to recuperate from his injuries and get ready for the German Grand Prix, round ten of this year's 17-event MotoGP series. The team is also expecting Gibernau to be back in action in Germany.
LORIS CAPIROSSI, finished 9th, 5th overall (107 points)
"Today was better than Assen but I am completely finished. It was very hard because I couldn't ride the way I want to ride. I tried to rest as much as possible here, which interfered with my tyre choice. I was smiling when it started raining this morning because I thought that would help us on tyres, but we don't get to choose the weather! After ten laps or so I started sliding around and also feeling the pain, so I just tried to keep Randy (de Puniet) behind me. Now we have two weeks before the next race, so I hope I will arrive at the Sachsenring in good shape, otherwise it will be another difficult weekend. We haven't had the results we deserve at the last three races, we deserve more than finishing eighth or ninth which makes me sad."
ALEX HOFMANN, finished 13th, 16th overall (19 points)
"We had problems all weekend, our tyre wear was a little too much for race distance, though we did improve tyre wear compared to the first day. It was a difficult choice but I chose quite a hard rear which initially didn't give me the feeling I wanted. It was difficult to pick up the pace, then when I did put in some strong laps and caught (Carlos) Checa, I couldn't keep that pace because I lost some grip. I feel pretty down because this will probably be my last race for the reds and I wanted to do extra good, I wanted to do improve on Assen but we had a tougher weekend here. Anyway, we did our maximum and I'd like to say thanks to everyone for giving me this chance."
LIVIO SUPPO, Ducati MotoGP project manager
"That was another heroic ride from Loris and thanks also to Alex for doing a good job at the last two races. This was another difficult weekend because Loris didn't do all of practice and Alex was still getting used to the bike/tyre package. Last year this was a difficult circuit for us, we've made a big step forward since then but we still need more. Now we have a two-week break, during which Loris should be able to get stronger and we also expect Sete to be back with us. A big thank you to our technical partners, in particular Shell Advance, for their support during these difficult races".
Hopkins fights his way to a top-eight finish at Donington
Rizla Suzuki MotoGP racer John Hopkins picked up yet another high scoring position at today's GAS British Grand Prix at Donington, as he finished in the top 10 for the fourth race in succession.
Anglo-American Hopkins got a good start from the second row of the grid and was running in a podium position early on. As the race progressed and grip was compromised in his tyres due to the high track temperatures, he had to battle hard to maintain his pace. He eventually brought his Rizla Suzuki GSV-R home in eighth place – a position good enough to move him into the top 10 in the World Championship table.
Chris Vermeulen also had a strong first half to the race and he was running with the leading pack. Unfortunately disaster struck for the rookie Australian on lap 16 when Colin Edwards tried to overtake him at the Melbourne Loop. The two riders collided and Vermeulen came off the worst as he crashed to the floor. He re-mounted and rode back to the pits for running repairs before re-joining the race. The gap between the other riders was too great, and although he gave chase he was unable to get into a point scoring position and crossed the line in 16th.
Today's race was watched by 68,391 spectators and they witnessed Dani Pedrosa win his second Grand Prix of the season. Rizla Suzuki MotoGP now moves on to Sachsenring in Germany for round 10 of the 2006 MotoGP World Championship on Sunday 16th July.
John Hopkins: "I'm pretty disappointed because I would have liked to have finished a lot higher, maybe in the top five or six. It just wasn't on the cards today! I did everything I could and got the maximum out of all that I had today. The Suzuki was working really good and the Bridgestones had been working really well in the early laps. We had a minor difficulty and lost a lot of grip but we just kept at it and tried to pick up as many points as I could. I have got into the top 10 and my ultimate goal this year is to get up into the top five. We just need to keep doing well and firstly we need to get some good points in Germany and then I am really looking forward to my home Grand Prix in America!"
Chris Vermeulen: "The start of the race was ok, I knew I had a hard race tyre and I was quite comfortable where I was in the pack. Colin went past me and he went a little deep so I tried to go up the inside of him but he turned the bike back in and I had nowhere to go. I went over and bent the handlebar into the frame so I had to come into the garage and get the bike fixed up. We went out again and I was able ride at a reasonable pace but I had no brake adjuster and it was getting a bit difficult to ride, plus the footrest was rubbing on the chain so it wasn't the best! We made big steps this weekend and before I crashed we were a lot closer to the leaders than we have been. We now have to take this forward to Sachsenring – a circuit I've never been to before – and see how we go there."
DE PUNIET TWELFTH AT DONINGTON AS NAKANO RETIRES
Randy de Puniet was the sole Kawasaki survivor in today's British Grand Prix at Donington Park, bringing his Ninja ZX-RR home in 12th place after a mechanical problem forced his teammate, Shinya Nakano, to retire from the race at the halfway stage.
De Puniet opted for a relatively soft compound Bridgestone rear tyre for today's 30-lap race in a bid to take maximum advantage from his second row grid position, but the 25-year-old Frenchman was forced to revise his race strategy after a disappointing start saw him down in 12th place at the first turn.
In the early stages of the race de Puniet was able to run with current championship leader, Nicky Hayden, and reigning World Champion, Valentino Rossi, but was forced to slow as his rear tyre went off towards the end of the race.
Despite the problems, the Kawasaki rider looked set for his first top ten finish of the season, but was pushed back to 11th place after a late charge by Carlos Checa, and then lost one place more to Makoto Tamada on the very last lap.
After the high of finishing second at Assen just one week ago, Shinya Nakano experienced the other end of the emotional spectrum today at Donington, as a mechanical problem forced him to retire his Ninja ZX-RR at the halfway point.
From the start the 28-year-old Kawasaki rider experienced problems when changing down through the gearbox on his Ninja ZX-RR, which he managed to compensate for with the clutch, but then, on lap 14, the bike suddenly lost power and Nakano was forced to retire from the race at Macleans.
Dani Pedrosa took his second win of the season in today's British Grand Prix, which was run in unseasonably hot conditions and enjoyed by 68,000 sunburnt British race fans.
Randy de Puniet: 12th
"I got a bad start, once again, but for the first half of the race I was able to follow the group with Valentino Rossi, Nicky Hayden, Colin Edwards and Shinya, but then I started to lose grip at the rear in the middle of the race and I wasn't able to continue at the same pace. My original strategy for the race was to try and stay with the leading group from the start, and for that reason we opted to go with the softer of the two rear tyre compounds we had available. A disappointing start put paid to that plan. I just tried to keep pushing as hard as I could when the rear tyre started to go off, but I think I was losing one second each lap, which allowed Carlos Checa and Makoto Tamada to catch me towards the end. I was hoping for better than 12th today after good practice and qualifying sessions yesterday, but my pace during the early part of the race was encouraging and I'm happy to have another race finish behind me."
Shinya Nakano: DNF
"Right from the beginning of the race I was struggling with a gearbox problem that made it difficult to shift down through the gears. After a few laps I figured out how to compensate for this problem using the clutch. I was pushing as hard as I could to catch the group of riders in front of me, but then I felt the engine suddenly lose power and I had no other option but to retire from the race. It's disappointing after finishing so well in Assen, but now we need to concentrate on our preparations for the next race at Sachsenring, which is an important one for the Kawasaki Racing Team."