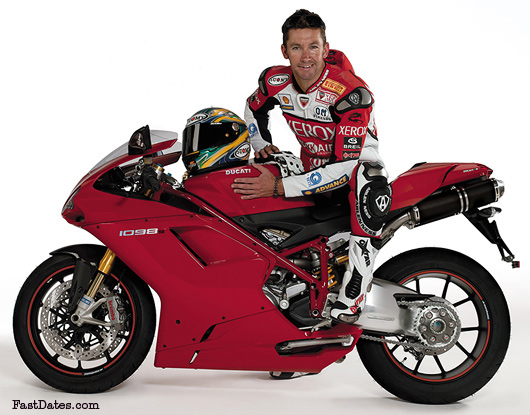 World Superbike Champion Troy Bayliss and the new generation 1098 which you'll be able to buyin the next few months. Troy won't get to race the bigger twin in SBK until 2008. SCREENSAVER
Ducati Reveals the New Generation 1098 Superbike Family
Cupertino, CA (November 8, 2006) - Details are still a little sketchy until the offical Ducati factory press launch at Milan next week, but Ducati North America has announced its own mini launch and North American pricing for the new generation 1098 Superbike. Possibly a week early of the factory press into because Motorcyclsit magazine is susposed to be releaving the new Superbike
This incredible new machine produces 160hp and 90.4lbs/ft of torque, which results in making the 1098 the most powerful twin-cylinder motorcycle in the world, with the highest torque-to-weight ratio of any sport bike. In addition, the 1098 is also the lightest open class Superbike available, weighing 381 pounds.
The priority in every step of the 1098 development has been performance first. Every system, every detail and every component has been studied and pared down to its essence in order to increase performance to the maximum. If it didn't make the 1098 lighter, faster or deliver quicker lap times, it wasn't considered.
The base model 1098 with Showa suspension. The new bodywork s a little bit Desmosedici MotoGP, a little bit retro 916-998 Superbike. SCREENSAVER
The 1098 will be available in three versions starting in February. The 1098 Biposto will carry a manufacturers suggested retail price of $14.995 (reduced $3,000 from the current generation 999). The 1098 S will be priced at $19,995 (reduced $3,000 from the current generation 999S), while a limited edition 1098 S Tri-Colore will be $24,995.
The 1098 S Tri-Colore is a special commerative version for the new Superbike's introduction at the 2006 Milan Motor Show featuring a special 'Tricolore' (red, white and green) livery celebrating the Italian style of the project by using the colours of the national flag. an 'S' version of the 1098 with the added feature of a gold coloured frame and a complete racing exhaust system with dedicated ECU.
Prices in Canada will be $19,995 for standard version, while the 1098 S will be $24,995 and the Tri-Colore will be $29,995.

Retro front air intake scoops like the old 916-998 Superbike and the previous 999's gawd-awful front windscreen center running light is now gone!
1098 Superbike Specifications Released and Compared
Nov 14th - Ducati has just released the technical specs (see below) for the new generation 1098/1098S Superbike and here's what we've discoved in comparison to the outgoing 999 generation bike
• Power: Both the 1098 and 1098S models now get the samespec tune Testastretta engine rated 160hp @ 9750 rpm with a 104 x 64.7 mm Bore x Stroke. The previous 999 Superbike's 998cc Testastretta engine was rated differently in each model at 140hp (999), 143hp (999S), 150hp (999R) @ 9750 with a 100 x 63.5 mm Bore x Stroke.
• Weight: Bike weight has dropped 29lbs which is significant, but we'll still need to wait for a future 1098R model to get down to fighting weight with the Japanese class leader, the Suzuki GSXR1000. The new 1098 Superbike weighs in at a factory stated 381lbs dry with no liquids or battery, compared to 410lbs for the 999/999S and 399lbs for the 999R (with carbon fibre bodywork and magnesium compnents). The weight savings is attributed to the 1088's lighter machined alloy wheels as stock (up from 5.50x17 to 6.00x17 at the rear) compared to the old style cast alloy wells on the previous models. And a lighter twin carbon fibre bodied silencer exhaust system replacing the 999's heavier single unit under seat silencer.
• Size: We are suprised to find the new bike is actually bigger overall than the old bike. We expected it to be downsize more like the MotoGP bike and the shorter 916-998 generation to help save more weight and quicken-up the handling. Unfortunaterly the new 1098's wheelbase is now longer 1430 mm / 56.3 in, and increase of 0.5 in over the 999's 1420 mm / 55.9 in wheelbase. And seat height is increased as well, up from 780 mm / 30.7 in on the 999, to 820 mm / 33.5 in on the 1098 . That a huge height increase of nearly 3 inches on a bike that didn't need to get any taller. We will wait to see if Ducati explains this as needed for additional cornering clearance on the track, possibly?
And we are disappointed to see the 1098 does not come with a slipper clutch like many of the newer Japanese sportbikes. It hardly costs much more to manufacturer a slipper club and today you'ld expect it to be origional equipment on the worlds premier Superbike, but its not. Ducati would prefer you buy their optional $1,000 Ducati Performance slipper clutch and pay your dealer another $300 to install it. I guess well have to be happy with the overall $3,000 decrease of the purchase price of the bike instead.
The 1098 S model with Ohlins suspension. SCREENSAVER
2007 Ducati Superbike 1098, 1098S

ENGINE
Type L-Twin cylinder, 4 valve per cylinder Desmodromic, liquid cooled
Displacement 1099 cc
Bore x Stroke 104 x 64.7 mm
Compression Ratio 12.5:1
Power* 119.3 kw - 160 hp @ 9750rpm
Torque* 90.4 lb-ft - 12.5 kgm @ 8000rpm
Fuel injection Marelli electronic fuel injection, elliptical throttle bodies
Exhaust Lightweight 2-1-2 system with catalytic converter and lambda probe. Twin stainless steel mufflers
Emissions Euro3

TRANSMISSION
Gearbox 6 speed
Ratios 1st 37/15, 2nd 30/17, 3rd 28/20, 4th 26/22, 5th 24/23, 6th 23/24
Primary drive Straight cut gears; Ratio 1.84:1
Final drive Chain; Front sprocket 15; Rear sprocket 38
Clutch Dry multiplate with hydraulic control
* = Data calculated using an inertia dynamometer

Instruments Digital MotoGP derived unit displaying: Speedometer, rev counter, clock, scheduled maintenance warning, warning light for low oil pressure, fuel level, oil temperature, fuel reserve, trip fuel, neutral, turn signals, average speed, average fuel consumption, remaining fuel metre, immobilizer. Ready for DDA system

CHASSIS
Frame Tubular steel trellis frame in ALS 450
Wheelbase 1430 mm / 56.3 in
Rake 24°30' / 24,5°
1098 Front Suspension: Showa 43mm with TiO fully adjustable upside-down fork
1098S Front suspension: Öhlins 43mm fully adjustable upside-down fork with TiN
Front wheel travel 120 mm / 4.7 in
Front brake 2 x 330 mm semi-floating discs, radially mounted Brembo Monobloc calipers 4-piston, 2-pad.
Front wheel 5-spoke in light alloy 3.50 x 17
Front tyre 120/70 ZR 17
1098 Rear Ruspension: Progressive linkage with fully adjustable Showa monoshock. Aluminium single-sided swingarm
1098S Rear suspension: Progressive linkage with fully adjustable Öhlins monoshock with top-out spring. Aluminium single-sided swingarm
Rear wheel travel 127 mm / 5 in
Rear brake 245 mm disc, 2-piston caliper
Rear wheel 5-spoke forged light alloy 6.00 x 17
Rear tyre 190/55 ZR 17
Fuel tank capacity 15.5 L (of which 4L reserve) / 4.1 US gal (of which 1 US gal reserve)
Weight * 173 kg / 381lbs
Seat height 820 mm / 33.5 in

Warranty 2 years unlimited mileage
Color combinations:
(Tank-Frame-Wheels) (Red-Red-Black)
Versions Dual seat
* = The weight excludes battery, lubricants and, where applicable, cooling liquid.

SCREENSAVER
"We are very pleased to announce not only a radical new Superbike family, but also a brand new competitive pricing structure. We have worked very long and hard to make this happen, and we are excited to introduce this motorcycle to the American public at the Seattle round of the International Motorcycle Shows, which happens December 1-3," said Michael Lock, CEO of Ducati North America.
Ducati NA and Ducati SpA have tried very hard to put their new generation Superbike on equal, if not better footing with the newest Japanese in-lone 4 -cylinder Superbikes and it seems they have done an incredible job.
SCREENSAVER
Ducati fans will rejoice in the return to the single sided swingarm which helped make Ducati Superbikes unique, and certainly makes rear wheel changes and chain adjustments much easier. The new bike has a much prettier, cleaner look over the somewhat controversial Pierre Terblanche designed 999 and returns to it's previous 916-998 roots. We are are slightly disapointed to see that the new 1098 is not physically smaller than the 999,as we had hoped it would return back to shorter 916-998 specs to help with quicker handling. In a move to quickly handling, The 2-step adjustable steering head now offers 24.5 / 23.3 degrees from the previous 24.5/ 23.5 degree settings.
As for the release of a 1098 R model version, as is usual Ducati practice that could be another 9-12 months down the road. And it might reflect any new FIM Superbike technical rules for 2008 possibly allowing a 1200cc limit for V-twins, though the factory race team should't be needing that additonal displacement any time soon. So the first R models might remain at 1098cc.
---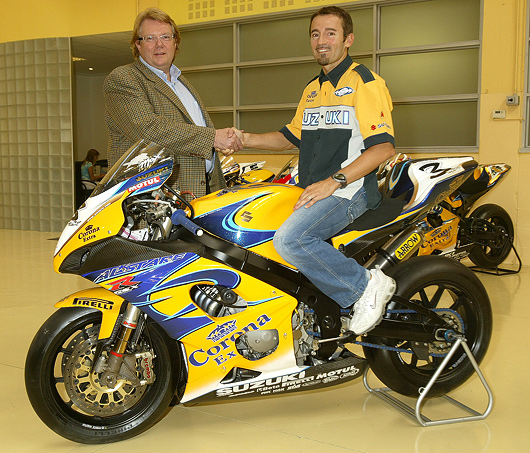 Alstare Suzuki team owner Francis Batta welcomes former MotoGP bad boy Max Biaggi to their 2007 World Superbike team after a controversal management dropped World Champion Troy Corser from the team.
SBK CORONA EXTRA SUPERBIKE WORLD CHAMPIONSHIP®
PIRELLI TEST– VALENCIA – 14 and 15 NOVEMBER
Biaggi Fastest at Valencia Off Season Superbike Tests
Max Tops the Lap Record by 1-Second!
Valencia, Wednesday 15th November 2006 - Max Biaggi (Alstare Suzuki Corona Extra) made an impressive first impact on his SBK peers, after setting the fastest time during the first off season Pirelli Development tests. His best of 1'33.9 was a clear indication of his intent in his first SBK season, and his fast time came thanks in part to the good track and weather conditions at Valencia, with temperatures of over 20 degrees centigrade evident on both days.
LANZI SECOND AND BACK TO FINE FORM Lorenzo Lanzi (Ducati Xerox) was a force to be reckoned with on both days, finishing the test with an equal time to Biaggi, albeit using qualifying tyres, while Biaggi only used race versions. A good last day of testing, on a hybrid 2006/2007 machine, was also experienced by Yukio Kagayama (Alstare Suzuki Corona Extra), who got to know his new team-mate Biaggi at Valencia, Kagayama rode right to the very end of the test, evaluating new parts for the 2007 machine, and finishing third fastest.
BAYLISS FOURTH ON THE TIME SHEETS Troy Bayliss (Ducati Xerox), running the same spec of machine he used to score the world championship itself, and on a circuit he recently won a MotoGP race on, was fourth fastest, his 1'34.2 being set on race tyres.
Fastest man on day one, James Toseland (Ten Kate Honda) was using a new style of rear swingarm, updated software for his machine's PI traction control system, new front fork internals and wheel rims compared to his 2006 machine. He was marginally faster on day two than day one, and fifth quickest overall.
NIETO FASTEST OF THE KAWASAKIS ON HIS HOME TRACK Fonsi Nieto (PSG-1 Kawasaki) was sixth fastest after trying out new front suspension on his ZX-10R, setting a 1'34.8 on race tyres, even faster than he could do on a qualifier. His team-mate Regis Laconi (PSG-1 Kawasaki Corse) went eighth fastest.
IMPRESSIVE START FOR CORSER AND THE NEW R1 Troy Corser (Yamaha Motor Italia) had his first taste of the 2007 R1 Yamaha on day two at Valencia, and was happy with its performance, running to seventh quickest at the first attempt. His team Noriyuki Haga (Yamaha Motor Italia) was running the 2007 version of the R1 for long periods at Valencia and was marginally slower than Corser, as he made the transition from his well-known 2006 version. Roberto Rolfo (Ten Kate Honda) had a steady two days of testing on the machine he hopes he will be riding in 2007, finishing with a time of 1'36.7.
SUPERSPORT WORLD CHAMPIONSHIP Sebastien Charpentier (Ten Kate Honda) scorched to a new best at Valencia, with a 1'36.4, bouncing back from an early morning crash on his 2006-spec CBR600RR. Second fastest was his team-mate Kenan Sofuoglu (Ten Kate Honda) on 1'36.8, with the amazing combination of Gianluca Nannelli and the SC Caracchi Ducati ending up third, only a tenth behind.
Running on his own in the Yamaha Motor Germany team, Broc Parkes was fourth fastest, concentrating on machine improvements and a new quickshifter system.
Fabien Foret (Gil Motorsport Kawasaki), running standard front forks on his brand new ZX-6RR, was immediately impressive, rating his machine as a great base to build on. His team-mate Pere Riba (Gil Motorsport Kawasaki) was not quite as fast, as he took some time to get used to the roadbike spec forks. He thus finished a little behind Barry Veneman (Hoegee Suzuki) who was sixth fastest.
SBK WORLD CHAMPIONSHIP
Biaggi Suzuki Alstare 1'33.9 nn
Lanzi Ducati Xerox 1'34.1 1'33.9
Kagayama Suzuki Alstare 1'34.2 1'34.7
Bayliss Ducati Xerox 1'34.2 nn
Toseland Honda Ten Kate 1'34.6 1'34.2
Nieto Kawasaki PSG-1 1'34.8 1'35.1
Corser Yamaha Motor Italia 1'34.9 nn
Laconi Kawasaki PSG-1 1'35.1 1'34.8
Haga Yamaha Motor Italia 1'35.3 1'35.1
Rolfo Honda Ten Kate 1'36.7 nn

Race '06: Best lap 1'35.37, Superpole: 1'34.9

SUPERSPORT WORLD CHAMPIONSHIP
Charpentier Honda Ten Kate 1'36.4
Sofuoglu Honda Ten Kate 1'36.8
Nannelli Ducati SC Caracchi 1'36.9
Parkes Yamaha Motor Germany 1'37.0
Foret Kawasaki Gil Motorsport 1'37.7
Veneman Suzuki Hoegee 1'38.6
Riba Kawasaki Gil Motorsport 1'39.3

Race '06: Best lap 1'38.66, Pole '06: 1'36.91
---
Roland Sands' "No Regrets" V--Twin Sportbike
from TV's Biker Build Off
Roland Sands Designs / Performance Machine
2008 Iron & Lace and Fast Dates Calendar Bike by Jim Gianatsis
Roland Sands is a former AMA 250cc National roadracer, now turned custom bike builder who at 30 years old continues to enjoy the ultimate guy's dream of being able to play with motorcycles all day, travel across America and around the world to bike events, chase girls and party late into the night on an all expense paid ticket. Having your father be Perry Sands certainly helps, the president of Performance Machine, one of the world's biggest and premier manufacturers of billet wheels, brakes and related components for the custom and sportbike markets. Roland was sponsored fully by his family company Performance Machine during his roadracing career, then after retirement from racing, he went to work at Performance Machine to learn custom bike building in the compnay's prototybe shop where new componts and the PM trade show project bikes are designed and constructed. Many of PM's top bike builders and friends like Jesse Rooke and Johnny Chop at times have helped Roland with the concepts and construction of the PM concept bikes.
All this was, in part, to help prepare Roland to take over the reigns of Performance Machine some day when his father Perry retired. But Roland soon found he had more fun doing what he was doing playing with bikes and not having too many responsibilities, than having to come to worl 8am - 6pm sit in an office and manage a company. This led his father to sell Performance Machine in 2005 to the Mag Group for a nice sum of money and under good terms which keeps the family in control of the day-to-day operations of Performance Machine, and Roland with the freedom to do what he likes to do best. Roland now has his own in house company at Performance Machine called Roland Sands Design which is still supported by PM as its show bike fabricator. But now Roland's has his own company which can separate itself from Performance Machine should future business interests require it.
"No Regrets" is the latest wet dream of Roland's. It's a deviant hog with it's nose rutted as deep into sportbike influences as custom bike building will allow, whith a seat as sharp as a scorpion's tale and an exhaust note that shatters glass a half mile away..
It was built to compete in the Discovery Channel's Biker Build-Off, one of the slew of chopper and hot rod cable TV shows. In this particular show the builder pitted against Roland was friend and 3-time LA Calendar Motorcycle Show winner and another of our favorite Iron & Lace Calendar builders, Jesse Rooke. The two were told to create bikes that would be judged not just on how they looked, but on how they would perform on the track at Willow Springs in roadrace and drag strip conditions. As with all these shows, a ridiculous timescale was stirred into the mix. The builders only had two weeks to design and build their bikes ...
The Complete Story continues in The Iron & Lace Garage with a photo galley of the bike and Playboy Playmate Tamara Witmer. CLICK HERE.
---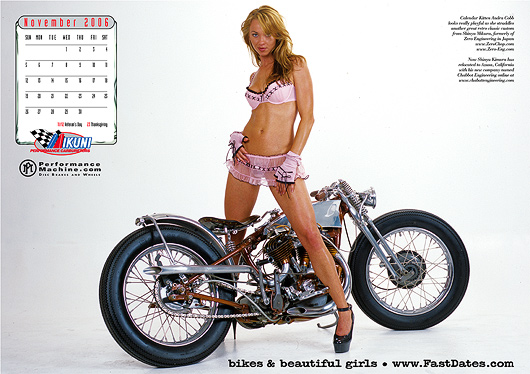 Above, another Shinya Kimura bike is featured in the 2007 Iron & Lace calendar with beautiful Andra Cobb, available as a full size screensaver in Screensavers.

FastDates.com Monitor Screensavers
Get up close and personal every day of the month with the hottest bikes and pinup models featured in the FastDates.com Calendars by joining our Monthly Screen Savers & Members Corner
New 2007
Fast Dates Racebike,
Iron & Lace Custom
& Garage Girls Calendars
Click to Order Now!





More 2007 Calendars!
In Our Calendar Store
Click Below
---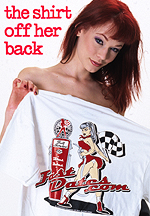 ---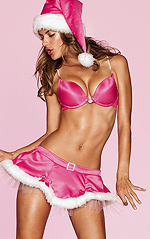 Click to visit Victoria's Secret. Event updstes Insert Keyword: FASHION
Victoria's Secret
Fashion Show
on CBS Dec. 5th 10/9c
Just so you don't go into total withdrawl now the racing season is over, here's something you can really look forward to to warm up a cold night.
Doug Chandler and Kurtis Roberts to Field Private AMA Superbike Team in 2007
Nov 8th, Sonoma, CA – The AMA Superbike paddock will see the return of two past champions in 2007. Doug Chandler and Kurtis Roberts have signed with newly formed superbike team, NFS Racing. The team will be headquartered in North Carolina with a satellite shop in California near Chandler's hometown. Chandler is reportedly one of the principals of the team which has an undisclosed wealthy private sponsor.
They say they are planning to buy production bikes from a local dealer in North Carolina, so the chance of their running with the highly prepared Japanese factory teams in AMA is not realistic.
Doug has not been racing racing in Superbike for some 4 years since being dropped by Kawasaki, but he has been teaching private superbike schools on a weekly basis (www.champ-racing.com
Roberts has been without a ride for a year since being let go by Erion Honda at the end of 2005. He did make a few rides in World Superbike with a private team at the end of this season, but never got use to the team's Ducati 999 and always qualified at the back of the grid and finished poorly.
NFS is the abreviation for "No Factory Support" Racing and the team is susposedly also working out details for a reality show that will feature the making of the team set to air this Spring. Watch for announcements and complete details to follow in the coming weeks.
We can't envision how exciting a reality motorcycle racing TV program is going to be featuring two very conservative, middle aged guys, on stock bikes, one being a dad with wife and kids. I know we wouldn't want to watch any reality TV show based on riders in AMA Superbike with the possible exception of the Bostrom brothers....
Suzuki's Australian Champiobnship 2007 Superbike Team
Team Suzuki Press Office – November 9, 2006. Former Australian Superbike Champion Craig Coxhell will partner triple Champion Shawn Giles in the Australian Yoshimura Suzuki squad next year on GSX-R1000s.
And in a bid to once again "Own the Racetrack," the team has also signed leading up-and-coming rider Josh Waters to pilot the team's GSX-R600 Supersport entry.
With a combined total of four Australian Superbike titles between them, the Giles-Coxhell partnership is the most-successful team line-up in the history of Australian Superbike racing and offers Suzuki a depth of experience that their rivals cannot match.
Following a successful stint racing overseas in the British Superbike and European Superstock classes, Coxhell is returning home to re-join the team that delivered him huge local success and launched his international career.
Said Coxhell: "Team Yoshimura Suzuki is an incredibly professional team and I'm really looking forward to coming back to race for them again.
"After being away for the last three years it's hard to know what to expect from the competition, but I'm hoping I can be on the pace right from the start of the season.
"Team Manager Phil Tainton is the best there is; I love working with him and the whole team and I know I'll have a great race bike under me again next year. I'm really looking forward to having Shawn as a team mate again. We work really well together off the track and push each other hard on the track."
A veteran of the sport whose feats are unrivalled in Australian Road Racing, Giles has three Australian Superbike titles and an Australian Supersport Championship to his credit and shows no signs of slowing down for 2007.
"2007 is going to be a big year for Suzuki with a really strong rider line-up for Superbikes and Supersport, plus our new GSX-R1000's will come on board too," said Giles.
SUZUKI SPONSORS AUSTRALIAN SBK
Nov 16, 2006 - Suzuki Australia will return as a major sponsor of the 2007 Australian Superbike Championship.

Suzuki will again offer financial support to the nation's premier national road racing championships, covering the entire eight-round series which now features a new double-header format for selected rounds in 2007.
"Racing is an important part of the Suzuki psyche. In Australia and around the world, Suzuki has been a dominant factor in top-level production class racing throughout the modern era," said Glyn Griffiths, National Marketing Manager - Motorcycles, Suzuki Australia.
"For the second consecutive year, Suzuki has made a significant financial commitment to the Australian Superbike Championship that supports our own commitment to creating the highest quality motorcycle racing and raising the profile of the sport in this country.
"In addition to renewing our position as a major sponsor for the Aussie Superbike series, Suzuki has expanded its Suzuki Support Rider scheme, plus the on-track commitment with Team Yoshimura Suzuki is greater than ever and we are very confident and excited about our new race program.
"Team Yoshimura Suzuki will field a strong rider line-up in the 2007 Superbike and Supersport classes and we expect to be a major force in both categories. It is only fitting that we are major sponsors of these series' too."
Presenting a stunning team of champion riders, Team Yoshimura Suzuki will feature three-time Australian Superbike Champion Shawn Giles and 2003 Australian Superbike Champion Craig Coxhell racing aboard Suzuki GSX-R1000 Superbikes, while 2003 Australian 125 GP Champion Josh Waters will pilot the factory Suzuki GSX-R600 Supersport machine.
AUSCO General Manager Terry O'Neill is delighted about the continuing partnership with Suzuki Australia.
"The continuation of this major sponsorship agreement with Suzuki Australia is an indication of the strength of the current series and Suzuki's dedication to the sport," he said.
"Suzuki's contribution is of great importance and will make a positive impact on motorcycle racing in this country.
"For 2007, the Australian Superbike series has been expanded to eight rounds and, for the first time, will include an exciting, new double-header format that will provide interesting new opportunities for our sponsors, including Suzuki."
Team Yoshimura Suzuki's Giles, Coxhell and Waters will take to Eastern Creek Raceway, New South Wales, for round one of the Australian Superbike and Supersport Championships on February 16-18th, 2007.
THE SBK PADDOCK SHOW AT EICMA IN MILAN
Rome, Wednesday 15th November 2006 - The Eicma bike show gets under way in Milan tomorrow, Thursday 16th November. In particular, the WSBK Corona Extra Paddock Show opens its doors at 4 p.m. in the Motolive area to present the new "Superbike 2007" game, created in collaboration with Black Bean. Troy Bayliss, 2006 Superbike world champion, will be there for the occasion and will try the new game on the Play Station. Black Bean has distributors throughout Europe, and as far as Australia and South Africa, and there can be no doubt that the presentation of this long awaited game will give yet another boost to the popularity of the Superbike World Championship.
During the mornings of Friday 17th, Saturday 18th and Sunday 19th, a number of riders will be on hand to meet the public and sign autographs. Among them will be Team Ducati Xerox's two official riders Troy Bayliss and Lorenzo Lanzi, Gianluca Nannelli, who will be riding for Team Ducati SC Caracchi in the next Supersport World Championship, and Michel Fabrizio and Steve Martin, the new pair of Team D.F.X. Treme. Yamaha Motor Italia will also be presenting their trump cards for 2007, Troy Corser and Noriyuki Haga, at the Paddock Show. Visitors can once again rely on Giovanni Di Pillo and the DJ Ringo to provide their usual top quality animation.
Ducati Reports Increased Revenue, but continued major losses in First Nine Months of the Year
Friday November 17, 2006
- Ducati Motor Holding S.p.A. reported a slight revenue increase for the first nine months of the year, but the Italian company still posted an overall loss of Euro 4.6 million ($5.8 million).
Overall revenue was Euro 232 million ($297 million), which increased 1.4 percent compared to the same period last year.
Motorcycle revenues in the first nine months amounted to Euro 174 million ($223 million), up 1.8 percent versus the same period in the previous year.
The company also announced Ducati registrations were up 2 percent over the same period last year, with the United States leading the way. Registration in the United States jumped 23 percent.
Six-Month Report Shows Kawasaki's Net Income Soaring
Friday Nov17, 2006 - Kawasaki Heavy Industries reported its net income for the six-month period ending Sept. 30 was 11.4 billion yen ($96.6 million), up 118 percent compared to the same period a year ago.
Not surprisingly, net sales also increased. KHI reported its sixth-month sales were 645.8 billion yen ($5.4 billion), up 9 percent over the same period last year.
For its consumer products and machinery division, which includes powersports products, sales were up 14 percent to 189.9 billion yen ($1.6 billion).
Looking ahead, KHI forecast year-end sales of 1.43 trillion yen ($12.1 billion), with a net income of 26 billion yen ($220 million).