Calendar Kittens Gemma, Tamara and Cora are feature in all three of our 2007 Calendars. 1224 Screensaver
---
My Motley Crue included at times (left to right) Cheney from Alaska, Stuart the "Philly Cheese Steak King", Rich the Playboy from Huntington Beach, yours truly from The Valley , Dean the Harley dealer, Eric the commercial airline pilot, Doug "The Drug Enforcer" from Kabul, Afganstan, and Motorcyclist magazine editor Mitch Boehm.
Another Dream Motorcycle Vacation
The Edelweiss / Motorcyclist Alps Challenge
Across the Top of the World through 5 Incredibly Beautiful Countries in 8 Days
By Jim Gianatsis, Editor Photography by Jim, Rich and Cheney
Sauerlach, Germany , September - I got hooked on Edelweiss when I took my first tour last year, the Western Alps Touring Center Tour which takes place in southern France and along its Mederterain coast with stops in the glamerous cities of Cannes during Movie Week, Monaco just a week before the Formula 1 race where we got to gide on the actual road course as it was being set up, and in Saint Tropez to hang with the rich and famous. "Touring Center" means you are based in one resport hotel for the entire week and take daily 150-180 mile loop rides out from the hotel each day, returning to your same room each night.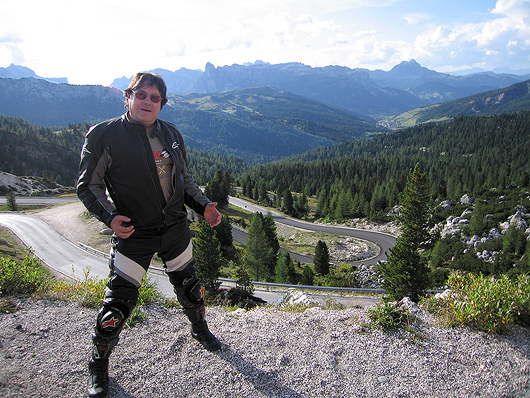 So may roads, so many turns, so little time....
My first, the Western Alps Tour was such an incredible motorcycle vacation, and I don't know if any other Edelweiss tour could top it, but when I read that Motorcyclist magazine was sponsoring the 2006 Edelweiss Alps Challenge, featuring 7-days of riding across the middle of the Alps though 5 countires - Germany, Switzerland, Italy, Austria and Slovenia, I figured this would certainly kick it up a notch furthur. Plus I'd get the chance to hang with my buddy Mitch Boehm, editor of Motorcyclist. My only concerns going in were my fear of heights (the Alps are very tall!) and the hassle of changing hotels every day.
As usual the Edelweiss group had an incredible tour set up where we would stay in an exciting new town and hotel every night, and our luggage would be waiting for us in our rooms every evening when we arrived at the next overnight stay. One of the tour's guides would drive a support van and trailer containing our luggage long route to the next overnight stay, and on 3 of the days would meet us mid-day at a picknic spot to prepare and serve us lunch next to a beautiful glacier fed lake or an old World War I fortress.

Left: This is a general map of the Alps Challenge route wetook through 5 countries in 8 days. The actual detail of the roads was much more complex, twisting and exciting as you can see in the accompanying photos..
The heights of the mountains and the passes were dramatic. One of the most famous passes for bikers is the Grossglockner Alpine passin the Hobe Tauern National Park in Austria where the twisting road reaches 12,349 feet - over 2 miles high! We stopped at the top to have lunch in a Bavarian restaurant with beautiful your waitress, and of course had to buy souvineur Grossglockner Sportbike T-shirts.
The beauty of the Aps, the countryside, the towns the villages is so overwelming and it keeps coming at you day after day. The roads are all imaculately well built and maintained perfectly. Through they are a little slick for agressive sportbike riding as the mecadam contains small polished gravel that doesn't offer the best of traction. I was often slipping the rear tire of my Ducati Multistrada before I came close to touching my toes.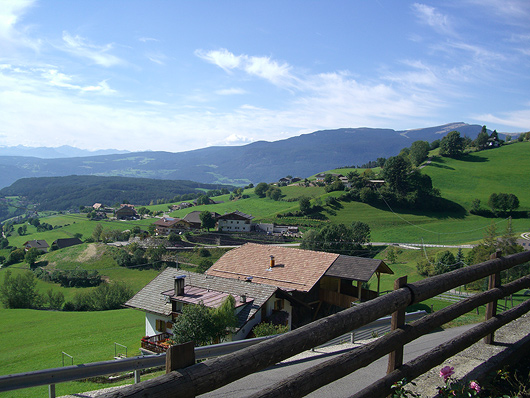 The most incredible thing you notice and remember about riding it this part of Europe and the Alps is how perfect everything is. Every house, every farm, every road and mountain slope is perfectly maintained. Every house and building is fresly painted, every field or Alpine slope is mowed or cut by hand with, cords of wood and cut hey are alwaysstacked purfectly. There ar no run-down or abandoned buildings, awaywhere. No argiculture equipment left outside, no dumpsters, trash cans, no trash piles, no old or abandoned cars are seen anywhere. Every car is cleanly washed and looks brand new. This area of Europe makes America look like a wrecking yard in comparrison. It is embarassing how beautifuuly maintained everything is, there.
Being able to select your favorite bike to ride on the tour, over than a BMW is now a regular feature with Edelweiss. As long as you book your Tour reservation early in the year like around February/March when Edelweiss buys their all new fleet of bikes for the coming year, they will try to accomodate any special requests.
Continue our complete Edelweiss Motorcyclist Alps Challenge STORY HERE
Welcome to the top of the world! Here we stoped on top of a mountain to check out these these huge frozen ice glaciers that were thousands of years old.
---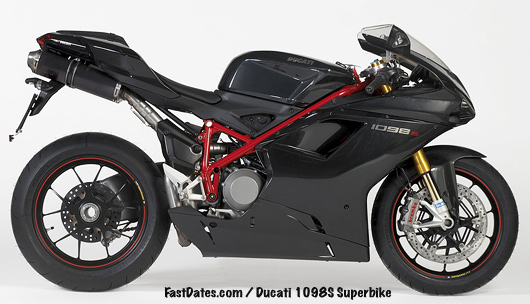 The new Ducati 1098 model "S" Superbike in Black also has full Ohlins suspension, lighter weight forged wheels compared to the base model 1098. Black Screensaver, Yellow Screensaver, Red Screensaver

Ducati Announces Additional Colors - Black, Yellow for the new 1098 Superbike
Cupertino, CA (December 22, 2006) – Ducati North America announces today that the 1098 Superbike will be made available in two additional colors. The 1098 Superbike was launched to the world at the EICMA Motorcycle Show in Milan on November 14. The motorcycle was an immediate success, with the 1098 S Tricolore winning the "Most Beautiful Motorcycle in Show" award. In addition, the international excitement around the motorcycle has been significant, with North American Ducati dealers reporting an overwhelming response.
The two additional colors announced are Black and Yellow, to the already announced Red, and commerative Italian Tri-Color. The 1098 will get the striking yellow scheme, matched with black wheels and a grey frame. The vibrant black color is available for the 1098 S, paired with a red frame and red-trimmed black wheels. Dark aluminum badging will adorn both color schemes.
The Ducati 1098 Superbike produces 160hp and 90.4lbs/ft of torque, which makes it the most powerful twin-cylinder motorcycle in the world, with the highest torque-to-weight ratio of any sport bike. In addition, the 1098 is also the lightest open class Superbike available, weighing 381 pounds.
The 1098 Superbike will carry a manufacturers suggested retail price of $14,995. The 1098 S will be priced at $19,995, and the limited edition 1098 S Tricolore will be $24,995. Prices in Canada will be $19,995 for standard version, while the 1098 S will be $24,995 and the Tricolore will be $29,995.
Additional Imformation, Photos & Screensavers in Pit Lane NewsNew Bikes: Ducati 2007
---

Should I stay or should I go? Actress Penelope Cruz is caught with her pants down in the 2007 Pirelli calendar.

Pirelli's New 2007 Calendar Doesn't Impress
London, Nov 16th 2006 - The much anticipated next edition 2007 Pirelli Calendar was presented to invited guests and media at Battersea Evolution Park in London this evening. The stars of this edition are four of Hollywood's hottest new actresses, one old one and one newcomer: contemporary starlets Penelope Cruz, Hilary Swank, and Naomi Watts, beloved Italian actress Sophia Loren from the 1960s, with daring newcomer Lou Dillon who is the only actress to actually appear topless in the Calendar. More HERE
---

Max Biaggi with Troy Corser's Suzuki ride, tied Troy (now on Yamaha) for 2nd quickest behind Bayliss.

SBK Corona Extra Superbike World Championship ®
From the Bedroom to the Race Track...
Pirelli World Superbike Team Tests Losail, Qatar – December 19-21st
Troy Bayliss Brings the Year to a Close with a Record Pace
Losail Race Circuit, Qatar, Thursday 21st Dec 2006: Troy Bayliss brought the World Superbike Champions Ducati Xerox Team's successful year to a close with a record pace on the final day of Pirelli tyre testing at the Losail circuit in Qatar. In much improved conditions the 2006 champion set a time of 1m58.1s, the fastest ever recorded by a Superbike around the desert track and 1.5 quicker than his own pole position time from earlier this year.
"I'm very happy to have come away from the test in this sort of form and it's great to be able to go home for Christmas knowing that you've done a good job" declared Troy. "That time was set on a softer tyre which it's not possible to do a race distance on but my long run was good as well. We did almost race distance and I was a lot quicker than in last February's race. It's been a long hard year but it's been great and certainly worth all the effort. I've had a great time being back in Superbike and couldn't have asked for more. Now everyone can go home for Christmas with the knowledge that they've done a great job. Next year is going to be a hard one and we're under no illusions but the bike is great, the team also and we're ready for it".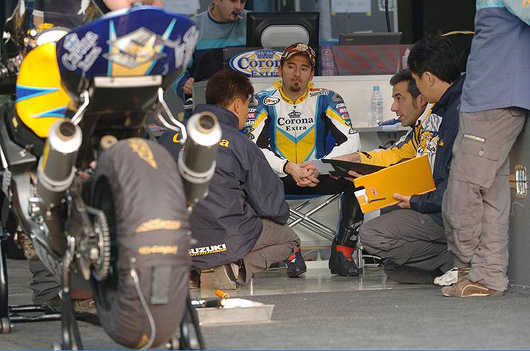 Former MotoGP star Max Biaggi, after a year of unemployment, is excited a return to racing in World Superbike.
TIE FOR SECOND PLACE TIME AFTER LATE CHARGE FROM BIAGGI The last lap of the day put in by Max Biaggi (Alstare Corona Extra Suzuki) proved to be on a par with the impressive 1'58.9 set by Troy Corser (Yamaha Motor Italia). Biaggi had to work hard on his machine set-up to get the most out of the 2007 Suzuki, and his team-mate, Yukio Kagayama (Alstare Corona Extra Suzuki) also toiled to get his times down, finally setting a best of 2.00.1, ninth fastest in the test.
TOSELAND FOURTH QUICKEST James Toseland (Hannspree Ten Kate Honda) relied on his second day best of 1'59.1 to set the overall fourth best time, but a big jump from Regis Laconi (PSP-1 Kawasaki Corse) scored him a 1'59.2, putting both rider and Kawasaki as a manufacturer into the top five, making it five different manufacturers in the top five places.
LANZI IMPROVES TO BEAT NIETO ON THE TIMESHEETS Lorenzo Lanzi (Ducati Xerox) set his best of test time of 1'59.3 seconds today, keeping the margins close in the top few positions, and in the process outpacing PSG-1 Kawasaki rider Fonsi Nieto's Wednesday best time of 1'59.5, to go sixth fastest. Noriyuki Haga (Yamaha Motor Italia) did not enjoy the early part of the test but finally found a set-up and tyre combination to record a best 1'59.7, going eighth overall. Robby Rolfo (Hannspree Ten Kate Honda) rounded out the ten Superbike entries with a time of 2'01.7.
YAMAHA RIDERS DOMINATE SUPERSPORT TESTS Both Kevin Curtain (Yamaha Motor Germany) and Broc Parkes (Yamaha Motor Germany) used all the testing time available to them to score impressive lap times of 2'02.5 and 2'02.6 respectively. Despite crashing out early from the final day of testing, Gianluca Nannelli (SC Caracchi Ducati) posted the third best time, a 2'03.3. Fabien Foret (GIL Motorsports Kawasaki) was the fastest of the two Kawasaki riders on display, with a 2'04.5. On the final day Pere Riba (Gil Motorsports Kawasaki) found pace compared to his pr
Losail, Tuesday 19th December 2006 - Windy conditions and a track surface coated in windblown sand greeted the top World Superbike and Supersport competitors on day one of a three-day Losail test. After residue was left behind by some recent rainy weather, grip on the otherwise dry track was particularly low off line, and only 2006 spec Pirelli tyres were used on day one, although track conditions gradually improved with use.
BAYLISS FASTEST DESPITE HIGH WINDS Troy Bayliss (Ducati Xerox) set the fastest time of the first day, running his big vee-twin to a 2'00.7, while his team-mate Lorenzo Lanzi set his first day best time of 2.01.3. The next quickest rider behind Bayliss was new Yamaha rider Troy Corser (Yamaha Motor Italia) with a 2'01.1. This year's champion Troy Bayliss set a good pace on race tyres on a track made slippery by recent rain. His time of 2m00.7s was four-tenths of a second quicker than fellow Australian Troy Corser (Yamaha).
"The day was OK but we didn't start early because the track was in a bad condition after the rain and it was also very windy. We left it late to come here for the test this year because it's actually quite cold in the morning and the conditions are not perfect" declared Troy. "My lap time was OK, like a good race time and we worked a lot on settings and tyres. In particular we played with the gearing because last year we struggled a lot in acceleration from the last corner so we're trying to improve that".
HAGA AND TOSELAND SHARE SAME TIME Noriyuki Haga (Yamaha Motor Italia) and James Toseland (Hannspree Ten Kate Honda) were joined on the 2'01.4 mark at Doha on day one, with Toseland's new team-mate for 2007, Roby Rolfo (Hannspree Ten Kate Honda) setting a best time of 2.03.1. Fonsi Nieto (PSG-1 Kawasaki) continued his pre-season build up with a best time of 2.01.6, a more than respectable time in the conditions. Nieto's team-mate Regis Laconi, recorded a 2'02.2.
BIAGGI READY TO RUN ONCE AGAIN Max Biaggi (Alstare Corona Extra Suzuki) eased his way into this teat with a best time of 2'02.8, only 0.2 seconds up on his fellow Alstare Suzuki rider, Yukio Kagayama (Alstare Corona Extra Suzuki). Two more days of testing remain for all participants, with hopes that the weather conditions improve, to allow the times to drop.
SUPERSPORT QUINTET PLAY ON IN QATAR Broc Parkes (Yamaha Motor Germany) and Kevin Curtain (Yamaha Motor Germany) held the upper hand in the early stages of the testing battle, with Parkes on a 2'05.13 and Curtain a 2'05.5. The irrepressible Gianluca Nannelli (SC Caracchi Ducati) was third fastest, on a 2'06 flat. Running the new version of the Kawasaki ZX-6RR, Fabien Foret (GIL Motorsports Kawasaki) set a 2'07.3, with Pere Riba (Gil Motorsports Kawasaki) on a 2'07.9.
TIMES (provided by Pirelli): 1. Bayliss (Ducati Xerox) 2m00.7s; 2. Corser (Yamaha) 2m01.1s; 3. Lanzi (Ducati Xerox) 2m01.3s; 4. Haga (Yamaha) & Toseland (Honda) 2m01. 4s; 6. Nieto (Kawasaki) 2m01.6s; 7. Laconi (Kawasaki) 2m02.2s; 8. Biaggi (Suzuki) 2m02.8s; 9. Kagayama (Suzuki) 2m03.0s; 10. Rolfo (Honda) 2m03.1s.
The World Superbike teams Team will next be seen out on the track in a month's time with a further three days of testing at the Phillip Island circuit in Australia from January 13th to 15th.
OVERALL BEST TIMES (provided by Pirelli): 1. Bayliss (Ducati Xerox) 1m58.1s; 2. Corser (Yamaha) & Biaggi (Suzuki) 1m58.9s; 4. Toseland (Honda) 1m59.1s; 5. Laconi (Kawasaki) 1m59.2s; 6. Lanzi (Ducati Xerox) 1m59.3s; 7. Nieto (Kawasaki) 1m59.5s; 8. Haga (Yamaha) 1m59.7s; 9. Kagayama (Suzuki) 2m00.1s; 10. Rolfo (Honda) 2m01.7s.
---
Steffano Series cafe9
One of the more interesting bikes at the recent Cycle World International Motorcycle Show tour stop in Long Beach, CA, where it was making its only appearabce was the Cafe9, the brain child of west coast cult Ducati and sportbike customizer Robert Stefano who also works under the name Acme Rocket Bike.
The Café9 is based on the Ducati 999 Superbike and is touted to bring a new level of sophistication to the luxury motorcycle market. The serious rider and collector will accept no compromises in the capability and quality of a motorcycle that is truly work of art and a marvel of engineering. Weighing in under 400 pounds ready to ride, with 150 horsepower and massive torque of 80 ft-lbs, this race-bred road machine is confidence inspiring while delivering pure superbike performance.
The Café9 combines the awesome performance of the Ducati 999 superbike with Steffano's unique yet timeless styling, museum quality finish and the world's finest components to create a pure roadster with race proven performance, real world comfort, ergonomics, and design unlike anything in the world.
Weight: 375 Lbs.
Power: 140HP - 150HP, Torque : 80 ft-lbs
Aerospace quality carbon fiber bodywork
Exotic and practical sting ray hide luxury saddle
Integrated police radar detection system
Innovative integral silencer tail-section featuring dual side exhaust ports as never seen on a motorcycle before
20-spoke forged alloy wheels
Fully adjustable control levers, footrests and handlebars
Robert is accepting orders to produc the Cafe9 as a fully finished, high end cafe racer from a new, or your donor bike. The complete package is a real eye catcher that will appeal to a few unique individuals.It is built with a lot of unique components like his own 20-spoke forged alloy wheels, polished muffler and upside down forks with radial Brembo brakes that should prove popular to any Ducati enthusiast wanting to customize their own bikes.
Robert says the components will be available individually as well
Stefano Motors / Acme Rocket Bikes • SteffanoMotors.com
---
There's more! Go to Pit Lane News NEXT PAGE

Hot Calendar Girl and Bike News! Go to: Fast Dates • Calendar Girls • Iron & Lace





BikerKiss.com - the largest biker personals site!
NEW! FastDates.com
Monthly Screen Savers
Click to Find Out What Day It Is

New 2007
Fast Dates Racebike,
Iron & Lace Custom
& Garage Girls Calendars
Click to Order Now!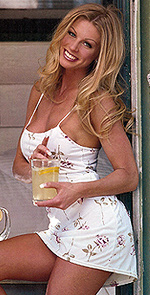 Robin's New Calendar
Our World Superbike Girl
Rockin' Robin Cunninham now has a hosting gig on XM radio and her own 2007 Calendar at
RockinRobinLynn.com
Mazda Raceway Laguna Seca and AMA announce
2 Race Weekends and Classes for 2007
Dec 08, 2006 - Officials from AMA Pro Racing and Mazda Raceway Laguna Seca announced today that the Red Bull U.S. Grand Prix will feature AMA Superbike and AMA Supersport classes along with the FIM MotoGP class. However, they forgot to mention in their release what Supersport Classes those would be. The combined event will be held on July 20-22, 2007 at Mazda Raceway Laguna Seca.
The second AMA Championship event to be held at the track in 2007 will be on Sept. 15-16 and will feature all four AMA classes: the AMA Superbike Championship presented by Parts Unlimited, the Pro Honda Oils Supersport Championship presented by Shoei, the Lockhart Phillips USA Formula Xtreme Series and the Repsol Lubricants Superstock Series.
MotoGP 210mph Bikes!
Rany Mamola tests all the top 2006 MotoGP Bikes!
What makes MotoGP bikes the fastest racing bikes in the world? In this all-new programme from Dorna, Randy Mamola checks out the machines that battle to win the world's top bike racing series and leave you hanging onto the edge of your seat! With the help of the people at the heart of the sport, including the teams, chief engineers and riders, we bring you the full story behind the 210mph bikes!!
Delivering a dose of high-octane info on:
- Honda RC 211V
- Yamaha M1
- Ducati Desmosedici GP4
- Suzuki GSV-R
- Kawasaki Ninja ZX-RR
- Aprilia RS Cube
- Proton V5
Includes detailed bike and engine close-up shots as well as interviews and specialised knowledge from the teams and their top riders, including Rossi, Barros, Roberts, McWilliams and Nakano.
DVD extras include a special feature on the people that help make Valentino Rossi the rider, the genius, the legend that he is today; including his mechanic, team manager, press officer, fan club president and personal assistant. We take a look at Michelin's revolutionary 16.5inch front tyre, plus, we take you inside Ducati Corse - the racing department situated at the heart of their Bologna factory - where the Ducati MotoGP bikes come to life
Eraldo Ferracci returns
to Superbike Racing
with MV Agusta
We are excited to announce that the very popular Eraldo Ferraci of Fast by Ferracci fame is returning to AMA Superbike racing for 2007 with a factory backed MV Agusta team after having been absent for 7 years. A long time Ducati proponent in America, Eraldo previously won 3 AMA National Championships back in the 1990s with riders Jimmy Adamo, Doug Polen and Troy Corser until a falling out with the Ducati factory saw their support switch to other less successful teams managed by Vance & Hines and Ducati of Dallas.
Eraldo marked his returned to Superbike racing with MV Superbikes at the annual Daytona tire tests earlier this month. MV Agusta is is owned by the Castiglioni brothers, the same family who owned Ducati during Feracci's heyday in racing. The plan is for a full-on World Superbike asault in 2008, with the 2007 AMA Series servng as a shakedown development year.
"The is going to be a development year, "explained Eraldo. "This is favtory level and so will be 2008. And it is lively that we will be involved in the World Superbike program for 2008, like we did on Ducati."
Doug Polen won the Woeld Superbike Championship in 1991 and 1992 with Doug Polen, then he returned to American to win the AMA Superbike Championship also in 1992 and then again in 1993 with Troy Bayliss. Jimmy Adamo won the Battle of the Twins Championship in 1990. And all of their Feracci prepared bikes were featured in the arely Fast Dates Calendars.
Eraldo knew how to develop both race bikes and champions, unlike most teams in AMA Superbike racing today who struggle with new bikes and have to buy proven champions to win.
For the Daytona tests this month, the Ferracci MV 1000 bikes were ridden b Matt Lynn from Georgia, who had a number of inspired rides this year on the KWS/Millenium Technologies Suzuki, and 2006 Italian Superstock Champion Luca Scassa.
Unfortunately the Daytona track gremlins took their toll on Scassa who sufferd a blown engine on his third lap of the track in the1st practive session, then his 2nd outing ended on lap 2 with a highside out of the chicasne on a cold tire into the banking wall.
X-rays reveal two broken bones in his left foot and his test was over.
Lynn's test didn't fare much better as he felt sick both days of the test and had to make a hospital visit as well, but he still ended up 2nd fstet of the Pirelli runners.
Lynn and Scassa had test on the MV's once previously before Daytona at the Jennings GP track in northern Florida Ferracci hopes to test several more times before the season opens at Daytona in March, and Scassa is expected to be healed in January.
One of the most likeable personalities ever in AMA Superbike racing, Eraldo's team paddock area was the place to be on any race weekend, both to hang out and socialize, and to enjoy his freshly cooked pasta lunches which were available to anyone who stopped by. We definetly missed him in recent years when corporate racing attitude and dominace has taken the fun out of AMA racing, and we look forward the haveing Fast by Ferracci back with us for at least 2007.

Click to take Kylie for a ride.
Kyle Minigue Gets Provacative
Join Pop Diva Kyle Minogue as she does a little wild bull riding with Agent Provocateur.
RealPlayer.com Video.
You'll also be thrilled to see supermodel Kate Moss is the new spokesmodel for Agent Provocateur. Its amazing that Kate was photographed snorting cocaine a year ago and found her fading modeling career revitalized and vaulted back to superstar status with cover features in all the top modeling magazines and major product endorsements.

Kate's been a bad, bad girl.
Annual AMA Superbike Tests at Daytona topped by Ben Spies
Dec 06, 2006 - Newly crowned AMA Superbike Champion Ben Spieson the Yoshimura Suzuki GSXR1000 closed out the annual Dunlop Daytona tire test with a blistering late stint that saw him register multiple laps quicker than his best times from last year's race and claim fast lap honors for the week.
The Texan's fastest lap was a 1:37.823, more than eight tenths quicker than second-ranked Jake Zemke on the American Honda CBR1000RR.
At the end of the test, Spies said, "I told them I wanted to do a little bit of a stint on the new tire because that was the first new generation tire that I had seen and it was definitely better.
"They gave me a new race tire and I did eleven laps and the tires definitely got better for sure. I did eleven laps faster than anyone else's fastest lap. I think my fastest lap of the race last year as a '8.0 and I dropped into the high '8s. Today I did a few high '7s and the rest of the laps were faster than an '8.4. That was encouraging.
"It's good. We still seem to have a decent cushion on everybody and it's nice… I did two '37.9s really easy, and I really feel I could have gone '7.5-'7.6 on that race tire. I did some high '7s and low '38s and came in only about four laps shy of race distance."
Zemke was actually the first man to break into the '38s this week, and ultimately walked away with a fine 1:38.653 -- a time that would have seemed that much more impressive if not for Spies' flourish to close out the test.
Yamaha USA's Superbike rookie Jason DiSalvo was impressively quick on Wednesday afternoon as well, clocking a 1:38.711 aboard the developing YZF R1.
After spending the first half of the test riding a '06 GSX-R1000, Aaron Yates spent Wednesday shaking down a brand-new '07 model for the Jordan Motorsports Suzuki squad.
The team only got their hands on their new machine just prior to leaving for Daytona, but Yates' first impression was quite positive.
The always easy-going Josh Hayes was somewhat camera shy on Wednesday afternoon after shredding his primary leathers in his morning spill aboard the FX-spec '07 CBR600RR.
The Mississippian was forced to finish out the test wearing a set of Aaron Gobert's leathers and was conscious of being photographed branded with sponsors that clashed with his own.
Hayes ended his week by running more laps on Zemke's Superbike.
The Pirelli-supported teams round out the week at Daytona with a two-day test of their own. Among the teams taking part were Team M4 EMGO Suzuki, the new Ferracci-MV Agusta outfit, and Attack Kawasaki.

Click for Feature Story
Aly & AJ
Into the Rush
Enhanced Music CD & DVD
Rush (QuickTime_Hi)
Rush (QuickTime_Lo)
Rush (Real Player_Hi)
Rush (Real_PlayerLo)
Rush (Windows MV_Hi)
Rush (Windows MV_Lo)
---
Jake Zemke Crashes Hard as American Honda Struggles with Traction Control
Dec 04, 2006 _ Today's afternoon testing session for the distributor race teams at Daytona was momentarily halted for a red flag that was brought out after Jake Zemke crashed his American Honda CBR1000RR Superbike in the Turn 1 area at Daytona International Speedway. However, Zemke was quickly back up and continuing with the team's exhaustive traction control testing program, as they're currently A/B-ing units from both MoTeC and Magneti Marelli.
"I'm a little banged up but not bad considering," Zemke said late in the afternoon. "I just got into Turn 1 and as soon as I hit the throttle, the back end came around on me and just kept going and going and going and never came back. It was kind of weird because we looked at the data and I had done the exact same thing the previous lap and we didn't have any problems. We're scratching our heads a little bit. We had a few laps on that tire -- five or six -- but we shouldn't have had a problem with it. We're not quite sure what happened there."
Other than his minor mishap, Zemke seemed satisfied with his day's work. While the team did some good things in '06 (headlined by the Californian's Miller Motorsport Park triumph), the Honda squad understands that they'll need to get a traction control unit selected and then perfected before they can take the next step of emerging as full-fledged title contenders.
American Honda has never disclosed to the media their rift with HRC and Honda of Japan, and why they have been forced to develop less successfully from scratch their own production bikes used in AMA racing, rather than use the proven works bikes, performance parts including traction control which is used by HRC in World MotoGP and World Superbike, as well as in the Japanese National Superbike Championship. Management at American Honda has suffered a poor relationship with Honda's racing depatment in Japan, HRC, since the mid 1990's.
Zemke stated, "So far, so good. We've got two different TC units that we're trying here. I've spent a lot of time on one and not so much on the other. We're still trying to work the bugs out of the one we've got now. So far the day has been good. We haven't actually changed a whole lot. The bike is feeling good -- it's comfortable, and we've got some new suspension pieces that seem to be working well.
"So far today we've been having a few teething problems, but that's part of it. With traction control being so brand new to everybody, it's just kind of what you have to go through."
Zemke is hopeful that they'll soon pick what system to go with as time is ticking away to the start of '07 season. "That would be really nice to just focus on one, but obviously we want to make the best decision we can. We definitely can't wait until we come back here before we decide, but the team has to be unison on that -- we can't be going in two different directions.
More 2007 Calendars!
In Our Calendar Store
New Moto Books
& DVDs for Christmas