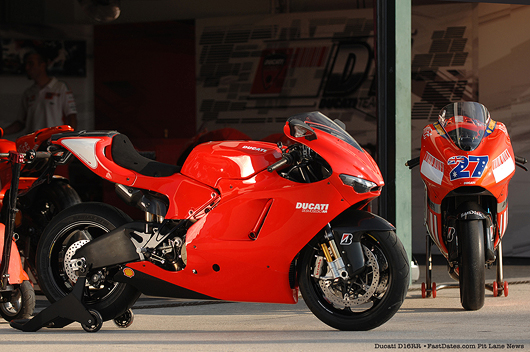 Ducati Desmosedci RR Begins Production
"Soft Bang" Secret Engine Specifications Revealed
Sept 15th - The eagerly waited Ducati Desmosedici RR limited production street-legal MotoGP bike is finally confirmed to begin production at Bologna in October with customer deliveries to begin in December. The bike is based on last year's 990cc Ducati MotoGP bike which World Superbike Champion Troy Bayliss scored a convincing fianl MotoGP race win of the season at Valencia in a stand-in guest ride for injured Sete Giberneau. This is the first time in modern motorcycle history that a GP bike has been offered for sale to the pubic.
For compete details and photos of the new bike go to our New Sportbike Index Ducati Desmosedici RR
20th Anniversary of Pro Italia Motorcycles featuring Cafe Desmo
Saturday September 22nd 11am-4pm
• See a real Ducati GP06 990cc race bike in current Casey Stoner livery!
• Ducati new bike Demo Rides • Summer Sidewalk sale
• Suspension Clinic • Former owner Earl is expected to attend
• Ducati Bike Show and Contest with awards

Pro Italia Motorcycles, 3319 North Verdugo Road, Glendale, CA91208 • www.ProItalia.com
---
Rossi's Yamaha and the Michelin tires were finally back to winning pace at Estoril, ending any discussion to move to spec tires in the future. The number "46" on the back of Rossi's leathers was made of artificial dog fur in salute to the Doctor's other nickname "Llittle Chihuahua"


2007 MotoGP World Championship, Estoil, Portugal, Round 14 of 17
Rossi Takes Stunning Victory over Pedrosa and Stoner
Estoril, Portugal, Sept 14-16th, 2007 - Valentino Rossi made a triumphant return to the top step of the podium in Estoril today, sealing his fourth victory of the season with a masterful ride to victory in front of Dani Pedrosa and Casey Stoner. Rossi's eighth consecutive podium finish at this circuit was his first in six races, since his last victory at Assen back in June. Colin Edwards was unable to match his team-mate's pace today and slipped back through the field, eventually finishing in tenth.
Valentino Rossi bounced back from his Misano heartbreak to take a gripping victory in the bwin.com Grande Premio de Portugal. The Italian was at his exciting best onboard the factory Yamaha M1 at Estoril, winning at the track for the fifth time in the premier class after out-manoeuvring Honda's Dani Pedrosa. The duo were virtually inseparable from the beginning of the race, battling amongst themselves after MotoGP World Championship leader Casey Stoner was effectively removed from the equation in the early stages.
"First of all I want to dedicate this victory to Colin McRae," said the MotoGP champ rally and car enthusiast Valentino, "who sadly died yesterday (McRae was 2-time World rally Champion, he died with one of his children when his personal hilicopter crashed). Colin is one of my idols from when I was very young and it's because of him that I have my passion for rally. It's a very sad day for motorsport and I am glad that I could win for him today.
This is a very important victory for us in every way, it's the fourth one of the year so the numbers are starting to look a little bit better, and it's a great, great emotion to win again after so long without even a podium. Today my Yamaha and my tyres worked very well. Our new engine is better and today I was able to keep in the slipstream of the Honda and the Ducati on the straight, and even to go alongside them at some points, so this is very important. Michelin have done some good work on the tyres and today we were maybe stronger than our rivals. Once again we've shown that when the tyres are working well we can fight at the top."
Casey Stoner Quickest in Friday Practice
Fastest in both the morning and afternoon sessions on the opening day of practice for the bwin.com Grande Premio de Portugal, Casey Stoner made the ideal start to a weekend in which he has the chance of claiming the 2007 MotoGP World Championship. Stoner's fastest lap of 1'37.950 onboard the Ducati Desmosedici GP7 made sure that the Australian's Friday work came to a satisfactory conclusion, despite a light run-off and a few wobbles when pushing for even faster times.
Second quickest this afternoon, Makoto Tamada clocked his best lap when using his Dunlop qualifying tyre, something that both he and team-mate Sylvain Guintoli have routinely practiced over the past few first day practice sessions. The Japanese rider was just under four hundredths of a second slower than Stoner, although the remainder of his laps fluctuated between the 1'39 and 1'43 markers.
Just outside the 1'37 barrier, Valentino Rossi stepped up the pace to begin his quest to deny Stoner a title win, at least for this weekend. The Italian was once again using the pneumatic engine that was premiered at Misano, with positive results from both the new motor and his Michelin tyres.
The only other rider who can play spoiler to Stoner was also amongst the frontrunners, with Dani Pedrosa putting in the fourth fastest time. The Spaniard will be looking to further improve his times tomorrow, with Stoner already nearly a second quicker than anyone outside the top three.
A top six consisting of as many different teams was completed by Kawasaki's Randy de Puniet and Suzuki's John Hopkins, presenting a fairly even representation of the three tyre companies with three Bridgestone, two Michelin and one Dunlop rider respectively. Loris Capirossi, Nicky Hayden, Alex Barros and Sylvain Guintoli round off the fastest ten of the day, Barros having not had quite the fantastic start to his first visit to Estoril since a dominating 2005 victory.
Hayden Snatches Pole on Saturday
Whilst all talk in the run-up to the bwin.com Grande Premio de Portugal focused on current World Championship leader Casey Stoner, it was the reigning MotoGP World Champion who showed his quality as Nicky Hayden took pole for tomorrow's race.
Coming back from the disappointment of several unfortunate first lap incidents, the American put himself in the best position to avoid other riders' manoeuvres with a last gasp hot lap. A 1'36.301 dash in the final minute of the session placed 'The Kentucky Kid' at the head of the field for his first race in Estoril since the infamous collision with Dani Pedrosa in 2006. Hayden was last on pole at Phillip Island in his title-winning year.
The final 15 minutes of the hour long qualifying session were as exciting as they come, with the reigning World Champion, the current top dog and the five time title holder all staking their claim for pole position. Casey Stoner put on his game face with 12 minutes left on the clock, but had to answer back immediately when Valentino Rossi undertook his fastest lap of the day. What had looked like a straight battle between the two title contenders was eventually gatecrashed by Hayden, who denied Stoner his fifth consecutive pole position.
The second row in Estoril will be headed by something of a surprise package, as Makoto Tamada put in an astonishing display as one of only two non-Michelin riders in the top six. Dunlop Yamaha Tech 3's Japanese rider had benefited from his having tested a qualifier yesterday afternoon, and took his best qualifying performance of the season at a track where both he and his current team took their best results last year.
After leading the session before the qualifiers came on, Dani Pedrosa eventually had to settle for fifth on the grid, alongside Yamaha man Colin Edwards.
Marco Melandri, Sylvain Guintoli and last year's winner Toni Elias start from the third row, with John Hopkins completing the top ten. There were light crashes in the session for both Shinya Nakano and Randy de Puniet, from which both were able to return to the action immediately.

Rossi (46) battled with Pedrosa (26) for the race lead from the mid point of the race, chased by Stoner and Hayden (behind).
Rossi on Top at the Finish
With 41,566 spectators looking on, Rossi made a poor start from the outside of the front row and slipped to fifth around the first corner, before making up one place and crossing the line first time around behind Nicky Hayden in fourth. He quickly began to put the pressure on Hayden and passed him on lap three, whilst Pedrosa in the meantime picked off Stoner to take the lead. Lap-by-lap Rossi closed the gap and he showed the improved level of his new Yamaha engine when he passed his championship rival on the straight going into lap nine.
From then on the race turned into a nail-biting head to head between Rossi and Pedrosa, the pair evenly matched on pace but faster in different areas of the track. With four laps to go Pedrosa ran wide and Rossi came through, only to make a similar mistake moments later, letting the Spaniard back past him. Rossi had teased a move on his Spanish rival on several occasions, feinting and stalling with some textbook attacks before pulling out from Pedrosa for the final time. The ultimate challenge went unanswered, and Rossi could make the decisive gap and cross the chequered flag nearly two tenths of a second ahead. With Pedrosa beginning to slide and Stoner looking menacing in third, Rossi made his move with an inch-perfect pass on the penultimate lap but was forced to keep pushing at the limit to hold on until the end, crossing the line just 0.175 seconds ahead of Pedrosa.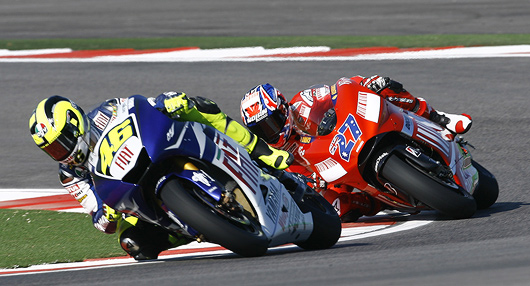 Rossi (46) sets past Championship points leader Casey Stoner (27)
Unable to catch the Michelin-shod pairing, Casey Stoner could still be happy with a third place which edges him ever closer to a maiden MotoGP World Championship. The Australian now holds a 76 point lead over Rossi in the classification, with 25 points less on the table for his rivals to catch up with him. A clutch problem hindered Stoner's push somewhat, but he maintains his superb run of podium finishes despite the conclusion of his consecutive winning streak.
Poleman Nicky Hayden had a nervous moment when fighting for the holeshot, with Pedrosa darting in front of him and forcing him off his line. Having lost the top spot, the reigning MotoGP World Champion dropped back slightly when overtaken by the eventual podium finishers, concluding the race in fourth despite a valiant effort to rejoin the pack.
Marco Melandri had another fine performance to finish fifth, as did John Hopkins who stormed through the field after a disappointing qualifying session yesterday. The tyre bragging rights were evenly distributed in Estoril, with both Michelin and Bridgestone placing three riders each in the first six past the line.
Carlos Checa, last year's race winner Toni Elias, Loris Capirossi and Colin Edwards completed the top ten.The five riders who failed to finish the bwin.com Grande Premo de Portugal were Makoto Tamada, Randy de Puniet, Kurtis Roberts and the Pramac d'Antin Ducati pairing of Alex Barros and Alex Hofmann.
Rossi summed up the race afterwards, "I had a great battle with Casey but most of all with Dani and it was fantastic fun to ride like this again, at the maximum and with a lot of good passes. When I passed Dani for the first time I tried to go but he was too good so I knew it was going to come down to the last few laps. At the end Dani started to slide a little and I knew I was stronger on the brakes than him in some places, so I was able to make a good pass. When I came out of the last corner on the second to last lap I could only think about how I lost the championship there last year so I knew I had to be far enough ahead next time around! I want to thank Yamaha, Michelin, my team and everyone around me, this is a great day and it's given us a lot of confidence to keep fighting to the end of the season."
Results MotoGP
Race Classification MotoGP : (28 laps = 117.096 km)
Pos/ Rider / Nat / Team / Motorcycle / Time/ KM/H / Gap
1 / Valentino ROSSI / ITA / Fiat Yamaha Team / YAMAHA / 45'49.911 / 153.294 /
2 / Dani PEDROSA / SPA / Repsol Honda Team / HONDA / 45'50.086 / 153.284 / 0.175
3 / Casey STONER / AUS / Ducati Marlboro Team / DUCATI / 45'51.388 / 153.211 / 1.477
4 / Nicky HAYDEN / USA / Repsol Honda Team / HONDA / 46'02.862 / 152.575 / 12.951
5 / Marco MELANDRI / ITA / Honda Gresini / HONDA / 46'07.254 / 152.333 / 17.343
6 / John HOPKINS / USA / Rizla Suzuki MotoGP / SUZUKI / 46'08.768 / 152.250 / 18.857
7 / Carlos CHECA / SPA / Honda LCR / HONDA / 46'21.435 / 151.556 / 31.524
8 / Toni ELIAS / SPA / Honda Gresini / HONDA / 46'30.446 / 151.067 / 40.535
9 / Loris CAPIROSSI / ITA / Ducati Marlboro Team / DUCATI / 46'33.018 / 150.928 / 43.107
10 / Colin EDWARDS / USA / Fiat Yamaha Team / YAMAHA / 46'34.585 / 150.843 / 44.674
11 / Shinya NAKANO / JPN / Konica Minolta Honda / HONDA / 46'35.314 / 150.804 / 45.403
12 / Anthony WEST / AUS / Kawasaki Racing Team / KAWASAKI / 46'44.473 / 150.311 / 54.562
13 / Chris VERMEULEN / AUS / Rizla Suzuki MotoGP / SUZUKI / 46'49.913 / 150.020 / 1'00.002
14 / Sylvain GUINTOLI / FRA / Dunlop Yamaha Tech 3 / YAMAHA / 46'57.523 / 144.272 / 1 lap
Pole Position: Nicky HAYDEN 1'36.301 156.334 Km/h
Fastest Lap (New record): Nicky HAYDEN 1'37.493 154.423 Km/h Lap 13
Circuit Record Lap: Kenny ROBERTS JR 1'37.914 153.759 Km/h 2006
Circuit Best Lap: Valentino ROSSI 1'36.200 156.498 Km/h 2006
World Championship Positions:
1 STONER 287, 2 ROSSI 211, 3 PEDROSA 188, 4 HOPKINS 150, 5 VERMEULEN 147,
6 MELANDRI 137, 7 EDWARDS 106, 8 CAPIROSSI 105, 9 HAYDEN 105, 10 BARROS 83,
11 ELIAS 71, 12 HOFMANN 65, 13 DE PUNIET 58, 14 CHECA 54, 15 WEST 45.
Rossi's traditional victory kiss to his bike and a burnout .
250cc GP to Bautista
Alvaro Bautista took victory at Estoril for the second consecutive year, following up last season's 125cc win with his second triumph of the season in 250cc. The Spaniard rode a superb race in which he shook off all the top names in the quarter litre class, taking a deserved top podium spot.
Things hadn't looked so good for the Spaniard on the opening lap, as the Aspar rider made an atrocious start which saw him drop down to twelfth from the second row. Mixing his own riding skill with some new parts debuted on his Aprilia for the race, Bautista was able to quickly work his way back up the field and power past frontrunners Jorge Lorenzo and Andrea Dovizioso.
Dovizioso moved back up into second in the standings with second place on his Honda machine, with reigning World Champion and classification leader Lorenzo completing the podium. The gap between the two stands at 51 points with four races to go. Lorenzo was on the podium in Portugal for the first time in the 250cc class this afternoon, and the championship now heads to another track at which he didn't win in 2006, Motegi.
Thomas Luthi, Hector Barbera and Alex de Angelis completed the top six past the line, the latter dropping behind Dovizioso in the classification after a recent dip in form. Marco Simoncelli, Julian Simon and Karel Abraham joined him in the top ten.
Race Classification 250cc: (26 laps = 108.732 km)
Pos / Rider / Nat / Team / Motorcycle / Time / KM/H / Gap
1 / Alvaro BAUTISTA / SPA / Master - Mapfre Aspar / APRILIA / 43'56.458 / 148.470 /
2 / Andrea DOVIZIOSO / ITA / Kopron Team Scot / HONDA / 44'00.825 / 148.224 / 4.367
3 / Jorge LORENZO / SPA / Fortuna Aprilia / APRILIA / 44'02.606 / 148.124 / 6.148
4 / Thomas LUTHI / SWI / Emmi - Caffe Latte Aprilia / APRILIA / 44'09.143 / 147.759 / 12.685
5 / Hector BARBERA / SPA / Team Toth Aprilia / APRILIA / 44'09.869 / 147.718 / 13.411
6 / Alex DE ANGELIS / RSM / Master - Mapfre Aspar / APRILIA / 44'09.898 / 147.717 / 13.440
7 / Marco SIMONCELLI / ITA / Metis Gilera / GILERA / 44'26.780 / 146.781 / 30.322
8 / Julian SIMON / SPA / Repsol Honda 250cc / HONDA / 44'27.092 / 146.764 / 30.634
9 / Fabrizio LAI / ITA / Campetella Racing / APRILIA / 45'08.711 / 144.509 / 1'12.253
10 / Karel ABRAHAM / CZE / Cardion AB Motoracing / APRILIA / 45'08.777 / 144.506 / 1'12.319
11 / Dirk HEIDOLF / GER / Kiefer - Bos - Sotin Racing / APRILIA / 45'10.518 / 144.413 / 1'14.060
12 / Aleix ESPARGARO / SPA / Blusens Aprilia Germany / APRILIA / 45'10.617 / 144.408 / 1'14.159
13 / Jules CLUZEL / FRA / Angaia Racing / APRILIA / 45'11.033 / 144.385 / 1'14.575
14 / Eugene LAVERTY / IRL / Honda LCR / HONDA / 45'27.436 / 143.517 / 1'30.978
15 / Imre TOTH / HUN / Team Toth Aprilia / APRILIA / 44'04.722 / 142.313 / 1 lap
Pole Position: Andrea DOVIZIOSO 1'40.355 150.019 Km/h
Fastest Lap (New record): Alvaro BAUTISTA 1'40.521 149.771 Km/h Lap 24
Circuit Record Lap: Hiroshi AOYAMA 1'41.676 148.070 Km/h 2006
Circuit Best Lap: Andrea DOVIZIOSO 1'40.355 150.019 Km/h 2007
World Championship Positions:
1 LORENZO 257, 2 DOVIZIOSO 206, 3 DE ANGELIS 197, 4 BAUTISTA 160, 5 BARBERA 130,
6 AOYAMA 108, 7 LUTHI 98, 8 KALLIO 94, 9 SIMON 83, 10 AOYAMA 72, 11 SIMONCELLI 66,
12 TAKAHASHI 56, 13 LAI 49, 14 LOCATELLI 42, 15 ESPARGARO 35.
---

Our British lasses and official SBK Fast Dates Superbike Calendar Kittens at Brands Hatch, (left to right) and Rhian Sugden and Gemma Louise Henry with a mock-up new 2008 Ducati 1098R Superbike. SCREENSAVER
New 2008 Ducati Superbike R model goes to full 1198cc!
and more sharply focused for racing than previously
Sept 15th, 2007 - FastDates.com is starting to get snippets of information on the new generation Ducati R-model Superbike which will certainly be unveiled in 2 months time at the annual Milan International Motorcycle Show where Ducati likes to make all its new model introductions. The bike will just be entering production around that time with dealer deliveries beginning around January 1st.
Most significantly the new R-model will receive increased displacement to a 1198cc to take full advantage of the new 1200c allowable FIM displacement limit for V-twin superbikes. But the production racer may still be called a 1098R to help support sales of the regular Ducati 1098 Superbike models, confusing, something Ducati has done historically in the past with its other Superbikes. Power will be increased on the new R-model to 180hp, up 20hp from the 160hp of the current 1098 Superbike.
We've also been told the new R production racer bike, though still street legal, will be much more narrowly focused than previous R models. We are guessing this means higher caliber Ohlins race track suspension units like fitted on the new Desmosedici RR, possibly the RR's forged magnesium instead of aluminum Marchesini wheels, plus a slipper clutch. We hope it gets the adjustable steering head that was deleated from the current 1098 Superbike to help cut cost, and is critical for a quicker responding track bike. Of course, carbon fibre bodywork as fitted on this year's special edition 1098S Tri Colore. And as usual a full race Termignoni Exhaust System will be included in the packing crate with the street legal bike. While the new generation 1098 Superbikes saw a significant $4,000 price drop over the previous 999 generation Superbike, the higher priced components on the 1198R will keep it priced back up the $32,000 range of previous R-models.
We shot the above photo in the Ducati Paddock at Brands Hatch World Superbike this past month, where we found a new 1098 Superbike painted up in the current team Ducati Corse Xerox livery to give us an idea of what the new factory Ducati 1298F Superbikes will look like next season when they change from the old 999 model to the new 1098 generation bikes. The factory Team Corse F-model race bikes are always based on the homologated R-model production bikes.
For complete coverage of our Calendar shoot at Brands Hatch go to FAST DATES NEWS
---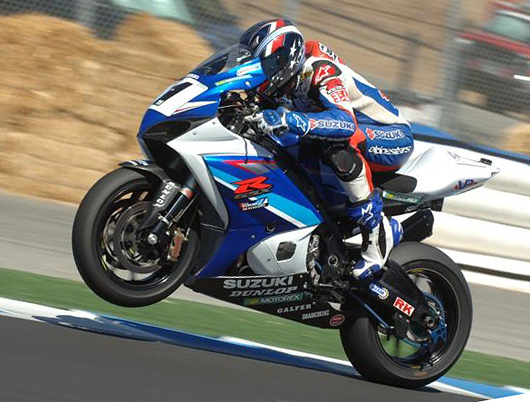 Ben Spies will race AMA Superbike again next year for the Yoshimura team, but will also race selected non-conflicting MotoGP rounds in a warm-up to moving to the Suzuki MotoGP team full time in 2009.
2007 AMA Superbike Championship, Round 11 of 11
Yoshimura Suzuki's Ben Spies Takes Pole, Victory and Championship over Teammate Mat Mladin in AMA Superbike Finale at Laguna Seca
Laguna Seca Raceway, CA, Sept 15-17th - The AMA National Roadracing Championship returned to Laguna Seca Raceway in California, for the 2nd time this year for the 2008 Season Finale in an attempt to fill-out its sagging roster of race tracks. The only real reason for the few thousands fans to come to Laguna was the final showdown battle between the 2 Yoshimura Suzuki teammates Matt Mladin and Ben Spies for the 2008 national Superbike title to be decided with just one 28-lap race on Sunday.
Two weeks earlier at the Road Atalanta Big Kuhuna National, Mladin a won both races to catch reigning champ and points leader Spies, with Mladin coming away with a 3-point lead into Laguna. But Spies was ready for the showdown as he posted top pole time on Saturday for the Superbike National and earned one pint back on Mladin. That ment Mladin had to win in Sunday's race, if Spies finish in 2nd, if Mladin wanted to added to his 5 previous AMA Superbike crowns.
For the other American motorcycle distributors fielding race team in the 2007 AMA National series it was a waste of time and effort as Mladin and Spies won every race of the year on their Suzuki GSXR1000s and no one else came close. The reason? No other team had the courage to field a well-budgeted top line Superbike team, with top "A' line riders and top line works bikes. Instead, they diversified their annual race budgets into 4 different and repetitive AMA classes, and reused the same old riders that their fellow teams had let go the season before.
Things don't look much brighter for next year with the Yoshimura Suzuki Super Duo back for one more year as Spies also tries some wild card rides for Suzuki in MotoGP before making a full move there in 2009. There is a small spark of hope with former World Superbike Champion Neil Hodgson returning to America next season to replace Jake Zemke at American Honda along side veteran Miguel DuHamel. But with American Honda getting an all new CBR1000RR prodction bike they will have to develop from scratch again without support from HRC of Japan, history has shown the bikes will not made competive in the American hondar race shop, anytime soon.
The one flash of hope on the bleak horrizon of roadracing in America, where attendace averages are down under 5,000 fans per race, is this statement last week from new AMA President / CEO Rob Dingman - "We are getting out of the racing series and event promotions business and we are activerly searching for series promoters for all race disciplines. In the future , we will continue to sanction events and provide operational staff to assist qualified series promotion groups in the growth of the sport."
With the AMA finally our of the way after half a century of failure, and American roadracing taken over by a for-profit owner like Dorna in MotoGP and FGSport in World Superbike, perhaps finally American roadracing can equal the stature of the sport in other areas of the world.
Saturday Qualifying
September 16th- Reigning AMA Superbike Champion Ben Spies has set pole for tomorrow's final round at Laguna Seca in California ahead of team mate Mat Mladin. The Yoshimura Suzuki rider, who trails the six-time champion by three points in the series with one race remaining, lapped at 1:23.104 compared to Mladin's 1:23.410.
Texan Spies has won twice at the circuit in 2005 and 2006 compared to Australian Mladin's one victory in 2003.Third place on the grid is Honda's Jake Zemke with Aaron Yates (Suzuki) fourth.
Superbike Qualifying: 1 Ben Spies (Yoshimura Suzuki) 1:23.104, 2 Mat Mladin (Yoshimura Suzuki) 1:23.410, 3 Jake Zemke (Honda) 1:24.196, 4 Aaron Yates (Suzuki) 1:24.267, 5 Roger Hayden (Kawasaki) 1:24.389.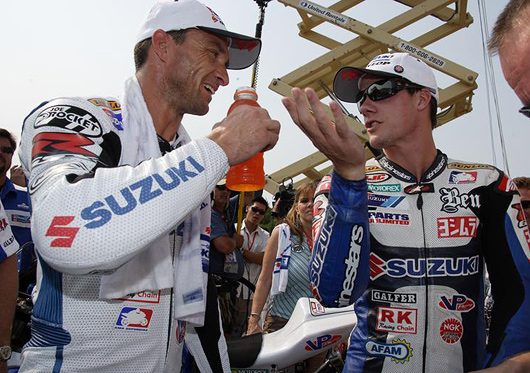 The two Yoshimura Suzuki teammates won every AMA Superbike race this year with very little challenge from any other team brand or rider.

Sunday Race
Sept 17th -Yoshimura Suzuki's Ben Spies has won the 2007 AMA Superbike Championship from team mate Mat Mladin at Sunday's final round at Laguna Seca in California as Suzuki GSX-R1000s swept the first three places - and dominated the entire series.
The Texan rider, defending his first title, beat the six-time champion after sitting behind the Australian for most of the 28-lap race, winning the title by just over two seconds after slowing on the final lap to celebrate to his fans. Spies, who went into the event three points behind Mladin, took the title just one point ahead - 652 to 651.Newly-crowned Spies' victory also belongs to the Yoshimura Suzuki GSX-R1000, which won all 19 AMA Superbike races this year - the first time a manufacturer has accomplished this feat.
Ben Spies: "We came into 2007 looking to win two championships - Superstock and Superbike - and I told myself I wouldn't be satisfied with anything less than that. We got the Superstock title in Atlanta and now we won the Superbike Championship. I'd like to thank Yoshimura Suzuki and my crew for working hard all year and for giving me a great bike to race in the GSX-R1000. With this win, I feel like a weight has been lifted off my shoulders. At the beginning of the race, I thought about the fact that we only had 45 minutes left in the season. I knew it was time to get it done."
Mat Mladin: "Ben was stronger all weekend and I knew it. He got a chance to get by me and I didn't so much as pass him back as get sucked in. I had a few problems with lappers and Ben had put his head down. I did everything I could but in the end we just weren't fast enough today. Now I'm looking forward to the off-season to try and pick up my pace a little more and see if we can give it another shot next year."
Aaron Yates: "I got a decent start on the Jordan Suzuki GSX-R1000 but Mat and Ben were already pulling away. We've been struggling all weekend in the first six-to-eight laps. It takes a little while to get the bike to work like I need it. But then I put my head down and the bike was getting better and I was able to get into third place and bring it home."
Superbike Race Results Sunday
1. Ben Spies (Suzuki)
2. Mat Mladin (Suzuki)
3. Aaron Yates (Suzuki)
4. Jake Zemke (Honda)
5. Eric Bostrom (Yamaha)
6. Tommy Hayden (Suzuki)
7. Jason DiSalvo (Yamaha)
8. James Ellison (Honda)
9. Jake Holden (Suzuki)
10. Matt Lynn (MV)
Final 2008 Superbike Point Standings
1. Ben Spies (Suzuki) 652
2. Mat Mladin (Suzuki) 651
3. Jake Zemke (Honda) 468
4. Aaron Yates (Suzuki) 465
5. Tommy Hayden (Suzuki) 454
6. Jamie hacking (Kawasaki) 403
7. Eric Bostrom (Yamaha) 362
8. Miguel Duhamel (Honda) 360
9. Jason DiSalvo (Yamaha) 359
10. Roger Hayden (Kawasaki) 344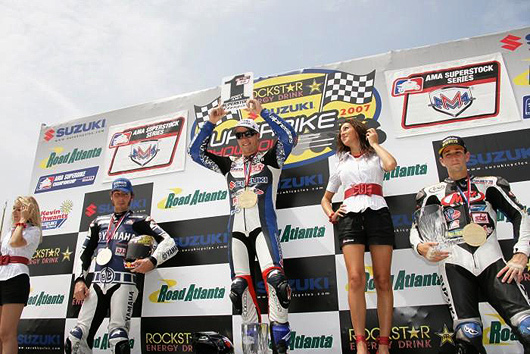 Spies also won the Supertock 1000 Finale at Laguna.
---
There's more! Go to Pit Lane News NEXT PAGE

Hot Calendar Girl and Bike News! Go to: Fast Dates • Calendar Girls • Iron & Lace

Calendar Kittens, The Paddock Garage, Screensavers, Iron & Lace Garage



Many of our Calendar Kittens can also be seen at Playboy's website...


BikerKiss.com - the largest biker personals site!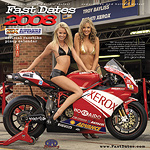 Now Available!
16-month Calendar starts Sept
2008 Fast Dates Calendar
---
The AMA to Get Out of Professional racing!
The one flash of hope on the bleak horrizon of roadracing in America, where attendace averages are down under 5,000 fans per race, is this statement last week from new AMA President / CEO Rob Dingman - "We are getting out of the racing series and event promotions business and we are activerly searching for series promoters for all race disciplines.. In the future, we will continue to sanction events and provide operational staff to assist qualified series promotion groups in the growth of the sport."
With the AMA finally out of the way after half a century of failure, and American roadracing taken over by a for-profit owner like Dorna in MotoGP and FGSport in World Superbike, perhaps finally American roadracing can grow to equal the stature of the sport in other areas of the world. - Editor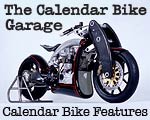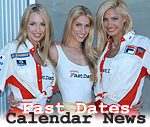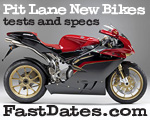 ---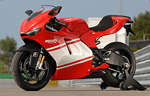 First Look!
Inside the new Ducati Desmosedici RR
Going into production next month for a lucky few!
20th Anniversary of Pro Italia Motorcycles featuring Cafe Desmo
Saturday September 22nd 11am-4pm
• See a real Ducati GP06 990cc race bike in current
Casey Stoner livery!
• Ducati new bike Demo Rides
• Summer Sidewalk sale
• Suspension Clinic • Former owner Earl is expected to attend
• Ducati Bike Show and Contest with awards

Pro Italia Motorcycles, 3319 North Verdugo Road, Glendale, CA91208 • www.ProItalia.com
FIM ANNOUNCES 2008 PROVISIONAL MotoGP CALENDAR
Sept 2nd - The FIM today announced amendments to the provisional calendar for the 2008 MotoGP World Championship. The events in Portugal and Valencia will be held a week earlier than originally scheduled, whilst Japan and Australia exchange their dates:
Date Grand Prix Circuit
March 9th Qatar Losail
March 30th Spain Jerez de la Frontera
April 13th Portugal Estoril
May 4th China Shanghai
May 18th France Le Mans
June 1st Italy Mugello
June 8th Catalunya Catalunya
June 22nd Great Britain Donington Park
June 28th Netherlands Assen
July 13th Germany Sachsenring
July 20th United States* Laguna Seca
August 17th Czech Republic Brno
August 31st San Marino & Riviera di Rimini Misano
September 14th Indianapolis Indianapolis
September 28th Japan Motegi
October 5th Australia Phillip Island
October 19th Malaysia Sepang
October 26th Valencia Ricardo Tormo - Valencia
* Only MotoGP class
** Saturday race
Suzuki Wins the 2007 World Endurance Championship after finishing second at the Bol d'Or 24 Hour race at Magny Cours in France.
Sept 16th - Defending Champions Suzuki Endurance Racing Team - Vincent Philippe, Matthieu Lagrive and Julien da Costa - recovered from a crash five hours into the penultimate and fifth round, which put them down in 40th position, to fight back into second place behind race winners Yamaha GMT 94 as the GSX-R1000 riders' closest championship rivals Kawasaki France retired during the night.
SERT's second team of William Costes, Guillame Dietrich, Max Neukirchner and Stephane Duterne - winners of the opening round at Le Mans in April - raced to third position after recovering from a crash during the final quarter of the race.
The World Champions led from the start from SERT 2 until just before the five-hour mark when da Costa crashed. SERT 2 led throughout the night and battled with Yamaha GMT 94 on the same lap and just 2.4 seconds adrift. The Yamaha team took the lead when Suzuki pitted and then crashed shortly afterwards.
By this time the GSX-R1000 of Philippe, Lagrive and da Costa was back into a championship-winning position of second, where they remained until the flag at 1500 hrs local time.
Provisional Results:
s 1 Yamaha GMT 94 (Yamaha) 801 laps,
2 SERT 1 (Suzuki GSX-R1000) 794,
3 SERT 2 (Suzuki GSX-R1000) 791,
4 Phase One Endurance (Yamaha) 789,
5 Acropolis Moto Expert (Yamaha) 782,
6 National Motos (Honda) 779, 7 Endurance Moto 38 Yamaha (Yamaha) 772,
8 Junior Team Suzuki LMS (Suzuki GSX-R1000) 771,
9 Igol Team 18 Sapeurs Pompiers (Suzuki GSX-R1000) 769,
10 Igol AM Moto Racing Competition (Suzuki GSX-R1000) 768
A Difficult Day for Kawasaki at Estoril MotoGP
The Portuguese Grand Prix proved a difficult event for Kawasaki's Anthony West and Randy de Puniet today, after a weekend of mixed fortunes for the squad.
West, starting from 16th on the grid, got off to a spectacular start, crossing the line in tenth at the end of lap one and going up to ninth by lap two. Soon after, however, the Australian lost momentum after losing confidence in the front grip and began to slide back down the field, eventually finishing the race in 12th position.
West's feedback, together with input from test and development rider, Olivier Jacque who watched the race from trackside, will be used by West, his crew and Kawasaki's engineers as they work together to improve the Australian's performance over the next four races.
"We have a good engine, which allows us to maintain good contact with other riders down the straights, but when tyres start to wear, it's difficult for Randy and Anthony to maintain their lines," explained Jacque. "This means we must work with our chassis and the electronics on the bikes, so that the riders don't have to push the rear so much, which increases tyre wear and causes the bike to start sliding. It's very helpful for us all to work together on this project and I've no doubt we are progressing all the time. It's just been a difficult weekend. "
The day started well for West's team leader, de Puniet, when he raced around the 4.182km circuit at speeds of up to 314.754kmh during the morning warm up, finishing the session in second place, just 0.225 seconds behind current championship leader, Casey Stoner. However, a rare mechanical problem took him out of the race on lap 20: a huge disappointment for the fast Frenchman after early promise had seen him steadily make his way through the pack.
The feeling in the team is understandably low but, with considerable and well-founded faith in both the Ninja ZX-RR and Bridgestone tyres, they look forward to the Japanese Grand Prix at Motegi next week, when wild card rider, Akira Yanagawa, will join de Puniet and West for the 15th round of the championship.
Neil Hodgson signs with American Honda in the AMA Superbike Championship.
Sept 6th - The news was first reported in England's Motorcycle News, who said Neil Hodgson had a two-year contract to race in AMA Superbike.
American Honda's Jake Zemke said last weekend that he didn't have an offer from American Honda and hadn't been invited to the Honda dealer show on Sept 5th. dealer show. Miguel Duhamel, who wasn't at Road Atlanta, was invited to the dealer show and expects to be on a Honda in 2008.
American Honda's lead superbike rider Miguel Duhamel said, "Odds are in favor of me in being on Honda bike in '08. For sure I'd rather stay on Honda."
Erion Honda's Josh Hayes was also invited to the dealer show, but that could be because he recently won his second consecutive Formula Xtreme championship. Asked about his future at Road Atlanta, Hayes said, "You know, I still don't know the answer to that question," he said. "Nobody's really talking, I promise I'll tell you guys as soon as I hear something. But nobody's even mentioned anything to me about riding next year. So I'm just waiting for somebody to say, hey, you want to ride this bike. And right now I'll take just about anything. I want to race."
Hodgson will be making a return to AMA racing after a year's hiatus. When Ducati Corse pulled the plug on the Parts Unlimited Ducati team, at the end of the 2006 season, Hodgson was left without a ride. This year most of his seat time has been spent testing tires for Bridgestone on both the Ducati 999 F07 Superbike and Desmosedici GP7. His lone road race came at Mazda Raceway Laguna Seca during the Red Bull U.S. Grand Prix weekend. Hodgson rode a Corona Honda CBR1000RR developed by the R&D team at American Honda to fifth place, one spot behind Duhamel.
Neil is known as an excellent development rider and those skills will certainly be called on with the arrival of Honda's new 1000. The bike will be shown in tightly controlled conditions at the dealer show, according to someone who was invited. And with the machine not expected to be ready for a fall test at Daytona, the team will have a limited amount of time for development. The easiest way to upgrade the machine would be by purchasing parts from Honda Racing Corporation (HRC). But, with motorcycle sales sliding, the race team budget is expected to be severely slashed.
If you remember, the team moved from the hyperexpensive HRC race bikes and kit parts to doing their own development on the current CBR1000RR several years ago and it never proved to be fully successful. While in World Superbike the private Ten Kate Honda team was able to make the bike a winner right out of the box.
The target is the dominant Yoshimura Suzukis, which won every race this year and all but one of last year's races. Anyone who expects to take them on is going to have to bring their 'A' game, and that doesn't come cheap
DUCATI CORSE SIGNS MICHEL FABRIZIO FOR 2008 WORLD SUPERBIKE SEASON
Bologna (Italy), Monday 10 September 2007 : Ducati Corse wishes to announce that it has signed the young Italian rider, Michel Fabrizio, to compete in the 2008 World Superbike Championship season in the factory Ducati Xerox Team alongside Australian Troy Bayliss.
Rome-born Michel Fabrizio, who turns 23 next week on September 17th, has joined the team on a one-year contract and his first race for Ducati Xerox will be the opening round of the 2008 championship.
"I am really happy!" declared Michel. "I hope I will give a good impression of myself within the team and I also hope I can enter the hearts of all the Ducatisti throughout the world. The decision came about while I was on holiday in August. I received a telephone call from Davide Tardozzi, who said there was a possibility of racing for Ducati, and that was a great satisfaction for me. It's a big commitment, we will have the new bike and I'm going to have to work really hard. I know we have 12 days of testing available and I've got to make the most of them, because I immediately have to get to know the new bike and start to gel with my new team. My first appearance will for sure be after October 30th, when my contract with Honda comes to an end, so that means in the scheduled tests in November. My team-mate Troy Bayliss is the only thing that I'm not worried about because Troy is a great person and a great rider, so I think I can learn a lot from him. I can't wait to start this new adventure!".
Michel began racing in 1999 at the age of 15 in the Honda Trophy events and was already on the podium after two races. The next couple of years saw Michel emerge with a series of wins and titles in the Coppa Italia (2000) and Challenge Aprilia, Supercampione and Sport Production (2001). In 2002 he arrived on the world scene when he was given a ride on a Gilera in 125 GP but results were disappointing. Alstare Racing then offered Fabrizio the chance to race in the European Superstock category and the Roman repaid the faith in him by winning the title in 2003 at the age of 19. In 2004 Michel was again back in the World Road-Racing Championships, but this time on the WCM machine in MotoGP. The next year Fabrizio scored a few good results in World Supersport with a Team Megabike Honda and this was followed in 2006 by a move up to World Superbike with a Honda for the DFX Corse team, where he is currently competing. Michel's best results in World Superbike have been a second and a third at Brno in 2006, a third at Assen and another third place at Brno this year.
Ducati Corse Superbike Project Leader, Davide Tardozzi, added: "We'd like to give a warm welcome to Michel who is a talented young rider and who in our opinion has not yet expressed all of his considerable potential. 2008 will surely be an important season for him, seeing as for the first time he is part of a factory team. All of us here in Ducati Corse would like to thank Lorenzo Lanzi for the commitment he has demonstrated in these years, and for the popularity he has been able to create with all the many Ducati tifosi".
Toseland Looses Ground
at Lausitzring
With 2 Rounds Remaining
James Toseland (Hannspree Ten Kate Honda CBR1000RR) battled as hard at Eurospeedway Lausitz as he ever has to win races in the 2007 series, but was rewarded with only a ninth and fourth place finish, and a reduced championship lead to boot. Despite losing ground to both his main championship rivals, he still leaves Germany with a healthy 41-point championship lead. Noriyuki Haga won the first race and Troy Bayliss the second.
In the championship Toseland now has 375 points, Haga 334, Max Biaggi 322 and Bayliss 296. In the Manufacturers' Championship, Honda has a five-point advantage, with four races and two rounds still to go.
25 points are awarded for a race win, with 4 races remaining in the 2 final rounds.
In the first race, second row qualifier Toseland was in trouble from the start, with a mystery lack of rear traction throughout, leading to a reduction of forward push that caused him to drop from the leading bunch to ninth. He was passed on the very last lap by Lorenzo Lanzi; finding himself unable to do anything about it.
Top Honda finisher in race one was thus Roberto Rolfo (Hannspree Ten Kate Honda CBR1000RR) in fifth, with next best rider being Karl Muggeridge (Alto Evolution Honda CBR1000RR) who took tenth place. Rookie rider in his first SBK race, Yoann Tiberio (Alto Evolution Honda CBR1000RR) scored one point for finishing 15th.
Michel Fabrizio (DFX Corse Honda CBR1000RR) crashed and had to pull out of race one while in a top position, while his teammate Luca Morelli (DFX Corse Honda CBR1000RR) also failed to finish.
In race two, Toseland was in the leading group at the start once more but although not able to compete for the podium places, he fended off the close attentions of Troy Corser to secure fourth place, and more valuable points to take into the final rounds.
Rolfo was seventh in race two, Muggeridge again tenth, with a tiring Fabrizio 13th, and Tiberio 18th. A second technical issue, on lap eight of the second race, forced Morelli out.
For Toseland the story of his day was clear - sheer bad luck. The fact that he had to swap to his second bike to eradicate the mere possibility there was a problem with his first machine was not an ideal way to finish a race weekend as important as this one.
James Toseland - "A tough day at the office today," said the championship leader. "I have worked so hard to get the advantage I took away from Brands Hatch that to be riding round in ninth in race one does not do me or this team justice. The second race was just normal by comparison, but because things were so bad with traction in the first race we had to swap to my spare bike because we didn't know what was happening with the lack of grip in race one. We set the second bike the same as the first one was in race two - and it was two or more seconds a lap quicker. But the bikes were the same, so it was nothing mechanical in race one. If I had a third and a fourth today, which was more than possible, then I would have left here without too much of an indentation in my championship lead. It could have been worse, but after a double win at Brands Hatch I shouldn't have been worrying about my lead being cut here."


NEW! FastDates.com
Cell Phone Wallpapers!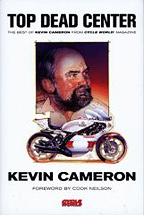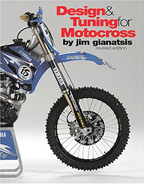 Design & Tuning
for Motocross
The ultimate book on motocross bike technology & performance
by Jim Gianatsis
MotoGP video content available on YouTube
Sept 1st - MotoGP commercial rights holders Dorna Sports S.L. today announced that they are making World Championship motorcycle racing content available on YouTube by launching a branded Channel on the popular video-sharing site. (www.youtube.com/motogp)
The dedicated MotoGP Channel features video highlights, action clips and feature programs such as the ever-popular 'After the Flag'. The Channel also gives YouTube users worldwide the ability to not only view MotoGP clips but also to rate them, recommend them to friends and post their own video responses to communicate with other MotoGP fans.
The new branded Channel will also include links to the official MotoGP website (http://www.motogp.com)
YouTube is the world's most popular online video community to discover, watch and share originally created content.
MotoGP already has a huge presence on the world wide web, courtesy of official website motogp.com. The agreement with YouTube means that more video content can be found at www.youtube.com/motogp