A Yamaha triumvirant at LeMans with Rossi, Lorenzo (forced to sit with 2 broken ankles), and Edwards.

MotoGP World Championship, Alice Grand Prix de Round 5 of 18
Valentino Rossi Turns 90 at LeMans MotoGP
with a Lorenzo and Edwards Podium Sweep for Yamaha
Alice Grand Prix de France - May 16-18th - Valentino Rossi took a runaway triumph at the Alice Grand Prix de France on Sunday, equalling Angel Nieto´s record of 90 Grand Prix wins with a superb solo run. In a selfless display, Rossi shared the limelight with the MotoGP Legend, asking Nieto to take him on a parade lap onboard the Yamaha M1. Aside from equalling the historic milestone, the win also allowed the five-time MotoGP World Champion to assume the leadership of the overall standings for the first time this season.
Whilst second row starter Rossi had broken away from the pack early, the battle for the podium was closely contested right up to the line. The Italian´s Fiat Yamaha teammate Jorge Lorenzo once again took his share of the limelight, bursting through the field to take second place in spite of a catalogue of injuries which included both broken ankles suffered 2 weeks before at Sepang .His latest rostrum means that he is now the highest rookie point scorer in history from an opening five races, overtaking hero Max Biaggi.
Completing the all-Yamaha podium, Tech 3 rider Colin Edwards took another rostrum finish not quite in line with his predictions of victory, but nonetheless a fantastic achievement for the newly consistent American.
Poleman Dani Pedrosa relinquished his lead of the World Championship with fourth place, having attempted to lead the race from the front. Some hard moves from both Lorenzo and Edwards at the end of the Le Mans battle left the Repsol Honda rider off the podium for the first time in 2008.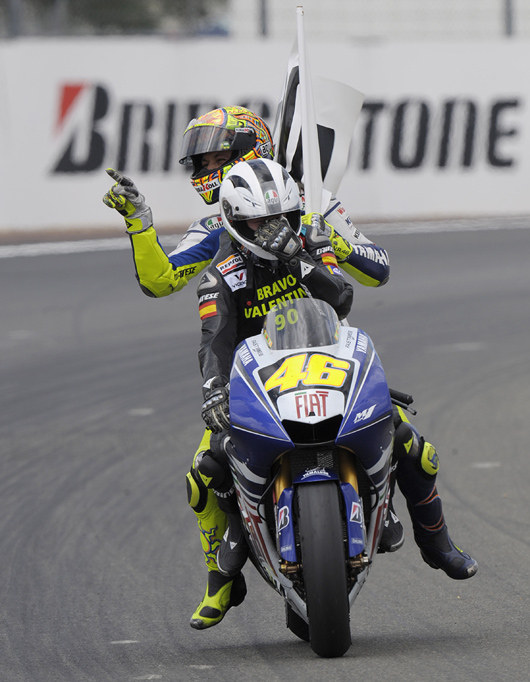 Rossi takes the parade lap with former 90 GP win record holder Angel Nieto at the controls of Rossi's M1. Imagine the friendship and confinence required to bring Nieto to the LeMans race, with custom made commerative leathers, tohelp ceebrate Valentino possibly breaking his record!
Preview: Alice Grand Prix de France
After trips to Qatar, Spain, Portugal and China, the MotoGP World Championship is set for its fifth round, the Alice Grand Prix de France, which takes place on May 18th at the historic Le Mans circuit.
The top three riders in the premier class - current series leader Dani Pedrosa, Fiat Yamaha rookie Jorge Lorenzo and his teammate the five-time MotoGP World Champion Valentino Rossi - are separated by just 9 points with a win apiece so far this year. The MotoGP category has seen four winners from as many races, with 2007 World Champion Casey Stoner having taken victory in Qatar, for only the second season since the switch to four-stroke machinery in 2002.
Repsol Honda rider Pedrosa has a respectable record at Le Mans, particularly in the lower cylinder categories. He won the French 125cc race in 2003, and also triumphed in the 2004 and 2005 250cc events. Since arriving in MotoGP he has placed third and fourth respectively at the track, last year answering critics that had cast doubts about his ability to ride in the wet. A podium at this latest round would continue his 100% record of rostrum finishes in 2008, the Spaniard the only rider to do so.
Lorenzo trails his rival by seven points, ending his own perfect podium run in China with fourth place. The result itself doesn't tell the full story of the Fiat Yamaha rookie's weekend in Shanghai, as the reigning 250cc World Champion rode for almost the entire weekend with multiple ankle fractures courtesy of a huge Friday highside. Whilst his less than 100% fitness obviously casts doubt as to his participation in Le Mans, few would be expecting the gutsy debutant to miss out on another opportunity to take the leadership of the World Championship.
Of the four riders in with a chance of leading the series upon departure from France, only third placed Rossi has tasted victory in a premier class Le Mans race. The Italian was triumphant in the 2002 and 2005 Grands Prix, but has spent the past two seasons outside the podium spots. He ended his longest MotoGP win drought since his maiden victory with a vintage display in Shanghai, taking maximum points for the first time since switching to Bridgestone tyres for 2008.
Stoner lies in fourth in the overall classification, returning to the podium in Shanghai after two races outside the rostrum positions. The Ducati Marlboro rider is hungry to return to winning ways and, like Pedrosa, holds a fourth place and third place in his two previous French visits as a MotoGP rider.
Behind the top four, Rizla Suzuki veteran Loris Capirossi is tied with rookie James Toseland on 33 points, with the latter set for an important race at another unknown track. The Tech 3 Yamaha team have strong links to France, particularly through Team Principal Herve Poncharal. This year the French connection for the outfit is even stronger, with their switch in tyre manufacturers to Michelin.
The man who ended Jorge Lorenzo's perfect run of pole positions, Colin Edwards is also representing Tech 3 Yamaha on their home soil, he heads Repsol Honda's Nicky Hayden, MotoGP rookie Andrea Dovizioso and Kawasaki star John Hopkins in the top ten. Last year´s winner of the wet Le Mans race, Rizla Suzuki's Chris Vermeulen, currently lies in fourteenth place.
Pedrosa Tops First Day Practice at Le Mans
Alice Grand Prix de France - Day 1, Friday May 16th - Fastest in both the morning and afternoon MotoGP sessions in Le Mans, Dani Pedrosa holds the early advantage ahead of the Alice Grand Prix de France. The Repsol Honda rider and current leader of the MotoGP World Championship recorded a 1´34.227 lap of the newly-modified circuit to end the day one step ahead of his premier class rivals.
He did so in the afternoon run by the slimmest of margins, less than five-hundredths of a second ahead of reigning MotoGP World Champion Casey Stoner. Only a further eleven-thousandths of a second down was 2007 poleman Colin Edwards, who rounded off one of the closest top threes that one is likely to see.
Only slightly slower than the top trio, Jorge Lorenzo was once again injured and once again in fourth place. The Spaniard is in better condition than he was two weeks ago in Shanghai, although a late run-off problem and some still-tender ankles meant that the Fiat Yamaha rookie´s last action of the day involved being stretchered back to his garage.
Last year´s race winner in the wet, Chris Vermeulen proved himself equally adept under dry conditions at Le Mans, coming in fifth at only four-tenths of a second slower than Pedrosa. His presence made it four different manufacturers and five different teams in the top fistful of riders.
Valentino Rossi was the sole rider unable to improve on his morning time in the afternoon, finishing sixth overall, ahead of San Carlo Honda Gresini´s Shinya Nakano, home rider Randy de Puniet, Kawasaki man John Hopkins and MotoGP rookie Alex de Angelis on day one.
Pedrosa takes tenth MotoGP pole with late Le Mans charge
Day 2, Saturday May 17th - MotoGP World Championship leader Dani Pedrosa will start tomorrow´s Alice Grand Prix de France from pole position, his tenth in the premier class. The Spaniard performed his customary late charge to take his Repsol Honda to the top marker on the grid, edging out 2007 poleman Colin Edwards with a 1´32.647 lap of the Le Mans circuit.
Edwards had looked on course for a repeat of last year´s qualifying performance, laying down his fast time immediately upon changing up to the stickiest Michelin rubber. Whilst last year he sank down the field in the wet, with a defined race setting and confidence on a high he will be hoping for a good performance and a first GP victory tomorrow.
The `Texas Tornado´ has been on the front row for four of the five races this season, including pole position in China. He was on a final hot lap for a second consecutive pole when he was baulked by Ducati Marlboro´s Marco Melandri, whose teammate Casey Stoner will join the Tech 3 Yamaha veteran on the front line.
Pedrosa, Stoner and Valentino Rossi, who was fourth fastest in the session, were all made to sit up on the newly-configured Garage Vert corner. Such mistakes were few and far between, as they all showed high competitiveness on their respective race and qualifying tyres as part of a top four separated by just half a second.
Experiencing further run-offs was fifth placed Fiat Yamaha rider Jorge Lorenzo, who crashed in the morning practice and experienced several off-track excursions whilst looking for a fourth MotoGP pole position. The last such diversion left him having to turn the factory M1 around by himself, standing on his still-tender ankles. Lorenzo still leads the BMW M Award for combined qualifying results on 99 points, trailed by Edwards and Pedrosa.
2006 World Champion Nicky Hayden salvaged a second row start with which to attempt to move his way up amongst the frontrunners, whilst James Toseland heads row three on a new track for the Briton, ahead of Rizla Suzuki´s 2007 Le Mans racewinner Chris Vermeulen and Kawasaki´s John Hopkins will join the Yamaha Tech3 rider.
Valentino Rossi 4th 1'33.157 - "Today everything seemed to go very well and I was quite confident; I thought that with the last qualifying tyre I could do 1'32.9 or even 8 and be on the front row, but at the end we had a small problem and couldn't manage this. Of course the first row is always better but with the race tyres we are in good shape, with a strong rhythm and a great set-up. Tomorrow I will look to make a good start, try to get to the front immediately and then try to stay there with the other fast riders. As I said, our race pace is fine but there are four or five other riders with a similar fast pace so it's going to be a very interesting race tomorrow! My target is to be on the podium so now we're hoping for another dry day and then we will do our very best to be there."
Jorge Lorenzo 5th 1'33.269 - "This is a very difficult time and I have a lot of pain in all of my body, but I want to keep going and I think fifth place is a very good position for me today. Of course I know it's a risk for me, but this sport always has some danger and I don't think about this. Today was hard and my crash this morning didn't help, but I didn't make anything worse and I was able to ride this afternoon and to try hard with my qualifying tyres. We need to improve the bike more for this track, especially the electronics and the chassis, but I know that we can be better tomorrow and I am sure that my physical condition will be better as well. Neither our bike nor my mental or physical condition is perfect here and my rhythm is not as good as at the other races, but of course I still want to try to be in front and this is why I have made some mistakes today. It's not the end of the world however, I've been in worse situations in the past and I won't panic. Tomorrow is another day and, although today I was lacking some confidence, I know I will feel better in myself tomorrow and that I will be able to try to take some points."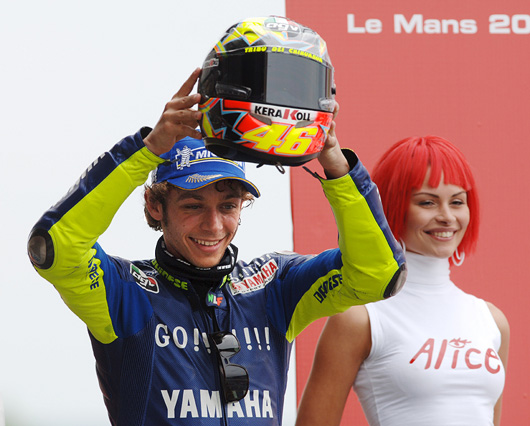 Rossi Scoes his 90th GP victory in runaway Yamaha trium at Le Mans ph
Alice Grand Prix de France - May 18th, Race Day - With unsettled weather again the major factor it proved to be in the 125cc and 250cc races, this 28-lap race got underway in sunshine with rain clouds lurking in the skies. Casey Stoner (Ducati) rocketed into the lead at turn one with Dani and Edwards hot in his tracks.
As early as lap three a front foursome of Stoner, Dani, Edwards and Rossi had established some distance between themselves and the pack, and only Lorenzo of the pursuers, would have the pace to get among them in the closing stages. On lap four Dani was eager to get past Stoner and tried a move up the inside of the Aussie at the Musée corner. He hit trouble mid-move and ran wide on the exit dropping back to third spot with Rossi moving up to second.
Dani was working hard to get back on terms with Rossi and moved up the inside of the former World Champion on the front straight before dropping in behind again as Rossi leaned on his rival on the entry to the chicane. This would be Dani's best effort to stay with the race winner.
Rossi wheelies away from Stoner and Pedrosa.
Rossi now had the measure of Stoner and on lap seven he made his move, the Aussie fighting back to retake the lead before Rossi hammered home his advantage on lap eight, establishing a one second lead in the space of two laps and never looking remotely threatened after that.
Dani worked his way back to second past Stoner on lap 11 as Rossi set a series of fastest laps stretching his advantage to nearly three seconds by mid-race distance. Lorenzo was lying fifth at this point as Nicky Hayden (Repsol Honda RC212V) ran off track while seventh in his unstinting efforts to haul himself into contention.
Rain began to fall at the start of lap 16, and although white flags were deployed to allow riders into the pits for a machine change if they wished, all stayed out in the tricky conditions save the struggling Marco Melandri (Ducati) who gambled on further rain by swapping bikes for a wet-tyre shod version (unsuccessfully as it turned out).
Rossi was now away in the distance and as Lorenzo edged past Edwards for fourth, Dani's second place was now in jeopardy to his countryman who was on a late race charge. On lap 21 Lorenzo moved past Stoner on the pits straight, the Aussie throwing up his left hand to indicate machine trouble. Stoner limped round for another lap trying to get to the pits to change bike, but as he footed into pitlane on his stricken Ducati, it was clear his race was as good as over. He finished 16th, out of the points, after rejoining the race on his number two bike.
As Lorenzo stole past Dani for second, Rossi held a seven second lead that he extended to more than ten seconds before easing off the gas in the closing stages to take the flag. Edwards had taken Dani's third place off him to complete an all-Yamaha podium.
On lap fifteen the activity picked up in pit lane, as the white flags shown on trackside provoked the uncovering of the second bikes. The option was open for the premier class riders to make a switch, but few took up the offer. Last year´s race winner Chris Vermeulen elected to stay out, and trailed Pedrosa for fifth, ahead of Andrea Dovizioso, Loris Capirossi and Nicky Hayden.
Shinya Nakano and home rider Randy de Puniet completed the top ten on their respective San Carlo Honda Gresini and LCR Honda satellite RC212Vs, whilst there was a crash for Tech 3 Yamaha´s James Toseland and a broken chain for Kawasaki man John Hopkins.
An otherwise positive weekend for Casey Stoner at Le Mans ended on a negative note today as his unbroken run of 22 points-scoring finishes came to an end as he finished in last place. The Australian had lead the opening laps and been fighting for the podium until the twentieth lap when the Ducati Desmosedici GP8 engine suddenly lost power, and he had to push the bike into the pits to switch machines after it broke down.
Stoner had battled through his problems to stay in the podium fight but on the 21st lap the engine of his Ducati also ran into difficulty and forced him to return to the pits. With the white flags having been shown to indicate a wet race, Stoner was able to take his second bike and return to the race on rain tyres - eventually crossing the line in 16th place, missing the points for the first time with Ducati.
The Australian had produced another top performance in the race as he was forced to ride around an unfortunate lack of grip from one side of his front tyre - possibly due to the slight change in track conditions caused by a wet morning warm-up - on the back of another impressive display during practice.
His teammate Marco Melandri was the only other rider to change bikes during the race, which was allowed under mild rain conditions encountered during the mid point of the race, if a rider wanted to change to rain tires on his spare bike.
Valentino Rossi – Race Winner - "90 victories is fantastic. It´s fantastic to catch a rider like Angel Nieto. It was a great race; I didn't expect to be so fast, but we modified some things this morning and we were faster in the dry. Then it started to rain and I tried to ride very sweetly. We had enough grip to continue and now we are waiting for Mugello."
Results MotoGP: Race Classification MotoGP : (28 laps = 117.18 km)
Pos/ Rider / Nat / Team / Motorcycle / Time/ KM/H / Gap
1 / Valentino ROSSI / ITA / Fiat Yamaha Team / YAMAHA / 44'30.799 / 157.948 /
2 / Jorge LORENZO / SPA / Fiat Yamaha Team / YAMAHA / 44'35.796 / 157.653 / 4.997
3 / Colin EDWARDS / USA / Tech 3 Yamaha / YAMAHA / 44'37.604 / 157.546 / 6.805
4 / Dani PEDROSA / SPA / Repsol Honda Team / HONDA / 44'40.956 / 157.349 / 10.157
5 / Chris VERMEULEN / AUS / Rizla Suzuki MotoGP / SUZUKI / 44'52.561 / 156.671 / 21.762
6 / Andrea DOVIZIOSO / ITA / JiR Team Scot MotoGP / HONDA / 44'53.194 / 156.634 / 22.395
7 / Loris CAPIROSSI / ITA / Rizla Suzuki MotoGP / SUZUKI / 44'58.605 / 156.320 / 27.806
8 / Nicky HAYDEN / USA / Repsol Honda Team / HONDA / 44'58.794 / 156.309 / 27.995
9 / Randy DE PUNIET / FRA / LCR Honda MotoGP / HONDA / 45'00.143 / 156.231 / 29.344
10 / Shinya NAKANO / JPN / San Carlo Honda Gresini / HONDA / 45'01.621 / 156.146 / 30.822
11 / Toni ELIAS / SPA / Alice Team / DUCATI / 45'05.953 / 155.896 / 35.154
12 / Alex DE ANGELIS / RSM / San Carlo Honda Gresini / HONDA / 45'07.015 / 155.835 / 36.216
13 / Sylvain GUINTOLI / FRA / Alice Team / DUCATI / 45'22.837 / 154.929 / 52.038
14 / Anthony WEST / AUS / Kawasaki Racing Team / KAWASAKI / 46'00.106 / 152.837 / 1'29.307
15 / Marco MELANDRI / ITA / Ducati Marlboro Team / DUCATI / 46'10.422 / 146.830 / 1 lap
Pole Position: Dani PEDROSA 1'32.647 162.617 Km/h
Fastest Lap (New record): Valentino ROSSI 1'34.215 159.910 Km/h Lap 11
Circuit Record Lap: New circuit
Circuit Best Lap: Dani PEDROSA 1'32.647 162.617 Km/h 2008
World Championship Positions:
1 ROSSI 97, 2 LORENZO 94, 3 PEDROSA 94, 4 STONER 56, 5 EDWARDS 47,
6 CAPIROSSI 42, 7 HAYDEN 37, 8 DOVIZIOSO 36, 9 TOSELAND 33, 10 NAKANO 28,
11 HOPKINS 26, 12 VERMEULEN 25, 13 MELANDRI 24, 14 ELIAS 20, 15 DE PUNIET 18.
Rossi celebrates in the winners' impound with former 90 GP win record holder Angel Nieto. The translation: "Valentino the rider you want!"
250cc Vetern Alex Debon Wins His First GP Race after 112 Attempts!
Alice Grand Prix de France, May 18th - In his 112th World Championship race, Alex Debon finally achieved his maiden victory in Le Mans. A last-minute tyre gamble paid dividends for the veteran, as the Lotus Aprilia rider took his first World Championship victory in an inspired performance.
With the French track still wet from the deluge experienced during the 125cc race, poleman Debon elected to run a slick on his factory Aprilia machine. As the sun dried out the race, the Spaniard racked up circuit record after circuit record to take a huge lead, one that he maintained until crossing the chequered flag.
After 112 races, the popular veteran could finally step onto the top step of the podium. The remaining rostrum places were more closely contested, with Metis Gilera´s Marco Simoncelli once again pulling an aggressive final lap move. He took second, with the recipient of the manoeuvre Mattia Pasini completing the rostrum onboard his Polaris World Aprilia.
Unlucky to finish outside the top three, after leading the charge to catch up with Debon, JiR Team Scot´s Yuki Takahashi took fourth place. Mika Kallio held onto his World Championship lead with fifth, despite nearest rival Pasini´s podium finish. The top ten was completed by Manuel Poggiali, Hiroshi Aoyama, Julian Simon, Aleix Espargaro and Hector Faubel.
GP 250cc: (26 laps = 108.81 km)
Pos / Rider / Nat / Team / Motorcycle / Time / KM/H / Gap
1 / Alex DEBON / SPA / Lotus Aprilia / APRILIA / 47'27.406 / 137.569 /
2 / Marco SIMONCELLI / ITA / Metis Gilera / GILERA / 47'32.222 / 137.337 / 4.816
3 / Mattia PASINI / ITA / Polaris World / APRILIA / 47'32.404 / 137.328 / 4.998
4 / Yuki TAKAHASHI / JPN / JiR Team Scot 250 / HONDA / 47'33.176 / 137.291 / 5.770
5 / Mika KALLIO / FIN / Red Bull KTM 250 / KTM / 47'33.603 / 137.270 / 6.197
6 / Manuel POGGIALI / RSM / Campetella Racing / GILERA / 47'33.880 / 137.257 / 6.474
7 / Hiroshi AOYAMA / JPN / Red Bull KTM 250 / KTM / 47'42.315 / 136.852 / 14.909
8 / Julian SIMON / SPA / Repsol KTM 250cc / KTM / 47'44.932 / 136.727 / 17.526
9 / Aleix ESPARGARO / SPA / Lotus Aprilia / APRILIA / 48'00.331 / 135.996 / 32.925
10 / Hector FAUBEL / SPA / Mapfre Aspar Team / APRILIA / 48'04.125 / 135.817 / 36.719
11 / Thomas LUTHI / SWI / Emmi - Caffe Latte / APRILIA / 48'16.374 / 135.243 / 48.968
12 / Hector BARBERA / SPA / Team Toth Aprilia / APRILIA / 48'24.243 / 134.877 / 56.837
13 / Roberto LOCATELLI / ITA / Metis Gilera / GILERA / 48'25.233 / 134.831 / 57.827
14 / Alvaro BAUTISTA / SPA / Mapfre Aspar Team / APRILIA / 48'32.813 / 134.480 / 1'05.407
15 / Ratthapark WILAIROT / THA / Thai Honda PTT SAG / HONDA / 48'51.742 / 133.612 / 1'24.336
Pole Position: Alex DEBON 1'38.478 152.988 Km/h
Fastest Lap (New record): Marco SIMONCELLI 1'39.666 151.164 Km/h Lap 26
Circuit Record Lap: New circuit
Circuit Best Lap: Alex DEBON 1'38.478 152.988 Km/h 2008
World Championship Positions:
1 KALLIO 93, 2 PASINI 77, 3 DEBON 59, 4 TAKAHASHI 59, 5 SIMONCELLI 53,
6 AOYAMA 53, 7 BARBERA 53, 8 BAUTISTA 41, 9 ESPARGARO 33, 10 SIMON 31,
11 FAUBEL 25, 12 LOCATELLI 24, 13 LUTHI 19, 14 WILAIROT 19, 15 POGGIALI 12.
---
World Superbike Returns to America this Month!
Fast Dates Calendar Kittens Team Up with Alstare Suzuki and Monza Race Winner Max Neukircher at Miller Motorsports SBK Race
May 1st 2008 - This month's May page in the 2008 Fast Dates Calendar has us getting ready for the return of World Superbike to America this month at Miller Motorsports Park, UT, May 30-June 1st after a 3 year absence.
We are excited to announce that FastDates.com and producer/photographer Jim Gianatsis will be at Miller for the World Superbike round this month to shoot the next edition of the SBK Fast Dates World Superbike Calendar with all the top factory World and AMA Superbike race team bikes. Our selected models for the Caendar shoot will be beautiful Salt Lake City based professional models Keisa Finley and Michelle Barrett from the Wilhelmia agency Urban Talent.
And then on race day Sunday June 1st, both Ashley and Michelle along with another hot model we scouted from Urban Talent, Ashley Nicholas , will serve as the official Alstare Suzuki grid girls for team riders Max Neukirchner, Yukio Kagayama and Fonsi Nieto. So look for our girls on the starting line in the world TV broadcast of the SBK World Superbike races from Miller Motorsports park, and in the 2010 SBK Fast Dates Calendar to be release just 13 months from now.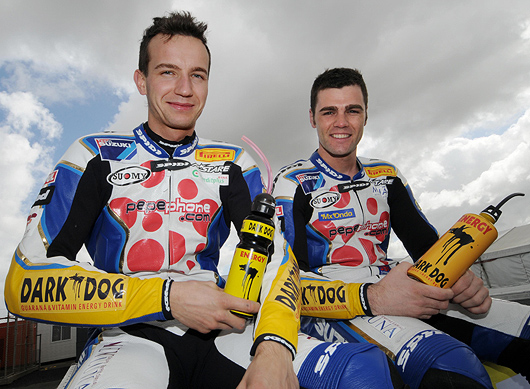 Whay are Alstare Suzuki's Max Neukirchner and Fonzie Nieto smiling? They just found out they'll be receiving
Fast Dates Calendar Kitten pampering at the Miller Motorsports USA World Superbike round!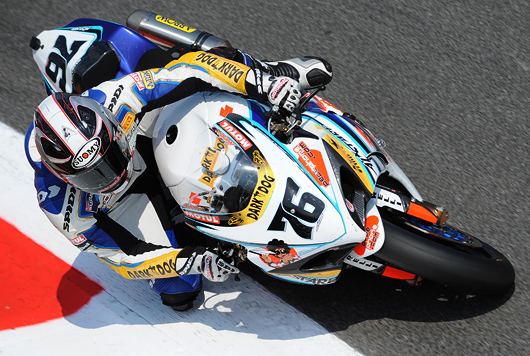 Alstare Suzuki's Max Neukirchner
SBK Hannspree FIM World Superbike Championship, Monza Italy Round 5 of 15
The Axis Powers Dominate at the Citadel of Speed
Neukirchner Scores First German Superbike Win with Suzuki
at Monza, Haga Wins Race 2 for Italian Yamaha

Monza (Italy) Sunday May 10th May - Max Neukirchner (Alstare Suzuki) and Noriyuki Haga (Yamaha Motor Italia) shared the wins in the IDS Italian Round of the HANNspree FIM Superbike World Championship at the Autodromo Nazionale di Monza in front of a record crowd of 112,000 spectators.
Complete Race Covergae HERE
Security was tight in the Yamaha pits.
---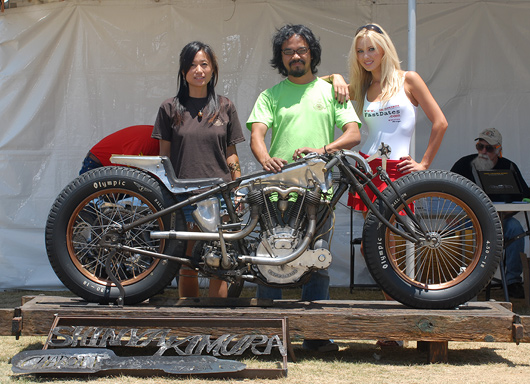 Calendar Kitten and Bike Show hostess Tiffany Toth with legendary Japanese builder Shinya Kimura and his wife, and Shinya's ancient Henderson V-tiwin powered retro racer which Tiffany poses with it the new 2009 Fast Dates and Iron & Lace Calendars which premier at this year's Show. Shinya took Best of Show in 2004, and one of his bikes is featured in the new movie Iron Man.

$86,000 in Cash and Awardsin the Calendar Bike Building Championship
for Custom & High Performance Street & Sportbikes
Performance Machine presents the
17th Annual 2008 LA Calendar Motorcycle Show Weekend
and Calendar Bike Building Championship
July 12-13th 2008, Queen Mary Event Park, Long Beach - The 17th annual Los Angeles Calendar Motorcycle Show Weekend presented by Performance Machine, America's premier custom, cruiser, performance and sportbike weekend returns to the Queen Mary Event Park in Long Beach on July 12-13th, 2008. Join 20,000 streetbike motorcycle and music enthusiasts for the world's most exciting 2-day motorcycle event weekend in the beautiful Queen Mary Event Park on the grass alongside the Pacific Ocean! This is the world's premier motorcycle show weekend featuring 200 major motorcycle and parts manufacturers, selected product and apparel venders.
The weekend features many of the world's top Pro and Amateur street bike builders in attendance to compete in the Performance Machine Calendar Show Bike Building Championship with a bulging purse of $86,000 in cash and awards*. There are 10 individual classes for American V-Twin and Metric Street Custom, Performance, Classic, Bobber, Chopper and Sportbike motorcycles.

The coveted Performance Machine Best of Show Trophy is awarded for the top overall bike at the Show and includes a $3,000 cash prize, an additional $7,000 in product awards bringing the total awards to $10,000 overall, plus the winning bike and builder receives an editorial bike feature in Iron Works magazine and the Iron & Lace Calendar photographed by Show producer Jim Gianatsis.
Performance Machine also offers is own trophy for the Best Performance Machine Equipped Bike with a $5,000 product award from Performance Machine products, Other favorite classes include the Iron Works magazine sponsored Radical Pro Builder, the Mikuni American HR Carburetor sponsored American V-Twin Performance, and the Fast Dates Calendar sponsored Sportbike Class.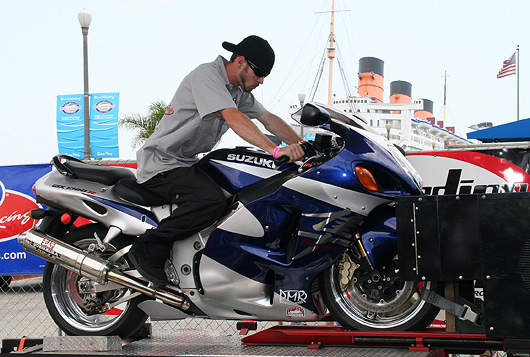 A modified Suzuki Hyabusa 1300 tackles the S&S Cycle World Record Dyno.
Join in the excitement of the Calendar Show's exclusive S&S Cycle World Championship Horsepower Dyno Shoot Out hosted by Kerry Bryant of Area P Exhaust Systems. World Record runs are open up to anyone, including the change to see just how strong your streetbike really is. Classes & Awards for all stock and modified American V-Twin and Metric Sportbikes.
Included with admission both days is the 2-Day Calendar Girl Music Festival with beautiful girl bands and singers including singer songwriters Kari Kimmel and actress Elizabeth Nicole, Taxi Doll, AC/DC Tribute rock band Whole Lotta Rosies, Lead Zeppelin tribute band Moby Chick, Reckless Driver, plus the sexy Purrfect Angelz dance shows.

The weekend is hosted by Playoy model Tiffany Toth and singer Kari Kimmel, with other FastDates.com Calendar Kittens including Carrie Ann Stroup for the annual world premier of the new 2009 FastDates.com Motorcycle Pin Up Calendars. Carrie will be in the Mikuni display throughout the weekend to offer her free Mikuni HSR Carburetor "Fantasies" poster.
Spectators also get complimentary weekend admission aboard the historic Queen Mary Ghost Ship, and entry to the Saturday Night Iron & Lace Calendar Builders Party with a live band in the ship's Observation Bar. Spectators arriving on motorcycles get security parking for just $5 right at the Show's Main Entrance. Should the Queen Mary's on site parking reach capacity, spectators arriving my car will be directed to park in the downtown Long Beach Parking Garages on Shoreline Drive with free Shuttle Busses or paid Taxi Boat rides available from Shoreline Village Marina direct to the Show.
Title and Associate Sponsorship support for the premier streetbike event weekend in America is provided by Performance Machine, Iron Works magazine, S&S Cycle, NOs Energy Drink, ReCycler.com, CycleTrader.com, Thunder Press and Quick Throttle event publications, Speed TV's American Thunder, Mikuni Carburetors, Meguiar's Car Care Products, and the FastDates.com Calendars.

For additional LA Calendar Motorcycle Show & Calendar Girl Music Festival weekend details including the show schedules, hotels and parking information visit www.FastDates.com.
Date and Time: July 12th Saturday 10am - 7pm, July 13th Sunday 10am - 6pm
Admission: $25 1-Day $35 2-Days, Children $10.
Location: The Queen Mary Event park, 1126 Queens Highway, Long Beach, CA 90802
Queen Mary Information & Reservations: Ph 562.435.3511
Event Website: http://www.FastDates.com/BIKESHOW.HTM
---

Reigning AMA Superbike Champion Ben Spies.
2008 AMA Superbike Championship, Infinion Raceway, CA, Round 4 0f 11
Spies bests teammate Mladin both Superbike races at Infinion
Sears Point, CA, May 16-18th - Rockstar Makita Yoshimura Suzuki's Ben Spies ended teammate Mat Mladin's perfect season start by claiming the pole and a pair of wins at Auto Club Speedway's doubleheader. Spies' come-from-behind, 0.011-second victory over Mladin in Sunday's race was a highlight of the 23-year-old Texan's rapidly developing career.
The two-time reigning AMA Superbike champ's big weekend tightened up the points chase as well, although Mladin is still firmly in control, leading his rival by 20 points, 178 vs. 158, heading into Sonoma.
Legendary Company

On Saturday at Auto Club Speedway, Spies tied multi-time Grand Prix world champion Freddie Spencer for third on the all-time list with his 17th career AMA Superbike pole. The following day he tied three-time AMA Superbike and two-time World Superbike champ Fred Merkel for third on the all-time list with his 20th career AMA Superbike race win.

Rockstar Makita Yoshimura Suzuki now boasts a remarkable 32-race win streak in the AMA Superbike class. The team further demonstrated its power by sweeping the podium in the past three races. Unfortunately, Tommy Hayden, who landed four straight Superbike third-place finishes, was injured in the Supersport race at Auto Club Speedway, suffering a dislocated left ankle and broken left tibia among other injuries. The Kentuckian is currently recovering from surgery to repair his ankle.
Saturday Superbike:


1. Ben Spies (Suzuki)
2. Mat Mladin (Suzuki)
3. Jamie Hacking (Kawasaki)
4. Eric Bostrom (Yamaha)
5. Aaron Yates (Suzuki)
6. Neil Hodgson (Honda)
7. Jason DiSalvo (Yamaha)
8. Matt Lynn (Honda)
9. Geoff May (Suzuki)
10. Miguel Duhamel (Honda)

Sunday Superbike:


1. Ben Spies (Suzuki)
2. Mat Mladin (Suzuki)
3. Jamie Hacking (Kawasaki)
4. Aaron Yates (Suzuki)
5. Neil Hodgson (Honda)
6. Eric Bostrom (Yamaha)
7. Miguel Duhamel (Honda)
8. Geoff May (Suzuki)
9. Chris Peris (Suzuki)
10. Ryan Elleby (Suzuki)

Championship Standings:


1. Mat Mladin (Suzuki) 242
2. Ben Spies (Suzuki) 233
3. Neil Hodgson (Honda) 181
4. Jason DiSalvo (Yamaha) 175
5. Jamie Hacking (Kawasaki) 170
6. Eric Bostrom (Yamaha) 158
7. Tommy Hayden (Suzuki) 143
8. Miguel Duhamel (Honda) 136
9. Aaron Yates (Suzuki) 133
10. Matt Lynn (Honda) 13
---
There's more! Go to Pit Lane News NEXT PAGE

Hot Calendar Girl and Bike News! Go to: Fast Dates • Calendar Girls • Iron & Lace



Calendar Kittens, The Paddock Garage, Screensavers, Iron & Lace Garage




Many of our Calendar Kittens can also be seen at Playboy's website...


BikerKiss.com - the largest biker personals site!