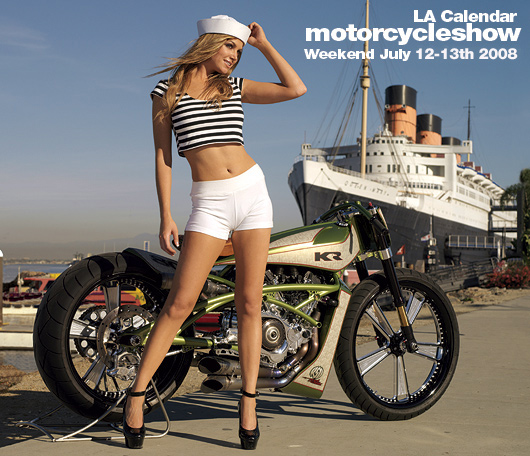 $86,000 in Cash and Awards in the Calendar Bike Building Championship
for Custom & High Performance Street & Sportbikes
PREVIEW! Performance Machine presents the
17th Annual 2008 LA Calendar Motorcycle Show Weekend July 12-13th
Calendar Bike Building Championship, S&S World Record Dyno Shootout,
2-Day Calendar Girl Music Festival featuring kari Kimmel, Elizabeth Nicole

July 12-13th 2008, Queen Mary Event Park, Long Beach - It's all about beauiful bikes and beautiful girls!
The 17th annual Los Angeles Calendar Motorcycle Show Weekend presented by Performance Machine, America's premier custom, cruiser, performance and sportbike weekend returns to the Queen Mary Event Park in Long Beach on July 12-13th, 2008. Join 20,000 streetbike motorcycle and music enthusiasts for the world's most exciting 2-day motorcycle event weekend in the beautiful Queen Mary Event Park on the grass alongside the Pacific Ocean! This is the world's premier motorcycle show weekend featuring 200 major motorcycle and parts manufacturers, selected product and apparel venders.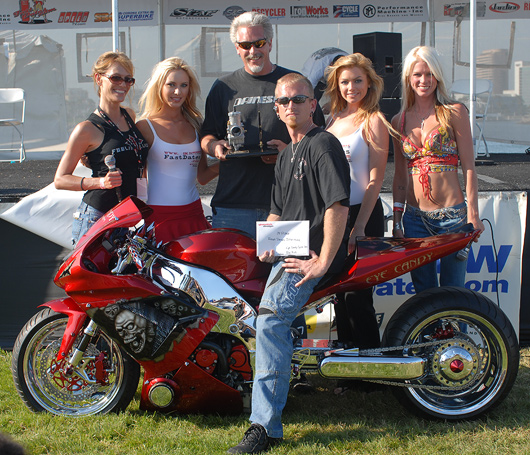 The Calendar Bike Building Championship includes America's premier sportbike contest, the Fast Dates Sportbike Class! Where else can you win Thousands of Dollars in Prizes, a cool retro Mikuni Carburetor Trophy, and have your picture taken with a Penthouse Pet, 2 Playboy Playmates, and Miss Texas / Miss Hawaiian Tropic International / Miss Hooters!

The weekend features many of the world's top Pro and Amateur street bike builders in attendance to compete in the Performance Machine Calendar Show Bike Building Championship with a bulging purse of $86,000 in cash and awards*. There are 10 individual classes for American V-Twin and Metric Street Custom, Performance, Classic, Bobber, Chopper and Sportbike motorcycles.

The coveted Performance Machine Best of Show Trophy is awarded for the top overall bike at the Show and includes a $3,000 cash prize, an additional $7,000 in product awards bringing the total awards to $10,000 overall, plus the winning bike and builder receives an editorial bike feature in Iron Works magazine and the Iron & Lace Calendar photographed by Show producer Jim Gianatsis.
Performance Machine also offers is own trophy for the Best Performance Machine Equipped Bike with a $5,000 product award from Performance Machine products, Other favorite classes include the Iron Works magazine sponsored Radical Pro Builder, the Mikuni American HR Carburetor sponsored American V-Twin Performance, and the Fast Dates Calendar sponsored Sportbike Class.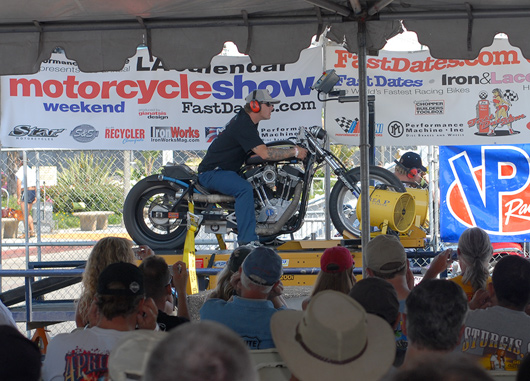 A high performance Drag and Land Speed Record bike tackles the S&S Cycle World Record Dyno.
Join in the excitement of the Calendar Show's exclusive S&S Cycle World Championship Horsepower Dyno Shoot Out hosted by Kerry Bryant of Area P Exhaust Systems. World Record runs are open up to anyone, including the change to see just how strong your streetbike really is. Classes & Awards for all stock and modified American V-Twin and Metric Sportbikes.
Date and Time: July 12th Saturday 10am - 7pm, July 13th Sunday 10am - 6pm
Admission: $25 1-Day $35 2-Days, Children $10.
Location: The Queen Mary Event park, 1126 Queens Highway, Long Beach, CA 90802
Queen Mary Information & Reservations: Ph 562.435.3511
Event Website: http://www.FastDates.com/BIKESHOW.HTM
---

Carrie with Casey Stoner's 2007 MotoGP World Championship winning Ducati GP07.

World Premier! 2009 Fast Dates Racebike Pinup Calendar
July 1st 2008 - The SBK World Superbike endorsed 2009 Fast Dates Race Bike Swimsuit Pinup Calendar sponsored by Performance Machine and photographed by Jim Gianatsis offers a special treat this year with the cover bike being Casey Stoner's 2007 MotoGP World Championship winning Ducati GP07 bike photographed with sexy swimsuit and Calenar vover model Carrie Ann Stroup. We've got Carrie washing down the world's winningest MotoGP bike in a secret back alley location that's guaranteed to steam up any sportbike fan!
Of course, there's all all the top factory race bikes of the SBK World Superbike Championship photographed on location last year at Brands Hatch World Superbike in Great Britain with beautiful SBK Fast Dates World Superbike girls Rhian Sugden and Gemma Louise Henry. Featured are all the top factory Superbikes from Yamaha, Honda, Suzuki, Kawasaki, and Ducati including double World Champs James Toseland's Ten Kate Hannespre Honda CBR1000, Troy Bayliss' Xerox Ducati 999F07, Max Biaggi's Suzuki GSXR1000, and Regis Laconi's Kawasaki ZX10.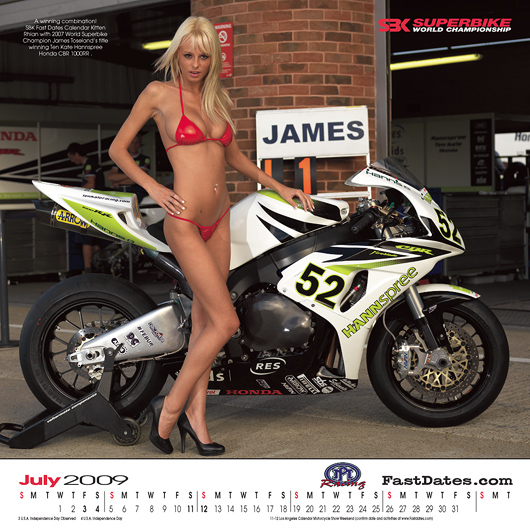 Rhian with James Toseland's 2007 World Superbike Championship winning Ten Kate Honda CBR1000RR

We also did some smokin' hot sportbike studio shots back in Los Angeles with Playboy model and Calendar Kitten Tiffany Toth with our own limited edition Fast Dates project bikes, a Ducati 1098S Tri Colore and Hypermoto R, plus a wild Shinya Kimura retro V-Twin sport custom that was just selected to appear in Legend of the Motorcycle at the President Clinton Library in Atkansas this fall! These ARE the world's top racing bikes in MotoGP and World Superbike, together with beautiful swimsuit models, that are that are guaranteed to have you bouncin' off the rev limiter and blowin' a head gasket.
Buy the 2009 Fast Dates Calendar • Download Big Screensaver Photos in Members Corner
---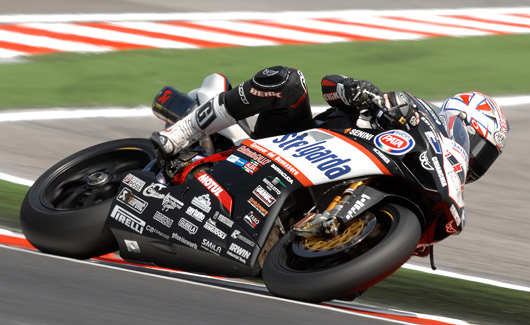 Ruben Xuas on the private Strelgarda Dairy Ducati 1098RS gave the team its first ever World Superbike win.

SBK Hannspree World Superbike Championship, Misano Italy Round 8 of 15

Neukirchner and Xaus Trade Wins at Misano!
Misano, (Republic of San Marino) Italy June 27-29th - Germany's Max Neukirchner (Alstare Suzuki) and Spain's Ruben Xaus (Sterilgarda Go Eleven Ducati) picked up the two wins in today's eighth round of the HANNspree FIM Superbike World Championship at the Misano World Circuit in front of 68,000 spectators. With two third places, Troy Bayliss (Ducati Xerox) increases his lead in the championship to 49 points.
Championship points leader Troy Bayliss (21) took both starts into Turn One each race, but quickly found himself engulfed in heat battles for the lead with Xaus, Biaggi, Corser, Neukirchner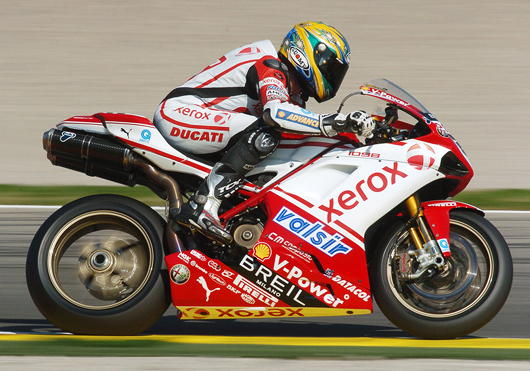 Bayliss Tops the SBK Timesheets in Missano Practice
MisanoFriday 27th June: With scorching track temperatures that rose as high as 53°C, Ducati Xerox rider Troy Bayliss and the rest of the SBK World Superbike circus faced a very physical challenge during today's sessions at Misano. Already off to a flying start in this morning's free practice session, Troy Bayliss continued to make storming progress in first qualifying this afternoon, to conclude the session at the top of the time sheets with a fastest lap time of 1m36.8s. The only rider on track to lap in under 1m37s today, Bayliss set a new best lap at this "new" circuit (the track configuration having been recently modified). As the Australian rider has a history of victories at the Santamonica track, he hopes to repeat those performances once again come race day.
Michel Fabrizio finished the free practice session in third place but then struggled a little during the afternoon's qualifying to conclude today with the fourteenth fastest time, with just over one second separating his time from Troy's.
Troy Bayliss 1m36.8s - "I was reasonably happy with today. This track is like a home track to us so we feel under a bit of pressure to do well, and also because I've done well here in the past. I'd say we're satisfied with the changes we've made through the day and I reckon we've done a good job. It's hard due to the heat of course so I'm trying to look after myself and keep as cool as possible."
TIMES: 1. Bayliss (Ducati Xerox) 1m36.8s; 2. Smrz (Ducati) 1m37.1s; 3. Corser (Yamaha) 1m37.2s; Biaggi (Ducati) 1m37.4s; 5. Haga (Yamaha) 1m37.5s; 6. Laconi (Kawasaki) 1m37.5s..... 14. Fabrizio (Ducati Xerox) 1m38.0s
Brilliant 42nd Career Superpole for Corser
Saturday June 28 - Troy Corser (Yamaha Motor Italia WSB Team) was the fastest rider going into the Superpole contest at Misano and despite being down in the first two splits he rallied on the final section of the 4.226km circuit to record an outstanding 1'35.993 second lap. That new track best time delivered Corser his 42nd career Superpole win, extending his record to exactly twice as many as the next best riders in the all-time rankings.
Noriyuki Haga (Yamaha Motor Italia WSB Team) continued to try and find an ideal set-up for his machine in practice today and qualified 14th in Superpole, making for a fourth row start for Sunday's 24 lap races. Haga's team will now make final adjustments to the machine in morning warm-up tomorrow, but all who know Haga understand that he can fight for podiums almost irrespective of his qualifying position.
The Misano circuit has proved to be bumpier than last year, but its altered layout proved no challenge to Corser, who was simply peerless in getting the most out of the available grip from the track surface in the two days of qualifying and practice. He is looking for his first win of the 2008 season, despite some tremendous front-running rides and five podium finishes so far.
Such was the intensity of the practice sessions that Corser and Haga were the only Yamaha riders inside the top 16 places after regulation qualifying, and thus David Checa (Yamaha GMT94) in 18th place was not in Superpole, despite setting a time only 1.462 seconds from Corser's pre Superpole best. Shinichi Nakatomi (Team YZF Yamaha) earned a 20th spot on the grid, with Sebastien Gimbert (Yamaha GMT94) 21st fastest.
Troy Corser (1st - 1'35.993 - Yamaha Motor Italia WSB Team)
"Practice has been going well and we've found a good setting for the race tomorrow. We made some changes for Superpole, and it helped the bike. I feel I can push the bike as hard as I want to and it feels just like it did in Germany. It's always good to beat Ducati here in qualifying or Superpole or a race. It is going to be two long races tomorrow in the heat, so we'll see how we go then."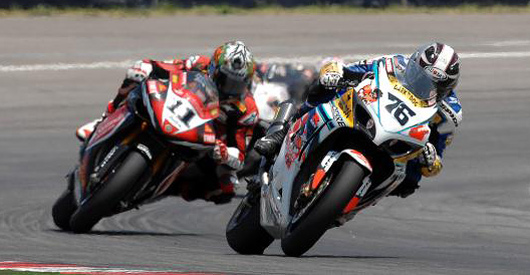 Troy Coser (11) emerged from a race long battle to look like the winner in Raco One, only to have Neukirchner (76) come out of nowhere in the closing laps and blow by at take the checkered.

Neukircher Comes from Nowhere to Steal the Win in a Heated Race One
Alstare Suzuki's Max Neukirchner grabbed the win in the first race to take his second victory of the year. After playing a waiting game in the early laps, the German stepped up the pace in the second part of the race to catch and pass a heated battle between frontrunners Toy Bayliss, Xaus and Troy Corser (Yamaha Motor Italia WSB), who went on to finish fourth and second respectively. Third place on the podium after an inconsistent run went to points leader Bayliss. Following a disappointing qualifying session, Carlos Checa (Hannspree Ten Kate Honda) managed to hold off the competitive privateer Ducatis of Lorenzo Lanzi (RG) and Jakub Smrz (Guandalini). Nurburgring winner Noriyuki Haga (Yamaha Motor Italia WSB) had a difficult race, finishing tenth after starting from row 4, while Max Biaggi (Sterilgarda Go Eleven Ducati) was taken out by Michel Fabrizio (Ducati Xerox) in a collision on lap 12.
Max Neukirchner, 1st: "Unbelievable! My team did a really good job this weekend, in the practice we changed a lot, up and down with the bike, and couldn't find the right settings, but in the race it was unbelievable. In the beginning it was not possible to get close to Bayliss and I had to push very hard, but then it was easier to find a good line. The other guys were a little bit slower than me, the two Troys, and I'm just so happy."
Troy Corser, 2nd: "I didn't make it easy for myself from the start of the race because I didn't get into the first corner too well, then I touched a few riders and was about sixth or seventh on the first lap. I pushed really hard, and maybe used my tyre up a little bit because by the end of the race I had nothing left. I could see that I was a little bit faster than Bayliss and once I got past him, I pushed to catch Max, but just couldn't get him and once the tyres are greasy it's easy to throw it away so I settled for second."
Troy Bayliss 3rd: "It was really hot like every year here. I was feeling pretty confident before the race and we ended up choosing the hardest tyre in the rear. But I sort of struggled with it the whole race and then did my best laps towards the end, when it was too late, but can't take anything away from Troy and Max, they were riding really well."
SUPERBIKE Race 1: (Laps 24 = 101,424 Km
Pos / Rider / Nat. / Team / Gap
1/M.NEUKIRCHNER/GER/Suzuki GSX-R1000/Team Alstare Suzuki/39'27.918
2/T. CORSER/AUS/Yamaha YZF-R1/Yamaha Motor Italia WSB/0.542
3/T. BAYLISS/AUS/Ducati 1098 F08/Ducati Xerox Team/2.249
4/R. XAUS/ESP/Ducati 1098 RS 08/Sterilgarda Go Eleven/3.028
5/C. CHECA/ESP/Honda CBR1000RR/Hannspree Ten Kate Honda/5.408
6/L. LANZI/ITA/Ducati 1098 RS 08/R.G. Team/5.518
7/J. SMRZ/CZE/Ducati 1098 RS 08/Guandalini Racing by Grifo's/6.202
8/G.LAVILLA/ESP/Honda CBR1000RR/Ventaxia VK Honda/18.279
9/S. NAKATOMI/JPN/Yamaha YZF-R1/YZF Yamaha/19.072
10/N.HAGA/JPN/Yamaha YZF-R1/Yamaha Motor Italia WSB/19.132
11/Y. KAGAYAMA/JPN/Suzuki GSX-R1000/Team Suzuki Alstare/28.098
12/F. NIETO/ESP/Suzuki GSX-R1000/Team Suzuki Alstare/34.385
13/S. AOYAMA/JPN/Honda CBR1000RR/Alto Evolution Honda Superbike/34.572
14/R. KIYONARI/JPN/Honda CBR1000RR/Hannspree Ten Kate Honda/34.902
15/D. CHECA/ESP/94 Yamaha YZF-R1/Yamaha France Ipone GMT/39.979
Fastest Lap 13° Jakub Smrz 1'37.694 155,727 Km/h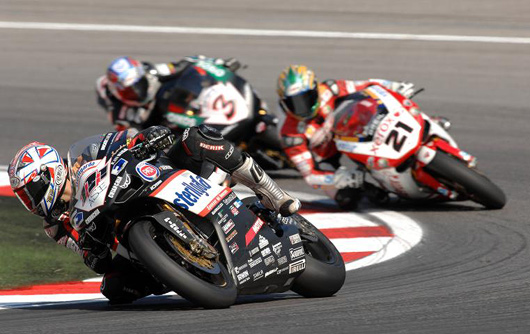 Ruben Xaus (11), Troy Bayliss (21) and Max Biaggi (3) had a heated discusion for the win in Race Two.
Team Sterilgarda's Xaus and Biaggi Devistate Race Two
The second race of the day saw a sensational and unexpected 1-2 win for the private Sterilgarda Go Eleven Ducati team. The 25 points went to Ruben Xaus, who took his first win of the year, ahead of Max Biaggi, who capitalized on a mistake by Bayliss to grab the second podium slot. Fourth and fifth went to the two Yamahas of Noriyuki Haga and Troy Corser, with Nitro-Nori making amends for his disappointing race 1. Lorenzo Lanzi again went well to finish sixth, while Neukirchner was unable to repeat his brilliant race 1 win. With his eighth place finish Carlos Checa has now been overtaken by Neukirchner in the points standings.
Ruben Xaus: "It was a nice win but at the beginning it was hard. We had three starts today and the last one was the worst! I think the clutch slipped a bit and I lost a little time. I wanted to recover because I knew that Corser and Bayliss would pull away. For the first 10 laps I had a lot of movement at the rear. Then my team-mate attacked me twice, I closed the door and with ten laps to go I started to do 37s, 37s, 37s. Today my mechanics did an incredible set-up and an incredible job, a big thanks to Team Sterilgarda Go Eleven!"
Max Biaggi: "I think it was a pretty good race. I was so fed up after race 1 when Fabrizio hit me at the back and took me out. Too bad, I didn't expect that. I think this year is the most difficult or unlucky of my career, but I have to say that in Superbike we always have a second opportunity with race 2. I made a good start from row 2 and was in the top 2 or 3 all the time. In some parts I was losing and in others I was gaining, then at the end of the race my tyre went completely off and although my team-mate slowed, it wasn't enough for me."
Troy Bayliss: "Honestly I think this has been one of the hardest days of my career. I felt pretty good all weekend, but we thought the hard tyre in the first race could have been the problem. We changed that for race 2 and it was a bit better, but towards the end I was struggling and the back was coming round. Hats off to the guys, they rode brilliantly but I improved my points lead. I suppose that's what it's all about but I would have loved two wins today.
SUPERBIKE Race 2: (Laps 24 = 101,424 Km)
Pos / Rider / Nat. / Team / Gap
1/R. XAUS/ESP/Ducati 1098 RS 08/Sterilgarda Go Eleven/39'19.710
2/M.BIAGGI/ITA/Ducati 1098 RS 08/Sterilgarda Go Eleven/1.035
3/T. BAYLISS/AUS/Ducati 1098 F08/Ducati Xerox Team/4.158
4/N.HAGA/JPN/Yamaha YZF-R1/Yamaha Motor Italia WSB/5.466
5/T. CORSER/AUS/Yamaha YZF-R1/Yamaha Motor Italia WSB/6.759
6/L. LANZI/ITA/Ducati 1098 RS 08/R.G. Team/13.468
7/M.NEUKIRCHNER/GER/Suzuki GSX-R1000/Team Alstare Suzuki/15.221
8/C. CHECA/ESP/Honda CBR1000RR/Hannspree Ten Kate Honda/16.687
9/J. SMRZ/CZE/Ducati 1098 RS 08/Guandalini Racing by Grifo's/17.030
10/F. NIETO/ESP/Suzuki GSX-R1000/Team Suzuki Alstare/17.681
11/M.FABRIZIO/ITA/Ducati 1098 F08/Ducati Xerox Team/21.356
12/Y. KAGAYAMA/JPN/Suzuki GSX-R1000/Team Suzuki Alstare/28.676
13/R. KIYONARI/JPN/Honda CBR1000RR/Hannspree Ten Kate Honda/31.304
14/G.LAVILLA/ESP/Honda CBR1000RR/Ventaxia VK Honda/32.339
15/S. NAKATOMI/JPN/Yamaha YZF-R1/YZF Yamaha/33.716
Fastest Lap 2° Troy Corser 1'37.580 155,909 Km/h
Lap record (New record) : 2008 J.Smrz 1'37.694 155,730
Best Lap: 2008 T. Corser 1'35.993 158,490
Riders Championship Standings:
1 BAYLISS 259, 2 NEUKIRCHNER 210, 3 CHECA 207, 4 HAGA 191, 5 CORSER 185,
6 NIETO 151, 7 XAUS 148, 8 BIAGGI 117, 9 FABRIZIO 111, 10 KIYONARI 94,
11 KAGAYAMA 82, 12 LANZI 80, 13 LAVILLA 75, 14 SMRZ 72, 15 MUGGERIDGE 59.
600cc Supersport to Andrew Pitt
Andrew Pitt (Hannspree Ten Kate Honda) scored his third win in four races, the Australian comfortably taking the chequered flag after his rival Broc Parkes (Yamaha World Supersport) crashed out on lap 9. The top three podium places all went to Hondas, with Craig Jones (Parkalgar Racing) finishing ahead of Jonathan Rea (Hannspree Ten Kate). Fourth place went to Frenchman Fabien Foret (Yamaha World Supersport), who missed out on a chance of fighting for the podium after going wide at the first corner and returning to the track in 16th place. Mark Aitchison put in another good performance with the BE1 Racing Triumph 675, the Australian finishing ahead of seventh-placed Italian Massimo Roccoli (Yamaha Lorenzini by Leoni), while title contender Joan Lascorz (Glaner Motocard.com Honda) also crashed out of contention on lap 17.
600cc Results: 1. Pitt A. (AUS) Honda CBR600RR 37'08.387 (150,198 kph); 2. Jones C. (GBR) Honda CBR600RR 5.347; 3. Rea J. (GBR) Honda CBR600RR 9.183; 4. Foret F. (FRA) Yamaha YZF-R6 13.784; 5. Harms R. (DEN) Honda CBR600RR 15.863; 6. Aitchison M. (AUS) Triumph 675 15.967; 7. Roccoli M. (ITA) Yamaha YZF-R6 21.689; 8. Veneman B. (NED) Suzuki GSX-R600 24.070.
Points (after 5 of 10 rounds) : 1. Simeon (Suzuki) 84; 2. Roberts (Ducati) 76; 3. Polita (Ducati) 67; 4. Pirro (Yamaha) 63; 5. Berger (Honda) 59; 6. Giugliano (Suzuki) 48; etc.
Our 2010 Fast Dates Calendar Kittens were, from left to right, Pirelli girls Lauren Brooke and Jamie Jungers, Hannspree girls Shona Kay and Kami Wilson, here with World Champion Troy Bayliss's Ducati 1098F08 Superbike.
CLICK to GO BIG
2010 Fast Dates Calendar Shoot at America's
SBK World Superbike Round at Miller Motorsports, Utah
May 30-June 1st 2008, Toole, Utah, USA - The return of World Superbike Championship to America at Miller Motorsports Raceway in Utah, after a 3 year absence stateside, gave us an exciting new venue to shoot the next edition of the SBK World Superbike endorsed Fast Dates Calendar. Once again calendar photographer and producer Jim Gianatsis was able to photograph all the top factory World Superbike on pit lane with some very beautiful Calendar Kittens for the world's premier sportbike calendar, now celebrating it's 18 year!
Complete Fast Dates Calendar Shoot Story & Photos Continues Here...
---
Casey Stoner on the new Ducati GP09, now without a frame! The carbon fibre airbox, under the tank, now extends forward to support the front forks. The engine hangs below the airbox, and the rear swingarm pivots of the rear of the engine, Sheer genious!

MotoGP Catalunya Testing Session
Ducati Unveils with Casey Stoner Its Raducal New
Carbon Fibre Frameless MotoGP Bike for 2009
Monday Jun 9 2008 - The day following the Grand Prix of Catalunya gave the MotoGP riders the chance to start a two-day test, with the Ducati Marlboro Team bringing forward a first outing for the Desmosedici GP9 - which was originally scheduled for Casey Stoner tomorrow. With uncertain weather forecasts for tomorrow, Stoner and test riders Vittoriano Guareschi and Niccol Canepa put the machine through its paces, whilst Marco Melandri spent the day focusing on his GP8 and will test it tomorrow.
Ducati is not sitting on its laurels like other manufacturers, while holding the current MotoGP World Championship. The GP09 is the first ever factory bike to feature a full carbon fibre chassis, the first real inovation in motorcycle racing in 25 years, replacing the traditional Ducati steel tube frame. It was a positive debut for the machine in the hands of the World Champion, so much so that the Australian set the best time of the day with a 1'41.533 on qualifying tyres.
Rather than take a conventional aluminum beam perimeter chassis like used by the other manufacturers, and rereate it in carbon fibre, Ducati has started with a clean piece of paper. Their now proven carbon fibre airbox which sits in the engine's V above the cylinders and is already being uses as a stressed member between the upper frame tubes, the carbon airbox has just bene enlarged and the steel frame tubes eliminated altogether.
This in itseld gives the airbox about 4 more litres of pressurized air. And the long intake runners to the nose of the bike have been combined into one to also contain the steering head of the bike, and the runners in turn, are constructed nto one piece with the airbox. The fuel tank and the seat assembly bolt to the top on this airbox assembly, and the engine hangs below with the swingarmom pivoting off the back of the engine.
Its a very radiacal design never seen before in racing, but it is so simple it could easily be incorporated into future Ducati production bikes. It is though that Formaula 1 race car designer Alan Jenkins may have been involved inthe design of the bike. The only way to really distinguish the new GP09 is to note the carbon fibre intake runner which the front fork steering head is mounted through. An if you look into the fairing side exhaust vents there is no longer an upper steel tube frame bolted to the front sides of the engne.
Casey Stoner (Ducati Marlboro Team) Best lap on race tyres - 1'42.632; on qualifiers - 1'41.533
"I'm happy with the way today has gone. The objective was to understand whether this new chassis concept has potential and I'd say that for now it looks to be the case. We were quickly into some decent times using the same set-up as the GP8. We barely changed anything to adapt it to the characteristics of the GP9 and I immediately felt an improvement so that is positive. I'm sure that with more time to work on it we can go much faster, although that is not the current brief. We'll have time to test it in the winter. Tomorrow we'll get back on my GP8 because we have some important tyre testing to do. There is still a lot of the 2008 season left and we want to be competitive."
Here you see the adjustable steelig head assembly / steering stem running through the large front ram air duct section of the carbon fibre upper chassis / airbox assembly.

---
There's more! Go to Pit Lane News NEXT PAGE

Hot Calendar Girl and Bike News! Go to: Fast Dates • Calendar Girls • Iron & Lace



Calendar Kittens, The Paddock Garage, Screensavers, Iron & Lace Garage


Many of our Calendar Kittens can also be seen at Playboy's website...


BikerKiss.com - the largest biker personals site!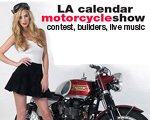 You're Invited to
America's Premier
Custom & Sportbike
Event Weekend!
$86,000 Bike Building Championship
World Record Dyno Shootout!
Calendar Girl Music Festival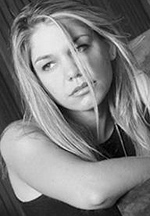 The Calendar Motorcycle Show and Calendar Girl Music Festival are hosted by beautiful singer songwriter Kari Kimmel
Performer LineUp
Calendar Girl Music Festival
July 12-13th 2008
Join us for the incredible performance lineup at the 2-Day Calendar Girl Music Festival July 12-13th 2008 at the Queen Mary Event Park on the shore of the beautiful Pacific Ocean in Long Beach Harbor, CA, featuring some of the world's most beautiful and talented female singers and girl bands. I'ts the biggest showcase of talented female singers since Sarah McLaughlon produced the Lilith Fair Tour back in the '90s! Admission includes the annual LA Calendar Motorcycle Show Weekend, America's premier custom, performace, cruiser and sportbike event.

The all female Calendar Girl Muisc Festival headlines with contemporary pop rock singer sonwriter and recording artists Kari Kimmel on Sunday and actress Elizabeth Nicole on Saturday, two of the most talented and skilled singer songwriters we've ever come across. Comparisons to legends like Carol King, Joni Mitchel, and Carly Simon, to more current artists like Avril Lavigne and Natasha Bedingfield almost fall short when describing the vocal and songwringing skills of both Kari and Elizabeth, who also happen to be drop dead georgeous to fit perfectly the theme of the Calendar Girl Music Festival and the world premier of the new 2009 FastDates.com Motorcycle PinUp Calendars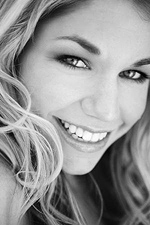 Kari Kimmel
Click for Bio and Music

Kari Kimmel has written and recorded songs for numerous Hollwood movies including Disney's Ella Enchanted and the Wayan Brother's White Chicks, and TV shows Gimore Girls, Laguna Beach, the Bold and the Beautiful. She was originally signed with Virgin records a few years ago and they helped produce her first album A Day in the Life, but just before its release the music market took a down turn and Kari has since made the album available on her own on her website Kari Kimmel.com and her MySpace page. Kari also plays keyboards and guitar, has a style reminisant of her mentor Carol King, and another singer songwriter we like Vonda Shepard.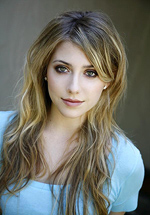 Elizabeth Nicole
Click for Bio & Music

Elizabeth Nicole, just turned 20, got her start as a 10 year old child actor on TV soaps like Port Charles and 7th Heaven. Later In high school she turned her attention to music writing, singing and playing on keyboards some very sexy pop rock ballads in a style uniquely her own. We first came across Elizabeth and her incredible musical talent on her MySpace.com page about a year ago, hooked up with her as she performed at a couple of small venues around Los Angeles where she totally blew us away in person with her multi musical talents. We just had to have her a our Show before she became to famous. You can buy and download her full album of original songs on her MySpace page.

Ironically since graduating high school, Elizabeth has been leading a double life and has also been adding Hollywood movie actress to her resume. She currently appears as a backup singer in the current hit comedy Walk Hard - The Dewey Cox Story. Has just completed co-staring and singing in the feature musical scene teen drama - All Ages Night, and in the drama thriller Cornered! with Steve Guttenberg.

This is a once in a lifetime opportunity to see and meet Kari and Elizabeth in person as they headline and perform exclusively for the Music Festival their longest extended full band sets ever. These two highly talented and attractive singer songwriters on the verge of breaking out, big time!

Included with the weekend's bill on the main stage are pop rockers Taxi Driver with lead singer Dhana. While Classic rock fans will have more than their fix of heavy metal as the all-girl tribute bands Whole Lotta Rosies - AC/DC, and Moby Chick - Lead Zeplin, will leave blue collar baby boomers weak in the knees. And if that's not enough sexy girls to rock your world, The Purrfect Angelz musical dance troupe, a favorite of our U.S. Military Troops in the Middel East and at Bike Events across America, will be shaking, kicking and dancing their scantly clad bodies both days.

For additional LA Calendar Motorcycle Show & Calendar Girl Music Festival weekend details including the show schedules, hotels and parking information visit Calendar Bike Show
---


World Premier!
2009 FastDates.com Calendars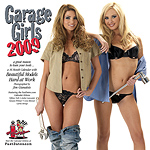 ---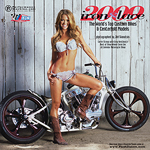 Members Only Preview!
2009 Fast Dates, Iron & Lace, Garage Girls Calendars
Join our Members Corner today at get an exclusive look at the upcoming 2009 FastDates.com calendar now, before its public release at our big LA Calendar Motorcycle Show July 12-13th!
Featured are full-size 15 inch calendar screensaver pages for your monitor with the top bikes of the 2007 SBK World Superbike and MotoGP World Championship with our beautiful Calendar Kittens. Also includes all our current 2008 and past years Calendars !
---
Ruben Xaus Signs with BMW for 2009 World Superbike!
There has yet to be an official announcement from BMW, but word in the pits at last weekend's Misano World Superbike round was that team Stelegarda rider Ruben Xaus had just signed with BMW to be one of thprincipal riders for their entry into the 2009 SBK World Superbike Championship. The bike Ruben and a yet unsigned team mate wil ride is the new BMW S1000 RR World Superbike which we previewed here first, last month.
Ironically, it was Ruben's spectactular ride at Misano this past week where he finished 4th and 1st in the two races aboard the Stelegarda customer Ducati 1098R08, beating Ducati Corse factory rider and Championship points leader Troy Bayliss on his 1098F08 machine, that culdhave otherwise earned Ruben a seat back on the factoy Ducati team to replace the retiring Bayliss for next year. Now team manager Davide Tardozi's choices for new riders for the premier factory teamin World Superbike just got a lot smaller.
If it were us in Tardozzi's shoes, we'd be talking to former Ducati factory rider and still reigningWorld Superbike Champion James Toseland, who like Troy Bayliss before him, is currently suffering a lackluster sojurn in MotoGP, and would probably be much better off back in World Superbike and abard a Ducati
600cc 4-Strokes to Replace 250cc GP 2-strokes in 2011
The FIM today made the following announcement:
A-Style TT Assen, Friday 27th June - The Grand Prix Commission, composed of Messrs. Carmelo Ezpeleta (Dorna, Chairman), Claude Danis (FIM), Hervé Poncharal (IRTA) and Takanao Tsubouchi (MSMA), in the presence of Mr. Paul Butler (Secretary of the meeting), in a meeting held today at the circuit of Assen, unanimously decided to introduce the following change to the FIM Road Racing World Championship Grand Prix Regulations.
Replacement of the 250cc class
For application from 1.1.2011, the Grand Prix Commission accepted the following proposal, taken by the majority of members of MSMA: 4-stroke engines of 600cc maximum and 4 cylinders maximum. A request will be sent to all manufacturers. The candidatures of the manufacturers interested in taking part in the new class must be sent to the FIM and Dorna by July 31, 2008 at the latest. More precise technical specifications will then be discussed and established.
FGSport, the sanctioning boy of SBK World Superbike and Supersport has been adamant that they hold the exclusive rights to a 4-stroke production based world championship. So it will be interesting to see if this future 600cc 4-stroke class will be only for prototype engines, or if production based engines will be allowed. Either way, it will certainly require a GP style race chassis as to not conflict with the SBK's 600cc World Supersport and European Superstock classes.
Giberneau is testing the new Ducati GP09
- to Replace Melandi?
June 26th - MotoGP project director Livio Suppo has confirmed that Sete Gibernau is set for another test with the Italian brand next week. The former Ducati MotoGP rider Sete Gibernau has been lined-up for another test with the World Champions at their chosen testing venue of Mugello next week.
Having not sampled a MotoGP bike since his retirement from riding for Ducati in the premier class in October 2006, following meetings in his native Barcelona on the Catalunya GP weekend Gibernau successfully completed a three-day test last week at Mugello, where he rode the Desmosedici GP9.
Livio Suppo, Ducati MotoGP project director, said of Gibernau´s additional, forthcoming test opportunity, `He will be on track again at Mugello again from 1st-3rd July. As we said after the first test we were happy and we were thinking about doing something else, so here we are.´
When pressed on the subject of whether the 35 year-old Spaniard might be lined up for a sensational return to racing this season Suppo replied, `At the moment there is still no plan. Of course the situation is not easy, everyone knows what we are talking about, with Marco (Melandri). But at the moment I still believe Marco can do it and the next two races are at Sachsenring and Laguna where he has always done well.´
`He was struggling with the 800cc Honda last year and then at Sachsenring and Laguna he did very well, so I think we should wait and see if he can find a solution at a circuit he likes.´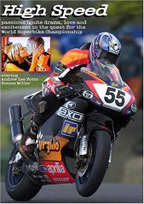 High Speed - the Movie
The best motorcyce racing movie ever made! Filmed on location at World Superbike, this an exciting romantic drama staring beautiful actress Sienna Miller.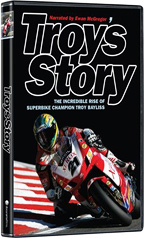 Troy's Story
The story of 2-Time World Superbike Champion Troy Bayliss narrated by Ewan McGreggor
Hot New Book!
---
MIC evaluates issuance of request for proposal for U.S. road racing series

Friday June 27, 2008 - The Motorcycle Industry Council (MIC) is evaluating whether to issue a request for a proposal seeking a series promoter and sanctioning body for a premier professional road racing series in the United States, according to a MIC press release.
The MIC believes it necessary to look into the matter for the benefit of its members, says Tim Buche, MIC president.
"Our members are better served by having alternatives to the changes for the AMA Superbike Championship that the Daytona Motorsports Group (DMG) has so far described," said Buche in the release. "We fully appreciate the expertise, hard work and connections the DMG may bring to motorcycling.
"However, the independent interests of the manufacturers call for a racing series that helps promote specific motorcycle brands. Historically, motorcycle makers have boosted bike sales based on their success in racing. It makes little sense for bike manufacturers to heavily invest in any competition that highlights sponsors and teams and downplays the machines themselves, as well as their technological development. So we are obliged to investigate alternatives that could do a better job of meeting our members' respective marketing needs. This is especially true given that it's now late June and there is still uncertainty over the DMG's 2009 rules."
The MIC plans to hear input from industry officials, including racetrack owners, riders, interested sponsors and enthusiast and trade media.
---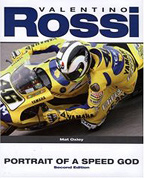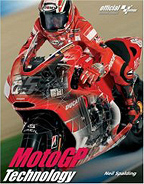 ---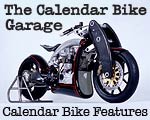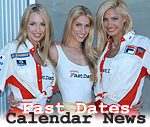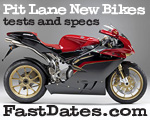 ---
---
Sands vs. Rooke
Calendar Bike Build Off
See the world's two hottest custom sportbikes featured in the 2008 Fast Dates and Iron & Lace Calendars being built and raced by Roland Sands and Jesse Rooke for Discovery Channel's Biker Build Off
Roland Sands builds the
KR Tracker Calendar Show Bike
New Blood DVD
features Roland Sands building and riding the extraordinary Roland Sands Design / Kenny Roberts KR 990cc 5-cylinder MotoGP powered Retro Board Track Racer. The bike is also featured in the 2008 Fast Dates race bike and Iron & Lace custom bike Calendars with beautiful Playboy Playmate and Calendar Kitten Tamara Witmer in one of our best calendar shots ever and ,featured in the LA Calendar Motorcycle Show advertsing campaigns
and T-Shirt.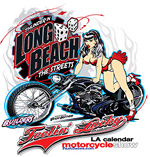 Order the Official
LA Calendar Bike Show
T-Shirts!


A We Thought Motorcycle racing was Dangerous?
Drag Race Legend Scott Kalitta Dies in Funny Car Race Crash
June 22nd - American veteran drag racer Scott Kalitta died Saturday after apparently winning a qualifying race in the Lucas Oil NHRA SuperNationals taking place in Old Bridge, New Jersey. Kalitta had a great start and was about to win the race, but his Toyota Solara Funny Car burst into flames.
It appears that the car was traveling at almost 300 miles per hour at the time, and his engine exploded. Subsequently, the body flew off as the car was engulfed by flames. The parachutes, launched from the burning car, did not manage to slow down Kalitta before he hit the end wall, pulverizing his car in a gigantic fireball.
Scott Kalitta was still alive immediately after the crash, but died shortly after he was pulled out of the car. The legendary drag racer, the son of veteran NHRA driver and crew chief Connie Kalitta and cousin to teammate Doug Kalitta, is survived by his father, his wife, Kathy, and sons Corey, 14, and Colin, 8.
This is the second Funny Car death we've seen this year, as it appears that National Hot Rod Association (NHRA) is behind in safety measures which have already been implemented by other racing organizations such as NASCAR and the Indy Racing League.
His back-to-back Top Fuel title years in 1994 and 1995 have established Scott Kalitta as one of the best drag race drivers in recent history. He retired in 1997, but came back to Top Fuel in 2003. Last year, he had a weak season on Funny Car, as his best finish was a semi-finals appearance at Denver in July.