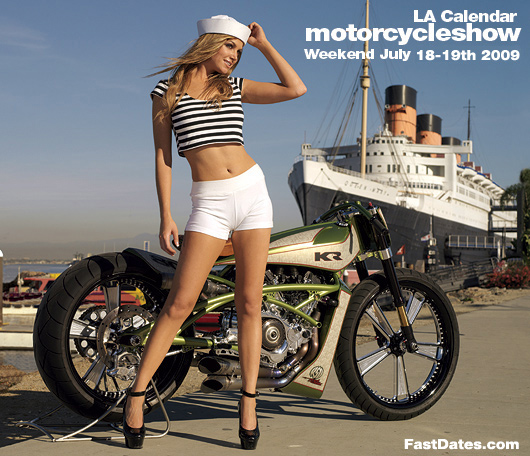 Preview! Hollywood Stars Rock the
2009 LA Calendar Motorcycle Show Weekend July 18-19th
with World Premier of the 2010 FastDates.com Calendars & PajamaBand
and new Shinya Kimura Retro Sportbike Customs for Brad Pitt
Plus the all girl built AFT Metric Customs bike "LoLA"!
Hollywood, CA, July 1st 2009 - The Los Angeles Calendar Motorcycle Show and Calendar Girl Music Festival Weekend is offering its fans two full days of incredible Hollywood celebrity entertainment, attractions and activities that only this legendary Tinsel Town based FastDates.com Calendar Bike and Music Event could deliver. America's premier street bike event is excited to announce these featured Hollywood celebrities for the July 18-19th weekend event at the Queen Mary Event Park in Long Beach, together with complimentary admission aboard the legendary Queen Mary ghost ship.
AUTOGRAPHED AFT MODELS POSTER!
The World Premier of "LoLA" built by AFT Metric Custom's AFT Model Agency Girls just for the
LA Calendar Show. Meet all the girls and company director Jim Guiffra, last year's Best of Show winner, and get an autograhed poster of this picture!

Check out what Streetfighters magazine of great coverage of last year's show! CLICK TO GO BIG
Brown & Koro Motorcycle Attorneys to Sponsor
LA Calendar Show's new DynoJet Factory Superbike Dyno
Los Angeles, July 6, 2009 - The Los Angeles Calendar Motorcycle Show, America's premier custom and performance streetbike event weekend, is excited to announce that Brown and Koro Attorneys, the well known National legal firm firm dedicated to protecting motorcyclists in the event of an accident, have signed a four year agreement to be the Title Sponsor of the Calendar Show's exciting World Record Dyno Horsepower Shootout.
Founding by attorney and long time motorcycle rider Russ Brown, and now partnered with another riding attorney Chuck Koro, Russ was one of the first attorneys on the National scene to dedicate his firm to protecting biker's rights, particularly when involved in accidents with automobiles drivers who are responsible for 70% of all motorcycle accidents in America. Brown also founded BAM, a national based motorcycle breakdown and assistance organization where member bikers can dial 1-800-4BIKERS to get assistance from other members who are near them geographically, if they are stranded on the road. For additional information visit http://www.russbrown.com
This year's World Record Dyno Shootout is being produced by DynoJet Research, Inc, based in Las Vergas, NV, , who are bringing their official factory superbike dyno truck from their headquarters in Arizona, just for the Calendar Show.For a minimum cost of just $20 per run, Bike Show attendees can have their motorcycles run on the factory DynoJet dynometer by DynoJet Technical Support Manager Dustin Schaller. At the end of their run they'll receive a printout record of their bikes torque and horsepower figures after the run. http://www.DynoJet.com
The hours of Dyno operation at the Calendar Show are 10am - 6pm on Saturday the 18th, and 10am - 4:30 pm on Sunday the 19th. Contestants will need to enter the Show first as a paid spectator, then sigh up at the DynoJet truck for a scheduled run, after which they can bring their bikes into the Show through the Dyno Entry Gate for their scheduled run.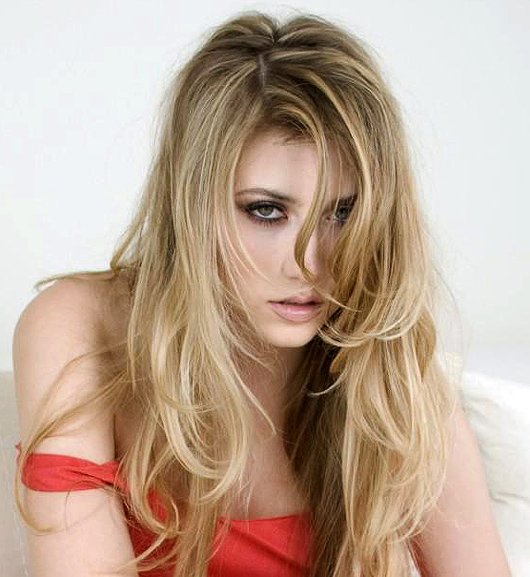 Elizabeth Nicole
Singer Songwriter, Hollywood Actress to Host and Perform at the Calendar Show
Beautiful 21-year old singer songwriter Elizabeth Nicole, who first performed at the Calendar Show last year, is also a veteran Hollywood actress who has two new feature movies which have just premiered this spring. Elizabeth got her start as a 10 year old child actor on TV soaps like Port Charles and 7th Heaven. Later In high school she turned her attention to music writing, singing and playing on keyboards some very sexy pop rock ballads in a style uniquely her own.
Elizabeth co-stars in her first feature length movie "All Ages Night" about the problems of teens growing up in Hollywood, which premiered this past April at the Newport Beach Film Festival. Her second new movie is another drama called "Cornered" where she costars with veteran actor Steve Gootenburg. Elizabeth was excited to jet off to the French Rivera in May for world premier of "Cornered" at the prestigious Cannes Film Festival where she got to walk the red carpet with other Hollywood motorcycle celebrities like Brad Pitt.
Show producer Jim Gianatsis first discovered Elizabeth and her music on MySpace.com, then sought her out at performances in the music club scene around Hollywood. Comparisons to current superstar artists like Avril Lavigne, Christine Aguilera and Taylor Swift almost fall short when trying to describe the incredible vocal and songwriting skills of Elizabeth, who wrote and recorded all the songs in her first album in her bedroom of her home, playing all the instruments on a computer keyboard and singing all the backup vocals. You can meet Elizabeth and buy her music CD at this year's Calendar Show, and online at www.MySpace.com/ElizabethNicole.

Singer songwriter, TV / movie actrees Elizabeth Nicole hosts and performs on Sunday.
Besides talented, the fact Elizabeth also happen to be drop dead gorgeous is a perfect to fit the pinup model theme of the Calendar Motorcycle Show and Calendar Girl Music Festival. Elizabeth will be performing and co-hosting the stage activities at the Show on Sunday the 19th. Joining her will be Calendar Kitten model Apple Price who is featured in the new 2010 FastDates.com Calendars premiering at the Show, and Ted Sands from title sponsor Performance Machine.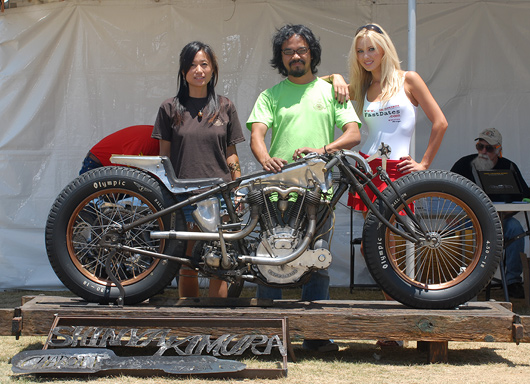 Shinya Kimura
LA Calendar Best of Show Winner, Hollywood Actor Brad Pitt's Favorite Builder
Japanese custom bike builder Shinya Kimura / ChabbottEnginnering.com has a unique style designing very original performance themed customs from buckets of old parts. Shinya made his first ever America appearance at the 2004 LA Calendar Motorcycle Show Weekend were he clinched Best of Show in the Calendar Bike Building Championship. A few months later this winning bike was photographed by FastDates.com Calendar photographer Jim Gianatsis with one of the beautiful Calendar Kittens. Pictures from that shoot were with the bike used both in the ad campaign for the 2005 LA Calendar Motorcycle Show Weekend and the Iron & Lace Calendar . Soon after that the winning bike was purchased by motorcycle enthusiast and Hollywood actor Brad Pitt. The paparazzi in Hollywood have photographed Brad Pitt riding our Kimura Calendar bike from his home in Beverly Hills, down to the Hollywood studios and around town.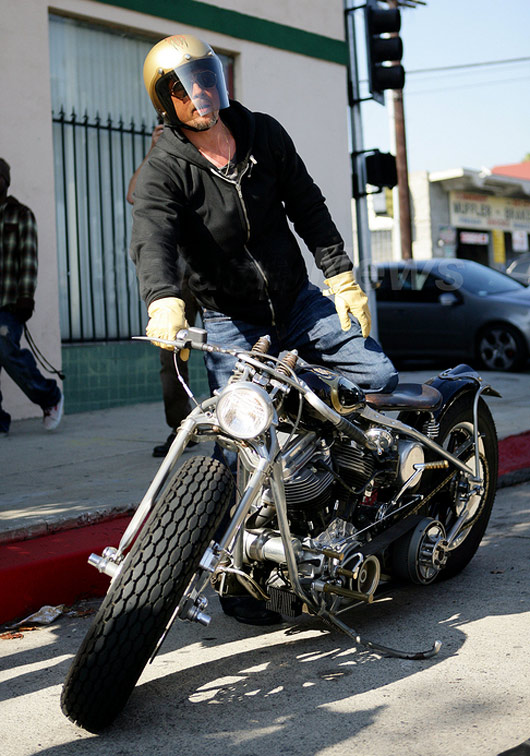 Mr. Piit riding to work on Shinya Kimura's 2004 LA Calendar Best of Show winner.
Needless to say, Brad and wife Angelia like to keep a low profile in public. But we can tell you that this past winter Brad commissioned Kimura san to build him, personally, two more unique custom bikes. And those two bikes should just about be finished now. And Kimura will again be at this year's Calendar Show with some cool custom bikes in his booth. And who knows? Maybe the bikes' proud new owner will be there to check them out....
World Premier!
2010 FastDates.com Calendars
Making their world premier at the Calendar Show are is the exciting new 2010 Fast dates.com Calendars Fast dates Race Bikes, Iron & Lace Custom Bikes and garage Girls Pinup Model Calendar sponsored by SBK World Superbike, Performance Machine and Mikuni Carburetors Photographed by renoun motorsports and fashion photographer Jim Gianatsis, the FastDates Calendars always features the word's top roadracing and custom motorccyles, together with beautiful swimsuit and centerfold models roadracing bikes.
This new 2010 Fast Dates R ace Bike Calendar cover features Ducati's World Superbike Championship winning homologation 1098R Superbike with beautiful Calendar Kittens Rachel Bernstein and Sabella Shake. Of course inside , there's all all the top factory race bikes of the SBK World Superbike Championship photographed this year on location at the Miller Motorsports Park round in Utah, USA. Included are the top factory superbikes from Yamaha, Honda, Suzuki, Kawasaki, and Ducati including
3-time World Champion Troy Bayliss' Xerox Ducati 1098F08, Carlos Checa's Ten Kate Honda CBR1000RR, and Max Biaggi's Alstare Suzuki GSXR1000.
The 2010 Iron & Lace Custom Bike Calendar features last year's Calendar Show winning custom bikes from AFT Customs and Ken's Customs in Japan, a Triumph retro racer from former Show winner Shinya Kimura, and the top 3 winning bikes of last year's AMD World Chamionship of Custom bike Building.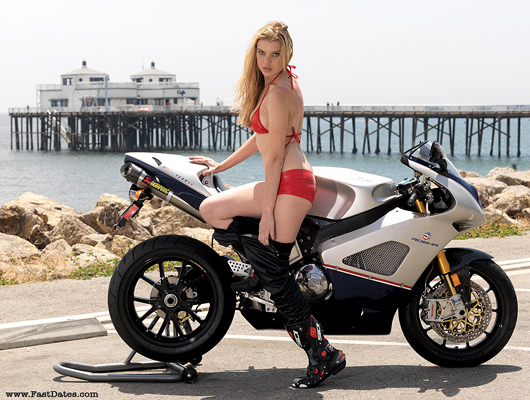 Calendar Kitten Apple strips down at Malibu Beach with the new Roehr Superbike.
And now for something a little different...
Apple Kitten shoots for Fast Dates Calendar with the $60,000 Roehr
V-Rod Superbike and its World Premier at the LA Calendar Show in July!
Don't think we've been relaxing indoors here during the bitter cold of our Southern Californian winter here, just waiting for our printer in China to ship us the new 2010 FastDates.com Calendars so sleazy perverts like you can gum up the pages.... hell no! We've already been hard at work shooting the next 2011 FastDates.com Calendars with beautiful Calendar Kittens like Apple, shown here at the Malibu Beach Pier astride the hot new supercharged Harley V-Rod powered Roehr Superbike.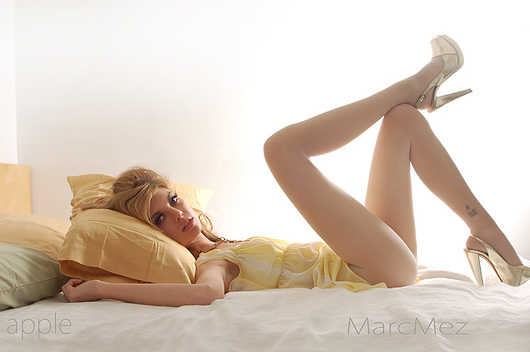 Beautiful Apple Price is one of the Calendar Kittens featured in all three of the 2010 FastDates.com Calendars including Garage Girls. Apple and the exotic Roehr Superbike will be appearing both days at this year's Calendar Show. Apple willalso be serving as Main Stage Hostrs, as well as meeting with fans and autographing the new calendars.
Apple's Test New Sportbikes Roehr • The LA Calendar Motorcycle Show July 18-19th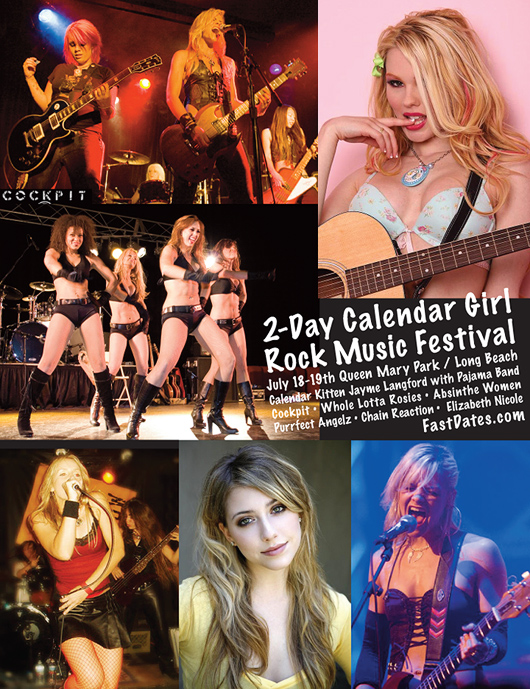 Calendar Kitten & AVN Best New Actress Nominee Jayme Langford's
Pajama Band Joins the LA Calendar Bike Show / Music Festival Weekend!
May 15th 2009 - The Los Angeles Calendar Motorcycle Show, in our never ending quest to provide wholesome family entertainment while enhancing the quality of artistic and cultural experience for our visitors, is excited to announce the addition of Pajama Band to our performance lineup with the Calendar Girl Music Festival which is included with July 18-19th 2009 event weekend at the Queen Mary Event Park in Long Beach, CA.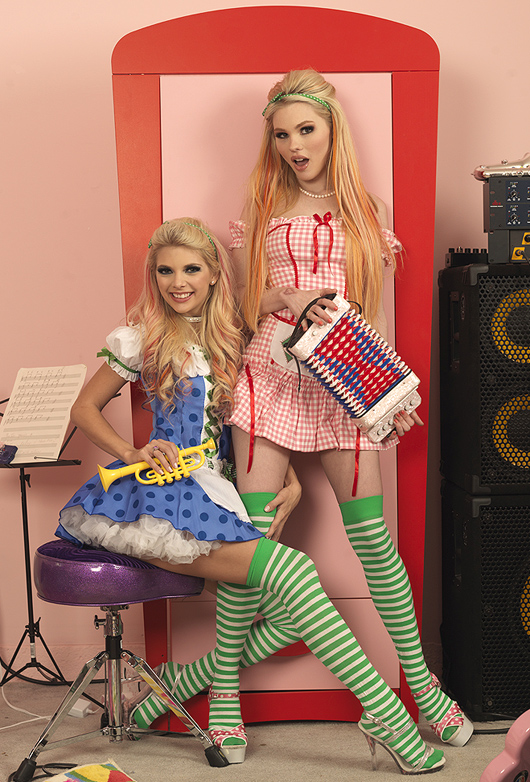 We're in LOVE! Jana and Jordan show off their Pajamaband costumes in a promotional shoot Jim Gianatsis did with them last week, which was filmed by the TV series Doneney Models on the HDTV network. The girls have a full practice and recording studio in the guest house behind their home.
A unique entertainment experience, Pajama Band features the vocal talents of beautiful new 2010 FastDates.com Calendar Sex Kitten, Hustler Honey and AVN Starlet Jayme Langford / JaymeLangford.com. Between her extensive modeling and acting career, being a pre-Med University student and exhibiting precision Hula-Hoop skills, Jayme figured she also has what it takes to be an accomplished lead singer, guitarist and trumpeter in time for this year's Calendar Bike Show Weekend.
Jayme is not new to music, having taken music and pianno lessons all her life. But after picking up a new pink guitar and plastic trumpet from Guitar Center on Hollywood Boulevard just a few months ago she thought, "Damn, I'm not busy enough, why don't I start a girl porn star rock band as well!" Who were we to talk her out of it?
Performing with Jayme in Pajama Band are her famous adult starlet girlfriends, Jana Jordan / ClubJannaJordan.com also a Hustler Honey and Penthouse Pet, and Louisa Lanewood / LouisaLanewood.com. The band will be making its professional world premier debut at the 2009 LA Calendar Show Weekend on Sunday the 19th performing their exciting new hit "Fuck You Until You Die" which has music critics raving, in what can only be described as pornicopia of visual and audio excitement guaranteed to leave their many new found fans breathless on the verge of cardiac arrest. Music critics are already raving that these girls have given new meaning to the genre "Hard Rock"!
Jayme Langford and celebrity builder Russell Mitchell / ExileCycles.com will also rock your world by personally autographing for you their new 2010 Iron & Lace Calendar featuring Jayme and Russell's Exile Rockstar custom which premiers at the Show.
On Monday July 12th following the Calendar Show Weekend, both Jayme and Janna will shoot with producer and photographer Jim Gianatsis and the winning bikes from the Show's $64,000 Calendar Bike Building Championship. The pictures will be featured in the next editions of the FastDates.com Calendars.
Jana (photo aboave, standing) keeps Jayme company while they were in makeup for or PajamaBand shoot and filming by HD TV's Doheny Models program. These are our kinda girls, they drink only importated beer and they drink it morning, noon ands night! This was shot at 10am in the morning! Jana's personal car is a 1972 limited edition Cale Yarborough 1972 Mercury Cyclone fastback NASCAR pace car, one of only 10 built. Her car was personally driven by Cale Yarbourgh to pace the Daytona 500 in 1972. Note Jyayme's new 2010 FastDates.com Calednars on the fireplace mantal.
---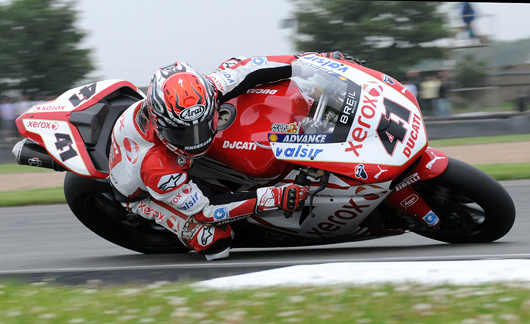 Nori's would crash in Race 2 at Donnington with the bike landing on him hard, breaking his shoulder and elbow, possibly ending his chance to hold off Ben Spies for the Championship.
World Superbike Post Cards
Last week's Donnington WSB Coverge HERE
Coverage from our FastDates Calendar Shoot at Miller WSB HERE and HERE
This picture is actually from last week's race at Misano, but it wasso awesome we just had to show it to you. It show Michel Fabrizio (84) actually looking over into Ben Spies eyes as Michelle is passing Ben going into a corner. You'll see Ben's hand is off thegas and pulling on the front brake lever to slow for th upcoming turn, while Michelll is still on the gas and looking over as he goes by. CLICK TO GO BIG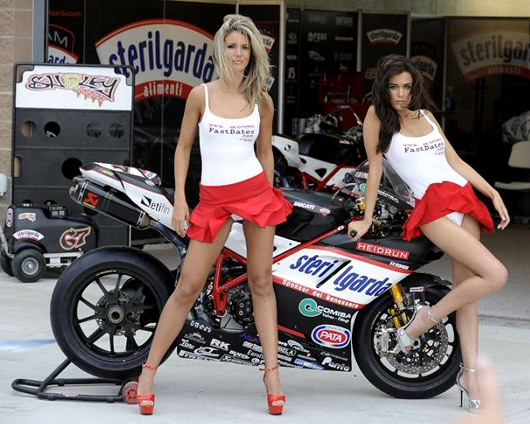 The FastDates.com Calendar Kittens encounter a stiff breeze when shooting with Shakey Byrne's Sterilgado Ducati 1198RS.
---
There's more! Go to Pit Lane News Previous Page

Also Visit: Fast Dates Calendar News • Iron & Lace Calendar News
Calendar Girl News • Meet the Models • Paddock Garage

Calendar Kittens, The Paddock Garage, Screensavers, Iron & Lace Garage



MotorcycleSuperstore.com
Some of our Calendar Kittens can also at Playboy's website...


Members Only
2010 Calendar
Sneak Preview!
All the new 2010 FastDates.com Calendars with all their pages are now available in large screen saver size format for your viewing in Members Corner. The printed Calendars will be avaialble to order here online July 1st, with the live World Premier with the beautiful Calendar Kittens taking place at the LA Calendar Motorcycle Show Weekend July 18-19th


2010 Fast Dates Kitten Sabella Shake
Offical Ducati Corse Grid Girl for Michel Fabrizio at Miller World Superbike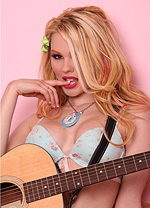 More Sneak Peaks!
2010 Calendar Sex Kitten
Jayme Langford

Just announced!
World Premier Debute
of Pajama Band with Jayme Langford at
LA Calendar Bike Show
July 18-19th !
Calendar Kitten, Penthoue Pet and Hustler Honey Jayme Langford and her sexy all girl Pajama Band of world famous porn starlets will be performing at the LA Calendar Motorcycle Show Weekend July 18-19th.
Damn the Bikes, you don't want to miss Pajama Band performing their new hit single "Fuck You Unitil You Die!"
Also Returning!
Singer Songwriter
and Actress
Elizabeth Nicole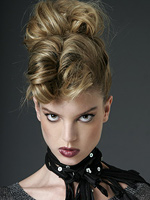 Calendar Kitten Apple
Tests the new
Roehr Harley Superbike!
meet her in person at the LA Calendar Motorcycle Show July 18-19th




Now Available
2009 FastDates.com Calendars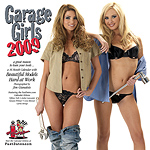 ---
Ben Spies Tops the Factory Race Team Silly Season Shipping List for 2010
July 19th - With his incredible Superpole and race win record in his rookie year of SBK World Superbike this season, and as the silly season gets underway for rumors of what factory teams are talking to which riders to sign for 2010, it is obvious that American ben Spies is sitting in the cat bird's seat. Ben's ride this 2009 season on the Italian Yamaha squad in World Superbike was only with a 1-year contract as Yamaha had no idea how he might fare in the big leagues. But now the way Ben has proven himself to be nearly unbeatable he pretty much can name his own price on any team in either World Superbike or MotoGP
The only exception to that is the Yamaha MotoGP where Ben was hoping to land after proving himself in World Superbike. Both for 2010 with the factory Yamaha Fiat MotoGP team riders of Valentino Rossi and Jorge Lorenzo leading the points chase there and both still having another year on their contracts, there just isn't room for Ben next year.
We don't see the personable Spies ever fitting in at Honda, and neither of the other Japanese teams have competitive bikes.
So Ben's choices for 2010 might mean his riding for the team with the next winning est bikes (after Yamaha) and biggest checkbook, and that's Ducati. If Ben wanted to go to MotoGP with Ducati he'd certainly be given Nicky Hayden's ride at the drop of hat. It's still Ducati's dream to have an American Champion on their bike to support their biggest market.
While in the Supebike Class, Ducati Corse has always put winning over its relationship with its riders on the Corse team, and either Haga or Fabrizio could be let go, depending on who of the 2 Ducati riders finishes 3rd in the Championship behind Spies and the other Ducati rider. Ben is sure to win the World Superbike title this year now that Haga is injured.
If Ben doesn't go to ducati next year, his choice could be either Ten kate Honda, Alstare Suzuki or staying at Yamaha Italia, all depending on who has the bigger offer. Yamaha's ace in the hoe for keeping Ben is that they can guarantee him a Yamaha MotoGP ride in 2011 when Rossi might retire.


The Official SBK
2008/2009 Yearbook
Awesome in full color! Commerating the 21st Anniversary of World Superbike
Troy Bayliss' 3rd World Championship Title>
PLus a technical look at ll the bikes, and a preview of Ben Spies and Noriyuki Haga battleing for the 2009 Champiosnhip!
We bought it ourselves and totally recommend it!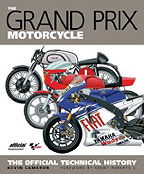 New Kevin Cameron Books
by America's Favorite
Motorcycle Technical Guru
---
From an AMA/DMG Press Release (Pardon us while we put on our Shit Wadding Boots):
Fans, Competitors, Promoters Welcome New AMA Pro Road Racing Programming On SPEED
Strong Support for Same-Day Format That Begins This Weekend at Mazda Raceway Laguna Seca
DAYTONA BEACH, Fla.June 30, 2009- This weekend's premier AMA Pro Road Racing events at the Red Bull U.S. Grand Prix at Mazda Raceway Laguna Seca will be the first races to air on SPEED in a new, same-weekend programming format that was announced last month. SPEED's decision to return to same-day or same-weekend coverage of AMA Pro Road Racing has been welcome news for series competitors, promoters and, most importantly, motorcycle road racing fans.

After a brief experiment in the first half of the year with the Saturday evening studio program AMA Pro Prime Time, SPEED is returning to same-weekend coverage of AMA Pro National Guard American Superbike presented by Parts Unlimited and AMA Pro Daytona SportBike presented by AMSOIL racing beginning with the action from Mazda Raceway Laguna Seca, July 3 - 5. The AMA Pro Road Racing action from Mazda Raceway can be seen Sunday, July 5 at 9 p.m. PT (late Sunday/early Monday, July 6 at Midnight ET).
Telephone messages and emails of support have poured into AMA Pro's Daytona Beach headquarters over the last month while several AMA Pro Road Racing stakeholders have gone on record in full support of SPEED's recent decision.
SpeedTV Not Exactly Truthful about return to "Same Day Race Coverage"
July 5th - All of SpeedTV's advertsised hype about returning to "same day race coverage of AMA Superbike this weekend at Laguna Seca was not exactly true. The weekend's Daytona Sportbike Class was scheduled for broadcast at 12:00 am Midnight on Sunday/Monday, followed by AMA Pro Superbike at 1:00am Monday. Sorry Speed, that is not same day coverage.
It was rebroadcast again at midnight on Monday the 6th
Lorenzo blazes to
Lagua Seca Pole before
injury-inducing crash
Red Bull U.S. Grand Prix - Saturday 4 July Fiat Yamaha's Jorge Lorenzo took pole position for Sunday's Red Bull U.S. Grand Prix in a crucial qualifying session, but will require medical checks before the race after crashing late in the run.
A dramatic qualifying session at Laguna Seca, which ended with the Spaniard being stretchered away having set the pole position time of 1'21.678, also saw a heavy fall for Casey Stoner.
Lorenzo was unaffected by a lowside crash on the fourth corner with 20 minutes to go, jumping on his second M1 to grab pole for Sunday's race, before a massive highside crash saw him taken away from trackside and straight to the medical centre. Initial tests showed a partially dislocated right shoulder and a bruised right foot, but Lorenzo will neither be passed fit to ride, nor ruled out of action, until Sunday morning.
Second fastest qualifier Valentino Rossi stood alone in parc fermé, having lapped 0.167s behind Lorenzo, with third fastest rider Stoner also crashing hard on turn three in the final minutes. Stoner appeared to be walking unaided, albeit unsteadily, after the session and is ok to race.
The second row for Sunday's eighth MotoGP contest of 2009 will be an all-Honda affair, with factory pair Dani Pedrosa and Andrea Dovizioso qualifying fourth and fifth respectively, in front of San Carlo Honda Gresini's Toni Elías – all three less than half a second down on Lorenzo.
MotoGP's American representatives Colin Edwards (Monster Yamaha Tech 3) and Nicky Hayden (Ducati) will be joined on row three by Chris Vermeulen (Rizla Suzuki), who like Hayden has a good record at Laguna. The top ten qualifiers list was completed by Vermeulen's veteran teammate Loris Capirossi –a previous winner at the track in the 1993 250cc race.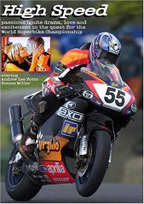 High Speed - the Movie
The best motorcyce racing movie ever made! Filmed on location at World Superbike, this an exciting romantic drama staring beautiful actress Sienna Miller.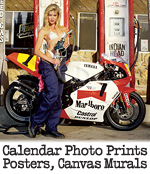 ---
Sixth double podium for Fiat Yamaha Team after intense Laguna finale
Laguna Seca MotoGP, July 5th - The Fiat Yamaha pairing of Valentino Rossi and Jorge Lorenzo shared the MotoGP podium for the sixth time this season at the US Grand Prix today, finishing second and third at Laguna Seca. Rossi closed down a gap of over three seconds to eventual winner Dani Pedrosa but fell just short of making another final-corner pass, whilst a brave Lorenzo battled through the pain of his injured shoulder to rally after a poor start and finish a strong third.
Rossi dropped one place to third at the start but Lorenzo, starting from pole, slipped right back through the field to eighth after the first corner. Both riders quickly began to make up ground however, the Italian passing Casey Stoner into the corkscrew and the Spaniard overtaking three riders to cross the line in fifth first time around. It was a short lived stint in second for Rossi as Stoner passed him back into turn one on the third lap while Pedrosa began to open up a big gap at the front of the field. There was no change for several laps until Andrea Dovizioso crashed on lap seven, elevating Lorenzo to fourth and giving the youngster clear air in front just as he began to find his rhythm. On lap twelve Rossi made his decisive pass on Casey Stoner and re-took second place and he immediately set about trying to close a gap of nearly three seconds to Pedrosa.
Over the next few laps however it was Lorenzo who was the man on the move and the brave Mallorcan gradually began to move closer to Stoner until he was able to make a brilliant pass on the brakes into the final corner to move into third. With Rossi unable to make much headway into Pedrosa's lead at that point, another Fiat Yamaha showdown began to brew as lap-by-lap Lorenzo edged closer to his team-mate. With four laps to go the 22-year-old saw his chance and tried to pass the World Champion at the final corner, but he suffered a big slide in the process and ran wide, letting Rossi back through and dropping back over a second. The drama wasn't over yet however as on the final lap Rossi suddenly found himself within striking distance of Pedrosa and a final-corner overtake looked to be on the cards, but in the end he was just a couple of tenths too far off and crossed the line 0.344 seconds adrift, with Lorenzo 1.926 seconds behind him.
Rossi extends his lead at the top of the championship to nine points over Lorenzo, who in turn stretches the gap from Stoner to seven points. There is a now a two week break before the MotoGP paddock returns to Europe for another double-header at the Sachsenring in Germany followed by Donington in the UK.
Valentino Rossi - Position: 2ndTime: +0.344
"The first half of the race was quite difficult because we weren't at 100% today. I didn't expect Dani to be so fast but he was very strong and there wasn't much I could do to go with him! The last ten laps were very exciting because Lorenzo was pushing me so hard that I had to really make another step and then Dani slowed down and suddenly he was right in front of me! I thought there was a chance to pass on the final corner but unfortunately I was just too far off and it was too much of a risk. Second is good today because we were not in perfect shape here, we missed something in the setting and this is always a hard track anyway, so we have to be happy with these twenty points. We have extended the championship lead so it's a good result for us and we have shown that we are still strong this year even when things are not perfect. This consistency is the most important thing for the championship. Now I am happy that we have some time to rest because these have been a hard two weeks and the next two races are very important because we are all so close!"
Jorge Lorenzo - Position: 3rdTime: +1.926
"I always try to do my best and I think that is what I have done today, considering my physical condition. I am really proud and I think that this was one of my best races. My foot was okay but I had a lot of pain in my right shoulder, which meant I wasn't strong in my right hand and I had to over-compensate with my left; I am really tired now! I want to thank the Clinica Mobile because they made it possible for me to finish the race. After a while I started to forget about the pain a bit and I just wanted to do my best and I knew that it was possible to pass Valentino. Unfortunately I hit some bumps when I braked deep and my rear tyre moved a lot and I was lucky not to crash - maybe without this mistake, if I had been able to pass him, it would have been possible to win but anyway third is good in the circumstances and we have taken good points. Now we have some time to recover; I am fit and strong so I hope that by Sachsenring I will be back to my best."
Top Five Result for Team Ducati at Laguna with Hayden's Best Yet
Laguna Seca MotoGP July 5th - Casey Stoner and Nicky Hayden crossed the line in fourth and fifth place today to secure a top team result for Ducati that confirms the forward steps taken with the Desmosedici GP9 in recent weeks.

A top five finish for Hayden is the result of relentless hard work and dedication from rider and team since the start of the season and his best qualifying and race performances of the campaign so far represented a source of huge satisfaction. The American delighted his home crowd not only with his performance but also with a special 'stars and stripes' livery, that will also be available on the new Ducati 848, launched in the USA two days ago.

However, a fourth place finish for Stoner was another case of damage limitation following another physically demanding weekend. The Australian has been combating physical exhaustion and to have two races in successive weekends certainly didn't help his cause here. Stoner will now stay on in the United States for extensive tests at the Fremont Surgery Center with Dr. Arthur Ting and Dr. Tuan, to try and understand the source of the problem.
CASEY STONER (Ducati MotoGP Team) (4th)
"It has been a weekend to forget. I can't be happy with fourth place even if it has limited the damage to my championship chances. Today I didn't feel as bad at the end of the race as I have done in the last two but I'm still not right. I found it really difficult to keep my concentration over the last few laps and I was in a bit of a daze by the end. My left arm was feeling really tired by the end because of the fact there are so many left-handers here and my left wrist still doesn't have the full range of movement after my operation in the winter. I'm really disappointed because without all of these problems we could have done so much better. I want to thank the team for giving me a great bike and also Doctor Claudio Macchiagodena and our physiotherapist Freddie (Dente) for all their help. Now we'll focus on trying to find out the root of the problem because racing in this condition is not much fun."
NICKY HAYDEN – (Ducati MotoGP Team) (5th)
"I have won here twice and to say that fifth place feels just as good might sound strange but man, so much hard work has gone into getting us to this point and I want to savour this feeling. To be racing at home, to score a solid result and to have had fun out there is nice. I just want to say a huge 'thank you' to my whole team, to Ducati and to everybody who has continued to believe in me during some difficult times this season. We have made progress over the last two races, we have kept the faith and it has paid off with this fifth place. Hopefully we can keep it going and score even better results as the season progresses."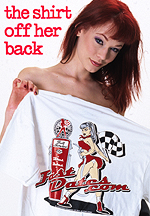 Order the Official
FastDates.com &
LA Calendar Bike Show
T-Shirts!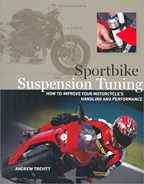 Video Tribute To John Britten. Backyard Motorcycle Visionary
onsidered at the time of his death the best motorcycle engineer in the world, designing and building motorcycles and much more, John Britten gave us a fabulous lesson of perseverance, courage, humility and creativity. If you never watched it, this 5- part documentary (total 7 h 15 minutes) shot in his home in New-Zealand is a must see for all the pros and backyard builders around the world. By the time he died of cancer in 1995, John Britten had become a household name.
See the video TV Series by going HERE
---