This Month in the new 2010 Garage Girls Calendar
Calendar Kitten and teen girl-girl adult film star Jayme Langford gets ready to bolt on some fresh rubber.
Order Jayme's 2010 Garage Girls Calendar • See more of Jayme wearing less in Members Corner
---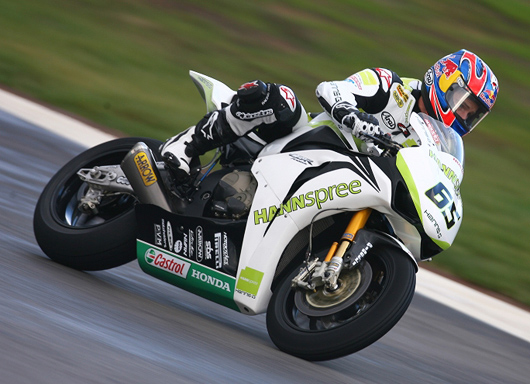 Jonthan Rea and the other British riders were the quickest all weekend in World Superbike testing.

2010 Hannspree World Superbike Championship
Jonthan Rea leads a 4 British Rider supremacy...
2010 World Superbike Season gets underway
with official testing at Portimao Spain
Portimao, Spain, January 22-24 2010 - Three days of official Infront Motor Sportspre-season testing at the Algarve Circuit in Portugal took place from Friday 22 to Sunday 24 January to herald the start of the 2010 Superbike World Championship. The Portuguese track, the venue for the final round of the 2009 season three months ago, will this year be the location for the year's first European round in March for World Superbike and World Supersport action, and is being used this weekend by all the top teams and riders prepare for the coming season.

It was Ten Kate Honda's Jonathan Rea who powered to the best time at the end of the three-day official Superbike test session at Portimao. The Northern Ireland youngster's time of 1 minute 42.270 seconds was quicker even than Ben Spies' 2009 pole mark for Yamaha. He and three other British riders: Ron Haslem, Shakey Burne and Cal Crutchlow wpould prove the quickesy all weekend aboard Japanese in-line four cylinder bikes, in both wet and dry conditions.
A total of fourteen hours of testing for World Superbike and nine for World Supersport were scheduled on the programme, with action starting at 8.30 am and concluding at 4.40 pm on all three days.
The full line-up of teams and riders is expected be communicated by SBK next week, as some privater teams have yet to confirm as they look for sponsorships.
Sir James Toseland is finally back in World Superbike after relinquishing his Superbike Crown 4 years ago to race MotoGP, somewhat unsuccessfully.
Ron Haslem lead the way on Day 1 aboard the Alstare Suzuki
British Lads head the field in day 1 of Portimao Superbike testing
Portimao, Spain, Friday Jan 22nd 2010 - Three British riders powered to the front in the first day of the official Superbike test at the Portimao circuit in Portugal. Leon Haslam was the man most in form as the Suzuki Alstare rider went quickest both in the morning and the afternoon, ending the day on the 1 minute 42.778 second mark, just three-tenths off Ben Spies' 2009 outright circuit best lap.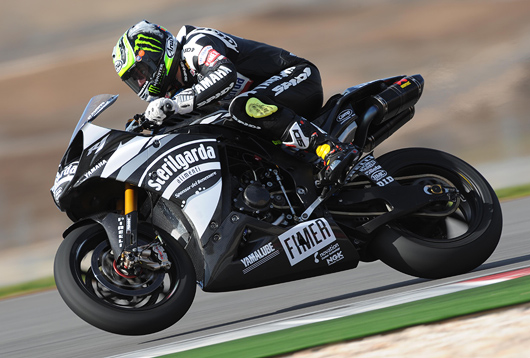 Cal was super quick all weekend.

Cal Crutchlow (Yamaha Sterilgarda) continued to ease his way into the top category in last year's title winning team, and he was a fraction behind in second place, while Jonathan Rea (Hannspree Ten Kate Honda) damaged his little finger in the morning run, but bounced back on form to take the third slot.

Max Biaggi (Aprilia Racing) failed to improve in the afternoon, but nevertheless ended the day in fourth, a whisker ahead of James Toseland, who has returned to race for Yamaha Sterilgarda this year. Shane Byrne (Althea Racing) continued the British flavour at the top with sixth fastest time.

For the moment the Ducati Xerox riders Noriyuki Haga and Michel Fabrizio are slightly off the pace in seventh and eighth place respectively, while new entrant, American Roger Lee Hayden eased his way into the World Superbike scene for the Kawasaki Pedercini team.

Superbike Times: 1. Haslam L. (GBR) Suzuki GSX-R1000 1'42.778; 2. Crutchlow C. (GBR) Yamaha YZF R1 1'42.960; 3. Rea J. (GBR) Honda CBR1000RR 1'43.033; 4. Biaggi M. (ITA) Aprilia RSV4 1000 F. 1'43.364; 5. Toseland J. (GBR) Yamaha YZF R1 1'43.378; 6. Byrne S. (GBR) Ducati 1098R 1'43.569; 7. Haga N. (JPN) Ducati 1098R 1'43.574; 8. Fabrizio M. (ITA) Ducati 1098R 1'43.711; 9. Checa C. (ESP) Ducati 1098R 1'43.870; 10. Camier L. (GBR) Aprilia RSV4 1000 F. 1'43.903; 11. Guintoli S. (FRA) Suzuki GSX-R1000 1'44.283; 12. Sykes T. (GBR) Kawasaki ZX 10R 1'44.365; 13. Corser T. (AUS) BMW S1000 RR 1'44.376; 14. Neukirchner M. (GER) Honda CBR1000RR 1'44.453; 15. Xaus R. (ESP) BMW S1000 RR 1'44.570; 16. Vermeulen C. (AUS) Kawasaki ZX 10R 1'44.576

World Supersport Day 1
Spanish rider Joan Lascorz dominated the first day of Supersport action at Portimao, the Kawasaki Motocard.com rider going quickest in both sessions after 180 minutes of testing. His time of 1'45"470 was just three-tenths away off the circuit record he set in last October's race.
But the rider of the day was Michele Pirro, who took his Honda Ten Kate to second place on his debut with the team, just a fraction off the leader's pace.

A major improvement was recorded by Jason DiSalvo, the American rider making his World Supersport debut on the Triumph (tenth) while Paola Cazzola propped up the charts with 14th time on the Honda Kuja.

Supersport Times: 1. Lascorz J. (ESP) Kawasaki ZX-6R 1'45.292; 2. Pirro M. (ITA) Honda CBR600RR 1'45.587; 3. Praia M. (POR) Honda CBR600RR 1'45.834; 4. Laverty E. (IRL) Honda CBR600RR 1'45.909; 5. Fujiwara K. (JPN) Kawasaki ZX-6R 1'45.988; 6. Davies C. (GBR) Triumph Daytona 675 1'46.610; 7. Foret F. (FRA) Kawasaki ZX-6R 1'47.164; 8. Salom D. (ESP) Triumph Daytona 675 1'47.500

Max Neukirchner makes like a duck aboard the Ten Kate Honda on Saturday.

Rea Masters the Wet on Day 2 of Portimao Tests
Portimao, Saturday 23rd - Jonathan Rea (Hannspree Ten Kate Honda) set the fastest time on the second day of official World Superbike pre-season testing at Portimao. On a day hit by bad weather and despite yesterday's finger-damaging crash, the 22-year-old Northern Irishman made all the difference both on the wet track in the morning and in the afternoon's damp session on intermediate tyres. Rea's best lap today was 1 minute 49.108 seconds, about seven seconds off yesterday's dry lap times.
Behind Rea, second place went to Leon Haslam, who continues to settle into his Suzuki Alstare team after dominating yesterday. The surprise of the day however was Troy Corser, who took his BMW S1000RR to third with an excellent 1'49"606. Ruben Xaus also went well with seventh quickest time on the second BMW.
Cal Crutchlow continued his familiarization process on the Yamaha Sterilgarda machine in fourth, ahead of Tom Sykes who went well in the wet on his Kawasaki. Max Biaggi could only manage ninth today on his Aprilia as he focused on engine reliability. Both Ducati Xerox riders Noriyuki Haga and Michel Fabrizio are currently slightly down the timesheets, the Italian still down with a virus and not exactly 100% fit.

Overall Times (Friday/Saturday): 1. Haslam L. (GBR) Suzuki GSX-R1000 1'42.778; 2. Crutchlow C. (GBR) Yamaha YZF R1 1'42.960; 3. Rea J. (GBR) Honda CBR1000RR 1'43.033; 4. Biaggi M. (ITA) Aprilia RSV4 1000 F. 1'43.364; 5. Toseland J. (GBR) Yamaha YZF R1 1'43.378; 6. Byrne S. (GBR) Ducati 1098R 1'43.569; 7. Haga N. (JPN) Ducati 1098R 1'43.574; 8. Fabrizio M. (ITA) Ducati 1098R 1'43.711; 9. Checa C. (ESP) Ducati 1098R 1'43.870; 10. Camier L. (GBR) Aprilia RSV4 1000 F. 1'43.903; 11. Guintoli S. (FRA) Suzuki GSX-R1000 1'44.283; 12. Sykes T. (GBR) Kawasaki ZX 10R 1'44.365; 13. Corser T. (AUS) BMW S1000 RR 1'44.376; 14. Neukirchner M. (GER) Honda CBR1000RR 1'44.453; 15. Xaus R. (ESP) BMW S1000 RR 1'44.570; 16. Vermeulen C. (AUS) Kawasaki ZX 10R 1'44.576; 17. Parkes B. (AUS) Honda CBR1000RR 1'44.751; 18. Iannuzzo V. (ITA) Honda CBR1000RR 1'46.444; 19. Fores J. (ESP) Kawasaki ZX 10R 1'47.293; 20. Hayden R. (USA) Kawasaki ZX 10R 1'48.317.

World Supersport Day 2
Michele Pirro continues to make a positive impression on his new Hannspree Ten Kate Honda mount, the Italian powering to the quickest time in day 2 of Supersport testing. Pirro set a time of 1 minute 47.168 seconds on the damp track, four-tenths quicker than Spain's Joan Lascorz, who was quickest in the dry on Friday. The Kawasaki Motocard.com man had a harmless crash in the early stages and failed to improve on a 1'47"527. Eugene Laverty, who topped the timesheets in the wet morning run, then slipped down to third, followed by his team-mate Miguel Praia. Italian Paola Cazzola, a new face in Supersport this year, made some improvement to twelfth, one place behind the rookie American Jason DiSalvo (Triumph).

Overall Times (Friday/Saturday): 1. Lascorz J. (ESP) Kawasaki ZX-6R 1'45.292; 2. Pirro M. (ITA) Honda CBR600RR 1'45.587; 3. Praia M. (POR) Honda CBR600RR 1'45.834; 4. Laverty E. (IRL) Honda CBR600RR 1'45.909; 5. Fujiwara K. (JPN) Kawasaki ZX-6R 1'45.988; 6. Davies C. (GBR) Triumph Daytona 675 1'46.610: 7. Foret F. (FRA) Kawasaki ZX-6R 1'47.164; 8. Salom D. (ESP) Triumph Daytona 675 1'47.500
Jonthan goes over his bike's telemetry with his Ten Kate Honda crew.

Jonthan Rea Heads a 4 British Rider supremacy
Day 3 Sunday 24th - Jonathan Rea powered to the best time at the end of the three-day Infront Motor Sports official Superbike test session at Portimao in Portugal. The Northern Ireland youngster's time of 1 minute 42.270 seconds was quicker even than Ben Spies' 2009 pole mark for Yamaha.

The battle between Rea and his fellow-Brit Leon Haslam, who had been quickest on day 1, continued right until the very end, the Suzuki Alstare man ending up three-tenths behind. British rider domination continued with Shane Byrne taking his private Althea Ducati 1098 to third place in the timesheets, and with Cal Crutchlow, one of Yamaha Sterilgarda's two new 2010 signings, in fourth.

In the final stages, after most of the top riders had used their soft tyres normally reserved for Superpole, Michel Fabrizio (Ducati Xerox) found himself in fifth place with a time of 1'43.137 ahead of former double world champion James Toseland (Yamaha Sterilgarda), who returns to Superbike after a gap of two seasons.
Max Biaggi (Aprilia Racing) was the only one of the leading runners not to go out on softer rubber and the Italian finished the test in seventh place with a time of 1'43.364, just ahead of 2009 runner-up Noriyuki Haga (Ducati Xerox), forced to slow with a technical problem during his quick lap.

Jonathan Rea: "This test was a lot of fun, we worked through everything methodically and we are in good shape to begin the season. We got most of the big things like suspension spec, linkage and swing-arm teed off so now we can go to Phillip Island and fine-tune our racing. To say we are ready to go racing at Phillip Island, we're not sure about that, but the bike is ready and now I plan to put the next three or four weeks to good use with my trainer and hopefully I'll be ready. We're all excited about the prospect of racing for a world championship."
Leon Haslam: "It's been a really positive test, we managed to test the Suzuki for the first time in the rain and intermediate conditions. We had a few issues at the end of the day but ended up second and I was really happy with that. Every test I've been to so far, this is our fourth, we've not been outside the top 2. Hopefully we can continue progressing and I can take it to Phillip Island."

Reigning British Superbike Champ Shayne Byrne on the Althea Ducati 1098RS
Shane Byrne: "This is my third year riding the Ducati and I honestly thought I knew everything there was to know about these bikes, but this year Genesio (Bevilacqua, team owner) has put together a fantastic team and we have two very good bikes. I have a strong team-mate, everything about the team is very good, the bike is so different from last year, and we made some really good progress in three days. I wish the second day had been dry also, so we still have some more work to do now at Valencia and Phillip Island before the first race.
Ducati, because they gave us a really strong bike. It has been hard work and I was surprised to see how difficult it was to go fast with this bike. I started the test with exactly the same setting from my race bike from last year so the bike should be easy for me to ride, but the electronics of my 1198 are really very advanced and it took all Friday and today's test to make the most from my Ducati. I think I learned more in these test than in all last year. It has been a very good test and I'm very happy with the team and I hope to continue to work like this for all the season and now I look forward to the next test in Valencia".
The 2010 Superbike winter tests will conclude at Phillip Island the week before the start of the season at the same circuit in Australia on February 28th. In the next few days however several teams, including BMW, Aprilia and Ducati, will be heading to Valencia for some extra testing.

Sir James Toseland finally back in action on a World Superbike

Times: 1. Rea J. (GBR) Honda CBR1000RR 1'42.270; 2. Haslam L. (GBR) Suzuki GSX-R1000 1'42.557; 3. Byrne S. (GBR) Ducati 1098R 1'42.877; 4. Crutchlow C. (GBR) Yamaha YZF R1 1'42.960; 5. Fabrizio M. (ITA) Ducati 1098R 1'43.137; 6. Toseland J. (GBR) Yamaha YZF R1 1'43.157; 7. Biaggi M. (ITA) Aprilia RSV4 1000 F. 1'43.364; 8. Haga N. (JPN) Ducati 1098R 1'43.417; 9. Neukirchner M. (GER) Honda CBR1000RR 1'43.471; 10. Guintoli S. (FRA) Suzuki GSX-R1000 1'43.508; 11. Checa C. (ESP) Ducati 1098R 1'43.629; 12. Camier L. (GBR) Aprilia RSV4 1000 F. 1'43.749; 13. Corser T. (AUS) BMW S1000 RR 1'43.931; 14. Vermeulen C. (AUS) Kawasaki ZX 10R 1'44.108; 15. Sykes T. (GBR) Kawasaki ZX 10R 1'44.365; 16. Xaus R. (ESP) BMW S1000 RR 1'44.570

World Supersport Day 3
Eugene Laverty (Honda Team Parkalgar) finally made the breakthrough he had been looking for in the three-day World Supersport test at Portimao as he knocked Spain's Joan Lascorz off the top slot towards the end of the final session.

Last year's championship runner-up lapped the Algarve circuit in 1 minute 45.104 seconds, a fraction quicker than Lascorz's lap record, set last October. The circuit best lap of 1'44.836 remains in the hands of Laverty, with his 2009 pole time.

The Irishman was the only one of the leading group to improve in the sixth session and he ended up a tenth quicker than Lascorz, who had dominated Friday and Saturday. Third place, with a time of 1'45.587, went to an impressive Michele Pirro, the Italian putting in some serious lap time on his new Hannspree Ten Kate Honda mount. Team-mate Kenan Sofuoglu was unable to take part in the test as the Turk will still require more recovery time for his fractured left ankle.

Sixth place went to Chaz Davies on the Triumph 675 in 1'46.988, while on the same BE1 Racing machine American rookie Jason DiSalvo also eased his way into the picture with tenth quickest time of 1'47.054.
Kuja Racing Honda's Paolo Cazzola, the first woman to take part full-time in the world championship, finished in a respectable 13th place on her debut.

Times: 1. Laverty E. (IRL) Honda CBR600RR 1'45.104; 2. Lascorz J. (ESP) Kawasaki ZX-6R 1'45.292; 3. Pirro M. (ITA) Honda CBR600RR 1'45.587; 4. Praia M. (POR) Honda CBR600RR 1'45.834; 5. Fujiwara K. (JPN) Kawasaki ZX-6R 1'45.988; 6. Davies C. (GBR) Triumph Daytona 675 1'46.610; 7. Foret F. (FRA) Kawasaki ZX-6R 1'46.836; 8. Salom D. (ESP) Triumph Daytona 675 1'47.054
---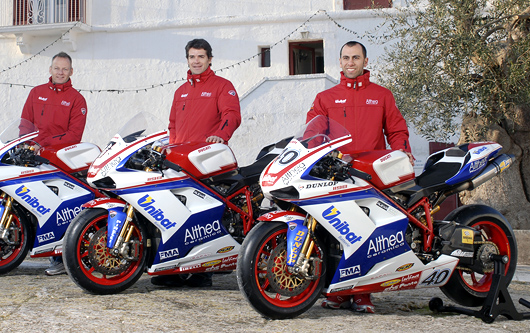 The 2010 Althea Racing Superbike team with Shakey, Carlos and Flavio on Ducati 1198RS bikes. Click to go BIG.
Team Althea Racing 2010 official World Superbike team presentation
Brindisi, Italy, February 18th - The new 2010 Althea Racing Team was officially presented on January 16th at Timo's Clubin Fasano (Brindisi – Italy). All the components of the team were present in Fasano, starting from the team's General Manager, Genesio Bevilacqua together with the riders of the Superbike World Championship Carlos Checa and Shane Byrne plus Flavio Gentile the rider of the Superbike Italian Championship. The team is made up of two personal staffs, with four team personal for each world Superbike rider, and four overall team staff and press officiers. http://www.althearacing.com
The Althea Racing 2010 Superbike team presentation included dancers and a fashion show to promote the team's sponsors and entertain the guests.
---
New 2010 Bimota DB8
Rimini, Italy, February 1st - Despite the depressed economy with Japanese metric streetbike sales down nearly 60%, sportbike fans worldwide can rejoice with another exciting Superbike model joining the growing superbike market this year along with BMW and KTM. The new Bimoto DB8 Superbike gets to use the industry leading Ducati 1198 Testastretta engine in 170hp tune, hung from the usual beautiful Bimota billet machined aluminum and cromoly steel tube chassis. Claimed total weight (wet?) is 178kg / 392 lbs. The usual expensive Bimota construction materials like titanium and carbon fibre, have been substituted with plastic bodywork and a stainless steel exhaust system to help keep the bike more affordable in these tough economic times, but we still notice nice high end components like the Marchesini forged billet race wheels and Brembo mono block race brake calipers. It looks like you will still have to ante up for a slipper clutch, though. The DB8 is expected to retail for around $36,000.
BIMOTA DB8 ENGINE SPECS
Source: Ducati 1198 Testastretta Evoluzione, 4V 90°Twin-Cylinder
Displacement: 1198.4 cc
Cooling System: Liquid Cooled
Compression Ratio: 12.7±0.5:1
Maximum Power: 170 HP @ 9750 rpm
Maximum Torque: 96.9lbs•ft @ 8000 rpm
Exhaust System: 2-1-1, stainless steel

Front Brake: Double 320mm Brembo floating disc, 4-pistons radial Brembo callipers, radial pumps
Rear brake: 220mm floating disc, 2-piston Brembo calliper
Front Tire: 120/70 ZR 17 Dunlop Sportmax GP Racer
Rear Tire: 190/55 ZR 17 Dunlop Sportmax GP Racer

BIMOTA DB8 CHASSIS SPECS


Frame: Welded 39NiCrMo4 Tubing and Machined 6082 Aluminium Alloy Plates
Wheelbase: 1435 mm
Front Suspension: Marzocchi USD forks DLC fully adjustable
Rear Suspension: Extreme Tech Monoshock fully adjustable
Fuel Tank: 4.23 gallons (1.05 gallon reserve)
Total Weight: 178kg (392lbs)
Steering Angle: 25°
Seat Height: 800 mm
Overall Length: 2100 mm
Overall Width: 700 mm
Overall Height: 1115 mm
Ground clearance: 135 mm
---
KTM Releases 1190 RC8R Superbike to America
IDM Red Bull and Akrapovic Limited Editions also available
Long Beach, CA, December 2nd – KTM North America, Inc. will unveil the two newest street models, the KTM 1190 RC8 R IDM Red Bull and Akrapovic Limited Editions, at the Long Beach International Motorcycle Show December 4-6 at the Long Beach Convention Center.

2010 will mark the first year that KTM has brought the highly publicized 1190 RC8 R motorcycle to the United States. After a successful year in Europe, the bike will be sold to the US public in 2010 in its standard 'R' form as well as in two limited editions, the IDM Red Bull version and the Akrapovic version.

These 1195cc, 75 º V-twin, 170hp 'R' model machines include a host of engine upgrades to fulfill the fantasy of most all track day riders. The engineers started with super light pistons and increased the compression ratio, reworked the combustion chamber, and added adjustable camshafts. Its chassis features a revised geometry, race spec suspension and adjustable pegs, shifter, sub frame and ride height. / Complete Details & Photos HERE
---
New Pirelli Diablo Superbike Pro Track Tire
provides Amateur and Club racers with World Superbike technology

The ideal race-replica slick tyre solution dedicated to club racers
preparing for competition and racing for fun with long lasting trackday enjoyment.

Milan (Italy) and Algarve (Portugal), 23 January 2010 – Pirelli announces the immediate availability of the new race-replica slick Diablo Superbike PRO on occasion of the pre-season World Superbike tests in Portimão, Portugal. The new tyre represents a natural link for end users to the professional racing world, extending experiences and know-how from years of WSBK activity to those devoted to competition training, trackday riding and racing for fun. All this in a rewarding package focused on performance lasting over multiple weekends, consistency throughout sessions and easy set up.

Compared to Pirelli's Diablo Superbike SC tyres, the PRO's more flexible carcass, higher duration compounds, a new structure derived from the hypersport range and 17" sizes with similar profiles, the Diablo Superbike PRO works perfectly even with a stock chassis and suspension. Riders need not adjust their bike's suspension to compensate for the typical movement of professional soft racing compounds, nor make the 16.5 inch wheel conversion typical of full professional setups.

With a development firmly rooted in the Superbike World Championship, the Diablo Superbike PRO is painted with technology gathered from six years of experience as sole Official Tyre Supplier for the seven manufacturers and nearly 40 professional riders who set multiple track records over a dozen race weekends. However, today's demand for more economical solutions from those passionate about on-track riding has altered the slick tyre scenario, since the semi-professional slick riding experience is now sought out by club racers for training as well as enthusiasts just for pure trackday fun. New requirements are now centered on performance lasting: using the same tyres over many weekends, a resistance to frequent entrances / exits from the pit, easy bike set up and pure fun in every condition. Pirelli has widened its racing tyre range to fulfill the needs of this new market, in addition to meeting the traditional requirements of extreme performance.
Compound with Extraordinary Grip that Lasts
The Diablo Superbike PRO provides more grip at lower operating temperatures than other professional slick tyres, a benefit all riders can appreciate when they reach the tyres' performance peak without tyre warmers and feel their super-sticky grip just after a few laps. This advantage comes from a compound derived by an innovative production process and the use of the latest generation polymers, a formula specifically dedicated to competition preparation and long lasting trackday riding. Specific chemicals and reinforcing elements contribute to attaining the ideal material stiffness, an element aiding in the resistance of heat cycles; its chemical composition remains unchanged throughout multiple track sessions and can endure numerous entrances / exits from the pit.


The PRO compound's lower operating temperature, often encountered on the first laps on track, benefits riders with quicker tyre warm-up and improved compound flexibility, reducing the tendency to cold-tear. Its immediate grip response avoids unnecessary tyre spin and thus better wear. At high tyre temperatures the PRO compound is characterized by a lower thermo-plasticity; a compound stiffness offering a reduced abrasion and thus improved wear, along with an increased capability to bear mechanical and thermo stresses, thus tyre behavior is predictable both in extreme and mild riding.

Structurally Sound
The Diablo Superbike PRO is characterized by an extremely versatile structure that adapts easily to a 'stock' motorcycle setup and combined with its higher duration compound guarantees maximum performances throughout more track sessions. Inside the carcass is Pirelli's patented 0° steel belt, the backbone solution of Pirelli's entire Diablo range of racing and supersport street products. The profile of the tyre is amazing in the corners, with massive grip at super high lean angles without the need to compensate for geometry change or install aftermarket products to properly fit the tyre in the swing-arm.

The carcass's enhanced flexibility ensures higher dampening properties to better match the long lasting compound. As a result, the tyre is very stable and handles in a uniform manner; it is very balanced in corners and stable under braking. The PRO structure is developed to control the overall tyre temperature with a consequent reduction of wear throughout all tyre components, resulting in not only longer life but more consistency of performance. The profile of the new Diablo Superbike PRO is a duplicate of the SC version which properly distributes all stresses incurred by the contact patch area, thus enlarging the footprint area to transmit fully the available horsepower to the ground.

The slick tread design avoids all potential wear triggers, specifically in colder conditions, and improves the riding feeling versus standard racing DOT tyres. Diablo Superbike PRO is therefore the perfect combination of a racing profile, hyper-sport structure and a new generation of long lasting compound to deliver great braking stability and precise cornering, confidence at lean angles all the way to the maximum and optimal trajectory for the highest corner exit speeds.
High Performance at a Lower Cost
The real 100% potential of true professional slick tyres can be exploited only with a professional bike set up which can include special modifications (including a professional suspension system). This demands a high level of technical knowledge and can very often be extremely costly, which is not convenient for a typical racing for fun or trackday user. Therefore, Diablo Superbike PRO is designed to reach the maximum performance level of a stock bike with lasting performance and compared to racing DOT solutions of the same size and under the same conditions, will raise grip and feeling to an incredible level.

Diablo Superbike PRO is the ideal solution for club racers preparing for competition and racing for fun users looking for long lasting trackday enjoyment. It is easily recognized by a red stripe which is printed on the tyre and for its red "PRO" marking on the sidewall. Diablo Superbike PRO is not homologated for street usage (NHS – not for highway service) and is available in original equipment homologated 17" sizes for the front: 120/70R17; and rear: 180/55R17 and 190/55R17, so there is no need to adjust geometry, swing-arm length or gearing to be able to fit them, just mount them and go!
| | |
| --- | --- |
| Click to Order Now from Amazon.com! | |
Hot off the Presses!
New 2009-2010 World Superbike and Motocourse Yearbooks
If you are a real roadracing enthusiast, here's the next step in your library collection, the official 2009-2010 season roadracing annuals from SBK World Superbike and Motocourse. Both annuals are beautiful covetable quality books providing exciting race-by-race coverage in story and spectacular photography of the just completed 2009 Championships, along with rider and bike features, and a preview of the upcoming 2010 season.
The Motocourse Annual covers both MotoGP and World Superbike, as well as the Superbike Championships in top countries like Britain and the USA. While the Superbike Yearbook only covers World Superbike, it is our favorite of the two as it includes technical photo features of all the top factory bikes, a feature of the new World Champion which this past 2009 season was American Ben Spies, and it has great articles by World Superbike Press officer Julian Thomas.
---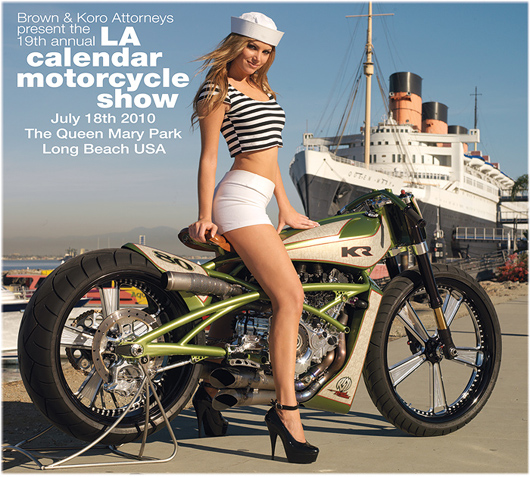 2009 LA Calendar Motorcycle Show's World Wide magazine coverage!
Click the pages to enlarge.
Kenji Negai's 2009 LA Calendar best of Show winner is featured in the January 2010 issue of Iron Works magazine.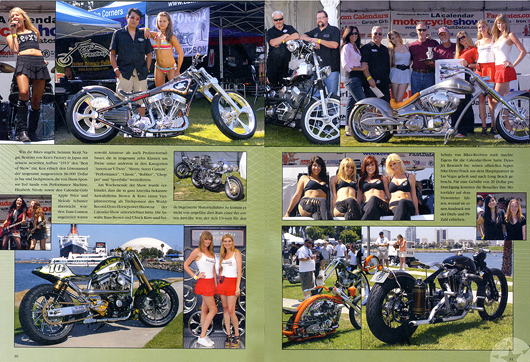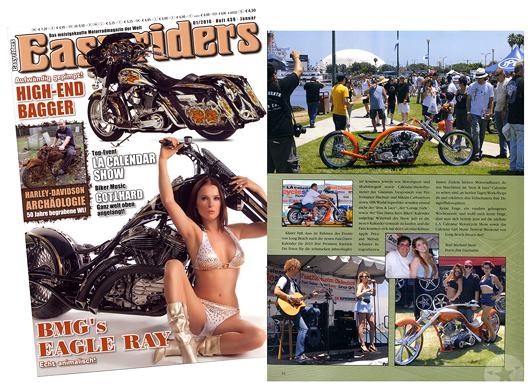 Easyriders Europe 5-page editorial feature!
---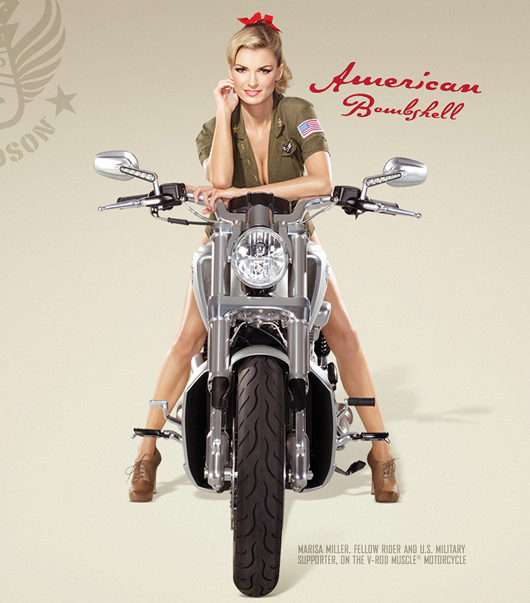 Harley-Davidson continues Marissa Miller in new 2010 Marketing Campaign
Jan 1st, 2010 - Harley-Davidson is continuing in 2010 with the marketing campaign they began with Victoria's Secret supermodel Marissa Miller last year. Marissa is being featured in a print adverting campaign, posters and a free 2010 Calendar available at Harley dealers. The theme of the campaign is a retro 1940s World War II style bomber airplane pin up nose art look with Marissa dressed in sexy military apparel celebrating the different branches of the US Military while posed on different Harley bikes. It is a beautiful, sexy marketing campaign and we applaud Harley-Davidson for taking on the pinup theme in the current very conservative right wing political, religious and legal sexual harassment climate that is current out of control in America. God bless the US Military and beautiful girls!
---
There's more! Go to Pit Lane News Previous Page

Also Visit: Fast Dates Calendar News • Iron & Lace Calendar News
Calendar Girl News • Meet the Models • Paddock Garage

Calendar Kittens, Paddock Garage, Screensavers, Iron & Lace Garage




MotorcycleSuperstore.com
Some of our Calendar Kittens can also at Playboy's website...


FREE! New Met-Art Model Galley Updated Daily - Stop Back Each Day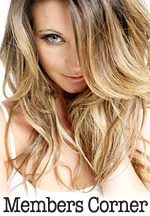 Hot Bikes, Sexy Kittens
Your Exclusive Grid Pass
also includes....
Live Online Video Launch for the 2010 FIM Superbike World Championship
Saturday 23rd 12 ET / 9am PT
To mark the start of this season's SBK activity, which gets underway at the weekend with three days of official testing at the Algarve Circuit in Portimao (Portugal) from Friday 22 to Sunday 24 January, Infront Motor Sports will be making a worldwide presentation of the 2010 HANNspree FIM Superbike World Championship with an Online Launch, which can be followed on the championship's official website www.worldsbk.com.

At 18.00 CET (17.00 GMT, 12pm Eastern US, 9am Pacific US) on Saturday 23 January the 2010 season will officially get underway with a welcome and introduction by Paolo Flammini, CEO of Infront Motor Sports, followed by a video of the testing action at Portimao, a speech from the Pirelli representative, a Q&A session with journalists and interviews with the main championship contenders.
Join us on www.worldsbk.com for the start of the 2010 FIM Superbike World Championship this coming Saturday!
---
World Premier!
2010 FastDates.com Calendars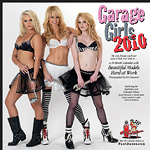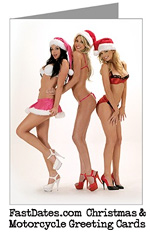 Sports Illustrated
Swimsuit Calendars!
---
World Superbike 2010 Season Full of Talent
Portimao, Thurs 21st Jan 2010 - The first official tests of the new SBK season get underway at Portimao between January 22 to 24 and the entry includes both riders and teams of the highest quality and quantity.

With some privateer teams still to confirm their final plans for 2010 there are already well over 20 top level riders in SBK this year, on machinery from seven different manufacturers, all of whom will be going all out to fight for wins during the 13-round season.

The Aprilia Racing squad of Max Biaggi and Leon Camier will be in Portugal for the January tests, while the Ducati Xerox squad of Noriyuki Haga and Michel Fabrizio are now both seasoned campaigners, few more so than last year's runner-up Haga.
Carlos Checa and Shane Byrne are a very high class Althea Ducati duo, with more Ducati runners set to be confirmed soon. It will be the first chance for each of these two proven WSBK race winners to test after their recent team launch in Italy.

Yamaha has two world champions in its line-up, former double Superbike winner James Toseland and last year's Supersport champion Cal Crutchlow, Both James and Cal will test in Portugal - the same track where each had their first taste of Yamaha Superbike power at the end of last year.

Hannspree Ten Kate Honda riders Jonathan Rea and Max Neukirchner have been confirmed in the entry for some time, and like many of their rivals they will be returning to the scene of one of their recent tests. Broc Parkes is another top-level rider back for more SBK action, this time with Echo CRS Honda.

BMW, so welcome in their rookie year of 2009, will field no less than four machines in 2010, with two official BMW Motorrad bikes in Portugal this weekend, ridden by Troy Corser and Ruben Xaus.

Suzuki has two full-time riders confirmed for 2010, both in the Alstare set-up, with Leon Haslam and Sylvain Guintoli returning to Portimao on the very latest development of the GSX-R1000.

Kawasaki, having redoubled its efforts in the winter months, now has Chris Vermeulen and Tom Sykes on its books, and each will run at the forthcoming tests. The Pedercini Kawasaki team has recently confirmed America's Roger Lee Hayden as one of its planned two riders for the new season.

In the Supersport World Championship most of the top riders will also be testing in Portugal. Crutchlow's promotion to the top category and Yamaha's scaling down of its Supersport effort – the chief protagonists of last season – mean that the title chase is sure to be wide-open once again, as has always been the tradition of the championship. The main men to watch in this early test session will be multiple champions Hannspree Ten Kate Honda with Kenan Sofuoglu and Michele Pirro, Parkalgar Honda with Eugene Laverty, Kawasaki Motocard.com with Joan Lascorz and the Triumph 'super-team' of Chaz Davies, Jason DiSalvo and the returning Sebastien Charpentier.
Davide Tardozzi
New Team Manager at BMW Motorrad Motorsport World Superbike
Munich/Stephanskirchen, 07January 2010. - BMW Motorrad Motorsport is restructuring its team management in the Superbike World Championship. Davide Tardozzi (50) has been appointed to a senior position at Team BMW Motorrad Motorsport with immediate effect. The Italian will head up team management and operational control at the race tracks in the Superbike World Championship.
Up to now, Rainer Bumel (43) has been responsible for engineering, team management and team organisation in his capacity as BMW Motorrad Motorsport Project Manager in the Superbike World Championship. Bumel will continue as Head of Project Management and Project Management Engineering.
The collaboration between BMW Motorrad Motorsport and Tardozzi is part of a package of measures aimed at optimising the competitiveness of BMW Motorrad Motorsport in the Superbike World Championship. In his role as Team Manager, Tardozzi will look after the operational management of the team at races and tests, act as an interface between the team and the promoters and organisers of the Superbike World Championship, and provide a link to suppliers.
"I am delighted finally to be able to announce our partnership with Davide Tardozzi," said BMW Motorrad Motorsport Director Berthold Hauser. "The new structure ensures that the team will be well set up for the future. Team management and team organisation are important areas in which we can see further potential for improvement. The key here is to approach every situation in a structured and target-led way. This applies to both general processes and tactical decisions with a direct influence over performance. With his many years of experience in the sport, Davide will play a decisive role here. At the same time, the restructuring will allow Rainer Bumel to fully focus on the core areas of overall project management and engineering."
Tardozzi said: "I imagine a lot of people will be surprised to hear of my decision to join BMW. However, for me the decision was simple. I had offers from MotoGP, but my heart is in the Superbike World Championship and I feel at home here. BMW Motorrad Motorsport is a young and hungry team, and that gives me the challenge I have been looking for. I'm looking forward to working behind the scenes to the benefit of the team. I know that I can fulfil this role at BMW. Of course, already knowing our riders Troy and Ruben well makes my job easier.2010 will be a tough year, as there are many good riders and teams in the Superbike World Championship. Nevertheless, I firmly believe that BMW can take a big step forward over the coming year."
Tardozzi rode in motorcycle races himself from 1984 to 1992. In his first two seasons he competed in the 250 cc World Championship and later moved to the Superbike class. He finished third in the 1988 Superbike World Championship after racking up five race wins, and in 1991 he secured the European Superbike Championship title. Tardozzi has remained involved - and continued to enjoy success - in motorcycle racing since bringing the curtain down on his career as a rider. Since 1995, as a team principal, he has won a total of nine manufacturers' titles and eight riders' titles in the Superbike World Championship.
Roger Lee Hayden to World Superbike
American Roger Lee Hayden as confirmed he will be racing the WSBK series in 2010 and has signed a contract to ride for the Pedercini Kawasaki team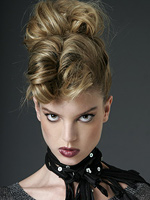 Calendar Kitten Apple
Tests the new
Roehr Harley Superbike!



Aprilia RSX1000


Kawasaki Z1000
---
First AMA Pro Road Racing approved test of 2010 will be held at Auto ClubSpeedway in Fontana, Calif. on February 2nd-3rd. The test will be hosted by
Yoshimura. This preseason test will not count towards the three approved AMA Pro allowed tests as it will provide teams an opportunity to handle media and marketing needs as well as
shake down new equipment and riders for the upcoming season. The complete test schedule will be announced as soon as the last date is finalized.
To reserve a spot, please contact Rich Doan at (909) 364-0186 or (909) 215-3849.
It is expect there will only be 2 factory distributor teams, Yamaha and Suzuki, and somewhere beteen 13-16 riders competing in the 2010 AMA/DMG Superbike Class. This is the most dismal entry turnout in the premier roadace class in America, ever.
Miller Motorsports Needs World Superbike
Volunter Workers
Jan 14th - Miller Motorsports Park is pleased to announce the return of the HANNspree Superbike World Championship in 2010. This will be the third consecutive season that SBK has competed at MMP.

Over the past two years, we have received an "excellent" rating from the officials of the Fédération Internationale de Motocyclisme (FIM) for the safety and accuracy of our on-track activities; this is a direct result of the hard work put in by our loyal and dedicated volunteers.

We are currently recruiting volunteers for the 2010 HANNspree Superbike World Championship Utah USA Round. This event will take place May 29-31, 2010. We MUST have 400-plus volunteers to ensure it will be a successful, safe and fun event.
Open Positions:
• Flag Station Marshal
• Track Station Marshal
• Moto Taxi (Minimum qualifications: Three years' experience on a motorcycle, valid motorcycle license)
• Moto Pick Up
• Logistics Volunteer (Position starts Monday, May 24 – Ends Tuesday, June 1)
• Team Dining Hall Hostess
• Volunteer Runners
This is a very special event, as it is the only appearance in the Western Hemisphere for World Superbike, and our dedicated volunteer staff is vital to our success.

As in the past, volunteers will receive an incentive package, the details of which are still being determined and will be released in the near future.

Interested candidates should visit www.millermotorsportspark.com
and fill out the online application form. Applicants must be 18 years of age to volunteer for this event.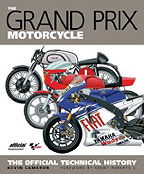 Kevin Cameron's
New Book!
by America's Favorite
Motorcycle Technical Guru
---


Just announced!
Calendar Show Debute
July 18th 2010
of Recording Star
Singer / Songwriter
Sara Haze!
This exciting new Soulful Pop Rocker will knock your socks off!

Click to hear and order Sara's latest CD!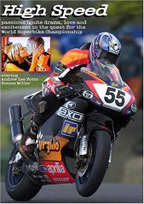 High Speed - the Movie
The best motorcyce racing movie ever made! Filmed on location at World Superbike, this an exciting romantic drama staring beautiful actress Sienna Miller.


Erotica Archives
FREE New Model
Galley Updated Daily
Warning Contains Nudity
---
The final year-end tally down 41% overall for 2009 retail new motorcycle sales, with Japanese brands down 60%
Powersports Business
Thursday January 21, 2010

Pockets of the industry showed better performance in December than the rest of the year, but overall year-end retail new unit sales finished well below 2008 levels.
The Motorcycle Industry Council (MIC) reported the industry's motorcycle, scooter and ATV sales were down nearly 37 percent in 2009 compared to the previous year. The total number of new unit sales amounted to 841,683 vehicles. This total does not include UTVs or vehicle manufacturers that are not members of the MIC.
Off-highway motorcycle and scooter sales performed better in December compared to the previous-year month than they did for the rest of 2009. Off-highway bike sales were off only 5 percent compared to December 2008 while scooter sales declined 25 percent.
Here's how specific segments did for the full year compared to a year ago:
On-road motorcycle sales declined more than 41.5 percent. Keep in mind that Harley-Davidson's streetbike slaes were only down some 20% for the year with over 200,000 units sold, with a similar 20% drop for Ducati, so their numbers actually helped to bolster the over streetbike sales which were down closer to 60% for the Japanese brnds.
ATV sales dropped more than 29 percent compared to a year ago;
Scooter sales fell 59 percent against a very difficult comparable in 2008, which saw record sales because of high gas prices.
Looking ahead at
Harley-Davidson's
2010 Forecast
Powersports Business
Friday January 22, 2010 - Harley-Davidson will continue to reduce its bike production in 2010, with plans of reducing manufacturing by 5-10 percent.
The company outlined those plans today plus reported its full-year earnings results, which include a net loss of more than $55 million.
Much of those losses are due to the company's restructuring activities and its production cutbacks, including a more than 50 percent decline in its recent quarter.
The company also noted it continues to see dealer closures, with 28 dealerships or Secondary Retail Locations having closed in 2009, or about 3.5 percent of the company's retail operations. The company said a further 15 could close in the next three months.
Harley-Davidson said it plans to build 201,000-212,000 bikes next year. "We believe 2010 will be a challenging year," Harley-Davidson CEO Keith Wandell said in a press release.
On the same day the company outlined its year-end results, it unveiled a new Sportster model. The bike, called the Forty-Eight, will be geared toward the brand's younger buyers with a MSRP of $10,499.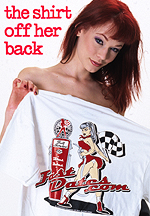 Order the Official
FastDates.com &
LA Calendar Bike Show
T-Shirts!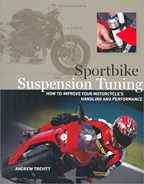 World's fastest motorcyclists headline 22nd Annual AMA Motorcycle Hall of Fame Museum Breakfast at Daytona
PICKERINGTON, Ohio -- What's it like to ride in the cockpit of a streamlined motorcycle at more than 367 mph for 30 seconds? What's it like to work at building the machine capable of such a feat for 30 years?

The American Motorcyclist Association (AMA) is pleased to announce that fans of motorcycling can go straight to the source for the answers to both questions at the 22nd Annual AMA Motorcycle Hall of Fame Museum Breakfast at Daytona this March 5.

The guests of honor at the fundraising event will be the world's fastest motorcyclist, Chris Carr, and the builder of the world's fastest motorcycle, Denis Manning. The current land-speed record holders and AMA Motorcycle Hall of Famers will be on hand to talk about their feat and answer attendees' questions.

Held on the Friday following the second race of the AMA Pro Flat Track doubleheader at the new Daytona Flat Track facility where Carr will begin his 26th year of competition in that discipline, the AMA Motorcycle Hall of Fame Museum Breakfast at Daytona will be from 8-10:30 a.m. at the Hilton Daytona Beach Oceanfront Resort, 100 North Atlantic Ave., Daytona Beach, FL 32118.
Tickets are $49 per person prior to Feb. 15 and $55 at the door. For ticket information, call (800) AMA-JOIN and ask for extension 1234.