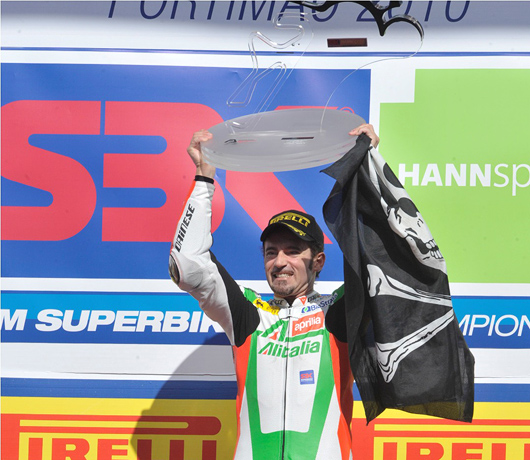 Pirate Mad Max on the Portiamo podium.
2010 HANNspree World Superbike Championship, Portiamo Round 2 of 11

Biaggi /Aprilia Doubles at Portiamo World Superbike
Portimao, Portugal, March 26-28th 2010 - In front of 77.000 people, Max Biaggi (Aprilia Alitalia) won both 22-lap races at Portimao today on Sunday to go second in the championship rankings, behind the rider who took two second places, Leon Haslam (Alstare Suzuki). The margin of victory for Biaggi was 0.200 seconds in race one, and 0.191 seconds in race two, as Max took his career win total to six. He scored his first SBK double win today, having started the race second on the grid. Haslam now has 85 points, Biaggi 69.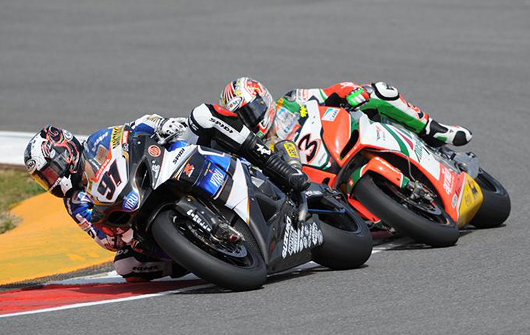 Leon Haslam and Max Biaggi battled for the lead in both races.
Portiamo Preview: SBK 2nd Round Shaping Up To Be Another Classic
Portimao, Tuesday 23 March 2010 - After the first round of the championship delivered thrills and excitement all the way at Phillip Island last month the eyes of the world will be focused on Portimao this coming weekend, as WSBK reconvenes at another highly rated and very popular venue.

The Autodromo Internacional do Algarve is a remarkably feat of modern engineering and design, with the undulating track layout and circuit facilities both coming in for high praise. The track was completed in time for the WSBK weekend in 2008, making this the third competitive visit to the 4.592 km circuit for some of the riders and teams. An official test in January of this year saw virtually all Superbike and Supersport World Championship teams set laps in changeable conditions, meaning the one universal wish from a strong 2010 entry is for sunshine on the Algarve coast for the next few days.

All TO PLAY FOR AND ALL IN PLAY: A total of 17 regular SBK riders have already scored points of some kind in 2010, and all of the seven competing manufacturers - Aprilia, BMW, Ducati, Honda, Kawasaki, Suzuki and Yamaha - have also scored points in the Manufacturers' Championship at the first attempt. Leading the Riders' Championship now is Leon Haslam (Suzuki Alstare) who won the first race in Australia, and in doing so took his first WSB win, in his first full factory ride. He is followed in the early rankings by Michael Fabrizio (Ducati Xerox) and PI second race winner, privateer Carlos Checa (Althea Ducati). As events in Australia showed very clearly, there will be any number of official or supported private teams who should be capable of podium finishes at some stage in 2010. The combination of experience and relative youth, and the closely regulated technical rules mean that opportunities will be available for all. This coming weekend should be no exception.

PACK OF ACES: The line-up of riders at Portimao features no fewer than 15 who have won at least one SBK race in their careers, plus two former champions in this category, and four other riders with a major world title to their name. Joining the fray for the first time in 2010 will be Makoto Tamada, riding as a stand-in for the injured Roland Resch in the Reitwagen BMW Team, teaming-up with Andrew Pitt for this weekend only. If we look to last year as a guide to form in 2010, Fabrizio won the second race in Portugal, while still active SBK riders Noriyuki Haga (Ducati Xerox), Jonathan Rea (Hannspree Ten Kate Honda) and Max Biaggi (Aprilia Alitalia) all scored podium finishes on the weekend.
An even better gauge of how this weekend should turn out is possibly the results of the official test at Portimao, between 22 and 24 January this year. Rea topped the rankings then, followed by Haslam, Shane Byrne (Althea Ducati), Cal Crutchlow (Yamaha Sterilgarda Team), Fabrizio and James Toseland (Yamaha Sterilgarda team).

ON THE UP: BMW Motorrad Motorsport riders Troy Corser and Ruben Xaus will be out for an overall improvement on their PI results, with Xaus in particular keen to turn around his recent fortunes, having not started either race in Australia. Joining Biaggi in Portugal is Leon Camier, the least experienced of the seven British riders in WSB, but a British-based French rider has already made a real mark in his rookie season. Sylvain Guintoli (Suzuki Alstare) finished a close fourth in one race last time out, sixth in the other, and is therefore an impressive fifth overall.

FIGHT FOR FITNESS AND FORM: Chris Vermeulen (Kawasaki Racing Team) suffered some knee tissue injuries in a crash at Phillip Island but the tough Aussie is determined to ride in Portugal, alongside his team-mate Tom Sykes. Max Neukirchner (Hannspree Ten Kate Honda) is expecting better results for his new team this weekend, while Pedercini Kawasaki duo Matteo Baiocco and Roger Lee Hayden are determined to move into points scoring places this time out, as is Vittorio Iannuzzo (SCI Honda Garvie Image). Promising opening weekends for Jakub Smrz (PATA B&G Ducati) and Lorenzo Lanzi (DFX Ducati) in Australia didn't bear too much fruit so each will be ready for bigger helpings now. Joining the championship at this round is Luca Scassa, on his Supersonic Racing Team Ducati.

Points (after 1 of 13 rounds): 1. Haslam 45; 2. Fabrizio 36; 3. Checa 34; 4. Haga 27; 5. Guintoli 23; 6. Rea 23; 7. Biaggi 19; 8. Corser 16; 9. Camier 10; 10. Lanzi 9. Manufacturers: 1. Ducati 45; 2. Suzuki 45; 3. Honda 23; 4. Aprilia 19; 5. BMW 16; 6. Yamaha 7; 7. Kawasaki 3

SUPERSPORT 600: Eugene Laverty (Parkalgar Honda) dominated the first race of 2010 at Phillip Island and the last race of 2009 Honda at Portimao, and he is out to repeat the trick at his team's home circuit this weekend. His toughest opponents will surely be Kenan Sofuoglu (Hannspree Ten Kate Honda) and Joan Lascorz (Kawasaki Provec Motocard.com) but in a field with real quality in its upper echelons, riders like Fabien Foret (Lorenzini by Leoni Kawasaki), Davide Salom (ParkingGO BE-1 Triumph), Katsuaki Fujiwara (Kawasaki Motocard.com) and many others will have a real chance of top five places. Arguably the rider most keen to shine is local competitor Miguel Praia (Parkalgar Honda) who wants to put in a career best finish in front of his local fans. Matthieu Lagrive (ParkinGO Triumph BE1) joins the championship for this round, alongside regular rider Chaz Davies.

Points (after 1 of 13 rounds): 1. Laverty 25; 2. Lascorz 20; 3. Sofuoglu 16: 4. Salom 13; 5. Foret 11; 6. Roccoli 10; 7. Harms 9; 8. DiSalvo 8; 9. Praia 7; 10. Rea 6. Manufacturers: 1. Honda 25; 2. Kawasaki 20; 3. Triumph 13.

SUPERSTOCK 1000: The Superstock classes kick off at this the first European race of the 2010 season, with the Superstock 1000 category featuring a number of possible champions and a vast number of competing manufacturers. Maxime Berger (Ten Kate Race Junior), Davide Giugliano (Team 06 Suzuki), Ayrton Badovini (BMW Motorrad Italia) and others are well established riders in this competitive class, but with some top riders moving up from 600 Superstock racing, and a field of over 30 riders in total, Superstock at Portimao is set to be fight all the way.

SUPERSTOCK 600: A mass exodus of the top riders in 2009 means that the European Superstock 600 class is completely wide open in 2010, for riders of Honda, Suzuki, Triumph and Yamaha machinery. Nine countries will be represented by at least one rider in this class where the machines on show most resemble the streetbikes they are based on. A new era of Superstock 600 is beginning and new stars are about to be born.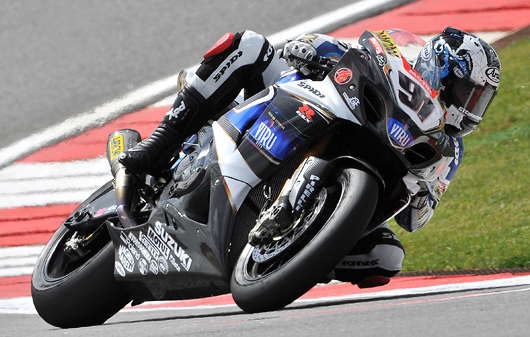 Leon Haslam has the Alstare Suzuki on top after the team's difficult 2009 season with the new K9 model.

Friday Practice: Haslam leads after one day in the Portuguese sun
Portimao, Friday 26th - Leon Haslam (Suzuki Alstare) made best use of a dry and steadily improving track surface to record the best qualifying time so far and take provisional pole with a 1'43.476. Late charger Michel Fabrizio (Ducati Xerox) was only 0.032 seconds back in second, with Phillip Island race winner Carlos Checa (Ducati Althea) third.

Aprilia Alitalia rider Max Biaggi was a competitive fourth quickest on his latest spec of machine, with Yamaha Sterilgarda rider and double WSBK World Champion James Toseland fifth, having been the first rider to get under the 1'44 barrier. SBK rookie Cal Crutchlow (Sterilgarda Yamaha) was a fine sixth, and was one of seven riders to take their place at the top of the timesheets at some stage of the first qualifying session, before Haslam left his name on top.

Shane Byrne (Althea Ducati) held off Jakub Smrz (Pata B&G Racing Ducati) for seventh. Aprilia Alitalia rider Leon Camier pushed his machine to ninth place, and yet another British rider, Jonathan Rea (Hannspree Ten Kate Honda) was once again the top Honda runner, tenth. Jonathan had suffered a high speed crash in the first untimed practice session, but got going again in the afternoon.

Troy Corser took his BMW Motorrad Motorsport S1000RR to 12th, and Tom Sykes (Kawasaki Racing Team) posted a top Kawasaki ranking of 15th. His team-mate Chris Vermeulen elected not to ride in the qualifying session, to help his injured right knee heal up faster.

A total of 14 riders were covered by a second today, with an even closer level of competition expected in the next qualifying session, to be held tomorrow morning. The fastest 20 riders will then make it into Superpole, on Saturday afternoon, to fight for their ultimate grid positions.
Leon Haslam: "It is all feeling good here even though we are not as quick as we were at the winter test. We did a lot of laps on the same tyre to get ready for the race and it is pretty satisfying to be fast on the first day."

Michel Fabrizio: "I only really got the chance to go for one quick lap time in the session but with a couple of more chances I think I could have gone faster. We worked well on the set-up today for the race and I am relaxed and confident that we will go even faster tomorrow."

Carlos Checa: "We worked in the morning session to find a good set-up and as soon as we used the softer tyre in the afternoon session we were something like one second faster. We are only losing some time in the final split so we are now working on how to make that up."

Superbike Practice / Provosional Pole: 1.Haslam L. (GBR) Suzuki GSX-R1000 1'43.476; 2. Fabrizio M. (ITA) Ducati 1098R 1'43.508; 3. Checa C. (ESP) Ducati 1098R 1'43.645; 4. Biaggi M. (ITA) Aprilia RSV4 1000 F. 1'43.688; 5. Toseland J. (GBR) Yamaha YZF R1 1'43.735; 6. Crutchlow C. (GBR) Yamaha YZF R1 1'43.769; 7. Byrne S. (GBR) Ducati 1098R 1'43.881; 8. Smrz J. (CZE) Ducati 1098R 1'43.932; 9. Camier L. (GBR) Aprilia RSV4 1000 F.1'44.041; 10. Rea J. (GBR) Honda CBR1000RR 1'44.042; 11. Haga N. (JPN) Ducati 1098R 1'44.098; 12. Corser T. (AUS) BMW S1000 RR 1'44.203; 13. Neukirchner M. (GER) Honda CBR1000RR 1'44.272; 14. Guintoli S. (FRA) Suzuki GSX-R1000 1'44.423; 15. Sykes T. (GBR) Kawasaki ZX 10R 1'44.559; 16. Lanzi L. (ITA) Ducati 1098R 1'44.851

Supersport World Championship - Laverty steps it up
Eugene Laverty (Parkalgar Honda) moved up to the provisional pole position at his team's home race, setting a best of 1'45.797. His nearest competitor is Michele Pirro (Hannspree Ten Kate Honda) and Michele's team-mate Kenan Sofuoglu was third. Chaz Davies proved to be top Triumph ParkinGO BE1 rider - fourth - with the best Kawasaki under the control of Joan Lascorz (Kawasaki Motocard.com) in fifth place.

Supersport600cc times: 1. Laverty E. (IRL) Honda CBR600RR 1'45.797; 2. Pirro M. (ITA) Honda CBR600RR 1'46.027; 3. Sofuoglu K. (TUR) Honda CBR600RR 1'46.116; 4. Davies C. (GBR) Triumph Daytona 675 1'46.281; 5. Lascorz J. (ESP) Kawasaki ZX-6R 1'46.484; 6. Praia M. (POR) Honda CBR600RR 1'46.725; 7. Foret F. (FRA) Kawasaki ZX-6R 1'46.759; 8. Salom D. (ESP)Triumph Daytona 675 1'46.760

Superstock 1000 FIM Cup
Ayrton Badovini topped the first official timed session on his BMW Motorrad Italia machine, followed by Sylvain barrier in the Garnier Junior racing BMW. The unofficial session leader Maxime Berger (Ten Kate Race Junior) was third when it came to the first qualifying session, and a straight run of three French riders was completed by former European 600 Superstock champion, Loris Baz (MRS Racing Yamaha).

Times: 1. Badovini A. (ITA) BMW S1000 RR 1'46.566; 2. Barrier S. (FRA) BMW S1000 RR 1'47.215; 3. Berger M. (FRA) Honda CBR1000RR 1'47.343; 4. Baz L. (FRA) Yamaha YZF R1 1'47.631; 5. Giugliano D. (ITA) Suzuki GSX-R 1000 1'47.701; 6. Petrucci D. (ITA) Kawasaki ZX 10R 1'47.703; 7. Antonelli A. (ITA) Honda CBR1000RR 1'47.834; 8. Mähr R. (AUT) Suzuki GSX-R 1000 K9 1'47.852

European Superstock 600 Championship
Florian Marino (Ten Kate Junior Honda) upped the ante in the 600 Superstock class, leading the time sheets in the first qualifying session of the new season. Norwegian Frederik Karlsen (MTM Racing Yamaha) was a close second; Gauthier Duwelz (MTM Racing Team Yamaha) joined his team-mate in the upper reaches, going third.

Times: 1. Marino F. (FRA) Honda CBR600RR 1'49.452; 2. Karlsen F. (NOR) Yamaha YZF R6 1'49.731; 3. Duwelz G. (BEL) Yamaha YZF R6 1'49.985; 4. Lombardi B. (ITA) Yamaha YZF R6 1'50.185; 5. Guarnoni J. (FRA) Yamaha YZF R6 1'50.243; 6. Lanusse R. (FRA) Yamaha YZF R6 1'50.447; 7. Calero Perez N. (ESP) Yamaha YZF R6 1'50.844; 8. Fanelli D. (ITA) Honda CBR600RR 1'50.918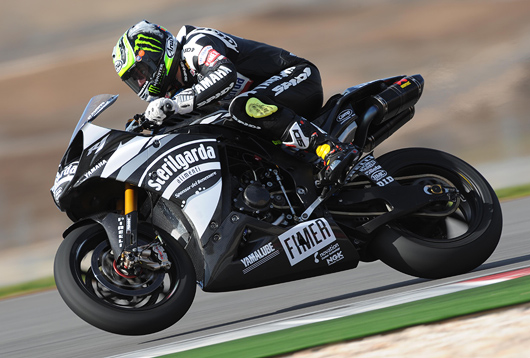 Cal Crutchlow tops Superpole.

Crutchlow conquers the first European Superpole of 2010 at Portimao
Portimao, Portugal, Saturday May 27th: Yamaha Sterilgarda World Superbike rider Cal Crutchlow set himself apart from the class this afternoon, storming through the Superpole heats to take pole and breaking the Best Lap record in the process. Crutchlow unleashed the full potential of the Yamaha R1's power in ideal track conditions, leaving a gap of over four tenths of a second to second placed Aprilia rider Max Biaggi. Team-mate James Toseland had also been progressing well through the sessions with fast consistent speed until an unfortunate high-side on the last corner of the circuit in heat two relegated him to 15th on the grid for tomorrow's two Superbike races. Although bruised Toseland was luckily uninjured in the high speed crash.
Cal Crutchlow, Yamaha Sterilgarda World Superbike Team (1st, 1'42.092)
"The Superpole lap wasn't really a surprise to me to be honest, we had a good session beforehand and I knew we could go really well in the qualifying session this morning. We left a lot in reserve, so down in 14th place I wasn't panicking. I knew we had a good pace for the pole session, I only used one qualifying tyre and we only needed one lap to do it. Yamaha's done a fantastic job in the last month, it was hard work but we've got there in the end, all working together. I'm quietly confident we'll do a good job tomorrow as well.
The second qualifying session of the race weekend earlier in the day saw both riders focussing on the set up for race day whilst ensuring they remained within the times for the subsequent Superpole sessions. Incredibly the first 14 riders of the session were within 0.7 of a second of each other. Crutchlow's time, just 0.6 off the front man was particularly impressive considering the entire session was run on just one set of tyres.
Superpole Times: 1. Crutchlow C. (GBR) Yamaha YZF R1 1'42.092; 2. Biaggi M. (ITA) Aprilia RSV4 1000 F. 1'42.513; 3. Checa C. (ESP) Ducati 1098 R 1'42.586; 4. Haslam L. (GBR) Suzuki GSX-R1000 1'42.596; 5. Rea J. (GBR) Honda CBR1000RR 1'42.807; 6. Smrz J. (CZE) Ducati 1098R 1'42.8897. Byrne S. (GBR) Ducati 1098R 1'42.960; 8. Corser T. (AUS) BMW S1000 RR 1'43.152; 9. Guintoli S. (FRA) Suzuki GSX-R1000 1'42.984; 10. Xaus R. (ESP) BMW S1000 RR 1'42.999; 11. Camier L. (GBR) Aprilia RSV4 1000 F. 1'43.039; 12. Sykes T. (GBR) Kawasaki ZX 10R 1'43.199; 13. Neukirchner M. (GER) Honda CBR1000RR 1'43.380; 14. Lanzi L. (ITA) Ducati 1098R 1'43.568; 15. Toseland J. (GBR) Yamaha YZF R11'49.401; 16. Scassa L. (ITA) Ducati 1098R 1'44.249
Baiggi's (3) and Haslem's (91) exciting fight for the lead traded places both races, never more than this far apart.
World Superbike Race 1
Max Biaggi held off Haslam for the race one win but only after a strong man-to-man fight throughout. Jonathan Rea went third for Hannspree Ten Kate Honda, when Cal Crutchlow fell off his Sterilgarda Yamaha late in the race, remounting to go 14th.

Carlos Checa (Althea Ducati) had to work hard to keep Leon Camier (Aprilia Alitalia) behind as he scored fourth place. Shane Byrne (Althea Ducati) rode through the pain of a big crash on Saturday to take sixth. Noriyuki Haga recovered from his fifth row start to take eighth and the first BMW Motorrad machine home belonged to Troy Corser, ninth.

Superbike Race 1 Results:
POS NO. RIDER BIKE TIME TYRES (all Pirelli)
1 3 Biaggi M. (ITA) Aprilia RSV4 1000 F. 37'59.283 (159,562 kph) B/A
2 91 Haslam L. (GBR) Suzuki GSX-R1000 0.200 B/A
3 65 Rea J. (GBR) Honda CBR1000RR 6.901 B/A
4 7 Checa C. (ESP) Ducati 1098R 7.457 B/A
5 2 Camier L. (GBR) Aprilia RSV4 1000 F. 7.564 B/A
6 67 Byrne S. (GBR) Ducati 1098R 11.420 B/A
7 52 Toseland J. (GBR) Yamaha YZF R1 18.391 B/A
8 41 Haga N. (JPN) Ducati 1098R 18.536 A/A
9 11 Corser T. (AUS) BMW S1000 RR 24.514 C/A
10 111 Xaus R. (ESP) BMW S1000 RR 32.427 B/A
11 84 Fabrizio M. (ITA) Ducati 1098R 35.045 B/A
12 57 Lanzi L. (ITA) Ducati 1098R 36.816 B/A
13 50 Guintoli S. (FRA) Suzuki GSX-R1000 36.841 B/A
14 35 Crutchlow C. (GBR) Yamaha YZF R1 44.678 B/A
15 66 Sykes T. (GBR) Kawasaki ZX 10R 44.942 B/A
16 31 Iannuzzo V. (ITA) Honda CBR1000RR 59.135 B/A
17 32 Morais S. (RSA) Honda CBR1000RR 59.852 B/A
18 95 Hayden R. (USA) Kawasaki ZX 10R 1'00.097 B/A
19 15 Baiocco M. (ITA) Kawasaki ZX 10R 1'10.151 B/A
20 99 Scassa L. (ITA) Ducati 1098R B/A
RET 88 Pitt A. (AUS) BMW S1000 RR B/A
RET 96 Smrz J. (CZE) Ducati 1098R B/A
RET 76 Neukirchner M. (GER) Honda CBR1000RR B/A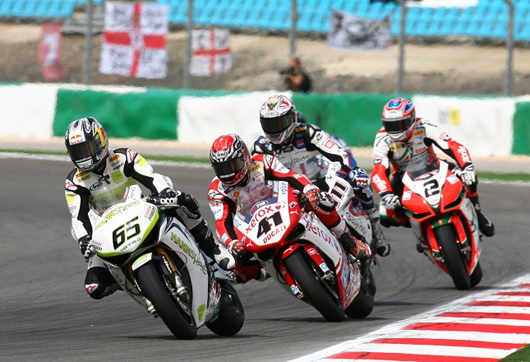 Jonthan Rea battles (65) just behind the rae leaders with Haga (41), Camier (2) and Xaus (111).

World Superbike Race 2
A close four-rider fight for the win went to Biaggi again, from Leon Haslam, who was not quite able to overtake Biaggi and make it stick, as Max used his superior drive out of the final corner to pass Leon when it mattered. Cal Crutchlow scored his second career SBK podium, and his first as a series regular, running his Yamaha to third. Carlos Checa was fourth - and only 1.015 seconds covered the whole top four after another tense race. In the championship Haslam leads with 85 points, Biaggi is second on 69 and Checa third with 60.

FOUR MANUFACTURERS IN EACH TOP FOUR
In each race today there were four different manufacturers in the top four - Aprilia, Suzuki, Honda and Ducati in race one, and Aprilia, Suzuki, Yamaha and Ducati in race two. The second race saw a vee-four, a conventional 'screamer' four, a cross-plane crankshaft four and a 1200cc vee-twin fill the top four places - all the engine configurations competing in SBK this year within a second of each other after 22 laps and almost 160km of close racing.

VAST IMPROVEMENT
It was only last October that the previous Portimao round was run, but in those short months the progress has been amazing. Race one today was 16 seconds faster than it's equivalent in October and race two was 13 seconds faster this year compared to last.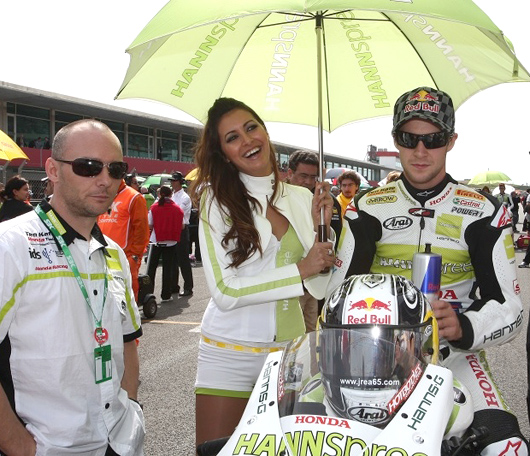 Jonthan Rea on the grid.
RIDER COMMENTS
Max Biaggi: "It is great to get my first double win in World Superbike. The feeling is great and the first double win of anybody this year so I feel confident and we are in a good rhythm. We go to Valencia next and we will ask very much of ourselves there as well. We had good speed down the straight today but if you saw how fast we could exit the last corner then you would know it was not just the engine. Our bike is fast but other bikes are also fast."

Leon Haslam: "I was trying everything to pass Max and in race two I timed it so I could be in the lead with a few laps to go and make a break, but Max came back past me on the straight. It was hard racing today from lap one right to the end. We got two podiums and although I was disappointed not to get another win, we are still leading the championship. That puts a smile back on my face."

Jonathan Rea: "Somebody ran me a bit wide on the first turn of race one and I was held up a lot after that, so when I picked up some pace it opened my eyes to what I could do. In race one I think I made one mistake and had to catch up quite a few riders, but I still finished third."

Cal Crutchlow: "The places where I was losing time where the places I was using the tyre a lot, and I was making a few small mistakes as well. I had Carlos right behind me for most of the second race and that kept me on my toes. Fortunately Max and Leon made a few little mistakes running wide and that allowed me to hang on in there until the end."

Superbike Race 2 Results:
POS NO. RIDER BIKE TIME TYRES (all Pirelli)
1 3 Biaggi M. (ITA) Aprilia RSV4 1000 F. 38'06.128 (159,084 kph)B/A
2 91 Haslam L. (GBR) Suzuki GSX-R1000 0.191 B/A
3 35 Crutchlow C. (GBR) Yamaha YZF R1 0.658 B/A
4 7 Checa C. (ESP) Ducati 1098R 1.015 B/A
5 2 Camier L. (GBR) Aprilia RSV4 1000 F. 3.123 B/A
6 52 Toseland J. (GBR) Yamaha YZF R1 9.131 B/A
7 67 Byrne S. (GBR) Ducati 1098R 11.033 B/A
8 41 Haga N. (JPN) Ducati 1098R 13.452 A/A
9 50 Guintoli S. (FRA) Suzuki GSX-R1000 13.964 B/A
10 11 Corser T. (AUS) BMW S1000 RR 16.377 B/A
11 84 Fabrizio M. (ITA) Ducati 1098R 26.351 B/A
12 111 Xaus R. (ESP) BMW S1000 RR 27.964 B/A
13 66 Sykes T. (GBR) Kawasaki ZX 10R 33.566 B/A
14 57 Lanzi L. (ITA) Ducati 1098R 33.823 B/A
15 76 Neukirchner M. (GER) Honda CBR1000RR 37.372 B/A
16 99 Scassa L. (ITA) Ducati 1098R 45.611 B/A
17 95 Hayden R. (USA) Kawasaki ZX 10R 56.512 B/A
18 15 Baiocco M. (ITA) Kawasaki ZX 10R 58.980 B/A
19 49 Tamada M. (JPN) BMW S1000 RR 1'15.819 B/A
20 88 Pitt A. (AUS) BMW S1000 RR 1'41.672 B/A
RET 32 Morais S. (RSA) Honda CBR1000RR B/A
RET 96 Smrz J. (CZE) Ducati 1098R B/A
RET 65 Rea J. (GBR) Honda CBR1000RR B/A
RET 31 Iannuzzo V. (ITA) Honda CBR1000RR B/A

Championship standing (after 2 Rounds of 13): 1. Haslam 85; 2. Biaggi 69; 3. Checa 60; 4. Fabrizio 46; 5. Haga 43; 6. Rea 39; 7. Guintoli 33; 8. Camier 32; 9. Corser 29; 10. Crutchlow 25

Manufacturers standing: 1. Suzuki 85; 2. Ducati 71; 3. Aprilia 69; 4. Honda 40; 5. Yamaha 32; 6. BMW 29; 7. Kawasaki 7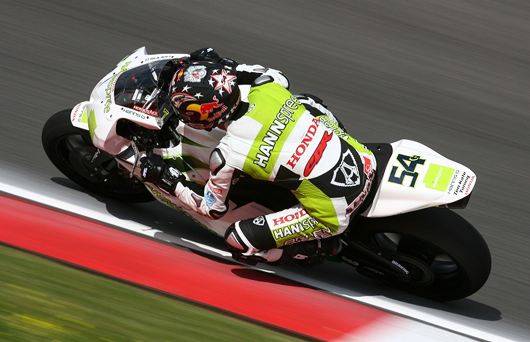 World Supersport sees Sofuoglu supreme in Portugal
Kenan Sofuoglu (Ten Kate Honda) won a thrilling Supersport race by 0.031 seconds from Joan Lascorz (Motocard.com Kawasaki) and Sofuoglu's team-mate Michele Pirro. Long time leader Eugene Laverty was caught and passed by both Sofuoglu and Lascorz with a few laps left to run and soon after lost the front, falling but restarting to finish 11th. After Laverty crashed out of third place, Sofuoglu held off a determined challenge from Lascorz, extending his record tally of World Supersport wins to 15 and taking a one-point championship lead as Pirro took a lonely third place, nine seconds back. Chas Davies (ParkinGO Triumph BE1) was fourth on his three-cylinder machine. Local rider Miguel Praia was forced to stop on his Parkalgar Honda.

It was the 23-year-old Italian's first World Supersport podium in his debut year with the Hannspree Ten Kate team, and Pirro underlined his winning potential by setting a new Portimao lap record early in the race. After the second round, Sofuoglu leads the championship, 41 points to Lascorz' 40. Laverty has 30 points in third.
Kenan Sofuoglu "I'm so happy to win this race because the competition is so tight this year, but the good thing is that my bike is really strong this year, too! Yesterday in qualifying, my crew asked me how was the bike and I replied that there was only one problem: I was not good enough for it! I promised them that today I would show the potential of the CBR600RR and already in warm-up this morning I set a new best lap. I took it a bit easy in the beginning of the race, and then pushed in the last part to take the lead. Lascorz was very strong in the last laps but I held on because I really wanted this win. I was disappointed after Phillip Island, so this victory is really important and I want to give big, big thanks to the team."

Supersport 600cc Results: 1. Sofuoglu K. (TUR) Honda CBR600RR 35'21.143 (155,871 kmh); 2. Lascorz J. (ESP) Kawasaki ZX-6R 0.031; 3. Pirro M. (ITA) Honda CBR600RR 8.879; 4. Davies C. (GBR) Triumph Daytona 675 15.270; 5. Foret F. (FRA) Kawasaki ZX-6R 22.096; 6. Fujiwara K. (JPN) Kawasaki ZX-6R 23.041; 7. Harms R. (DEN) Honda CBR600RR 30.830; 8.Rea G. (GBR) Honda CBR600RR 35.171; 9.Roccoli M. (ITA) Honda CBR600RR 35.225; 10. Salom D. (ESP) Triumph Daytona 675 35.239

Championship standing (after 2 Rounds of 13): 1. Sofuoglu 41; 2. Lascorz 40; 3. Laverty 30; 4. Foret 22; 5. Salom 19; 6. Harms 18; 7. Davies 17; 8. Roccoli 17; 9. Pirro 16; 10. Fujiwara 15

Manufacturers standing: 1. Honda 50; 2. Kawasaki 40; 3. Triumph 26

Superstock 1000 FIM Cup: Badovini wins debut race for BMW
The arrival in Superstock 1000 of the S1000RR was an immediately successful one, as Ayrton Badovini (BMW Motorrad Italia) took the win after race long rival Maxime Berger (Ten Kate Racing Junior) ran off track and lost 2.5 seconds on the final lap. Third was Loris Baz (MRS Racing Yamaha) meaning there were three different machines on the podium.

Superstock 1000cc Results: 1. Badovini A. (ITA) BMW S1000 RR 21'18.245 (155,193 kmh); 2. Berger M. (FRA) Honda CBR1000RR 2.744; 3. Baz L. (FRA) Yamaha YZF R1 13.154; 4. Barrier S. (FRA) BMW S1000 RR 13.800; 5. Bussolotti M. (ITA) Honda CBR1000RR 15.304; 6.La Marra E. (ITA) Honda CBR1000RR 15.861; 7. Giugliano D. (ITA) Suzuki GSX-R 1000 16.727; 8. Antonelli A. (ITA) Honda CBR1000RR 17.334; 9. Petrucci D. (ITA)Kawasaki ZX 10R 20.558; 10. Savary M. (SUI) BMW S1000 RR 22.386

Championship standing (after 1 Round of 10): 1. Badovini 25; 2. Berger 20; 3. Baz 16; 4. Barrier 13; 5. Bussolotti 11; 6. La Marra 10; 7. Giugliano 9; 8. Antonelli 8; 9. Petrucci 7; 10. Savary 6

Manufacturers standing: 1. BMW 25; 2. Honda 20; 3. Yamaha 16; 4. Suzuki 9; 5. Kawasaki 7; 6. KTM 5; 8. Aprilia 4
---
Elena Myers Redefines "Debutante"
99.99% of the club racers in the 11 Western states have had their trash kicked repeatedly over the last 5 years by a young lady named Elena Myers. Having turned 16, she skipped the Debutante Ball and graced the High Banks of Daytona International Speedway instead where she finished 6th and 7th in her two 600cc Supersport races at her first ever AMA Pro Events.
This weekend at California Speedway she finished even higher, after a Turn One crash with another rider that Red Flagged Race One and sent her to the hospital on Saturay, Elena retrurned to Tace Two on Sunday and finished 4th, the highest placing ever for a Woman in AMA Pro Roadracing. You go girl!
---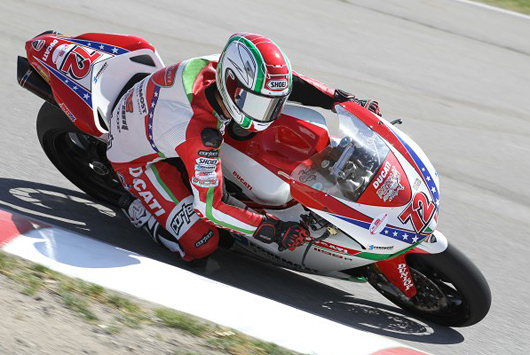 Larry Pegram came from behind to win Saturday's Superbike Race 1 to give Ducati its first American win in years. Larry wasalso leading Superbike race 2 on Sunday when he crashed out.
2010 AMA National Roadrace Championship, Fontana Round 2 of 10
AMA Pro Racing Comes to Auto Club Speedway
FONTANA, CA, March 25, 2010 - AMA Pro Racing kicks off its 2010 West Coast season at Auto Club Speedway March 26-28 with the Suzuki AMA Pro SuperBike Challenge.. Josh Hayes, Ben Bostrom (Malibu), AMA Pro National Guard American SuperBike returnee John Hopkins (Ramona), Aaron Yates, Tommy Hayden, Jake Zemke (Paso Robles) and Geoff May headline the AMA Pro American SuperBike class this year. With seven-time champion Mat Mladin's retirement, the field is wide open. The American SuperBike final scheduled for Saturday, March 27 will be at 1:30 p.m. (21 laps/50 miles) while the American SuperBike final for Sunday, March 28 will be at 4 p.m. (21 laps/50 miles).
This year's AMA Pro Daytona SportBike presented by AMSOIL field sees the return of 2009 champion Danny Eslick on his new GEICO Powersports RMR Suzuki. Also returning will be Graves Yamaha riders Josh Herrin (Clovis) and Tommy Aquino (Saugus). Martin Cardenas will be riding the M4 Suzuki and 2009 SunTrust Moto-GT champion Mark Crozier will be running his DNA Ducati 848. Saturday, March 27's SportBike final is set for 4:30 p.m. (21 laps/50 miles) while Sunday's final gets underway at 1p.m. (21 laps/50 miles).
The AMA Pro Racing SuperSport class showcases riders aged 16 to 21 against the more experienced Top Gun class of riders which is comprised of more experienced expert licensed riders and local talent. Saturday's SuperSport race is at 2:45 p.m. and Sunday's race (17 laps/40 miles) begins at 2:15 p.m.

What to do this Weekend!
Ride like the pros... for just $10! The Motorcycle Fan Lap is a huge hit for amateur riders who can get right on the track and ride the same road course the AMA Pro Riders will race on. Fans riding in the Motorcycle Fan Lap must wear a helmet and must be 18 years or older. Purchase your Motorcycle Fan Lap at the Gate 16 ticket booths or at the Motorcycle Fan Lap Staging Area.

Get up close and personal to your favorite rider and walk the grid during opening ceremonies. To purchase the Fan Walk Pit Pass for just $20, visit the ticket booths at Gate 16.

Bring your rider memorabilia and have it signed by your favorite rider at the All Pro Rider Autograph Session in the infield on the east end of the garages closest to Turn 1 on Sunday, March 28th at 11:15am. The autograph session is FREE and will include the stars of AMA Pro Road Racing including Daytona 200 winner Josh Herrin, Ben Bostrom, Josh Hayes, Jake Zemke, Tommy Hayden, Blake Young and many more.
Don't forget to visit the Opportunity, California Motorcycle Expo located in the infield. Bike manufacturers will have their display booths and will showcase their 2011 models and rider gear all weekend long.

To purchase tickets call 800-944-RACE (7223), or visit www.autoclubspeedway.com.
Saturday: Pegram, Cardenas and Pascarella Named Victors
in Windy Saturday Day 1 for AMA Pro at Auto Club Speedway
Fontana , CA, Saturday March 27, 2010 - Today's action during the Suzuki SuperBike Challenge at Auto Club Speedway saw AMA Pro National Guard American SuperBike and AMA Pro Racing Daytona SportBike presented by AMSOIL pick up right they left off after last month's Daytona season opener. After a major delay caused by high sustained and gusting winds from the East, teams, riders, and series and track officials pulled together to get in three thrilling races before the sun set on another phenomenal day of action around the 2.36-mile Southern California speedway road course.
After a brief morning warm-up session for the Daytona SportBikes, it was determined that conditions would not allow any further on-track activities until the wind and gusts subsided. As the officials met with the riders, owners and crew chiefs, a number of scenarios were discussed and once the wind started to subside, a short warm-up session was run in preparation for the National Guard American SuperBike race. After a short break to check and verify the conditions were acceptable for racing, the SuperBike race started just short of two hours late.
Saturday Superbike Race 1 - Pegram Gives Ducati the Victory
At the start, Jake Zemke on his Daytona winning No. 54 National Guard Jordan Suzuki jumped ahead of the No. 23 Brand Jordan Suzuki teammate of pole sitter Aaron Yates heading into turn one. No. 10 Team Iron Horse BMW/ESP rider Chris Peris took a fall in turn one before continuing, but the remainder of the 22-bike field made it through the opening lap without incident. No. 72 Foremost Insurance Ducati rider Larry Pegram ran third, followed by fast-starting No. 21 M4 Monster Energy Suzuki rider John Hopkins. Back in seventh, No. 4 Team Graves Yamaha rider Josh Hayes got down to business and started working his way up to the front. He and Hopkins battled lap after lap, while up front the action was too wild to even follow. Blake Young, riding his #22 Rockstar Makita Suzuki, was in the middle of the Zemke, Yates and Pegram battle, soon to be joined by Hayes.
At times, one or two riders would pull out a slight lead and then immediately the lead pack was right back at it, making major moves heading into turn one and continuing all over the 21-turn circuit. As the front group battled, Hayes was working his way to the lead and eventually took it on lap eleven. Hayes managed to pull a slight gap as Young ran wide and lost ground to the lead group. Soon thereafter, Yates had to abort the chicane in turn one and rejoined without losing touch with the leaders.
By lap 15 of the 21-lap final, the first four had broken away, with a slight lead for Hayes. He was quickly reeled in by the battling group and Zemke was running as hard as he could to take the lead back on lap 16. As the race wound down, each rider seemed to have a strong shot at the win before Hayes dropped back, making it a three-horse race of Yates, Pegram and Zemke. Pegram made the pass for the lead in the infield section on lap 18 and held on for a popular and hard fought victory, followed by Zemke, Yates and Hayes.
After the delay for the windy conditions, the riders said noted the wind at the end of the infield back straight and into turn one but decided to put on one of the best races anyone has ever seen at Auto Club Speedway.
Pegram paid tribute to his wife and entire team as he talked about what it meant for him to put another win on the board after his three wins in 2009, "To win against these teams with all the hard work everyone on our team puts in makes me so proud, I work as hard as I can on the track and my guys work every bit as hard as I do. I manage the team and my wife puts up with me but when we win I even get a little emotional because it means so much to all of us."
Zemke felt that his season can be even better as he gets used to his new team and the National Guard Suzuki package, "Everything is still new for us and it is a work in progress, I know we can get the bikes better and as I learn to work with the team I know there is more to come."
Rounding out the top ten are the two Rockstar Makita Suzuki's of Young in fifth and a quiet race for Tommy Hayden's No. 22 Suzuki to sixth. After his strong start, John Hopkins still finished a solid seventh, followed by Ben Bostrom on his No. 155 Pat Clark Motorsports Yamaha, Chris Ulrich on his No. 18 M4 Monster Energy Suzuki and No. 25 David Anthony riding the Aussie Dave Racing Suzuki, recovering nicely after their transporter awning was damaged by the high winds early in the morning.
The second National Guard American SuperBike race will be the final race of the weekend tomorrow at 4:30 p.m. local time. Be sure to check your local listings for SPEED's coverage of this weekend's racing.
Cardenas Wins Saturday Daytona SportBike Race One at Auto Club
As the AMA Pro Daytona SportBike presented by AMSOIL teams awoke on Saturday morning, they were met with sustained high winds of at least 20 to 30 miles an hour with some gusts up to 45. The teams went out for their scheduled morning warm-up session in preparation for the second and final qualifying session and the first of two races at Auto Club Speedway this weekend.
After a short period, the winds proved to be too severe for any further on track activity to take place. As the teams, riders and fans tried to make the best of their time, there was nothing anyone could do but wait out the high wind delay. A number of scenarios were discussed and, after conditions improved, the Daytona SportBike riders readied themselves for a 4:35 p.m. local time start.
Following the same procedures that were established by AMA Pro Racing officials in conjunction with the riders, teams and track personnel, a short warm-up session was run to ensure the riders were familiar with the track conditions before their race start. Following the incredible AMA Pro National Guard American SuperBike race, the Daytona SportBikes went ahead and put on a show of their own.
Danny Eslick on his No. 1 GEICO Powersports/RMR Suzuki led from pole position ahead of a fast-starting Tommy Aquino on his No. 6 Team Graves Yamaha, Daytona 200 winner Josh Herrin, also riding a Team Graves Yamaha, and Team Latus Motors Racing Ducati rider Steve Rapp, followed by Dane Westby and Martin Cardenas on his M4 Monster Energy Suzuki.
Westby, riding his Project 1Yamaha, was the man on the move and he took Cardenas with him towards the front. Aquino and Rapp fell back and the group comprised of Eslick, Herrin, Westby and Cory West on his Vesrah Suzuki, put on a breathtaking show. Lap after lap, they fought back and forth, with Eslick holding station at the front for the first six laps. Occasionally pulling out a slight lead, it was just as quickly diminished as the riders behind fought back on the front banking and all throughout the many twists and turns of the infield section.
After his heartbreaking Daytona race, a vey determined Cardenas showed why he is a major threat for the championship by fighting his way to the front on lap 12 and holding off the very determined assaults of Eslick, Westby and Herrin. Westby led for two laps and had one of the greatest saves of the day as he had a huge moment and was somehow able to stay on top of the Yamaha and only lose a couple of seconds to the leaders. He fought back as Eslick and Cardenas put on a demonstration of hard fought racing with total respect as each rider gave the other only just enough room as they battled for the win.
On the last lap, Eslick made his final lunge for the win in turn 11 and he and Cardenas ran side-by-side through the corner, inches apart but neither rider giving an inch. Cardenas held on for the fantastic win ahead of Eslick, Westby, Herrin and West. Rounding out the top ten were Aquino, who stayed with it and took sixth, Rapp in seventh and Chris Fillmore, riding the other Vesrah Suzuki, taking eighth. Bobby Fong took a solid ninth place, riding his DNA Energy Drink CNR Motorsports Ducati, and Clinton Seller rounded out a great day for Project 1 Yamaha with tenth place.
Eslick was delighted with his race and had fun too, "I never gave up, and tried everything to stay in front early and then I kept working on trying to win the race. I saw both the front and back of Dane's leathers when he had his moment and I thought he was going to end up in my lap but somehow he held on and saved it."
Cardenas said he thought Danny had gotten away at the start but he kept working and made some passes and then fought as hard as he could to stay up front until the end, "I knew he (Eslick) was going to try something at the end, I just didn't think he would try and pass me there, I saw his front wheel but I just held on and I knew the Suzuki was good and we took the win."
All in all, it was another incredible race and tomorrow's race two should be just as wild as the same group go at it again at 1:00 p.m. local time Sunday at Auto Club Speedway. Be sure to check your local SPEED listings for coverage of this weekend's races.
Pascarella takes his Second Season Win in Race One at Auto Club Speedway
After once again showing his skills and outright speed, LTD Yamaha Rider Joey Pascarella put on a clinic today to close out day one in the first of two weekend AMA Pro SuperSport races at Auto Club Speedway. After delays for high winds, AMA Pro Officials lined up the SuperSport riders at 6:00 p.m. local time for their 17-lap race.
Following the same procedures as the other two races, the riders had a 15-minute practice session to acquaint themselves with the track conditions. After qualifying fourth, local rider Elena Myers, on her Richie Morris Racing Roadracingworld.com Suzuki, posted the fastest time in the warm up. Auto Club Pole-position and Daytona race two winner Pascarella shot ahead at the flag only to have Myers and another rider collide moments after the start, causing a red flag.
Ms. Myers was checked out at the Auto Club Speedway infield medical facility and was seen sporting a sling on her left arm as she departed the track for a precautionary trip to Redlands Community Hospital with her parents. Meanwhile another start was set up, and this time everyone got away clean. Pascarella again just drove off into the distance as first his LTD Yamaha teammate Huntley Hash followed in second with Scott Gilbert on his Team Graves Yamaha in third.
Nash held on gamely but Pascarella eventually pulled out as much as a ten-second lead, which grew to over thirteen seconds at the finish. Nash and Gilbert provided the best action, with Gilbert getting by Nash on lap six and holding him off for a satisfying second place finish. Rounding out the top ten was Top Gun entry Tyler O'Hara on his Yamaha in fourth, Eric Stump on his Honda fifth, local rider Chris Sromalla on his Lucas Oil Suzuki in sixth, Michael Corbino in seventh, Robert Tinagero in eighth, both on Yamaha's. Ninth was Kawasaki rider Paul-Michael Patterson and tenth was Bruce Bleecker on his Yamaha.
Fighting off the discomfort of facial and hand abrasions suffered on his mountain bike earlier in the week, Joey said he just kept his head down and concentrated on winning the race. Gilbert may have been the happiest rider today, he injured himself here last year and even though he has a large amount of experience at Auto Club Speedway, this finish may have been the sweetest after missing all of last year due to injury.
Race two for the Young Gun and local Top Gun AMA Pro Racing SuperSport riders is tomorrow at 2:15 p.m. local time and it will be interesting to see if anyone has anything for Pascarella as he continues his march to the Young Gun championship.
Sunday Day 2 at California Speedway - Tommy Hayden's First Career Superbike Win in Race 2 at Auto Club Speedway - Yates Injured
FONTANA, CA, March 28th - It seems hard to believe, but today's AMA Pro National Guard American SuperBike race saw a famous name in motorcycling take his first win in the ultra competitive class. Rockstar Makita Suzuki rider, Tommy Hayden bounced back from a disappointing Saturday race in the windy conditions and came back after an overnight talk to himself to score his very first American SuperBike win at the Suzuki SuperBike Challenge weekend races at Auto Club Speedway.

Under calm and clear blue skies, the field was missing its' pole sitter as Aaron Yates suffered an unfortunate fall during Sunday morning's warm-up session. Yates was playing around, wheeling at high speed out of a corner and when his front wheel touched down the front of the bike was still crooked and crossed up, causing the front wheel to not grab the payment and spit him off. A closely following Tommy Hayden could not avoid Yates and ran over his leg. Yates, who also took pole position at the season opening SuperBike race at Daytona, was examined at the track infield care center and then transported to Arrowhead Regional Medical Center for further examination of what was reported initially by the Jordan Suzuki team to be a right leg injury, possibly with multiple fractures.

At the start, Saturday's race winner, Larry Pegram on his Foremost Insurance Pegram Racing Ducati, took the lead with a hard charging Josh Hayes in second on his Team Graves Yamaha, followed by another fast starting John Hopkins on his M4 Monster Energy Suzuki, Hayden and his Rockstar Makita Suzuki teammate, Blake Young. Hayes showed his intentions early as he passed Pegram for the lead on lap two. Hopkins started to fall back as Blake Young and then, a few laps later, National Guard Suzuki rider Jake Zemke got by "Hopper" also. The first three then broke away and then Pegram showed his strength by just plain powering by Hayes on lap five while Hayden ran a patient third around the 21-turn, 2.36-mile speedway road course.

Young ran impressively as he closed on teammate Hayden but the big change happened up front when, completely unexpectedly, Larry Pegram slid down as he ran back onto the front straight banking on the end of lap nine. He was able to get back up and after a trip to the pits for an inspection, he rejoined the race and completed fifty percent of the distance giving him three valuable points.

Following Pegram's off, Hayes was leading again with a slight gap to Hayden and Young. Zemke was running a lonely fourth while behind him a fierce battle was being waged by M4 Monster Energy Roadracingworld.com Suzuki rider Chris Ulrich, young Canadian Brett McCormick on the Celtic Racing Suzuki and Ben Bostrom on the Pat Clark Motorsports Yamaha. The three swapped places as fast as you could write it down and it was finally settled with Bostrom finishing sixth, McCormick seventh and Ulrich continuing his solid run of results in 2010 in eighth.

Rounding out the top ten was Taylor Knapp on his RidersDiscount.com Suzuki in ninth and David Anthony on the Aussie Dave Racing Suzuki in tenth. Meanwhile, back up front, it was a three-man race and Hayden started to inch closer to Hayes pulling off a textbook pass at the start-finish line on lap 18 and riding right around Hayes, who could do nothing but watch Hayden put years of trying to rest as he pulled away for a well judged and well deserved first AMA Pro National Guard American SuperBike victory.

Blake Young made a run on Hayes but fell just short as he completed a strong one-three finish for Rockstar Makita Suzuki at the Suzuki sponsored event. Hayes took a solid second with Jake Zemke fourth. In victory lane AMA Pro Racing starter Bobby Lemming awarded Hayden with the checkered flag from the race in honor of his achievement. Hayden reflected after the race, "So many people have been asking me if this was going to be the weekend I finally won a race, and I have been asked this so many times it was starting to really get to me!"

Hayden continued, "I have felt good this year, we were close to a couple of wins at Daytona and other than yesterday when I just didn't run well in the windy conditions, I felt pretty good. Now I can just focus on racing and not worry anymore about when I'm going to win the first race."

Josh Hayes was pleased with his weekend too, "Yesterday I ran up front but I wasn't sure I belonged up there, today I felt better but I started making a few mistakes at the end, the heat made a difference today and I started feeling it while I was leading."

All in all, another great weekend for National Guard American SuperBike. A popular first time winner in Tommy Hayden and two exciting events run under very different conditions. Aside from that, everyone felt bad for Aaron Yates and the Jordan team and many people throughout the sport had him in their thoughts as they reflected on the weekends events. Next on the schedule for AMA Pro Road Racing is Road Atlanta, scheduled to be held April 16-18.
Herrin Prevails in Daytona SportBike Duel with Eslick at Auto Club Speedway
Once again, AMA Pro Daytona SportBike presented by AMSOIL provided one amazing afternoon of action-packed racing on the final day of the Suzuki SuperBike Challenge at Auto Club Speedway.

The talented group of riders showcased just how close and competitive the class is, with the field being led off the line again by Danny Eslick and his No. 1 GEICO Powersports Suzuki under sunny skies and calm condition. Saturday race winner Martin Cardenas on his No. 36 M4 Monster Energy Suzuki, Josh Herrin aboard his No. 8 Team Graves Yamaha, Dane Westby riding his No. 2 Project 1 Atlanta Yamaha all were back up front, but today there were new names to add to the hustling pack at the front. Steve Rapp riding a fast No. 15 Team Latus Motors Racing Ducati and Bobby Fong with his No. 30 DNA Energy Drink CNR Motorsports Ducati were in the mix. Herrin's No. 6 Team Graves Yamaha teammate, Tommy Aquino and Cory West also were part of the seven- to eight-bike freight train at the front of the field, West was riding his No. 57 Vesrah Suzuki once again.

Eslick led a fighting pack of riders that ran inches apart as they all scrapped for any open real estate on the busy but testing 21-turn, 2.36-mile Auto Club Speedway infield road course. Herrin, Aquino, Rapp, Cardenas, West and Clinton Seller on the No. 4 Project 1 Atlanta Yamaha battled behind the leaders and it was Cardenas who once again fought his way up to the front. He rose as high as third and it looked like a three way battle for the win until a slight gap opened up between the battling Eslick and Herrin.

Lap after lap, Herrin would just get Eslick at the start-finish line, only to have the order swap as the duo dove into turn one. At one point early on, the first seven were covered by around 1.9 seconds as the race ebbed and flowed. As Aquino dropped back, Rapp continued his good form and had a pretty good tussle with Cardenas, who looked like he was going to pull off another win today as he began to work his way back up to the front.

Rapp then fell back at one point but didn't take long to inch his way back to the front group to make it four riders with a real shot at victory. They were all going to have to beat an inspired Eslick, who rode his Suzuki like every lap was a qualifier. Herrin was giving no quarter as well as he continued to try Eslick on every time they both ran up onto the front banking of the speedway section.

The first big change came when the unfortunate Martin Cardenas fell as he entered the front banking on lap 13, allowing Rapp to get up to third. Cardenas rejoined to finish tenth. Meanwhile, there was another battle going on between Aquino, West and Fong. They also swapped positions lap after lap with the rapidly improving Fong taking fifth ahead of Aquino and West. West's Vesrah Suzuki teammate Chris Fillmore took eighth ahead of Seller, who finished about eight seconds in front of the disappointed Cardenas.

Back up front it was down to Eslick, Herrin and Rapp. Going into the last lap, Eslick had his motorcycle every way but straight as he did everything to hold off Herrin, but it wasn't to be and as Eslick led back onto the front straight banking on the final lap, Herrin calmly pulled out of the slipstream and passed him at the line to take the second win of the young season.

Herrin commented after the win, "I think I was trying to lead the most laps of the race without actually leading, I was talking to (SPEED TV announcer) Greg White last night and I guess I'm a better race finisher and I just seem to save myself a little for the end. This win is nice, usually I have a lot of friends here and I never run well so it's nice."

Eslick paid tribute to Herrin, "Every lap out there was like a qualifying lap, I was riding as hard as I could. It was great racing with Josh."

Rapp was also pleased with his finish, "We are a small team and the guys work really hard so this is great for Team Latus Racing.

Check your local listings for SPEED's coverage of this weekend's Suzuki SuperBike Challenge at Auto Club Speedway. After a wild, windy and exciting weekend of racing in California, the AMA Pro Road Racing Series heads to Road Atlanta, April 16-18 for the next round of the 2010 season.
Pascarella Proves his Worth with Second Win in Race One at Auto Club Speedway
16 year old Elena Myers takes 4th the highest finishing girl ever in AMA Pro RR
Joey Pascarella took home every possible point from AMA Pro SuperSport competition at Auto Club Speedway during the Suzuki SuperBike Challenge, claiming pole position, leading every lap around the 21-turn, 2.36-mile speedway road course and winning both races under sunny California skies.

AMA Pro SuperSport is a class for the rising stars of the future are able to develop their skills under the halo of the big AMA Pro National Guard American SuperBike and Daytona SportBike presented by AMSOIL weekends. One rider showing that he is someone to watch for now and the future is double-weekend winner Pascarella and his LTD Racing Yamaha team, putting on another display of skill and speed today as he won his second SuperSport race of the weekend, and third of the season, in dominant fashion.

After the winds of Saturday that delayed proceedings, Sunday was a picture perfect day for racing. Making a return to the field was Elena Myers and her Richie Morris Racing Roadracingworld.com Suzuki, feeling fine after her unfortunate coming together with Huntley Nash moments after the start of Saturday's race. This time, the field got away clean and everyone made it down to turn one. It was after that when things again got interesting when Myers had a close call with Nash and was actually touched by Scott Gilbert who was enjoying a superb weekend after his second place finish yesterday on his Team Graves Yamaha.

After the near miss, Nash on his LTD Racing Yamaha took up the chase of the quickly disappearing Pascarella with Gilbert in fourth, followed by a very fast starting Tyler O'Hara, a local Top Gun entry on his GP Bike parts Yamaha, Michael Corbino, another Top Gun entry riding the Aussie Dave Racing Yamaha and Eric Stump on his Rapidimage.com Honda.

As Pascarella again checked out to another time zone, all eyes were on Gilbert as he got by Elena and set off after Nash to rejoin their battle of Saturday. Myers and O'Hara waged their own battle until the later stages of the race when Myers pulled away to finish a record-setting fourth place, the highest yet for a female rider in AMA Pro Road Racing competition. Meanwhile, Nash and Gilbert were having a sensational race, Nash getting sideways under braking lap after lap and Gilbert doing everything he could to get by.

It was a contrast of styles and experience, as Nash hadn't seen the track until this weekend while Gilbert has many laps at Auto Club Speedway and even suffered a season ending injury here in 2008. Making his comeback in a big way, Gilbert got by Nash out of the horseshoe only to have Nash get right back by at the next right-hand turn under hard braking.

Gilbert passed Nash on more than one occasion but Nash got him back every time. On lap 14, the race had to be red flagged due to an unfortunate fall by Top Gun Lucas Oil Suzuki rider Chris Sromalla who, up to that point, had been having a pretty nice weekend. Sromalla was able to get safely out of harm's way but, due to his motorcycle being on the race line in the fast turn one banking chicane area, it was decided in the interests of safety to red flag the race. With over eighty percent of the event completed, the race was declared officially complete.

Pascarella, who was still in some discomfort from his mountain bike fall earlier in the week commented, "I just didn't feel that great today. I felt comfortable this morning but for some reason I didn't feel all that good in the race, I was making lots of mistakes."

Nash was very happy after the race, "I said yesterday that I didn't have many laps here and today I felt that a lot better, I was riding smoother and I really had a good time today. The bike was sliding a lot, I bet it looked good on TV."

Gilbert also had fun, "The track was slicker today. It was not how I like it but it was fine, I just kept trying, I would pass Huntley but he was really good under braking and he got me back."

Behind O'Hara was Top Gun Charles Strong riding his Envia Yamaha in sixth, Eric Stump in seventh, Michael Corbino eighth, Robert Tinagero on his G&B CyclePro Yamaha in ninth and Chris Sromalla in tenth as he was classified after his fall.

AMA Pro SuperSport heads to Road Atlanta for the next exciting round of this class for up and comers and if Joey Pascarella's form is any indication, he is clearly already on his way up!
---
| | |
| --- | --- |
| Click to Order Now from Amazon.com! | |
Hot off the Presses!
New 2009-2010 World Superbike and Motocourse Yearbooks
If you are a real roadracing enthusiast, here's the next step in your library collection, the official 2009-2010 season roadracing annuals from SBK World Superbike and Motocourse. Both annuals are beautiful covetable quality books providing exciting race-by-race coverage in story and spectacular photography of the just completed 2009 Championships, along with rider and bike features, and a preview of the upcoming 2010 season.
The Motocourse Annual covers both MotoGP and World Superbike, as well as the Superbike Championships in top countries like Britain and the USA. While the Superbike Yearbook only covers World Superbike, it is our favorite of the two as it includes technical photo features of all the top factory bikes, a feature of the new World Champion which this past 2009 season was American Ben Spies, and it has great articles by World Superbike Press officer Julian Thomas.
---
New Pirelli Diablo Rosso
World Superbike Spec Tire now available in
Track and Supersport Street Versions

The continuous development of Pirelli tyres in the World Superbike Championship, together with the know–how acquired by endless testing has allowed Pirelli to find further technical areas of improvement for a product that was already the benchmark in the segment.

The new Diabalo Rosso improves the contact patch with requires a specific and integrated tyre design as many variables influence it: the dimensions at different angles, the tread cuts inside it, the load distribution, the rigidity.
This is the basis of the Pirelli EPT (Enhanced Patch) technology: the entire tyre set components work in coordination to keep perfectly in touch the bike and the ground.
Pirelli's development has been focused on the latest generations of machinery, characterized by quite different power and torque characteristics, across a wide rev range. They require that even more power be transmitted to the ground. New generations of chassis, with greater rigidity, allow greater responsiveness and benefit from an optimal balance of grip and handling, ergo the front delivers faster corner entries and greater feedback allows more security. The latest generation of electronics and rider aids (i.e. slipper clutches) complete the evolutionary benefits. All this improvement passes through the tyre; all the tyre's tasks pass through the contact patch, and an
improvement in the contact patch's behaviour can give benefits greater than the sum of every other single component, for example, a particular compound.

Improving the contact patch performance requires a specific and integrated tyre design, as many variables influence it: the dimensions at different lean angles, tread pattern, load distribution and the overall rigidity.

This is the basis of Pirelli's EPT (Enhanced Patch Technology): the entire set of tyre components work in coordination to keep the machine in extraordinary touch with the road surface. EPT technology is coordinated with the Functional Groove Design (FGD) that optimizes the tread design and the Ideal Contour Shaping (ICS), originally developed for Diablo. EPT technology brings forth an innovative concept for the tread, a new dynamic profile design, supported by the patented zero degree steel belt radial structure, and new materials.
Details at: http://www.pirellityre.com/web/motorcycle/diablo_rosso/video/default.page
---
There's more! Go to Pit Lane News Previous Page

Also Visit: Fast Dates Calendar News • Iron & Lace Calendar News
Calendar Girl News • Meet the Models • Paddock Garage

Calendar Kittens, Paddock Garage, Screensavers, Iron & Lace Garage




MotorcycleSuperstore.com
Some of our Calendar Kittens can also at Playboy's website...


FREE! New Met-Art Model Galley Updated Daily - Stop Back Each Day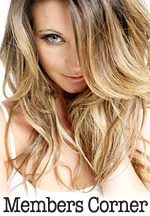 Hot Bikes, Sexy Kittens
Your Exclusive Grid Pass
also includes....
---
---
Editors Note:
Daytona Motorsport's Continued Path to Failure
Unfortunately the replacement of "retired" former AMA Pro Racing director Roger Edmonson with (see below) David McGrath and the addition of Jeff Ward as "Rider Liason" does not mean a change in philosophy for AMA Pro Racing's owners, the Daytona Motorsports Group, nor a return to credible professional motorcycle roadracing. The championship's confusing class structure and rules bending, and racing on junk tracks assures roadracing in America will remain a failure for the foreseeable future as long as DMG remains in control.
The only remedy to the failure of AMA roadracing is to adopt the existing FIM / World Superbike Class structures, bike technical specifications, and safety requirements for tracks.
Tracks like Daytona International Speedway in particular, which don't comply to FIM standards, and its owners DMG have played a significant role in bringing the the sport in America to collapse.

This year's Daytona Superbike race weekend might have pulled just 1,000 spectators per day a best... a far cry from the heyday back in the 1980s which pulled 30-50,000 race fans. Daytona has th money to build a credible FIM and FIA approved facility (Indianapolis Speedway did it), they just don't have the intelligence or the desire for the good of the sport to make it happen.
Motorcycle Veteran Jeff Ward Joins AMA Pro Racing
DAYTONA BEACH, FL (March 19, 2010) - Motorcycle racing legend Jeff Ward will bring his considerable amount of racing and career experience to AMA Pro Racing as rider liaison and advisor. Ward has nine AMA Pro Racing Championships in Motocross, Supercross and Supermoto. He also has a number of other significant motorcycle wins and achievements as well as an impressive auto racing resume that includes a Ganassi Indy Car win, Rookie of the Year at the 1997 Indianapolis 500 and a second place finish in that iconic event in 1999. Jeff is also in the Motorcycle Hall of Fame and the Motorsports Hall of Fame of America.

Among other responsibilities, Jeff will be the rider liaison and will fully engage with AMA Pro Racing's riders on the many issues that are important to or may cause concern from the rider's standpoint. "Jeff has the perspective of an experienced, champion rider and can understand the concerns and questions that only someone who has experienced it from behind the handlebars would truly understand," said AMA Pro Racing COO David Atlas. "And having Jeff represent that part of our sport and be one of our key advisors will further our efforts to be as available and responsive to our riders and teams as we can. From the time he was a child and was featured doing wheelies in the classic motorcycle movie 'On Any Sunday', Jeff has devoted his entire sports life to winning and he is now cultivating his own children's successful motorcycle competition careers. We felt that the spectrum of Wardy's experience, his down to earth sincerity and unassuming nature could be very helpful to many in our paddock."

Joining AMA Pro Racing Race Director David McGrath, who also has experience as a rider in the sport, Jeff and David McGrath provide AMA Pro Racing with a large baseline of firsthand racer experience that will greatly benefit the riders in AMA Pro Racing.

"I'm delighted to be joining the AMA Pro Racing series," said Ward, "I personally know many of the riders and am looking forward to helping them have a positive influence in the future direction of the sport and the way in which they plan and pursue their training, successful strategies and careers."

Jeff will begin his duties at the upcoming March 26-28th Auto Club Speedway AMA Pro Road Racing event in Fontana, CA and will be a very approachable presence in the pits and paddock at the AMA Pro Road Racing events in 2010. Ward will also advise AMA Pro Racing on motocross and flat track rider matters which it sanctions too, as well as assist AMA Pro Racing with its relations with the motorcycle manufacturers and parts suppliers.
AMA Pro Racing
Gets New Manager
Motorcycle Racing Industry Veteran David McGrath Joins AMA Pro Racing
DAYTONA BEACH, FL (February 11, 2010) - AMA Pro Racing is proud to announce that longtime motorcycle racing veteran David McGrath has joined the Daytona Beach organization as Race Director and as a key member of its competition department.

McGrath has an extensive 25 year career in virtually every aspect of motorcycle roadracing and enjoyed a successful stint as a rider. McGrath then progressed into a management role as crew chief for many successful riders and racing programs, which then led to key positions with a number of top motorcycle organizations and manufacturers including Dunlop, Vance & Hines, Buell and American Honda. McGrath's responsibilities have included crew chief, head of research and development departments and overall race and support department management.

"I have had the opportunity to work with some really talented people during my career" said McGrath, "and I've done just about every job in the four corners of the paddock. I am excited to be a part of making AMA Pro Racing as good as it can be and if we can get the motorcycling community all pushing in the same direction, I feel we can see this sport achieve the success it so richly deserves."

David Atlas, COO and Managing Member of AMA Pro Racing welcomed McGrath to the Company, "I am delighted to be adding David to our excellent staff. He will bring a wealth of experience to the sport and he fits in perfectly with the very capable group that we have assembled for this season starting at Daytona and beyond."

McGrath is married and is the father of triplets. He is now in the process of relocating to Florida and will be operating full time out of the Daytona Beach headquarters of AMA Pro Racing.

McGrath doesn't hide his love of the sport, "You could say I have an obsession with this sport and it is a dream come true for me to be a part of a group of people who are as devoted to motorcycle racing as I am."
World Premier!
2010 FastDates.com Calendars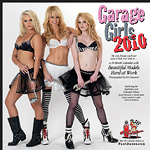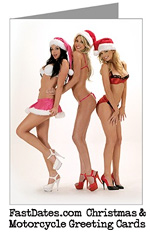 SI Swimsuit 2010 Magazine
Click to Order


Sports Illustrated
Swimsuit Calendars!
---
A TOUGH DAY FOR THE DUCATI XEROX TEAM AND RIDERS HAGA AND FABRIZIO
Portimao (Portugal), Sunday 28th March : Racing at Portimao today proved difficult for the Ducati Xerox riders Noriyuki Haga and Michel Fabrizio, who had to fight hard for points, having started the races from the fifth row of the grid; the two races brought identical results for the factory riders, two eighth place finishes for Nori, two 11th places for Michel.

In the morning warm-up Noriyuki had picked up his pace with respect to yesterday, completing eight fast laps and concluding the short session in third position. Michel, still working to improve grip, finished in fifteenth place.

Race 1 - Both riders were aware that they needed a blistering start in order to help their chances of carving their way through the pack from the fifth row, and Nori was able to do this in Race 1, rocketing from eighteenth to ninth position straight off the line. Michel, caught up in traffic, remained in sixteenth position for the first lap but had worked his way up to twelfth by lap two. During the fifth lap Haga was able to pass Corser and on the same lap team-mate Fabrizio passed Corser's team-mate Xaus. From mid-race on, and now in eighth position, Noriyuki remained there, with Corser and Toseland chasing him down, until three laps from the finish where he briefly moved up to seventh place before Toseland, on the very last lap, pushed him back down to a final eighth position. In the second half of the race,

Michel made a couple of mistakes, going off track twice and allowing both Smrz and Xaus to take advantage and move ahead of him. Smrz later crashed but Michel was unable to catch Xaus, thus closing the first race in eleventh place.

Race 2 and the Ducati Xerox pair made a carbon copy start, with Noriyuki slicing through the pack from eighteenth to ninth position and Michel in sixteenth. The Italian then made up five positions within the first three laps before tucking in, in eleventh position, behind team-mate Haga.

The two Ducati 1198s had trouble catching the Suzuki of Guintoli, and although Nori closed the gap two-third of the way through the race, getting past Corser in the process, he didn't manage to pass the Frenchman, and make it stick, until the very last lap, to take eighth position overall, exactly as he did in race 1. Although Michel held eleventh position from lap 8 right until the end of the race, he lost a little ground to Nori in the final laps, citing difficulty in braking.

Noriyuki Haga (Race 1 – 8th , Race 2 – 8th) - "We've worked hard all weekend and today finally I had slightly better feeling with the bike but it was very difficult to score great results from the fifth row. In race 1 I made a good start, which I knew was essential if I wanted to make some good points. I tried to push as hard as possible but by the last five laps or so I was lacking rear grip and this meant that my traction was very much affected.

The second race was quite similar, the tyre performed better but I had a hard time getting past Guintoli, and again finished eighth. I apologise to the team, the fans and the sponsors for my poor results but at least I was able to make up a few positions and take some points. Now we look to start challenging for the podium every weekend from Valencia onwards. The important thing is not to crash, and to take as many points as possible each race. Biaggi and Haslam have demonstrated their strength both here and at Phillip Island and we hope we can be back up there on the podium at Valencia."

Michel Fabrizio (Race 1 – 11th , Race 2 -11th) - "Let's say that this weekend we were not able to refine the set up of my 1198 as we had hoped to. I continued to have the same problem, the same lack of feeling at the front, in both races. We made many modifications over the weekend but it didn't make much difference; I just never felt right on the bike.

At the start of race 2 I managed to make up a few places straight away by pushing as hard as I could but after a few laps it became more and more difficult to turn; I went off track a couple of times in race 1 and then I went straight two or three times in the next race. We of course hope for much better results at Valencia, where I need to start from the front rows."
Team Kawasaki Superbike Report from Portiamo
March 28th - The Paul Bird Kawasaki Racing Team might have been down to just one rider for round two of the 2010 Hannspree World Superbike Championship at Portimao this weekend but it turned out to be a double points haul for Yorkshireman Tom Sykes who recorded a 13th place in race two to go with his 15th place in the opening race.
With Australian Chris Vermeulen only able to do one lap of Friday morning's free practice due to difficulties in bending his right knee after his big Phillip Island crash a month ago, and despite a huge effort by rider, team and the medics, the 27-year-old from Brisbane was subsequently withdrawn from the meeting leaving 24-year-old Sykes from Huddersfield as the Paul Bird Team's only representative in Portugal.
Aboard the factory Kawasaki Ninja ZX-10R, Sykes showed good speed during the practice sessions inside the top ten and eventually managed to qualify in 12th position and on row three of the grid after Superpole.
In the opening race, Tom maintained his 12th place early on but a mistake saw him drop back to 16th where he battled for most of the race before grabbing 15th at the flag after a battle with pole-setter Cal Crutchlow who had crashed and remounted.
Race two saw Sykes get a poor start and was again relegated to 16th position where he ran for most of the race once again. Despite setting good lap times, he couldn't get a clear run and was held up by several riders in front but as the race progressed, he managed to claw some places back to finish in a respectable 13th position for the Penrith-based team, thus scoring his second points of the day.
Tom Sykes: "I qualified more or less where I expected to and was happy to start on the third row once again. We didn't have the perfect set-up but we'd made steady progress all weekend so it was unfortunate to have not made the step up in the races. I struggled with my starts and found it difficult to get past the traffic in front of me.
I'm a bit frustrated in myself to be honest as I was trying hard to overtake but just couldn't get the grip coming into the corners or on the brakes to make the move. We still have work to do but I'm confident in the team and the package of the ZX-10R and with a bit more time we can hopefully start to close the gap and work towards a few more points."

Chris Vermeulen: "I came into Portimao with the intention of riding but unfortunately that wasn't the case. Friday morning's practice was the first time I've had the chance to jump on the bike since my crash at Phillip Island where I did some damage to my right knee. I tried to go out on the bike for free practice but the movement in my right knee was really restricted and I couldn't quite get my leg onto the footpeg. I tried pain killing injections at the Clinica Mobile but it didn't seem to make any difference. For some reason or another, the knee just won't bend that far, I can go around left-hand corners but I can't get my foot or my knee into position to go right. So unfortunately both the team and I decided to call it quits for this weekend and to try and focus on improving my knee hopefully for the next race in Valencia in two weeks time.
From now until Valencia my aim is to source additional medical advice and to get on with an intensive physiotherapy program to try and get as much movement in that knee as possible. I'm obviously disappointed I missed the race at Portimao, not just because it's the start of the season with a new team and bike but also because it's the first race in my racing career that I've actually had to withdraw from a meeting. The team and I have been continually making positive progress so fingers crossed I am going to be fit for Valencia."
Highs and lows for Rea and Ten Kate Honda at Portimao
Jonathan Rea experienced mixed fortunes in today's two second round World Superbike championship races at Portimao, taking a spectacularly well-fought podium in race one, but retiring from the second outing.
Both this afternoon's races were won by Italian Max Biaggi, as Rea's Hannspree Ten Kate Honda team-mate, Max Neukirchner struggled with his own technical issues in the first race. The German brought his CBR1000RR home for a solitary championship point in race two.
Starting from fifth place on the grid, in the first 22-lap encounter at the 4.592km Portimao circuit, Rea found himself bumped out of contention by another rider in turn one and was forced to compose himself for another fight back through the field. From 12th place, the Northern Irishman battled his way through to well-earned podium by the flag.
He enjoyed a trouble-free start to race two and slotted into second place behind Biaggi before passing the Italian on lap two. On the eight lap, however, the 23-year-old was forced to retire with a technical problem.
Max Neukirchner had struggled since practice began on Friday to find a good balance for his riding style and he qualified in 13th place. With some significant changes to his race bike, Neukirchner began race one with more confidence, but this was short-lived, a malfunctioning clutch forcing his retirement. In race two, his handling issues continued and the 26-year-old was frustrated to finish in 15th.
Jonathan Rea – 3rd and DNF
I had a big crash on Friday and had to rebuild my confidence through the rest of the weekend and then some idiot let the brakes off going into turn one in the first race. I locked the front brake and went straight into the gravel which was scary. I really needed to get away with Max and Leon, but I caught up to Crutchlow and he was making quite a few mistakes when I put some pressure on him. I got third place but I don't think it was gifted and I think would have got it anyway. In race two I was holding my own with Biaggi but messed up the last corner on lap five, I think, so Leon and Crutchlow got by. I was still feeling pretty comfortable, but then heard a funny noise going down the straight a couple of laps later, so I pulled in the clutch and that was it. It's pretty frustrating watching the end of a race from the garage, and we need to make some in-roads to get back to the front soon. We're testing some new electronics here tomorrow and then it's off to Valencia, where we had a good test last December. Let's hope for better things there.
Max Neukirchner – DNF and 15th - We have struggled to get the right balance for the bike all weekend and, even though we've had some good ideas, we haven't really found one that works. We'll keep working though and, luckily, we have a test here tomorrow, which I hope will give us some opportunities to find a way forward. The biggest problem I have is getting the bike to turn and hold a line going into the corners. It means I'm having to brake earlier for each turn and by the end of the race… well, it's not very good. But we'll look at things again tonight and hopefully make some progress before we go to Valencia in two weeks time.
Ronald ten Kate – team-manager - Well, the weekend was looking promising but it just goes to show that you can't assume anything. Jonathan had good pace all weekend and in race one he was a bit unlucky that he got hit on the way into the first corner. However, he fought back fantastically to a great third place so, when he was in second position in race two, we were ready to watch some action. Unfortunately, the sheets show that his engine was starting to lose power from early in the race and eventually he had to pull out. For Max, we made quite some changes to his bike on race day but his clutch burnt out in the first race and he clearly struggled in the second. We definitely need a weekend without all these gremlins around and hopefully it will be at Valencia
Pair of Top Tens for Troy Corser on Factory BMW
Troy took a ninth in race one and a tenth in race two, but left the Autodromo do Algarve with a certain amount of frustration. He started well in both races (third at the end of lap one in the first race and fifth at the end of the opening lap in the second), but as his BMW's grip deteriorated, he was unable to push as hard as he wanted and began to slip down the order, finishing in the top ten both times.

Italian Max BIaggi (Aprilia) won both races today, after terrific battles with Briton Leon Haslam (Suzuki), with the victories going down to the wire in both 22-lappers. Jonathan Rea (Honda) took third in race one and fellow countryman Cal Crutchlow (Yamaha) took third in race two.
Troy - Race 1: 9th, Race 2: 10th
"I suppose you could say that I am a bit frustrated with today's results because it could've been so much better. After qualifying on the second row of the grid, I felt that today could've been our best day so far, but it wasn't to be. I made a good start in the first race and was third at the end of the first lap. For the first four or five laps, I was in touch with the leaders and everything felt pretty easy and I didn't even think I was going fast. But, as the grip went down, I began having problems with the bike and I couldn't push as hard as I wanted to. It's a bit strange, because the worsening grip seemed to cause quite a few problems and I felt as if I was riding a different bike! It didn't get any better after that and I ended having to physically muscle the bike around, so it's a good job that I'm really fit at the moment.

In race two, all was OK up until about lap 12 and then I began to have braking problems and then the bike started moving around when I shifted gears when it should've been stable.
It's taking a lot of work riding this bike at the moment and it seems that once the grip goes down, the bike doesn't get out of the corners so well and other problems occur. The bike has a good engine, the top speed is good and we're just missing a little something somewhere. I hope that we find that piece of the jigsaw and then Ruben and I will be able to really show the potential of this bike."


Calendar Kitten Apple
Tests the new
Roehr Harley Superbike!


KTM RC8R



Aprilia RSX1000


Kawasaki Z1000
---
Rossi & Stoner on Top
in MotoGP Qatar Tests
Qatar March 18th, Day One - Valentino Rossi and Casey Stoner ended the first of two nights of MotoGP testing in Qatar with the fastest times respectively. The riders working throughout a sticky evening to get their machines to grips with a particularly slippery track surface. The high levels of humidity experienced tonight are also expected for the first race of the season, which takes place here on the 11th April.
Casey Stoner (Ducati Marlboro Team) 2nd fastest: 1'55.717 (48 laps) - "We tried a few different set-up solutions but the main focus tonight was the tyres. I used the same set for thirty laps and set some of my best lap times towards the end, so we are satisfied with that. We have also worked on the balance of the bike because the conditions here are very different to Malaysia and I prefer the bike to be more rigid. So far so good."
Nicky Hayden (Ducati Marlboro Team) 8th fastest: 1'56.855 (77 laps) - "Things went well for the first half of the session then we kind of got stuck. The general feeling of the bike is quite good but I would like to be a step closer to the top guys. The biggest problem is that we're not able to get the most out of the soft tyre - we can't seem to get it working at the right temperature so I have to keep using the harder compound. It happened in Malaysia and we've struggled with it again today at a circuit where the conditions are very different, so it is important we work out the reason."
Circuit Record: Casey Stoner (Ducati - 2008), 1'55.153, 168.193 Km/h
Best Pole: Jorge Lorenzo (Yamaha - 2008), 1'53.927, 170.003 Km/h
Unofficial lap times
Thursday 18th March

1. V. Rossi (Yamaha) 1'55.402
2. C. Stoner (Ducati) 1'55.717
3. B. Spies (Yamaha) 1'55.954
4. C. Edwards (Yamaha) 1'56.540
5. R. De Puniet (Honda) 1,56.588
6. Dovizioso (Honda) 1'56.811
7. J. Lorenzo (Yamaha) 1'56.838
8. N. Hayden (Honda) 1'56.855
9. M. Kallio (Ducati) 1'56.923
10. D. Pedrosa (Honda) 1'57.047
11. L. Capirossi (Suzuki) 1'57.099
12. M. Melandri (Honda) 1'57.605
13. H. Barbera (Ducati) 1'57.822
14. Y.Aoyama (Honda) 1'57.888
15. M. Simoncelli (Honda) 1'57.891
16. A. Espargaro (Ducati) 1'57898
17. A. Bautista (Suzuki) 1'57.960
Stoner Quickest on Friday
March 19th - The MotoGP teams concluded its preseason testing schedule this evening with Casey Stoner topingthe time shhets by half a secong over Rossi, and casey riders extremely satisfied with the set-up ofhis GP10 machine and their lap times. The second and final night of tests in Qatar saw Casey Stoner and Nicky Hayden first and fourth on the time sheets despite both crashing in turn two, where several other riders also came unstuck.
The next appointment for the MotoGP teams is back on the same track on 11th April for the opening race of the season, the Grand Prix of Qatar.

Casey Stoner (Ducati Marlboro Team) 1st 1'55.352 (51 laps)
"I am really happy with the test and the work we have done right up to tonight. In the first Sepang test we had a few things to work out but we have made constant progress. The latest big step forward with the GP10 came last night and today I was able to set a consistently fast pace. I have been able to work with the tyres without putting too much stress on them and I was able to keep my pace on used rubber. I like the new engine a lot, it is more manageable and I am pleased to see the other Ducati riders, especially Nicky confirming that with fast times."
Valentino Rossi - Position: 2nd Time: 1'55.860 Laps: 57
"This has been another good day. We've concentrated mostly on the race preparation and it feels like we're now ready for the first race. We did a long run at the end of the session and we got some good information, which will help us in the race. Now that testing is over I am very excited about the season. We've been strong throughout the six days of practice and it feels good to have been fast here also, where we have struggled in the past. We have only tested at two tracks so we need to wait for another different one to fully understand the new bike, but we're in good shape. My M1 feels great and I'm looking forward to racing!"
Circuit Record: Casey Stoner (Ducati - 2008), 1'55.153, 168.193 Km/h
Best Pole: Jorge Lorenzo (Yamaha - 2008), 1'53.927, 170.003 Km/h
Test Times
Friday March 19th
1. Casey Stoner (AUS) Ducati Marlboro Team 1'55.353
2. Valentino Rossi (ITA) Fiat Yamaha Team 1'55.860
3. Andrea Dovizioso (ITA) Repsol Honda Team 1'55.879
4. Nicky Hayden (USA) Ducati Marlboro Team 1'56.115
5. Loris Capirossi (ITA) Rizla Suzuki MotoGP 1'56.195
6. Jorge Lorenzo (SPA) Fiat Yamaha Team 1'56.504
7. Randy de Puniet (FRA) LCR Honda MotoGP 1'56.504
8. Colin Edwards (USA) Monster Yamaha Tech 3 1'56.722
9. Mika Kallio (FIN) Pramac Green Team 1'56.767
10. Ben Spies (USA) Monster Yamaha Tech 3 1'56.779
11. Aleix Espargaro (SPA) Pramac Green Team 1'56.897
12. Alvaro Bautista (SPA) Rizla Suzuki MotoGP 1'56.898
13. Dani Pedrosa (SPA) Repsol Honda Team 1'56.935
14. Marco Melandri (ITA) San Carlo Honda Gresini 1'57.222
15. Hector Barbera (SPA) Aspar Team 1'57.223
16. Hiroshi Aoyama (JAP) Interwetten-Honda MotoGP 1'57.251
17. Marco Simoncelli (ITA) San Carlo Honda Gresini 1'57.37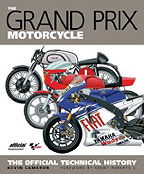 Kevin Cameron's
New Book!
by America's Favorite
Motorcycle Technical Guru
---
Wild Card Applications
Being Accepted for World Superbike and World Supersport at Miller Motorsports Park
TOOELE VALLEY, UTAH (March 19, 2010) — Applications are now being accepted from qualified riders interested in competing as Wild Card and one-event entries in the Utah USA Round of the HANNspree FIM Superbike World Championship and the FIM Supersport World Championship at Miller Motorsports Park.

The Utah USA Round will take place over the weekend of May 29-31, 2010. The deadline for Wild Card and one-event applications is April 23, 2010. As the host federation, the American Motorcyclist Association (AMA) is handling the processing of applications and nominations. The requirements and application are available at the following location:

http://home.ama-cycle.org
Completed forms and supporting information should be sent to:

Olga Yarets
INFRONT MOTOR SPORTS ORGANISATION – Italy
Email: Olga.Yarets@infrontsports.com
Fax: +39 06 50966 440

There will be two Wild Card riders each for World Superbike and World Supersport nominated by the AMA. Infront Motor Sports will select the additional one-entry positions available (two for World Superbike, 10 for World Supersport).

Applicants should note that this is an international event, and rules differ from national events. The rules are available from the Federation Internationale de Motocyclisme at www.fim.ch. It should also be noted that Wild Card entrants in the HANNspree FIM Superbike World Championship and the FIM Supersport World Championship races are prohibited from competing in National Support Events at the same event.

Questions about the Wild Card applications should be directed to AMA Deputy Director of Racing Bill Cumbow at bcumbow@amaracing.com
or 614-619-4004.


Calendar Show Debute
July 18th 2010
of Recording Star
Singer / Songwriter
Sara Haze!
This exciting new Soulful Pop Rocker will knock your socks off!

Click to hear and order Sara's latest CD!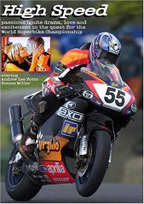 High Speed - the Movie
The best motorcyce racing movie ever made! Filmed on location at World Superbike, this an exciting romantic drama staring beautiful actress Sienna Miller.


Erotica Archives
FREE New Model
Galley Updated Daily
Warning Contains Nudity
---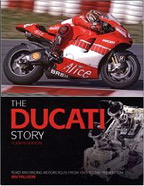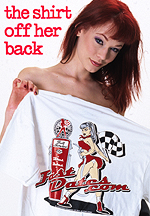 Order the Official
FastDates.com &
LA Calendar Bike Show
T-Shirts!