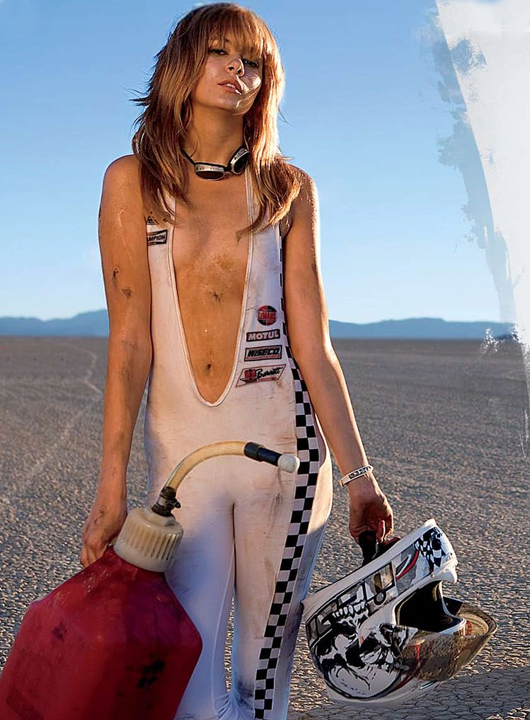 Icon motorcycle apparel's Pit Girl is featured in their catalog and magazine print ads. The Icon brand is owned by Parts Unlimited, the comapny who requred our FastDates.com Calendars be black bagged like an adult magazine.
Motorcycle Advertising - Bringing Sexy Back!
March 2010 - We don't know if it's the bad economy, the failures of the Bush Whitehouse and political scandals that finally stifled the moral majority in America, or people have just gotten fuckin' bored over see the same old adverting crap in the American motorcycle industry the last 20 years, but we're glad that Sexy Is Back! ... as evidenced by some of the exciting new advertising print campaigns shown here.
Not since the Norton motorcycle campaigns of the 1960s, then later the motocross apparel campaigns of the 1980's have we had sexy motorcycle girls like these to lust after. The adorable little Keli Myers in the Moto-X Fox apparel ads, then supermodel Jean Pelton in the ad campaign for AXO that helped launch both brands into multimillion dollar companies.
Performance Machne's new ad campain has their model in a pose you'ld normal need to go to a strip club to see.
Even more exciting is the fact the marketing director at Performance Machine is a woman, Nancy Sands, the daughter of company founder Perry Sands.

Then in the 1990s with the empowerment of religious and women's groups, court rulings and the landslide of sexual harassment law suits, sex in motorsports and nearly everywhere else became taboo. Snap-On Tools had to quit publishing their famous pinup calendar because they couldn't be hung up in the work place (commercial garages). Even big motorcycle distributors like Parts Unlimited required our FastDates.com Calendars they sold be sealed in black opaque plastic wrappers so not to offend the little old ladies back in their parts department who had to pull and package them for shipping.
However, it has always been a strange moral and legal double standard in America. You can have scantilly clad models on the covers of women's magazines at the grocery market checkout counter, naked supermodels in Vogue and W magazine, and Victoria's Secret Catalogs, print ads and TV commercials are seen everywhere. Marketed to women it is fine. But put the exact same model's picture in a Calendar or magazine as sold to men and it is touted as pornography, subjecting you to a lawsuit if you look at it in public or at hang it up work.

If it wasn't for the Victoria's Secret marketing campaign, the Sports Illustrated Swimsuit Issue, and the FastDates.com Motorcycle PinUp Calendars helping to keep open the door for guys to enjoy looking at an attractive woman, where would America be? And no mater how had the motorcycle manufacturers try to bring women into the sport, 90% plus of motorcycle buyers and riders and racers will always be men. And we men like to look a pretty girls. If you want to attract our attention to buy your bike or product, why not put a beautiful girl on it?
This is Victoria's Secret and Sports Illustrated Swimsuit supermodel Marissa Millers' second year as spokesmodel for Harley-Davidson.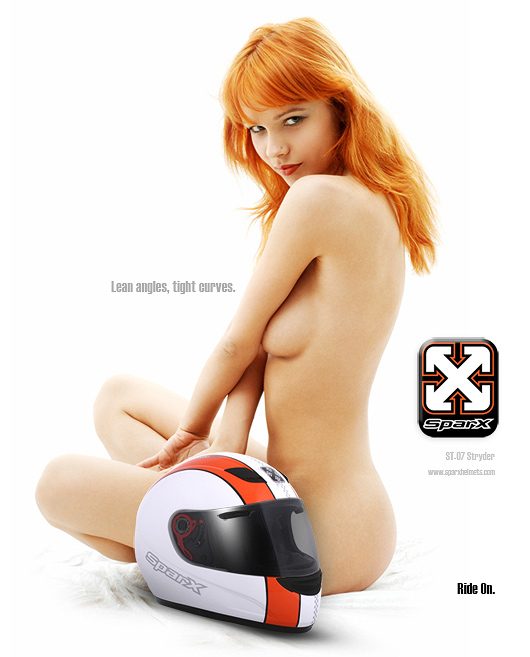 More than one good reason to buy a Sparx helment!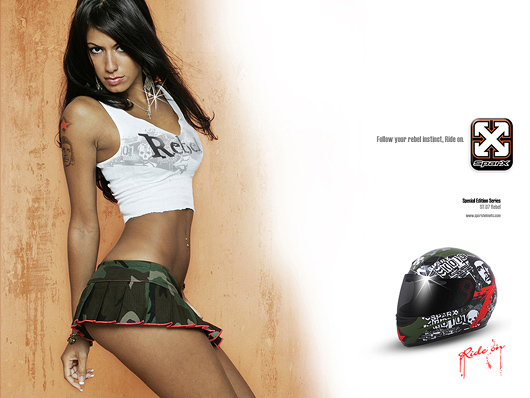 Mikuni Carburetor ad campaing featuring FastDates.com Calendar model Andra Cobb.

PinUp art is featured on this Icron Helment which is probably bought by as many girls as guys.
---
Preview: Tron Legacy Light Cycle 3D in Theatres December 2010
---
Former American Honda factory rider Jake Zemke, finally on a competitive bike, rewarded Jordan Suzuki wth double Superbike wins in his first race for the team at Daytona.

2010 AMA Pro National Roadracing Championship, Daytona Round 1

Zemke Doubles at Daytona International Speedway
in AMA Pro National Guard American SuperBike
Superbike Thursday Race One
DAYTONA BEACH, FL, March 4, 2010 - Jake Zemke took a hard-earned victory aboard his No. 54 National Guard Jordan Suzuki GSX-R1000 in the opening round of AMA Pro National Guard American SuperBike competition during the Daytona 200 Week at Daytona International Speedway. Zemke led six of the race's 15 laps in the afternoon race around the 2.90-mile short course at the famed circuit. The opening SuperBike round of the year only found two factory supported prvateer teams in attendance: Yoshimura Suzuki and Graves Yamaha, with 23 rider entries on the starting grid. Complete Coverage Here

Daytona Superbike Race 1:


1. Jake Zemke (Suzuki)
2. Tommy Hayden (Suzuki) +0.238
3. Larry Pegram (Ducati) +0.259
4. Aaron Yates (Suzuki) +0.291
5. Blake Young (Suzuki) +0.307
6. Chris Ulrich (Suzuki) +27.398
7. Taylor Knapp (Suzuki) +27.43
8. Shawn Higbee (Ducati) +1 lap
9. Shane Narbonne (Suzuki) +9.078
10. Barrett Long (Ducati) +16.377

Daytona Superbike Race 2:


1. Jake Zemke (Suzuki)
2. Tommy Hayden (Suzuki) +0.009
3. Ben Bostrom (Yamaha) +0.081
4. Aaron Yates (Suzuki) +0.212
5. Larry Pegram (Ducati) +0.858
6. Josh Hayes (Yamaha) +1.838
7. Blake Young (Suzuki) +22.383
8. Brett McCormick (Suzuki) +29.235
9. David Anthony (Suzuki) +34.124
10. Taylor Knapp (Suzuki) +34.404

Top 10 Points Standings:


1. Jake Zemke 62
2. Tommy Hayden 50
3. Larry Pegram 37
4. Aaron Yates 37
5. Blake Young 30
6. Taylor Knapp 25
7. Ben Bostrom 24
8. Chris Ulrich 24
9. Josh Hayes 23
10. Shane Narbonne 20
---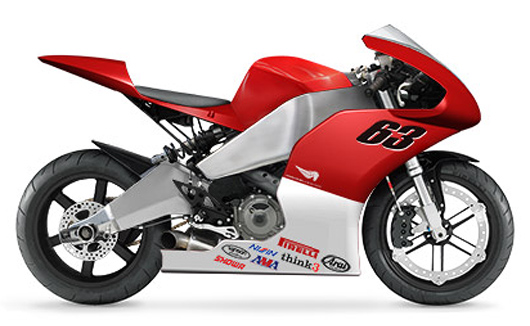 Eric Buell Racing Announces 3 new Racebikes
March 1st - Eric Buell is back in business at EricBuellRacing.com offering 3 non street legal, race track versions of his formerly successful 1125 Superbike. These track only bikes are being offered in 3 versions: a 1125R stock 140hp Daytona Sport Bike, a 1125RR 170hp American Super Bike, and a new larger displacement 1190RR 185hp American Super Bike (pictured above).
We are guessing that when Harley-Davidson dissolved the Buell sportbike brand last fall there were a lot of unsold 1125R bikes and parts laying around, and they gave Eric a fire-sale deal on the stuff rather than send it all to the crusher. Word has it that Eric can't produce his own street bikes because of an agreement he has with Harley, but we suspect in part it was their condition in giving him all the leftover 1125R stuff, that they not continue to be sold as streetbikes and subject Harley to future legal liability problems. Otherwise, why would Harley begrudge Eric not to build future strret legal sportbikes, particularly if they used Harley sorced engines?
The newest Eric Buell Racing model pictured above is the 1190RR which bumps up the 1125R displacement. The two cylinders are bored out to 106mm (from 103mm), with stroke unchanged at 67.5mm. Bike description on the Erik Buell Racing website states that: "Engines are completely disassembled and blueprinted, with top-shelf internal parts added to deliver reliable performance at the extreme rev ranges required for a twin-cylinder bike to compete at these power levels."
Specifications reveal use of a dual injector with showerhead for the fueling, rather than the single injector on the 1125RR. The 1190RR also sources a titanium 2-into-1 exhaust, rather than the 1125's steel unit. All told the mods add up to a claimed 185 rear-wheel horsepower and 93 lb-ft torque. That's a 10 hp and 7 lb-ft claimed increase over the 1125RR. The 1190 drops eight lbs as well, with a claimed dry weight of 360 lbs.
The 1190RR represented the next step for the Buell marque. Erik Buell has said he would like to focus on American SuperBike in 2010, with plans to jump to World Superbike in 2011. Without question, the 1125 would have to be altered to take advantage of the 1200cc displacement gap for Twins to be competitive – so the 1190 displacemnt job is a must. And while the AMA is known for making up its own homologation rules as it goes along, there is slim to no chancein hell the 1190RR can be homologated for FIM competiton without the required 500 bike production run of street legal bikes.
The EBR website currently states for the new 1190 that: "Although it is not currently approved for AMA ASB class racing, this bike can be raced in many classes around the world and should add new excitement racing against other premium street-based twin roadracers."
The German-based Pegasusraceteam.com haspurchased two of the 1190RR to compete in the European Sound of Thunder Series (Erik Buell Racing Makes First Sales). Addition to the AMA Pro Road racing series seems improbable, though Buell has courted AMA homologation controversy in the past – most notably with its XBRR racebike in the old Formula Xtreme series.
Buell 1190RR Specs
Engine
Type: 72? V-Twin, 4-Stroke, 4-valve DOHC FF valvetrain
Displacement: 1190 cc
Bore and Stroke: 106 x 67.5
Compression Ratio: 14.25:1
Heads: CNC ported
Valves: Titanium, 42.0mm intake, 35.4 mm exhaust
Power: 185 RWHP @11,500 RPM (Dynojet Rear Wheel)
Torque: 93.0 Ft-lbf @ 9,500 RPM (Dynojet Rear Wheel)
Piston: Forged alloy slipper type
Rod: Forged H-beam high strength alloy steel
Crankshaft: Lightweight forged steel
Fuel System: IDS Technology DDFI 3 electronic fuel injection and engine management system, fully programmable, 61mm throttle bodies, dual injector with showerhead, PWM fuel pump
Exhaust: Titanium ultralight 2 into 1 system.
Clutch: Multiplate Slipper
Primary Drive: Straight cut gear, 1.806 ratio
Transmission: 6 speed
Ratios: 6th - 24/25 (0.960:1)
5th - 25/24 (1.042:1)
4th - 27/23 (1.174:1)
3rd - 29/21 (1.381:1)
2nd - 28/16 (1.750:1)
1st - 32/13 (2.462:1)
Final Drive: 520 Chain

Chassis
Frame: Light alloy large section beam with integral fuel cell
Subframe: Light alloy tubular
Wheelbase: Adjustable - 1400 to 1460 mm (55.1 to 57.4 in.)
Rake: Adjustable - 21? to 22.5?
Front Suspension: Showa Race 43mm inverted fork, fully adjustable with BPF technology providing true separation of rebound and compression damping.
Front Wheel Travel: 120mm (4.72 in)
Front Brake: 387.5 mm (15.25 in) semi floating ISO multi-fin rotor with 8 piston ZTL2.5 caliper
Front Wheel: 6 spoke ZTL magnesium, 3.50 x 17
Front Tire: 120/17 ZR-17 Pirelli Diablo Corsa III
Rear Suspension: Light alloy swingarm with Showa Race damper, adjustable compression, rebound and ride height.
Rear Wheel Travel: 127 mm (5 in)
Rear brake: 240mm lightweight disc, 2 piston caliper
Rear Wheel: 6 spoke magnesium, 6.00 x 17
Rear Tire: 190/55 ZR-17 Pirelli Diablo Corsa III
Fuel Capacity: 4.6 US Gal
Battery: Buell Li-tech Lithium Nanotech
Dry Weight: 360 lbs (wet, no fuel)
---
| | |
| --- | --- |
| Click to Order Now from Amazon.com! | |
Hot off the Presses!
New 2009-2010 World Superbike and Motocourse Yearbooks
If you are a real roadracing enthusiast, here's the next step in your library collection, the official 2009-2010 season roadracing annuals from SBK World Superbike and Motocourse. Both annuals are beautiful covetable quality books providing exciting race-by-race coverage in story and spectacular photography of the just completed 2009 Championships, along with rider and bike features, and a preview of the upcoming 2010 season.
The Motocourse Annual covers both MotoGP and World Superbike, as well as the Superbike Championships in top countries like Britain and the USA. While the Superbike Yearbook only covers World Superbike, it is our favorite of the two as it includes technical photo features of all the top factory bikes, a feature of the new World Champion which this past 2009 season was American Ben Spies, and it has great articles by World Superbike Press officer Julian Thomas.
---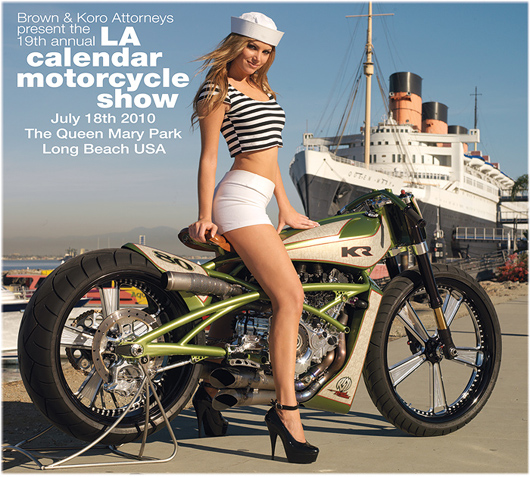 LA Calendar Motorcycle Show's World Wide magazine coverage!
Click the pages to enlarge.
Barnnett's Magazine 2009 Show coverage, interview with Jim Gianatsis in March 2010 issue.
---
There's more! Go to Pit Lane News Previous Page

Also Visit: Fast Dates Calendar News • Iron & Lace Calendar News
Calendar Girl News • Meet the Models • Paddock Garage

Calendar Kittens, Paddock Garage, Screensavers, Iron & Lace Garage




MotorcycleSuperstore.com
Some of our Calendar Kittens can also at Playboy's website...


FREE! New Met-Art Model Galley Updated Daily - Stop Back Each Day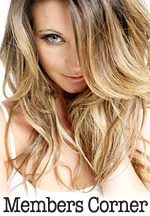 Hot Bikes, Sexy Kittens
Your Exclusive Grid Pass
also includes....
---
---
Lorenzo to take part in next MotoGP test in Qatar
Italy, March 15th - Fiat Yamaha Team rider Jorge Lorenzo will take part in this week's MotoGP test in Qatar, four weeks after breaking a bone in his right thumb during a training incident.
The 22-year-old has spent the time recuperating at home in Barcelona and he has now been given the all-clear by his doctor to get back on his bike. The recovery has gone well and the hand is no longer swollen, but he needs to continue with physiotherapy in order to keep repairing the muscle around the break.
His doctor has confirmed that there is no risk to the broken bone from riding, but he will need to wait until testing starts in order to ascertain if he will be able to ride and use the brake at full strength.
This week's test takes place on Thursday 18th and Friday 19th of March under the Qatar floodlights, the last test before the season starts in April.
Jorge Lorenzo
"Today we are leaving for Qatar for the last Winter test. I think that it is important that we are there. The fracture happened less than five weeks ago, but we could not have missed this last test because it would have been negative for our preparation; we are not far from the first race of the season! The doctor has made a special carbon fibre protection and Dainese have modified my glove, in order to further protect the fracture, so we will see how we get on."
Wilco Zeelenberg
"We are happy that Jorge will be back for this last pre-season test at Qatar! Of course we have had to miss a whole test but we are confident that we can make up for lost time because the 2010 bike has proved to be very competitive from the first time we have used it. We will have to wait to see how Jorge's hand feels when he starts riding, but we do not take anything for granted. The doctors have prepared a special brace for the thumb, Dainese have prepared special gloves and also a modified handlebar grip has been produced. Yamaha will give him all the support and time he needs to return to full strength."
World Premier!
2010 FastDates.com Calendars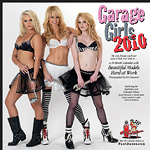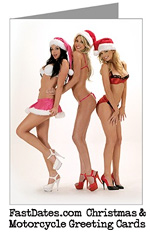 SI Swimsuit 2010 Magazine
Click to Order


Sports Illustrated
Swimsuit Calendars!
---
Rossi, Stoner & Spies on Top in MotoGP Qatar Tests
Qatar March 18th, Day One - Valentino Rossi and Casey Stoner ended the first of two nights of MotoGP testing in Qatar with the fastest times respectively. The riders working throughout a sticky evening to get their machines to grips with a particularly slippery track surface. The high levels of humidity experienced tonight are also expected for the first race of the season, which takes place here on the 11th April.
Casey Stoner (Ducati Marlboro Team) 2nd fastest: 1'55.717 (48 laps) - "We tried a few different set-up solutions but the main focus tonight was the tyres. I used the same set for thirty laps and set some of my best lap times towards the end, so we are satisfied with that. We have also worked on the balance of the bike because the conditions here are very different to Malaysia and I prefer the bike to be more rigid. So far so good."
Nicky Hayden (Ducati Marlboro Team) 8th fastest: 1'56.855 (77 laps) - "Things went well for the first half of the session then we kind of got stuck. The general feeling of the bike is quite good but I would like to be a step closer to the top guys. The biggest problem is that we're not able to get the most out of the soft tyre - we can't seem to get it working at the right temperature so I have to keep using the harder compound. It happened in Malaysia and we've struggled with it again today at a circuit where the conditions are very different, so it is important we work out the reason."
Circuit Record: Casey Stoner (Ducati - 2008), 1'55.153, 168.193 Km/h
Best Pole: Jorge Lorenzo (Yamaha - 2008), 1'53.927, 170.003 Km/h
Unofficial lap times
Thursday 18th March

1. V. Rossi (Yamaha) 1'55.402
2. C. Stoner (Ducati) 1'55.717
3. B. Spies (Yamaha) 1'55.954
4. C. Edwards (Yamaha) 1'56.540
5. R. De Puniet (Honda) 1,56.588
6. Dovizioso (Honda) 1'56.811
7. J. Lorenzo (Yamaha) 1'56.838
8. N. Hayden (Honda) 1'56.855
9. M. Kallio (Ducati) 1'56.923
10. D. Pedrosa (Honda) 1'57.047
11. L. Capirossi (Suzuki) 1'57.099
12. M. Melandri (Honda) 1'57.605
13. H. Barbera (Ducati) 1'57.822
14. Y.Aoyama (Honda) 1'57.888
15. M. Simoncelli (Honda) 1'57.891
16. A. Espargaro (Ducati) 1'57898
17. A. Bautista (Suzuki) 1'57.960
European Superstock 2010 classes set to start in Portugal Next Weekend
(Take a hint
AMA Pro Racing)
Rome, March 15th - With the first European-based round of the 2010 SBK season arriving at Portimao on 28 March, the Superstock 1000 FIM Cup and Superstock 600 European Championship classes will soon get underway, with strong entries confirmed in each category.

Populated by relatively young riders, and using machines which are very close to standard production models, these classes will once again run alongside the Superbike World Championship and Supersport World Championship categories at every one of the ten European-based rounds of the overall SBK series.

In the 1000cc class some exciting new machines enter the fray, including the BMW S1000RR and KTM 1198RC8 R. There will be 32 regular riders representing no less than eight different manufacturers in 2010 - Aprilia, BMW, Ducati, Honda, KTM, Kawasaki, Suzuki and Yamaha. Given the strict rules of the class, each machine should be capable of running at the front. Last year three manufacturers won races, with five scoring podiums of some kind.

The 600 Superstock class features four different manufacturers - Honda, Suzuki, Triumph and Yamaha - with a regular entry of 19 riders coming from nine different countries.

In the Superstock 1000 class Ayrton Badovini joins Daniele Beretta in the BMW Motorrad Italia STK Team, and there will be seven riders on BMW machinery in total, making the S1000RR a popular choice in its first year in Superstock.

As well as some established names there will be new threats aplenty in the Superstock categories, each of which has provided major career steps for some top riders in the SBK and WSS classes.


Calendar Kitten Apple
Tests the new
Roehr Harley Superbike!


KTM RC8R



Aprilia RSX1000


Kawasaki Z1000
---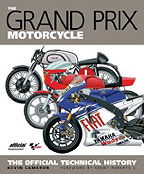 Kevin Cameron's
New Book!
by America's Favorite
Motorcycle Technical Guru
---
AMA Pro Racing
Gets New Manager
Motorcycle Racing Industry Veteran David McGrath Joins AMA Pro Racing
DAYTONA BEACH, FL (February 11, 2010) - AMA Pro Racing is proud to announce that longtime motorcycle racing veteran David McGrath has joined the Daytona Beach organization as Race Director and as a key member of its competition department.

McGrath has an extensive 25 year career in virtually every aspect of motorcycle roadracing and enjoyed a successful stint as a rider. McGrath then progressed into a management role as crew chief for many successful riders and racing programs, which then led to key positions with a number of top motorcycle organizations and manufacturers including Dunlop, Vance & Hines, Buell and American Honda. McGrath's responsibilities have included crew chief, head of research and development departments and overall race and support department management.

"I have had the opportunity to work with some really talented people during my career" said McGrath, "and I've done just about every job in the four corners of the paddock. I am excited to be a part of making AMA Pro Racing as good as it can be and if we can get the motorcycling community all pushing in the same direction, I feel we can see this sport achieve the success it so richly deserves."

David Atlas, COO and Managing Member of AMA Pro Racing welcomed McGrath to the Company, "I am delighted to be adding David to our excellent staff. He will bring a wealth of experience to the sport and he fits in perfectly with the very capable group that we have assembled for this season starting at Daytona and beyond."

McGrath is married and is the father of triplets. He is now in the process of relocating to Florida and will be operating full time out of the Daytona Beach headquarters of AMA Pro Racing.

McGrath doesn't hide his love of the sport, "You could say I have an obsession with this sport and it is a dream come true for me to be a part of a group of people who are as devoted to motorcycle racing as I am."
Editors Note:
Daytona Motorsport's Continued Path to Failure
Unfortunately the replacement of "retired" former AMA Pro Racing director Roger Edmonson with David McGrath does not mean a change in philosophy for AMA Pro Racing's owners, the Daytona Motorsports Group, nor a return to credible professional motorcycle roadracing. The championship's confusing class structure and rules bending, and racing on junk tracks assures roadracing in America will remain a failure for the foreseeable future as long as DMG remains in control.
The only remedy to the failure of AMA roadracing is to adopt the existing FIM / World Superbike Class structures, bike technical specifications, and safety requirements for tracks.
Tracks like Daytona International Speedway in particular, which don't comply to FIM standards, have played a significant role in bringing the the sport to collapse. This year's Daytona Superbike race weekend might have pulled just 1,000 spectators per day a best.


Calendar Show Debute
July 18th 2010
of Recording Star
Singer / Songwriter
Sara Haze!
This exciting new Soulful Pop Rocker will knock your socks off!

Click to hear and order Sara's latest CD!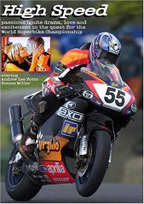 High Speed - the Movie
The best motorcyce racing movie ever made! Filmed on location at World Superbike, this an exciting romantic drama staring beautiful actress Sienna Miller.


Erotica Archives
FREE New Model
Galley Updated Daily
Warning Contains Nudity
---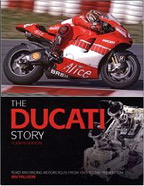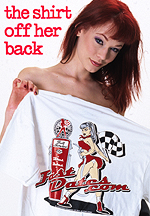 Order the Official
FastDates.com &
LA Calendar Bike Show
T-Shirts!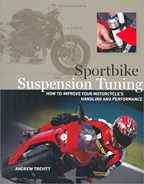 WORX CRESCENT BSB RIDERS END SPANISH TEST ON TOP
BMW Offers Special Ticket Pacake for Miller USA World Superbike May 29-31st
2010 BMW Motorrad USA invites you to join us at Miller Motorsports Park on May 29-31, 2010 for the second year of WSBK races in the U.S. with a special ticket package for BMW owners and racing fans.
Be a part of the action with a special BMW Motorrad ticket package that includes:
• Three days (Saturday/Sunday/Monday) access to special seating at Stansbury Grandstands.
• Three days of access to the Racing Paddock.
• Lunches, snacks and beverages Saturday, Sunday, Monday in the BMW Hospitality Village adjacent to the Stansbury Grandstands.
• Exclusive access to BMW hospitality area for closed-circuit race viewing.
• BMW Streetbike Freestyle shows on Saturday, Sunday and Monday.
• Exclusive autograph sessions with S 1000 RR racers Troy Corser and Ruben Xaus.
• BMW Motorrad gift bag
This package is normally valued at well over $300 and that doesn't get you autographs from BMW WSB racers or from world famous Streetbike Freestyler champions.
Special BMW Ticket Packages are $195 each.
To Order BMW Motorrad Ticket Package
By telephone - call 435-277-8602 with password "S1000RR" or email Ryan Salazar at rsalazar@millermotorsportspark.com
Or via web - go to http://tiny.cc/BMWTix Enter password "S1000RR" to get the BMW ticket package pricing.
Accommodation arrangement for BMW Club members:
By special arrangement with the Utah Hotel and Lodging Association, BMW MOA and RA members will have access to a limited number of rooms set aside at Salt Lake City area hotels.
• Go to http://www.uhla.org/superbike/ Use the promo code "BMW".

Ducati Fast Track
Superbike Offer!
Learn to Ride from
World Champion Doug Polen
Cupertino, Calif. (16 March 2010) – Ducati North America annouces today the "Fast Track" Superbike promotion; a celebration of the Ducati Superbike lineup as purpose-built motorcycles at home on the racetrack.

Available though June 15th; this promotion is designed to give new Superbike owners an experience unique to the Ducati brand. Built to the motto: "Engineered by the stopwatch, designed by the racetrack," Ducati Superbikes are bred to be ridden on the limit.

In the spirit of this philosophy, Ducati has teamed up with World Superbike Champion Doug Polen to include a once in a lifetime experience. With purchase of a new 2009 or 2010 Superbike, Ducati will include a day of racetrack instruction with the legendary champion at one of over a dozen venues. In order to hit the track with style and comfort, Ducati will include the following to make up the ultimate pit lane setup:

A set of tire warmers
A Ducati E-Z up
2 Ducati Quad Chairs
"I am beyond excited to be teaming up with Ducati for this excellent promotion," said Polen. "For the past few years I've been mastering the transition from racing bikes to teaching others my secrets, and now it's time for a new generation of Ducs to start flying!"

Along with this exceptional trackside support, Ducati is also including a gift that can be worn every day: a watch in Ducati livery. This beautiful Swiss timepiece- influenced by elements of Ducati design- will be given to select owners of a Ducati Superbike during the program period.*

Ducati is looking forward to combining its race bred Superbikes, world class instruction, and first class pit arrangements to form a track experience that could come from the Superbike World Champions. For more information on the 2010 range of Ducati Superbikes and a list of participating dealers, please visit www.ducatiusa.com.

* Watch not included with purchase of the 848 "Dark" Superbike and is available while supplies last.

Meanwhile, Ducati's "Created Naked" offer of low financing rates (2.99%) on select naked bikes ENDS on March 31st!