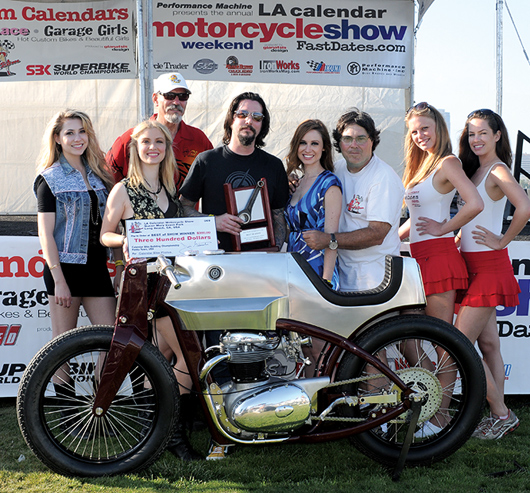 Left to right: Actress, singer songwriter and host Elizabeth Nicole, beautiful 18-year old magician Krystan Lambert from Fox TV's "Masters of Illusion" , Keith "Bandit" Ball of Bikernet.com, Calendar Bike Building Championship winner Chris Flechtner, singer songwriter Katie Cole,
Calendar Show producer Jim Gianatsis, Calendar Kittens Melody Schuster and Candise Lakota.
Click to go BIG


The Hottest, Rockingest, Sexiest, Best Motorcycle Show on The Planet!
Brown & Koro Motorcycle Attorneys present the 19th Annual 2010
Los Angeles Calendar Motorcycle Show
& Calendar Girl Music Festival Weekend
We Have A Winner! Chris Flechtner takes 2010 Best of Show
Long Beach, CA, July 18th 2010 - Chris Flechtner / Speed Shop Design returned to the 2010 LA Calendar Motorcycle Show with an all new, completely unique design to take Best of Show. The bike "Beezerker" features a mid '60s BSA A65 engine in a fully hand built chassis and bodywork with such original features as parallelogram front forks and a frame which housed the oil tank and the hidden exhaust pipes routed up through the rear of the frame to exit at the rear of the seat cowling. Following in the footsteps to Kenji Negai of Ken's Factory, Japan, who took 1st Place Pro Builder in 2008 and returned with an all new bike to take 2009 Best of Show, Chris also returned for blood the 2nd time around after taking 1st Pro Builder with his retro styled Speed Shop Special #6 last year. Complete Event Coverage later this week....
---
While still injured, Rossi showed in his race return this past week in German that he is prepared to go toe to toe for the win at Laguna Seca with the front runners like teammate Jorge.

MotoGP World Championship, Laguna Seca USA, Round 9 of 18
Preview: Laguna marks MotoGP season midway point
Red Bull U.S. Grand Prix, July 23-25th -The MotoGP riders and teams complete what will have been a busy schedule of five races in six weekends at Laguna Seca on Sunday as round nine of the 2010 campaign, the Red Bull U.S. Grand Prix, heralds the halfway point in the season – one which has already been packed with plenty of drama.
Arriving at this stage in the season Jorge Lorenzo sits atop of the Championship with a 47-point advantage, and his second place in Germany maintained his form of finishing inside the top two in every race so far this season. The Fiat Yamaha rider is also the first since Valentino Rossi in 2005 to have opened the campaign with eight successive podiums. Last year Lorenzo finished third in the race despite injuries in qualifying, and he will be going for a first premier class win at Laguna – the shortest circuit on the current GP schedule at 3.61km long.
With victory at Sachsenring in the last round Dani Pedrosa drew Honda level with Yamaha on 57 wins each in the four-stroke MotoGP era, and on a personal level maintained his hold on second in the Championship. Winner of last year's race at Laguna the Repsol Honda man is going for his first back-to-back victories in the premier class this weekend.
Andrea Dovizioso is still hunting his first win of the season and will aim to improve on his best previous result of fourth at the American circuit from 2008, the Repsol Honda rider currently sits third in the standings. In fourth Casey Stoner is also striving for his first 2010 win, and he has a good record at the track having won and finished second and fourth in the previous three seasons.
Ben Spies, one of our home county favorites at Laguna, will move up next season to take Valentino's seat on the factory Yamaha squad.

Heading up the home contingent will be Ducati Team's Nicky Hayden, currently fifth overall. Since his victory at the circuit in 2006 no American rider has been on the podium at Laguna, something he, Ben Spies – who has AMA superbike experience at Laguna and finished eighth as a 2008 MotoGP wildcard there – and Colin Edwards of the Monster Yamaha Tech 3 team will be desperate to change.
Valentino Rossi's recovery will continue, although the reigning World Champion displayed in his battle until the last corner the final podium spot at Sachsenring that he is already highly competitive after his return from injury. The Fiat Yamaha rider has a single victory at Laguna, from 2008, and last year finished second, and now continues his attempt to recover ground in the Championship. The Italian and his team-mate Lorenzo will be displaying special new liveries on their M1 machines as well.
Randy de Puniet suffered fractures to both the tibia and fibula in his left leg in Germany and will be substituted for by Roger Lee Hayden on the LCR Honda team, making it a fourth American on the grid.
San Carlo Honda Gresini pair Marco Simoncelli and Marco Melandri, Páginas Amarillas Aspar rookie Héctor Barberá, Rizla Suzuki's Loris Capirossi and Álvaro Bautista and Pramac Racing duo Aleix Espargaró and Mika Kallio will all be looking for strong results, with Alex de Angelis continuing on the RC212V of the Interwetten Honda MotoGP Team as a substitute for the injured Hiroshi Aoyama.
The first practice session gets underway on Friday 23rd at 1.55pm local time.
---
MotoGP World Championship, Sachsenring, Round 8 of 18
Pedrosa battles Lorenzo in a firey Sachsenring win
Rossi returns after 5 weeks with his broken leg to almost beat Stoner for 3rd!

Motorrad Grand Prix Deutschland, Germany, Sunday July 18th - Repsol Honda's Dani Pedrosa reduced the gap to Jorge Lorenzo in the championship standings to less than 50 points with victory in today's restarted eni Motorrad Grand Prix Deutschland at Sachsenring.The original race was red flagged on lap nine when a crash for Randy de Puniet at turn four brought down both Álvaro Bautista and Aleix Espargaró, neither of whom could avoid the Frenchman's bike as it burst into flames in the middle of the track. The top five order at that stage was Lorenzo, Pedrosa, Stoner, Andrea Dovizioso and Rossi, which is how they lines up on the grid for the restart after the race had been red flagged.
Espargaró and Bautista were not allowed to start the shortened 21-lap race as both failed to return to pit lane with their bikes within the allowed five-minute window after the showing of the red flag. De Puniet was physically unable to retake the grid, having sustained fractures in his left tibia and fibula in the incident. Espargaró was later diagnosed with a cracked C6 vertebra.
After a 25-minute interval the new shortened race got underway, with Mika Kallio sliding out at turn one in an unfortunate end to his weekend. As he had done in the original race Pedrosa got his nose in front on the first lap, but Lorenzo quickly assumed the race lead – that would change again however. The top order was much the same as it had been before the red flag, with Lorenzo holding off Pedrosa, Stoner in third, and Rossi and Dovizioso battling for fourth. The reigning World Champion was in front of his Italian compatriot before too long, and the Repsol Honda man was caught by the chasing pack shortly after.
The battle between Lorenzo and Pedrosa was developing into a thriller with the two Spaniards swapping the lead as they constantly looked for ways through on one another. Pedrosa was at his best as he set a new circuit lap record on lap 10 and then again on lap 12, assuming the race lead and breaking his own record from the previous year and consistently riding in the low 1'22"s bracket.
There was a good scrap going on for fifth between Marco Simoncelli, Dovizioso and Nicky Hayden, with the latter two going through on the rookie when he had a bit of an out of the saddle moment on the drop down to turn 12.
Valentino caught and passed Casey in the closing laps, but was repassed just before the checkered.

Rossi was defying his precarious physical condition to engage in a great contest with Stoner for third, the two side by side with only a few laps to go and taking their duel to the bitter end.
Pedrosa crossed the line in first position, 3.355s clear of championship leader Lorenzo thanks to a faultless ride.
Dani Pedrosa (Repsol Honda RC212V): winner - "I'm very happy because we are back winning races and it's a great feeling. It wasn't easy today because when the race is stopped and restarted like that, sometimes you don't have the same feeling on the machine in the second part. Also you get nervous again on the grid and it's possible you won't have the same pace after the restart. But it went very well for us in both races. In the first one I was very close to Lorenzo and the pace was good, but then they stopped the race and we looked at each other saying, "Why?".
It was even better in the second part. We just made one small change with the rear suspension to get a bit more traction, but we didn't change the tyre because we didn't have any new tyres left - we went with the same ones. I made another good start and in the first laps after Lorenzo had passed me I was pushing very to try to take him back. I couldn't do it with my first attempt, but when I got a second chance I just went for it. Then it was a great feeling to stretch ahead and get the victory - the team deserve it. This victory is even better than the one in Italy because at Mugello I just went away in front and there was no battle with anybody, but here I was battling with Lorenzo in the first and second races, and I finally beat him, so this is even more important.
Also before the race we were not 100 per cent sure about what the weather would do, but it stayed clear and finally the weekend has ended perfectly. I was really looking forward to wear the Spain shirt on the podium. It was difficult to get it because it wasn't in the shops and I really wanted to celebrate a win like that. I also want to thank the team because they worked really well this weekend, the bike was very good from Friday onwards and this is the form we need so we can to keep this consistency going from now on."
Team Yamaha gets the award for the most beautiful grid girls EVER, at Sachsenring. We can only guess what she's saying to Jorge.... possibly "Good Luck!" or "I keep the bed warm for you."? Click to go BIG

Jorge Lorenzo - Position: 2ndTime: +3.355 - "It's always difficult when a race is split like this and I think I didn't ride quite as well in the second race as I felt I had been doing in the first. Dani was very, very strong and I was on the limit trying to stay ahead. When he passed me I tried briefly to stay with him but he was much faster than me today and I was going to have to take a lot of risks to stay with him; the safest thing for me to do was finish second and take 20 points for the championship. I am happy because I never really liked this track and now I've been second here two years in a row. Now we go to Laguna and I am very excited about racing there again."
Stoner managed to edge Rossi for third with a final corner move that handed the Italian fourth on his return from injury, a highly impressive result.
"Valentino was taking big chunks of time out of me and, once he went past, I didn't think I'd be able to follow," admitted Stoner. "I tried really hard to stay in there and had a good battle with a lot of nice passes. We touched at the bottom of the hill, but it was a good, clean fight and I'm pleased to come away with a podium."
Casey Stoner (Ducati Marlboro Team) 3rd - "In the first part of the race I didn't have such a good feeling and I was doing everything I could to stay with Dani and Jorge but tenth by tenth they were pulling away from me. So, for the second part of the race we changed to a tyre we'd already used yesterday and I immediately found more grip and was able to run faster lap times. Unfortunately I wasn't able to get past Dovi at the start so the front two opened a gap and by the time I got up to third place they were gone.

We saw in the first race that Valentino's pace was a little better than ours and that proved to be the case again in the second race. He was taking big chunks of time out of me and to be honest once he got past I didn't think I'd be able to follow. I tried really hard to stay in there and we had a good battle with a lot of nice passes. I tried one last time at the bottom of the hill, where he tried to close the line on me but I was already there. We touched but it was a good, clean fight and I'm just pleased to come away with a podium. We had hoped to be a little closer to the front here but we're happy with this."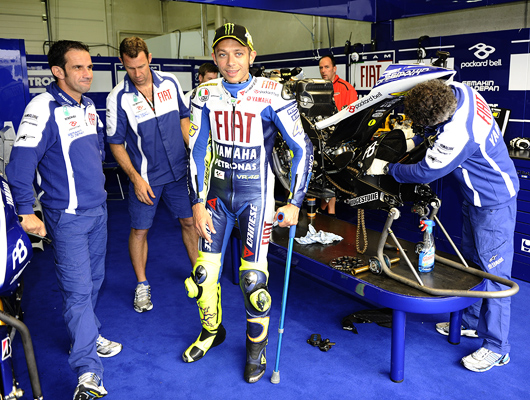 It was incredible to see Rossi return and back on winning pace just 5 weeks after seriously breaking his leg and having surgery to pin it.

Valentino Rossi - Position: 4thTime: +5.623 - "I didn't expect this! I thought it was maybe possible to make fourth or fifth place but I thought it would be very difficult. In the end I was fourth but I had a great battle with Casey and I was so close to the podium, so this is a fantastic result after missing four races. I need some more kilometres to really recover the feeling and feel completely okay with the bike again, but I think I did a great job and this was a very good comeback, better than we could wish for. I felt a bit of pain in my shoulder but more in the leg when changing direction, but at the end the battle with Casey was such fun that I didn't think about it. Unfortunately though he just got the better of me on the last corner! Thanks to all my team for helping me come back and be competitive like this, we will try to do even better in Laguna."
Dovizioso finished fifth, with Simoncelli achieving his best premier class result to date in sixth. American duo Hayden and Ben Spies were seventh and eighth respectively, with Héctor Barberá and Marco Melandri completing the top ten.
The final two riders to complete the race in 11th and 12th were Loris Capirossi and stand-in rider Alex de Angelis. Colin Edwards had crashed out on lap seven of the original race. Lorenzo now has 185 points at the top of the standings, with Pedrosa second on 138 and Dovizioso third on 102. Stoner moves into fourth, 19 points off Dovizioso.
MotoGP Race Classification: (21 laps = 77.091 km)
Pos / Rider / Nat / Team / Motorcycle / Time/ KM/H / Gap
1 / Dani PEDROSA / SPA / Repsol Honda Team / HONDA / 28'50.476 / 160.376 /
2 / Jorge LORENZO / SPA / Fiat Yamaha Team / YAMAHA / 28'53.831 / 160.066 / 3.355
3 / Casey STONER / AUS / Ducati Team / DUCATI / 28'55.733 / 159.89 / 5.257
4 / Valentino ROSSI / ITA / Fiat Yamaha Team / YAMAHA / 28'56.099 / 159.857 / 5.623
5 / Andrea DOVIZIOSO / ITA / Repsol Honda Team / HONDA / 29'07.634 / 158.801 / 17.158
6 / Marco SIMONCELLI / ITA / San Carlo Honda Gresini / HONDA / 29'08.233 / 158.747 / 17.757
7 / Nicky HAYDEN / USA / Ducati Team / DUCATI / 29'08.411 / 158.731 / 17.935
8 / Ben SPIES / USA / Monster Yamaha Tech 3 / YAMAHA / 29'11.433 / 158.457 / 20.957
9 / Hector BARBERA / SPA / Paginas Amarillas Aspar / DUCATI / 29'12.476 / 158.363 / 22
10 / Marco MELANDRI / ITA / San Carlo Honda Gresini / HONDA / 29'25.693 / 157.177 / 35.217
11 / Loris CAPIROSSI / ITA / Rizla Suzuki MotoGP / SUZUKI / 29'35.518 / 156.307 / 45.042
12 / Alex DE ANGELIS / RSM / Interwetten Honda MotoGP / HONDA / 29'35.680 / 156.293 / 45.204
Pole Position: Jorge LORENZO 1'21.817 161.526 Km/h
Fastest Lap (New record): Dani PEDROSA 1'21.882 161.398 Km/h Lap 12
Old Circuit Record Lap: Dani PEDROSA 1'22.126 160.918 Km/h 2009
Circuit Best Lap: Casey STONER 1'21.067 163.020 Km/h 2008
World Championship Positions:
1 LORENZO 185, 2 PEDROSA 138, 3 DOVIZIOSO 102, 4 STONER 83, 5 HAYDEN 78,
6 ROSSI 74, 7 DE PUNIET 69, 8 SPIES 67, 9 SIMONCELLI 49, 10 MELANDRI 45,
11 BARBERA 41, 12 EDWARDS 39, 13 CAPIROSSI 30, 14 ESPARGARO 28, 15 BAUTISTA 25.
Tony Elias takes Moto2
Toni Elías' third win of the season came at Sachsenring today, as the Gresini Racing rider triumphed in the Moto2 class, extending his advantage at the top of the championship standings. An opening-lap crash saw five riders in the gravel trap, as Raffaele De Rosa collected Héctor Faubel, Ricky Cardús, Joan Olivé and Lukas Pesek after crashing at turn one. Faubel and De Rosa rejoined the race, but the Italian was eventually forced to retire just a few laps before the end. Clear of the trouble at the front was the Fimmco Speed Up pair of Gabor Talmacsi and Andrea Iannone, with Julián Simón chasing hard in third.
Another faller came in the shape of Yuki Takahashi and shortly after Simón's participation was ended early when he slid out whilst pushing hard to keep on the tail of Talmacsi. Home rider Arne Tode, who had qualified in second position, Alex Debón and Sergio Gadea also fell, with an early end to a frustrating weekend following shortly after for Thomas Lüthi.
With 11 laps remaining Elías was well on the way to recovering from a start that had seen him drop from his starting position of third, charging up the order and through on Talmacsi – who started to drop back as his tyres went off – with Simone Corsi also passing the Hungarian. The Italian's race ended on lap 20 however when he lost the front of his machine at turn 12 when in third position.
The experienced Elías was closing in all the while on race leader Iannone and six laps from the end the championship leader made his move, taking first position. Roberto Rolfo was moving up the order too and went through on the by now frustrated Talmacsi, who was unable to do anything.
A fantastic last-lap battle for third played out between Rolfo and Fonsi Nieto was eventually being won by the Italian, after Elías had crossed the line 3.297s clear of Iannone for his third win of the season.Nieto took fourth, with Karel Abraham fifth and Talmacsi sixth. A fantastic ride from stand-in rider Damian Cudlin for the Tenerife 40 Pons team handed the Australian seventh.
Elías now has 136 points at the top of the standings, 42 clear of second-placed Lüthi after his DNF. Iannone moves into third, just four points off the Swiss rider thanks to his third podium of the season.
Moto2 Race Classification: (29 laps = 106.459 km)
Pos / Rider / Nat / Team / Motorcycle / Time/ KM/H / Gap
1 / Toni ELIAS / SPA / Gresini Racing Moto2 / MORIWAKI / 41'57.745 / 152.22 /
2 / Andrea IANNONE / ITA / Fimmco Speed Up / SPEED UP / 42'01.042 / 152.021 / 3.297
3 / Roberto ROLFO / ITA / Italtrans S.T.R. / SUTER / 42'04.319 / 151.824 / 6.574
4 / Fonsi NIETO / SPA / Holiday Gym G22 / MORIWAKI / 42'04.526 / 151.811 / 6.781
5 / Karel ABRAHAM / CZE / Cardion AB Motoracing / FTR / 42'05.141 / 151.774 / 7.396
6 / Gabor TALMACSI / HUN / Fimmco Speed Up / SPEED UP / 42'07.300 / 151.644 / 9.555
7 / Damian CUDLIN / AUS / Tenerife 40 Pons / PONS KALEX / 42'07.442 / 151.636 / 9.697
8 / Dominique AEGERTER / SWI / Technomag-CIP / SUTER / 42'09.118 / 151.535 / 11.373
9 / Stefan BRADL / GER / Viessmann Kiefer Racing / SUTER / 42'10.897 / 151.429 / 13.152
10 / Yonny HERNANDEZ / COL / Blusens-STX / BQR-MOTO2 / 42'11.471 / 151.395 / 13.726
11 / Alex BALDOLINI / ITA / Caretta Technology Race Dept / I.C.P. / 42'13.547 / 151.271 / 15.802
12 / Jules CLUZEL / FRA / Forward Racing / SUTER / 42'15.411 / 151.159 / 17.666
13 / Anthony WEST / AUS / MZ Racing Team / MZ-RE HONDA / 42'23.672 / 150.668 / 25.927
14 / Vladimir IVANOV / UKR / Gresini Racing Moto2 / MORIWAKI / 42'24.221 / 150.636 / 26.476
15 / Xavier SIMEON / BEL / Holiday Gym Racing / MORIWAKI / 42'24.371 / 150.627 / 26.626
Pole Position: Andrea IANNONE 1'24.982 155.510 Km/h
Fastest Lap (New record) : Andrea IANNONE 1'25.629 154.335 Km/h Lap 3
Circuit Record Lap: New category
Circuit Best Lap: Andrea IANNONE 1'24.982 155.510 Km/h 2010
World Championship Positions:
1 ELIAS 136, 2 LUTHI 94, 3 IANNONE 90, 4 SIMON 77, 5 TOMIZAWA 76, 6 CORSI 65,
7 CLUZEL 61, 8 TAKAHASHI 52, 9 TALMACSI 52, 10 GADEA 47, 11 NIETO 38, 12 DEBON 37,
13 ROLFO 37, 14 ABRAHAM 33, 15 WILAIROT 25.
---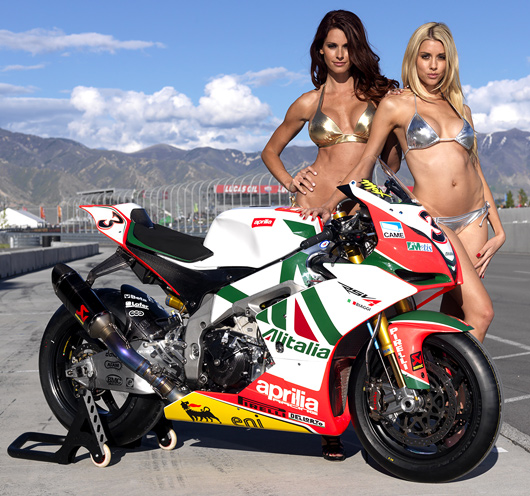 The Fast Dates Calendar Kittens heat up the track at Miller World Superbike!
Click for Complete Coverage
The Making of the FastDates.com Calendars now on DVD!
Sure, we may be slow getting around to some things, one of those being the re mastering of our infamous Making of the FastDates.com Calendars movies from VHS tape to high definition DVD. But now thanks to the help of Amazon.com we've entered the 21st century and you can stuff into your Computer or Big Screen DVD player the fastest, hottest, wettest, sexiest motorcycle movies ever made!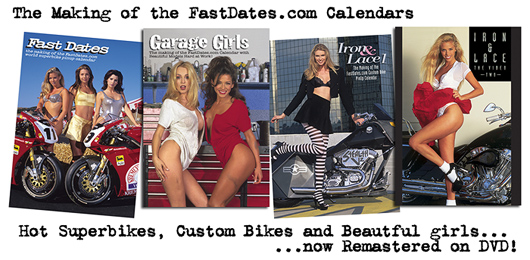 The making of the FasDates.com Calendars DVD movies are available from Amazon.com and in the FastDates.com Video Store.
---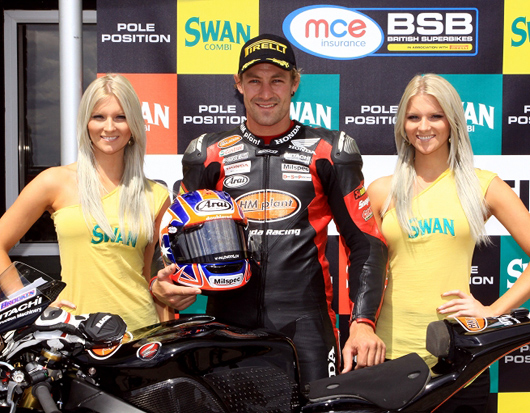 Twice lucky, Josh Brooke scores Twins for his Double Wins!
MCE Insurance British Superbike Championship, Snetterton, Round 7 of 12
Josh Brookes takes Double Win,
HM PLant Honda Teammate Kiyonari Single at Snetterton Triple Header
Snetterton, Great Britain, July 17-18th -Josh Brookes won the first two races in the seventh round of the MCE Insurance British Superbike Championship at Snetterton with his HM Plant Honda team-mate, former two times title winner, Ryuichi Kiyonari taking the victory in the other. But, the joy of their victories was spoiled somewhat as each suffered "engine issues" on Sunday afternoon that sidelined them, Kiyonari in the opener and then Brookes next time out.
For Brookes, his problem not only denied him a potential hat-trick of victories and also cost him the lead in the title stakes as Tommy Hill, returning to his early season consistent form, racked up a third place and then a pair of seconds to regain the lead in the title stakes, though by only two points at the half-way point of the campaign.
Worx Crescent Suzuki's Tommy Hill rode two hard fought races at the seventh round of the British Superbikes Championship at Snetterton to grab two second place finishes and take back the series lead.
In both races Hill was in lower leaderboard positions at mid-race but found the extra pace in the second half to pull himself up to the runner-up spot, recording his fastest lap in the last laps of each encounter. Rival Josh Brookes had secured wins in the first two races of the weekend but his machine expired at mid-distance in the last race, which passed the championship lead to Hill as he overcame Michael Laverty in the final laps of that race. Hill now leads the BSB championship by two points over Brookes and also leads the BSB podium points table by one point.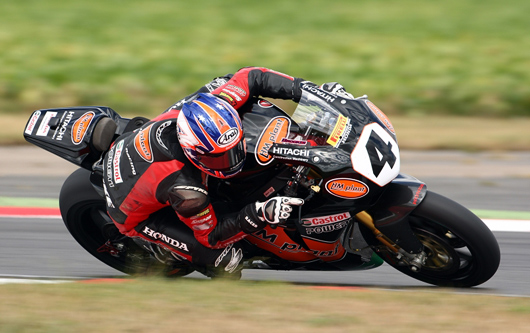 Saturday Race One
Brookes made life hard for himself in the opening race on Saturday afternoon, held over from the weather ravaged Knockhill round, making a slow start, and then a minor error, to be running ninth on the opening lap of the re-started race, after rain had brought out the red-flags.
Kiyonari was leading from Hill while Brookes as on the charges, picking off places to be second to his HM Plant Honda team-mate at half distance, and although he tried to line up overtaking moves, Kiyonari held him at bay, that is until the first corner of the final lap. Brookes had the inside line and made a perfect move, taking the lead, and with it the race, to win by half a second from Kiyonari.
Further back, James Ellison who had started at the back of the grid was riding superbly to bring his Swan Honda through into seventh place but there was disappointment for his team-mate Stuart Easton who slowed with a machine problem prior to retiring.
Josh Brookes (HM Plant Honda): "I didn't get the start I needed but I knew we had a good race pace so I wasn't totally worried and knew I just had to keep composed and pick them off one at a time. I did that and then I was closing on Kiyo but I made a mistake into Russells then the laps quickly whittled away and I was running out of time. I didn't really want to make the pass at turn one as then you have to defend for the rest of the lap but that seemed the only option so I just went for it and I just stayed there."
Ryuichi Kiyonari (HM Plant Honda) "The race was tough and towards the end I knew Josh would be there as he has been so fast and the tyre life was not as good so I didn't want to push too hard and crash. I changed my riding style a bit and I thought I was going to be able to hold him off but he just came by and I tried but it was impossible to get him back."
Results Race 1
POS / NAME / NAT / BIKE / TIME / GAP
1 / Josh BROOKES / AUS / Honda - HM Plant Honda / 19:41.650 /
2 / Ryuichi KIYONARI / JPN / Honda - HM Plant Honda / 19:42.244 / 0.594
3 / Tommy HILL / GBR / Suzuki - Worx Crescent Suzuki / 19:46.125 / 4.475
4 / Michael RUTTER / GBR / Ducati - RidersMotorcycles.Com / 19:46.639 / 4.989
5 / Alastair SEELEY / GBR / Suzuki - Relentless Suzuki by TAS / 19:47.135 / 5.485
6 / Michael LAVERTY / GBR / Suzuki - Relentless Suzuki by TAS / 19:47.539 / 5.889
7 / James ELLISON / GBR / Honda - Swan Honda / 19:50.798 / 9.148
8 / Simon ANDREWS / GBR / Kawasaki - MSS Colchester Kawasaki / 19:52.955 / 11.305
9 / Gary MASON / GBR / Kawasaki - MSS Colchester Kawasaki / 19:56.014 / 14.364
10 / Tommy BRIDEWELL / GBR / Honda - Quay Garage Honda / 19:56.036 / 14.386
11 / Chris WALKER / GBR / Honda - Sorrymate.com SMT Honda / 19:56.348 / 14.698
12 / John LAVERTY / GBR / Kawasaki - Buildbase Kawasaki / 19:56.657 / 15.007
13 / Dan LINFOOT / GBR / Yamaha - Motorpoint Yamaha / 19:59.108 / 17.458
14 / Andrew PITT / AUS / Yamaha - Motorpoint Yamaha / 20:10.411 / 28.761
15 / Peter HICKMAN / GBR / Yamaha - Ultimate Racing / 20:10.583 / 28.933
Fastest lap: Lap 12 Josh BROOKES AUS Honda - HM Plant Honda 1:04.878
Tommy Hill holds off Brookes temporarily in Race 2.
Sunday Race Two
Michael Rutter made the running in the first of Sunday's races with Kiyonari reeling him in, before the Japanese rider was forced out on the fourth lap by a machine problem as Brookes was moving through from fifth to be running third adrift of his title rival Hill. Brookes moved second at one thirds distance and closed in dramatically on Rutter who slowed momentarily going into the final third of the race, shortly afterwards pulling out with a gear shift problem to his Ducati.
Brookes had the lead and he was in no mood to let that slip, controlling the action from the front and heading off Hill by some 1.5 seconds while Alastair Seeley grabbed third place from Ellison on the penultimate lap. Easton, involved in a slip-streaming five rider scrap on the long Revett Straight ran eighth just adrift of the privately entered Hondas ridden by Tommy Bridewell and Chris Walker.
Results Race 2
POS / NAME / NAT / BIKE / LAPS / TIME / GAP
1 / Josh BROOKES / AUS / Honda - HM Plant Honda / 24:13.327 /
2 / Tommy HILL / GBR / Suzuki - Worx Crescent Suzuki / 24:14.799 / 1.472
3 / Alastair SEELEY / GBR / Suzuki - Relentless Suzuki by TAS / 24:16.067 / 2.740
4 / James ELLISON / GBR / Honda - Swan Honda / 24:17.084 / 3.757
5 / Michael LAVERTY / GBR / Suzuki - Relentless Suzuki by TAS / 24:17.479 / 4.152
6 / Tommy BRIDEWELL / GBR / Honda - Quay Garage Honda / 24:28.967 / 15.640
7 / Chris WALKER / GBR / Honda - Sorrymate.com SMT Honda / 24:31.106 / 17.779
8 / Stuart EASTON / GBR / Honda - Swan Honda / 24:31.744 / 18.417
9 / Simon ANDREWS / GBR / Kawasaki - MSS Colchester Kawasaki / 24:32.187 / 18.860
10 / John LAVERTY / GBR / Kawasaki - Buildbase Kawasaki / 24:32.458 / 19.131
11 / Gary MASON / GBR / Kawasaki - MSS Colchester Kawasaki / 24:34.873 / 21.546
12 / Andrew PITT / AUS / Yamaha - Motorpoint Yamaha / 24:35.165 / 21.838
13 / Steve BROGAN / GBR / BMW - Jentin Racing - BMW Motorrad / 24:46.326 / 32.999
14 / Gary JOHNSON / GBR / Suzuki - AIM Suzuki / 24:48.296 / 34.969
15 / Tom TUNSTALL / GBR / Honda - Doodson Motorsport / 24:57.399 / 44.072
Fastest lap: Lap 10 Josh BROOKES AUS Honda - HM Plant Honda 1:05.195
Tommy Hill's consistant finishes at Snetterton put him back into the British Superbike Championship lead.

Sunday Race Three
Ellison made a flying start to the second Sunday afternoon race, running just ahead of Brookes with Michael Laverty third from Kiyonari, Hill and Rutter, but there was bitter disappointment for Easton as a clutch problem prevented him starting.
By the third lap, Honda riders were running in the top three, with Ellison ahead of Brookes and Kiyonari, but the Japanese rider was eager for better and nosed ahead of his team-mate on the seventh lap and began making inroads on the advantage of Ellison.
Kiyonari was leading the race on the ninth lap and soon Brookes was tucked in behind him with Ellison dropping back to fourth and then being taken by Rutter. Brookes, going strong, was soon in trouble, pulling off with a machine problem.
Then on lap 14, Ellison went down as Seeley tried a tight move going into a right-hander bringing Ellison down and the Safety Car out. Kiyonari kept his cool as the race resumed for real, holding off Hill to take his fourth victory of the season, one that consolidates his third place in the championship standings.
Ryuichi Kiyonari (HM Plant Honda): "This morning before the race we made some changes to the setting as it wasn't perfect yesterday and unfortunately we had a problem and couldn't finish the race which meant we never had a real chance to test it. So for the third race we reverted back to what we had yesterday and I had the pace to fight for the win. I was disappointed after the second race not to have finished but winning race three made up for that."
Tommy Hill (Cresent Suzuki): "We've had a very consistent run this weekend and I can't deny it's very satisfying to get back on the podium in all the races and to take back the championship lead.
"We were running less electronic aids on the bike this weekend and maybe this harmed my early race pace, but it seemed to work very much to my advantage in the second half of each race and I found I had a consistent feel to the bike that allowed me to confidently push hard at the end. A little bit of luck fell into our hands with Brookes going out in the third race, but it helps to be in the right place for when these things happen. No question I'm really looking forward to the Brands Hatch GP round now!"
Josh Brookes (HM Plant Honda): "In the second race I had another bad start and made my way through; I saw Kiyo seemed to be having problems so knew I didn't have to make a pass. He retired and then I had Rutter ahead of me and knew I had the time to catch him, but then he pulled off too. I just kept steady away and then just held it to take the win. Everything was going well next time out and I was stuck behind James for a few laps and then Kiyo got involved and I maintained the position as I knew Kiyo was quick after we got by Ellison. We then just had an engine problem which put me out, which was disappointing."
Results Race 3
POS / NAME / NAT / BIKE / LAPS / TIME / GAP
1 / Ryuichi KIYONARI / JPN / Honda - HM Plant Honda / 26:52.964 /
2 / Tommy HILL / GBR / Suzuki - Worx Crescent Suzuki / 26:53.555 / 0.591
3 / Michael LAVERTY / GBR / Suzuki - Relentless Suzuki by TAS / 26:53.918 / 0.954
4 / Michael RUTTER / GBR / Ducati - RidersMotorcycles.Com / 26:54.548 / 1.584
5 / John LAVERTY / GBR / Kawasaki - Buildbase Kawasaki / 26:56.861 / 3.897
6 / Simon ANDREWS / GBR / Kawasaki - MSS Colchester Kawasaki / 26:57.863 / 4.899
7 / Chris WALKER / GBR / Honda - Sorrymate.com SMT Honda / 26:59.091 / 6.127
8 / Andrew PITT / AUS / Yamaha - Motorpoint Yamaha / 27:01.175 / 8.211
9 / Gary MASON / GBR / Kawasaki - MSS Colchester Kawasaki / 27:01.313 / 8.349
10 / Yukio KAGAYAMA / JPN / Suzuki - Worx Crescent Suzuki / 27:02.530 / 9.566
11 / Peter HICKMAN / GBR / Yamaha - Ultimate Racing / 27:03.627 / 10.663
12 / Dan LINFOOT / GBR / Yamaha - Motorpoint Yamaha / 27:05.110 / 12.146
13 / Steve BROGAN / GBR / BMW - Jentin Racing - BMW Motorrad / 27:09.190 / 16.226
14 / Gary JOHNSON / GBR / Suzuki - AIM Suzuki / 27:10.266 / 17.302
15 / Hudson KENNAUGH / RSA / Aprilia - Splitlath Motorsport / 27:10.571 / 17.607
Fastest lap:Lap 3 Ryuichi KIYONARI JPN Honda - HM Plant Honda 1:04.991
British Superbike Championship points
HILL 218, BROOKES 216, KIYONARI 193, LAVERTY 183, RUTTER 165, LAVERTY 129,
SEELEY 128, EASTON 100, WALKER 88, ELLISON 70, BRIDEWELL 66, MASON 60,
ANDREWS 60, JESSOPP 57, LINFOOT 36.
---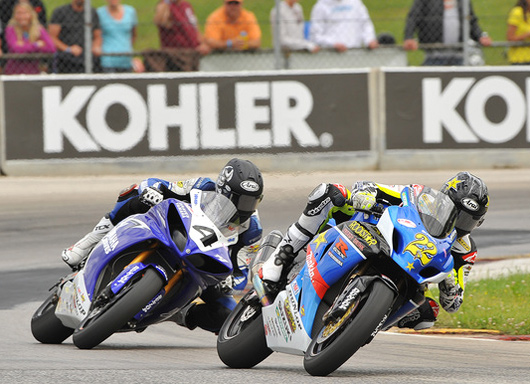 Hayes (4) chases Hayden (22).

AMA Pro National Guard SuperBike Championship, Mid-Ohio USA, Round 6 of 10
Hayes Makes it 4 with SuperBike Victory in Race One at Mid-Ohio
LEXINGTON, Ohio (July 17, 2010) - Today was mission accomplished, part one for Josh Hayes and the Team Graves Yamaha Team as they took a close yet strong win today at Mid-Ohio Sports Car Course in the first AMA Pro National Guard SuperBike race in the weekend's doubleheader, part of the Honda Super Cycle Weekend presented by Dunlop Tire.
Hayes, under partly cloudy skies, held off a determined Ben Bostrom on his Pat Clark Motorsports Yamaha, who kept Hayes honest by running virtually right behind him all the way to the flag. Hayes won the 21 lap race by 0.219 of a second but in a way, it was somewhat more controlled than that.
After starting from pole position, Hayes was pushed back to third as first Bostrom led and then Foremost Insurance Ducati rider Larry Pegram shot by Bostrom as the field ran down the long Mid-Ohio back straight. Only seconds later, Hayes passed not only Bostrom but Pegram as well to take a lead he would never relinquish.
Behind the first three, National Guard Jordan team rider Jake Zemke got a good start and passed the other front row starter, Rockstar Makita Suzuki rider Tommy Hayden. Further back, M4 Monster Energy Suzuki rider Jake Holden was making a nice move to the front, passing Zemke's Jordan Suzuki teammate Brett McCormick and then setting sail for Zemke. By the time McCormick got to him, Zemke had been passed by a determined Hayden, who was then chasing down third place man Pegram.
Also making an impressive run in his first National Guard SuperBike start of the 2010 season was Ben Bostrom's brother Eric, who was riding a new Cycle World Attack Performance Yoshimura Suzuki and running a solid seventh which became eighth by the end of the race. Former Mid-Ohio winner Chris Ulrich also had a spirited race, racing hard with McCormick and then finally beating Canadian SuperBike Champion Jordan Szoke on his Wazne Racing Ciclo Werks Honda.
At the end, it was down to Hayes and Ben Bostrom. Hayes was riding within himself, as he knew it was a long race and the conditions were tough. The heat was a factor and as Bostrom took a final-lap run at Hayes at the end of the long straight, Hayes held him off with a great display of late braking.
Hayes didn't put a wheel out of place for the remainder of the lap to take his fourth win of the season which put him into first place by 10 points in the Championship chase going into tomorrow's second race of the Honda Super Cycle Weekend Presented by Dunlop Tire.
Hayden Closes Championship With Win in SuperBike with Race Two
LEXINGTON, Ohio (July 18, 2010) - The tables were turned today as Tommy Hayden ended up two spots better than yesterday in taking his third career National Guard SuperBike victory ahead of main championship rival Josh Hayes during the last day of competition in the Honda Super Cycle Weekend Presented by Dunlop Tire at the 2.4-mile Mid-Ohio Sports Car Course.
Hayden, riding his Rockstar Makita Suzuki, bounced back from a third place finish in yesterday's SuperBike race and took a calculated victory in the second race of the weekend. Hayden paid tribute to his Yoshimura team, "I told them what I wanted the bike to do and they gave it to me."
Yesterday's winner, Josh Hayes paid tribute to Tommy, "My Team Graves Yamaha team gave me a winning bike, I just got beat." Hayes did hold onto the points lead that he gained yesterday but Hayden trimmed it down from ten points to just four, 285-281.
Foremost Insurance Ducati rider Larry Pegram thrilled his local fans by taking the lead into the first corner and leading lap one. Tommy Hayden had other ideas though, and he passed Pegram on lap two and proceeded to lead the next six laps. By this time, Hayes had passed Pegram and was shadowing Hayden's every move and for a while it looked like Hayes was going to repeat his win from yesterday when Josh took the lead and led laps eight and nine. Hayden re-passed Hayes and controlled the race from lap ten on all the way to the flag. Hayes never let up though and the margin of victory was only 0.194 of a second at the end of the 21 lap race.
Pegram was able to take what he felt was a satisfying third place finish ahead of yesterday's second-place finisher Ben Bostrom on his Pat Clark Motorsports Yamaha. As with the first two, Bostrom kept the pressure on Pegram all day but just couldn't find a way by the Columbus, Ohio rider.
After another strong start to the race, Jake Zemke with his National Guard Jordan Suzuki found himself battling with teammate Canadian Brett McCormick on the #23 Jordan Suzuki. These two ran nose-to-tail for the last part of the race and McCormick continued his nice progression in the sport by passing Zemke on the last lap.
Behind the Jordan riders were Taylor Knapp on his RidersDicount.com Suzuki and Chris Ulrich with his M4 Monster Energy Suzuki in eighth. Georgia rider Geoff May finished ninth on his Erik Buell Racing Buell and Kurtis Roberts made a nice return to the sport with a tenth place finish on his RidersDiscount.com Yamaha.
Tommy Hayden and Josh Hayes each staked a claim for this year's National Guard SuperBike Championship this weekend and this fight looks like it is going right down to the wire. The teams will gather again in five short days as they will race next weekend at the Red Bull U.S. Grand Prix in California.
---
New Ducati 848Evo Superbike
New for 2011, the 848EVO is the year's most significant middleweight sport bike
Cupertino, Calif. (20 July 2010) – Ducati proudly announces today the most powerful middleweight sport bike on the market; the 2011 Ducati 848EVO Superbike. The new Ducati 848EVO is the pinnacle of sport bike engineering, designed to be the leader in the middleweight class. Weighing only 369 pounds and propelled by 140 horsepower and 72 lb/ft of torque, it is the most powerful motorcycle in its category.

The 848EVO is based upon Ducati's best ever selling middleweight Superbike- the 848. Along with the "EVO" designation comes a significant amount of upgrades based on AMA Pro Racing feedback and consumer demand.

At the heart of the 848EVO is the Testastretta Evoluzione engine, significantly redesigned for a higher power output. All new cylinder heads, pistons, throttle bodies and camshafts combine for a forceful output of 140hp @ 10,500rpm and 72.3 lb/ft of torque @9,750rpm. All of this significant engine performance is wrapped in new black cylinder cases.

In addition to the more powerful engine, the 848EVO's chassis and braking systems have been upgraded. A cross-mounted steering damper has been added for greater control of the steering system, and the welcome addition of Pirelli Diablo Supercorsa SP tires will ensure maximum grip while delivering every last horsepower to the asphalt.

The 848EVO receives a massive upgrade to the braking system in the form of Brembo Monobloc calipers. These single-piece calipers are machined from solid alloy and achieve a higher rigidity and resistance to distortion during extreme braking. The resulting increase in hydraulic efficiency not only delivers incredible braking power, but also provides an enhanced and precise 'feel' at the brake lever.

All this combines to form the most potent, powerful and lightweight middle class sport bike available; both for the road or race track usage. For 2011, a special "Dark" version will be available; which unlike "Dark" editions of Ducati's past will be a truly black bike from front to rear, giving the motorcycle an aggressive look and attitude.

The Ducati 848EVO Superbike will be available in North American Ducati Dealerships at the end of August, 2010. Impressively, MSRP will remain unchanged from the 2010 848 it replaces: $12,995 for the "Dark" edition, and $13,995 for Ducati Red.
---
There's more! Go to Pit Lane News Previous Page

Also Visit: Fast Dates Calendar News • Iron & Lace Calendar News
Calendar Girl News • Meet the Models • Paddock Garage

Calendar Kittens, Paddock Garage, Screensavers, Iron & Lace Garage




MotorcycleSuperstore.com
Some of our Calendar Kittens can also at Playboy's website...


FREE! New Met-Art Model Galley Updated Daily - Stop Back Each Day