Laverty on the starting gird at Monza with his girlfriend Pippa. Photo by Jim Gianatsis
SBK World Superbike Championship, Monza Round 4 of 13
Laverty doubles for Yamaha at Monza World Superbike
as Biaggi fans riot over a race lead costing penality to their Italian hero
Autodroma Nazionale Monza, Italy, May 6-8th - FastDates.com was in Italy this week as World Superbike Rookie, Eugene Laverty on the factory Yamaha YZR1, put on a sensational display of race craft today to take a well earned double victory on his team's home track in Monza. Today's success signified not only Laverty's maiden win, but also his first podium finish to date in the 2011 World Superbike Championship. Eugene leaves Monza with a total of 85 points in the 4th round of the WSBK series, having jumped up from ninth to sixth place in the Championship standings after today's impressive performance. His Yamaha team mate Marco Melandri is now sitting second in the classification with 118 points, just 27 points behind the current leader, Carlos Checa, Althea Ducai.

Autodroma Nazionale Monza at 8am Sunday morning just before the crowds arrive. Click to go BIG
Preview WSBK at Monza: from the Cathedral to the Temple
Rome (Italy), Tuesday 3 May 2011 -The FIM Superbike World Championship moves on from Assen's Cathedral of Motorcycling to the Temple of Speed this weekend, with the upcoming round at the Autodromo Nazionale di Monza, with its legendary slipstreaming battles and its 200 km/h average lap speed.
This beautiful classic tube frame '50's era Lambretta scooter was parked in the Monza Paddock. Click to go BIG
Wind 'Title Event Sponsor' at Monza
Wind, Italy's third-largest mobile phone operator and one of the few European companies to offer integrated mobile, fixed and Internet services, will be teaming up this weekend with the Superbike World Championship, the leading global production-derived racing series. In line with their new slogan "Più vicini" (Closer), Wind aims to get close to the hearts of the fans by bringing its brand inside the Superbike Village to entertain fans with promotions and commercial activities in the three Italian rounds of the championship. The first appointment therefore is at Monza, which will now be called the "Wind Italian Round - Monza 2011".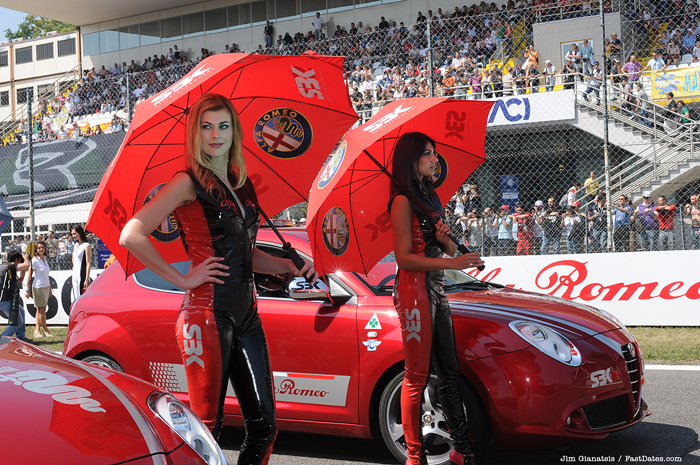 4 hours later on Sunday morning the Monza grandstands were packed for Race One. Click to go BIG
World Superbike
Despite not winning at Assen, the reigning World Champion Max Biaggi (Aprilia Alitalia Racing Team) hauled himself back into overall second behind leader Carlos Checa (Althea Racing Ducati) with a brace of second places. The Spaniard, who has won four of the six races held so far this season, now comes to a circuit that on paper does not appear to be favourable to his Ducati. The last win for the twin-cylinder machine was in 2009, when Michel Fabrizio won race 1, but the 1098R could struggle on the long Monza straits, where the fours appear to have the upper hand. However Checa's superb form and the excellent overall performance of the Ducati in this early part of the season might help to tip the balance in his favour. For his part Max Biaggi, after a double win here last season, is raring to cut loose at Monza as last year the Italian set an all-time record top speed of 330.2 km/h down the long straights.

Just a stone's throw from the parkland track can be found the base of the Yamaha World Superbike Team, which has always had good results there. In the last four years at Monza, the R1 has won four times, three with Noriyuki Haga and one with Ben Spies. These results are a boost for Marco Melandri who will be aiming to go considerably better than a fourth place in race 1 at Assen and not lose too many points to Checa.

And still with the fours, the favourites at Monza could also include the three Brits: Jonathan Rea (Castrol Honda), Leon Haslam (BMW Motorrad Motorsport) and Leon Camier (Aprilia Alitalia Racing Team). Honda however has not won here since 2005, when Vermeulen took the spoils but Rea comes off the back of a win and a podium in the Netherlands. BMW are still looking for their first WSBK win and Haslam is giving his utmost to achieve it for the German outfit. Unfortunately Leon has only stepped onto the podium once, at Phillip Island, but last year he was second here for Suzuki. Camier is also on the right path this year and at Monza 2010 scored a couple of good results.

A return to Monza awaits BMW Motorrad Italia's former champion James Toseland (second last year), while Michel Fabrizio (Suzuki Alstare) will be counting on his GSX-R1000's previous glorious form – first with Neukirchner in 2008 and Corser in 2005, as well as Haslam's 2010 podium - to help project him to the top. The other men to watch on official machinery include the Kawasaki Racing Team trio of Chris Vermeulen, Joan Lascorz and Tom Sykes, with top privateers Jakub Smrz and Sylvain Guintoli (Effenbert-Liberty Ducati) and Noriyuki Haga (PATA Racing Team Aprilia) also anxious to get amongst the spoils.

The grid will be completed by Kawasaki Pedercini machines for Mark Aitchison and Roberto Rolfo, Italian Ayrton Badovini (BMW Motorrad Italia SBK), Maxime Berger (Supersonic Ducati) and the only wild-card entered at Monza, Fabrizio Lai (Echo Sport Racing Company Honda).

Superbike Points (after 3 rounds of 13): 1. Checa 132; 2. Biaggi 89; 3. Melandri 85; 4. Rea 79; 5. Haslam 68; 6. Camier 50; 7. Smrz 49; 8. Fabrizio 47; 9. Laverty 35; 10. Haga 34; etc. Manufacturers: 1. Ducati 136; 2. Aprilia 106; 3. Yamaha 97; 4. Honda 79; BMW 74; 5. 38; 6. Suzuki 47; 7. Kawasaki 43.
Biaggi and Aprilia blow them all away in Superpole
Monza (Italy), Saturday 7 May 2011 - Reigning champion Max Biaggi (Aprilia Alitalia) reasserted himself at his home circuit of Monza with a spectacular display in Superpole qualifying, setting a lap of 1 minute 41.745 seconds to take his first pole position of the 2011 season.

Biaggi had a truly record-breaking day today, the Italian using a qualifying tyre to set his new best lap of the 5.777km circuit together with an all-time record average lap speed in WSBK history of 204.405 km/h. He also set an absolute top speed record, achieving 334.8 km/h in second free qualifying session.

Second in Superpole, some 0.648 seconds behind, was Eugene Laverty (Yamaha Superbike Racing Team) then Jonathan Rea (Castrol Honda) and Troy Corser (BMW Motorrad Motorsport) completed the front row, making it four different bikes in the top four places.

Max Biaggi: "It was very good, my first Superpole this year. This track is special for us and finally it came after three races in which it has been difficult to be competitive and get back on top. In qualifying we made good set-up trying a few different things, some of which worked and some of which didn't. But we did a good job and Italy is always special for us. For sure, top speed is a help at Monza and you need it, but also good braking and agility helps, and I'm happy with everything."

Eugene Laverty: "It's been a good weekend for us, the fact that the team is pretty much next door to the circuit is nice and hopefully we can have a couple of good races tomorrow and be fighting for the podium. We've been waiting for it for a long time and hopefully tomorrow we can achieve that. The Yamahas managed to challenge the Aprilias on this track last year, so we're looking forward to this weekend to try and challenge Max again."

Jonathan Rea: "For sure I'm very happy to be on the front row of the grid, because the weekend hasn't panned out great so far. We've been working very hard for tomorrow's race, it was pretty critical in the end for tyres with the temperature going up and down, but I'm savouring the moment to be on the front row, it's exactly what we need to get away in the group tomorrow. For sure it'll be a big group but a big ambition of mine is to stand on the podium here at Monza, it'll be very special."

Third fastest time went to Eugene Laverty (Yamaha World Superbike Team) who got the better of an impressive Ayrton Badovini (BMW Motorrad Italia SBK Team), the 2010 Superstock 1000 champion entirely in tune with the Monza track on his privateer machine. Jonathan Rea followed up his strong morning form with fifth slot for Castrol Honda, while Noriyuki Haga did a good job for the PATA Racing Team Aprilia to get in front of Marco Melandri (Yamaha World Superbike Team).
Superpole Times: 1. Biaggi M. (ITA) Aprilia RSV4 Factory 1'41.745; 2. Laverty E. (IRL) Yamaha YZF R1 1'42.393; 3; 4. Rea J. (GBR) Honda CBR1000RR 1'42.614; 4.Corser T. (AUS) BMW S1000 RR 1'42.688; 5. Melandri M. (ITA) Yamaha YZF R1 1'42.714; 6. Haslam L. (GBR) BMW S1000 RR 1'42.723; 7. Fabrizio M. (ITA) Suzuki GSX-R1000 1'42.954; 8. Haga N. (JPN) Aprilia RSV4 Factory 1'43.043; 9. Badovini A. (ITA) BMW S1000 RR 1'42.886; 10. Camier L. (GBR) Aprilia RSV4 Factory 1'42.995; 11. Checa C. (ESP) Ducati 1098R 1'43.116; 12. Guintoli S. (FRA) Ducati 1098R 1'43.146; 13. Lascorz J. (ESP) Kawasaki ZX-10R 1'43.090; 14. Sykes T. (GBR) Kawasaki ZX-10R 1'43.437; 15. Smrz J. (CZE) Ducati 1098R 1'43.993; 16.Berger M. (FRA) Ducati 1098R 1'44.005; etc.


Eugene Laverity doubles his first ever race win in World Superbike at Monza, home of his Yamaha Italia Race Team
Rookie Laverty does the double as champ Biaggi loses his chance for a first 2011 race win
Monza (Italy), Sunday 8 May 2011 – Monza lived up to its reputation for thrills and excitement yet again as a crowd of 116,500 watched Eugene Laverty win both 18-lap races in sun-kissed conditions. Laverty was a clear winner in race one, upsetting the pre-race form that had Max Biaggi down as a strong favourite for a double race victory. In race two Biaggi was on for the win at his home track but in making a misjudgment and cutting the first chicane he did not follow the rules about keeping to a certain line and re-entering the track only at permitted areas. For this infringement he was given a ride through penalty. His hopes of the win were over after losing significant amounts of time because of his ride-through, and he ended up eighth.

Biaggi's misfortune allowed the two Yamaha World Superbike riders Marco Melandri and Laverty to fight it out right to the flag, with Laverty winning and Melandri second after an audacious pass into the Parabolica. Michel Fabrizio was third in race two, on his Alstare Suzuki. World Championship leader Carlos Checa also had a dramatic day, as he scored points in each race, but was lucky to finish the second as he went from sixth to tenth when his machine developed a sudden technical problems and a trail of blue smoke was visible from its exhaust. He had been ninth in race one.

Behind the podium places, Melandri, Fabrizio and Rea filled the top six in race one, with Noriyuki Haga, Troy Corser and a jubilant Ayrton Badovini inside the top six in race two.

Sylvain Guintoli was seventh in race two for his Effenbert Liberty Ducati Team, the top single race Ducati finisher on the day. Checa is still the leader of the championship, but the riders immediately behind him also had changeable fortunes after Monza. Leon Haslam was a podium man in race one, but a faller in race two, along with Jonathan Rea and Ruben Xaus. Leon Camier (Aprilia Alitalia) was on course for a podium but fell at high speed in race two.

In the championship standings Carlos Checa (Althea Racing Ducati) has 145 points, Melandri 118 and Biaggi 117. Rea is fourth with 89 points and Laverty is now fifth, on 85.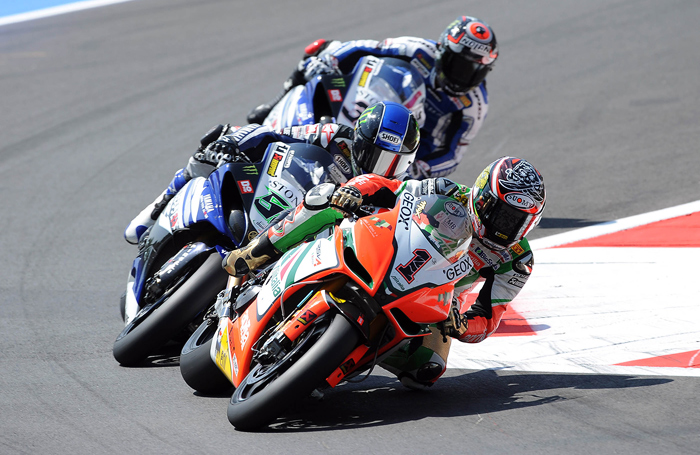 Max dices with Laverty and Melandri for the lead in Race One.
Race 1: Laverty wins his first Superbike race over Italian star Biaggi
Laverty got off to a perfect start from second position on the grid to immediately take the lead from first lap leader Troy Corser in race one. The World Superbike rookie temporarily surrendered the lead to challenger Max Biaggi in lap six on entering the " Prima Variante" but hastened to repossess first place on exiting the "Biassono curve", leaving Max behind to settle for 2nd.
A close race at times was turned into a cool-headed race win for Laverty as he stretched his rivals to breaking point in the final laps. Biaggi and Haslam took the other podium places, after some tough passes and fights between that duo and fourth place rider Melandri. Fabrizio had a strong ride on his Suzuki Alstare machine and set the fastest lap on his way to fifth place. Jonathan Rea (Castrol Honda) held off Troy Corser to earn himself a top six finish, 12 seconds from the winner.

Eugene Laverty: "That was a great race, definitely not one of the easiest but I enjoyed it nonetheless. I just kept pushing to the top and my first win couldn't have come at a better place, the Yamaha team is based at Lesmo and everyone's here to celebrate!"

Max Biaggi: "Second place is better than nothing but I was hoping to do a bit better. I got a good start but made some mistakes and then I was bothered with Leon, Eugene started to go away then I made another mistake so at the end of the day I settled for second place."

3rd place in Race One, Leon Haslam (BMW Motorrad Motorsport) snatched the top slot in the first qualifying session on Friday from local hero and double 2010 race winner Max Biaggi (Aprilia Alitalia), despite Biaggi setting a new all-time best top speed of 332.5 km/h / 206mph! that afternoon. Haslam put in a superhuman effort on his last flying lap around Monza to take the provisional pole slot with a time of 1 minute 42.934 seconds. The gap between the two was just 0.019 seconds in favour of Haslam.

Leon Haslam: "We didn't get the best of starts and made a few mistakes. I felt like I could run the pace, and then I got into a battle where me and Max were passing each other a few times. We were holding each other up a bit which meant that Eugene got away. It was a tough race, the last part I was defending from Marco but I've got a lot more feel out of the BMW now and I'm actually looking forward to the races in the future."

Superbike Race 1 Results: (Laps 18 = 103,986 Km)
POS / RIDER / NAT. / TEAM / MOTORCYCLE / GAP
1 / E. LAVERTY / IRL / Yamaha World Superbike Team / Yamaha YZF R1 / 31'09.584
2 / M. BIAGGI / ITA / Aprilia Alitalia Racing Team / Aprilia RSV4 Factory / 1.575
3 / L. HASLAM / GBR / BMW Motorrad Motorsport / BMW S1000 RR / 3.078
4 / M. MELANDRI / ITA / Yamaha World Superbike Team / Yamaha YZF R1 / 3.255
5 / M. FABRIZIO / ITA / Team Suzuki Alstare / Suzuki GSX-R1000 / 11.812
6 / J. REA / GBR / Castrol Honda / Honda CBR1000RR / 12.371
7 / T. CORSER / AUS / BMW Motorrad Motorsport / BMW S1000 RR / 13.28
8 / L. CAMIER / GBR / Aprilia Alitalia Racing Team / Aprilia RSV4 Factory / 17.419
9 / C. CHECA / ESP / Althea Racing / Ducati 1098R / 17.569
10 / J. SMRZ / CZE / Team Effenbert-Liberty Racing / Ducati 1098R / 18.42
11 / A. BADOVINI / ITA / BMW Motorrad Italia SBK Team / BMW S1000 RR / 20.031
12 / S. GUINTOLI / FRA / Team Effenbert-Liberty Racing / Ducati 1098R / 20.405
13 / T. SYKES / GBR / Kawasaki Racing Team Superbike / Kawasaki ZX-10R / 26.693
14 / M. BERGER / FRA / Supersonic Racing Team / Ducati 1098R / 38.429
15 / R. XAUS / ESP / Castrol Honda / Honda CBR1000RR / 40.164
Fastest Lap Michel Fabrizio Lap 3 1'43.275 201,377 Km/h
Lap Record: 2010 C. Crutchlow 1'42.937 202,040 Km/h
Best Lap: 2011 Max Biaggi 1'41.745 204,410 Km/h

Max takes the lead away from Corser (11) in Race Two, followed by team mate Camier (2) who will crash out.
Race 2: Laverty goes from 10th to Hero as Biaggi is penalized, team mate Melandri is passed in final corner
Eugene Laverty won a last corner battle with his team-mate Melandri in the second 18-lap race at Monza but the bigger drama was the award of a ride-through penalty for long-time race leader Biaggi, for cutting the chicane in an incorrect fashion. He rejoined the race in tenth place and moved back up to to finish eighth before the finsih. Third was Michel Fabrizio on the sole Alstarelone Suzuki in this year's Superbike Championship, but only after a massive fight with Pata Aprilia rider Noriyuki Haga, who went fourth.
Troy Corser on the factory BMW again took the start for the 2nd race of the day, only to again suffere on top speed against and the other factory bikes from Aprilia and Yamaha in the opening laps. Jonthan Rea was the victim of a first corner crash for the second year running as he was hit on the right hand side in the middle of the first part of Monza's Prima Variante. Despite remounting and making his way back to the pits, his Castrol Honda crew were unable to repair his Ten Kate CBR1000RR in time for him to rejoin the race.
Pole sitter Biaggi moved into the race lead by the end of the fist lap and quickly stretched out a 5 second lead by the half-way point of the 18 lap race ahead of Melandri, Fbrizio and Haga. It was looking like any easy win for the Aprilia rider who recorded a 10 kph speed advantage over the rest of the field on the high spped Monza straights. But then, just as the race looked to be a run away for the Italian, Max missed his braking point down the front straight into the Prima Variante chicane and went straight, pausing just enough to neither gain or loose on his race lead when he retook the track. Unfortunately, Max failed to re enter the track within the confines of painted white lines on the escape road's exit back onto the race track and the race stewards quick accessed him a Stop-and Go Penalty in the pits.
The highly partial Italian fans could not believe the penalty accessed their favortie racer in World Superbike and vocally made their feelings known. But in fact Max had failed to attended the official Riders' Meeting on Friday, although his team manager was in attendace, where the track officials explained the proper procedure for running up the excape road and re entering the track. And during the first day's first race other riders who used the escape road had followed the paited white lines as required for re entering the track.
First race winner Eugene Laverty initially fell back to ninth position after encountering the three rider collision in the Curva de Biassono on the first lap that took out fellow countryman Leon Haslam . Putting his head down, he got straight to work, making his way through the bunch of riders ahead to sit behind team-mate Melandri.
Marco Melandri was also on flying form in the hot temperatures the historic track in Monza had to offer. A good start off fifth position on the grid saw Melandri push up to third place by lap seven. The determined Italian gradually closed in on fellow contenders ahead, until mid race when the leader, Biaggi made a mistake at the first chicane resulting in a ride through penalty by the race direction. This gave Melandri the lead on the 14th lap. The final laps of the adrenalin filled second race saw team mate Eugene Laverty reeling him in and the two Yamaha World Superbike riders battling it out for the win. Melandri completed the race crossing the finish line in second place, while Laverty just beat him by three tenths of a second. Both Yamaha riders, Melandri and Laverty, scored the fastest speed of the second race reaching a high of 333Kph / 206.46mph!

Fifth with a strong ride was Corser, Badovini a brilliant sixth and only ten seconds from Laverty, with the luckless Biaggi eighth. Joan Lascorz recovered from a race one crash to give Kawasaki ninth in race two, the best result of the day for the guys in green.

Eugene Laverty: "I can't believe I got a double victory here today. My aim coming here this weekend was to get a podium and I came away with two wins. In race 2 I made an average start and two of the guys closed me in and I had to go back. There was a big crash in front of me, it was a hectic race, I was having trouble with the front tyre, but when it came to the last few laps it was between me and Marco and I just couldn't believe it."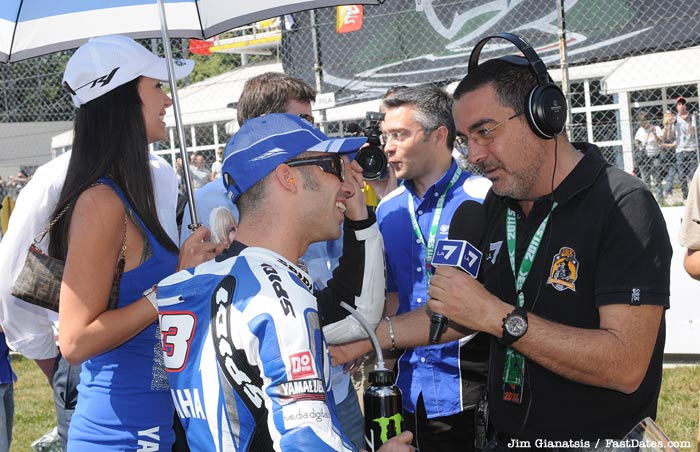 Italian media darling Marco Melandri with beautiful girlfriend and model Manuela Raffaetà
Marco Melandri: "It's been a very tough weekend for me, we've been trying to find a good set-up to make the bike stable. In the second race we made a big step further but the bike was very nervous at the end so I couldn't race for the win. I tried to do my best but at the last corner I struggled with the gearbox, the rear tyre locked and I lost."

Michel Fabrizio: "It was a battle with Haga like the ones of a couple of years back, I wanted the podium at all costs and we would surely have deserved it. Max had already gone away from the rest of the field, so I was settling for fourth place, but in racing it often happens that you can get a podium like that."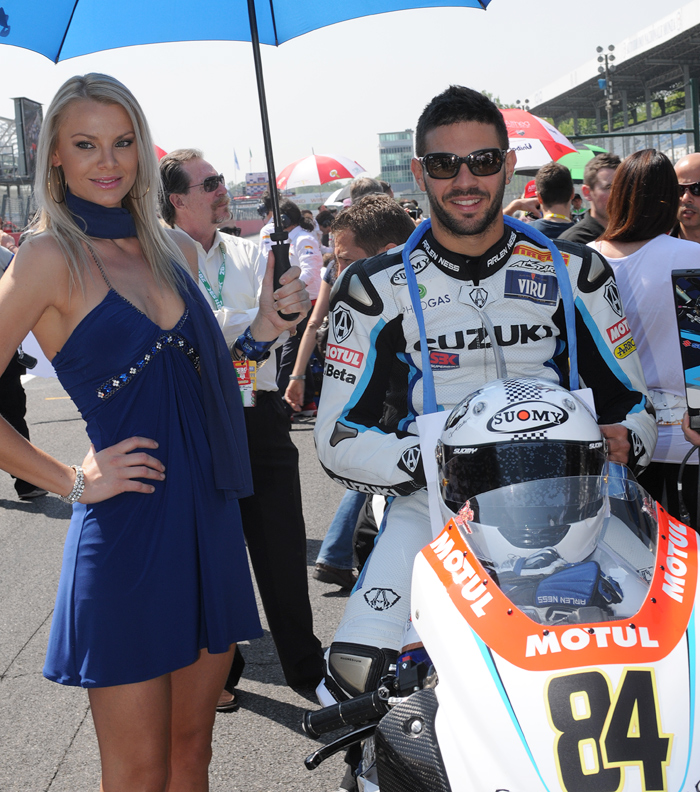 Michel Fabrizio shares a smile with us on the grid before his 3rd place finish in Race Two as the only Suzuki rider this year in World Superbike. In the Paddock Show press conference after the race, Michel tried to calm the angry and vocal Biaggi fans who didn't like their rider not getting the race win. Michel tired to calm them with words, then when that failed he strippe down on stage, throwing them all his new riding gear including that helmet, gloves and boots. It must be nice to have apparel sponsors!
Race 2 Results: (Laps 18 = 103,986 Km)
POS / RIDER / NAT. / TEAM / MOTORCYCLE / GAP
1 / E. LAVERTY / IRL / Yamaha World Superbike Team / Yamaha YZF R1 / 31'19.948
2 / M. MELANDRI / ITA / Yamaha World Superbike Team / Yamaha YZF R1 / 0.327
3 / M. FABRIZIO / ITA / Team Suzuki Alstare / Suzuki GSX-R1000 / 2.466
4 / N. HAGA / JPN / PATA Racing Team Aprilia / Aprilia RSV4 Factory / 2.583
5 / T. CORSER / AUS / BMW Motorrad Motorsport / BMW S1000 RR / 4.502
6 / A. BADOVINI / ITA / BMW Motorrad Italia SBK Team / BMW S1000 RR / 10.865
7 / S. GUINTOLI / FRA / Team Effenbert-Liberty Racing / Ducati 1098R / 11.038
8 / M. BIAGGI / ITA / Aprilia Alitalia Racing Team / Aprilia RSV4 Factory / 18.724
9 / J. LASCORZ / ESP / Kawasaki Racing Team / Kawasaki ZX-10R / 20.093
10 / C. CHECA / ESP / Althea Racing / Ducati 1098R / 20.376
11 / T. SYKES / GBR / Kawasaki Racing Team Superbike / Kawasaki ZX-10R / 21.111
12 / R. XAUS / ESP / Castrol Honda / Honda CBR1000RR / 28.608
13 / R. ROLFO / ITA / Team Pedercini / Kawasaki ZX-10R / 33.459
14 / M. AITCHISON / AUS / Team Pedercini / Kawasaki ZX-10R / 42.81
15 / F. LAI / ITA / Echo Sport Racing Company / Honda CBR1000RR / 55.759
Fastest Lap Max Biaggi Lap 4 1'43.023 201,869 Km/h
Lap Record: 2010 C. Crutchlow 1'42.937 202,040 Km/h
Best Lap: 2011 Max Biaggi 1'41.745 204,410 Km/h

Points (after 4 of 13 rounds): 1. Checa 145; 2. Melandri 118; 3. Biaggi 117; 4. Rea 89; 5. Laverty 85; 6. Haslam 84; 7. Fabrizio 74; 8. Camier 58; 9. Smrz 55; 10. Haga 47; etc. Manufacturers: 1. Ducati 152; 2. Yamaha 147; 3. Aprilia 139; 4. BMW 101; 5. Honda 93; 6. Suzuki 74; 7. Kawasaki 53.

World Supersport
Chaz Davies (Yamaha ParkinGO) won his second career WSS race in succession by leading home his team-mate Luca Scassa after 16 laps of the Monza circuit. Behind the flying duo from the Italian based Yamaha team, Fabien Foret (Hannspree Ten Kate Honda) had an eventually lonely but impressive third place finish, some 7.9 seconds from Davies.

Behind the podium places, a race-long fight between four riders saw Broc Parkes (Kawasaki Motocard.com), Sam Lowes (Parkalgar Honda), Roberto Tamburini (Bike Service RT Yamaha) and Florian Marino (Hannspree Ten Kate Honda) completed the top seven places. David Salom took an impressive eighth despite not having his best engine available, from another Kawasaki rider Massimo Roccoli.

Supersport Results: 1. Davies C. (GBR) Yamaha YZF R6 29'05.363 (190,651 kph); 2. Scassa L. (ITA) Yamaha YZF R6 4.734; 3. Foret F. (FRA) Honda CBR600RR 7.977; 4. Parkes B. (AUS) Kawasaki ZX-6R 19.246; 5. Lowes S. (GBR) Honda CBR600RR 19.882; 6. Tamburini R. (ITA) Yamaha YZF R6 20.148; 7. Marino F. (FRA) Honda CBR600RR 21.090; 8. Salom D. (ESP) Kawasaki ZX-6R 31.595; etc.

Points (after 4 rounds of 12): 1. Davies 70; 2. Scassa 70; 3. Parkes 60; 4. Harms 43; 5. Salom 42; 6. Foret 36; 7. Lowes 27; 8. Roccoli 26; etc. Manufacturers: 1. Yamaha 100; 2. Honda 68; 3. Kawasaki 60; 4. Triumph 14.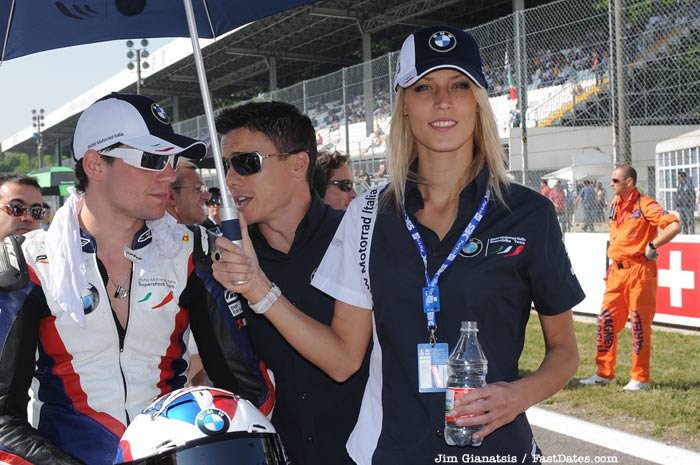 Encouraging words from Italian BMW team mate and former World Superbike Champ James Toseland helped Lorenzo Zanetti take the Superstock race win. James had hoped to make his return to racing in the Superbike class this weekend at Mona after having surgical pins removed from his broken hand last week, but he now has to wait until Miller USA
Superstock 1000
Lorenzo Zanetti (BMW Motorrad Italia Superstock) took a close win by only 0.065 seconds at Monza in a stopped and restarted race cut to only five laps duration. Michele Magnoni (Baru Racing Team BMW) was third and Danilo Petrucci (Barni Racing Team Ducati) fourth. It was Zanetti's first race win in this class. A blown engine in the first race start, from Sylvain Barrier's BMW Motorrad Italia machine, saw several riders crash at high speed on the spilled oil, with none seriously injured, but Andrea Boscoscuro suffered a broken collarbone.

Superstock Results: 1. Zanetti L. (ITA) BMW S1000 RR 8'56.130 (193,957 kph); 2. Giugliano D. (ITA) Ducati 1098R 0.065; 3. Magnoni M. (ITA) BMW S1000 RR 1.728; 4. Petrucci D. (ITA) Ducati 1098R 3.634; 5. Massei F. (ITA) BMW S1000 RR 4.750; 6.Reiterberger M. (GER) BMW S1000 RR 9.341; 7. Bussolotti M. (ITA) Kawasaki ZX-10R 9.418; 8. Antonelli A. (ITA) Honda CBR1000RR 10.734; etc.

Points (after 2 rounds of 10): 1. Giugliano 45; 2. Petrucci 33; 3. Zanetti 32; 4. Antonelli 18; 5. Magnoni 16; 6. Barrier 16; 7. Baroni1 3; 8. Canepa 13; etc. Manufacturers: 1. Ducati 45; 2. BMW 41; 3. Kawasaki 20; 4. Honda 18; 5. Yamaha
The SBK Race Experience and Paddock Show
InFront World Superbike makes an all-out effort to make their Championship all about the fans with a complete experience when you go to one of their races. Between the races you can visit the Exhibitors' Superbike MotoZone Midway and see the latest bikes and products, as well as souvenirs and official apparel from all the factory and top privateer race teams. Here at Monza we got to see the latest new bikes from all the manufacturers, including the new 2012 Aprilia naked sportbikes: the 1200 Dusoduro V-twin and the Tuono RSV4 based on Max Biaggi's 201o World Championship winning Superbike.
The first 500 fans attending the SBK Grandstand on the Monza back straight behind the Pits received free SBK Caps costing $20 each in the SBK Official Store. The grandstand was hosted by SBK Girls who were there to pose with fans for pictures.
And with the purchase of a paddock Pass at any European WSBK race you can visit the SBK Paddock Show where replicas of all the factory Superbikes are displayed, riders appear for autograph sessions, there's a Superbike Riding Experience Similar, and the top 3 winners of each Feature race are brought to be interviewed in front of the fans by SBK's Julian Thomas or Kel Edge. They also provide 30 minute Pit Walks on Saturday and Sunday during the lunch break, where fans can actually walk down the race pits and look into the team's garages. World Superbike just offers their race fans a much more full experience, compared to MotoGP where the fans are usually kept apart from the race teams and riders.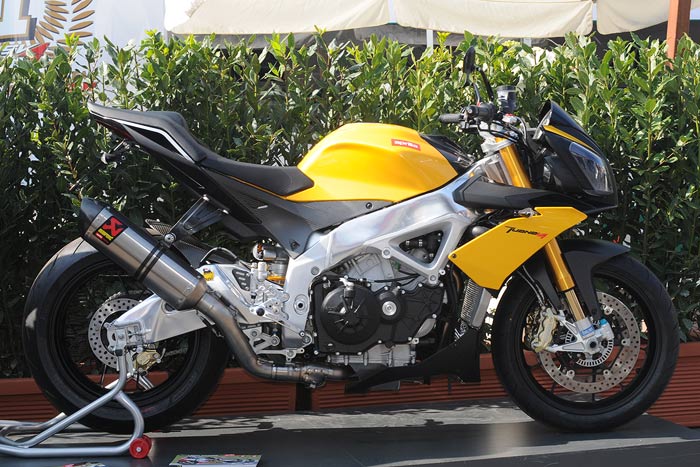 Aprilia showed off their two new big bore naked bikes at Monza, the RSV4 Superbike based Tuono4 above, probably an R-model with its full Ohlins suspenion and an optional full-race Akrapoviv exhaust system. The fans went wild over it. And below is the new Dusoduro 1200 V-Twin based on the current 750 model. We like them both.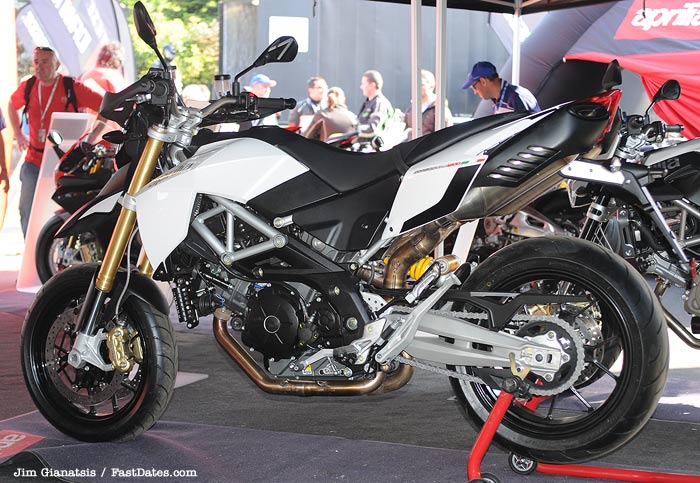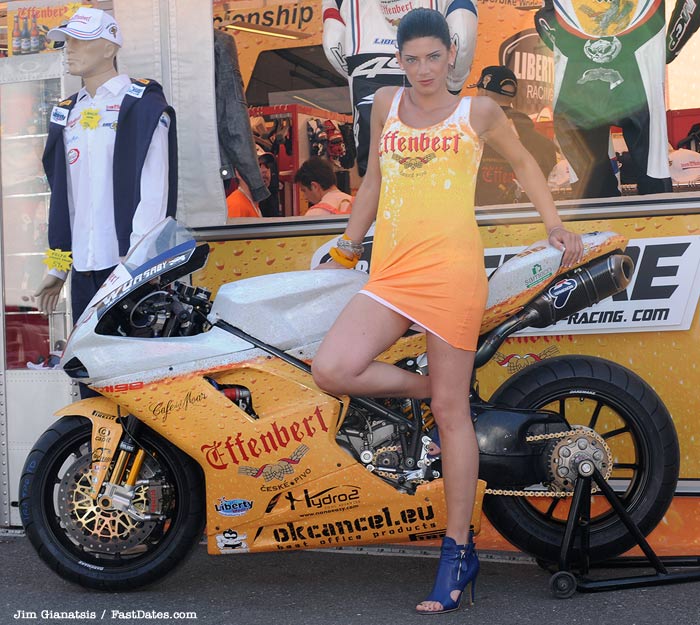 The Effenbert beer girl shows us a replica of their team Ducati 998RS Superbike for Sylvain Guintoli. We sampled a bottle of their great Effenbert beer sold in their paddock store here. We tired their Dark style which was somewhate like a Dark Heineiken. Click to go BIG.
---
Newest Fast Dates Calendar Kitten Taylor Gunnin
selected as an official InFront Superbike Grid Girl for Miller USA Race Weekend May 28-30th
Los Angeles,CA, May 1st 2011 - The FastDates.com Calendars, the world's premier brand of motorsports and pinup model wall calendars is excited to announce that beautiful Southern California model and actress Taylor Gunnin has been selected to accompany photographer publisher Jim Gianatsis to the Miller Motorsports USA World Superbike Race Weekend in Utah, May 28-30th to shoot the next edition of the Fast Dates World Superbike Calendar with all the top factory race team bikes. This marks Taylor's first shoot for the renown motorcycle pinup calendars which have seen some of the world's most beautiful models grace its pages together with the world's top racing and custom motorcycles. Celebrity models that have included Hollywood actresses and Playboy cover models Pamela Anderson, Jaime Pressly, Josie Bisset, LeeAnn Tweeden, Cindy Margolis, world's sexiest supermodel Joanna Krupa, along with other beautiful women like Miss Great Britain Nicki Lane and Miss Texas Robin Cunningham.
InFront Sports, producers of the World Superbike Championship, upon learning of Taylor Gunnin's attendance with Jim Gianatsis at the Miller USA race weekend, made a specific request that Taylor be one of their official grid girls for the race weekend. For additional information on the Fast Dates World Superbike Calendars and complete race coverage in the Pit Lane News section go to www.FastDates.com
And for more race information visit www.WorldSBK.com and www.MillerMotorsportsPark.com
---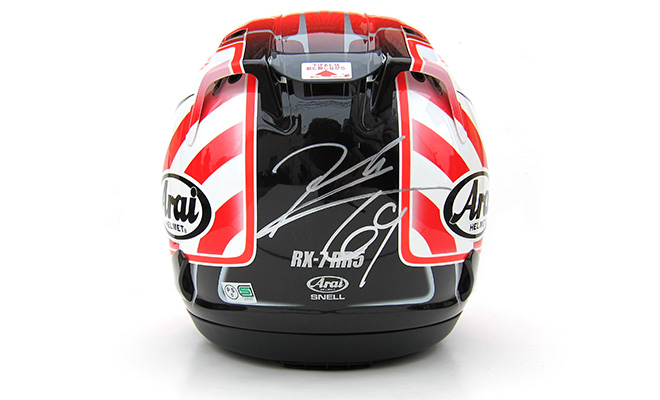 Pro Italia Raffles Signed Nicky Hayden Helmet to Support American Red Cross
Glendale, CA, March 10, 2011 - Pro Italia Motorcycles, a leading destination dealer of Italian motorcycles, has announced that it will be raffling off a Signed Nicky Hayden helmet with proceeds going to support the American Red Cross efforts to help people in the Southern US who need help putting their lives back together after the recent punishing weather. Raffle tickets may be purchased at ducatiperformance.com for $5 each. This X-Large Arai Corsair V (Hayden replica) was signed in silver ink by Nicky at a 2010 MotoGP event. There will be only 1,000 tickets available and the drawing will be held on June 1, 2011, or when the tickets are sold out.

"Motorcycling is a tight-knit community with a long history of supporting causes and helping people in need." said Pro Italia owner Bill Nation "Whether it's food drives, collecting toys for tots or raffling an autographed piece of top-shelf gear, we've felt compelled to give back to those who can use our help." In the past Pro Italia has held raffles for Riders for Health, donated profits to the Red Cross in Japan, raised money to battle Rhett's syndrome, held bike washes and food drives for Haiti and raffled off a Desmo for a local school. This time proceeds from the Nicky Hayden Helmet raffle will go to the American Red Cross to help folks in the Southern US.
---
There's more! Go to Pit Lane News Next Page

Also Visit: Fast Dates Calendar News • Iron & Lace Calendar News
Calendar Girl News • Meet the Models • Paddock Garage

Calendar Kittens, Paddock Garage, Screensavers, Iron & Lace Garage





MotorcycleSuperstore.com
Some of our Calendar Kittens can also at Playboy's website...



FREE! New Met-Art Model Galley Updated Daily - Stop Back Each Day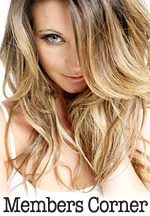 Hot Bikes, Sexy Kittens
Your Exclusive Grid Pass
also includes....
---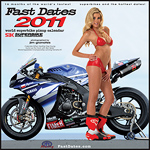 2011 Calendars!
with FastDates.com Calendar Kitten, Ducati Corse Grid Girl
and Playboy Playmate
Heather Rae Young!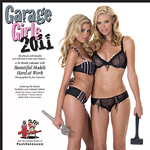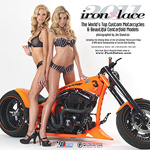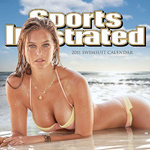 Click for even more Calendars!
---
LeoVince USA and Motorcycle-Superstore Offer VIP Treatment at
AMA Infineon Raceway; Relax at the Last Lap Lounge
SONOMA, CA - May 12, 2011 - (Motor Sports Newswire) - Race fans will be able to get the VIP treatment during the AMA Pro Road Racing round at Infineon Raceway from May 11-15, thanks to the LeoVince USA Last Lap Lounge and the new Motorcycle-Superstore VIP Experience.

Each year, LeoVince USA, the official motorcycle exhaust of Infineon Raceway, hosts the Last Lap Lounge during the classic Infineon Raceway event in Sonoma, California. The lounge is a relaxed area within the VIP Experience, offering a place for fans to escape the crowds, watch the races and meet some of AMA's fastest racers.

The Last Lap Lounge is bursting with special events, including televisions broadcasting the race, race bike displays, autograph sessions with popular AMA Pro Road Racing riders, and a contest featuring over $10,000 in prizes and giveaways.

The LeoVince USA Last Lap Lounge is the entrance point of the Motorcycle-Superstore VIP Experience, where fans can get exclusive access to product manufacturers, vendors, and company representatives.

Access to the Motorcycle-Superstore VIP Experience and the LeoVince USA Last Lap Lounge is limited, so get there early, sign up for great prizes and be part of the in-crowd during the Infineon Raceway stop on the AMA Pro Road Racing circuit.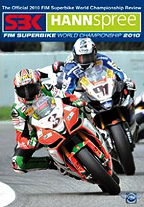 World Superbike Review
Click to find DVD Coverage of Every Year!
MotoGP Review
Click to find DVD Coverage of Every Year!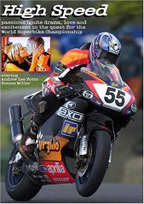 High Speed - the Movie
The best motorcyce racing movie ever made! Filmed on location at the World Superbike races , this an exciting romantic drama staring beautiful British actress Sienna Miller.
---
Penalty Dececision from Race Officials Deprives Biaggi of possible Race Win
Monza, Sunday 8th - The clear top speed superiority of Max Biaggi and Aprilia at the Monza round of World Superbike was rendered futile by a severe decision by Race Officials. A ride-through penalty deprived Max and the team of certain victory and heavily influences championship standings.

Monza, May 8th, 2011 - After the positive outcome of Race 1 with a second place finish behind an excellent Eugene Laverty, a place which in any case brought home important points to close the gap behind the ranking leader, Carlos, Checa, Max Biaggi started Race 2 determined not to miss out on this opportunity for victory.
In just a few laps Biaggi widened a gap behind him leaving his competitors to battle it out for the secondary positions.
But a cut across the first turn by Biaggi in the eleventh round convinced the Race Officials to levy a ride-through penalty against the number one rider. This decision relegated Max to twelfth place, depriving him of a certain and well deserved victory. Max then ended with a courageous comeback in eighth place.

"At the moment I am feeling only great disappointment, for me and for the entire team. We prepared to the best of our ability and I think we showed that on the track. I have to accept this severe decision, blaming myself for not having been shrewd enough not to have touched that line. Now we have to regroup and focus on the next races. There is still a long season ahead".

This was the comment on a weekend which, in any case, saw the Aprilia Alitalia Racing Team confirming its strength as the reigning Champion team, entrusted to the leadership of Gigi Dall'Igna, Aprilia technical and sports director: "The judging officials are there to take decisions. It's our job to respect them and so we must accept the penalty which the judges enforced. However, we cannot keep quiet about the fact that, from a strictly sporting point of view, Max drew no time advantage from cutting the turn. A problem which forced Max to avoid crashing and return to the track at 330 km/h: a very difficult condition also in trying to avoid a stripe painted on the track. Our disappointment is made even more bitter in consideration of the work that the entire team did in order to perform as best as possible for this round. Now we'll continue to work hard – concluded Dall'Igna – as we have always done, in order to keep this championship open until the end".

An unfortunate weekend for Leon Camier as well who, after finishing Race 2 with an insignificant eighth place, started off very strong in Race 2, taking position in second place behind Biaggi. The Englishman defended this position with authority until the seventh lap when a slide in the second Lesmo curve took him out of the race.

"Start was good, first corner was good, I felt good - said Leon - I got past a couple more to move up into 2nd and everything was fine. I wasn't particularly pushing, just trying to get everything to flow and then in Turn 6 I let the brake off mid-turn and the front folded. I have to say sorry to all of my team. A podium was definitely on the cards, which would have been a great end to a couple of races where we've had nothing but bad luck. We've just got to look ahead to Miller at the end of the month and hope our luck changes."
Lone Suzuki rider Fabrizio scores two Top 5 Monza Finishes
Monza WSBK, May 8th Alstare Suzuki's Michel Fabrizio raced to his first World Superbike Championship podium with his new team in the second race at the Monza fourth round in Italy today.
It was just reward for all the hard work the Italian and Alstare Suzuki have been putting in since the start of the season and his third place in Race 2 - in front of a partisan crowd of 116,500 - followed a hard-fought-for fifth in Race 1, when he set the fastest lap.
Briton Eugene Laverty (Yamaha) opened his World Superbike account by winning the first race with Max Biaggi (Aprilia) second and Leon Haslam (BMW) third. Laverty then followed it up by winning race two, after leader Biaggi was forced to take a ride-through penalty after failing to take the correct line after cutting the first chicane. This time Marco Melandri (Yamaha) was second with Fabrizio, on his GSX-R1000, close behind.
Michel Fabrizio - Race 1: 5th, Race 2: 3rd: - "I am very happy with my podium this afternoon, especially as I was in fourth for a long time at the end and that's where I thought I'd end up. When Biaggi had to do a ride-through penalty that moved the two Yamahas and me up a place. Racing is like that - sometimes you win and sometimes you lose.
"It was a bit of a shame that I didn't make better starts in the two races today and that's something that I will have to work on. At the moment I am probably giving myself too much work to do in the first part of the race and this series is so competitive that once you give way an advantage, it's very hard to get it back.
"Even though I didn't get on the podium in Race 1, I am happy that I set the fastest lap of the race - especially as Biaggi's bike was nearly seven kph faster. I think our team is working really well and I am very pleased with how things are going. I am very happy to get my first podium of the season and hopefully there will be more to come."
Team BMW Motorrad Motorsport celebrates another podium in the FIM Superbike World Championship.
In the fourth round of the 2011 season at Monza (ITA), works rider, Leon Haslam (GBR), finished third in race one. In the second race Leon was involved in a crash involving several riders in the first chicane, and was forced to retire. His team mate, Troy Corser (AUS), finished the races in seventh and fifth respectively. In the riders' championship Leon Haslam is now sixth (84 points), while Troy has moved up to 11th (46 points). In the manufacturers' standings BMW has moved up to fourth with 101 points.

In race one, Leon fought his way up to third after starting from sixth. He had thrilling battles with Marco Melandri and Max Biaggi and defended his podium position until the chequered flag. His second race ended in the first chicane. Another competitor crashed and hit Leon's bike. Leon fell off and hurt his right foot. Troy had an excellent start in both races and was actually leading both of them. In the first race he had issues with tyre wear and fell back. In the second race he was overtaken by a competitor and struggled to make up the gap. However, he crossed the finish line only 4,5 seconds behind Eugene Laverty, who won both races.

BMW Motorrad congratulates Team BMW Motorrad Italia Superstock and its rider Lorenzo Zanetti (ITA) for their victory, and the other customer teams for their successes in the FIM Superstock 1000 Cup race. With Michele Magnoni (ITA / third) from the Baru Racing Team also on the podium, Fabio Massei (ITA / fifth) from the Team Piellemoto and Markus Reiterberger (GER / sixth) from the the Garnier Alpha Racing Team four BMW S 1000 RR riders were placed in the top six.

Leon Haslam:
Result Race 1: 3rd, Gap to 1st: 00:03.078 min / Fastest Lap Race 1: 1:43.361 min
Result Race 2: DNF
"To be honest, in race one I didn't get the best of starts. I also made a few mistakes in the early laps, which meant I had some work to do to catch the leading bunch. Still I felt like I had the pace to run with the leading guys. Max and I held each other up slightly, which saw Eugene get away at the front, but on the whole I was happy with the race and the bike. In race two I was hit from behind at the first corner on lap one. I am not a hundred per cent sure what happened, but I crashed out of the race after getting a much better start. Following the crash I was taken to the medical centre where it was confirmed that I have broken a toe on my right foot. I don't see it being a problem for our forthcoming test or the races in Salt Lake."

Troy Corser:
Result Race 1: 7th, Gap to 1st: 00:13.280 min / Fastest Lap Race 1: 1:43.589 min
Result Race 2: 5th / Gap to 1st: 00:04.502 min / Fastest Lap Race 2: 1:44.040 min
"On one hand I am happy with the way the two races have gone today, but on the other hand I am slightly frustrated. I got a great start in both races and led the early laps. The bike felt good on the whole. We had a few tyre issues in race one, which saw me slip back, and in race two I was pretty happy until I was squeezed out at the first corner by Marco Melandri. From there I lost some time and I just couldn't get that back. The pace we showed this weekend suggested we could push for the podium, but sadly that didn't happen today. We have a test now before Salt Lake so hopefully we can continue to improve on what we have done already."
Frustrating Monza weekend for Ten Kate Honda Team
Jonathan Rea was only able to achieve one sixth place finish in today's two fourth round World Superbike championship races at Monza in Italy, both of which were won by Irishman, Eugene Laverty.
Despite starting on the front row of the grid, Rea could not get away with the leading group in the first 18-lap race at the 5.777km Monza circuit. However, the 24-year-old Ulsterman fought his way past Australia's Troy Corser in the final laps and was closing on fifth placed Michel Fabrizio at the flag.
In race two, Rea was the victim of a first corner crash for the second year running as he was hit on the right hand side in the middle of the first part of Monza's Prima Variante. Despite remounting and making his way back to the pits, his Castrol Honda crew were unable to repair his CBR1000RR in time for him to rejoin the race.
Rea's Castrol Honda team-mate, Ruben Xaus, could not find an improvement to his set up for today's two races and cited lack of grip and brake issues as his main problems.
The Castrol Honda team now heads to its nominated test track at Miller Motorsports Park in the USA for a two-day test ahead of round five of the WSBK series which takes place on Monday 30 May.
Jonathan Rea – 6th and DNF
Fustrating really is the word, especially in race one when we just didn't have the speed on the straight. I could match the lap times when I was on my own and able to run the right lines. But as soon as I got involved in a race with anyone who slowed me down in the places I was fast, I got forced off the line and lost the speed. Sixth was OK but certainly not what I'd hoped for. I'll have to see the footage of race two to find out what really happened, but I feel like I got clipped from the inside which forced me up and into the guy on the outside. We're going to Miller next, which has anothe r long straight, so I hope the guys back at base can find something. Luckily, we're testing there the week before the race so I hope that gives us at least a chance to do better than last year.
Ruben Xaus – 15th and 12th
It has not been a very positive weekend at Monza which is a pity for all the guys in my team who have been working very hard. I have had some braking problems this weekend and stopping the bike has been hard. Today we also had some grip problems on the corner exits, which then makes it difficult to carry the speed down the Monza straights. We will approach the test and races at Miller in a positive way and see what more we can learn from the experience of this weekend.
Ronald ten Kate – team manager Of course we all feel very sorry for Jonathan because we could see he did not have the speed in the bike today that is required at Monza. Everyone in the te am felt his frustration in race one and to have his second race ended at the first corner – just like last year – did not improve things at all. Thankfully, he is completely uninjured and will be fit enough to test some new parts that we have to try at Miller. It was not a good weekend for us there last season, so the test is very important for us. It will also be an opportunity for Ruben to get some more time on the bike outside a race weekend because his results here at Monza are clearly not where we want to be.
Lascorz Gives Kawasaki a Top 10 at Monza
WSBK, Monza, Italy, 8 May 2011
Joan Lascorz left the Monza round of the Superbike World Championship with the best Kawasaki finish, ninth in race two, in what was a challenging raceday under the hot Italian sun.
Tom Sykes was 13th in race one and then 11th in race two, keeping him top Kawasaki rider in the overall points rankings, one place ahead of Joan. Lascorz was to fall in race one, but he was unhurt and learned from the experience to post his top ten finish in race two, despite not being able to use his favoured soft rear tyre. This is still only Joan's fourth WSBK meeting on the all-new Kawasaki Ninja ZX-10R race machine.
Tom had two difficult races partly due to the softer choice race tyre that the team had used most in practice being taken from the allocation, due to concerns about the possible effects of the hot 45 degree track temperatures around Monza's many high speed curves.
Third official Kawasaki regular Chris Vermeulen did not ride at Monza due to a nasty gash in his elbow, suffered when he fell in practice on Friday.
Roberto Rolfo and Mark Aitchison scored 13th and 14th places respectively in race two for the Team Pedercini Kawasaki squad in its home race.
Marco Bussolotti (Team Pedercini Kawasaki) was the top Kawasaki finisher in the Superstock 1000 FIM Cup class, going seventh.
Joan Lascorz: "All weekend we had been working with the soft race tyre then this morning when we tested the harder tyre, which we had to use, the bike needed a lot of adjustment. We are still developing and understanding the bike because it is still quite new. We made some changes after warm-up and found some better rear grip, but lost it in the front and I crashed. In race two I did my best and I was reasonably satisfied with a top ten finish and we will be better in the next one. I would like to be fighting more in the front group."
Tom Sykes: "We didn't have the speed or the race package to work with this weekend obviously there is some work to be done. We all need to pick our heads up and stay focused and positive. I think people may expect a lot of us very early in the season with a new bike and I think that is putting a bit of pressure on. I will keep my head down and keep working and I am still confident we can make it work. I got caught up in the crash at the first chicane and lost time on the exit, which made things harder. I think I had a bit of a bit better pace early on if I had got latched onto a leading group.
Points Leaders
Carlos Checa and Althea Ducati on Damage Control at Monza
Monza (Italy), Sunday 8th May 2011: Carlos Checa and the Althea Racing team were able to limit the damage and defend their position well during today's World Superbike races at the Monza track, the characteristics of which favour the four cylinder bikes. Checa returns home still holding a 27-point advantage in the general standings.
Today's races were far from easy for the Althea team.

In Race 1 Carlos was stuck in traffic through the first corners, finding himself down in thirteenth position after one lap. With a faster pace than the riders immediately ahead of him he was able to quickly make up four positions in the first four laps. Althea man Checa then lost some time battling it out with Camier and this prevented him from reaching the leading group. In the final laps a sudden drop in tyre performance meant he was unable to make any further improvement and the Spanish rider thus crossed the line in ninth position, taking home seven important points.

In the second race Carlos made a very good start and had already made up five positions through the first corners. He was lucky to avoid being caught up in the accident that signified the end of the race for several of his rivals, and he started to build up a good rhythm from that point on. Checa's times remained fast until three laps from the end when he suffered unexpected engine trouble. This problem slowed him down a great deal and he lost four positions in the final two laps. Althea' flagbearer finished the second of today's races in eventual tenth position.

Despite today's results Carlos still holds a 27 point advantage in the riders' standings (ahead of Melandri in second place) and Ducati continues to lead in the manufacturers' championship. The next race is Miller, a track that Checa enjoys and where he has obtained strong results in the past.

Carlos Checa - "We're satisfied because we were aware of our limitations before we arrived here at Monza e we knew that it would be difficult to reach the podium. In race 1 I had to push so hard on the straights that it probably affected the tyre because in the last laps the performance had really dropped off and I couldn't get ahead of Camier. In the second race we had good pace until three laps from the end when I had an engine problem. It slowed me down so much that I was lucky even to finish. I closed in ninth and tenth position today and, all things considered, these are good points for us at Monza. We leave here with a 27-point lead which surprises me to tell the truth. We're really happy and will now concentrate on the next round at Miller, where I hope to be able to make two great races."

RESULTS: Race 1 - 1. Laverty (Yamaha) ; 2. Biaggi (Aprilia); 3. Haslam (BMW). Race 2 – 1. Laverty (Yamaha); 2. Melandri (Yamaha); 3. Fabrizio (Suzuki)
CLASSIFICATION: Riders – 1. Checa (Ducati) 145; 2. Melandri (Yamaha) 118; Biaggi (Aprilia) 117; 4. Rea (Honda) 89; 5. Laverty (Yamaha) 85; 6. Haslam (BMW) 84; 7. Fabrizio (Suzuki) 74; 8. Camier (Aprilia) 58…… Constr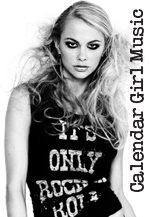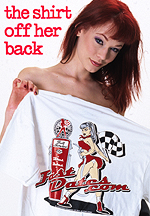 Order the Official
FastDates.com &
LA Calendar Bike Show
T-Shirts!
---