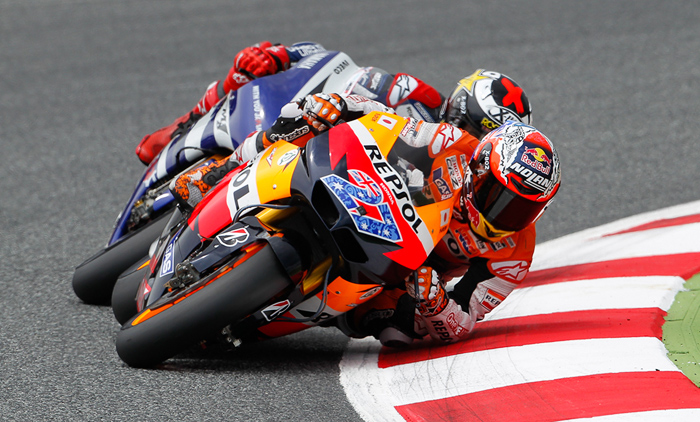 Reigning MotoGP Champ Lorenzo was close in the opening laps, but soon Stoner (27) pulled out a 2-3 second lead and kept it to the finish.

MotoGP World Championship, Round 5 of 18, Catalunya, Spain
Casey Stoner rockets to easy Catalunya win!
Catalunya, Spain, June 5th 2011- Casey Stoner took his 26th victory in the premier class at the Gran Premi Aperol de Catalunya, with last year's race winner Jorge Lorenzo (Yamaha Factory Racing) finishing in second followed by teammate American Ben Spies in third. Despite missing out on pole position, Repsol Honda rider Stoner took the lead in the second corner and faced no challengers for the entire 25-lap race. Reigning MotoGP World Champion Lorenzo finished just under two-and-a-half seconds behind him across the finish line, cutting the Mallorcan's championship lead over the Australian to just seven points.
Stoner was the clear favourite after setting a lightning-fast race pace throughout the two days of practice. Even though he missed out on pole position – because he didn't have the set-up to fully exploit the extra grip of the softer tyres – the 2007 World Champion was confident he could be more than competitive today. Yesterday Simoncelli scored the first pole position of his MotoGP career and much was expected of the lanky Italian in today's race. But he got swamped by his rivals in the rush to the first corner and ended the first lap down in seventh. Simoncelli was able to overcome Nicky Hayden (Ducati) and get close to Rossi, but in the end he had to settle for a sixth-place finish.

Lorenzo got a great start to Sunday's race and was first into turn one, but he could not hold off Stoner, who passed the reigning World Champion in the second corner and held the lead. Ben Spies started from fourth and quickly moved in to third position, where he remained until he crossed the finish line for his first podium finish for Yamaha Factory Racing this year.

With 12 laps to go, drops of rain hit the track under threatening skies and the white flag was produced, allowing riders the option to change bikes for the anticipated downpour, though the rain drops stopped shortly after and none of the riders left the track.

Stoner's teammate Andrea Dovizioso passed Ducati Team Valentino Rossi early in the race to pursue Spies, but remained in fourth position until the finish, where he crossed just under a second behind the American. Valentino Rossi crossed the line in fifth place. The seven time premier class Champion last won at the Montmeló circuit in 2009, when he beat his then team mate Lorenzo with a memorable pass on the Spaniard at the very last corner.

Monster Yamaha Tech 3's Cal Crutchlow had a good race after a solid weekend. The British rookie passed Nicky Hayden (Ducati Team) on the brakes going into the first corner on lap 10, and eventually finished the race in seventh, in front of the Kentucky Kid. The veteran Loris Capirossi (Pramac Racing) crossed the line in ninth, in front of Karel Abraham (Cardion AB Motoracing), who completed the top ten finishers.
Hiroshi Aoyama of the San Carlo Honda Gresini Team and Frenchman Randy de Puniet of Pramac Racing both crashed out of the race in the same corner early on. Both walked away from the tangle unharmed.

Both Dani Pedrosa (Repsol Honda) and Colin Edwards (Monster Yamaha Tech 3) were absent due to injuries that prevented them from lining up on the grid for the race. Edwards wanted to make the start so as not to put an end to his 141 consecutive premier class start run, but was denied after a medical exam declared him unfit to race.
Casey Stoner, Repsol Honda: winner - "We got a reasonably good start, but not as good as Jorge. I wanted to try to pass him early on, but had to wait until the end of the first lap. From this point I just tried to put in the consistent laps as we did in the practice sessions to see if he could stay with me. Fortunately I was able to open up an advantage without pushing too hard or feeling too much pressure. I was really happy, the bike was feeling fantastic and then it started to rain. There was enough rain there to make you think that it will affect the bike, and in the last corner there was enough rain to make the track slippery. As I was always the first to arrive to the wet area of the track, I watched what the others were doing [from the information displayed on his pit board] and if they had started to catch me then I would push and if I start to pull an advantage then I would back off a little. I'm just happy I kept the bike upright at this stage and I want to thank all my team at Repsol Honda for all the hard work this weekend. We now head to Silverstone next week where we'll also be looking to fight for victory. I just hope Dani can make a return there also and I wish him a fast recovery."
MOTOGP RACE: (25 laps = 118.175 Km)
POS / RIDER / NAT. / TEAM / MOTORCYCLE / TIME / KM/H / GAP
1 / Casey STONER / AUS / Repsol Honda Team / HONDA / 43'19.779 / 163.64 /
2 / Jorge LORENZO / SPA / Yamaha Factory Racing / YAMAHA / 43'22.182 / 163.489 / 2.403
3 / Ben SPIES / USA / Yamaha Factory Racing / YAMAHA / 43'24.070 / 163.371 / 4.291
4 / Andrea DOVIZIOSO / ITA / Repsol Honda Team / HONDA / 43'25.034 / 163.31 / 5.255
5 / Valentino ROSSI / ITA / Ducati Team / DUCATI / 43'27.150 / 163.178 / 7.371
6 / Marco SIMONCELLI / ITA / San Carlo Honda Gresini / HONDA / 43'31.610 / 162.899 / 11.831
7 / Cal CRUTCHLOW / GBR / Monster Yamaha Tech 3 / YAMAHA / 43'46.262 / 161.99 / 26.483
8 / Nicky HAYDEN / USA / Ducati Team / DUCATI / 43'53.022 / 161.574 / 33.243
9 / Loris CAPIROSSI / ITA / Pramac Racing Team / DUCATI / 44'02.871 / 160.972 / 43.092
10 / Karel ABRAHAM / CZE / Cardion AB Motoracing / DUCATI / 44'02.892 / 160.971 / 43.113
11 / Hector BARBERA / SPA / Mapfre Aspar Team MotoGP / DUCATI / 44'04.003 / 160.903 / 44.224
12 / Alvaro BAUTISTA / SPA / Rizla Suzuki MotoGP / SUZUKI / 44'05.018 / 160.842 / 45.239
13 / Toni ELIAS / SPA / LCR Honda MotoGP / HONDA / 44'18.047 / 160.053 / 58.268
Pole Position: Marco SIMONCELLI 1'42.413 166.162 Km/h
Fastest Lap: Casey STONER 1'43.084 165.080 Km/h Lap 5
Circuit Record Lap: Dani PEDROSA 1'42.358 166.251 Km/h2008
Circuit Best Lap: Casey STONER 1'41.186 168.177 Km/h 2008
CHAMPIONSHIP POSITIONS TO DATE:
1 LORENZO 98, 2 STONER 91, 3 DOVIZIOSO 63, 4 PEDROSA 61, 5 ROSSI 58, 6 HAYDEN 47,
7 SPIES 36, 8 AOYAMA 36, 9 SIMONCELLI 32, 10 CRUTCHLOW 30, 11 BARBERA 26,
12 ABRAHAM 24, 13 EDWARDS 21, 14 ELIAS 20, 15 CAPIROSSI 16.

MOTO2 RACE: (23 laps = 108.721 Km)
POS / RIDER / NAT. / TEAM / MOTORCYCLE / TIME / KM/H / GAP
1 / Stefan BRADL / GER / Viessmann Kiefer Racing / KALEX / 41'38.888 / 156.627 /
2 / Marc MARQUEZ / SPA / Team CatalunyaCaixa Repsol / SUTER / 41'43.029 / 156.368 / 4.141
3 / Aleix ESPARGARO / SPA / Pons HP 40 / PONS KALEX / 41'47.297 / 156.102 / 8.409
4 / Simone CORSI / ITA / Ioda Racing Project / FTR / 41'49.219 / 155.983 / 10.331
5 / Randy KRUMMENACHE / SWI / GP Team Switzerland Kiefer Ra / KALEX / 41'50.549 / 155.9 / 11.661
6 / Alex DE ANGELIS / RSM / JIR Moto2 / MOTOBI / 41'51.271 / 155.855 / 12.383
7 / Esteve RABAT / SPA / Blusens-STX / FTR / 41'51.490 / 155.841 / 12.602
8 / Mika KALLIO / FIN / Marc VDS Racing Team / SUTER / 41'52.355 / 155.788 / 13.467
9 / Yonny HERNANDEZ / COL / Blusens-STX / FTR / 41'55.500 / 155.593 / 16.612
10 / Max NEUKIRCHNER / GER / MZ Racing Team / MZ-RE HONDA / 41'55.623 / 155.585 / 16.735
11 / Scott REDDING / GBR / Marc VDS Racing Team / SUTER / 41'55.919 / 155.567 / 17.031
12 / Michele PIRRO / ITA / Gresini Racing Moto2 / MORIWAKI / 41'57.348 / 155.479 / 18.46
13 / Alex BALDOLINI / ITA / NGM Forward Racing / SUTER / 42'01.821 / 155.203 / 22.933
14 / Xavier SIMEON / BEL / Tech 3 B / TECH 3 / 42'02.304 / 155.173 / 23.416
15 / Andrea IANNONE / ITA / Speed Master / SUTER / 42'02.337 / 155.171 / 23.449
Pole Position: Stefan BRADL 1'46.753 159.407 Km/h
Fastest Lap: Bradley SMITH 1'47.762 157.914 Km/h Lap 5
Circuit Record Lap: Andrea IANNONE 1'47.543 158.236 Km/h2010
Circuit Best Lap: Stefan BRADL 1'46.753 159.407 Km/h 2011
CHAMPIONSHIP POSITIONS TO DATE:
1 BRADL 102, 2 CORSI 59, 3 IANNONE 49, 4 SIMON 49, 5 TAKAHASHI 47, 6 LUTHI 47,
7 MARQUEZ 45, 8 DE ANGELIS 42, 9 ESPARGARO 31, 10 SMITH 27, 11 AEGERTER 24,
12 KRUMMENACHER 24, 13 PIRRO 21, 14 RABAT 18, 15 CLUZEL 14.
---

Our newest Calendar Kittens, college co-eds Camilla Hahn Chiniquy (brunette) and Taylor Gunnin (blond) standing in the pouring rain, help warm up Carlos Checa's Althea Ducati for Monday's Memorial Day World Superbike race. It must have helped as Carlos would go on to post double race win on this bike.
SBK World Superbike Championship, Round 5 of 10, Miller USA - Continued Part 2
Postcards from Miller USA World Superbike by Jim Gianatsis
Miller Motorsports Park, Tooele, Utah, USA), Memorial Day Weekend May 28-30th 2011 – FastDates.com was again excited to attend the Miller Motorsports Park USA round of the World Superbike Championship this year to cover the exciting race weekend and photograph the next edition of the official SBK Fast Dates World Superbike Calendar. I had just found Taylor a few months earlier through one of my favorite local model agencies, Brand Model and Talent, and booked her then to be sure I'd have her confirmed for the trip to Salt Lake City, Utah, and the Miller WSBK race weekend.
This year's SBK Fast Dates Calendar Kitten, Taylor Gunnin, served as the official Alfa Romeo SBK grid girl on Race Day. This year it wasn't in the budget to fly-in Alfa Romeos track cars from Italy, so pretend the Dodge Charger is an Alfa in disguise.
Once I had Taylor booked for the Calendar shoot and race weekend, I forwarded her picture with our Media Credential request to InFront Sports, producers of the World Superbike Championship. They liked Taylor's look so much, like many of my models in previous years before Taylor, they asked if she could work as one of the official SBK Umbrella Girls for Monday's World Superbike race. I was happy to do so and then coordinated it through Anne and Jenna at Umbrella Girls USA who handle most all the Grid and Promotional Models for Miller/SBK and Monster Energy Drink.
Our weekend started off on Friday afternoon at Los Angeles International Airport when I meet our newest Calendar Kitten, beautiful 5'8' California blond Taylor Gunnin from nearby Anaheim Hills. We meet for the first time and checked in at the Delta Airlines terminal. On our 1 hour 45 minute plane ride up to Salt Lake I learned that Taylor was a soon to be graduating Senior at a local University, she was completing her major in Marketing, and had just started an internship at mid-size event production company.
I had checked the weather report for Salt Lake prior to leaving Los Angeles that morning and saw the forecast was for cold and rain. I wisely decided to pack a waterproof Ducati enduro jacket for myself, and a Ducati thermal jacket for Taylor. They would prove to be very necessary.
The next day, Saturday, Timed Practice Day for World Superbikes, the weather began turning unusually cold and the skies started darkening. Saturday evening after Practice from 5:45 until dark around 8pm is the usual time I try to photograph as many of the factory World Superbikes as I can. Usually a team will have one of their top rider's 2 race bike available for me to shoot on Pit Lane for a few minutes. I have to catch the bikes between their being rebuilt after Practice and the team mechanics going back to their hotels for the night. Any bikes we miss, I'll try to reschedule to shoot during the lunch break on Sunday, just before Superpole. Usually the Spectator Pit Walk is going on the same time as the track's lunch break, so many fans get the added bonus of seeing a Fast Dates Calendar shoot taking place.
BMW provided an excitingstunt show in the Paddock all weeeknd long for the fans.

We remind the factory teams of our upcoming Calendar shoot on Saturday evening, by going by their Pit Garages during Saturday's lunch break. This year with lovely Taylor in the cute FastDates.com Calendar Kitten uniform to get their attention, and we give them copies of the newest 2012 Fast Dates World Superbike Calendars I photographed with their bikes last year, now just hot off the press and air freighted in from our printer in China.
Needless to say the Calendar is a big hit with the teams and it quickly goes up on the back wall of their Pit Garages, before being brought back to their factory workshops in Europe.
After our Lunch hour visit to the teams to set up the evening's shoot, Taylor and I headed up to the Media Room above the Pit Garages where we hang out for the rest of the afternoon watching Practice on the overhead flat screen TV monitors. Other monitors show every riders' lap and track section times, top speed on the front straight, and their ranking from their quickest lap time on down. Miller Track Media Manager John Gardner makes sure we are well informed, well fed with food and beverages, and very comfortable.
The Return of Fujio Yoshimura!
It's been 28 years since we last saw Yoshimura R&D founder Fujio Yoshimura (above on the left) in America and we were excited to see him back at Miller WSBK. He doesn't look a day older then when he left California in 1984 to manage the family business from its home base in Japan. Yoshimua of Japan is contesting just three World Superbike rounds this year on a Suzuki GSXR1000 as a wild card entry with Australian rider Joshua Waters. On the right is Fujio's nephew, the grandson of Fujio's dad, the legendary "Pops" Yoshimura. Fujio told us that this year is just to get their feet wet, and if he can find additional sponsorship support next year (hopefully with Suzuki of Japan) he would like to contest the full 2012 WSB Championship. At Miller this weekend Waters finished a respectable 12th and 15th in the two races.
Normally I book two models for the annual Fast Dates Calendar shoot, but this year I had couldn't find a local model in Salt Lake that I liked, and my budget didn't have room to bring up a second model from LA this year. To kill some time during the afternoon before our shoot I was wandering the Paddock to visit the AMA race teams, check out the stunt bike show, and browse the vendors. The local Big Dog custom motorcycle dealer was there in the paddock and had two very pretty models working his display, one being a drop dead curly haired brunette with a rocking' body packed in the tiniest spandex boy shorts and tank top. She looked to be the perfect match to my blond hair Taylor so I walked over and asked her when she got off work, and if she might like to shoot with us for the Calendar that evening. She said yes, a deal was struck in an instant, and 19-year old Miss Camilla Chinquiy agreed to meet us up in the Media Center at 4:30pm when she got off work! It proved to be an incredible stroke of luck as you can see in the photos here, and you will see in the next Fast Dates Calendar., Camilla looks just as incredible as Taylor, and they contrast and match each other perfectly.
Then it was time to set up all my camera gear which includes a Hasselbald HD39 digital (the world's best quality, most expensive still camera) and remote wireless triggered Quantum Flash unit. The girls checked their makeup and start changing it their swimsuits. Then we walked down to the pits just as Practice ended and the skies opened up in a downpour of rain and temperatures dropped towards the 50s. We had no choice, the principal shoots for the race weekend had to take place then and there.
I set up our shoot right in front of the Althea garage which had a slight roof overhang above it, leaving a 2x6 foot dry spot on Pit Lane to pose the bikes and the models while I stood in the rain with my camera covered. The factory teams had to push their bikes down the Pit Lane in the rain to get where we were set up. Some of the teams had already closed up their garages and left the track, and we would have to try and shoot them on Sunday during the Lunch break. But that evening we did manage to shoot 6 bikes beginning with Carlos Checa's championship points leading Althea Ducati 1198RS.
As soon as the shoot finished that evening, Camilla told us she had to drive back to Salt Lake City to start her third job of that day, performing as a disco dancer at a club rave. I asked her if she was available to come back to the track the next day to shoot with us again and she said she'd love to. I learned the next day that she danced at the rave club until 5am on Sunday morning, maybe getting 2 hours sleep at home, eating and showering, then driving back to Miller on Sunday to meet us again at 11am.
By then then the weather had gotten even worse, the temperature dropping even more and the rain turning to hail and snow that nightfall. There was no way we could shoot outside on Pit Lane any more the cold rain was coming down so hard. So we moved inside the cramped team garages at BMW and Aprilia, moved their backup bikes out od the way, and photographed both Troy Corser and Max Biaggi's bikes. These girls were doing an incredible job and looking great in the process!
Camilla looks great with reigning AMA Superbike Champion Josh Hayes Graves Monster Yamaha R1. Click for BIG SCREENSAVER
Then we moved over to the Team Graves Monster Yamaha transporter and tent in the paddock, hooked up with AMA Superbike Champion Josh Hayes and the Monster Girls, and photographed them with Josh's bike for the Calendar. Then a Team Vance & Hines XR1200 Class bike in the pouring rain for good measure. And the Fast Dates Calendar shoot was a wrap for another year!
The SBK Umbrella Girls meet up at the track office on Monday morning to get ready for work. Calendar Kitten Taylor Gunnin is 2nd from left.
Race day Monday, Memorial Day, was Taylor's turn to go to work for SBK as a grid girl. I turned her over to Umbrella Girls USA that morning where Ann and Jenna paired the girls up according to their height and hair color to be SBK Podium Girls, Tissot Girls, Pirelli Girls, with Taylor ending up as one of the Alfa Romeo Girls. You may have caught Taylor on screen for a brief moment in Speed TV broadcast of WSBK Race 2. Unfortunately Speed TV makes it a point of editing out all the hot girl and rider shots on the starting grid of their delayed broadcasts of the SBK supplied TV feeds so we lucky Americans can see and hear Greg White and Scott Russell talking about nothing. While in the Europe the fans get full race coverage with the grid girls at the start, plus a 1-hour SBK Superpole program the day before, and a pre-race show on race day with rider's interviews. At the very least, we wish Speed TV would let us have the same great British TV commentators who report on the rest of the Championship series as it travels around the world.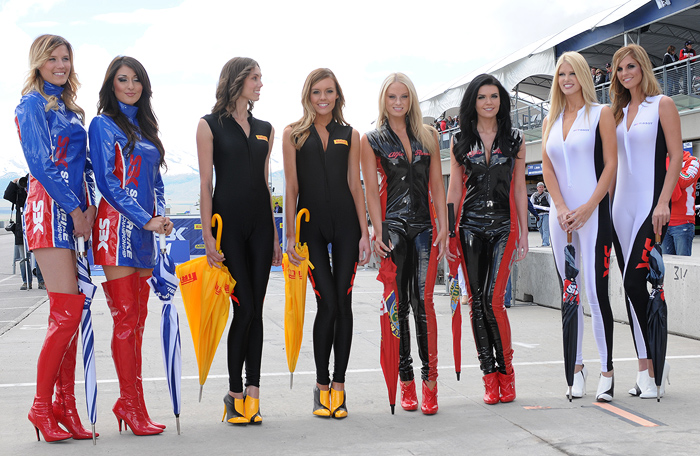 Now hard at work, the beautiful Miller USA World Superbike grid girls provided by Umbrella Girls USA included our own Fast Dates Calendar Kitten Taylor Gunnin, 5th from left. How tall are these girls? Our Taylor is 5'8" and wearing 5-inch heels. The two SBK girls on the right in White suits are 6'2" in their bare feet! We're thinking of starting our own SBK Fast Dates Women's Volleyball team.

World Superbike Championship points leader Carlos Checa has dominated at Miller in previous years, and just as we predicted did so again this year on the privateer Althea Racing Ducati 1198RS.
On the American Memorial Day holiday enthusiastic Superbike fans fans were treated to a double win from a rider who was robbed of a double last year by simple bad luck, Carlos Checa (Althea Racing Ducati). The Spaniard, who entered this event as championship leader, had a dose of good luck this time as his two main rivals had difficult race day experiences. Marco Melandri (Yamaha World Superbike) was tenth and then sixth, while Max Biaggi (Aprilia Alitalia) crashed out of race one after colliding with Jonathan Rea (Castrol Honda). Reigning champion Biaggi recovered good ground in race two, taking third place.
COMPLETE MILLER WSBK and AMA RACE COVERAGE HERE.
AMA Pro Vance & Hines XR1200s Set for Brickyard Debut at Red Bull Indianapolis GP
June 4, 2011- AMA Pro Racing is proud to announce that its newest class, the AMA Pro Vance & Hines XR1200 division, will soon become part of Indianapolis Motor Speedway's legendary motorsports history. On August 27 and 28, 2011, the AMA Pro series will make its Brickyard debut at the fourth running of the Red Bull Indianapolis GP, the roar of big, V-twin engines joining more than 100 years of IMS motorcycling records.

As the only non-MotoGP class invited to participate in the Midwest and East Coast's sole world championship road racing event, the Vance & Hines XR1200 series will carry the flag for the intensely competitive, spec-based racing the AMA Pro championship has become known for. With a full field of nearly identical Harley-Davidson XR1200s, the class features handlebar-to-handlebar, footpeg-dragging action that highlights rider skill and strategy.

"This is an extremely important development for AMA Pro Racing," said company COO and Managing Member David Atlas, "and we're very proud to have been invited to race on the world stage as a companion to MotoGP. We're excited to be able to showcase our series on such a platform, and honored to have a relationship with partners like Indianapolis Motor Speedway and Harley-Davidson. We're looking forward to a fantastic event."

"We're thrilled to welcome AMA Pro Vance & Hines XR1200 racing to the Red Bull Indianapolis GP," said Jeff Belskus, Indianapolis Motor Speedway Corporation president and chief executive officer. "The distinctive rumble of Harley-Davidson thunder and close competition will provide even more on-track entertainment for our loyal fans and enhance what will be the motorcycle event of the year in the United States."

"The sound of Harley-Davidson motorcycles resonates with riders across the globe, and we are excited about this opportunity to bring the thunder of XR1200 racing to a worldwide audience at one of the greatest racing venues in the world," added Steve Piehl, Harley-Davidson Director of Customer Experience.
The Speedway hopes the addition of the Harley Sportster class will help draw the huge Mid-West contingent of Harley owners to the weekend's races to counter the downturn in attendace all bike racing in America is currently suffering. But Daytona Bike Week in March has already proven that just doesn't happen even with 200,000 Harley riders in town for the week, the majority of them just don't go to the races at Daytona Speedway. However, throw a classic rock concert in the infield with top name bands, beer and half naked girls like at Sturgis and its a guarantee the great unwashed will come.0
Of the top AMA Pro riders in the fiercely competitive XR1200 class, several have strong ties to the Indianapolis area, including current championship points-leader Chris Fillmore. "I just found out about it today," said the Bruce Rossmeyer's Daytona Racing pilot, "and it's super exciting. It sounds like there's a lot of interest from riders in other series and from other countries, so I think the field's going to be really, really stacked.

Though Fillmore is eager to claim victory in front of local supporters and family, former race winners Steve Rapp, Michael Barnes, Kyle Wyman, and reigning XR1200 champ Danny Eslick won't make it easy for him, and they'll be joined by a grid full of equally determined H-D racers.

The AMA Pro Vance & Hines XR1200 division adds a fourth class of racing to the Red Bull Indianapolis GP weekend, as it joins the three World Championship classes---- MotoGP, Moto2, and 125cc---- competing on the 16-turn, 2.621-mile circuit that combines part of the famed IMS oval with an infield section.

Additionally, the Red Bull Indianapolis GP will be the final stop on the exciting Hole Shot Tour Aug. 24-28 for Harley Owners Group (H.O.G.) members. The Hole Shot Tour includes VIP perks at the Harley-Davidson Museum in Milwaukee followed by a ride to Indianapolis, where participants can watch the Red Bull Indianapolis GP, ride a victory lap around the IMS track, and watch Harleys in action at the AMA Pro Harley-Davidson Insurance Flat Track Championship event at the legendary Indy Mile at the Indiana State Fairgrounds. H.O.G. members can find more information at www.hog.com.

For Red Bull Indianapolis GP ticket and event info, visit www.indianapolismotorspeedway.com. To learn more and become a part of the AMA Pro Road Racing Championship, visit www.amaproracing.com and join us on Facebook and Twitter.
---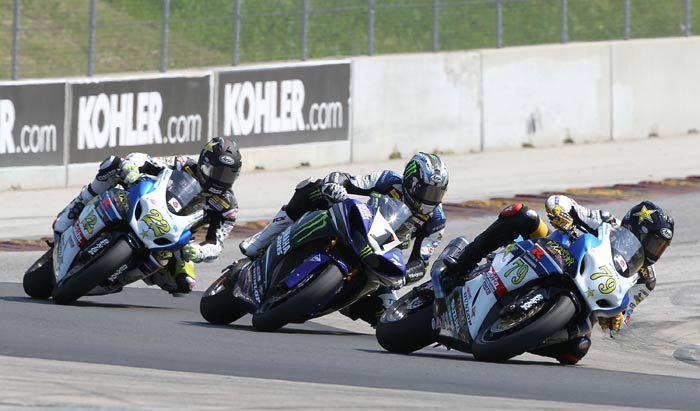 Blake Young (79), Josh Hayes (1) and Tommy Hayden (22).
AMA Pro Roadracing Championship, Round 4 of 8, Eoad America
Young and Hayes trade AMA Superbike wins at Road America

Young Takes SuperBike Race 1 Win at Hometown Stronghold
ELKHART LAKE, WI, June 4, 2011 - AMA Pro National Guard SuperBike's current power-trio immediately took over Saturday's contest, Rockstar Makita Suzuki riders Blake Young and Tommy Hayden launching into the lead with Monster Energy Graves Yamaha's Josh Hayes, reigning National Guard SuperBike champ, overcoming a less than stellar start to quickly attach himself to their rear wheels. Hayes took over second position a lap later, and from there kicked off an intense, race-long battle with Young for the Race 1 Road America victory.

Young, however, wasn't about to let his home track and hometown fans down: for every challenge from Hayes, he had a swift and aggressive answer. While Hayden, in a repeat of the class' Miller Motorsports Park action, watched the fury from third, Young and Hayes traded the lead as if there was a point available for most seconds lead, as opposed to most laps.

Behind them, Larry Pegram (Foremost Insurance/Pegram Racing) had captured fourth from M4 Suzuki's Martin Cardenas, who in turn led National Guard/Jordan Suzuki teammates Roger Hayden and Ben Bostrom, Y.E.S./Pat Clark/Graves Yamaha's Chris Clark, Cycle World/Attack Performance Kawasaki's JD Beach, and Speed Tech Performance's Jason Farrell.

While Cardenas and Pegram diced for the lead, the former retaking it, Hayes and Young, who had tied for most laps led, tore toward a tiebreaker, continuing to exchange the frontrunner position. As the white flag flew, Hayes was tucked in tightly behind Young, poised to strike, while Hayden likewise maneuvered for position. When Hayes made his move, however, it was an attempt up the inside that didn't hold, Young hanging on and Hayes going wide. Though Hayes managed to prevent Hayden from capitalizing on the bobble, it shook him back enough to give Young a few bike-lengths of safety while heading for the checkers.
At the line, Young took the win by .440 seconds over Hayes, with Hayden heading Cardenas, Pegram, Roger Hayden, Bostrom, Clark, Farrell, and EBR Racing's Geoff May. Young's win put him tied in the championship points standings with Hayes at 160 points, the advantage currently with Young and his four 2011 victories.

Blake Young, 1st: "This race kind of felt a little bit like Utah, you know, where I just ended up on the better side of things at the end of race, but I know it's not going to be like that forever. It just seems like it falls right for me, when it does. Josh was riding hard and then he kind of laid off me and I thought, 'He's going to see what I got,' but it seemed like as soon as I got out front, maybe I was riding more defensive and not doing the lap times I should have been doing. I definitely think tomorrow's race is going to be a lot more difficult. That being said, I think it's going to be a lot faster. I'm just happy. Happy to be home, happy to be at Elkhart Lake, happy to give a good show for the home crowd."
Complete Results at: http://results.amaproracing.com
Reigning AMA Superbike Champ and current 2011 points leader Josh Hayes.
Reigning Champ Hayes Takes SuperBike Race 2 at Road America
ELKHART LAKE, WI, June 5, 2011 - While the final AMA Pro National Guard SuperBike podium at Elkhart Lake, Wisconsin's Road America came as no surprise, the finishing order itself was no Saturday repeat. Monster Energy Graves Yamaha's Josh Hayes and Rockstar Makita Suzuki teammates Tommy Hayden and Blake Young have dominated the 2011 National Guard SuperBike season thus far, but Hayes took issue today with Wisconsin native Young's desire to sweep his home round.

Race 2 saw Hayden get a spectacular holeshot with teammate Young right on his tail. Hayes, however, wasn't looking for a Saturday re-run, so he stuck like glue to the Suzuki duo. For the first several laps, Hayden and Young traded the lead amongst themselves, but in no time at all, Hayes had blown past both Suzuki riders and taken the lead for himself.

M4 Suzuki's Martin Cardenas had meanwhile maintained fourth throughout, unable to make up ground on lead trio but not ceding any to fifth-place Roger Hayden (National Guard/Jordan Suzuki). Behind the youngest Hayden, San Diego BMW's Steve Rapp led a train of shifting riders that was headed in turn by Jordan Suzuki's Ben Bostrom, Iron Horse BMW's Chris Peris (Iron Horse BMW), and Foremost Insurance/Pegram Racing's Larry Pegram.

While Hayes stretched his lead out, Hayden and Young continued to trade the position behind until Hayden staked a decisive claim on the position with five to go. From there the field tore through final laps, none of the frontrunners able to make a move on the man in front. Hayes, Hayden, and Young were followed across the line by Cardenas, Roger Hayden, Rapp, Pegram, Peris, Chris Clark (Y.E.S./Pat Clark/Graves Yamaha) and Bostrom.

For flag-to-flag coverage of today's SuperBike and Daytona SportBike races, plus highlights from AMA Pro's other classes, tune in to SPEED TV tonight from 9 to 11 p.m. PST.

Josh Hayes, 1st: "I had a different game plan today... Sometimes you make a plan and you're lucky -- you think it, you believe it and you make it happen. Today, I got the passes done in the right places, I gave myself the opportunity to make the split. I was confident that I had the tools in my package and the motorcycle to make it happen. I rode as hard as I could, I was trying super-hard and it just wasn't there to go much faster today. I got to a point where I could relax a bit, make sure I didn't make any mistakes and bring it home."
Herrin Scores Clean Sweep of Road America Daytona SportBike Double-Header
Sportbike Race 1 - DiSalvo Crashes, Herrin Wins
ELKHART LAKE, WI (June 4, 2011) - AMA Pro Daytona SportBike's Race 1 lost one of the class' most dominant riders early in today's contest, kicking off an unusual three-way battle for the lead that stretched nearly from start to finish-a contest that came within a single lap of crowning an all-new class winner.

Team Latus Motors Racing's Jason DiSalvo started the race from his third consecutive pole position, grabbing the holeshot and leading PJ Jacobsen (Celtic Racing/Fast by Ferracci) and Josh Herrin (Monster Energy Graves Yamaha) into the first turn. Herrin and Jacobsen immediately began dicing for position, Herrin pulling up beside the younger rider before diving into a solid second. Behind them, Cameron Beaubier (GP Bike Parts Racing), Dane Westby (M4 Suzuki), Cory West (Vesrah Suzuki), Tommy Aquino (Y.E.S./Pat Clark/Graves Yamaha), and Danny Eslick (GEICO Powersports/RMR Suzuki) rode nearly atop each other while vying for fourth, with two more riders riding hard just behind.

Shortly after the field started Lap 2, however, DiSalvo-by that point a few tenths ahead of Herrin-crashed out of the lead, leaving Herrin to contend with the two youngsters behind him, both new to the Daytona SportBike class this year. While the battle for fourth continued to fan out three- and occasionally four-wide at times, and while Jake Holden crashed out of ninth position, the lead trio maintained, none of them seeming able or willing to advance on the rider in front.

Suddenly, Jacobsen took over the lead, sandwiching Herrin between himself and Beaubier, who likewise seemed to be eyeing the far more veteran rider. As Herrin continuously tested Jacobsen, frequently running up alongside him on the front and back straights (once briefly taking over the lead), Beaubier stayed stuck to Herrin's rear wheel. The GP Bike Parts rider made his intentions clear by pulling up alongside Herrin then sliding into the overall lead, but then immediately went wide, quickly being relegated back to second by Jacobsen, then to third by Herrin a few turns later.

As Herrin continued to put pressure on Jacobsen, Beaubier flexed his newfound speed a few more times, retaking second briefly and making another attempt at the lead. The second pack had by now seemed to loosely agree to set out after the lead trio, however, and the dicing inspired at the front by Beaubier allowed them to begin to gain ground.

With three laps to go, the lead trio maintained their running order while West, Eslick, and Aquino all took their turns at the head of the second group. Up front, Jacobsen and Herrin, the former riding the wheels off his Ducati to try to shake the Yamaha rider, began to leave Beaubier behind. As the lead pair spun out an increasing gap on Beaubier, it became clear the latter was in serious danger of being sucked into the group charging up the track behind them.

As the leaders approached the white flag, a game changer was delivered in the form of a lapped rider. While Herrin negotiated the situation perfectly, Jacobsen was shuffled back in the chase group and Beaubier sucked in almost entirely, the group suddenly spreading five wide and spitting West out as its new leader. Herrin, meanwhile, had netted some breathing room for the final lap and crossed the line .749 ahead of second-place West, Jacobsen hanging on for third. Eslick, Aquino, Taylor Knapp, Beaubier, Westby, Jason Farrell, and Fernando Amantini rounded out the top ten, the field treating fans to a four-rider-wide wheelie show.

DiSalvo's DNF and Herrin's win have tightened the points race considerably. At press time, provisional points standings had DiSalvo at 110 followed by West (99) and Herrin (97). Complete Results at: http://results.amaproracing.com
Sportbike Race 2 - DiSalvo Crashes Again, Herrin Wins Again: The Points Race Tightens
ELKHART LAKE, WI, June 5, 2011 - Sunday's AMA Pro Daytona SportBike action at Elkhart Lake's beautiful Road America track immediately launched into one of the high-speed, seven-rider freight trains the class has become known for. Within minutes, though, a red flag flew and the action came to an abrupt temporary halt, as Team Latus Motors' Jason DiSalvo -- who'd been dicing with Race 1 winner Josh Herrin (Monster Energy Graves Yamaha) and Celtic Racing/Fast by Ferracci's PJ Jacobsen for the lead -- spun out of the race before the field had completed Lap 3.

The red flag flew soon after to give the ambulance clear track to retrieve DiSalvo from the infield. DiSalvo was up and walking, but was taken to the track clinic to get a doctor's assistance in pushing a dislocated right shoulder back into place.

On the restart, Jacobsen rocketed back into the lead with Herrin, Danny Eslick (GEICO Powersports/RMR Suzuki), Dane Westby (M4 Suzuki), Cory West (Vesrah Suzuki), Cameron Beaubier (GP Bike Parts), and Tommy Aquino (Y.E.S./Pat Clark/Graves Yamaha) bearing down on him, all separated by less than a second. When the second red flag few (following crashes by Jake Holden and Jason Farrell), it resulted in a few minutes of downtime followed by a restart that spit out roughly the same front running order, Herrin taking the holeshot but soon ceding it to Jacobsen.

Beaubier, who rose high in yesterday's race before getting sucked back into the chase group, made another attempt at front-runner status by sliding into third ahead of Eslick, but Eslick quickly turned the upstart around, West following up by pushing Beaubier back yet another position. Herrin, meanwhile, was sticking close to Jacobsen's rear wheel, even as Eslick scouted for a way around the Yamaha rider. Just corners later, however, it was West who made a big move, first stuffing Eslick to take over third, then sailing past both Herrin and Jacobsen to take over the lead.

What followed was a series of lead changes so quick and frenetic that race-watchers couldn't look away for a second, and the drafting action up the front straight impressed even the racers, Herrin later commenting, "At one time, we were five- or six-wide going down the straightaway. I looked to my left and was like, 'damn.'"

West's lead fell first to Jacobsen, then Herrin, Herrin taking over the front spot to lead an astoundingly close seven-rider freight through Road America's turns and multiple straights. Soon, though, it was Eslick in the lead, heading West and Westby, the latter moving up to take his own turn at the front, and in later laps Beaubier again jumped forward briefly to head the pack. With just a handful of laps remaining, though, the field lost another major player, as Jacobsen was suddenly seen riding his bike onto the grass with an apparent mechanical.

Jacobsen's departure still left seven riders in the lead group, at least five of which looked entirely ready to take the win, but with two laps to go, it was Herrin who shot from fourth to first. A challenge by West went badly wrong, the rider going wide and sliding back to sixth as Westby tried to challenge Eslick for second. Westby's assault went considerably better, the M4 rider taking over the lead just after the white flag flew.

Pulling up beside Westby on the straightaway, Herrin slid by enough to cut into the turn and reclaim the lead heading for Road America's back section, but within turns it was Eslick at the front, leading Herrin, Westby, Aquino, and West through the final corners. As the final-approach drafting battle began, however, Josh Herrin roared up from behind, slingshotting past to claim the victory by .093 seconds.

Herrin was followed across the line by Eslick, Westby, Aquino, West, Beaubier, Fernando Amantini (Team Amantini), Tyler Odom (Don Odom Racing), Paul Allison (Triple Crown Industries), and Tyler O'Hara (GP Bike Parts Racing), and he's now followed in the points chase by absolutely everyone, having taken over the points lead with 127 to West's 115. DiSalvo sits in third with 110.
Complete Results at: http://results.amaproracing.com
The AMA Pro Road Racing Championship next heads for Barber Motorsports Park in Birmingham, Alabama, June 17-19th for the Barber SuperBike Classic, Round 5 on the season calendar. For tickets and information, visit http://www.barbermotorsports.com/ama/ or call (877) 332-7804.

To be a part of the AMA Pro Road Racing Championship, visit www.amaproracing.com and join us on Facebook (facebook.com/amaproroadracing) and Twitter (twitter.com/AMAProSBK).
---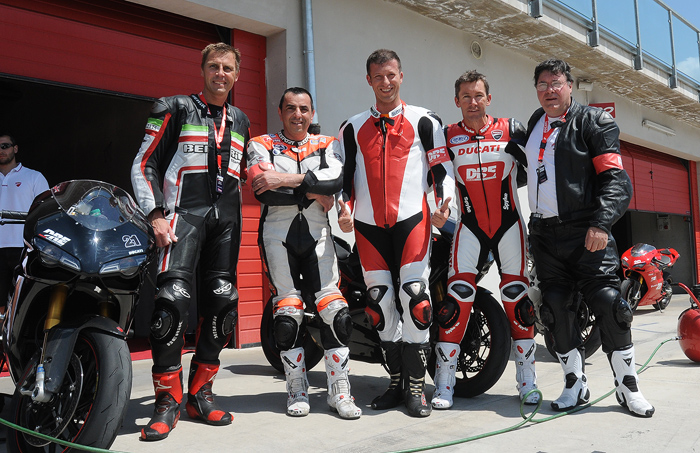 A personalized race school track day at Imola with the 3-time World Champion on Ducati 1198SPs. It doesn't get any better than this!
We go Balistic with 3-Time World Champion Troy Bayliss
at the first ever Troy Bayliss Racing Academy at Imola Italy!
The Troy Bayliss Racing Academy at DRE
By Jim Gianatsis

Imola, Italy, May 2011 - I attended the first Ducati Riding Experience (DRE) School in Italy back in 2004 at the Misano Grand Prix Circuit in conjunction with World Ducati Week 2004. My motivation to return to the DRE this year was the announcement of the addition of the new Troy Bayliss Academy. A one-on-one track class with the 3-time World Superbike Champion on board Ducati's top-of the-line 1198SP Superbike. Each class was limited to just 4 riders for the day, and there would only be 2 days of classes at just two tracks this year: Imola and Mugello. Meaning only 16 people this year would have the chance to learn and ride with one of the best motorcycle racers in the world. The price is $2,000 Euros, about US $3,000 and well worth it for a once in a lifetime experience at the world's best track school with one of the best motorcycle racers ever.
If you remember Troy retired at the top of his game at the end of 2008 as the reigning World Superbike Champion. His two previous titles came in 2001 and 2006 on the previous generation 919/998 and 999 Ducati Superbious. He also spent two years 2004-2005 in MotoGP racing the difficult Desmosite without a win, but returned as a substitute rider for Sete Giberneau in 1996 at Valencia to end MotoGP's 990cc era in awesome style, storming to a dominant one-two finish in front of a capacity crowd of 129,000 noisy fans with Loris Capriossi. For now, Troy goes down in history as being the only rider to win in both of the two highest levels of motorcycle roadracing: World Superbike and MotoGP.
Troy Baylss Academy Story Continued HERE • Imola World Superbike Race HERE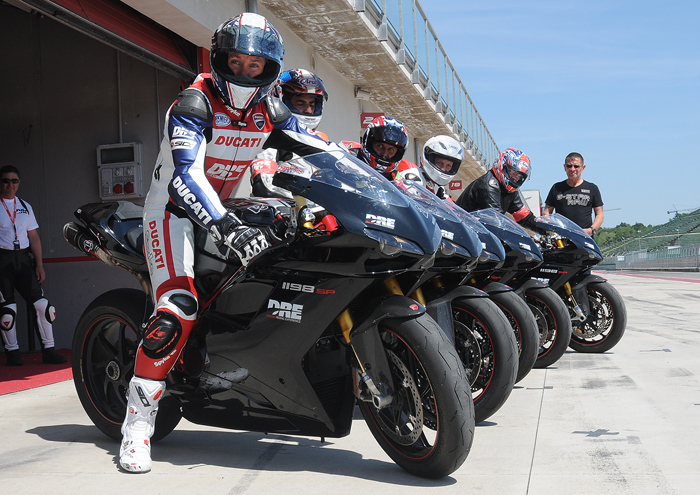 Troy leads us out for another track session.
---
There's more! Go to Pit Lane News Next Page

Also Visit: Fast Dates Calendar News • Iron & Lace Calendar News
Calendar Girl News • Meet the Models • Paddock Garage

Calendar Kittens, Paddock Garage, Screensavers, Iron & Lace Garage





MotorcycleSuperstore.com
Some of our Calendar Kittens can also at Playboy's website...



FREE! New Met-Art Model Galley Updated Daily - Stop Back Each Day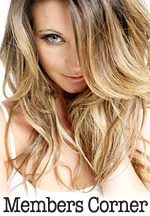 Hot Bikes, Sexy Kittens
Your Exclusive Grid Pass
also includes....
---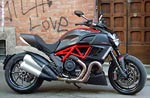 The Devil Made Us Do It!
Testing the Ducati Diavel in Italy
Lorenzo and Spies Deliver Double Podium in Catalunya
Yamaha Factory Racing riders Jorge Lorenzo and Ben Spies made it a double celebration today, taking second and third on the podium for the Grand Prix of Catalunya. World Champion Lorenzo grabbed the hole-shot off the line and team mate Spies shut the door neatly on Valentino Rossi to take third as they dropped into the first corner. The end of lap one saw Casey Stoner take the lead at the end of the straight, Lorenzo tucking in behind him and holding until the line for his fourth podium of the season. A white flag to signal some rain on the track caused some concern with 13 laps to go but was not severe enough to cause any rider to pit in and change to wet tyres.
Spies delivered the same consistent race pace in evidence from the beginning of the weekend, secure in third position from the first corner to the chequered flag. The Texan built a lead of around a second from Andrea Dovizioso for the duration of the race to claim his first podium for the Factory Yamaha Team.
The riders head straight to Silverstone now for a back-to-back race, Lorenzo still leading the championship with a seven point advantage over Casey Stoner. Team mate Spies jumps an impressive five places up the standings to seventh with 36 points, eleven points behind fellow American Nicky Hayden in sixth.
Jorge Lorenzo, Position 2nd Time +2.403 - "I'm really happy with the result, I gave it the maximum! I overtook Casey on the start but I knew he could overtake me. I tried to stay with him and not to lose his back wheel for as long as possible. At the end it started to rain a little and it was tough to keep concentration in the last sector but we managed it. We are still leading the championship so let's see what happens in Silverstone."
Ben Spies, Position 3rd, +4.291 - "We just kept pushing and pushing and we were slowly catching up to Jorge, not necessarily to try and catch and pass him but to stay away from Andrea. The bike was great and I felt good on it and just needed a good result. After the first couple of laps I realised we had a shot at a podium so I rode as hard as I could. The tyre was a good choice for us today; we did what we came here to accomplish and that's good enough. Big thanks to the team who worked hard to deliver a great package this weekend, bring on Silverstone!"
5th Place for Rossi and a Little Progress for Ducati
at Barcelona MotoGP
June 5th - The Catalan Grand Prix saw Valentino Rossi and Nicky Hayden finish fifth and eighth, respectively, on a day that had mixed conditions. The warm-up session was wet, while the race was dry except for a few raindrops thirteen laps from the end. That situation brought out the white flags, indicating that riders could change to bikes with rain setups if the conditions worsened, but they never did.
Following strong starts from the third row, Valentino Rossi and Nicky Hayden weren't as competitive as they had hoped. The Italian in particular seemed capable of fighting for third place in the first half of the race, but he was a bit penalized by a less-than ideal setup choice and had to settle for fifth place. He took some satisfaction from the fact that he reduced the gap to the front, and he gained some confidence that the development of the GP11 continues apace in the right direction.

Valentino Rossi (Ducati Marlboro Team) 5th
"There are good and bad aspects to today's race. On the positive side, we reduced the gap to the front, and the others in front of me weren't so far ahead. On the other hand, I'm obviously not happy with fifth place, because our goal was to do better than that. To tell the truth, we really could have done a little better today but last night we thought of a change to try in the warm-up and the session turned out to be wet. The change worked quite well, so we found ourselves at a crossroads as to whether or not to blindly use it in the race. We tried it, and that may have been a mistake because the bike moved a lot on corner entry. It was sliding, and I didn't have enough grip, so I was stuck for the whole race, unable to attack Dovizioso and Spies. Otherwise, I think I could have had a slightly better pace and perhaps battled with them. Anyway, we're not too far off, and we're working well, which we need to continue doing. The championship is long and we're still fully focused on both the GP11 and 2012, and we have no intention of backing off."

Nicky Hayden (Ducati Marlboro Team) 8th
"I thought I could do better than that. I actually got a good start and the tyres came right in, so the first couple laps I thought we might be on for a good result. We used up the tyre really quickly though, and almost immediately I was spinning a lot, especially in the long corners. We had some ideas to maybe help that, but we couldn't try them in the morning because it was wet, and it was too much of a gamble to try in the race. The rest of the bike felt really good. When the raindrops came, you definitely had to stay on your toes. I ended up in eighth, where we qualified, which I'm not thrilled with since normally we've been able to move up in the races. It will be a short week, so we need to understand the data and see what we get in Silverstone."

Filippo Preziosi (Technical Director)
"Clearly, we would have liked to have given Vale what he needed to fight for the podium, but nonetheless, I think today's race demonstrates that we've taken another small step forward. We've reduced the gap to the front, which is very positive. It was probably possible to do even better, but we found ourselves in a situation where we only had this morning's wet warm-up to try some changes, and they didn't all work well in the race. Nicky wasn't able to take full advantage of all the sessions either, but he likes the latest changes to the GP11, so we hope that soon we'll see him back at his level from last year as we improve the bike step by step. We're working hard on all areas of the bike, and the direction we're following is beginning to pay off. We're already better than we were in the winter tests, but we're still not to the point that Valentino and Nicky deserve."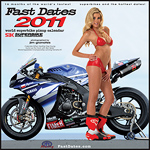 2011 Calendars!
with FastDates.com Calendar Kitten, Ducati Corse Grid Girl
and Playboy Playmate
Heather Rae Young!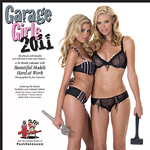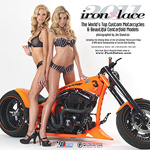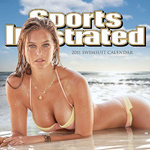 Click for even more Calendars!
---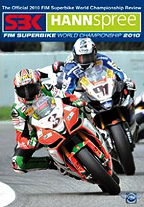 World Superbike Review
Click to find DVD Coverage of Every Year!
MotoGP Review
Click to find DVD Coverage of Every Year!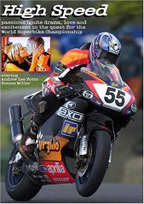 High Speed - the Movie
The best motorcyce racing movie ever made! Filmed on location at the World Superbike races , this an exciting romantic drama staring beautiful British actress Sienna Miller.
---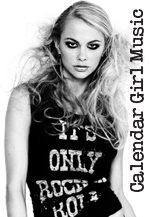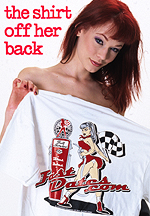 Order the Official
FastDates.com &
LA Calendar Bike Show
T-Shirts!
---
MotoGP Championship Heats Up at Catalunya this weekend
May 1st - The 2011 MotoGP World Championship encounters an intense period of activity across the months of June and July, with six races taking place in the space of eight weekends. The Gran Premi Aperol de Catalunya gets the stretch underway this weekend, as the campaign enters a demanding section of this season's schedule, one which will shape the Championship substantially.

Current standings leader and reigning World Champion Jorge Lorenzo heads into Round 5 holding a 12-point advantage at the top of the Championship, and the Yamaha Factory Racing rider has been strong at the circuit in recent years. In 2009 he had a famous battle to the final corner with Valentino Rossi for victory, eventually finishing second, and last season won from pole position. His closest rival in the Championship at present, Casey Stoner, has stood on the podium at the track for the past four seasons and the Repsol Honda rider arrives at Catalunya coming off the back of a victory at Le Mans – the 25th premier class win of his career.

The big question mark going into this weekend will be the participation of Stoner's team-mate Dani Pedrosa. The Spaniard suffered a broken right collarbone at Le Mans when he crashed out of the race and had surgery on the injury three days later, starting physiotherapy last Wednesday, and a late decision will be made on whether he rides. Third in the standings after four rounds Pedrosa – who has won in all three classes at Catalunya – will be desperate not to miss out on more valuable points, but will be all too aware of the risks of making his return to action too early.

Third Repsol Honda rider Andrea Dovizioso scored his first podium of 2011 at Le Mans and is just three points ahead of fellow Italian Valentino Rossi, whom he held off to take second place in France. Rossi, fresh from his first podium finish with Ducati at the previous round, is the most successful rider at the Catalunya circuit with nine victories to his name there (including six in the premier class).

Nicky Hayden (Ducati Team) and Hiroshi Aoyama (San Carlo Honda Gresini) are both closely matched in the standings, whilst Aoyama's team-mate Marco Simoncelli is on a mission to secure his first premier class podium finish. The Italian, at the centre of controversy following Pedrosa's crash at Le Mans, finished the French GP in fifth position having incurred a Ride Through penalty, and has a 250cc win at Catalunya in his bank of experience.

Monster Yamaha Tech 3 duo Colin Edwards and Cal Crutchlow are level on 21 points with Héctor Barberá (Mapfre Aspar Team), the Brit once again making his debut at a new track, whilst Yamaha Factory Racing's Ben Spies will aim to break into the top five for the first time this season – he placed sixth on his debut at Catalunya last year.

Rookie Karel Abraham (Cardion AB Motoracing) continues his development in the premier class, he finished fourth in last year's Moto2 race at Catalunya, whilst Toni Elías (LCR Honda) and Pramac Racing pair Loris Capirossi and Randy de Puniet will all be looking for improved results. Rizla Suzuki's Álvaro Bautista will ride in what will be his third race of the season, as he continues to work his way back to full fitness following a broken left femur.

The 2011 Gran Premi Aperol de Catalunya will mark the 20th successive year that the Circuit de Catalunya has been used since it was first included in the World Championship in 1992.