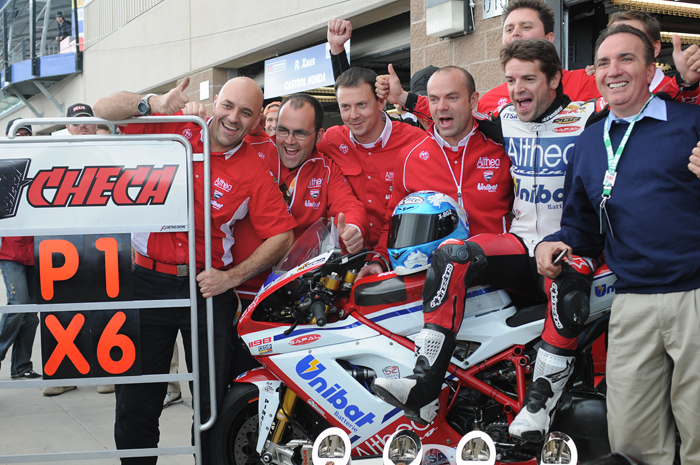 World Superbike Championship points leader Carlos Checa has domonated at Miller in previous years, and just as we predicted did so again this weekend on the privateer Althea Racing Ducati 1198RS.
SBK World Superbike Championship, Round 5 of 13, Miller USA
Double, No Trouble as Carlos Checa checks out!
World, AMA Superbikes and FastDates.com does Miller time in Utah

Miller Motorsports Park (USA), Memorial Day Weekend May 28-30th 2011 – On the American Memorial Day holiday enthusiastic Superbike fans fans were treated to a double win from a rider who was robbed of a double last year by simple bad luck, Carlos Checa (Althea Racing Ducati). The Spaniard, who entered this event as championship leader, had a dose of good luck this time as his two main rivals had difficult raceday experiences. Marco Melandri (Yamaha World Superbike) was tenth and then sixth, while Max Biaggi (Aprilia Alitalia) crashed out of race one after colliding with Jonathan Rea (Castrol Honda). Reigning champion Biaggi recovered good ground in race two, taking third place.
The 3-day Memorial Day race weekend turned wet and cold during Saturday practice, saw Sunday Superpole taking place in the rain. Monday's Race Day began in bitter 45Fdegree cold and light rainfall before warming and drying out the track just in time for th afternoon's feature SBK World Superbike races and the AMA's National Guard Superbike National.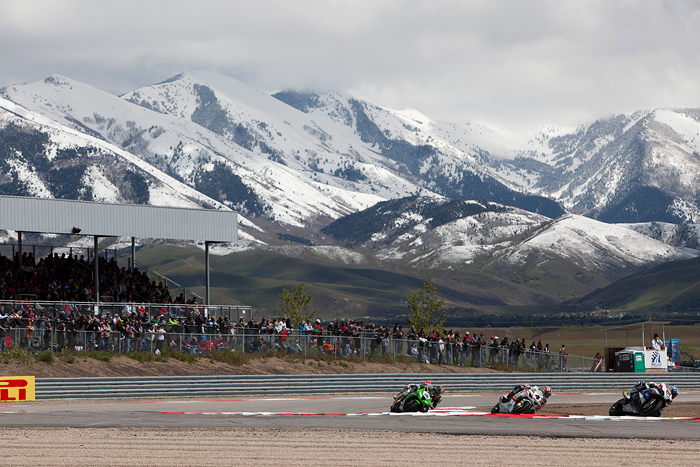 Checa throws down the gauntlet on Day One
Practice, Saturday 28 May 2011 - Carlos Checa continued his brilliant first day form on the Althea Racing Ducati machine at Miller Motorsports Park, the points leader and fastest rider in the first free session this morning blasting his way to a time of 1 minute 48.260 seconds and provisional pole.

With a few drops of rain appearing towards the end of the session, but not sufficient to disturb normal proceedings, the time that Checa set in the early phase was a full eight-tenths of a second clear of the one recorded by the next man, Leon Camier (Aprilia Alitalia). The young Brit was competitive enough to end the session just ahead of his team-mate and last year's double winner at Miller, Max Biaggi.

Kawasaki Racing Team's Tom Sykes put together a quick lap to earn the final place on the provisional front row, just a tenth behind Biaggi. With the possibility of rain looming for the second day of action the top riders were keen to get a fast lap in one day one to ensure qualification into the Tissot Superpole contest.

Other riders who featured well up in the one-hour session were Aussie Troy Corser (BMW Motorrad Motorsport) in fifth, followed by Jonathan Rea (Castrol Honda), Jakub Smrz (Effenbert-Liberty Ducati) and Eugene Laverty (Yamaha World Superbike), who make up the provisional second row. Michel Fabrizio, who is suffering from a heavy bout of flu, was next up in ninth for Suzuki Alstare, with Ayrton Badovini (BMW Motorrad Italia SBK) completing the top 10.

Wildcard rider Josh Waters took his Yoshimura Suzuki to a fine 15th place, one up on Corser's team-mate Leon Haslam. First time Miller man Marco Melandri was 12th on his Yamaha World Superbike machine. Outside the top 16 for the moment are Spain's Joan Lascorz (Kawasaki Racing Team) and the still convalescing James Toseland (BMW Motorrad Italia SBK) in 17th and 18th places respectively.

Saturday Practice Times: 1. Checa C. (ESP) Ducati 1098R 1'48.260; 2. Camier L. (GBR) Aprilia RSV4 Factory 1'49.055; 3. Biaggi M. (ITA) Aprilia RSV4 Factory 1'49.306; 4. Sykes T. (GBR) Kawasaki ZX-10R 1'49.432; 5. Corser T. (AUS) BMW S1000 RR 1'49.552; 6. Rea J. (GBR) Honda CBR1000RR 1'49.621; 7. Smrz J. (CZE) Ducati 1098R 1'49.683; 8. Laverty E. (IRL) Yamaha YZF R1 1'49.708; 9. Fabrizio M. (ITA) Suzuki GSX-R1000 1'49.855; 10. Badovini A. (ITA) BMW S1000 RR 1'49.881; 11. Haga N. (JPN) Aprilia RSV4 Factory 1'49.938; 12. Melandri M. (ITA) Yamaha YZF R1 1'50.136; 13. Guintoli S. (FRA) Ducati 1098R 1'50.140; 14. Xaus R. (ESP) Honda CBR1000RR 1'50.149; 15. Waters J. (AUS) Suzuki GSX-R1000 1'50.153; 16. Haslam L. (GBR) BMW S1000 RR 1'50.159; etc.
Checa takes SuperPole, Smrz a close 2nd
Superpole, Sunday 29 May 2011 - Carlos Checa (Althea Racing Ducati) put in a 1 minute 58.315 second lap on a drying track to take his fourth Tissot Superpole win of the 2011 season and give himself the best possible starting slot for raceday on Monday.

Only just behind was Jakub Smrz (Effenbert-Liberty Ducati), deposed by Checa with no time left to go faster. Yamaha World Superbike team-mates Marco Melandri and Eugene Laverty completed the front row, mastering the damp conditions well when it counted most. This is the first front row start for Melandri in WSBK racing and was particularly welcome after he struggled in some earlier sessions at a track he had never seen before first practice. Laverty has now earned three front row starts in the past three races.

Carlos Checa: "I really like this track, but the bike doesn't so much! We had some problems that we solved and I hope for tomorrow everything is going to be fine. We've been working quite well in the dry, and finally when it was getting dry I was able to get more grip and that's the main reason I was able to fight for the pole. It's a nice surprise!"

Jakub Smrz: "Carlos is good today so he deserves pole position. I think we made a really good job today, the bike was better in the wet, there were no problems to be fast. Hopefully it will be the same in the dry and I hope to fight for the best possible position."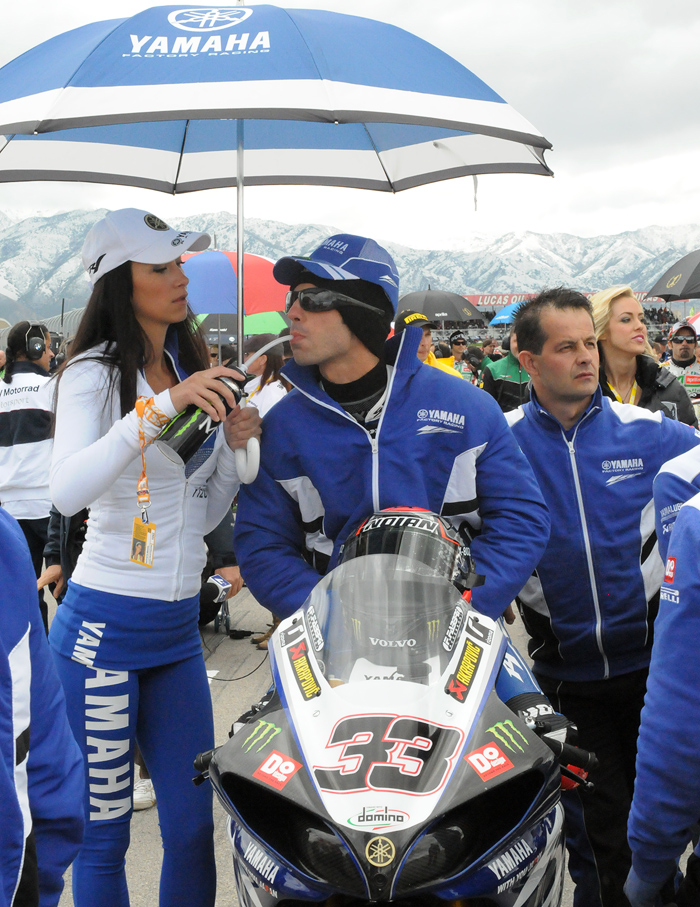 Model girlfriend Manuela Raffaetà makes sure Marco is well hydrated.
Marco Melandri: "For sure I didn't expect to be on the front row today. On a good wet we are pretty well set up and also the dry, so I had a bit of luck to have the Superpole with difficult conditions, because I could push a bit more. But for sure it's going to be tough to make all the race like that with the tyre."

Eugene Laverty: "It was very difficult with the wet conditions and we had to do a lot of work. But both Marco and I brought the Yamaha up in the wet. I'm confident for tomorrow in both conditions that we're in good contention for a podium finish."

The second row is headed by Sylvain Guintoli, Smrz's team-mate, with the top official BMW rider on show Troy Corser who went sixth. Late faller in Superpole 3, Max Biaggi, was seventh for Aprilia Alitalia and impressive BMW Motorrad Italia Superbike rider Ayrton Badovini was eighth.

Row three is reserved for riders who missed out on Superpole 3, with Aprilia Pata veteran Noriyuki Haga going ninth overall, just ahead of Tom Sykes (Kawasaki Racing Team Superbike) who went tenth as the track dried out slowly. Aprilia Alitalia rider Leon Camier was lucky to get back into the fray after a fall early in Superpole 1, but he made it back to the pits to take his second bike into Superpole 2 and then qualify 11th overall. Leon Haslam had a tough day again on his BMW Motorrad Motorsport S1000RR, toppling over in Superpole 2 and being unable to make it further up the order than 12th.

After a surprise exit from Superpole 1 Jonathan Rea (Castrol Honda) was only 13th on the grid with his team-mate Ruben Xaus only one place behind. Former double champion James Toseland (BMW Motorrad Italia Superbike) battled against his still injured right hand to go 18th on the grid, limiting his laps in the wet conditions after he missed out on the top 16 after final regulation qualifying.

Superpole Times: 1. Checa C. (ESP) Ducati 1098R 1'58.315; 2. Smrz J. (CZE) Ducati 1098R 1'58.390; 3. Melandri M. (ITA) Yamaha YZF R1 1'58.609; 4. Laverty E. (IRL) Yamaha YZF R1 1'58.860; 5. Guintoli S. (FRA) Ducati 1098R 1'59.069; 6. Corser T. (AUS) BMW S1000 RR 1'59.262; 7. Biaggi M. (ITA) Aprilia RSV4 Factory 1'59.736; 8. Badovini A. (ITA) BMW S1000 RR 1'59.827; 9. Haga N. (JPN) Aprilia RSV4 Factory 2'00.303; 10. Sykes T. (GBR) Kawasaki ZX-10R 2'00.477; 11. Camier L. (GBR) Aprilia RSV4 Factory 2'00.643; 12. Haslam L. (GBR) BMW S1000 RR 2'01.127; 13. Rea J. (GBR) Honda CBR1000RR 2'03.232; 14. Xaus R. (ESP) Honda CBR1000RR 2'03.382; 15. Fabrizio M. (ITA) Suzuki GSX-R1000 2'03.397; 16. Waters J. (AUS) Suzuki GSX-R1000 2'04.156; 17. Lascorz J. (ESP) Kawasaki ZX-10R 1'50.195; 18. Toseland J. (GBR) BMW S1000 RR 1'50.306; 19. Aitchison M. (AUS) Kawasaki ZX-10R 1'50.646; 20. Berger M. (FRA) Ducati 1098R 1'50.717; 21. Rolfo R. (ITA) Kawasaki ZX-10R 1'51.586.

Checking out with Carlos. The slowest, oldest bike at Miller was also the quickest.
Carlos Checa, Italian Bikes Dominate Miller on Race Day
Race Day , Monday 30th May 2011 - The podium in race one was a Ducati steam roller, with privateers Jakub Smrz and Sylvain Guintoli on their matching Effenbert-Liberty Ducati 1198RS securing second and third respectively behind Carlos Checa. Biaggi's team-mate Leon Camier beat him to second in race two, the tall Englishman taking his second podium of the season. Fourth place in the championship is now held by Eugene Laverty (Yamaha World Superbike) with his fifth and fourth place finishes in today's races lifting him above both Leon Haslam (BMW Motorrad Motorsport) and Rea.

Behind the podium places, Camier, Laverty and Tom Sykes (Kawasaki Racing Team Superbike) pushed their way into top six finishing positions in race one. In the second 21-lap contest Laverty, Fabrizio and Melandri took fourth to sixth places. Haslam and his team-mate Troy Corser had difficult weekends all in, with the Brit struggling with some aspects of machine set-up on the dry track surfaces on raceday, while the Australian started each race well, dropped to 13th in race one and then suffered a crash in race two. Flying the BMW colours highest this weekend was Ayrton Badovini (BMW Motorrad Italia Superbike) who was seventh and ninth.
Yamaha World Superbike riders Eugene Laverty and Marco Melandri fought hard in difficult conditions at Miller to take home well-earned points and with both riders now in the top four on the 2011 Championship standings. A crash out ofthe first race when he tangled with Jonthan Rea would drop Max Biagi from 2nd to 3rd in the points.
Variable weather conditions throughout the weekend did not render the infamously difficult and technically demanding American track any easier. Melandri tried his R1 machine in Miller for his first time ever on a dry track in Saturday's first qualifying, conditions that did not represent themselves until today's races. With Sunday's extremely wet weather the Italian was unable to improve various potential dry chassis set ups on the second qualifying day.
In the overall championship standings, Checa now has 195 points, Melandri 134, Biaggi 133, Laverty 109, Haslam 95, Rea 94 and Camier 91.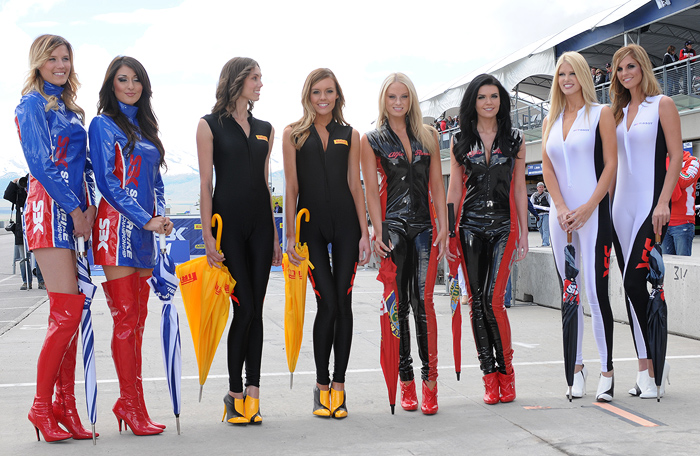 The beautiful Miller USA World Superbike grid girls provided by Umbrella Girls USA included our own Fast Dates Calendar Kitten Taylor Gunnin, 5th from left. How tall are these girls? Our Taylor is 5'8" and wearing 5-inch heels. The two SBK girls on the right in White suits are 6'2" in thier bare feet! We're thinking of starting our own SBK Fast Dates Women's Volleyball team.

The Miller WSBK race weekend was also the occasion for FastDates.com Calendar producer Jim Gianatsis to shoot the next edition of the official SBK Fast Dates World Superbike Calendar with Kittens Taylor Gunnin and Camilla Chiniquy. The shoot with all the factory race team bikes on Pit Lane was made somewhat difficult in that it was pouring rain both days with temperatures in the 50s.!

Next year's USA Utah Round of the FIM Superbike World Championship will be held on Monday 28 May 2012, on the occasion of Memorial Day.

Althea Racing team owner Genesio Bevilacqua stands by as a mud-clad Carlos Checa recounts his Race One win and susequent crash on the cool-down lap. Bevilacqua is the founder of the Althea firm and group. Back home at the Althea race complex in Italy is Bevilacqua's museum, "Bikes of Legends" (www.genesiobevilacqua.it). On show inside the museum are the best examples of race bikes from the last 40 years, including a display of works Ducati race bikes that rivals that of the Ducati Museum.
World Superbike Race 1, Privateer Ducati's rule the Podium
Carlos Checa, Althea Ducati, won the first race of the day in what only could be described as a run away as Carlos pulled away from the rest of the field at around half a second a lap after dispatching first lap leader Troy Corser. It was a a clean podium sweep for Ducati in the 21-lap contest on a dry track as team mates Smrz and Guintoli on the two Team Effenbert Beer - Liberty Racing filled the remaining podium places, in second and third respectively. This may have been the first time in some 20 year's going back to the days of Doug Polen / Fast by Feracci Ducati and their title win in 1992 that privateer teams have taken the top 3 places.
Troy Corser had made an incredible start of the race from sixth and passed the top five riders on the way to the first corner. He was able to defend his position for the first five laps, but then faced serious tyre wear, and continuing problem with the BMW's hard hitting powerband and stiff chassis which plays havoc with the spec Pirelli tires. After setting the second fastest lap of the race on lap four, his lap times dropped, and Troy only finished the race 13th. BMW team mate Leon Haslam fought his way from 12th up to sixth, but had to conquer issues with his traction control during the race. He finished eighth.
Aprilia Alitalia's Leon Camier recovering from a mid-race hiccup to take fourth place away from Laverty, while his team mate Max Biaggi slid off the pavement into the trackside mud on the opening laps and saw his Championship margin to points leader Checa grow wide again after having closed the gap at Monza a few weeks earlier.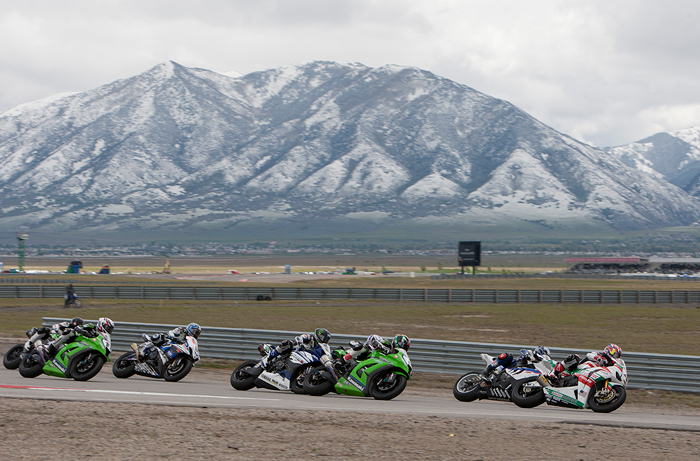 An eventful Race one saw several riders crash out of contention at the early stages. Yamaha Italia's Laverty and Melandri got perfect initial starts off their front row places on the grid but unfortunately fell back several positions before entering the first corner. A shifting error on the long straight after the start saw Laverty falling to 15th place before entering the first curve. Impressive race craft was on display as the determined World Superbike Rookie put his head down, gradually closed in on contenders ahead, taking him up to fourth place by lap nine. The Irishman then took on Camier and Guintoli to sit in second place by mid race behind race leader and eventual winner Checa, until extreme tyre wear prevented him from continuing to perform to his full potential. Fighting hard Laverty relentlessly surrendered his podium and crossed the chequered flag in fifth place, just behind Camier in fourth. Melandri was subject to a difficult race one losing three places in early stages of the race, bumping him to seventh. The Italian fought hard to re-claim positions but suffering from tyre wear he completed the race in tenth place.
After a couple of rounds in the doldrums, the Kawasaki Superbike Racing Team bounced back in round five of the World Superbike Championship. Yorkshireman Tom Sykes moved from the third row to sixth place in race one on a day when great progress was made by his fellow Kawasaki Ninja ZX-10R rider Joan Lascorz. Sykes continued his strong performance from the first dry qualifying session on Saturday, taking sixth position at the end of the 21 lap race, despite making a less than ideal start. Starting from tenth on the grid, he dropped back initially but was soon battling his way up the order and was rewarded with his best finish of the year so far. His team mate Spaniard Lascorz rode well in race one from a starting position of 17th to claim points in 14th place, despite losing grip from mid-race distance onwards, he hung on to score two points for the Penrith-based Paul Bird Motorsport Team.
In race one each Castrol Honda rider fell, Rea after a clash with Max Biaggi (Aprilia), whom Jonathan felt had moved across him as he passed up the inside of the reigning World champion into turn 12 on the opening lap. Jonathan Rea (Castrol Honda),"I made a great first lap in race one before the crash, but basically the easiest way to explain the fall was that I was far enough though on the inside for Biaggi to just give up position, but he insisted on coming back and throwing the bike on top of me. In the end I had to pick up and hit him right on the middle of his bike. I was definitely far enough through to justify him noticing I was there. It was frustrating."
Ruben had a similar experience at turn one on lap four, as he clashed with Michel Fabrizio (Suzuki). Ruben put it down to a racing accident as a result of his own eagerness to get past his rival. ""In race one I braked the same as normal, but my normal is ten metres later than Michel's normal. I thought he would turn in like normal, but he closed in, like you need to do to cover the position, then I fell. It was a shame because I hit a competitor, a friend of mine, but that is racing."

Carlos Checa: "It was a good race, at the beginning I took things easy because of the track conditions. We didn't know if we made the right choice for the feeling, but we managed to adapt, the feeling came lap after lap and I was able to overtake the riders in front. It was a race I was able to control, and my rivals didn't have the conditions I had so racing is like that."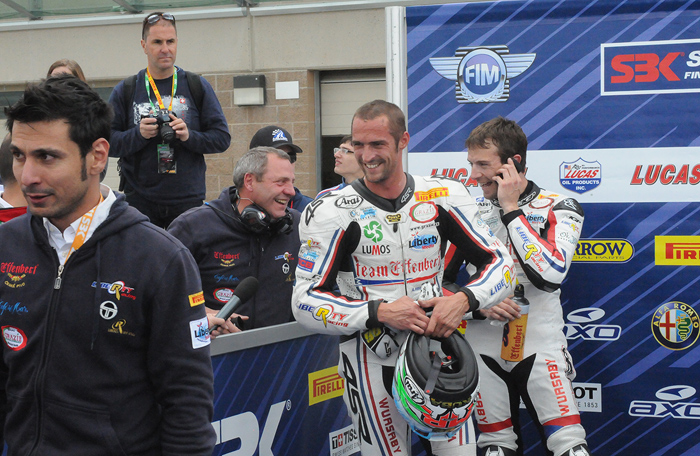 Effenbert Beer team mates Smrz and Guintoli are all grins in the victory box as Sylvain phones home the good news. Meanwhile, Race winner Carlos Checa is still walking back to the pits after crashing on his cool-down lap.
Jakub Smrz: "I'm really happy for me and the team because all weekend we did a great job. We had some small problems which we solved in the warm-up, that's why I was not confident in the beginning of the race but we actually had a good pace. Then at the end my quickshifter wasn't working so it was even more difficult, but I made second place and a big thanks to all the team."

Sylvain Guintoli: "It's been a tough season so far after the bad crash in Australia and all my health problems, so for me it's such a great feeling today, because this is my first podium since I arrived in Superbike. I didn't have a great start, it was mad, everyone was taking risks, but I had a great fight with both Laverty and Smrz and it was a great race."

Superbike Race 1 Results: (Laps 21 = 103,047 Km)
POS / RIDER / NAT. / TEAM / MOTORCYCLE / GAP
1 / CHECA / ESP / Althea Racing / Ducati 1198R / 38'46.915
2 / SMRZ / CZE / Team Effenbert-Liberty Racing / Ducati 1098R / 2.766
3 / GUINTOLI / FRA / Team Effenbert-Liberty Racing / Ducati 1098R / 4.093
4 / CAMIER / GBR / Aprilia Alitalia Racing Team / Aprilia RSV4 Factory / 8.885
5 / LAVERTY / IRL / Yamaha World Superbike Team / Yamaha YZF R1 / 15.718
6 / SYKES / GBR / Kawasaki Racing Team Superbike / Kawasaki ZX-10R / 20.477
7 / BADOVINI / ITA / BMW Motorrad Italia SBK Team / BMW S1000 RR / 22.17
8 / HASLAM / GBR / BMW Motorrad Motorsport / BMW S1000 RR / 22.267
9 / HAGA / JPN / PATA Racing Team Aprilia / Aprilia RSV4 Factory / 24.087
10 / MELANDRI / ITA / Yamaha World Superbike Team / Yamaha YZF R1 / 27.15
11 / BERGER / FRA / Supersonic Racing Team / Ducati 1098R / 29.422
12 / WATERS / AUS / Yoshimura Suzuki Racing Team / Suzuki GSX-R1000 / 33.428
13 / CORSER / AUS / BMW Motorrad Motorsport / BMW S1000 RR / 36.573
14 / LASCORZ / ESP / Kawasaki Racing Team / Kawasaki ZX-10R / 1'05.369
15 / TOSELAND / GBR / BMW Motorrad Italia SBK Team / BMW S1000 RR / 1'14.382
Fastest Lap: Carlos Checa Lap 7 1'49.779 160,916 Km/h
Lap Record: 2010 Carlos Checa 1'48.045 163,500 Km/h
Best Lap: 2010 Carlos Checa 1'47.081 164,970 Km/h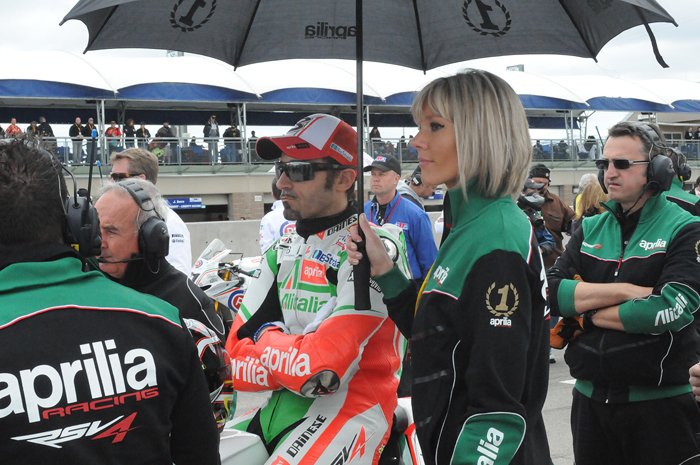 Grid Girs' umbrella's did rain duty this weekend. Max crahed out in Race One, finished 3rd behind team mate Camier in Race Two.
World Superbike Race 2, Italian bikes rule the Podium again
Checa took his second win of the day and his sixth of the year when he was victorious in race two, leading home Camier and Biaggi with some degree of ease. Fourth place went to Laverty, with Michel Fabrizio making a fine return from a race one fall to record fifth for Suzuki Alstare. Melandri had an eventually lonely run to sixth. Guintoli, Smrz, Badovini and Sykes rounded out the top ten, with star names Noriyuki Haga and Troy Corser not making the end of the race.
Team Alstare Suzuki rider Michel Fabrizio defied the pain barrier to take fifth place in Race Two. The young Italian had been taken out in race one after being hit by Ruben Xaus and suffered heavy bruising to his left thigh and leg in the process. His performance in race two made a mockery of his discomfort as he fought through the field from 15th place on the grid and was catching fourth-placed Eugene Laverty (Yamaha) but ran out of laps and ended less than half a second behind at the flag.
In the second race BMW's Troy Corser crashed on lap three when he touched the kerb of "First Attitude" corner with his engine casing. He could not finish the race. Leon finished 13th. Troy Corser: "We are disappointed with the way the weekend has ended. I felt like we had a good setup for both the wet and dry conditions, and I was really confident going into today's races. In race one I got away well and led the early laps. The bike felt good for the first five to six laps. Then the grip from the rear tyre became a real issue. I don't know why it happened, so we need to have a look at the data and see. In race two I decided to take it a bit easier in the early laps to save the tyres, but I began to lose too many positions. So I then started to push and clipped the kerb with my engine casing and lost the front – crashing out of the race. On the whole it was a difficult weekend and one we need to analyse in more detail."
Team Alstare Suzuki rider Michel Fabrizio defied the pain barrier to take a superb fifth place in race two at Miller Motorsports Park today. The young Italian had been taken out in race one after being hit by Ruben Xaus and suffered heavy bruising to his left thigh and leg in the process. His performance in race two made a mockery of his discomfort. He fought through the field from fifteen place on the grid and was catching fourth-placed Eugene Laverty (Yamaha), but ran out of laps and ended less than half a second behind at the flag.
Laverty on his way to 4th as the sun came out in Race 2

Race two proved to be equally challenging for the Yamaha World Superbike riders. An ideal start allowed both riders to maintain their third and fourth grid positions. Laverty demonstrated to be a skillful rider yet again, pacing himself throughout the race to prevent tyre wear and eventually crossed the line in fourth place. Melandri struggled to keep his initial position and fell back to sixth place by mid race. Fighting off advances from Guintoli and Smrz, the Italian completed the second race in sixth place.

Spaniard Carlos Checa (Ducati) continued his dominance of the weekend, by taking both victories fairly comfortably today. In race one he was joined on the podium with fellow Ducati riders Jakub Smrz and Sylvain Guintoli. In race two, it was the Aprilia pairing of Leon Camier and Max Biaggi who occupied the lower steps of the podium.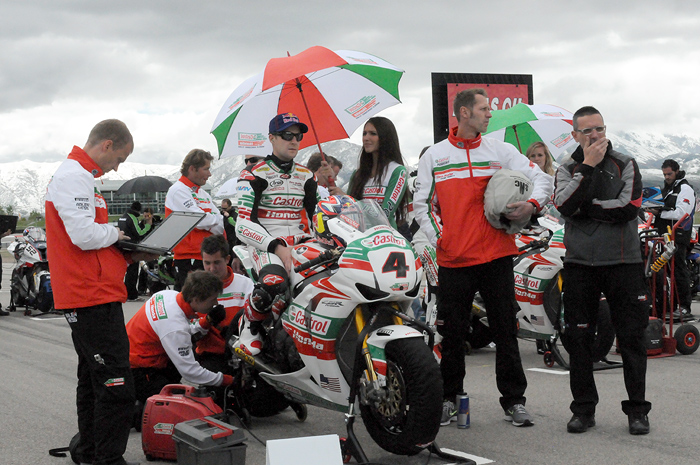 Jonathan Rea (Castrol Honda) was the only Honda rider to leave Miller Motorsports Park in the points after finishing race two in 11th place and he is now sixth in the championship itself, only one point behind fifth. "In race two we just didn't have the pace we needed and I was making lunges to pass other riders. I was unhappy to be outside the top ten so I was doing anything I could to pass Tom Sykes at the end. It was just a struggle on race day despite everybody's hard work. Surely there will be tracks that suit us better."
In the second race Kawasaki's Sykes was unlucky to get boxed in after a much better start and had to battle hard to take tenth place and some more very welcome points. Team mate Lascorz was in much better shape in race two and finished 12th meaning Tom is now 13th in the championship with Joan in 15th going into the next round at Misano on June 12th.
Ruben Xaus (Castrol Honda) had one DNF and an 18th place after another fall and is now 16th overall. Race two had Rea fighting for a top ten throughout, only losing out after a final corner challenge on Tom Sykes (Kawasaki) that did not quite come off. Xaus fell on lap three, but remounted to finish 18th and out of the points. "In race two I just touched my engine on the high kerbstone and crashed. I had a great start and the mechanics had made some changes so the bike was working well. I felt good, passing people and I just needed to keep going on my own way to the top ten, until I touched the kerb."

Carlos Checa, 1st: "It's a fantastic feeling to get this result, especially after last year. We did a great job, we knew we had a chance but you just never know. I don't know what is special about this place for me, I just feel really good here ever since I first did the double. I actually like left-side tracks and probably it's my riding style as well, altogether a combination of things make me strong and help me win here."

Leon Camier, 2nd: "I had to find something really special to get near both my team-mate and Carlos. It's awesome for me, I really love this track, it was good to me last year as well. I had a bit of bad luck yesterday with a crash. It wasn't so bad in the race because I had an injection before to numb everything, and it definitely worked! We've had some really bad luck recently, but now it's good to be on the podium for myself and Aprilia, they deserve it."

Max Biaggi, 3rd: "I can say that the second race was much better than the first today, when I had a crash with Rea and was a little bit unconscious for a while! In race 2 I started worse than race 1, caught the guys in front, couldn't go faster than third place, but I'm quite happy with that. I really regret race 1 because a podium for me was easy, but that's racing. Today is today and tomorrow is another day!"
Fabrizio gets by Smrz in Race Two
Michel Fabrizio, Race 1, DNF; Race 2,: 4th - "I am angry because today could've been much better for us. I couldn't do anything about the crash in the first race because I didn't know what was going on until I felt a thump. The impact made me fly through the air and I landed very heavily on my left side. Ruben (Xaus) had got in a bit too hot and just hit me and that was that. Afterwards he came into our garage and apologised.

The team repaired the bike and I used it in Race Two. I didn't take any pain killers before the second race because I wanted the pain to transform into positive energy. I didn't make a particularly good start and had a lot of work to do in the opening laps. Bit by bit, I moved up through the field and by lap eleven I was fifth place, but a long behind Laverty. I kept forcing the pace and managed to catch him. I knew I was turning in faster laps than him and was confident that I could pass him on the next lap. Unfortunately I ran out of laps, but if there had been one lap more, I am sure I would've passed him and taken fourth. So I am happy to get fifth from fifteen on the grid, but a little angry because one lap more and I would've got fourth."

Superbike Race 2 Results: Laps 21 = 103,047 Km)
POS / RIDER / NAT. / TEAM / MOTORCYCLE / GAP
1 / CHECA / ESP / Althea Racing / Ducati 1198R / 38'22.082
2 / CAMIER / GBR / Aprilia Alitalia Racing Team / Aprilia RSV4 Factory / 7.194
3 / BIAGGI / ITA / Aprilia Alitalia Racing Team / Aprilia RSV4 Factory / 8.734
4 / LAVERTY / IRL / Yamaha World Superbike Team / Yamaha YZF R1 / 14.214
5 / FABRIZIO / ITA / Team Suzuki Alstare / Suzuki GSX-R1000 / 14.75
6 / MELANDRI / ITA / Yamaha World Superbike Team / Yamaha YZF R1 / 21.634
7 / GUINTOLI / FRA / Team Effenbert-Liberty Racing / Ducati 1098R / 24.079
8 / SMRZ / CZE / Team Effenbert-Liberty Racing / Ducati 1098R / 25.688
9 / BADOVINI / ITA / BMW Motorrad Italia SBK Team / BMW S1000 RR / 29.621
10 / SYKES / GBR / Kawasaki Racing Team Superbike / Kawasaki ZX-10R / 30.681
11 / REA / GBR / Castrol Honda / Honda CBR1000RR / 31.033
12 / LASCORZ / ESP / Kawasaki Racing Team / Kawasaki ZX-10R / 37.063
13 / HASLAM / GBR / BMW Motorrad Motorsport / BMW S1000 RR / 37.455
14 / BERGER / FRA / Supersonic Racing Team / Ducati 1098R / 40.509
15 / WATERS / AUS / Yoshimura Suzuki Racing Team / Suzuki GSX-R1000 / 40.894
Fastest Lap: Carlos Checa Lap 4 1'48.827 162,324 Km/h
Lap Record: 2010 Carlos Checa 1'48.045 163,500 Km/h
Best Lap: 2010 Carlos Checa 1'47.081 164,970 Km/h

World Superbike Points (after 5 of 13 rounds): 1. Checa 195; 2. Melandri 134; 3. Biaggi 133; 4. Laverty 109; 5. Haslam 95; 6. Rea 94; 7. Camier 91; 8. Fabrizio 85; 9. Smrz 83; 10. Guintoli 54; etc. Manufacturers: 1. Ducati 202; 2. Aprilia 172; 3. Yamaha 171; 4. BMW 117; 5. Honda 98; 6. Suzuki 89; 7. Kawasaki 69.
The Return of Fujio Yoshimura!
It's been 28 years since we last saw Yoshimura R&D founder Fujio Yoshimura (above on the left) in America and we were excited to see him back at Miller WSBK. He doesn't look a day older then when he left California in 1984 to manage the family business from its home base in Japan. Yoshimua of Japan is contesting just three World Superbike rounds this year on a Suzuki GSXR1000 as a wild card entry with Australian rider Joshua Waters. On the right is Fujio's nephew, the grandson of Fujio's dad, the legendary "Pops" Yoshimura. Fujio told us that this year is just to get their feet wet, and if he can find additional sponsorship support next year (hopefully with Suzuki of Japan) he would like to contest the full 2012 WSB Championship. At Miller this weekend Waters finished a respectable 12th and 15th in the two races.
---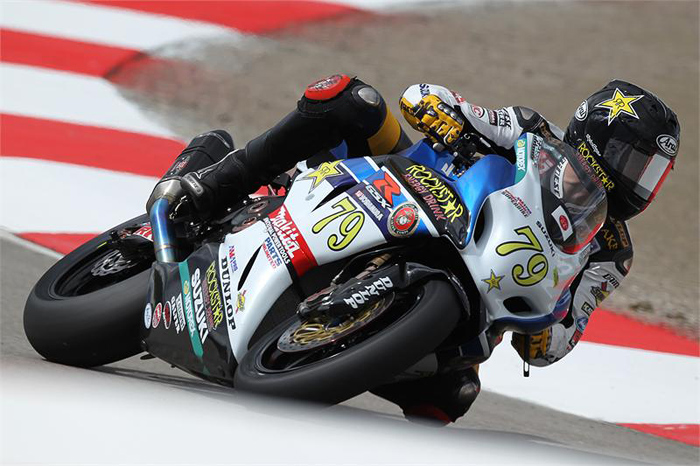 Blake Young on the Rockstar Yoshimura Suzuki.
AMA Pro Roadracing Championship, Round 3 of 8, Miller USA
AMA Pro Superbike sees Blake Young run down Josh Hayes on the last lap
TOOELE, UT (May 30, 2011) - Monday's AMA Pro National Guard SuperBike race at Miller Motorsports Park's BigM Weekend didn't let the frontrunners on track or the fans in their seats relax for a second, as Josh Hayes (Monster Energy Graves Yamaha) and Rockstar Makita Suzuki teammates Blake Young and Tommy Hayden tore through MMP's fifteen turns in a relentless display of determination and skill.

Hayes launched smoothly into the lead off the start, Young attached to his rear wheel with Martin Cardenas (M4 Suzuki) and Tommy Hayden right behind. A few bike-lengths behind the lead trio, Roger Hayden (National Guard Jordan Suzuki) led a train of riders all looking for a way by, Iron Horse BMW's Chris Peris heading JD Beach (Cycle World/Attack Performance Kawasaki), Steve Rapp (San Jose BMW), Ben Bostrom (Jordan Suzuki), and Larry Pegram (Foremost Insurance/Pegram Racing.) With the stage set for the sixteen-lap contest, the riders got down to business.

Cardenas, coming off an Infineon Round 2 podium-finish but having qualified a disappointing sixth here at MMP, declared himself an immediate factor in today's race, setting himself up just off Young's rear wheel as the factory Suzuki rider continued to pressure Hayes. Fourth-place Tommy Hayden wasn't giving the Colombian rider any room, however, while back in seventh position, a new contender was about to announce himself.

Beach, the 19-year-old class rookie (MMP was his second career SuperBike race), notified the field of his intention by posting the quickest lap the race had seen yet, then making a move that carried him up into sixth position, just a bike-length behind Roger Hayden. Behind them, Peris tucked the front, crashing out of eighth and allowing the second group of riders to shuffle forward in the standings.

Kawasaki's Beach, meanwhile, was taking his expected learning curve literally, trying for pass on Roger that saw him briefly rise to fifth, only to be sent back to start by the veteran rider. Not at all discouraged, Beach tried again less than a lap later and this time made it stick---- a feat that held the attention of race-watchers until Cardenas suddenly crashed out of third, relegated to MMP's muddy sidelines.
Reigning AMA Superbike Champ and current 2011 points leader Josh Hayes got passed by Blake on the last lap.
With ten laps to go, Roger reclaimed fifth from Beach and shut the kid down, at least for the moment, and all eyes returned to the battle for first between Hayes and Young, which had meanwhile been joined by a head-down Tommy Hayden. As the top three tore down Miller's 3,500-foot straightaway, Young set up a pass and took over the lead seconds later, only to see Hayes immediately strike back. That kicked off a chain of lead-swaps that wouldn't abate in number or intensity throughout the rest of the race, as Hayes and Young ripped toward a last-lap showdown.

With just five left to go, Beach had retaken fourth from Roger and was looking solid, but just seconds after Pegram was left ride-less thanks to a mechanical, Beach lost the front and went down in Clubhouse Corner, his bike tumbling end-over-end along with his hopes for a top-five finish.

At the front, Young pushed Hayes back behind him, sandwiching the Yamaha between the pair of Suzukis as Young took a glance behind to be sure it was true. It wasn't---- at least not for long---- as Hayes punched his way to the front again and did everything he could to break away. Young and Hayden were far from about to let that happen, however, Young trading the lead with Hayes several more times as the trio headed for the last lap.

Though Hayes was first to take the white flag, Young was already setting him up as they approached Turn 1 for the last time, delivering the final blow seconds later when he swooped into the lead and managed to spin out a few bike lengths in his forward charge. Hayes rode the wheels off his Yamaha as they filtered through the last set of turns, running up on the curb and giving Hayden a momentary look at second, but Young had the lead in hand as the frontrunners poured out onto the front straight, taking the win by .757 seconds.

Young, Hayes, and Tommy Hayden were followed across the line by Roger Hayden, Rapp, Clark, Geoff May (EBR Racing), Bostrom, David Anthony (ADR Fly Racing), and Jeremy Toye (San Diego BMW).

For coverage of today's Round 3 National Guard SuperBike race, tune in to SPEED TV tonight at 8 p.m. PST. As the series heads for next weekend's Round 4 at Elkhart Lake's Road America, June 3-5, Hayes leads the overall AMA Pro National Guard SuperBike Championship by five points over Young, 134 to 129. Tommy Hayden sits third with 122.

For detailed results, visit http://results.amaproracing.com/. To learn more and be a part of AMA Pro Racing, please visit www.amaproracing.com and join us via facebook.com/AMAProRoadRacing, twitter.com/AMAProSBK, and twitter.com/AMAProLIVE.

Blake Young, 1st: "For the beginning of the race I just tried to settle into a comfortable pace and just really try to hit my marks, and just for some reason I found myself not being able to do that. When I'd allow myself to get comfortable, Josh would get a gap that was a little bit more than that I was comfortable with him having, so I'd have to run it back down and settle back into my pace again, and it just didn't seem like that was the way to win the race. So I made the decision that I was just going to put my head down from there, and halfway through, I just tried as hard as I could to the checkers and left it all on the track. I'm pretty comfortable racing with either one of these guys handlebar-to-handlebar like that, because they know what they're doing there out there. And I'm glad I did that; I think it was great racing, I had a great time racing out there, and it was hopefully a good show for the fans."

Josh Hayes, 2nd: "I felt that if we were all on the same boat and all had tires go off at the end, that it would be harder to pass than it would be to lead. If I could kind of dictate how the race was going ... I'm a little more comfortable at the front. At the same time, [I was thinking] if he is faster than me, I don't want to allow him that opportunity, so I have to attack right back. I didn't really know how it was going, but I know I had a plus-zero on my board the whole time, then he started coming up alongside and, you know, it was just good racing. We'd get alongside each other and neither wanted to give up. You try to be respectful and safe---- if he was inside of me, I tried to leave him at least a way out---- and he treated me a little bit the same, and hopefully the TV was on us for a lot of that, because I thought it was a pretty damned good race."

Tommy Hayden, 3rd: "[The battle between Young and Hayes] looked like what you saw, except I was a little closer. I had a great view; those guys were really going at it. There were a couple times when I thought they were going to make it easy for me and give it to me---- they were a couple inches apart through some of those sections---- but they were both riding well and riding hard. I was able to close the gap, but when I had that gap and I did those kind of quick laps, I was on the limit and didn't save anything and maybe burned my tires up a little bit, because once I got on the back of them I was struggling to get off the corners and get a good drive to make any passes. But like I said, those guys were just a little bit better than me today. I rode good enough to win today, I think, I just didn't race well enough to win today. We'll take third today, it's another podium, but I'm glad we get to race next week."
Josh Herrin Back on Top in Daytona Sportbike
TOOELE, UT,May 29, 2011 - The rain-fraught AMA Pro Daytona SportBike contest at Miller Motorsports Park's BigM Weekend was ruled by a five-rider pack of unrelenting ferocity, each taking his turn at the front throughout the 16-lap race. Two riders, however, rose above-one higher than he's ever been before, the other to a once-familiar height he's sorely missed in 2011.

Celtic Racing/Fast by Ferracci's PJ Jacobsen was ascendant in the 34-rider race, the 17-year-old New Yorker launching into the lead off the line and holding off attack after attack while riders diced for position eight-deep. Team Latus Motors Racing's Jason DiSalvo-who started from pole, and was coming off a three-race win streak-seemed a sure bet for frontrunner status, but he was shuffled back surprisingly early in the race by Josh Herrin (Monster Energy Graves Yamaha), Dane Westby (M4 Suzuki), and Cory West (Vesrah Suzuki).

Behind DiSalvo, a battle raged full-force among the likes of Cameron Beaubier (GP Bike Parts), Tyler Odom (Don Odom Racing), Paul Allison (Triple Crown Industries), Danny Eslick (GEICO Powersports/RMR Suzuki), Joey Pascarella (Run 1 Racing), and more, the quickest laps of the race repeatedly being posted by riders in this second group.

Up front, Westby was the first rider to take the lead from Jacobsen, only to have West sail by both riders while the top seven were blanketed by less than a second. Jacobsen reclaimed the lead with authority just corners later, leaving West and Westby to engage in a frenetic battle for second that Herrin-looking entirely calm and smooth-watched carefully from fourth.

With nine laps to go, Herrin began to make his move, first picking off West to settle into the third-place position. In front, Westby and Jacobsen seemed to trade the lead every other corner, neither willing to let go nor able to make a pass stick for long. Suddenly, it was fourth-place West sliding back into the lead, closing the door so hard on a hopeful attempt by Jacobsen that the latter rider was shuffled back to fourth.

Shortly after, Herrin made a quick outside pass to take second from West and began calculatingly sizing up race-leader Westby, while Westby did everything he could to discourage the Graves rider's line of thinking. In the meantime, Cameron Beaubier had been carefully maneuvering his way vertically through the field, and with five laps to go, had firmly attached himself to the back of the five-rider front pack, which went tearing up Miller's long front straight four-deep as the laps clicked down.
Jacobsen, however, had been doing the same at the front of the field, taking third, then second, then first positions from their previous owners in a no-holds-barred fashion that left no doubt about his talent, but some doubt about how much longer his tires would last. With Westby immediately positioning his bike on Jacobsen's rear wheel, the youngster found himself coming under increasing pressure-to which he responded by putting his head down and doing everything he could to gap the field.

With only three laps left to go, however, that didn't fit with Herrin's plans. Giving the Ducati rider zero room, Herrin pushed him faster and faster, the two putting several bike lengths between themselves and the rest of the field. Then, just after the lead pair took the white flag, it happened-tires pushed to the max, Jacobsen's machine began exhibiting gasp-worthy, high-speed wobbles that told Herrin it was time to pounce. Though Jacobsen valiantly tried to hold the Yamaha rider off, Herrin was by now unstoppable. Slicing through the lap's final corners, he took his first victory of 2011 by .161 seconds.

Jacobsen was followed across the line by another first-time podium-earner in AMA Pro Daytona SportBike, as Beaubier had craftily dispatched both West and Westby, who finished 4-5 in today's event. DiSalvo, Eslick, Josh Galster, Allison, and Aquino rounded out the top-ten.
Josh Herrin, 1st: "It was getting pretty crazy in the beginning; a lot of guys were passing me on the brakes in Turn 1 just 'cause I didn't want to push in there too hard ... I was just trying to save my tires. I had to shave a couple tenths off to go into the puddles, but I think at the end it really helped us out a lot. The Monster Energy Graves Yamaha was working really well, and I'm really grateful we're on such good tires-the rains were phenomenal; we haven't used them since Road America last year and they were perfect. These guys rode a really good race, everybody did, and I'm just glad to be up here. It's a relief after having such a tough time this year, and I look forward to continuing on with the season with some more-consistent results."

PJ Jacobsen, 2nd: "Josh and Cory and Dane got by me, so I just tried to stay with them and sit behind them and see what they could do. There was like seven laps to go, so I figured just sit behind them 'cause it's going to be a long race still. I tried to break away [at the end] there, but Josh got me on the last lap. I really, really was pushing, but he just got the best of me."

Cameron Beaubier, 3rd: "It was crazy. I struggled a little bit on the brakes, couldn't really pass anyone on the brakes, and I was just watching them swap positions every corner ... it was pretty awesome to watch. Toward the end I started to get a little more comfortable on the brakes and started making a couple passes, and it was an awesome race. The front was skating around a lot the whole race, so I had to always make sure I went through a puddle on the straightaway to cool the tires down, but it was a fun race, that's for sure. It feels great to get on the podium for the first time in SportBike."
For detailed results, visit http://results.amaproracing.com/. To learn more and be a part of AMA Pro Racing, please visit www.amaproracing.com and join us via facebook.com/AMAProRoadRacing, twitter.com/AMAProSBK, and twitter.com/AMAProLIVE.
---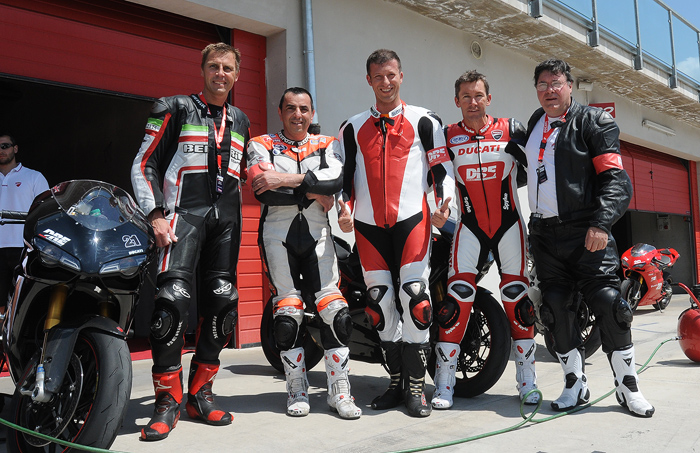 A personalized race school track day at Imola with the 3-time World Champion on Ducati 1198SPs. It doesn't get any better than this!
We go Balistic with 3-Time World Champion Troy Bayliss
at the first ever Troy Bayliss Racing Academy at Imola Italy!
The Troy Bayliss Racing Academy at DRE
By Jim Gianatsis

Imola, Italy, May 2011 - I attended the first Ducati Riding Experience (DRE) School in Italy back in 2004 at the Misano Grand Prix Circuit in conjunction with World Ducati Week 2004. My motivation to return to the DRE this year was the announcement of the addition of the new Troy Bayliss Academy. A one-on-one track class with the 3-time World Superbike Champion on board Ducati's top-of the-line 1198SP Superbike. Each class was limited to just 4 riders for the day, and there would only be 2 days of classes at just two tracks this year: Imola and Mugello. Meaning only 16 people this year would have the chance to learn and ride with one of the best motorcycle racers in the world. The price is $2,000 Euros, about US $3,000 and well worth it for a once in a lifetime experience at the world's best track school with one of the best motorcycle racers ever.
If you remember Troy retired at the top of his game at the end of 2008 as the reigning World Superbike Champion. His two previous titles came in 2001 and 2006 on the previous generation 919/998 and 999 Ducati Superbious. He also spent two years 2004-2005 in MotoGP racing the difficult Desmosite without a win, but returned as a substitute rider for Sete Giberneau in 1996 at Valencia to end MotoGP's 990cc era in awesome style, storming to a dominant one-two finish in front of a capacity crowd of 129,000 noisy fans with Loris Capriossi. For now, Troy goes down in history as being the only rider to win in both of the two highest levels of motorcycle roadracing: World Superbike and MotoGP.
Troy Baylss Academy Story Continued HERE • Imola World Superbike Race HERE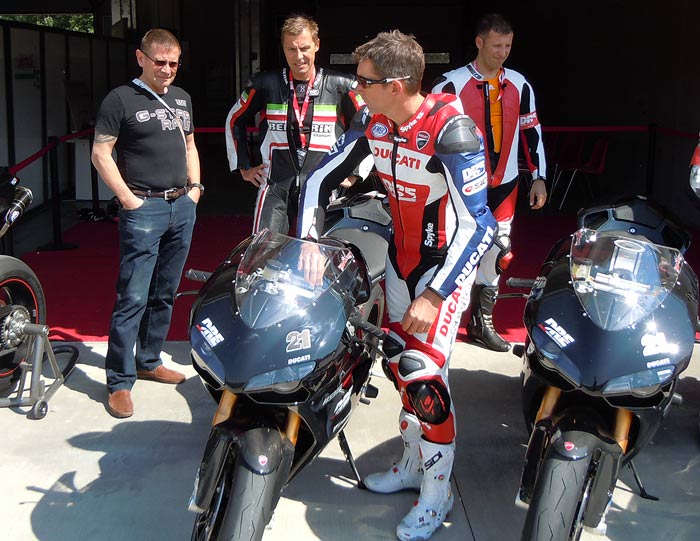 Troy shows us how to set up the 1198SP's steering damper before heading out on the Imola track for our first session of the day,
---
There's more! Go to Pit Lane News Next Page

Also Visit: Fast Dates Calendar News • Iron & Lace Calendar News
Calendar Girl News • Meet the Models • Paddock Garage

Calendar Kittens, Paddock Garage, Screensavers, Iron & Lace Garage





MotorcycleSuperstore.com
Some of our Calendar Kittens can also at Playboy's website...



FREE! New Met-Art Model Galley Updated Daily - Stop Back Each Day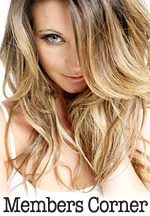 Hot Bikes, Sexy Kittens
Your Exclusive Grid Pass
also includes....
---
Perfect Weekend for Carlos Chca and the Althea Ducati Team with Superpole, Double Race Wins and 2 Fastest Laps
Salt Lake City (USA), Monday 30th May 2011: Carlos Checa and the Althea Racing team scored a perfect double win as well as two fastest laps at the Miller Motorsports Park this afternoon, taking home a "full house" of 50 points which added to Checa's tally giving him a 61 point advantage over the rider who places second in the general standings.

Very cloudy but mostly dry conditions for the two World Superbike races today at Miller Motorsports Park. In Race 1, starting from pole position for the fourth time this season, Carlos Checa lost a couple of positions through the first corners, finding himself in fourth at the end of the first lap. Beginning to build up a good rhythm, the Spanish rider was able to pass first Guintoli and then Haga and Corser, to take the lead on the fifth lap. Pushing hard so as to build on his advantage, lap seven brought him his fastest lap time of the race. Carlos continued to work to manage what remained of the race, passing the chequered flag in first place with a 2.766 second advantage ahead of Smrz and Guintoli, also on board Ducati 1198 machines. Checa received the Pirelli best lap award for his lap 7 performance.

In the second race of the day, Althea flagbearer Checa got away like a rocket, with a one second advantage over the rest of the field after just one lap! In the first stages he continued to improve on his times as each lap passed, recording the fastest lap of the race on lap 4 (and thus taking his second Pirelli best lap award of the day). None of his rivals could touch him today and he continued to build on his lead until the very end, crossing the line with an impressive 7.1 second advantage over Camier who closed second. A perfect weekend for Checa and the Althea Racing team, having secured pole, two fast laps and two race wins.

At the end of the fifth round of the World Superbike championship Carlos has reinforced his position at the top of the leaderboard, holding 195 points to the 134 points of Melandri in second position. Ducati continues to lead the manufacturer's championship with 202 points.

Carlos Checa:
"Two amazing wins today, especially after what happened to us here last year. In Race 1 I rode cautiously during the first laps as the conditions were a little mixed but after a while I found good feeling with my bike and was really able to push. The bike really behaved well despite the slightly strange conditions. I was able to pass those ahead of me, though it wasn't easy, and then I tried hard to build an advantage. In the final stages I stayed calm, controlled the margin and I did it! It was really funny because as I was returning to parc ferme', I saw some fans who wanted to give me a flag so I went "offroad" to get it only to find thick mud which caused me to crash – the happiest crash of my life I would say! The feeling that I had with the bike improved for race 2 and I could really enjoy the race. A wonderful day, especially for my team and for Ducati. I want to thank everybody, my team, Ducati and the sponsors. This was not only a double victory but a moral victory."
Genesio Bevilacqua, General Manager di Althea Racing:
"I can finally admit to being satisfied. This event in America seemed prohibitive to us after last year's troubles and also bearing in mind the issues that occurred during Saturday and Sunday and again in this morning's warm-up. Anyway, we have made up for those things in every way this afternoon. Two perfect races that demonstrated both my team's strength and Carlos' maturity. We return home happy and with an important lead over our rivals, but we will continue to work in the knowledge that we need to take one race at a time. I dedicate these wins to our sponsors and particularly UNIBAT that has continued to believe in our project. Thanks too to Ducati for the great material provided and I hope that this can encourage them to continue to believe in this team and its wonderful components."

RESULTS: Race 1 - 1. Checa (Ducati); 2. Smrz (Ducati); 3. Guintoli (Ducati). Race 2 – Checa (Ducati); 2. Camier (Aprilia); 3. Biaggi (Aprilia)

CLASSIFICATION: Riders – 1. Checa (Ducati) 195; 2. Melandri (Yamaha) 134; Biaggi (Aprilia) 133; 4. Laverty (Yamaha) 109; 5. Haslam (BMW) 96; 6. Rea (Honda) 94; 7. Camier (Aprilia) 91; 8. Fabrizio (Suzuki) 85…… Manufacturers – Ducati 202; Aprilia 172; Yamaha 171; BMW 117; Honda 98; Suzuki 89; Kawasaki 69
Pirelli Tire Report from Miller World Superbike
"Just a few dry practice sessions on Saturday gave WSBK teams a limited possibility to set up their machines, since Sunday qualifying saw a constant downpour of rain. Hard-compound SCR2 Diablo Rain tyres were supplied in order to guarantee excellent performance on this wet abrasive track and to keep riders' confidence in such difficult conditions, considering the need for numerous changes in traction control settings. As always, Pirelli was prepared with full-rain, intermediate and Diablo Superbike slicks, a total of 1500 tyres for this USA Round.

Superpole's variable conditions left two Ducatis and two Yamahas on the front row for race day. Cold temperatures overnight made for a cold but drying track for morning warm-up, but the cloud break showed promise. Even with 3 front and 3 rear solutions (SC1, SC2) available for dry racing, including last year's race-wining tyres, 20°C on the asphalt and uncertain bike settings moved all riders to the SC1 mid-soft Diablo Superbike rear tyres for Race 1, the most performing choice for colder conditions.

Still, some riders pushed too hard at the race start and caused increased tyre wear, accelerated also by various wet spots on the track. It was pole sitter and Best Lap winner Carlos Checa (Ducati) who used his Diablo Superbike SC1 tyres to lap consistently in the 1'49 and 1'50s, finally earning a 2,7 second win over Ducati riders Smrz and Guintoli, the latter his first podium of the season.

Race 2 brought only one tyre change by Lascorz (Kawasaki) who switched to the A front, although many discussed changes with the sun out and a warming track. Aprilia riders Camier and Biaggi came back to fight in Race 2 for a 2nd and 3rd place finish, but double-winner

Checa (Ducati) set the Best Lap of 1'48.827 and repeated his excellent results of three years ago at Miller Motorsports Park. Biaggi was preceded by Laverty (Yamaha) and Fabrizio (Suzuki) to make 4 manufacturers in the top five." - Giorgio Barbier, Racing Director, Pirelli Moto

Pirelli BEST LAP Awards:
SBK Race 1 – Carlos Checa (Althea Racing), 1'49.779 (Lap 7)
SBK Race 2 – Carlos Checa (Althea Racing), 1'48.827 (Lap 4)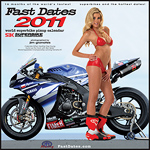 2011 Calendars!
with FastDates.com Calendar Kitten, Ducati Corse Grid Girl
and Playboy Playmate
Heather Rae Young!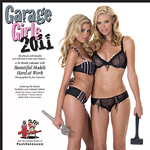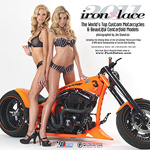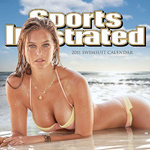 Click for even more Calendars!
---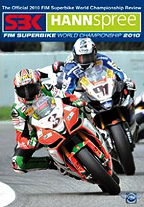 World Superbike Review
Click to find DVD Coverage of Every Year!
MotoGP Review
Click to find DVD Coverage of Every Year!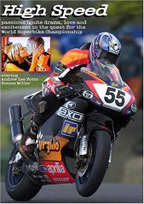 High Speed - the Movie
The best motorcyce racing movie ever made! Filmed on location at the World Superbike races , this an exciting romantic drama staring beautiful British actress Sienna Miller.
---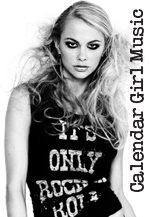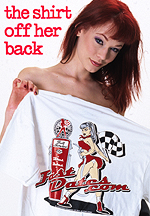 Order the Official
FastDates.com &
LA Calendar Bike Show
T-Shirts!
---
MotoGP Championship Heats Up at Catalunya this weekend
May 1st - The 2011 MotoGP World Championship encounters an intense period of activity across the months of June and July, with six races taking place in the space of eight weekends. The Gran Premi Aperol de Catalunya gets the stretch underway this weekend, as the campaign enters a demanding section of this season's schedule, one which will shape the Championship substantially.

Current standings leader and reigning World Champion Jorge Lorenzo heads into Round 5 holding a 12-point advantage at the top of the Championship, and the Yamaha Factory Racing rider has been strong at the circuit in recent years. In 2009 he had a famous battle to the final corner with Valentino Rossi for victory, eventually finishing second, and last season won from pole position. His closest rival in the Championship at present, Casey Stoner, has stood on the podium at the track for the past four seasons and the Repsol Honda rider arrives at Catalunya coming off the back of a victory at Le Mans – the 25th premier class win of his career.

The big question mark going into this weekend will be the participation of Stoner's team-mate Dani Pedrosa. The Spaniard suffered a broken right collarbone at Le Mans when he crashed out of the race and had surgery on the injury three days later, starting physiotherapy last Wednesday, and a late decision will be made on whether he rides. Third in the standings after four rounds Pedrosa – who has won in all three classes at Catalunya – will be desperate not to miss out on more valuable points, but will be all too aware of the risks of making his return to action too early.

Third Repsol Honda rider Andrea Dovizioso scored his first podium of 2011 at Le Mans and is just three points ahead of fellow Italian Valentino Rossi, whom he held off to take second place in France. Rossi, fresh from his first podium finish with Ducati at the previous round, is the most successful rider at the Catalunya circuit with nine victories to his name there (including six in the premier class).

Nicky Hayden (Ducati Team) and Hiroshi Aoyama (San Carlo Honda Gresini) are both closely matched in the standings, whilst Aoyama's team-mate Marco Simoncelli is on a mission to secure his first premier class podium finish. The Italian, at the centre of controversy following Pedrosa's crash at Le Mans, finished the French GP in fifth position having incurred a Ride Through penalty, and has a 250cc win at Catalunya in his bank of experience.

Monster Yamaha Tech 3 duo Colin Edwards and Cal Crutchlow are level on 21 points with Héctor Barberá (Mapfre Aspar Team), the Brit once again making his debut at a new track, whilst Yamaha Factory Racing's Ben Spies will aim to break into the top five for the first time this season – he placed sixth on his debut at Catalunya last year.

Rookie Karel Abraham (Cardion AB Motoracing) continues his development in the premier class, he finished fourth in last year's Moto2 race at Catalunya, whilst Toni Elías (LCR Honda) and Pramac Racing pair Loris Capirossi and Randy de Puniet will all be looking for improved results. Rizla Suzuki's Álvaro Bautista will ride in what will be his third race of the season, as he continues to work his way back to full fitness following a broken left femur.

The 2011 Gran Premi Aperol de Catalunya will mark the 20th successive year that the Circuit de Catalunya has been used since it was first included in the World Championship in 1992.
Rockstar Makita Suzuki Wins at Miller
Team Suzuki Press Office - May 31. - Team Rockstar Makita Suzuki celebrated in style at Miller Motorsports Park in Tooele, Utah as Blake Young piloted his Yoshimura-prepped Suzuki GSX-R1000 to victory in what was arguably the most exciting AMA Superbike race of the season.
Rockstar Makita Suzuki team mate Tommy Hayden was right there with Young, running up front and finishing in an impressive third place to round out the podium.
Because the AMA Series was running in tandem with the World Superbike Series at Miller, there was only one AMA Superbike race instead of the usual two and the Rockstar Makita Suzuki team mates certainly made the most of it.
On race day, Young and his Suzuki were running with the race leader almost immediately. The Rockstar Makita Suzuki rider firmly slotted his GSX-R1000 into second place and aggressively battled for the lead throughout all 16 laps. He passed for the lead on several occasions but was unable to make it stick until the final lap. At that point, Young made his move, got out in front, put his head down and brought home the win.
"My Rockstar Makita Suzuki GSX-R1000 was running great and I got up to the race leader pretty quick," said Young. "At first, I was just trying to settle into a comfortable pace for me, but it seemed like every time I tried to relax, Josh would get away a little bit. So I just put my head down and did what I had to do. I wanted to put on a good show for the fans and I think we did that. I'm happy to come out of here with a win for my Rockstar Makita Suzuki team, and now we have just a few days until Road America in my home state. I'm looking forward to racing on that track and it'll be great to race in front of my friends and family back home in Wisconsin."
Meanwhile, Hayden was right there in the hunt for the entire race. Like Young, he quickly got up to speed and into the top three on his Suzuki GSX-R1000. In fact, he was less than a second behind his team mate throughout the event and after charging hard and riding flawlessly, Hayden brought home a solid third-placed finish.
"Overall, I think the race went well," said Hayden. "I felt comfortable on the Rockstar Makita Suzuki GSX-R1000 and I was able to get up front pretty quick. We've been on the podium at every race this year and we've been consistent, but I think we need to try and win a few more races. I'm looking forward to Road America - I'm glad it's right around the corner. It's one of my favourite tracks and hopefully we'll have a good result there."
The 2011 Rockstar Makita Suzuki team's next event of the 2011 AMA American Superbike Championship series is at Road America in Elkhart Lake, Wisconsin, on June 3-5th.
Corey Alexander Earns Career-First AMA Pro Victory in BigM MotorcycleSuperstore.com SuperSport
TOOELE, UT,May 29, 2011) - Vesrah Suzuki's Cory Alexander captured his career-first AMA Pro podium in today's AMA Pro Motorcycle-Superstore.com SuperSport contest, skipping the second- and third-place steps on the dais to turn in a wildly dominant win. Seventeen-year-old Alexander made the most of his front-row starting position, taking the lead on Lap 2 and immediately running away with the race.

While Corey may be relatively new to AMA Pro fans, his surname isn't; his uncle, Richie Alexander, is both current Team Director for the Michael Jordan Motorsports effort and a former AMA national road race champion. Corey did his family more than proud this morning, leading 12 of 13 laps and crossing the finish line a staggering 18.873 seconds ahead of second-place finisher Y.E.S./LTD Racing's David Gaviria.

Pole sitter Benny Solis (Roadracingworld.com) went into today's race looking for a third consecutive podium, but ended up with a very different result. After leading briefly at the start, he diced with Gaviria for only a few turns before sliding off-course in Turn 9. Though he was up and okay quickly and eventually reentered the race, he suffered a second fall late in the contest. The single-race points-paying system ensured Solis won't go home empty-handed (for a non-doubleheader event, points are paid for both qualifying positions and race results, using the 20-position race scale), but his misfortune has allowed the rest of the field to draw closer.

Gaviria, meanwhile, made it his priority to collect championship points, maintaining a comfortable pace that kept him out of reach of the battle for third, which raged behind between Gaviria's LTD teammate, Tomas Puerta, and GP Bike Parts' Travis Ohge. Ohge had made an impressive charge up from thirteenth on the grid, and he wasn't done yet. Puerta and Ohge diced all the way to the checkered flag, Ohge getting by just before the pair crossed the finish.
Fifth-place finisher Elena Myers (SuzukiScoopFans Racing) also turned in an impressive performance, fighting her way up from twelfth in difficult conditions. She likewise holds fifth in the overall AMA Pro Motorcycle-Superstore.com SuperSport West Division Championship, behind Sebastiao Ferreira (GP Bike Parts). Solis leads the championship with 112 points, followed by Alexander (101 points) and Ohge (72).
MYERS TAKES HER BEST GSX-R600 RESULT at MILLER
Team SuzukiScoopFans rider Elena Myers returned to AMA SuperSport racing at the weekend with a vengeance. After missing the last round due to a broken wrist, the 17-year-old Californian bounced back and nabbed an impressive fifth-placed finish in the AMA SuperSport race at Miller Motorsports Park in Tooele, Utah, over a very rainy Memorial Day Weekend.
This remarkable result is not only Myers' best finish of the year, but it also puts her firmly in sixth place in the West Division's Championship standings.
Because the AMA series was sharing this rain-soaked weekend with the World Superbike series, there was only one AMA SuperSport race instead of the usual two. Myers made the most of the single 13-lap race, however. Despite the inclement weather, she got a good start on her Team SuzukiScoopFans Suzuki GSX-R600 and put herself into a solid fifth place. She then rode flawlessly, fighting off all comers to hold onto that position until the chequered flag flew.
"It was a wet one for sure," said Myers after the race. "But I got a great start on my SuzukiScoopFans Suzuki GSX-R600 and I kept my head down and tried to stay smooth. I wanted to build up some momentum and go a little faster each lap, and I did exactly that. Some people fell down but I made it through to the end. I admit that my wrist was bothering me quite a bit at the end, but I just fought through it for my team and I'm happy with our result."
Myers will continue to contest all the 2011 AMA SuperSport rounds although she is officially only competing in the West Division Championship.
"Our next race is at Road America next weekend," said Myers. "I'm really looking forward to that. It's a fast track, just like this one here at Miller, and hopefully we'll have some good luck there. My goal is to build on the momentum from this race and take it to Road America, and then through the rest of the season."
The 2011 SuzukiScoopFans team's next event of the 2011 AMA SuperSport season will be at Road America in Elkhart Lake on June 3-5th.
Rapp Takes First Win at BigM in AMA Pro Vance & Hines XR1200
TOOELE, UT (May 30, 2011) - Drag Specialties' Michael Barnes launched into the lead of Monday's AMA Pro Vance & Hines XR1200 event at Miller Motorsports Park's BigM Weekend, only to be forced back to third a lap later by a hard-charging Steve Rapp (Parts Unlimited) and Chris Fillmore (Bruce Rossmeyer's Daytona Racing), Fillmore pressuring Rapp unmercifully as the field blasted through the start of the eight-lap contest.

Rapp took over the lead with just four laps to go, followed within a second by Fillmore, Barnes, and the reigning class champion, RMR Bruce Rossmeyer's Daytona Racing's Danny Eslick. Eslick, however, had other plans for the running order, quickly getting up the inside of Fillmore and setting his sights on Rapp. A string of riders following behind the lead trio, Fillmore made a close inside pass on Eslick to retake second position. And though Fillmore rebuffed Eslick's first attack, which came almost immediately, he was forced to cede the position several turns later.

With three laps left to go, the dicing between Fillmore and Eslick had allowed Rapp to put a half-second between himself and the other podium contenders---- a comfortable difference if the two Bruce Rossmeyer teammates stayed focused on each other. As Rapp kept his head down and continued to drag footpegs through MMP's flowing turns, he posted the quickest lap the race had seen yet.

Elbows out, Eslick and Fillmore took the white flag almost side-by-side, having left Barnes several seconds behind but simultaneously lost touch with Rapp, the latter rider now unstoppable more than a second ahead. The pair swapped position heading for the back section of the Utah track, Fillmore making a final bid for the second step but ultimately unable to fend off Eslick, who blasted by and made it stick as the pair tore onto the front straight for the final time.

Third-place Fillmore was followed across the line by Barnes, Michael Beck (J&P Cycles), Tyler O'Hara (GP Bike Parts), Chase McFarland (Latus Motors Racing), Kyle Wyman (Bruce Rossmeyer's Daytona Racing), Joe Kopp (Latus Motors Racing), and Michael Corbino (RMR Bruce Rossmeyer's Daytona Racing).