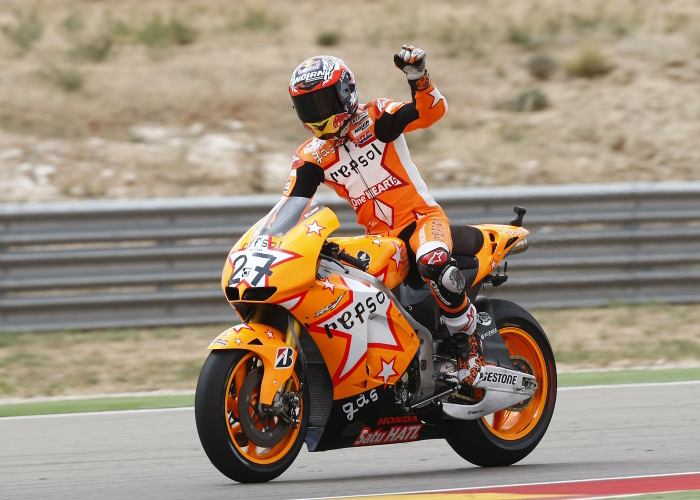 Race winner Casey Stoner and the rest of the Honda Repsol MotoGP team unveiled new comic book inspired livery for their bikes and riding gear on Sunday morning.

2011 MotoGP World Championship Championship, Round 14 of 18 Gran Premio de Aragón
Casey Stoner stretches his MotoGP points lead at Aragón
Aragón Spain, Sunday Sept18th, 2011 - Casey Stoner took another 25 points home at the Gran Premio de Aragón as the Australian took his eighth win of the 2011 season, with Dani Pedrosa crossing the line second and Jorge Lorenzo third. Stoner's victory at the MotorLand circuit on Sunday gave Repsol Honda their 100th GP win as well as putting the Australian 44 points clear of defending World Champion Jorge Lorenzo (Yamaha Factory Racing).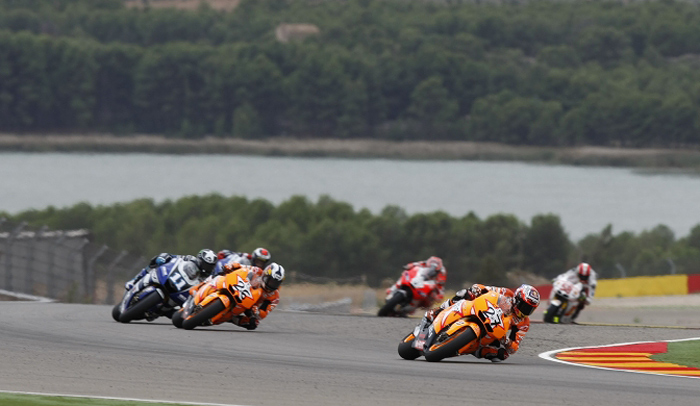 The race started off with Casey (27) disappearing out front with a stronglead ahead of Pedrosa (26) and Ben Spies (11) who would fade back to fith after being passed by Lorenzo and Simoncelli.
Pedrosa finished the round in second place behind his team mate, while Lorenzo made his way to the final podium spot. Marco Simoncelli (San Carlo Honda Gresini Team) crossed the line 6 seconds behind Lorenzo to take fourth, a strong finish for the Italian despite running off track during his first attempt at passing the YZR-M1 of Ben Spies. Spies had a great start off the outside of the first row, leading into turn one in front of fellow front row starters Stoner and Pedrosa, but the two Repsol Honda riders passed him by lap two, and the American finished the race in fifth place.
Álvaro Bautista (Rizla Suzuki) crossed the line sixth from an eleventh place start, passing Nicky Hayden (Ducati Team) on lap 10 and holding the position to the finish line. Hayden and Héctor Barberá had a scrap for seventh, with the American passing the Mapfre Aspar rider on the penultimate lap.

Cal Crutchlow (Monster Yamaha Tech 3) finished ninth, ahead of Valentino Rossi who started his Ducati Team machine from Pit Lane having used his seventh engine of the season in the warm up, with Hiroshi Aoyama (San Carlo Honda Gresini) in 11th.

A first lap crash for Karel Abraham (Cardion AB Motoracing) caused Randy De Puniet to run off track to avoid the Czech rider, the Frenchman rejoining the race to finish 12th. Andrea Dovizioso (Repsol Honda) also fell on the first lap and was unable to rejoin, while Loris Capirossi (Pramac Racing) collided with Toni Elías (LCR Honda) on lap 15, both riders going down in the gravel.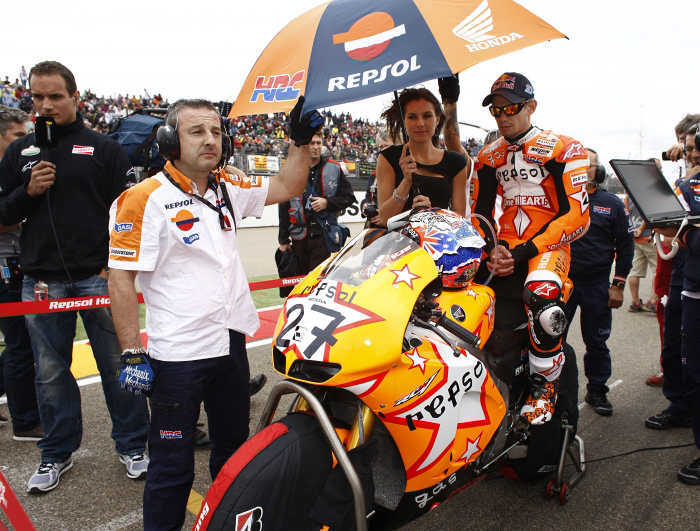 Points leader Casey on the grid with his wife Andrea.

RESULTS MOTOGP RACE: (23 laps = 116.794 Km)
POS / RIDER / NAT. / TEAM / MOTORCYCLE / TIME / KM/H / GAP
1 / Casey STONER / AUS / Repsol Honda Team / HONDA / 42'17.427 / 165.702 /
2 / Dani PEDROSA / SPA / Repsol Honda Team / HONDA / 42'25.589 / 165.171 / 8.162
3 / Jorge LORENZO / SPA / Yamaha Factory Racing / YAMAHA / 42'31.636 / 164.779 / 14.209
4 / Marco SIMONCELLI / ITA / San Carlo Honda Gresini / HONDA / 42'38.073 / 164.365 / 20.646
5 / Ben SPIES / USA / Yamaha Factory Racing / YAMAHA / 42'45.166 / 163.91 / 27.739
6 / Alvaro BAUTISTA / SPA / Rizla Suzuki MotoGP / SUZUKI / 42'47.800 / 163.742 / 30.373
7 / Nicky HAYDEN / USA / Ducati Team / DUCATI / 42'51.715 / 163.493 / 34.288
8 / Hector BARBERA / SPA / Mapfre Aspar Team MotoGP / DUCATI / 42'54.732 / 163.301 / 37.305
9 / Cal CRUTCHLOW / GBR / Monster Yamaha Tech 3 / YAMAHA / 42'57.079 / 163.153 / 39.652
10 / Valentino ROSSI / ITA / Ducati Team / DUCATI / 42'57.259 / 163.141 / 39.832
11 / Hiroshi AOYAMA / JPN / San Carlo Honda Gresini / HONDA / 42'57.424 / 163.131 / 39.997
12 / Randy DE PUNIET / FRA / Pramac Racing Team / DUCATI / 43'12.144 / 162.204 / 54.717
13 / Colin EDWARDS / USA / Monster Yamaha Tech 3 / YAMAHA / 43'15.857 / 161.972 / 58.43
Pole Position: Casey STONER 1'48.451 168.562 Km/h
Fastest Lap (New record): Casey STONER 1'49.046 167.643 Km/h Lap 4
Old Circuit Record Lap: Dani PEDROSA 1'49.521 166.915 Km/h 2010
Circuit Best Lap: Casey STONER 1'48.451 168.562 Km/h 2011
CHAMPIONSHIP POSITIONS TO DATE:
1 STONER 284, 2 LORENZO 240, 3 DOVIZIOSO 185, 4 PEDROSA 170, 5 SPIES 146,
6 ROSSI 139, 7 HAYDEN 114, 8 SIMONCELLI 106, 9 EDWARDS 90, 10 AOYAMA 87,
11 BARBERA 77, 12 BAUTISTA 67, 13 CRUTCHLOW 52, 14 ABRAHAM 50, 15 ELIAS 47.
MOTO2 RACE: (21 laps = 106.638 Km)
POS / RIDER / NAT. / TEAM / MOTORCYCLE / TIME / KM/H / GAP
1 / Marc MARQUEZ / SPA / Team CatalunyaCaixa Repsol / SUTER / 40'20.575 / 158.597 /
2 / Andrea IANNONE / ITA / Speed Master / SUTER / 40'23.041 / 158.435 / 2.466
3 / Simone CORSI / ITA / Ioda Racing Project / FTR / 40'23.149 / 158.428 / 2.574
4 / Alex DE ANGELIS / RSM / JIR Moto2 / MOTOBI / 40'23.629 / 158.397 / 3.054
5 / Aleix ESPARGARO / SPA / Pons HP 40 / PONS KALEX / 40'31.406 / 157.89 / 10.831
6 / Bradley SMITH / GBR / Tech 3 Racing / TECH 3 / 40'31.445 / 157.888 / 10.87
7 / Thomas LUTHI / SWI / Interwetten Paddock Moto2 / SUTER / 40'31.580 / 157.879 / 11.005
8 / Stefan BRADL / GER / Viessmann Kiefer Racing / KALEX / 40'31.787 / 157.866 / 11.212
9 / Dominique AEGERTER / SWI / Technomag-CIP / SUTER / 40'32.385 / 157.827 / 11.81
10 / Mika KALLIO / FIN / Marc VDS Racing Team / SUTER / 40'32.514 / 157.818 / 11.939
11 / Anthony WEST / AUS / MZ Racing Team / MZ-RE HONDA / 40'32.683 / 157.807 / 12.108
12 / Mike DI MEGLIO / FRA / Tech 3 Racing / TECH 3 / 40'32.689 / 157.807 / 12.114
13 / Max NEUKIRCHNER / GER / MZ Racing Team / MZ-RE HONDA / 40'32.755 / 157.803 / 12.18
14 / Pol ESPARGARO / SPA / HP Tuenti Speed Up / FTR / 40'33.483 / 157.756 / 12.908
15 / Scott REDDING / GBR / Marc VDS Racing Team / SUTER / 40'33.904 / 157.728 / 13.329
Pole Position: Marc MARQUEZ 1'53.296 161.354 Km/h
Fastest Lap (New record): Marc MARQUEZ 1'53.956 160.419 Km/h Lap 15
Old Circuit Record Lap: Andrea IANNONE 1'55.003 158.959 Km/h 2010
Circuit Best Lap: Marc MARQUEZ 1'53.296 161.354 Km/h 2011
CHAMPIONSHIP POSITIONS TO DATE:
1 BRADL 221, 2 MARQUEZ 215, 3 IANNONE 132, 4 DE ANGELIS 122, 5 CORSI 115,
6 SMITH 112, 7 LUTHI 105, 8 TAKAHASHI 71, 9 RABAT 67, 10 ESPARGARO 65,
11 SIMON 62, 12 AEGERTER 55, 13 KRUMMENACHER 52, 14 REDDING 48, 15 ESPARGARO 45.
Playboy Tony Elias crashed out in the race, but earlier on the grid helped to remind us that "the Playboy Club" airs on TV this Monday night with our favorite hottie Amber Heard.
---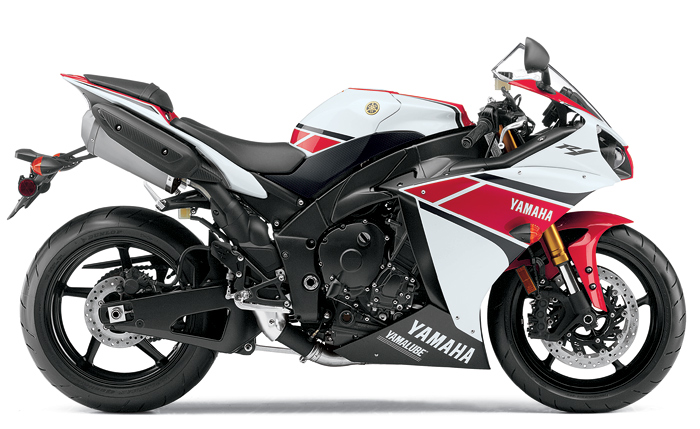 New 2012 Yamaha R1 with Traction Control and Updates
September 15th 2011 - The Yamaha YZR1, which was already bristling with MotoGP® technology has been updated for 2012 with even more innovations derived from the World-Championship-winning YZR-M1®. The biggest addition is an all-new, seven-level Traction Control System, which was developed specifically so the rider doesn't feel any unnatural or harsh intervention from the system. Coupled with a new ECU optimized for acceleration and controllability in the mid-to-low-speed range, as well as a the proven three-level D-Mode electronic throttle response control, 2012 R1 riders will have no less than 21 different choices available to tailor to their riding preference.
The large choice of settings enables the R1's TCS to compensate for subtle changes in the contact patch between the tire and the riding surface. In addition, because TCS results in less wheel spin, the system can aid in reducing tire wear.

Other MotoGP-influenced changes to the R1 include an all-new top triple clamp with styling taken directly from the M1, and the 2012 R1's footpegs have been redesigned for improved boot-sole contact and better ergonomics.

And the changes to the 2012 R1 don't stop there. The bike also receives a new upper fairing with a revised headlight cowl for more modern and aggressive styling, new LED position lights for a more menacing and distinctive look, and new hexagon-shaped muffler caps and heat shields for a sharper profile at the rear.
With Yamaha celebrating its 50th year in World Grand Prix Road Racing, the factory MotoGP team commemorated the occasion twice in America this past summer, with the M1s of Jorge Lorenzo and Ben Spies resplendent in brilliant red-and-white livery at Mazda Raceway Laguna Seca and Indianapolis Motor Speedway.
That celebration literally rolls on with the 2012 R1, as the bike can be had in the same limited-edition Pearl White/Rapid Red livery, with a 50th Anniversary emblem on top of the fuel tank and a specially engraved and numbered plate showing the production number of only 2000 bikes that will be produced worldwide in the commemorative colors. Special gold Yamaha emblems and MotoGP-inspired graphics and sponsor decals complete the stunning package. The R1 will be available in dealerships beginning in October in four colors: Raven, Pearl White/Candy Red, Team Yamaha Blue/White, and the limited-edition 50th Anniversary color scheme.
Alongside, but not playing second fiddle to its liter-class big brother, the AMA Pro Racing Supersport-Championship-winning YZF-R6® is back for 2012, and it will also be available as a limited-edition model in the same Pearl White/Rapid Red 50th Anniversary Edition colors as the limited-edition re-and-white R1. Light, yet powerful, the R6 is the most advanced production 600cc motorcycle that Yamaha--or anyone else, for that matter--has ever built. The R6 will also arrive in dealerships this October, and it will be available in the same four colors as the R1, with the limited-edition 50th Anniversary R6 arriving in January.
Yamaha's full lineup of Super Sport models, including the FJR1300, FZ1, FZ8, and FZ6R will all be back for 2012 with new colors and class-leading features. Full information on all of these models, as well as the complete line of GYTR Performance Accessories, Riding Apparel, Demo Schedules, additional Rider Resources, and more can be found by visiting www.yamaha-motor.com.
---
Ducati's 2012 Superbike Revealed Further with new 'SuperQuadro' engine and Rossi Graphics
September 1st - We now have the first leaked official factory press photo of the all new Ducati 1199 Superbike, dressed in special edition Valentino Rossi MotoGP livery to commentate the famous Italian rider's marriage to the Bologna motorcycle brand. Were guessing the picture was leaked from a press kit provided by Ducati to a print magazine, who's 2-3 month in-print lead time would coincide with the bike's world wide premier at the EICMA Show in November.
The real name of Ducati's 2012 superbike will be either 'SuperQuadro' or 'Panigale.' In a carbon copy of the leak of the Diavel's name last year, the contenders for the official title have been revealed thanks to Ducati's efforts to copyright the name and prevent other firms from using it.

Translating to 'over-square' - a reference to the new bike's engine, which features an unusually large bore and short stroke - the SuperQuadro name could be used purely on the engine, just as the current 1198's motor is referred to as the Testaretta Evoluzione. However, the trademark application is for rights to name an entire bike rather than just an engine.

Ducati has also applied for a trademark on the name 'Panigale' - a reference to the Borgo Panigale district of Bologna where the firm is based. Ducati already makes accessories carrying the Panigale name, but the latest trademark application includes the rights to use it as the name for an entire bike.
Of all the names rumored before, the SuperQuadro title is closest to the 'Superquadrata' badge that appeared with the earliest whispers of the new bike, more than a year ago. Internally, the project is referred to as 'XTreme' but that name was never intended to be carried over to the production bike.
The small resolution / size of this particular leaked press photo (above) makes it difficult to read, but we're guessing the model name on the side of the fairing below "Ducati" is '1199P' with the 'P' denoting a new 'Panigale' designation for the up-specification, Ohlins equipped formerly named 'S' model Superbike. As is usual Ducati's practice from previous Superbike generation releases, the Standard and S-models are released the first year, with the R homologation race model coming the following year. Also making us believe this is not the 'R' model are the base model wheels and street legal exhaust system. An R-model would have the full race spec Termignoni Exhaust System and lighter forged machined Marchesini race wheels as seen on the factory Corse race Superbike which Troy Bayliss is seen testing in the photo above.
Ducati previews the first of its 2012 range with new Streetfighter 848
September 12, 2011 - Ducati confirms their 2012 Streetfighter 848 with the first officially released images of the brand new model set to add everydayaccessibility to the Italian manufacturer's famous naked sport bike family. Combining a new and brilliantly engineered 848 Testastretta 11° engine with the enhanced geometry of a chassis that provides confidence-inspiring agility, the Streetfighter 848 has enriched its user-friendliness with a smooth and flexible power delivery, revised ergonomics and Ducati Traction Control.
The Ducati Streetfighter scored a round one knock-out when it entered the ring for the first time at the Milan show back in November 2008, winning the 'Most Beautiful Bike' award and raising the bar for extreme naked bikes. Its asphalt-ripping reputation became the desire of sport naked connoisseurs throughout the world and the Streetfighter 848 will now widen that appeal even further with enhanced usability.

Available in North America from January 2012 onwards, the new fighter is dressed in red for Ducati traditionalists, while yellow makes a return for mid-range purists and "dark stealth" provides a matte-black reminder of the Streetfighter's aggressive image.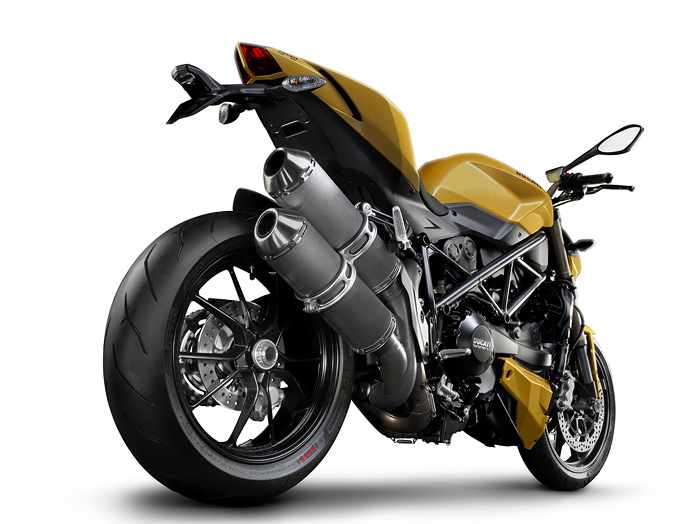 ---
John Hopins (21) on the Cresent Suzuki takes a double win in British Superbike Championship ahead of Swan Yamaha team riders Laverty and Hill
2011 British Superbike Superbike Championship, Round 10 of 12 Donnington
American Hopkins takes Championship Lead in
British Superbike with Double Wins at Donnington Park
Donington Park, Sunday September 11th, 2011 – American ex patriot John Hopkins took the 2011 Championship points lead in the MCE Insurance British Superbike Championship today aboard his Crescent Suzuki GSXR with back to back race wins. The BSB title bout is the most competitive National Championship Superbike series in the world, and the former Suzuki MotoGP rider showed his renewed potential to the world this past July at the Silverstone World Superbike round, where as a wild card rider, John qualified on the Pole and finished the day's two races in 5th and 7th. And as a result, Crescent Suzuki announced that John will move to World Superbike next year.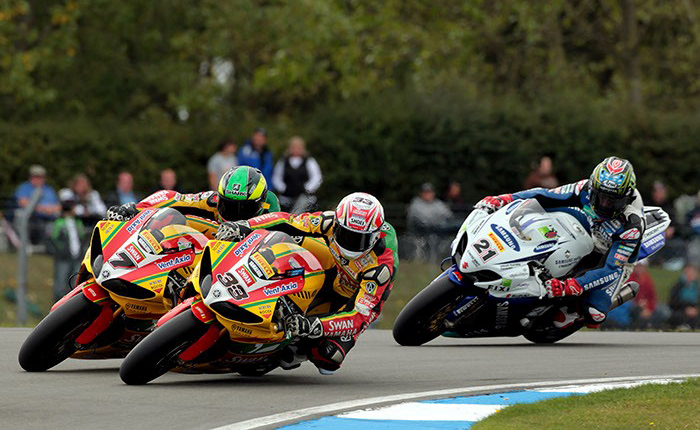 John Hopkins closes on Laverty (7) and Hill (33) in Race One.
Hopins battles Laverty and Hill in Race One
The opening race of the MCE Insurance British Superbike Championship Showdown saw a thrilling four way battle for supremacy between the Title Fighters as John Hopkins threw the gauntlet down to his rivals by winning the first race of the day at Donington Park.

Hopkins said: "The focus for me was always on the race win and podiums are good but to win the championship we need to be winning races. We made a few points back on Tommy which was what we needed to do this weekend so we have made a good start to the Showdown. That was amazing; one hell of a race and I had a good view over the opening laps before we had a really good battle amongst us for the win. I knew we could be strong at the end of the race and the adrenaline really does mask the pain I had in my hand until the cool down lap. There was definitely no screwing around in that race and now I am one hundred percent focused to win the next one too for Samsung Crescent Racing Suzuki."

Shane 'Shakey' Byrne got the hole shot off the line on the opening lap into Redgate ahead of Michael Laverty, Tommy Hill and Hopkins however the lead changed at Mcleans as the Swan Yamaha of Laverty dived down the inside to take the lead.

Laverty then was coming under pressure from Byrne and Hill but it Samsung Crescent Racing Suzuki's Hopkins who was charging forward with a move on Hill on the inside into the Foggy Esses on the second lap as the Title Fighters scrapped for the first win of the Showdown.
Laverty was defending his position hard but Byrne then went ahead at the Old Hairpin on the third lap to reclaim the lead as the Title Fighters were inseparable on the Leicestershire circuit. The second Swan Yamaha of Hill then was moving up the order as he passed Hopkins at Goddards at the end of the sixth lap before passing his team-mate at the same place two laps later. The order was then Byrne, Hill, Laverty, and Hopkins until lap eleven when a dramatic lunge from Hill forced him and Byrne wide at Goddards and as the four leading riders exited the corner they were side-by-side.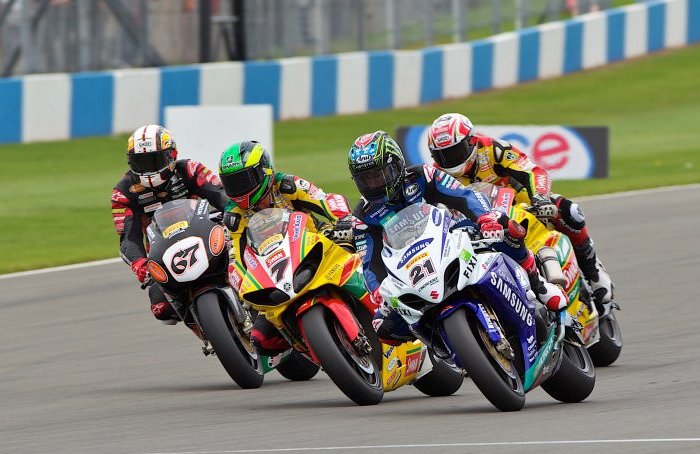 The 4-way battle with Byrne (67) Laverty (7), Hopkins (21) and Hill (33).
The quartet approached Redgate at the start of the twelfth lap as Hopkins and Hill went for the outside line, Laverty dived for the inside to take the lead from Hopkins, Hill and Byrne, but the second HM Plant Honda of Ryuichi Kiyonari was forced to retire at that point of the race with a technical problem which gave him the first no points score of the Showdown.
At the front Laverty still held the lead from Hopkins and Byrne who had passed Hill again to move third, with the pair then swapping places on the seventeenth lap, whilst Hopkins moved into the lead with a decisive move in the Fogarty Esses with three laps remaining. The Swan Yamaha rider continued to pile on the pressure but it wasn't enough and Hopkins had the edge on the final lap to take the first win of the Showdown ahead of Laverty and Hill with Byrne dropping back towards the end in fourth.
Jon Kirkham on the second of the Samsung Crescent Racing Suzukis was fifth as he moved ahead of Peter Hickman on the eleventh lap, with the Tyco Honda rider then dropping back to seventh as Title Fighter Josh Brookes worked his way up to sixth in the final laps. James Ellison was eighth ahead of Martin Jessopp who again finished in the top ten on the Rapid Solicitors-Bathams Ducati whilst Graeme Gowland won the Mirror.co.uk BSB Evo race in tenth.
BRITISH SUPERBIKE RACE 1:
POS / RIDER / NAT / MOTORCYCLE / TIME / GAP
1 / John HOPKINS / USA / Suzuki - Samsung Crescent Racing / 30:17.023 /
2 / Michael LAVERTY / GBR / Yamaha - Swan Yamaha / 30:17.503 / 0.480
3 / Tommy HILL / GBR / Yamaha - Swan Yamaha / 30:17.804 / 0.781
4 / Shane BYRNE / GBR / Honda - HM Plant Honda / 30:20.943 / 3.920
5 / Jon KIRKHAM / GBR / Suzuki - Samsung Crescent Racing / 30:23.368 / 6.345
6 / Josh BROOKES / AUS / Suzuki - Relentless Suzuki by TAS / 30:27.304 / 10.281
7 / Peter HICKMAN / GBR / Honda - Tyco Honda / 30:30.164 / 13.141
8 / James ELLISON / GBR / Honda - Team SorryMate.com / 30:35.601 / 18.578
9 / Martin JESSOPP / GBR / Ducati - Rapid Solicitors Bathams Ducati / 30:39.177 / 22.154
10 / Graeme GOWLAND / GBR / Honda - Team WFR / 30:39.566 / 22.543
11 / James WESTMORELAND / GBR / Honda - Team WFR / 30:50.313 / 33.290
12 / Ian LOWRY / GBR / Kawasaki - MSS Colchester Kawasaki / 30:50.517 / 33.494
13 / Glen RICHARDS / AUS / Honda - Team WFR / 30:51.456 / 34.433
14 / Tommy BRIDEWELL / GBR / Yamaha - Motorpoint Yamaha / 30:58.638 / 41.615
15 / Barry BURRELL / GBR / BMW - Buildbase BMW Motorrad / 31:00.085 / 43.062
Fastest lap: John HOPKINS Suzuki - Samsung Crescent Racing Lap 2 1:30.109 159.92 Km/h
Hopper plans to join the World Superbike Championship next year.

Hopkins Again in Race 2 as title Contenders Laverty and Byrne take themselves out
Samsung Crescent Racing Suzuki's John Hopkins doubled up on victories at Donington Park today in the first races of the Showdown, but whilst the American celebrated ahead of title rival Tommy Hill it was a disastrous race for Shane 'Shakey' Byrne and Michael Laverty.
Hopkins said: "It's extremely special for me to win both races on a day of remembrance back home in America. It was a shame to see Shakey and Michael crash out but that is racing. I got out there and had the pace to really put the hammer down. I passed early in the race but that one was more painful than the first but we come away from here with the lead and that is what we needed."
Laverty slides into and takes out Byrne on the opening lap of Race 2. Both remount from the gravel trap to finsih in the top ten.

The second race of the Showdown started in dramatic style on the opening lap as Laverty went for the inside line into Redgate for the first time and collided with Byrne as the pair ended in the gravel. The pair frantically picked up their bikes and rejoined the race, but around half a lap down they then had a massive task to close the gap and score vital points for their title bid.
Hill had led on the run to Craner Curves from Ryuichi Kiyonari and Hopkins as the trio, avoided the Title Fighter clash ahead of them. Hopkins was instantly on the attack and he made a move down the inside at the Melbourne Loop to move second behind the Swan Yamaha rider.
Hill held the lead until the fifth lap when Hopkins carved ahead at the Fogarty Esses and despite Hill's best efforts he was unable to regain the lead. The Swan Yamaha rider was forced to settle for second and in doing so lost his lead in the championship to the Samsung Crescent Racing Suzuki rider by three points ahead of the penultimate round at Silverstone.
Kiyonari was running third until the eleventh lap when Jon Kirkham forced his way through at the Old Hairpin, with the defending champion then losing another place to Josh Brookes at the Fogarty Esses. Martin Jessopp on the lone Rapid Solicitors-Bathams Ducati then also passed the HM Plant Honda rider on the same lap at the Melbourne Hairpin.
Kirkham then consolidated his third place and his second podium finish of the season but the battle for fourth was a paint-swapping affair between Jessopp and Brookes, with the Rapid Solicitors-Bathams Ducati rider securing his best finish of the season. Kiyonari had to settle for sixth ahead of James Ellison on the Sorrymate.com Honda and an impressive ride from Byrne put him eighth. Chris Walker and Graeme Gowland rounded out the top ten with Laverty finishing 14th
BRITISH SUPERBIKERACE 2:
POS / RIDER / NAT / MOTORCYCLE / TIME / GAP
1 / John HOPKINS / USA / Suzuki - Samsung Crescent Racing / 30:15.777 /
2 / Tommy HILL / GBR / Yamaha - Swan Yamaha / 30:17.763 / 1.986
3 / Jon KIRKHAM / GBR / Suzuki - Samsung Crescent Racing / 30:19.092 / 3.315
4 / Martin JESSOPP / GBR / Ducati - Rapid Solicitors Bathams Ducati / 30:21.755 / 5.978
5 / Josh BROOKES / AUS / Suzuki - Relentless Suzuki by TAS / 30:24.101 / 8.324
6 / Ryuichi KIYONARI / JPN / Honda - HM Plant Honda / 30:28.013 / 12.236
7 / James ELLISON / GBR / Honda - Team SorryMate.com / 30:28.318 / 12.541
8 / Shane BYRNE / GBR / Honda - HM Plant Honda / 30:39.222 / 23.445
9 / Chris WALKER / GBR / Kawasaki - Pr1mo Racing / 30:42.085 / 26.308
10 / Graeme GOWLAND / GBR / Honda - Team WFR / 30:42.523 / 26.746
11 / Tommy BRIDEWELL / GBR / Yamaha - Motorpoint Yamaha / 30:44.828 / 29.051
12 / James WESTMORELAND / GBR / Honda - Team WFR / 30:45.475 / 29.698
13 / Barry BURRELL / GBR / BMW - Buildbase BMW Motorrad / 30:51.408 / 35.631
14 / Michael LAVERTY / GBR / Yamaha - Swan Yamaha / 30:53.677 / 37.900
15 / Glen RICHARDS / AUS / Honda - Team WFR / 30:54.583 / 38.806
Fastest lap: Michael LAVERTY Yamaha - Swan Yamaha Lap 4 1:29.680 160.69 Km/h

SHOWDOWN POSITIONS TO DATE::
1 HOPKINS 568, 2 HILL 565, 3 BYRNE 543, 4 LAVERTY 532, 5 BROOKES 530,
6 KIYONARI 518, 7 KIRKHAM 172, 8 HICKMAN 137, 9 MASON 135, 10 RUTTER 130,
11 JESSOPP 94, 12 WALKER 90, 13 BAZ 88, 14 EASTON 69, 15 WESTMORELAND 68.
---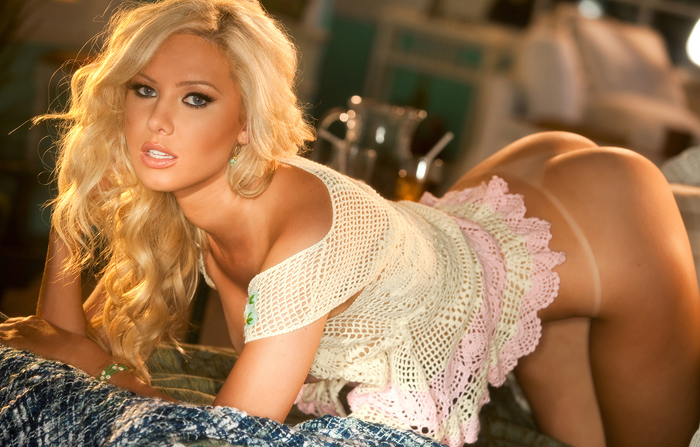 Calendar Kitten Tiffany Toth is newest Playboy Playmate for September 2011!
August 20th, 2011 - Fast Dates.com Calendar Kitten Tiffany Toth is Playboy magazine's newest Playmate for September 2011 as revealed in the latest issue of Playboy on newsstands now and on the Playboy.com website. FastDates.com pubkisher Jim Gianatsis discovered Tiffany and start shooting with her some 5 years ago and she has appeared in all our Calendars since the 2008 through to the latest 2012 editions. Tiffany now joins a long list of Calendar Kittens who have gone on to become, or have been Playboy Playmates beginning with legendary Pamela Anderson on the cover of our first Fast Dates Calendar in 1991.

Order Tiffany's 2012. Iron & Lace and Garage Girls Calendars. Order PAST EDITION CALENDARS
Tiffany is a native of Orange County, just south of Los Angeles, and of course loves hanging out at the beach. The 25 years old has been modeling professionally since leaving high school, and now also works as a professional makeup artist and stylist. "I've always wanted to be in Playboy. Ever since I can remember, I've had this fascination with Playboy. I collected the magazine and idolized the Playmates. I even imitated their hair and makeup. And now here I am! Everything is exactly as I imagined it."

It the four years that FastDates.com has been shooting with Tiffany, she's appeared with some pretty cool bikes including the limited-edition Ducati Testastretta Tri-Colore in 2009 Fast Dates, and some cool old retro customs from legendary builder Shinya Kimura in 2009 Iron & Lace. In the just released new 2012 Calendars Tiffany is featured in both Iron & Lace and Garage Girls - so get your order in now as they will sell out fast!

Actually, when we first meet Tiffany four year ago she was already shooting for Playboy, only it was for their website as one of their Cyber Girls. People always asked her, ourselves included, when is Playboy going to realize what they have an make you a Playmate? We're guessing Hugh Hefner finally noticed her at a Mansion party and did make it happen. Congratulations Tiffany, we love you!

CLICK RIGHT to visit
Tiffany's Calendar Kitten profile page.
You can check out more sexy pictorials of our Calendar Kitten Tiffany in Members Corner.
And you can see extra pictures from Tiffany's Playboy magazine centerofl shoot on the Playboy.com website:
See Tiffany and any of our Calendar Kittens on Playboy's website...


---
There's more! Go to Pit Lane News Next Page

Also Visit: Fast Dates Calendar News • Iron & Lace Calendar News
Calendar Girl News • Meet the Models • Paddock Garage

MEMBERS CORNER! Calendar Kittens, Paddock Garage, Iron & Lace Garage





MotorcycleSuperstore.com
Some of our Calendar Kittens can also at Playboy's website...



FREE! New Met-Art Model Galley Updated Daily - Stop Back Each Day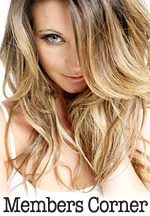 Hot Bikes, Sexy Kittens
Your Exclusive Grid Pass
also includes....
---
Lorenzo sees his MotoGP Title Slipping away...
Aranon MotoGP Sept 18th - Yamaha Factory Racing rider Jorge Lorenzo made the weekend's hard work count today, taking his first ever Aragon Grand Prix podium with third place. Having dropped from fourth on the grid in the early laps, the reigning World Champion gradually picked up the pace, running well under his qualifying time to gradually reel in the front runners. By lap 10 he had caught both his team mate Ben Spies and Marco Simoncelli, passing them both to take third which he held to the line. The results mean the gap to Championship leader Stoner has now increased again to 44 with four races remaining of the season.
Fellow Yamaha Factory Racing rider Spies had probably his best start of the season so far, shooting off the line to outride both Stoner and Dani Pedrosa for the lead into turn one. Having then dropped to third the Texan was maintaining a gap to fourth, scoring the third fastest lap of the race on lap four with a 1'49.593. A dramatic drop off in grip on the sixth lap then affected his pace. He was passed by team mate Lorenzo and then Simoncelli, dropping to fifth place. The result sees Spies retain fifth in the Championship standings, now 24 points behind Pedrosa in fourth as they head to Motegi next week.
Lorenzo 2nd - "We struggled a lot from the beginning of the race, losing positions and having to recover step by step. We couldn't get more than a podium; that is the best result we could get today! I didn't have confidence in the rear and it is impossible to catch Dani on this track. It's a pity, but at least I got the podium I couldn't get last year. We are still fighting for the Championship and that's the most important thing, we are going to Japan with hope still alive."
Ban Spies 5th "I knew the start wasn't going to last long the way Casey and Dani were riding but I felt pretty good in the beginning. Even when we got to the fourth or fifth lap I thought our advantage to fourth place was growing. I felt really comfortable and thought we had a podium fight in us. Then the sixth or seventh lap the tyre just made a huge drop and just kept going down. Usually they make one drop then stay consistent. I had no confidence in the rear and no grip. I'm frustrated as before that we were riding well and the bike was working great."
Chalenging Weekend for Ducati at Aragon
Sunday Sep 18 2011 Race -The Aragon weekend was particularly challenging for the Ducati Team and its riders, who are working to speed up the development of the Desmosedici. On one hand, the choice to use a seventh engine for Valentino Rossi enables his team to have two identical motorcycles available to work on during the last races of the season, but on the other hand, he was obliged to start from pit lane today, ten seconds after the race start.

That didn't prevent the Italian from stubbornly climbing to ninth place, even if a worn rear tyre prompted him to subsequently lose a position to Cal Crutchlow.
Nicky Hayden started very well from the third row and finished in seventh place after a nice battle with Hector Barbera that lasted until the final corner.

Nicky Hayden (Ducati Team) 7th
"I had a good start and was decent at the very beginning. We knew tyre wear was going to be an issue, and we had a drop in performance after the first couple of laps. It lost grip, and I also wasn't able to load the bike well for turning. I was okay in parts of the track, but compared to the fast guys, I was losing time in the last corner. I hoped to hang onto the second group for a while, but it just wasn't possible. I'd like to have fought with Bautista on the last lap because he was on our pace, but Barbera and I were going back and forth, which hurt both of us and let him escape. It's unfortunate, because coming here we hoped that we could put up a better fight. Still, this is the first race I've finished normally with the GP11.1, since at Indy I reentered just to get points. Hopefully that will help us to get some data and be better off in the future."

Valentino Rossi (Ducati Team) 10th - "It was definitely a difficult race, even if objectively speaking, we could have done a little better than we did. We used the setup from yesterday morning, with which I had done some good laps with a very used tyre. Unfortunately, in the race the rear tyre was sliding much more than it did in practice. It was almost used up just when I was catching Nicky and his group. That said, we're still not where we should be. We're working on several fronts, with short-term solutions that haven't been conclusive, and others that are longer-term and that I still hope can bring more substantial improvements. We'll see what they think at the factory. For now, we're still pretty far, and given that time is our biggest enemy, we'll continue also working on development during the races."
Vittoriano Guareschi (Team Manager)
"This race was very difficult for us, but it was also important because we began a project that, while it caused a penalty for Valentino, is also one of the first steps in the direction of the Desmosedici's development. We know that it's not easy for a rider to knowingly sacrifice any chance of having a better performance, and this gives us enormous motivation to try to speed up our work as much as possible. Nicky and his team are also trying extremely hard to gather as much information as possible on his GP11.1 which, despite not having the updated front chassis part like Valentino's, is still a new bike with a lot of margin for improvement with regards to its setup."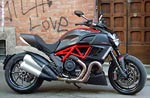 The Devil Made Us Do It!
Testing the Ducati Diavel in Italy
2011 Calendars!
with FastDates.com Calendar Kitten, Ducati Corse Grid Girl
and Playboy Playmate
Heather Rae Young!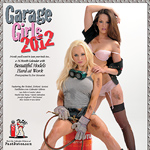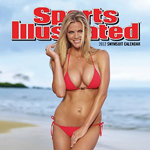 Click for even more Calendars!
---
Rea and Honda together in 2012
Saturday 3 September 2011
Jonathan Rea will ride a Honda CBR1000RR Fireblade in the 2012 World Superbike championship following an announcement from the Castrol Honda team at Nurburgring in Germany today.
The 24-year-old from Northern Ireland chose his comeback weekend after three months out through injury to sign a year-long extension to his long association with Honda that has seen him ride at Supersport and Superbike level in both British and World championships.
Rea has ridden with the Honda Motor Europe-supported team run by the Ten Kate organization in the Netherlands for the past four seasons, the last three of which have been on Honda's CBR1000RR Fireblade.
The 2012 season will mark the 20th anniversary of the Fireblade's introduction and Rea and his team are looking forward to competing once more against some of the world's best riders and manufacturers in the World Superbike championship.
Jonathan Rea - We started talking quite early this season and it was clear to me that everyone was aware that we were struggling with the bike in some areas. After four years with this team, and even more with Honda, it was refreshing and inspiring to see how intent everyone was on addressing the problems. These are difficult economic times everywhere, but Honda and the team have increased their commitment and ticked all the boxes for me, so I'm really, really happy. There's no championship left to fight for this season, but that won't stop us trying as hard as ever for race wins. And the fact that we're not battling for a title means that we can also continue our development work for next year. I'd like to thank Honda for the continued support and the team for everything they do for me. Together, we all have unfinished business in the World Superbike championship.
Ronald ten Kate – team manager - We are really happy to have Jonathan with us for a fifth year, especially after all his time on Honda machinery. We don't need to explain how this year did not bring what we all hoped for, but, for both rider and team, there is a very big ambition for 2012. With ongoing and new development on the bike and a new drive within the team, we are totally committed to repaying Jonathan's unwavering loyalty to us and Honda in the best way possible.
Carlo Fiorani – Honda Motor Europe - Of course, we are very proud that Jonathan has decided to stay with Honda for the 2012 World Superbike championship. He is one of the fastest riders in the paddock and this decision, which is based on a mutually satisfactory relationship, is very important for us and for the championship. After a lot of bad luck in 2011, we really want to come back strongly next season and this decision will help us to do that.
Valentino Concludes sixth Ducati GP12 Bike Test at Mugello
Mugello, Italy, Thursday Sep 08 2011- For the final day of a three-day test at Mugello, Valentino Rossi joined the Ducati Test Team to work on developing the 2012 race bike. In doing so, he utilized the sixth of eight days during which factory riders may participate in such outings. The Italian turned a total of 82 laps in conditions that were sunny but not overly hot.

Rossi had a fall on the exit of the Scarperia-Palagio section during the third lap of his first outing in the morning, but it didn't affect the team's work, which continued until 6:30 p.m.

Filippo Preziosi and Vittoriano Guareschi were in the garage to follow the test, and official test rider Franco Battaini, who had ridden the two previous days, was with Rossi on the track.

"It was an interesting day, although it was also quite long, because we rode until 6:30," Rossi said after the test. "Developing a bike requires a lot of focus and effort, but it's also very exciting and fulfilling to be part of a group of people pushing as hard as it can in the same direction. Today we confirmed various aspects of the GP12's electronics and chassis, collecting a lot of useful information for Filippo and the guys in the factory. I think that the work is well underway as we prepare for our next steps."
Silly Season Rumor Mill
Simoncelli to Ducati and Hayden to the Farm?
Marco Simoncelli on the San Carlo Gresini Honda is saying that he wants and deserves a full factory Repsol Honda ride next season in MotoGP. The only problem is the factory Honda squad already has 3 top riders in Stoner, Pedrosa and Dovizioso.
And Stoner is on a long term contract with Honda, and all three Repsol riders are well ahead of Marco in the Championship standings.
Word is that Marco now has an offer from Ducati to join their team in 2012. We know that Rossi isn't leaving, so the chances are that the Kentucky Kid, Nicky Hayen will finally be put out to pasture, either way. We've never been a big Hayden fan a to justify keeping him on the Ducati MotoGP team for 4 years with lackluster results, just to tie-in with his popularity to the American market, has never held water with us.
While over in World Superbike word is that American John Hopkins, wildcard rider at the Silverstone SBK race last month who took Superpole, and currently racing the British Superbike Championship, joining World Superbike next year on a Suzuki. But it is unclear if Francis Bata's current Alstare Suzuki team and rider Michele are included in Suzuki's plans for 2012. We also know that Fujio Yoshimura would also like to join World Superbike in 2012 with Suzuki factory supported team. But Suzuki of Japan has a difficult time just budgeting for one team with one rider, so the chances of 3 teams and 3 riders is slim to none.
Checa Closes in
on the Superbike Crown
No other rider in World Superbike history has let slip a lead as larger as 72 points with three rounds of the season remaining.
Carlos Checa's chances of securing the 2011 World Superbike Championship title have been dealt a service at the Nurburgring after securing an 11th win of the season in Max Biaggi's absence.
The Spaniard began the race weekend with a sizeable 62 point advantage over Biaggi, but the Italian's decision to sit out the event due to a foot injury immediately handed Checa a prime opportunity to put the 2011 title out of his reach.
Duly going on to secure an 11th win of the year, Checa's margin grew to 74 points over Marco Melandri, who now assumes the status as his closest title challenger.
Dedicating his win to Claudio Castiglioni, who recently passed away, Althea Ducati rider Checa was delighted with his victory, even if he would have preferred Biaggi to have taken part.
"The first race was very special for me, and signifies my first ever SBK win at the Nürburgring. I would like to dedicate this result to Claudio Castiglioni, he was an extremely important figure in the motorcyling world and it is also in part thanks to him that we are here racing these bikes today.
"The race one result was very important in terms of the championship. I knew that it was important to increase the gap between me and Noriyuki in the first half of the race and this small advantage proved useful in the final stages when I began to suffer from a lack of grip.
In the rain-affected race two, Checa preferred to adopt a cautious approach, dropping from first to 14th in the opening stages, before steadily working his way up to eighth at the chequered flag.
"Race two on the other hand was one of the hardest races I've ever run. We were obliged to try to finish it of course but I was really suffering due to the sheer quantity of water and track conditions, and couldn't even see as far as the next corner!
"I'm sorry for those who took risks and I'm also sorry that Biaggi was not racing with us today. I hope he gets better and that we'll see him back at Imola. But for us it was a very positive day and I'm very happy with the outcome."
With Melandri finishing in sixth, he was able to chip the gap between the two down to 72 points. Even so, Checa still enjoys one of the largest margins of any rider in WSBK history with three rounds remaining. Indeed, only a handful of riders have established a more advantageous position at this stage, with each going on to secure the crown.
Kawasaki to Drop Paul Bird Motorsports and Nurburgring winner
Tom Sykes
Sept 4th - Paul Bird has revealed neither his team nor Tom Sykes will be retained by Kawasaki for the 2012 World Superbike Championship on the day the British rider scored the manufacturer's first win in five years.
Bird made the startling revelation in his own personal press release, in which he criticised Kawasaki's decision to drop Sykes, particularly in light of his remarkable ride to victory in a sodden second race at the Nurburgring.
Bird signed Sykes on a personal contract for the 2011 season after Kawasaki's decision to retain Chris Vermeulen and honour a long-standing agreement with Joan Lascorz. As such, PBM has run a three-rider team this season, though Vermeulen has skipped several races through injury.
With Sykes scoring a second pole position with the manufacturer at Misano, Bird was shocked to learn that neither he nor Paul Bird Motorsport – which assumed running its WSBK effort in 2009 – will be retained for next year just hours before going on to take a surprise win.
Nonetheless, he is proud to see them 'responding magnificently' to the news by going to claim a landmark win.
"Having learned this morning [Sunday] that we wouldn't be running the Kawasaki team next year was a massive blow and the team responded magnificently with our strongest performance of the season. As well as us, Tom was told his services would not be required next season so what better way of proving a point than giving the factory its first victory in five years, but you have to say they make some great decisions don't they?
"Getting sacked proved to be a lucky omen for us and I'm delighted for Tom and the team as they have been through the mill at times with this project. It's a shame we can't see it through given all our hard work but as one door closes, another one opens and we look forward to the challenges ahead should we decide to carry on."
Paul Bird Motorsport replaced PSG-1 Corse as Kawasaki's official representative in World Superbikes in 2009, by which time the ZX-10R was beginning to age. Even so, in the hands of Sykes in 2010, the team put in some fine performances, renewing hope the new ZX-10R would transform them into consistent front runners.
Though the bike hasn't established itself fully yet, Sykes and Lascorz have posted some encouraging results, culminating in Sykes's impressive victory at the Nurburgring.
One possible contributing factor to the change of teams was the PBM Race Transporter was found by British Customs to be smuggling drugs back into England after the Assen SBK round.
Lascorz is tipped to stay on in 2012, with the likes of Marco Melandri and Randy de Puniet linked with Sykes's apparently vacant seat. Provec Motocard.com, which runs the Kawasaki team in World Supersport, has been tipped to take over from Paul Bird Motorsport.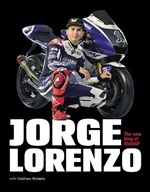 Sudco High Performance & OEM Replacement Parts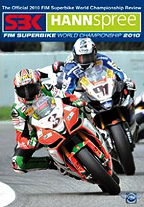 World Superbike Review
Click to find DVD Coverage of Every Year!
MotoGP Review
Click to find DVD Coverage of Every Year!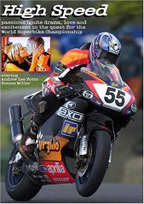 High Speed - the Movie
The best motorcycle racing movie ever made! Filmed on location at the World Superbike races , this an exciting romantic drama staring beautiful British actress Sienna Miller.
---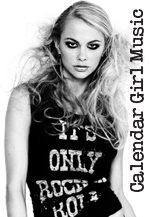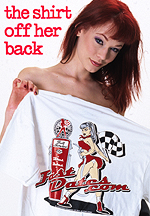 Order the Official
FastDates.com &
LA Calendar Bike Show
T-Shirts!
---