Mule Motorcycles Triumph Cafe Bike Calendar Shoot with Calendar Kitten
featured in new Sudco Ad Campaign produced by Gianatsis Design

Los Angeles, CA, Jan 20th - A recent FastDates.com Calendar shoot by Jim Gianatsis with beautiful model, former Miss Teen Utah Liz Leyda is also being featured in a the new 2012 marketing campaign for one of Gianatsis Design Associates long-time motorcycle industry clients, Sudco International. Sudco is a world-wide distributor of motorsports replacement and performance parts, and is well known for their Sudco Mikuni and Keihin High Performance Carburetor Kits for current and classic Japanese and European motorcycles.
Jim Gianatsis photographed Liz with some really cool custom Triumph Streettracker and Cafe Bikes built by Richard Pollock of MuleMotorcycles.net. Also look for our shoots with Liz and the bikes to be featured now in in the Calendar Bike Garage, in an upcoming edition of Cafe Racer magazine, and of course, in the upcoming FastDates.com Calendars. The two Pollock built bikes feature the new generation, but retro style air-cooled Triumph Bonneville motors with Sudco's Keihin FCR39 Performance Carburetor Kits to increased power and throttle rsponse.
The theme of one of the Mule Motorcycle Calendar shoots was to have model Liz posing next a Mule Streettracker dressed as a car hop diner waitress carrying a food tray with a burger, fries and a milk shake. Then the same photos, but the pictures cropped-in tighter on Liz and her food tray holding two different size hamburgers would be used in the new Gianatsis Design created Sudco ad campaign "Big and Small". The concept of the new ad campaign being to let motorsports dealers know that "Sudco always teats you as our most important customer, whether the order is Big or Small".
You can see the complete Gianatsis Design Associates produced 3-part Sudco ad campaign in dealer publications and on the www.Sudco.com website. Visit the Sudco.com website to view the Sudco Main Products Catalog featuring a compete line of stock replacement and high performance parts, including Keihin and Mikuni Carburetors, for dirt bikes, street bikes, ATV's and personal watercraft. The Catalog is also easily viewed digitally on their website. Sudco International, 2410 South Sequoia Drive, Compton CA 90220. Ph 1-310-637-8330 / / www.Sudco.com
Below: New 2012 LA Calendar Bike Show ad with Liz Leyda and a Mule Motorcycles Triumph Bonneville Cafe Racer.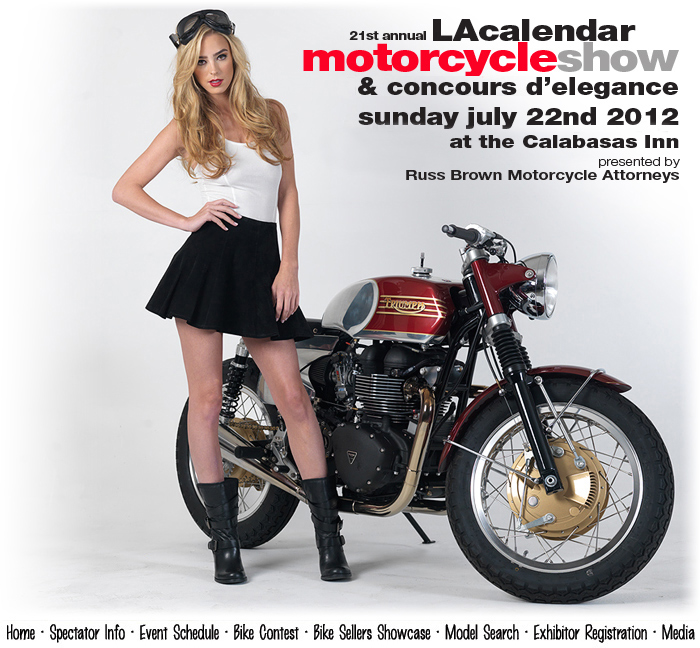 The LA Calendar Show is Moving for 2012!

Russ Brown Motorcycle Attorneys present the
21th Anniversary Celebration! Sunday July 22nd 2012
Los Angeles Calendar Motorcycle Show Concours d' Elegance
Calabasas Country Club, Calabasas, California
Los Angeles, January 10th 2012 - Join us for a beautiful new location in the tree shaded grass hills of the Santa a Mountains, a New Show Day, and Low Admission. The 2012 LA Calendar Motorcycle Show moves from the Queen Mary, Long Beach where it has been held the last 10 year, to the exclusive Calabasas Country Club and Golf Course in Calabasas, California on Sunday July 22nd, 10am -6pm. The Calabasas Country Club is in LA County, nestled in the beautiful Santa Monica Mountains, between the popular motorcycle weekend meet-up locations, the Sagebrush Cantina and the Rock Store, located at the Calabassas Parkway exit off Hwy 101, at the west end of the San Fernando Valley in NorthWest LA County.

The 2012 Calendar Bike Show continues its now 21-year tradition as the premier outdoor streetbike event in America with Celebrity Builders, the upscale Calendar Bike Building Championship, selected Vendors and Exhibitors, Calendar Girl Music live performances, and now a Concours d' Elegance. As always the Show marks the world premier of next year's new 2013 FastDates.com Motorcycle PinUp Calendars featuring the world's top roadrace and custom motorcycles with the beautiful Calendar Kittens also featured in the Calendars in attendance at the Show.
With the dramatic change in the motorcycle market the last few years, the Calendar Show is broadening its focus from the American V-Twin custom market which had so dominated bike events the past ten years, but has now been so affected by the economic down turn. The Show will now include the growing Collector Bike Market with Exhibitors and Bike Show classes for classic European, British and Japanese motorcycles, along with American V-Twins. Show Entries will be placed in a Concours d' Elegance display throughout the venue on grass and patio walkways under shade trees at the Calabasas Country Club overlooking the golf course. The Country Club also offers Snack Bar, Liquor Bar and Indoor Dining.
The Calabasas Country Club and Course is part of the Beverly Hills Country Club and Golf Course Group, and offers one of the premier golf courses on the west coast. If you are a golfer you might want to bring your clubs and play a Round or try out the Putting Green and Driving Range. during the weekend. While hard core motorcycle enthusiasts might like to start their morning at the legendary Rock Store on Mulholland Hwy for breakfast, spend the day at the Calendar Show, then wind down (or party up) in the late afternoon at the Sagebrush Cantina just down the street.
The 2012 LA Calendar Motorcycle Show & Concours d' Elegance offers $20 Spectator Admission the day with Free Parking. $30 Admission with Lunch and Beverage. $40 Bike Contest Entry and Admission for Owner with Lunch, and $10 each per additional Bike Contest Entries. The Calabasas Country Club is located at 4515 Park Entrada, Calabasas, CA 91302 / Ph 818-222-8111 / www.CalabasasGolf.com
For additional information and Advance Ticket sales go to at www.FastDates.com/BIKESHOW.HTM. Advance Ticket Purchase and Contest Registration is recommended as event capacity is limited.
---
Honda's Rea and Aoyama get 2012 WSBK season underway at Phillip Island
Phillip Island, Australia, Thursday 19 January 2012 -Honda riders Jonathan Rea and Hiroshi Aoyama have completed a three-day test at Phillip Island in Australia in preparation for the 2012 World Superbike championship, which opens at the same circuit on 26 February. The Honda duo took advantage of warm, dry weather at the picturesque 4.5km circuit two hours south of Melbourne to test the 2012 version of the CBR1000RR Fireblade – the 20th anniversary variant of Honda's iconic sportsbike. The team took a host of new chassis and suspension components to test in Australia and continued the development of its electronic ride-by-wire throttle system introduced in the second half of the 2011 World Superbike campaign.

Rea starts his fourth season on the Fireblade and, following an injury-blighted 2011, the 24-year-old Northern Irishman is looking forward to a consistent title challenge this year. For 2012 he is partnered by Japanese ace Hiroshi Aoyama, 30, the 2009 World 250cc champion, who joins the World Superbike team following two years as a Honda MotoGP rider.

While no lap times were released by the team, manager Ronald ten Kate declared himself very satisfied with the development of the new machine. The team will return to Phillip Island for a two-day official test on 20-21 February before the opening round of the 2012 championship.
Jonathan Rea - We've had a good three days, completed a lot of laps and tested a whole heap of new parts. We've also done quite a few long runs and race simulations which, to be honest, was really good – for the simulation we did today, we even used the lights! The full race-run allows us to see exactly where we are, even though the disadvantage of testing on your own is that you've got no-one to measure yourself against. But the whole team is working really well and I'm really enjoying riding the bike again. Step-by-step we're making things better and, although when you test this many parts you can end up going round in circles, I think we've got a bike with a good base setting to go into the 2012 season with.

Hiroshi Aoyama - I've really enjoyed the first test of the season on the new 2012 bike. I had some good feelings from the test in Qatar in December, but the feeling here at Phillip Island was quite different. We had to do a lot of work on the first two days but I learned a lot and on each day the feeling got better. We did a race simulation today and it was very interesting to experience the deterioration of the tyre. We need to make some more steps and, if we can do that, it'll be an exciting race next month! For sure, I need to ride a lot more to try to learn the bike and the tyres because everything is still very new. I'm sure I will need a couple of races to get familiar with everything.

Ronald ten Kate, team manager - We had high track temperatures here, which is something we struggled with during last year's event, so it was a very useful test. The new chassis and suspension parts that we brought here were all working well and we were able to reconfirm some of the parts we tested before. The overall package as part of the 2012 Fireblade is definitely a step forward and the new fairing has improved stability. It was properly tested too, because there was a strong wind coming up the straight on the first day! With both riders, the bike has been able to give them a single fast lap time, but the race simulations we did today were also encouraging. We can pack up tonight with a good feeling and we still have another month to come up with some more ideas back at the workshop. But, honestly, we couldn't have wished for more from this test.
---
Historic Racers to be Featured at Big Kahuna AMA National Road Atlanta April 20-22nd
DENVER, Colo.,January 18, 2012 - When M1 PowerSports and AMA Pro Road Racing head back to Braselton, Ga.'s Road Atlanta for the return of the Big Kahuna Atlanta, scheduled for April 20 - 22, 2012, the action-packed event featuring the stars of American motorcycle road racing will be bolstered by classic race motorcycles and former road racing champions through the addition of the Historic Moto Grand Prix to the weekend's schedule.

"The original Big Kahuna at Road Atlanta is where it all started for me," said Cameron Gray, CEO of M1 PowerSports. "With the Historic Moto Grand Prix on board for this year's Big Kahuna Atlanta, we'll be able to connect the past with the present with all of these great champions and bikes heading back to the track. I can't wait to see what they've got in store."

All weekend long, Road Atlanta's main paddock will host a large Historic Moto Grand Prix display area showcasing some of history's most iconic vintage race motorcycles. Fans are invited to get up close and personal with the bikes, which will include classics like Jamie James' famed Yamaha YZF750/1000 "Yamamonster," Jimmy Filice's factory Yamaha FZR, a replica of Eddie Lawson's Daytona-winning Yamaha FZ750 and many, many more.

"Fans not only have the chance to see an amazing collection of motorcycles, but also the former champions of the sport that made their careers racing on or against them," said Bill Brown, former AMA Pro racer and founder of the Historic Moto Grand Prix. "With close to a dozen Yamahas and pushing upwards of 30 people interested in participating, this is sure to be one of the best opportunities we've had to share our love of motorcycle history with the fans."

During the lunch hour each day, some of the biggest names in the history of the sport will be reunited with the vintage machines for a series of on-track demo laps. The guest list reads like a who's who of American champion riders, including Jamie James, 1989 AMA Pro SuperBike, 1989 AMA Superstock, 1994 AMA Pro SuperSport and 1990 Battle of the Twins Grand Prix Champion; Scott Russell, 1992 AMA Pro SuperBike and three-time AMA Superstock Champion (1990-1992); David Sadowski, 1990 AMA Pro SuperSport Champion; Eric Bostrom, 2001 AMA Pro SuperSport, 1998 AMA Formula Xtreme and 1997 AMA Supertwins Champion; Jason Pridmore, 2002 AMA Formula Xtreme and 1997 AMA Superstock Champion; Rich Oliver, five-time AMA 250 GP Champion (1994 - 1997 and 2003); Jimmy Filice, 1991 and 2001 AMA 250 GP Champion; Tom Kipp, 1992 AMA Pro SuperSport and three-time AMA Superstock Champion (1994, 1995 and 1999); and Thomas Stevens, 1991 AMA Pro SuperBike Champion. Other notables in attendance will include Michael Barnes; John Long; Richard Chambers; Henry Degouw; technicians Knobby Clark; Steve Johnson and Jim Leonard.

"I can't wait to get back to Road Atlanta, it's always been one of my favorite racetracks because you can air it out there a little bit; it's a fun place to ride," said Jamie James. "I'm really looking forward to being around all my old racing friends. None of us have competed in a long time and all of that is pretty well behind us, so we can just get out there on the track and enjoy each other's company and have a little fun. It's going to be kind of different to be around that same group of guys and not have to be all serious; it'll make for a real fun day. Most of them are characters anyway; you have to be a little bit crazy to race these things for a living."

"It's been quite a few years since I've been on track at Road Atlanta," said Rich Oliver, who plans to ride the two-stroke twin-cylinder Yamaha TZ350 during the event. "I am absolutely looking forward to taking a few more laps on a vintage TZ Yamaha. It's going to be a really neat experience for me to get out there on one of my favorite tracks and wave to the fans."

"It's hard to believe that the bike that I qualified on for Daytona is considered vintage, man do I feel old," said David Sadowski. "It's going to be nice for all of us old cronies to get to spend 30 to 45 minutes during the lunch hour to speed these bikes onto the race track."

Tickets for the Big Kahuna Atlanta are available now and start at just $20. Every ticket includes free parking and paddock access. For more information, visit http://www.m1powersports.com/big-kahuna-atlanta/.

About Historic Moto Grand Prix: The Historic Moto Gran Prix (HMGP) is organized and led by former AMA Pro racer Bill Brown. It is designed as an alternate forum for both acknowledged classics like Manx Nortons and MV Agustas, and is also looking to draw more recent "classic" racers including the likes of Yamaha's legendary water-cooled, two-stroke TZ750 as successfully raced by the like of Giacomo Agostini, Kenny Roberts and Dale Singleton. Home-built and replica race models are highly encouraged to join! HMGP is the perfect place to share motorsports history of many genres and organize truly world-class gentleman's racing. There are still opportunities to be featured as part of the Historic Moto Grand Prix display area at the Big Kahuna Atlanta, anyone with a classic/vintage race motorcycle that is interested in participating should contact Bill Brown at 404-379-6091.
About M1 PowerSports, formerly M1 Entertainment: A Denver-based company, M1 PowerSports has been working in motorsports for over 16 years. Originally spawned from Daniels Corporation under the name FAST, the fledgling company was heavily involved in television production for car and motorcycle racing. With the birth of Speedvision, FAST morphed into Race Promotion Management (RPM) and is now operating as M1 PowerSports with many of the same staff still in place. We still sell advertising for Speed, sell merchandise under the brand Moto 1 and promote our own events, keeping us busy year-round! For more information, please call 303-377-3278 or email info@m1powersports.com.
---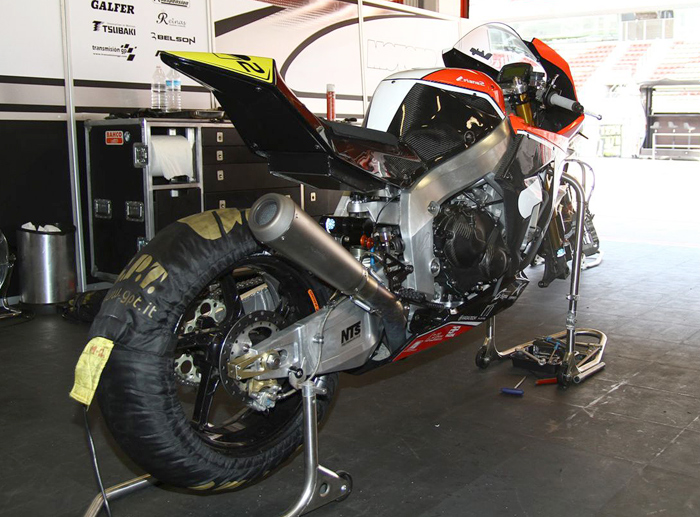 Put a stock Honda CBR600 engine in a hand built prototype chasis and what do you have? (Click to Go BIG)
- a nice handling 600 SuperStock bike that costs almost twice as much as a factory World Superbike!
A Look at a New Spanish Moto2 Team...
Motorrad Competition and ArianeTech join forces in CEV in 2012 Moto3 Moto2
18/1/2012 - n European MotoGP racing the new Moto2, and now Moto3 teams are hugely popular for some reason. Maybe its the huge media coverage MotoGP and its classes receives in Europe, both on TV and inthe magazines, while all the sponsors, teams and riders are recognizable European comodities. There's no motorcycle manufacturer involvement over than Honda supplying the spec Moto2 CBR600 engines, and for us Americans we don't know who the riders are, so it has not real attraction for us. In fact here in Pit Lane News we dont even post the race coverage of these two Moto2 and Moto3 Support class races. And we probably won't provide coverage until Dorna opens up the Moto2 cclass to the 600cc sportbike engines of all motorcycle manufacturers. Here is alook at one of the new Spainshteams:
The structure and engineering firm Madrid Cabrera de Mar will fight for the title in Moto2 and Moto3. An agreement signed between both parties, competition becomes Motorrad factory team for ArianeTech in Moto2 and Moto3 categories, so it will have all the technological advances of the Barcelona-based company in the new season.
The goal is to bring Motorrad Racing to the top of the podium ArianeTech creations, Spanish factory engineers and representatives with a wide experience in the world of two wheels. Already in 2011, thanks to the invaluable assistance of experienced pilots in various World Championships, as Sergio Fuertes, Dani Rivas and Xavi Fores worked on the development of Moto2 prototype with a view to this season. Result of this effort, the results in Spanish motorcycle track were spectacular, arriving to fight for the top spot in the final races of the year. With this background, the target for 2012 can not be other than CEV Moto2 defeat.
With the advent of Moto3 and 4-stroke engines, Motorrad expanded competition structure with a view to 2012, with teams in all three categories. To do this, Manuel Alonso, team skipper has decided to also have the invaluable help of Ariane3 ArianeTech and that Honda engine equipped. Precisely the Moto3 of ArianeTech was created by flushing the knowledge acquired in his "sister."
In the coming days will unravel the pilots responsible for representing Motorrad Competition in the categories of Moto2 and Moto3, also taking aim at championship. Pilots first line will be in charge of fighting for the podium in every race of the Championship of Spain of Speed. Motorrad does not rule out several units to track, so that the squares in the Madrid team are still open. http://www.motorradcompeticion.com
---
Edelweiss Introduces new affordable Triumph Triday European Tours in June 2012
Dec 15th 2011 - Enjoy the world's largest gathering of Triumph motorcycles on the Tridays Tour Newchurch. The Triumph Tridays, the biggest Triumph motorcycle meeting in the world is thedestination for these tours. The town of Neukirchen in Austria even changes its name into Newchurch for this special event.
Edelweiss World Tours and Triumph Motorccyles have gotten together to offer motorcycle enthusiasts a 4-Choice range of very affordable tours to attend the world's largest gathering of Triumph enthusiasts called Triday at the town of Neukirchen in the Austrian Alps. The tour dates range between June 17th - 29th of 2012. Three of the Tours start at the Triumph Factory in Hincky, England, where you'll take a factory tour and pick up a new Triumph motorcycle before. From there you'll head for the English Channel, catch a ferry boat at Dover to Calais in France, then travel acrosscentral Europe through Belgiumm Germany, Austria and Switzerland. You can choose to end the tour at Neukirchen, or return back across the Alps and Europe on a different route to the Triumph factory in England.

Along the way Edelweis will provide a route Tour Guide for your group, the Channel ferry ride, overnight accomodations in comfortable hotels, and morning breakfasts. Tours are priced at US $630 for 4 days to $2,520 for the full 13 days, plus the rental motorcycle (a Triumph Tiger 800/XC with other models on request) cost of $2,210 delivered to tour start hotel and return at tour end hotel.

For complete information and to book your reservations visit the EdelweissBike.com website and select Tridays Tours Newchurch.
---
The Making of the 2012 Pirelli Calendar - Behind the Scenes
The island of Corsica is the beautiful location for the latestest edition of 2012 Pirelli Calendar photographed this year by by Mario Sorrenti. The crew is ready to begin. First up, American model Guinevere Van Seenus is wearing a brown crocheted bikini as she poses for Sorrenti among the rocks. Later, we see her gorgeous nudes that showcase her female form as she lays against the boulder.
Actress Milla Jovovich, who has known Sorrenti for many years, says he's the only one that can truly capture her naked. "He's pretty much the only person I would take my clothes off for," she explains with a laugh. Jovovich lays against a couch in a sheer, white camisole. Dutch model Lara Stone is shot on a balcony, slowly taking off her white crochet bikini top. "I think every single job should be like this," she says, "Totally relaxed, you're just hanging out, naked, having your picture taken." It's not in-your-face sexy, she says later, calling it more of an innocent sexy.
Puerto Rican model Joans Smalls has her picture taken in the woods with birds chirping in the background. Polish model Malgosia Bela has her picture taken in a pond wearing a wet see-through dress and captures the vulnerability of being naked in nature with wet hair and pensive stares.
Russian model Natasha Poly has a ribbed net laying across her naked body. "Every picture is so unique,"she says, "Just like women." Brazilian model Isabeli Fontana poses on a hard-to-balance rock but looks very natural doing it. Kate Moss reveals she dated Mario Sorrenti for a couple years. She also says there's something that he loves about the female form, that makes him able to capture it so well.
Margaret Made might be better known for being an actress, not a model, but Sorrenti captures her well. The same goes for Chinese actress Rinko Kikuchi, who is also captivating here. Lithuanian model Edita Vilkeviciute dips her head into the water for her shot. Saskia De Brauw is also in the water for hers. "He makes you feel very powerful," she says. "Pirelli is so amazing," adds Milla Jovovich "because they don't just go for the obvious. They go for something that's a little more beneath the surface."
Appearances: Guinevere Van Seenus, Mario Sorrenti, Milla Jovovich, Joan Smalls, Lara Stone, Malgosia Bela, Isabeli Fontana, Natasha Poly, Kate Moss, Margaret Made, Rinko Kikuchi, Saskia De Brauw, Edita Vilkeviciute. The annual Pirelli calendar features the world's top supermodels, is the most expensive calendar to produce, and it is distributed as as a promotional gift by Pirelli in Europe. Pirelli USA does not release it in the Amerian market.
---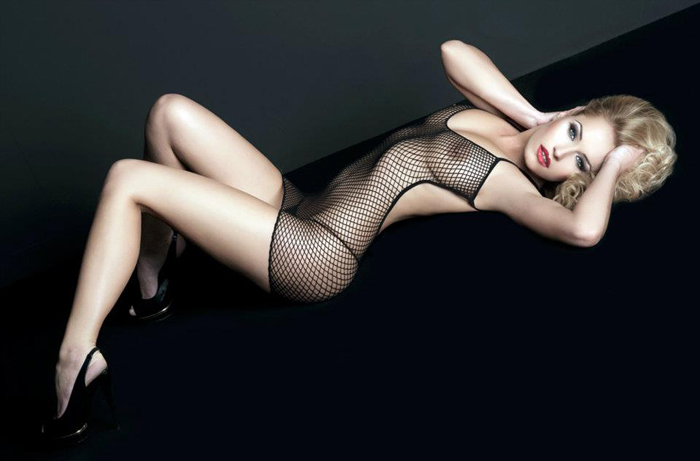 Superbike Model Wiktoria Ziaja 2012 MotoSprint Calendar
Meet are good friend and model Wiktoria Ziaja who is featured in the Italian motorcycle magazine MotoSprint's 2012 poster calendar. A professional model from Poland, we first met her last year at the Ducati Riding Experience School at Imola in Italy where she was taking the track school inder the guidence of friend and head instructor Dario Machetti, winner of the Daytona Battle of the Twins race a few years ago. Wiktoria loves roadracing and she often serves as the grid girl for Dario and the Ducati team when they race in Italy and Europe. That's Dario's Team Bauer Ducati 1198R featured with Wiktoria in the pictures and calendar. This is what we call a "Really Fast Date!"
---
There's more! Go to Pit Lane News Next Page

Also Visit: Fast Dates Calendar News • Iron & Lace Calendar News
Calendar Girl News • Meet the Models • Paddock Garage

MEMBERS CORNER! Calendar Kittens, Paddock Garage, Iron & Lace Garage





MotorcycleSuperstore.com
Some of our Calendar Kittens can also at Playboy's website...



FREE! New Met-Art Model Galley Updated Daily - Stop Back Each Day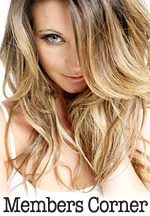 Hot Bikes, Sexy Kittens
Your Exclusive Grid Pass
also includes....
---
Order the New
2012 Calendars!
with FastDates.com Calendar Kitten, Ducati Corse Grid Girl
and Playboy Playmate
Heather Rae Young!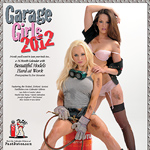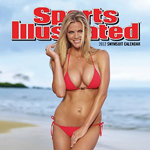 Click for even more Calendars!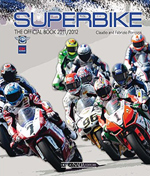 The Official SBK
2011-2012 Yearbook
These SBK Yearbooks are the Best Books Ever about World Superbike
They feature wesome color photography of the riders, bike and racing action. The feature a deailed revue of the past season in pictures and stactics, awith a detailed look at the bikes and riders.
Plus a technical look data all the bikes, a preview of the upcoming season's Championship!
We buy this every year ourselves and highly recommend it!
SBK 2011 Video Game
---
Team Pedercini Kawasaki signs 2 new rookie riders for 2012 WSBK season
January17th 2012 - The Pedercini Team is pleased to announce that it has decided on its riders for the 2012 World Superbike Championship season: Spaniard David Salom and Argentinean Leandro "Tati" Mercado.
Both riders will be on track with the Pedercini Team from the next Phillip Island test that will take place on February 13,14 and 15th February and obviously also to the official test of 20 and 21st, a week before the opening World Superbike Championship round, to be held at the same track.
David Salom was born on 16th October 1984 in Palma de Mallorca, Spain. He won the Spanish Supersport championship in 2006 and between 2007 and 2009 he participated in the Supersport World Championship. In 2009 David joined the Pedercini Team in the Superbike World Championship. In 2010 Salom returned to Supersport and last year he
closed that championship in second place with Kawasaki.
Tati Mercado was born on 15th February 1992 in Jesus Maria, Cordoba, Argentina. He won the AMA Supersport championship in 2009 and the following year he participated in the Superstock 600 European championship. In 2011 Tati joined the Pedercini team, competing in the Superstock 1000 FIM Cup and Stock 1000 Italian Championship.
The entire team is happy to see the return of both riders. Salom and Mercado already know all the team's technical staff and this will help both the riders and the team as they prepare for the upcoming season which opens at the end of February in Australia.
Donato Pedercini: "I'm extremely satisfied with the agreement reached with David Salom and Tati Mercado and I'm very happy to have the possibility to work with them again during the 2012 World Superbike championship. I know both of them very well and I appreciated their riding qualities and determination. Mercado is young and talented. He's full of enthusiasm and has a real passion for racing. I think he'll be the youngest Superbike rider this year and we will do our best to help him to adapt to our Kawasaki Superbike. Salom is still young but already has some experience. He's strongly motivated
and is on our wavelength in terms of projects and targets. We are now working hard to be ready for the first test in Phillip Island and also for the first races of the season. We are expecting a very busy season but one full of great professional satisfaction."
David Salom: "I'm very happy to say that I will join the Pedercini Team for the 2012 World Superbike championship. I know all the Pedercini team and they are professional, enthusiastic and ambitious. I want to thank the Pedercini family as they are giving me the opportunity to compete once again in the World Superbike category. I'm really looking forward to this new adventure, as staying on a Kawasaki motorcycle was very important to me. I know that, compared with 2009, the bike is now more competitive and the team also has more experience so I can't wait to get started!"
Leandro "Tati" Mercado: "I am really happy to have made this choice and proud to be competing with Team Pedercini in World Superbike. Right from the start of my career, I always considered Superbike to be the premier class and my main goal. I am honoured to remain a part of this fantastic group of people and to be joining them as part of an ambitious project. I'm also very happy to have David Salom as a teammate. I know he's an expert rider and I'm sure he'll help me as I start this new adventure in such a difficult world championship. I'll do my best to pay back the faith Pedercini family have shown in
me with some good results and technical development.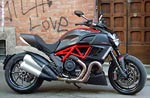 The Devil Made Us Do It!
Testing the Ducati Diavel in Italy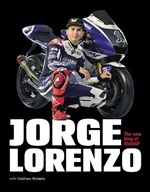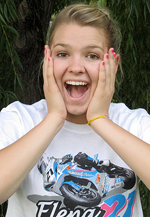 Roadracing's Fast Girl
Elena Myers Interview
DUCATI NORTH AMERICA REPORTS 43 PERCENT GROWTH IN 2011
The Company Posted Six-Consecutive Quarters of Growth with Sales Increases in Every North American Region
Cupertino, Calif. (January 19, 2012) – Ducati North America today announced 2011 motorcycle sales growth of 43 percent compared to 2010 and a record market share in all of it's territories: US, Canada and Mexico. This result established North America as Ducati's number one market for the first time ever.

Ducati Performance line of apparel and accessories also recorded significant growth with a 50 percent annual increase.
Ducati's growth was fueled by an expanding product line-up, including the award-winning Diavel and Multistrada. Voted "Best Cruiser of 2011" by several motorcycle magazines, the Diavel accomplishes its goal of capturing and attracting new customers to the brand. The Multistrada, voted "Best Open Street Bike" by Cycle World for the second year in a row, continues to prove its adventure touring capabilities with the successful completion of the historical La Carrera Panamericana race in Mexico along with its second win of the Pikes Peak International Hill Climb.

"Growth in the North American market is a top priority for Ducati. North America's outstanding performance significantly contributed to Ducati's global success in 2011, which has been a record year for us in terms of global sales, market share and profitability," said Cristiano Silei, Chief Executive Officer of Ducati North America. "This year the company made substantial investments in new product, key personnel and in the strength of our distribution network. These elements, combined with an array of extraordinary products, including our new Superbike, the 1199 Panigale, will continue to fuel our growth in 2012 and beyond."

In 2012, Ducati will refocus its efforts in the sportbike category with the first customer deliveries of the brand's newest flagship Superbike, the Ducati 1199 Panigale and the 848EVO Corse Special Edition. New additions to the Ducati line-up also include the Diavel AMG, the recently announced Diavel Cromo, as well as the highly anticipated Streetfighter 848.
Ducati North America also announced the launch of a new retail identity initiative aimed at enhancing the Ducati customer experience.

"The introduction of the retail identity program demonstrates Ducati's commitment to its core brand values, while building a complete and seamless shopping experience for customers," said Dominique Cheraki, General Manager of Ducati North America. "We are dedicated to a continual investment in the functional and emotional quality of our products, as well as the premium retail experience."
Sudco High Performance & OEM Replacement Parts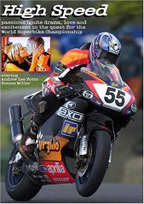 High Speed - the Movie
The best motorcycle racing movie ever made! Filmed on location at the World Superbike races , this an exciting romantic drama staring beautiful British actress Sienna Miller.
---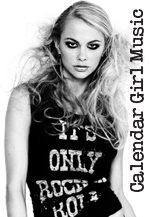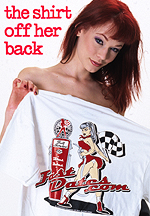 Order the Official
FastDates.com &
LA Calendar Bike Show
T-Shirts!
---