(79) Blake Youngholds off (1) Josh Hayes's drafting charge at the finish in photo too close to call it had to be decided electronicaly at .002 secs.

AMA 2012 Daytona Pro Roadraces - Photo Finishes, Girls Kicking Ass!
Daytona International Speedway, Motorcycle Speed Week, March 14-19th - Reigning AMA Superbike Champion Josh Hayes, Yamaha, had it all his own way in Friday's 1st of two 15-lap Superbike race to take uncontested race victory from start to finish. But for Saturday 2nd of two races it was Blake Young, Yoshimura Suzuki, who overcame bike setup problems from the day before to battle Hayes all race long as they swapped the lead repeatedly, with Hayes' bad drive out of the final chicane costing Hayes the lost opportunity to draft past Young at the finish line by just .002 seconds in one of the closest Daytona finishes ever.
In the Daytona 200 miler it was 19 year-old Joey Pascarella, March of Dimes Yamaha YZF-R6, took home the win at the 71st DAYTONA® 200 Saturday. While in Daytona SuperSport 17-year old girl Elena Myers recorded her 2nd pro roadracing class win over a strong field of guys.

Blake Young (79) and Josh Herrin (2) and Josh Hayes (1) trade the lead in the infield.
Superbike Race One Friday - Hayes Takes his First Daytona Win
DAYTONA BEACH, FL, March 16, 2012 - Reigning AMA Pro National Guard SuperBike Champion Josh Hayes accomplished what he could not one year ago in Friday's season opener at Daytona International Speedway. Hayes once again led from the green flag, but unlike last year the veteran was able to hold off rival Blake Young in National Guard SuperBike Race 1 to take his first SuperBike win at the historic venue. Making his way into the lead just as the pack hit the line to complete the first lap, Hayes put his head down, took full advantage of his No. 1 Monster Energy Graves Yamaha YZF-R1's newfound legs, and clicked off a series of blazing laps to break the pursuit of his challengers.

Meanwhile, last season's double Daytona winner, Blake Young, found himself in a brawl for second with Hayes' first-year National Guard SuperBike teammate, Josh Herrin, and National Guard Jordan Suzuki's Roger Hayden, and was helpless to do anything about Hayes' rapid escape during the race's early stages.

The contest became further stretched out when Herrin lost the front and crashed from third place on lap 6 of 15. The 21-year old, who led all but the final meters of the opening lap of his Superbike debut before being double drafted by Hayes and Young, remounted and briefly re-entered the fray before eventually retiring. Hayden lost ground as well, running wide in Turn 1 and losing touch with Yoshimura Racing Suzuki ace Young in the race for the runner-up position.

Hayes continued on in flawless fashion at the front to score his 18th career AMA Pro National Guard SuperBike victory, boasting an 8.332-second margin of victory over Young. Prior to the contest, Hayes claimed that he and his team had put forth a great deal of effort in the offseason to ensure they came out stronger this season than in 2011. The 36-year-old Mississippian's performance backed up those statements while serving notice to the rest of the field.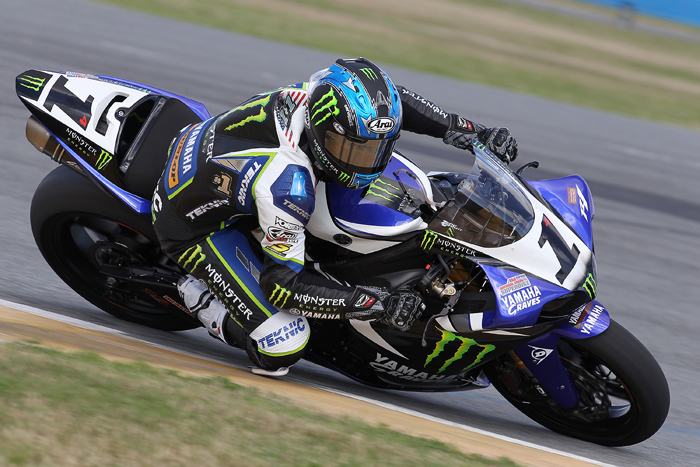 "It was a pretty good day, I'd say," Hayes said. "It's a tough field. Blake rode really well last year. Tommy (Hayden) was all over me. Rog was taking all the necessary steps to be a big pain at the end of the year and Herrin has been fast in testing. So I just went home and worked really, really hard to try to take another step in my game and the team has been working really hard on the machine. This is the payoff. Daytona is one of the tracks last year where we were fast but couldn't get it done. This year we were able to take it another step and I hope we'll be able to do that at every racetrack this year."

"I'm pretty disappointed with my performance today," Young said. "I feel like my team worked really, really hard. I feel like all weekend long I've been just a little bit behind on the curve. I haven't really got out and run faster than Josh all weekend and that obviously makes for a difficult weekend. Like I said, I'm not happy with today's race. Whether I have to get out of bed on the other side tomorrow or put my left sock on before my right like I did today... Whatever I need to do, I need to not let this happen again."

Hayden completed his lonely ride to the final podium position, taking the checkered flag some 16 seconds behind the race winner.

"It's a good way to start the season, finishing on the podium," Hayden said. "But at the same time, it's not very satisfying with the gap to Blake and the gap to Josh being a little bigger than we wanted. But we'll regroup tonight and try to change the bike and try to put a better show on tomorrow."

Jordan Suzuki's Ben Bostrom was another high-profile crasher, falling from fourth moments after taking the position away from Motorcycle-Superstore.com/Big Kahuna/LeoVince Attack Kawasaki's Steve Rapp near half-distance.

However, despite Bostrom's mistake, Rapp was ultimately unable to lock down the position, losing out at the stripe to Foremost Insurance Pegram Racing BMW's Larry Pegram by a scant 0.001 seconds -- a dramatic moment in an otherwise largely processional race.

Team Amsoil/Hero EBR's Geoff May earned sixth, with Evan Steel Performance BMW's Jake Holden, Team Venezuela's Robertino Pietri, Yoshimura Racing Suzuki's Chris Clark, and Kneedraggers.com/Motul/Fly Racing's David Anthony rounding out the top ten.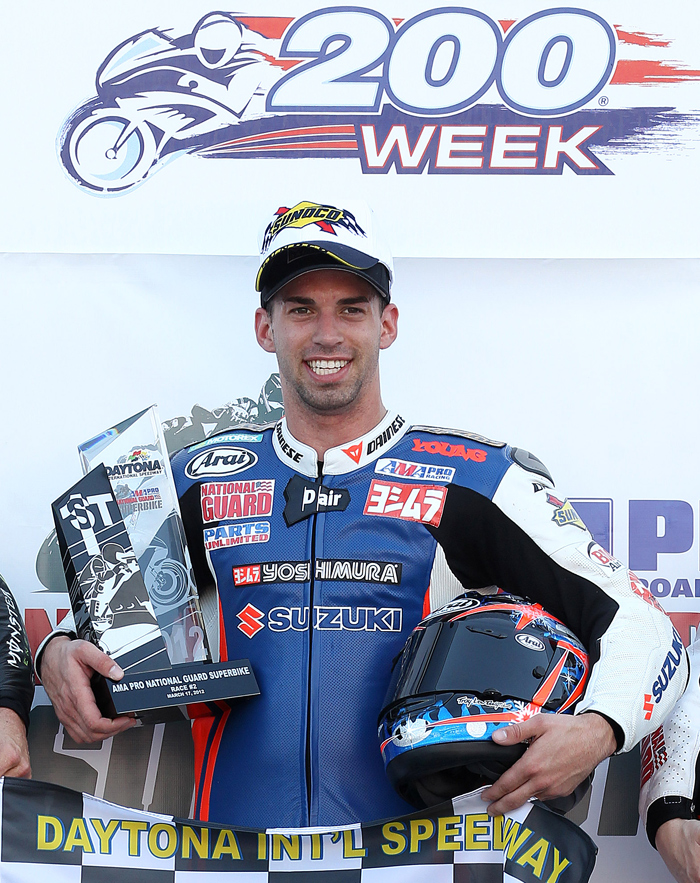 A happy Blake Young on the podium.
Superbike Race Two Saturday - Young Holds Off Hayes by .002 at the Line
DAYTONA BEACH, Fla. (March 17, 2012) Friday's AMA Pro National Guard SuperBike race winner, Josh Hayes, wasn't able to savor his season-opening victory for long as his primary rival, Yoshimura Racing Suzuki's Blake Young, took his revenge on Saturday in a thrilling showdown of the series' title favorites.

Hayes bolted into the lead from the start aboard his Monster Energy Graves Yamaha YZF-R1 but was unable to replicate yesterday's escape as Young made a concerted effort to track him down and cling onto the lead draft. Their battle pushed them far out in front of a trailing pack that quickly broke into a number of smaller melees, with National Guard Jordan Suzuki's Roger Hayden and Hayes' Yamaha teammate, Josh Herrin, vigorously swapping positions in their clash for third.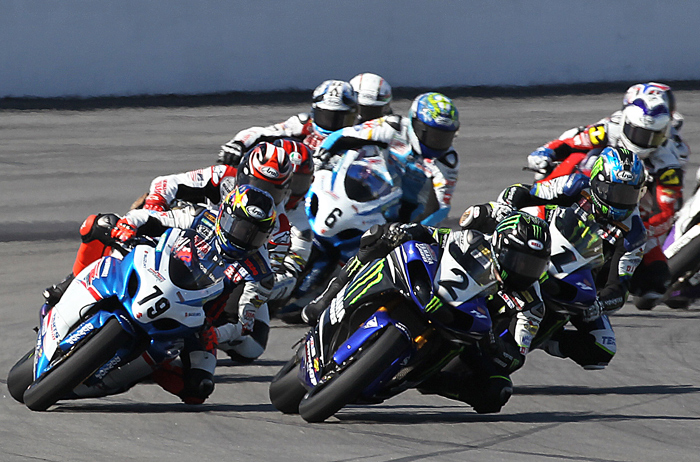 Blake Young (79) and Josh Herrin (2) and Josh Hayes (1) lead the Superbikes start through Turn One.
While Young was able to keep pace with Hayes up front, the Mississippian appeared to be very much in control of the race. Utilizing a superior line out of the chicane, Hayes demonstrated the ability to hold an advantage all the way to the stripe while in front or draft past from second while the Suzuki man struggled to do either with any sort of consistency. However, Hayes suffered a moment on the banking while leading late in the race and decided his safest bet would be to follow on the final lap and set up a strike at the flag. That plan unraveled when Hayes mistimed his slingshot attempt, coming up just 0.002 seconds short of Young at the line.

Young, who rebounded admirably following Friday's (relatively) disappointing effort, said, "Today's race was a lot better than yesterday's race, for sure. I knew Josh was going to be good on the banking and out of the chicane. I just didn't know how good. I knew I had to make it happen on the first five laps and be right on him to see what he was doing exactly out of the chicane that made me him so good onto the banking. I definitely learned and adapted pretty quickly before he could get away.

Blake Young celebrates his vistory.
"He's got more power this year than last year for sure, but my guys worked hard for me. We sat back and looked at the data, but I knew it was nothing we were going to see on the data -- it was me yesterday. I just didn't have a very good race and wanted to work hard to show my crew they shouldn't give up on me yet."

Hayes was happy to leave Daytona with a win, a runner-up, pole, and two lap leader points in his pocket, but couldn't help but feel like he let one get away on this day.

After the race, the defending champ said, "We were both playing the game out there. We both tried each other through the banking and we seemed pretty even on one another. I felt like I was pretty good out of the chicane and I had gotten away with that a whole bunch of times, but in the later part of the race I struggled with some grip and lost the front in NASCAR 4. I ended up going through there about three-quarter throttle and that was the first lap he actually did come by me on the banking. So I started having a few doubts about making a run from the front because if I had an issue like that at the end I'd be a sitting duck. Once I made the run on him and knew I could draft by him just the same I kind of let him lead the last lap and just sat back there.

"Going into the back straightaway I was a little further back than I wanted to be and panicked a little bit and ran off in the chicane pretty hard. I don't think it was the deciding factor, but once we got up on the banking I just mistimed it a little bit. It was 100% my fault -- I just mistimed it. I had a good weapon today. I had a bike that could win the race and this one is on my shoulders. He rode a great race and definitely upped his game from yesterday."

Hayden ultimately came out on top of a seesawing duel with National Guard SuperBike rookie Herrin, who responded to his Friday crash with a fine effort to finish within sight of the podium in fourth.

After garnering his second podium result in as many days, Hayden said, "Josh Herrin made me earn this one today. He was really riding good for his rookie race weekend. I was trying to break the draft in the infield; I felt I was a little bit stronger than him but he could always draft back by me and I couldn't draft him. We definitely need to find a little bit more speed but I am happy to come away with two third-place finishes. It's a good start to the season. We kind of know where we are weak at now so we can try to improve before Road Atlanta."

For the second consecutive day, Foremost Insurance Pegram Racing BMW's Larry Pegram victimized Motorcycle-Superstore.com/Big Kahuna/LeoVince Attack Kawasaki's Steve Rapp at the flag. Pegram edged Rapp for fourth on Friday by 0.001 seconds and turned the same trick on Saturday, topping him for fifth by 0.080 seconds.

New Yoshimura Racing Suzuki runner Chris Clark came home in seventh, with EvanSteelPerformance.com BMW's Jake Holden ultimately coming out on top of a mid-race multi-rider affair for eighth, followed by two-time Daytona SportBike king Danny Eslick on the Team Hero EBR 1190RS and Team Venezuela Suzuki's Robertino Pietri to complete the top ten.


Pascarella comes in for one of his two pit stops.
Ultimate Underdogs: Pascarella and P1A/March of Dimes Win the DAYTONA® 200
DAYTONA BEACH, FL, March 17th - In only his third AMA Pro GoPro Daytona SportBike start, 19 year-old Joey Pascarella took home the win at the 71st DAYTONA® 200 Saturday at Daytona International Speedway. Pascarella, aboard the Project 1 Atlanta/March of Dimes Yamaha YZF-R6, was able to hold the lead despite having three riders (Jason DiSalvo of Latus Motors Racing Triumph, Cameron Beaubier of Graves Yamaha, and Martin Cardenas of GEICO Suzuki) on his tail at the conclusion of the 57-lap race. Pascarella's margin of victory was 0.048 over DiSalvo, with Beaubier edging out Martin Cardenas by photo finish.

Pascarella and Beaubier were the only two riders remaining in the lead pack after the second round of pit stops, but Cardenas and then DiSalvo managed to run down the fast teens from several seconds back to make a four-man battle in the final four laps.

Pascarella, who led 41 laps, ran in first as the riders entered the chicane on the final lap. The fast four moved past a lapped rider and made the charge to the stripe for the 57th time, where Pascarella encountered another backmarker.
"I knew I could do it and I had faith in myself," said Pascarella, who did not test the bike or ride before Wednesday's practice. "I ran my own race. I thought if I led on the last lap and someone passed me, so be it. I felt most comfortable in the lead. Everyone was there the whole race. It ended up working out. I got a draft on a lapper and I was able to bring it home with a win. I don't know what we're doing for the rest of the season, but hopefully the team and I can keep going."

Runner-up DiSalvo charged hard after slowing before the first round of stops. "I thought I had an issue with the motorcycle and I backed off the pace considerably and we lost a good bit of time. We went through our pit stop and got back out there and everything looked okay and we kept going," said last year's DAYTONA® 200 winner. "Once I thoroughly chastised myself for making a silly move like that -- you ride it until it stops, you don't think you hear a noise and pull in -- I just rode as hard as I could every lap. Every lap of that race was ten tenths, as hard as I could go. It ended up working out right that we were right there in the end. Through all the laps, and all the sliding around and slicing through lapped riders, it was just in the back of my mind that I was riding for Gary (Nixon) and riding for his memory, and for my crew and all the hard work they put in."

"The race was awesome," said third-place finisher Beaubier. "I really didn't get a good draft to the line, but I am happy with third."

Behind the lead pack, another set of riders participated in an equally ferocious battle. M4 Broaster Chicken Suzuki rider Dane Westby led that pack filled with veterans and young riders, breaking away at the line to close out the top five. Ducshop Racing's Zemke followed, with Y.E.S. Graves Yamaha's Tommy Hayden, RoadRace Factory/Red Bull's Jake Gagne, SGA Racing's Tommy Aquino in tow. Cory West and the Riders Discount Vesrah Suzuki Team rounded out the top 10.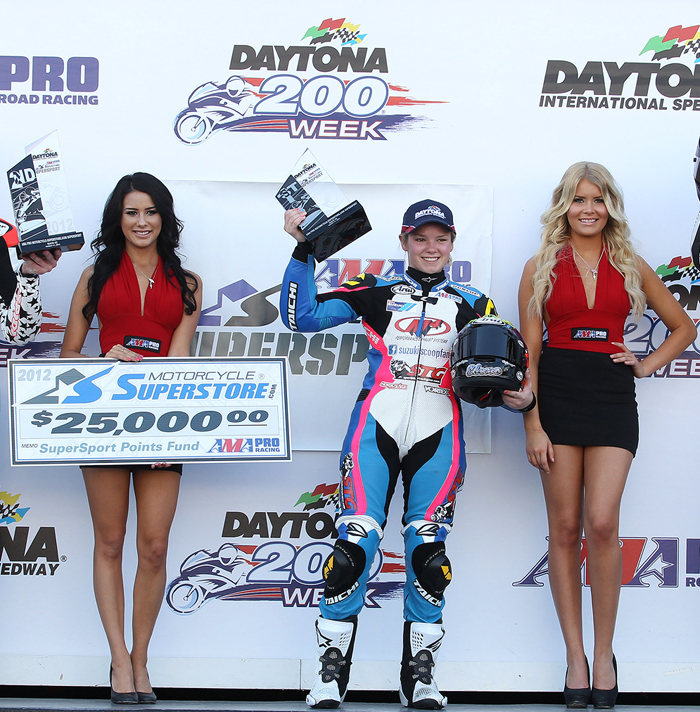 Myers scores the win, the bucks and the cute trophy girls.
AMA Pro Motorcycle-Superstore.com SuperSport 600cc - Rispoli and 17-year old Elena Myers!
Friday Race One: Last year's AMA Pro Motorcycle-Superstore.com SuperSport title winner James Rispoli resumed where he left off by winning a multi-rider pack battle in the season opener, edging Jake Lewis by just 0.031s at the conclusion of the 10-lap race. Rispoli and his Celtic Racing Suzuki GSX-R600 were a factor throughout and led the entire last lap despite harassment from Lewis. The pair battled on the banking one last time during the sprint to the stripe. Lewis, mounted on a Riders Discount/Vesrah Suzuki GSX-R600, was relentless but ran out of time to make his pass. Kneedragger.com/Galfer Racing's Stefano Mesa took third place, 0.592s back.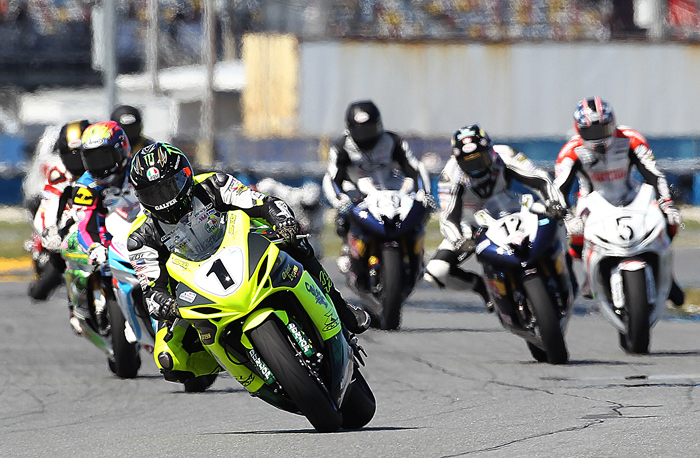 Friday SuperSport winner (1) Rispol is ahead of Myers who finished 4th on Day One. On Saturday they'ld trade places.
Saturday Race Two: SuzukiScoopFans Sportbike TrackGear.com M4 Suzuki's Elena Myers claimed her second-career AMA Pro Motorcycle-Superstore.com SuperSport victory on Saturday at Daytona International Speedway. Myers won out following a race-long four-rider scrap for the checkered flag, beating National Guard Suzuki's Corey Alexander and RoadRace Factory/Red Bull Yamaha's Hayden Gillim to the flag by 0.239 and 0.248 seconds, respectively. Yesterday's winner, James Rispoli on the Celtic Racing Suzuki GSX-R600, was a factor throughout as well but slowed slightly on the final lap to finish fourth.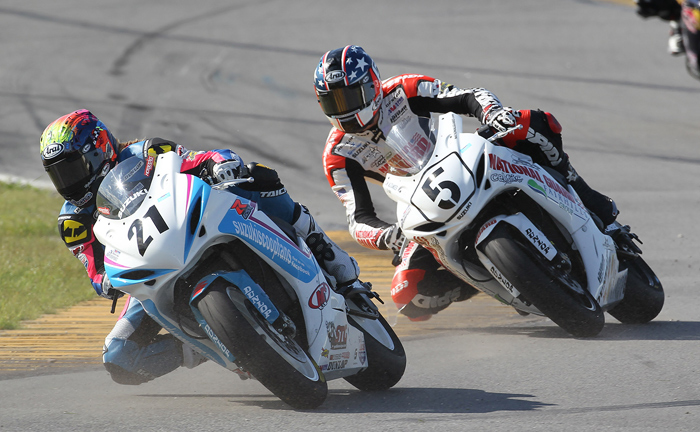 Girl Myers holds off guy Corey Alexander.
AMA Pro Vance & Hines XR1200 Series
The AMA Pro Vance & Hines XR1200 Series season opener set the bar high for the rest of the year's racing, featuring a four-rider drafting battle to the checkered flag. Kyle Wyman used the double draft aboard his Kyle Wyman Racing/Vesrah Harley-Davidson to blast past Bartel's Harley-Davidson teammates Tyler O'Hara (second) and Michael Barnes (third) at the stripe to win his second consecutive Vance & Hines XR1200 Series race at Daytona International Speedway by 0.116 seconds.
---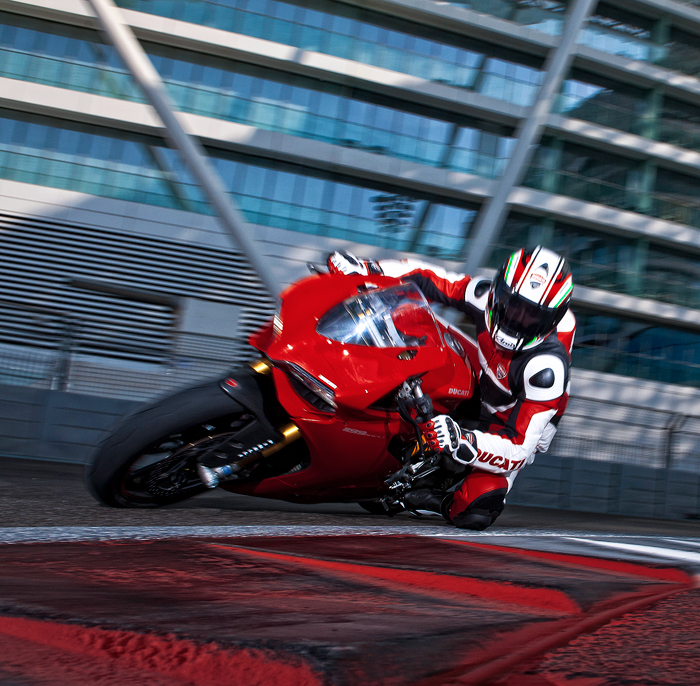 On track action with the new 1199S at the Yas Marina Circuit is like a virtual reality gamer experience.
World Press Launch Track Ride
Ducati 1199S Panigale Superbike
Excerpted from the upcoming new book The Ducati Corse World Superbikes by Alan Cathcart and Jim Gianatsis
Bottom line first. After spending a complete day riding Ducati's radical new 1199 Panigale around the sun-drenched 5.50km Yas Marina Formula 1 circuit in Abu Dhabi – the venue for the world press launch, and a sort of modern Arabian version of the Monaco GP track, lined by six-star hotels and glitzy high-rises, as well as guard rails and concrete walls protected for us by airfence – it's hard not to conclude the Italian manufacturer hasn't only reinvented the twin-cylinder motorcycle by endowing it with technology worthy of a MotoGP bike, it's also gone and shot everything else in the sportbike marketplace clean out of the water. This is the new benchmark for the Superbike category. Forza Italia! Continued....
For More Go to: Ducati 1199 Panigale Introduction & Specifications
---
Order Advance Calendar Bike Show Tickets Now!
---
There's more! Go to Pit Lane News Previous Week

Also Visit: Fast Dates Calendar News • Iron & Lace Calendar News
Calendar Girl News • Meet the Models • Paddock Garage

MEMBERS CORNER! Calendar Kittens, Paddock Garage, Iron & Lace Garage





MotorcycleSuperstore.com
Some of our Calendar Kittens can also at Playboy's website...



FREE! New Met-Art Model Galley Updated Daily - Stop Back Each Day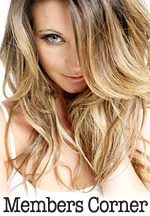 Hot Bikes, Sexy Kittens
Your Exclusive Grid Pass
also includes....
---
Order the New
2012 Calendars!
with FastDates.com Calendar Kitten, Ducati Corse Grid Girl
and Playboy Playmate
Heather Rae Young!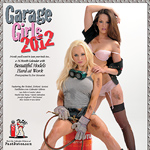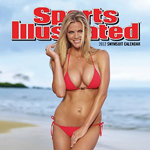 Click for even more Calendars!
---
Audi to buy Ducati?
By Georg Kacher
Motor Industry
12 March 2012 - Audi has struck an exclusive deal giving it first rights to buy Italian superbike manufacturer Ducati, CAR can reveal.
The exclusivity deal gives Audi until mid April when the deal will likely be finalised, according to high-ranking sources contacted by CAR.
Ducati's liabilities are around €200 million [earlier report said €800 million, this has been corrected], and our sources suggest the total purchase price is about €250m-€300m.
This is a bold move by Audi, which sees the long-term advantage in moving into two wheels as well as four.
Why is Audi buying Ducati?
It's all part of Project Eagle, another brainchild of Volkswagen group scion Ferdinand Piech. He has been eyeing up the opportunity of buying a prestigious motorcycle brand for some time, and considered reviving Horex, a German motorbike firm which made single- and twin-cylinder bikes from 1936 to 1956.
But Horex doesn't have enough brand recognition, so when Bologna-based Ducati came up for sale the VW Group paid close attention. Especially since Mercedes-Benz recently entered into a cross-promotional deal with Ducati.
Ducati, which makes around 40,000 motorcycles a year, is on the market since its debt burden is reportedly higher than its revenues.
Who else might buy Ducati?
India's Mahindra and Hero, Daimler and Volkswagen are said to be among the leading suitors, but CAR can reveal that Audi has struck an exclusivity deal giving it first dibs on Ducati.
A small team of advisors has been formed in Ingolstadt under the Project Eagle name and they're currently doing due diligence on the Ducati deal. According to our insiders, there is no way Audi will pay telephone numbers for Ducati. Instead, the Germans will probably put no more than €50m to €100m on the table - but absorb the new partner's substantial liabilities.
Ducati chairman Andrea Bonomi has in the past pointed out that he views 'Ducati as the two-wheel equivalent of Audi', a perception Ferdinand Piech would likely agree with. In 2008, Piech said it was a mistake not to have bought Ducati when the company was on the brink of brankruptcy before. Four years later, Volkswagen is now closer then ever to making the chairman's vision complete.
But first of all, the Audi delegation must take a deep dive into the Ducati R&D department and check out the Borgo Panigale production facility. After all, it takes more than a strong name to make Project Eagle fly.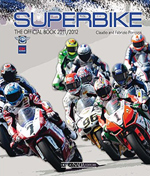 The Official SBK
2011-2012 Yearbook
These SBK Yearbooks are the Best Books Ever about World Superbike
They feature wesome color photography of the riders, bike and racing action. The feature a deailed revue of the past season in pictures and stactics, awith a detailed look at the bikes and riders.
Plus a technical look data all the bikes, a preview of the upcoming season's Championship!
We buy this every year ourselves and highly recommend it!
SBK 2011 Video Game
---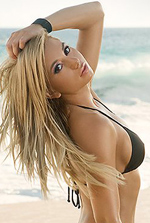 Meet 2012 Calendar Kitten
Sara Balint
Ducati 1199 Panigale
No Frame vs MotoGP Bike Frame Updates
The latest scuttlebutt regarding why Ducati's MotoGP bike did not work well in it's frameless configuration last season for Valentino Rossi (and hence the switch back to an all-new aluminum frame Ducati GP12 bike this season for Rossi and Hayden - while all the world press is praising the new frameless 1199 Panigale at the recent track test in Abu Dhabi - the problem seems to be the Bridgestone Control tires being used in MotoGP which just have too stiff a sidewall and don't feed back enough compliance to the bike and its suspension. The production frameless 1199 Superbike, on the other hand, works just fine with Pirelli tires in Production, Superstock and World Superbike spec tire construction.
As a hard core Ducati enthusiast whop owns and rides all the Ducati Superbike models, I was waiting for the new generations bike's usual 2nd year release of an R model with special bits like Titanium Rods in the engine and an adjustable steering head as Ducati normally homologates for World Superbike.
But word right now is the new more powerful and better handling 1199 Panigale is so completive in stock form it just doesn't need an R version to be more competitive, especially with the current engine intake restrictors and weight ballast added to the current 1198 model being raced by Checa and the boys.
However, there is said to be coming a "Superstock Kit" with no details on what it might contain. We hope it does contain an adjustable steering head for a quicker 23.5° steering angle. Plus for the World Superbike class the bike will want 2-3 points higher compression than the stock 12.5:1 pistons because they can run higher octane race gas. - Jim Gianatsis
Valentino Rossi undergoes successful operation to remove rod from right leg
Feb 6th, 2012 - Valentino Rossi underwent a small operation this morning at Cattolica's Cervesi hospital to remove the rod that was inserted in his right tibia following his practice crash at the 2010 Mugello GP. The injury is now completely healed.
The operation went well, and the Ducati Team rider will be ready for the second test in Malaysia, scheduled for February 28 to March 1.
Nicky Hayden back home following successful surgery
On Monday, February 5, Nicky Hayden underwent successful arthroscopic surgery on the right shoulder that he had injured in late December. During the procedure, which was carried out in Fremont, California, and which lasted approximately 40 minutes, Dr Arthur Ting discovered and repaired a tear in the labrum. Yesterday's post-operation appointment confirmed that the surgery was successful, and the Ducati Team rider returned home to begin his recovery. If the convalescence proceeds as hoped, Hayden should be able to take part in the next winter test at Sepang, February 28-March 1.

"It's a setback, but all things considered, I'm pretty happy with how things went," Hayden said. "It's good that it was possible to do everything by 'scope, and the pain's not too bad. The problem should be fixed now, and I look forward to being able to help out the team as soon as possible."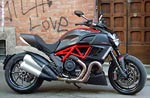 The Devil Made Us Do It!
Testing the Ducati Diavel in Italy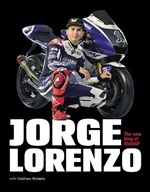 Sudco High Performance & OEM Replacement Parts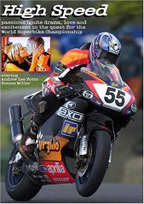 High Speed - the Movie
The best motorcycle racing movie ever made! Filmed on location at the World Superbike races , this an exciting romantic drama staring beautiful British actress Sienna Miller.
---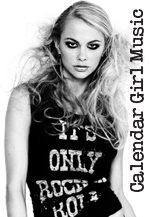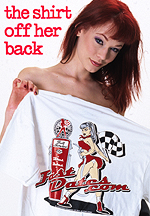 Order the Official
FastDates.com &
LA Calendar Bike Show
T-Shirts!
---
New Dunlop Digital Magazine previews 2012 AMA Pro Road Racing
The March 2012 issue of Dunlop Download magazine is now available and it's a special issue previewing the 2012 AMA Pro Road Racing season. This fully interactive digital publication features all sorts of insider stories about the riders, the bikes, the tracks and insights into how Dunlop--the official tire of AMA Pro Road Racing--supports the entire paddock, plus a photo gallery and much, much more.

Click on the link below to download this March issue:

Dunlop Download March 2012 Special AMA Pro Road Racing Issue

This issue, as well as back issues of Dunlop Download magazine can be found at dunlopmotorcycle.com.

Once you have received this issue PDF or have downloaded it from the Dunlop site, we encourage you to post it to your Web site and pass it along to other powersports enthusiasts.

Thanks for your support of Dunlop, and we hope you enjoy this issue.

For more Dunlop tire information go to dunlopmotorcycle.com
Edelweiss High Alpine Motorcycle Tour
NARROW TWISTIES AND HAIRPIN TURNS ARE SOME FEATURES OF THIS HIGH ALPINE MOTORCYCLE TOUR.
If you're looking for a one week get-away to the most demanding roads in the Alps, this motorcycle tour is made for you! Experience the excitement of serpentine roads, mammoth mountains, and Alpine, Disney-like villages on the roads between Munich, Germany and the Grossglockner Pass in Austria!

A session of Alps Riding Training will acquaint you with traffic rules and how best to negotiate those hairpin turns. On our first day of our motorcycle tour we ride from Munich to the Grossglockner Pass where we contend with our first switchbacks. Jagged rock formations that soar to the sky are framed by twisting, well-maintained roads, that you can see for miles while climbing the next pass. Our second day brings you to a riding loop through the Dolomites, a region in the Italian Alps noted for its spectacular scenery.

Day three delivers the road you've come to Europe to ride: Stilfser Joch/Passo di Stelvio. Often referred to by European motorcyclists as "the Mother Road," this pass has 39 switchbacks on one side and 48 on the other! Set your own pace with your new found friends on this tour. Sweeping through three countries; Switzerland, Liechtenstein and Austria, the next day's ride will thrill you with its spectacular views and a fabulous Edelweiss picnic, served in a beautiful area surrounded by the soaring peaks of the Alps. On your last riding day, you visit Neuschwanstein, the fairy tale castle of King Ludwig. This week goes by quickly, but the memories will stay with you for a lifetime!
DETAILS HERE