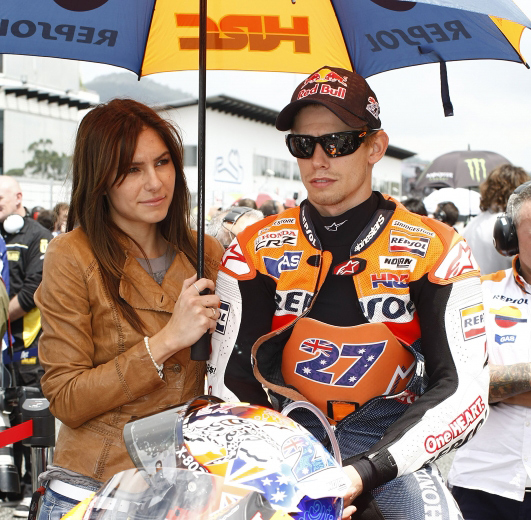 Casey on the grid last year with wife Andrea, who has stayed back home in Australia this year with their new first child.
SHOCKER! Casey Stoner Announces His Retirement at the End of 2012
Honda Racing, Thursday, May 17, LeMans, France - Reigning MotoGP World Champion and 2012 points leader Casey Stoner stunned the MotoGP paddock at Le Mans this afternoon when he announced his retirement. The 26-year-old will stop racing motorcycles at the end of this season.
The Repsol Honda rider cited personal reasons for his decision, as well as suggesting that MotoGP's new direction – with the introduction of lower-cost and lower-performance CRT machines for some riders – also played a part.
"This has come after a long time of thinking and talking with my family and my wife," he said. "It's been coming for a couple of years now. At the end of this season I will finish my career in MotoGP and follow different things in my life. After so many years of doing the sport I love, for which myself and my family have made so many sacrifices, this sport has changed a lot and it's changed to the point where I'm not enjoying it. I don't have the passion for it, so it's better if I retire now. It'd be nice if I could say I'll stay one more year but then when does it stop, so we decided to finish.
"My decision isn't going to change anything this season. We still want to win races and we'll still put in 110 per cent of effort and maybe even more
"I've been watching this championship for a long time and it's easy to see what works and what doesn't.
"There are many, many different reasons but basically it's me losing my passion for the racing and my enjoyment for the sport. Sure, I'm going to enjoy this year but I'm sure if I continue it would be a mistake.
"There's many things I'd like to do with my life. I don't want to keep racing bikes to the point where I lose my passion for motorcycles. I love bikes, they've been my whole life, and if I keep doing this I'm afraid I'll completely lose my passion. Maybe I'll still have some involvement in the sport, if I can find the energy, to maybe help some young riders, things like that.
"We've had a great career, we've had some fantastic races and I feel even after my first championship in 2007 I'd already reached my goal. This was my dream: to be World Champion. It's been a difficult up and down road but a fantastic one. I won't have any regrets."
The Australian started racing in dirt track competition when he was four-years-old. A multiple state and local champion, his family moved to Britain when he was 14 so he could start racing on tarmac. He won a British roadrace title at his first attempt – in 2000 – and made his Grand Prix debut in the 250cc class in 2002, when he was 16 years old. He won five 250 GP victories and two 125 GP victories before graduating to MotoGP in 2006, with LCR Honda. The following year he won his first MotoGP victory and the world title with Ducati. He has won 35 races in the premier class.
---

BMW riders Marco Melandri (33) and Leon Haslem (91) were leading were again Race 2 going into the finsl corner of the last lap, just ahead of Rea (65) and Biaggi (3). Race leder Melandri was out wide as Rea dove in tight on Haslam for a pass, but the two colided and Haslam slid down and out to colide and take out his race leading team mate. In an instant BMW's second potential 1-2 race finish was left in tears, just 100 feet from the finsih line.
World SuperbikeChampionship, Round 5 of 14, Donnington, England

Melandri scores BMWs first World Superbike Victory in Race 1 at Donington
Honda's Rea takes out both leading BMW riders in the final corner for victory in Race 2

Donington Park, Great Britain, May 11-13th - Jonathan Rea (Honda World Superbike Team) scored his and Honda's second FIM Superbike World Championship race win of 2012, in Race Two at Donington, after what was one of the most close fought and exciting contests the famous old circuit has ever hosted. Under sunny skies on race-day, after a period of almost always dry practice and qualifying, Rea scored fourth in race one, itself a minor classic of the genre, which was won by Marco Melandri. The Italian rider gave BMW its first ever win in this class of racing. Rea had been sixth on lap one of race one, matching his qualifying position, but he clawed his way back into the leading bunch and was less than two seconds from Melandri and potential victory, with Leon Haslam (BMW) and Tom Sykes (Kawasaki) also in front of him.

It was Race Two, the second 23-lap race of the day, that really got the crowds going, however, at what was officially called the European round of the championship. In race two Rea also had to work hard to get into contention with the leading few and also ran off track at one time as he pushed on to what at one time looked like an unlikely podium, much less a potential victory. Fourth going into the final lap, but still part of a rolling maul of metal and motivation for the win, Rea passed Max Biaggi (Aprilia) for third. As Melandri and Haslam ran wide, trying to attack and defend the lead respectively, Rea saw his opportunity and took a tight line into the final Goddards corner. Haslam and he collided and the BMW rider fell, with his bike skittling Melandri, leaving Rea clear track to the flag to win. Biaggi was second and Sykes third.
The offical SBK grid girls at the European rounds are extreanly beautiful and are provided and flown in from a modeling agency in Brno, the Czech Republic. Our ace race track photographer Max will be shooting with them in the coming months for the FastDates.com Calendars.
Sykes goes on the rampage with new track best in Tissot-Superpole
Superpole, Saturday May 12th - Tom Sykes (Kawasaki Racing Team) went over 0.3 seconds faster than the existing track best in the third Superpole run, with a 1 minute 27.716 second lap that gave him his fourth Tissot-Superpole win of 2012. Close behind was his fellow Englishman Leon Haslam (BMW Motorrad Motorsport), the only other rider inside the 1'27 bracket.

Haslam's team-mate Marco Melandri was third and the front row for tomorrow's races was completed by Max Biaggi (Aprilia Racing), who came good after some challenging times in earlier practice sessions. Sylvain Guintoli (Team Effenbert-Liberty Racing) earned a top five place on the grid, with Jonathan Rea (Honda World Superbike Team) sixth.

Tom Sykes: "It's always nice to tick these things like Superpole wins off my check list, but having said that I wasn't expecting to be so fast. I was missing a bit of feeling with the ZX-10R but we kept working in Superpole 1 and 2, making some very small changes and finally in Superpole 3 those changes made all the difference. I'm confident with the race set-up, and hopefully we can have some good consistent weather and put on a good show for spectators. It was also nice to get the pole award from Roger Burnett, the first-ever WSB poleman; 25 years on it's happened to me!"

Leon Haslam: "We had similar problems to Marco, the race tyres were working really good and the Qs were struggling with a bit of chatter but had a lot of grip. We decided to use a Q right at the end, but I made a big mistake and it was really close between me and Tom. He keeps getting these pole positions, but I'm very happy to be on the front row and I'm sure it'll be a close race tomorrow."
Marco Melandri: "I'm very happy because the team and the BMW factory have made a good job and to be on the front row in dry qualifying here after Monza is very important for us. I was happy about my race pace but wasn't sure about my qualifying lap, but right from Superpole 1 I got a very good feeling. I was able to keep two qualifying tyres for the last Superpole but unfortunately had a bit of chattering with the first and the second didn't work so well. Now I hope to be with Leon on the podium."
Leon Camier (FIXI Crescent Suzuki) scored seventh place on the grid and will be joined on the second row by Jakub Smrz (Liberty Racing Team Effenbert Ducati). 2011 world champion Carlos Checa (Althea Racing Ducati) will start Sunday's race from the third row, in ninth place.

Ayrton Badovini (BMW Motorrad Italia Gold Bet) fell earlier today but bounced back to finish tenth, alongside his team-mate Michel Fabrizio, who was 11th. A difficult weekend of qualifying for Eugene Laverty culminated in 12th place in Superpole. Another Aprilia rider, Chaz Davies (ParkinGO MTC Aprilia), went 16th in qualifying, while new Kawasaki Racing Team rider Loris Baz was 18th.

Superpole Times: 1. Sykes T. (GBR) Kawasaki ZX-10R 1'27.716; 2. Haslam L. (GBR) BMW S1000 RR 1'27.864; 3. Melandri M. (ITA) BMW S1000 RR 1'28.177; 4. Biaggi M. (ITA) Aprilia RSV4 Factory 1'28.340; 5. Guintoli S. (FRA) Ducati 1098R 1'28.420; 6. Rea J. (GBR) Honda CBR1000RR 1'28.546; 7. Camier L. (GBR) Suzuki GSX-R1000 1'28.551; 8. Smrz J. (CZE) Ducati 1098R 1'28.785; 9. Checa C. (ESP) Ducati 1098R 1'28.497; 10. Badovini A. (ITA) BMW S1000 RR 1'28.614; 11. Fabrizio M. (ITA) BMW S1000 RR 1'28.683; 12. Laverty E. (IRL) Aprilia RSV4 Factory 1'29.032; 13. Giugliano D. (ITA) Ducati 1098R 1'29.236; 14. Canepa N. (ITA) Ducati 1098R 1'29.319; 15. Berger M. (FRA) Ducati 1098R 1'29.371; 16. Davies C. (GBR) Aprilia RSV4 Factory 1'29.493; etc.

British fans were happy to settle for an Italian on a German bike winning Race One after an exciting five rider battle for the lead all race long. It would get even beter in Race two.
History for BMW and Melandri, a dramatic win for Rea
Race Day, Sunday 13 May 2012–A 48,500 strong crowd saw some astounding race action at Donington in two sun-blessed 23-lap races, which culminated in a moment of history for one of the world's most important motorcycle manufacturers, some of the best SBK racing ever seen and changes near the top of the eni FIM Superbike World Championship table.

After Marco Melandri (BMW Motorrad Motorsport) won the first race, the German manufacturer added its name to the list of race-winning makes for the very first time. In race two a classic multi-rider battle ended up in joy and heartbreak for some top riders, as Jonathan Rea (Honda World Superbike Team) came out on top after a final corner melee.

The end result of one of the best days of racing imaginable is that Max Biaggi (Aprilia Racing Team) leads the championship with 128.5 points, from double podium man Tom Sykes (Kawasaki Racing Team) on 123, and Rea on 108. Carlos Checa (Althea Racing Ducati) is fourth on 105.5. The top four championship places are now covered by only 23 points, after five rounds and nine individual races.


Race One - Melandri and Haslem Score a Historic 1-2 for BMW
A truly historic 1-2 for BMW saw Melandri win the opening race with his team-mate Leon Haslam only 0.728 seconds behind. An eventual five rider fight for the podium places provided overtaking and personal duels aplenty as the race order changed multiple times. Tissot-Superpole winner Sykes won a tense battle to go third, with Rea making up places in the final laps to overhaul Biaggi and take fourth. The leading five were covered by only 2.102 seconds at the end of the race. Checa was sixth, four seconds from the win, making it five different manufacturers in the top six at the flag. Melandri's win also means that six different riders have now won races this year, representing five different manufacturers – and all with nine rounds and 18 races left to go.

First race action with Haslam(91) leading BMW teammate Melandri (33), chased by Sykes (66) and Biaggi (3) who all took turns leading at one point.
Marco Melandri: "It means a lot to me to win this for such a good factory like BMW, it's history and something I could not dream about when I was young. I just want to say thanks to BMW in Germany, the team on track and everybody involved in the project. We have been working so hard and we never give up even when we found some difficulties. We are working still right now to stay at the top and I am so happy to be here. I had good race pace yesterday and today the tyres have been working very good until the end. We managed the situation well but at the beginning I was not so fast, but fortunately Tom and Leon were fighting a lot so they lost a bit of time and we could catch them again. We are so happy for this win."

Leon Haslam: "I found myself on the wrong side of Marco, on the right side of him into the Esses and I nearly went into the back off him so I had to let off the brakes and I am disappointed because I did feel quite good up to that point. Fair play to Marco and we got a BMW 1-2 which is fantastic. Hopefully we can make amends in the next one and not make that mistake. I want to dedicate this result to the late Robert Fearnall, who was a big, big friend of the family and Donington."

Tom Sykes: "A fantastic race, I really enjoyed it and it certainly felt like a long, seemed to go on for many laps. Overall I think we had a very good show, lots of passing, and a little bit too much at some corners, especially at the Foggy Esses, which seemed to claim a few victims. Overall I am very happy to be on the podium and collecting some good solid points again with the Ninja ZX-10R. Unfortunately we seemed to struggle at one particular part of the track and that definitely affected our race performance, but hopefully we can improve on that very small sector and go better in race two. As for now a podium is good enough."

SUPERBIKE RACE 1: (Laps 23 = 92,529 Km)
POS / RIDER / NAT. / TEAM / MOTORCYCLE / GAP
1 / M. MELANDRI / ITA / BMW MOTORRAD MOTORSPORT / BMW S1000 RR / 34'26.736
2 / L. HASLAM / GBR / BMW MOTORRAD MOTORSPORT / BMW S1000 RR / 0.728
3 / T. SYKES / GBR / KAWASAKI RACING TEAM / KAWASAKI ZX-10R / 1.609
4 / J. REA / GBR / HONDA WORLD SUPERBIKE TEAM / HONDA CBR1000RR / 1.819
5 / M. BIAGGI / ITA / APRILIA RACING TEAM / APRILIA RSV4 FACTORY / 2.102
6 / C. CHECA / ESP / ALTHEA RACING / DUCATI 1098R / 4.82
7 / D. GIUGLIANO / ITA / ALTHEA RACING / DUCATI 1098R / 7.52
8 / S. GUINTOLI / FRA / TEAM EFFENBERT LIBERTY RACING / DUCATI 1098R / 7.927
9 / L. CAMIER / GBR / FIXI CRESCENT SUZUKI / SUZUKI GSX-R1000 / 15.144
10 / M. FABRIZIO / ITA / BMW MOTORRAD ITALIA GOLDBET / BMW S1000 RR / 16.065
11 / A. BADOVINI / ITA / BMW MOTORRAD ITALIA GOLDBET / BMW S1000 RR / 19.805
12 / C. DAVIES / GBR / PARKINGO MTC RACING / APRILIA RSV4 FACTORY / 20.17
13 / M. BERGER / FRA / TEAM EFFENBERT LIBERTY RACING / DUCATI 1098R / 21.274
14 / J. SMRZ / CZE / LIBERTY RACING TEAM EFFENBERT / DUCATI 1098R / 21.517
15 / E. LAVERTY / IRL / APRILIA RACING TEAM / APRILIA RSV4 FACTORY / 26.92
Fastest Lap: 6° Max Biaggi 1'28.992 162,743 Km/h
Lap Record: 2011 C. Checa 1'28.988 162,750 Km/h
Best Lap: 2012 T. Sykes 1'27.716 165,110 Km/h


World Champ Carlos Checa (7) lost a big points gap on Max Biaggi and the others when he ran into the back of Laverty in Turn One, which also collected other top Ducati's of Smrz and Giugliano.

Race Two - Jonthan Rea goes bowing, strikes out BMW's second race potential 1-2
Rea took his second win of the season after a very exciting, incident-strewn Race 2 at Donington. The excitment began early off the start going into the first corner when World Champion Carlos Checa ran into the back of Eugene Laverty (Aprilia Racing Team) and Checa went down, taking out Jakub Smrz (Liberty Racing Team Effenbert Ducati) and Checa's team-mate Davide Giugliano. Then Laverty himself crashed heading down Craner Curves as eventual third place man Sykes led for most of race distance. He was finally overhauled by a warring faction which included eventual second place man Biaggi plus Haslam and Melandri.
Race Two was again one of the most exciting World Superbike races ever. Here, on the next to last lap, Jonthan Rea (White Leathers) closes in on Haslam, Melandri, Biaggi and Sykes who have been trading the lead the entire race. On the final lap the BMWs of Melandri and Haslam would again be out front 1-2 going into the final corner to the checkered flag as Rea makes his last ditch dramaic move to pass all 4 riders! A move that put both BMW riders to the ground and gave Rea the race win.
After a multitude of overtakes and riders running off track on occasion, Haslam looked to have it won until both he and Melandri ran wide as the Italian attempted a pass into the very last corner and Rea pushed inside as a gap opened up. He and Haslam collided and Haslam fell, knocking off Melandri with his stricken bike as he slid across the track. Rea held on to win by just over half a second from Biaggi, with Sykes two second back in third place. Leon Camier (Fixi Crescent Suzuki) was an impressive fourth.

Jonathan Rea: "In the last corner there were five guys out there wanting to win a race, most of all Melandri came from a long way back on Leon to create a gap that I went for, me and Leon touched and I'm really sorry that he crashed. But more importantly we've won, taken 25 points and I've given my team a great reward for giving me a great bike this weekend."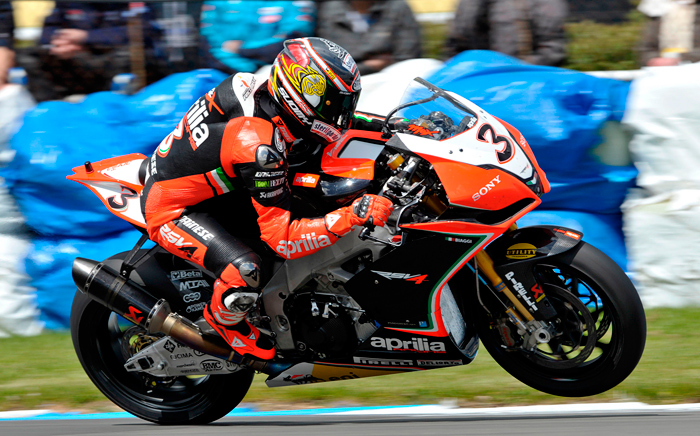 Max Biaggi: "In race 2 the bike was a little better, I could keep up and race with the guys more than before. When the tyre went off I was struggling and then the last lap was simple, everyone tried to go inside and take my position: Melandri, Jonathan, everybody! I didn't give up, stayed cool and second place came automatically. I cannot say I'm very happy but the result is OK."

Tom Sykes: "Yet again we got the holeshot and led for a number of laps, but I was missing a bit of feeling with the wind, which was unfortunate. I managed to stay out front but made one mistake and all the other guys came past at a rate of knots. We didn't quite have the best setting this weekend but a pole position and two podiums is great for myself and the Kawasaki team. I had the best seat in the house for the last couple of laps, but for me five minus two equals a podium so I'm very happy!"
RACE 2: (Laps 23 = 92,529 Km)
POS / RIDER / NAT. / TEAM / MOTORCYCLE / GAP
1 / J. REA / GBR / HONDA WORLD SUPERBIKE TEAM / HONDA CBR1000RR / 34'31.847
2 / M. BIAGGI / ITA / APRILIA RACING TEAM / APRILIA RSV4 FACTORY / 0.508
3 / T. SYKES / GBR / KAWASAKI RACING TEAM / KAWASAKI ZX-10R / 2.029
4 / L. CAMIER / GBR / FIXI CRESCENT SUZUKI / SUZUKI GSX-R1000 / 4.245
5 / S. GUINTOLI / FRA / TEAM EFFENBERT LIBERTY RACING / DUCATI 1098R / 6.595
6 / A. BADOVINI / ITA / BMW MOTORRAD ITALIA GOLDBET / BMW S1000 RR / 17.469
7 / C. DAVIES / GBR / PARKINGO MTC RACING / APRILIA RSV4 FACTORY / 17.788
8 / L. BAZ / FRA / KAWASAKI RACING TEAM / KAWASAKI ZX-10R / 21.093
9 / P. HICKMAN / GBR / FIXI CRESCENT SUZUKI / SUZUKI GSX-R1000 / 21.866
10 / H. AOYAMA / JPN / HONDA WORLD SUPERBIKE TEAM / HONDA CBR1000RR / 22.62
11 / N. CANEPA / ITA / RED DEVILS ROMA / DUCATI 1098R / 26.764
12 / L. ZANETTI / ITA / PATA RACING TEAM / DUCATI 1098R / 27.043
13 / M. FABRIZIO / ITA / BMW MOTORRAD ITALIA GOLDBET / BMW S1000 RR / 28.39
14 / M. AITCHISON / AUS / GRILLINI PROGEA SUPERBIKE TEAM / BMW S1000 RR / 56.618
15 / L. HASLAM / GBR / BMW MOTORRAD MOTORSPORT / BMW S1000 RR / 1'20.196
Fastest Lap: 4° Max Biaggi 1'28.995 162,737 Km/h
Lap Record: 2011 C. Checa 1'28.988 162,750 Km/h
Best Lap: 2012 T. Sykes 1'27.716 165,110 Km/h
Weather conditions: Sunny with some clouds. Temperature: Air: 17 – 18 °C, Track: 31 °C
Number of riders participating: 23 from 13 teams
Fastest lap Race 1: Max Biaggi (Aprilia Racing Team) 1:28.992 min
Fastest lap Race 2: Max Biaggi (Aprilia Racing Team) 1:28.995 min
CHAMPIONSHIP POSITIONS TO DATE:
1 BIAGGI 128.5, 2 SYKES 123.5, 3 REA 108, 4 CHECA 105.5, 5 MELANDRI 97.5,
6 HASLAM 89, 7 GUINTOLI 85, 8 LAVERTY 65, 9 GIUGLIANO 50, 10 SMRZ 44.5,
11 FABRIZIO 35, 12 CAMIER 34.5, 13 AOYAMA 30.5, 14 BERGER 29.5, 15 BADOVINI 29.
Lowes takes home victoru in 600cc Supersport
Sam Lowes (Bogdanka PTR Honda) took his first career win in the FIM Supersport World Championship after converting a second place on the grid into a full points score. Lowes had been through some troubled times in practice after he picked up a nasty stomach infection of some kind, meaning he had been ill from Friday onwards. He then fell in second qualifying on Saturday, suffering severe injury to the small finger of his left hand and losing the chance to go for pole.
Lowes overcame the early push of pole position rider Jules Cluzel (PTR Honda) and despite the coming menace of double world champion Kenan Sofuoglu (Kawasaki) Lowes held on to win by upping the pace on the final two laps and taking himself to within five points of the championship lead.
Both Cluzel and Lowes gained from their podium finishes, with Lowes on 76 points to Sofuoglu's 81, while Cluzel is now third overall, on 64. The French rider put his knowledge of Donington to good use and was delighted like his peers not to meet any rainy conditions, which allowed him to find a good race set-up.
Broc Parkes (Ten Kate Racing Products Honda) had good early pace, but dropped out of contention as his rear lost grip and he finished fourth in the race, moving up to fifth in the championship - albeit 39 points behind the leading rider.
SUPERSPORT RACE: (Laps 22 = 88,506 Km)
POS / RIDER / NAT. / TEAM / MOTORCYCLE / GAP
1 / S. LOWES / GBR / BOGDANKA PTR HONDA / HONDA CBR600RR / 33'43.603
2 / K. SOFUOGLU / TUR / KAWASAKI DELTAFIN LORENZINI / KAWASAKI ZX-6R / 0.678
3 / J. CLUZEL / FRA / PTR HONDA / HONDA CBR600RR / 3.987
4 / B. PARKES / AUS / TEN KATE RACING PRODUCTS / HONDA CBR600RR / 8.088
5 / G. RICHARDS / AUS / SMITHS GLOUCESTER / TRIUMPH DAYTONA 675 / 11.786
6 / S. MORAIS / RSA / KAWASAKI DELTAFIN LORENZINI / KAWASAKI ZX-6R / 20.849
7 / R. QUARMBY / RSA / PTR HONDA / HONDA CBR600RR / 23.795
8 / V. DEBISE / FRA / SMS RACING / HONDA CBR600RR / 24.094
9 / B. MCCONNELL / AUS / SMITHS GLOUCESTER / TRIUMPH DAYTONA 675 / 26.663
10 / F. FORET / FRA / KAWASAKI INTERMOTO STEP / KAWASAKI ZX-6R / 26.806
11 / R. TAMBURINI / ITA / TEAM LORINI / HONDA CBR600RR / 29.832
12 / A. BALDOLINI / ITA / POWER TEAM BY SURIANO / TRIUMPH DAYTONA 675 / 33.755
13 / J. METCHER / AUS / RIVAMOTO JUNIOR TEAM / YAMAHA YZF R6 / 34.035
14 / M. ROCCOLI / ITA / BIKE SERVICE - WTR TEN 10 / YAMAHA YZF R6 / 34.311
15 / L. MOSSEY / GBR / SMITHS GLOUCESTER / TRIUMPH DAYTONA 675 / 34.601
Fastest Lap: 21° Sam Lowes 1'31.097 158,982 Km/h
Lap Record: 2011 S. Lowes 1'31.094 158,990 Km/h
Best Lap: 2012 J. Cluzel 1'30.931 159,270Km/h
CHAMPIONSHIP POSITIONS TO DATE:
1 SOFUOGLU 81, 2 LOWES 76, 3 CLUZEL 64, 4 FORET 55, 5 PARKES 42, 6 BALDOLINI 38,
7 QUARMBY 34, 8 MORAIS 27, 9 LEONOV 26, 10 LANZI 25, 11 TAMBURINI 25,
12 IANNUZZO 25, 13 ANTONELLI 25, 14 ROCCOLI 18, 15 METCHER 14.
---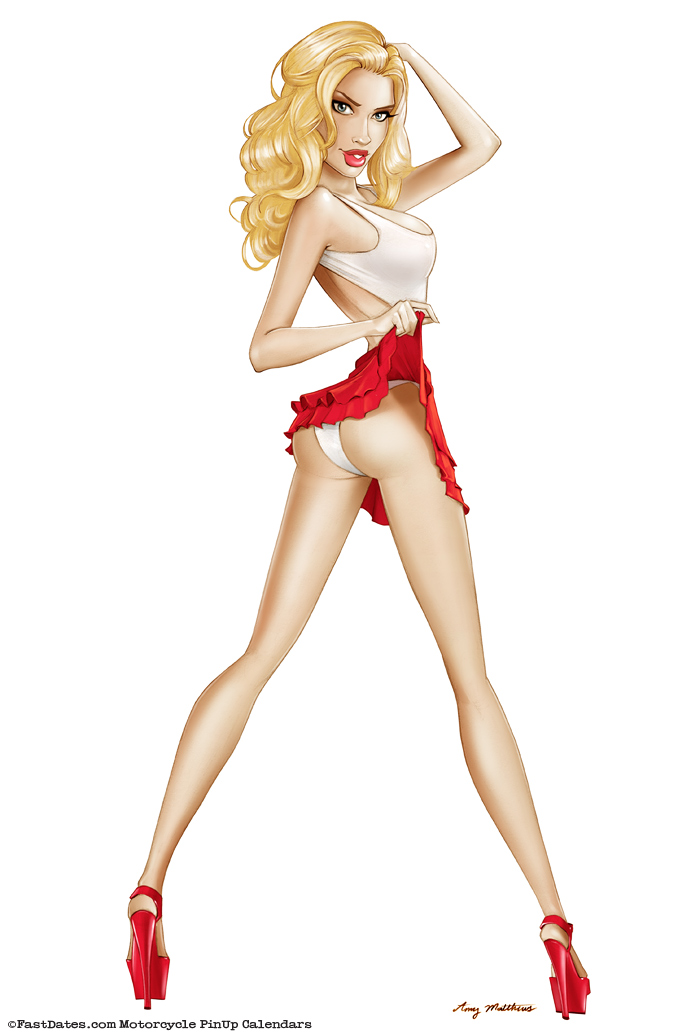 Meet the New FastDates.com Calendar Kitten Logo Girl!
We love our cartoon character FastDates.om Gas Pump Girl were been running as our official logo the past 10 years. It was originally drawn by a talented artist named Kai Buskirk for the motorcycle event T-Shirt company Feelin' Lucky. But after some 10 years now, we felt it was time for a new look for our Calendar tart. I'd been looking for a pinup artist to redraw a new calendar Kitten for a few years now, but just didn't come across anyone whose's style I liked...until now.
Just recently I found a new pinup artist named Amy Mathews / CartoonPink.com - (caution, contains adult content) who has an incredible style all her own, who works a lot with the adult film companies and porn stars. Her airbrusded drawings makes beautiful girls even prettier, and the pictures on her website are guaranteed to make anyone blush and get turned on. I commission Amy to create a new FastDates.com Calendar Kitten girl based on our old logo and my photography of one of my favorite new FastDates.com Calendar Kittens, European supermodel Shannon Baucom, shown below, Shannon who is featured in all 3 of the new 2013 FastDates.com Calendars and some other incredible things premiering here on July 1st. - Jim Gianatsis
---
Order Advance Calendar Bike Show Tickets Now!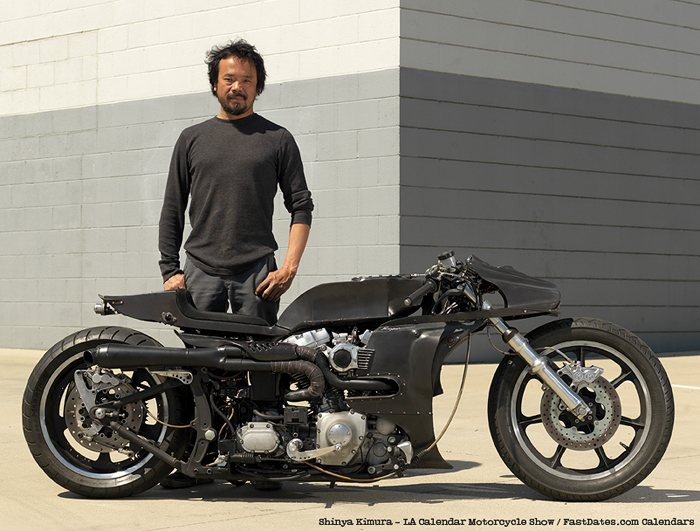 ---
There's more! Go to Pit Lane News Previous Week

Also Visit: Fast Dates Calendar News • Iron & Lace Calendar News
Calendar Girl News • Meet the Models • Paddock Garage

MEMBERS CORNER! Calendar Kittens, Paddock Garage, Iron & Lace Garage





MotorcycleSuperstore.com
Some of our Calendar Kittens can also at Playboy's website...



FREE! New Met-Art Model Galley Updated Daily - Stop Back Each Day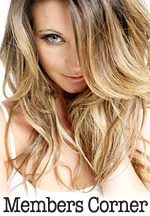 Hot Bikes, Sexy Kittens
Your Exclusive Grid Pass
also includes....
---
Order the New
2012 Calendars!
with FastDates.com Calendar Kitten, Ducati Corse Grid Girl
and Playboy Playmate
Heather Rae Young!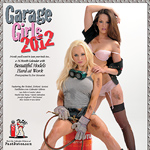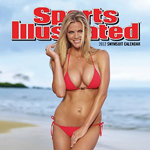 Click for even more Calendars!
---
Team BMW estatic over its first ever World Superbike Championship Victory - that was also a Double!
Donington,Sunday, 13th May 2012. - The long awaited next milestone has been achieved: Team BMW Motorrad Motorsport has climbed onto the top step on the podium. At Donington (GBR), the team not only celebrated its first victory in the FIM Superbike World Championship, but also its first 'one-two' in the series. Factory riders Marco Melandri (ITA) as winner and Leon Haslam (GBR) being second gave BMW Motorrad the perfect finish in race one in today's fifth round of the 2012 season.

It was an exciting road leading to the historic first victory in race one. Starting from second, Leon took the lead immediately by passing pole-sitter Tom Sykes (GBR). Marco maintained his third position. At the end of lap four, Sykes passed Leon again, while Marco was successfully defending attacks from Max Biaggi (ITA). On lap 12, Leon fought his way back into the lead, and when Marco passed Sykes on lap 14 for second, the two BMW riders started their nail-biting battle for victory, changing positions at the very top several times. Then, with three laps to go, Leon went wide onto the grass, slipping back to third behind Sykes. Marco was able to open a gap and get the first victory, while Leon did not give up the fight and overtook Sykes for second at the beginning of the last lap, securing the double triumph for BMW Motorrad.

Today was close to being a dream Sunday for the Bavarian team, with Leon being on his way to home victory and Marco lying in second at the last corner of the second race, but racing can be more than tough: They were denied another well-deserved triumph when an over-optimistic manoeuvre by another rider forced both to crash. From the start, they fought a breathtaking battle with Sykes, Biaggi and Jonathan Rea (GBR) for the top positions. With seven laps to go, Leon took the lead, determined to celebrate the next BMW victory on his home soil. Meanwhile Marco succeeded in the battle for second and there was just one corner to go to another 'one-two'. In this last corner, the too ambitious final attack by another rider forced Leon into a crash. Leon's bike slid across the asphalt and hit Marco's RR with the Italian's race ending in the gravel. Leon was classified 15th and Marco as retired. Rea won ahead of Biaggi and Sykes.

In the Rider's Championship, Marco is fifth with 97.5 points, followed by Leon, who is sixth with 89 points. In the Manufacturers' Standings BMW improved to second after race one, but slid back to third with 131 points after race two. BMW Motorrad Italia GoldBet SBK Team's Michel Fabrizio (ITA) was tenth and 13th, his team-mate Ayrton Badovini (ITA) 11th and sixth.


Marco Melandri:
Result Race 1: 1st / Fastest Lap Race 1: 1:28.999 min
Result Race 2: DNF / Gap to 1st: 1 lap / Fastest Lap Race 2: 1:29.138 min
"It is an awesome feeling for me to put my name in the history books of a factory like BMW Motorrad. I could not have dreamt of this when I was young. I just want to say thank you to BMW Motorrad in Germany, to the team at the track and to everybody involved in the project. We have been working so hard and we have never been close to giving up, even when we have had some difficulties. We will keep pushing, and I am more than happy.

I am disappointed with the result of the second race. I was trying to pass Leon in the final corner, although I knew it would be difficult but I am a racer and I had to try. I ran a little wide and expected Leon to pass me back – finishing second would have been ok for me. Then Leon was hit and he crashed. His bike hit me and I crashed too. I feel sorry for both of us but that's racing. We now have to keep our heads up high and look forward to Salt Lake City where we hope to be fighting for wins again."


Leon Haslam:
Result Race 1: 2nd / Gap to 1st: 00:00.728 min / Fastest Lap Race 1: 1:29.097 min
Result Race 2: 15th / Gap to 1st: 01:20.196 min / Fastest Lap Race 2: 1:39.308 min
"What a day. I had a good pace in race one. In the end, I have to say that I am kind of disappointed with the second place. I had a big wobble out of Coppers and it actually put me on the right hand side of Marco instead of the left, and he braked a bit earlier that lap. I had nowhere to go, so I opted for the gravel. It was kind of a combination of things that caught me out but fair play to Marco. A BMW 1-2 result is just fantastic. Right now I just want to forget race 2. I feel a bit frustrated because I was going for my first win for BMW Motorrad – at my home round, but we were denied that well deserved victory. The crash was not my fault at all… Anyway, that's racing, and we're now looking forward to the next round. Hopefully we can turn things around at the next race meeting at Salt Lake City. I want to dedicate my race 1 result to Robert Fearnall, who was a close friend of the family."


Bernhard Gobmeier (BMW Motorrad Motorsport Director):
"The first race was absolutely thrilling. We saw bike-to-bike action, and our opponents gave us a hard time on the track. Marco's race was impressive: He organized his race excellently, showed great overtaking ability and consequently deserved the victory. For us it is even more satisfying to see that Leon was also able to showcase his talent. He also had great battles on the track and completed BMW Motorrad's first double victory in World Superbikes. This 1-2 is the result of the hard work of everyone involved in this project – in Munich, in Stephanskirchen and at the track. A big Thank You to our riders and the whole team.

The second race was again great – until the last corner. It is just too disappointing to see both riders crash blamelessly when leading the pack into the final corner of the race. Now we have to keep our heads up and look forward to Salt Lake City. We hope to fight for wins there as well."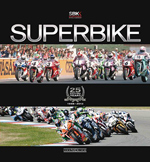 The Official SBK
World Superbikes
1987-2012
25 Year History Book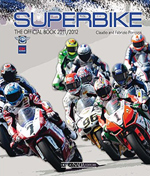 The Official SBK
2011-2012 Yearbook
These SBK Yearbooks are the Best Books Ever about World Superbike
They feature wesome color photography of the riders, bike and racing action. The feature a deailed revue of the past season in pictures and stactics, awith a detailed look at the bikes and riders.
Plus a technical look data all the bikes, a preview of the upcoming season's Championship!
We buy this every year ourselves and highly recommend it!
SBK World Superbike Video Game
---
Honda's Jonthan Rea wins 2nd race Donington thriller
Jonathan Rea took a breathtaking victory in race two of today's fifth round World Superbike championship event at Donington Park in the UK, following a solid fourth place finish in race one.

The 25-year-old Honda World Superbike Team rider worked with his crew all weekend on setting up his Honda CBR1000RR Fireblade for the harder rear tyre on offer at Donington and, in the latter stages of race one, a podium finish even looked possible, as Italian Marco Melandri took victory.

A small set-up change for race two allowed Rea to join a gripping, five-way battle at the front, but it wasn't until the final corner that he saw a chance for victory. As Melandri forced himself and team-mate Leon Haslam wide, Rea went for the resulting gap but came together with Haslam, who crashed out, allowing Rea to take his first podium at Donington Park and his second win of the season – his tenth SBK win in total. As a result he moves up to third place in the championship table, 20.5 points off the lead.

Rea's Honda World Superbike team-mate, Hiroshi Aoyama, continued to make progress on his CBR1000RR, but a set-up change for race one did not bring the expected result and the Japanese rider finished in 17th place.

A setting reversal for race two, improved his machine's handling and gave Aoyama the opportunity to battle to tenth place at the flag.

Jonathan Rea – 4th and 1st -
It's nice to win and, in that second race, everybody wanted to win so bad. It was a crazy race and I made it hard work because I dropped off the group again in the middle stage and then, when I caught the group, I made a big mistake and ran wide at the last corner. To catch up with five laps to go and make up some places and then cap it off with the win was unbelievable. I was quite happy with the fourth in race one as well – the guys gave me a great bike and Chris [Pike – crew chief] and his team were on it all weekend. It's nice to come here and get a good result because it's never happened in the past with Superbike. I got on the podium in Supersport but this is nice for the British fans and there were quite a lot of guys out there. On the slowing-down lap everyone was clapping and it's nice to have a British winner at a British round.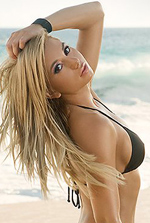 Meet 2012 Calendar Kitten
Sara Balint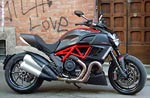 The Devil Made Us Do It!
Testing the Ducati Diavel in Italy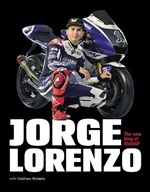 Sudco High Performance & OEM Replacement Parts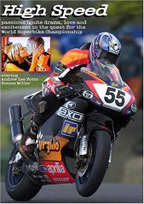 High Speed - the Movie
The best motorcycle racing movie ever made! Filmed on location at the World Superbike races , this an exciting romantic drama staring beautiful British actress Sienna Miller.
---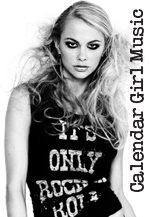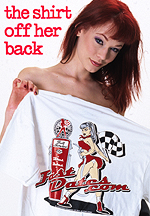 Order the Official
FastDates.com &
LA Calendar Bike Show
T-Shirts!
---