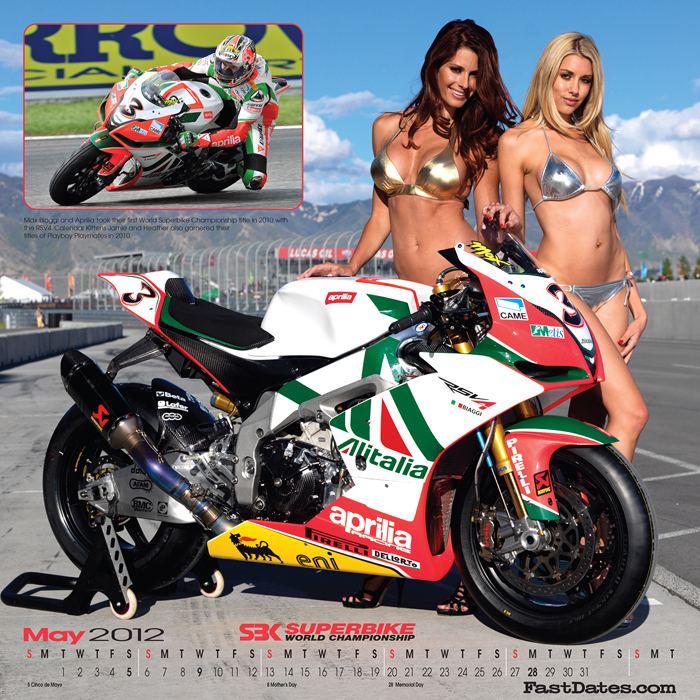 This Month of May in the Fast Dates Calendar
Calendar Kittens and Playboy Playmates Jaime Edmonson and Heather Rae Young get close to Max Biaggis 2010 World Supebike Championship winning Aprilia RSV4 at Miller Motorsports Park. World Superbike USA returns this month to Miller Motorsports Park in Utah, May 25-28th 2012. Check back here for complete coverage and photos. Order the Calendar
Newest Calendar Kitten Chrissy Blair will fly to Miller World Superbike, Utah, with Jim Gianatsis to shoot the next Fast Dates World Superbike Calendar and will serve as an offical SBK Umbrella Girl on the starting grid for the races.
Years of World Superbike: - 25 exciting years!
Rome (Italy), Tuesday 1 May 2012 – World Superbike will be celebrating its 25th anniversary at the Monza Round this coming weekend, offering Italian fans a unique opportunity to be able to get up close with the bikes and riders that since 1988 have helped to create the history of the championship. The Autodromo Nazionale Monza is one of the historic venues of the production-based series and due to its tradition and fascination there could not be a better place to host an event of this kind.

The first appointment is scheduled for Thursday at 1 pm with the inauguration of the exhibition "SBK 25 Years: the Top Bikes", with around thirty of the most representative machines ever to grace the World Superbike racing stage, including amongst others the Honda RC30 with which Californian Fred Merkel won the first world title in 1988. There will also be all the most important models from Aprilia, Bimota, Ducati, Honda, Kawasaki, Suzuki, Yamaha and also the Petronas FP1, which together with Benelli, is the only three-cylinder machine to have raced in Superbike.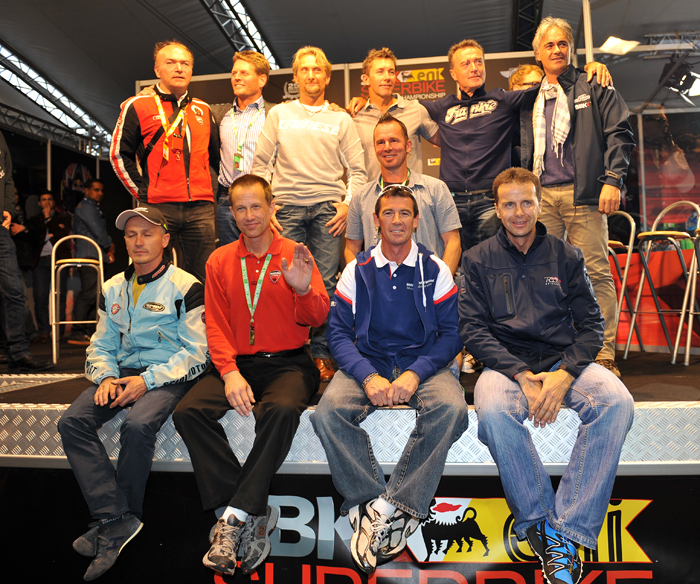 SBK's 25th Anniversary celebration at Monza included earlier inducties and thier newest Hall of Famers (above). Photos by Max Olina.
World Superbike's 25th Anniversary at Monza
As part of four unforgettable days of celebrations for the 25th anniversary of World Superbike, the Monza circuit was the ideal stage for the induction of four more riders into the SBK Hall of Fame: four champions who have written extraordinary chapters of this category, all four living legends of motorbike racing. This time it was the turn of Troy Bayliss, Carl Fogarty, Fred Merkel and Doug Polen, the stars of four different eras of the first quarter of a century of World Superbike with an incredible total of 11 world titles and 146 wins to their name, to receive their 25th anniversary medals of honour.
Fred Merkel, still looking good at 49 years of age, was one of the pioneers of the category: the first world champion in 1988, and the second winner in 1989, both on a Team Rumi Honda RC30.
Eight wins, 24 podiums and 2 titles were obtained by the American, the same number of titles as his compatriot Doug Polen, who was 1991 and 1992 champion on a Ducati 888. For some time Polen was the all-time recordman with 17 poles (10 in the 1991 season), 27 victories and 40 podiums, until the explosion of the Fogarty phenomenon in the second half of the 1990s.
With four titles to his name (1994, 1995, 1998 and 1999), together with 59 wins, "Foggy" is still today the most successful rider in World Superbike, but he was given a close run for his money in the new millennium by another icon: Troy Bayliss. Champion in 2001, 2006 and 2008 on three different generations of Ducati machine (996, 999 and 1098), the Australian was one of the stars of the 'Superbike boom' in the first decade of the millennium, eventually retiring from racing in 2008 as world champion at the end of a sensational career with 52 wins and 94 podiums in 152 races.
While Bayliss, Fogarty, Merkel and Polen have been the finest interpreters of the Superbike spirit on the track over the years, the same can also be said for Eraldo Ferracci, this time from the pit garage: the Italo-American talent scout was the man who 'discovered' and brought Doug Polen and Troy Corser to World Superbike, and was also 1991 world champion team manager with Polen on a Ducati 888. With his eponymous Fast by Ferracci Team, Eraldo is still today involved in American bike racing, and still with prestigious Italian bike manufacturers (Ducati, MV Agusta).
Below is SBK's Paolo Ciabatti with Eraldo Ferracci, 2-time World Championship winning team owner was in attendance with his rider Doug Polen (above photo in Red shirt).
---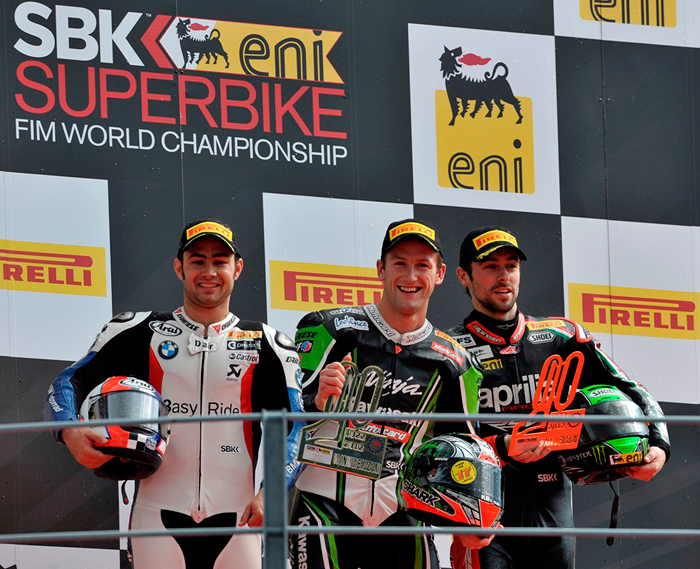 A United Kingdom sweep at Monza with Sykes on the podium with the rian shortened race with Haslam and Laverty
World SuperbikeChampionship, Round 4 of 14, Monza, Italy

Sykes and Kawasaki are Victorious at a Wet Monza World Superbike
WSBK, Monza, Italy, May 6th 2012 - There was no stopping Tom Sykes (Kawasaki Racing Team) at Monza as he scored a clear win in the only SBK race to be completed today, thanks to weather conditions that constantly changed. With the first race cancelled, the second race was delayed to let the track dry in some sections but at the green light Sykes set an unmatchable pace and soon put half the length of the straight between his Ninja ZX-10R and his pursuers. By the time the rains came back and the red flag came out to stop the race Tom had amassed a 9.709 second lead over a six rider group behind him. Tom's victory goes down in history as a full and well-deserved one, but because of the shortened race distance only half points were awarded to all the riders who scored today.
Monza Superbike Preview: from the Cathedral to the Temple of Speed
Monza, Italy, May 4-6th 2012 – With Max Biaggi (Aprilia Racing) at the top of the points table, the eni FIM Superbike World Championship returns to Italy for the second of three events, this time at Monza, the fastest round of the calendar. The production-based racing series will be celebrating its 25th anniversary at the fourth of its 14 rounds, with a glittering array of riders and bikes present throughout the four days. The legends of then and now will be present on Saturday and Sunday in the SBK Paddock Show and for Italian fans it will be a unique opportunity to get close and personal with the men and machines who have contributed to the success of the championship over the past quarter-century.

Monza is the venue for a championship round for the 21st time: the first edition was held in 1990 and it saw a double win for Fabrizio Pirovano on a Yamaha. This will also be the 301st World Superbike round, which will reach the 600-race mark next time out at Donington the following weekend.

2010 Champion Biaggi is back at the top of the points once again despite struggling to get on the podium at a rain-disturbed Assen. Last year's champion Carlos Checa (Althea Racing Ducati) lies just one point behind, but the top of the table is a tightly-fought affair with eight riders (Biaggi, Checa, Sykes, Guintoli, Melandri, Rea, Haslam and Laverty) on five different manufacturer machines separated by just 36 points. Each one of the remaining 22 races will assign 25 points for the winner.

Aprilia are present with their latest-spec engine that may help Biaggi to increase his points lead and improve on last year's record top speed of 334.8 km/h / 207.58 mph and average lap speed of 204.405 km/h he set during Superpole. The Italian rider has started from pole in the last two Monza rounds and also scored a double win in 2010. Twelve months ago he finished second and eighth on what became Eugene Laverty's incredible day of success for Yamaha. The 25 year-old Irishman, who is now his team-mate, is another Monza specialist, having also won the Supersport race the previous year.

Ducati have a great tradition at Monza (18 wins, 40 podiums), but their twin-cylinder bike has not won there since 2009. Checa's best result is eighth place in 2008, when he was with Ten Kate Honda, while another competitive Ducati machine will be in the hands of Frenchman Sylvain Guintoli (Effenbert Liberty Racing), who is on a roll following his maiden win in the Netherlands. Honda World Superbike Team's Jonathan Rea also broke the ice at Assen and will be aiming to continue his move up the points table after his first win of the year.

Monza's long straights should help to boost the chances of the other four-cylinder machines present in this year's championship, starting with Kawasaki. The phenomenon of the season so far, at least in the Tissot-Superpole challenge where he has a perfect 100% record, has been Britain's Tom Sykes, and it will be interesting to see how well the ZX-10R goes this time around. At the time of press, no replacement has yet been slated in for the injured Joan Lascorz.

After twice throwing away a first win at Assen, BMW are extremely confident things will go well this time around; Marco Melandri scored two seconds in 2011 when racing for Yamaha, while Leon Haslam is always up amongst the front runners. BMW scored the first of its eight podiums here in 2010 and the time is right for a first historic triumph. In the Italian-run BMW Motorrad Italia GoldBet squad, both Ayrton Badovini (who crashed at Assen while in the lead) and former Monza winner Michel Fabrizio will again be entrusted with the task of improving on their difficult start to the season. While over at Suzuki, Crescent FIXI men Leon Camier and John Hopkins also showed a true competitive nature following a disappointing opening couple of rounds.

Points (after 3 of 14 rounds): 1. Biaggi 92; 2. Checa 91; 3. Sykes 79; 4. Guintoli 66; 5. Melandri 66; 6. Rea 65; 7. Haslam 58; 8. Laverty 56; 9. Smrz 39; 10. Giugliano 37; etc. Manufacturers: 1. Ducati 136; 2. Aprilia 100; 3. BMW 86; 4. Kawasaki 85; 5. Honda 69; 6. Suzuki 20.

World Supersport
The World Supersport battle for supremacy is looking to be pretty evenly-balanced as Kawasaki and Honda have taken the wins in the first three races. At the top of the table two former title holders are equal on 45 points: Kenan Sofuoglu (Kawasaki DeltaFin Lorenzini) and Fabien Foret (Kawasaki Intermoto Step), but Sam Lowes (PTR Bogdanka Honda) is just 14 points behind, despite his crash at Assen, where the 22 year-old Brit started from pole. A Honda did manage to win in the wet at Assen, the Prorace version of Lorenzo Lanzi, but this exploit by the former WSB winner for the moment probably remains a one-off appearance. One of the title favourites Broc Parkes (Ten Kate Racing Products Honda) has yet to take a win this year, while Vladimir Leonov (Yakhnich Motorsport Yamaha) became the first Russian to score a world championship podium at Assen, moving into a very impressive fifth place in the overall championship standings. Raffaele De Rosa, who started off the season amidst the World Superbike ranks, makes a one-event debut for Lorini Honda.

Points (after 3 of 13 rounds): 1. Sofuoglu 45; 2. Foret 45; 3. Lowes 31; 4. Parkes 29; 5. Leonov 26; 6. Lanzi 25; 7. Quarmby 25; 8. Baldolini 24; etc. Manufacturers: 1. Kawasaki 70; 2. Honda 61; 3. Yamaha 31; 4. Triumph 30; 5. Suzuki 6.

Superstock 1000
BMW Motorrad Italia's ultra-successful run continues in the Superstock 1000 category reserved for under-26s. In 2010 the Italian squad wiped the floor with Ayrton Badovini, and last year they had Lorenzo Zanetti in their ranks; both now race in the top class. Now it's the turn of the 23 year-old Frenchman Sylvain Barrier, who prepared for Sunday's race in the best possible way by notching up another win last Sunday in the Italian series on the same track. Barrier has 50 points after two wins in two races, and is followed on 32 by Eddi La Marra (Barni Racing Team Italia), with the
Guintoli takes first Tissot-Superpole, Sykes smashes records
Superpole, Saturday May 5th - Sylvain Guintoli (Team Effenbert-Liberty Racing) made the best of the continuing difficult and changeable track conditions at Monza to record his first ever Tissot-Superpole win. At a circuit that was not expected to favour the twin-cylinders this was a surprise result to most but Guintoli richly deserved his pre-race success after a gamble to use a slick rear tyre on a slowly drying track paid off.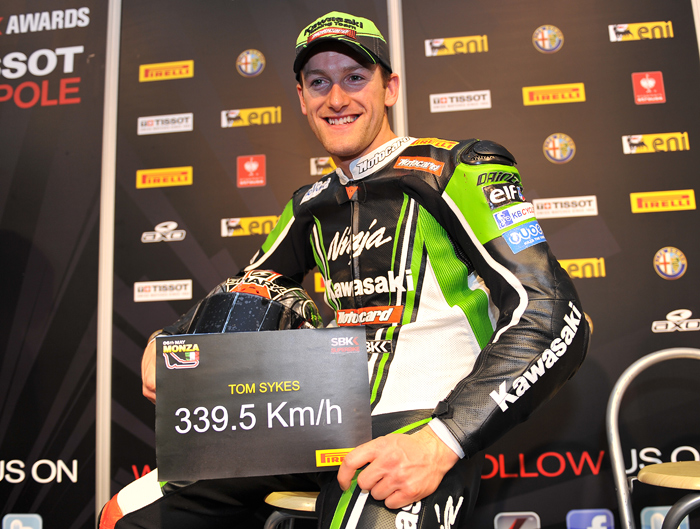 Tom Sykes (Kawasaki Racing Team) was unable to quite reach the level of Guintoli, as he failed to win the pole prize for the first time this year, but in the final free qualifying session he used the slipstream provided by another rider to take his ZX-10R to a new record top speed in SBK history, 339.5 km/h, which equates to over 210mph.
A wet Superpole was called which meant that there would be only two sessions, each of 20 minutes duration, with the slowest eight riders eliminated after the first session. As soon as the first part started bright sunshine dried the wet track, particularly on the main straight, but further small showers were evident around the lap before the finish.

Marco Melandri (BMW Motorrad Motorsport) was third in Tissot-Superpole, Carlos Checa (Althea Racing Ducati) fourth.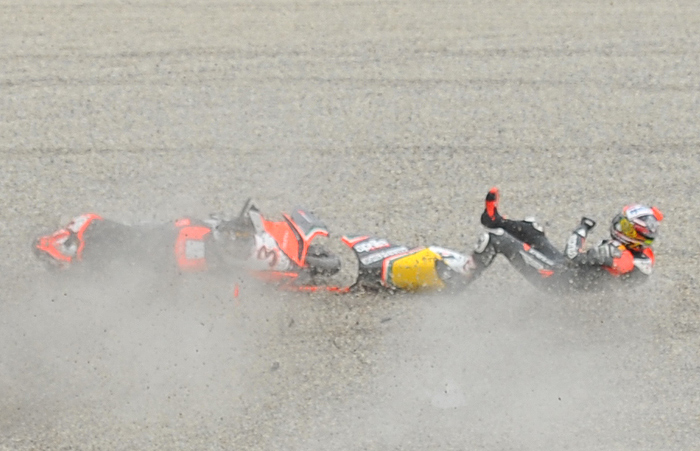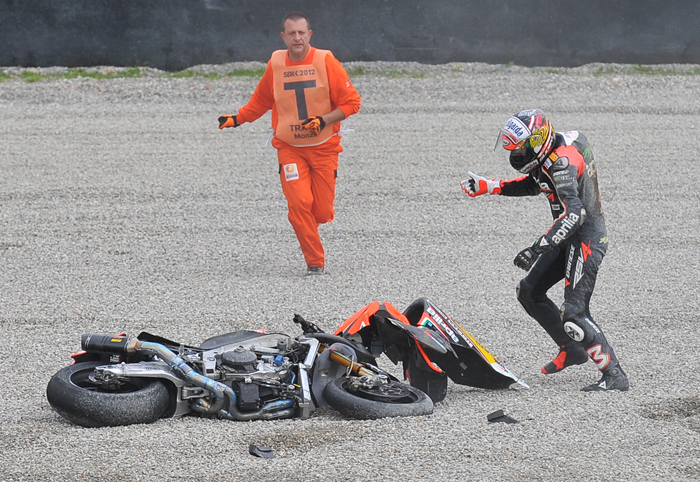 Championship points leader max Biaggi didn't have the best of Superpole.

Sylvain Guintoli: "First pole for me and in difficult conditions! Unlike Tom and Marco I'm hoping for rain tomorrow, I'll probably do a dance before the race. Today I had to take a lot of risks, I decided to go with the slick tyres and some corners were still wet, so it was quite dangerous and the last lap was very exciting. I thought Tom had enough watches now and I could do with one for my wife!"

Tom Sykes: "We've done a good job over the race weekend, we've got a good consistent race pace, and hopefully it'll be dry. Today it wasn't to be; we got outpaced by the 'snails', but I'm looking forward to tomorrow. Obviously it's great for the Kawasaki to be so fast, I had fantastic drive from the exit of the Parabolica and who better but Max to be directly in front, I had a lot of help from him! Setting a new record is just a little bit extra for the books!"

Marco Melandri: "For sure it's a good result, it's been such difficult weather. I'm happy now because after Assen I was a bit worried about the wet conditions. BMW made a good job, the bike is working better and it's nice to be on the front row. We got a new engine one month ago and it's working pretty good here. I hope the weather will be a bit more stable. I hope to give a good race to Silvano (Galbusera) who is not here today."

The second row of the grid for Sunday's races will be headed by Jonathan Rea (Honda World Superbike Team) with Max Biaggi (Aprilia Racing), Jakub Smrz (Liberty Racing Team Effenbert) and Davide Giugliano (Althea Racing Ducati) alongside him. John Hopkins (Crescent FIXI Suzuki) and Eugene Laverty (Aprilia Racing) completed the top ten after just missing out on qualification for Superpole 2, but the most disappointed rider on the day was local man Michel Fabrizio (BMW Motorrad Italia Gold Bet) who had been fastest in combined qualifying but only 11th after Superpole. The last place on the third row was taken by Leon Camier (Crescent FIXI Suzuki).

Superpole Times: 1. Guintoli S. (FRA) Ducati 1098R 1'54.276; 2. Sykes T. (GBR) Kawasaki ZX-10R 1'54.990; 3. Melandri M. (ITA) BMW S1000 RR 1'55.971; 4. Checa C. (ESP) Ducati 1098R 1'56.793; 5. Rea J. (GBR) Honda CBR1000RR 1'57.630; 6. Biaggi M. (ITA) Aprilia RSV4 Factory 1'58.666; 7. Smrz J. (CZE) Ducati 1098R 1'59.718; 8. Giugliano D. (ITA) Ducati 1098R 2'00.645; 9. Hopkins J. (USA) Suzuki GSX-R1000 1'59.489; 10. Laverty E. (IRL) Aprilia RSV4 Factory 1'59.680; 11. Fabrizio M. (ITA) BMW S1000 RR 1'59.681; 12. Camier L. (GBR) Suzuki GSX-R1000 1'59.845; 13. Badovini A. (ITA) BMW S1000 RR 1'59.978; 14. Haslam L. (GBR) BMW S1000 RR 2'00.093; 15. Salom D. (ESP) Kawasaki ZX-10R 2'00.602; 16. Davies C. (GBR) Aprilia RSV4 Factory 2'01.772; etc.
Weather intervenes as Sykes wins his first race of 2012
Race Day Sunday May 6th – Thanks to poor weather conditions that came and went all day at Monza the first race had to be cancelled and only one SBK contest took place, which was then unavoidably shortened to half distance. On a day of uncertainties and unpredictable track conditions Tom Sykes (Kawasaki Racing Team) provided an emphatic win out of all proportion to the short eight laps the race lasted before the rains came back to spoil the party yet again. His margin of victory was 9.709 seconds, more than a second per lap faster than his main rivals in damp but drying track conditions. An overall crowd figure of 85,000 was recorded at the Autodromo Nazionale for this weekend's event.
Tom's victory goes down in history as a full and well-deserved one, but because of the shortened race distance only half points were awarded to all the riders who scored today. Sykes and his team had opted for a slick tyre set-up on the drying track, soft on front and rear, and the choice worked perfectly. This was Sykes' second victory for Kawasaki in SBK racing, and his first in the 2012 season. The final result of his Monza win is that he closed up on the championship leaders, and is now only six points behind Max Biaggi, and four behind Carlos Checa.

Tom Sykes: "There's been a lot of commotion today, but to get the win for Kawasaki and the ZX-10R is great for us. The bike was awesome in the race, there were a lot of damp patches, but I had such good feedback I was able to get my head down and go about business in a good way. It's a shame the race couldn't go two-thirds distance but, hopefully now we can move on to a very sunny England and have some consistent weather for a change!."

Leon Haslam: "I think we made the best of a bad day, 14th on the grid wasn't ideal. It was quite difficult to overtake coming off the dry line, but it worked out perfect. We managed to get second, Tom was too quick from the get-go and by the time I got second he had already gone. A big credit to BMW, I'm happy to just get back onto the podium."

Eugene Laverty: "We've been strong all weekend here at Monza in these conditions but I think we're all just relieved to get that race over. I'm happy to be on the podium, home safe and sound. When I saw Leon go in front of me because he's very experienced, I was happy to follow him and let him lead the way because there were some damp patches. Pleased for the podium after a tough day."

As the race was so short, but beyond the lap count that would mean a restart, only half points were awarded to all the top 15 finishers. Tissot-Superpole winner Sylvain Guintoli (Effenbert-Liberty Ducati) looked like he would be the man to challenge Sykes but his bike stalled on the final warm-up lap and he could not get back to the grid in time to make the start. Leon Haslam (BMW Motorrad Motorsport) and Eugene Laverty (Aprilia Racing Team) headed up a warring group of six potential podium riders, with Max Biaggi (Aprilia Racing Team) fifth and Carlos Checa (Althea Racing Ducati) seventh.

Sykes is the fifth different race winner of the year and race victories have now been taken by Aprilia, Ducati, Honda and Kawasaki riders, after only seven individual race finishes.

Superbike Results: 1. Sykes T. (GBR) Kawasaki ZX-10R 14'08.800; 2. Haslam L. (GBR) BMW S1000 RR 9.709; 3. Laverty E. (IRL) Aprilia RSV4 Factory 10.119; 4. Melandri M. (ITA) BMW S1000 RR 10.294; 5. Biaggi M. (ITA) Aprilia RSV4 Factory 10.527; 6. Rea J. (GBR) Honda CBR1000RR 10.638; 7. Checa C. (ESP) Ducati 1098R 10.899; 8. Giugliano D. (ITA) Ducati 1098R 12.195; 9. Smrz J. (CZE) Ducati 1098R 13.199; 10. Badovini A. (ITA) BMW S1000 RR 19.372; 11. Aoyama H. (JPN) Honda CBR1000RR 24.551; 12. Davies C. (GBR) Aprilia RSV4 Factory 24.655; 13. Berger M. (FRA) Ducati 1098R 24.662; 14. Zanetti L. (ITA) Ducati 1098R 24.668; 15. Camier L. (GBR) Suzuki GSX-R1000 24.810; 16. Mercado L. (ARG) Kawasaki ZX-10R 24.935; etc.

Points (after 4 of 14 rounds): 1. Biaggi 97.5; 2. Checa 95.5; 3. Sykes 91.5; 4. Melandri 72.5; 5. Rea 70; 6. Haslam 68; 7. Guintoli 66; 8. Laverty 64; 9. Smrz 42.5; 10. Giugliano 41; etc. Manufacturers: 1. Ducati 140.5; 2. Aprilia 108; 3. Kawasaki 97.5; 4. BMW 96; 5. Honda 74; 6. Suzuki 20.5.

World Supersport
Jules Cluzel (PTR Honda) won what was only his fourth ever Supersport race, in wet conditions at Monza. He finally held off an exciting late challenge from Sam Lowes (Bogdanka PTR Honda) who passed him going into the final corner, but was forced wide to allow Cluzel to duck inside and claim the prize. Some way back, Kenan Sofuoglu (Kawasaki DeltaFin Lorenzini) was a safe third, ahead of the impressive wet-weather abilities of Imre Toth (Racing Team Toth). Fifth was wild card rider Stefano Cruciani (Puccetti Racing Kawasaki Italia).

Supersport 600 Results: 1. Cluzel J. (FRA) Honda CBR600RR 33'08.897; 2. Lowes S. (GBR) Honda CBR600RR 0.312; 3. Sofuoglu K. (TUR) Kawasaki ZX-6R 17.369; 4. Toth I. (HUN) Honda CBR600RR 21.528; 5. Cruciani S. (ITA) Kawasaki ZX-6R 29.469; 6. Baldolini A. (ITA) Triumph Daytona 675 32.214; 7. Roccoli M. (ITA) Yamaha YZF R6 43.577; 8. Antonelli A. (ITA) Honda CBR600RR 43.949; etc.

Points (after 4 of 13 rounds): 1. Sofuoglu 61; 2. Lowes 51; 3. Foret 49; 4. Cluzel 48; 5. Baldolini 34; 6. Parkes 29; 7. Leonov 26; 8. Lanzi 25; etc. Manufacturers: 1. Honda 86; 2. Kawasaki 86; 3. Yamaha 40; 4. Triumph 40; 5. Suzuki 6.

Superstock 1000 - Savadori takes Ducati Panigale to its first World Victory and Points Lead
Lorenzo Savadori (Barni Racing Team Italia) took the all-new Ducati 1199 Panigale to its first win in this class of racing, on a drying track at Monza. With the previous championship leader Sylvain Barrier (BMW Motorrad Italia GoldBet) falling late in the race the championship lead was taken over by Savadori, who has 53 points to Barrier's unchanged 50. Christoffer Bergman (BWG Racing Kawasaki) was an impressive second, only 1.65 seconds behind, with Eddi La Marra (Barni Racing Team Italia) right behind him. Fabio Massei (EAB Ten Kate Junior Team) was fourth in the 11-lap race with Marco Bussolotti (SK Energy Racing Team Ducati). With his third place La Mara is now only five points from the leader Savadori and two behind Barrier.

Superstock 1000 Results: 1. Savadori L. (ITA) Ducati 1199 Panigale 21'21.255; 2. Bergman C. (SWE) Kawasaki ZX-10R 1.651; 3. La Marra E. (ITA) Ducati 1199 Panigale 1.884; 4. Massei F. (ITA) Honda CBR1000RR 3.071; 5. Bussolotti M. (ITA) Ducati 1098R 11.194; 6. Gyorfi A. (HUN) Honda CBR1000RR 21.378; 7. Reiterberger M. (GER) BMW S1000 RR 26.047; 8. Baroni L. (ITA) BMW S1000 RR 30.259; etc.

Points (after 3 of 10 rounds): 1. Savadori 53; 2. Barrier 50; 3. La Marra 48; 4. Reiterberger 35; 5. Baz 30; 6. Bergman 28; 7. Massei 23; 8. Baroni 20; etc. Manufacturers: 1. Ducati 61; 2. BMW 59; 3. Kawasaki 50; 4. Honda 23; 5 Aprilia 11.
---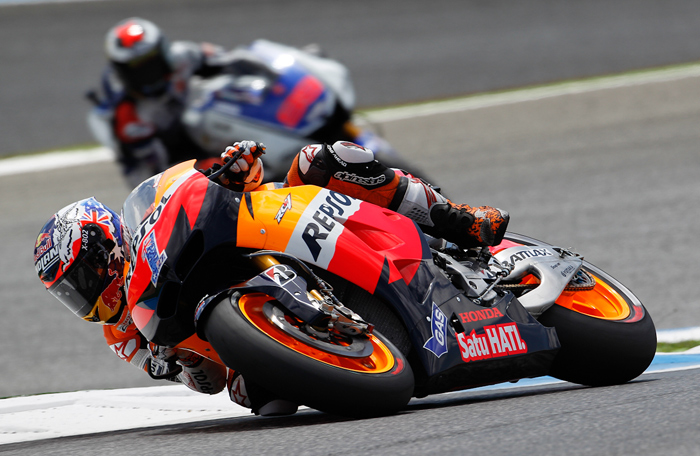 MotoGP World Championship, Round 3 of 18, Jerez, Estoril, Portugal

Estoril MotoGP
Estorial, Portugal, Sunday May 6th 2012 - Repsol Honda Team's Casey Stoner made it two wins in a row to take the lead in the MotoGP™ championship with victory at the Grande Prémio de Portugal Circuito Estoril.Having led from the start, the reigning World Champion never gave up the lead, as he put in another dominant performance at the Portuguese circuit, ahead of championship rival, Factory Yamaha Team's Jorge Lorenzo. Stoner's win now means he has won at every track on the current MotoGP calendar in the premier class.

The Australian pulled out a gap early on, but Lorenzo and Repsol Honda's Dani Pedrosa did not give up without the fight, as they slowly closed in on the leader throughout the race. It was however Stoner who put the hammer down in the final laps, to take victory and the championship lead.
Monster Yamaha Tech 3's Andrea Dovizioso fought a race-long battle with teammate Cal Crutchlow, and came out on top for the first time this season finishing in fourth. San Carlo Honda Gresini's Álvaro Bautista put in another solid performance to take sixth place, finishing ahead of Ducati Team´s Valentino Rossi, who recorded his best finish of the season. Despite still not being near the front, Rossi has stated that he is starting to feel more comfortable on-board his Desmosedici.

After showing promising form all weekend, Yamaha's Ben Spies had another disappointing race, finishing down in eighth after running wide early on in the race. He displaced LCR Honda MotoGP's Stefan Bradl into ninth, ahead of Pramac Racing's Héctor Barberá in tenth. Power Electronics Aspar's Aleix Espargaró took top CRT spot for a second race in succession.

Cardion AB Racing's Karel Abraham, Speed Master's Mattia Pasini and Avintia Blusens' Yonny Hernández all crashed out in the race, while Hernández's teammate Iván Silva pulled into the pits early on after suffering pain from his earlier warm-up crash. Paul Bird Motorsport's difficult start to the season continued, as Briton James Ellison retired with a mechanical issue on his ART bike.
Casey Stoner, Repsol Honda: race winner - "In the end it was another fantastic weekend for us. This morning we were more confident but also a little concerned because yesterday afternoon when we had a very similar setting to what we had in FP3 the bike was a bit worse in the warm conditions. In warm-up we didn't have a big problem with chatter, but in the race, in warmer conditions, we struggled a lot more. This was very difficult to ride with. In the first part of the race I was confident and attacking the track, but I almost lost the front twice due to the chatter. From this point I backed off a little, tried to stay smooth and just wanted to stay in front of Jorge and Dani, but Jorge was coming strong. I had to try and keep my pace and not make too many mistakes, so I was changing the mapping to try and reduce the chatter problem. Towards the end of the race I began to understand how to ride around it, this made things smoother and I found some more pace and was able to bring it home for a great race win."
RESULTS MOTOGP RACE: (28 laps = 117.096 Km)
POS / RIDER / NAT. / TEAM / MOTORCYCLE / TIME / KM/H / GAP
1 / CASEY STONER / AUS / REPSOL HONDA TEAM / HONDA / 45'37.513 / 153.988 /
2 / JORGE LORENZO / SPA / YAMAHA FACTORY RACING / YAMAHA / 45'38.934 / 153.908 / 1.421
3 / DANI PEDROSA / SPA / REPSOL HONDA TEAM / HONDA / 45'41.134 / 153.785 / 3.621
4 / ANDREA DOVIZIOSO / ITA / MONSTER YAMAHA TECH 3 / YAMAHA / 45'51.359 / 153.213 / 13.846
5 / CAL CRUTCHLOW / GBR / MONSTER YAMAHA TECH 3 / YAMAHA / 45'54.203 / 153.055 / 16.69
6 / ALVARO BAUTISTA / SPA / SAN CARLO HONDA GRESINI / HONDA / 45'59.397 / 152.767 / 21.884
7 / VALENTINO ROSSI / ITA / DUCATI TEAM / DUCATI / 46'04.310 / 152.495 / 26.797
8 / BEN SPIES / USA / YAMAHA FACTORY RACING / YAMAHA / 46'10.775 / 152.139 / 33.262
9 / STEFAN BRADL / GER / LCR HONDA MOTOGP / HONDA / 46'13.380 / 151.997 / 35.867
10 / HECTOR BARBERA / SPA / PRAMAC RACING TEAM / DUCATI / 46'30.876 / 151.044 / 53.363
11 / NICKY HAYDEN / USA / DUCATI TEAM / DUCATI / 46'40.143 / 150.544 / 1'02.630
12 / ALEIX ESPARGARO / SPA / POWER ELECTRONICS ASPAR / ART / 46'58.249 / 149.577 / 1'20.736
13 / RANDY DE PUNIET / FRA / POWER ELECTRONICS ASPAR / ART / 47'00.996 / 149.431 / 1'23.483
14 / MICHELE PIRRO / ITA / SAN CARLO HONDA GRESINI / FTR / 47'15.418 / 148.671 / 1'37.905
15 / DANILO PETRUCCI / ITA / CAME IODARACING PROJECT / IODA / 46'01.358 / 147.206 / 1 LAP
Pole Position: Casey STONER 1'37.188 154.908 Km/h
Fastest Lap (New record): Jorge LORENZO 1'36.909 155.353 Km/h Lap 3
Old Circuit Record Lap: Dani PEDROSA 1'36.937 155.309 Km/h 2009
Circuit Best Lap: Jorge LORENZO 1'35.715 157.291 Km/h 2008
CHAMPIONSHIP POSITIONS TO DATE:
1 STONER 66, 2 LORENZO 65, 3 PEDROSA 52, 4 CRUTCHLOW 37, 5 DOVIZIOSO 35, 6 BAUTISTA 29,
7 BRADL 24, 8 HAYDEN 23, 9 ROSSI 22, 10 BARBERA 19, 11 SPIES 18, 12 ESPARGARO 9, 13 DE PUNIET 6,
14 EDWARDS 4, 15 PETRUCCI 4.
---

With just 24 days until qualifying for the Senior TT, the 195bhp V4 racer is almost ready for the gruelling 226-mile race.
Norton Shakes Down new V4 Racer for Isle of Man debute
May 1st, 2012 - Norton has making tremendous progress as a company in its short two years of rebirth under Stuart Garner. Just recently the British company announced that it had retained Pierre Terblanche, which virtually guarantees a unique design coming forth from the historic brand. Norton has also begun setting up shop in the United States, appointing former Ducati CEO Dan Van Epps to head the branch. Under develop is an all-new 1000cc V-4 modern sportbike that might be raced in MotoGP in prototyoe form, and may see production in the future. The bike is currently being test to debute later this monyh at the histroric Isle of Man races.
Track testing is now underway and the focus has been on fine tuning the way the bike turns and brakes, along with preparations on the Ohlins suspension and Dunlop tyres – ensuring both are synchronized and ready for the toughest road race in the world. The bike is being put through its' paces on a high speed test, including a 165mph 'no hands' test to check the stability of the bike - definitely not for the faint-hearted!
AT Power are sorting out the throttle bodies, fuel injection and ignition mapping. The combination of 195bhp and 190kg when fully fuelled and ready to race is a great combination for the TT. Head of Design, Simon Skinner says, "We've gone for a bike we hope will be rock solid… The biggest stuff in terms of the design and engineering are all now done and the list of things to do is much smaller, but no less important. Some of these are going to take a lot of work to get right but we have a good team and determination."
Stuart Garner, CEO said, "Being there for the first high-speed test was interesting and we were all a bit nervous because we needed to know the bike was stable. Our rider Ian Mackman did some high-speed runs, hard braking and lots of track laps - he was really happy."
Ian Mackman is one of the few people to have ridden the bike and said, "The first time was just a few weeks ago…the bike feels quite small like a 600 sports bike. We pushed the bike up to 165mph - everything seems right with the stability. The engine feels great in terms of the way it delivers the power, really strong."
Follow the progress of the V4 build as it happens on twitter - @norton_ceo
---
Order Advance Calendar Bike Show Tickets Now!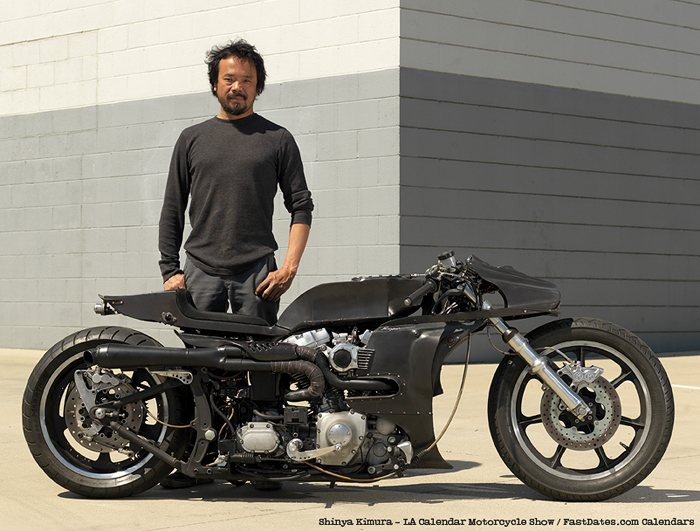 ---
There's more! Go to Pit Lane News Previous Week

Also Visit: Fast Dates Calendar News • Iron & Lace Calendar News
Calendar Girl News • Meet the Models • Paddock Garage

MEMBERS CORNER! Calendar Kittens, Paddock Garage, Iron & Lace Garage





MotorcycleSuperstore.com
Some of our Calendar Kittens can also at Playboy's website...



FREE! New Met-Art Model Galley Updated Daily - Stop Back Each Day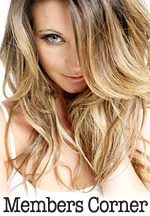 Hot Bikes, Sexy Kittens
Your Exclusive Grid Pass
also includes....
---
Order the New
2012 Calendars!
with FastDates.com Calendar Kitten, Ducati Corse Grid Girl
and Playboy Playmate
Heather Rae Young!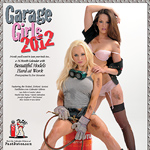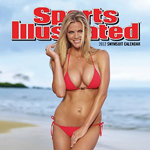 Click for even more Calendars!
---
Hayden, Rossi eight and ninth in Spanish Grand Prix
Jerez, April 29th - The weekend's last rain shower fell less than an hour before the Spanish Grand Prix, leaving time for the water to evaporate enough to have the race declared dry, so the MotoGP riders started on slick tyres. Nicky Hayden, who started from the first row, was involved in a back-and-forth battle for third place with Crutchlow and Pedrosa. The American then steadily lost ground as grip decreased, eventually finishing eighth. Valentino Rossi, who started from the fifth row, steadily improved his pace as he climbed to eighth place.

Both riders will continue working on the setup of the GP12, starting this Friday when they again take to the track for free practice at the Portuguese Grand Prix in Estoril, and also during the post-race test on Monday.

Nicky Hayden (Ducati Team) 8th
"It was fun for a couple of laps. We know our bike is great at generating heat in the tyres, and for the first few laps, I was able do what I wanted. Then about the time it looked like the other guys' tyres came up to temperature, mine had already started losing grip, especially in the front. I was pushing wide in places and guys started coming past me. We knew it would be tough in the dry. My setup was okay, but to really try to go with those guys wasn't possible. I was able to close back down on Bradl at the end and have a bit of a race the last couple of laps, but he beat me. Eighth place is certainly not what our goal is. The bike's got a lot of potential, but at the moment, the gap to the rest is still too far. Hopefully we can get a dry weekend in Estoril and try to be closer to the front on Sunday."

Valentino Rossi (Ducati Team) 9th
"The positive thing from today's race is that I think it might help us to do a bit better in the coming events, starting next week in Portugal. Today we used a setup that's new for us, and it gave some positive signs. First we tried some solutions to give me a feeling similar to what I've had in the past, but it doesn't work. Today's setting was very similar to what Nicky has used for a while, though not exactly the same. I must get used to riding the bike a bit differently than I'm used to, and today that caused me to lose some ground in the early laps because I was basically starting blind. I wasn't going bad once I found my rhythm, in the sense that I was matching the times of those who were fighting for sixth place, and I was able to push until the end, doing a 1:41.0 on the penultimate lap. This helps me to be a little more optimistic as I look ahead to the next races because if I'm able to ride a bit better, it could be a place for us to start from. In fact, we'll use this setting when we start on Friday. Naturally, we'll have to keep working, be more effective in qualifying so that we can start further forward, and improve acceleration and a number of other things, which we've already discussed at Ducati as we try, together, to improve the GP12."

Vittoriano Guareschi (Team Manager)
"Today we wanted to see both Nicky and Vale finish the race closer to the front, but overall, there are several positive things to take from this weekend as we continue our work and our development path for the GP12. We received confirmation that we're very fast in the wet, and in the dry, we had a good qualifying session with Nicky, who made the first row. Nicky was very competitive in the early laps of the race, and now we must also improve over race distance with him. Vale found qualifying difficult, but in the race, using a setting that he'd never tried, he felt okay and was steadily gaining confidence and going faster. These are signs that show us the direction to follow starting with the next round in a few days in Portugal."
Max Biaggi retakes SBK Championship Points Lead at Assen
First Podium astride Aprilia for Laverty
Assen, 22 April 2012 – The Assen round Sunday will be long remembered for the continuous pendulum of emotions, both because of the uncertain weather and the great show on the track. The Aprilia Racing Team confirmed itself as a key player in spite of the difficulties Max Biaggi and Eugene Laverty faced throughout the weekend. The Northern Irish rider's rostrum finish in Race 2 ended a day which returns the championship's first place position to Biaggi, even if only by one point.

The first thing to note about race one is that it was red flagged due to rain with nine laps to go. After returning to the pits to put on the softer tyres for the wet, the riders lined up for a new start in the driving rain. Max and Eugene immediately demonstrated excellent pace in truly difficult grip and visibility conditions. Biaggi and Laverty rode past the chequered flag respectively in fourth and fifth place.

Race 2, on the other hand, started with no rain and quickly drying asphalt, so much that almost all the riders chose full slicks directly from the starting grid. Max, starting from the fifth row, was able to earn twelfth place within the first three laps, taking advantage of some mistakes made by the forerunners to end the race in eighth place. Eugene's race was a battle of the top 5 with overtaking and fast laps galore. The rider from Northern Ireland skilfully managed a difficult race and flew to his first podium (third place) under the Aprilia Racing colours.

Checa's seventeenth place in Race 2 returned the championship lead spot to Max Biaggi, albeit only one point in front of the Spaniard. The Aprilia Racing Team is also at the top of the team standings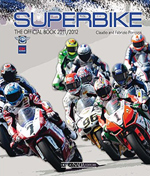 The Official SBK
2011-2012 Yearbook
These SBK Yearbooks are the Best Books Ever about World Superbike
They feature wesome color photography of the riders, bike and racing action. The feature a deailed revue of the past season in pictures and stactics, awith a detailed look at the bikes and riders.
Plus a technical look data all the bikes, a preview of the upcoming season's Championship!
We buy this every year ourselves and highly recommend it!
SBK World Superbike Video Game
---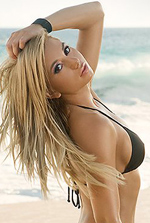 Meet 2012 Calendar Kitten
Sara Balint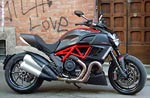 The Devil Made Us Do It!
Testing the Ducati Diavel in Italy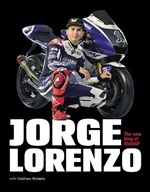 Sudco High Performance & OEM Replacement Parts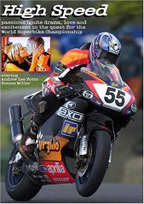 High Speed - the Movie
The best motorcycle racing movie ever made! Filmed on location at the World Superbike races , this an exciting romantic drama staring beautiful British actress Sienna Miller.
---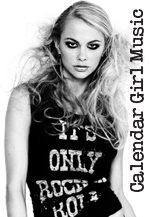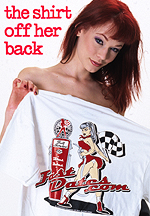 Order the Official
FastDates.com &
LA Calendar Bike Show
T-Shirts!
---