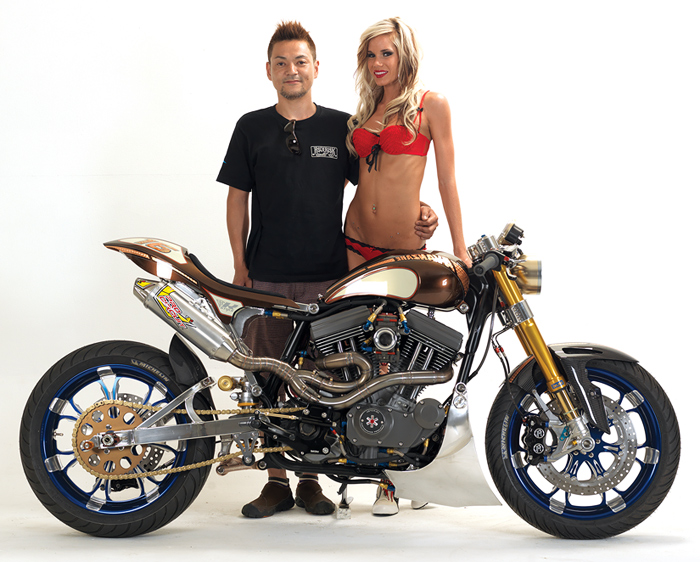 Ladies and Gentlemen, presenting 2012 LA Calendar Best of Show winner Hoshikawa Hideki and his bike 'Asterisk'
together with World Superbike Calendar Kitten Kinsey Ray.
Japanese Builder Hoshikawa Hideki flys in to take Best of Show
2012 LA Calendar Motorcycle Show
Calabasas, California, USA, Sunday July 22nd, 2012 - The 21st edition of the LA Calendar Motorcycle Show sponsored by Russ Brown Motorcycle Attorneys moved into its third decade as the premier outdoor streetbike event in America featuring its top Celebrity Builders, the Calendar Bike Building Championship & Concours d' Elegance, selected Vendors and Exhibitors, Calendar Girl Music live performances, now taking place at a beautiful new new location on the lawn and under the shade trees of the Calabasas Inn, in the upscale Los Angeles suburb of Calabasas, California. The first decade of the Calendar Motorcycle Show took place at the exciting Museum of Flying at the Santa Moncia Airport, then expanded in 1991 to two days the larger Queen Mary event facility in Long Beach venue alongside the Pacific Ocean.
For the fourth time in eight years, a top Japanese builder used the LA Calendar Show to mark his entrance onto the world stage, following in the foot steps of former Best of Show and Class winners Shinya Kimura / Chabott Engineering, Kenji Nagai / Ken's Factory and Hiroyouki Hirata of BB Custom Factory who all flew in with their bikes from Japan to compete at the Calendar Show.
Garnering Best of Show in this year's 2012 Calendar Bike Building Championship was Hoshikawa Hideki / Asteris9.com from Miyagi, Japan who flew in to Los Angeles for just 3 days with his latest custom bike build to compete and take top honors, then fly back home to Japan. Celebrity judges Jim Gianatsis, Jim Giuffra, Chris Redpath and Michael Schacht choose Hideki's 883cc Sportster based naked custom sportbike as the most exciting, original and well constructed custom at the Show. Hideki said he built it for a customer who gave him a blank check and no instructions whatsoever, other then to ask him to build the best bike he could build. Hideki is not necessarily a sportbike enthusiast, he builds all kinds of Harley based customs, but this time he said, he wanted to concentrate on the quality of the design and build, utilizing real sportbike feel and performance for the now highly modified 1200cc Sportster engine.
Complete 2012 LA Calendar Motorccyle Show Coverage Here
---
The Fast Dates World Superbike Calendar Presents a History, Track Tests,
Team Rider and Designer Interviews, and Pictures of All the
Ducati Corse World Superbikes
by Alan Cathcart and Jim Gianatsis
The year 2011 marked the 25th anniversary of the creation of the first, of a now legendary line of Ducati Superbikes with their trademark Desmoquattro 4-valve V-twin motors hung below a lightweight trellis tube frame, race bikes that went on to dominate the then new World Superbike Championship for next quarter of a century. Arguably the most significant motorcycle engine design of any kind since the CB750 Honda, and surely the most remarkable and successful volume production engine format ever used in world competition by any single manufacturer, the venerable Ducati 4-valve desmodromic engine recorded to this date 14 World Superbike Championship titles in the 24 year history of the world's premier production bike based world roadracing series.
This book chronicles the development and history all five Ducati Corse World Superbike generations from the first Desmoquatro 750cc prototype to the revolutionary new 1199 Panigale Superquadro together with interviews with the Ducati designers, team racers and managers. This unique insight is provided by renown motorcycle racer and journalist Alan Cathcart who has had the envious and often exclusive opportunity to test ride every one of the factory Corse race bikes over the last 25 years, those tests of which are featured here. Photography of the Corse factory bikes and riders is proved by the world's most renown motorcycle roadracing photographers.
Adding icing to the cake, and to warrant this big collectors edition book, included are the incredible high definition photographs of the bikes taken by former racer, motojournalist and photographer Jim Gianatsis as featured in the Fast Dates World Superbike Calendars from those years with the beautiful Fast Dates Calendar Kittens who served as the official SBK and Team Ducati Corse grid girls at the race where the bikes were photographed.
This 224 page large format collectors edition book begins with a Forward by Massimo Bordi, legendary designer of the Desmoquattro back in 1974. Then it dives into the technical details, revealing photography and Cathcart's exclusive tests of every one of the factory Ducati Corse Superbikes from the First Generation 851cc Daytona raced prototype, to Doug Polen's Fast by Ferracci 888/926 World Championship winner. Followed by the Second Generation 916/955 machines, the Third Generation 999, the Fourth Generation 1098/1198, to the all-new Fifth Generation 1199 Panigale. Included along the way are interviews with all the factory riders and World Championship winners from Doug Polen, Carl Fogarty and Troy Corser, to Neil Hodgson, James Toseland, Troy Bayliss, Nori Haga and Carlos Checa. While the tradition continues with a detailed look at the new 1199 Panigale and a interview with the designers who created it, and an exclusive track test of the newest Generation 1199 bike by Cathcart and 3-time World Superbike Champion Troy Bayliss.
This is a must have book for every Ducati and motorcycle roadracing enthusiast. Gianatsis Design has produced and published the book in a beautiful large format 12x12-inch hard cover design coffee table style Collectors Edition Book featuring 224 pages in full color printed on 100# dull coat art paper for the best possible reproduction and presentation. Books are individually shrink wrapped and have a printed cover wrapper.
Suggested Retail: USD $69.95 • UK £55.00 • EUR $55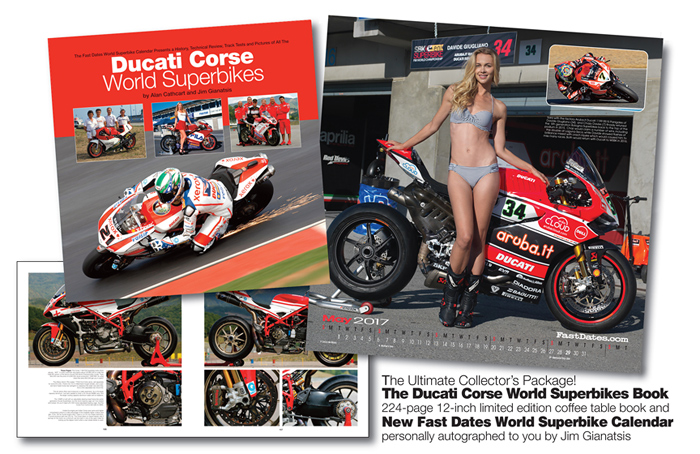 Exclusive Autographed Collector's Package!
The all new Ducati Corse World Superbikes 224-pg book and the 2013 Fast Date World Superbike Calendar - World Release July 1st 2012
Personally autographed to you (or the name you request on the PayPal.com Order Form) by Jim Gianatsis and shipped direct to you.
For more information or to order the Book or the Calendar individually, unsigned, go to the Sportbike Books and Fast Dates Calendar order pages.
---
World Superbike Championship, Round 9 of 14, Brno, Czech Republic

Melandri Reels in Biaggi at the Czech Republic
Brno, Czech Republic, July 22, 2012 – Marco Melandri (BMW Motorrad Motorsport) made a real play for the 2012 eni FIM Superbike World Championship title today by putting in a double win of the highest quality, overcoming Tom Sykes (Kawasaki Racing Team) in both 20-lap contests at the classically sculpted Brno circuit. This was Melandri's first double as an SBK rider and the first double for the official BMW team. Also for him it was the first time ever to climb on the top step of the podium twice on a Sunday. In this season so far, Marco now has five victories under his belt, more than any other rider in the championship.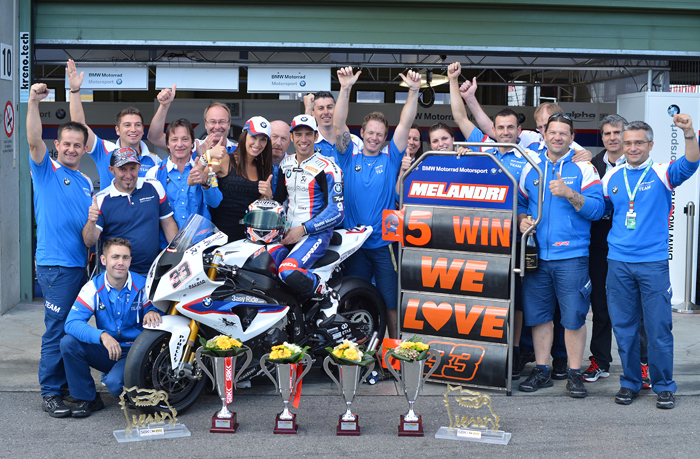 His team-mate Leon Haslam (GBR) finished both races in seventh. In front of a three-day crowd of 63,129 and despite rain appearing in the morning, Melandri started from the second row in each race to overhaul long time leader Sykes. The English rider was full of fight at one of his favourite tracks, particularly in race two, but could not contain Melandri, who successfully pegged back the championship lead of Max Biaggi (Aprilia Racing) to a much more manageable 21 points, while in a historic day for BMW the German squad now heads the Manufacturers' standings, by two points from Aprilia.
In the Riders' Championship, second placed Marco has reduced his gap to leader Max Biaggi (ITA) to 21 points. Marco now has 250.5 points to his tally. Leon is sixth with 160 points. In the Manufacturers' Standings BMW took the lead with 292 points, two points ahead of Aprilia. BMW Motorrad Italia GoldBet SBK Team's rider Michel Fabrizio (ITA) was eighth and tenth, his team-mate Ayrton Badovini (ITA) retired in both races.
Tom Sykes leads the start of Race One with new Kawasaki teammate Loris Baz (79) buried in mid pack. They'd finsih 2-3 behind Melandri.
Race One
Tom Sykes, starting from pole for the seventh time in nine rounds, was a front-runner in each 20-lap Superbike race, pushing on hard and -particularly in race two - being able to fight back when under pressure in the final few laps, proving that there is still untapped potential being found in the race set-up of the Ninja ZX-10R. In race one the first laps were conducted on a damp track surface but as the sun appeared the track dried rapidly and Sykes was able to get to the lead and then keep second place when eventual double race winner Marco Melandri passed him. A collision between Sykes and Jonathan Rea with three laps to go saw Rea fall but Tom hold on to score second.
Right behind Sykes his team-mate Loris Baz was having a brilliant ride to third place in not only his rookie season in this class, but also only his fifth competitive ride on the official Kawasaki Racing Team machine. He was only 1.948 seconds from the race win
Melandri worked his way through from a mid-pack position in a race that started with many wet patches on the circuit, but finished in blazing sunshine. Sykes finished second and his team-mate, 19-year-old French rookie Loris Baz third, after a confident early few laps in tricky conditions. Any chance Sykes had of getting back at Melandri for the win was dashed when he and Jonathan Rea (Honda World Superbike Team) collided entering a corner near the end of the race and Rea crashed out spectacularly. Checa was fourth and Eugene Laverty (Aprilia Racing) fifth, with Biaggi a distant sixth. Another great ride came from Maxime Berger (Team Effenbert Liberty Racing Ducati) who led for some time in tricky early conditions and finished the race ninth at his team's home round.

Loris Baz fights off reigning champ Checa as Melandri reels them in.
Marco Melandri: "It was an amazing race. At the beginning everyone was careful because it was wet and they were on slicks. Then I was seventh or eighth but was catching the other guys and all I had to do was keep my rhythm. When I went in front with one lap and a half to go I just had to keep pushing without thinking of the others because I knew I was faster than them."

Tom Sykes: "It was a shame to not lead the lap that counts, but I'm happy to be back on the podium with Kawasaki. At Brno you spend a lot of time on the side of the tyre but we did a great job and came away with 20 points. Unfortunately we gambled at the beginning of the race with a softer front tyre so I wasn't able to attack the corners from 10 laps onwards, and when Marco passed me I had no answer."

Loris Baz: "It's great and I can't believe it! The race was just perfect for me, I knew we had a good pace in the wet so just tried to do the best possible. Then my race pace was quite good compared to the other guys, we just had some problems with the front. The last lap was not easy but I am really happy, the team did a great job".

Results: 1. Melandri (BMW) 20 Laps/108.060 km in 41'59.808 average 154.383 kph; 2. Sykes (Kawasaki) 1.360; 3. Baz (Kawasaki) 1.948; 4. Checa (Ducati) 2.494; 5. Laverty (Aprilia) 3.832; 6. Biaggi (Aprilia) 7.139; 7. Haslam (BMW) 11.293; 8. Fabrizio (BMW) 11.945; 9. Berger (Ducati) 18.988; 10. Smrz (Ducati) 19.117; etc.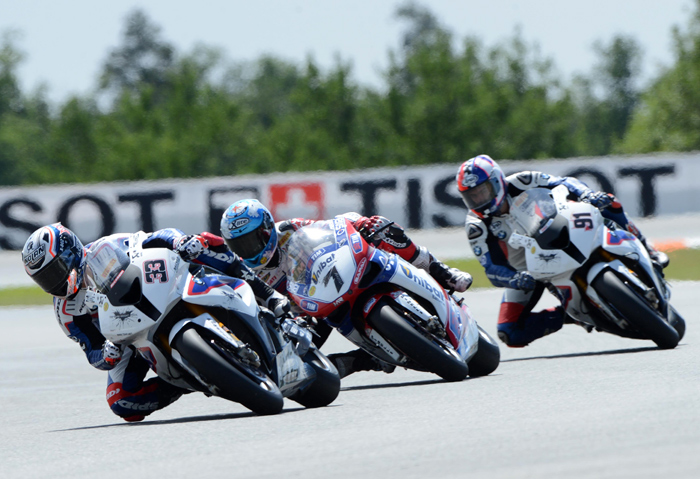 Melandri (33) works up through the pack passinc Checa (7) and teammate Haslam (91).

Race Two
Melandri scored a historic double after winning the second 20-lap race, but only by a fraction. The Italian rider made a final pass on long time leader Sykes on the final lap and had just enough of a gap in the final few corners to make sure the English rider would finish runner-up, if by only 0.140 seconds. Checa had an eventual third place finish with championship leader Biaggi a lonely fourth. Laverty won a duel for fifth with Chaz Davies (ParkinGO MTC Racing Aprilia) and Leon Haslam (BMW Motorrad Motorsport) but was unhappy not to be able to challenge for a podium place.
In race two conditions were dry and consistent. Leon catapulted himself from seventh to third at the start and took second place on lap two directly in front of Marco, with both riders battling in the tight field of frontrunners. Leon went on the grass and slipped back to sixth, while Marco took second. From then on, the Italian chased leader Sykes. He reduced the gap with every lap and briefly took the lead for the first time on lap 14, only to slip back behind Sykes again. For the rest of the race the pair had a nail biting battle with the lead changing several times. At the beginning of the final lap, Marco got himself in front again and defended the lead until the chequered flag. Leon was on course for fifth, but had a false neutral on the final lap so slipped back to seventh.
Pole sitter Tom Sykes was only 0.140 seconds from Melandri at the flag, fighting all the way to try and re-pass the experienced rider. His two second place finishes at Brno take him to third again in the championship, with his home round up next at Silverstone. For Loris race two was still a very positive event, finishing eighth for the third time this year but again close to the leaders on total race time. He is now 16th overall.


Marco Melandri: "I am living my dream today. Securing my first double victory here in Brno on this race track is something special for me. I am so happy because I already have five victories this season and nobody expected that. Race one was already amazing. At the beginning the conditions were very difficult as it was wet. As we were riding with slicks we just tried not to lose too many positions, but in the first few laps I struggled a lot. While I was trying to improve my position I made two mistakes because I still was not feeling comfortable. When I saw I was eighth I said to myself I needed to be quiet and keep my rhythm to catch the front guys. It was not easy to overtake them, but when I took the lead with one lap to go I knew I just needed to keep pushing as much as I could. I knew I was faster than the others.
"Race two was even more difficult, as Tom was having a great race and I had to spend a lot of energy trying to catch him. The tyre was working very well today, and I was able to keep the gap very small. Every time I tried to pass Tom he was braking so hard that it was nearly impossible. Once I finally passed him, I made a mistake and Tom passed me back. It was really tough to catch him again. Actually I did not expect to win, but doing that here twice today is just amazing. Seeing BMW leading the manufacturers' championship is unbelievable and it makes me proud. I was also able to close the gap to Max in the riders' championship. But the season is still long, and we plan race by race. I want to thank everybody at BMW Motorrad and in the race team who work so hard every day and put so much effort in the project. It was so unbelievable and emotional to see them smiling and happy. Now I just want to celebrate this result."

Tom Sykes: "It's fair to say we made another big leap forward this weekend, but unfortunately Marco spoiled my day yet again. Hopefully payback is on its way! It was a big improvement compared to what everyone expects from us. Marcel and the team made a small change for race 2 and it played its part in keeping me consistent throughout the race so it was nice to prove a few people wrong."

Carlos Checa: "Overall it was a good weekend. Race 1 was very complicated in the middle of many riders so fourth position was a good result. In race 2 I started third behind Marco and Tom but till the end I was able to keep my position. Considering this track and that we lose a lot in acceleration overall they are good results for us."

Results: 1. Melandri (BMW) 20 Laps/108.060 km in 40'12.837 average 161.228 kph; 2. Sykes (Kawasaki) 0.140; 3. Checa (Ducati) 6.801; 4. Biaggi (Aprilia) 9.840; 5. Laverty (Aprilia) 11.775; 6. Davies (Aprilia) 11.950; 7. Haslam (BMW) 12.547; 8. Baz (Kawasaki) 13.088; 9. Camier (Suzuki) 18.141; 10. Fabrizio (BMW) 25.332; etc.

Points (after 9 of 14 rounds): 1. Biaggi 271.5; 2. Melandri 250.5; 3. Sykes 212.5; 4. Checa 204.5; 5. Rea 187; 6. Haslam 160; 7. Laverty 148; 8. Guintoli 110; etc. Manufacturers: 1. BMW 292; 2. Aprilia 290; 3. Ducati 276.5; 4. Kawasaki 218.5; 5. Honda 193; 6. Suzuki 72.5.

World Supersport
A red flag incident on the startline led to two starts for the 18-lap FIM Supersport Championship race at Brno, but even more drama was to come when the race was halted by another red flag a few laps from the end. Even though Fabien Foret (Kawasaki Intermoto Step) had just been passed by Kenan Sofuoglu (Kawasaki Lorenzini), the French rider won on the count back to the previous lap, with Broc Parkes (Ten Kate Racing Products Honda) third. Fourth was Sam Lowes (Bogdanka PTR Honda) with Jules Cluzel (PTR Honda) fifth and Ronan Quarmby (PTR Honda) sixth, despite being the rider who crashed out.

Results: 1. Foret (Kawasaki) 13 Laps/70.239 km in 27'02.236 average 155.872 kph; 2. Sofuoglu (Kawasaki) 0.128; 3. Parkes (Honda) 0.434; 4. Lowes (Honda) 4.650; 5. Cluzel (Honda) 7.725; 6. Quarmby (Honda) 11.384; 7. Morais (Kawasaki) 11.934; 8. Cruciani (Kawasaki) 12.253; etc.

Points (after 8 of 13 rounds): 1. Sofuoglu 137; 2. Lowes 114; 3. Foret 108; 4. Cluzel 95; 5. Parkes 82; 6. Morais 62; 7. Baldolini 54; 8. Quarmby 54; etc. Manufacturers: 1. Kawasaki 176; 2. Honda 172; 3. Triumph 83; 4. Yamaha 66; 5. Suzuki 6.

Superstock 1000
Bryan Staring (Pedercini Kawasaki) won his second consecutive Superstock 1000 FIM Cup race after splashing through the rains in unstoppable fashion at Brno. He left Eddi La Marra (Barni Racing Team Italia Ducati) to break away from a group behind to try and hunt him down, but as the danger approached Staring upped the pace and finished 6.5 seconds up on La Marra. MRS Kawasaki rider Jeremy Guarnoni finished third, albeit 32 seconds behind Staring. Sylvain Barrier (BMW Motorrad Italia GoldBet) fell and no scored, which means that in the championship fight La Marra is now the leader.

Results: 1. Staring (Kawasaki) 12 Laps/64.836 km in 27'22.582 average 142.099 kph; 2. La Marra (Ducati) 6.577; 3. Guarnoni (Kawasaki) 32.390; 4. Brown (Ducati) 34.106; 5. McFadden (Kawasaki) 38.007; 6. Massei (Honda) 38.412; 7. Bergman (Kawasaki) 39.584; 8. Jezek (Ducati) 39.940; etc.

Points (after 6 of 10 rounds): 1. La Marra 94; 2. Barrier 75; 3. Staring 70; 4. Savadori 67; 5. Guarnoni 62; 6. Baroni 56; 7. Reiterberger 55; 8. Bergman 49; etc. Manufacturers: 1. Kawasaki 110; 2. Ducati 107; 3. BMW 103; 4. Honda 46; 5. Aprilia 16.
---
Johnny Rea
FIM Endurance World Championship, Round Three, Suzuka 8 Hours Race

Johnny Rea helps Honda Win 25th Suzuka 8-Hour Race
Suzuka, Japan, July 29, 2012 - Honda teams finished first and second in the prestigious Suzuka 8 Hours, with F.C.C. TSR Racing winning for the second year in a row to give Honda their 25th win, while Toho Racing by Moriwaki finished a surprising second in the third round of the FIM World Endurance Championship at the venerable Suzuka Circuit south of Tokyo.
Castrol Honda World Superbike rider Johnathan Rea became the first British rider to win the 8 Hours by teaming up with Kousuke Akiyoshi and Tady Okada on the F.C.C. TSR Racing Honda CBR1000RR for the victory. The win was the third for Akiyoshi, who was part of the winning team in 2011 and also won in 2007. Okada has two previous wins, first in 1995, 17 years ago, and most recently in 1999. The 13-year gap since his previous win is the longest between victories for an 8 Hours rider.
The F.C.C. TSR Racing team completed 215 laps of the 5.807Km figure eight-shaped circuit to win the event by four laps over Yuki Takahashi, Tetsuya Yamaguchi and Yusuke Teshima, the Japanese trio who rode the Toho Racing by Moriwaki Honda CBR1000RR to second place. The Toho Racing by Moriwaki team beat the final podium finishers, Yamaha France GMT94, by 1m, 43s. Six of the top ten finishers were Honda-mounted, with the Honda TT Legends team finishing tenth.
The MuSASHI RT HARC-PRO team of Ryuichi Kiyonari and Hiroshi Aoyama finished the first hour in front, ahead of F.C.C. TSR and the Yoshimura Suzuki Racing Team. By the end of the second hour the order of the top two had swapped and would swap again after hour three, with the Suzuki Endurance Racing Team (SERT) taking over third.
Halfway into the mid-summer classic the Honda teams again traded places. With MuSASHI RT HARC-PRO back in front. The fifth and sixth hours would prove pivotal. F.C.C. TSR Honda was back at the point-ending hour five with SERT displacing MuSASHI RT HARC-PRO for second. Meanwhile, TOHO Racing with Moriwaki had climbed up to fifth.
It was at the start of the sixth hour that the race ended prematurely for MuSASHI RT HARC-PRO. Kiyonari had a fiery crash, his dream of winning for a fifth time going up in flames. When hour six ended F.C.C. TSR Honda had a one lap lead that they would extend to four by the finish of the race.
TOHO Racing with Moriwaki moved into third at the end of hour seven, then took over second when the BMW Motorrad France team was struck with mechanical issues in the final hour. The Honda TT Legends team who finished tenth maintained second in the World Endurance World Championship standings.
Sharing the riding duties on the ABS-equipped Honda Fireblade, Isle of Man legend John McGuinness and Australians Cameron Donald and Jason O'Halloran rode a flawless and trouble-free race to complete 207 laps. The World Endurance Championship resumes in Oschersleben, Germany on August 11, 12.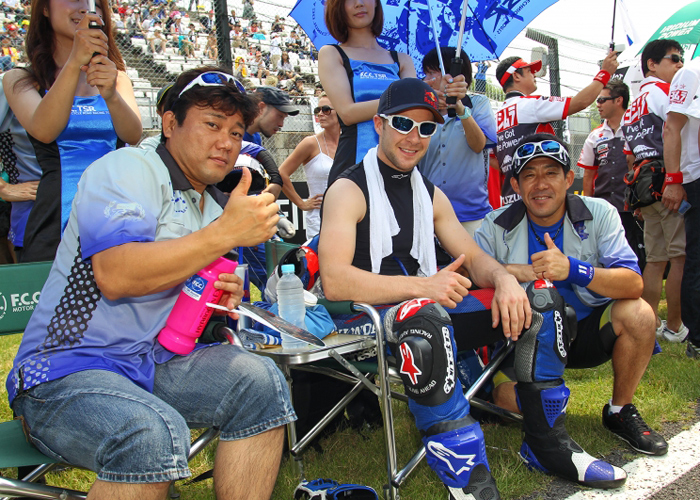 Johnny Rea with the TSR Honda Team awaiting the start of the race.
Suzuka 8 Hours Results
POS. / TEAM/ RIDERS / BIKE / LAPS / TOTAL TIME
1 / F.C.C. TSR Honda / H-CBR1000RR / J.REA - K.AKIYOSHI - T.OKADA / 215 / 8:01'35.460
2 / TOHO Racing with MORIWAKI / H-CBR1000RR / T.YAMAGUCHI - Y.TAKAHASHI - Y.TESHIMA / 211 / 8:01'40.277
3 / YAMAHA FRANCE GMT94 MICHELIN YAMALUBE / Y-YZF-R1 / D.CHECA - K.FORAY - / 211 / 8:03'13.469
4 / Moto Map SUPPLY / S-GSX-R1000 / Y.KONNO - T.TSUDA - A.TAMITSUJI / 210 / 8:02'12.088
5 / Honda Suzuka Racing Team / H-CBR1000RR / K.TOKUDOME - T.YASUDA - K.KITAGUCHI / 210 / 8:02'45.878
6 / Honda DREAM RT SAKURAI HONDA / H-CBR1000RR / J.STAUFFER - W.MAXWELL - / 209 / 8:02'05.183
7 / Teluru& EMOBILE Kohara RT / H-CBR1000RR / T.TSUJIMURA - H.NODA - K.WATANABE / 209 / 8:03'83.897
8 / Team Motorrad 39 / B-S1000RR / K.TERAMOTO - D.SAKAI - K.YAGI / 208 / 8:01'48.201
9 / BMW MOTORRAD FRANCE 99 / B-S1000RR / S.GIMBERT - D.CUDLIN - E.NIGON / 208 / 8:02'33.089
10 / HONDA TT LEGENDS / H-CBR1000RR / C.DONALD - J.McGUINNESS - J.Mark O'HALLORAN / 207 / 8:01'54.712
11 / BOLLIGER TEAM SWITZERLAND / K-ZX-10R / H.SAIGER - R.STAMM - J.TANGRE / 206 / 8:02'02.177
12 / TEAMSUGAIRACINGJAPANwithHOKKAIDOSABEDER / D-1199Panigale / Y.SUGAI - S.TAKEISHI - / 206 / 8:03'40.058
13 / RS-ITOH&ASIA / K-ZX-10R / I.HIGASHIMURA - T.IWAZAKI - K.WATANABE / 206 / 8:03'44.534
14 / Honda Ryokuyoukai Kumamoto Racing / H-CBR1000RR / M.YOSHIDA - M.KITAORI - M.IIDA / 204 / 8:02'15.191
15 / SUZUKI ENDURANCE RACING TEAM / S-GSX-R1000 / V.PHILIPPE - A.DELHALLE - Y.KAGAYAMA / 204 / 8:02'35.235
16 / Team EBATA / H-CBR1000RR / A.IGARASHI - M.SATO - T.HURUKAWA / 203 / 8:07'10.649
17 / DOGFISH O-TEC Suzuka & Pleasing / H-CBR1000RR / M.OUCHIDA - K.SAIKI - / 203 / 8:03'13.061
18 / TEAM Tras BMW S1000RR / B-S1000RR / H.TAKADA - Y.MATSUSHITA - T.TODA / 203 / 8:09'32.981
19 / IWATA RACING FAMILY / Y-YZF-R1 / Y.KITAJIMA - K.NISHIMURA - K.OKUMURA / 202 / 8:02'00.399
20 / TEAM DDD NOI:Z & CLEVER WOLF / Y-YZF-R1 / T.NAKAI - Y.USAMI - K.MINAMIKAWA / 201 / 8:01'37.494
21 / Honda EG Racing / H-CBR1000RR / T.KURIBAYASHI - K.HONDA - / 201 / 8:02'48.894
22 / FOC CLAYMORE / S-GSX-R1000 / H.YOSHII - T.NAKAMURA - H.SHIOBARA / 201 / 8:03'15.050
23 / Honda DREAM RT WAKAYAMA / H-CBR1000RR / T.NISHINAKA - R.GONZUI - A.MIKI / 200 / 8:02'89.019
24 / TEAM R2CL / S-GSX-R1000 / C.TANGRE - A.BARATIN - R.CHAUSSE / 199 / 8:03'40.136
25 / Honda Team Asia / H-CBR1000RR / C.KAMEYA - A.SHAH B.KAMARUZAMAN - M.TAMADA / 196 / 8:03'01.238
26 / T.MOTOKIDS NAC NERGAL KAWAUSO RT / Y-YZF-R1 / K.KOJIMA - S.NARUMORI - Y.HIGUCHI / 194 / 8:02'37.991
27 / LA BELLEZZA SPEED / D-1098R / N.TAKASUGI - H.KAWAHARA - T.ITAMI / 194 / 8:03'08.247
28 / BANNER RACING / D-1098R / T.KANEDA - K.DAN - T.ASAHINA / 194 / 8:03'85.519
29 / WINNER Z-TECH / S-GSX-R1000 / T.NAMEKATA - T.KUNIMATSU - / 192 / 8:03'00.707
30 / RS GARAGE HARADA HIMEJI / K-ZX-10R / H.HARADA - A.INOUE - / 192 / 8:03'21.131
31 / CONFIA HMF LUNASOL Japan Like a wind / A-RSV4-Factory / Y.TAKAMIYA - S.KAWABATA - N.HASEGAWA / 191 / 8:07'40.800
32 / Honda QCT Meiwa Racing / H-CBR1000RR / M.ANDO - S.NISHIYAMA - / 191 / 8:03'56.832
33 / T.MOTOKIDS NAC NERGAL KAWAUSO RT / Y-YZF-R1 / K.KOJIMA - S.NARUMORI - Y.HIGUCHI / 185 / 8:03'10.992
34 / Team Etching Factory / Y-YZF-R1 / S.TAKEMI - T.FUKAMI - T.BITO / 183 / 8:0255.671
35 / BullDocker TAGOS*HALUMOTO SHOWHEI RIDE / A-RSV4 Factory / M.MOGI - S.OKAJIMA - K.TAJIMA / 182 / 8:01'43.423
36 / Honda Hamamatsu ESCARGOT&PGR&H-TEC(E) / H-CBR1000RR / M.KUBOYAMA - T.NAKATSUHARA - S.NOYORI / 182 / 8:03'37.782
37 / CONFIA H.M.F Verity / S-GSX-R1000 / S.SUMA - Y.TAKEDA - Y.TAKAHASHI / 177 / 8:01'49.631
38 / DOG HOUSE with Higuchi legal office / S-GSX-R1000 / K.IWATANI - K.HIGUCHI - / 174 / 8:01'63.376
39 / Honda Kouyoukai DREAM Racing Team / H-CBR1000RR / H.NAKAMURA - T.EBINUMA - H.KURAYAMA / 174 / 8:03'37.385
40 / YAMASHINAKAWASAKI&BisinessRalliart.inc / K-ZX-10R / T.MIZUSAWA - S.YAMASAKI - A.FUKUYAMA / 173 / 8:03'24.324
41 / MuSASHi RT HARC-PRO. / H-CBR1000RR / R.KIYONARI - H.AOYAMA - T.TAKAHASHI / 165 / 8:02'19.080
42 / ASO RIDERS BASE & KUMAMON / Y-YZF-R1 / Y.HORI - K.SHUTOU - T.FUKUSHIMA / 163 / 8:02'58.399
Fastest Lap: MuSASHi RT HARC-PRO Lap 162 2'07.943 163.79Km/h
WORLD CHAMPIONSHIP CLASS POSITIONS TO DATE
1 Suzuki Endurance Racing Team 60, 2 Honda TT Legends 55,
3 Yamaha France GMT 94 Michelin Yamalube 49, 4 BMW Motorrad France Team Thevent 47,
5 Team SRC Kawasaki 40, 6 Bolliger Team Switzerland 39, 7 Yamalube Folch Endurance 37,
8 FCC TSR Honda 35, 9 Toho Racing with Moriwaki 29, 10 Monster Energy Yamaha YART 28,
11 Team R2CL 27, 12 Moto Map Supply 21, 13 Team Flembbo Djimiant Serbia 19,
14 Honda Suzuka Racing Team 18, 15 Maco Racing Team 18
---
Shayne Byrne

MCE INSURANCE BRITISH SUPERBIKE CHAMPIONSHIP ROUND 07 BRANDS HATCH
Shayne Byrne Doubles for Kawasaki at Brands Hatch British Superbike
Brands Hatch, England, Sunday July 22nd 2012 - Shane 'Shakey' Byrne claimed his first double win of the MCE Insurance British Superbike Championship season to a rapturous home crowd at Brands Hatch as the Rapid Solicitors Kawasaki rider held off a hard-charging Josh Brookes.
Michael Laverty again had a characteristic flying start to the race onboard the Samsung Honda to lead on the opening lap from Byrne and Brookes, but race one winner 'Shakey' wasn't settling for second and he took the lead at Hawthorns on the opening lap. Laverty made an attacking move back at Stirlings but Byrne got the drive back into the arena to have the lead into Clearways.
Tommy Hill was running fifth on the opening lap from his second row start and he made a move on Stuart Easton at Surtees to move fourth on the Swan Yamaha, but the Rapid Solicitors Kawasaki rider then crashed out at Sheene Curve. Two laps later and Hill was up to third with a move on the inside into Paddock Hill Bend on Laverty as he then closed in on Byrne and Brookes.
Byrne and Brookes were locking horns for the lead and the Australian had a good drive to Druids on the eleventh lap as he aimed to mug the Rapid Solicitors Kawasaki rider for the lead, but the double champion defended hard to hold the position. Two laps later and Byrne ran wide on the exit of Paddock Hill Bend and Brookes looked set to hit the front of the field as he tried a move around the outside and the pair were side-by-side on the run to Druids but again Byrne held onto the lead. Byrne crossed the line to claim the double from Brookes to a huge reception from the Brands Hatch crowd.
Byrne said: "There are a few of us who were really fast today but I got a decent start with a win in the first race even though Josh kept me honest. The second one was more difficult and I didn't make a break but I tried to be as precise as possible and then I saw Josh alongside me down the straight finish line and I thought 'oh no'. He then tried to pass around the outside at Paddock and I wanted to let off a little to not let him passed but I didn't want to run wide and ruin the drive up to Druids, but fortunately we held on and rode hard for the last three laps. I then missed a gear between Westfield and Sheene Curve and I thought 'that's it they are going to do me' as I had seen plus zero on my pit board but fortunately I was on for a double so massive thanks to Rapid Solicitors Kawasaki for giving me such a strong bike."
Hill claimed a double third position whilst Laverty held on to fourth position on Samsung Honda with Noriyuki Haga claiming fifth to maintain his position inside the top six in the standings as Alex Lowes ended sixth. The battle for seventh was a repeat performance of the fight for the title last season as Tommy Bridewell crossed the line onboard the Supersonic BMW just 0.001 seconds ahead of Ian Lowry on the Padgett's Honda. WFR Honda's Graeme Gowland and James Westmoreland completed the top ten.
RESULTS BRITISH SUPERBIKE RACE1:
POS / RIDER / NAT / MOTORCYCLE / TIME / GAP
1 / SHANE BYRNE / GBR / KAWASAKI - RAPID SOLICITORS KAWASAKI / 26:13.972 /
2 / JOSH BROOKES / AUS / SUZUKI - TYCO SUZUKI / 26:14.441 / 0.469
3 / TOMMY HILL / GBR / YAMAHA - SWAN YAMAHA / 26:20.406 / 6.434
4 / MICHAEL LAVERTY / GBR / HONDA - SAMSUNG HONDA / 26:21.169 / 7.197
5 / TOMMY BRIDEWELL / GBR / BMW - SUPERSONIC RACING TEAM / 26:23.144 / 9.172
6 / CHRIS WALKER / GBR / KAWASAKI - PR1MO BOURNEMOUTH KAWASAKI RACING / 26:23.710 / 9.738
7 / ALEX LOWES / GBR / HONDA - TEAM WFR / 26:24.996 / 11.024
8 / STUART EASTON / GBR / KAWASAKI - RAPID SOLICITORS KAWASAKI / 26:26.029 / 12.057
9 / ALASTAIR SEELEY / GBR / SUZUKI - TYCO SUZUKI / 26:28.307 / 14.335
10 / MICHAEL RUTTER / GBR / KAWASAKI - MSS BATHAMS KAWASAKI / 26:34.154 / 20.182
11 / BARRY BURRELL / GBR / BMW - BUILDBASE BMW MOTORRAD / 26:34.284 / 20.312
12 / JON KIRKHAM / GBR / HONDA - SAMSUNG HONDA / 26:34.593 / 20.621
13 / KARL HARRIS / GBR / KAWASAKI - QUATTRO PLANT KAWASAKI SUPERBIKE TEAM / 26:38.810 / 24.838
14 / LUCA SCASSA / ITA / HONDA - PADGETTS HONDA / 26:39.695 / 25.723
15 / PATRIC MUFF / SUI / BMW - SUPERSONIC RACING TEAM / 26:46.277 / 32.305
Fastest lap: Josh BROOKES AUS Suzuki - Tyco Suzuki lap 11 1:26.795 162.42 Km/h
RESULTS BRITISH SUPERBIKE RACE 2:
POS / RIDER / NAT / MOTORCYCLE / TIME / GAP
1 / SHANE BYRNE / GBR / KAWASAKI - RAPID SOLICITORS KAWASAKI / 26:10.330 /
2 / JOSH BROOKES / AUS / SUZUKI - TYCO SUZUKI / 26:11.913 / 1.583
3 / TOMMY HILL / GBR / YAMAHA - SWAN YAMAHA / 26:12.595 / 2.265
4 / MICHAEL LAVERTY / GBR / HONDA - SAMSUNG HONDA / 26:13.434 / 3.104
5 / NORIYUKI HAGA / JPN / YAMAHA - SWAN YAMAHA / 26:19.591 / 9.261
6 / ALEX LOWES / GBR / HONDA - TEAM WFR / 26:24.974 / 14.644
7 / TOMMY BRIDEWELL / GBR / BMW - SUPERSONIC RACING TEAM / 26:26.013 / 15.683
8 / IAN LOWRY / GBR / HONDA - PADGETTS HONDA / 26:26.014 / 15.684
9 / GRAEME GOWLAND / GBR / HONDA - TEAM WFR / 26:27.477 / 17.147
10 / JAMES WESTMORELAND / GBR / HONDA - TEAM WFR / 26:34.025 / 23.695
11 / ALASTAIR SEELEY / GBR / SUZUKI - TYCO SUZUKI / 26:34.062 / 23.732
12 / KARL HARRIS / GBR / KAWASAKI - QUATTRO PLANT KAWASAKI SUPERBIKE TEAM / 26:34.492 / 24.162
13 / BARRY BURRELL / GBR / BMW - BUILDBASE BMW MOTORRAD / 26:34.781 / 24.451
14 / JON KIRKHAM / GBR / HONDA - SAMSUNG HONDA / 26:35.252 / 24.922
15 / PATRIC MUFF / SUI / BMW - SUPERSONIC RACING TEAM / 26:35.875 / 25.545
Fastest lap: Shane BYRNE GBR Kawasaki - Rapid Solicitors Kawasaki lap 2 1:26.454 163.06 Km/h
CHAMPIONSHIP POSITIONS TO DATE:
1 HILL 266, 2 BYRNE 255, 3 BROOKES 246, 4 LAVERTY 172, 5 BRIDEWELL 124,
6 HAGA 113, 7 LOWRY 106, 8 WALKER 92, 9 LOWES 92,
10 SEELEY 90, 11 WESTMORELAND 86, 12 EASTON 74, 13 GOWLAND 69,
14 KIRKHAM 59, 15 RUTTER 44.
---
There's more! Go to Pit Lane News Previous Week

Also Visit: Fast Dates Calendar News • Iron & Lace Calendar News
Calendar Girl News • Meet the Models • Paddock Garage

MEMBERS CORNER! Calendar Kittens, Paddock Garage, Iron & Lace Garage





MotorcycleSuperstore.com
Some of our Calendar Kittens can also at Playboy's website...



FREE! New Met-Art Model Galley Updated Daily - Stop Back Each Day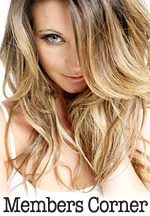 Hot Bikes, Sexy Kittens
Your Exclusive Grid Pass
also includes....
---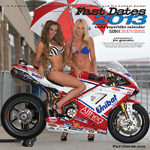 Order the New
2013 Calendars!
with FastDates.com Calendar Kitten, Ducati Corse Grid Girl
and Playboy Playmate
Heather Rae Young!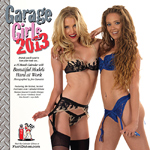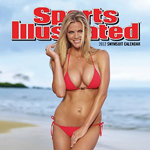 Click for even more Calendars!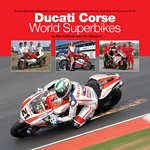 Retail $69.95 ea.
Click to Order

Ducati Corse
World Superbikes
by Alan Cathcart
& Jim Gianatsis
The most extensive book ever on the history of the winningest bikes in SBK World Superbike. Covers all 5 Generations of the Desmoquatro factory Ducati Corse World Superbikes from the first 750/851 prototypes to the new 5th generation 1199 Panigale with technical details and photos, interviews with all the engineers and factory riders, track tests of every bike, and full page photos of the bikes from all the Fast Date Calendars with the official Ducati Corse and SBK Calendar Kittens.
Photography by the world's top roadracing photographers including Gold & Goose, Kel Edge, Fabrizio Porrozzi, Max Olina.
This is a high quality Collectors Edition hard cover coffee table book, 224-pages in large 12x12-inch format printed on 100# dull coat art paper.

Click on the cover above to order individual copies from Amazon.com. Retail $69.95 ea.
Also at Amazon.com.uk
---
Erik Buell Racing gets $20 million boost in investment funding
EAST TROY, Wis, July 20th - Erik Buell Racing has received $20 million in foreign investments, reports BizTimes Milwaukee. The funding will allow the upstart OEM to expand its motorcycle production and create about 200 jobs.
The $20 million in EB-5 investment funding comes from investment fund manager FirstPathway Partners LLC, the site reports. With the influx of funding, EBR will be able to design and produce additional models of sportbikes and expand its international exports.
"EBR motorcycles are made in America and in great demand worldwide," said Bob Kraft, chairman, CEO and founding partner of FirstPathway Partners. "This investment will create good manufacturing and engineering jobs in Wisconsin for skilled American workers and greatly strengthen a local company's position in the global marketplace."
Rossi to leave Ducsti for Yamaha or Retire?
Ducati announces renewal of Nicky Hayden's contract
Monterey, CA, USA
27 July 2012 - On the occasion of the United States Grand Prix, the home race for two-time LagunaSeca MotoGP winner Nicky Hayden, Ducati announces a contract extension with the American that will see him continuing to race for the Ducati Team next year.

With Ducati already having signed Cal Crutchlow earlier this month to their MotoGP team for 2013, this could mean that Valendation Rossi may be moving to a seat at Yamaha - the only top team left that might take him. Unless, of course. Ducati's new owners step up with some big money to keep Valentino at Ducati in a 3- rider squad. But if neither the Yamaha or Ducati rider materializes for Vali, then he could be facing retirement with no other top tier GP bike teams left for him to move to.

Nicky Hayden, who turns 31 on Monday, is currently in his tenth season in the MotoGP series and his fourth with the Ducati Team. During that time, he has become extremely popular with fans and Ducatisti all over the world, thanks to his reliably positive outlook, his passion, and his determination. He currently sits eighth in the championship points standings and is working hard on the development of the Desmosedici GP12, employing his typical effort and enthusiasm.

The United States hosts no fewer than 45 DOCs (Ducati Owners Clubs) and tomorrow thousands of fans will have the opportunity to meet Nicky at Ducati Island, an area at Laguna Seca where Ducatisti gather to follow the race and experience the "red passion." Following the afternoon qualifying session, Nicky himself will visit the Island's stage, where many spectators and fans will no doubt be excited to join him in celebrating the news of his renewal with the Ducati Team.

Nicky Hayden, Ducati Team
"I'm very happy that I'll be back with Ducati and back in MotoGP, racing at the highest level for a very important team. I love the guys I work with, I love the Ducati fans, and I love the brand. This is an important time for Ducati in a number of ways, and I'm excited that I'll continue to be a part of it. I feel like I've got some unfinished business here, and hopefully we can get all the pieces into place and reap the rewards of the hard work we've put in the last couple of years. It's nice to be able to make this announcement at Laguna and to share the moment with my fans, friends and family. If I can do a good result on Sunday, it could make for a pretty special birthday weekend."
HRC ANNOUNCES MOTOGP LINE-UP FOR 2013/2014
JULY 15, MUGELLO, ITALY - On the eve of the Italian Grand Prix, Honda Racing Corporation has announced its Repsol Honda rider line-up for the next two years of the MotoGP World Championship. HRC has renewed terms with Dani Pedrosa and signed current Moto2 World Championship leader Marc Marquez.
The Spanish pair offers an ideal blend of youth and experience. Twenty-six year-old Pedrosa has ridden Honda machinery since he started his Grand Prix career in 2001 and has raced for Repsol Honda since 2006, recording 16 MotoGP victories for the team, including last Sunday's German Grand Prix. He is a former 125 and 250 World Champion.
Nineteen year-old Marquez only started his Grand Prix career in 2008, but has already scored 21 victories and one World Championship, the 2010 125 crown. Last weekend he increased his Moto2 points lead at the Sachsenring with another brilliant victory.
Dani Pedrosa
"I'm very happy to be able to announce my renewal with the Repsol Honda Team for the next two years. It's been a very long relationship with Honda and I had a strong desire to stay here. The fight for the championship this year is still open and the next two seasons will be very interesting for me. My whole career has been linked to Honda, since I entered the World Championships on 125s, then in 250 and since 2006 in MotoGP. I'm perhaps one of the riders with the longest history with Honda, which makes me feel very proud. I want to thank HRC once again for their support; I'm sure that we have great things to do together."
Marc Marquez
"To reach MotoGP next season with Repsol Honda is a dream come true and I want to thank HRC for their confidence in me. I am very proud to be part of the big Honda family for the future and I don't want to forget all the people have helped me since I began to ride motorbikes. Now my focus is on Moto2 where my team and I are working very hard and we are excited to achieve our goal, which is to win the World Championship in 2012."
Shuhei Nakamoto, HRC vice-president
"We are very pleased to renew our contract with Dani and welcome Marc to the Repsol Honda Team. Dani is enjoying a very strong season and currently fighting with Casey [Stoner] and [Jorge] Lorenzo for the championship, we are very pleased with his performance. Marc has already proved how fast he is in 125 and Moto2, and we believe that, giving him the right time to adapt to the new class, he will also be able to show this in MotoGP in the future."
Editor's Note: With Cal Crutchlow (see below) already confirmed as Ducati's number one MotoGP rider for next season, and Valentino Rossi having no opportunity to return to Honda next season and most cergtainly having to stay at Ducati, Nicky Hayden could be returning to his dad's used car lot in Kentucky next year.
Cal Crutchlow to Ducati MotoGP Team in 2013!
To replace Rossi or Hayden?
Assen , July 1st - July 1st is the unofficial deadline for the factory race teams to start making commitments to unsigned riders for the next season. The unofficial word at Assen this past weekend was that Yamaha Tech 3 rider Cal Crutchlow had been offered and accepted a factory rider with Ducati for the 2013 season.
The reasons for Crutchlow's move is very logical. As a current Yamaha support team rider, there's no chance that Cal will move up to replace Lorenzo and Spies on the factory squad, so he has to look elsewhere for a factory ride.
Meanwhile Ducati needs to divest itself of Valentino Rossi and / or Nicky Hayden who just are not delivering, even after a complete redesign of the Ducati GP12 bike to give it the flexi frame like the other factory bikes. Hayden has had 3 years on the factory Ducati and hasn't delivered a win - making his value as an American rider to appease Ducati's biggest sales market now a liability, not an asset. And with Rossi, there's a chance he might jump ship next season to returnto Honda to fill Casey Stoner's vacant seat. While Forbes magazine just revealed last month that Rossi is one of the Top Ten highest paid athletes in the world with a base salary from Ducati at $30 Million per year.
Ducati can't sell and build enough motorcycles to justify Ross's salary and thats one of the reason why they were $120 Million in debt when purchased by Audi a few months ago.
However, if Audi doesn't mind bleeding money there could be a 3-rider MotoGP team at Ducati next year, but based on current results they're better off restarting fresh with Crutchlow and some new young rider.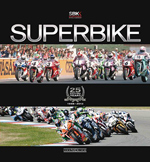 The Official SBK
World Superbikes
1987-2012
25 Year History Book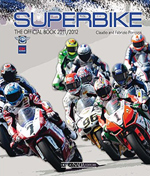 The Official SBK
2011-2012 Yearbook
These SBK Yearbooks are the Best Books Ever about World Superbike
They feature awesome color photography of the riders, bike and racing action. The feature a detailed revue of the past season in pictures and statistics, with a detailed look at the bikes and riders.
Plus a technical look data all the bikes, a preview of the upcoming season's Championship!
We buy this every year ourselves and highly recommend it!
SBK World Superbike Video Game
---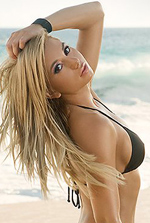 Meet 2012 Calendar Kitten
Sara Balint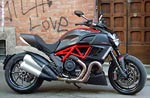 The Devil Made Us Do It!
Testing the Ducati Diavel in Italy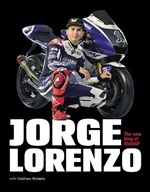 Sudco High Performance & OEM Replacement Parts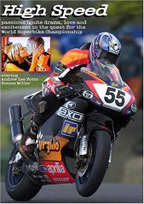 High Speed - the Movie
The best motorcycle racing movie ever made! Filmed on location at the World Superbike races , this an exciting romantic drama staring beautiful British actress Sienna Miller.
---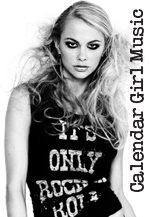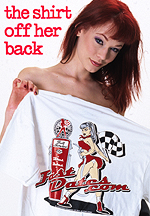 Order the Official
FastDates.com &
LA Calendar Bike Show
T-Shirts!
---
The Gecko Inks 3-Year Deal to Sponsor AMA Pro Roadracing Championship
DAYTONA BEACH, Fla. (July 27, 2012) - Officials from AMA Pro Racing and GEICO announced today a multi-year partnership, which names GEICO Motorcycle as the Official Motorcycle Insurance and Title Sponsor of America's premier motorcycle road racing championship, GEICO Motorcycle AMA Pro Road Racing. As part of the agreement, AMA Pro Racing will name a year-end points fund after GEICO for the premier AMA Pro National Guard SuperBike division. For the 2012 season, the GEICO Year-End Points Fund will pay out an additional $25,000 to the top three riders in the final point standings, which will rise to $50,000 and be paid out to the top five riders in the final point standings for the 2013 and 2014 seasons.