Powerplant Motorcycles' Pro Builder Class Calendar Bike Building Championship winner with our band Nylon Pink and
FastDates.com World Superbike Calendar Kittens Kinsey Ray and Sabella Shake.
Japanese Builder Hoshikawa Hideki flys in to take Best of Show
2012 LA Calendar Motorcycle Show
Calabasas, California, USA, Sunday July 22nd, 2012 - The 21st edition of the LA Calendar Motorcycle Show sponsored by Russ Brown Motorcycle Attorneys moved into its third decade as the premier outdoor streetbike event in America featuring its top Celebrity Builders, the Calendar Bike Building Championship & Concours d' Elegance, selected Vendors and Exhibitors, Calendar Girl Music live performances, now taking place at a beautiful new new location on the lawn and under the shade trees of the Calabasas Inn, in the upscale Los Angeles suburb of Calabasas, California. The first decade of the Calendar Motorcycle Show took place at the exciting Museum of Flying at the Santa Moncia Airport, then expanded in 1991 to two days the larger Queen Mary event facility in Long Beach venue alongside the Pacific Ocean.
For the fourth time in eight years, a top Japanese builder used the LA Calendar Show to mark his entrance onto the world stage, following in the foot steps of former Best of Show and Class winners Shinya Kimura / Chabott Engineering, Kenji Nagai / Ken's Factory and Hiroyouki Hirata of BB Custom Factory who all flew in with their bikes from Japan to compete at the Calendar Show.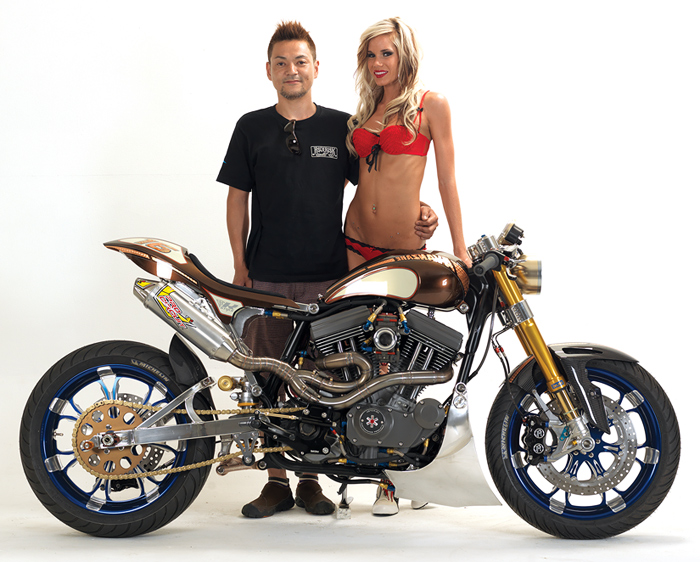 Ladies and Gentlemen, presenting 2012 LA Calendar Best of Show winner Hoshikawa Hideki and his bike 'Asterisk'
together with World Superbike Calendar Kitten Kinsey Ray.
Garnering Best of Show in this year's 2012 Calendar Bike Building Championship was Hoshikawa Hideki / Asteris9.com from Miyagi, Japan who flew in to Los Angeles for just 3 days with his latest custom bike build to compete and take top honors, then fly back home to Japan. Celebrity judges Jim Gianatsis, Jim Giuffra, Chris Redpath and Michael Schacht choose Hideki's 883cc Sportster based naked custom sportbike as the most exciting, original and well constructed custom at the Show. Hideki said he built it for a customer who gave him a blank check and no instructions whatsoever, other then to ask him to build the best bike he could build. Hideki is not necessarily a sportbike enthusiast, he builds all kinds of Harley based customs, but this time he said, he wanted to concentrate on the quality of the design and build, utilizing real sportbike feel and performance for the now highly modified 1200cc Sportster engine.
Complete 2012 LA Calendar Motorcycle Show Coverage Here
---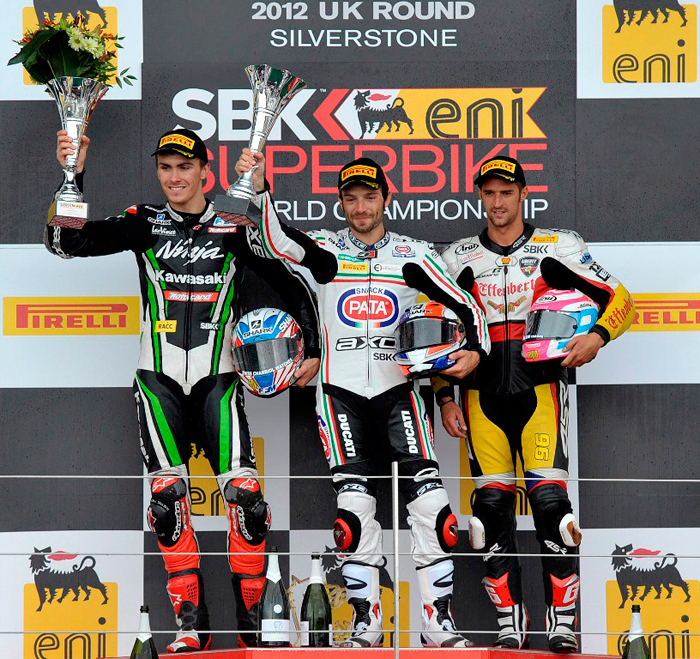 Fresh faces o the podium at Silverstone: Guintoli (Pata Ducati) took the top step in Race Two, beside 2nd Baz (Kawasaki) and 3rd Smrz (Effenbert Ducati).
SBK World Superbike Championship, Round 10 of 14, Silverstone, GB
Baz on Kawasaki, Guintoli Pata Ducati score wet 'n' wild Silvertone World Superbike wins
Silverstone, Great Britain, August 5, 2012 – A remarkable day, thanks to the ever changing British weather conditions, saw two French riders on top at Silverstone in round ten of the eni FIM Superbike Championship in front of a weekend crowd of 42,000. In the first race SBK rookie Loris Baz (Kawasaki Racing Team) became the second youngest rider ever to win at this level, with the nineteen-year-old, who started the season in the Superstock 1000 FIM Cup, overcoming the changing conditions to win a close run thing.

In the second race a rider who parted way with one Ducati team at the recent Brno round and found a berth in the Pata Racing Team - Sylvain Guintoli - posted his second win of the year on a Ducati 1098R in horrendous conditions after a delayed and shortened race two.

The biggest names were all left struggling in both qualifying and races as the track conditions shifted from dry and sunny to fully wet, and everything in between. Points leader Max Biaggi (Aprilia Racing) was a non-finisher in race one, then only 11th in race two. Marco Melandri (BMW Motorrad Motorsport) is now only 10.5 points from Biaggi after finishing seventh and then eighth. Tom Sykes (Kawasaki Racing Team) was eighth and 12th at his home round, Carlos Checa (Althea Racing Ducati) was fifth and sixth, despite crashing late in race two, then being included in the results on the lap count back.
Biaggi's wide open eyes tell the story for the Championhip leader in the rain at Silverstone.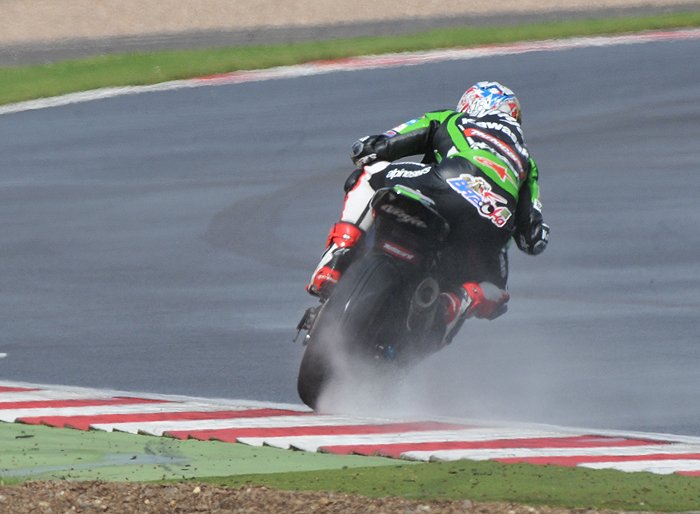 Race winner Loris Baz on the factory Kawasaki suffered two hard crashes in the rain at Silverstone, this the first - a highside in Superpole on Saturday when his rear tire touched the slik white painted track endge line, then the second while leading race 2 on Sunday. Photo by Max Olina.
Smrz takes second Tissot-Superpole of 2012 season
Silverstone (UK), 4 August 2012 – Jakub Smrz (Liberty Racing Team Effenbert Ducati) secured his second Tissot-Superpole of the season today at Silverstone, to add to the pre-race success he enjoyed at Miller Motorsports Park in May. The Czech rider made the best of the often treacherous track and weather conditions at Silverstone, in what was a two-part wet Superpole, to lead FIXI Crescent Suzuki rider Leon Camier off the line on Sunday's two eni FIM Superbike World Championship races. Sylvain Guintoli (PATA Racing Team Ducati) was third in his first appearance for the Italian squad and local hero Leon Haslam (BMW Motorrad Motorsport) was fourth, despite being fastest with only one lap left from his main rivals.

Jakub Smrz: "It was a great performance in the wet. As Leon said the conditions were really difficult, the rain was changing at every moment on every part of the track, but I was trying to improve lap by lap and then on the last lap I tried my best and it was enough for first place. We are used to these conditions this year, so we must be ready for everything tomorrow."

Leon Camier: "It was definitely better than where I normally qualify, so that's good! Massive thanks to the boys, it's been a hard year for us but finally everything is paying off and this weekend we've been strong. There were some tricky conditions for qualifying but I managed to get a good rhythm and keep improving. I thought I had pole and I did until Kuba came past on the last lap!"

Sylvain Guintoli: "I'm really happy because it's not easy when you're put in a new situation like this one. From the start of the weekend me and the team have got on really well, we've been tweaking stuff like in winter testing! I'm having fun with Pata and I've found a good home with which to finish the season. Obviously this is the first step, but there's plenty more performance to come."

Davide Giugliano (Althea Racing Ducati) was another rider to lead for a time before crashing on the wet surface and finishing fifth, with championship challenger Marco Melandri (BMW Motorrad Motorsport) sixth, Carlos Checa (Althea Racing Ducati) seventh and Tom Sykes (Kawasaki Racing Team) eighth. Checa and Sykes both fell, spoiling any chance of making faster laps in Superpole 2. Loris Baz (Kawasaki Racing Team) went ninth after his own crash in the first 20-minute session, while Jonathan Rea (Honda World Superbike Team) could only manage tenth and Max Biaggi (Aprilia Racing) eleventh.

Super Pole Times: 1. Smrz (Ducati) 2'20.810 average 150.893 kph; 2. Camier (Suzuki) 2'20.846; 3. Guintoli (Ducati) 2'21.385; 4. Haslam (BMW) 2'21.613; 5. Giugliano (Ducati) 2'21.951; 6. Melandri (BMW) 2'21.960; 7. Checa (Ducati) 2'23.356; 8. Sykes (Kawasaki) 2'24.025; 9. Baz (Kawasaki) 2'23.777; 10. Rea (Honda) 2'23.889; 11. Biaggi (Aprilia) 2'24.176; 12. Hopkins (Suzuki) 2'24.274; 13. Berger (Ducati) 2'24.294; 14. Laverty (Aprilia) 2'25.260; 15. Fabrizio (BMW) 2'26.137; 16. Davies (Aprilia) 2'26.360; etc.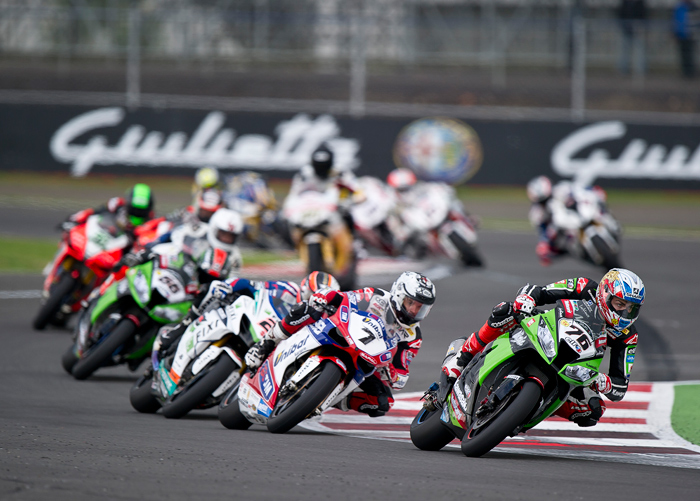 Carlos Checa (7) moves up in a 13 rider battle to take the Race One lead from Baz (76) and would pull out a 3 second lead until it stated raing, then would drop back to 5th, with Baz taking the race win.
Race One: Newcomer Baz Survives the Mayhem of a 13-rider Battle for the Lead
French Rookie Loris Baz (Kawasaki Racing Team) who was moved up from the Superstock class ear;ier in the year to replace Kawasaki's injured Joan Lascorz, won after weather conditions played an ever-changing role in the first 18–lap race of the day. The first attempt to run the race just as rain was beginning to fall, was halted after two separate crashes on the first lap.
The restart was declared a Wet Race (meaning the race would not be stopped again for weather), but with a mostly dry track surface visible over the length of the circuit. Light rains came and went as the lead changed a bewildering number of times, but with a few laps to go the rains got even heavier and rider movements forward and back got even more frenzied. For much of the race there were some 13 riders battling for the lesd of the race, at times runnig throgh corners 3 riders side-by-side a passing back and forth. By mid race it was Carlos Checa who had worked his way to the front and quickly broke away from the lead ground by nearly 3 seconds. Then within 4 laps of the finsih the rain began falling and Carlos faded backwards, soon to be overtaken by Baz, and BMW Motorrad Italia GoldBet's duo of Michel Fabrizio and Ayrton Badovini.
Baz dices with Jonny Rea.
Over the line for the last time, Baz won by 0.383 seconds, with Fabrizio and Badovini second and third respectively and Jonathan Rea (Honda World Superbike Team) fourth. As Badovini crossed the line he fell on the edge of the track and the following Rea also crashed into Badovini's machine, but after each had crossed the line. Checa was fifth, but championship leader Biaggi was a late faller on the last lap as well and he non-scored.
Baz won an incredibly confused first race which went from reasonably dry to wet, after pushing his way to the front of a group of riders who were running slick tyres on a damp surface. Risking a lot but riding assuredly Baz ignored that fact that this was only his 11th race start at this level of competition, and he became the second youngest rider in SBK history to win a full SBK race.

Loris Baz: "At the beginning it was full dry and I was missing grip but when I saw the rain coming I kept pushing to the front. It was hard at the end because it was wet, but I stayed on the bike and I'm really happy. A big thanks for the team and our thoughts go out to Joan Lascorz."

Michel Fabrizio: "It was the craziest race but I'm very happy to be on the podium. I don't know what clicked in my head! We have to be happy with the first podiums this year for our team, and my team-mate was here with me as well so it's a great result! I feel sure I was in a position to win, but there was only one problem, Baz!"

Ayrton Badovini: "It's incredible! Finishing without a bike is crazy! I'm happy because I started from 18th position, but with these conditions I could push and I saw that the conditions were changing. A great result for me and my team."

Race One Results: 1. Baz (Kawasaki) 18 Laps/106.236 km in 40'46.128 average 156.349 kph; 2. Fabrizio (BMW) 0.383; 3. Badovini (BMW) 0.459; 4. Rea (Honda) 0.539; 5. Checa (Ducati) 1.012; 6. Haslam (BMW) 2.619; 7. Melandri (BMW) 6.123; 8. Sykes (Kawasaki) 9.170; 9. Giugliano (Ducati) 19.022; 10. Laverty (Aprilia) 19.087; etc.

The deluge of rain in Race Two would cause the race to be stopped on lap 8 while Baz had just taken the lead, then crashed.
Race Two: Baz Leads again then crashes as race is stopped, Win awarded to Guintoli
In race two, his 12th career SBK race, Baz finished second in strange circumstances. Running on wets on a track that got wetter and eventually covered in both oil and fuel from other rider 's machines, Baz hunted down early leaders Sylvain Guintoli and Jakub Smrz. When in the lead on lap ten Baz was to fall but the race was stopped soon after, and thanks to the count back rules, it as called a result after only eight laps, placing Loris second overall.
Half points were awardedwere awarded to the top 15 riders, so Loris got ten points and not the 20 he would have normally been awarded, with race winner Guintoli getting 12.5. Third went to long time second place rider Jakub Smrz (Liberty Racing Team Effenbert) with Aprilia Racing rider Eugene Laverty, who was 16 seconds behind rain master Guintoli when the flag went out, fourth. Maxime Berger (Team Effenbert Liberty Racing Ducati) was fifth, Chaz Davies (ParkinGO MTC Aprilia) was eventually classified seventh.
For Sykes the promise of much at Silverstone was washed away by the weather and simple bad luck. Having had his bike rebuilt before raceday his set-up in race one did not last all the distance, and his lap one lead ended up as eighth place. In race two he fell on oil or fuel, which had been spilled on a wet track and with many other riders he persuaded Race Control to stop the race. He would finally be classified 12th. Most importantly for Tom, his main championship rivals also had tough days so he kept third place overall. He is now 51.5 points behind the leader Max Biaggi, and 41 points behind second place rider Marco Melandri.

Smurz (50) dices with Guintoli (96).

Sylvain Guintoli: "What a day, what a last couple of weeks actually! It's been an up and down road after Brno, but I've just bounced back quickly with the Pata team and Ducati. I made the wrong choice of tyre in the first race, but in race 2 I went from zero to hero! I was really angry with myself at the start then when the rains came I eased off for the podium because I didn't want to go from zero to zero! It's my first win with Pata and hopefully there are many more to come!"

Loris Baz: "A fantastic weekend, in the beginning it was not so wet and I was saving the tyres for the big rain to come, but Kuba and Sylvain were fast. I passed them then I crashed without doing nothing because there was fuel and oil on the track. A big thanks to the team, they are doing a great job, also Kawasaki!"

Jakub Smrz: "I'm really happy because it was a tough Sunday for us. I was taken down in race 1 and we were still fixing the bike and had no time to get new parts. In race 2 it was good, I was together with Sylvain, we were fast but there was so much rain that I just crashed without doing nothing. I'm happy that they counted the end of the race one lap before and this is the first podium for me this year."

Carlos Checa was one of the riders crashing out on lap 8 in the heavy rain and fuel spills causing the race to be stopped. with finishing postions reverting back to the previous lap to give him a 6th place finish.
Race Two Results: 1. Guintoli (Ducati) 8 Laps/47.216 km in 19'42.051 average 143.799 kph; 2. Baz (Kawasaki) 0.881; 3. Smrz (Ducati) 1.671; 4. Laverty (Aprilia) 19.045; 5. Berger (Ducati) 22.116; 6. Checa (Ducati) 23.736; 7. Davies (Aprilia) 24.690; 8. Melandri (BMW) 26.197; 9. Rea (Honda) 26.861; 10. Hopkins (Suzuki) 27.194; etc.

Points (after 10 di 14 rounds): 1. Biaggi 274; 2. Melandri 263.5; 3. Sykes 222.5; 4. Checa 220.5; 5. Rea 203.5; 6. Haslam 170; 7. Laverty 160.5; 8. Guintoli 122.5; 9. Fabrizio 108.5; 10. Giugliano 106; etc. Manufacturers: 1. BMW 316; 2. Aprilia 302.5; 3. Ducati 300; 4. Kawasaki 253.5; 5. Honda 209.5; 6. Suzuki 75.5.

World Supersport
A thrilling race long fight between three PTR Honda riders ended up in a man-to-man duel between eventual winner Jules Cluzel (PTR Honda) and Sam Lowes (Bogdanka PTR Honda). The contest was so close that they touched on the final corners but the French rider was not to be denied and won the race by only 0.157 seconds. Broc Parkes (Ten Kate Racing Products Honda) came from slightly behind the PTR runners to take third, 0.591 seconds back, while Ronan Quarmby (PTR Honda) hung in with the leading group almost throughout the restarted race and was an impressive fourth. Kenan Sofuoglu (Kawasaki Lorenzini) ran off track early on but recovered to score fifth place, ahead of two more Kawasaki riders, Fabien Foret (Kawasaki Intermoto Step) and Sofuoglu's Lorenzini team-mate, Sheridan Morais, who was seventh.

Results: 1. Cluzel (Honda) 16 Laps/94.432 km in 34'48.860 average 162.747 kph; 2. Lowes (Honda) 0.157; 3. Parkes (Honda) 0.591; 4. Quarmby (Honda) 2.068; 5. Sofuoglu (Kawasaki) 5.067; 6. Foret (Kawasaki) 19.484; 7. Morais (Kawasaki) 20.038; 8. Baldolini (Triumph) 23.169; etc.

Points (after 9 of 13 rounds): 1. Sofuoglu 148; 2. Lowes 134; 3. Cluzel 120; 4. Foret 118; 5. Parkes 98; 6. Morais 71; 7. Quarmby 67; 8. Baldolini 62; etc. Manufacturers: 1. Honda 197; 2. Kawasaki 187; 3. Triumph 91; 4. Yamaha 73; 5. Suzuki 6.

Savadori's World Superstock Barni Racing Team Italia Ducati 1199 Panigale with official SBK grid girls Jitka and Petra from their photo shoot with Max Olina for the FastDates.com Calendar.
Superstock 1000
A race-long fight between Eddi La Marra (Barni Racing Team Italia Ducati) and Jeremy Guarnoni (MRS Kawasaki) finally went the way of La Marra, by only 0.241 seconds after ten intense laps at Silverstone. Spots of rain on lap one had no real effect on the track surface as La Marra and Guarnoni made a break, with eventual third place rider Bryan Staring (Pedercini Kawasaki) and fourth placed Sylvain Barrier (BMW Motorrad Italia GoldBet) having a real fight at the end. Fifth was British rider Kev Coghlan (DMC Ducati Panigale).

Results: 1. La Marra (Ducati) 10 Laps/59.020 km in 21'42.623 average 163.111 kph; 2. Guarnoni (Kawasaki) 0.241; 3. Staring (Kawasaki) 3.054; 4. Barrier (BMW) 3.198; 5. Coghlan (Ducati) 7.920; 6. Bergman (Kawasaki) 12.551; 7. Jezek (Ducati) 15.888; 8. Mercado (Kawasaki) 19.155; etc.

Points (after 7 of 10 rounds): 1. La Marra 119; 2. Barrier 88; 3. Staring 86; 4. Guarnoni 82; 5. Savadori 67; 6. Reiterberger 62; 7. Bergman 59; 8. Baroni 56; etc. Manufacturers: 1. Ducati 132; 2. Kawasaki 130; 3. BMW 116; 4. Honda 52; 5. Aprilia 17.

Superstock 600
A red flag after two laps of the first running of the Superstock 600 race made for a five-lap restart. Michael van Der Mark (EAB Ten Kate Junior Team Honda) led for a while but eventually a four-rider fight developed. Gauthier Duwelz (MTM Yamaha) fell and the win was taken by Riccardo Russo (Team Italia FIM Yamaha). Second in a dramatic final corner lunge was van Der Mark, third was wild card Lee Jackson (Chris Walker Race School Kawasaki).

Results: 1. Russo (Yamaha) 5 Laps/29.510 km in 12'45.692 average 138.745 kph; 2. Vd Mark (Honda) 0.600; 3. Jackson (Kawasaki) 0.708; 4. Schacht (Honda) 7.941; 5. Chesaux (Honda) 10.527; 6. Nestorovic (Yamaha) 13.294; 7. Morbidelli (Yamaha) 14.507; 8. Gamarino (Kawasaki) 17.355; etc.

Points (after 7 of 10 rounds): 1. Russo 147; 2. Vd Mark 144; 3. Duwelz 78; 4. Calero Perez 53; 5. Vitali 53; 6. Gamarino 49; 7. Schacht 48; 8. Nestorovic 47; etc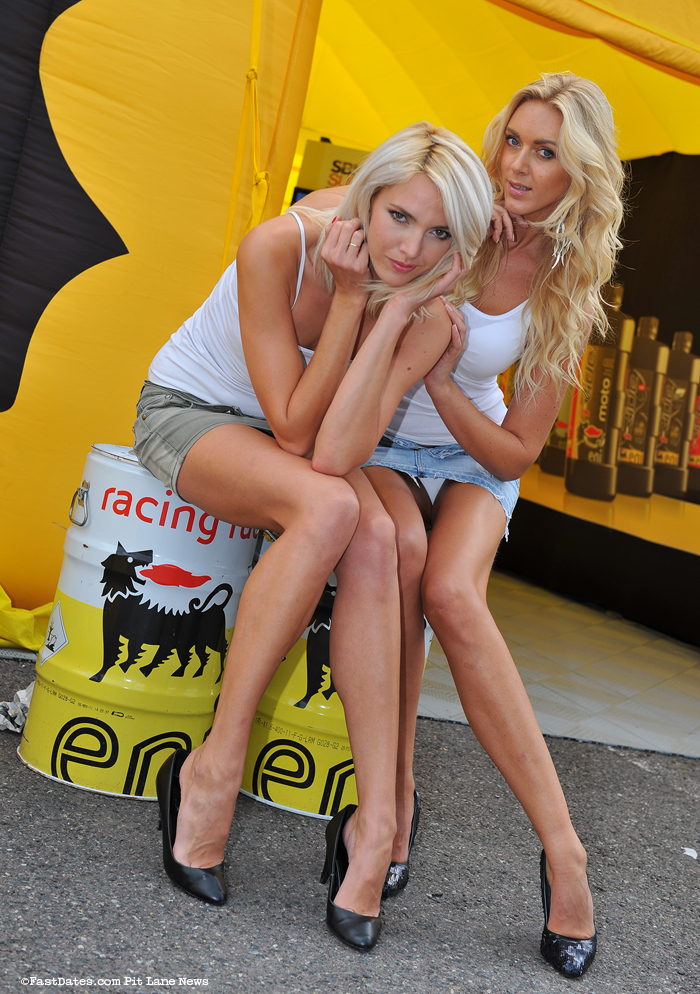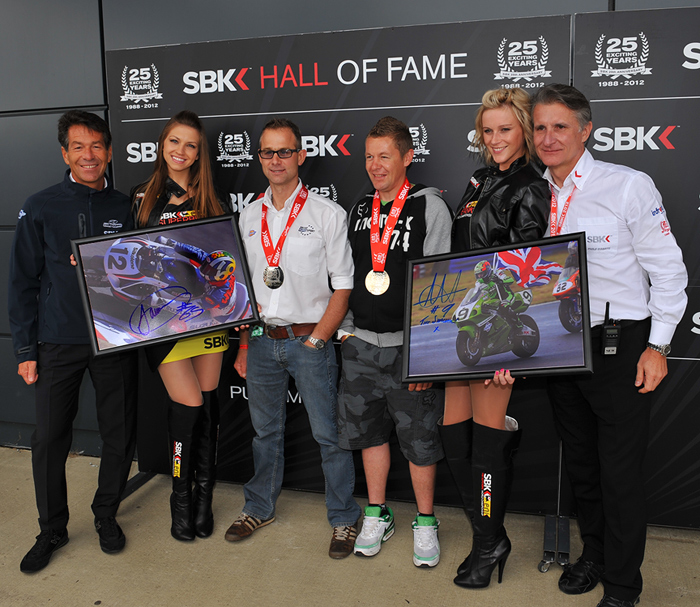 From the left: Paolo Flammini inducts Brit riders James Whitham and Chris "The Stalker" Walker into the SBK Hall of Fame with Paolo Ciabatti. Both were World Superbike race winners (one apiece) and Walker is still racing in the UK and also runs a race school. Whitham is a commentator for British Eurosport, at British Superbike and World Superbike races. Both are 'people's champions' in the eyes of the British fans. Walker particularly as he never quite won the British Superbike title, but came very close four times.
---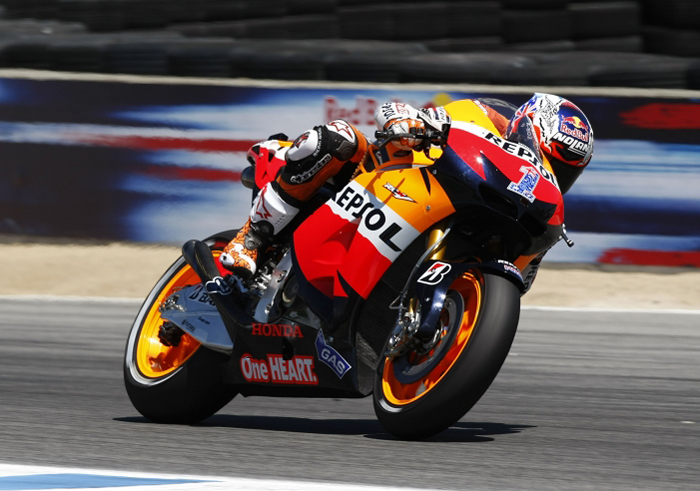 FIM MotoGP World Championship, Round 10 of 18, Laguna Seca, USA

Casey Stoner calls the Corkscrw home with a 3rd Laguna Seca victory
Laguna Seca, CA, USA, July 30th 2012 - Repsol Honda rider Casey Stoner heads into the summer break on a high after winning his fourth race of the year by making a wise tyre choice on a sunny day at the U.S. Grand Prix at Mazda Raceway Laguna Seca. Jorge Lorenzo (Yamaha) was second and Dani Pedrosa (Repsol Honda RC213V) third and on the podium for the sixth race in a row, equalling his longest sequence of successive podiums in MotoGP. The win was Stoner's second in a row and third overall at the tortuous circuit within sight of the Pacific Ocean east of Monterey, California, making him the winningest rider at the track.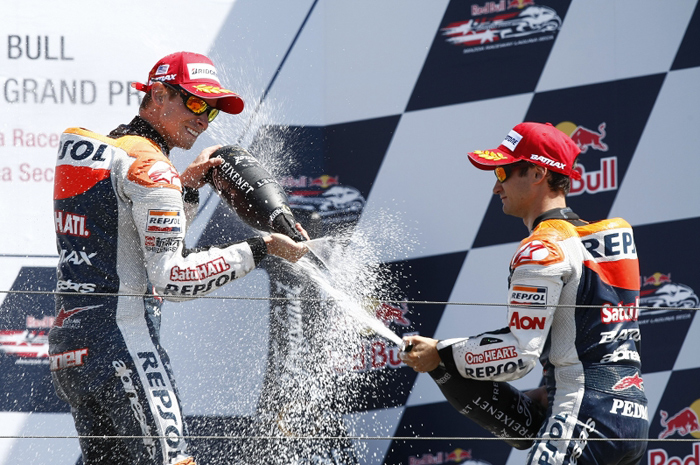 And it also allowed Stoner to take five points out of the championship lead of Lorenzo. Stoner, who will spend his summer break traveling around the U.S. with his family, now has 173 points to 182 for Pedrosa and 205 for Lorenzo. Complete Race Coverage HERE
---
The Fast Dates World Superbike Calendar Presents a History, Track Tests,
Team Rider and Designer Interviews, and Pictures of All the
Ducati Corse World Superbikes
by Alan Cathcart and Jim Gianatsis
The year 2011 marked the 25th anniversary of the creation of the first, of a now legendary line of Ducati Superbikes with their trademark Desmoquattro 4-valve V-twin motors hung below a lightweight trellis tube frame, race bikes that went on to dominate the then new World Superbike Championship for next quarter of a century. Arguably the most significant motorcycle engine design of any kind since the CB750 Honda, and surely the most remarkable and successful volume production engine format ever used in world competition by any single manufacturer, the venerable Ducati 4-valve desmodromic engine recorded to this date 14 World Superbike Championship titles in the 24 year history of the world's premier production bike based world roadracing series.
This book chronicles the development and history all five Ducati Corse World Superbike generations from the first Desmoquatro 750cc prototype to the revolutionary new 1199 Panigale Superquadro together with interviews with the Ducati designers, team racers and managers. This unique insight is provided by renown motorcycle racer and journalist Alan Cathcart who has had the envious and often exclusive opportunity to test ride every one of the factory Corse race bikes over the last 25 years, those tests of which are featured here. Photography of the Corse factory bikes and riders is proved by the world's most renown motorcycle roadracing photographers.
Adding icing to the cake, and to warrant this big collectors edition book, included are the incredible high definition photographs of the bikes taken by former racer, motojournalist and photographer Jim Gianatsis as featured in the Fast Dates World Superbike Calendars from those years with the beautiful Fast Dates Calendar Kittens who served as the official SBK and Team Ducati Corse grid girls at the race where the bikes were photographed.
This 224 page large format collectors edition book begins with a Forward by Massimo Bordi, legendary designer of the Desmoquattro back in 1974. Then it dives into the technical details, revealing photography and Cathcart's exclusive tests of every one of the factory Ducati Corse Superbikes from the First Generation 851cc Daytona raced prototype, to Doug Polen's Fast by Ferracci 888/926 World Championship winner. Followed by the Second Generation 916/955 machines, the Third Generation 999, the Fourth Generation 1098/1198, to the all-new Fifth Generation 1199 Panigale. Included along the way are interviews with all the factory riders and World Championship winners from Doug Polen, Carl Fogarty and Troy Corser, to Neil Hodgson, James Toseland, Troy Bayliss, Nori Haga and Carlos Checa. While the tradition continues with a detailed look at the new 1199 Panigale and a interview with the designers who created it, and an exclusive track test of the newest Generation 1199 bike by Cathcart and 3-time World Superbike Champion Troy Bayliss.
This is a must have book for every Ducati and motorcycle roadracing enthusiast. Gianatsis Design has produced and published the book in a beautiful large format 12x12-inch hard cover design coffee table style Collectors Edition Book featuring 224 pages in full color printed on 100# dull coat art paper for the best possible reproduction and presentation. Books are individually shrink wrapped and have a printed cover wrapper.
Suggested Retail: USD $69.95 • UK £55.00 • EUR $55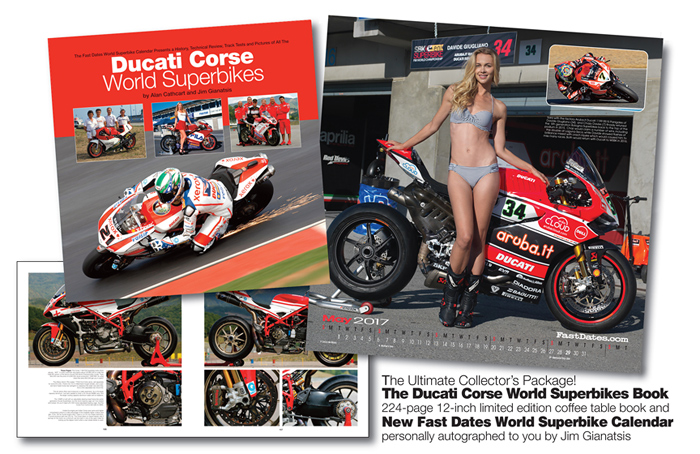 Exclusive Autographed Collector's Package!
The all new Ducati Corse World Superbikes 224-pg book and the 2013 Fast Date World Superbike Calendar - World Release July 1st 2012
Personally autographed to you (or the name you request on the PayPal.com Order Form) by Jim Gianatsis and shipped direct to you.
For more information or to order the Book or the Calendar individually, unsigned, go to the Sportbike Books and Fast Dates Calendar order pages. $100 Collector's Package, plus $20 USPS Priority Mail Shipping & Handing in the USA.
---
There's more! Go to Pit Lane News Previous Week

Also Visit: Fast Dates Calendar News • Iron & Lace Calendar News
Calendar Girl News • Meet the Models • Paddock Garage

MEMBERS CORNER! Calendar Kittens, Paddock Garage, Iron & Lace Garage





MotorcycleSuperstore.com
Some of our Calendar Kittens can also at Playboy's website...



FREE! New Met-Art Model Galley Updated Daily - Stop Back Each Day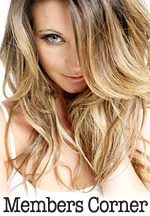 Hot Bikes, Sexy Kittens
Your Exclusive Grid Pass
also includes....
---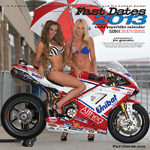 Order the New
2013 Calendars!
with FastDates.com Calendar Kitten, Ducati Corse Grid Girl
and Playboy Playmate
Heather Rae Young!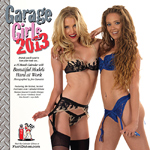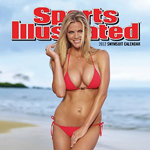 Click for even more Calendars!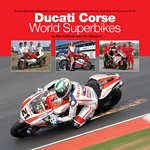 Retail $69.95 ea.
Click to Order

Ducati Corse
World Superbikes
by Alan Cathcart
& Jim Gianatsis
The most extensive book ever on the history of the winningest bikes in SBK World Superbike. Covers all 5 Generations of the Desmoquatro factory Ducati Corse World Superbikes from the first 750/851 prototypes to the new 5th generation 1199 Panigale with technical details and photos, interviews with all the engineers and factory riders, track tests of every bike, and full page photos of the bikes from all the Fast Date Calendars with the official Ducati Corse and SBK Calendar Kittens.
Photography by the world's top roadracing photographers including Gold & Goose, Kel Edge, Fabrizio Porrozzi, Max Olina.
This is a high quality Collectors Edition hard cover coffee table book, 224-pages in large 12x12-inch format printed on 100# dull coat art paper.

Click on the cover above to order individual copies from Amazon.com. Retail $69.95 ea.
Also at Amazon.com.uk
---
Ducati and Rossi to part ways at the end of 2012
Team Ducati Press Release, August 10th 2010 - As the MotoGP series awaits its return to action for the August 19 Indianapolis Grand Prix, Ducati announces that its working relationship with Valentino Rossi will conclude at the end of the 2012 MotoGP World Championship.

Ducati wishes the Italian well for the new challenges that await him, and in the meantime, the team will continue to give its best effort in order to improve over the latter part of the season.

Racing has always been in Ducati's DNA, and now more than ever, it is integral to the Borgo Panigale company's product development and image. AUDI shares Ducati's strategic approach and agrees with its growing commitment to competition.

Therefore, having recently renewed its agreement with American Nicky Hayden, Ducati is in the process of finalizing the team that will take part in the 2013 World Championship, confident that its team and bike will be capable of competing at the highest level.
Yamaha Signs
Valentino Rossi for
2013 - 2014
Friday 10th August, 2012 - Gerno di Lesmo (Italy) - It is with great pleasure that Yamaha Motor Co., Ltd confirms the signing of Valentino Rossi to ride for the Yamaha Factory Racing MotoGP Team for 2013 and 2014.

Valentino Rossi first joined Yamaha in 2004 and achieved four MotoGP World Champion titles with the Yamaha YZR-M1 in 2004 & 2005 and again in 2008 & 2009. He won 46 Grand Prix races with Yamaha over a 7 year period before leaving at the end of the 2010 MotoGP season.
Rossi, who is presently 8th in the Championship standings, will partner Jorge Lorenzo who currently leads the 2012 MotoGP World Championship by 23 points, having taken five victories from the first ten completed races of the 18 race series.
MAX BIAGGI DEFENDS HIS LEAD IN THE WORLD SUPERBIKE CHAMPIONSHIP DESPITE THE DIFFICULTIES AT SILVERSTONE.
Silverstone (UK), 5 August 2012 – It was a complicated Sunday at Silverstone for the Aprilia Racing Team, but it ended with Max Biaggi's leadership intact. There was no escape from the weather for World Superbike on race day, confirming the unpredictability seen earlier in the weekend.
Race 1 started under dark clouds but track conditions influenced all the riders to choose slicks. In the brawl that broke out on the slippery asphalt, Max Biaggi managed to claw his way into sixth position, only to suffer an unfortunate crash just a few kilometres from the end of the race.

Race 2, on the other hand, was wet, with increasingly hard rain until it was finally red flagged during the tenth lap. Max's race was starting to take a turn for the better, with the Corsair's feeling improving lap by lap. The interruption, due to oil and petrol on the track, led to the finishing order being decided based on the eighth lap raced, which had Max Biaggi in eleventh place, with half points awarded.

"In Race 1 I brushed onto the white line and the bike got away from me, a passable mistake. It was a shame though, because the sixth place I was defending was a good position, considering the conditions. In my opinion stopping Race 2 was the right decision, you could see oil or petrol on some of the turns and it was too dangerous. My lead has been cut in half – that's the outcome of the weekend, so now we'll focus on Moscow where we're starting from scratch on a track that is new to everyone".

Disappointment for Eugene Laverty, despite a good fourth place in Race 2. In fact, the rider from Toomebridge was penalised by the race suspension that came when he was fighting for the podium and recovering important seconds on his rivals. Eugene's feeling in the wet was very promising, while in the first race he struggled and gritted his teeth to take tenth place.

"In the first race we had a few problems, but the important thing was to finish and take some points home. In Race 2 the set-up on my RSV4 wasn't working very well with damp asphalt, but when the heavens opened my pace increased as well. I recovered several positions and I could have improved even more but the race was called. The rules were enforced correctly, although I think they could have considered the next lap as they had done initially".
ALTHEA RACING'S CARLOS CHECA LIMITS THE DAMAGE IN TODAY'S DIFFICULT SBK RACES AT SILVERSTONE
Silverstone (UK), Sunday 5th August 2012: a very difficult day's racing for team Althea and riders Carlos Checa and Davide Giugliano with heavy rain showers that conditioned both of today's SBK races at the Silverstone track. Despite the less than ideal circumstances, current champion Checa was able to score some good results, crossing the line in fifth and sixth place, while Davide secured points in race one thanks to a ninth place finish.

Race 1- Althea Racing had to battle against the elements again today with a first race that was declared dry, before being red-flagged and restarted as a 'wet' race that became increasingly difficult over the course of the 18-laps. Carlos made a good start to the restarted race and was sixth at the end of lap one while Davide was ninth through the first corners, slipping however to seventeenth by the end of the first lap. During the next few laps both riders were able to recover; Carlos passed a group of riders, including Biaggi and Sykes, and took the lead by lap five and Davide was up to twelfth by lap eight, having been the fastest rider on track in the early laps. Carlos built up a three second gap between himself and the chasing group, made up of Sykes, Camier and Haslam but on lap eight it began to rain and he was forced to reduce his speed. He lost several positions as a result but, evaluating the conditions, he decided it was preferable to finish the race rather than risk a crash. The current world champion thus crossed the line in fifth position, behind a group of four riders who battled it out right to the line, with two of them - Badovini and Rea - crashing just a fraction of a second after passing the chequered flag.

Davide, despite suffering from pain in his right hand as a result of a crash on Friday and dealing with a small technical problem with his boot, fought long and hard against Laverty before making up a few places in the final stages to cross the line in final ninth position.

Race 2 – the second race started exactly as the first had done, with the start delayed due to instable conditions. The race was then declared wet, as a result of the damp track. This time all riders opted for rain tyres and this proved to be the right decision, as heavy rainfall arrived as soon as the race got underway. Carlos lost ground in the opening stages and was in fourteenth place at the end of the first lap while Davide lay in ninth. Both found a good rhythm and while Carlos moved up through the field to reach sixth position, Davide, now fourth, was pushing to close the gap between himself and Baz, third. Reaching a very slippery section of the track, that was perhaps oil-coated, Davide unfortunately crashed out on lap six, with team-mate Carlos suffering the same fate just two laps later. The race was stopped during the course of the ninth lap, and half points were awarded according to riders' positions at the end of lap eight, meaning that Carlos scored five points for his sixth place finish.
At the end of Round ten of the championship Carlos is now in fourth position in the standings with a total of 220.5 points. Davide is now tenth with 106 points. Ducati lies in third position in the manufacturer's standings with 300 points behind Aprilia (302) and BMW (316).

Carlos Checa:
"The conditions today, especially in race 1, were dangerous; racing in the wet with slick tyres is obviously no fun for anyway, although it probably makes for exciting races for the spectators. Before the rain started to fall I was going really well but then once the rain came, and certain sections of the track became wetter than others, I lost a bit of confidence and slowed down a bit, thinking that maybe one or two guys would come past me but instead there were five or six of them! In the final stages, when I saw how the front group was pushing and how hard it was just to stay upright, I chose to stay put and follow them rather than push and take risks. Fifth isn't bad considering the conditions.

In race 2 I lost some ground at the start but then managed to make that up again over the subsequent laps to arrive close to Berger who was in fifth. I saw some oil on the track and went wide to avoid it – I put my hand up at that point to indicate to Race Direction that conditions were getting worse but then I fell. Anyway, we've made up a few points in the standings and now we have to concentrate on the Russian round."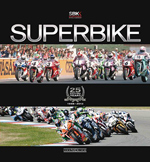 The Official SBK
World Superbikes
1987-2012
25 Year History Book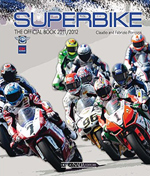 The Official SBK
2011-2012 Yearbook
These SBK Yearbooks are the Best Books Ever about World Superbike
They feature awesome color photography of the riders, bike and racing action. The feature a detailed revue of the past season in pictures and statistics, with a detailed look at the bikes and riders.
Plus a technical look data all the bikes, a preview of the upcoming season's Championship!
We buy this every year ourselves and highly recommend it!
SBK World Superbike Video Game
---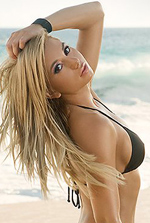 Meet 2012 Calendar Kitten
Sara Balint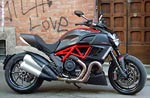 The Devil Made Us Do It!
Testing the Ducati Diavel in Italy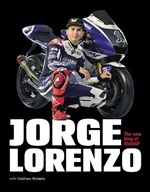 Sudco High Performance & OEM Replacement Parts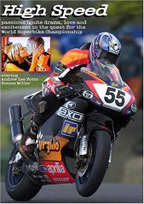 High Speed - the Movie
The best motorcycle racing movie ever made! Filmed on location at the World Superbike races , this an exciting romantic drama staring beautiful British actress Sienna Miller.
---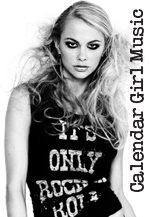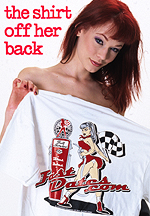 Order the Official
FastDates.com &
LA Calendar Bike Show
T-Shirts!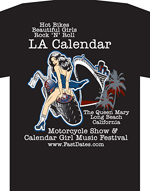 ---
Erik Buell Racing gets $20 million boost in investment funding
EAST TROY, Wis, July 20th - Erik Buell Racing has received $20 million in foreign investments, reports BizTimes Milwaukee. The funding will allow the upstart OEM to expand its motorcycle production and create about 200 jobs.
The $20 million in EB-5 investment funding comes from investment fund manager FirstPathway Partners LLC, the site reports. With the influx of funding, EBR will be able to design and produce additional models of sportbikes and expand its international exports.
"EBR motorcycles are made in America and in great demand worldwide," said Bob Kraft, chairman, CEO and founding partner of FirstPathway Partners. "This investment will create good manufacturing and engineering jobs in Wisconsin for skilled American workers and greatly strengthen a local company's position in the global marketplace."
Rossi to leave Ducsti for Yamaha or Retire?
Ducati announces renewal of Nicky Hayden's contract
Monterey, CA, USA
27 July 2012 - On the occasion of the United States Grand Prix, the home race for two-time LagunaSeca MotoGP winner Nicky Hayden, Ducati announces a contract extension with the American that will see him continuing to race for the Ducati Team next year.

With Ducati already having signed Cal Crutchlow earlier this month to their MotoGP team for 2013, this could mean that Valendation Rossi may be moving to a seat at Yamaha - the only top team left that might take him. Unless, of course. Ducati's new owners step up with some big money to keep Valentino at Ducati in a 3- rider squad. But if neither the Yamaha or Ducati rider materializes for Vali, then he could be facing retirement with no other top tier GP bike teams left for him to move to.

Nicky Hayden, who turns 31 on Monday, is currently in his tenth season in the MotoGP series and his fourth with the Ducati Team. During that time, he has become extremely popular with fans and Ducatisti all over the world, thanks to his reliably positive outlook, his passion, and his determination. He currently sits eighth in the championship points standings and is working hard on the development of the Desmosedici GP12, employing his typical effort and enthusiasm.

The United States hosts no fewer than 45 DOCs (Ducati Owners Clubs) and tomorrow thousands of fans will have the opportunity to meet Nicky at Ducati Island, an area at Laguna Seca where Ducatisti gather to follow the race and experience the "red passion." Following the afternoon qualifying session, Nicky himself will visit the Island's stage, where many spectators and fans will no doubt be excited to join him in celebrating the news of his renewal with the Ducati Team.

Nicky Hayden, Ducati Team
"I'm very happy that I'll be back with Ducati and back in MotoGP, racing at the highest level for a very important team. I love the guys I work with, I love the Ducati fans, and I love the brand. This is an important time for Ducati in a number of ways, and I'm excited that I'll continue to be a part of it. I feel like I've got some unfinished business here, and hopefully we can get all the pieces into place and reap the rewards of the hard work we've put in the last couple of years. It's nice to be able to make this announcement at Laguna and to share the moment with my fans, friends and family. If I can do a good result on Sunday, it could make for a pretty special birthday weekend.
The Gecko Inks 3-Year Deal to Sponsor AMA Pro Roadracing Championship
DAYTONA BEACH, Fla. (July 27, 2012) - Officials from AMA Pro Racing and GEICO announced today a multi-year partnership, which names GEICO Motorcycle as the Official Motorcycle Insurance and Title Sponsor of America's premier motorcycle road racing championship, GEICO Motorcycle AMA Pro Road Racing. As part of the agreement, AMA Pro Racing will name a year-end points fund after GEICO for the premier AMA Pro National Guard SuperBike division. For the 2012 season, the GEICO Year-End Points Fund will pay out an additional $25,000 to the top three riders in the final point standings, which will rise to $50,000 and be paid out to the top five riders in the final point standings for the 2013 and 2014 seasons.