3-time Ducati Corse SBK World Superbike Champion Troy Corser receives his personally autographed copy of the Ducati Corse World Superbikes book from co-author Jim Gianatsis at a recent Troy Bayliss Racing Academy track day at the Misano Circuit.

The Fast Dates World Superbike Calendar Presents a History, Track Tests,
Team Rider and Designer Interviews, and Pictures of All the
Ducati Corse World Superbikes
by Alan Cathcart and Jim Gianatsis
The year 2011 marked the 25th anniversary of the creation of the first, of a now legendary line of Ducati Superbikes with their trademark Desmoquattro 4-valve V-twin motors hung below a lightweight trellis tube frame, race bikes that went on to dominate the then new World Superbike Championship for next quarter of a century. Arguably the most significant motorcycle engine design of any kind since the CB750 Honda, and surely the most remarkable and successful volume production engine format ever used in world competition by any single manufacturer, the venerable Ducati 4-valve desmodromic engine recorded to this date 14 World Superbike Championship titles in the 24 year history of the world's premier production bike based world roadracing series.
This book chronicles the development and history all five Ducati Corse World Superbike generations from the first Desmoquatro 750cc prototype to the revolutionary new 1199 Panigale Superquadro together with interviews with the Ducati designers, team racers and managers. This unique insight is provided by renown motorcycle racer and journalist Alan Cathcart who has had the envious and often exclusive opportunity to test ride every one of the factory Corse race bikes over the last 25 years, those tests of which are featured here. Photography of the Corse factory bikes and riders is proved by the world's most renown motorcycle roadracing photographers.
Adding icing to the cake, and to warrant this big collectors edition book, included are the incredible high definition photographs of the bikes taken by former racer, motojournalist and photographer Jim Gianatsis as featured in the Fast Dates World Superbike Calendars from those years with the beautiful Fast Dates Calendar Kittens who served as the official SBK and Team Ducati Corse grid girls at the race where the bikes were photographed.
This 224 page large format collectors edition book begins with a Forward by Massimo Bordi, legendary designer of the Desmoquattro back in 1974. Then it dives into the technical details, revealing photography and Cathcart's exclusive tests of every one of the factory Ducati Corse Superbikes from the First Generation 851cc Daytona raced prototype, to Doug Polen's Fast by Ferracci 888/926 World Championship winner. Followed by the Second Generation 916/955 machines, the Third Generation 999, the Fourth Generation 1098/1198, to the all-new Fifth Generation 1199 Panigale. Included along the way are interviews with all the factory riders and World Championship winners from Doug Polen, Carl Fogarty and Troy Corser, to Neil Hodgson, James Toseland, Troy Bayliss, Nori Haga and Carlos Checa. While the tradition continues with a detailed look at the new 1199 Panigale and a interview with the designers who created it, and an exclusive track test of the newest Generation 1199 bike by Cathcart and 3-time World Superbike Champion Troy Bayliss.
This is a must have book for every Ducati and motorcycle roadracing enthusiast. Gianatsis Design has produced and published the book in a beautiful large format 12x12-inch hard cover design coffee table style Collectors Edition Book featuring 224 pages in full color printed on 100# dull coat art paper for the best possible reproduction and presentation. Books are individually shrink wrapped and have a printed cover wrapper.
Order Now from Amazon.com USA: USD $69.95 • Amazon.com UK/Europe: UK £55.00 / EUR $55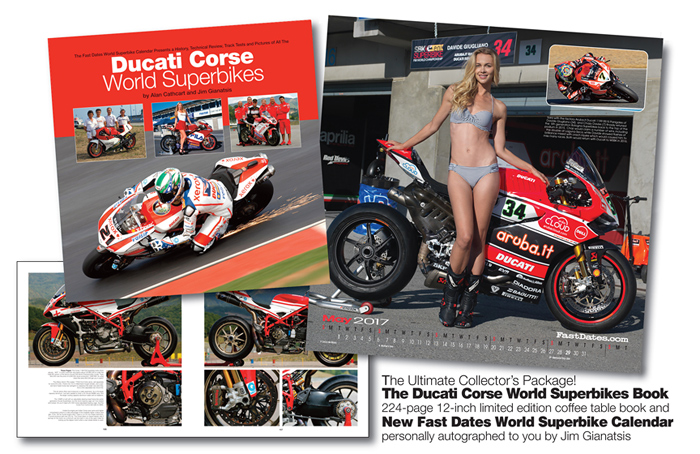 Exclusive Autographed Collector's Package!
The all new Ducati Corse World Superbikes 224-pg book and the 2013 Fast Date World Superbike Calendar - World Release July 1st 2012
Personally autographed to you (or the name you request on the PayPal.com Order Form) by Jim Gianatsis and shipped direct to you.
For more information or to order the Book or the Calendar individually, unsigned, go to the Sportbike Books and Fast Dates Calendar order pages. $100 Collector's Package, plus $20 USPS Priority Mail Shipping & Handing in the USA.
Ducati Corse World Superbike Book Signings in Los Angeles!
Jim Gianatsis will be doing a signing of his new Ducati Corse World Superbikes Book and 2013 Fast Dates Calendar
in the LA area at these upcoming Ducati Dealer Open Houses:
• Sept 30th, 2012 - Pro Italia Cafe Desmo, Montrose, CA
• Nov 17th, 2012 - SoCal Motorcycles Open House, Brea, CA
Stop by, say hello, and get a personally autographed copy of the new book!
---
Laguna Seca returns to the World Superbike calendar beginning in 2013
Rome (Italy), Friday 21 September 2012 – Following a three-year agreement between Infront Motor Sports and Mazda Raceway Laguna Seca, the United States Round of the eni FIM Superbike World Championship will take place at the Californian circuit next season and in 2014 and 2015.

The confirmed date for the 2013 event will be 27-29 September, and it marks the return of the championship to the spectacular Monterey circuit for the first time after an eight-year absence. The last World Superbike round was held at Laguna Seca in 2004.

Paolo Flammini, CEO of Infront Motor Sports, declared: "We are absolutely delighted to be returning to Laguna Seca for the US Round for the first time since 2004. Over the ten-year period in which we were last there, we witnessed an extraordinary growth in interest and in overall attendance and we are sure that this event will once again become one of the most prestigious on the calendar. The return of Laguna Seca to the Superbike World Championship, with its six competing manufacturers, will definitely be a boost to the championship's growth in the US market as California has a special tradition and offers significant opportunities for the motorcycle industry, sponsors and media."

"We have a strong history with World Superbike and are thrilled to have them commit to a three-year race schedule," says Gill Campbell, Mazda Raceway Laguna Seca CEO/general manager. "Their return to Mazda Raceway Laguna Seca solidifies our position as THE premier circuit in the U.S. for motorcycle racing."
World Superbike adds Jerez de la Frontera to championship calendar beginning in 2013
Rome (Italy), Friday 21 September 2012 – Infront Motor Sports and Jerez de la Frontera have announced that the Spanish circuit will join the eni FIM Superbike World Championship calendar from 2013 onwards following an agreement signed today in Jerez. The agreement is for three years from 2013 to 2015 inclusive and next year's race can now be confirmed as the final round of the season on 20 October.

Paolo Flammini and Juan Baquero, respectively the CEO of Infront Motor Sports and Jerez de la Frontera, were present at the signing of the contract this morning in the Jerez city hall together with the lady mayor of Jerez, María José García Pelayo.

Paolo Flammini, CEO of Infront Motor Sports, commented: "We are delighted with the addition of another prestigious name to our World Championship calendar. Jerez de la Frontera is a circuit that is synonymous with great motorbike racing in general and is situated in a catchment area with an extraordinary sporting tradition and cultural heritage. It gives us great pleasure to return to Jerez for the first time in over twenty years and we are sure that together we will work hard to make the event a great success."

María José García Pelayo, lady mayor of Jerez, declared: "The city of Jerez welcomes the Superbike World Championship, a superb motorcycle event which, due to the wide media impact it entails, shall reinforce the international image which Circuito de Jerez projects throughout the world and shall also bring important direct benefits to the city. The agreement reached with the owners of the Championship confirms the grounds of the plans this government put forward months ago with regards to the circuit. It is therefore the first stone of the Sporting Calendar 2013, providing further international presence and importance and accordingly a better media return of the Tourist Brand Jerez all around the world."

Juan Baquero, CEO of CIRJESA, added: "We are thrilled with the fact that the Superbike World Championship is landing at Circuito de Jerez from the next season. This shall position the track and the city itself as one of the main references of international motorbike sport. The Superbike World Championship is an extremely attractive event with a lot of potential, competitive and exciting races with which the general public should be acquainted. And from now on this is going to be our main task. The event has four classes in each meeting, very well-known riders and an important number of people involved in the organization which no doubt shall bring the city large benefits."

The only time that World Superbike raced at Jerez de la Frontera was in 1990, the third year of the championship's existence, when both races were won by that year's champion Raymond Roche. It was also the first time a round in Spain had been added to the World Superbike championship calendar, but since then the country has been a fixed presence in the production-based racing series.

About the FIM Superbike World Championship
The FIM Superbike World Championship features a high number of riders, teams and manufacturers (Aprilia, BMW, Ducati, Honda, Kawasaki and Suzuki), racing with high-performance bikes that are similar to those available on the market for normal everyday road use. The championship's well-tried formula of two races at each round, Pirelli's one-make tyre supply, as well as stable technical regulations over the years, have helped World Superbike become a truly exciting spectacle for millions of TV spectators and fans around the world.

Media coverage of the FIM Superbike World Championship is firmly established worldwide and is helping to align the strength of the series across the scale. Overall, under Infront's tenure, live coverage has increased steadily since 2007 and the number of broadcast partners has grown by 40 per cent. In 2011, the series reached a cumulative audience of 460 million viewers with 3,300 broadcast hours worldwide.
---
Updated Off-Road Sport Touring Bikes from KTM and Ducati for 2013
Sept 20th - The Dual Purpose Sport Touring Bike Wars are heating up with these two last 2013 offering just announced by KTM and Ducati. The 3rd big European player (and the most popular) in this market segment is BMW with their aircooled boxer twin GS1200 R. However the offerings from KTM offer more performance and p[owered with their watercooled V-Twins, as well as more sophisticated electronics (traction control) and suspension.
Ducati seems to have replaced the electronicly adjustable Ohlins Suspension on the previous Multistrda 1200S model with somenting called Ducati Skyhook Suspension (DSS). No exact specifics have been released on either bike, particularly what Ducati's DDS is all about, but details will be forthcoming from both manufscturers at the big INTERMOT Show, Cologne, Germany, October 3-7th.
If you are a hard core sport bike guy, and are getting up in year like us, these bikes are the best things on the planet. On the strert you can ride them more comfortably, faster and safer than any sportbike. Plus they are just more practical for every day riding around town, and taking long trips. With 150 horsepoer, the KTM and Ducati have more poer than you could ever use on the street. A Ducati Multistrda 1200S holds the top motorcycle speed / time record up the new all pavement Pikes Peak Hill Climb, hitting a top speed of 147mph on one short straight section. That's superbike racetrack speed territory.

KTM 1190 Adventure R
Highly developed LC8 V-two cylinder with double ignition, the latest Keihin motor management, electronic fuel injection with drive-by-wire and anti-hopping clutch
Performance: 110 kW/150 hp, torque: 125 Nm, 15,000 km inspection intervals, low fuel consumption
235 kg with a full tank
Multilevel combined BOSCH-ABS and multilevel BOSCH traction control (MTC)
New innovation: Offroad modus for ABS and MTC!
Fully adjustable WP USD telescopic fork with separate rebound and compression damping
Fully adjustable rear WP shock absorber
Suitable for the asphalt, tubeless Enduro tires on wire spoke wheels with airtight rim -90/90-21 front; 150/60-18 rear
Adjustable footrests, handlebar position and windshield
The very latest VDO combi instruments
Ducati Multistrada 1200 Generation Two
Ducati has given a preview of its highly-anticipated 2013 range by revealing exciting new Multistrada models that introduce new features such as enhanced aesthetics, a second generation Testastretta 11° engine, the very latest ABS and, on the "S" versions, the innovative semi-active suspension system, Ducati Skyhook Suspension (DSS).

The brand new range, full of owner-inspired improvements, signals the next stage of the Multistrada journey with a longlist of fascinating and high-tech features. It includes the Multistrada 1200 with the associated Riding Mode technologies of Ride-by-Wire (R-b-W) and Ducati Traction Control (DTC) in addition to the very latest in ABS, while the Multistrada 1200 S Touring is now equipped with Ducati Skyhook Suspension (DSS), R-b-W, DTC and ABS with additional side luggage, heated grips and centre stand. The new touring flagship of the range for 2013 is the Multistrada 1200 S Granturismo with increased side luggage capacity, top case, additional LED illumination, enhanced wind protection and long-distance tires, while the enhanced Multistrada 1200 S Pikes Peak celebrates the sporting side of the model's character with a replica of the famous 2012 mountain race bike in its stunning new race-winning livery.

The Multistrada's award-winning Sport, Touring, Urban and Enduro electronic Riding Modes enable a truly enjoyable and customizable riding experience separated by just one click of a button. The four-bikes-in-one concept makes instant adjustment to power and torque delivery in addition to electronic adjustment of suspension settings, traction control, and now ABS and Ducati Skyhook Suspension, instantly transforming the Multistrada 1200 to suit its rider and environment with even more precision.

Hailed as a true 'game-changing' motorcycle, Ducati's Multistrada 1200 has attracted all types of riders to the Italian brand by removing the borders between different motorcycle categories and creating a model that is not only powerful and playful, but also a comfortable and versatile adventure on two wheels. The eight-level DTC and new three-level ABS introduce the Ducati Safety Pack (DSP) concept to the Multistrada family; further underlining Ducati's focus on performance safety.

Ducati's Multistrada 1200 International Press Test is set to take place in Bilbao, Spain from 20-27 September, while the first public showing of the 2013 Multistrada range will be at the INTERMOT motorcycle show in Cologne, Germany from 3-7 October. The brand new Multistrada 1200 models will be available via the official Ducati dealer network from December 2012.
---
Tom Sykes jumps into the lead of Race One to card his and kawasaki's first win of the season
SBK Superbike World Championship, Round 13 of 14, Portimao
Biaggi asserts his grip on the title in the run up to the fianl round
Sykes and Laverty on Top at Portimao World Superbike

Portimao (Portugal), Sunday 23 September 2012 – Max Biaggi (Aprilia Racing Team) scored a single podium for third place in race two at the eni FIM Superbike World Championship round in Portugal today, but two strong points scores saw him extend his overall lead as his other championship rivals found trouble. Tom Sykes (Kawasaki Racing Team) started well, as he won the first race in front of 51,000 weekend spectators, but he had to retire with an engine failure in the second race. With Marco Melandri (BMW Motorrad Motorsport) injured in the aborted first race, the Italian scored no points today. Eugene Laverty (Aprilia Racing Team) won his first race of the 2012 season in the second outing today, which went to all 22-laps duration.
It was a black Sunday for Team BMW Motorrad Motorsport at Portimão (POR). Factory rider Marco Melandri (ITA) crashed on the opening lap of race one. As he was lying on the tarmac, he was hit by the bike of Chaz Davies (GBR), who fell when trying to avoid him. As Marco's was severe pain after the heavy impact, the Italian was taken to Portimão Hospital for precautionary checks. He returned to the team in the afternoon shortly after the second race. The examinations showed that he suffered no major injuries but has painful contusions on his back. His team-mate Leon Haslam (GBR) finished a more than difficult first race in 19th. In the second race he had to retire due to an electrical issue.

The final result from Portugal, with one round and two individual races to go in France in two weeks' time, is that Biaggi has a total of 347 points, 30.5 more than Sykes, while Melandri is 38.5 points adrift of Biaggi. Final Round 14 October 07, Magny-Cours, France.


Race One - Melandi's Championship Hopes Dashed, Sykes Chased to the Flag by Checa in the Wet
After the penultimate round of the 2012 FIM Superbike World Championship on the Algarve coast saw a sunny Friday and Saturday, the conditions changed completely today and it rained heavily in the morning, making race one once more again this season a tyre lottery as the rain stopped shortly before the start. Championship contender Marco Melandi was in the leading group but crashed on lap one while fighting for position. Leon Haslam was struggling with his intermediate rear tyre in the wet in the early stages of the race and fell towards the back of the field. He did not get the chance to catch up because after six laps the race was red flagged due to oil on the track.

John Hopkins (21) and Michel Fabrizio (84) in a heated battle in the wet before the race was stopped.
After 45 minutes the race was restarted with grid positions determined by positions on track before the red flag. This meant that Leon was 20th onthe grid. As the track was still wet he opted for rain tyres on both front and rear but again in the second part of the race Lady Luck was not on Leon's side. He got a ride through penalty for a jump start and entered the pits after three laps. In the meantime conditions had bettered so he decided to change his rear tyre to an intermediate but this did not reap benefits as shortly afterwards light rain started again. On top of that he still had to take his ride through penalty. He did so after lap seven and finished the race in 19th.
The restarted race, over only 16 laps, was won by Sykes who scored his third win of the season and drew himself – temporarily - closer to championship leader Biaggi as a result. Max was fourth in the opening race after several incidents and changing fortunes as the race unfolded. Carlos Checa (Althea Racing Ducati) looked like he could pass Sykes at the end but was unable to in the final two laps, and he settled for second place. PATA Racing Ducati privateer rider Sylvain Guintoli scored himself another podium finish, in third place.

Checa and Guintoli on the Althea Ducati's hold off Aprilia's Biaggi and Haslam who ws forced to retire with electrical problems.
Tom Sykes, Team Kawasaki : "I've got to start by thanking the team and Kawasaki, the boys made a big change in between the two parts and it was a different bike in the second rerun. I was so comfortable and much happier and was able to predict what the bike was doing. We got to the front and managed the tyres very well, racing with these guys was fantastic. It's good for the championship but we'll take it race by race."
Carlos Checa, Althea Ducati 2nd :"Second position is very positive, considering the rain, and the fact that the race was stopped. It was difficult because Tom defended himself well and it was very risky to overtake. I had to be careful to control tyre wear as it was drying out later in the race of course. At the end I tried to improve my pace, and maybe I had better pace than Tom in the final stages but I could see no clear place to overtake. Anyway we are very happy, I thank my team that has done a great job all weekend; this is a great result."
Marco Melandri: Result Race 1: DNF / DNR, Result Race 2: DNS "Once more it was a very bad day for me. When Max Biaggi passed me I kept my inside line and I did not really see him. I just heard the sound of somebody touching the front of my bike and I went down and I felt something hit my back. I was very worried about my back, kidney or liver because it hurt very badly. Fortunately the medical exams show that everything is okay. Now it is a bit better because I took a lot of painkillers, but I still don't feel very well."

SUPERBIKE RACE ONE: (Laps 16 = 73,472 Km)
POS / RIDER / NAT. / TEAM / MOTORCYCLE / GAP
1 / T. SYKES / GBR / Kawasaki Racing Team / Kawasaki ZX-10R / 31'42.011
2 / C. CHECA / ESP / Althea Racing / Ducati 1098R / 0.3
3 / S. GUINTOLI / FRA / PATA Racing Team / Ducati 1098R / 2.732
4 / M. BIAGGI / ITA / Aprilia Racing Team / Aprilia RSV4 Factory / 11.564
5 / B. MCCORMICK / CAN / Team Effenbert Liberty Racing / Ducati 1098R / 11.771
6 / J. REA / GBR / Honda World Superbike Team / Honda CBR1000RR / 11.792
7 / L. BAZ / FRA / Kawasaki Racing Team / Kawasaki ZX-10R / 28.693
8 / H. AOYAMA / JPN / Honda World Superbike Team / Honda CBR1000RR / 29.581
9 / A. BADOVINI / ITA / BMW Motorrad Italia GoldBet / BMW S1000 RR / 31.507
10 / M. FABRIZIO / ITA / BMW Motorrad Italia GoldBet / BMW S1000 RR / 31.587
11 / L. CAMIER / GBR / FIXI Crescent Suzuki / Suzuki GSX-R1000 / 31.71
12 / J. HOPKINS / USA / FIXI Crescent Suzuki / Suzuki GSX-R1000 / 33.167
13 / E. LAVERTY / IRL / Aprilia Racing Team / Aprilia RSV4 Factory / 37.843
14 / A. LUNDH / SWE / Team Pedercini / Kawasaki ZX-10R / 37.993
15 / M. BAIOCCO / ITA / Red Devils Roma / Ducati 1098R / 39.397
Fastest Lap: 16° Carlos Checa 1'56.477 141,927 Km/h
Lap Record: 2010 M. Biaggi 1'42.774 160,850 Km/h
Best Lap: 2012 T. Sykes 1'41.415 163,010Km/h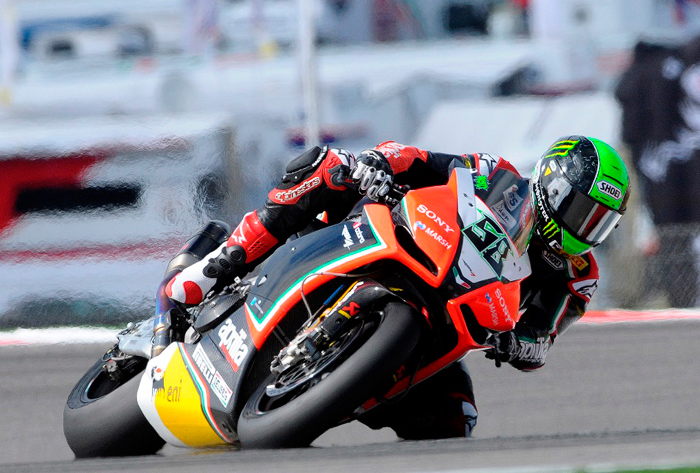 In a day of first race wins, Aprila's Eugene Laverty won his first World Superbike victory in Race Two.

Race Two - Lavert Scores his First Victory of the Season
After a tense battle Laverty took his first victory of the season, and his first on an Aprilia machine, as he held off the impressive late charge of Jonathan Rea (Honda World Superbike Team) by only 0.162 seconds. Eugene became the ninth rider in 2012 to win a race. Laverty had been a clear leader but in the final laps Rea put in a real charge at the undulating Portuguese circuit. Over three seconds behind the race winner, Biaggi was third and now carries a more than useful lead into the final round in France. His new main championship rival Sykes no scored.
For race two the sun was shining again and conditions were dry. Leon Haslam started his BMW from fifth but lost some places. His bike then stopped due to an electrical issue. He pushed it back to the pits but had to retire when the race was in its third lap. Ayrton Badovini (ITA) of the BMW Motorrad Italia GoldBet SBK Team finished the races in ninth and sixth, his team-mate Michel Fabrizio (ITA) was tenth and eighth.
FIXI Crescent Suzuki's Leon Camier looked like taking his second podium of the season during today's final race at the eni FIM Superbike World Championship from Portimao in Portugal only to see his hopes disappear in the closing stages. Camier started from ninth on the grid and had made his way up to sixth by lap-three. He continued to close the gap on the leading riders as the race progressed and was in a position to challenge championship leader Max Biaggi when the race entered its final few laps. Camier tried to make a pass on the Italian, as the Aprilia rider ran slightly wide, but Biaggi didn't see Camier on his inside and cut back across, accidently hitting the FIXI Crescent Suzuki man. Camier stayed on-board and gave chase again, before making another attempt to get past Biaggi, he succeeded briefly, but couldn't make the pass stick, so continued to line up the Italian for another attack. Unfortunately disaster struck for Camier before he had the opportunity as a transmission issue forced him into the pits and retirement from the race at the start of the very last lap - ruefully wondering what might have been.
The two Althea Ducati riders Giugliano and Checa were eighth and ninth after the first lap. Due to the presumed traction control issue, Checa quickly lost a lot of ground in the early stages, finding himself fourteenth. Carlos deactivated and then reactivated the system and this seemed to solve the problem, allowing him to make up a lot of positions in what remained of the race. After a few laps Giugliano also slowed dramatically, due to what appeared to be a problem with the front of his bike; this meant that he returned to the garage, putting a premature end to his race. Carlos continued to gain ground throughout the rest of the race (he was tenth by lap five and seventh by lap ten). Thanks to a consistently fast pace that he was able to maintain to the line, the Spaniard closed race two in final fifth position.

Eugene Laverty: "I rode hard at the beginning to get a gap but Jonathan pushed me hard towards the end. The grip wasn't there, which was evident in the lap time, but I just kept going towards the end. I managed to hang on. The win has been so long coming, the last time was Monza and of course this is the first for Aprilia, I'm ecstatic about it!"
Jonathan Rea (Honda World Superbike Team): Race resulst: 6th and 2nd, Championship position: 5th - "I guess we've got to be satisfied with the results today after we didn't take advantage in Superpole yesterday. I felt really good in both races and in race one I was sitting pretty in second place feeling really comfortable when the red flags came out. Unfortunately, the track was drying for the second part, with zero standing water, but the bike was just too soft for the conditions, so I could only nurse it home. Race two was pretty good and my team gave me a CBR that I was able to compete with at the front. I got held up a little early on and Laverty opened a bit of a gap. When I got clear track in front of me I was able to reel him back in bit by bit but we ran out of laps in the end."
Carlos Checa, Althea Ducati 5th : "In the second race I was there with the leading group but then I had a problem and I couldn't push, I didn't know what it was but I deactivated and then reactivated the traction control and this seemed to solve it. I was able to catch up a lot of positions but it wasn't easy, the bike wasn't as easy to ride as it had been in the practice sessions. Considering all that happened I think fifth is a good result. Now we will concentrate on finishing the season in the best possible way at Magny-Cours."
SUPERBIKE RACE 2: (Laps 22 = 101,024 Km)
POS / RIDER / NAT. / TEAM / MOTORCYCLE / GAP
1 / E. LAVERTY / IRL / Aprilia Racing Team / Aprilia RSV4 Factory / 38'35.105
2 / J. REA / GBR / Honda World Superbike Team / Honda CBR1000RR / 0.162
3 / M. BIAGGI / ITA / Aprilia Racing Team / Aprilia RSV4 Factory / 3.766
4 / S. GUINTOLI / FRA / PATA Racing Team / Ducati 1098R / 10.44
5 / C. CHECA / ESP / Althea Racing / Ducati 1098R / 20.153
6 / A. BADOVINI / ITA / BMW Motorrad Italia GoldBet / BMW S1000 RR / 23.152
7 / L. BAZ / FRA / Kawasaki Racing Team / Kawasaki ZX-10R / 27.314
8 / M. FABRIZIO / ITA / BMW Motorrad Italia GoldBet / BMW S1000 RR / 35.682
9 / B. MCCORMICK / CAN / Team Effenbert Liberty Racing / Ducati 1098R / 35.766
10 / L. LANZI / ITA / Liberty Racing Team Effenbert / Ducati 1098R / 38.311
11 / J. HOPKINS / USA / FIXI Crescent Suzuki / Suzuki GSX-R1000 / 47.814
12 / L. ZANETTI / ITA / PATA Racing Team / Ducati 1098R / 57.359
13 / D. SALOM / ESP / Team Pedercini / Kawasaki ZX-10R / 1'11.035
14 / A. LUNDH / SWE / Team Pedercini / Kawasaki ZX-10R / 1'28.197
15 / N. BRIGNOLA / ITA / Grillini Progea Superbike Team / BMW S1000 RR / 1'42.589
Fastest Lap: 5° Eugene Laverty 1'44.578 158,075 Km/h
Lap Record: 2010 M. Biaggi 1'42.774 160,850 Km/h
Best Lap: 2012 T. Sykes 1'41.415 163,010Km/h
CHAMPIONSHIP POSITIONS TO DATE: 1 BIAGGI 347, 2 SYKES 316.5, 3 MELANDRI 308.5, 4 CHECA 278.5, 5 REA 255.5, 6 LAVERTY 241.5, 7 HASLAM 189, 8 GUINTOLI 172.5, 9 DAVIES 156.5, 10 FABRIZIO 133.5, 11 GIUGLIANO 125, 12 BAZ 116, 13 BADOVINI 116, 14 CAMIER 109.5, 15 SMRZ 92.5.

Kenan, his Kawasaki team and family on the podium at Portiamo with the Championship Trophy

World Supersport 600 - Cluzel's Race Win, Sofuoglu's Third World Title
Kenan Sofuoglu (Kawasaki Lorenzini) won his third world championship by finishing behind the only man who could have caught him before the Portimao round, Jules Cluzel (PTR Honda). Cluzel gave his all to keep the title alive for another weekend but with so many changes of lead and position inside the top four riders today, nothing was certain until the very last corner when he had stretched out a winning lead. Fabien Foret (Kawasaki Intermoto Step) was third in the race, just less than a second from Cluzel. Broc Parkes (Ten Kate Racing Products Honda) was fourth and Sam Lowes (Bogdanka PTR Honda) fifth. In the rankings, with one round to go, Sofuoglu has a peerless 218 points, Cluzel 185 and Foret 160.

Results: 1. Cluzel (Honda) 20 Laps/91.840 km in 36'05.886 average 152.651 kph; 2. Sofuoglu (Kawasaki) 0.645; 3. Foret (Kawasaki) 0.969; 4. Parkes (Honda) 1.035; 5. Lowes (Honda) 3.905; 6. Morais (Kawasaki) 5.936; 7. Linfoot (Kawasaki) 22.555; 8. Baldolini (Triumph) 22.595; 9. Quarmby (Honda) 23.121; 10. Scholtz (Honda) 23.740; etc.

Points (after 12 of 13 rounds): 1. Sofuoglu 218 (champion); 2. Cluzel 185; 3. Foret 160; 4. Lowes 152; 5. Parkes 135; 6. Morais 94; 7. Baldolini 86; 8. Quarmby 84; 9. Iannuzzo 60; 10. Leonov 52; etc. Manufacturers: 1. Honda 262; 2. Kawasaki 257; 3. Triumph 115; 4. Yamaha 102; 5. Suzuki 6.

Superstock 1000 - Staring Wins in another Class going down to the Final Race
Bryan Staring (Team Pedercini Kawasaki) pushed himself ahead of long-time race leader Sylvain Barrier (BMW Motorrad Italia GoldBet) to score the win in Portugal, his third victory of the season, with Jeremy Guarnoni (MRS Kawasaki) pushing on to record third spot. In the championship Eddi La Marra (Barni Racing Team Italia Ducati) is now second by three points behind Barrier, after he finished fifth at Portimao. Lorenzo Savadori (Barni Racing Team Italia Ducati) was fourth today. Three riders can now win the title, Barrier, La Marra and Staring, although the Aussie rider is 22 points behind the lead.

Results: 1. Staring (Kawasaki) 12 Laps/55.104 km in 21'34.528 average 153.241 kph; 2. Barrier (BMW) 1.722; 3. Guarnoni (Kawasaki) 3.839; 4. Savadori (Ducati) 6.249; 5. La Marra (Ducati) 6.444; 6. Bergman (Kawasaki) 12.990; 7. Massei (Honda) 16.963; 8. Mercado (Kawasaki) 19.648; 9. Reiterberger (BMW) 19.708; 10. Jezek (Ducati) 20.487; etc.

Points (after 9 of 10 rounds): 1. Barrier 133; 2. La Marra 130; 3. Staring 111; 4. Guarnoni 98; 5. Savadori 91; 6. Reiterberger 85; 7. Bergman 78; 8. Massei 71; 9. Coghlan 68; 10. Baroni 56; etc. Manufacturers: 1. Kawasaki 168; 2. Ducati 165; 3. BMW 161; 4. Honda 71; 5. Aprilia 17.
---
Hot Girls & Bikes in the Movies

Ducati 1199s look pretty
good in Lavender, too!
Sept 15th - Here's s shot of 15 year old actress Chloë Grace Moretz on location in Toronto filming with a customized Ducati 1199 Superbike as she reprises her starring role as Hit Girl / Mindy Macready in the new movie sequel 'Kick Ass 2 Balls to the Wall!'

Kick-Ass 2 is set to hit theaters in June, 2013. Chloë will still be 2 years too young for us to date, but old enough to ride a Ducati Superbike and kick us in the balls. We can hardly wait!!!

The young star's role as Hit Girl helped shape her into an A-lister at just age 12 following the 2010 release of Kick-Ass. She won seven awards and was nominated for a further 18 for the original Matthew Vaughn-directed film, although the follow-up is being helmed by Jeff Wadlow.

Her more recent films included the recently released Dark Shadows (2012), The Texas Killing Fields (2011) and Diary of a Whimpy Kid (2010).

Moretz meanwhile has a busy production schedule ahead. Moretz also recently wrapped filming the lead role in the Carrie remake with Boys Don't Cry director Kimberly Pierce.

The in-demand teenager has a further six titles in the pipeline, having been cast in Dreamworks blockbuster animation Trolls, an origins story about the fuzzy-haired dolls.
Other projects include drama The Devil And The Deep Blue Sea, thriller The Rut, comedy Dance Of The Mirlitons and Beach Boys biopic The Drummer. http://chloemoretz.com
---

Shayne Byrne

British Superbike Championship, Assen Round 11 of 13

Shakey Shakes Up The Showdown In British Superbikes at Assen
Sunday 23rd September 2012, Assen, The Netherlands - Rapid Solicitors Racing Team's Shane 'Shakey' Byrne defied the pain of an injured shoulder to thrust himself into title contention with a superb victory in the opening Showdown round of the 2012 MCE Insurance British Superbike Championship held at the TT Circuit Assen today. The double British champion was riding for the first time since dislocating his shoulder a month ago and showed good pace throughout the weekend meaning he was confident going into the races.
These races formed the first of the three Showdown rounds of the series, with the elite six Title Fighters having mixed fortunes. Tommy Hill, the defending champion and series leader going into this round, was sidelined in the opening race after a bizarre incident as he rode his Yamaha to his grid position after the sighting lap. A mechanic, unaware of Hill moving through, ran into his bike, jamming on the front brake and sending Hill tumbling over the bars, and as his bike fell, it was damaged, leaving him with a pit-lane start, and retirement after six laps.
Race One
In front of a bumper crowd at the historic Dutch circuit, Byrne battled for the lead in the opening stages of race one before making a break to win by a comfortable 4.7 seconds ahead of title rivals Josh Brookes and Alex Lowes meaning he leapt to the head of the British Superbike standings going into the day's second race.
Laverty, who had qualified second fastest, made the early running, but former two times title winner Shane Byrne eased into a second lap lead on his Kawasaki and though Laverty briefly regained the lead midway through the race, he was unable to maintain the pace as he struggled with tyre wear. Lowes meanwhile was riding determinedly, coming through from seventh on the opening lap to be challenging the front runners in the closing stages and then taking Laverty to end the race in third place as the Samsung rider was forced back into seventh place.
Race Two
In Race Two Byrne got another great start and again led for the most part. Laverty was running with him, going ahead on the third lap for two laps before Byrne regained the advantage. Laverty was again struggling with grip issues while Lowes was again on the ascendancy taking over in third place on the sixth lap and after an exchange with Hill regaining the final podium position on the last lap. But Laverty slipped back again to seventh.
Byrne was then challenged by Brookes towards the end and going into the last lap it was still anyone's race. Brookes made a move on Shakey at the final corner but just as Byrne tried to respond he came across a backmarker and as a result Brookes took the victory with Byrne in a close second place.The result means that after two races out of seven in the Showdown Byrne is just two points adrift of Brookes heading into Silverstone next weekend.

Shakey Byrne: "If anyone had offered me a first and second a week ago I'd have laughed at them, but after winning race one I was disappointed not to win race two. My shoulder was sore but didn't cause me too many problems in race one and I was lining up to pass Josh in the final corner in race two but was unfortunately baulked by a backmarker, but that's racing. I'm certainly fired up for Silverstone and happy enough to be just two points off the championship lead."
RESULTS BRITISH SUPERBIKE ASSEN, NETHERLANDS
RACE1:
1 / Shane BYRNE / GBR / Kawasaki - Rapid Solicitors Kawasaki / 29:45.302 /
2 / Josh BROOKES / AUS / Suzuki - Tyco Suzuki / 29:50.033 / 4.731
3 / Alex LOWES / GBR / Honda - Team WFR / 29:50.183 / 4.881
4 / Luca SCASSA / ITA / Honda - Padgetts Honda / 29:54.629 / 9.327
5 / Noriyuki HAGA / JPN / Yamaha - Swan Yamaha / 29:55.326 / 10.024
6 / Tommy BRIDEWELL / GBR / BMW - Supersonic Racing Team / 29:56.328 / 11.026
7 / Michael LAVERTY / GBR / Honda - Samsung Honda / 29:56.840 / 11.538
8 / James WESTMORELAND / GBR / Honda - Team WFR / 30:02.462 / 17.160
9 / Stuart EASTON / GBR / Kawasaki - Rapid Solicitors Kawasaki / 30:08.439 / 23.137
10 / Robbin HARMS / DEN / Honda - Doodson Motorsport / 30:08.594 / 23.292
11 / Patric MUFF / SUI / BMW - Supersonic Racing Team / 30:08.883 / 23.581
12 / Barry BURRELL / GBR / BMW - Buildbase BMW Motorrad / 30:09.587 / 24.285
13 / Jon KIRKHAM / GBR / Honda - Samsung Honda / 30:10.086 / 24.784
14 / Ian LOWRY / GBR / Honda - Padgetts Honda / 30:16.125 / 30.823
15 / Chris WALKER / GBR / Kawasaki - Pr1mo Bournemouth Kawasaki Racing / 30:19.899 / 34.597
Fastest lap:
Tommy HILL GBR Yamaha - Swan Yamaha Lap 4 1:38.008 166.83 Km/h
RACE2:
1 / Josh BROOKES / AUS / Suzuki - Tyco Suzuki / 29:43.606 /
2 / Shane BYRNE / GBR / Kawasaki - Rapid Solicitors Kawasaki / 29:43.852 / 0.246
3 / Alex LOWES / GBR / Honda - Team WFR / 29:46.624 / 3.018
4 / Tommy HILL / GBR / Yamaha - Swan Yamaha / 29:46.952 / 3.346
5 / Tommy BRIDEWELL / GBR / BMW - Supersonic Racing Team / 29:52.680 / 9.074
6 / Noriyuki HAGA / JPN / Yamaha - Swan Yamaha / 29:52.746 / 9.140
7 / Michael LAVERTY / GBR / Honda - Samsung Honda / 29:52.851 / 9.245
8 / James WESTMORELAND / GBR / Honda - Team WFR / 30:00.917 / 17.311
9 / Robbin HARMS / DEN / Honda - Doodson Motorsport / 30:01.239 / 17.633
10 / Stuart EASTON / GBR / Kawasaki - Rapid Solicitors Kawasaki / 30:02.497 / 18.891
11 / Luca SCASSA / ITA / Honda - Padgetts Honda / 30:02.653 / 19.047
12 / Barry BURRELL / GBR / BMW - Buildbase BMW Motorrad / 30:03.834 / 20.228
13 / Patric MUFF / SUI / BMW - Supersonic Racing Team / 30:07.904 / 24.298
14 / Chris WALKER / GBR / Kawasaki - Pr1mo Bournemouth Kawasaki Racing / 30:08.873 / 25.267
15 / Jakub SMRZ / CZE / Aprilia - Splitlath Redmond / 30:09.499 / 25.893
Fastest lap:
Josh BROOKES AUS Suzuki - Tyco Suzuki Lap 9 1:38.309 166.32 Km/h
CHAMPIONSHIP POSITIONS TO DATE:
1 BROOKES 570, 2 BYRNE 568, 3 HILL 548, 4 LOWES 534, 5 LAVERTY 532,
6 BRIDEWELL 521, 7 WESTMORELAND 141, 8 HAGA 138, 9 LOWRY 121, 10 WALKER 117,
11 EASTON 111, 12 SEELEY 95, 13 KIRKHAM 93, 14 GOWLAND 69, 15 RUTTER 57.
NEXT EVENT: ROUND 11 SEPTEMBER 30 SILVERSTONE, UNITED KINGDOM
---
Michael Schact (the short guy next to beautiful Calendar Kitten Kinsey Ray ) shows off his brand new baby which made its world premier at this year's LA Calendar Motorccyle Show, an exact replica of the legendary 1937 Crocker motorcycle which is being produced by his new company Crocker Motorcycle Company. Look for Kinsey with the Crocker in the next Iron & Lace Calendar

See hi- resolution pictures of the Crocker and Kinsey right now in the Calendar Bike Garage.
World Bike Premiers & Beautiful Calendar Kittens Highlight the
2012 LA Calendar Motorcycle Show
Calabasas, California, USA, Sunday July 22nd, 2012 - The 21st edition of the LA Calendar Motorcycle Show sponsored by Russ Brown Motorcycle Attorneys moved into its third decade as the premier outdoor streetbike event in America featuring its top Celebrity Builders, the Calendar Bike Building Championship & Concours d' Elegance, selected Vendors and Exhibitors, Calendar Girl Music live performances, now taking place at a beautiful new new location on the lawn and under the shade trees of the Calabasas Inn, in the upscale Los Angeles suburb of Calabasas, California. The first decade of the Calendar Motorcycle Show took place at the exciting Museum of Flying at the Santa Moncia Airport, then expanded in 1991 to two days the larger Queen Mary event facility in Long Beach venue alongside the Pacific Ocean.
For the fourth time in eight years, a top Japanese builder used the LA Calendar Show to mark his entrance onto the world stage, following in the foot steps of former Best of Show and Class winners Shinya Kimura / Chabott Engineering, Kenji Nagai / Ken's Factory and Hiroyouki Hirata of BB Custom Factory who all flew in with their bikes from Japan to compete at the Calendar Show.
Complete 2012 LA Calendar Motorcycle Show Coverage Here
Hoshikawa Hideki / Asterisk Bike Hi-Resolution Feature Pictorial in Calendar Bike Garage
---
There's more! Go to Pit Lane News Previous Week

Also Visit: Fast Dates Calendar News • Iron & Lace Calendar News
Calendar Girl News • Meet the Models • Paddock Garage

MEMBERS CORNER! Calendar Kittens, Paddock Garage, Iron & Lace Garage


Amazon.com Motorcycle Products & Apparel Store



MotorcycleSuperstore.com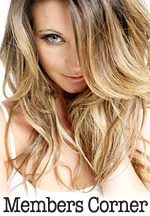 Hot Bikes, Sexy Kittens
Your Exclusive Grid Pass
also includes....
---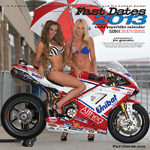 Order the New
2013 Calendars!
with FastDates.com Calendar Kitten, Ducati Corse Grid Girl
and Playboy Playmate
Heather Rae Young!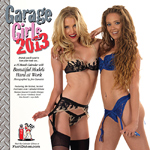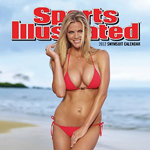 Click for even more Calendars!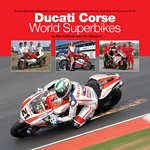 Retail $69.95 ea.
Click to Order from Amazon.com

Ducati Corse
World Superbikes
by Alan Cathcart
& Jim Gianatsis
The most extensive book ever on the history of the winningest bikes in SBK World Superbike. Covers all 5 Generations of the Desmoquatro factory Ducati Corse World Superbikes from the first 750/851 prototypes to the new 5th generation 1199 Panigale with technical details and photos, interviews with all the engineers and factory riders, track tests of every bike, and full page photos of the bikes from all the Fast Date Calendars with the official Ducati Corse and SBK Calendar Kittens.
Photography by the world's top roadracing photographers including Gold & Goose, Kel Edge, Fabrizio Porrozzi, Max Olina.
This is a high quality Collectors Edition hard cover coffee table book, 224-pages in large 12x12-inch format printed on 100# dull coat art paper.

Click on the cover above to order individual copies from Amazon.com. Retail $69.95 ea.
Also at Amazon.com.uk
Book Signings in
Los Angeles!
Jim Gianatsis will be doing a signing of his new Ducati Corse World Superbikes Book and 2013 Fast Dates Calendar in the LA area at these upcoming Ducati Dealer Open Houses:
• Sept 30th - Pro Italia Cafe Desmo, Montrose, CA
• Nov 17th - SoCal Motorcycles Open House, Brea, CA
Stop by, say hello, and get a personally autographed copy of the book!
---
Baz Joins Sykes To Complete Kawasaki's 2013 SBK Rider Line Up
September 23rd, 2012 - Loris Baz will join Tom Sykes in the official Kawasaki Racing Team once more next year with both current official KRT riders returning to compete in the 2013 FIM Superbike World Championship season.
Baz, the Superstock 600 European Champion in 2008, joined the team this year after regular rider Joan Lascorz was injured in testing and since then has made improvements throughout the season. These have culminated in three podiums - includings one race win - and one fastest lap in his rookie SBK season on the Ninja ZX-10R. He also scored a podium for Kawasaki in the Superstock 1000 FIM Cup class he started the season in.
Remarkable as it seems for a rider with such strong results under his belt, Baz is still a teenager and will only turn 20 years of age shortly before next season kicks off for real, in Australia in late February 2013. His youth and obvious talent, plus his ability to learn and develop, were key elements in the official Kawasaki team's decision to retain him for the 2013 season.
Loris Baz: "I am really happy, as you can imagine! Since I first got on the official Kawasaki Racing Team bike I have done everything I could to stay for the future. I think it is one of the best bikes and best teams so I did not want to go anywhere else. To stay in this team was the best for me. We have a really good base and I want to be strong for next year. I have to thank Guim Roda, my team manager, for taking me in the first place – a young rider on an official bike – and I also have to thank Kawasaki, who also believed in me. After the end of last year, when I had nothing, they asked me to ride in Superstock. I saw it as a new challenge and a new beginning. So I am really happy to ride for Kawasaki again and I cannot wait for next year."
Tom Sykes: "I think Loris is a very good signing. He is a young, very exciting, rider and he has potential. For me it is good in that we can fully focus on what we have been doing so far, bringing the Ninja ZX-10R up to speed. I think it is very vitally important to keep focused on what we have done. I think Kawasaki, the team and all of us are smart enough to realise that keeping continuity is good. The team are fantastic, many of them are new to Superbike this year and all of them are doing a great job. I think it is all positive for 2013."
Steve Guttridge: KME European Race Planning Manager: "We are really excited to announce that Loris will remain with the official KRT factory team for 2013. He has done a marvellous job this year after he stood in for our injured rider Joan Lascorz. We are happy to give him this full opportunity in 2013 to let him grow into the role, along with the team and Tom Sykes his team-mate. He has so much potential; he has absorbed everything and followed our remit to keep calm but also get good results. He is already a race winner and he can only grow up as a new generation of rider coming into the Superbike World Championship. We are realistic and expect him to keep growing up and be a good team-mate to Tom."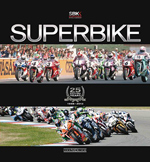 The Official SBK
World Superbikes
1987-2012
25 Year History Book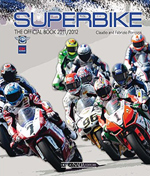 The Official SBK
25th Anniversary
2011-2012 Yearbook
These SBK Yearbooks are the Best Books Ever about World Superbike
They feature awesome color photography of the riders, bike and racing action. The feature a detailed revue of the past season in pictures and statistics, with a detailed look at the bikes and riders.
Plus a technical look data all the bikes, a preview of the upcoming season's Championship!
We buy this every year ourselves and highly recommend it!
SBK World Superbike Video Game
---
Update on Marco Melandri's injury at Portimao
After returning home, injured BMW Motorrad factory rider Marco Melandri underwent further examinations in Italy.
Munich, 26th September 2012. After his heavy crash in Sunday's first race at Portimão (POR) and preliminary examinations at the local hospital, BMW Motorrad factory rider Marco Melandri returned home to Italy on Monday. During the last few days he has undergone further medical examinations. These checks confirmed the good news that Marco has no internal injuries. But they showed that in addition to the painful contusions he suffered on his back, the Italian cracked the tenth and 12th ribs on the right side of his chest when he was hit by another bike while lying on the tarmac after his fall in the beginning of the race.

Marco will now rest over the forthcoming days before heading to Magny-Cours (FRA), where the final round of the 2012 FIM Superbike World Championship will be held from 5th to 7th October. According to the team's doctor, Dr. Vincenzo Tota, the injuries will not prevent him from taking part in the last races of the season. The whole Team BMW Motorrad Motorsport wishes Marco a quick recovery.

"After Sunday's crash I feel better day by day although my back and right side still feel sore," Marco says. "When I watched my crash on TV, it really looked confusing. I do not want people to think that I wasted the races for nothing. Actually when I was on the bike, it was simply impossible for me to do any different, as I did not see Max. I really hope to be fit for the final races in Magny-Cours. I simply want to jump on my S 1000 RR, have some fun and finish the races in the best possible way and position."

"The two ribs are not linked to the sternum, so they are not involved in breathing that much. Even if they are broken, it is not so painful," explains Dr. Vincenzo Tota. "Another positive thing is that they are not misplaced. It is not a total fracture, but more a small crack. Marco now has to rest and avoid stress to the area. For the race weekend we will apply a taping to reduce the range of motion of the chest. Therefor it will not be painful and will be easy to handle."
Promising test for Ducati MotoGP Team at Misano
Sept 17th Misano - Valentino Rossi and Nicky Hayden returned to action today at Misano for a one-day test that the Ducati Team spent doing chassis and electronics tests.

The American, who only rode in the morning due to his still-healing right hand, tried the frame and swingarm that his teammate had used in yesterday's race, and he had a positive first impression. Meanwhile, Valentino tried a version that had the same geometry but a different stiffness.

Valentino Rossi (Ducati Team) 53 laps - "It was a good day. Today we tried a different chassis that had a different stiffness, but honestly, I didn't like it a lot. It was an improvement in some areas, but we had some new problems in other areas. In the end, it's not a real improvement, so I don't think we'll use it again. But the positive thing is that we tried a new swingarm that I liked a lot because it gave me more edge grip and more rear grip under acceleration, and it helps the bike to stay more stable on corner exits. So of the two things, one worked. I think we'll use the new swingarm starting in Aragon, so there we'll see what our potential is on another track."

Nicky Hayden (Ducati Team) 14 laps - "In order not to stress my hand too much, we only did two runs today—one with basically my race bike, and one with the new frame—but it was nice to get an idea of the chassis. I wasn't sure if I would even be able to notice the difference, but I could actually feel more than I expected. I felt better with it, for sure. I had more confidence because there's better front grip for braking into the corners, and because of that, also better turning. I think it's certainly a step in the right direction, straight away, and I'm happy with the work Ducati has done. Because I was able to brake a bit differently, I'll probably need to stiffen the fork spring a bit, but already, it was a good step. I'm quite happy, and at Aragon we'll start to work on the setup."

Filippo Preziosi, Technical Director - "It was a very useful test: We had prepared a chassis that was the same as that used by Valentino in yesterday's race in terms of geometry, but different in terms of rigidity. Valentino gave us feedback that will allow us to design an evolution that has the positive characteristics that he noticed, and which match what we expected from the calculations we had made, but without losing precision. We also had a different swingarm that Valentino liked, so we'll bring it to Aragon. Nicky did his first comparison between the pre-Misano frame and swingarm and those used by Valentino yesterday. His initial comments were positive, but we'll have to check again at Aragon when his physical condition is better. Based on the data we gathered today, we're speeding up production of the next step of the frame, which could arrive before Valencia."
Kevin Schwatz sues Circuit of Americas over loss of MotoGP Race Promotion Deal which goes direct to Dona Instead
Dorna statement regarding 3four Texas MGP LLC and COTA
Sept 12th - In response to 1993 500cc world champion Kevin Schwantz and his company 3four Texas MGP LLC filing a lawsuit against the new Circuit of the Americas (COTA), Dorna Sports S.L., a third party in the matter, wishes to release the following statement.

Dorna Sports S.L. entered into a Promoters Contract with 3four Texas MGP LLC in connection with the organization of a FIM MotoGP™ Grand Prix at The Circuit of the Americas, Austin, Texas, on February 11th 2011 to be effective from the 2013 season. Dorna understood that 3four Texas MGP LLC had an agreement with COTA to run the event.

On the first days of June 2012, Dorna required 3four Texas MGP LLC to provide satisfactory evidence before June 28th about the company having obtained all the necessary rights, licenses and permits related with the availability of the Circuit of the Americas.
This is a standard procedure when the Promoter is not the owner of the Circuit.

3four Texas MGP LLC was not able to provide such evidence to Dorna (apparently no agreement had ever been entered into between 3four Texas MGP LLC and COTA, the owner of the circuit) within the term granted for such purposes, and therefore Dorna had no other alternative than to terminate the February 11th 2011 Promoters Contract due to such Event of Default. The termination was effective from July 2nd 2012.

As Dorna Sports S.L. and the FIM are interested in a FIM MotoGP Grand Prix in Texas, COTA was then offered the opportunity to become the Promoter of such an event through the signing of a Promoters Agreement. Conversations continue at this moment.
BMW Motorrad confirms Chaz Davies for the 2013 World Superbike season.
Chaz Davies lines up alongside Marco Melandri in the 2013 FIM Superbike World Championship.
Munich/Milano, 9 September 2012. The rider line-up of BMW Motorrad in the 2013 FIM Superbike World Championship takes shape. Chaz Davies (GBR) will ride a factory BMW S 1000 RR next season becoming the new team-mate of Marco Melandri (ITA). The 25-year-old Welshman is the reigning World Supersport Champion and is competing in his debut year in the FIM Superbike World Championship in 2012. He has had some strong performances throughout the season and has already stood on the WSBK podium four times, most recently by winning today's second race at the Nürburgring.

"We are happy that we can welcome Chaz to the BMW Motorrad family", says Andrea Buzzoni, General Manager BMW Motorrad Italia, who will take responsibility for the BMW Motorrad factory team from next season. "On his way through the ranks, Chaz showed how talented and fast he is. His title win in the Supersport World Championship in 2011 was impressive proof of that. And in his current debut season in the Superbike World Championship, it did not take him long to win his first race. We are convinced that Marco and Chaz will form a premium rider line-up, and that in combination with the BMW S 1000 RR, we will have one of the strongest packages in the World Championship."
Meet 2013 Calendar Kitten
Shannon Baucom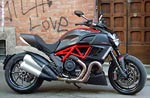 The Devil Made Us Do It!
Testing the Ducati Diavel in Italy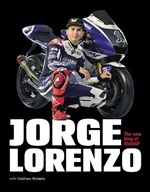 Sudco High Performance & OEM Replacement Parts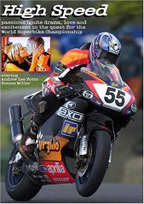 High Speed - the Movie
The best motorcycle racing movie ever made! Filmed on location at the World Superbike races , this an exciting romantic drama staring beautiful British actress Sienna Miller.
---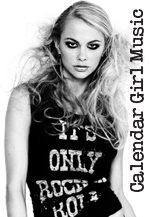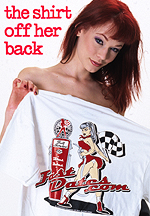 Order the Official
FastDates.com &
LA Calendar Bike Show
T-Shirts!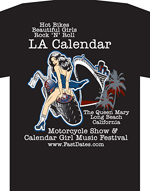 ---
MAX BIAGGI STRENGTHENS HIS WORLD SBK LEAD.

APRILIA INCREASES THE GAP IN THE MANUFACTURER CHAMPIONSHIP.

Portimao (Portugal), 23 September 2012 – At the end of an exciting weekend Max Biaggi, Eugene Laverty and the entire Aprilia Racing Team head home from Portugal having strengthened the leaderships that they boast in all of the World Superbike standings and with the satisfaction of Laverty's first championship victory astride the RSV4.

The Aprilia domination had already begun in Race 1. Declared a "Wet Race" due to the heavy showers that fell on the Portimao track all morning, letting up only just after the start, the first race saw Max Biaggi confidently taking the lead after just a few laps. But in the sixth lap, with the ranking leader firmly in command, the race was red flagged due to oil on the track after a crash. The changed track conditions at the restart created some difficulties both for Max, who gritted his teeth and crossed the finish line in fourth place, and for Laverty, relegated to 13th place, with the victory going to none other than Tom Sykes, who at that point was Max's nearest rival in the race for the title after a crash which put Marco Melandri out of commission.

Complete redemption came for Aprilia in Race 2 with two RSV4s on the podium. The victory went to Laverty who, getting out front early at the start, led all 22 laps of the race. Biaggi battled hard for the podium with Leon Camier and the 16 points he earned with third place give him a 30.5 point advantage over the nearest contender (Tom Sykes) and 38.5 over Melandri.

With this result Aprilia also strengthens its lead in the manufacturer standings, now boasting 28.5 points over BMW, 47.5 over Ducati and 66 over Kawasaki.

Max Biaggi: "Two really hard races, strange from certain points of view. In Race 1 the conditions were completely different from the practice sessions and even in Race 2 on a dry track the grip wasn't the best. Considering these difficulties and a lot of contact with the other riders, I'm happy with a fourth and third place which reconfirm my lead in the standings. Now we'll begin preparations for the last round in Magny Cours, as always putting forth our best effort".

Eugene Laverty: "My first win with and for Aprilia came on my favourite track with a lot of my fans trackside, who I'd like to thank. Grip in Race 2 wasn't perfect. I tried to push hard right away to gain an advantage and then I was able to maintain it to the end. This year we had some difficult moments, like we had in Race 1 today, but we're finally showing our potential with some good progress at the end of the season".
Honda announces Pata Sponsorship in WSBK and comprehensive changes for 2013
Saturday 22 September 2012
Honda has announced its plans for the 2013 World Superbike and World Supersport championships, which include a new four-rider line-up, a comprehensive technical development and testing programme and a new title sponsor.

In the World Superbike championship, current rider Jonathan Rea has signed with the team once more and will team-up with fellow Briton Leon Haslam on the Honda CBR1000RR Fireblade. In the World Supersport championship, Italian Lorenzo Zanetti will ride Honda's CBR600RR alongside Michael van der Mark from the Netherlands.

Italian snack manufacturer Pata is the new title sponsor of the reinvigorated squad which will be known as the Pata Honda World Superbike and Pata Honda World Supersport teams. Both groups will once again be run by the Netherlands-based Ten Kate organisation.

For Jonathan Rea, 2013 will mark a fifth year on Honda's CBR1000RR Fireblade and his sixth season of racing with Ten Kate. The 25-year-old has enjoyed a spectacular and busy 2012, combining his World Superbike duties – including wins at Assen and Donington Park – with getting married and winning the Suzuka 8-hour race.

More recently, Northern Irishman Rea has replaced the injured Casey Stoner in the Repsol Honda MotoGP team, riding back-to-back Grands Prix with the final three rounds of World Superbike.

Haslam, 29, returns to Honda's CBR machinery after a three-year absence to continue a strong family link to the Japanese manufacturer. It was begun by his father, Ron, who won Formula 1 world championships and raced with Honda in 500cc Grands Prix.

With his own 250cc and 500cc GP experience, the younger Haslam, from Derbyshire in the UK, has been racing in the World Superbike championship since 2009 and was runner-up in the 2010 series. He has amassed a total of 28 podium finishes, including three race wins.

Lorenzo Zanetti is from Brescia in Italy and has been in the World Superbike paddock for three years, but began his career with Honda, winning the RS125 GP Cup in Italy in 2004. The 25-year-old finished third in the 2011 Superstock 1000 championship and has spent the 2012 season competing in the World Superbike series with a best result of eighth last time out at the Nurburgring in Germany.

Michael van der Mark currently leads the Superstock 600 UEM European championship in only his second season with the EAB Ten Kate Honda Junior Team. The 19-year-old from Gouda in the Netherlands began his career racing in the Dutch 125cc Junior Cup and has spent the last five years on Honda machinery.

Pata is one of Italy's most successful snack manufacturers and is famous for the popular Artigianale brand of potato chips. The company, which employs more than 250 people, was founded in 1981 by Remo Gobbi and is based in Castiglione delle Stiviere in northern Italy.

Following the completion of the 2012 World Superbike championship at Magny-Cours, France on 7 October, the Pata Honda teams will commence a comprehensive testing and development programme in preparation for the 2013 season, which is expected to start at Phillip Island next February.

Jonathan Rea

I'm happy to continue my partnership with Honda in this exciting championship. I've been loyal to Honda my whole career and that's because I believe in them as a company and I believe that we can achieve more together in the future. It's no secret that we've been lacking in certain areas but I know there is a team of determined and dedicated guys working away both at the races and at the workshop to improve the bike and to try and be a consistent front runner for next season. They've got some very exciting plans for 2013 and beyond, and I'm sure that with a strong team-mate like Leon, we can all work together to make next season memorable for all the right reasons.

Lorenzo Zanetti

It feels good to be coming home to Honda after winning the RS125GP Cup in Italy. This is a great opportunity for me to ride for the team that has won eight of the last 11 World Supersport titles. I think that riding for these guys on Honda's 2013 CBR600RR will be my best opportunity to show what I can do. The chance to work with such professional people and to be a part of the big Honda family is one that I hope I can maximise and enjoy as much as possible.

Michael van der Mark

When I started two years ago in Superstock, I had a dream to go to World Supersport and maybe World Superbike. These two years have been really great and now I get an opportunity to go to Supersport on the Ten Kate Honda CBR600 and I'm really looking forward to it. For sure, I have to learn a lot but I'm really excited because I already tried a bit in Moscow this year. It was a really positive experience and now I get a full season to show what I can do.

Ronald ten Kate – team manager

As we all know, Honda is a company whose history is based on racing. Ten Kate Racing is the same, and to find a new partner that is so passionate about our sport seems to be a perfect fit for us. We are truly excited and honoured to join forces with Pata for next year. Our new Superbike rider line-up with Jonathan and Leon is stronger than ever and, on the technical side, there will be a lot of upgrades for next season on all fronts, so we really can't wait for 2013 to start. We are back to full strength with our Supersport effort and have two exciting riders. With Lorenzo we have a lot of experience and talent and in Michael we have a direct product of our Junior programme, who also happens to be our first Dutch rider, which makes us all very proud.

Remo Gobbi – president, Pata S.p.A.

We have been in the World Superbike paddock for many years but never before have we worked with an official team such as this. Now we are very happy to have this important partnership with Honda, which is the biggest and best motorcycle manufacturer. Of course, we are all looking forward to great results and I think that, with the experience of this team and its riders, we can achieve those results. Pata is committed to quality in its manufacturing and is passionate about motorsport. We are looking forward to developing our partnership with Honda which operates on exactly the same principles.

Carlo Fiorani – racing operations manager, Honda Motor Europe

I am very proud and happy to make this announcement, especially with this fast and winning rider line-up. I would like to welcome Leon back to Honda's official World Superbike team. We are delighted to have another Haslam representing Honda once more and I am sure that, with these two riders, we can continue to achieve results that can fulfil their individual potential and that of the CBR1000RR Fireblade.

At the same time, we are really happy that Jonathan can continue his World Superbike adventure with us. Together with the Ten Kate guys, we are really looking forward to continuing his development as a rider, which began with us and the team many years ago. I'm sure that the great experience of both riders will allow them both to fight again for the World Superbike title.

Of course, we are also very happy to welcome Lorenzo Zanetti back to Honda in our World Supersport programme, and Michael's promotion to this series is proof that the Ten Kate Honda rider development programme really works. We are confident that Lorenzo's and Michael's talent and experience will allow them to compete strongly for the title that Honda has won with Ten Kate so many times in recent years.

Across this bigger team, we are of course delighted to welcome Pata as Honda's title partner. It is clear that both companies share a passion for motorsport and a real dedication to quality. We are all looking forward to combining that passion and commitment to create some great results in 2013.