Jorse Lorenco in the New Blue Yamaha livery wheelies the M1 out of a corner at Misano.
MotoGP World Championship, Round 12 of 18, Misano, Italy
Lorenzo Moves into the Catbird's Seat at Misano, Rossi takes Ducati to 2nd Place
Gran Premio Aperol di San Marino e della Riviera di Rimini, Misano, Italy Sept 16th, 2012 - At this weekend's Gran Premio Aperol di San Marino e della Riviera de Rimini in Misano it was Yamaha Factory Racing's Jorge Lorenzo Jorge Lorenzo brought his 2012 race win tally to six today, leading from the start grid to take victory in the Grand Prix of San Marino. The victory was doubly special for Yamaha as it was achieved running a special Yamaha 'Race- Blu' livery.
The race itself started in dramatic fashion after Karel Abraham stalled on the grid causing yellow flags to come out and the start lights to remain on. Confusion followed with some riders false starting. The race was then shortened to 27 laps due to the additional sighting lap.
In the chaos arch rival Dani Pedrosa suffered some technical issues and was then relegated to the back of the grid. pole-sitter Repsol Honda Team's Dani Pedrosa then also had to start from the back of the grid after wheeling his bike into pit-lane to re-start it, after his team could not resolve in the given time a locked front-wheel caused by parts of a jammed tire warmer.
At the front it was Lorenzo who had made the best start, followed by a valiant Valentino Rossi on board his Ducati, and LCR Honda MotoGP's Stefan Bradl. The story unfolded further and the championship battle took yet another blow, as Pedrosa was taken out in the first few bends by the front wheel of Pramac Racings' Héctor Barberá, as the Repsol rider was making his way up the field. Afterwards, an apologetic Barberá cited missing his braking marker as the reason he locked up his front wheel, causing him to slide into Pedrosa. This would give Championship leader Lorenzo the opportunity to wrap up Misano having secured a 38 point advantage and a total of 270 points from his six wins and six second place finishes.

Valentino carded his best finish ever in two years on the factory Ducati with a 2nd place at Misano as the bike continues to improve, but unfortunatley with just 5 races left this season as he returns to Yamaha next year alongside Lorenzo.

It was a crash-strewn affair from the beginning as Abraham, Speed Master's Mattia Pasini and Monster Yamaha Tech 3's Cal Crutchlow all tumbled out in the opening laps. Crutchlow's teammate Dovizioso was sticking to Bradl, as San Carlo Honda Gresini's Álvaro Bautista took Yamaha's Ben Spies for fifth. With 19 laps remaining Lorenzo had pulled out a lead over Rossi, who was working tirelessly to keep Bradl at bay.
With 12 laps to go Bautista had caught up to the rear wheel of Dovizioso and was looking for a way through. After stalking him for over half the lap he made his way through into fourth to chase Bradl, whom he caught up with two laps later. Bautista looked like a man possessed as he then pushed his way past the German into the final podium spot. Behind the Spaniard, Bradl, Dovizioso and Spies were all closing in with seven laps to go to battle it out for third spot.

With three laps to go Power Electronics Aspar's Aleix Espargaró was forced to retire from the race, as Dovizioso and Spies had made their was past Bradl. And it was Dovizioso who provided the nail-bighting finish, tussling with Bautista until the bitter end. Yet it was Lorenzo who finally took the chequered flag with an ecstatic Rossi in second and Bautista recording his first ever MotoGP podium in third after a photo finish with Dovizioso. Lorenzo's sixth victory leaves him 38-points clear at the top of the championship, while Rossi's podium was his best finish on a Ducati in the dry. Behind Dovizioso in fifth was Spies, ahead of Bradl and Ducati's Nicky Hayden. Repsol Honda's Rea did well to finish eighth in his first GP race, ahead of Espargaró's teammate Randy De Puniet and San Carlo's Michele Pirro.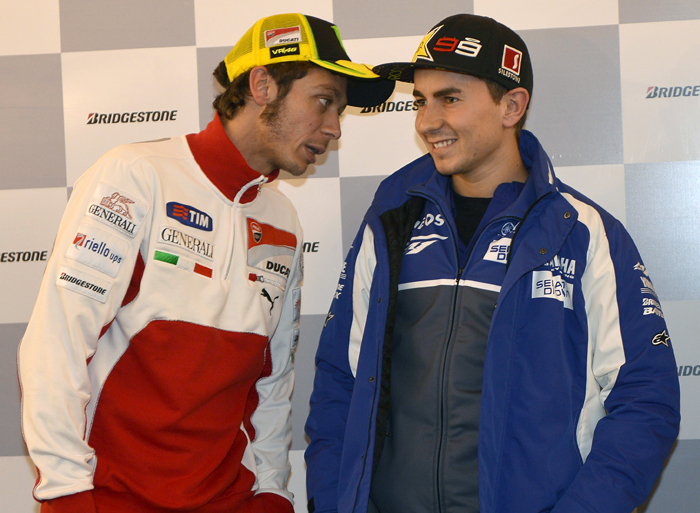 "Jorge, will you share your bike set-up specs with me when I come back to Yamaha next year?" " Sure Vali, when pigs fly!"
Jorge Lorenzo, Position 1st - Time: 42'49.836: "It's been a very tough weekend because Dani and I have been very close in the qualifying and the warm up. Unfortunately today he had really bad luck, first with the lights at the beginning of the race and then Hector took him out. This was really unfortunate for him. In Holland we were unlucky and today he was unlucky, anything can happen in these races. We have to be happy with our result and the point advantage we now have, for sure we are much more calm now than before the race! The race was difficult for everyone, only having qualifying was not enough when you have to set up the chassis and electronics and everything for the race. It was hotter during the race so there was less grip too. I almost crashed in turn one but managed to save it too!
Valentino Rossi (Ducati Team) 2nd - "It was a really nice race, and I'm very happy. It's a great result, which I'd like to dedicate to Sic and his family, Paolo, Rossella, and Martina. I'd also like to thank all the guys who work with me and everyone at Ducati Corse who are giving their best, like me: after two difficult years, we really needed that. I'm very pleased because we did a dry race at a high level, always with a fast pace, and with a limited gap to Lorenzo. We worked well. The new frame and swingarm allow us to make more changes to the geometry, and in fact here the feeling with the front was improved and the bike also seemed to be better balanced on acceleration. The setup that we found was also good, as I managed to be fast and consistent for the whole race. It will be important to continue working well and do our best to take the Ducati as high as possible in the next races as well."
Alvaro Bautista, San Carlo Honda Gresini: 3rd - "It is always nice to finish on the podium, but especially for me today with this being my first in MotoGP. Above all this is a very special weekend for me and the team because our memories of Marco [Simoncelli] are so strong coming here to the circuit named in his honour. After a few tough races we have worked well here and managed to fight for the podium at last. I am so happy for the team and for Marco because I am sure that wherever he is right now he was pushing us along. I could feel his hand on my shoulder today and I realised at the end that my name had come loose from my leathers so you could say it was Marco that was with us today. It has been an extraordinary day and I almost crashed at the start – I picked myself up on my right elbow. I am happy for everybody who has believed in me and I want to dedicate this very special podium also to them."
Jonathan Rea, Castro World Superbike rider on loan to Repsol Honda: 8th - "It was a tough race and I just wanted to get into a rhythm and maintain it. I'm still nowhere near the limit. I'm not really having any moments, just a few mistakes running wide. It's a matter of trust and I'm still acclimatising to the machine. I'm really happy with the progress I made throughout the race and I learnt so much that you simply can't pick up in testing – how the tyre wear goes down, the fuel load and how the bike behaves differently. In the beginning Nicky pulled a gap and then I was catching him, but in the end it wasn't enough. To finish eighth is okay, but the gap to the front is a little frustrating. In general I'm really happy and I'm looking forward to the next challenge in Aragon. I want to thank all the Repsol Honda team for their hard work and support they've given me and to all the fans back home."
Dani Pedrosa, Repsol Honda: DNF - "It was total chaos and many things happened at the same time. It all began with the restart because the procedure was not at all clear. Nobody knew if it was one minute, three minutes, warmers on or off… We were also getting different information about the number of laps, 26, 27… Then suddenly we were told it was one minute to the start of the race, with no board signage, nothing. The mechanics were rushing to prepare and when they tried to take off the warmers my front wheel was somehow locked. They tried to unlock it, but they weren't able to and due to the one minute warning – where they are not allowed to touch the bike anymore – they put me to the back of the grid. I tried to remain focused, not make any mistakes on the first lap, make clear moves to overtake riders and I was eighth or ninth when Barberá hit me from behind, and that was it. I'm very upset because even if it's easy to say now, I think I could have had a chance to win this race, even starting from last place on the grid. Now the championship is obviously more uphill for me, but I will continue the same way. We have done everything we could so far, the bike is working well and I'm riding well, too. So it's not over for me; there are still 5 races to go and we will do our best.
RESULTS MOTOGP RACE: (27 laps = 114.102 Km)
POS / RIDER / NAT. / TEAM / MOTORCYCLE / TIME / KM/H / GAP
1 / Jorge LORENZO / SPA / Yamaha Factory Racing / YAMAHA / 42'49.836 / 159.841 /
2 / Valentino ROSSI / ITA / Ducati Team / DUCATI / 42'54.234 / 159.568 / 4.398
3 / Alvaro BAUTISTA / SPA / San Carlo Honda Gresini / HONDA / 42'55.891 / 159.466 / 6.055
4 / Andrea DOVIZIOSO / ITA / Monster Yamaha Tech 3 / YAMAHA / 42'55.894 / 159.465 / 6.058
5 / Ben SPIES / USA / Yamaha Factory Racing / YAMAHA / 42'57.379 / 159.373 / 7.543
6 / Stefan BRADL / GER / LCR Honda MotoGP / HONDA / 43'03.108 / 159.02 / 13.272
7 / Nicky HAYDEN / USA / Ducati Team / DUCATI / 43'30.743 / 157.337 / 40.907
8 / Jonathan REA / GBR / Repsol Honda Team / HONDA / 43'32.998 / 157.201 / 43.162
9 / Randy DE PUNIET / FRA / Power Electronics Aspar / ART / 43'59.463 / 155.625 / 1'09.627
10 / Michele PIRRO / ITA / San Carlo Honda Gresini / FTR / 44'03.441 / 155.391 / 1'13.605
11 / Colin EDWARDS / USA / NGM Mobile Forward Racing / SUTER / 44'06.531 / 155.209 / 1'16.695
12 / Yonny HERNANDEZ / COL / Avintia Blusens / BQR / 44'08.909 / 155.07 / 1'19.073
13 / James ELLISON / GBR / Paul Bird Motorsport / ART / 44'09.244 / 155.05 / 1'19.408
14 / Danilo PETRUCCI / ITA / Came IodaRacing Project / IODA-SUTER / 43'22.121 / 152.011 / 1 lap
15 / David SALOM / SPA / Avintia Blusens / BQR / 43'43.915 / 150.749 / 1 lap
Pole Position: Dani PEDROSA 1'33.857 162.093 Km/h
Fastest Lap: Jorge LORENZO 1'34.398 161.164 Km/h Lap 3
Circuit Record Lap: Jorge LORENZO 1'33.906 162.008 Km/h 2011
Circuit Best Lap: Casey STONER 1'33.138 163.344 Km/h 2011
CHAMPIONSHIP POSITIONS TO DATE:
1 LORENZO 270, 2 PEDROSA 232, 3 STONER 186, 4 DOVIZIOSO 163, 5 CRUTCHLOW 122,
6 ROSSI 120, 7 BAUTISTA 118, 8 BRADL 115, 9 HAYDEN 93, 10 SPIES 77, 11 BARBERA 60,
12 DE PUNIET 48, 13 ESPARGARO 45, 14 ABRAHAM 25, 15 HERNANDEZ 25.
Yamaha World Champions past and future? Giacomo Agostini, Jorge Lorenzo and Phil Read.
---
Michael Schact (the short guy next to beautiful Calendar Kitten Kinsey Ray ) shows off his brand new baby which made its world premier at this year's LA Calendar Motorccyle Show, an exact replica of the legendary 1937 Crocker motorcycle which is being produced by his new company Crocker Motorcycle Company. Look for Kinsey with the Crocker in the next Iron & Lace Calendar

See hi- resolution pictures of the Crocker and Kinsey right now in the Calendar Bike Garage.
World Bike Premiers & Beautiful Calendar Kittens Highlight the
2012 LA Calendar Motorcycle Show
Calabasas, California, USA, Sunday July 22nd, 2012 - The 21st edition of the LA Calendar Motorcycle Show sponsored by Russ Brown Motorcycle Attorneys moved into its third decade as the premier outdoor streetbike event in America featuring its top Celebrity Builders, the Calendar Bike Building Championship & Concours d' Elegance, selected Vendors and Exhibitors, Calendar Girl Music live performances, now taking place at a beautiful new new location on the lawn and under the shade trees of the Calabasas Inn, in the upscale Los Angeles suburb of Calabasas, California. The first decade of the Calendar Motorcycle Show took place at the exciting Museum of Flying at the Santa Moncia Airport, then expanded in 1991 to two days the larger Queen Mary event facility in Long Beach venue alongside the Pacific Ocean.
For the fourth time in eight years, a top Japanese builder used the LA Calendar Show to mark his entrance onto the world stage, following in the foot steps of former Best of Show and Class winners Shinya Kimura / Chabott Engineering, Kenji Nagai / Ken's Factory and Hiroyouki Hirata of BB Custom Factory who all flew in with their bikes from Japan to compete at the Calendar Show.
Complete 2012 LA Calendar Motorcycle Show Coverage Here
Hoshikawa Hideki / Asterisk Bike Hi-Resolution Feature Pictorial in Calendar Bike Garage
---
3-time Ducati Corse SBK World Superbike Champion Troy Corser receives his personally autographed copy of the Ducati Corse World Superbikes book from co-author Jim Gianatsis at a recent Troy Bayliss Racing Academy track day at the Misano Circuit.
The Fast Dates World Superbike Calendar Presents a History, Track Tests,
Team Rider and Designer Interviews, and Pictures of All the
Ducati Corse World Superbikes
by Alan Cathcart and Jim Gianatsis
The year 2011 marked the 25th anniversary of the creation of the first, of a now legendary line of Ducati Superbikes with their trademark Desmoquattro 4-valve V-twin motors hung below a lightweight trellis tube frame, race bikes that went on to dominate the then new World Superbike Championship for next quarter of a century. Arguably the most significant motorcycle engine design of any kind since the CB750 Honda, and surely the most remarkable and successful volume production engine format ever used in world competition by any single manufacturer, the venerable Ducati 4-valve desmodromic engine recorded to this date 14 World Superbike Championship titles in the 24 year history of the world's premier production bike based world roadracing series.
This book chronicles the development and history all five Ducati Corse World Superbike generations from the first Desmoquatro 750cc prototype to the revolutionary new 1199 Panigale Superquadro together with interviews with the Ducati designers, team racers and managers. This unique insight is provided by renown motorcycle racer and journalist Alan Cathcart who has had the envious and often exclusive opportunity to test ride every one of the factory Corse race bikes over the last 25 years, those tests of which are featured here. Photography of the Corse factory bikes and riders is proved by the world's most renown motorcycle roadracing photographers.
Adding icing to the cake, and to warrant this big collectors edition book, included are the incredible high definition photographs of the bikes taken by former racer, motojournalist and photographer Jim Gianatsis as featured in the Fast Dates World Superbike Calendars from those years with the beautiful Fast Dates Calendar Kittens who served as the official SBK and Team Ducati Corse grid girls at the race where the bikes were photographed.

First ever World Superbike race winner (Donnington park 1988, Ducati 888) and 500cc GP World Champion Marco Lucchinelli receives his personally autographed copy of the Ducati Corse World Superbikes book from co-author Jim Gianatsis at a recent Troy Bayliss Racing Academy track day at the Misano Circuit in Italy.
This 224 page large format collectors edition book begins with a Forward by Massimo Bordi, legendary designer of the Desmoquattro back in 1974. Then it dives into the technical details, revealing photography and Cathcart's exclusive tests of every one of the factory Ducati Corse Superbikes from the First Generation 851cc Daytona raced prototype, to Doug Polen's Fast by Ferracci 888/926 World Championship winner. Followed by the Second Generation 916/955 machines, the Third Generation 999, the Fourth Generation 1098/1198, to the all-new Fifth Generation 1199 Panigale. Included along the way are interviews with all the factory riders and World Championship winners from Doug Polen, Carl Fogarty and Troy Corser, to Neil Hodgson, James Toseland, Troy Bayliss, Nori Haga and Carlos Checa. While the tradition continues with a detailed look at the new 1199 Panigale and a interview with the designers who created it, and an exclusive track test of the newest Generation 1199 bike by Cathcart and 3-time World Superbike Champion Troy Bayliss.
This is a must have book for every Ducati and motorcycle roadracing enthusiast. Gianatsis Design has produced and published the book in a beautiful large format 12x12-inch hard cover design coffee table style Collectors Edition Book featuring 224 pages in full color printed on 100# dull coat art paper for the best possible reproduction and presentation. Books are individually shrink wrapped and have a printed cover wrapper.
Order Now from Amazon.com USA: USD $69.95 • Amazon.com UK/Europe: UK £55.00 / EUR $55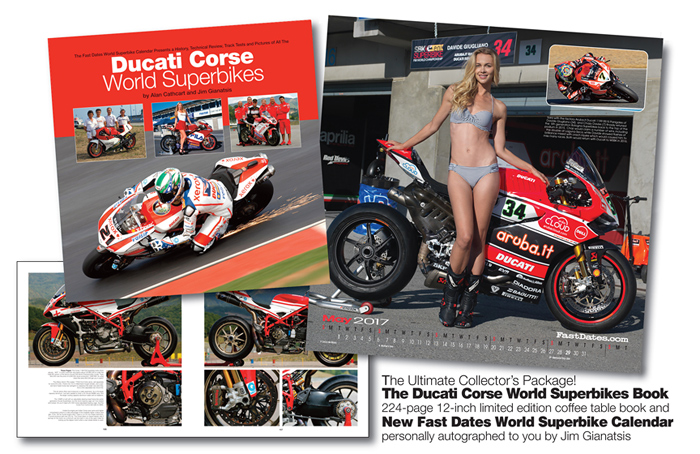 Exclusive Autographed Collector's Package!
The all new Ducati Corse World Superbikes 224-pg book and the 2013 Fast Date World Superbike Calendar - World Release July 1st 2012
Personally autographed to you (or the name you request on the PayPal.com Order Form) by Jim Gianatsis and shipped direct to you.
For more information or to order the Book or the Calendar individually, unsigned, go to the Sportbike Books and Fast Dates Calendar order pages. $100 Collector's Package, plus $20 USPS Priority Mail Shipping & Handing in the USA.
Ducati Corse World Superbike Book Signings in Los Angeles!
Jim Gianatsis will be doing a signing of his new Ducati Corse World Superbikes Book and 2013 Fast Dates Calendar
in the LA area at these upcoming Ducati Dealer Open Houses:
• Sept 30th, 2012 - Pro Italia Cafe Desmo, Montrose, CA
• Nov 17th, 2012 - SoCal Motorcycles Open House, Brea, CA
Stop by, say hello, and get a personally autographed copy of the new book!
---
Jimmy the Greek parties after an excitingday on the Misano GP track with World Champion Troy Bayliss, Ducati Riding Experience head Instructor and Italian Superbike Champion Dario Machetti, and fellow classmate Andrew Wettern who came down from London.
Troy Bayliss Racing Academy at Misano
Misano Adriacata, Italy September 5th 2012 - How I spent my summer vacation - a return trip to Italy for the 2nd year in a row to participate in another incredible Troy Bayliss Racing Academy School, this time on the incredible new Ducati Panigale 1199S at the legendary Misano GP circuit. - Jim Ginatsis, Editor
Above: The Greek gets his Ducks in a row through Turn 6 at Misano, the same corner Valentino Rossi is pictured jammin' though a week later in our Misano MotoGP race coverage above. Below: Our new Troy Bayliss Academy Panigale 1199S models had full race Termignoni Race Exhaust and Software package good for 220hp! The class is limited to just 5 riders with our own Ducati technicians to set up and fuel the bikes.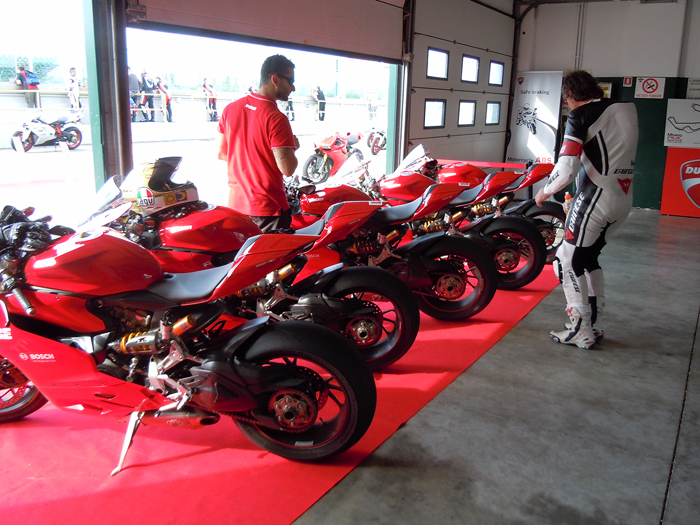 Then on the way back home to Los Angeles we stopped off for 4 days of R&R in Paris to hang out at sidewalk cafes, visit the girls at The Crazy Horse and Moulon Rouge review shows, and ride a Vespa scooter around the City of Lights. Below: The Greek in front of Notre Dame Cathedral which is situated on an island in the midlle of the Siene River which runs through yhe middle of Paris. Maintaince crews are using the cherry picker in the background to clean the Cathedrals' hand carved stone facade.
---
Flying high last month at Caldwell Park's British Superbike Round!
---
There's more! Go to Pit Lane News Previous Week

Also Visit: Fast Dates Calendar News • Iron & Lace Calendar News
Calendar Girl News • Meet the Models • Paddock Garage

MEMBERS CORNER! Calendar Kittens, Paddock Garage, Iron & Lace Garage


Amazon.com Motorcycle Products & Apparel Store



MotorcycleSuperstore.com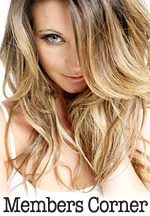 Hot Bikes, Sexy Kittens
Your Exclusive Grid Pass
also includes....
---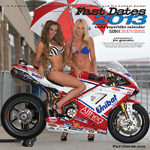 Order the New
2013 Calendars!
with FastDates.com Calendar Kitten, Ducati Corse Grid Girl
and Playboy Playmate
Heather Rae Young!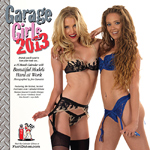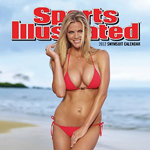 Click for even more Calendars!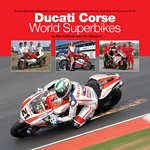 Retail $69.95 ea.
Click to Order from Amazon.com

Ducati Corse
World Superbikes
by Alan Cathcart
& Jim Gianatsis
The most extensive book ever on the history of the winningest bikes in SBK World Superbike. Covers all 5 Generations of the Desmoquatro factory Ducati Corse World Superbikes from the first 750/851 prototypes to the new 5th generation 1199 Panigale with technical details and photos, interviews with all the engineers and factory riders, track tests of every bike, and full page photos of the bikes from all the Fast Date Calendars with the official Ducati Corse and SBK Calendar Kittens.
Photography by the world's top roadracing photographers including Gold & Goose, Kel Edge, Fabrizio Porrozzi, Max Olina.
This is a high quality Collectors Edition hard cover coffee table book, 224-pages in large 12x12-inch format printed on 100# dull coat art paper.

Click on the cover above to order individual copies from Amazon.com. Retail $69.95 ea.
Also at Amazon.com.uk
Book Signings in
Los Angeles!
Jim Gianatsis will be doing a signing of his new Ducati Corse World Superbikes Book and 2013 Fast Dates Calendar in the LA area at these upcoming Ducati Dealer Open Houses:
• Sept 30th - Pro Italia Cafe Desmo, Montrose, CA
• Nov 17th - SoCal Motorcycles Open House, Brea, CA
Stop by, say hello, and get a personally autographed copy of the book!
---
World Superbike Returns to Laguna Seca in 2013
Sept 14th - Our inside sources report SBK World Superbike will return to Laguna Seca California USA in September 2013, possibly with AMA Pro Roadracing! No word yet if WSBK will also remain in the USA at Miller Motorsprts Park, Utah.
Ducati signs Ben Spies and Andrea Iannone for Parmac Team on full works bikes for 2013 MotoGP World Championship
Sept 12th - Ducati announces that it has signed an agreement with American Ben Spies and Italian Andrea Iannone to compete in the 2013 MotoGP World Championship.

Having already confirmed Nicky Hayden and announced Andrea Dovizioso for the Ducati Team, the Italian manufacturer now reaffirms its confidence in and commitment to the MotoGP World Championship, finalizing its lineup for next season with two riders who are fast and competitive, already protagonists in the MotoGP and Moto2 World Championships.

At the same time, the partnership has been renewed between Ducati and Pramac Racing, which will continue to be entrusted with management of the satellite team. The two riders, who have a direct link with the company, will be supplied with official equipment.

This agreement will enable additional important support in the development of the Desmosedici MotoGP project, offering a further opportunity in the process of improving the performance of the Italian bike.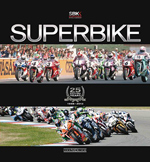 The Official SBK
World Superbikes
1987-2012
25 Year History Book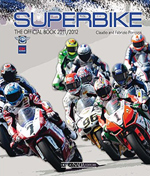 The Official SBK
25th Anniversary
2011-2012 Yearbook
These SBK Yearbooks are the Best Books Ever about World Superbike
They feature awesome color photography of the riders, bike and racing action. The feature a detailed revue of the past season in pictures and statistics, with a detailed look at the bikes and riders.
Plus a technical look data all the bikes, a preview of the upcoming season's Championship!
We buy this every year ourselves and highly recommend it!
SBK World Superbike Video Game
---
Promising test for Ducati MotoGP Team at Misano
Sept 17th Misano - Valentino Rossi and Nicky Hayden returned to action today at Misano for a one-day test that the Ducati Team spent doing chassis and electronics tests.

The American, who only rode in the morning due to his still-healing right hand, tried the frame and swingarm that his teammate had used in yesterday's race, and he had a positive first impression. Meanwhile, Valentino tried a version that had the same geometry but a different stiffness.

Valentino Rossi (Ducati Team) 53 laps - "It was a good day. Today we tried a different chassis that had a different stiffness, but honestly, I didn't like it a lot. It was an improvement in some areas, but we had some new problems in other areas. In the end, it's not a real improvement, so I don't think we'll use it again. But the positive thing is that we tried a new swingarm that I liked a lot because it gave me more edge grip and more rear grip under acceleration, and it helps the bike to stay more stable on corner exits. So of the two things, one worked. I think we'll use the new swingarm starting in Aragon, so there we'll see what our potential is on another track."

Nicky Hayden (Ducati Team) 14 laps - "In order not to stress my hand too much, we only did two runs today—one with basically my race bike, and one with the new frame—but it was nice to get an idea of the chassis. I wasn't sure if I would even be able to notice the difference, but I could actually feel more than I expected. I felt better with it, for sure. I had more confidence because there's better front grip for braking into the corners, and because of that, also better turning. I think it's certainly a step in the right direction, straight away, and I'm happy with the work Ducati has done. Because I was able to brake a bit differently, I'll probably need to stiffen the fork spring a bit, but already, it was a good step. I'm quite happy, and at Aragon we'll start to work on the setup."

Filippo Preziosi, Technical Director - "It was a very useful test: We had prepared a chassis that was the same as that used by Valentino in yesterday's race in terms of geometry, but different in terms of rigidity. Valentino gave us feedback that will allow us to design an evolution that has the positive characteristics that he noticed, and which match what we expected from the calculations we had made, but without losing precision. We also had a different swingarm that Valentino liked, so we'll bring it to Aragon. Nicky did his first comparison between the pre-Misano frame and swingarm and those used by Valentino yesterday. His initial comments were positive, but we'll have to check again at Aragon when his physical condition is better. Based on the data we gathered today, we're speeding up production of the next step of the frame, which could arrive before Valencia."
Kevin Schwatz sues Circuit of Americas over loss of MotoGP Race Promotion Deal which goes direct to Dona Instead
Dorna statement regarding 3four Texas MGP LLC and COTA
Sept 12th - In response to 1993 500cc world champion Kevin Schwantz and his company 3four Texas MGP LLC filing a lawsuit against the new Circuit of the Americas (COTA), Dorna Sports S.L., a third party in the matter, wishes to release the following statement.

Dorna Sports S.L. entered into a Promoters Contract with 3four Texas MGP LLC in connection with the organization of a FIM MotoGP™ Grand Prix at The Circuit of the Americas, Austin, Texas, on February 11th 2011 to be effective from the 2013 season. Dorna understood that 3four Texas MGP LLC had an agreement with COTA to run the event.

On the first days of June 2012, Dorna required 3four Texas MGP LLC to provide satisfactory evidence before June 28th about the company having obtained all the necessary rights, licenses and permits related with the availability of the Circuit of the Americas.
This is a standard procedure when the Promoter is not the owner of the Circuit.

3four Texas MGP LLC was not able to provide such evidence to Dorna (apparently no agreement had ever been entered into between 3four Texas MGP LLC and COTA, the owner of the circuit) within the term granted for such purposes, and therefore Dorna had no other alternative than to terminate the February 11th 2011 Promoters Contract due to such Event of Default. The termination was effective from July 2nd 2012.

As Dorna Sports S.L. and the FIM are interested in a FIM MotoGP Grand Prix in Texas, COTA was then offered the opportunity to become the Promoter of such an event through the signing of a Promoters Agreement. Conversations continue at this moment.
BMW Motorrad confirms Chaz Davies for the 2013 World Superbike season.
Chaz Davies lines up alongside Marco Melandri in the 2013 FIM Superbike World Championship.
Munich/Milano, 9 September 2012. The rider line-up of BMW Motorrad in the 2013 FIM Superbike World Championship takes shape. Chaz Davies (GBR) will ride a factory BMW S 1000 RR next season becoming the new team-mate of Marco Melandri (ITA). The 25-year-old Welshman is the reigning World Supersport Champion and is competing in his debut year in the FIM Superbike World Championship in 2012. He has had some strong performances throughout the season and has already stood on the WSBK podium four times, most recently by winning today's second race at the Nürburgring.

"We are happy that we can welcome Chaz to the BMW Motorrad family", says Andrea Buzzoni, General Manager BMW Motorrad Italia, who will take responsibility for the BMW Motorrad factory team from next season. "On his way through the ranks, Chaz showed how talented and fast he is. His title win in the Supersport World Championship in 2011 was impressive proof of that. And in his current debut season in the Superbike World Championship, it did not take him long to win his first race. We are convinced that Marco and Chaz will form a premium rider line-up, and that in combination with the BMW S 1000 RR, we will have one of the strongest packages in the World Championship."
Meet 2013 Calendar Kitten
Shannon Baucom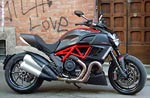 The Devil Made Us Do It!
Testing the Ducati Diavel in Italy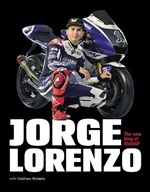 Sudco High Performance & OEM Replacement Parts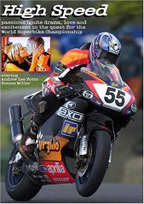 High Speed - the Movie
The best motorcycle racing movie ever made! Filmed on location at the World Superbike races , this an exciting romantic drama staring beautiful British actress Sienna Miller.
---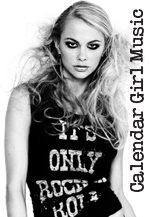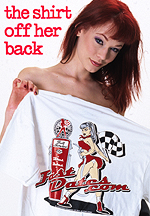 Order the Official
FastDates.com &
LA Calendar Bike Show
T-Shirts!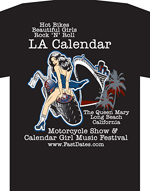 ---